This easy Homemade Granola Recipe with honey is full of easy to find ingredients with lots of variations! It is a crunchy granola recipe that is going to feel like such a healthy start to the day. It is full of flavor and addictive!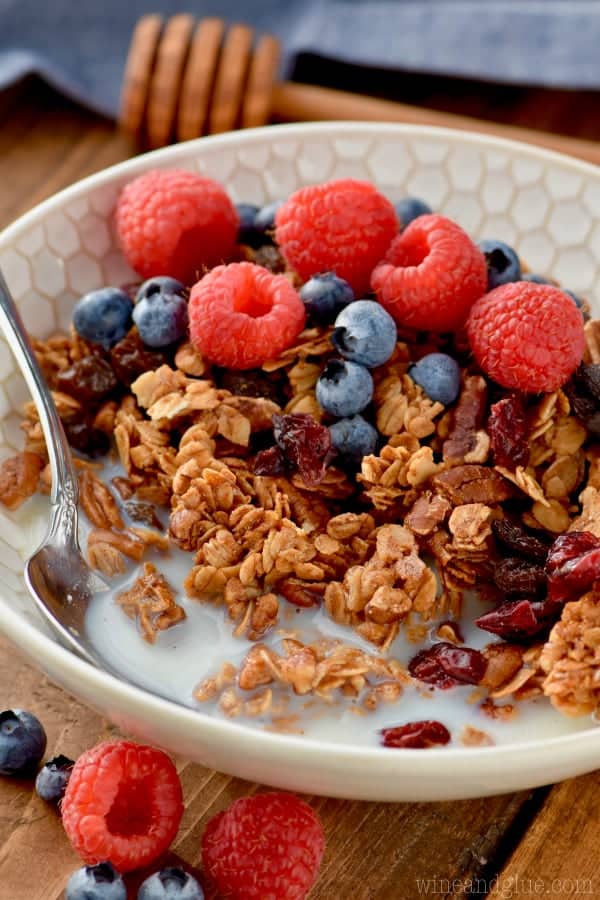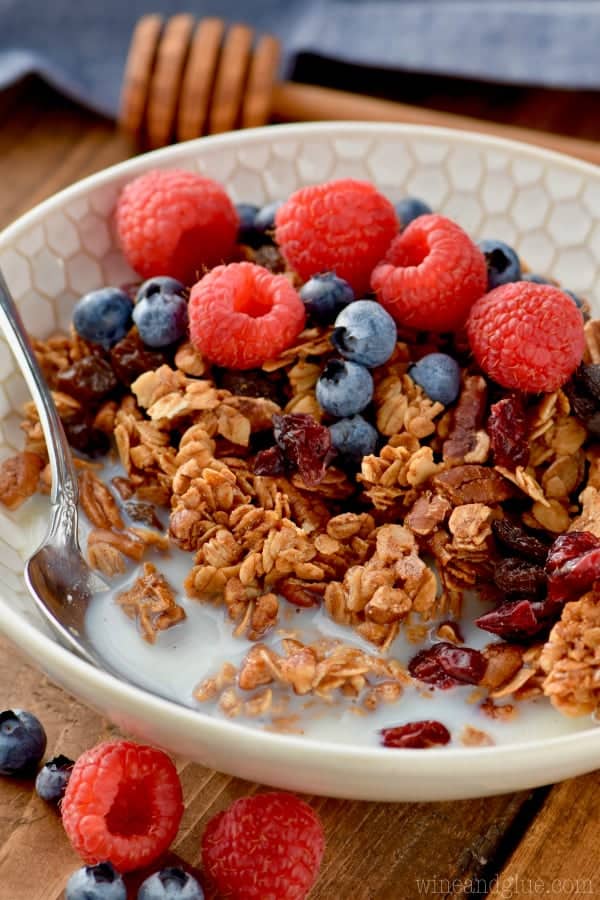 We have been in some breakfast ruts around here lately. It's so easy to get there, don't you think? And then all the sudden you realize that your love for creating delicious food for your family and eating that food has gone right out the window with your creativity.
You Will Love this Homemade Granola
Let's get that breakfast joy back with some delicious granola, shall we? This is a recipe that I created last year and it is still one of my very favorites. I love eating this homemade granola dry by the handful as snack and I really really love it in a bowl with some milk and fresh fruit.
It is easy to make and even easier to eat. Should we get started?!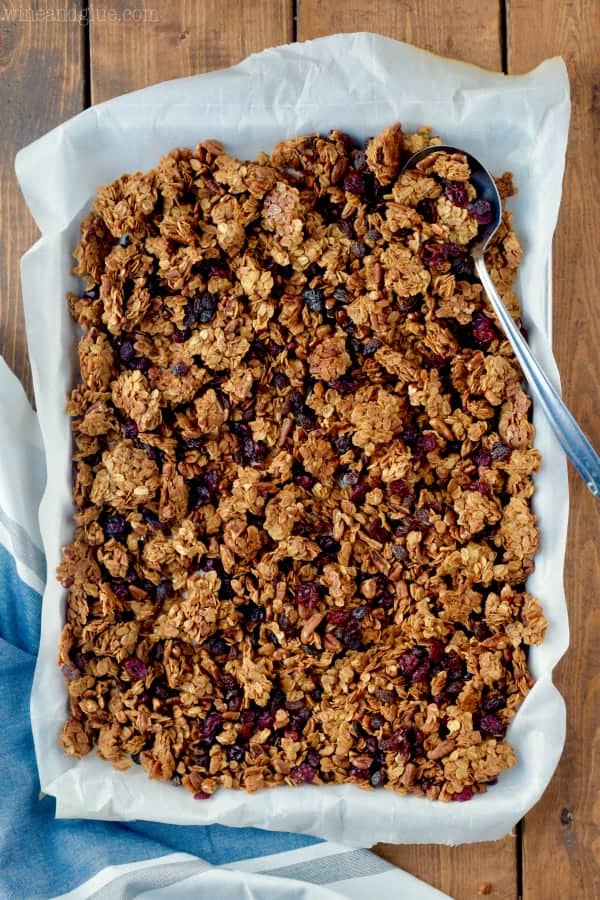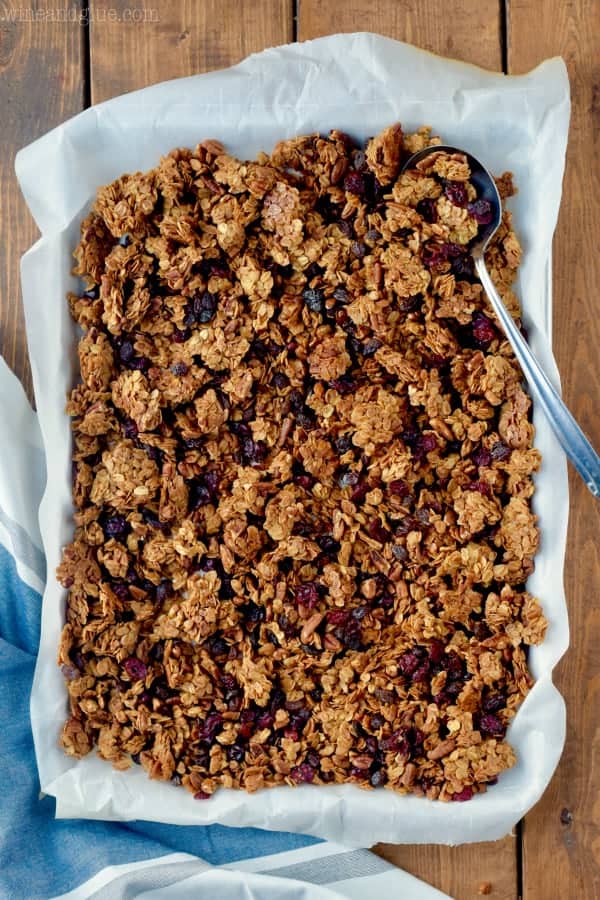 What Do You Put in Granola?
This is a pretty standard formula that is easy to follow and easy to customize to what you are craving.
Oats – Make sure you buy old fashioned oats not quick cooking.
Honey holds the granola together.
Oil makes your granola crisp. See the note in the recipe card about lessening the oil.
Nuts pack a nice protein punch into your granola. Good choices are pecans or almonds.
Dried Fruit gets mixed in after baking. Raisins, dried cranberries, and dried pineapple are all great choices!
Seasonings like cinnamon and vanilla extract. You could try other great flavor combinations though, like a little less cinnamon mixed with a pinch of ginger and allspice!
Granola Variations
You can replace the honey with agave nectar or maple syrup.
Instead of vegetable oil, you can use grape seed or coconut oil. Again see the note in the recipe card about cutting back on the oil.
Trade out half the nuts for seeds! I like adding pumpkin seeds or sunflower seeds to my granola.
Leave out half of the fruit and after the granola has completely cooled, throw in half a cup of mini chocolate chips for an extra special granola.
For an example of a great vacation, try my PUMPKIN SPICE GRANOLA!

How Do You Make Granola?
Mix your wet ingredients (sugar, oil, honey), and your seasonings (cinnamon and vanilla) together.
Fold in the oats and whatever nuts you've chosen.
After baking, you let the granola cool for an hour.
Break it apart, and mix in your dried fruit.
Watch the video below for all the details on how to make this granola recipe!
NOTE: A few people have had this granola burn. Given how many times I've successfully made this, I think different oven temperatures are to blame. Make sure you really watch your granola starting at the half way point of baking.
How Long Can You Store Granola?
Store in an airtight container for up to two weeks!
What is the Serving Size for Granola?
The serving size for this homemade granola recipe is half a cup. At 302 calories and 5 grams of protein it's a good breakfast and when you add in some milk and fresh fruit, it will leave you feeling satisfied throughout the morning.
Is Granola Gluten Free?
If you buy oats that are certified gluten free, this is a great recipe for someone with a gluten intolerance.
Can this Granola be Made Vegan?
Yes! If you are following a strict vegan diet this is a great recipe for you. Replace the honey with agave or maple syrup and you are good to go.
Other Great Breakfast Ideas
If you make this granola or any of my other recipes, please leave me a comment and let me know what you think!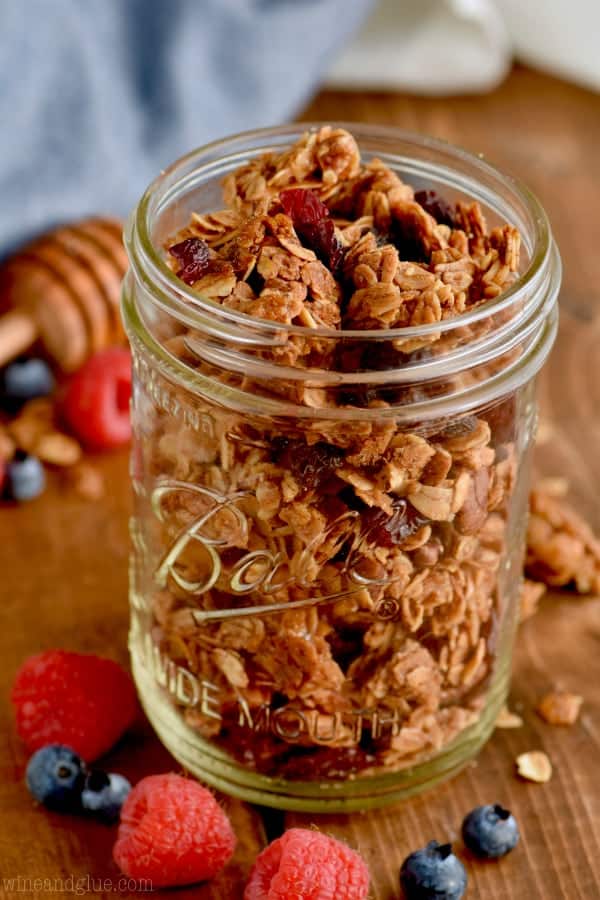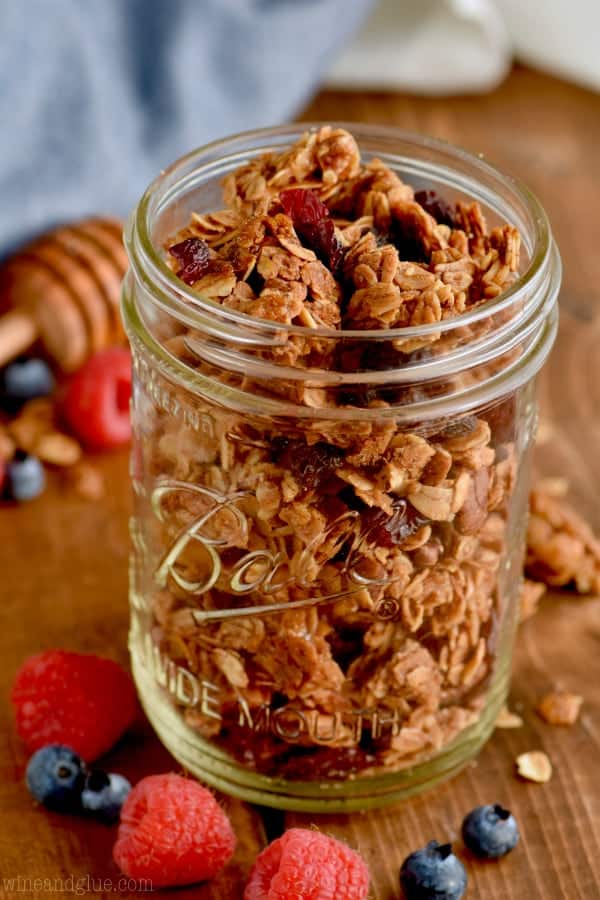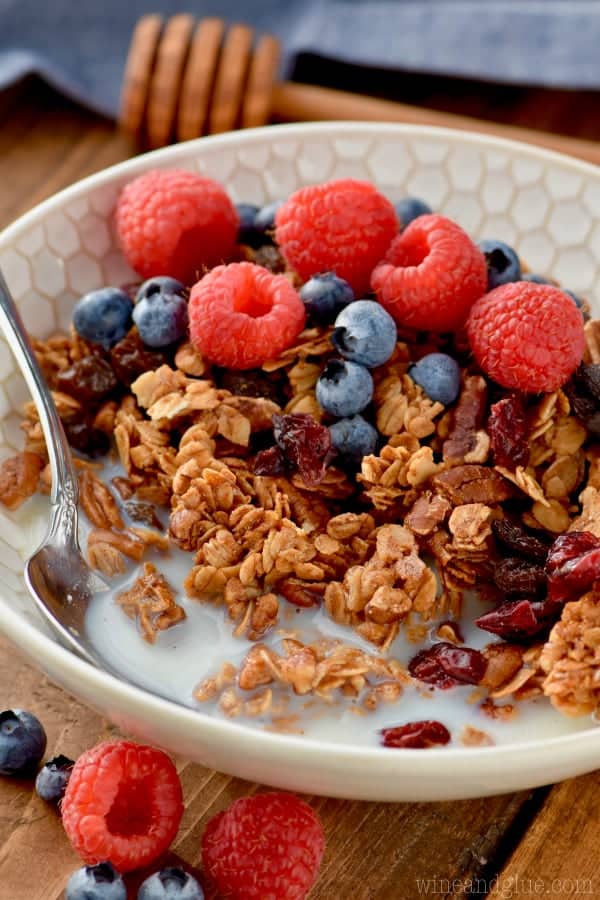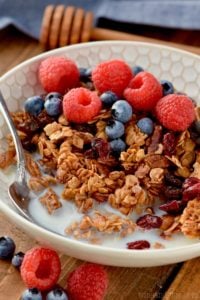 Homemade Granola Recipe
This easy Homemade Granola Recipe with honey is full of easy to find ingredients that can be customized depending on what flavor you are going for!
Ingredients
1/3

cup

honey

you could also use maple syrup or agave nectar

1/3

cup

brown sugar

packed

1

TBSP

vanilla extract

1/2

tsp

salt

1

tsp

ground cinnamon

1/2

cup

vegetable oil

See note

5

cups

old fashioned oats

(not quick cooking oats)

2

cups

chopped pecans

any roughly chopped nut would be great here – especially walnuts or almonds

1

cup

dried cranberries

or any dried fruit

1

cup

raisins

or any dried fruit
Instructions
Preheat your oven to 325 degrees. Prepare a large baking sheet by lining it with parchment paper.

In a large bowl, whisk together honey, oil, brown sugar, vanilla extract, salt, and cinnamon.

Gently fold in the oats and the nuts.  Spread the mixture onto the baking sheet.  Bake for 35 to 45 minutes rotating the baking sheet half way though baking. Starting from when you rotate the pan (around 18 minutes), keep a very close eye on your granola. Check on it every few minutes, especially as you start to smell it more. It can burn very quickly. As it starts to turn golden around the edges, it will need only a few minutes more.

Remove the baking sheet from the oven. Allow to cool for an hour. Break apart the granola and mix in the dried fruit. Store in an airtight container for up to two weeks.
Notes
Please note that the nutritional information listed is for 1/2 a cup.
I tried this without the oil and it was also very delicious, but obviously not as crisp. If you are looking to lessen the calories, you could cut back on the oil or eliminate it completely.  You could also use coconut or grape seed oil.
Calories:
302
kcal
(15%)
Carbohydrates:
32.5
g
(11%)
Protein:
5
g
(10%)
Fat:
16.5
g
(25%)
Saturated Fat:
1.6
g
(10%)
Polyunsaturated Fat:
5.05
g
Monounsaturated Fat:
1.9
g
Sodium:
66.3
mg
(3%)
Potassium:
14.25
mg
Fiber:
3.6
g
(15%)
Sugar:
14.5
g
(16%)
Vitamin A:
0.5
IU
Vitamin C:
1.2
mg
(1%)
Calcium:
9
mg
(1%)
Iron:
1.4
mg
(8%)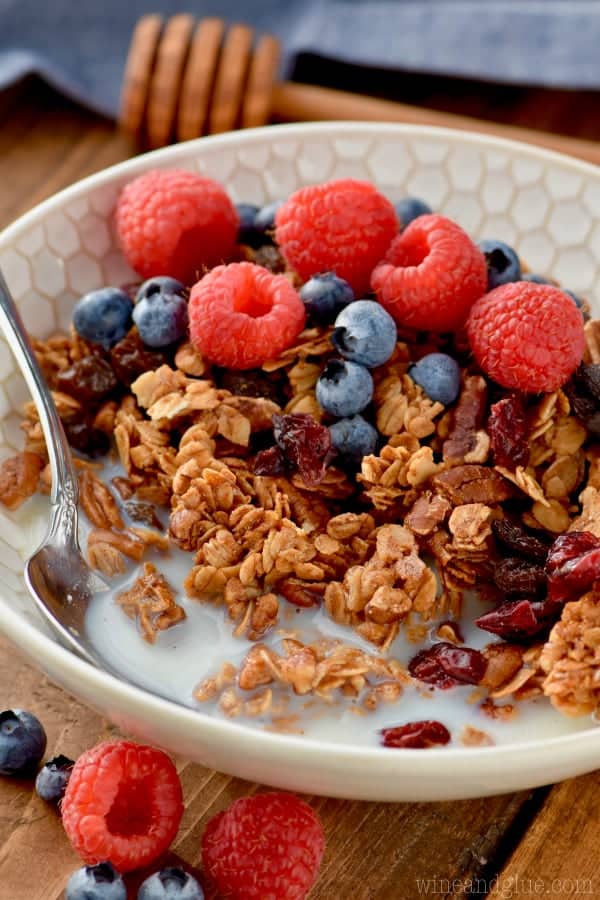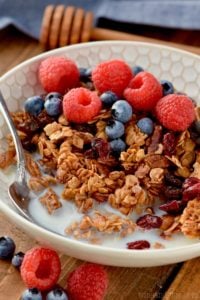 did you make this
Homemade Granola Recipe