These Honey, Strawberry & Brie Bruschetta are made with just four ingredients in about 10 minutes! So easy and perfect for parties! This post first appeared over at Real Housemoms where I am a contributor.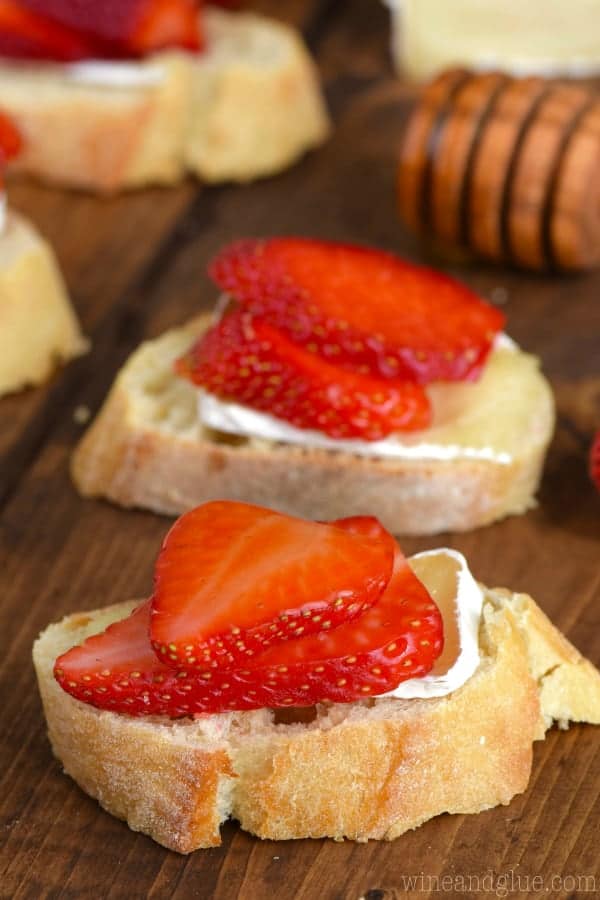 This weekend I'm hosting a baby shower for my brother and sister in law . . . and you are going to have to forgive me while I gush. My brother in law was our best man in our wedding, and he really is the best. We love him so much we even named Elliot after him.
He has forever wanted a family. I feel like I had so so many conversations with him about marriage (and this is where I hope he never reads this post so he doesn't kill me) and having kids, and about how much he wanted it.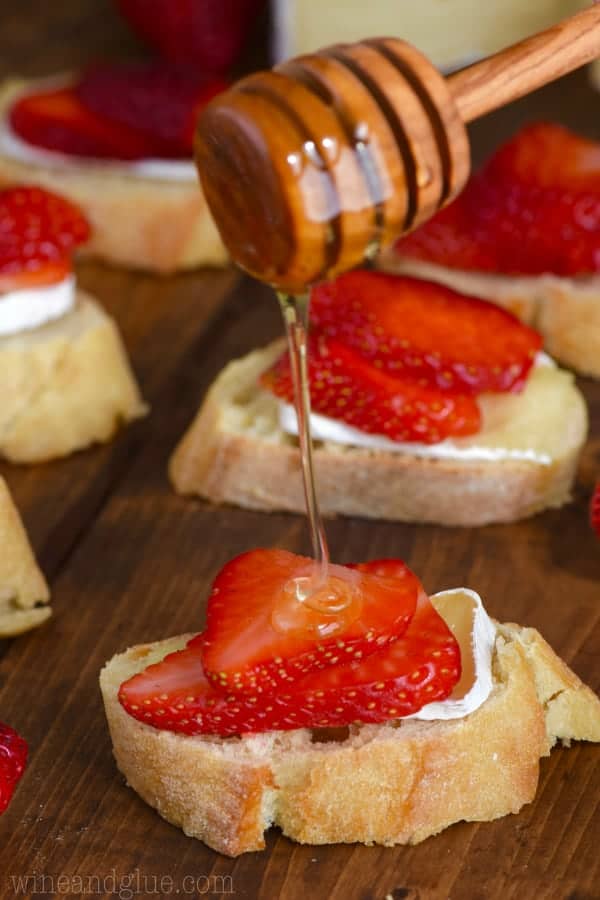 And then one day he told me about his now wife. I talked to him about her for almost two hours straight, and it became super clear that he was so in love with her and this time it was really different in a really good way.
And then I met her and I totally got it. She was awesome. She is awesome. And I told him not to screw it up with her. :)
He didn't. He married her! And now they hare having a baby. I seriously couldn't be happier for them. They are even more wonderful together than they were a part. Two awesome people together make one amazing couple. And I can't wait to see them as parents.
So we are having a shower for them!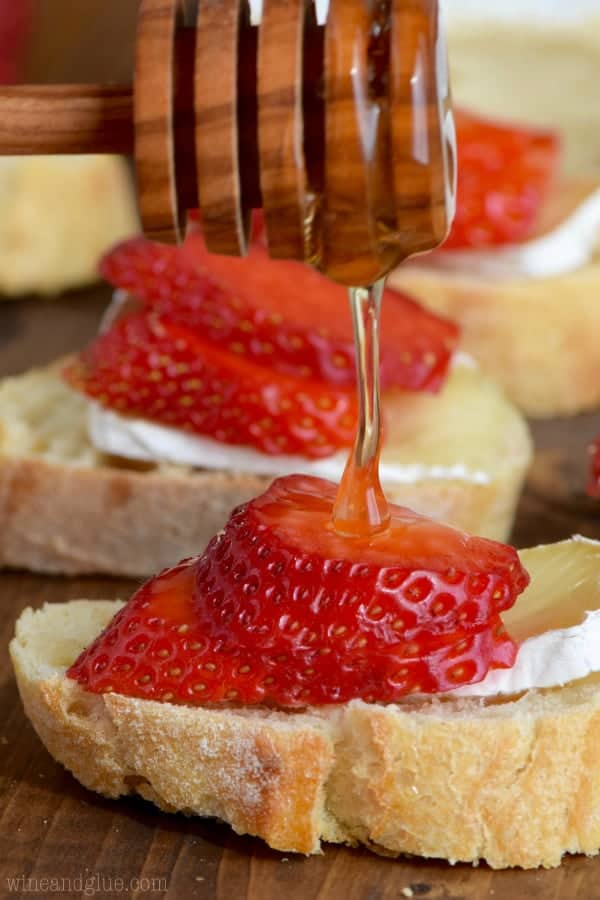 I will have all the details of the shower up on the blog soon, along with a TON of printables to go along with it. So yay! Watch out for that. I mean, I haven't given you a craft in FOREVER.
In the meantime, these Honey, Strawberry & Brie Bruschetta are so perfect for a baby shower, or a dinner party . . . or, you know just lunch . . . . by myself ;) They come together in only 10 minutes, so you really have no excuse not to try them.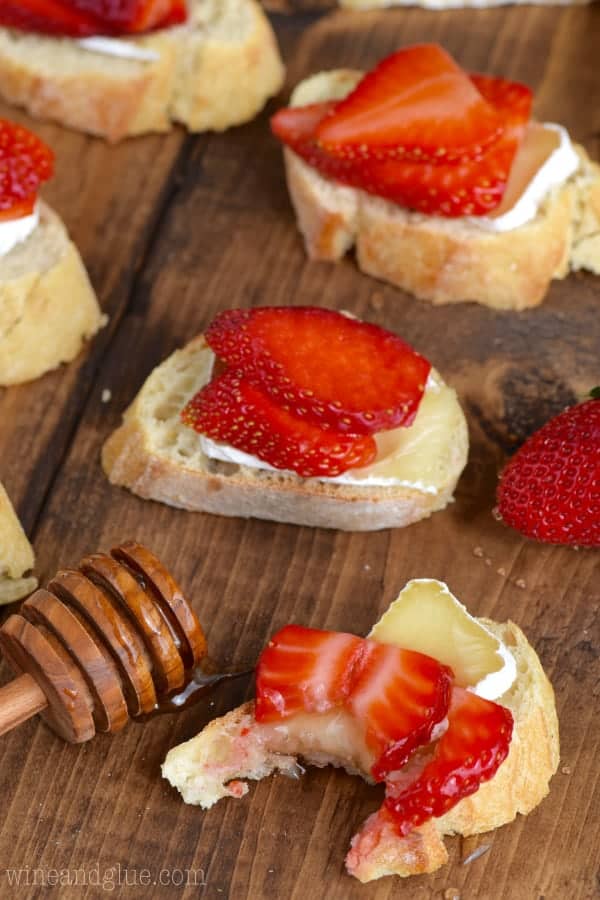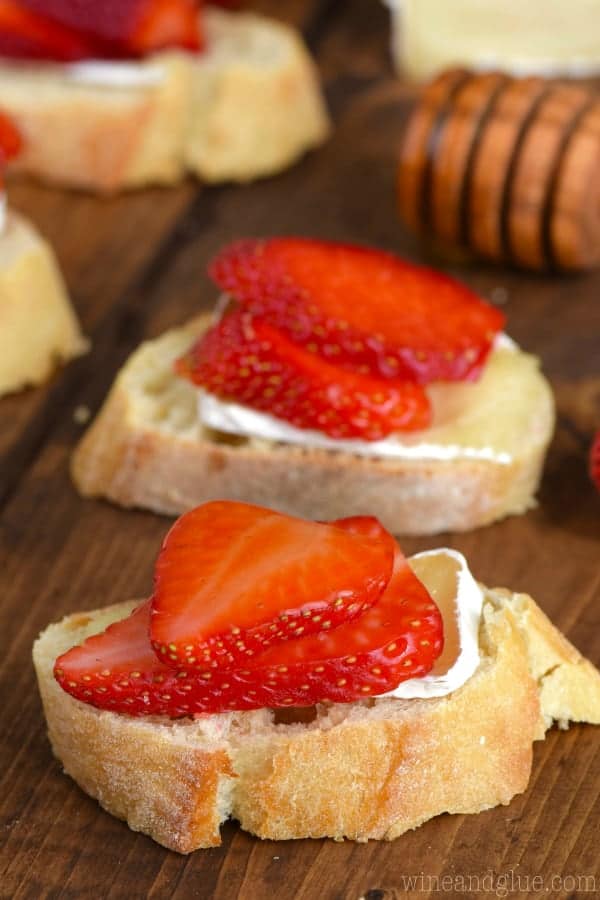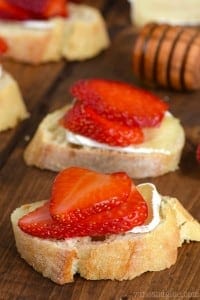 Honey, Strawberry & Brie Bruschetta
Ingredients
7

oz

Baguette Loaf

4

oz

brie cheese

sliced

1/4

cup

honey

you may not use it all

1

cup

sliced strawberries
Instructions
Preheat your oven to 400 degrees.

Slice the baguette to about 1/2 inch pieces. Place on a baking sheet. Spread a small amount of honey over each piece, about 1/4 to 1/2 tsp for each piece.

Place the brie pieces on the baguette slices. Bake for four minutes or until the cheese just begins to get melty.

Place two strawberry slices on each baguette piece. Drizzle with more honey and serve immediately.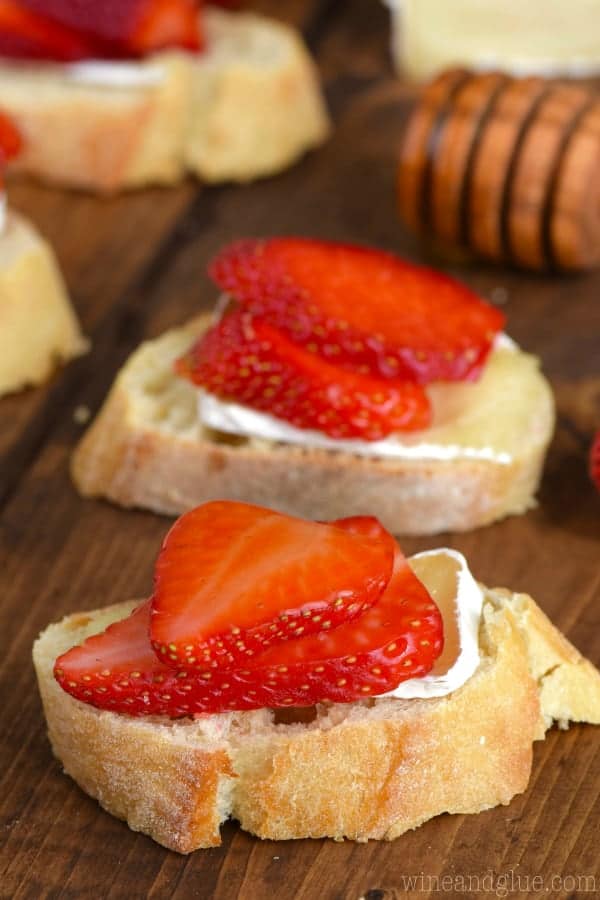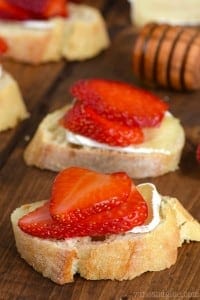 did you make this
Honey, Strawberry & Brie Bruschetta
You might also like
Strawberries & Cream Magic Bar