These Infused Water Recipes will make it so easy to stay hydrated this summer. Simple ingredients that add so much flavor. Couple that with a new Primo Water system and your family will be fully hydrated and feeling amazing for the hot summer months.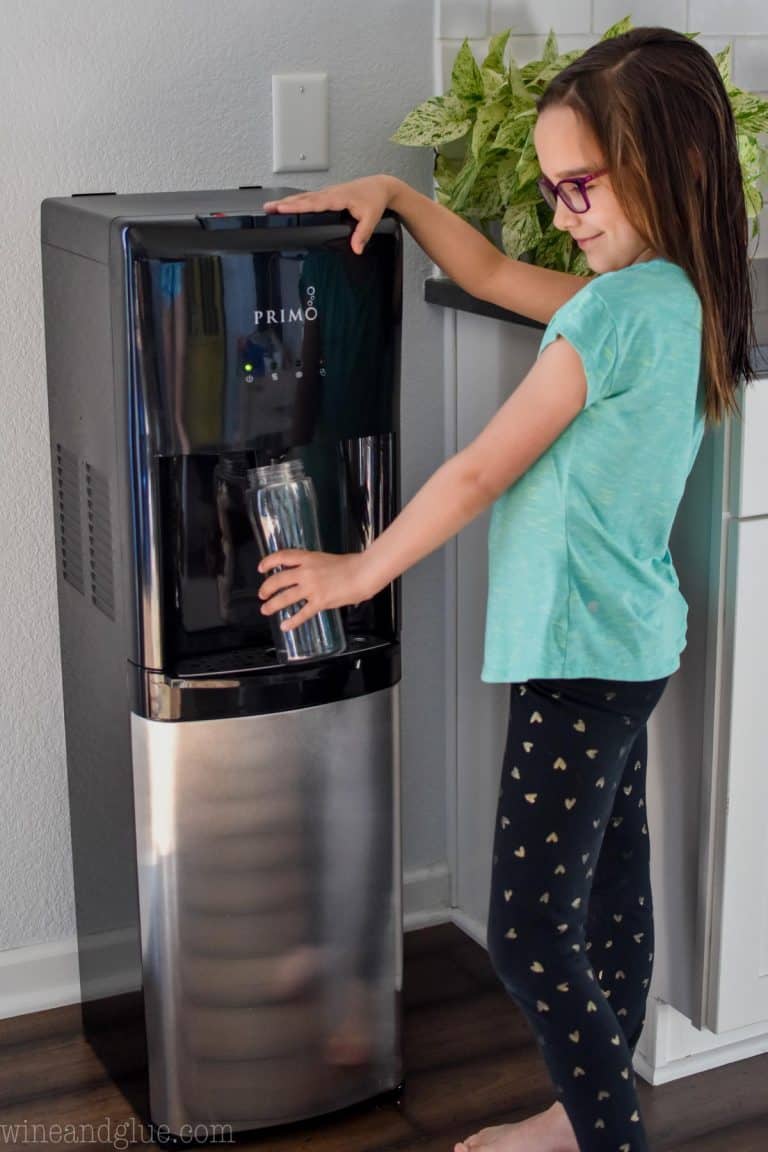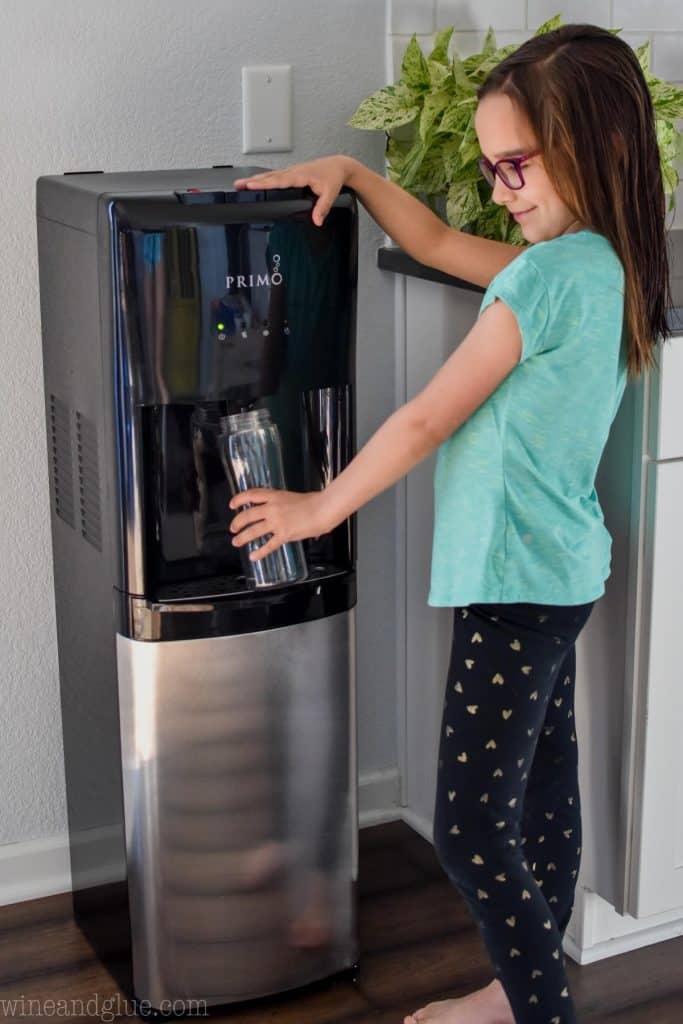 I'm proud to be working with Primo Water to bring you this post.
WHY PRIMO WATER IS PERFECT FOR KIDS
Being in the thick of summer I know a couple things to be true. One, our kids aren't on a daily routine. It's been a little bit of a free for all. Two, it's hot. And three, they weren't drinking as much water as they needed to to keep those little bodies happy and healthy.
That's why I'm so happy that we got a Primo Water System to help them keep on top of drinking water. They love it for so many different reasons:
It is the perfect height for them to fill their own water bottles.
The water tastes delicious.
The water is the right temperature for everyone with two levels of cold.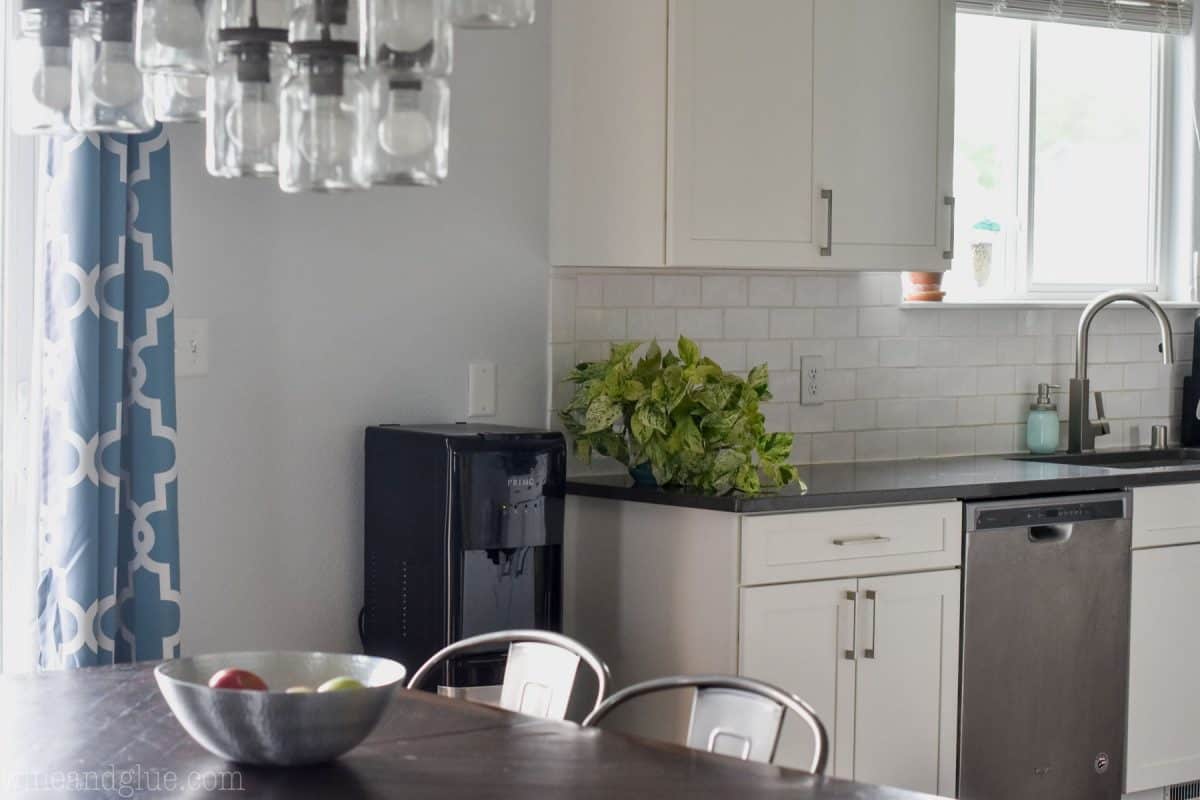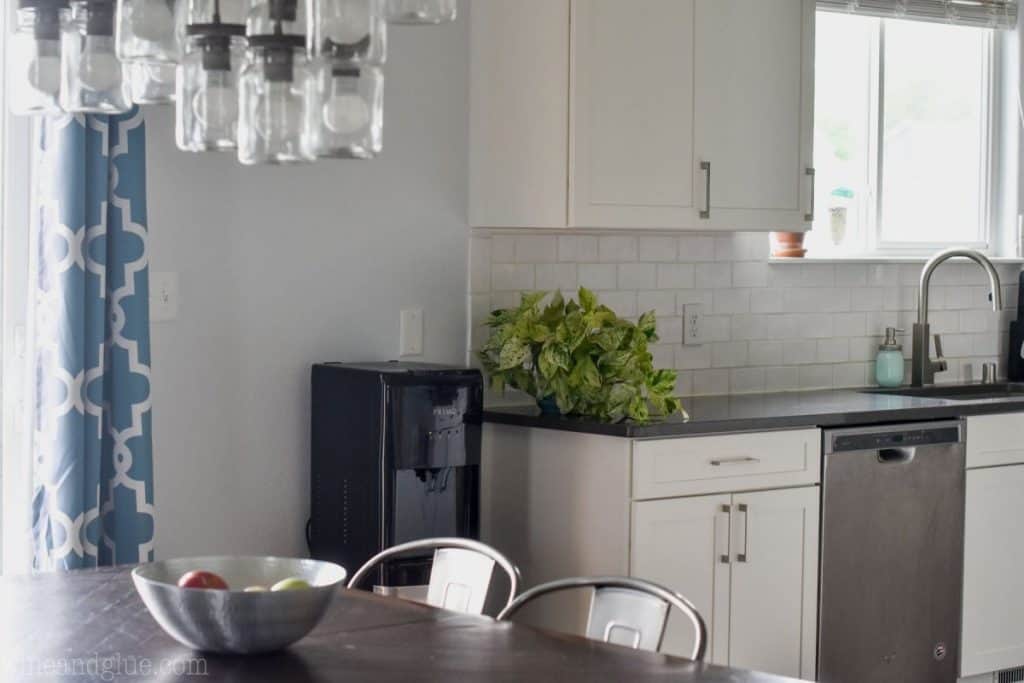 DELICIOUS PURIFIED WATER
I also am in love with the Primo System! It has already made our family drink so much more water in the short time that we've had it. I don't feel totally confident in our city's water. And our refrigerator water has a taste that I can't put my finger on, but know I don't like. The Primo Water tastes deliciously just right and having it right in a central part of our home means that we are all regularly refilling our cups and water bottles as we are around the house and on our way out the door.
I love that we are reducing waste by using reusable water bottles rather than the kids taking plastic water bottles to school that they will just toss.
Primo Water isn't your typical filtered water system. It is purified water that goes through a 9 step purification process, including reverse osmosis.
Primo's customer service is also top notch. Our system had a very small leak. Though they have lots of great and helpful videos available online to help you figure out potential leaks, they didn't tackle the weird place ours was coming from. The customer service representative was so helpful. She sent out a new system and gave us simple instructions for sending back the old one so they could investigate and get to the bottom of the problem.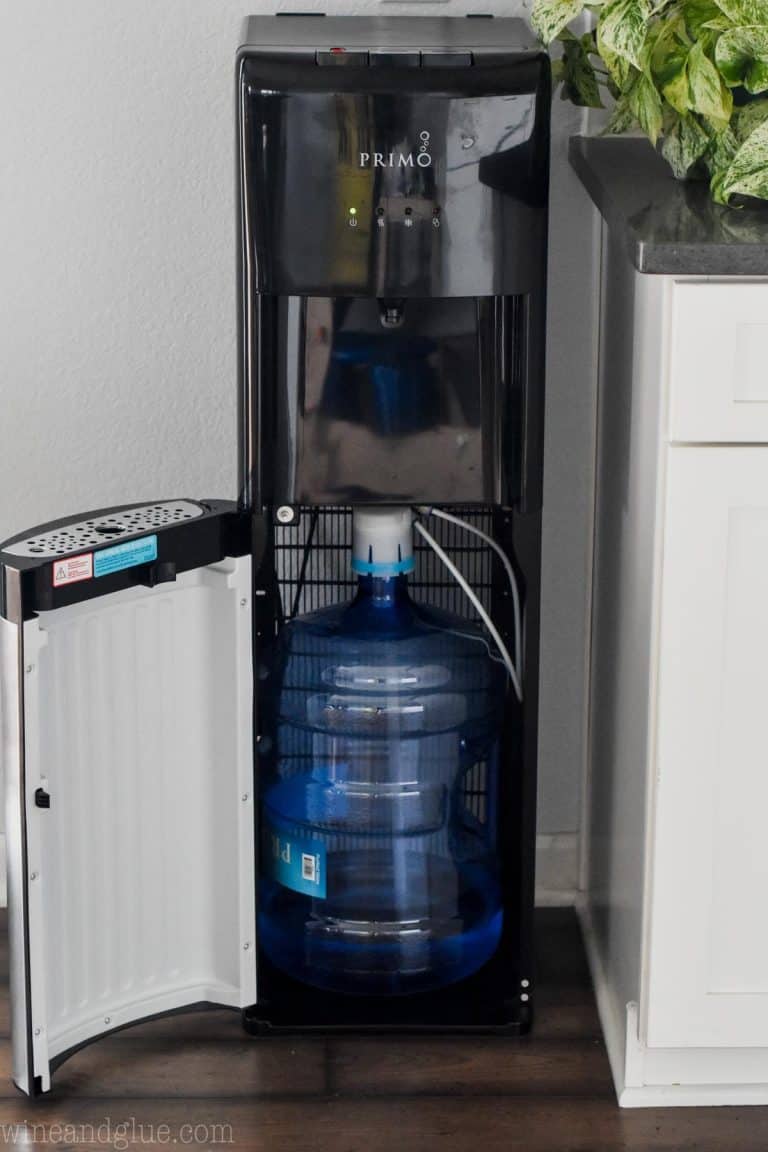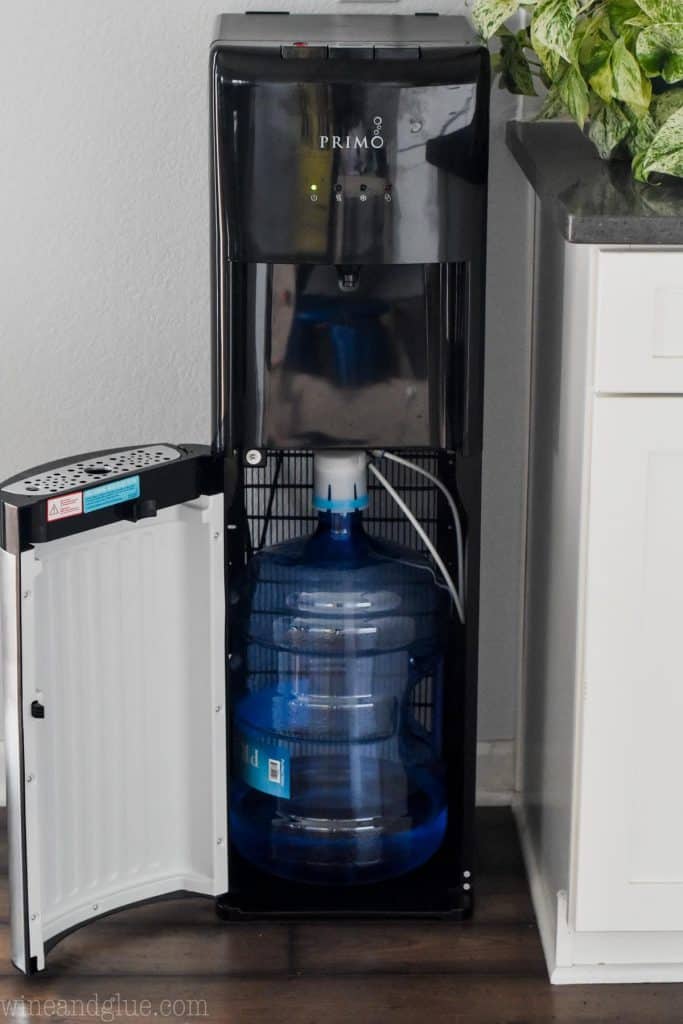 PRIMO WATER SYSTEMS ARE EASY TO REFILL
The Primo Water System is super easy to refill with this amazing bottom loading system. When your bottle goes empty, you have two choices.
Bring it (or any container) to a refill station near you and refill the bottle that your family just emptied.
Bring your empty water bottle and return it for a ticket that will save you money on your next Primo bottle.
I also love that when you order a water system, you get a coupon for your first bottle free!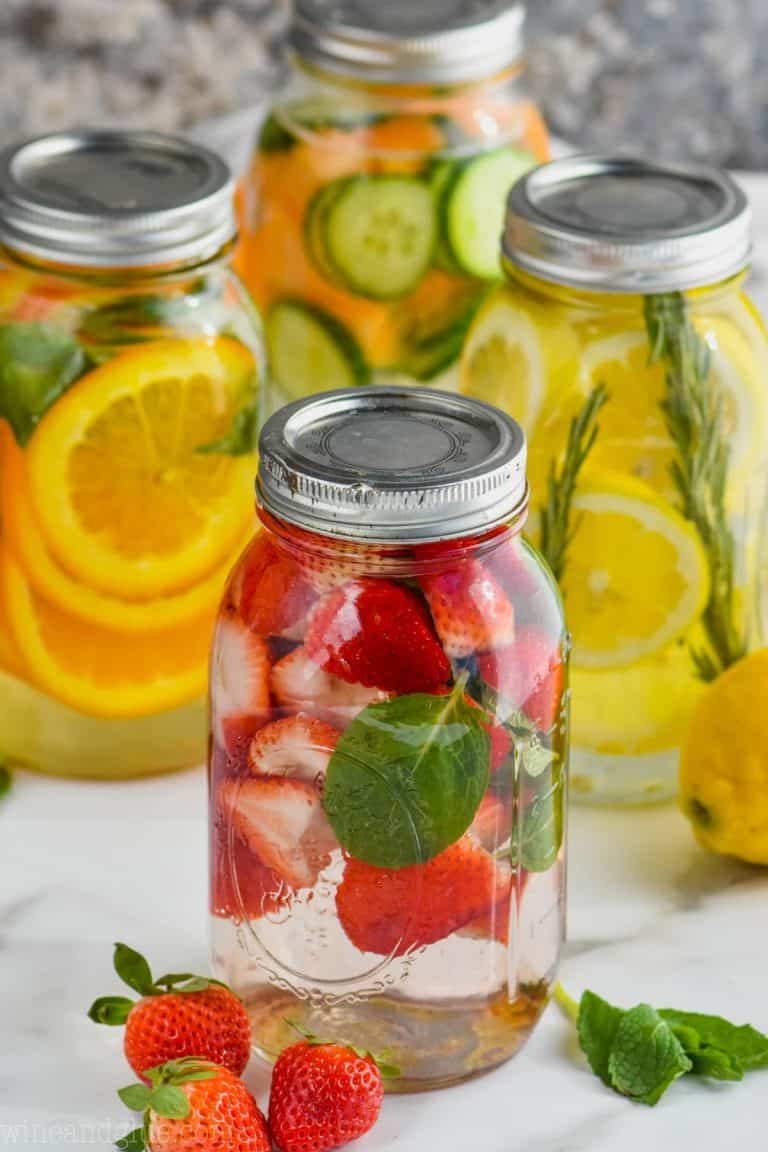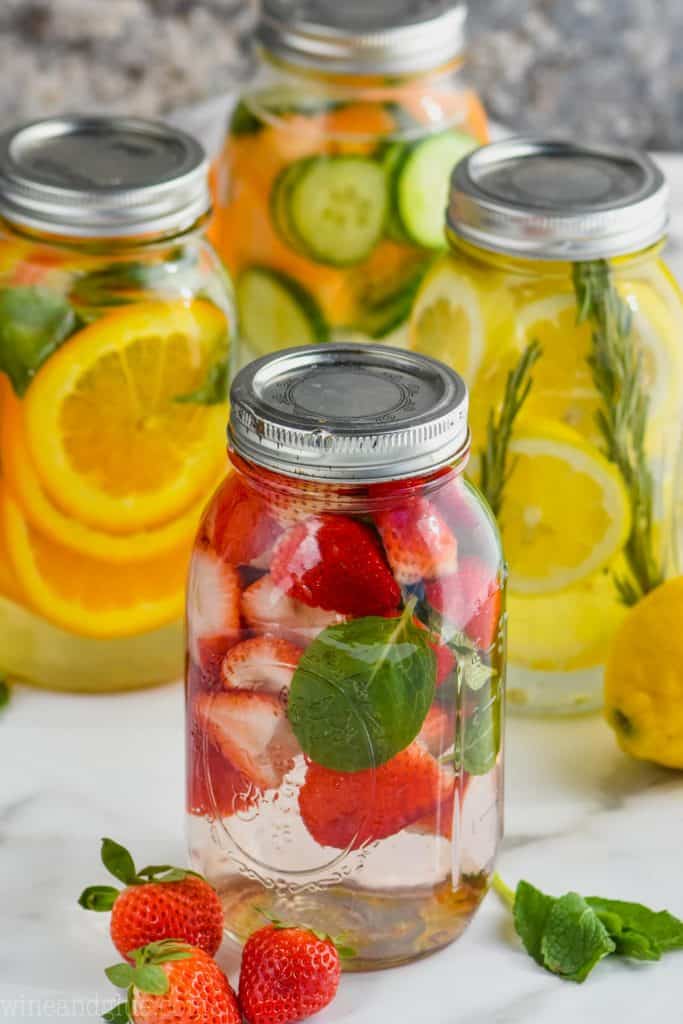 INFUSED WATER RECIPES
Another great way to stay hydrated all summer is to drink infused water! It is super simple to make and even easier to drink! Fruit infused water recipes are nothing new, but I love these new flavor combinations. It would be great to give your kids the chance to come up with some to see what flavors they love the most!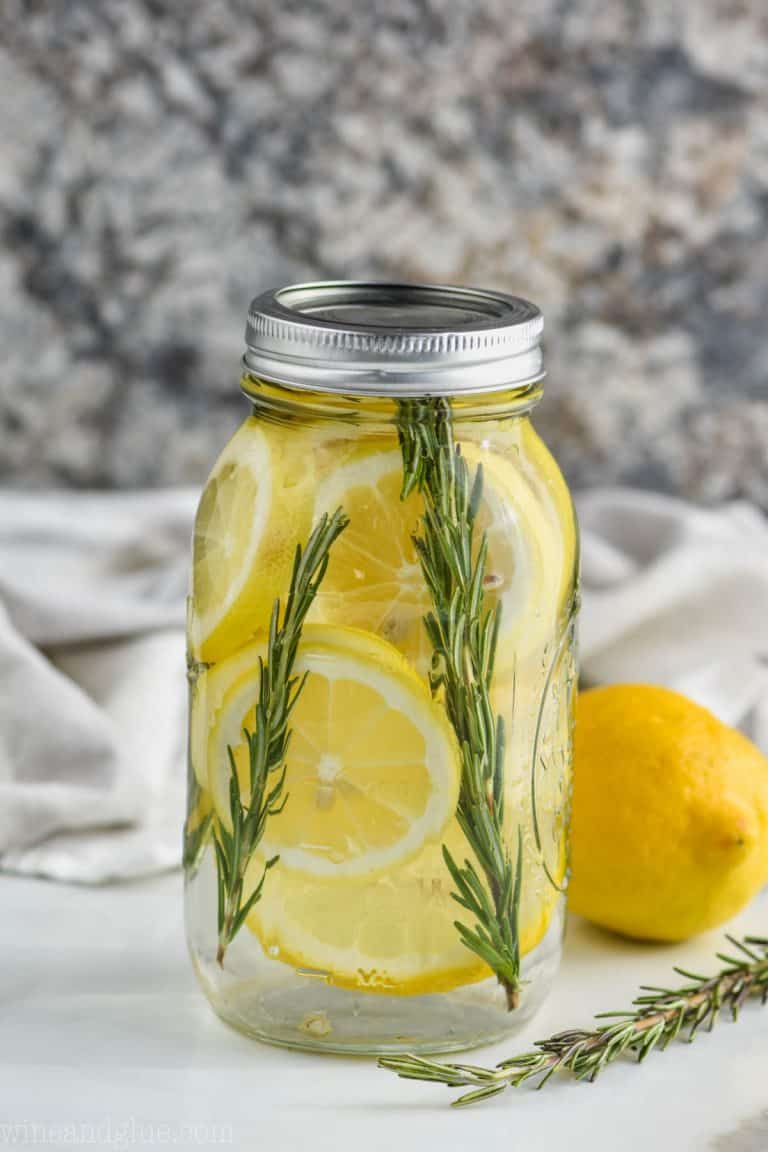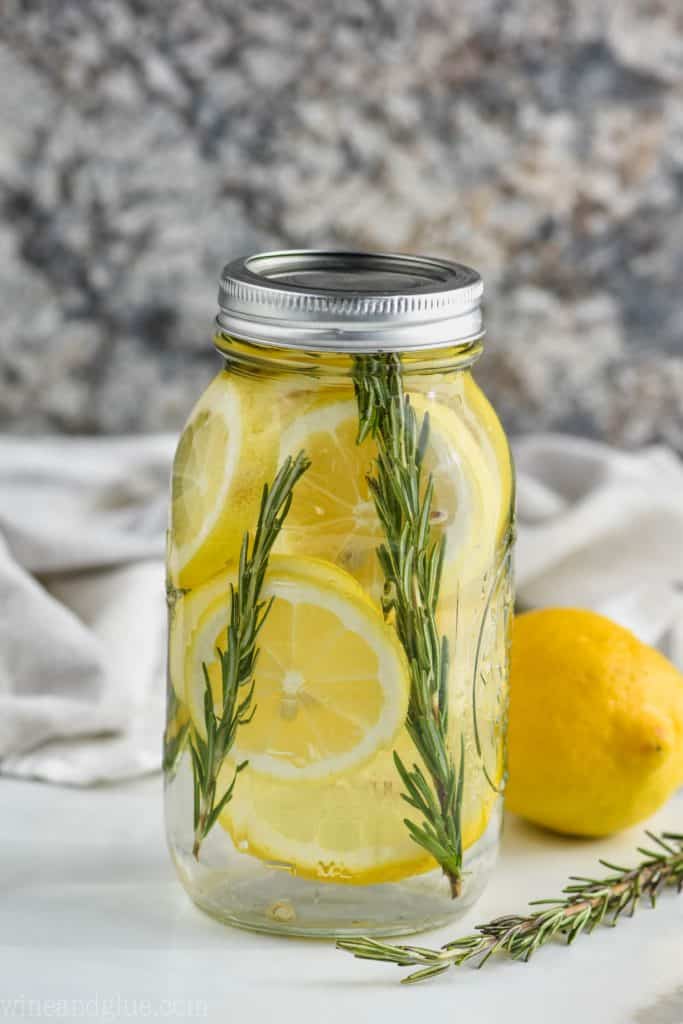 LEMON ROSEMARY INFUSED WATER
I think this was my favorite of all the infused water. The combination of rosemary and lemon go perfectly together and they are both so light and refreshing. Perfect for a hot day. You will need:
3 lemons
4 fresh rosemary sprigs
Add them to a mason jar, and fill with Primo water. It will taste like lemon immediately, but if you want to taste the rosemary wait another few hours.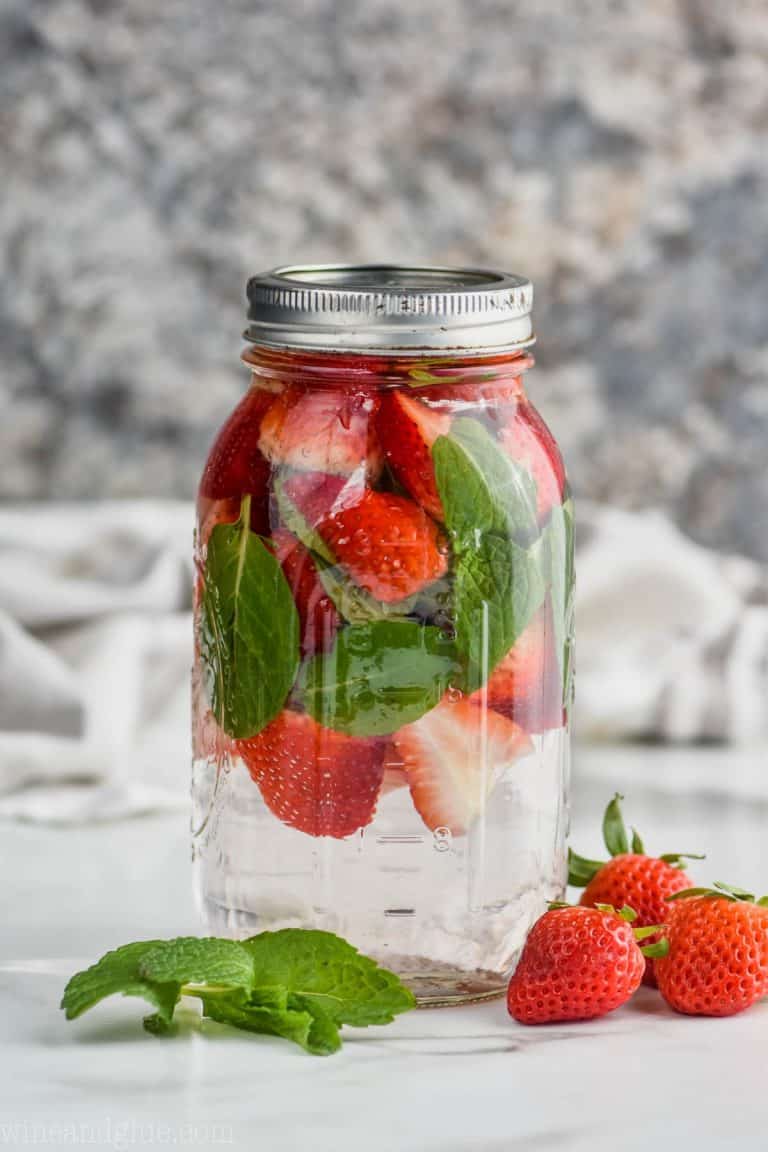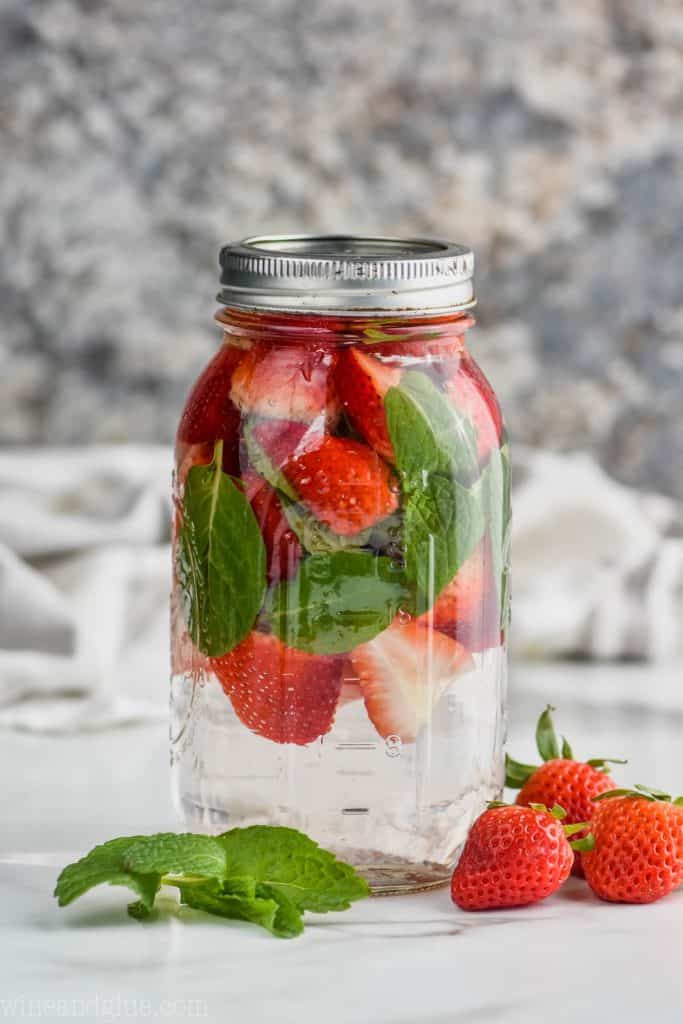 STRAWBERRY MINT INFUSED WATER
If you've never had strawberry and mint together, I highly recommend it. It is light and refreshing and feels a little like what summer would taste like if it had a taste. You will need:
1 cup of fresh strawberries, stems removed and cut in half
a small handful of mint leaves
Add the ingredients to a mason jar and fill it with Primo water.
If you want to get really fancy, you can slap the mint leaves in the palm of your hand to help pull out more of their minty flavor.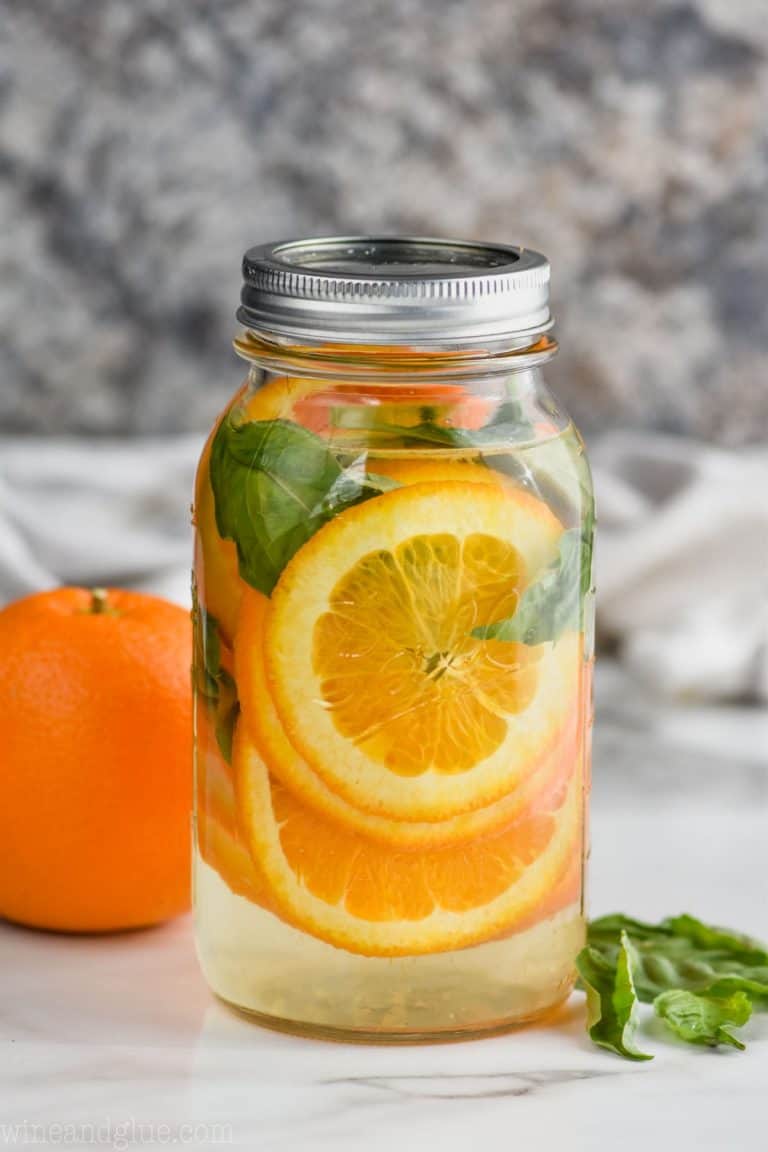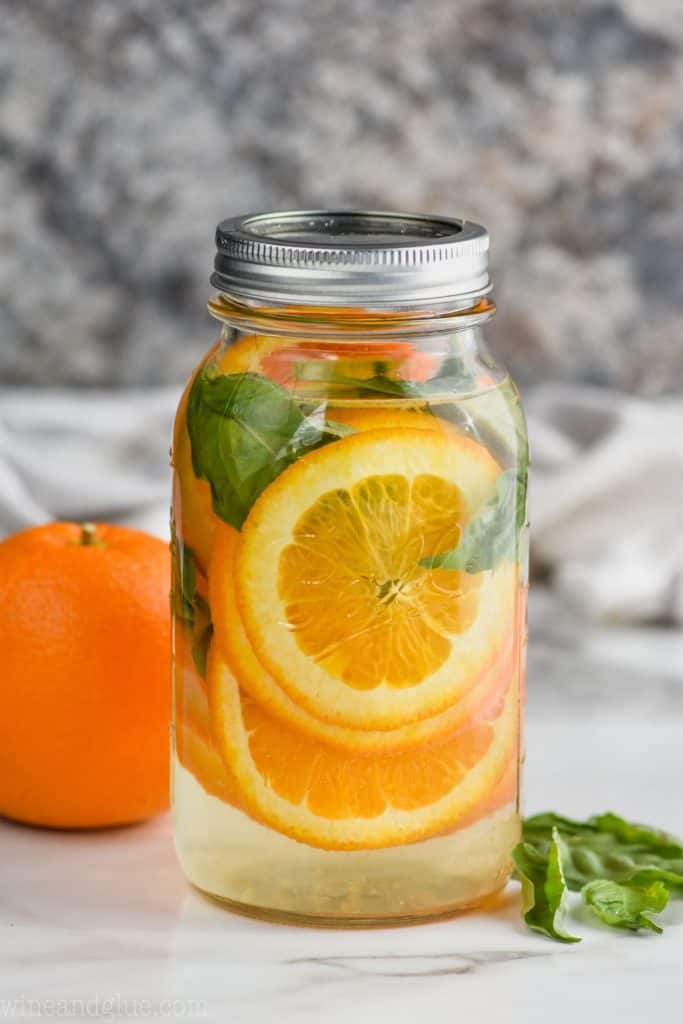 ORANGE BASIL INFUSED WATER
Orange and basil compliment each other perfectly, and they are delicious together in this infused water recipe. You will taste the orange immediately and it will take a little longer for the basil to sneak in. You will need:
2 sliced oranges
a small bunch of fresh basil leaves
Add the ingredients to a 32 ounce mason jar and fill with water.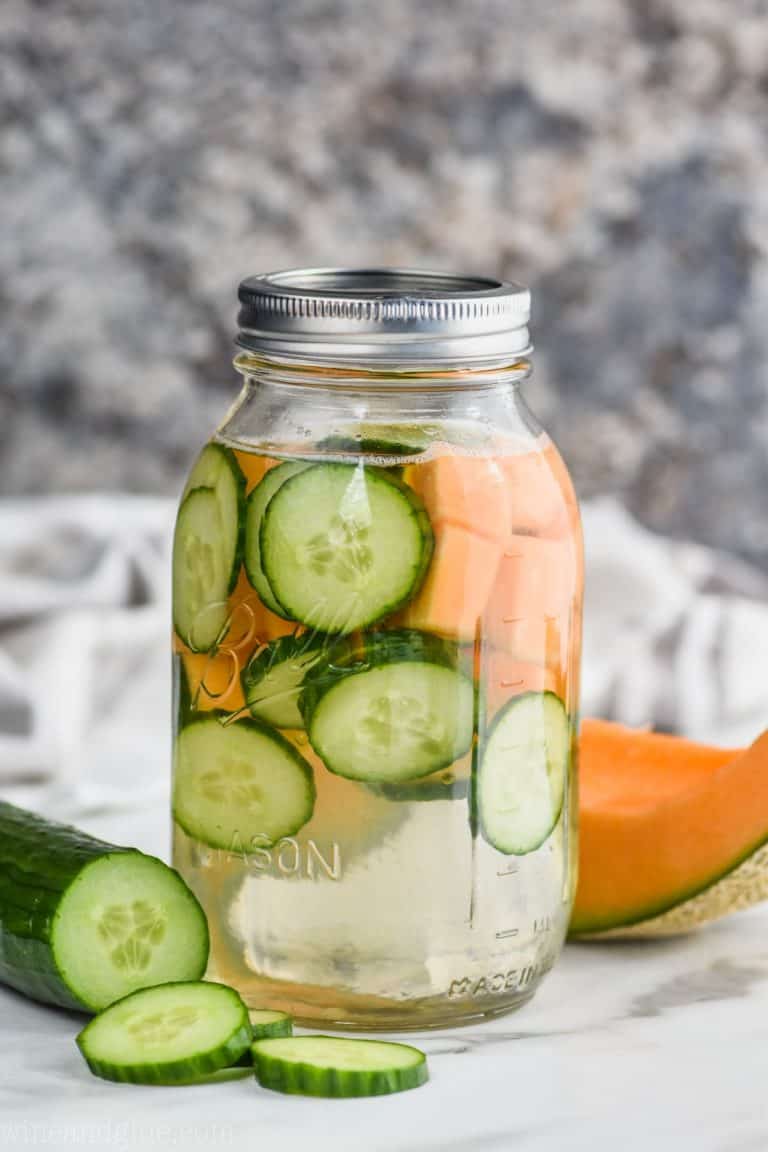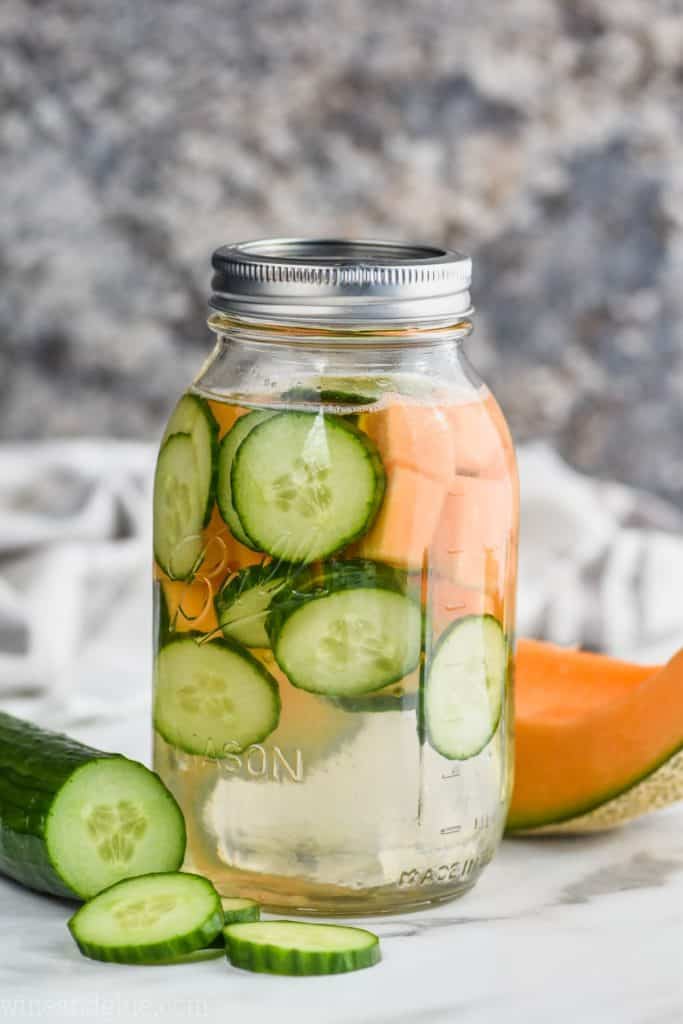 CUCUMBER MELON INFUSED WATER
I really like the taste of cucumber infused into things. But sometimes it feels like it needs another extra little something. This cucumber melon infused water is the perfect balance of cucumber and sweet. You will need:
1 cup cubed muskmelon
1/2 cup sliced cucumber
Add the ingredients to a 32 ounce mason jar and fill it with water.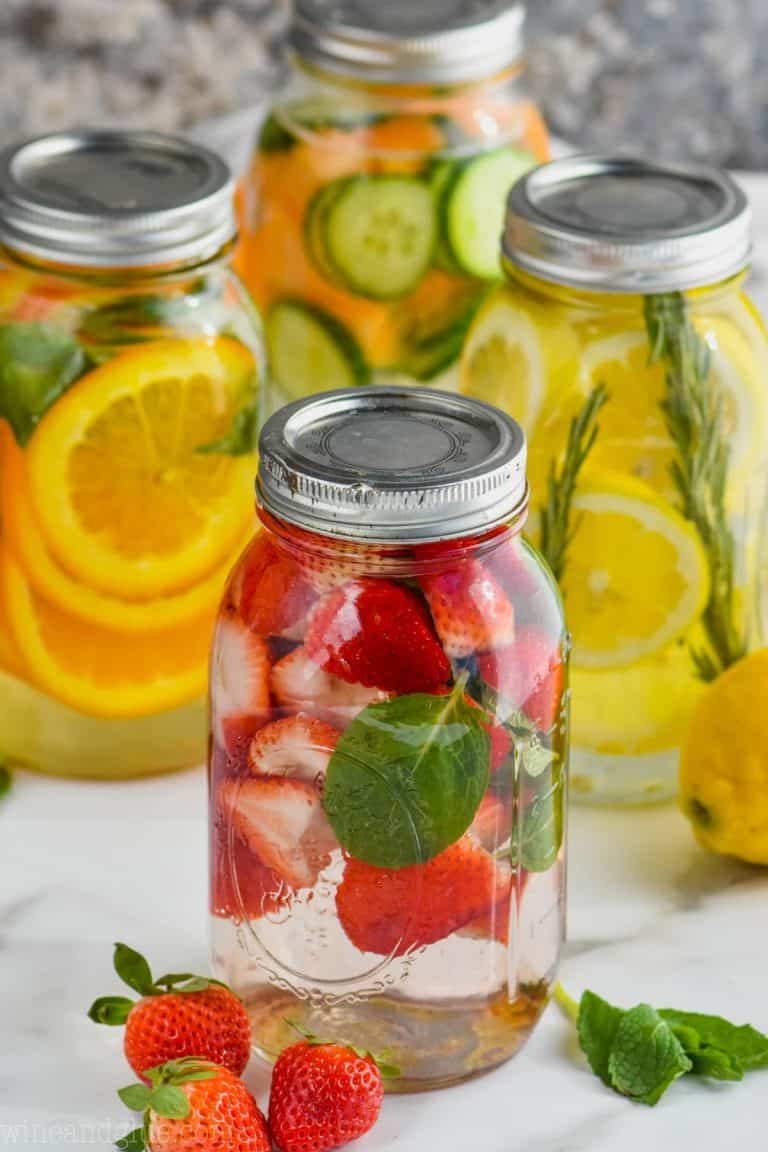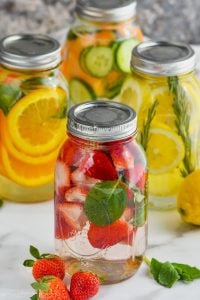 Infused Water Recipes
These Infused Water Recipes are so simple to make but make it so much easier to stay hydrated.
Ingredients
Lemon Rosemary Infused Water
3

lemons

sliced

4

fresh rosemary sprigs
Strawberry Mint Infused Water
1

cup

fresh strawberries

trimmed and sliced in half

1

small handful mint leaves
Orange Basil Infused Water
2

oranges

sliced

1

small handful

basil leaves
Cucumber Melon Infused Water
1

cup

muskmelon

cubed

1/2

cup

cucumber

sliced
Instructions
For each recipe, combine the two ingredients in a 32 ounce mason jar and fill with Primo Water.

Allow the water several hours to infuse in the refrigerator. Drink within 48 hours.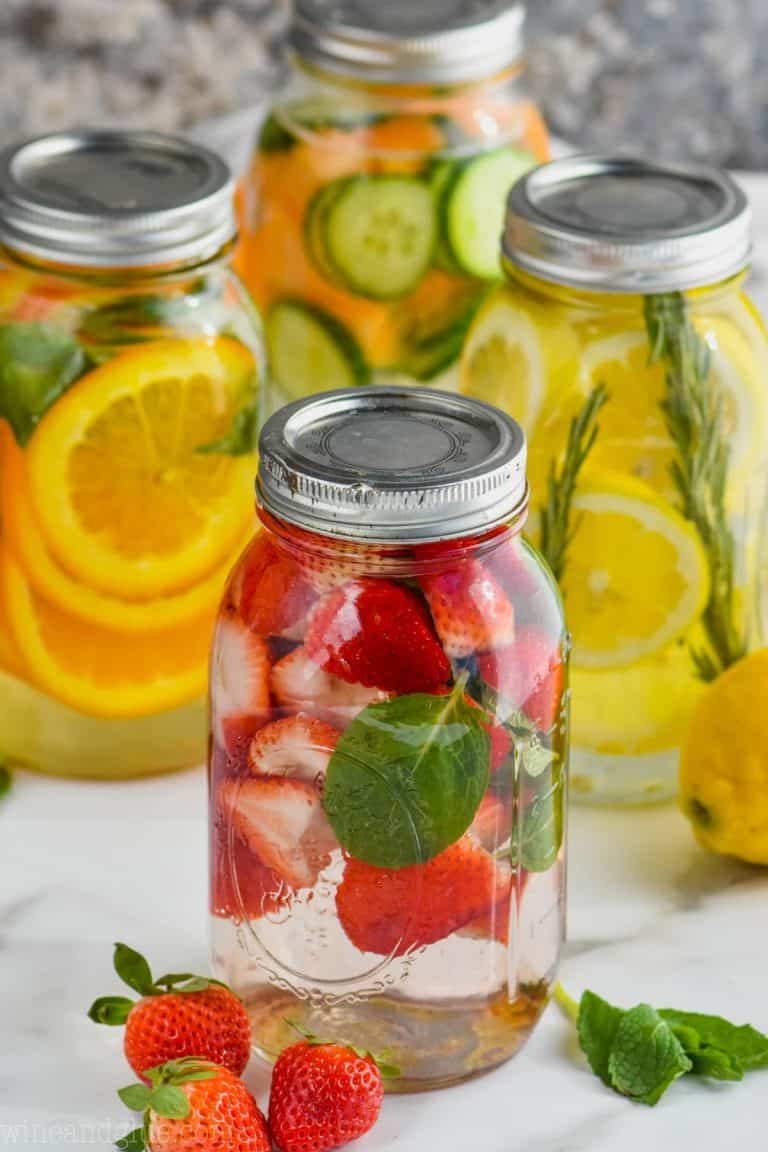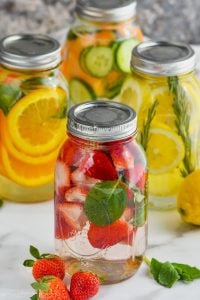 did you make this
Infused Water Recipes