Strawberry Milk is such an easy recipe to make from scratch at home! Just a few simple ingredients for this fun treat.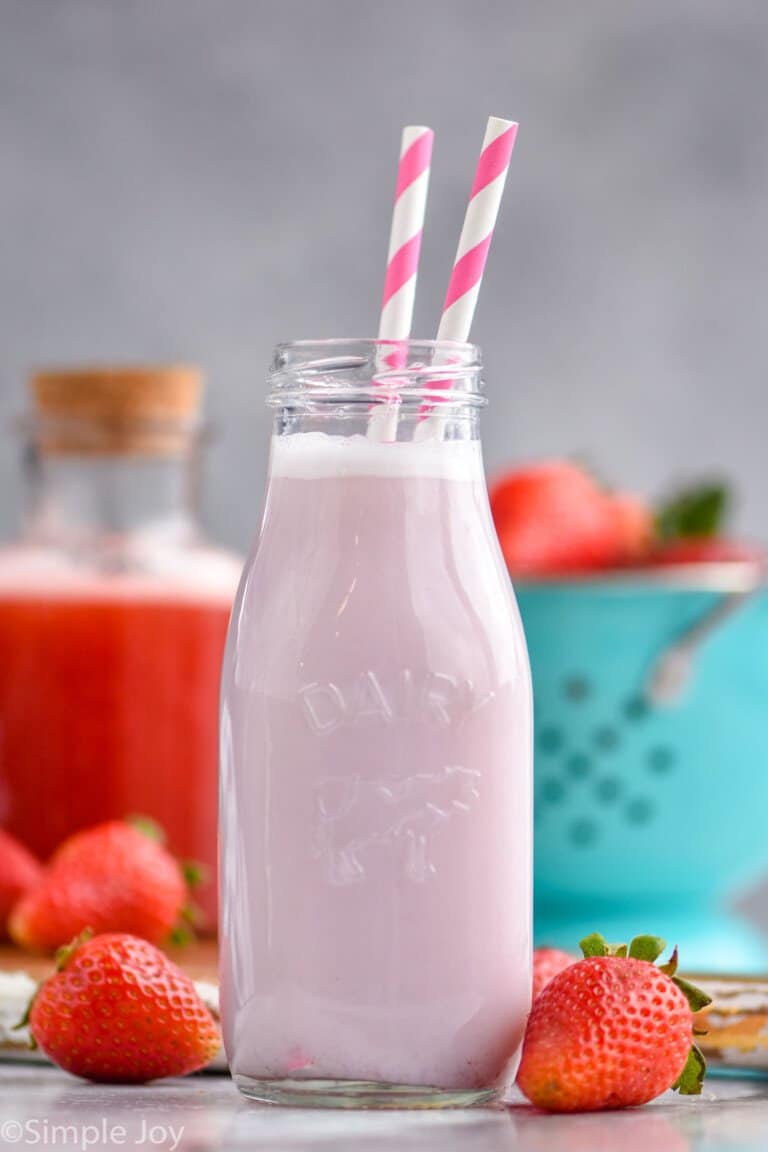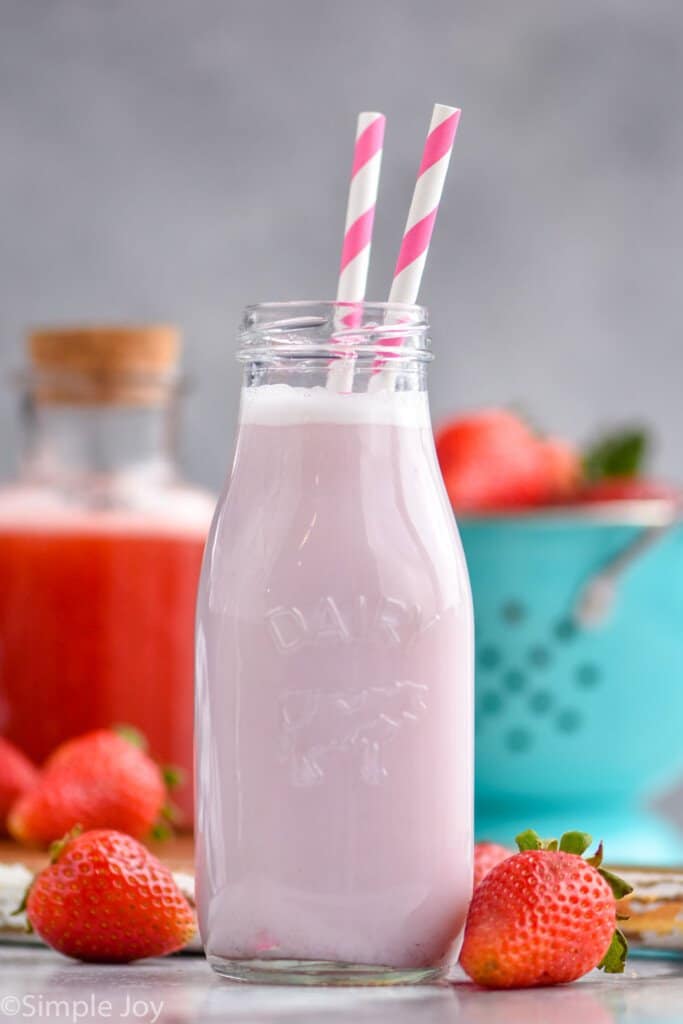 When my kids were really little, one of their favorite books was Charlie and Lola. Lola's very favorite drink was "pink milk" and this quickly became a thing in our house. The good news is that pink milk, or strawberry milk, is very easy to make at home. I love being able to make things from scratch so I know exactly what is in them.
While it is easy to buy strawberry milk, this homemade version is both simple to make and you can control all of the ingredients. It is basically just milk, strawberries, sugar, and water. Not only that, but the strawberry syrup you are making for this is perfect for topping pancakes, or tossing in cocktails after the kids head off to bed.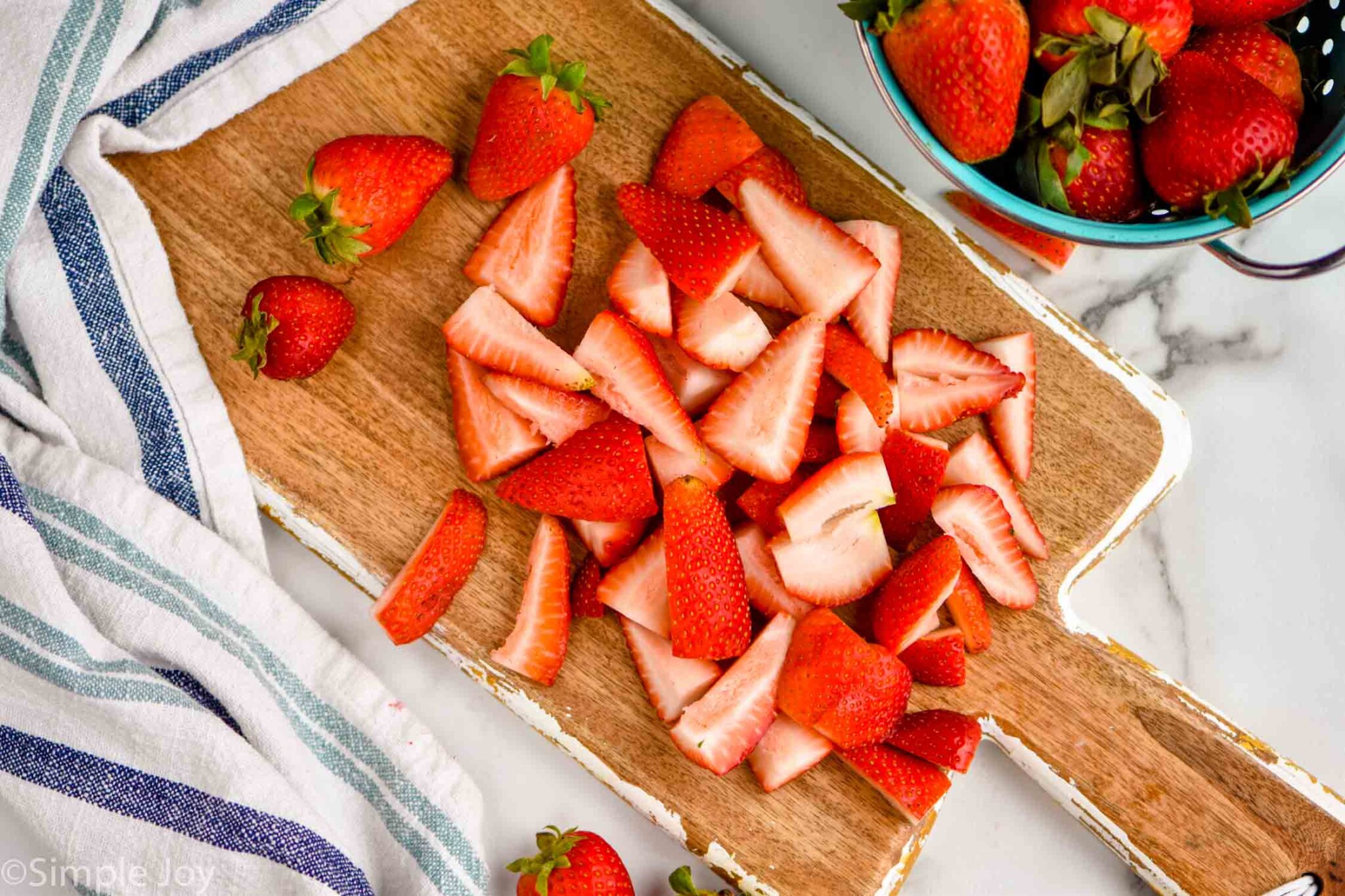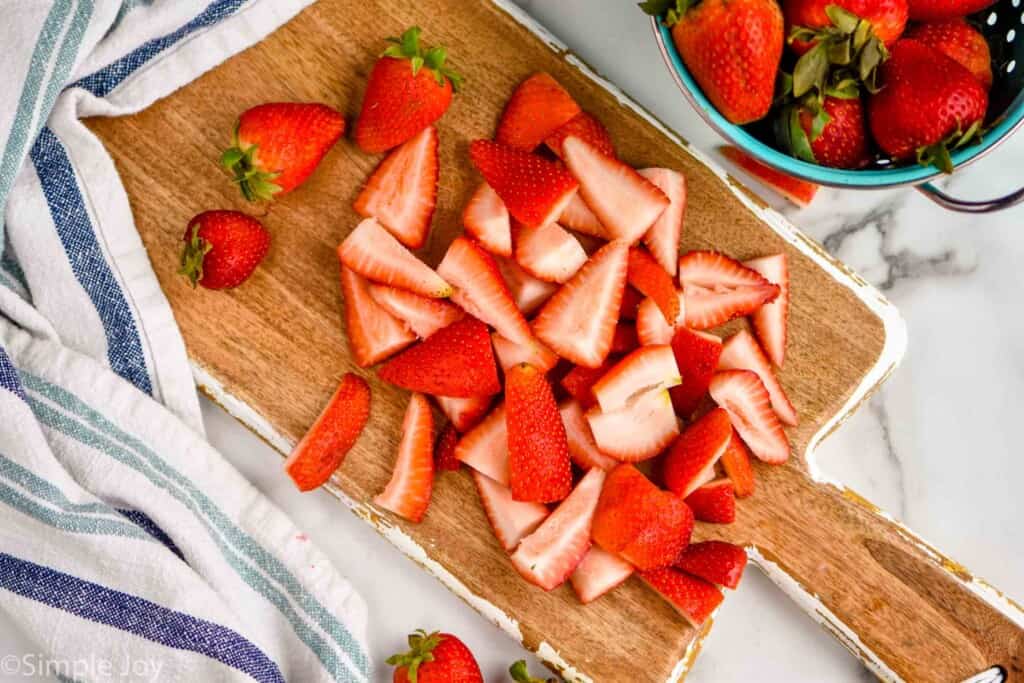 How to Make Strawberry Milk
This is just a brief overview for you to see how easy this flavored milk is. Please scroll to the bottom of the post to get the full measurements and instructions in the recipe card.
Cut up fresh strawberries. You will need 16 ounces to make about 1 cup of strawberry syrup.
Combine the strawberries with water and sugar. In a small sauce pan, bring them to a boil while stirring regularly. Boil for 10 minutes.
Blend the syrup. After it has boiled, transfer the syrup to a blender to make smooth. Then strain it with a metal mesh strainer.
Allow the syrup to cool.
Add 2 tablespoons of syrup to 6 ounces of milk. (Or more!)
TOP PICK
Metal Sieve
A fine mesh sieve is a great addition to kitchens. I use it in so many recipes!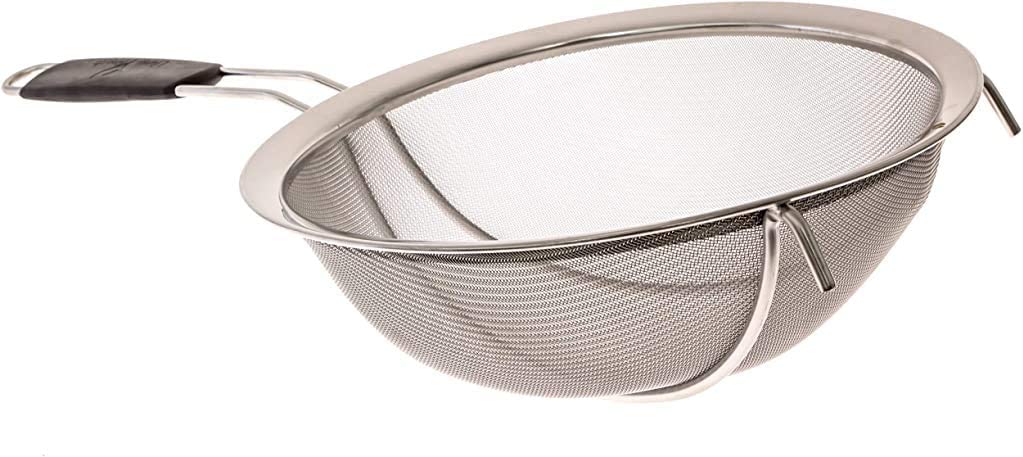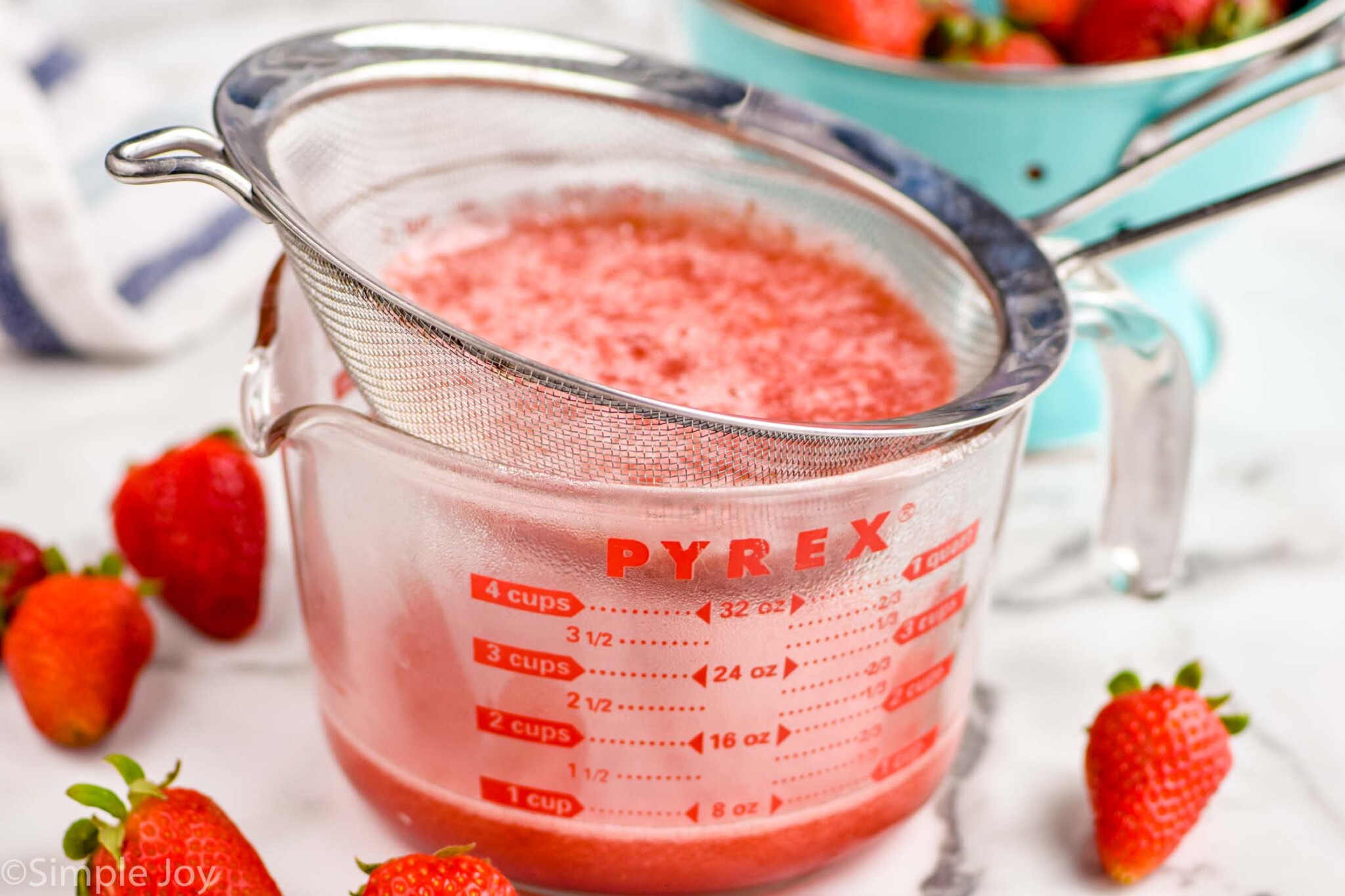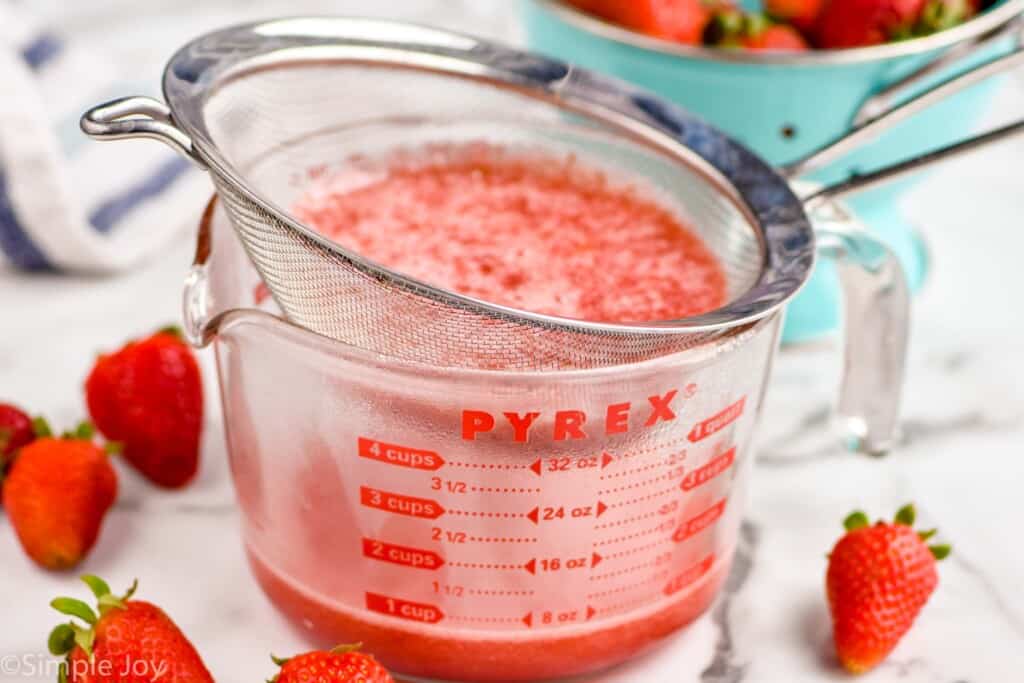 Strawberry Syrup
Strawberry Syrup is so easy to make! With only two ingredients, you can make it all the time and use it to make strawberry milk, top pancakes, or add to cocktails.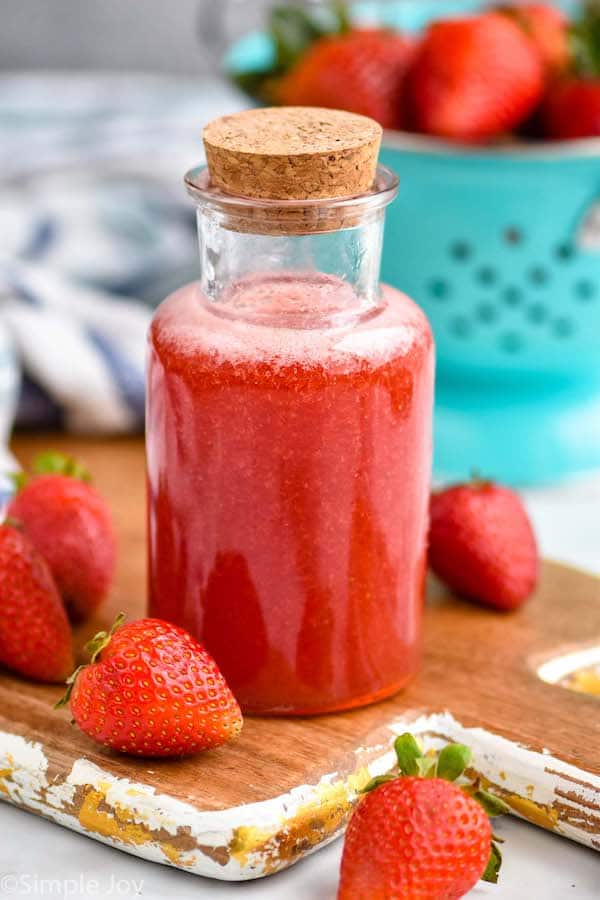 Freezing Strawberry Syrup
This strawberry syrup lasts for 1 month in the refrigerator. If you would like to stretch it a little longer you could put it in ice cube trays and freeze it. Once frozen, transfer the cubes to an air tight container and store in the freezer for up to three months. You can have strawberry milk well into the fall.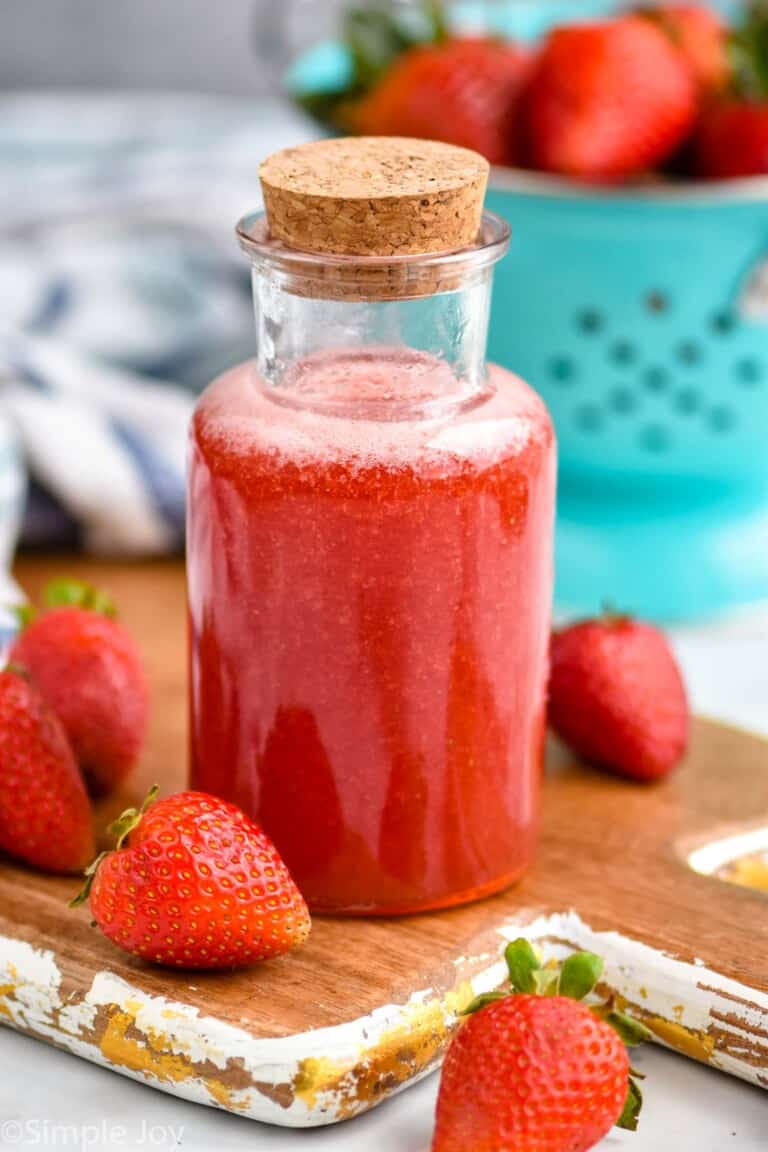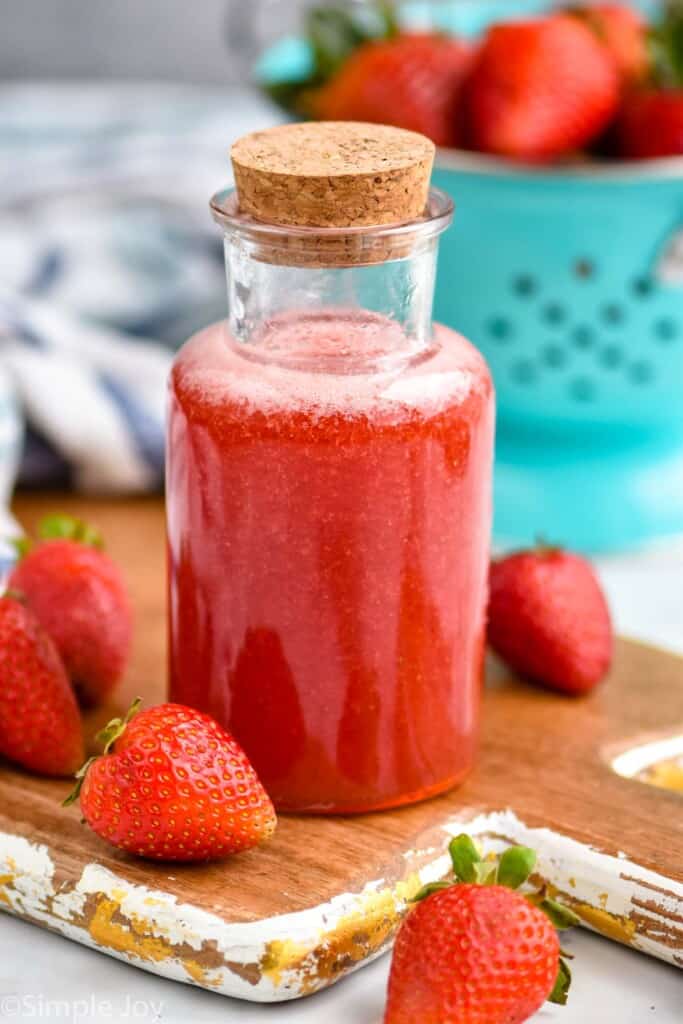 FAQ
How long does strawberry syrup last?
It will keep in the refrigerator for a month, so you will have lots of time to enjoy this strawberry milk recipe.
What does strawberry milk taste like?
This really fun pink drink tastes like a sweet strawberry flavored milk.
Can I use less sugar?
You can, but you may not like it as much. This is considered a treat in our house, so it's had in moderation, and totally enjoyed.
Can I use frozen strawberries?
Yes! This is a great way to use up your frozen strawberries. Because they release a lot of liquid as they thaw, I suggest that you let the mixture simmer for closer to 12 minutes to get the consistency you are looking for.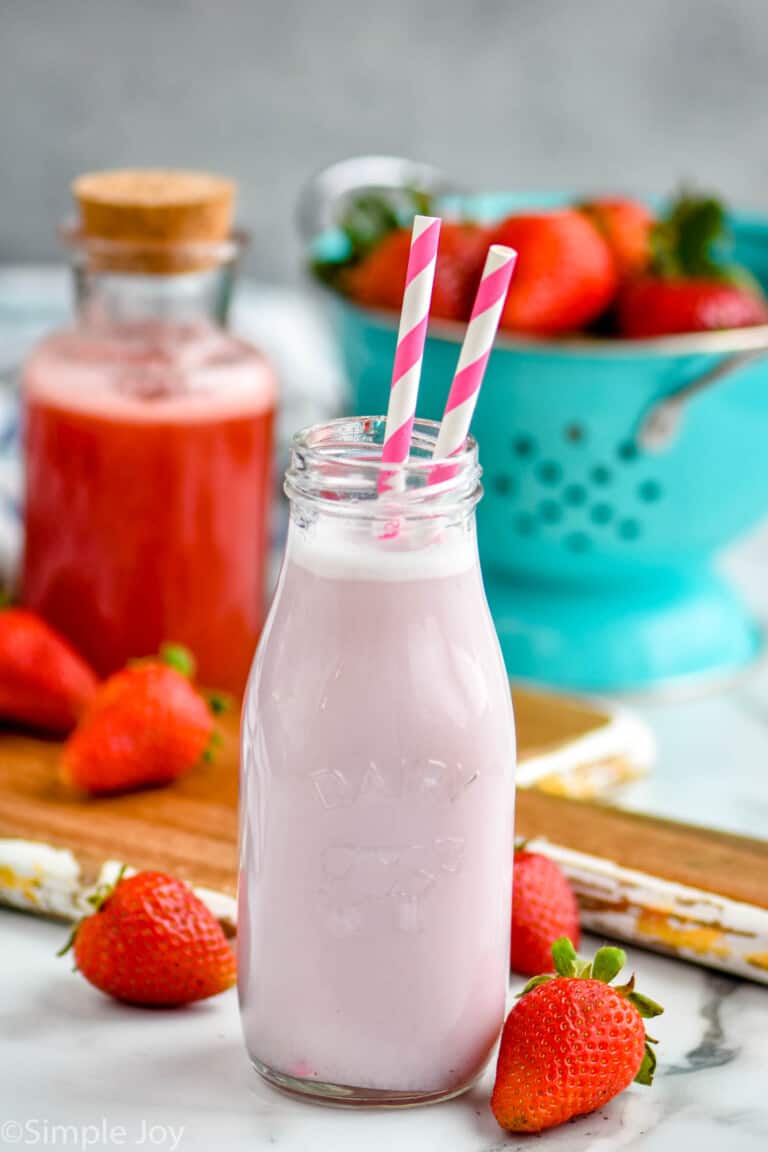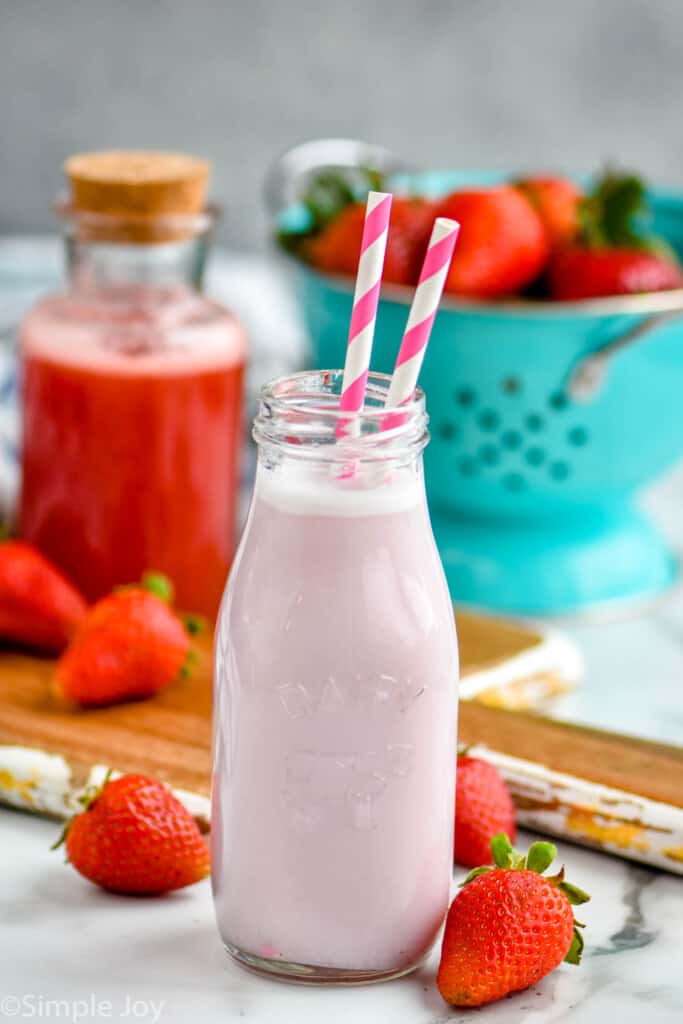 Other Strawberry Recipes
If you have been strawberry picking recently and need more great recipes to use up your find, try these:
If you make this strawberry milk recipe or any of my other recipes, leave me a comment and let me know what you think!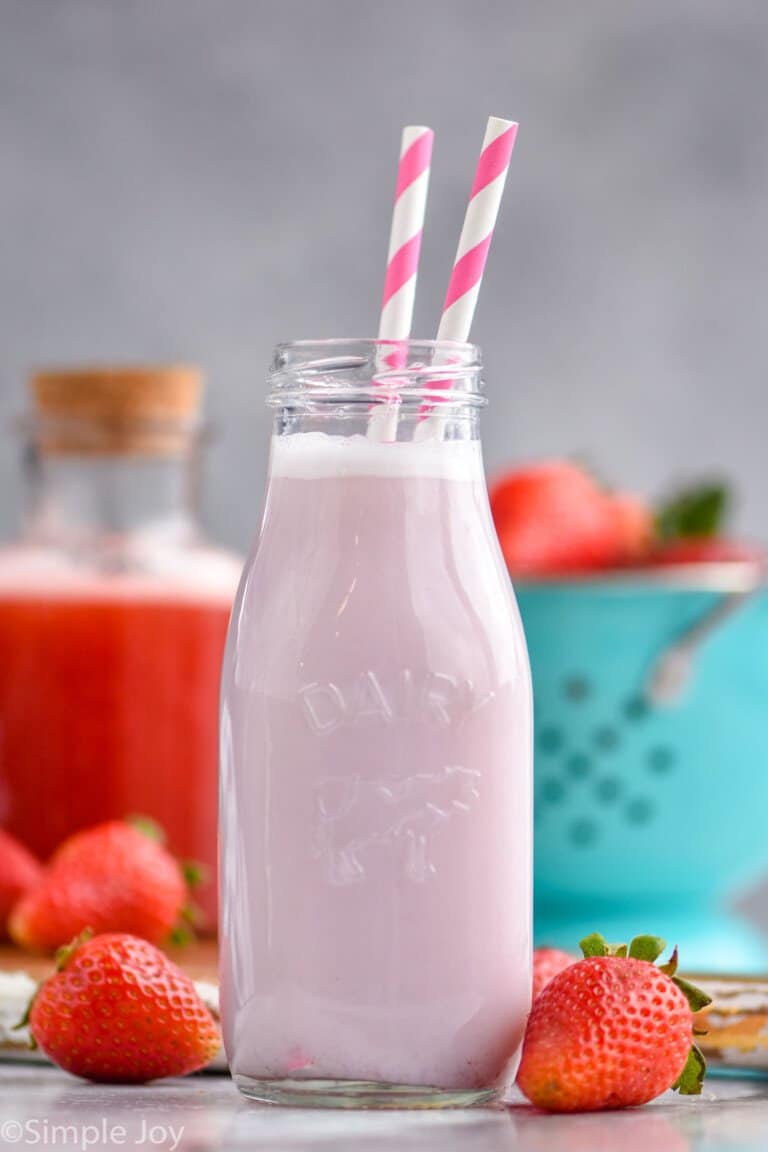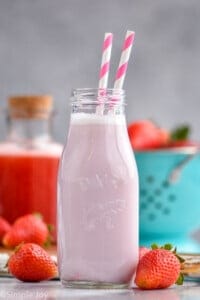 Strawberry Milk
Strawberry Milk is such an easy recipe to make from scratch at home! Just a few simple ingredients for this fun treat.
Ingredients
6

ounces

milk

(per serving)
Strawberry Syrup
1

cup

granulated sugar

16

ounces

strawberries

greens removed and quartered

1/2

cup

of water
Instructions
Strawberry Syrup
Bring the sugar, strawberries, and water to a boil over medium low heat, stirring regularly.

Boil for 10 minutes, stirring occassionally.

Transfer the mixture to a blender and blend until smooth.

Strain the syrup using a mesh strainer and store the remaining syrup in the refrigerator for up to a month in an airtight container.
Strawberry Milk
Once the syrup has compltely cooled add 2 tablespoons to 6 ounces of milk for a deliciuos and easy treat.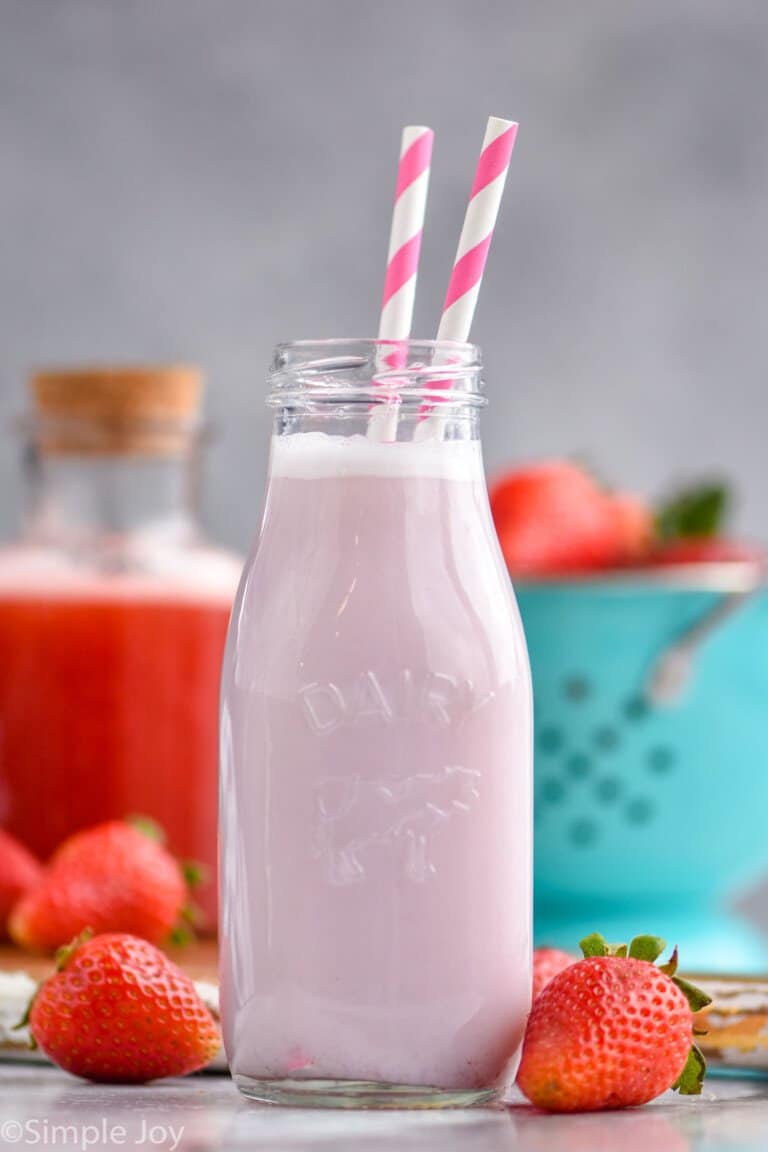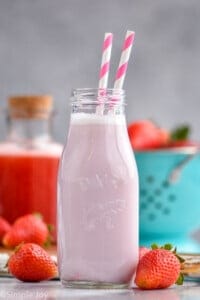 did you make this
Strawberry Milk
you might also like . . .