Lime Coconut Macaroons are a simple twist on your favorite coconut macaroon recipe. These are easy to make, and even easier to eat!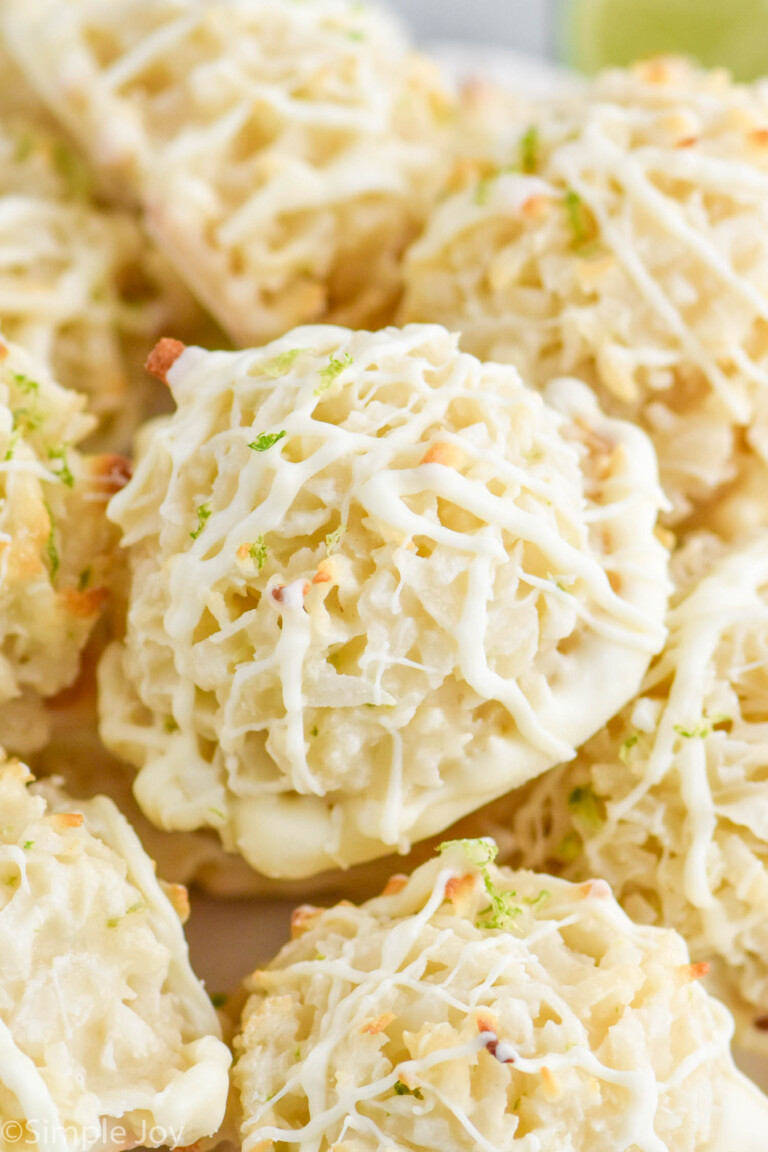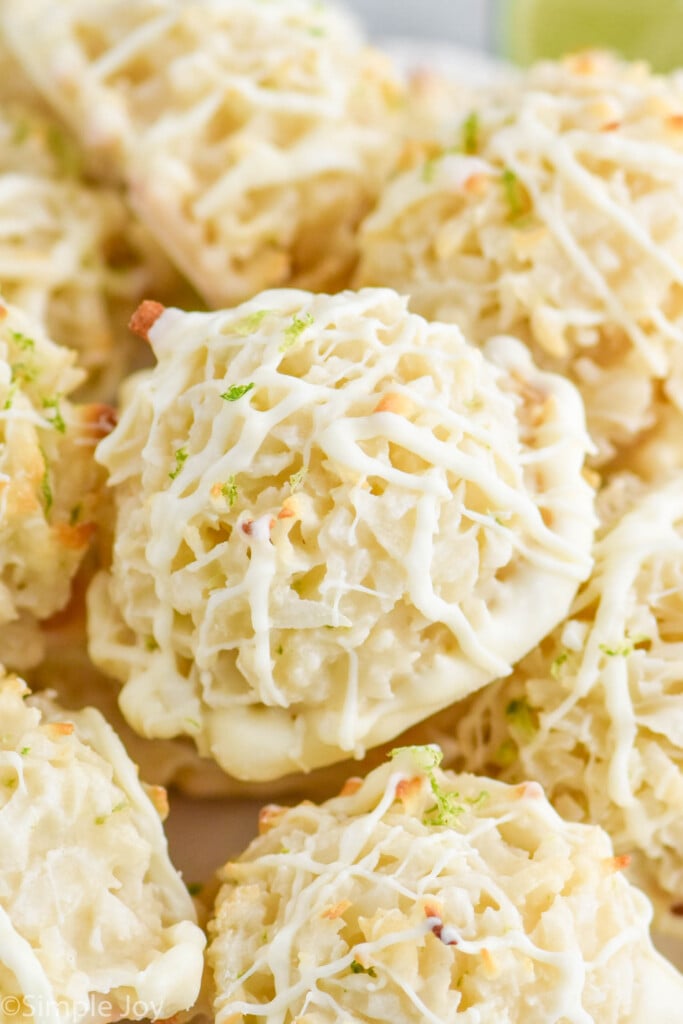 There is something about lemon and lime desserts that sing spring to me. I will take everything I can get that yells spring this time of year, and these Lime Coconut Macaroons hit the spot perfectly.
These simple cookies are so easy to make that even the kids can do it. Just a few ingredients bring these cookies together. They are finished off with a dip and a drizzle in some white chocolate and a little bit of lime zest on top. They will be a hit wherever you take them.
How to Make Lime Coconut Macaroons
Combine the dry cookie ingredients. In a large bowl mix together the coconut, flour, and salt.
Add in the wet ingredients. Then stir in the lime zest, vanilla, lime juice, and sweetened condensed milk.
Scoop and bake the cookies. I like using a medium (1 1/2 tablespoon) cookie scoop so that all of my cookies are uniform. Scoop them onto a parchment lined baking sheet and they will bake up in 12 to 15 minutes.
Finish off the cookies. After the cookies cool, dip them in some melted white chocolate and then drizzle a little on top. If you like, add a little bit of lime zest to the top of each cookie.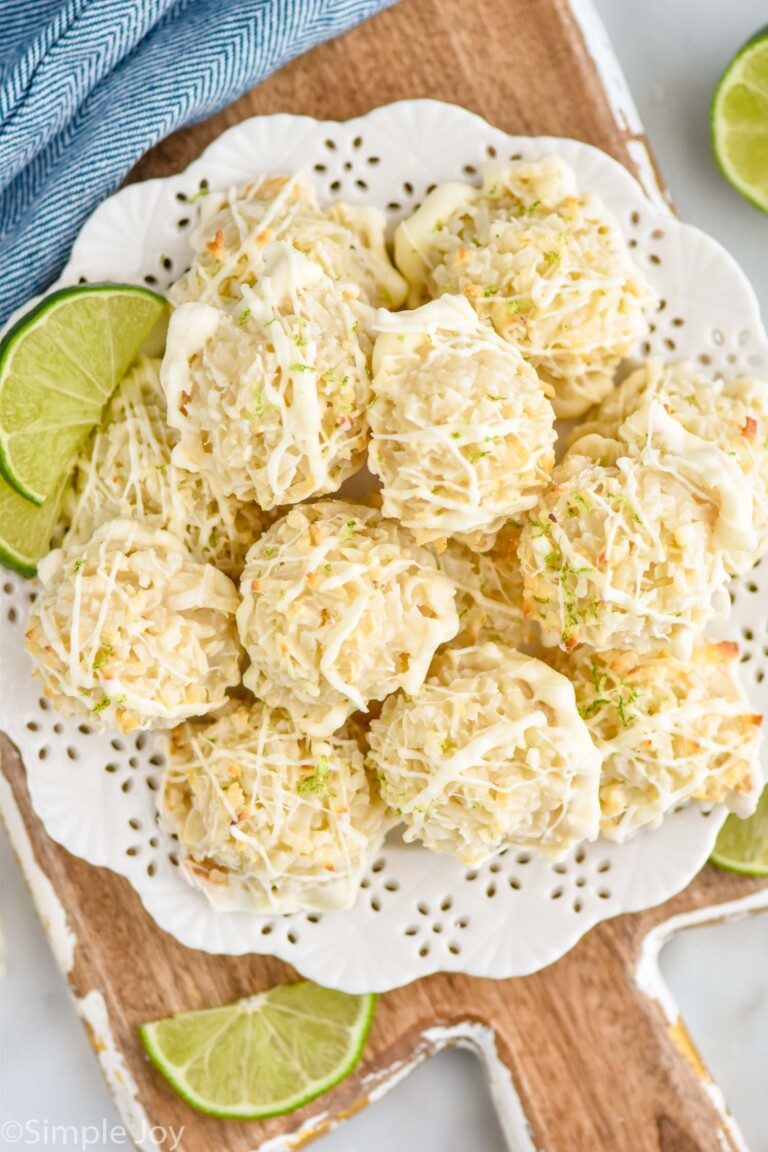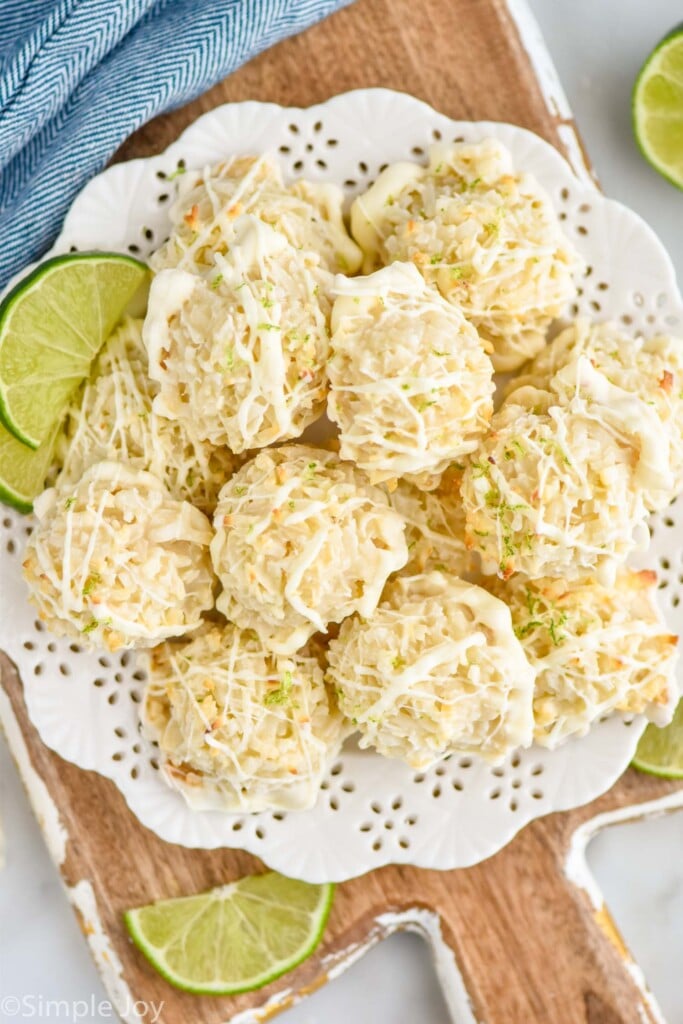 Spreading
These cookies do not spread at all. In fact, their chewy compactness is one of the things I love most about them. So, there is no need to space them very far apart, an inch or so will do.
Sweetened Coconut Flakes
You will notice that this recipe calls for sweetened coconut flakes. Please use those and not plain shredded coconut. This recipe was developed using those, and you will likely be disappointed in the taste if you swap in shredded coconut.
Macaroon vs. Macaron
Coconut Macaroons are the type of cookie you see here. A macaron is a French cookie that is made with almond flour and then very carefully baked and made into a delicious chewy sandwich cookie. They are amazing to be sure, and significantly more difficult to make than these macaroons.
Storing Coconut Macaroons
This delicious coconut macaroon recipe can be stored in an airtight container for up to 2 weeks after they have been baked and cooled. See below for freezing instructions.
Freezing Lime Coconut Macaroons
This is a great recipe to make ahead of time and freeze. The macaroons will last in the freezer, in an airtight container, for up to three months. To thaw, simply leave at room temperature for about 30 minutes. To freeze:
Place the baked cookies in a single layer on a parchment paper lined plate or baking sheet.
Freeze for 1 hour and then transfer the cookies to an airtight container, at which point they can be stacked.
Substitutions and Variations
Skip the white chocolate. I love this recipe as written, but if you aren't a fan of white chocolate, just leave it out. You will still love these great little lime cookies.
Swap the lime for lemon. If lemon is more your jam, follow the recipe as written but use lemon juice and lemon zest instead of lemon.
Make these Key Lime Coconut Macaroons. Instead of using plain lime juice, use key lime juice. I'm practically drooling just thinking about it.
FAQ
Why are my coconut macaroons so dry?
The most likely culprit is the flour. If you scoop the flour directly from the container you store it in, it will pack and you can get up to 25% more than you want. Using a spoon, scoop the flour from it's container into a dry measuring cup, and then level off the top with the flat edge of a spatula.
How do you store coconut macaroons?
Coconut macaroons should be stored in an airtight container for up to three months.
Can you freeze macaroons?
Yes! These will last in the freeze for up to three months. Please see my section above for detailed instructions on freezing.
Are coconut macaroons gluten free?
These cookies are not gluten free. They need 2/3 cup of flour in order to bake up properly. That being said, you can use a gluten free baking blend that is meant to be swapped with all purpose flour one for one.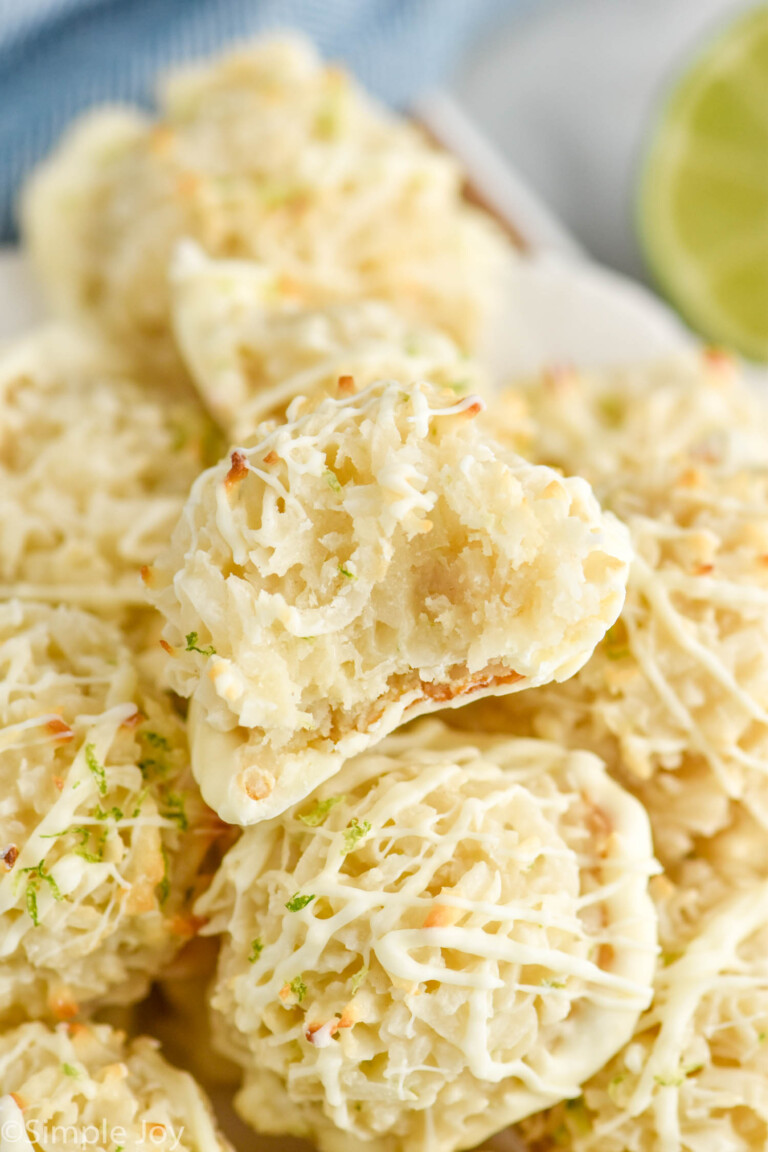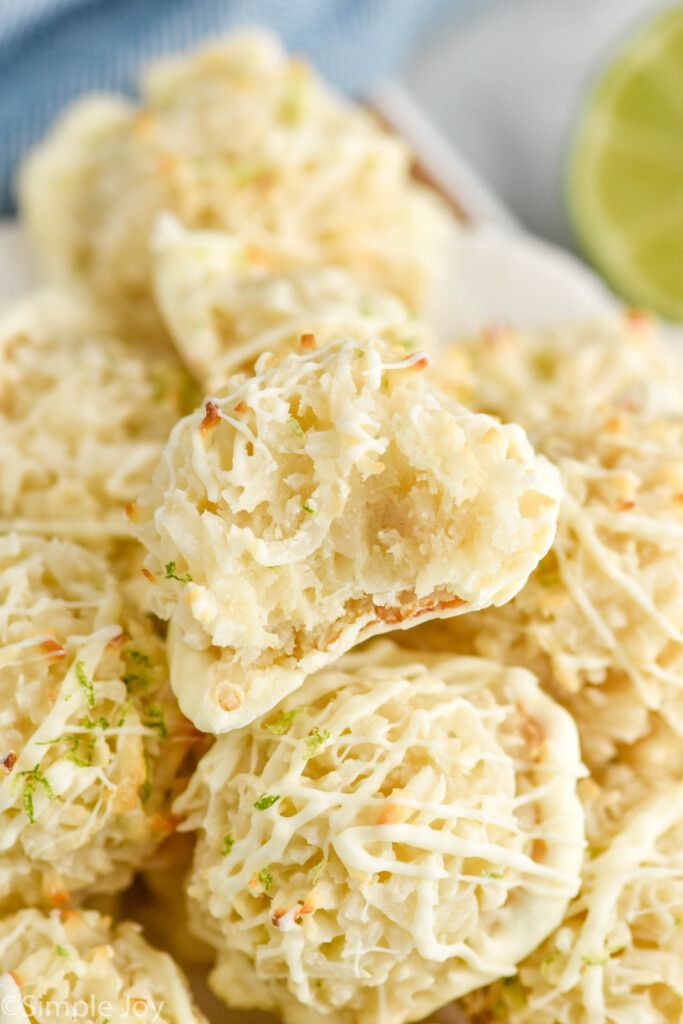 Other Easy Desserts
If you make this recipe for Lime Coconut Macaroons or any of my other recipes, please leave me a comment and let me know what you think!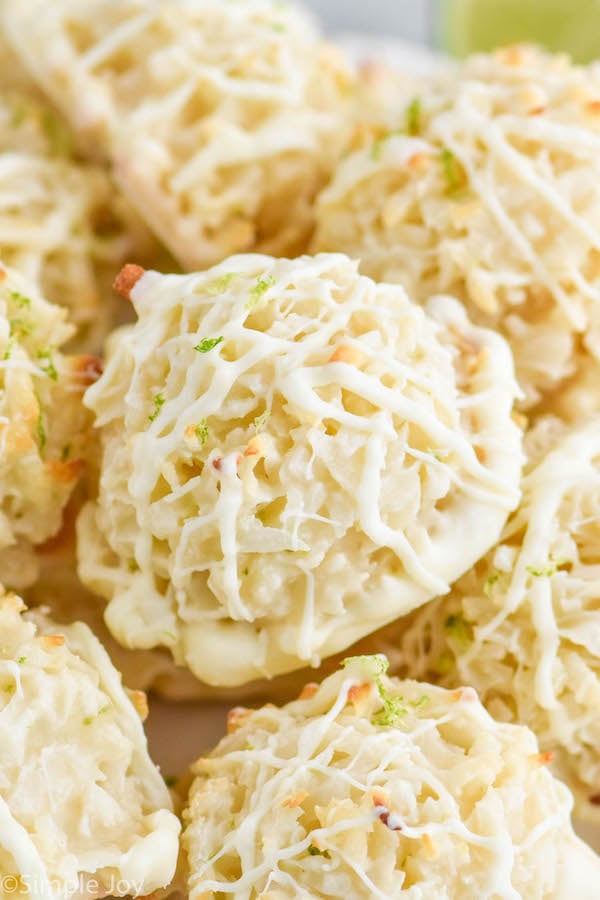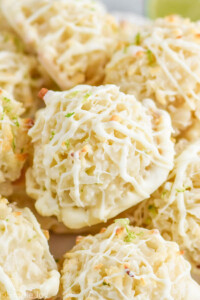 Lime Coconut Macaroons
Lime Coconut Macaroons are a simple twist on your favorite coconut macaroon recipe. These are easy to make, and even easier to eat!
Ingredients
2/3

cup

all purpose flour

5 1/2

cups

sweetened coconut flakes

1/4

teaspoon

salt

14

ounces

sweetened condensed milk

2

teaspoons

lime zest

plus more for topping

1

teaspoon

vanilla extract

1

teaspoon

lime juice

1

cup

white chocolate
Instructions
Preheat oven to 350 degrees. Line baking sheets with parchment paper.

In a large bowl stir together the flour, coconut and salt. Mix in the lime zest, vanilla, lime juice, and sweetened condensed milk.

Using a small cookie scoop, scoop the cookies out onto the parchement paper lined sheets. Bake for 12 to 15 minutes or until the cookies just begin to turn golden brown.

After the cookies have cooled, melt the white chocolate according to package instructions. Dip the bottoms of the macaroons in the chocolate. Drizzle the remaining chocolate on top and sprinkle a bit more lime zest on each one.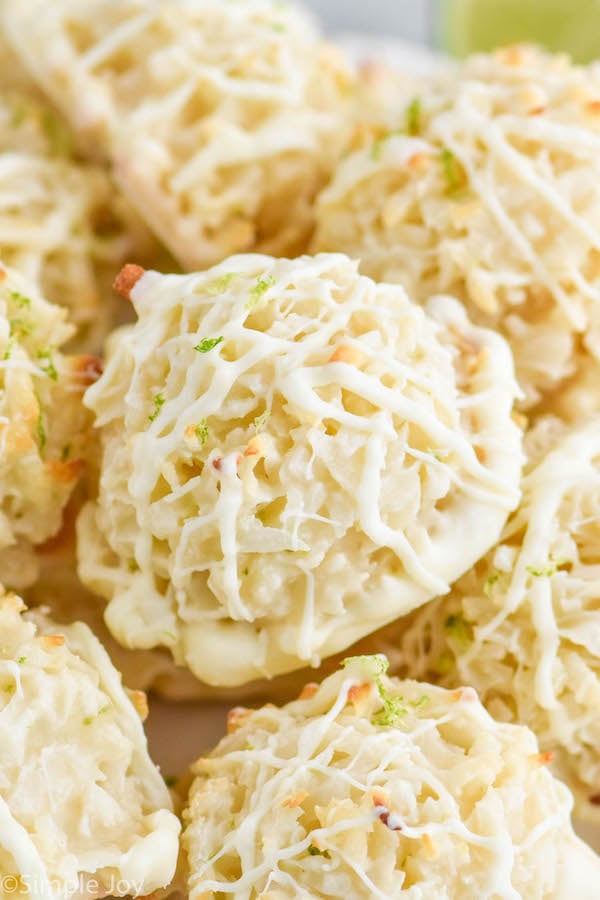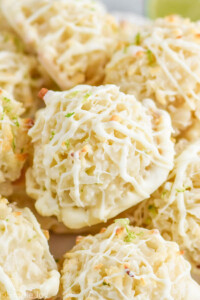 did you make this
Lime Coconut Macaroons