This Meatball Beef Stroganoff soup has the most creamy rich broth from scratch. So perfect for dinner! It is tasty, can be made with beef meatballs or turkey meatballs and would work without sour cream but is perfect and creamy with it. This soup would be amazing with these easy Italian meatballs or these healthy meatballs. If you are looking for another great meatball soup you will want this slow cooker vegetable meatball soup.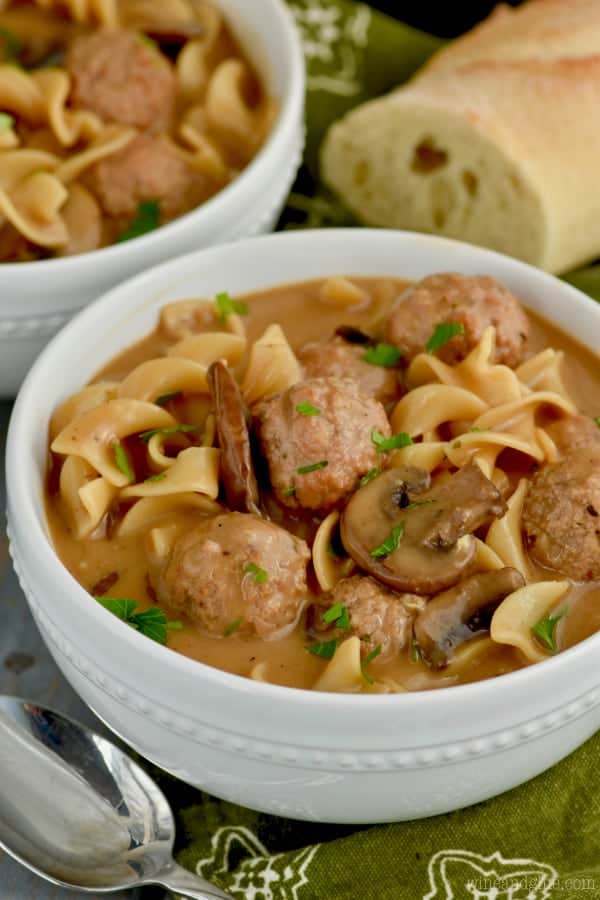 I just came back from two weeks of travel (with two days off in the middle) and I am so beyond beat. I actually fell asleep on the couch for like 15 minutes yesterday while my kids were playing – which NEVER happens to me. I usually need the stars to align just right for me to be able to nap in absolute and total silence (the newborn years were fun, lol).
And now it is Monday and I need to hit the ground running, because you know, life.
So I am on the hunt for more easy meals that I can make for you guys and that I can make for my family that they will eat and that can be done faster than my kids can finish their homework . . . . guys, they are fast.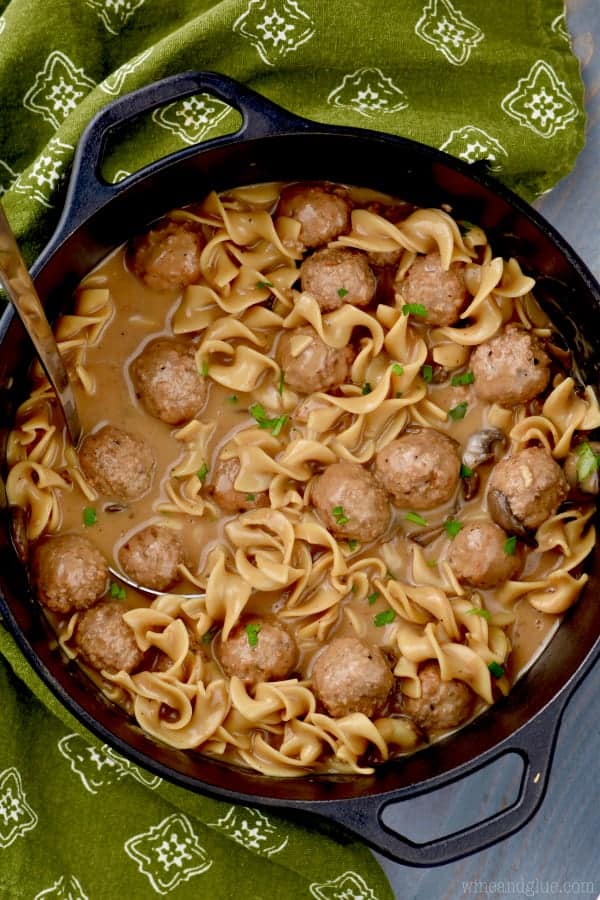 Enter this Meatball Beef Stroganoff Soup recipe that is so creamy and delicious with it's perfect little mushroom bites. It is a riff on my one pot meatball stroganoff because that was so insanely delicious, my friend Dorothy told me that she just wanted to drink the liquid and I totally had to make a soup out of it.
Done and done friends.
There are a few keys that will make this soup better:
Use a frozen meatball that you really love and that you would eat on it's own. Or make some from scratch.
Same deal with the wine . . . for the love of all things holy, don't use cooking wine. Get a bottle of some wine that you would drink on it's own. Sutter Home sells some mini bottles that are perfect for cooking if you aren't a wine drinker.
Keep an eye on the salt! One way to do that is to use a low sodium beef broth. Another way is to only add half the salt and then taste it at the end and add more.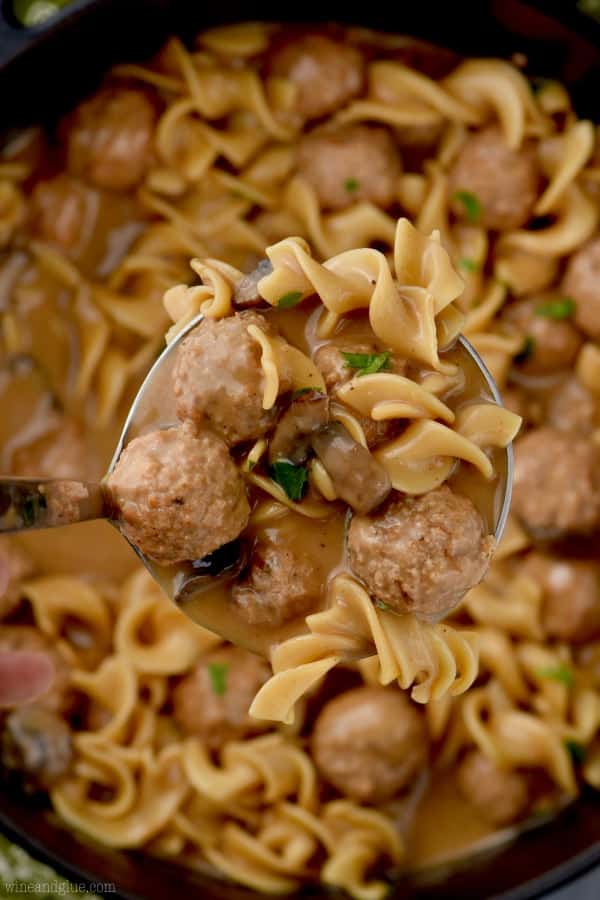 I could not be more thrilled that we are in soup season! After you make this one, you need to immediately make my Crock Pot Chicken Tortilla Soup – it is only about 300 calories a bowl and takes like 5 minutes to make, so you really can't beat that. Then you need to be all about my Slow Cooker Chicken Enchilada Soup. It is drool worthy. And this Slow Cooker Vegetable and Meatball Soup is my absolute JAM.
Happy Comfort Food Season, Friends!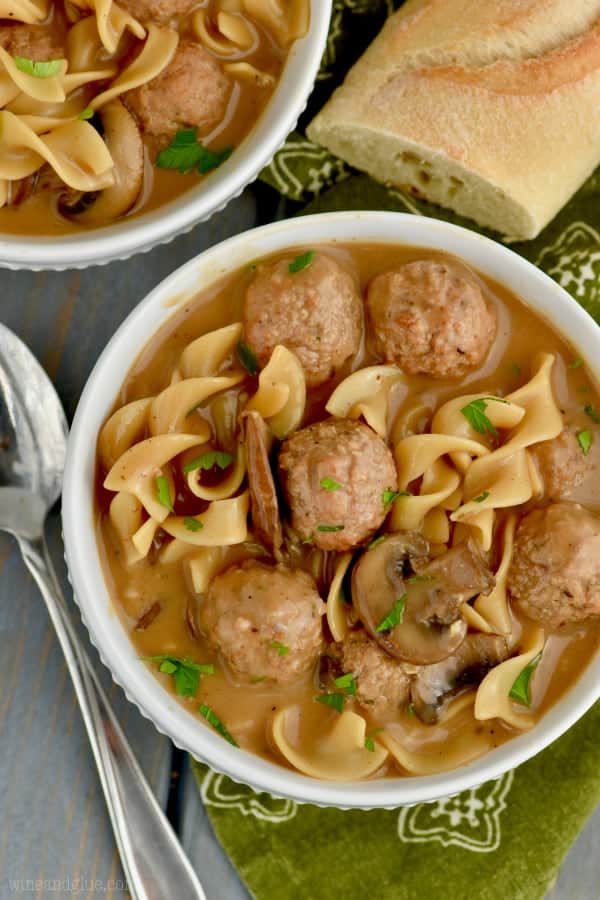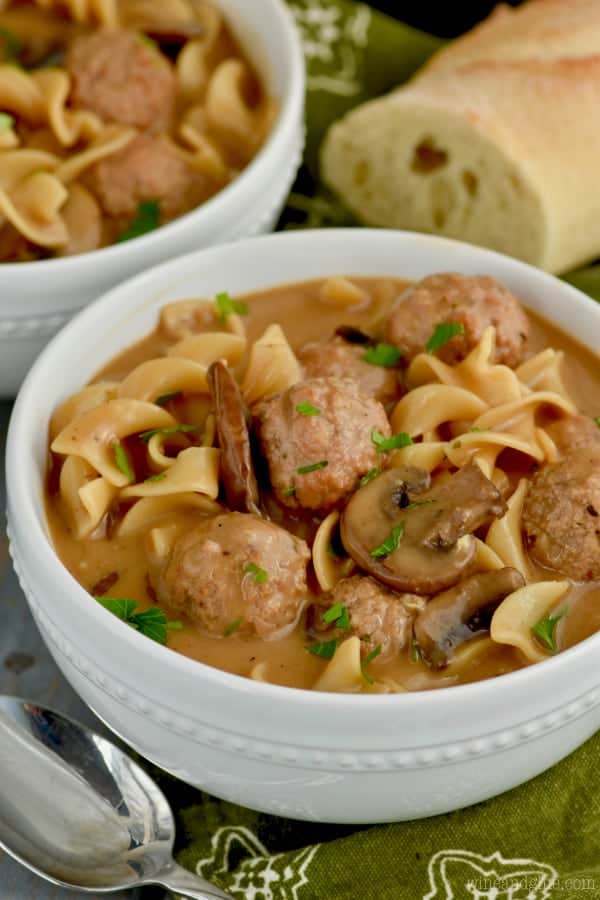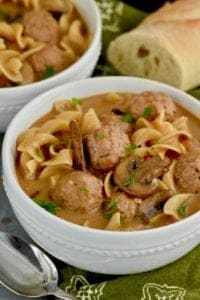 Meatball Beef Stroganoff Soup
Ingredients
1

TBSP

olive oil

8

oz

sliced mushrooms

2

TBSPs

unsalted butter

2

cloves

garlic

diced

1

tsp

paprika

1

tsp

kosher salt

1/2

tsp

black pepper

3

TBSP

flour

1/2

cup

white wine

6

cups

beef stock

16

oz

frozen meatballs

8

oz

egg noodles

1

cup

sour cream

parsley
Instructions
In a large soup pot over medium heat, heat the olive oil.  Add the the mushrooms and cook until soft and tender.

Add the the butter, melt it.  Add in the garlic, paprika, salt, and pepper.  Cook for about 30 seconds being sure not to burn the garlic.

Add the flour and whisk into the butter.  Cook for a minute to toast the flour.

Whisk in the white wine slowly.  Then slowly whisk in the beef broth.

Cover and bring to a boil.  Stir in the noodles and then top with the frozen meatballs.  Cover and cook for 10 minutes or until the noodles are tender.

Remove from the heat and stir in the sour cream.

Top with the parsley and enjoy!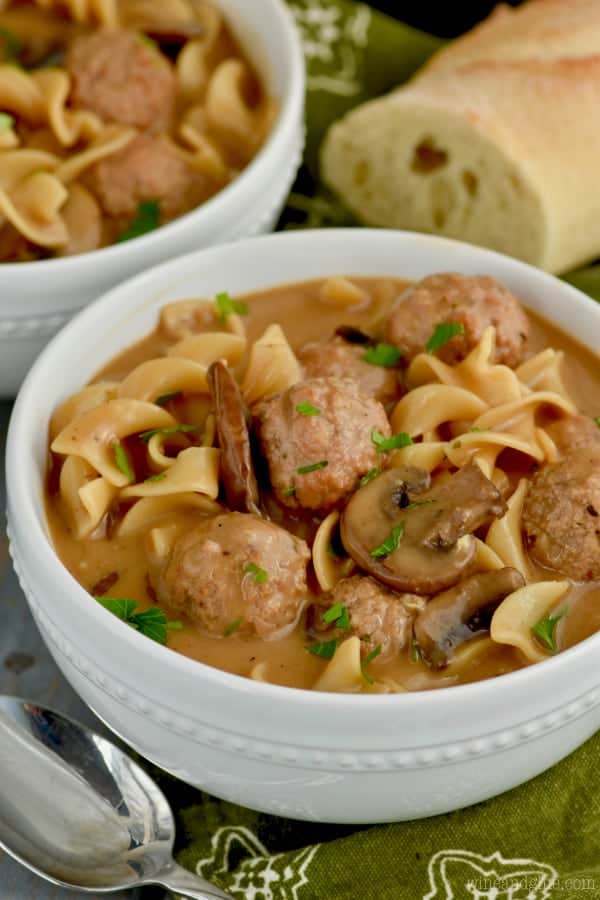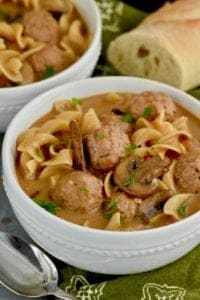 did you make this
Meatball Beef Stroganoff Soup
More great soups you need to get on board with:
Drooling over this Italian Sausage and Orzo Soup!
This Wild Rice Mushroom Soup looks amazing!
She had me at tortellini with this Chicken Vegetable Tortellini Soup!
And everyone needs a good Chicken Noodle Soup recipe.
Slow Cooker Vegetable and Meatball Soup
Slow Cooker Broccoli Cheddar Soup
Spicy Sausage and Tortellini Soup

SaveSave