Swedish Meatballs are the best comfort food. Delicious little meatballs in an easy creamy gravy will win over everyone's hearts.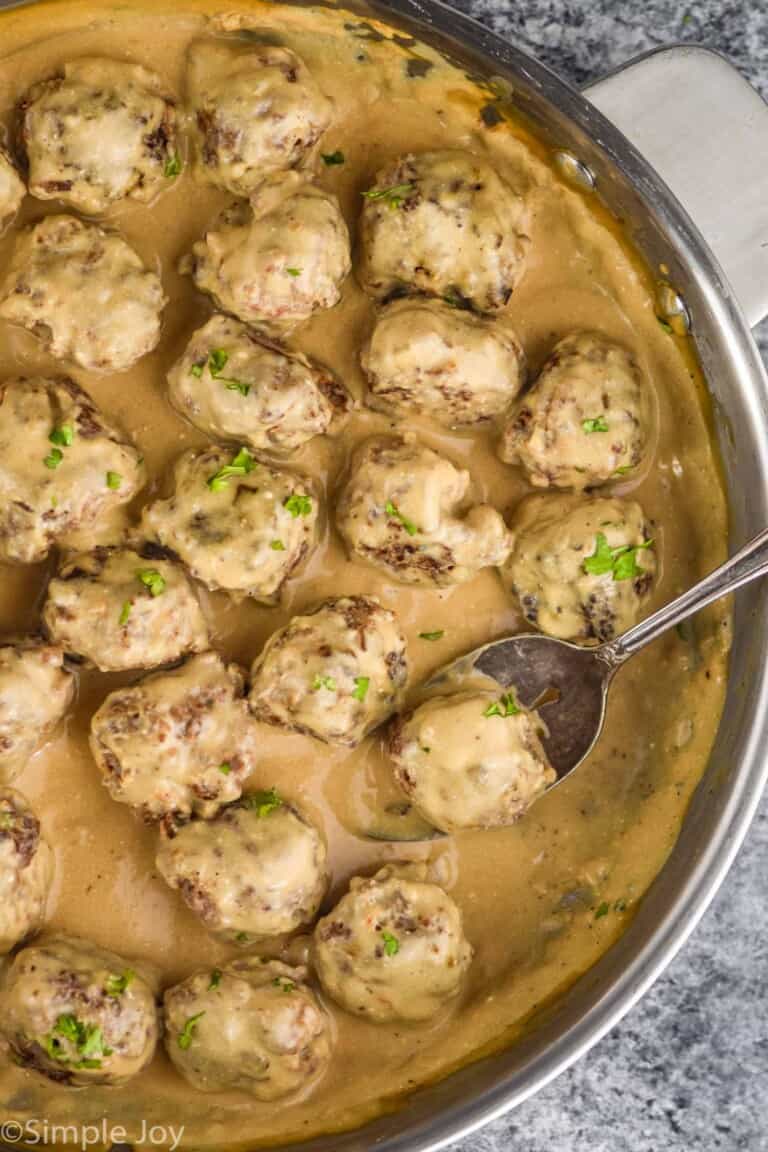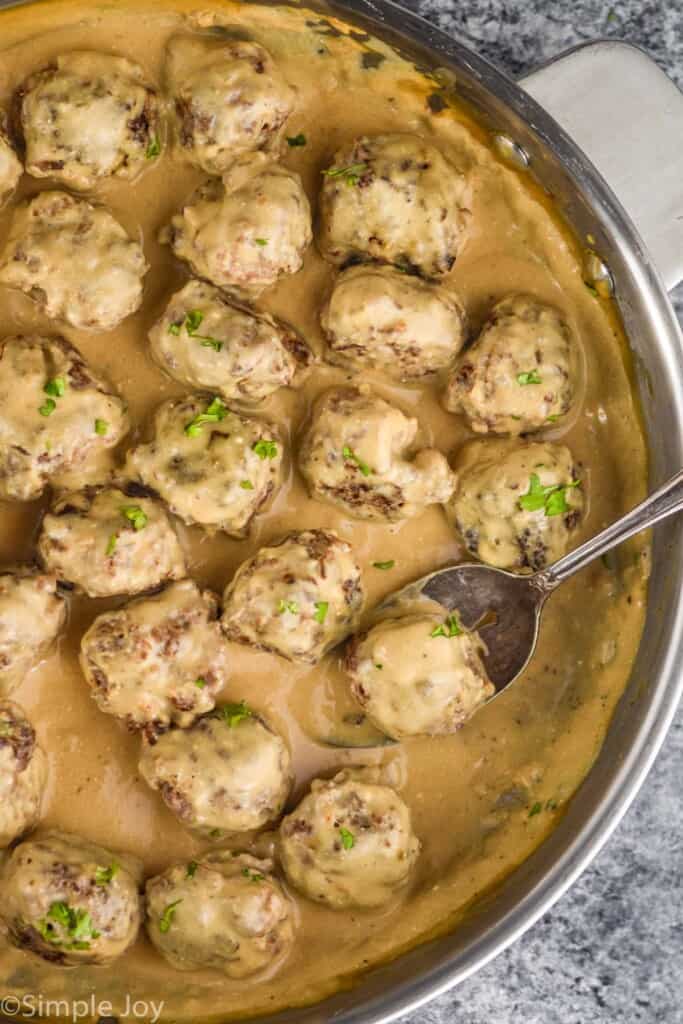 These delicious Swedish Meatballs take their base formula from my grandmother's Italian Meatball recipe. From there they get all the flavors of a great Swedish Meatball recipe.
Traditionally, Swedish Meatballs are served with lingonberry preserves. Americans have spun this recipe into a dish served with a thick and rich sour cream based gravy. That is the version you are getting here, and it is nothing short of delicious and comforting. Pan fried in butter with the perfect combination of ingredients leaves you with a meatball that is crisp on the outside and tender and flavorful on the inside.
Swedish Meatball Ingredients
Ground Meat: We are using a combination of ground beef and ground pork in this recipe. The combo works great in meatballs and meatloaf, giving you the best of both worlds and a deep flavor.
White Bread: Just like in grandma's recipe we are soaking bread in water. This method brings a great moisture to a meatball recipe, while also working as a glue.
Eggs: These provide additional binding to hold the meatballs together.
Breadcrumbs: Plain, unseasoned, breadcrumbs provide great structure and help us form meatballs into their sphere shape.
Onion: Make sure to dice the onions fine. There is nothing worse than a chunk of onion in a meatball.
Garlic: A little garlic adds a great layer of flavor to these meatballs.
Spices: Just a few spices round out these meatballs and give them their signature flavor.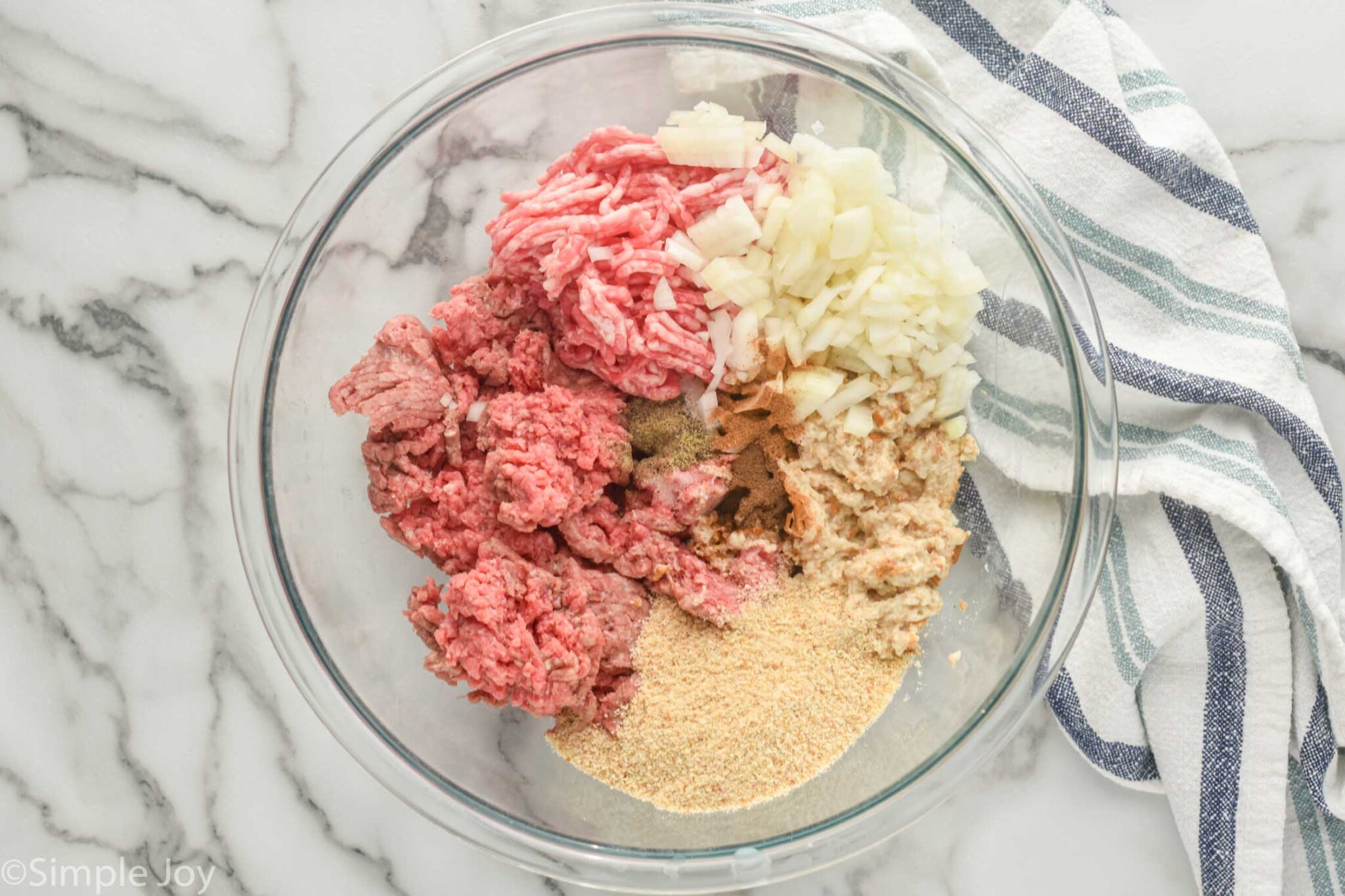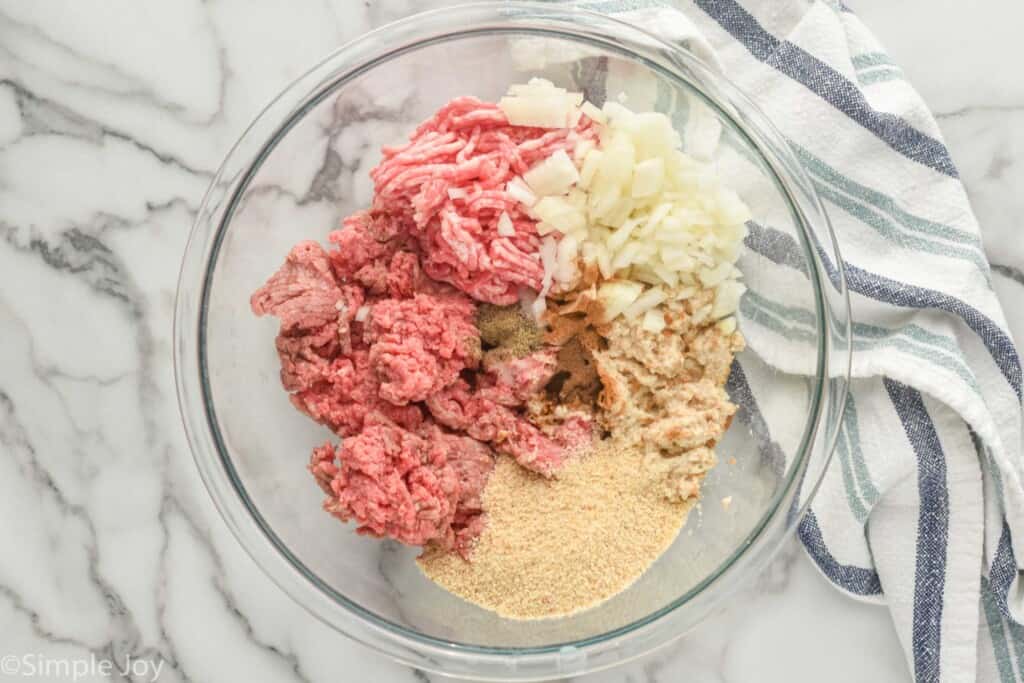 How to Make Swedish Meatballs
Soak the Bread: The first step in this recipe is soaking the bread in water.
Form the Meatballs: After you ring out your bread, combine it with the other ingredients listed above, and form them into meatballs. I like to use a cookie scoop to make my meatballs so they are uniform in size.
Fry Meatballs: Working in batches, brown the meatballs in melted butter. They will take roughly 10 minutes to cook through over medium heat.
Make Gravy: After you have cooked all of the meatballs, in a clean skillet, melt butter, make a roux, and add in beef stock to make the Swedish meatball sauce. Finally, stir in sour cream if desired.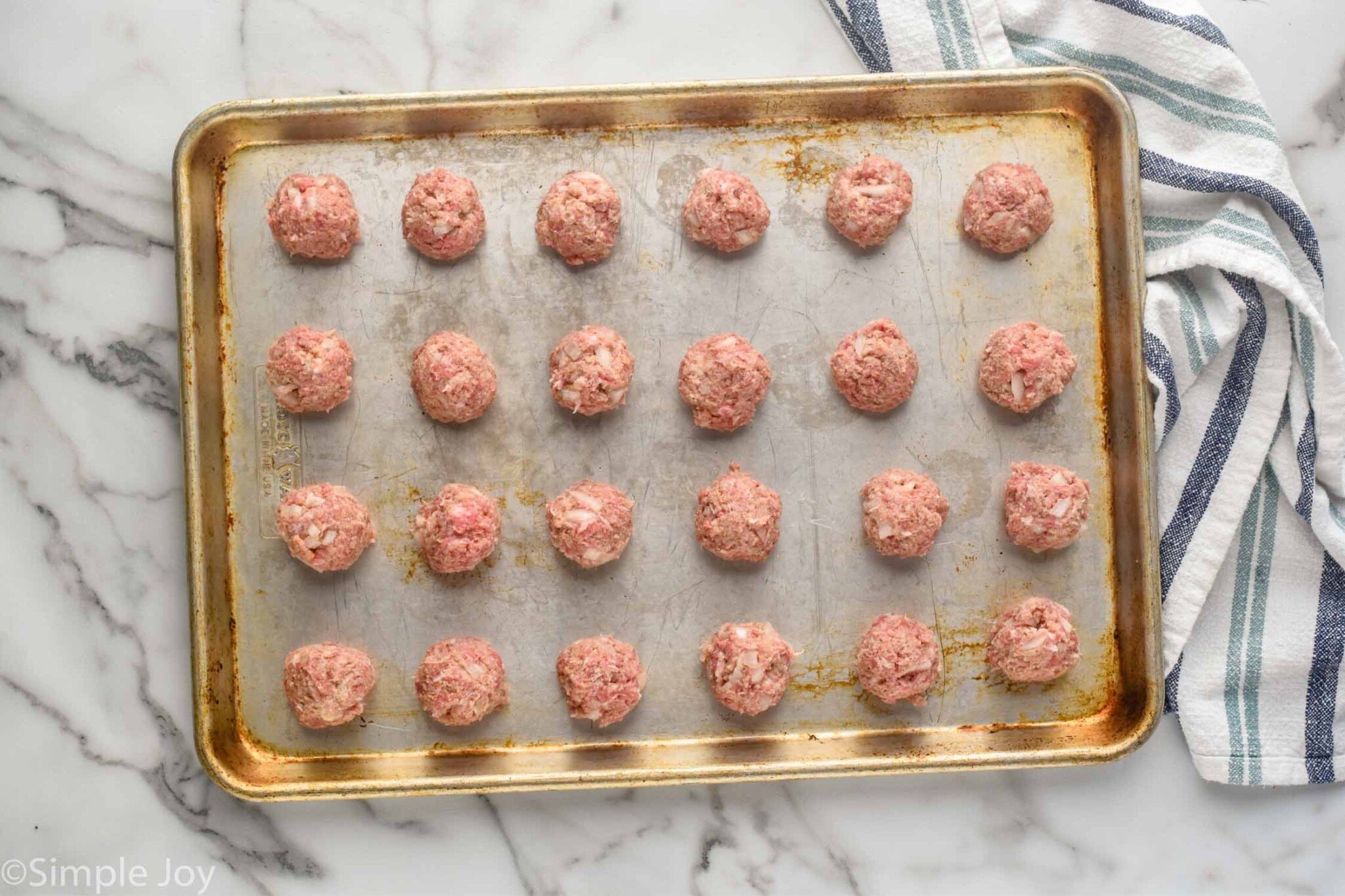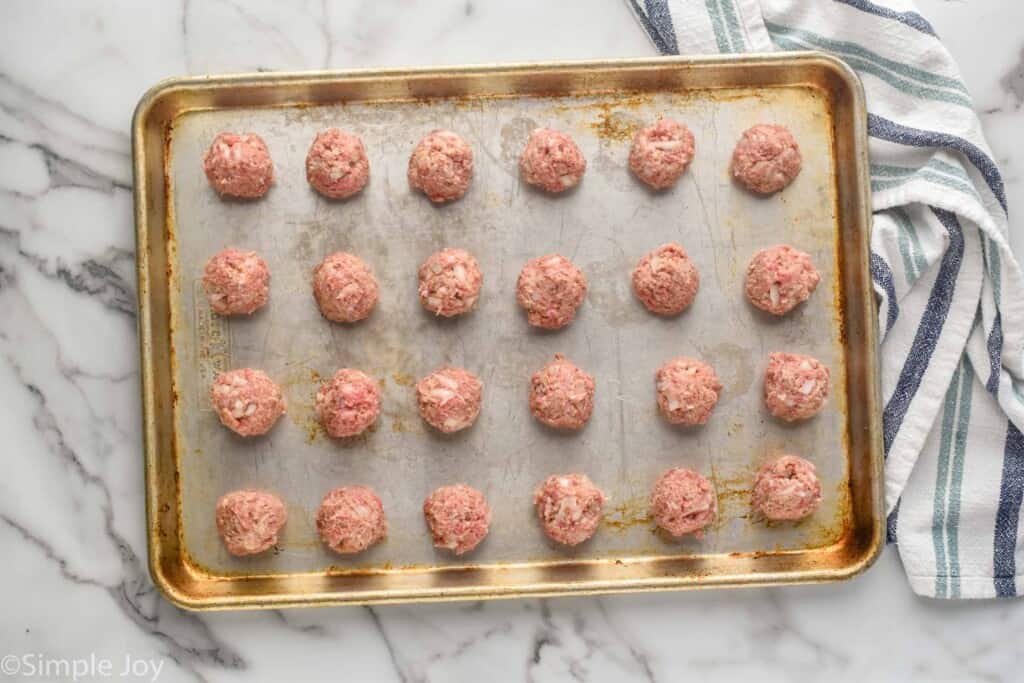 Pork and Ground Beef Combination
You will notice that we are using a combination of ground beef and ground pork in this recipe. Using both brings the perfect ratio of fat and meat while providing a deep flavor to the meatball.
How to Serve Swedish Meatballs
Traditionally Swedish Meatballs are served with lingonberry preserves and Swedish pickled cucumbers. A lot of us have come to love IKEA Swedish Meatballs served in a gravy. In this recipe we are using sour cream to make the gravy creamier. While not the traditional Swedish Meatball way, it is absolutely delicious.
Swedish Meatballs are often enjoyed over egg noodles. You could also serve these with mashed potatoes or boiled red potatoes.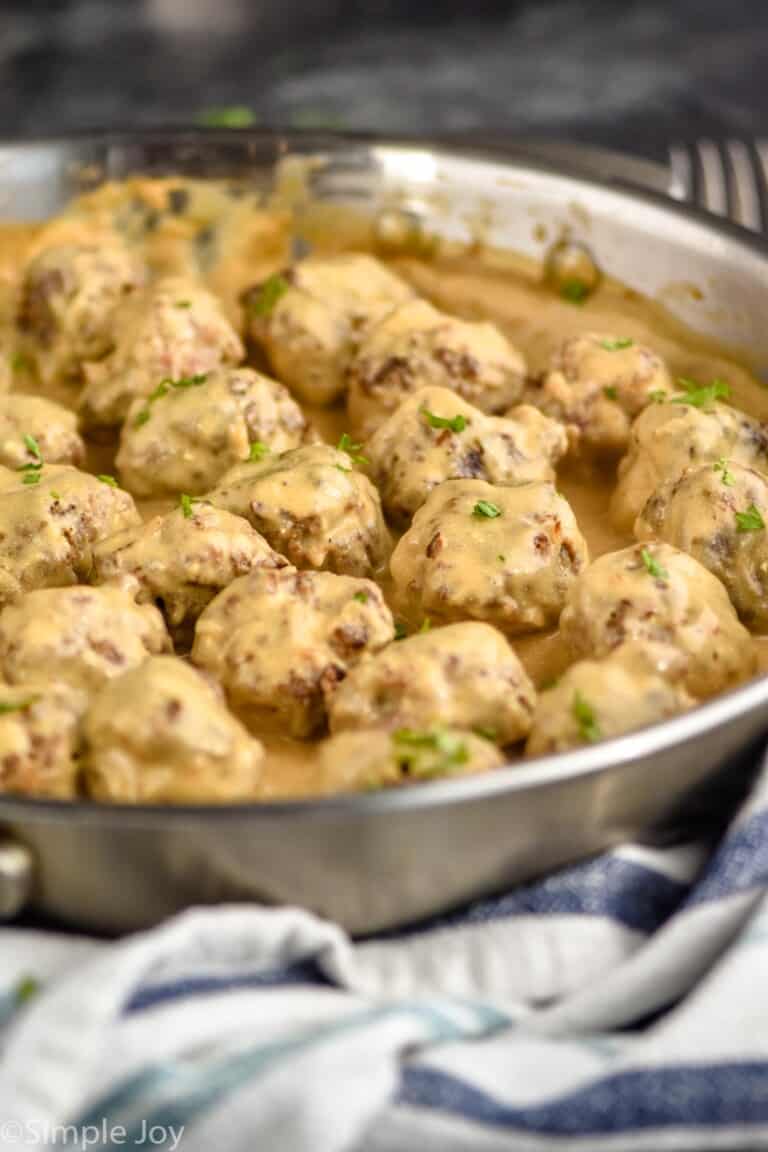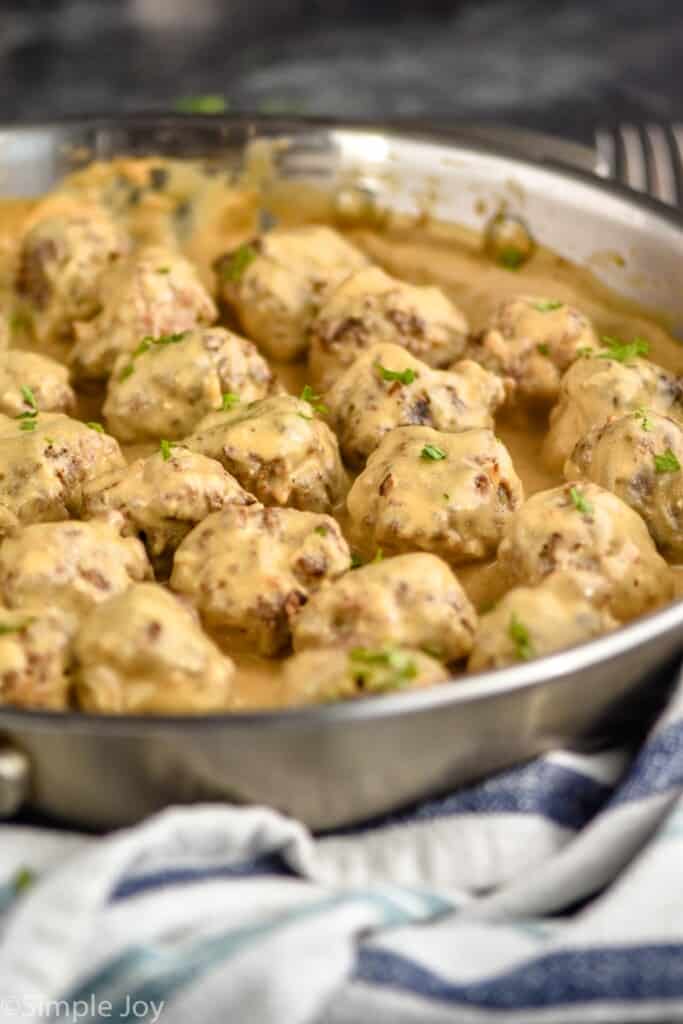 Make Ahead
You can make Swedish Meatballs ahead of time. Pan fry them and complete the recipe through step 3. The meatballs can be stored in the refrigerator overnight to eat the next day or they can be frozen.
If freezing, freeze the meatballs in a single layer. Transfer the to an air tight container and store for three weeks.
When you are ready to eat, thaw the meatballs in the refrigerator overnight. Then continue the recipe from step 4, heating the refrigerated meatballs in the gravy.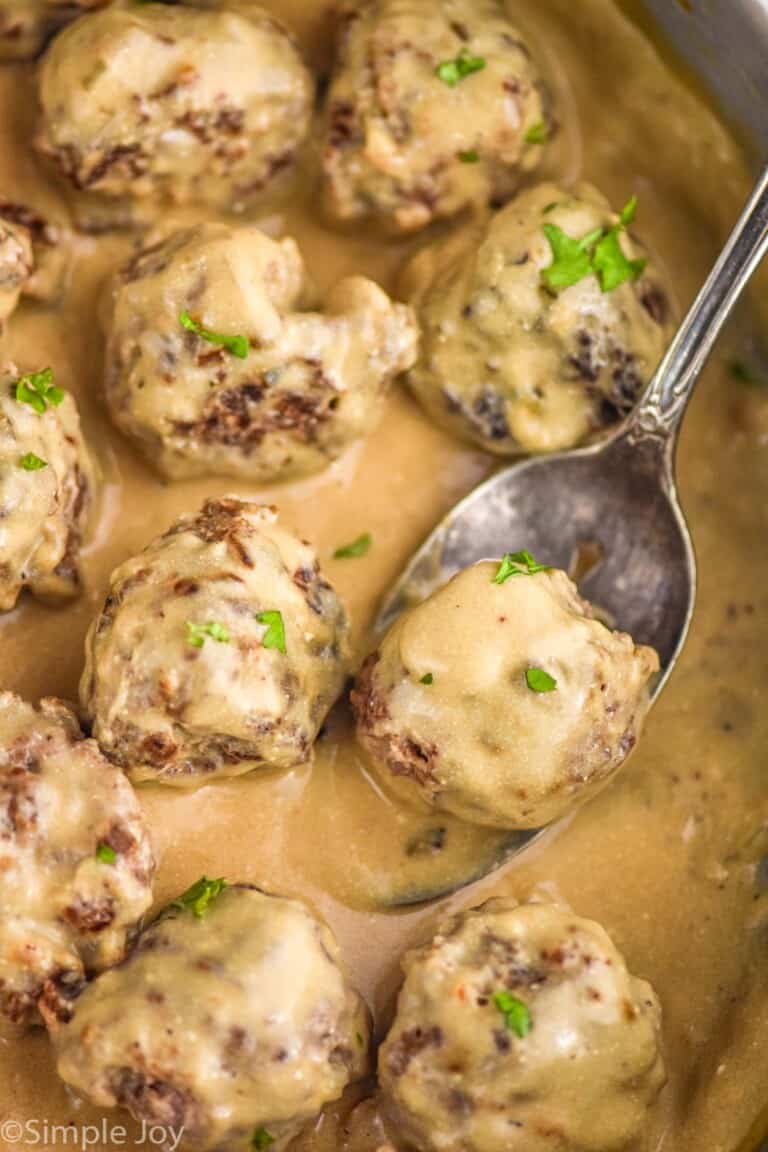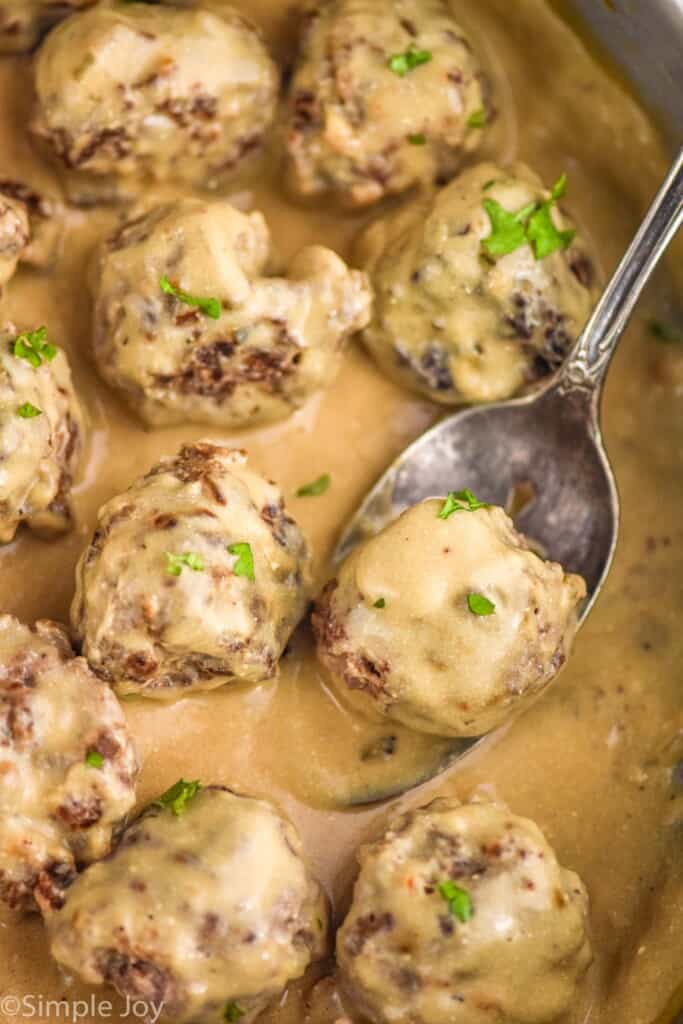 Other Comfort Food Recipes
Looking for more flavors of childhood that are comforting? Try some of these.
If you make these Easy Swedish Meatballs or any of my other recipes, leave me a comment and let me know what you think.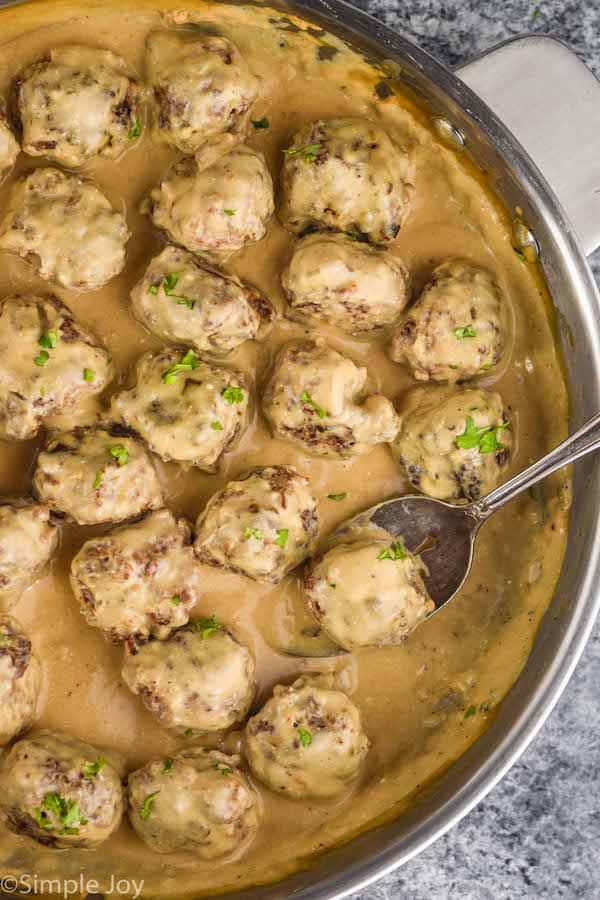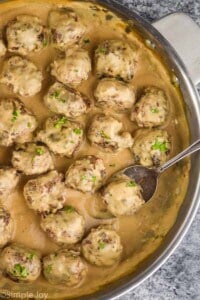 Swedish Meatballs
Swedish Meatballs are the best comfort food. Delicious little meatballs in an easy creamy gravy will win over everyone's hearts.
Ingredients
4

slices white bread

(approximately 4 1/2 ounces)

1

pound

ground beef

1/2

pound

ground pork

3/4

cup

breadcrumbs

1

egg

1

small yellow onion

diced fine

2

garlic cloves

minced

1

teaspoon

table salt

1/4

teaspoon

black pepper

1/4

teaspoon

nutmeg

1/4

teaspoon

allspice

6

tablespoons

butter

divided

3

tablespoons

flour

2

cups

beef stock

(or beef broth)

1

teaspoon

grated lemon peel

1/2

cup

sour cream

(optional – only use full fat)
Instructions
Add the bread to a bowl and cover with cold water. Let it soak for five minutes. At the end of the five mintues, drain as much water from the bread as possible, squeezing the water out with your hands before transfering the wet bread to a large clean bowl. Break up the bread into small pieces.

Add the ground beef, ground pork, bread crumbs, egg, onion, garlic, salt, pepper, nutmeg, and allspice to the wet bread mixture. Mix together and using a 1 1/2 tablespoon cookie scoop form meatballs.

Melt 3 tablespoons butter in a skillet over meadium heat. Brown the meatballs in batches, cooking until they are browned on the outside and cooked through, about 7 to 10 minutes flipping once in betwee. Use a slotted spoon to remove them and transfer to a paper towel lined plate.

Working with a clean frying pan, melt 3 tablespoons of butter. Whisk in 3 tablespoons of flour to make a roux. Cook until the roux is a light brown color. Slowly whisk in the beef, starting with a few tablespoons at a time, adding more as it is absorbed, and then gradully adding it faster. Bring it to a simmer and cook for 5 minutes.

Taste the gravy and add salt and pepper if needed. Stir in the sour cream if you are using it. Return the meatballs to the gravy to heat through.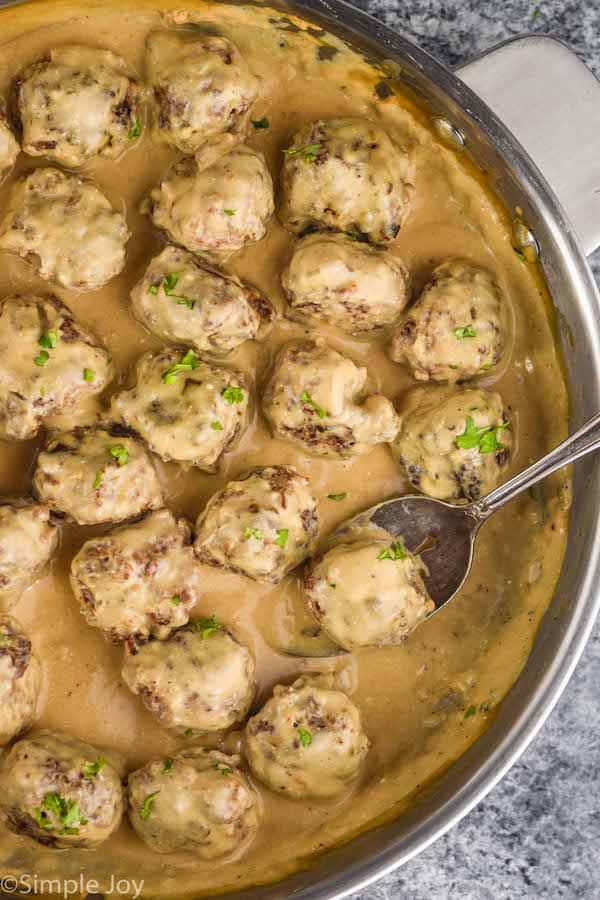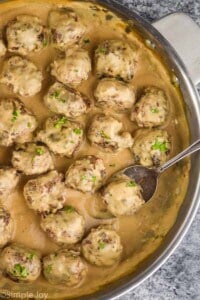 did you make this
Swedish Meatballs