These amazing no-bake Peanut Butter Balls involve only four ingredients. They have the perfect consistency and, with a taste like a Reese's Peanut Butter cup, they are irresistible.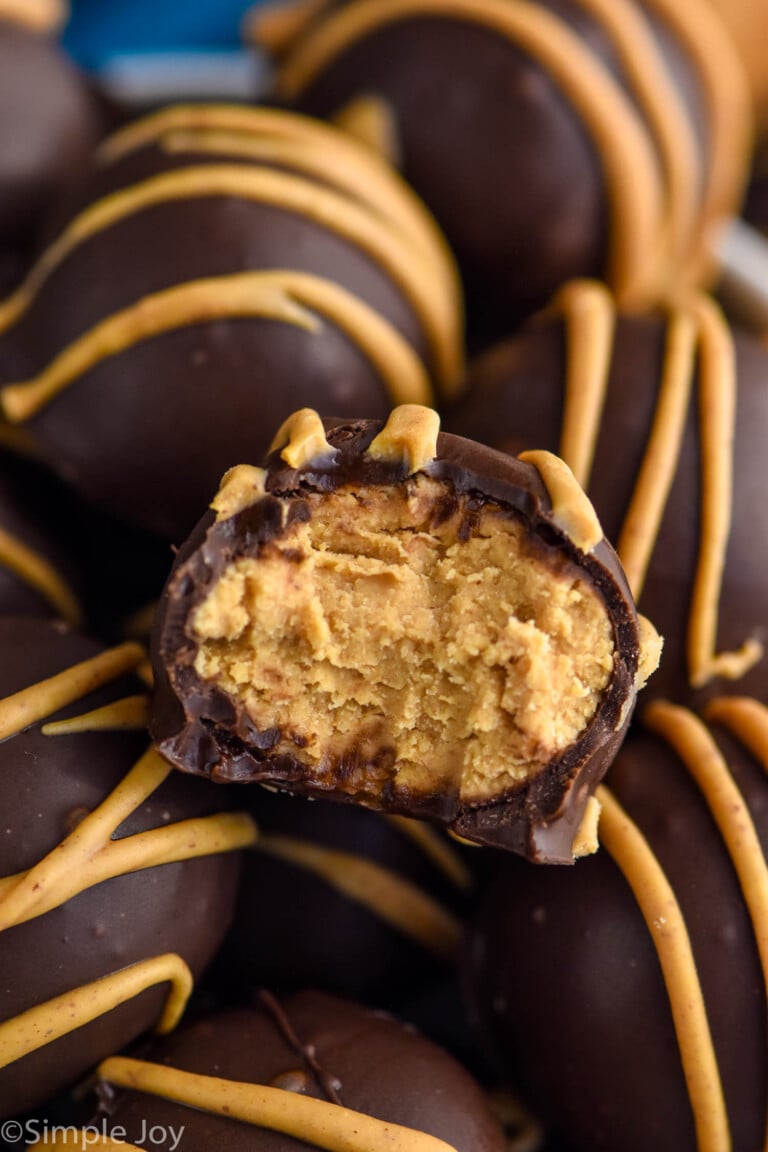 The combination of chocolate and peanut butter is irresistible. It is my ultimate weakness. From Chocolate Peanut Butter No Bake Cookies to Peanut Butter Chocolate Bars, this delicious duo stars in many simple and delicious no-bake recipes.
If you are like me and can't resist this amazing combo, you absolutely are going to want to make these Peanut Butter Balls. They are a like Reese's Peanut Butter Cups but in truffle form. These are perfect for a holiday dessert plate, but would also make a great neighbor gift.
How to Make Peanut Butter Balls
Here is a brief overview of how to make no-bake peanut butter balls. This easy no-bake treat uses only four ingredients. Scroll to the bottom of the page for the full list of measurements and instructions on the printable recipe card.
Make the peanut butter dough. Combine the peanut butter, powdered sugar, and vanilla.
Form into balls. Roll the peanut butter mixture into one-inch balls. See the tips below if your dough is too sticky or too crumbly.
Coat balls in chocolate. Use a toothpick or fork to coat each ball in melted chocolate.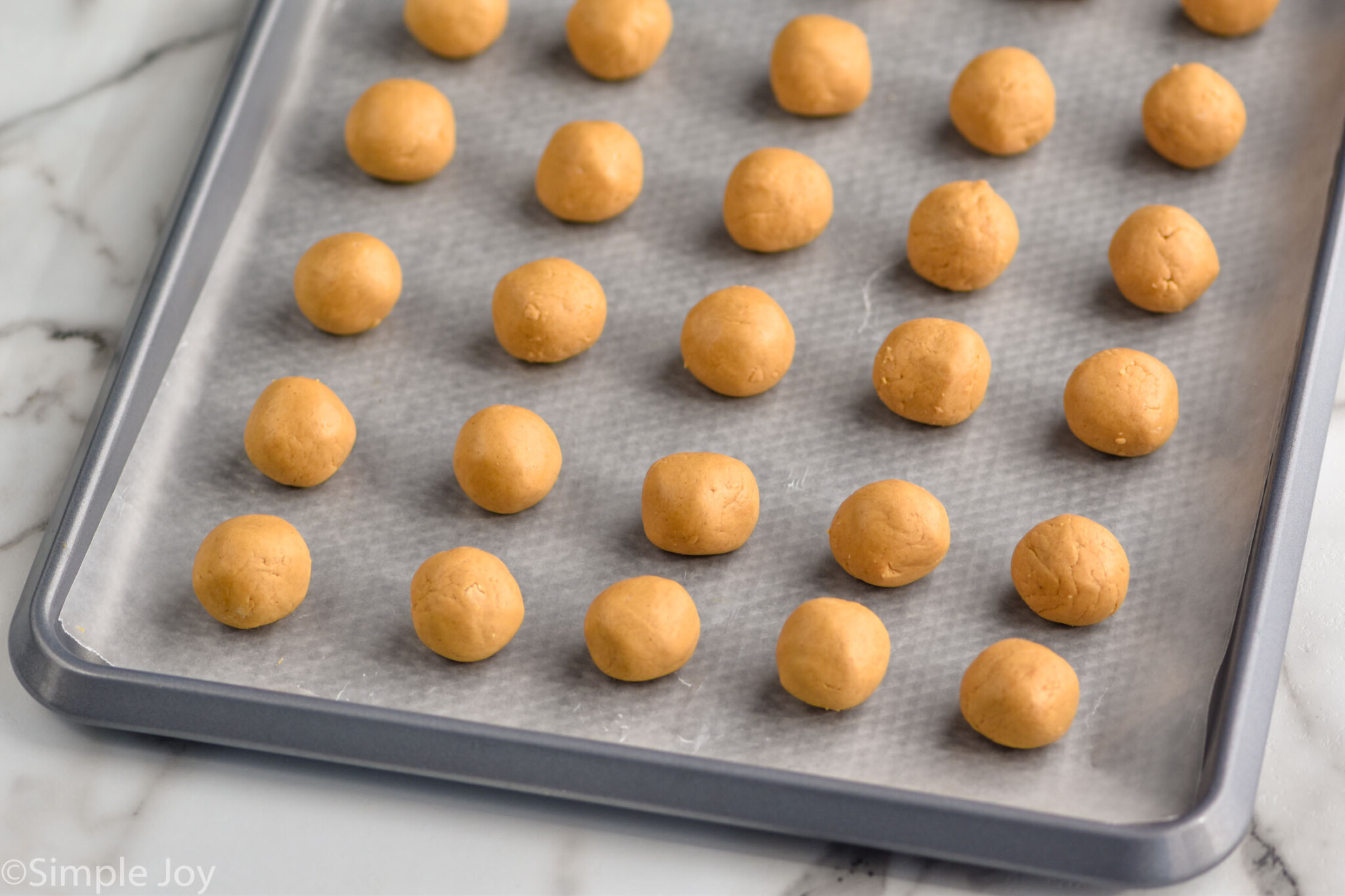 Scooping Peanut Butter Balls
The most time consuming parts of this recipe are the scooping and the dipping. I love using a scoop when I make everything from meatballs to cookies. It keeps the size uniform (which is great for baking recipes) and makes everything go faster. For those recipes, I love this scoop.
For this recipe, I invested in a new scoop. I like it because it is a little bit smaller, which is perfect for recipes like this. It is 1 tablespoon (vs. 1 1/2 in the other scoop) which makes it the perfect size for bite sized treats like this.
TOP PICK
1 Tablespoon Cookie Scoop
This is the perfect scoop for bite sized treats!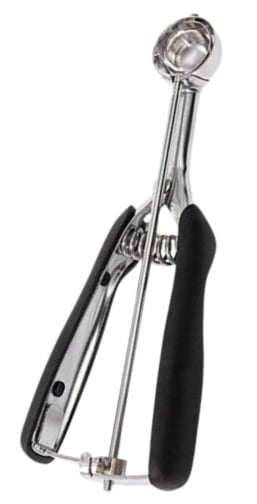 Chocolate Chips vs. Candy Melts
Chocolate covered peanut butter balls can be made with either chocolate chips, candy melts, or chocolate almond bark. While chocolate chips may be easier to find, they don't form the hard coating you will be looking for. Additionally, a coating made with chocolate chips is more likely to melt on your hands while you eat these little wonders.
For those reasons, I prefer using candy melts or almond bark. Almond bark is easy to find in the baking aisle of your grocery store. Candy melts can be a little harder to find, but are readily available on Amazon.
TOP PICK
Candy Melts
Both dark chocolate and light chocolate will work for these amazing Peanut Butter Balls.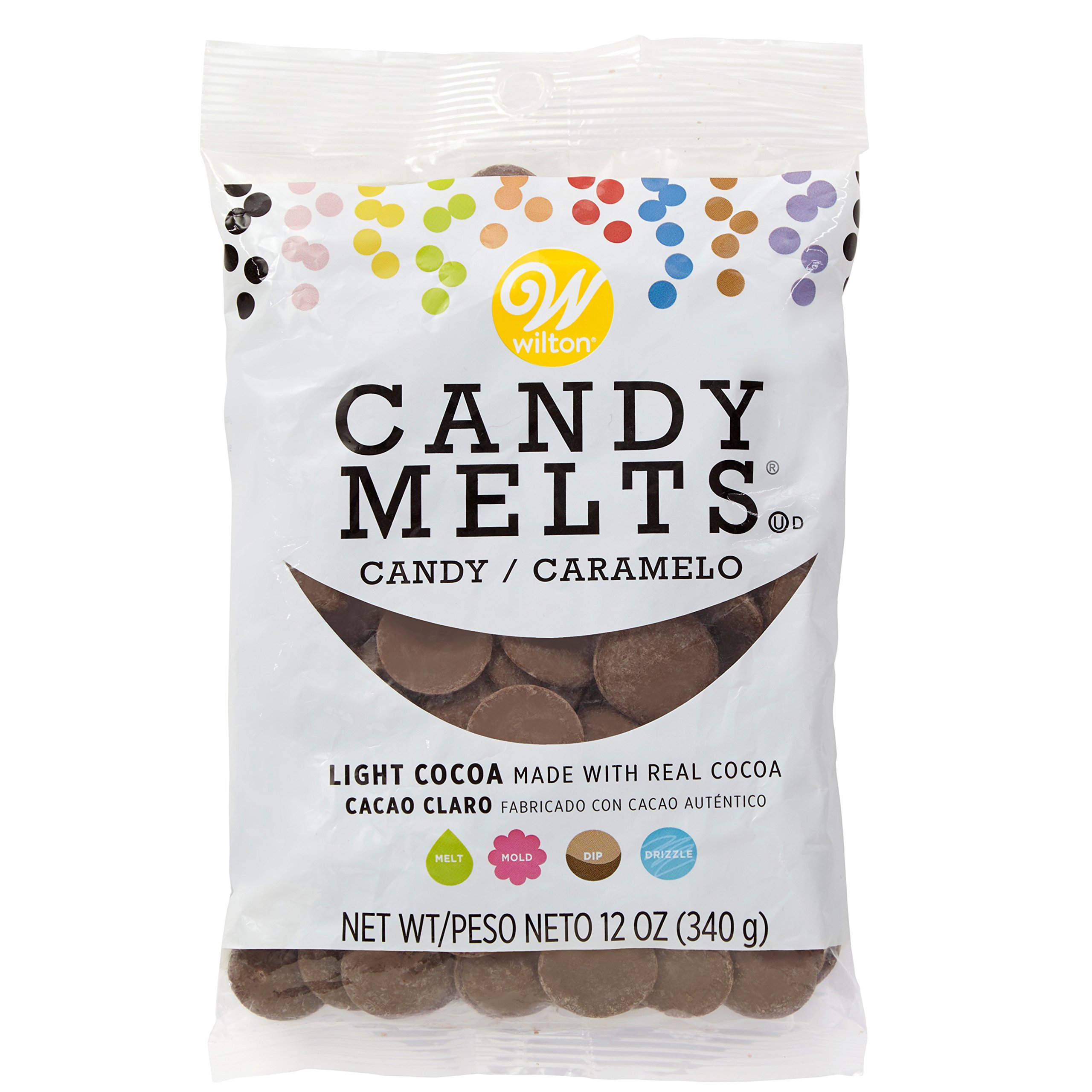 Tips and Tricks
Spoon the powdered sugar into the measuring cup. If you scoop it from the container with the measuring cup and pack it into the measuring cup, you will have too much.
If the mixture is too crumbly when you go to roll the balls, add more peanut butter. You likely will only need another tablespoon or two.
If the mixture is too sticky, add a little more powdered sugar. Go easy, a little can go a long way.
Refrigerate the peanut butter balls before dipping. This step isn't absolutely necessary, but it does help with dipping. If you decide to pop them in the freezer, be sure to only do so for 30 minutes. Otherwise they will expand after dipping and crack the chocolate.
DO NOT over heat the chocolate/almond bark/candy melts. Chocolate becomes an absolutely disaster when it is overheated. It clumps up and there is no recovering. Regardless of what you use, follow the directions on the package closely.
Use vegetable shortening to thin out the chocolate. If the candy melts or almond bark is too thick after melting to dip, add a teaspoon or two of vegetable shortening to thin it.
Add a topping. For these, I melted a little bit of Reese's peanut butter chips and then pipped those on top. Other great choices is cute drizzle of chocolate, some mini chocolate chips, or some crushed peanuts.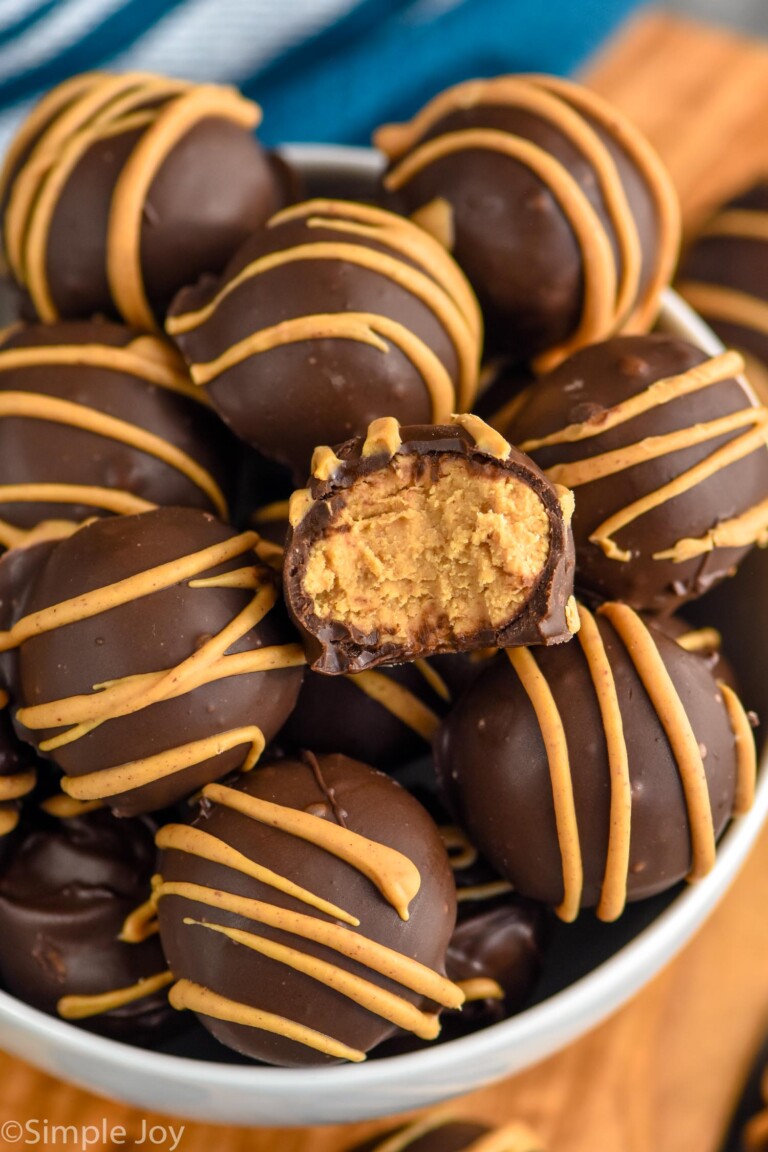 Variations
Try one (or all!) of these yummy variations on the classic easy peanut butter balls recipe.
Add some crispiness. Make your peanut butter balls with Rice Krispies cereal for a little extra texture. Add 1/2 cup to the peanut butter mixture.
Use crunchy peanut butter instead of creamy. You can replace crunch for creamy peanut butter in this recipe 1 for 1.
Swap out the vanilla extract for rum extract.
Use white almond bark or dark chocolate candy melts to cover peanut butter balls.
For a festive touch, add colored sprinkles before the chocolate sets. This would be a great addition for the holidays.
Storing and Freezing
Store your easy peanut butter balls in an airtight container at room temperature or in the refrigerator for up to two weeks.
These chocolate peanut butter balls freeze extremely well. When fully set, place a single layer in a large freezer bag. Lay flat in your freezer and freeze for up to four months. They can be eaten frozen, thawed in the refrigerator, or enjoyed at room temperature.
FAQ
Why are my peanut butter balls so sticky?
Try adding a bit more powdered sugar. If they are too crumbly, add more peanut butter. Placing the formed balls in the refrigerator or freezer prior to coating them in chocolate can also be helpful.
Can you freeze peanut butter balls?
Yes! Place in a freezer-safe bag once the balls are fully set for up to four months.
How do you cover peanut butter balls?
Peanut Butter Balls are best when they are dipped in chocolate. We love using candy melts or almond bark for this, but chocolate chips also work.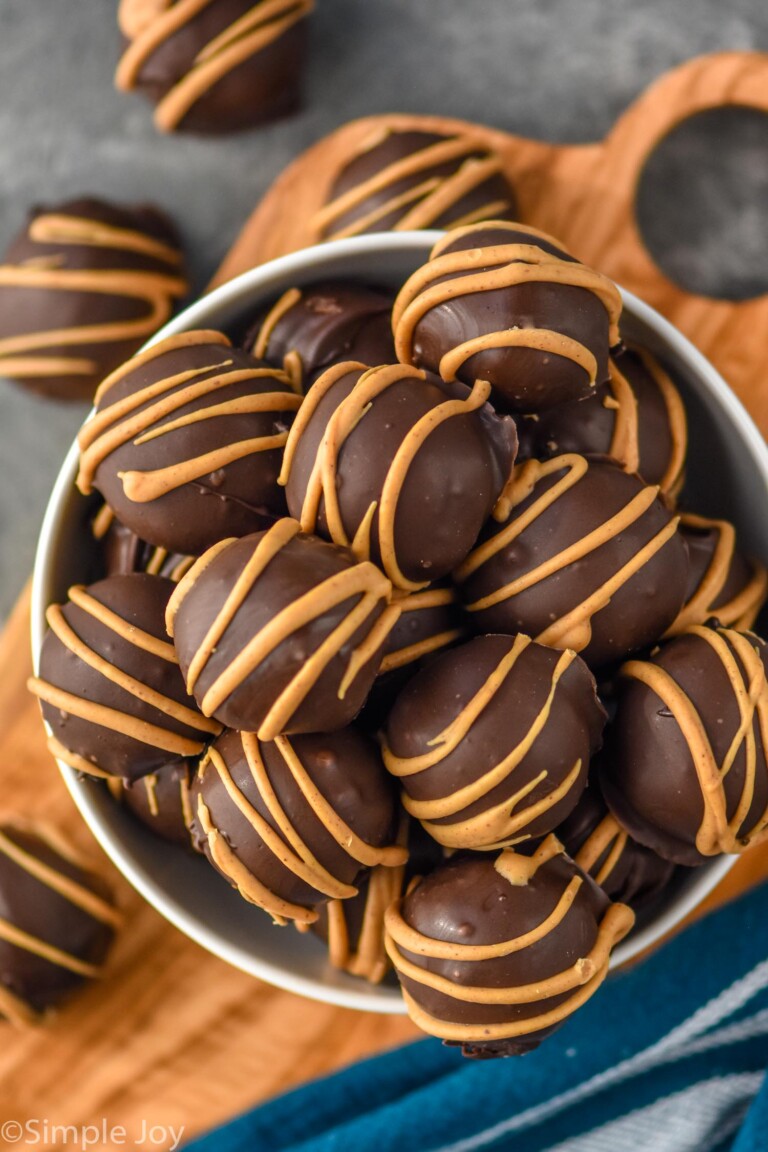 Other No Bake Desserts
If you try this chocolate peanut butter ball recipe or any of my other recipes, leave a comment and tell me what you think!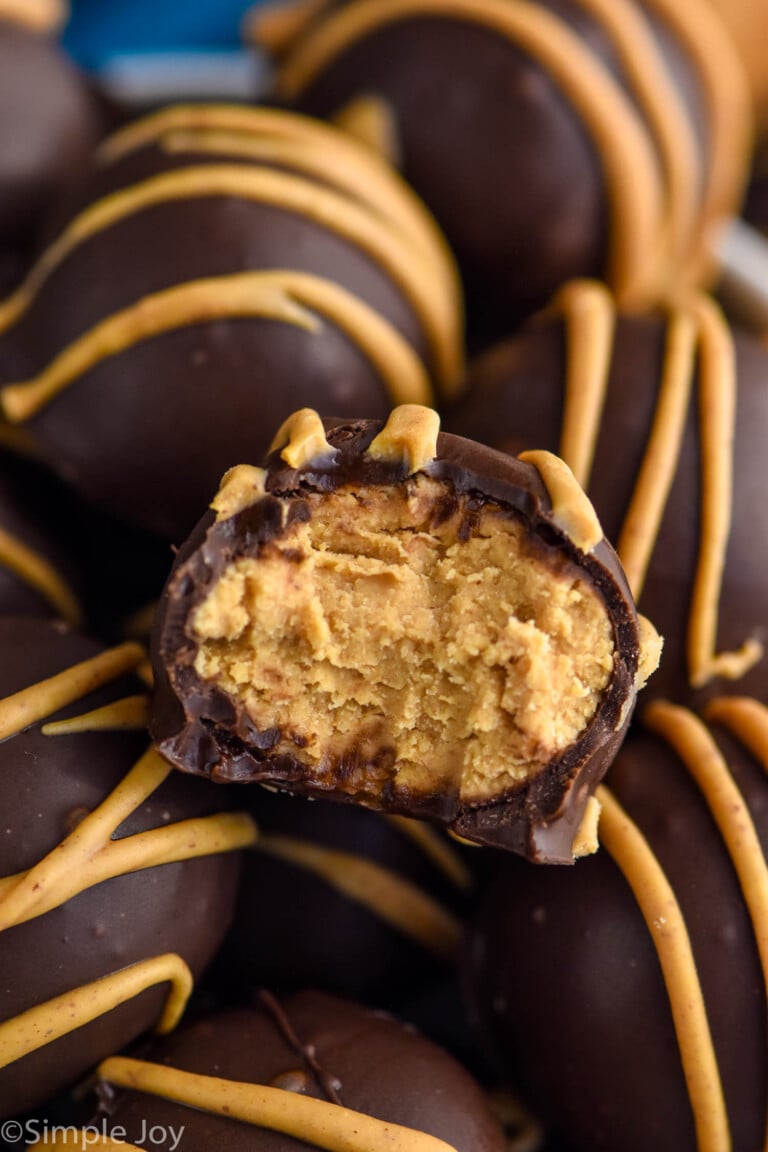 Peanut Butter Balls
These amazing no-bake Peanut Butter Balls involve only four ingredients. They have the perfect consistency and, with a taste like a Reese's Peanut Butter cup, they are irresistible.
Ingredients
1

cup

creamy peanut butter

softened

2

cups

powdered sugar

(spoon it into the measuring cup to avoid packing)

1

teaspoon

vanilla extract

14

ounces

chocolate candy melts

melted (read here about tips and tricks for working with candy melts)

1/2

cup

peanut butter chips

(optional)
Instructions
In a bowl, combine the peanut butter, powdered sugar, and vanilla. The mixture should be easy to roll into balls that stay together while not being sticky. If it is sticky, add just a little more powdered sugar. If it won't form into a ball, add just a little more peanut butter.

1 cup creamy peanut butter,

2 cups powdered sugar,

1 teaspoon vanilla extract

Roll the peanut butter mixture into 1 inch balls.

Dip the balls into the melted candy melts. Place on a parchment-lined baking sheet to harden. (Having trouble rolling and dipping these? Check out my Peanut Butter Balls Tips and Tricks.)

14 ounces chocolate candy melts

If you would like to top these, melt some peanut butter chips. Once melted, scoop it into a plastic zip lock bag. Cut a tiny hole in one of the corners and use that to pipe it over the top of the peanut butters (once the chocolate has set).

1/2 cup peanut butter chips
Serving:
1
peanut butter ball
Calories:
147
kcal
(7%)
Carbohydrates:
23
g
(8%)
Protein:
3
g
(6%)
Fat:
5
g
(8%)
Saturated Fat:
1
g
(6%)
Polyunsaturated Fat:
1
g
Monounsaturated Fat:
3
g
Cholesterol:
0.1
mg
Sodium:
67
mg
(3%)
Potassium:
140
mg
(4%)
Fiber:
1
g
(4%)
Sugar:
19
g
(21%)
Vitamin A:
17
IU
Vitamin C:
0.2
mg
Calcium:
13
mg
(1%)
Iron:
0.5
mg
(3%)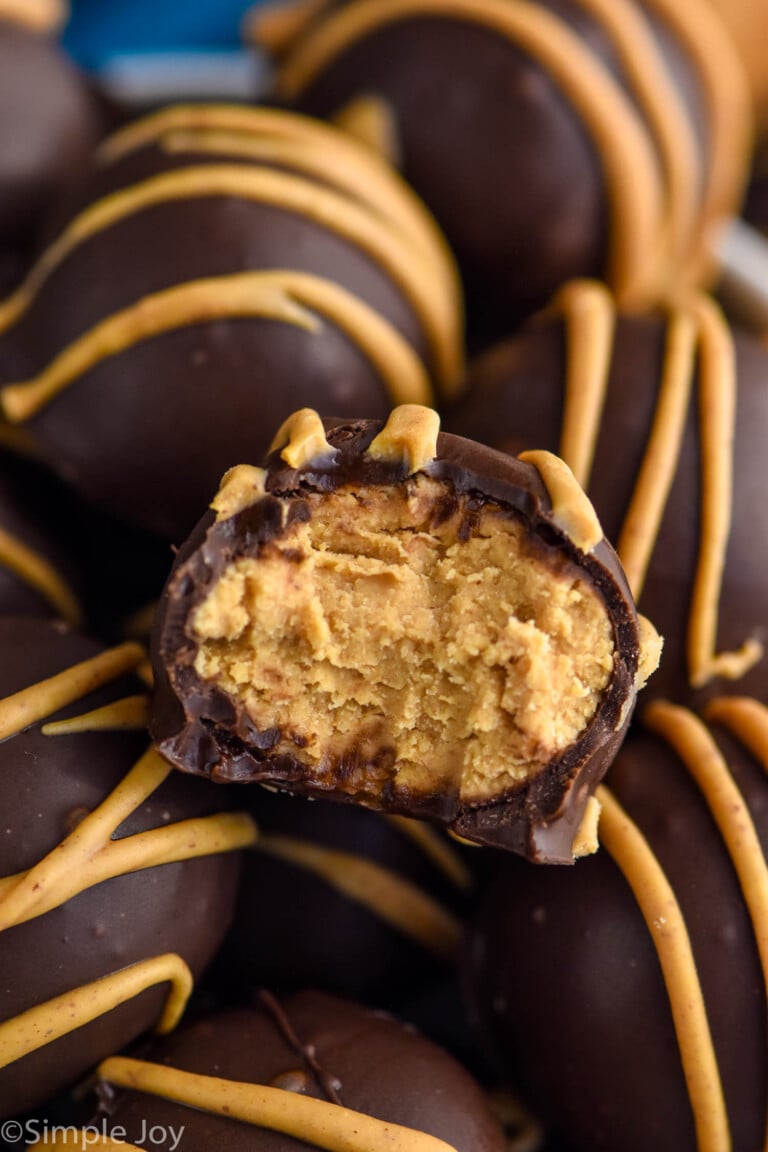 did you make this
Peanut Butter Balls