Pizza Mac N Cheese is an easy twist on Homemade Macaroni and Cheese! The cheesy goodness of your favorite pasta dish with all the delicious flavors of pizza!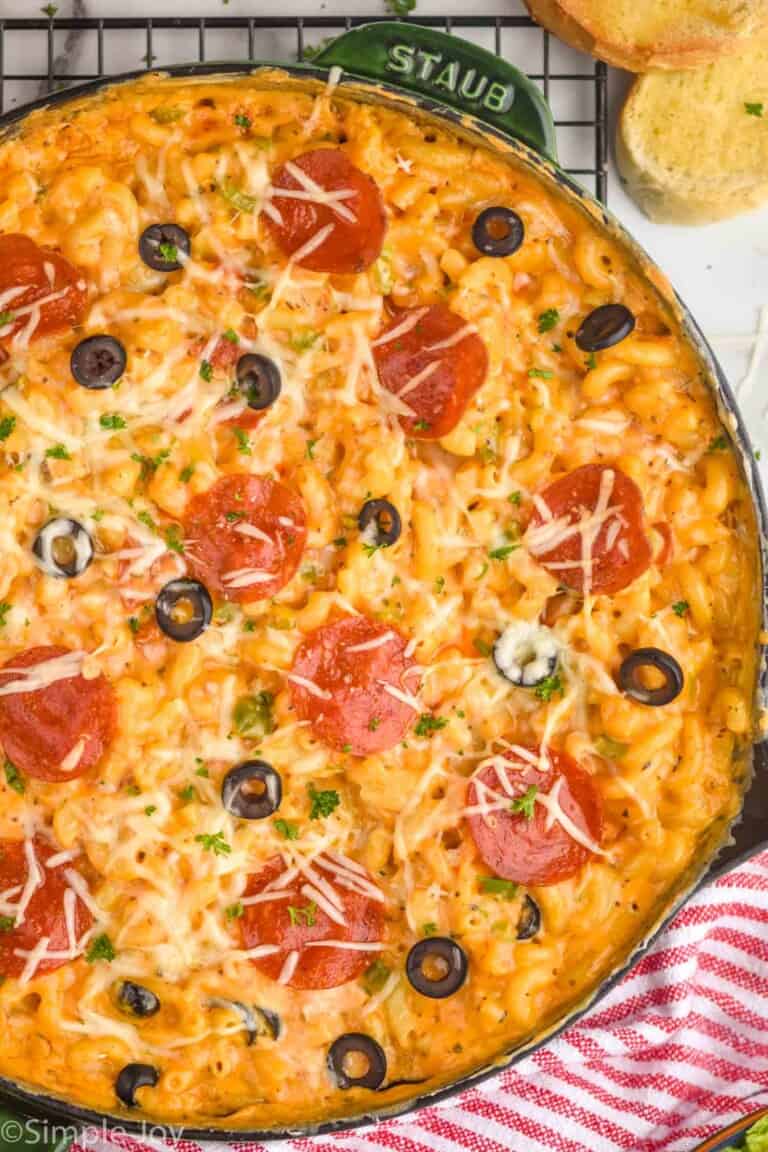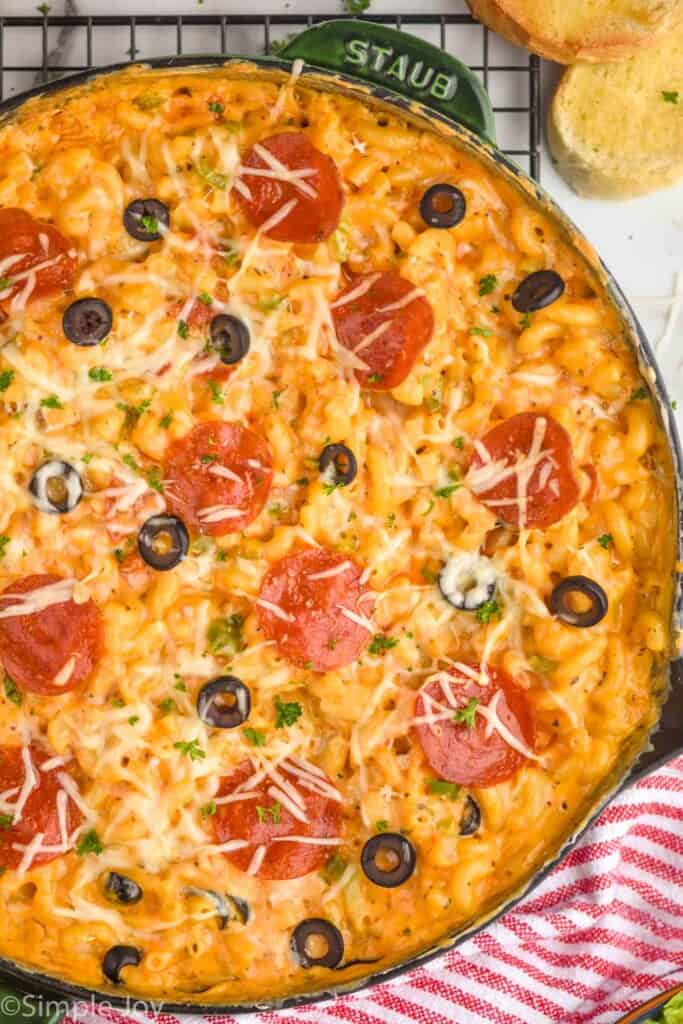 If there are two things that I can always count on being home runs in my house, it is macaroni and cheese and pizza. In fact, cheers erupt throughout my house when the kids see us making our famous homemade pizza dough.
So, obviously, the smart thing to do is combine the two. Pizza and mac n cheese come together like a match made in heaven in this 30 minute dinner recipe. It has all the rich creaminess of a great macaroni and cheese recipe with the beautiful flavors of Italian seasonings that you find in pizza.
How to Make Pizza Mac N Cheese
Cook the noodles: Bring a large pot of water to a boil. Salt it and cook the noodles according to package instructions.
Sauté the vegetables: Cook the garlic, onion, and green bell pepper in melted butter.
Make the sauce: Whisk flour into the butter to make a roux. Then add in cold half and half and whole milk. Add in the spices, and then melt in the shredded cheese. Continue whisking until smooth.
Add in pizza ingredients: Stir in chopped pepperoni, olives, and pizza sauce.
Stir in noodles.
Bake: Finally top it with more pepperoni, olives, and shredded Parmesan. Put it in the oven for 10 minutes or until everything is bubbly and the pepperoni has crisped up.
Making a Roux
The key to creamy sauces is making a roux. A roux, or thickening agent, is the combination of a fat and flour. In this recipe the fat is butter, but it can be any fat. For example, in our New England Clam Chowder, the fat we use to make the roux is bacon fat.
It can be a little tricky to make a roux in the beginning, but after a few times, you will become a pro.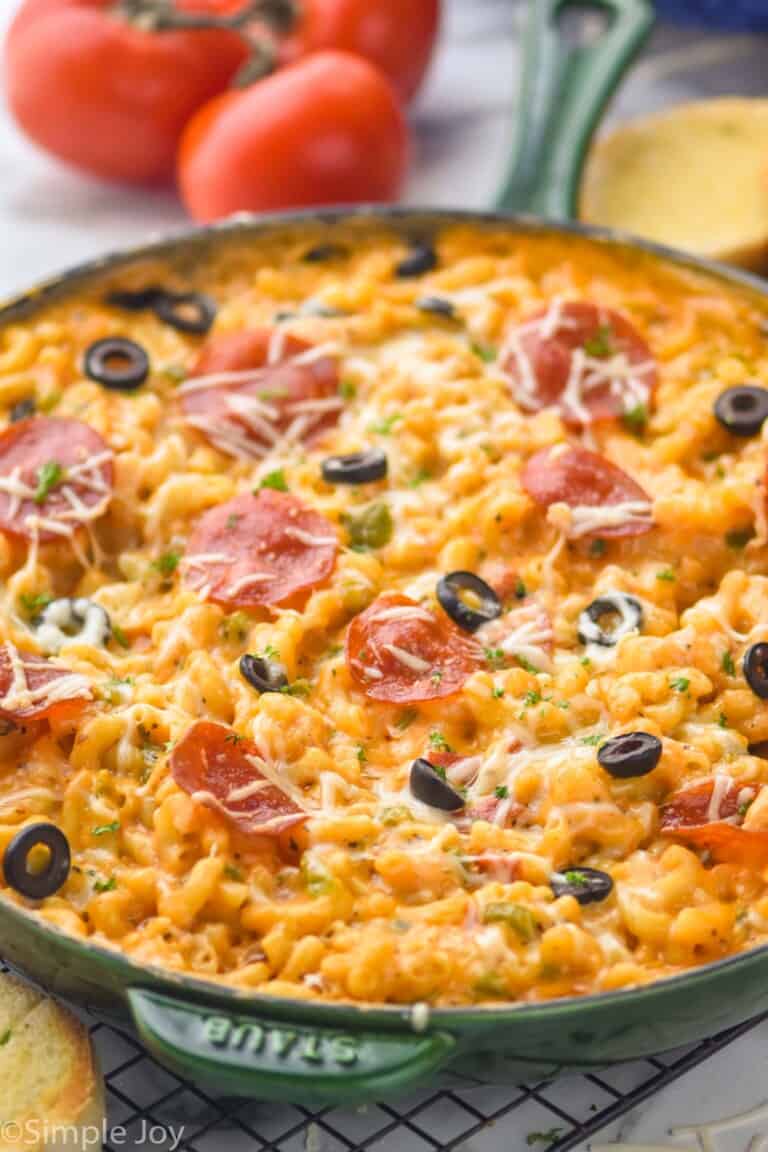 Cooking Pasta
While perhaps the most simple form of cooking, there are a few tips when it comes to cooking noodles that I always love to give.
Use any noodle you like. In this recipe, we are using elbow macaroni, but you could use any other small noodle. Shells would be great. (You could even use gluten free noodles and almond flour to make the roux.)
Bring the water to a full boil. You need to use 6 quarts of water to boil these noodles. Make sure the water is at a roaring boil before you put the pasta in.
Salt the water. Add 1 to 2 teaspoons of kosher salt to the boiling water. It seasons the noodles and helps bring the whole dish together.
Time the pasta. Make sure to cook the noodles for the short end of the range on the box. The noodles should have a small bite to them because they will continue to cook when we bake the macaroni and cheese.
Using Shredded Cheese in Macaroni and Cheeese
It is very important for this recipe that you shred your own cheese. Cheese that is pre-shredded just doesn't melt the same way as block cheese. You will be much happier with the taste and texture of this mac n cheese recipe if you shred your own.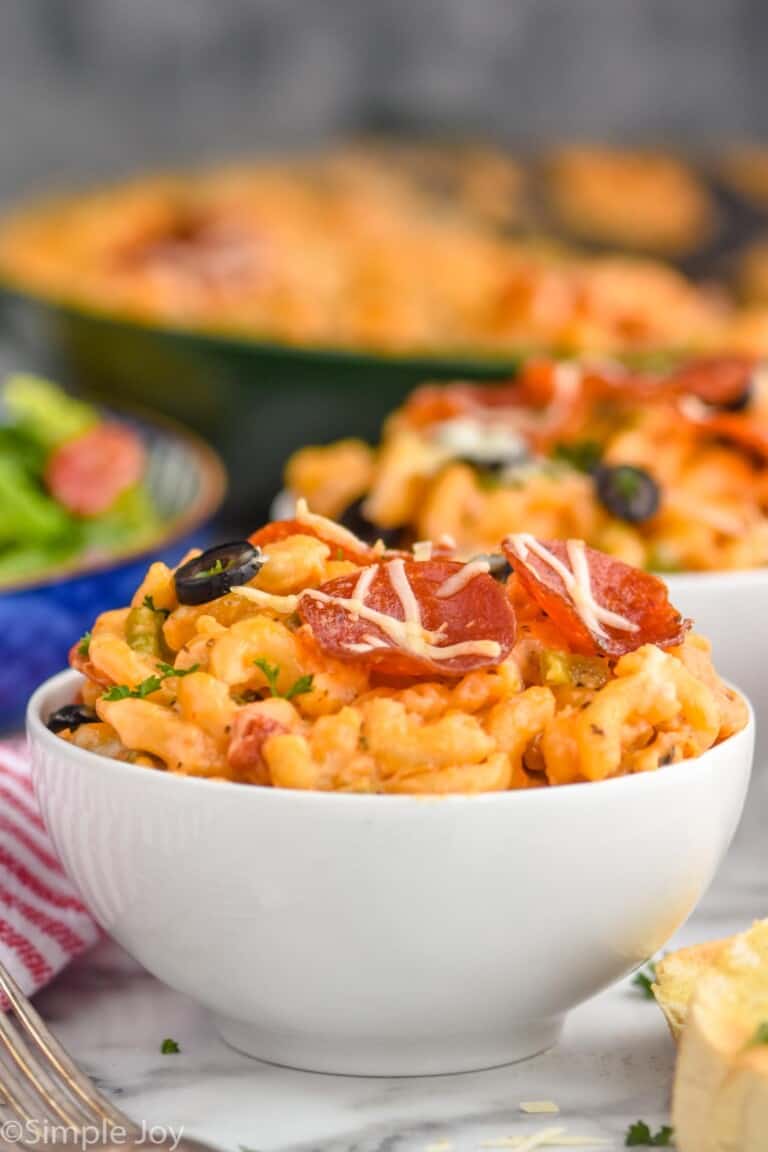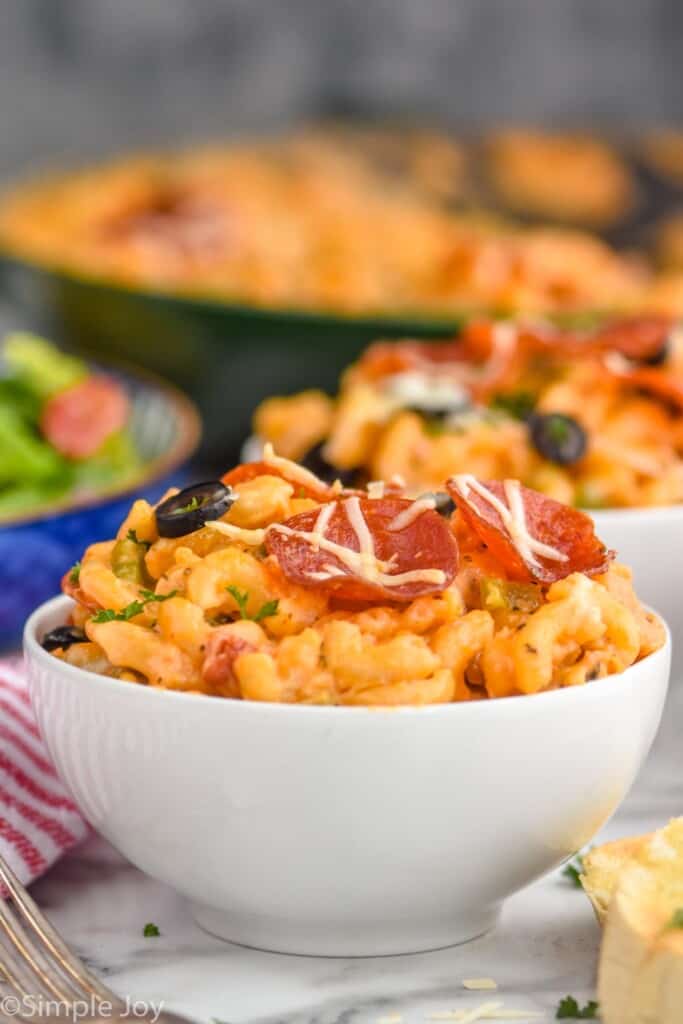 What Pizza Sauce to Use
For this recipe, you can really use any pizza sauce that your family loves. You can cut a little time by using store-bought pizza sauce. Or you can make this completely from scratch by using our homemade pizza sauce.
Storing Leftovers
Store leftovers in an airtight container in the refrigerator for 3 to 4 days. Always use your best judgement when it comes to eating leftovers. Please only reheat the amount you plan on eating, as leftovers shouldn't be reheated more than once.
Reheating Mac N Cheese
To reheat your macaroni and cheese, put it in the skillet and add a little bit of milk (1 to 2 tablespoons), stirring. Add more milk as needed, stirring regularly until it is heated through.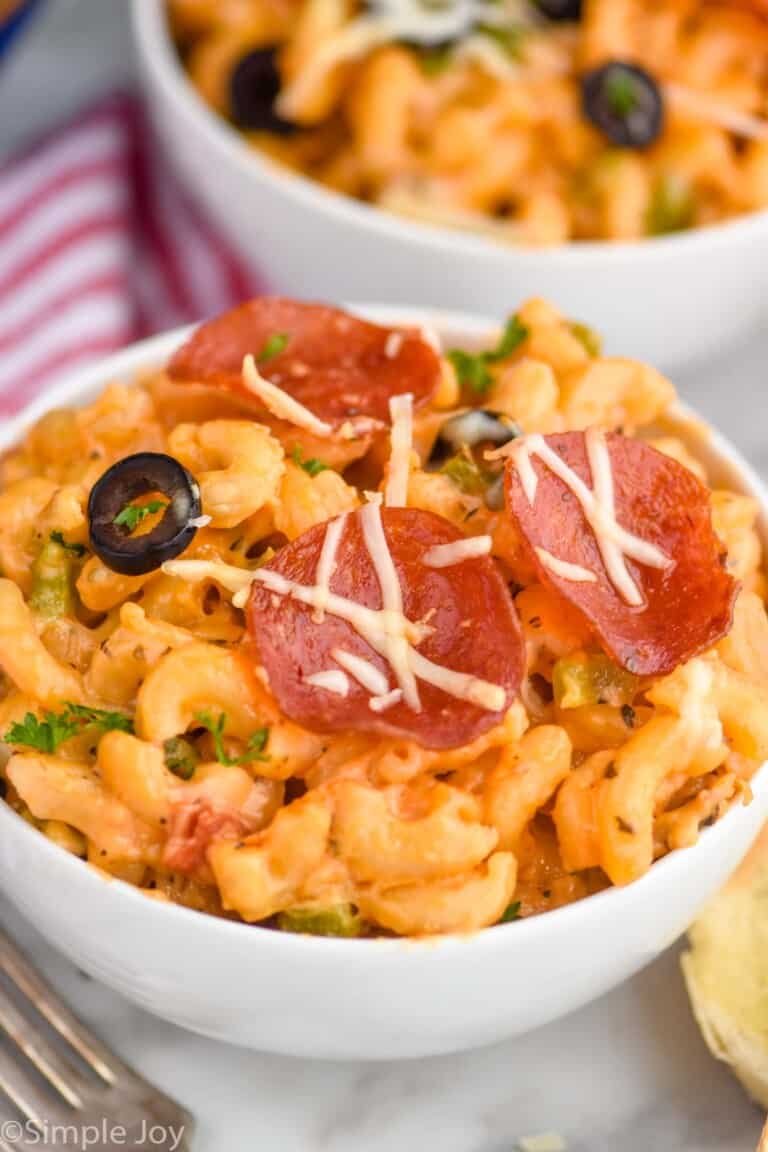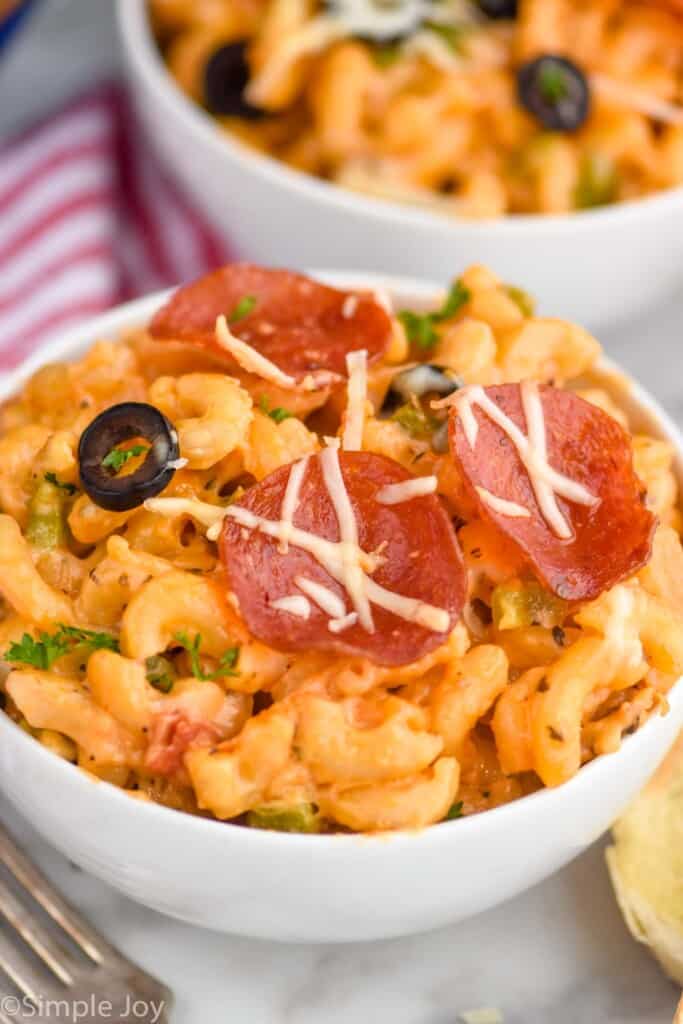 I know you will love this homemade mac n cheese! Please leave me a comment and tell me what your family thinks!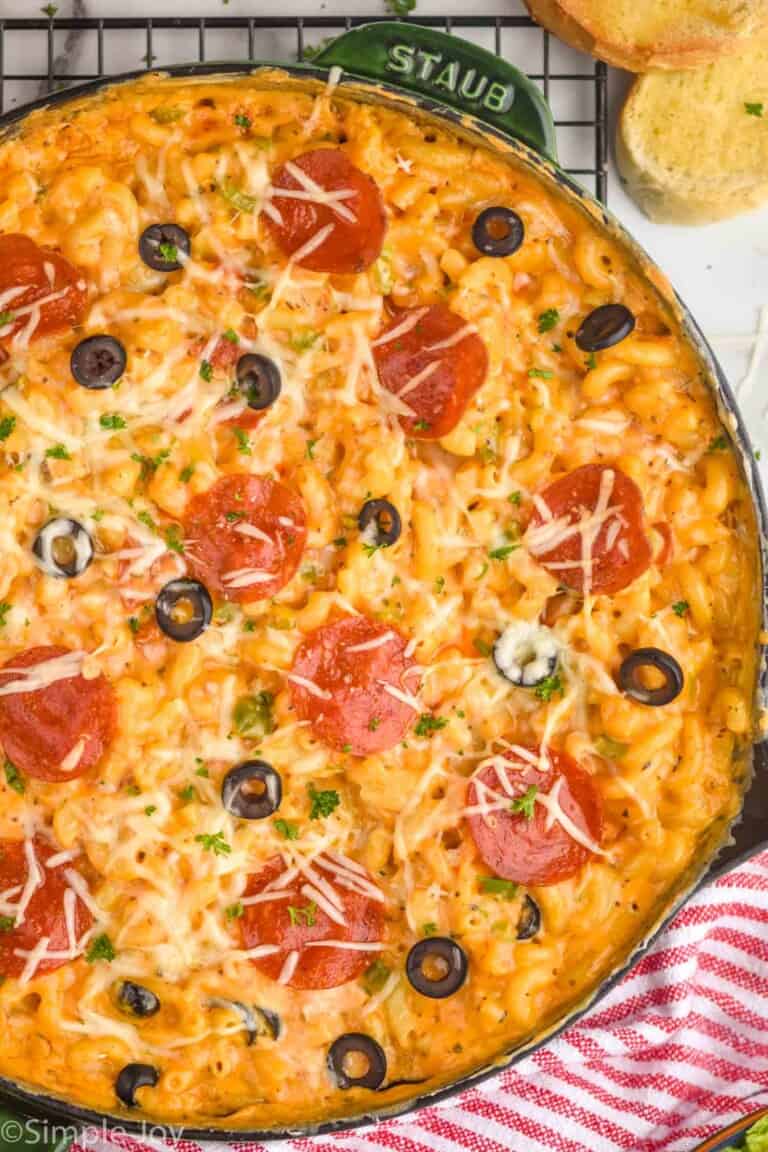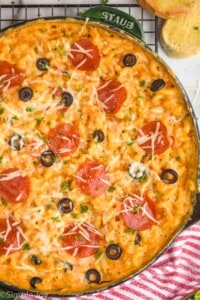 Pizza Mac and Cheese
Pizza Mac N Cheese is an easy twist on Homemade Macaroni and Cheese! The cheesy goodness of your favorite pasta dish with all the delicious flavors of pizza!
Ingredients
1

pound

elbow macaroni

(uncooked)

4

tablespoons

unsalted butter

2

garlic cloves

minced

1

small yellow onion

diced

1

green bell pepper diced

1/4

cup

all purpose flour

1

cups

cold whole milk

1

teaspoons

kosher salt

1

teaspoon

dried oregano

1

teaspoon

dried basil

1/4

teaspoon

black pepper

12

ounces

mozzarella

shredded (about 4 cups)

1/2

cup

pizza sauce

1/4

cup

pepperoni

quartered (plus more for topping)

1/4

cup

sliced olives

plus more for topping

1/4

cup

parmesan cheese

shredded
Instructions
Preheat your oven to 350 degrees.

Cook the macaroni according to package instructions, making sure to salt the water with 2 teaspoons of kosher salt. When it is finished cooking, drain and set aside.

While the pasta is cooking, melt the butter in a large oven proof skillet. Add in the garlic, onion, and the bell pepper and sauté until soft, about 5 to 7 minutes.

Whisk in the flour. Then slowly whisk in the half and half and the whole milk. You want to start with just a few tablespoons at a time, adding more once it is absorbed by the roux. Then you can gradually add it more quickly. The whole process should take less than 2 minutes.

Add in the salt, oregano, basil, and black pepper. Stir in the mozzarella cheese and stir until compltely melted. Stir in the pepperoni, sliced olives, and pizza sauce. Try the sauce and add more seasoning to taste.

Add the cooked noodles to the sauce. Top with more pepperoni and olives. Then add the Parmesan cheese. Bake for 15 to 20 minutes. Serve and enjoy!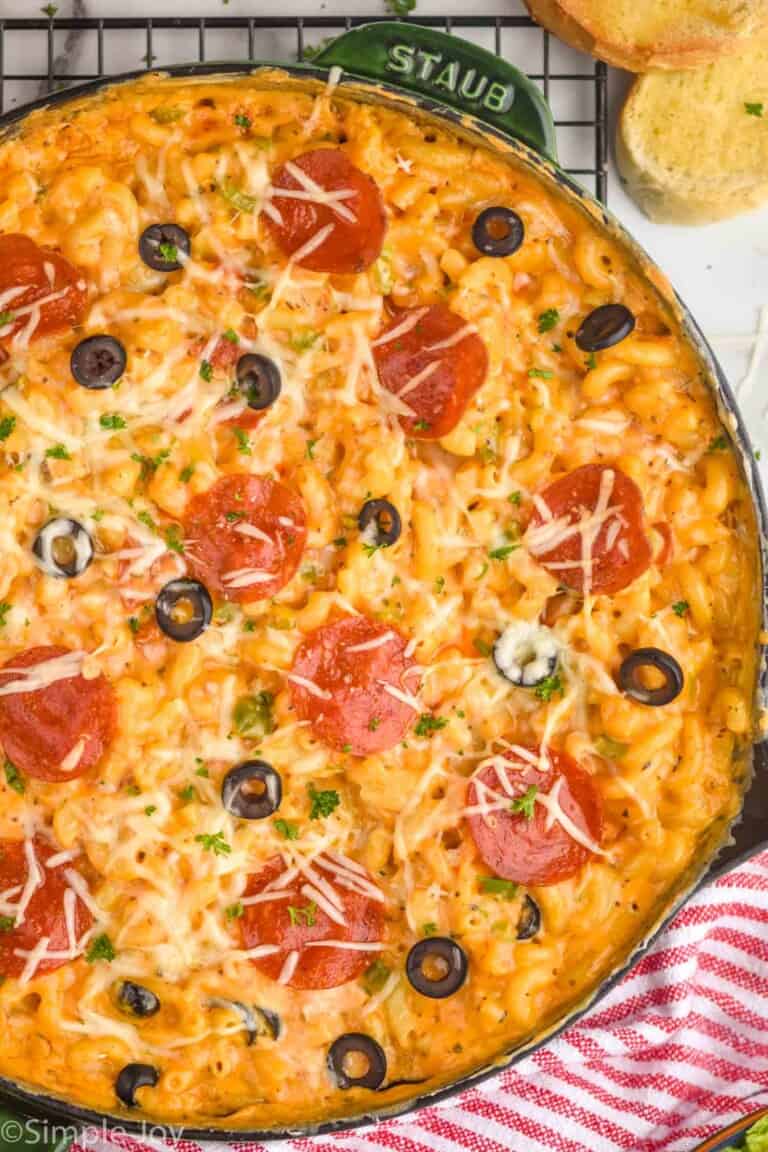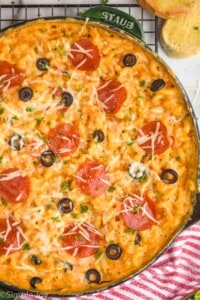 did you make this
Pizza Mac and Cheese
you might also like . . .