This Pork Roast recipe only takes about five minutes to prep, and is delicious, moist, and perfect. This pork recipe is great for a family dinner, but would absolutely work for entertaining.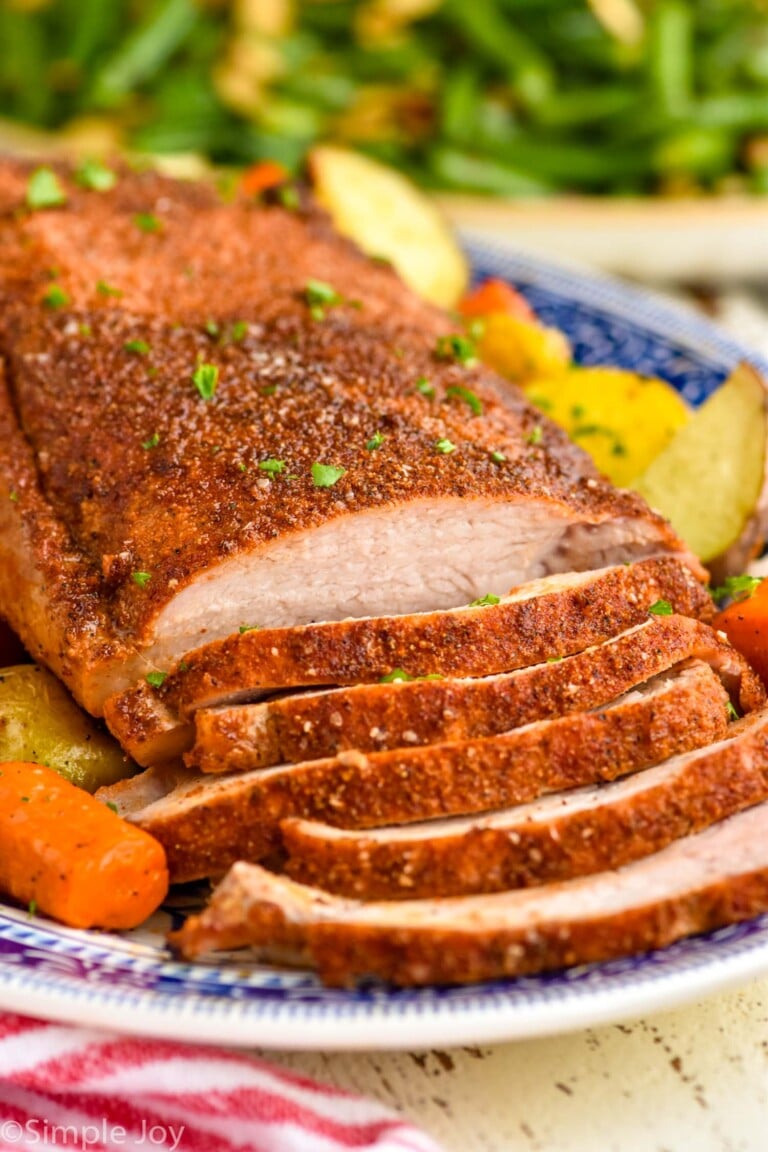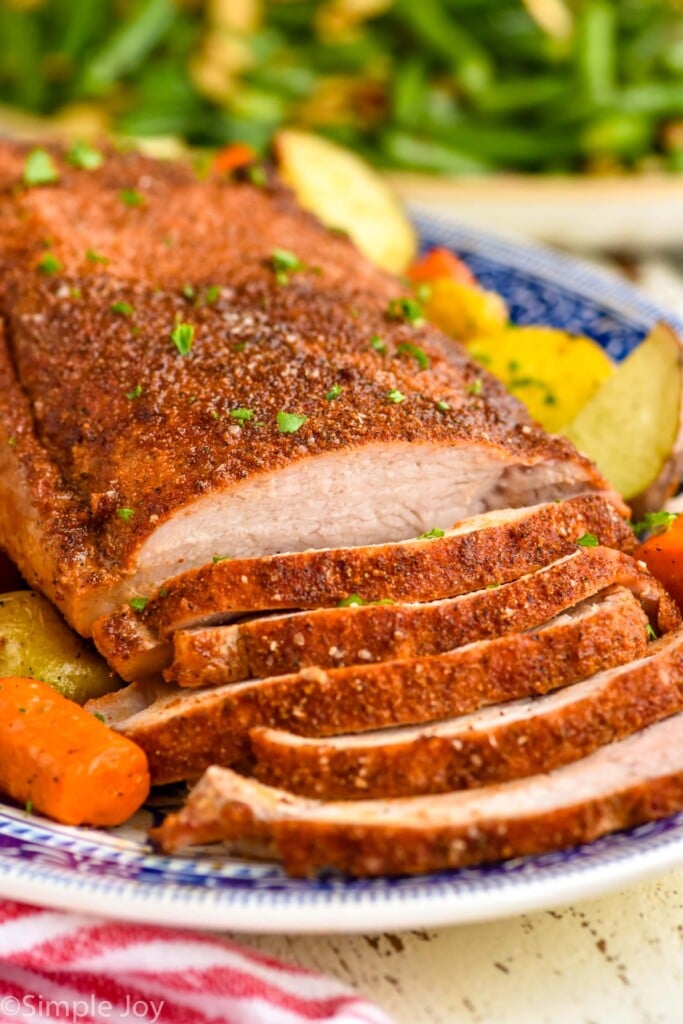 I'm so excited to be giving you this recipe today. Not only is this Pork Loin Roast absolutely delicious, but it is incredibly easy to make, and affordable.
For a three-pound cut of meat, which easily feeds our family of five, we only pay about $10. That is a great value for a dinner that works perfectly as a weeknight meal, a holiday main dish, or for entertaining!
Reader Review
My friend and I had your Pork Loin Roast tonight for dinner and it was delicious.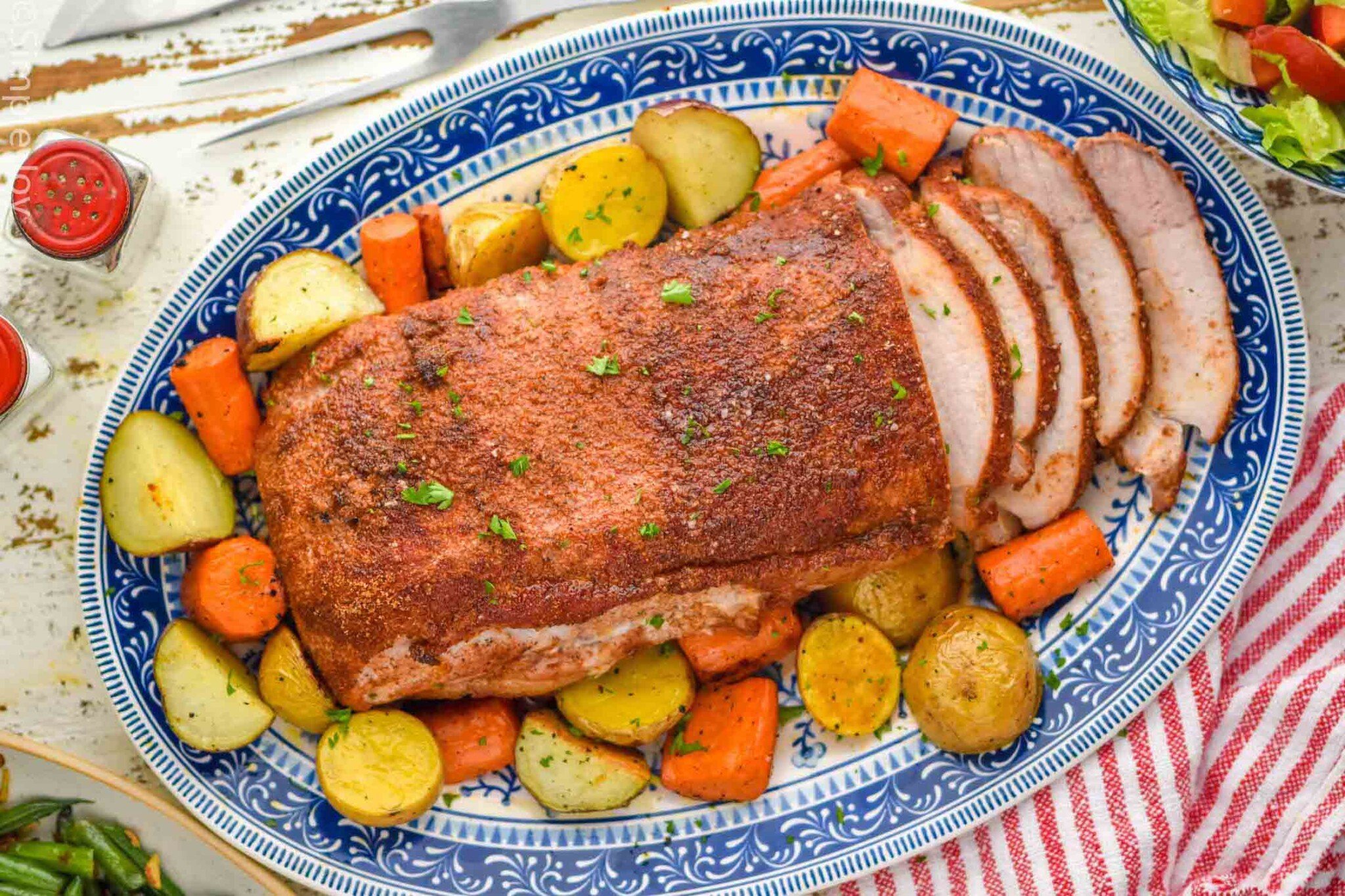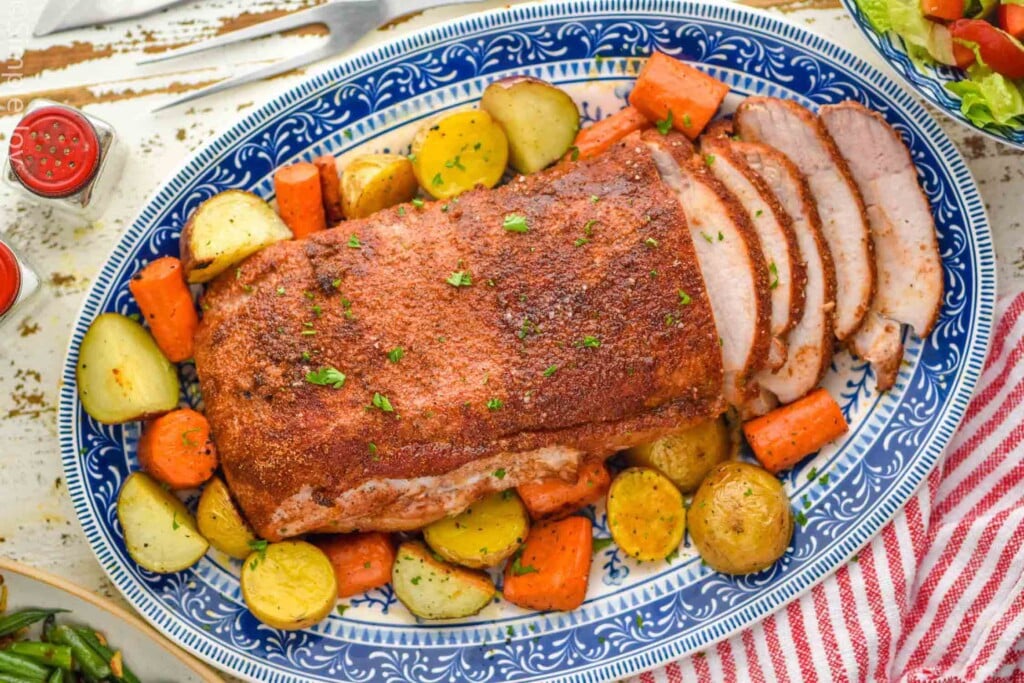 Pork Loin vs Tenderloin
This recipe for pork roast is made with a pork loin. When buying meat for this recipe, note that pork tenderloin and pork loin are two different cuts of pig. Pork loin is a bigger cut of meat and is often used by the butcher to cut pork steaks. Alternatively, pork tenderloin is a smaller, thinner, and more tender cut of pork. Tenderloins will not work in this recipe. If you are looking for a way to use pork tenderloin, try this Marinated Pork Tenderloin or this Pork Stir Fry – both are amazing!
You will notice that in this recipe we are using a boneless pork loin. If you can only find a bone-in pork loin, I suggest that you use this delicious recipe for Bone-in Pork Loin Roast.
Bone-in Pork Loin Roast
This Bone-in Pork Loin Roast is the perfect special occasion meal. It comes together easily and the result is the most tender and succulent pork you've ever had.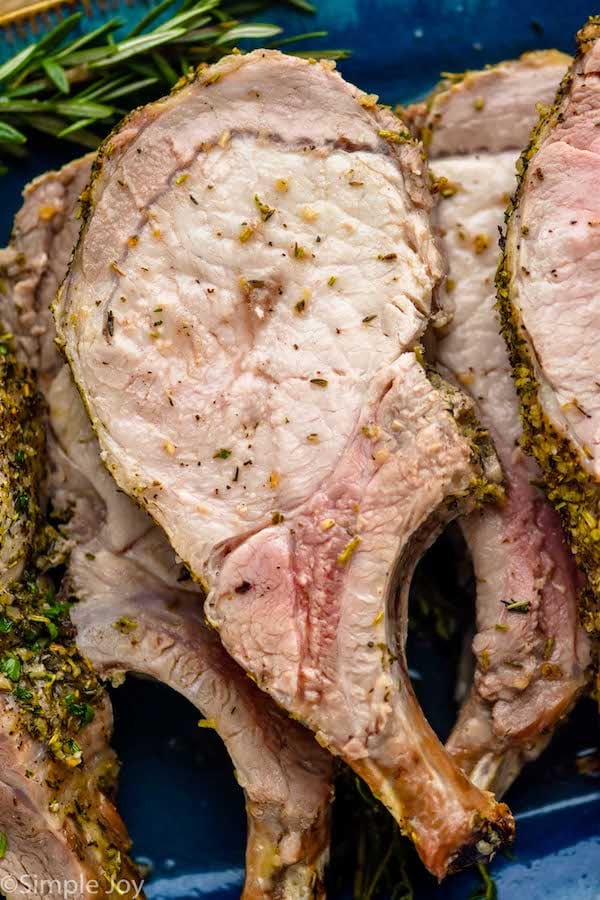 How to Cook a Pork Roast
This pork roast recipe comes together quickly and is loaded with flavor. We start with a higher temperature and then drop it down to achieve both a browned and crispy outside and juicy tender inside.
Here is a brief overview of how to make an oven-roasted pork loin. For the full measurements and cooking time, scroll to the recipe card at the bottom of the post.
Make your pork rub. Similar to my Pork Rub but with dry mustard, onion powder, garlic, and cayenne pepper, mix together your seasonings.
Season the pork. Spread the pork rub all over the pork loin.
Roast the pork. Place the loin on the prepared rack and roast for 15 minutes. Turn down the heat and bake until fully cooked and the internal temperature reaches 140 degrees.
Let it rest. Remove the pork loin from the oven and let it sit tented for 5-10 minutes. The internal temperature should rise to 145 degrees.
How Long to Cook Pork Roast
Pork only needs to be cooked to 145 degrees for food safety purposes. When cooked to that temperature it is juicy and delicious. I highly recommend using an instant-read thermometer in any meat recipe, including this one. It allows you to end the cooking process at the exact right temperature.
Your cooking time will vary depending on your cooking method and the size of your pork loin roast. If you are making your pork roast in the oven, it will take approximately one hour. Please note that the time here is for a pork roast that is about 3 inches thick when raw. The thickness is just as important as the weight when considering cooking time.
I highly recommend that you get a thermometer that you can leave in the pork loin inside your hot oven. This will keep you from overcooking your pork, something that is easy to do and results in meat that is very white and dry. You can find my recommendation below.
TOP PICK
Instant Read Thermometer
This thermometer is great because it can be left in your meat while it cooks. You can even set an alarm so you know exactly when the roast reaches 140 degrees.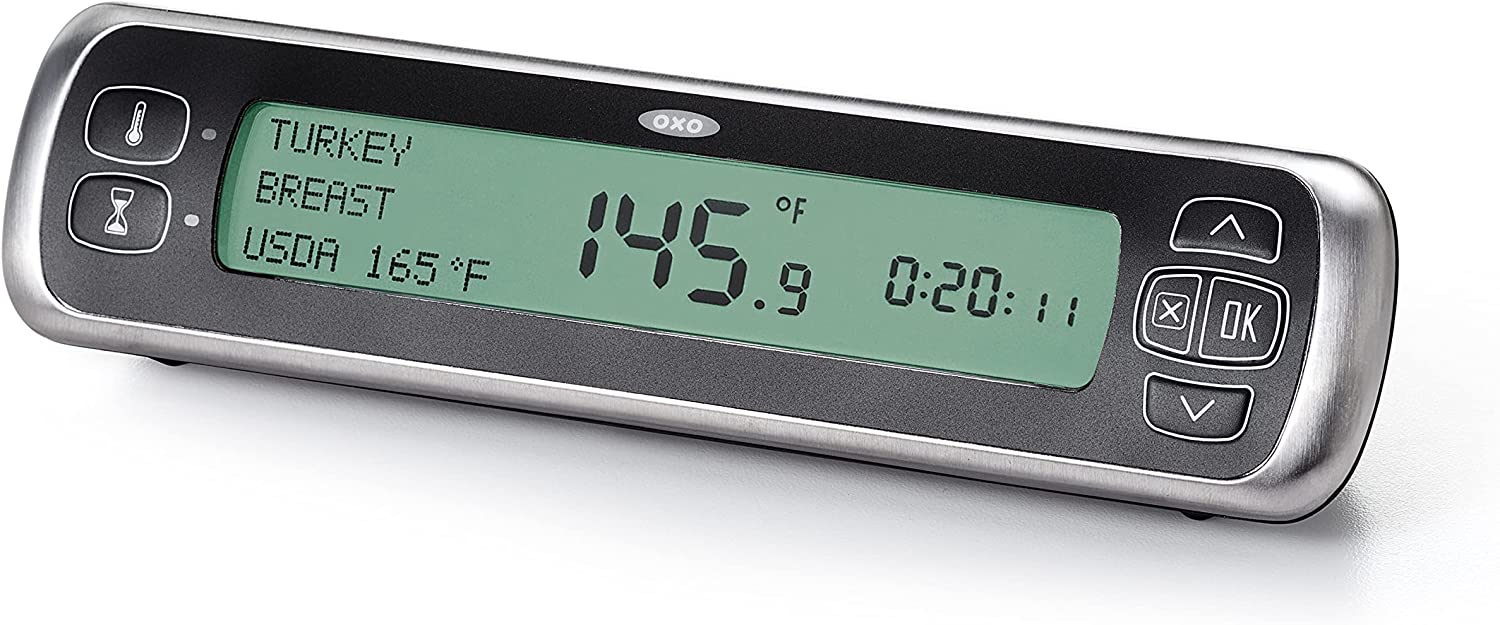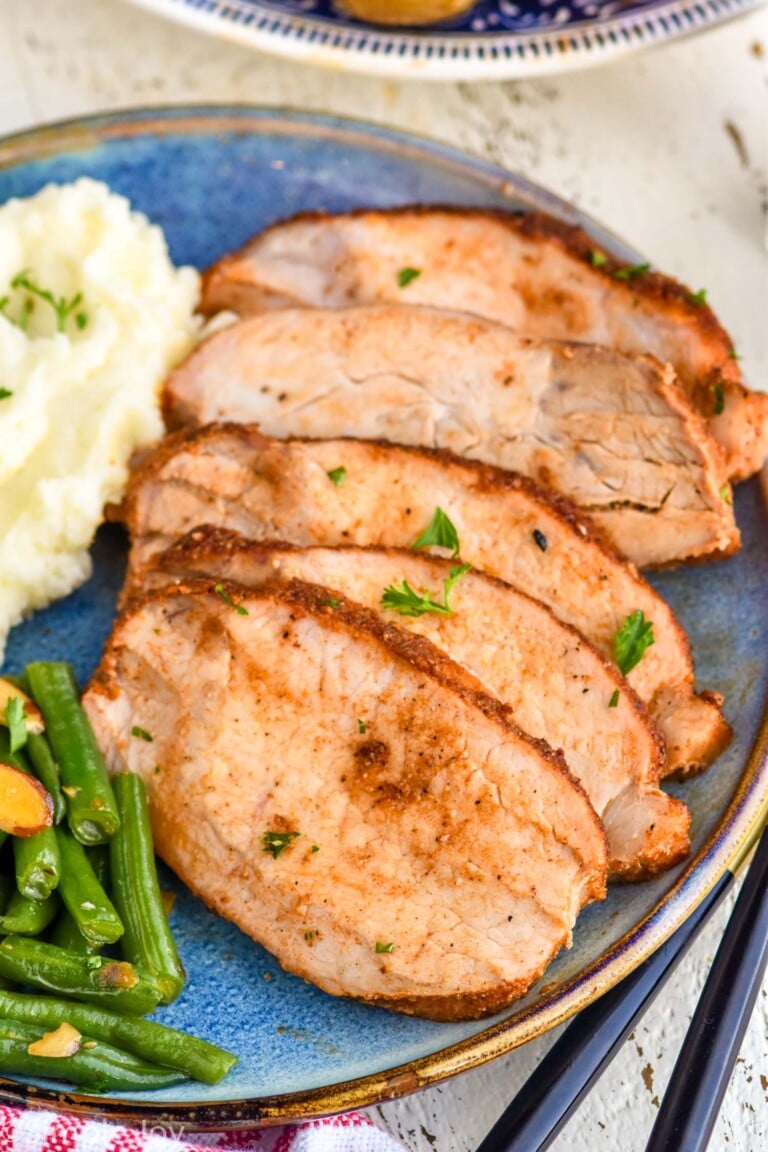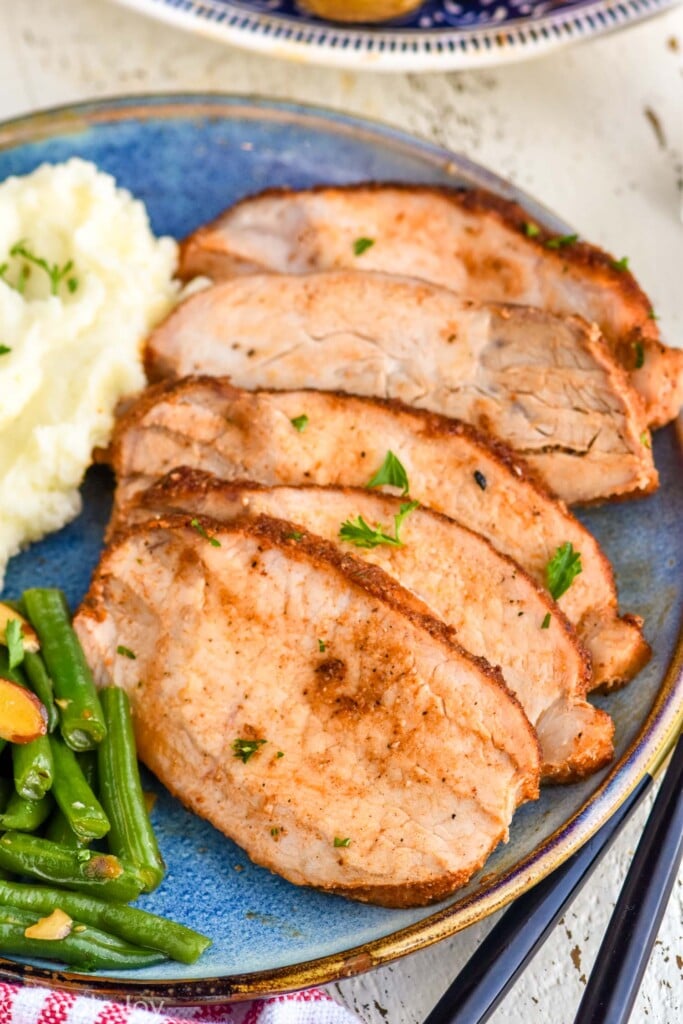 Carry Over Cooking
You will notice that in this recipe we are taking a helping hand from carry over cooking. The premise behind carry over cooking is that meat continues to cook even when removed from the heat source. So while you need your pork to reach 145 degrees for food safety, we are taking it out of the oven at 140 degrees. It is then tented and in the time it needs to rest, it will reach 145 degrees, in about 5 to 10 minutes. You can even leave your thermometer in the pork and watch this happen.
What to Serve with Pork Roast
Roasted pork loin goes great with so many sides. Here are a few ideas of what to serve:
Storing and Reheating
Store your leftover pork in an airtight container for up to three days. To reheat, place your desired portion in the oven in a baking dish with a little chicken stock. Cook, covered, for 20 to 30 minutes at 300 degrees.
Always use your best discretion with leftovers. As far as what to do with leftover pork roast, there are so many options. Make a sandwich with homemade bbq sauce or some nachos. It would also be delicious on my Jalapeño Peach Panini.
FAQ
Is it better to cook a pork roast slow or fast?
Since pork loin is a lean cut of meat, it is best to cook it slowly. Overcooking pork results in meat that is tough and dry. To prevent this from happening, cook it slowly and watch its internal temperature.
How do you keep a pork roast from drying out?
Be careful not to overcook it.
Should I cover my pork roast in the oven?
Covering your pork loin roast in the oven isn't necessary for this recipe, however, I do recommend tenting it with foil after it is removed from the oven to allow the internal temperature to reach 145 degrees. This will both bring it up to the necessary temperature and allow the meat to rest before slicing.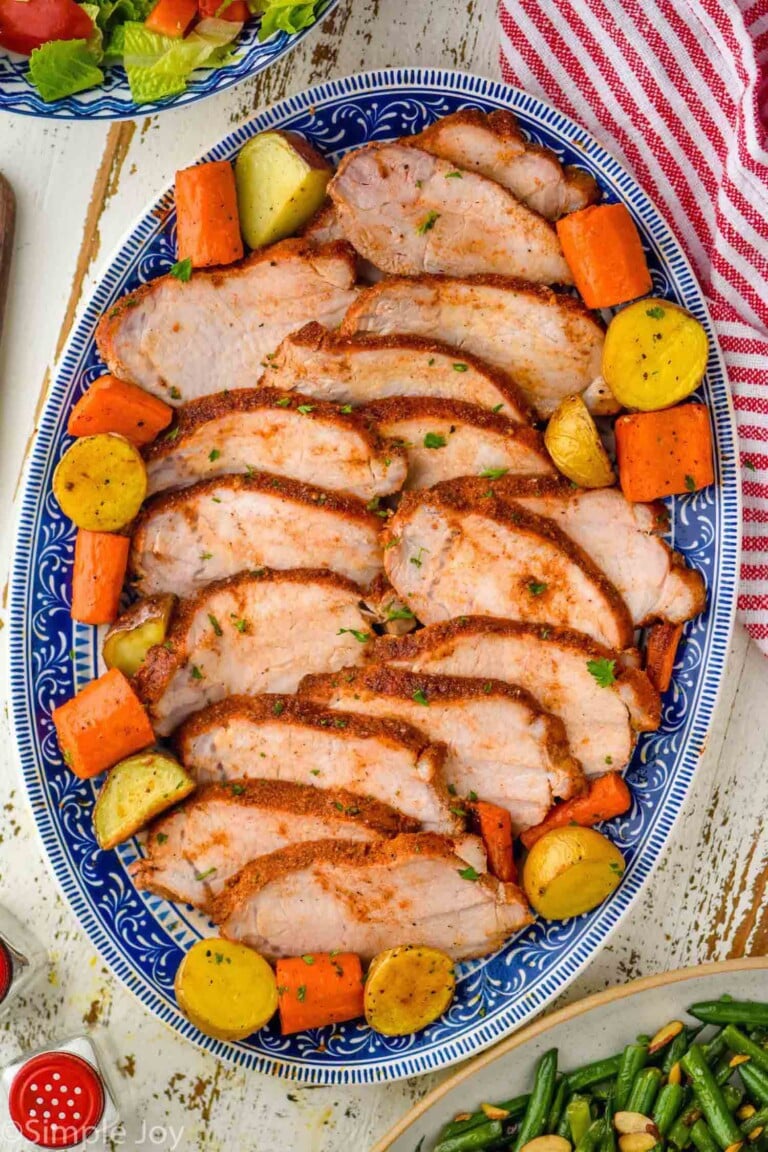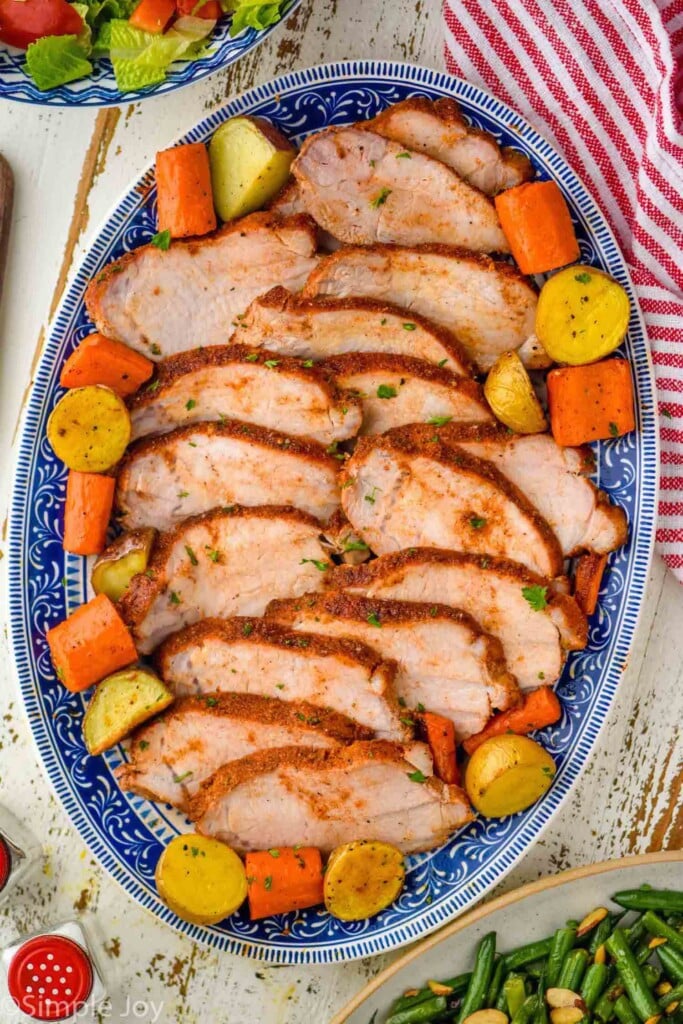 Other Pork Recipes
There are so many ways to enjoy pork that your whole family will love.
This Pork Chops with Apples is an easy dinner with simple ingredients that come together with earthy flavors and a hint of sweetness.
Pork Stir Fry Recipe is perfect for those busy weeknights.
This BBQ Pulled Pork recipe is a classic that slow cooks all day and features the best homemade bbq sauce.
If you try this pork roast recipe or any of my other pork recipes, leave a comment and let me know what you think. I love hearing from you!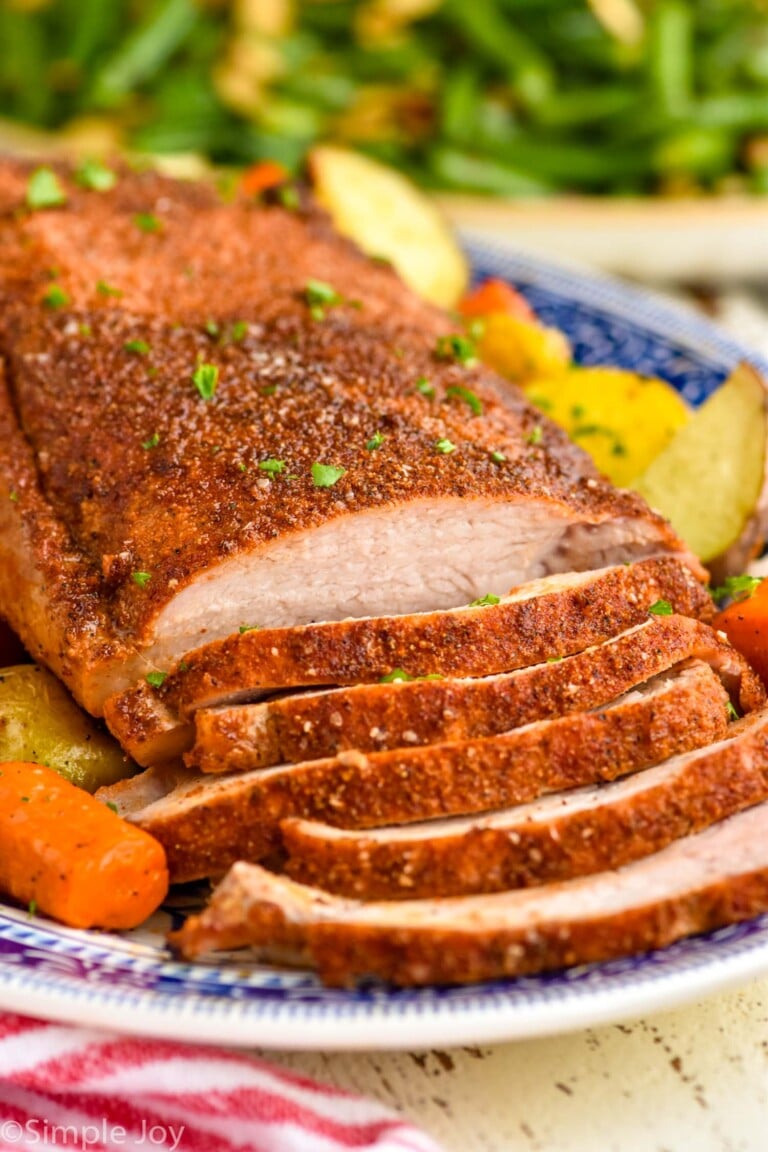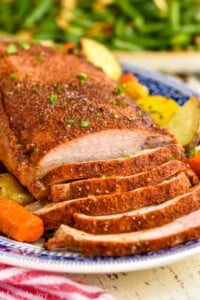 Pork Roast
This Pork Roast recipe only takes about five minutes to prep, and is delicious, moist, and perfect. This pork recipe is great for a family dinner, but would absolutely work for entertaining.
Ingredients
3

pound

boneless pork loin

(not a tenderloin)

1

tablespoon

paprika

1

tablespoon

brown sugar

1/2

tablespoon

kosher salt

(if using table salt, use 3/4 teaspoon)

3/4

teaspoon

black pepper

1

teaspoon

onion powder

1

teaspoon

garlic powder

1

teaspoon

ground mustard

1/8

teaspoon

cayenne pepper
Instructions
Preheat your oven to 425 degrees Fahrenheit. Place a rack in a shallow baking dish or roasting pan, set aside.

Mix the paprika, brown sugar, black pepper, kosher salt, onion powder, garlic powder, dry mustard, and cayenne in a small bowl.

1 tablespoon paprika,

1 tablespoon brown sugar,

1/2 tablespoon kosher salt,

3/4 teaspoon black pepper,

1 teaspoon onion powder,

1 teaspoon garlic powder,

1 teaspoon ground mustard,

1/8 teaspoon cayenne pepper

Spread the rub all over the pork loin. Then place the pork loin on the prepared rack.

Roast for 15 minutes. Then turn down the heat to 325 degrees Fahrenheit and continue roasting until the pork loin reaches 140 degrees, about one hour for a 3 inch thick, 3 pound roast. Remove from the oven and allow it to rest, tented for 5 to 10 minutes. In that time, the roast will come to 145 degrees.
Calories:
313
kcal
(16%)
Carbohydrates:
3
g
(1%)
Protein:
51
g
(102%)
Fat:
9
g
(14%)
Saturated Fat:
3
g
(19%)
Polyunsaturated Fat:
1
g
Monounsaturated Fat:
4
g
Cholesterol:
143
mg
(48%)
Sodium:
694
mg
(30%)
Potassium:
870
mg
(25%)
Fiber:
0.2
g
(1%)
Sugar:
2
g
(2%)
Vitamin A:
67
IU
(1%)
Vitamin C:
2
mg
(2%)
Calcium:
17
mg
(2%)
Iron:
1
mg
(6%)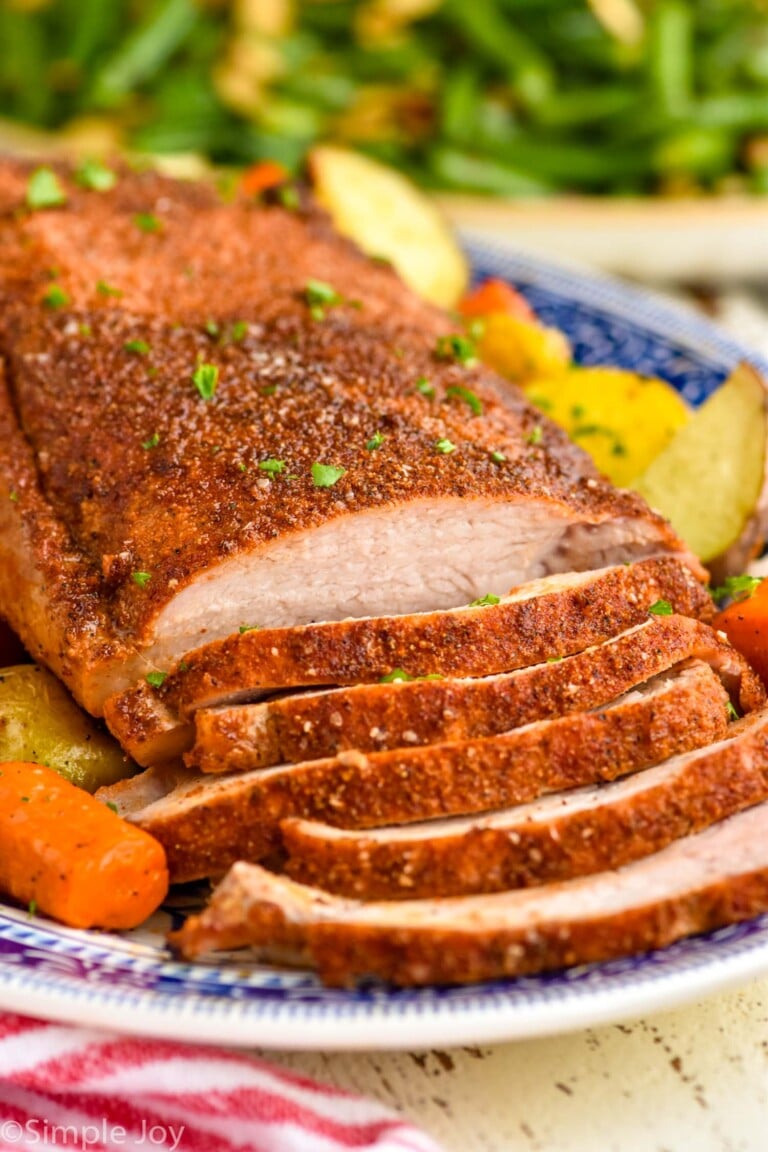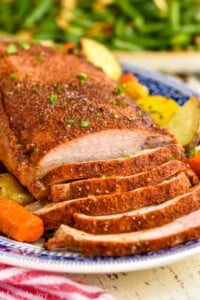 did you make this
Pork Roast