My Pork Chops with Apples is an easy dinner that is sure to impress. Simple ingredients come together with earthy flavors to bring you this savory pork recipe with a hint of sweetness.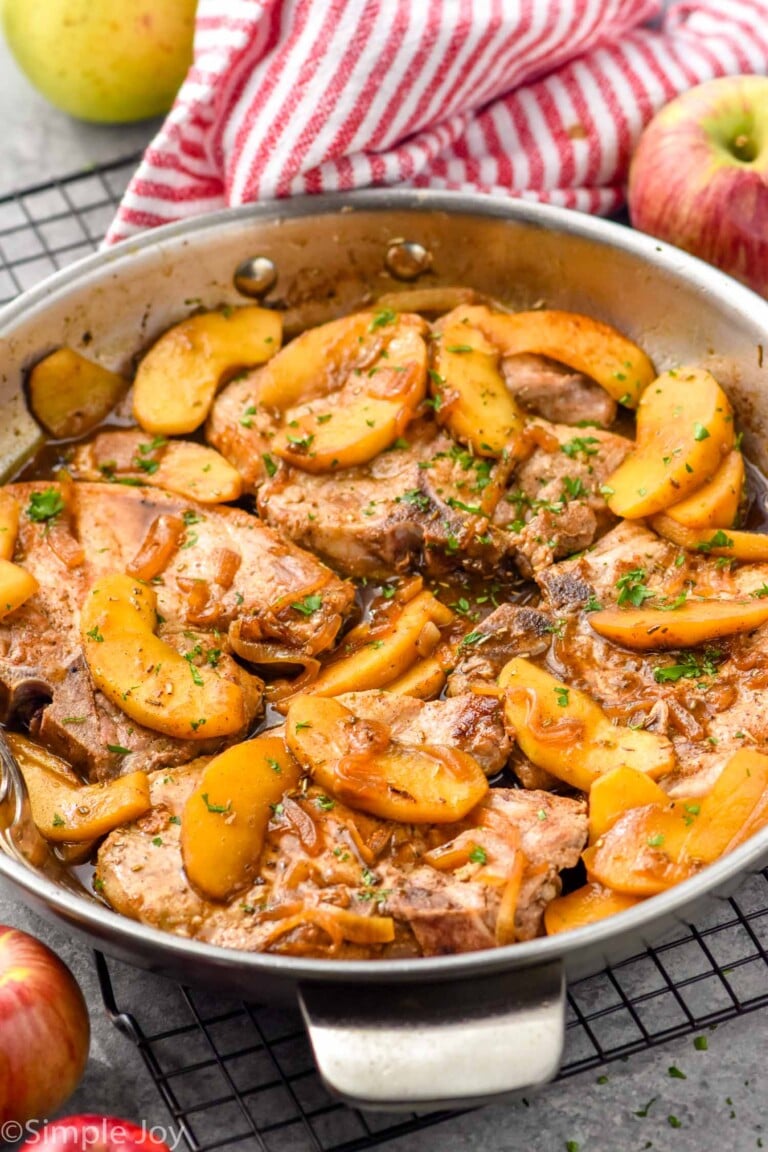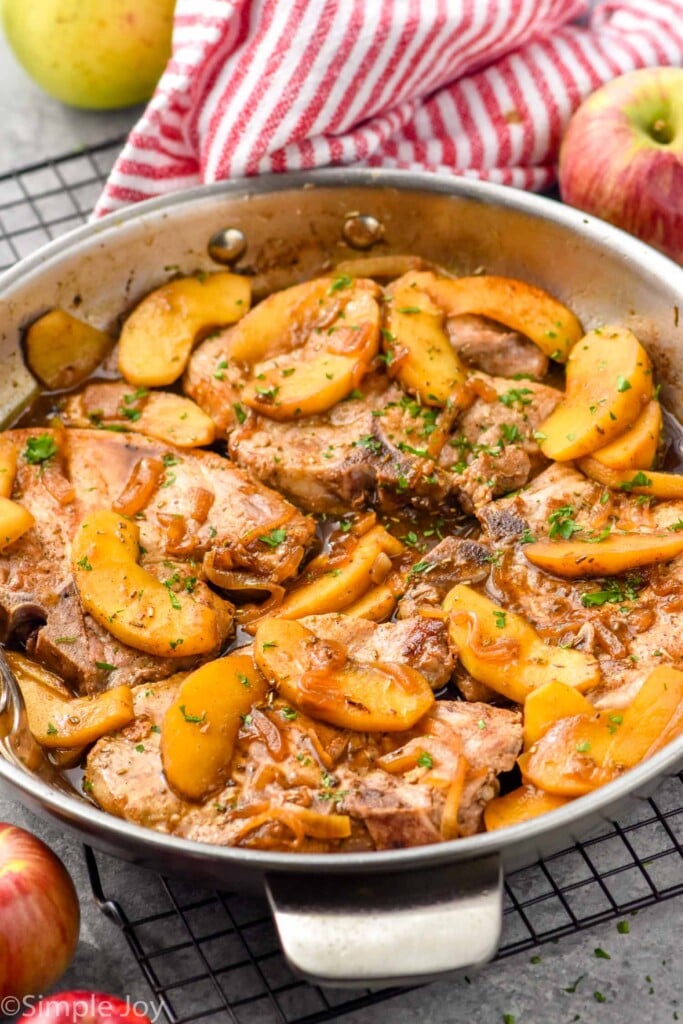 I love recipes that balance sweet and savory so much. When you combine the two worlds of flavors, they can help highlight and balance each other in the best ways.
This is all too true in this amazing pork chop recipe. We are combining the sweetness of apples with the savory taste of onions and rosemary – a match made in heaven. It all serves as the perfect flavoring for easy to make bone in pork chops.
The full flavor of pork with the sweet-tart taste of apples seasoned with the cozy notes of nutmeg, cinnamon, and rosemary creates a comforting and delicious dish packed with flavor.
Reader Review
Tonight's dinner was pork chops with apples! We brought my 94 year old mother-in-law home from the hospital today after recovering from a fall. She ate every bite of her pork chop! Thank you for this great recipe! It was easy and delicious.
How to Make Pork Chops with Apples
Here is a brief overview of how to make pork chops with apples. For the full measurements and instructions for this one pan meal, be sure to scroll to the recipe card at the bottom of the page.
Season and sear the pork chops. Salt and pepper both sides of the pork chops, then cook for a few minutes on each side in a hot skillet. Remove from pan.
Sautee the onion and apples. Add onions and apples to the pan the pork chops were cooked in, adding spices and cooking until tender.
Make the sauce. Whisk in flour then chicken stock. Add pork chops back to the pan.
Cook until pork chops are done. This is where the pork chops will finish cooking. Cook for another 2-3 minutes, until the pork chops reach an internal temperature of 145 degrees.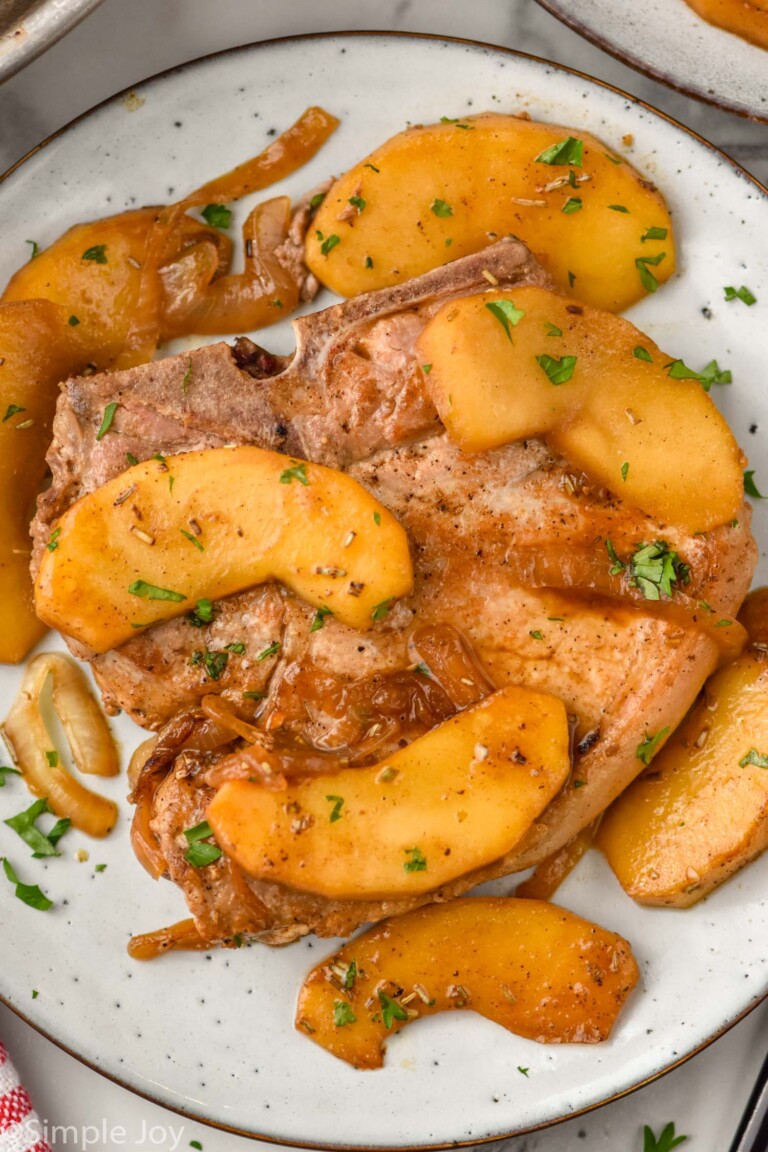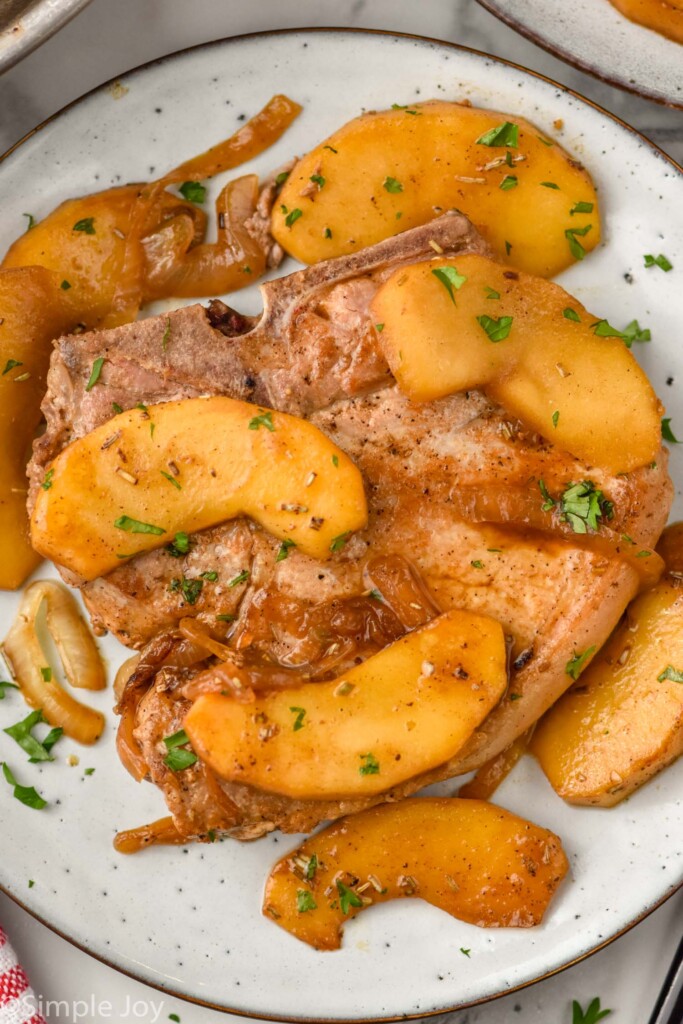 Seasonings for Pork Chops
In this recipe, the flavor of the pork is complemented by onion, apples, and a few spices. Nutmeg, cinnamon, and rosemary create an earthy and slightly sweet combination that will make your mouth water. Perfect for those cooler days, these cozy flavors are one of my favorite ways to enjoy pork.
Pan Searing Pork Chops
The pork chops are first pan-seared, which creates a nice brown crust on the outside and deepens the flavor. They finish cooking later in the sauce with the other ingredients which keeps them tender and juicy.
TOP PICK
Instant Read Thermometer
This is the perfect instant read thermometer for stovetop recipes!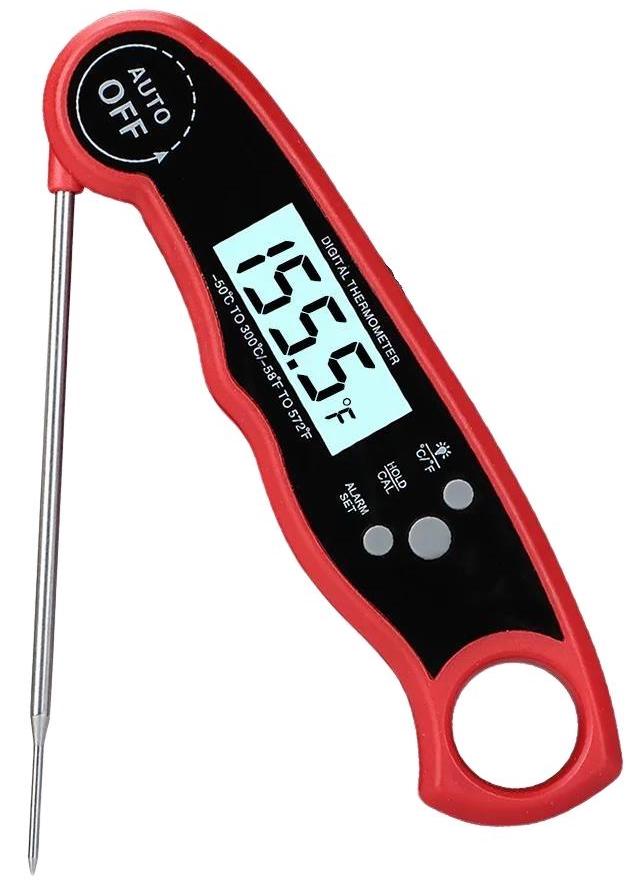 Cooking Temperature for Pork
I've met so many people who tell me they actually really don't like pork. My first (and often only) question for the is how their parents cooked it as a child. Without fail, they tell me about pork that was cooked until the point of being very white and very dry.
Nowadays we know that pork only needs to be cooked to 145 degrees for food safety purposes. When cooked to that temperature it is juicy and delicious. I highly recommend using an instant read thermometer in any meat recipe, including this one. It allows you to end the cooking process at the exact right temperature. You can see my recommendation for an instant read thermometer above.
Best Apples to Cook With
For a savory recipe like this, I really like to cook with either Honeycrisp or Gala apples. They both hold up really well in this recipe and aren't overly tart or overly sweet.
Adding Apple Butter
A reader recently told me that they added 2 tablespoons of Apple Butter to the chicken stock to give this a stronger taste of apple. That sounds like an amazing addition to this recipe, and I just so happen to have a great easy apple butter recipe!
Crockpot Apple Butter
Crockpot Apple Butter will make your house smell like heaven. It is the perfect fall recipe and can be used in so many other recipes.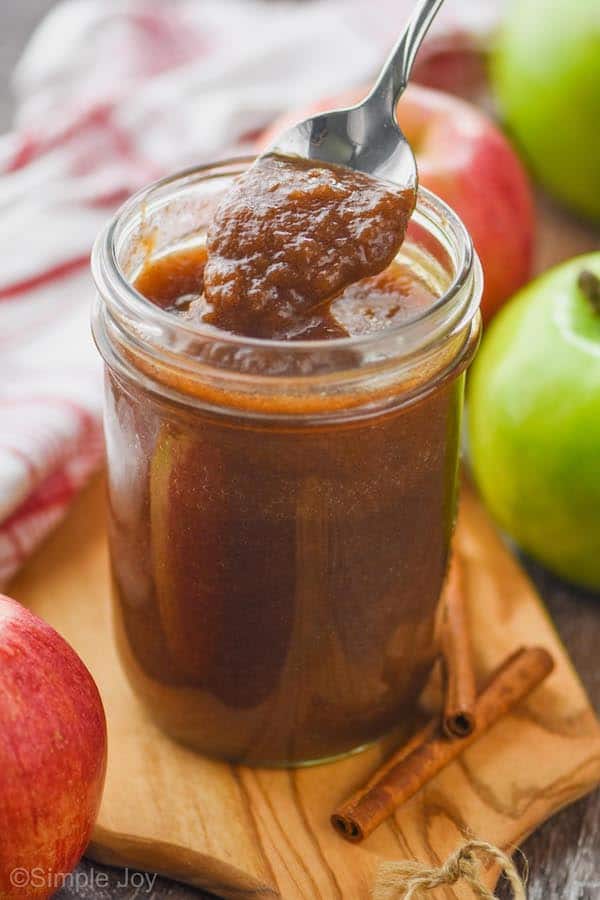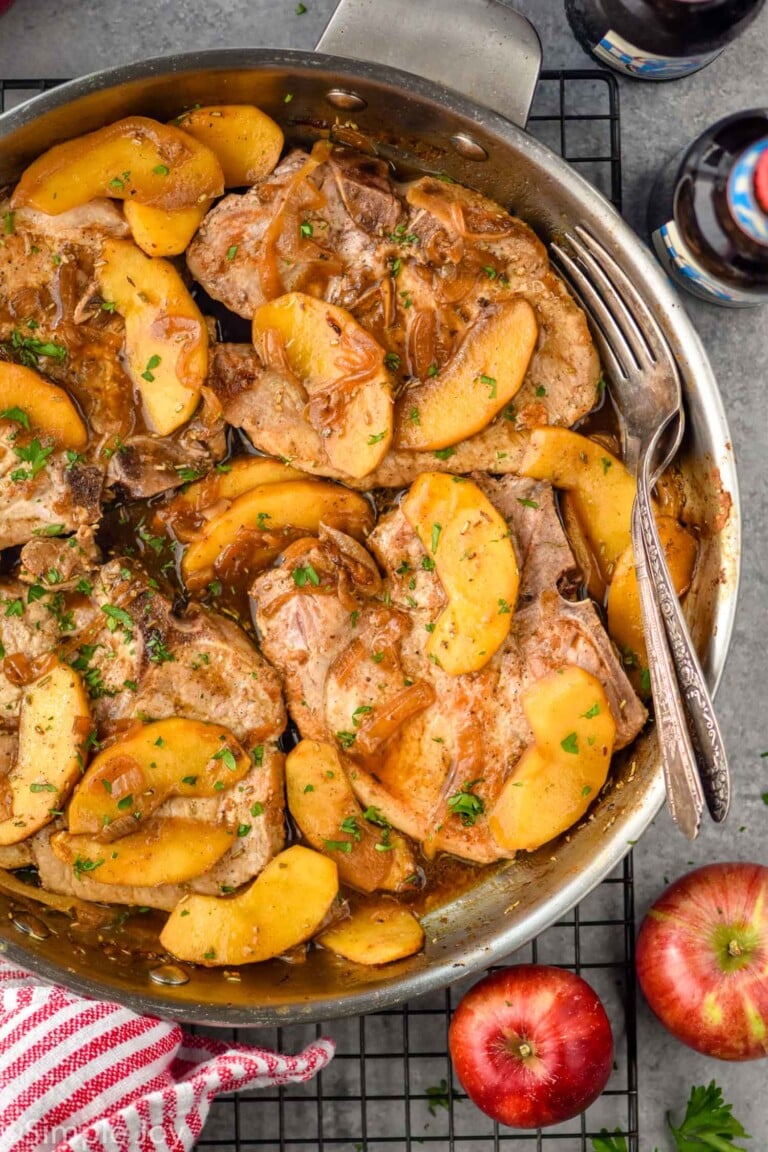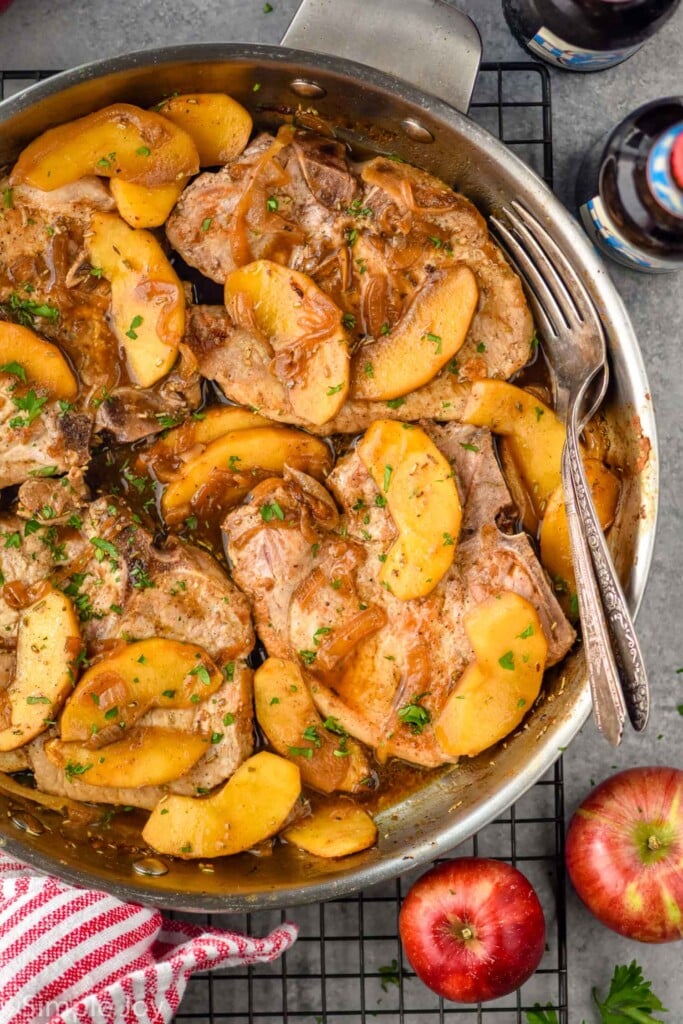 Tips and Tricks
Slice the apples thin for even cooking. Whether or not you peel them is up to you, but I prefer them without the peels.
Make it gluten free with cornstarch. We are using flour in this recipe to thicken the gravy, but if you are cooking for someone gluten free, you can add a slurry to the chicken stock by combining 1 tablespoon water and 1 tablespoon cornstarch until it is smooth.
Watch the meat thermometer closely to ensure that the pork chops are done, yet not overcooked. As mentioned above, there is nothing worse than over cooked pork. As soon as they reach an internal temperature of 145 degrees at their thickest point, remove them from heat. I highly recommend investing in a good instant read thermometer.
Storing and Reheating
Store your pork chops in an airtight container in the refrigerator for up to three days. Reheat over low heat on the stovetop or in the microwave. Always use your best discretion with leftovers.
FAQ
Do pork chops get more tender the longer you cook them?
Unfortunately, overcooking pork chops makes them tough which is not ideal. These pork chops are delicious and tender, full of great flavor because we are going to cook it to the exact right temperature of 145 degrees. Using a meat thermometer to ensure that they are fully cooked and removing them from the heat at that point to prevent overcooking is key.
Can I make this recipe with boneless pork chops?
I would recommend that you stick with bone-in pork chops. The bone helps keep the meat really tender and juicy. Additionally, the cooking times you see here are based on bone-in pork chops.
What kind of apples goes with pork?
Use an apple that is sweet but holds its shape when cooking, such as Honey Crisp or Gala.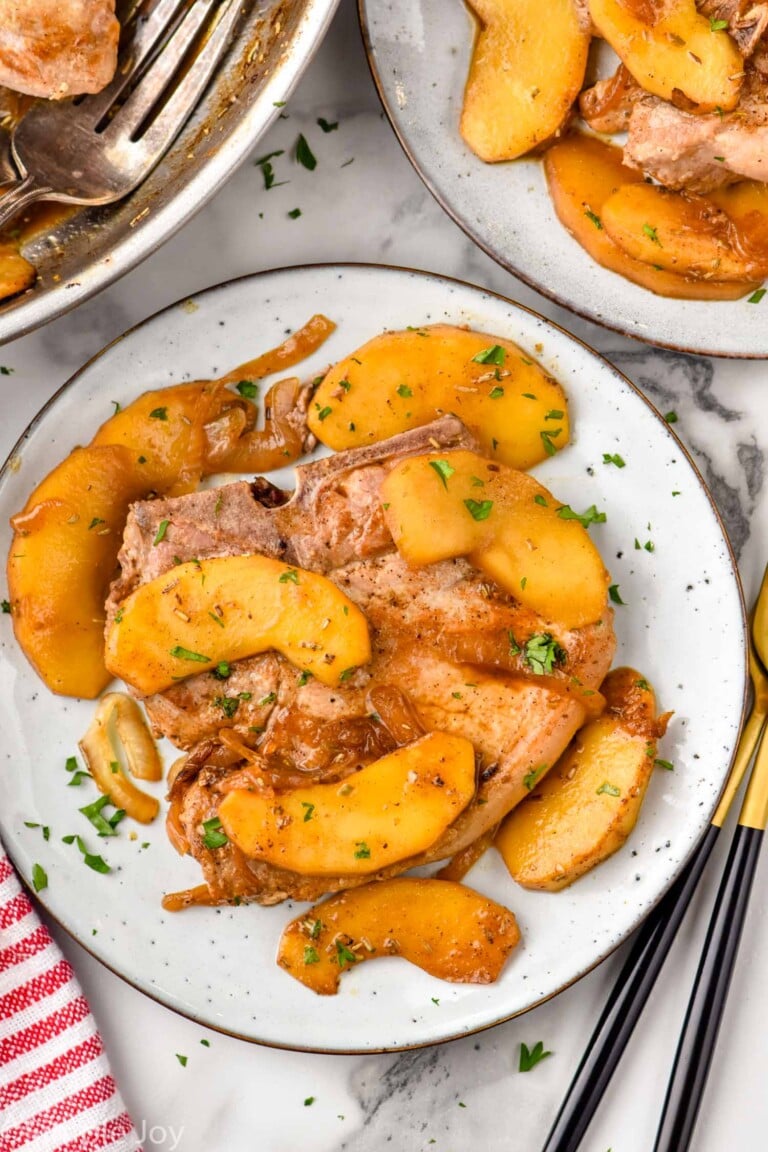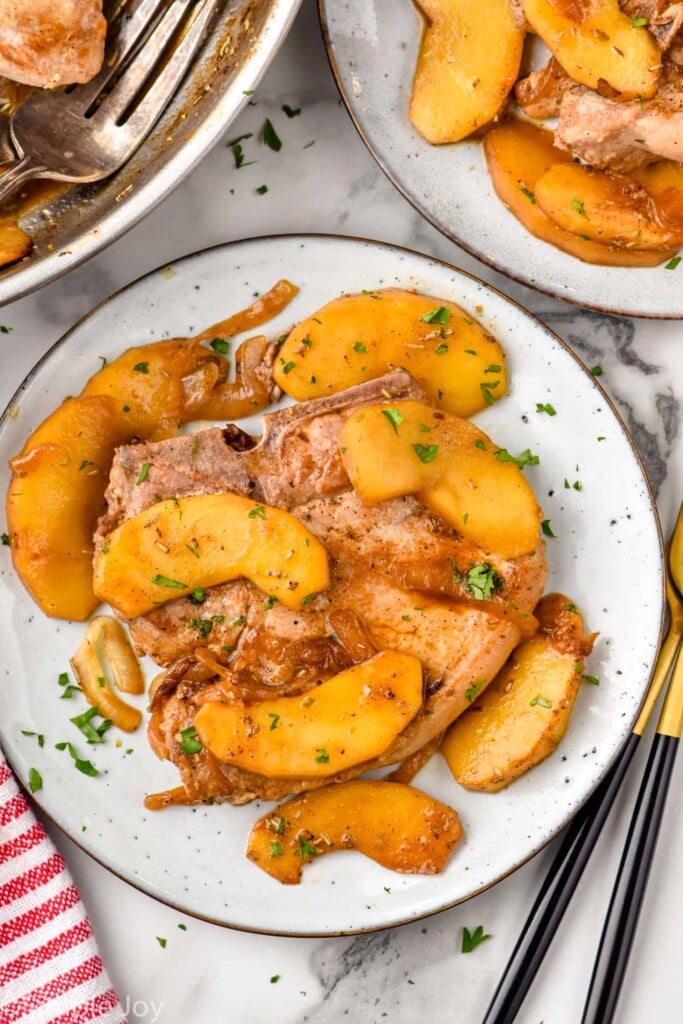 What to Serve with Pork Chops
A bone-in pork chop with apples goes so well with Homemade Stuffing or Baked Cream Corn Casserole. Here are some other dishes that we love to enjoy with pork dishes.
If you make this great pork chop recipe or any of my other recipes, please leave me a comment and let me know what you think.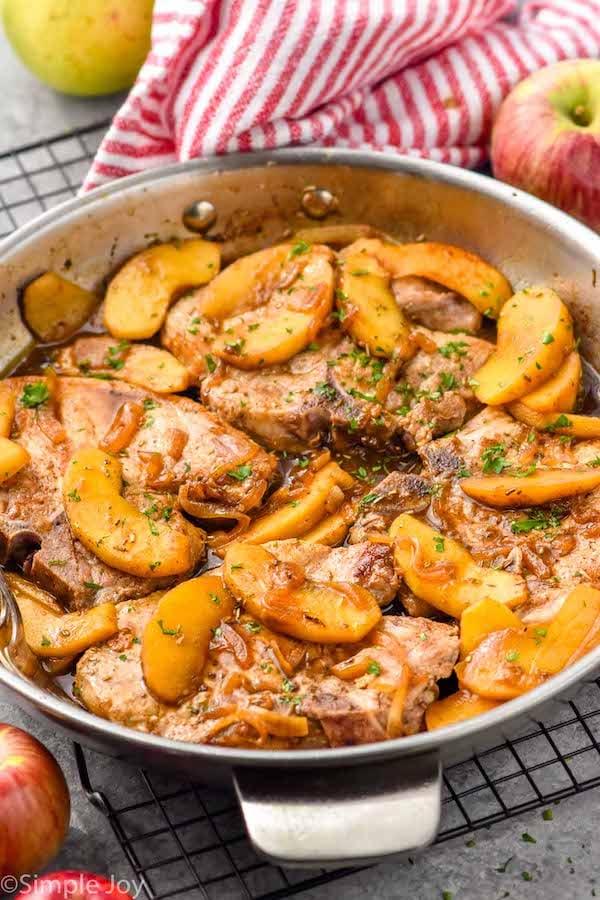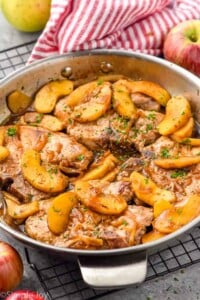 Pork Chops with Apples
My Pork Chops with Apples is an easy dinner that is sure to impress. Simple ingredients come together with earthy flavors to bring you this savory pork recipe with a hint of sweetness.
Ingredients
salt and pepper

2

pounds

bone in pork chops

2

tablespoons

olive oil

2

medium apples

sliced (read my apple recommendations here)

1/2

small yellow onion

sliced

1

teaspoon

dried rosemary

1/4

teaspoon

ground cinnamon

pinch of nutmeg

1 1/2

teaspoons

flour

1

cup

chicken stock
Instructions
Season both sides of the pork chops with salt and pepper.

Set a skillet over medium heat. Add the oil and heat. Add the pork chops and cook for 4 minutes on each side.

Remove the pork chops and set aside. Add the onions and apples to the pan. Season with rosemary, cinnamon, and nutmeg. Cook until tender, about 5 to 7 minutes.

Whisk in the flour. Then add the chicken stock to the pan. Add the pork chops back to the skillet, being sure to add in all of the drippings that are on the plate.

Continue cooking over medium heat until pork chops have reached an internal temperature of 145 degrees, about 2-3 minutes. Taste the sauce and add more salt and pepper to taste.
Calories:
429
kcal
(21%)
Carbohydrates:
17
g
(6%)
Protein:
37
g
(74%)
Fat:
23
g
(35%)
Saturated Fat:
6
g
(38%)
Polyunsaturated Fat:
3
g
Monounsaturated Fat:
12
g
Trans Fat:
0.2
g
Cholesterol:
119
mg
(40%)
Sodium:
181
mg
(8%)
Potassium:
766
mg
(22%)
Fiber:
3
g
(13%)
Sugar:
11
g
(12%)
Vitamin A:
63
IU
(1%)
Vitamin C:
5
mg
(6%)
Calcium:
44
mg
(4%)
Iron:
1
mg
(6%)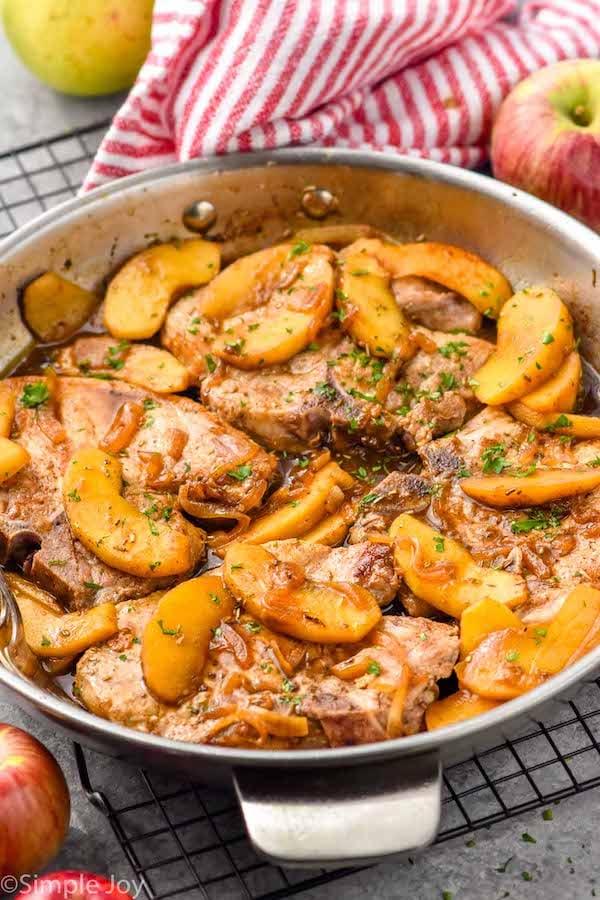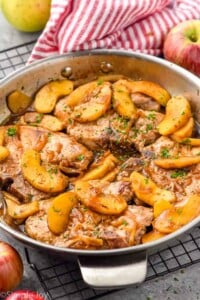 did you make this
Pork Chops with Apples