These Pumpkin Chocolate Chip Muffins are easy to make and easier to eat. The perfect amount of pumpkin and spices pair beautifully with chocolate chips for a moist amazing muffin.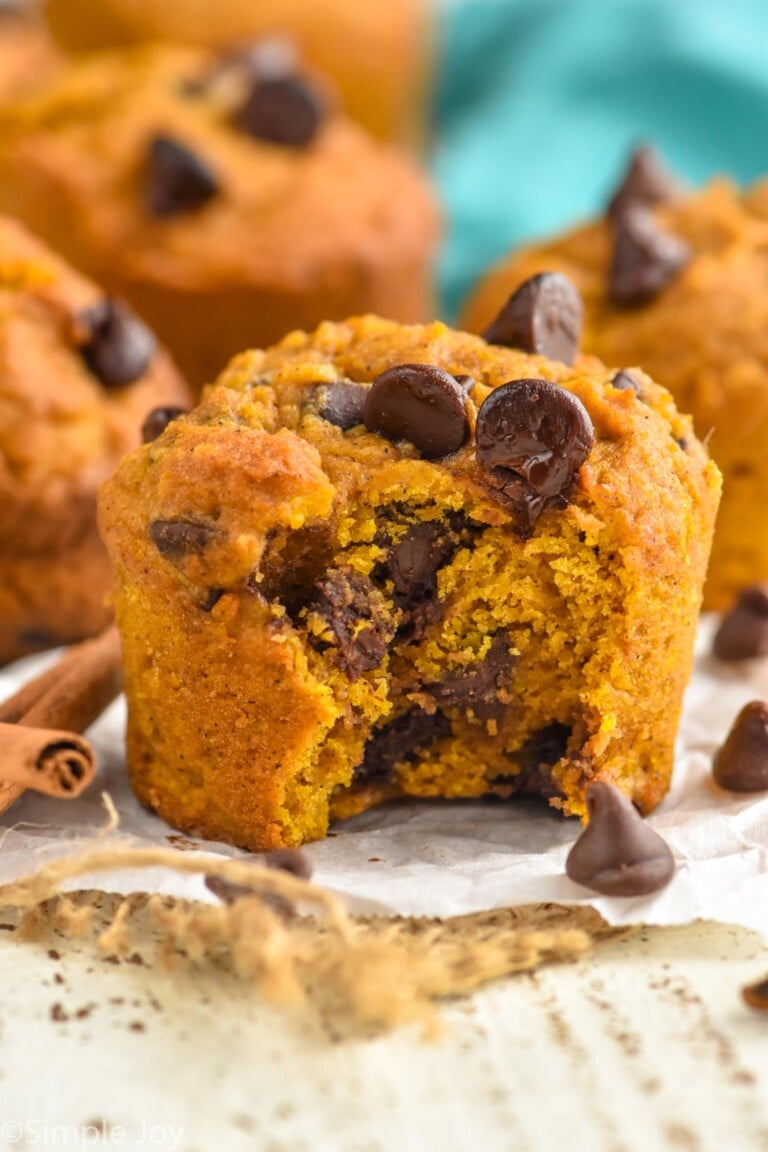 Pumpkin recipes are some of my favorite to create. I think it is because the start of fall makes me a little giddy. It quickly goes from unbearably hot, to the most beautiful weather that Wisconsin has to offer. And then I am suddenly anticipating cozy sweaters, changing leaves, and all the fall flavors I can dream up.
These Chocolate Chip Pumpkin Muffins are the perfect fall treat. They are truly simple to make, an easy riff on my Pumpkin Bread, and they are absolutely delicious. My kiddos loved these, and I love how easy they are to store in the freeze so we can enjoy them all fall long.
How to Make Pumpkin Chocolate Chip Muffins
This is a brief overview of how to make these delicious pumpkin muffins. For the full recipe with all of the measurements, be sure to see the recipe card at the bottom of the post.
Whisk together the dry ingredients in a large bowl. Combine the flour, baking soda, baking powder, cinnamon, salt, nutmeg, and ginger.
Combine the wet ingredients. Whisk together the pumpkin puree, sugar, melted butter, eggs, and vanilla extract.
Pour the wet ingredients into the dry ingredients. Fold them together until they are just combined.
Stir in the chocolate chips.
Bake the muffins. To create a great muffin top, the key is to use high heat initially, and then turn down the oven. It is important not to open the oven until towards the very end of baking.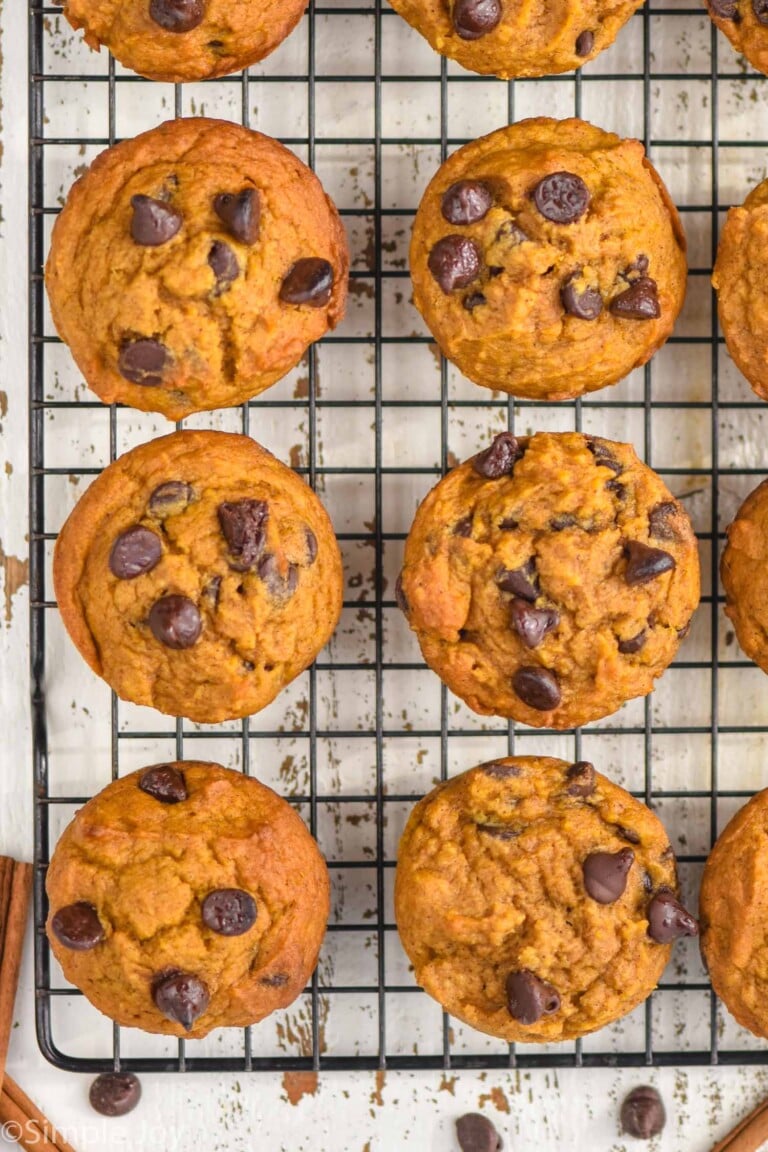 Creating the Perfect Muffin Top
I love muffins most when they puff up and out of the muffin cup. The trick to doing that is to bake your muffins at 425 degrees for 13 minutes. This allows the muffins to rise really high. Then you turn the oven down to 325 degrees and let them finish baking without drying out or burning. It is really important that for the first 20 minutes or so of baking you do not open your oven.
Tips and Tricks for Pumpkin Muffins
There are a few details that will ensure these muffins turn out perfectly.
Measure your flour correctly. To do this, whisk the flour in it's container. Use a spoon to scoop it from the container into a dry measuring cup. Then level it off with the flat end of a spatula. This will ensure your flour isn't packed and you don't end up with too much.
Make sure your baking soda and baking powder are active and you use both. They are not interchangeable, you will need 1 teaspoon of each. To test them, drop the baking soda in vinegar and the baking powder in water; they should bubble immediately.
Use pumpkin puree and not pumpkin pie filling. The two are not the same and can't be used interchangeably. If you are having trouble finding pumpkin puree, read below on making your own.
Allow the butter to cool before adding it to the batter. If it is added when it is very hot, it will start to cook the eggs before they reach the oven.
Homemade Pumpkin Puree
As mentioned above, it is important to use 100% pumpkin puree and not pumpkin pie filling. If you can't find it, it is very easy to make at home. You just need a baking pumpkin. We have instructions for how to make it using your oven, slow cooker, and Instant Pot.
Pumpkin Puree
Pumpkin Puree is easy to make, and I'm giving you three different methods for making it. Use this to replace store-bought pumpkin in all of your favorite pumpkin recipes.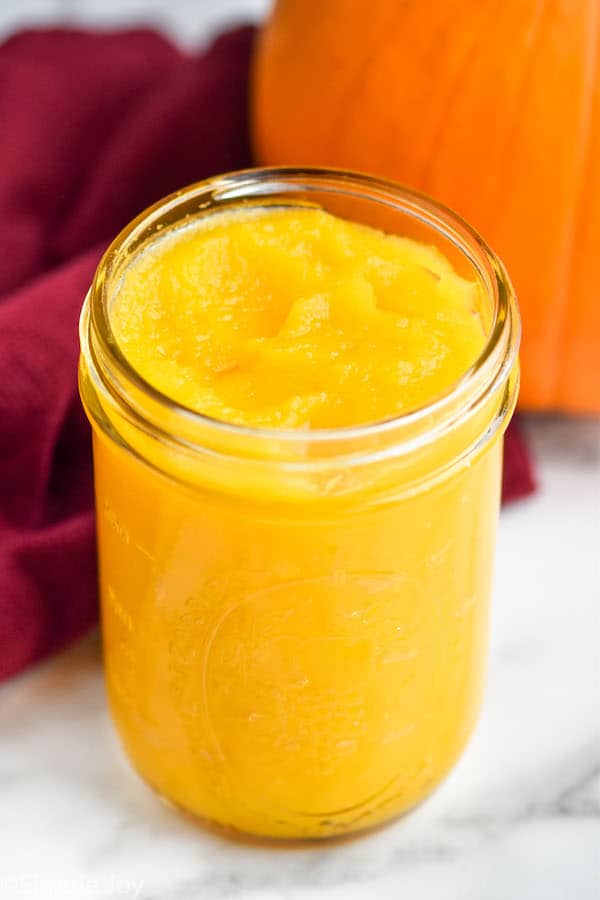 Pumpkin Spice
If you have made some of my homemade pumpkin spice mix – and you should, it's so good in so many recipes – you can use that in this recipe instead of the spices called for. Replace the cinnamon, nutmeg, and ginger with 2 teaspoons of pumpkin spice.
Pumpkin Pie Spice Recipe
Pumpkin Spice is the perfect blend of four spices you probably already have in your cabinet! Skip buying the bottled pumpkin pie spice and just make your own.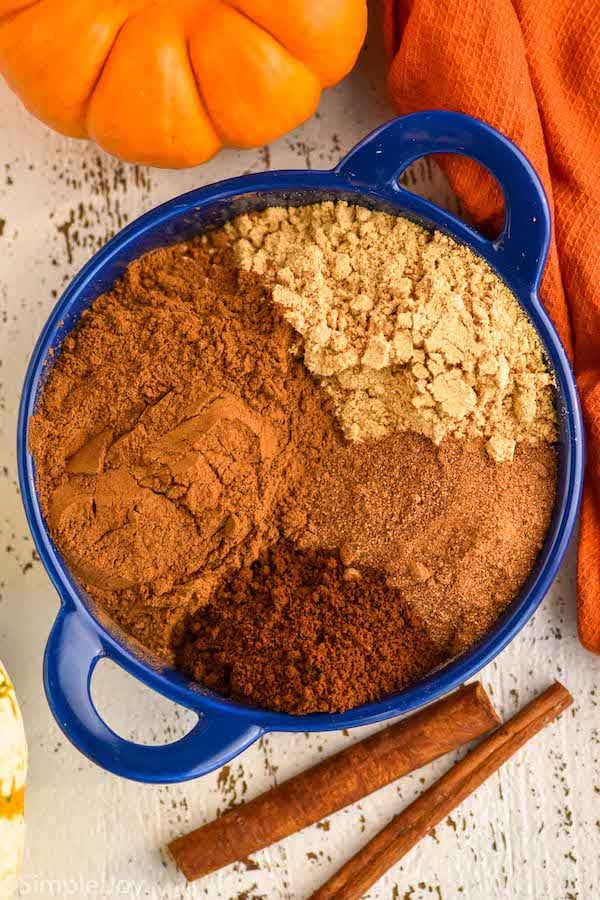 Muffin Tin Makes a Difference
Just like in all of my quick bread recipes where I tell you that the bread pan you are using makes a huge difference, the same is true for muffins. I personally love using a silicone muffin tin because the muffins pop out of it so well. If you don't feel good about those, then I suggest using one from Nordic Ware or USA Pans. They are my two favorite brands for baking.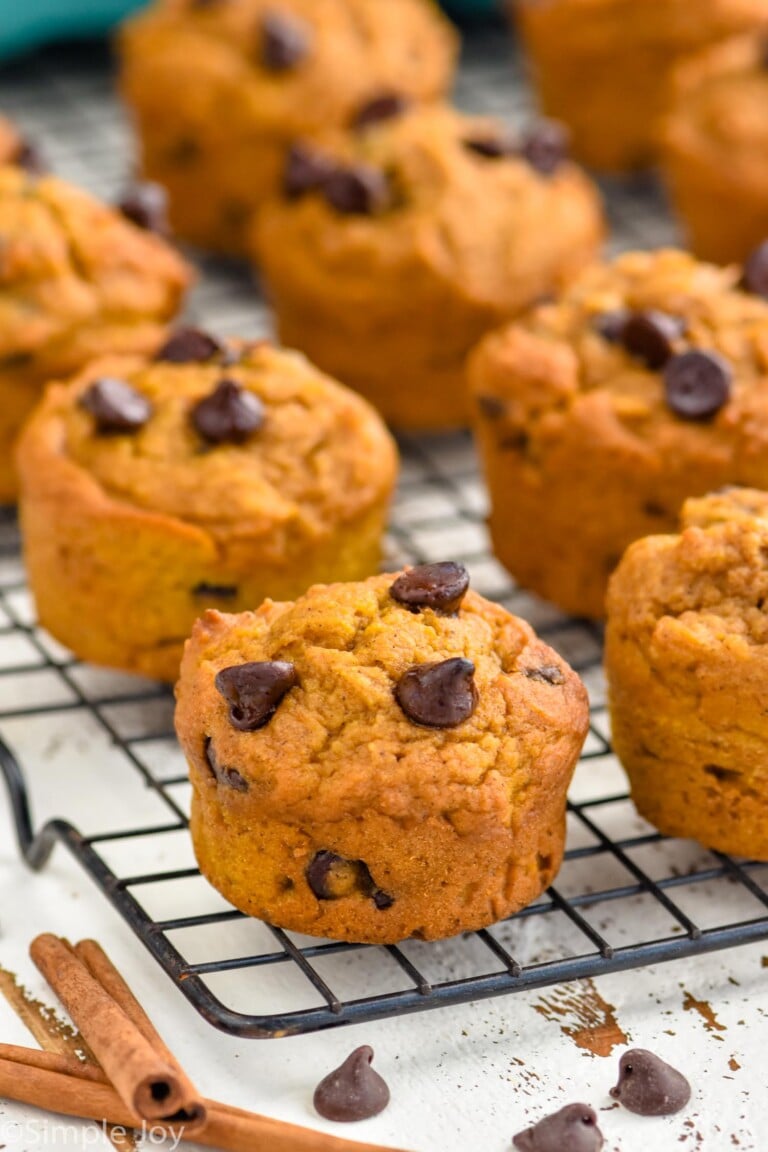 Storing and Freezing
These pumpkin chocolate chip muffins should be stored in an air tight container at room temperature for 1 week. Alternatively, they freeze beautifully. Follow the steps below for freezing.
Place the muffins in a single layer on a tray or plate.
Freeze for 2 to 4 hours.
Transfer the muffins to an airtight container and freeze for up to three months.
To eat, remove a muffin from the freezer and let it come to room temperature. This will take about 30 minutes to 1 hour.
As with all recipes, use your discretion when it comes to leftovers of this pumpkin muffin recipe.
FAQ
Can these muffins be made gluten free?
I have only tested this recipe with all purpose flour. If you plan on testing it with gluten free flour, I suggest using a blend that is meant to replace all purpose flour one for one.
Do these pumpkin muffins freeze well?
Yes! See my instructions above for freezing. Once frozen they will keep in the freezer for up to three months.
Can I replace the butter in this recipe with apple sauce?
This recipe has only been tested as written, but apple sauce is often used as a replacement for some or all of the fat (i.e. butter and oil) in a recipe with good results.
Can I use oil instead of butter in this recipe?
Yes! You can replace the 8 tablespoons of melted butter with 1/2 cup of vegetable oil.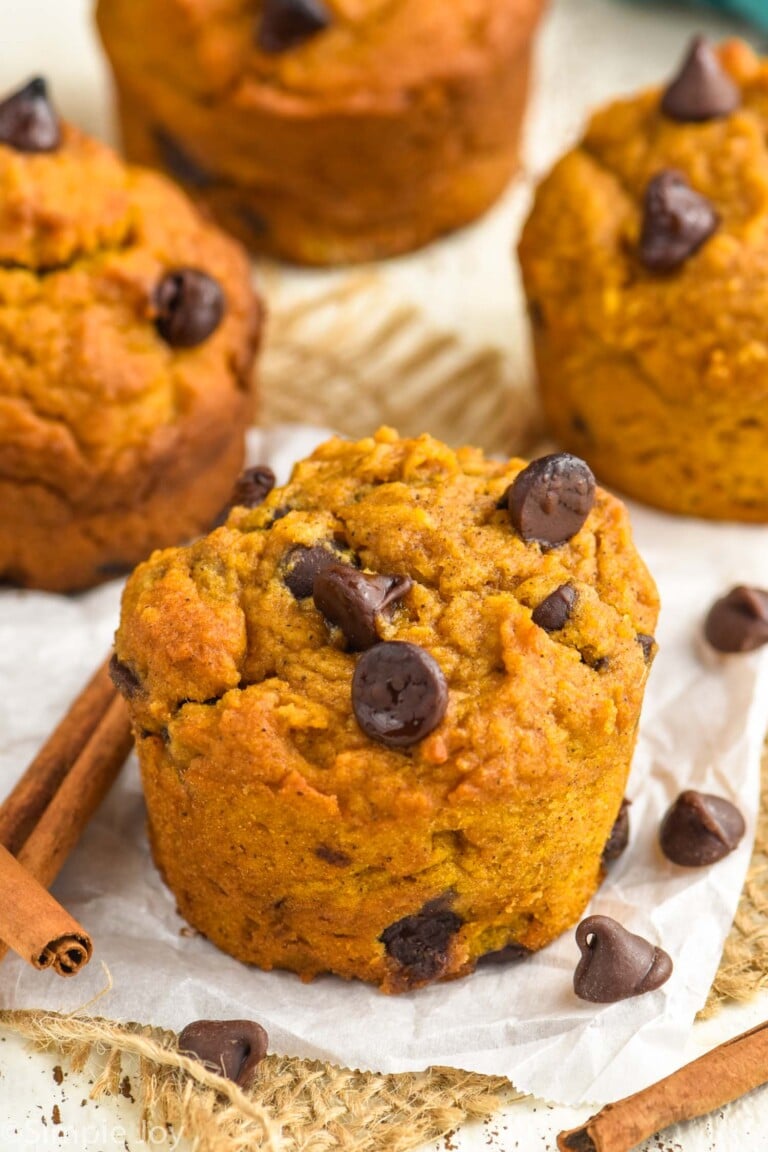 Other Great Pumpkin Recipes
If you make these chocolate chip pumpkin muffins or any of my other recipes, leave me a comment and let me know what you think.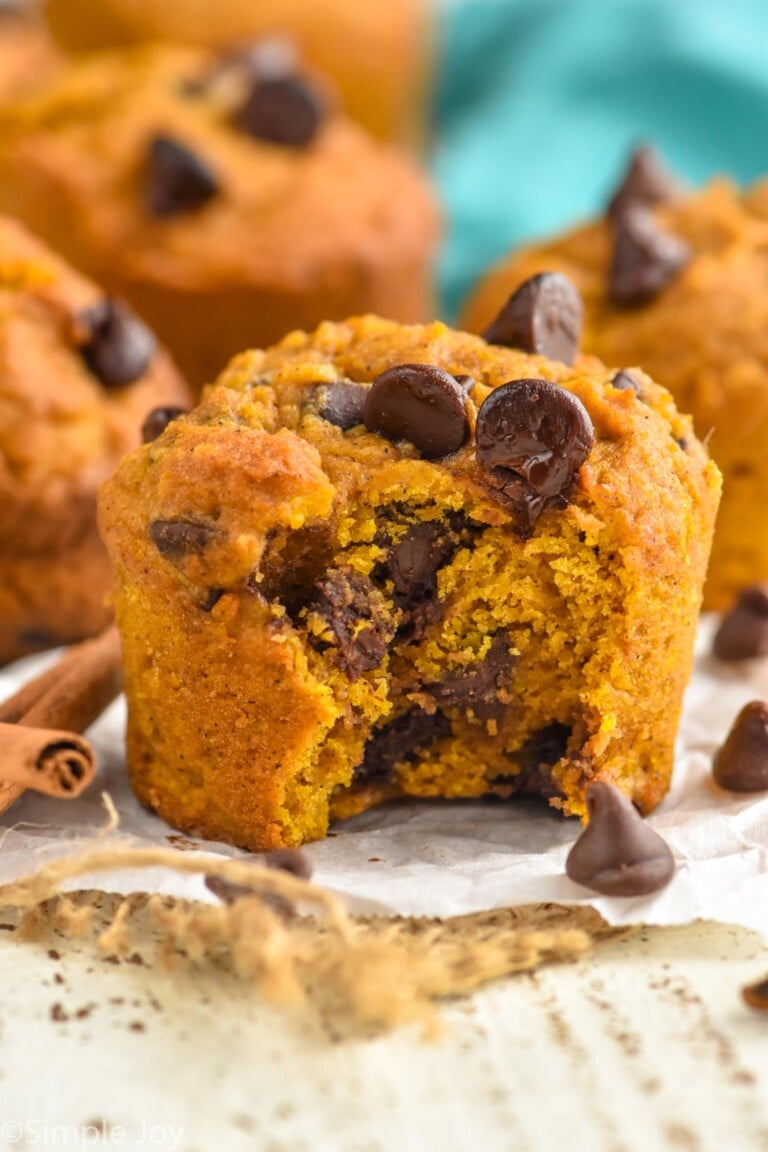 Pumpkin Chocolate Chip Muffins
These Pumpkin Chocolate Chip Muffins are easy to make and easier to eat. The perfect amount of pumpkin and spices pair beautifully with chocolate chips for a moist amazing muffin.
Ingredients
2

cups

all purpose flour

1

teaspoon

baking soda

1

teaspoon

baking powder

1

teaspoon

cinnamon

1/2

teaspoon

salt

1/2

teaspoon

nutmeg

1/2

teaspoon

ginger

15

ounces

pumpkin puree

make sure you are buying 100% pumpkin puree and not pumpkin pie filing

1

cup

granulated sugar

8

tablespoons

butter

melted and slightly cooled

2

large eggs

2

teaspoons

vanilla extract

1

cup

chocolate chips

(plus more for topping)
Instructions
Preheat the oven to 425 degrees and spray a muffin tin with cooking spray. Set the pan aside.

In a large bowl whisk together the flour, baking soda, baking powder, cinnamon, salt, nutmeg, and ginger.

2 cups all purpose flour,

1 teaspoon baking soda,

1 teaspoon baking powder,

1 teaspoon cinnamon,

1/2 teaspoon salt,

1/2 teaspoon nutmeg,

1/2 teaspoon ginger

In a smaller bowl mix together the pumpkin, sugar, butter, eggs, and vanilla extract. Gently fold the pumpkin mixture into the dry ingredients until just combined.

15 ounces pumpkin puree,

1 cup granulated sugar,

8 tablespoons butter,

2 large eggs,

2 teaspoons vanilla extract

Stir in the chocolate chips.

Pour the batter into the prepared muffin tin. The batter will be thick, scoop in enough to fill the cups about 2/3 of the way up.

Bake at 425 for 13 minutes, DO NOT OPEN YOUR OVEN. Reduce the heat to 325 degrees and bake for 12 to 14 more mintutes or until a tooth pick inserted in the center of a muffin comes out with just a few crumbs. (It is okay to check on your muffins about 6 minutes after you turn the temperature down to 325 degrees.)
Serving:
1
muffin
Calories:
148
kcal
(7%)
Carbohydrates:
28
g
(9%)
Protein:
3
g
(6%)
Fat:
3
g
(5%)
Saturated Fat:
2
g
(13%)
Polyunsaturated Fat:
0.2
g
Monounsaturated Fat:
0.2
g
Trans Fat:
0.02
g
Cholesterol:
18
mg
(6%)
Sodium:
154
mg
(7%)
Potassium:
73
mg
(2%)
Fiber:
1
g
(4%)
Sugar:
17
g
(19%)
Vitamin A:
3363
IU
(67%)
Vitamin C:
1
mg
(1%)
Calcium:
40
mg
(4%)
Iron:
1
mg
(6%)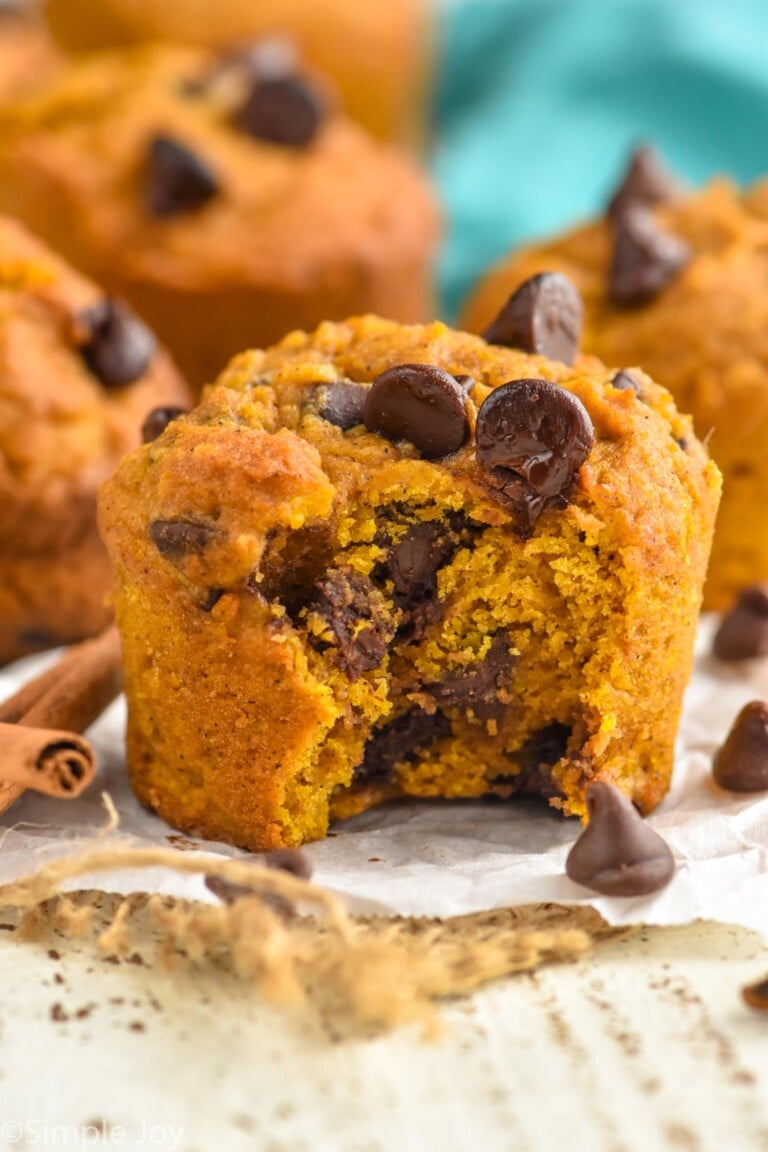 did you make this
Pumpkin Chocolate Chip Muffins