This Pumpkin Bread is quick and easy to make with the perfect pumpkin spice flavor and cinnamon sugar top.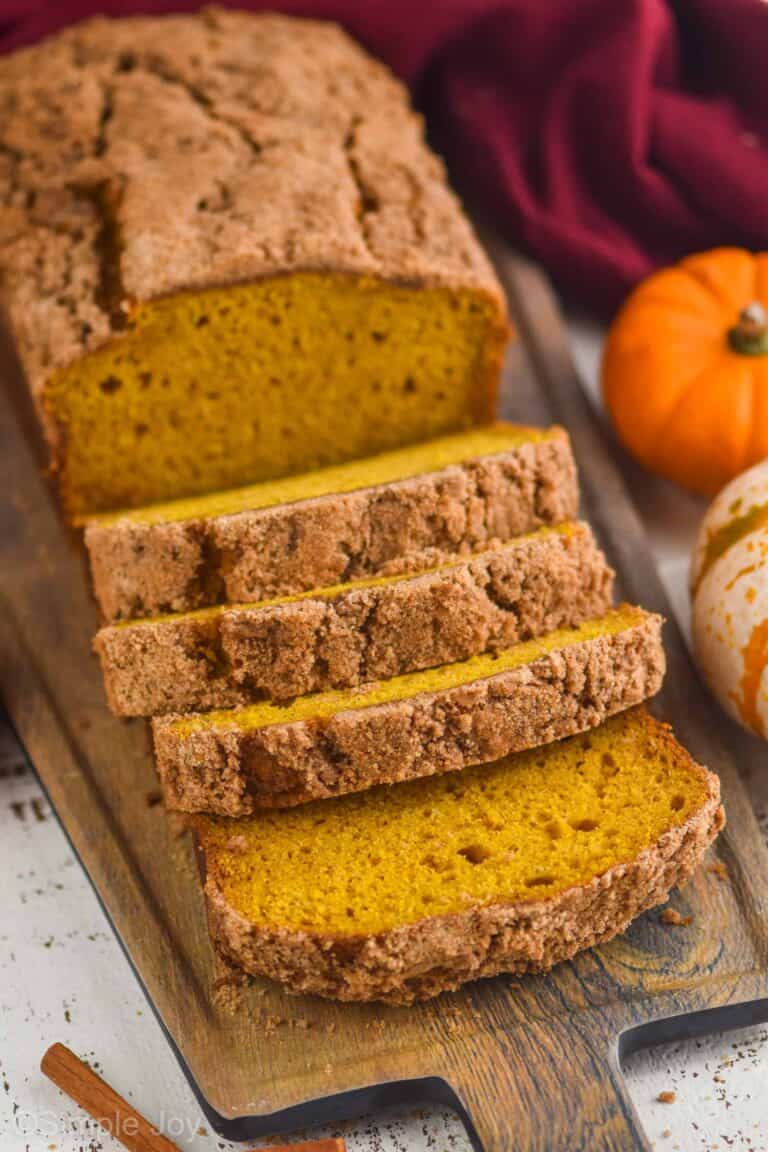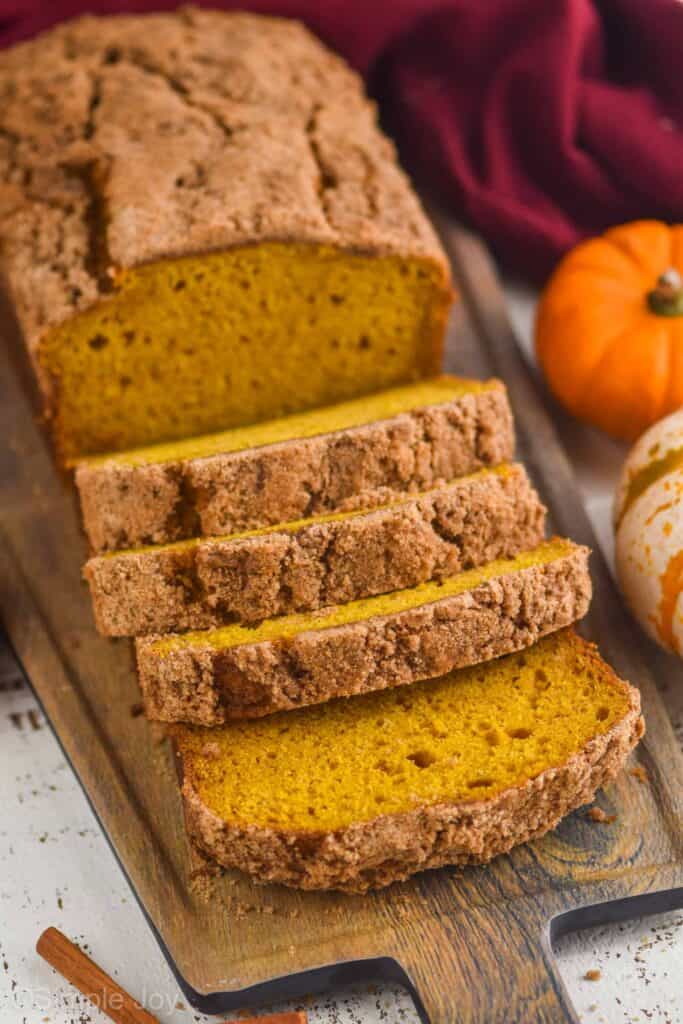 Around here there is a new crispness to the air. Even on the days that get warm, in the evening we need a jacket. I've been working on some fall recipes, so my house always smells like cinnamon. I must say, I am fully in love with the crisp air and the cozy smells in my home.
One such recipes is this amazing, easy Pumpkin Bread. It is a quick bread, meaning that it doesn't require proofing yeast, or allowing dough to rise. The name is fitting, as it truly is quick to throw together.
How to Make Pumpkin Bread
As mentioned, making this pumpkin bread recipe is very simple. This is just a brief overview of the steps, make sure to get the full list of ingredients and steps in the recipe card below.
Whisk together all of the dry ingredients. This is the flour, baking soda, baking powder, salt, and all of the spices – cinnamon, nutmeg, and ginger.
Now whisk together all of the wet ingredients. This includes the pumpkin, butter, sugar, eggs, and vanilla. (You're right, we are counting the sugar as a wet ingredient.)
Fold the wet ingredients into the dry ingredients. You want to combine the two without over mixing. We are just looking to mix until we can't see any streaks of flour.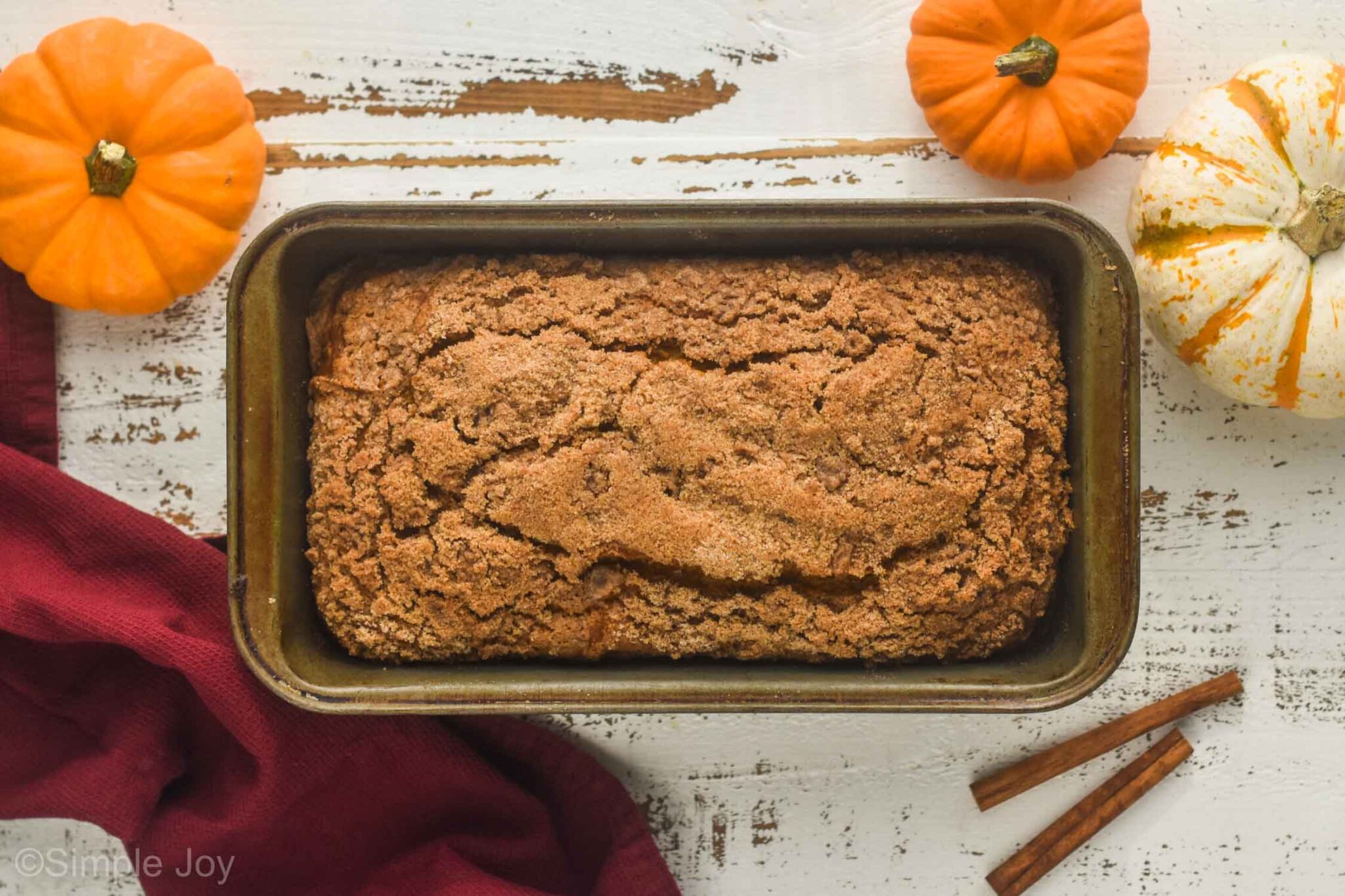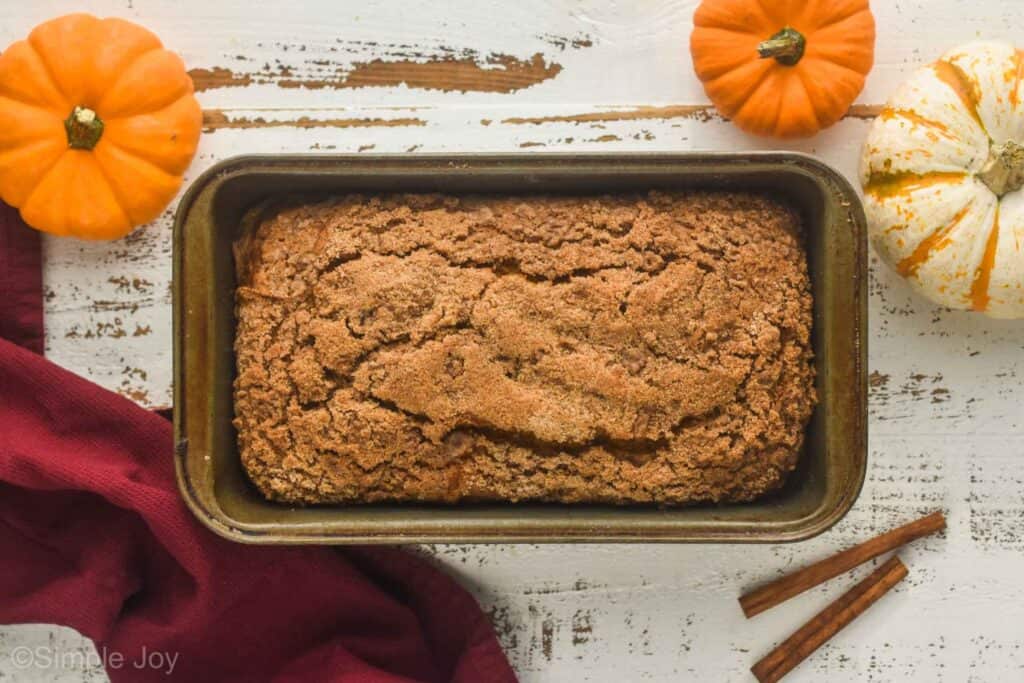 Buying Pumpkin Purée
Make sure when you buy the ingredients for this recipe that your can of pumpkin says 100% Pumpkin Purée . You do not want to buy pumpkin pie filling as it will not perform the same way in this recipe.
How to Measure Flour
Baking is a science, and because of that it is crucial that you measure the ingredients correctly. Extra cheese in my Chicken Noodle Casserole is amazing. Extra flour in this quick bread recipe will result in a failure.
Start by using a dry measuring cup. Those glass measuring cups should be saved for the liquid.
Scoop the flour from the container you are keeping it in (or the bag of flour) into the measuring cup using a spoon.
Now use the flat edged handle of a spatula to level it off.
If you want to see this in action, you can check out the video located in my Oatmeal Raisin Cookies post.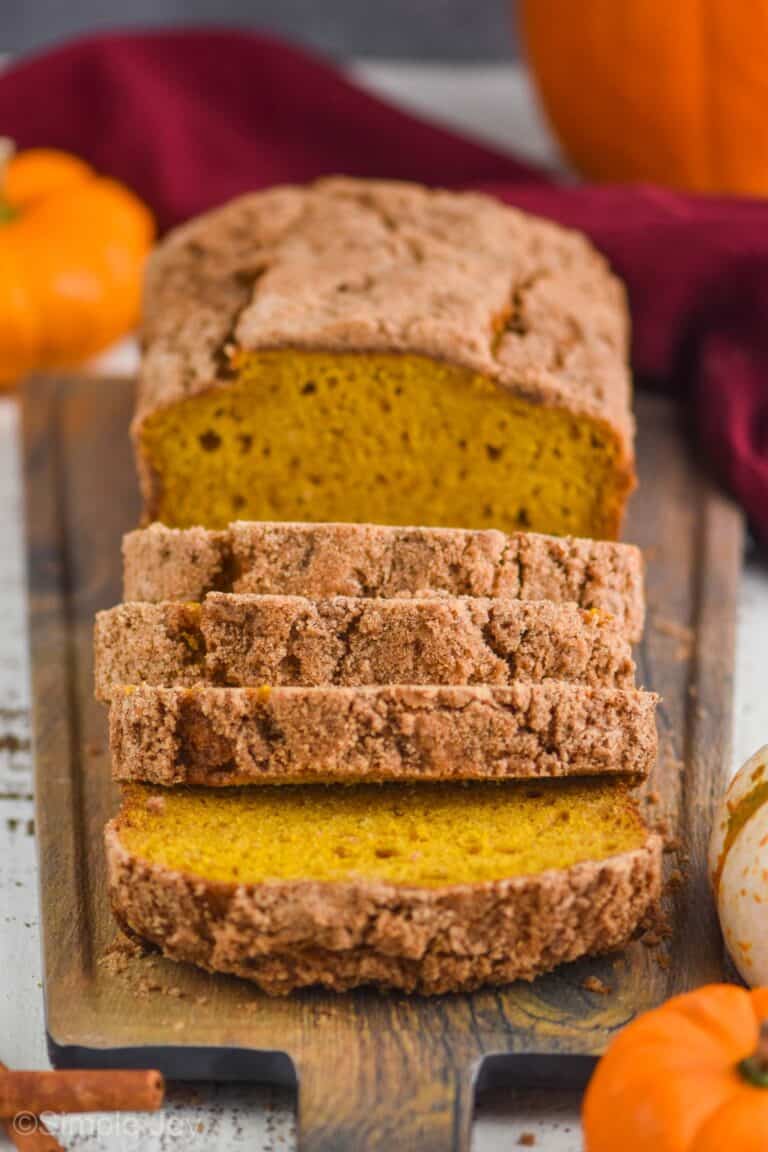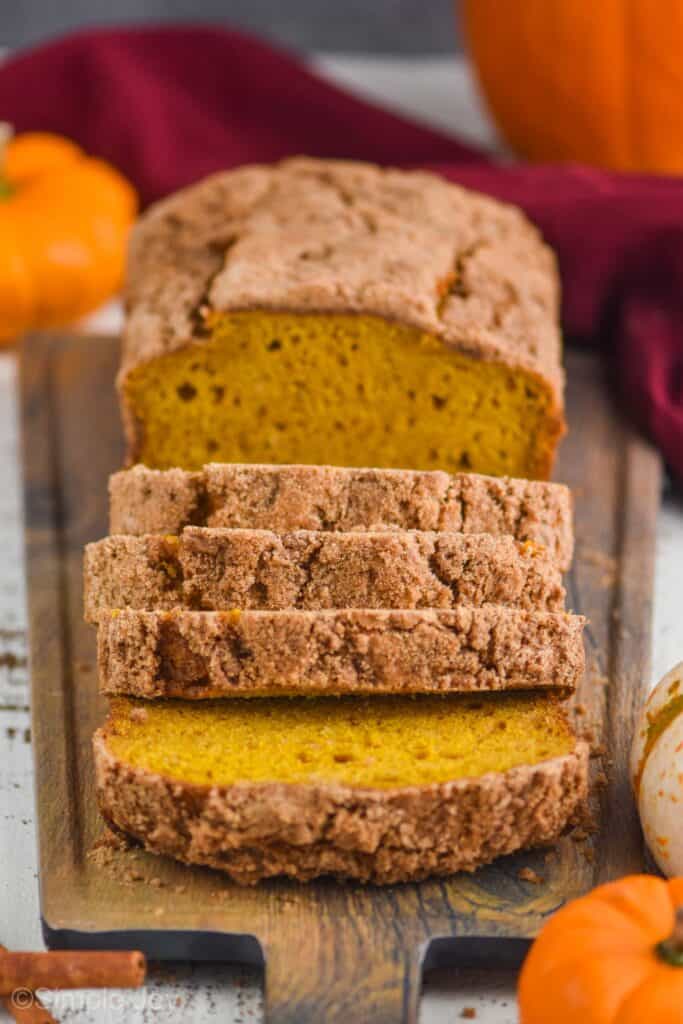 Baking Quick Bread
The other day someone asked me how I get the top of my Banana Bread from sinking in. If you pull your quick bread out of the oven and it sinks in in the middle, it was not baked long enough.
Oven temperatures do vary. So it is more important to rely on a toothpick than the length of time recommended in a recipe. Most quick breads take between 50 minutes and 1 hour to bake.
Around the 50 minute mark stick a toothpick in the middle of the top. It should come out with just a few crumbs. You will know this moist pumpkin bread is done.
If you find that baking it long enough to get crumbs results in the sides being burnt, you might want to invest in a new bread pan. Please see the recommended tools listed below for my suggestion.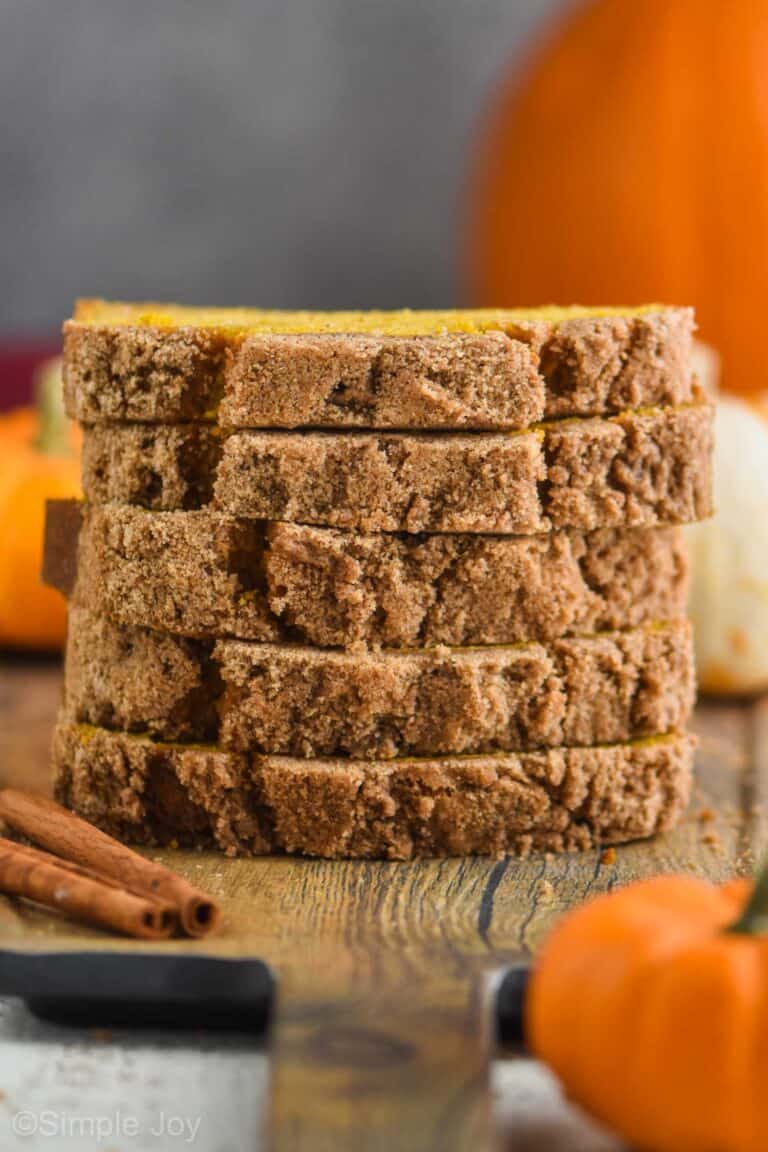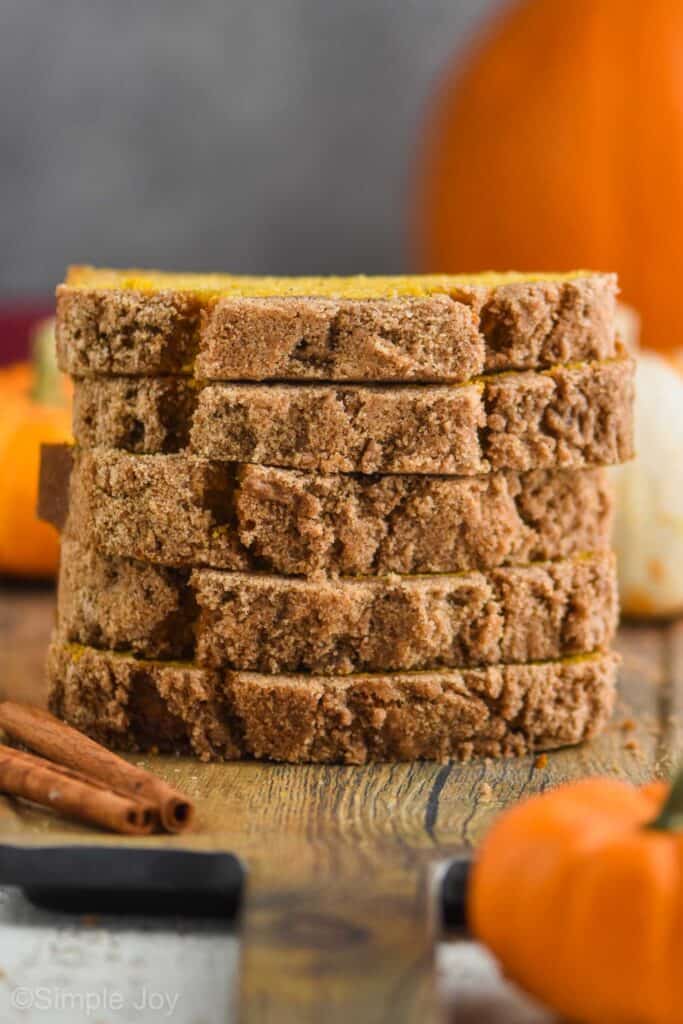 Other Great Pumpkin Recipes
If you too are enjoying the crisp air and the smell of fall recipes baking, then check out some of my other favorites: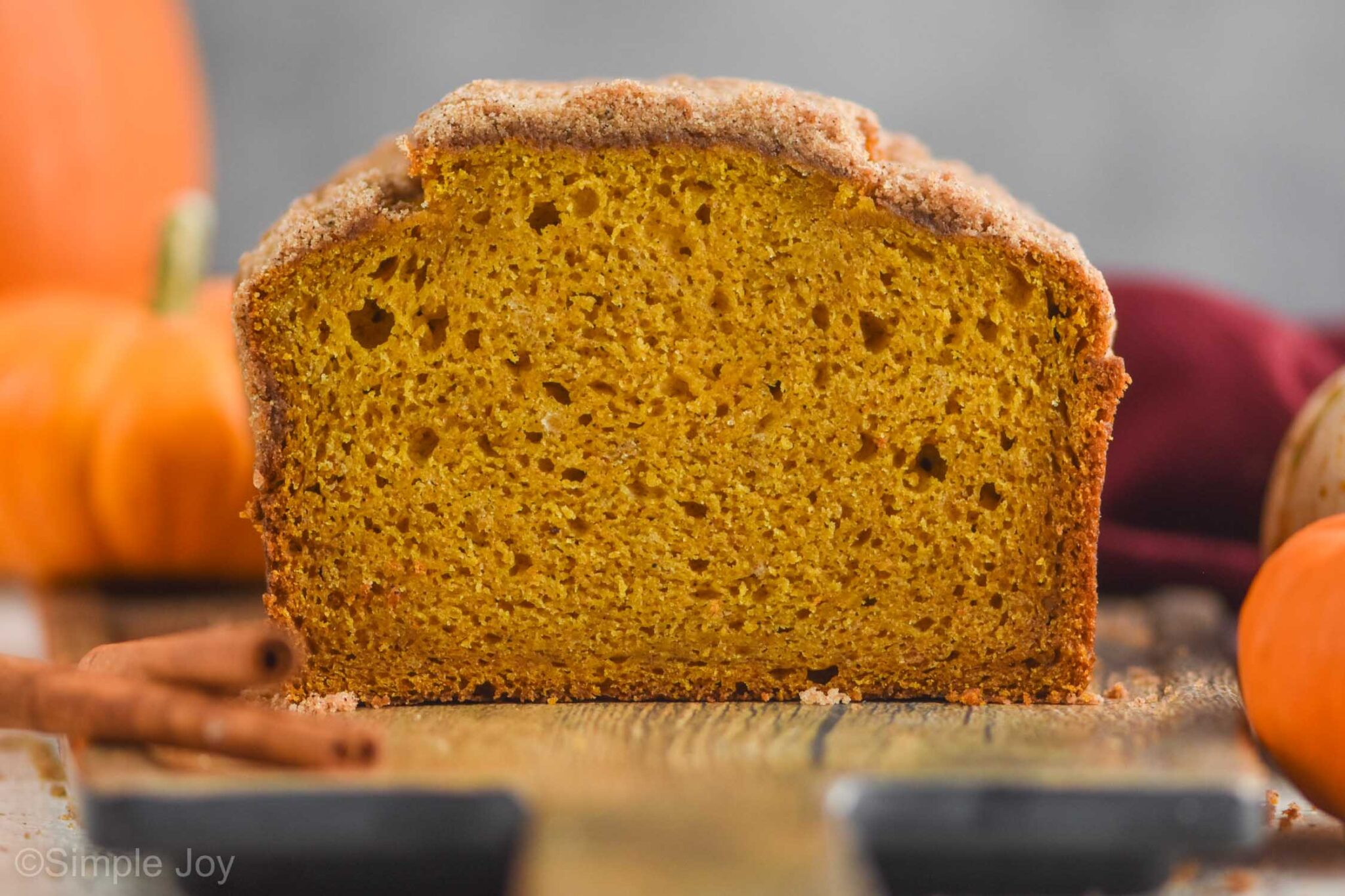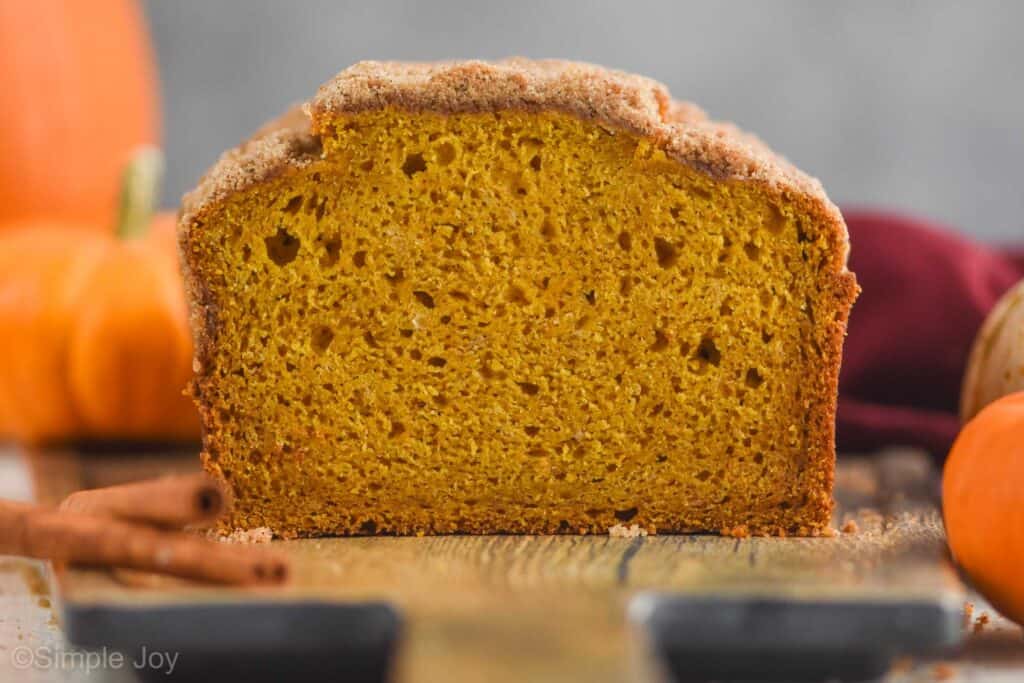 Other Quick Breads
I love how fast and easy quick breads are. If you do too, you might like these other recipes:
If you love this Pumpkin Bread Recipe please leave me a comment and let me know! Other readers rely on your reviews and I love hearing from you.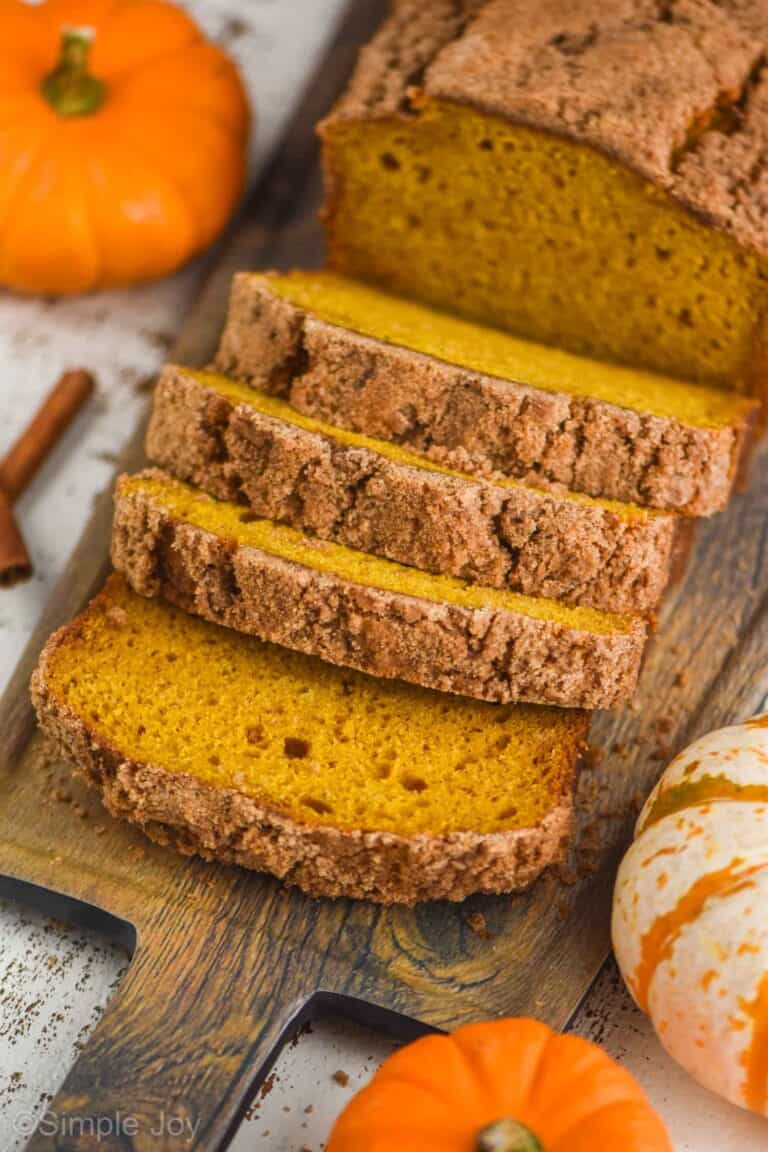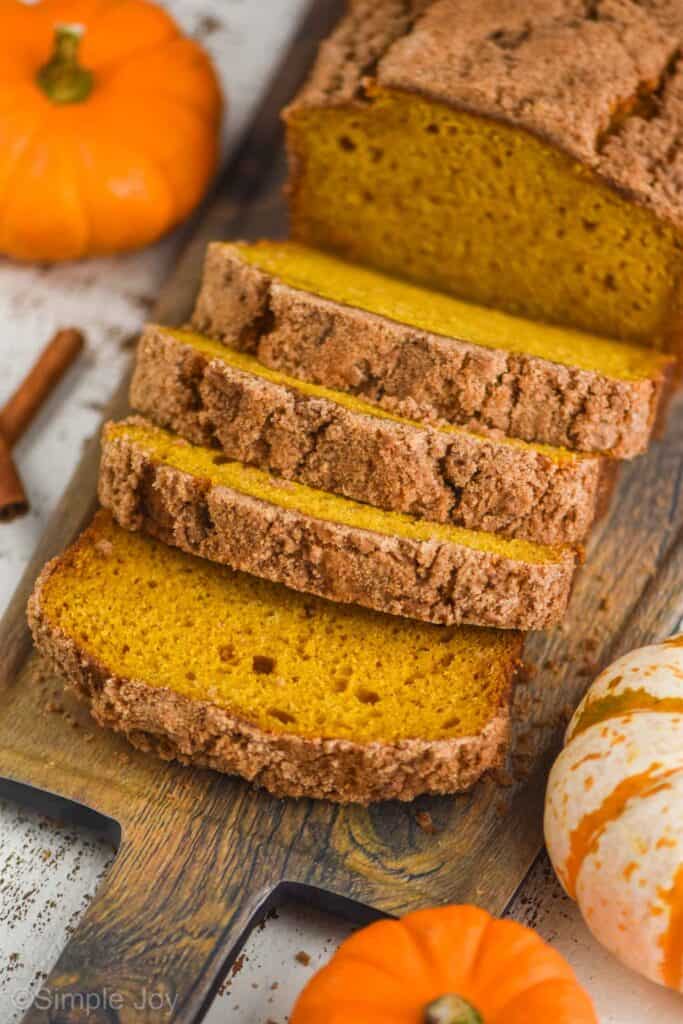 Recommended Tools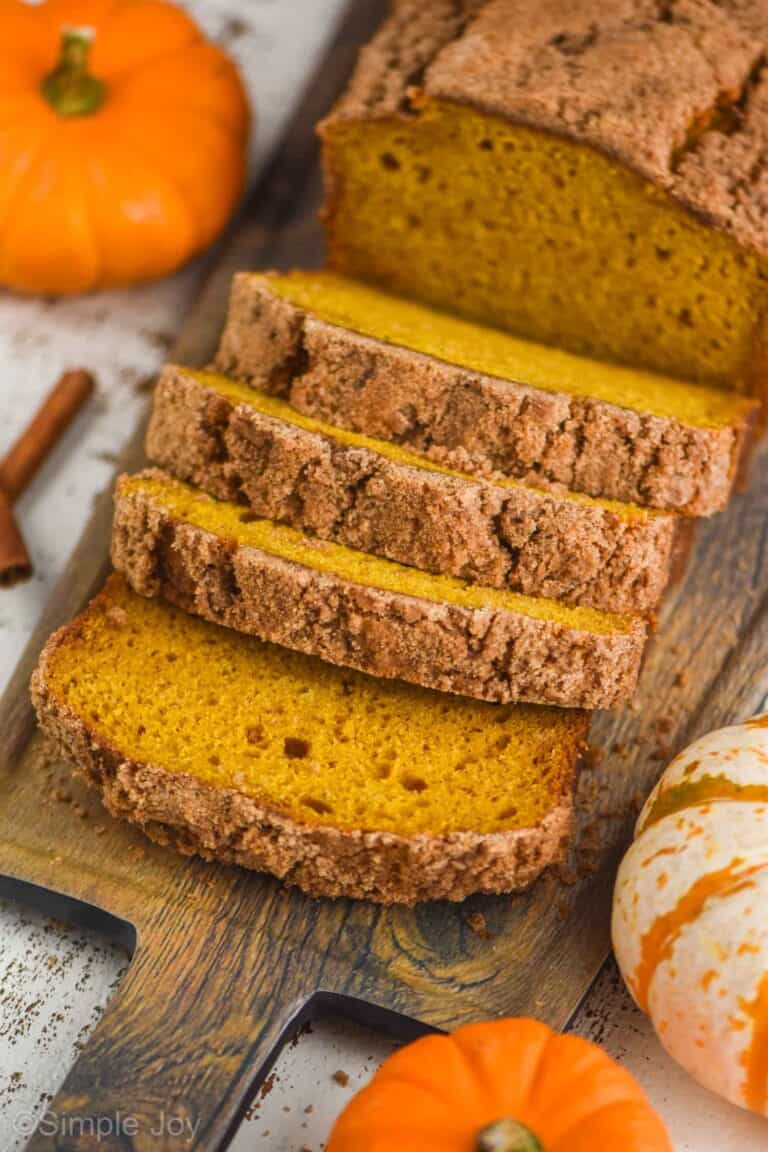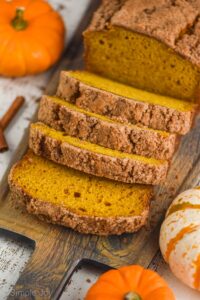 Pumpkin Bread
This Pumpkin Bread is quick and easy to make with the perfect pumpkin spice flavor and cinnamon sugar top.
Ingredients
2

cups

all purpose flour

1

teaspoon

baking soda

1

teaspoon

baking powder

1

teaspoon

cinnamon

1/2

teaspoon

salt

1/2

teaspoon

nutmeg

1/2

teaspoon

ginger

15

ounces

pumpkin puree

make sure you are buying 100% pumpkin puree and not pumpkin pie filing

1

cup

granulated sugar

8

tablespoons

butter

melted and slightly cooled

2

large eggs

2

teaspoons

vanilla extract
Topping
1

tablespoon

unsalted butter

3

tablespoons

packed brown sugar

3

tablespoons

all purpose flour

1/2

teaspoon

cinnamon
Instructions
Preheat the oven to 350 degrees and spray a 9 inch loaf pan with cooking spray. Set the pan aside.

In a large bowl whisk together the flour, baking soda, baking powder, cinnamon, salt, nutmeg, and ginger.

In a smaller bowl mix together the pumpkin, sugar, butter, eggs, and vanilla extract. Gently fold the pumpkin mixture into the dry ingredients until just combined.

Pour the batter into the prepared baking dish.

Mix together the butter, brown sugar, flour, and cinnamon with a fork. The mixture will be crumbly. Pour over the top of the bread.

Bake the bread for 55 to 65 minutes or until a toothpick stuck in the center of the bread comes out clean.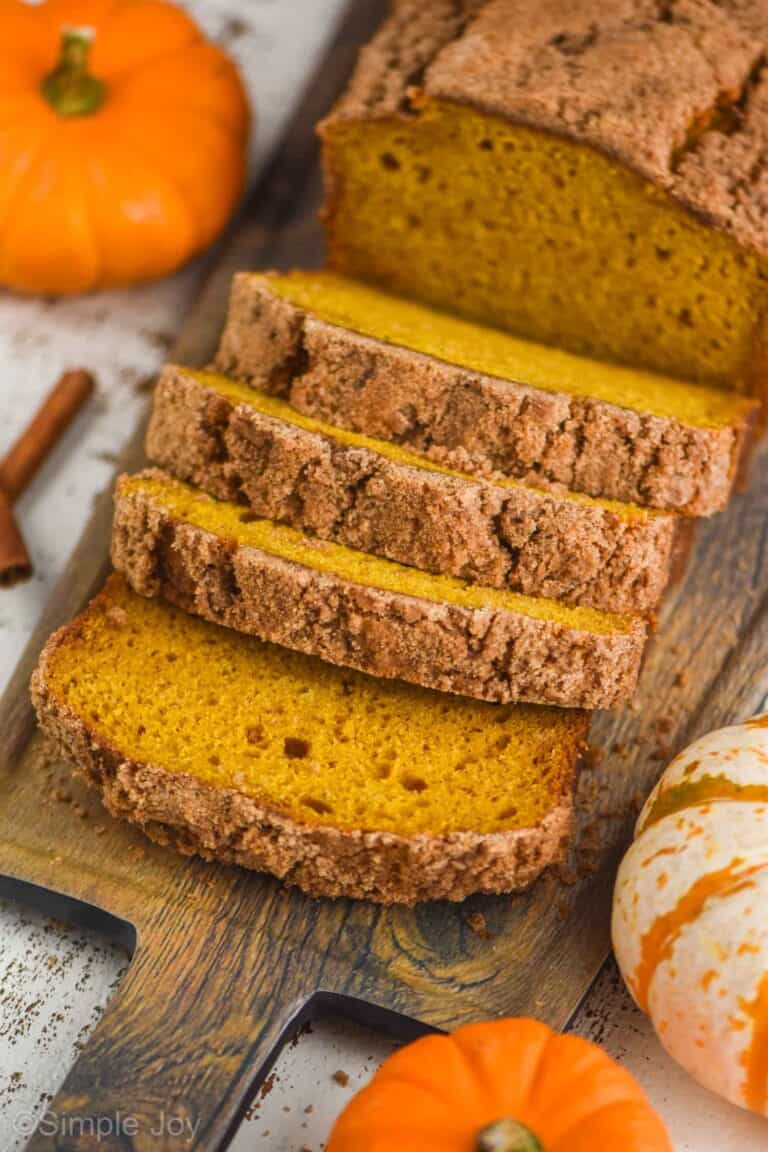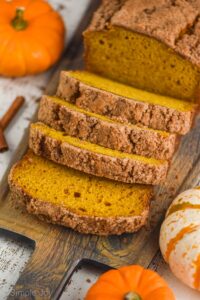 did you make this
Pumpkin Bread