My Seafood Chowder Recipe is such a delicious and hearty soup that is so easy to make. My no-fail instructions will make you look like a cooking star.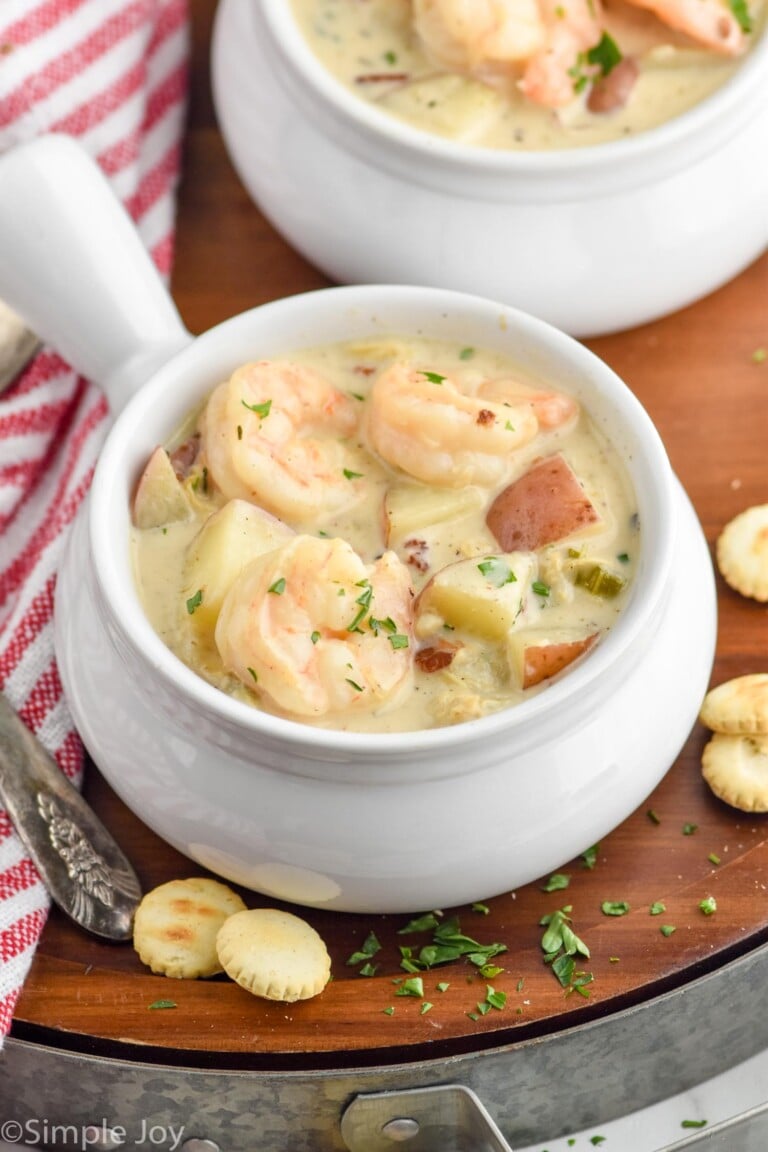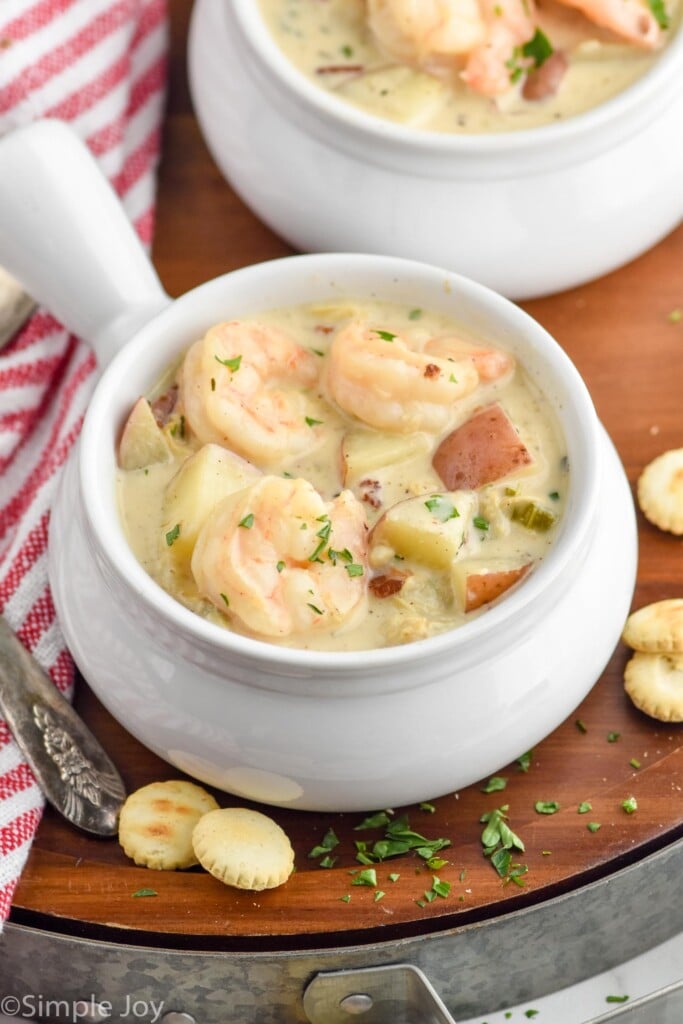 I could live on soup. A good soup that is full of veggies and protein, can be a meal all on its own, and this Seafood Chowder, a simple spin on my New England Clam Chowder, is no exception. Made with seafood broth and several kinds of seafood, you will absolutely love this creamy and delicious soup.
Seafood in Chowder
In this chowder recipe, we are using three types of seafood: cod, shrimp, and clams. You can make seafood chowder with any combination. The key is to cut them into small pieces and use baby clams so that you don't have big chunks in your soup.
We add them in a certain order to allow each to cook properly without overcooking.
Cod: Cut this white fish into small pieces.
Shrimp: You can use fresh or frozen shrimp that has been thawed, deveined, and has the tails removed. See more on buying shrimp below.
Clams: We are using canned baby clams which don't need to be cooked, are more affordable, easier to keep on hand, and easier to eat.
How to Make Seafood Chowder
Here is a brief overview of how to seafood chowder. For the full recipe including all measurements, scroll to the recipe card at the bottom of the post.
Cook the bacon. In a large stock pot, cook the bacon until it is nice and crisp. It is key to cook the bacon as the first step. The fat rendered here will be used to make the roux.
Add the onion and celery. Cook until they are translucent, about five minutes.
Make the roux. Stir in all-purpose flour. This will make the roux (learn more about this in the section below). Now slowly stir in seafood stock.
Add the potatoes. Stir in some dried thyme and two bay leaves. Bring everything to a simmer and cook over low heat for twenty minutes or until the potatoes are fork-tender.
Add the seafood. First, add the cod and cook for five minutes. Then stir in the shrimp.
Add the cream and clams. Let them heat through for a minute. Remove from the heat and stir in the fresh parsley. Taste the soup and add kosher salt and black pepper.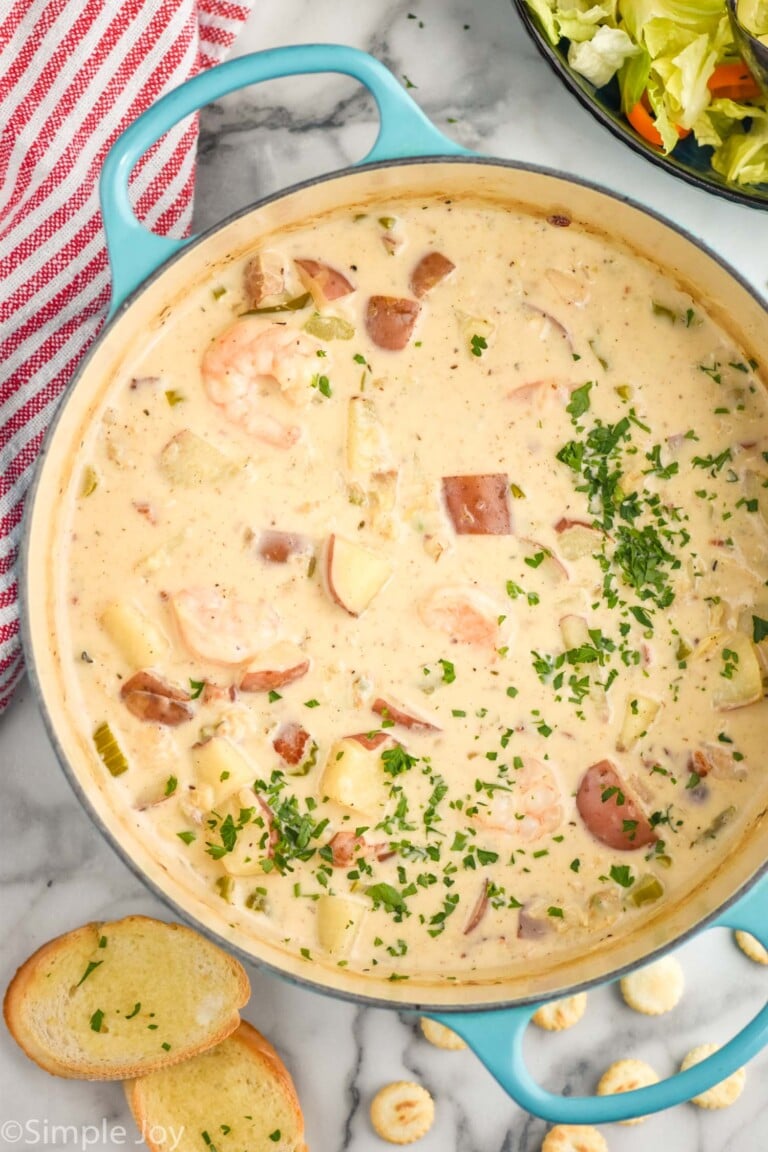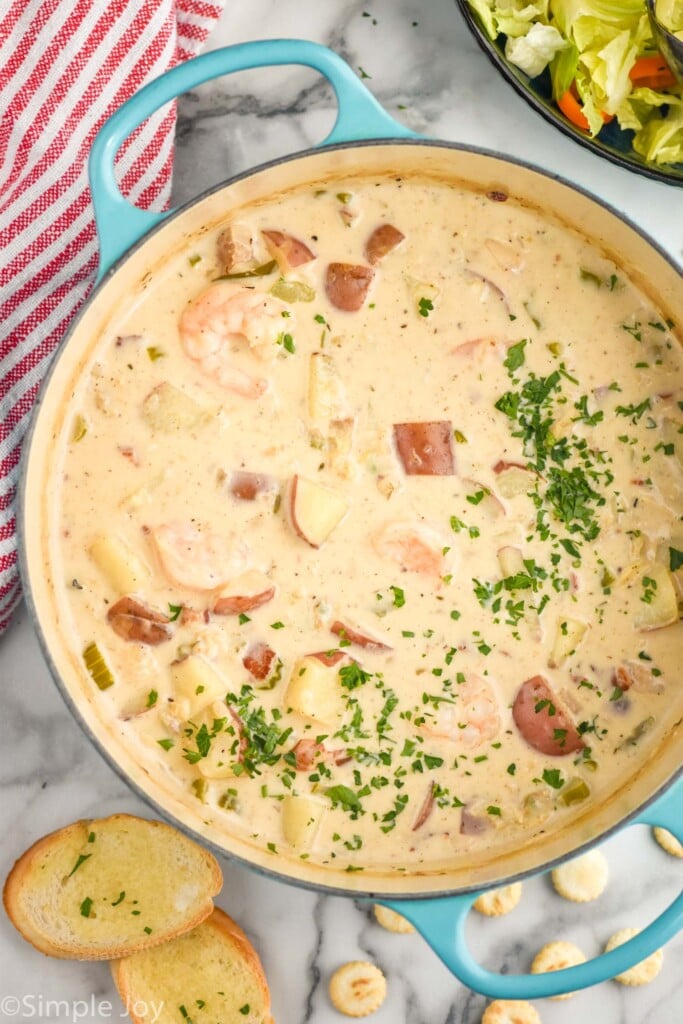 Seafood Stock
The base of this chowder is seafood stock. It has a great seafood taste that acts as the backbone to the flavor profile of this recipe. If you can't find it, I suggest using clam juice, which is readily available near clams in most grocery stores. You, of course, can replace it with chicken broth, but keep in mind it will lessen the overall seafood taste of this recipe.
TOP PICK
Seafood Stock
Seafood Stock gives Seafood Chowder its classic taste. It is perfect in this recipe!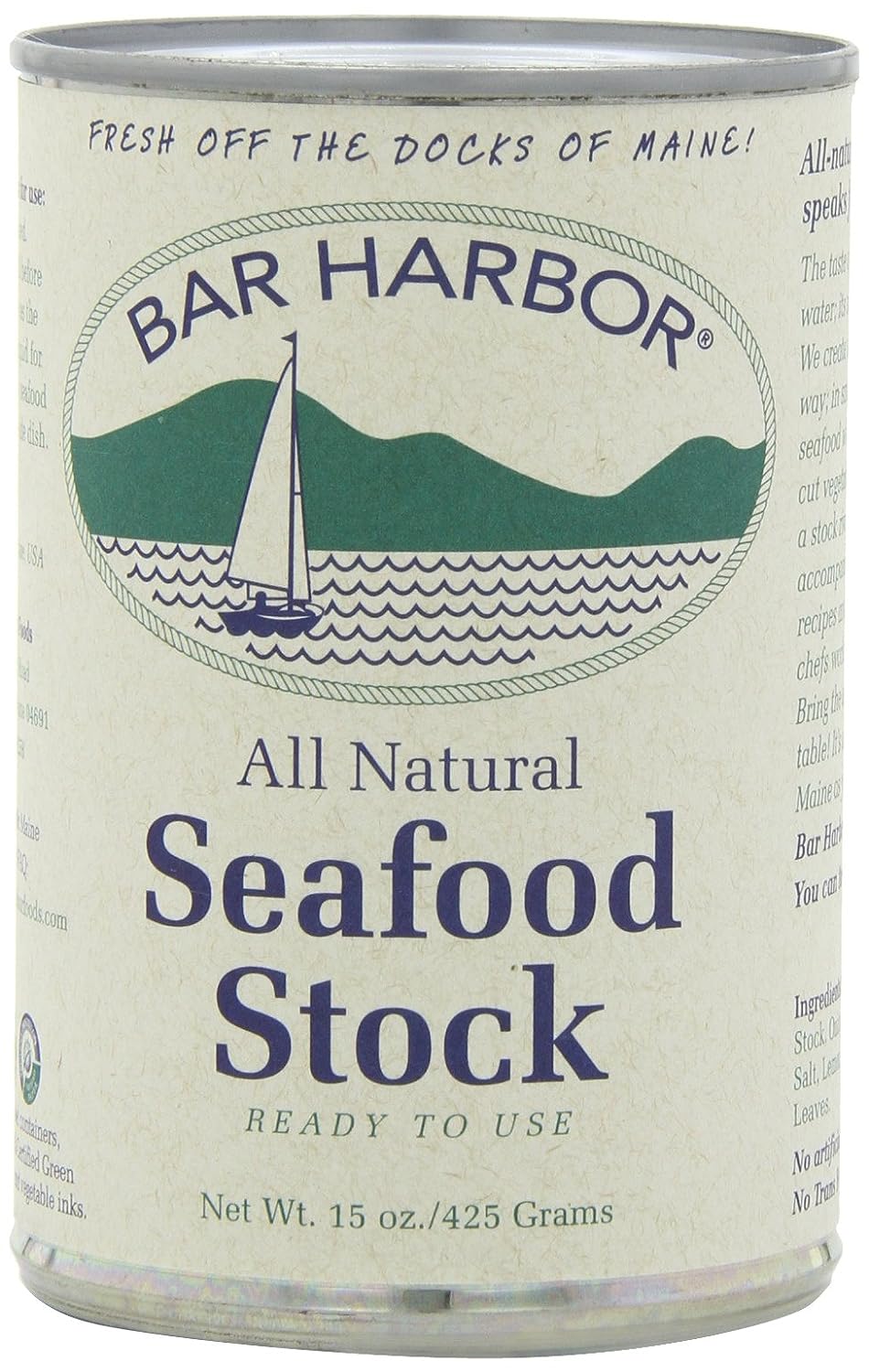 Making a Roux
The roux in this recipe starts out with bacon grease. A roux is a mixture of fat and flour to create a thickening agent. Oftentimes that fat is butter, like in my Chicken Noodle Casserole, but in this seafood chowder, it is bacon fat. The bacon fat works perfectly to make a nice creamy base for this soup while adding tons of flavor, making this the best seafood chowder recipe.
If you would like to make this recipe without bacon, you can start the recipe by melting three tablespoons of butter. Then proceed with the recipe as written.
The key to this recipe working well is to add the stock really slowly, like two tablespoons at a time when you first start adding it. You want the liquid to be fully absorbed each time before you add in more.
Buying Shrimp
Most of the time when I need shrimp for a recipe, I buy frozen shrimp. I wish I lived somewhere where fresh shrimp was inexpensive, but that is not my life. Frozen shrimp is a great convenient way to keep it on hand so you can make this and other shrimp recipes all the time. It is easy to buy a bag of frozen shrimp that is already cooked and deveined so all you have to do is thaw it.
To use frozen shrimp in this chowder recipe, thaw the shrimp in the refrigerator overnight. Otherwise, you can run the shrimp under cold water until thawed. Please note that it is always best to follow the instructions on the shrimp package for how to thaw.
The size of shrimp you buy in this recipe is completely up to you. If you buy larger shrimp, I suggest that you cut it into bite sized pieces before you add it to this chowder.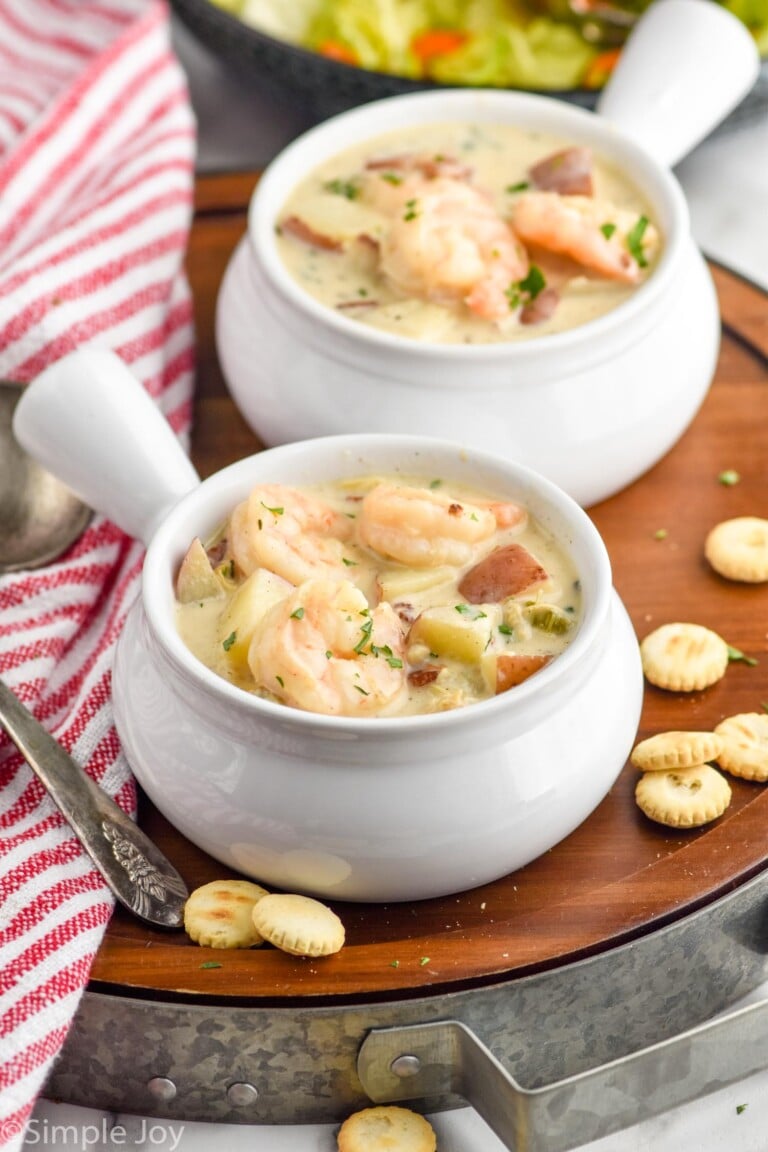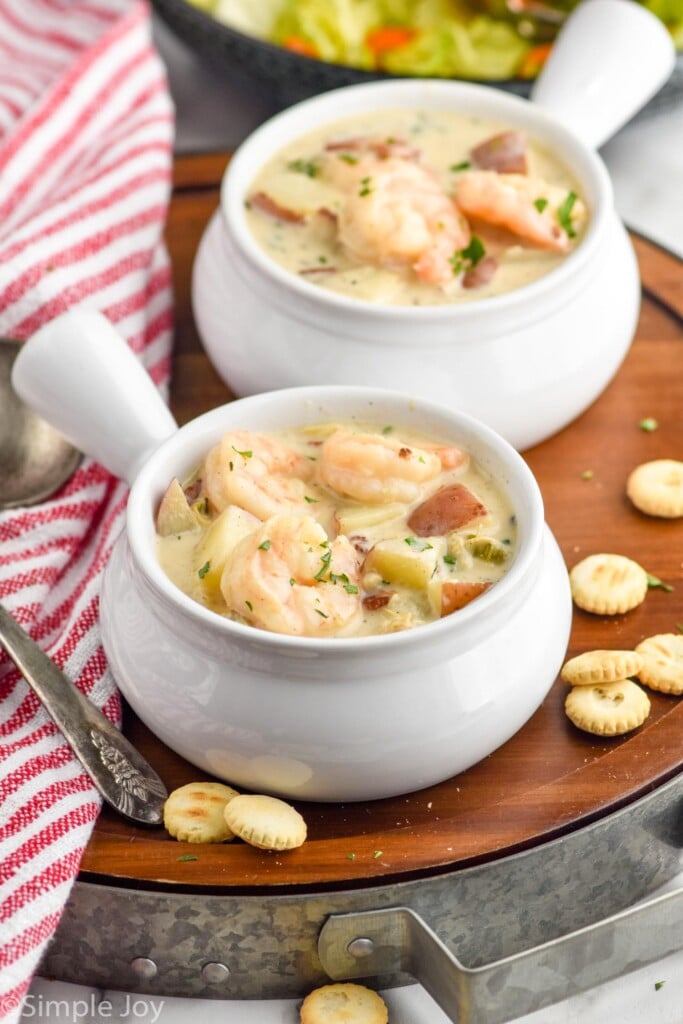 Tips and Tricks
Swap the bacon for butter. If your family doesn't eat pork, eliminate the bacon and replace it with 3 tablespoons of butter. You will likely need to add more salt at the end of the recipe, but otherwise, once your butter is melted you can proceed with step two of this recipe.
Don't overcook your seafood. Since the seafood requires different cooking times, we add it in the order that it takes to cook it so that it is all ready at the same time.
Adjust the consistency. Chowders are supposed to be thick and creamy. If your soup is too thick, add a little more seafood stock to thin it.
Use cornstarch to thicken the soup. If you want to make this soup gluten-free, you can skip adding the flour and use cornstarch instead. At the end of the simmering time, whisk two tablespoons of cornstarch with two tablespoons of warm water until smooth. Then add the slurry to the soup and proceed with the recipe.
FAQ
What is a substitute for heavy cream in seafood chowder?
If you are looking to cut back on fat, use half and half in this recipe. Half and half is known as half cream in the UK and is essentially half whole milk and half heavy cream. I do not recommend using milk or another substitute for the heavy cream in this chowder recipe. It is important to get the creamy texture that makes it so delicious!
Can I leave out one of the kinds of seafood?
Yes! If you don't like one of the seafood ingredients or don't have them on hand, leave them out. You can replace it with more of another seafood or more potatoes.
Can this recipe be frozen?
Yes, the key will be to thaw it in the refrigerator overnight and to reheat it over low heat stirring often. This will prevent it from separating.
Is this recipe gluten free?
It is not gluten-free if you use flour, but you can swap the flour for cornstarch. I share how to do this above.
Storing and Reheating Leftovers
Store any leftover chowder in an airtight container in the refrigerator for up to three days. When you are ready to reheat leftovers, do so over low heat, stirring often. Only reheat the portion you plan to eat, as leftovers should not be reheated more than once. As with any recipe, please be sure to use your best discretion.
Freezing Seafood Chowder
Freezing cream-based soups is not my favorite, only because they are a little tricky to thaw and reheat, and they can separate. With that being said, it can still be done. Freeze any leftover chowder within a day or two of making it. Use a container that has room for the soup to expand. When you are ready to eat the leftovers, thaw the soup in your refrigerator overnight. Then reheat it on the stovetop over low heat, stirring often.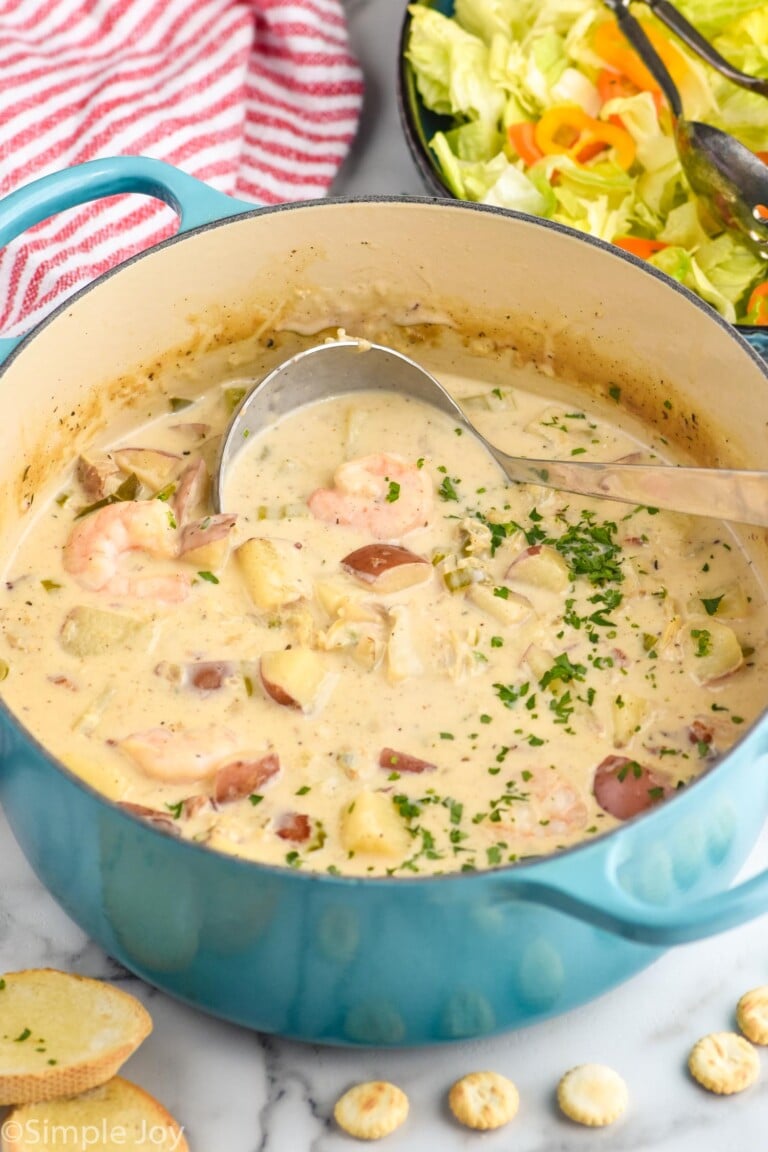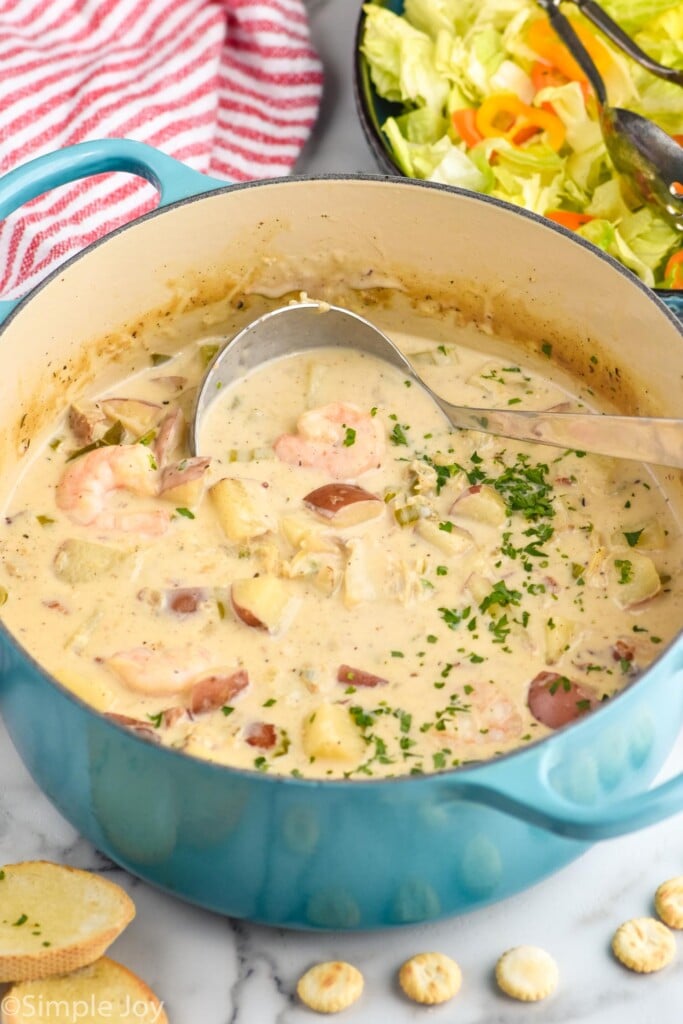 What to Serve With Seafood Chowder
If you make this seafood chowder recipe or any of my other recipes, please leave a comment and let me know what you think. I love hearing from you!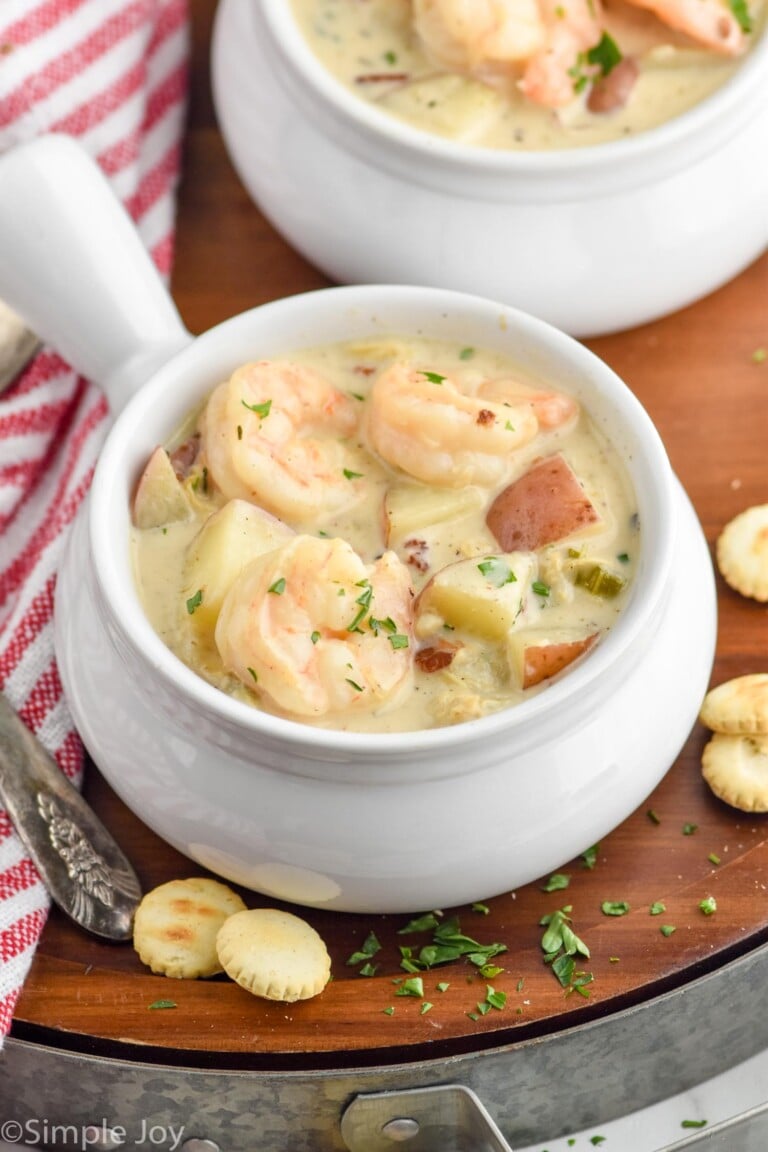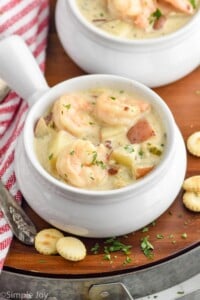 Seafood Chowder Recipe
Seafood Chowder is such a delicious and hearty soup that is so easy to make. My no fail instructions will make you look like a cooking star.
Ingredients
4

slices

thick cut bacon

diced into small pieces (read here about how to eliminate bacon from this recipe)

1

small onion

diced

3

celery stalks

diced

2

cloves

garlic

minced

1/3

cup

all-purpose flour

4

cups

seafood stock

1 1/2

pounds

red potatoes

about five medium diced into 1/2 inch pieces

1/4

teaspoon

dried thyme

2

bay leaves

8

ounces

cod

cut into bite sized pieces

8

ounces

shrimp

raw, deveined and tails removed

10

ounces

whole baby clams

(drained)

8

ounces

heavy cream

2

tablespoons

well minced parsley

salt and pepper
Instructions
In a large stock pot, cook the bacon over medium heat until crispy, stirring often.

Add the celery and onions, cooking until they are translucent and very soft, about 5 to 7 minutes.

1 small onion,

3 celery stalks

Add the minced garlic and cook, stirring, until fragrant, about 30 seconds, being careful that the garlic doesn't burn.

Stir in the flour, coating all of the veggies and the bacon. Continue cooking for about a minute, just until the flour begins to brown.

1/3 cup all-purpose flour

Very gradually, pour in the seafood stock. Pour about 2 tablespoons at a time (no need to measure, this is just an estimate), whisking it into the flour and veggie mixture. There should be no visible liquid between each pour, as it gets absorbed by the roux. It will look very gummy to begin with. Continue this way until you use all the liquid, pouring more quickly at the end.

Add the potatoes, thyme, and bay leaves and bring to a boil. Reduce to a simmer (the lowest you can go heat-wise and still see bubbles) and continue cooking for 15 minutes.

1 1/2 pounds red potatoes,

1/4 teaspoon dried thyme,

2 bay leaves

Add in the cod and cook for 5 minutes. Then add in the shrimp and cook for 3 minutes.

8 ounces cod,

8 ounces shrimp

Stir in the cream and clams and let heat through for a minute. Remove from the heat and stir in the fresh parsley. Season with salt and pepper to taste (I added 3/4 teaspoon kosher salt and freshly ground black pepper).

10 ounces whole baby clams,

8 ounces heavy cream
Serving:
1.5
cups
Calories:
437
kcal
(22%)
Carbohydrates:
28
g
(9%)
Protein:
26
g
(52%)
Fat:
25
g
(38%)
Saturated Fat:
12
g
(75%)
Polyunsaturated Fat:
3
g
Monounsaturated Fat:
8
g
Trans Fat:
0.04
g
Cholesterol:
138
mg
(46%)
Sodium:
779
mg
(34%)
Potassium:
1040
mg
(30%)
Fiber:
2
g
(8%)
Sugar:
4
g
(4%)
Vitamin A:
628
IU
(13%)
Vitamin C:
12
mg
(15%)
Calcium:
127
mg
(13%)
Iron:
2
mg
(11%)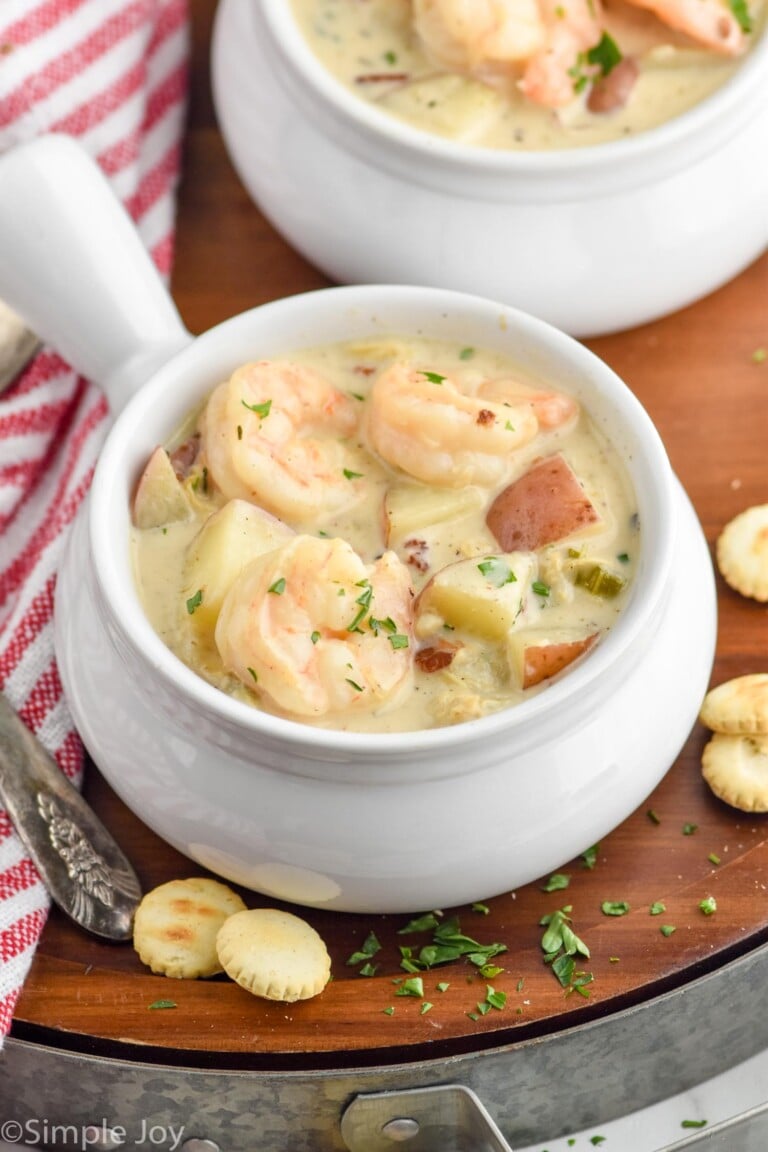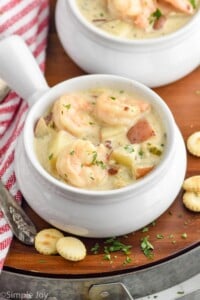 did you make this
Seafood Chowder Recipe