This amazing Spaghetti Squash Casserole is packed with flavor, low carb, and vegetarian. It makes for such a delicious healthy dinner.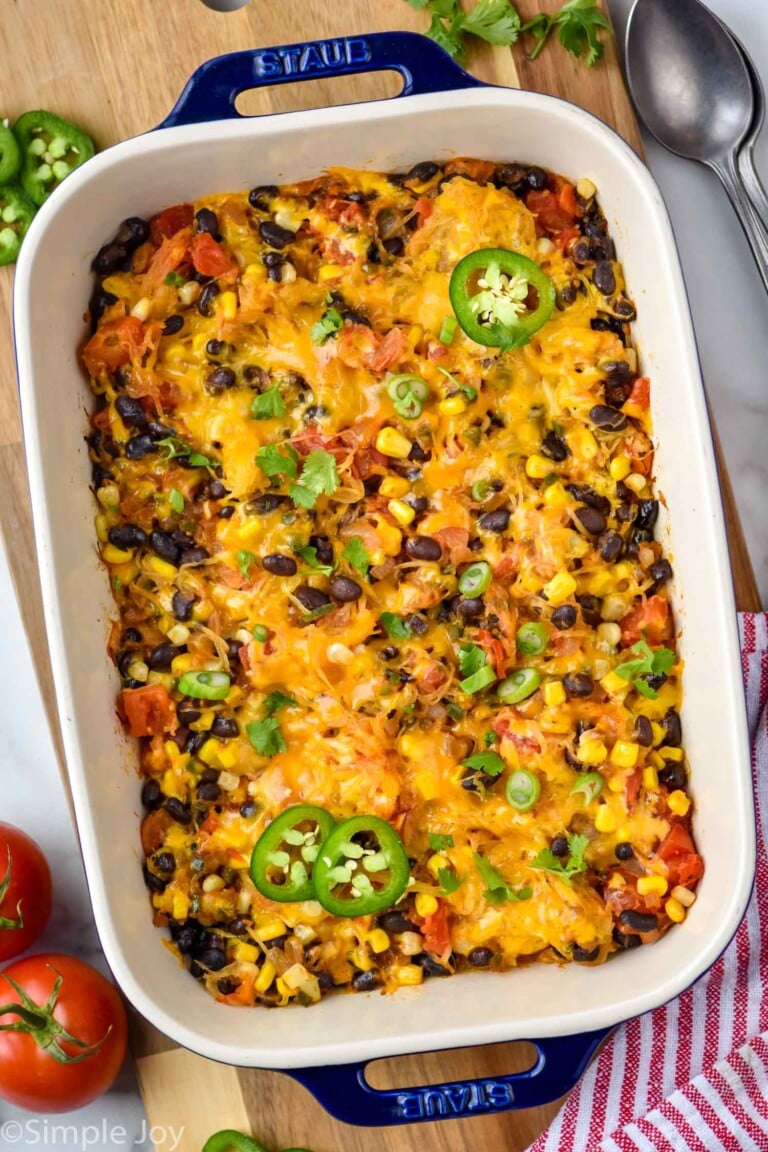 In the very first week of 2023, I asked my followers on Facebook what types of recipes they would like to see more of this year. An overwhelming number asked for gluten recipes. Another big request was recipes that don't have any meat. Given the prices of groceries right now, I totally get it.
In this great vegetarian casserole, you get both of those requests in one dish, plus a flavorful recipe that your family will love. This recipe is easy to make and is full of delicious, familiar flavors. This is a dish that even meat eaters will love!
How to Make Spaghetti Squash Casserole
Here is a brief overview of how this baked spaghetti squash casserole recipe comes together. For the full recipe and all measurements, scroll to the recipe card at the bottom of the page.
Bake your spaghetti squash. See my tips below for how to bake a spaghetti squash and how to tell when it is done. Let it cool.
Sauté vegetables. While the squash is baking, sauté the onion, garlic, and jalapeño in a skillet with olive oil and the seasonings until the onion is translucent.
Build the casserole. Scrape the insides of the spaghetti squash into a large bowl. Add the onion and spice mixture, black beans, frozen corn, roasted tomatoes, and cheese. Stir to combine.
Bake. Add the mixture to a greased baking dish and cover with foil. Bake for 15 minutes covered, and 5 to 10 additional minutes uncovered. Serve with pickled jalapenos, fresh tomatoes, and more cheese.
Pickled Jalapeños
Pickled jalapenos are so yummy on top of tacos and this southwest spaghetti squash casserole!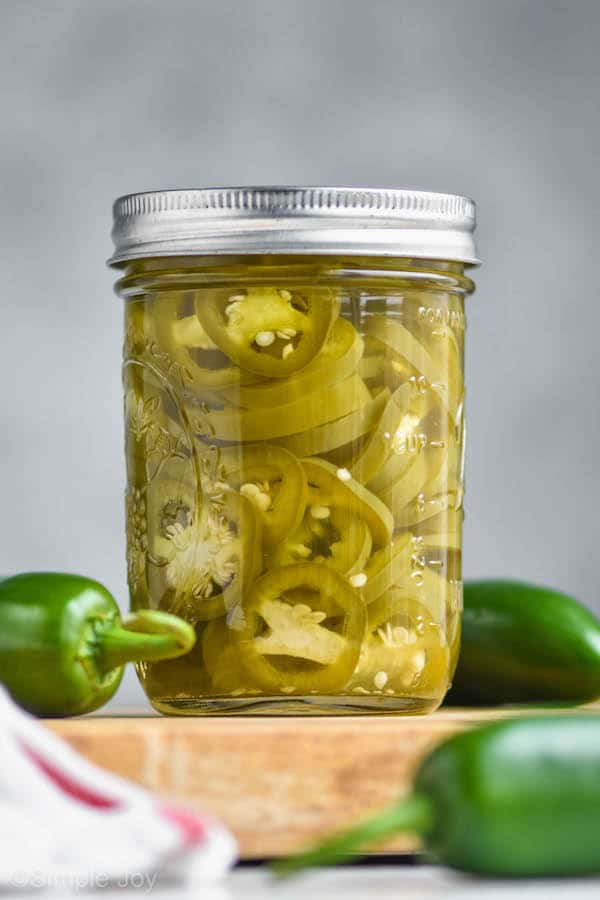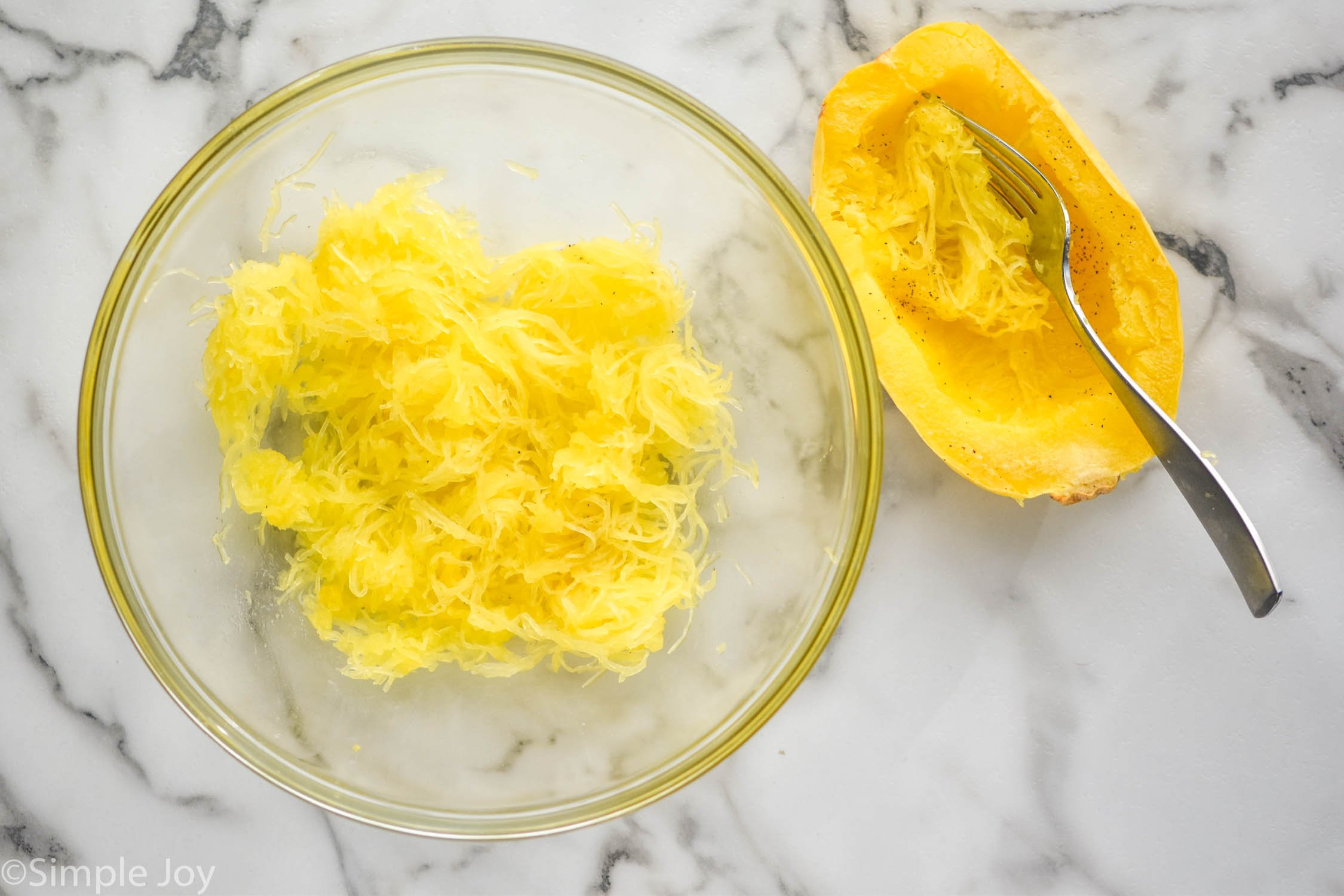 How to Cook Spaghetti Squash
The steps for making baked spaghetti squash recipes start the same: preparing and baking the squash.
With a sharp knife, cut the squash in half lengthwise.
Remove all of the seeds and pulp using a spoon.
Coat the cut side with olive oil and season with salt and pepper.
Place cut side down on a baking sheet covered with parchment paper.
Bake until just tender.
When it comes to the method of cooking spaghetti squash, I always prefer the oven. I've found this to be the most predictable method which gives the best end result without getting mushy.
Once the squash is cooked and cooled, use a fork to pull the strands. Spaghetti squash can be so versatile when prepared well! It's a great nutrient dense and low carb swap for pasta. Serve it with this easy homemade sauce or substitute it into your favorite pasta dish.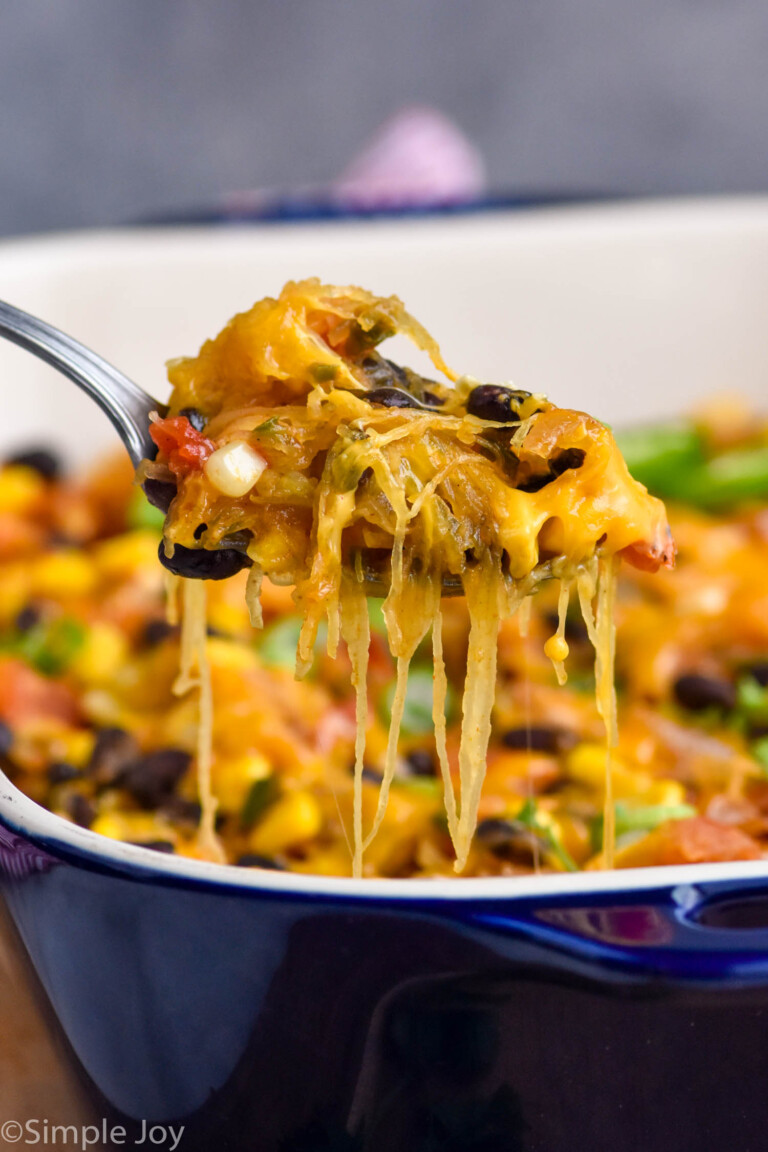 How to Tell When a Spaghetti Squash is Done
The key to a delicious spaghetti squash recipe is cooking it for just the right amount of time. Roasting it too long will make the strands mushy, a mistake many people make. To achieve al dente (less mushy) strands, the cooking time may be less than you think. This varies with the size of the squash, but I recommend starting with 40 minutes at 375 degrees. Here are a few ways to check if the spaghetti squash is done:
It is just tender enough when you poke with a fork.
Flip it over and run a fork through the strands. They should be slightly firm but easily pull away from the sides.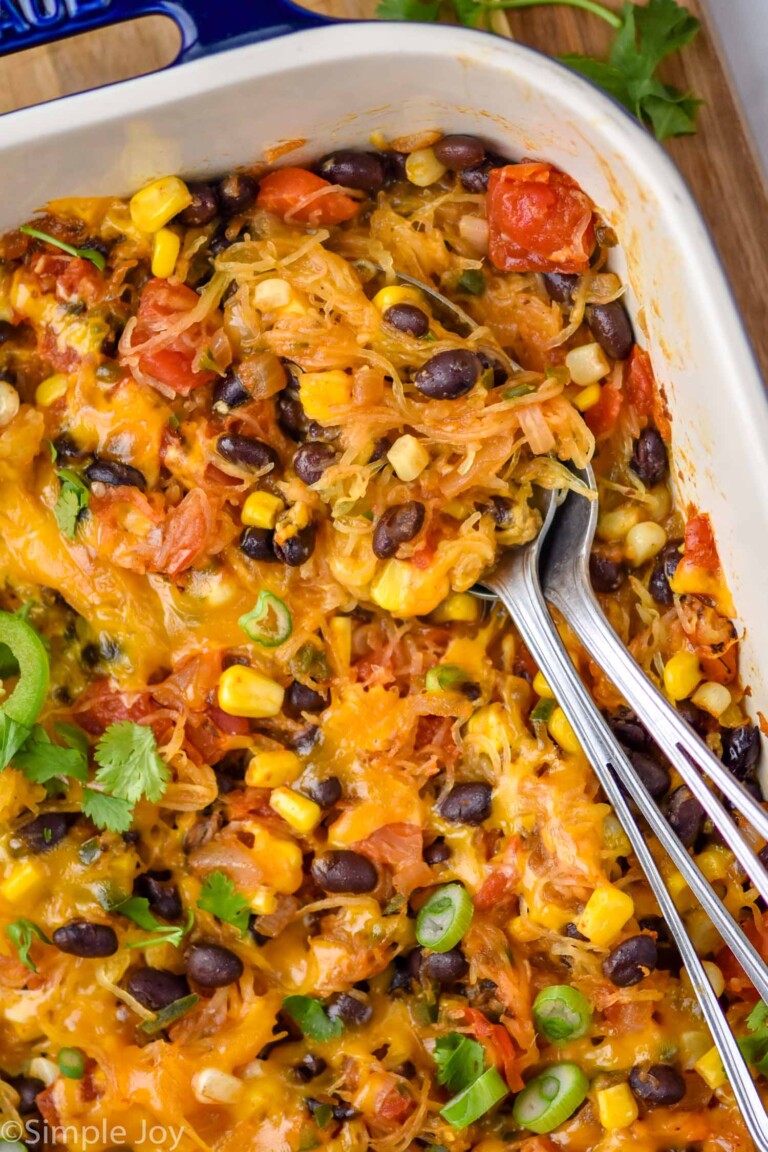 FAQ
How long do you cook spaghetti squash?
The cooking time varies depending on the size of the squash and the oven. You will want to bake it just until it is tender when you poke it with a fork, about 40 minutes.
Should you cook spaghetti squash face up or down?
Cut side down.
Why did my spaghetti squash turn out mushy?
It is probably overcooked. To avoid overcooking the squash, follow the suggested cooking time in the recipe card, and don't let the squash become too soft before taking it out of the oven.
Is this recipe gluten free?
Yes! It is also vegetarian.
Is this vegan?
Because of the cheese, it is not vegan. You could easily make it vegan by using dairy-free cheese.
How can I make this low carb?
While spaghetti squash is a great low carb option, this recipe has corn in it. To make this lower in carb, eliminate the corn from the recipe and cut the amount of black beans in half. These are the bulk of the carbs in this recipe and will take the recipe down to 24.5 grams of carbs per serving.
Storing and Reheating
Store your leftover low carb casserole in an airtight container in the refrigerator for up to three days. Reheat portions by baking or in the microwave. Be sure to only reheat the portion you plan on eating as best practice is to only reheat food once. Always use your best discretion with leftovers.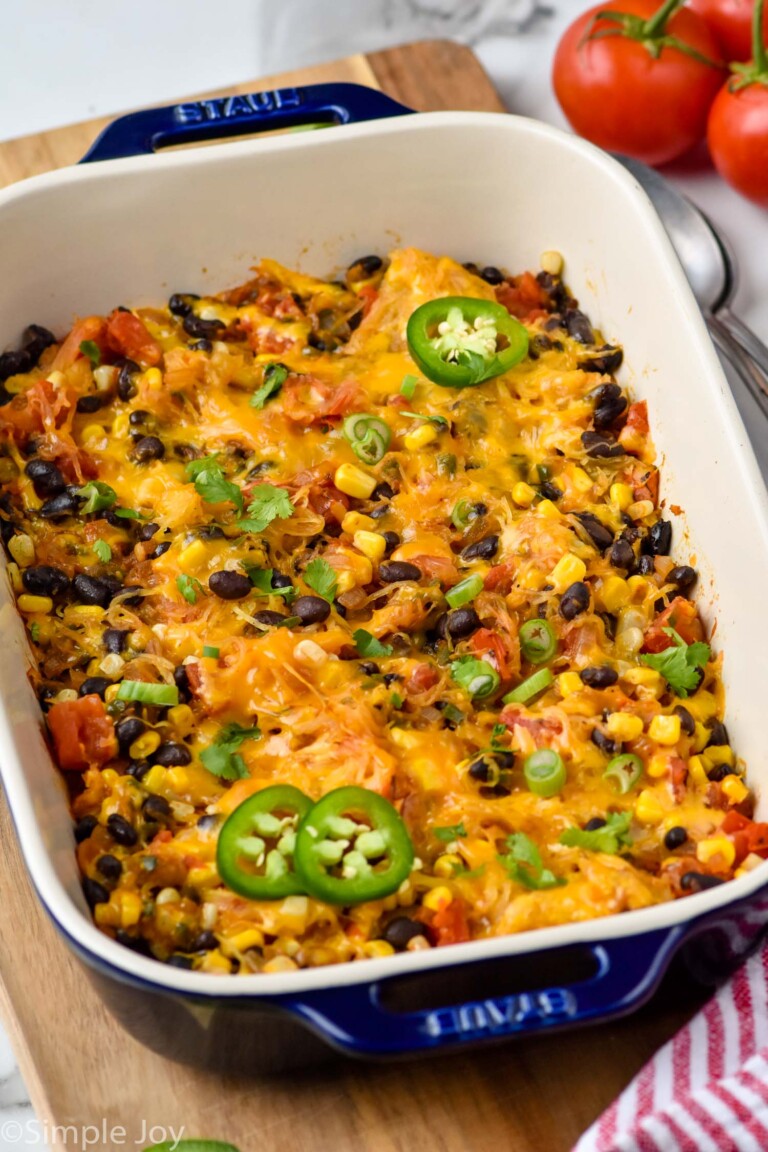 Other Vegetarian Dinner Recipes
No meat, no problem! These vegetarian dinner ideas are packed with flavor and filling ingredients. For other low carb casseroles, try my Zucchini Lasagna and Baked Taco Casserole.
You can find all of our vegetarian dinners here: Vegetarian Recipes.
If you try this spaghetti squash recipe or any of my others, please leave a comment telling me what you think. I love hearing from you!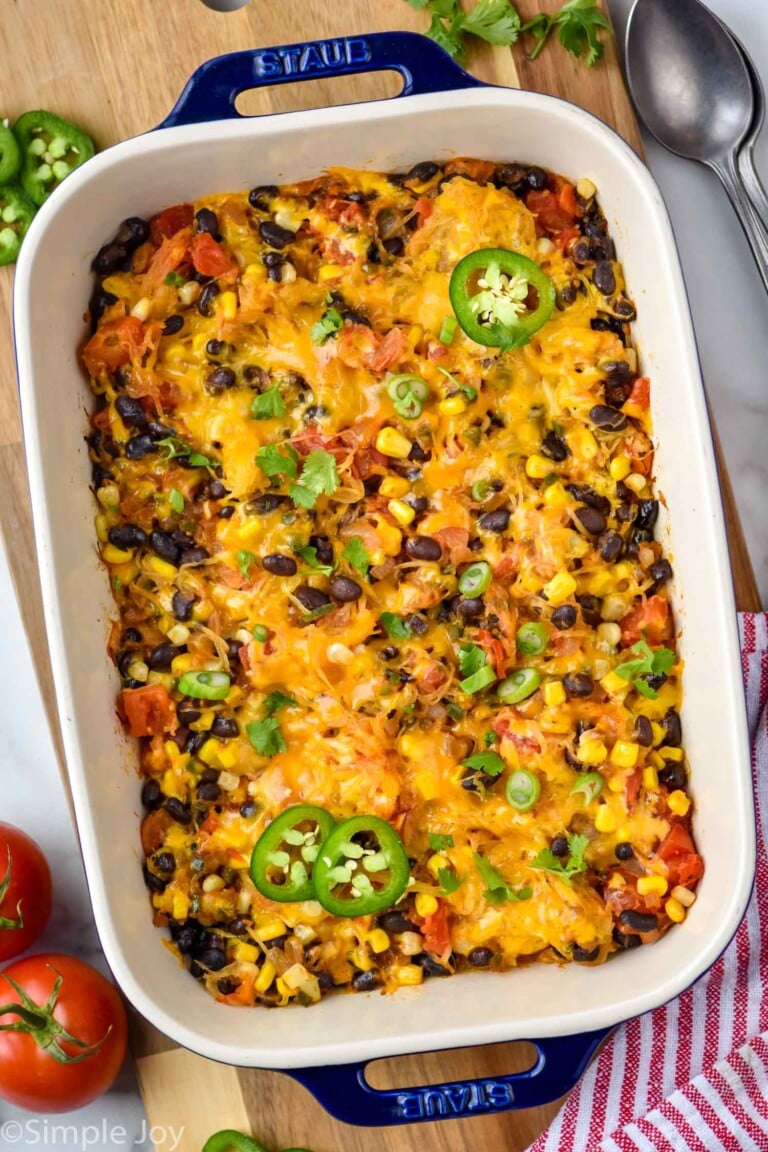 Spaghetti Squash Casserole
Ingredients
1

medium spaghetti squash

(2 to 2 1/2 pounds) cut in half with seeds removed

3

tablespoons

olive oil

divided

1

teaspoon

kosher salt

divided

1/8

teaspoon

black pepper

1

small yellow onion

diced

2

garlic cloves

minced

1

jalapeno

seeds and ribs removed and diced

1

teaspoon

chili powder

1/2

teaspoon

smoked paprika

1/2

teaspoon

ground cumin

15

ounces

black beans

drained and rinsed

1

cup

frozen corn

(no need to thaw it)

15

ounces

fire roasted tomatoes

drained

1 1/2

cups

cheddar cheese

shredded
Instructions
Preheat the oven to 375 degrees. Prepare a rimmed baking sheet with parchment paper and set aside.

Coat the cut sides of the spaghetti squash with 1 tablespoon of olive oil. Sprinkle with 1/2 teaspoon of kosher salt and a dash of black pepper. Place cut side down on the parchment lined baking sheet. Bake the squash for 40 minutes until it is just fork tender. (Read in the post about how to tell when a spaghetti squash is done.) Remove from the oven and flip to cut side up. Allow to cool for 20 minutes.

While the squash is roasting, heat 2 tablespoons olive oil in a skillet. Add the onion, garlic, and jalapeno. Season with 1/2 teaspoon kosher salt, a dash of pepper, chili powder, smoked paprika, and ground cumin. Cook until the onion is translucent, about 5 minutes.

1 small yellow onion,

2 garlic cloves,

1 teaspoon chili powder,

1/2 teaspoon smoked paprika,

1/2 teaspoon ground cumin,

1 jalapeno

Once cooled, scrape the squash into a large bowl. Add in the onion and spice mixture, the black beans, frozen corn, roasted tomatoes, and cheese. Stir to combine.

15 ounces black beans,

15 ounces fire roasted tomatoes,

1 1/2 cups cheddar cheese

Spray a 9 by 13 inch baking dish with cooking spray. Add the mixture to the baking dish and cover with foil. Bake for 15 minutes covered, and 5 to 10 additional minutes uncovered. Serve with more cheese, pickled jalapeños, and fresh tomatoes.
Serving:
1
cup
Calories:
376
kcal
(19%)
Carbohydrates:
41
g
(14%)
Protein:
16
g
(32%)
Fat:
18
g
(28%)
Saturated Fat:
7
g
(44%)
Polyunsaturated Fat:
2
g
Monounsaturated Fat:
7
g
Cholesterol:
28
mg
(9%)
Sodium:
912
mg
(40%)
Potassium:
579
mg
(17%)
Fiber:
11
g
(46%)
Sugar:
7
g
(8%)
Vitamin A:
974
IU
(19%)
Vitamin C:
11
mg
(13%)
Calcium:
288
mg
(29%)
Iron:
3
mg
(17%)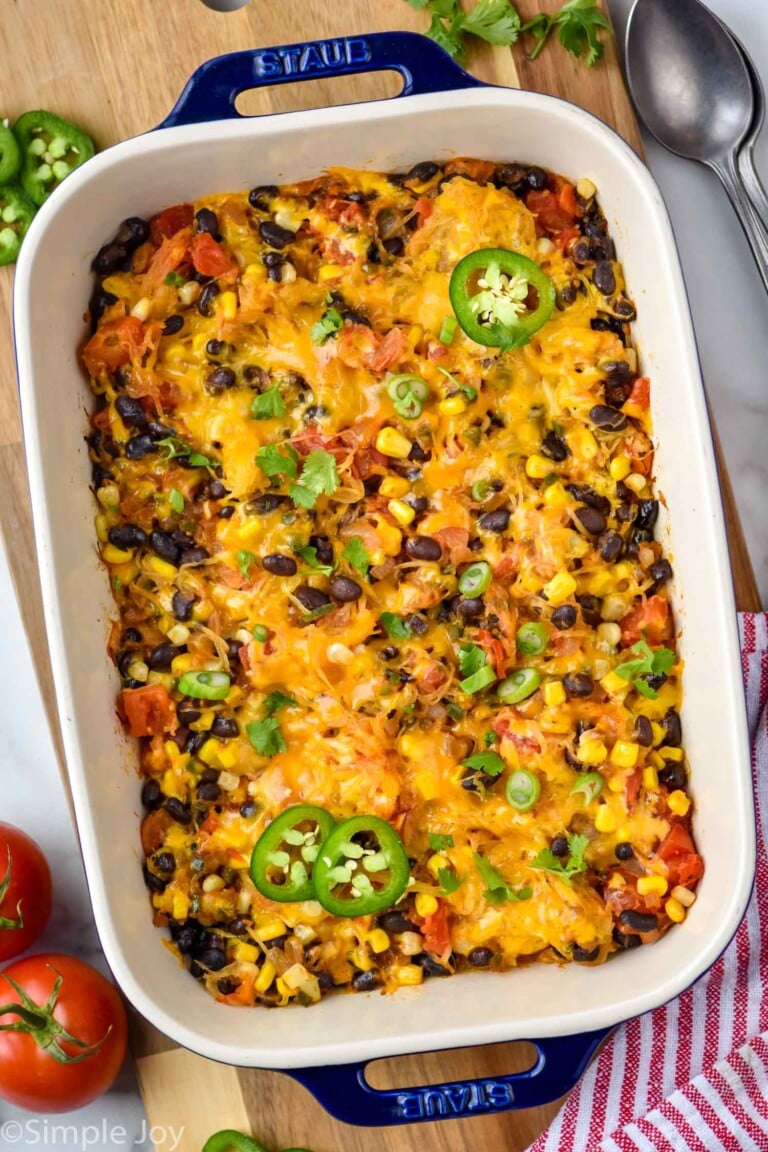 did you make this
Spaghetti Squash Casserole