This Baked Taco Casserole is a quick comfort meal on busy weeknights when dinner seems impossible. Meaty, cheesy pasta topped with crunchy Doritos and tons of flavor, this hearty recipe comes together fast!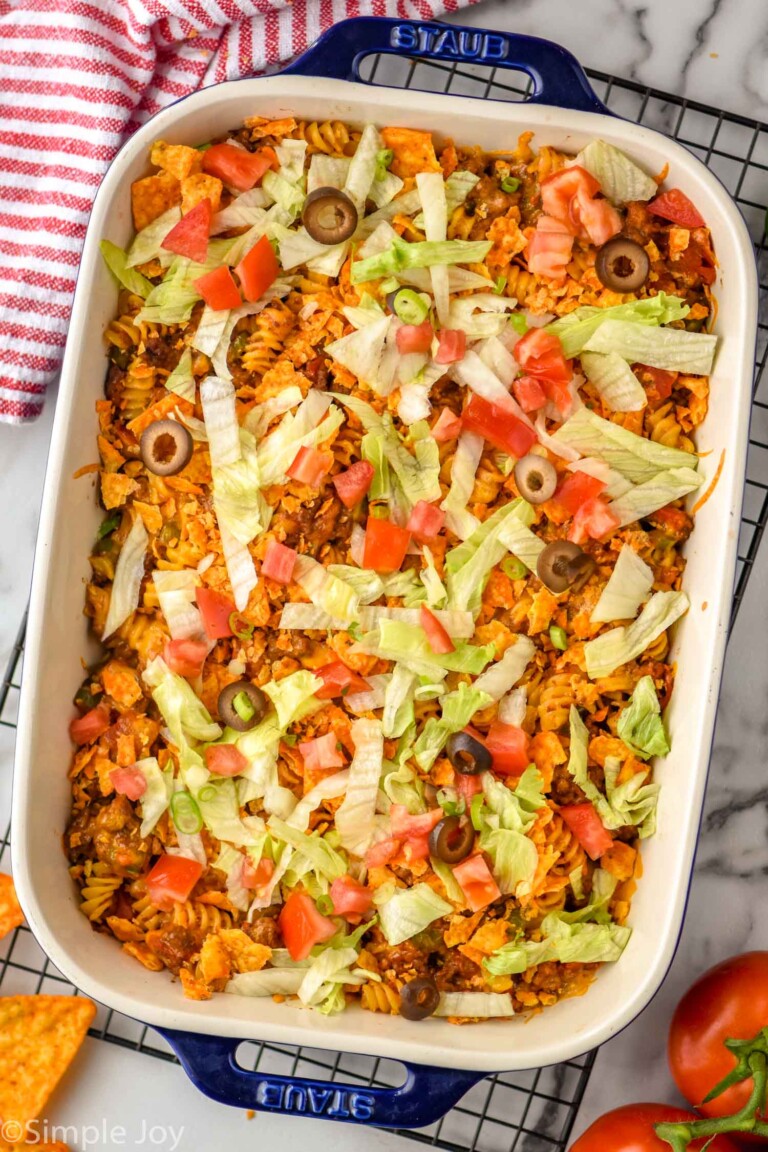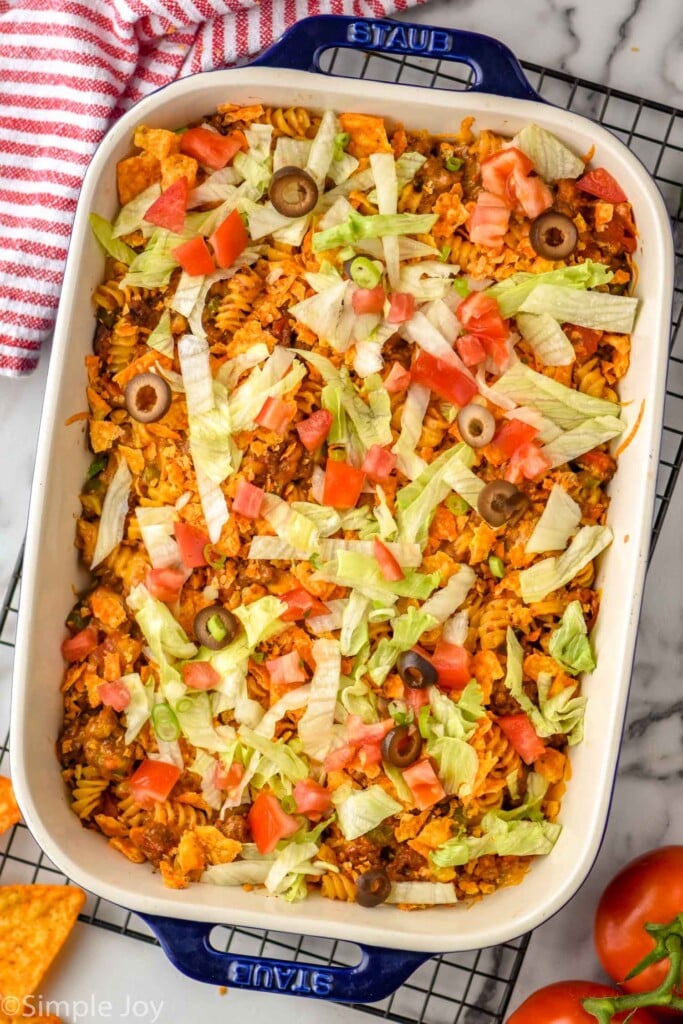 Pasta Taco Casserole with Doritos is one of my favorite answers to the question, "What's for dinner?!" On the nights when you're barely able to make it through the witching hours between after school and bedtime, this is the best answer.
This hearty recipe comes in super handy on busy weeknights. It's full of taco flavors that kids and adults love with pasta and crunchy Doritos on top. This twist on my Taco Pasta Salad is sure to also win over your family's hearts.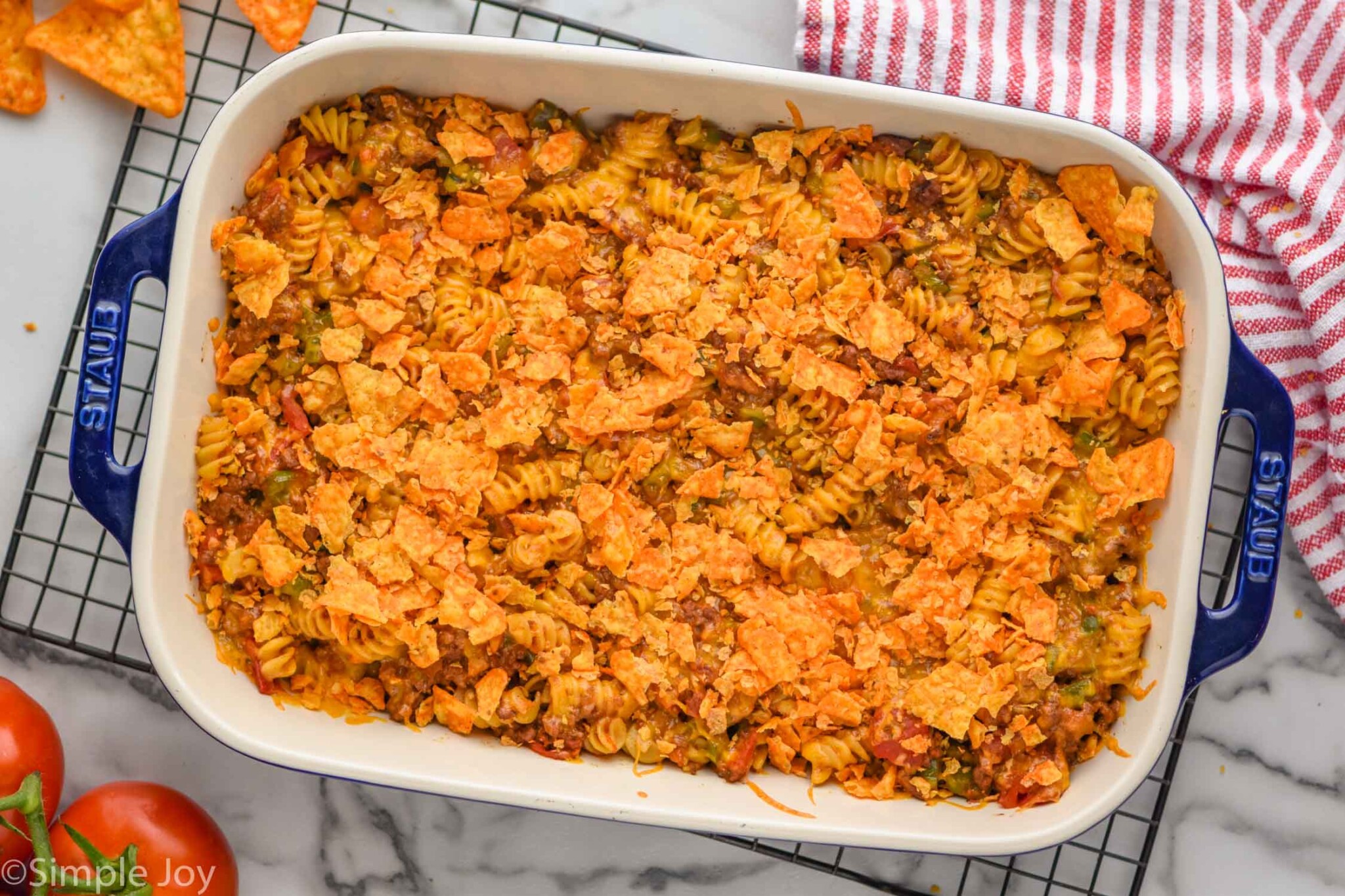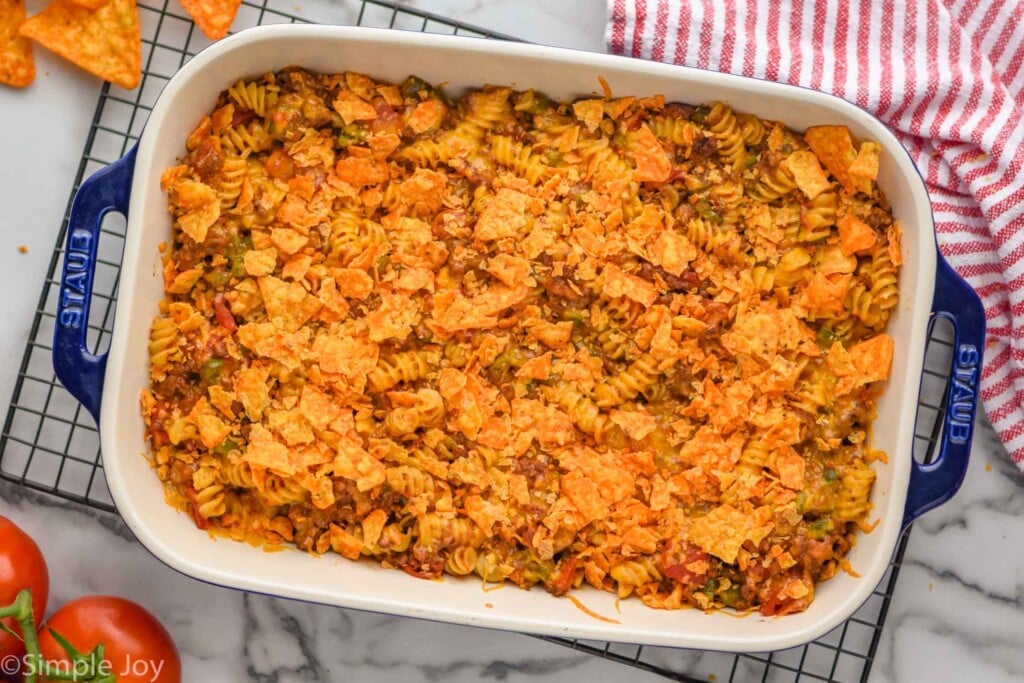 How to Make Taco Casserole
Cook the pasta. See all my tips and tricks for cooking pasta for a casserole below.
Sauté the vegetables. In a skillet over medium heat, sauté the onion and green bell pepper.
Brown the beef. Add the beef to the skillet and cook until browned. Then drain off the grease.
Mix it all together. Add the beef mixture, pasta, taco seasoning, salsa, diced tomatoes, and cheese.
Bake the casserole. Top the casserole with more cheese and bake. After baking top with the Doritos and any extra toppings you know your family will love.
Cooking Pasta for Casseroles
Pasta makes an amazing addition to any casserole, but there are a few tips that help it be the awesome addition it is.
Bring the water you are cooking the pasta in to a roaring boil. This is key. Without a roaring boil to begin with, your pasta won't cook properly.
Salt the water. A teaspoon of kosher salt in pasta water can really enhance the flavor of pasta in whatever dish you are adding it to.
Cook the pasta for a minute or two less than the box indicates. If it is going in a casserole, it will cook longer. Therefore, you want to boil it a little short so that in the end it isn't over cooked.
Reserve pasta water. That starchy pasta water is liquid gold. Though we aren't using it in this taco casserole recipe, in other recipes a little bit of it added to the casserole can add a lot.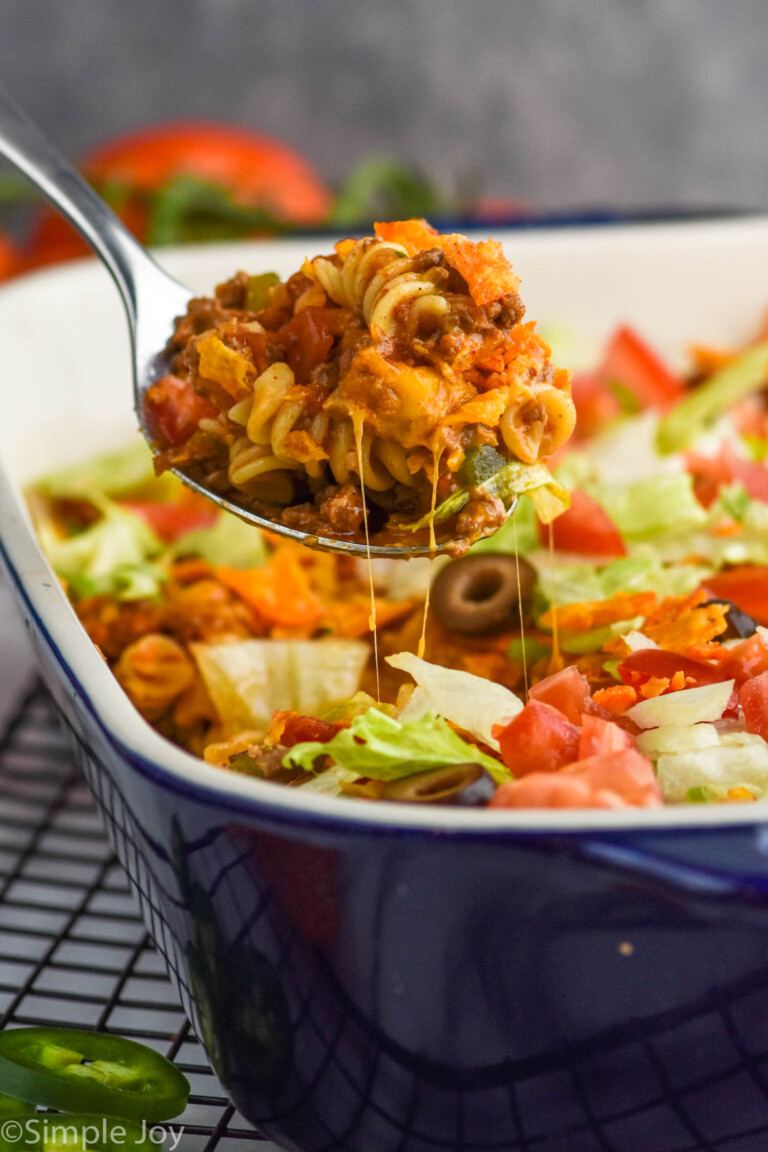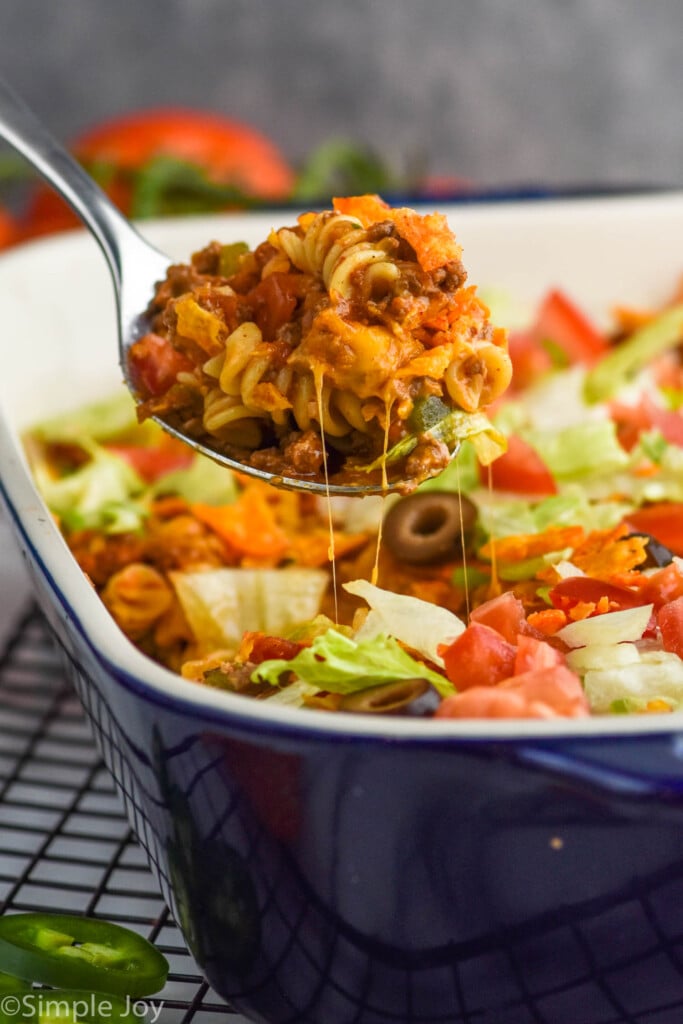 Making Salsa
One of the ingredients that makes this taco bake casserole so delicious is the salsa. It both adds liquid and flavor in a really simple way. You can absolutely use store-bought salsa for this.
But, if you want to kick things up a notch, make my homemade Blender Salsa. It only takes about 10 minutes to make, and it is so good. Plus, you will have extra to serve on the side.
Blender Salsa
Blender Salsa is a very simple recipe that is better than at a restaurant. With super simple ingredients, you will be making this homemade salsa all the time.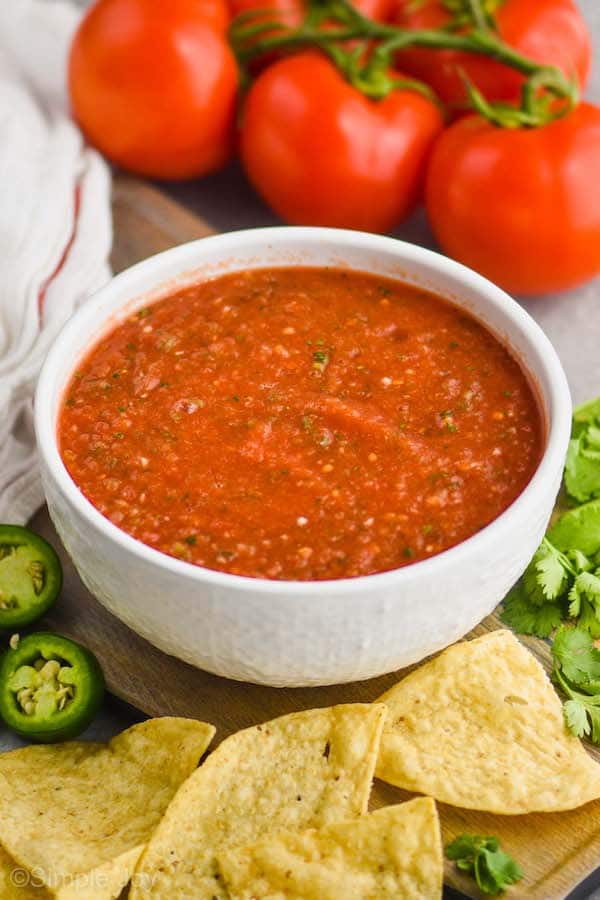 Homemade Taco Seasoning
Another key ingredient to this recipe is taco seasoning. This recipe calls for 3 tablespoons of taco seasoning. This is the same exact amount that is in a 1 ounce packet of seasoning from the grocery store. While that short cut is absolutely acceptable, I strongly encourage you to make a large batch of my homemade taco seasoning. We use it all the time in so many different recipes.
Homemade Taco Seasoning
This Homemade Taco Seasoning comes together fast with measurements for one pound of meat or for a whole container to keep in your pantry!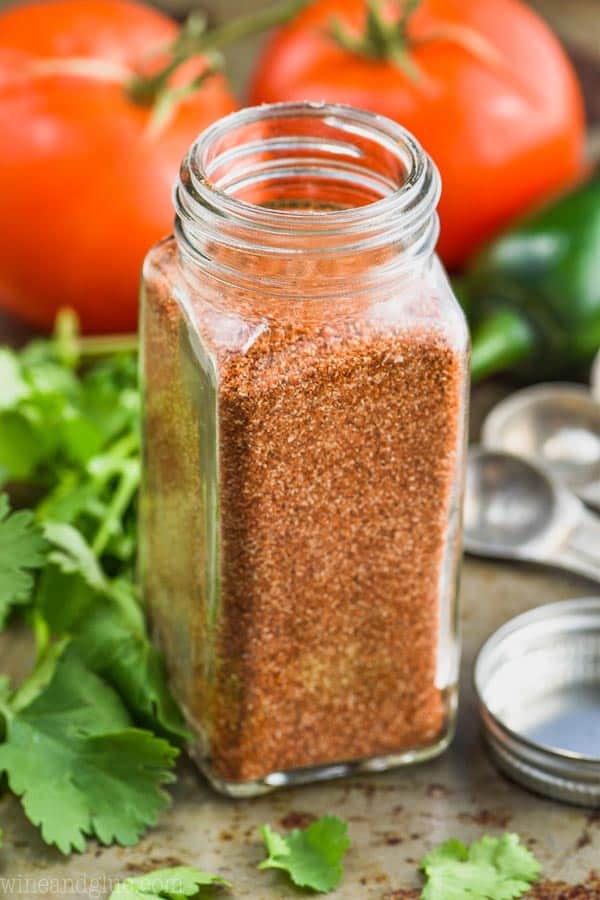 Baked Taco Casserole Toppings
If you want to pull this out of the oven and start eating, no judgments from me. But you might like to add some toppings.
Diced Tomatoes
Sliced Olives
Shredded Iceberg Lettuce
Substitutions and Variations
Make it low carb. Swap the noodles in this recipe for 1 cup of black beans and 1 cup of pinto beans. With both kinds of beans, make sure to drain and rinse them before adding them to the recipe.
Swap the beef for turkey. If your family prefers ground turkey, you can easily swap in ground turkey in this recipe without making any other changes.
Make it spicy. This recipe is pretty mild as written. You can kick it up a notch by adding more jalapeños to the salsa and more cayenne pepper to the taco seasoning.
Skip the Doritos. We love the crunch they bring this recipe, but if you are watching calories, they are the best place the cut some.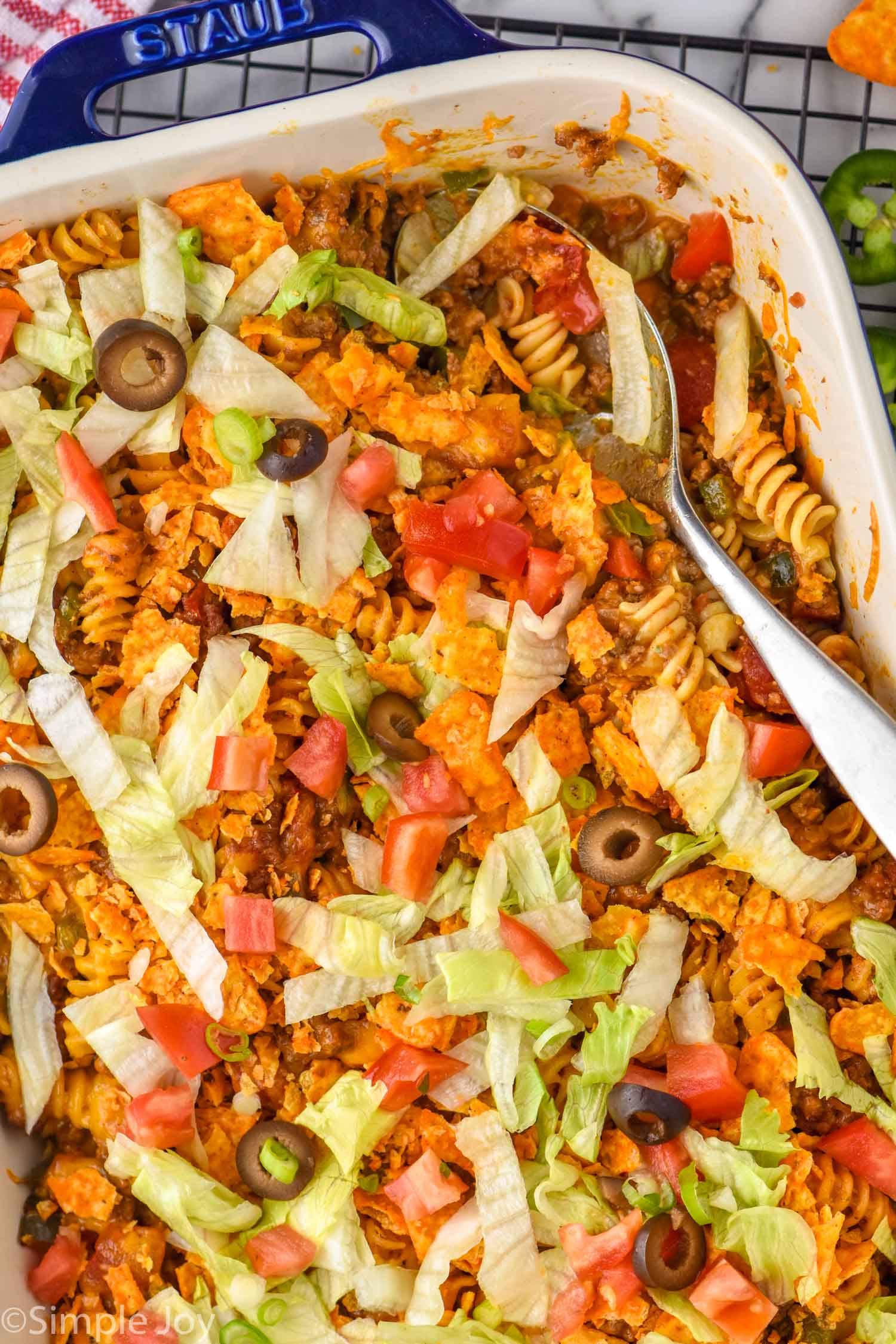 Making Ahead and Freezing
This is a great recipe to either make ahead or freeze. For both, make the recipe up to the point of putting it in the oven. If you are just making it ahead, cover it and refrigerate it for 24 hours. Then continue on with the recipe as written.
To freeze the recipe make it in a disposable baking dish, cover it in aluminum foil, then wrap it three times in plastic wrap. Freeze the recipe for up to three months. When you are ready to bake it, remove the plastic wrap, bake while covered for 20 minutes, then uncover it and bake for 20 more minutes. It can be baked from frozen at 350 degrees.
FAQ
Can this easy taco casserole be made ahead?
Yes! It can be made one day ahead or it can be frozen to bake later. See detailed instructions on this above.
Can this recipe be made gluten free?
Yes! You can use gluten free pasta to make this gluten free. As with all recipes, double check all of your ingredients to ensure that they are gluten free.
Can this recipe for taco casserole be made low carb?
Absolutely! You can swap the pasta in this recipe for two cups of beans. My personal preference is to swap it for black beans and pinto beans. And of course, skip the Doritos.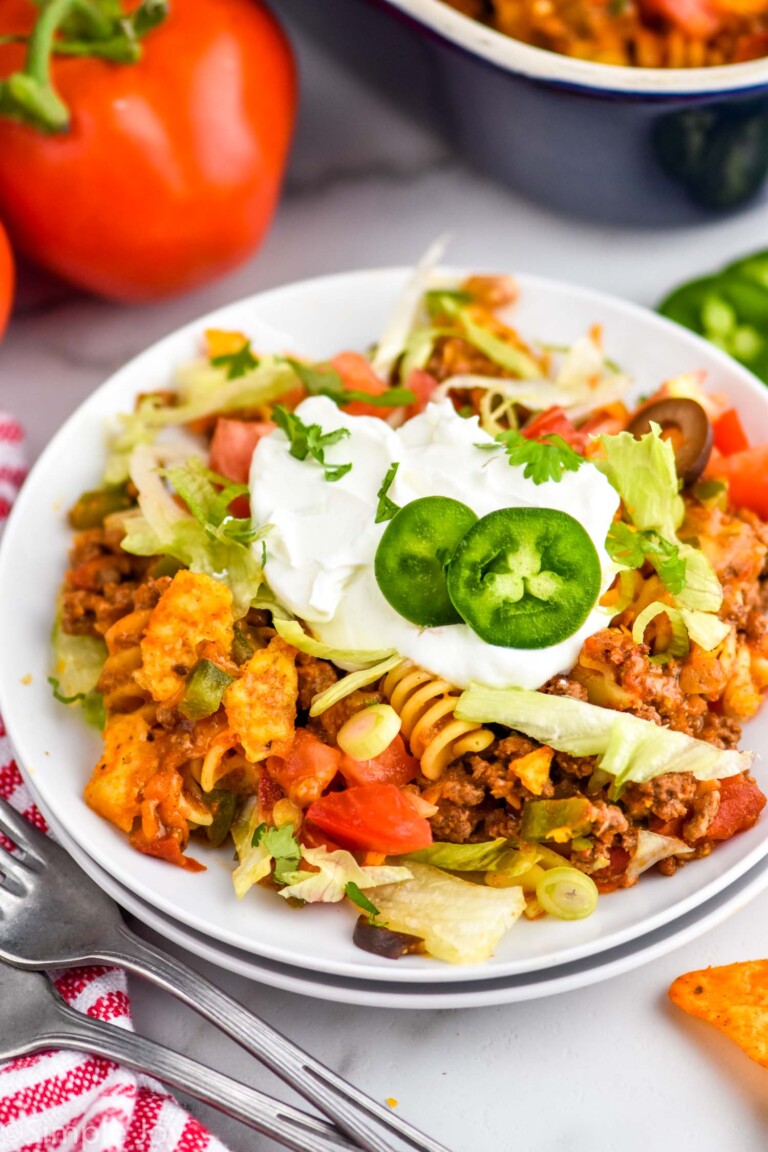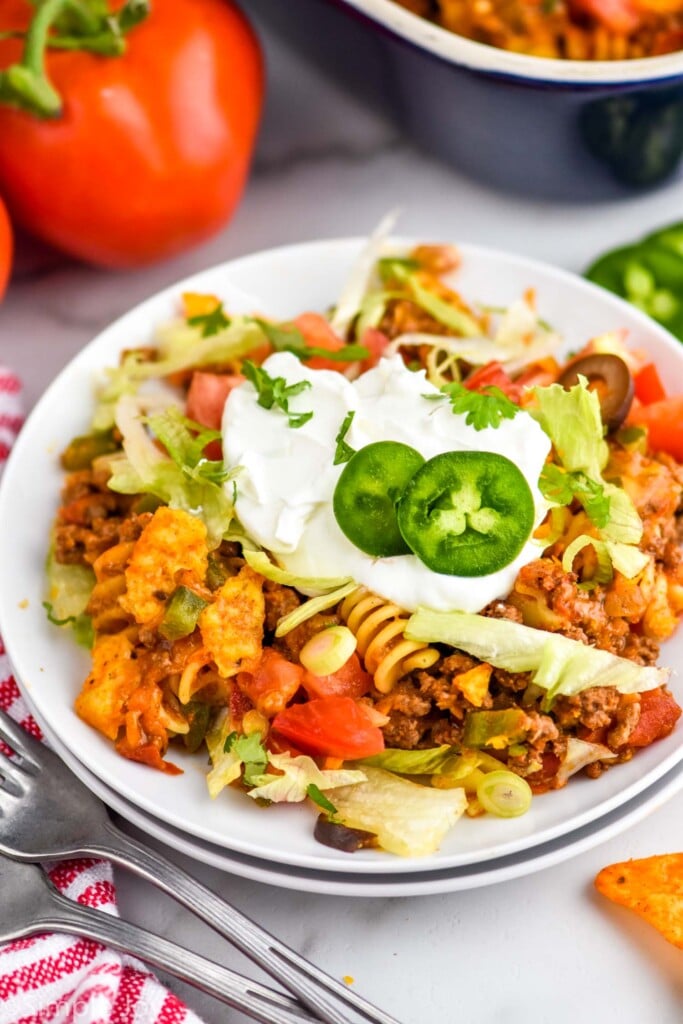 What to Serve with Taco Casserole
This makes a great recipe on it's own, but if you want to round it out further, here are a few great recipes to add to the table.
Homemade Cornbread: This simple recipe compliments my easy taco casserole perfectly. It can also be made as muffins!
The Best Margaritas: These truly are the best. This is the hill I will die on.
Chips and Corn Salsa: This will make the best appetizer for this amazing spread.
If you make this baked taco casserole or any o fry other recipes, please leave me a comment and let me know what you think!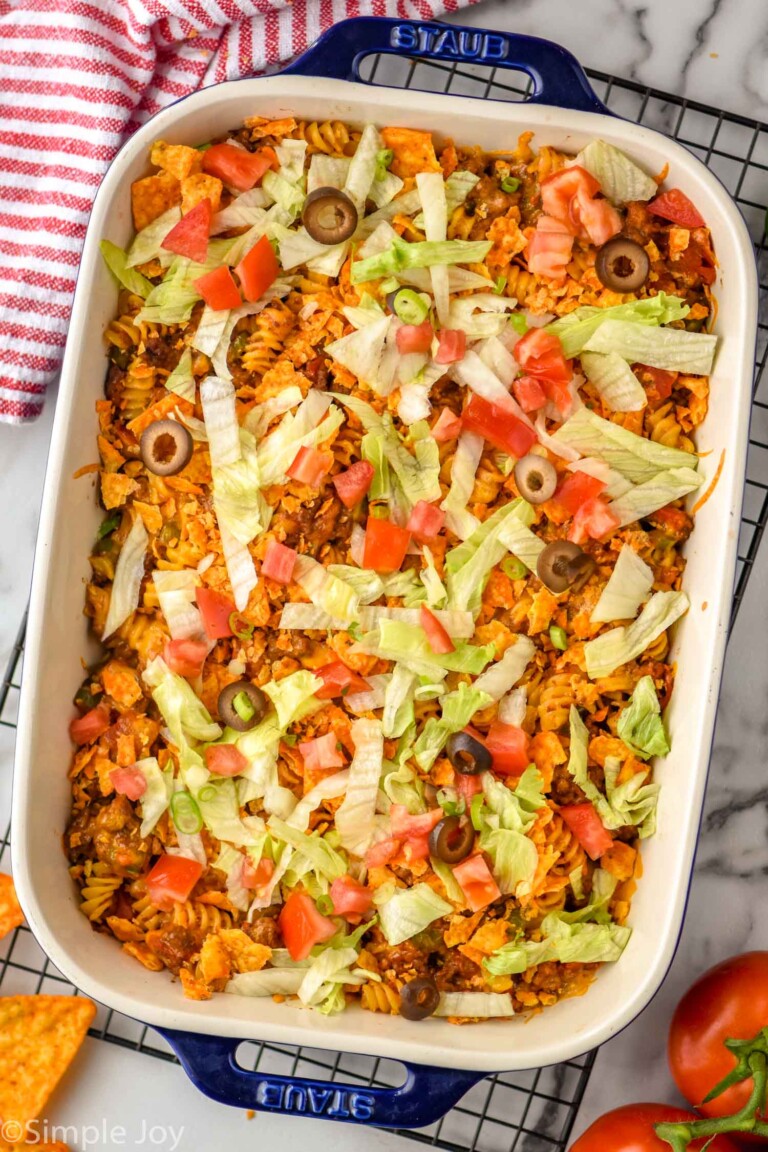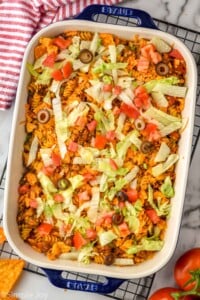 Pasta Taco Casserole
Baked Taco Casserole is a quick comfort meal on busy weeknights when dinner seems impossible. Meaty, cheesy pasta topped with crunchy Doritos and tons of flavor, this hearty recipe comes together fast!
Ingredients
1

tablespoon

olive oil

1

yellow onion

diced

1

green bell pepper diced

1

pound

ground beef

1

ounce

taco seasoning

(or 3 tablespoons of homemade seasoning)

1

cup

salsa

14

ounces

diced tomatoes

drained

1/2

pound

cooked rotini

(for gluten free use gf noodles, read here for low carb options)

2

cups

cheddar cheese

1

cups

crushed Doritos
Instructions
Preheat your oven to 350 degrees.

In a large skillet over medium heat the olive oil.

Add the onion and green bell pepper and cook until softened, about four minutes.

Add in the ground beef and cook until no longer pink. Add in the taco seasoning and then drain the fat off of the beef and veggies.

Spray a 9 by 13 inch baking dish with cooking spray. To the baking dish add the beef and veggies, cooked pasta, salsa, diced tomatoes, and cheddar cheese. Mix to combine and then spread to an even layer.

Bake for 20 minutes and then top with crushed Doritos and serve.
Serving:
1.25
cups
Calories:
668
kcal
(33%)
Carbohydrates:
61
g
(20%)
Protein:
28
g
(56%)
Fat:
36
g
(55%)
Saturated Fat:
11
g
(69%)
Polyunsaturated Fat:
4
g
Monounsaturated Fat:
1
g
Cholesterol:
71
mg
(24%)
Sodium:
1014
mg
(44%)
Potassium:
291
mg
(8%)
Fiber:
5
g
(21%)
Sugar:
6
g
(7%)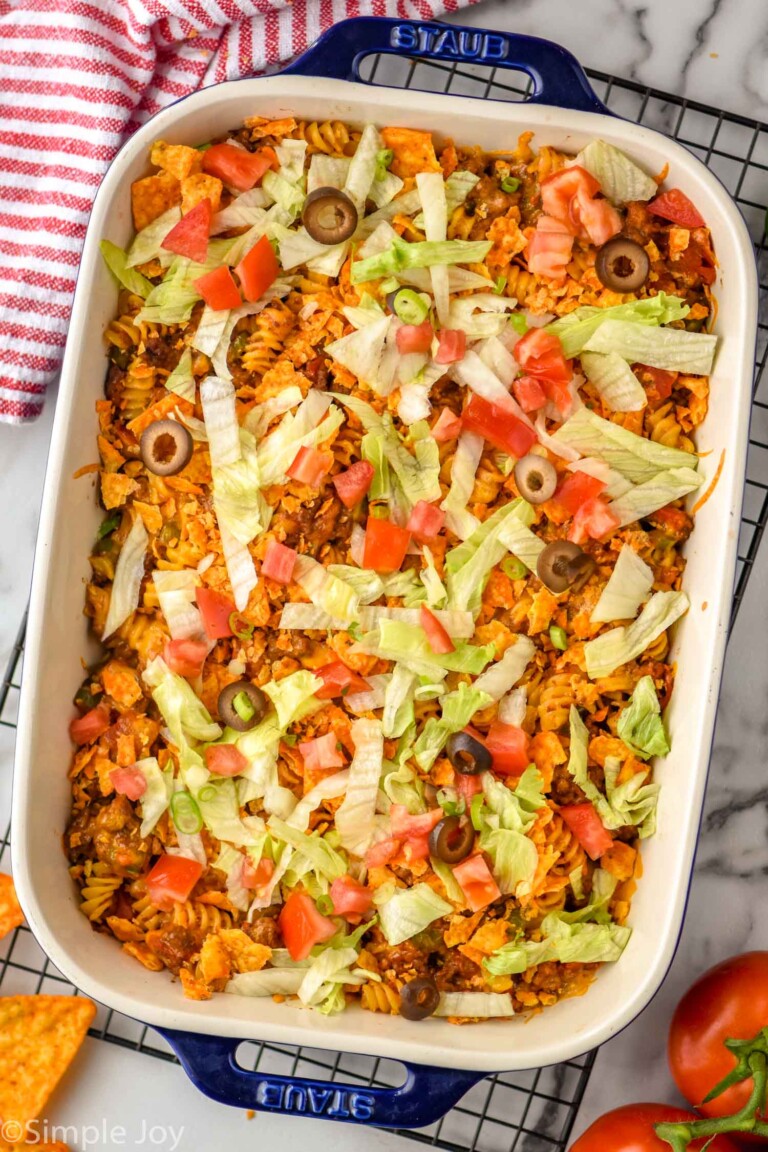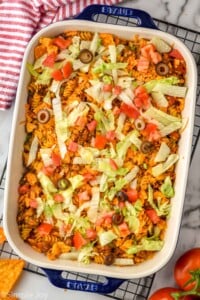 did you make this
Pasta Taco Casserole