Turkey Tenderloin is a delicious and easy dinner idea. This perfect turkey breast tenderloin rests in the best marinade, and then bakes up for a simple, healthy, delicious dinner.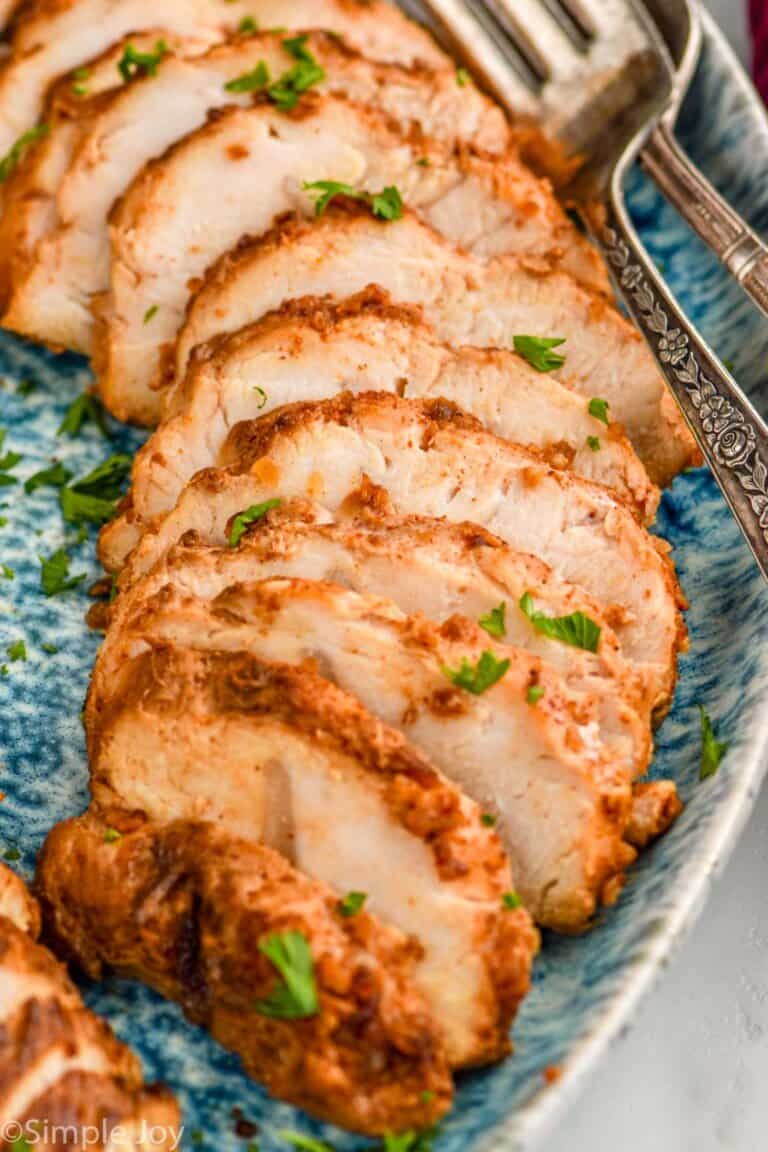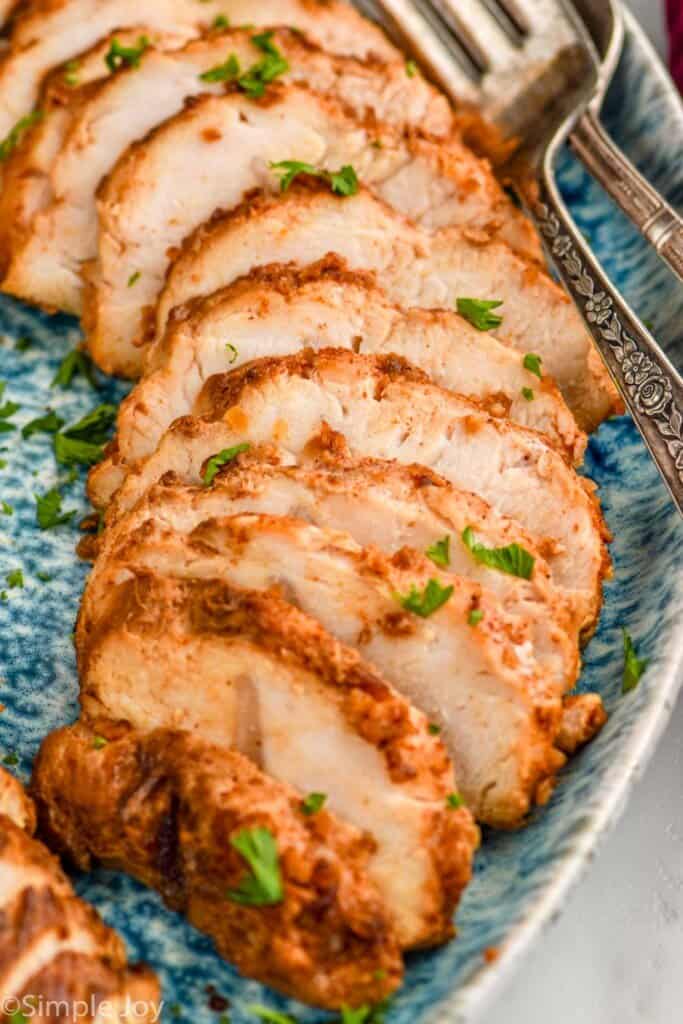 I have such a delicious dinner recipe for you today that requires so little hands on time. Marinating meat and baking it before dinner may take a little bit of planning, but it is so worth it. With this Turkey Tenderloin recipe we are using a really simple marinade with ingredients you probably already have on hand.
What we are left with after baking is a melt in your mouth turkey tenderloin that is full of smokey flavor with the smallest hints of sweet and spice. This is a light and healthy low carb dinner that you will come back to over and over.
Reader Review
Another delicious recipe from you! We really enjoyed this and I was apprehensive of the marinade, but it was so good. Another one of your recipes I would recommend.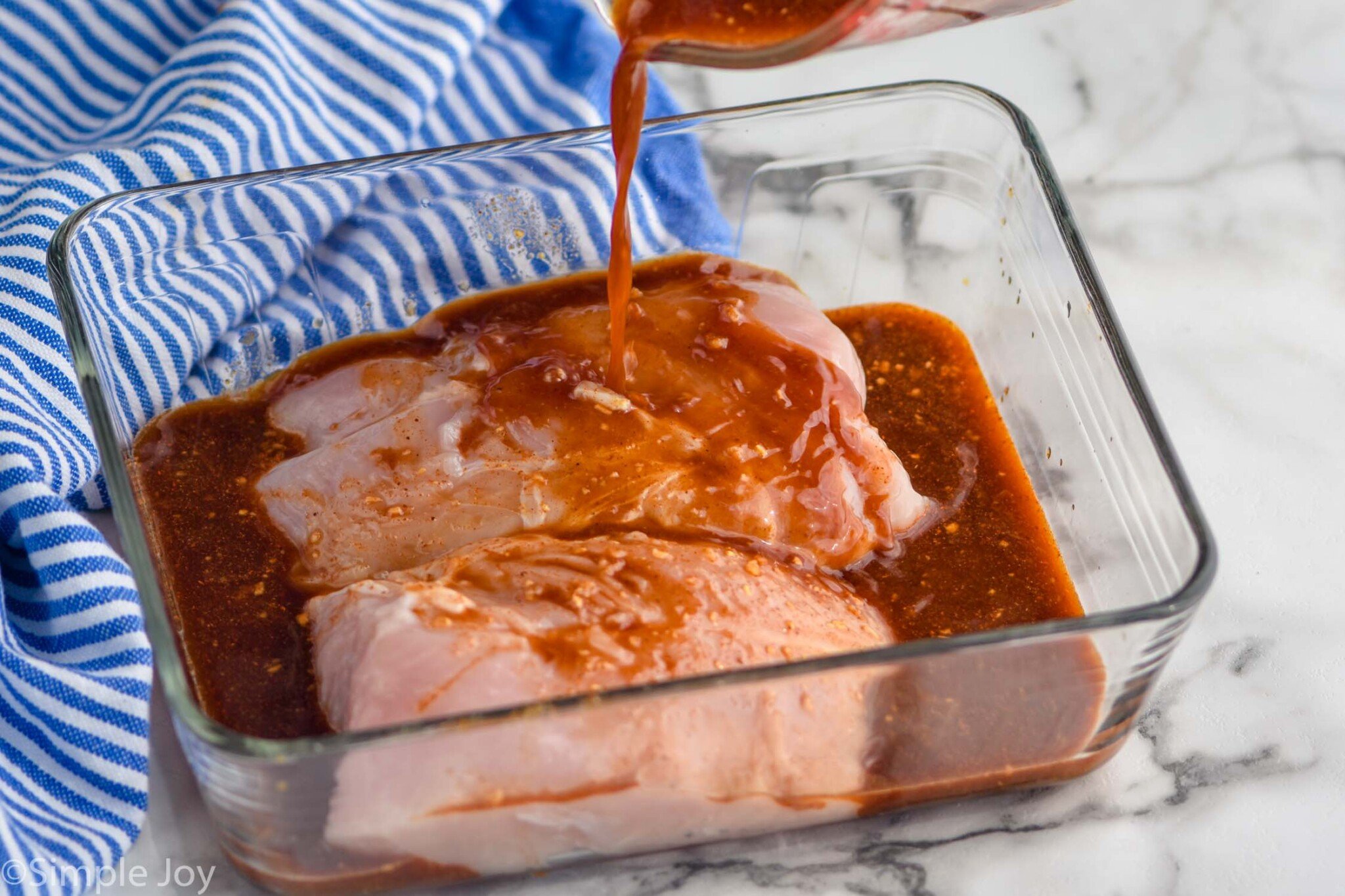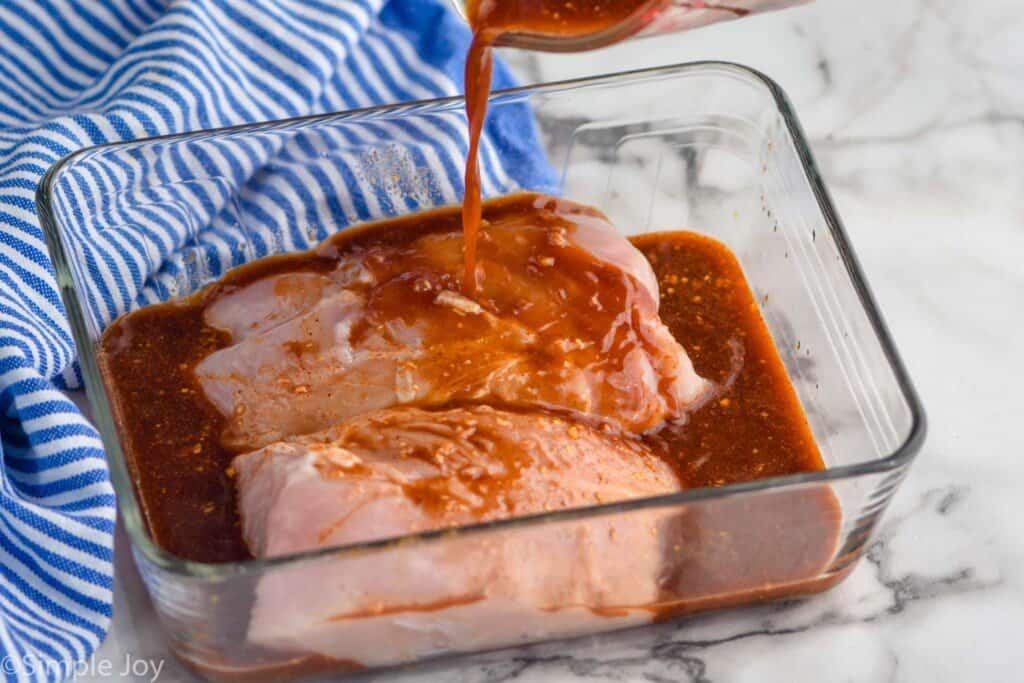 How to Cook Turkey Tenderloin
Marinate the turkey tenderloin. The first step in this recipe is to whisk together a simple marinade. Let the turkey sit for 2 to 24 hours in the refrigerator.
Bake the turkey. After marinating, the turkey is removed from the marinade. You then bake it in the oven for 45 to 50 minutes.
Let the turkey rest. After roasting any meat, you should let it rest for 10 minutes before slicing. This prevents the juices from running out of the meat and leads to juicier cuts.
Slice and enjoy.
Turkey Tenderloin Marinade
We tweaked and tested the marinade a few times until we were left with something we really fell in love with. I hope you enjoy it as much as we do. For the full measurements, please scroll to the bottom of the post and find the printable recipe card.
apple cider vinegar
low sodium soy sauce
lime juice
garlic cloves
brown sugar
chipotle powder
dried onion flakes
chili powder
ground mustard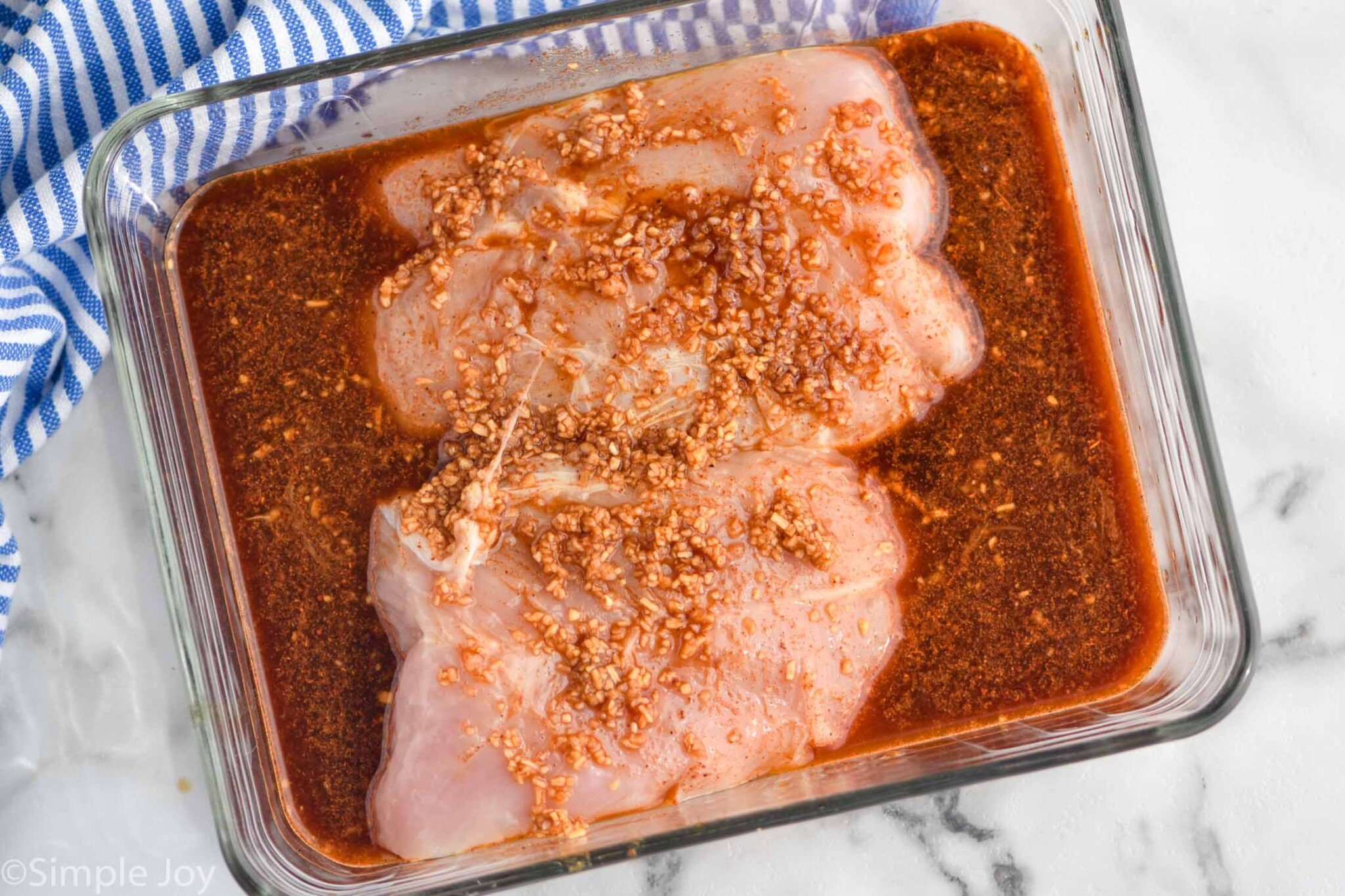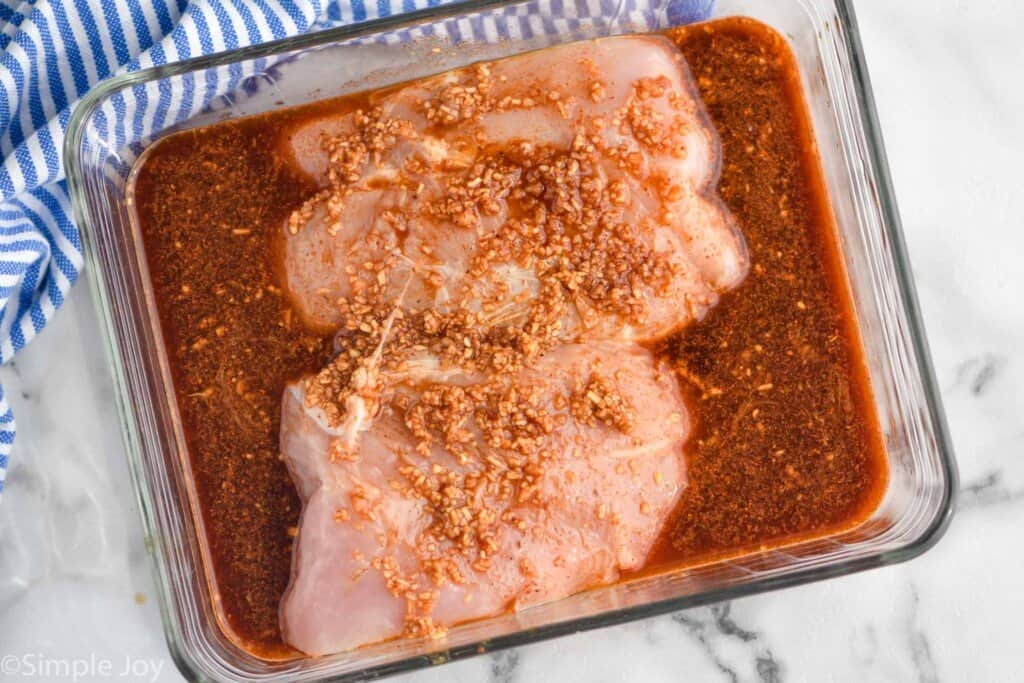 How Long to Marinate Turkey Tenderloin
A common misconception is that you can't marinate meat for too long. Or that the longer you marinate the meat the better. This is actually not true. The acid that we use in a marinade, in this case the apple cider vinegar and the lime juice, are great because they break down the outside of the meat. This allows the rest of the flavors to penetrate the meat.
However, if you marinate meat for too long, the meat will break down too much. This will lead to meat that isn't tender, but rather gummy. No one wants that. A good rule of thumb is to not marinate your meat for longer than 24 hours. Because the turkey tenderloin is already quite tender, you can get away with marinating this for 30 minutes.
How to Keep Turkey Moist
Besides a great marinade, the other key to keeping a turkey moist when cooking is to not over cook it. This recipe goes from underdone to done very quickly. In our oven, it reached 165 degrees at about 47 minutes.
I highly recommend investing in an instant read thermometer so that you can pull this out of the oven right when it hits 165 degrees. You can even it pull it out a minute or two before and it will continue cooking outside of the oven. Don't be shy about testing the meat. At about 40 minutes take a read of it so you know how quickly it is cooking.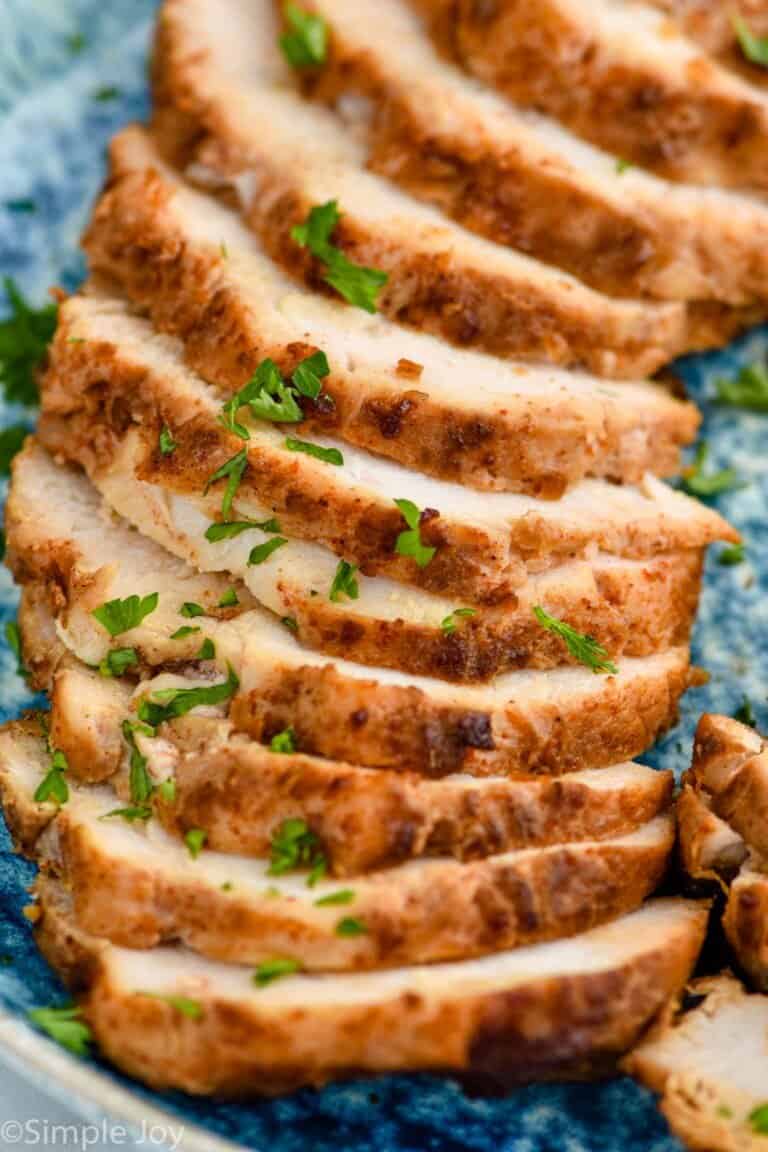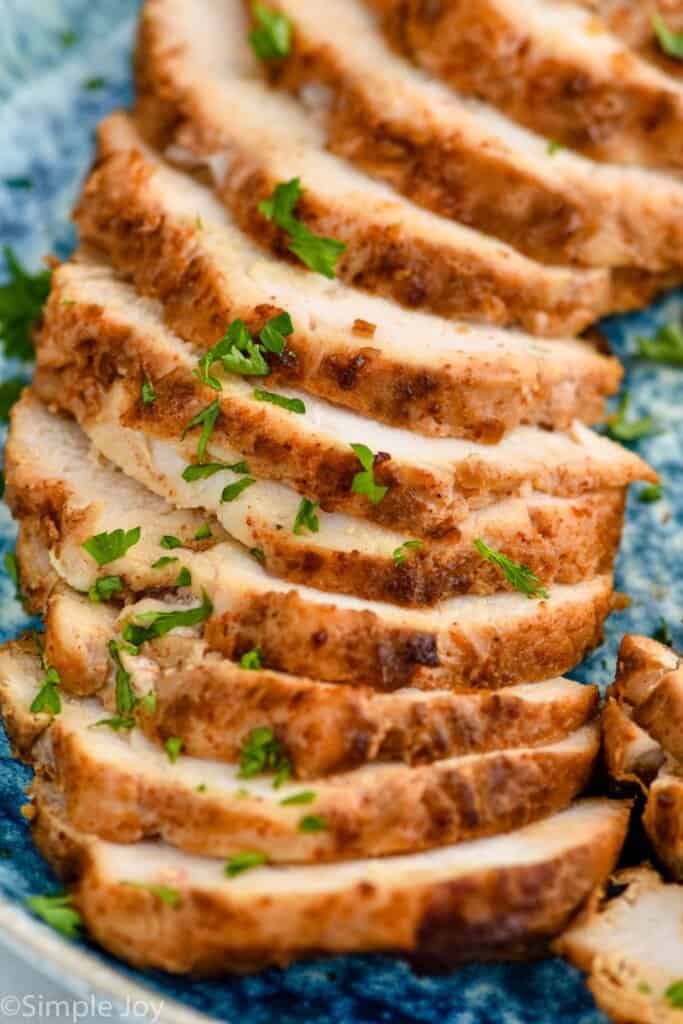 FAQ
What is a turkey tenderloin?
A turkey tenderloin comes from the breast of the turkey.
What temperature is turkey done at?
A turkey is done cooking when it reaches an internal temperature of 165 degrees.
What temperature should turkey tenderloin be cooked at?
This recipe should be roasted at 350 degrees for approximately 45 to 50 minutes.
What can I use instead of soy sauce?
If you are allergic to soy, you could replace it with Braggs Liquid Aminos or Coconut Aminos. If you are using Braggs, I recommend cutting the amount used as it is much more salty. Start with half and taste the marinade before adding the meat.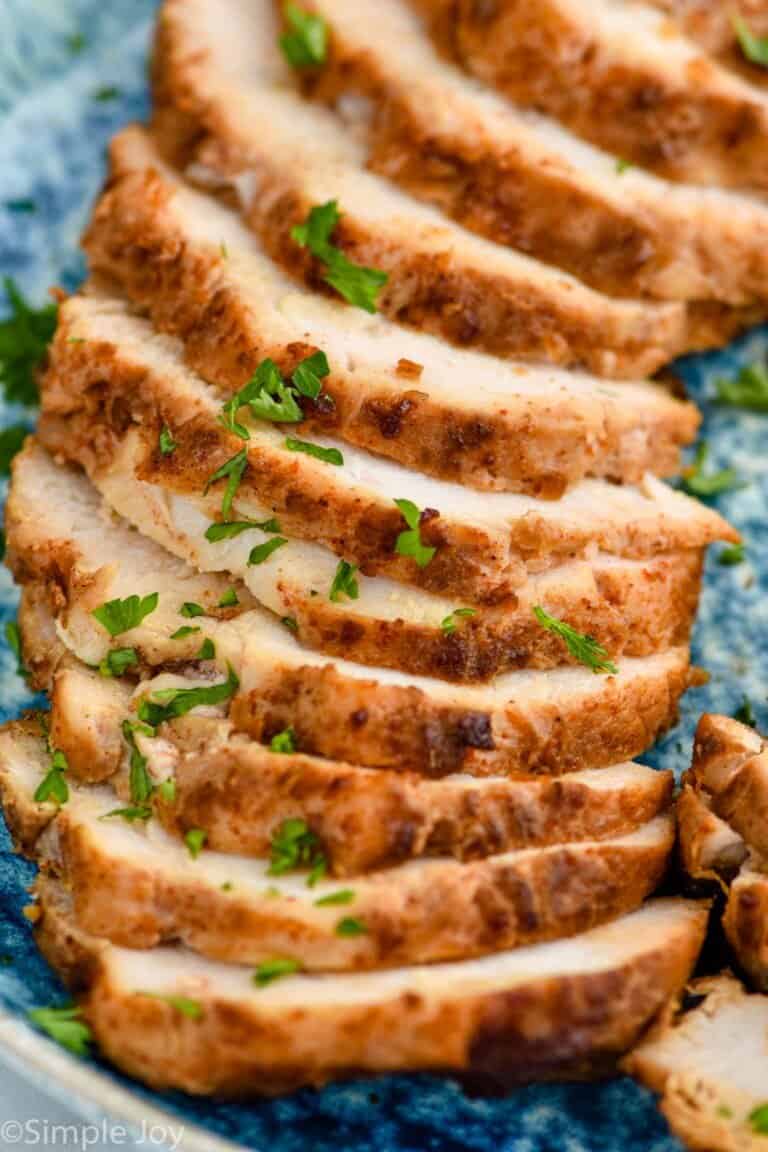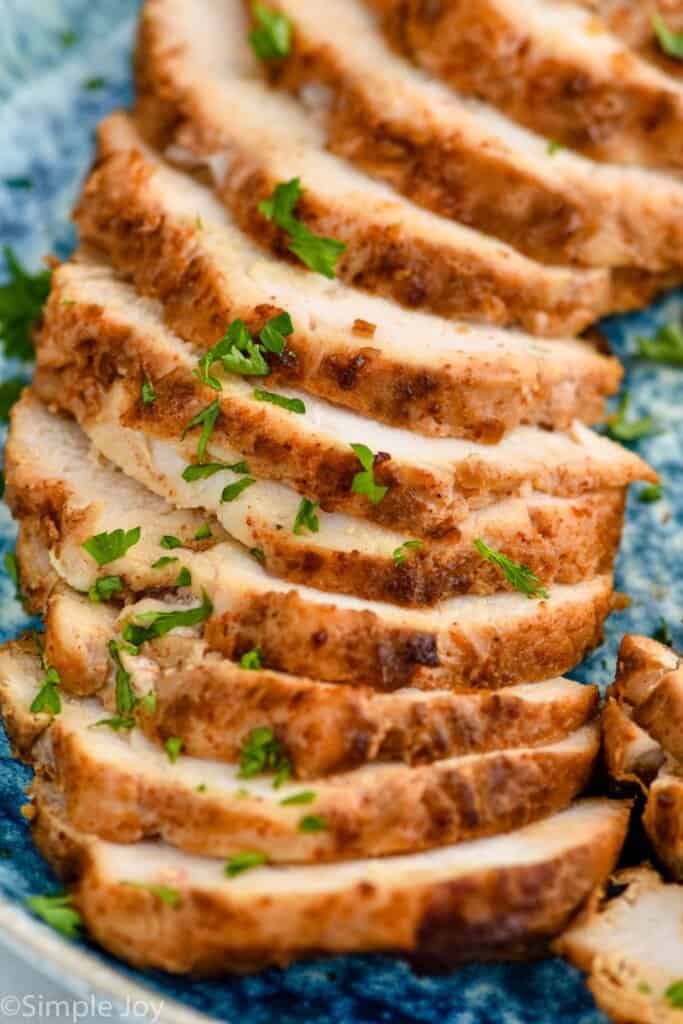 What to Serve with this Turkey Tenderloin Recipe
There are so many great side dishes to serve with this recipe. If you are specifically looking to keep this dinner low carb, I recommend the following sides:
If you aren't looking to keep things low carb, I would make these amazing Cheddar Bay Biscuits to go with this.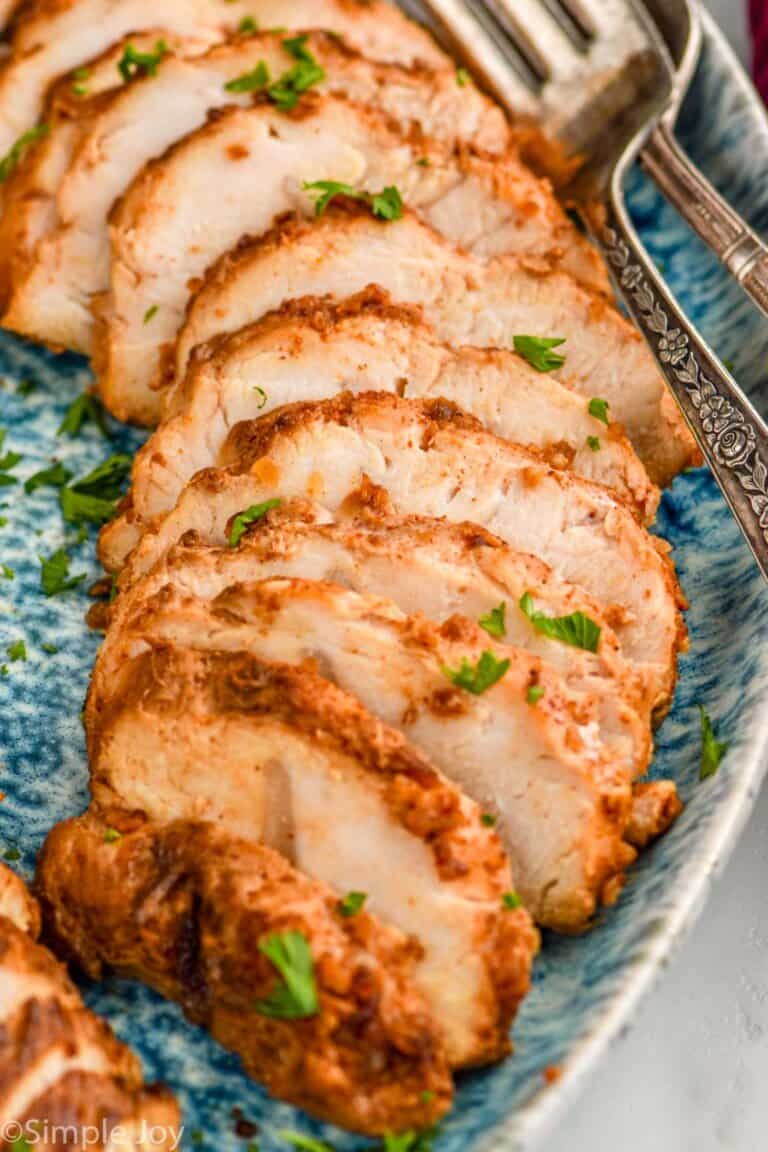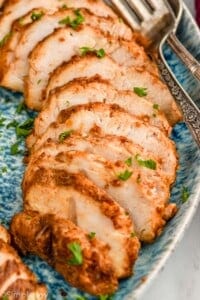 Turkey Tenderloin
Turkey Tenderloin is a delicious and easy dinner idea. This perfect turkey breast tenderloin rests in the best marinade, and then bakes up for a simple, healthy, delicious dinner.
Ingredients
1.5

pounds

turkey tenderloin
Turkey Tenderloin Marinade
1/3

cup

apple cider vinegar

1/2

cup

low sodium soy sauce

2

teaspoons

lime juice

3

garlic cloves

minced

2

teaspoons

brown sugar

2

teaspoons

chipotle powder

2

teaspoons

dried onion flakes

1

teaspoon

chili powder

1

teaspoon

ground mustard
Instructions
Make the marinade by combinging all of the ingredients in a small bowl.

Put the turkey in a sealable container. Pour the marinade over the turkey tenderloin. Place the container in the refrigerator for 30 minutes or up to 24 hours.

Preheat the oven to 350 degrees. Spray a baking dish with cooking spray. Take the turkey out of the marinade and place in the baking dish, discarding the rest of the marinade.

Bake uncovered for 45 to 50 minutes or until the turkey registers 165 degrees. We highly recommend checking the temperature at 40 minutes as this recipe can quickly go from undercooked to over done.
Calories:
197
kcal
(10%)
Carbohydrates:
3
g
(1%)
Protein:
43
g
(86%)
Fat:
1
g
(2%)
Cholesterol:
105
mg
(35%)
Sodium:
420
mg
(18%)
Potassium:
36
mg
(1%)
Sugar:
1
g
(1%)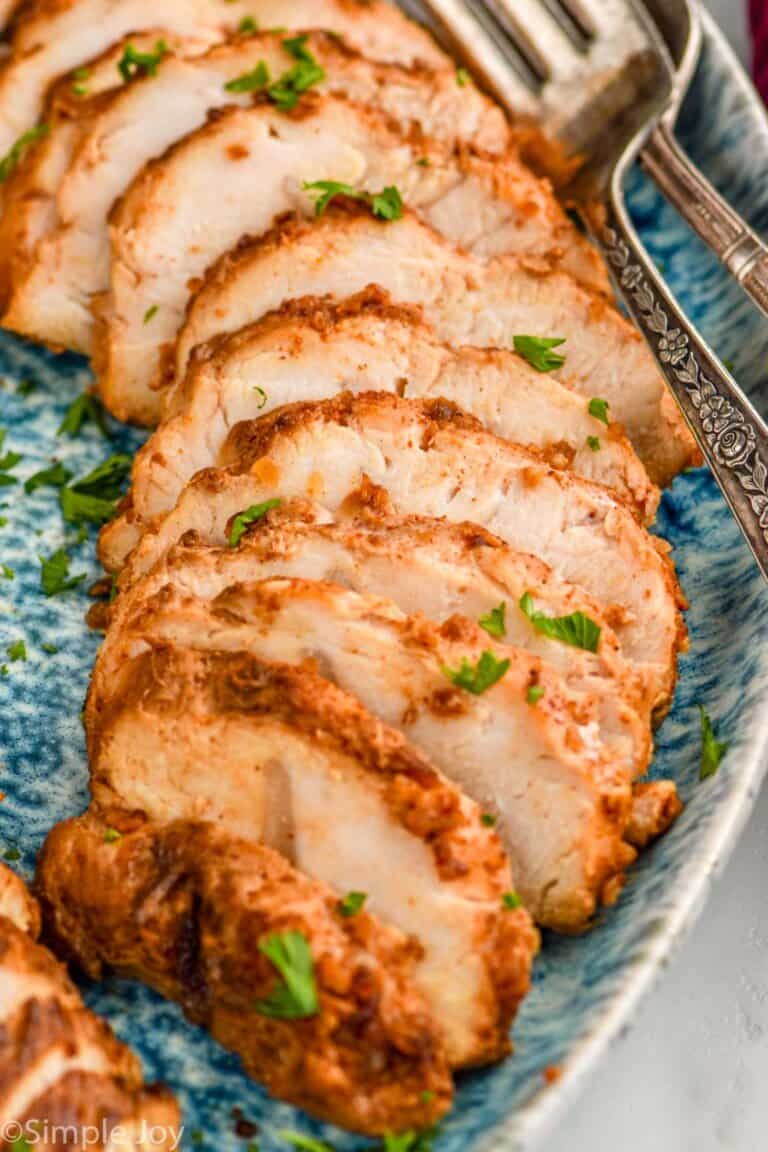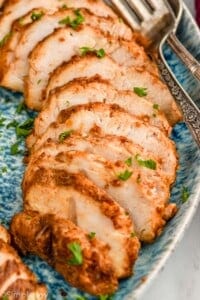 did you make this
Turkey Tenderloin
you might also like . . . .