London Broil Marinade is easy to throw together and is perfect for making a tender London Broil recipe. You will want to hang on to this recipe for the perfect Sunday night dinners.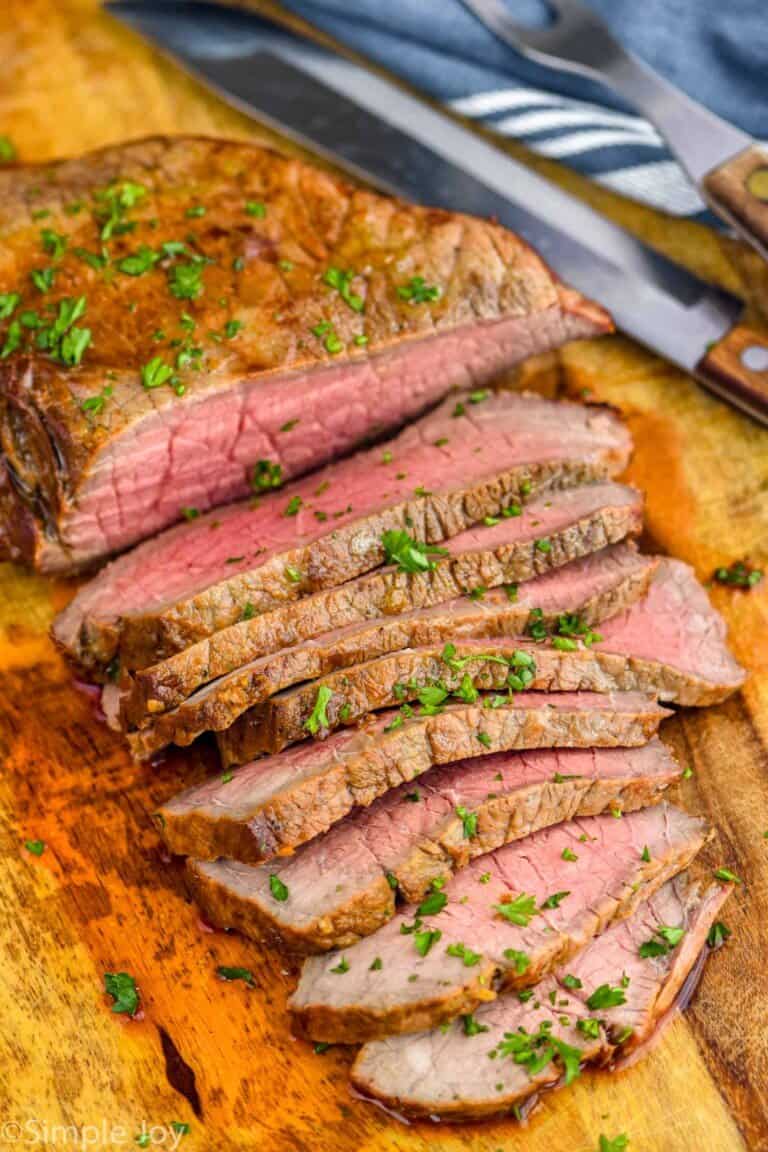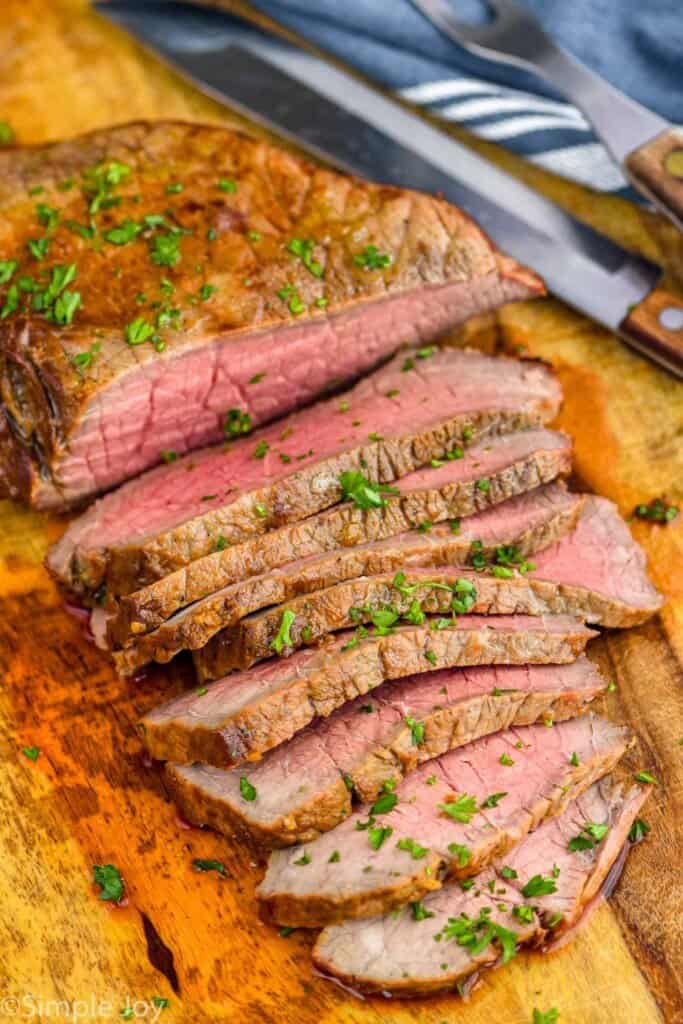 Our family just got home from vacation and we are immediately jumping back into life, kid activities, and getting everyone ready for back to school. But the thing at the forefront of my mind? Family dinners.
When our family's life gets crazy beyond belief, I feel like family dinners are the thing that bring us back to center and help us reconnect and check in with each other. To make family dinners happen, we need a thick binder full of easy dinner recipes that we can whip together in a snap and that everyone loves.
This London Broil recipe absolutely fits the bill. It is tender, has an easy simple flavor that even the pickiest eater will like, and it can be marinated the night before, making it easy to throw in the oven after you get home from work.
What is London Broil
London Broil actually refers to the method of cooking a roast and not the particular cut of meat. It involves marinating a piece of meat, then broiling and roasting it – as we are doing here.
Most butchers today use top round to make a London Broil. That being said, I have seen some pieces of meat at the grocery store actually labeled "London Broil." Those are fine to buy for this recipe, otherwise, I would recommend looking for Top Round.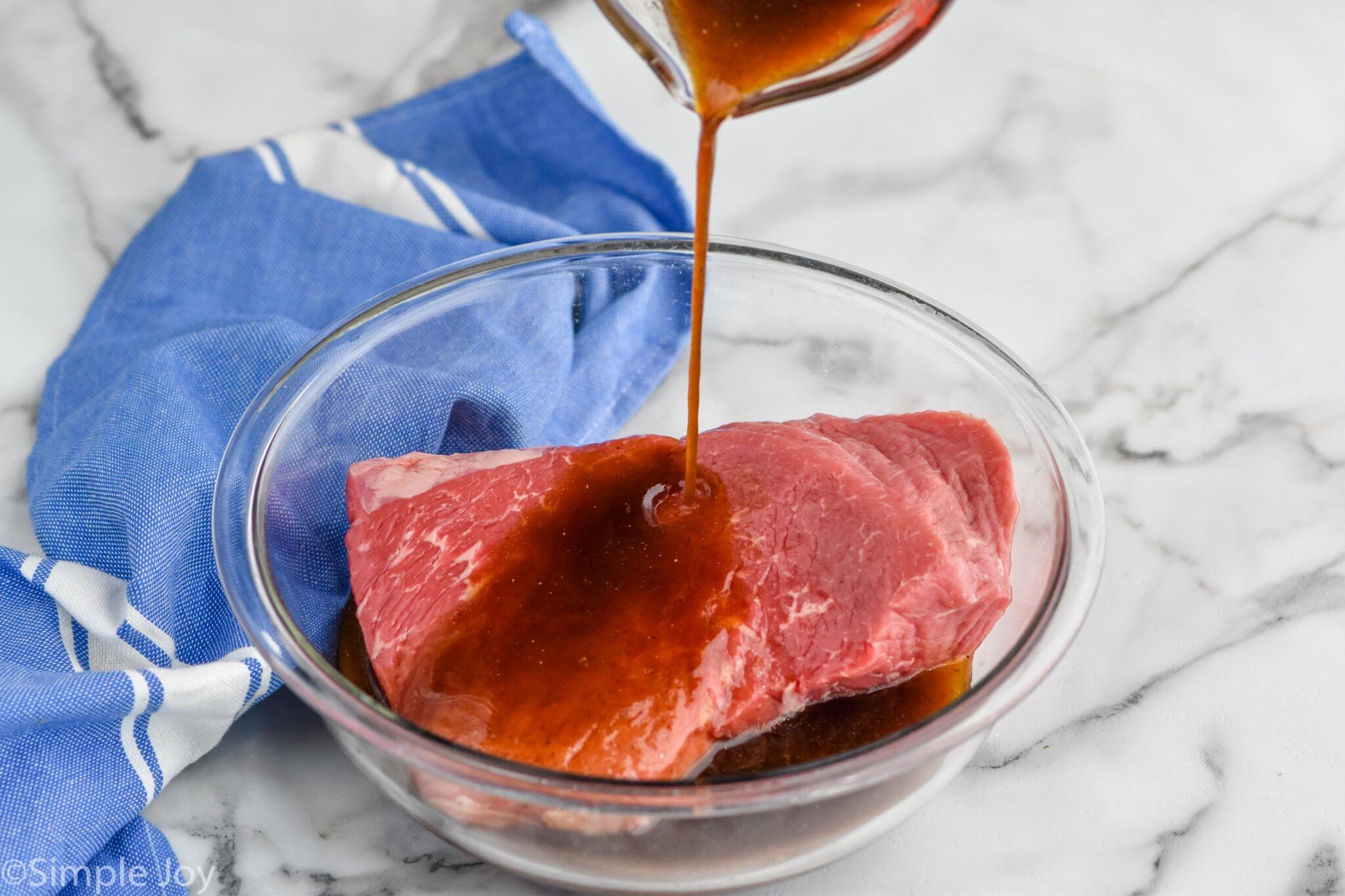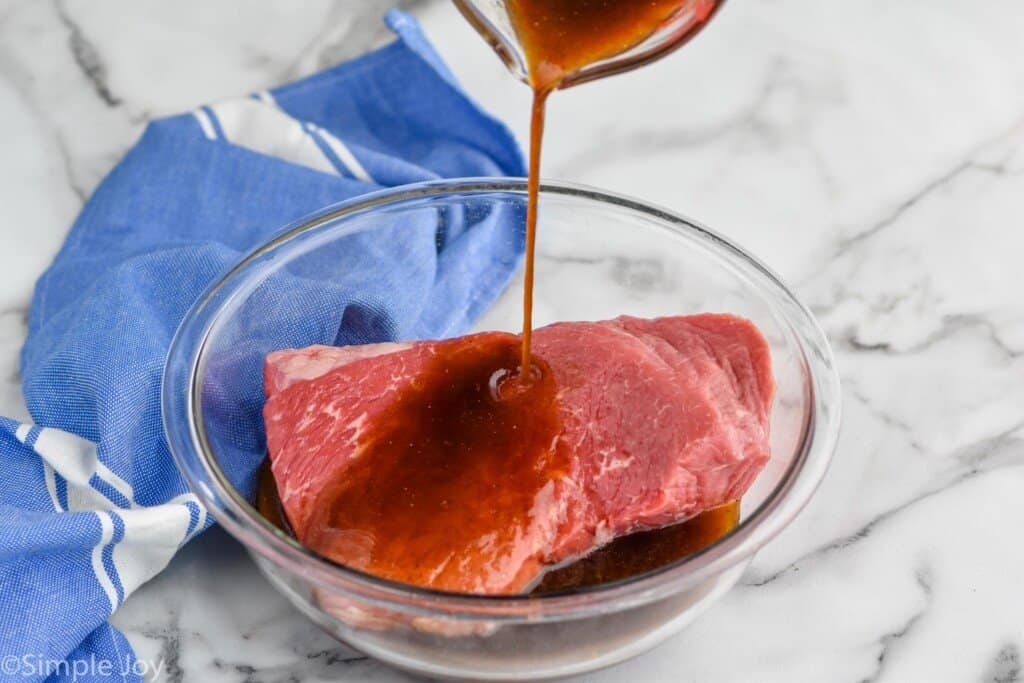 London Broil Marinade
We stuck with very simple ingredients for this marinade. For the full list of measurements, please see the recipe card below.
Olive Oil is our base for this marinade. You could also go with grape seed oil as it has a great taste but will also handle the heat of the broil very well.
Soy Sauce is acting as our salt in this marinade. It helps the other flavors penetrate the meat and also makes gaps in the roast to help hold in moisture.
We are adding some brown sugar for depth of flavor in this recipe. I would like to point out that it is only 1 tablespoon. You can certainly cut it out if you need to, but the amount of total sugar you are left with in each portion of meat is very minimal.
Lemon juice acts as our acid in this recipe. It is another way to tenderize the meat. A great substitute for it would be Balsamic Vinegar.
Worcestershire sauce is being added for flavor.
Finally, we are adding some garlic cloves and black pepper to enhance the flavor.
Additional Marinade Ideas
If you are looking to play around with this recipe, I would suggest adding some of the following.
Balsamic vinegar for the lemon juice would be a delicious twist, but keep the amount the same.
Up the amount of garlic in this recipe. We are only calling for 2 cloves, but I would be a happy girl with about 6 cloves.
Add in some dried herbs. I think some Rosemary or Thyme would be fantastic in this recipe. I would toss in about 2 teaspoons of either or 1 teaspoon of both.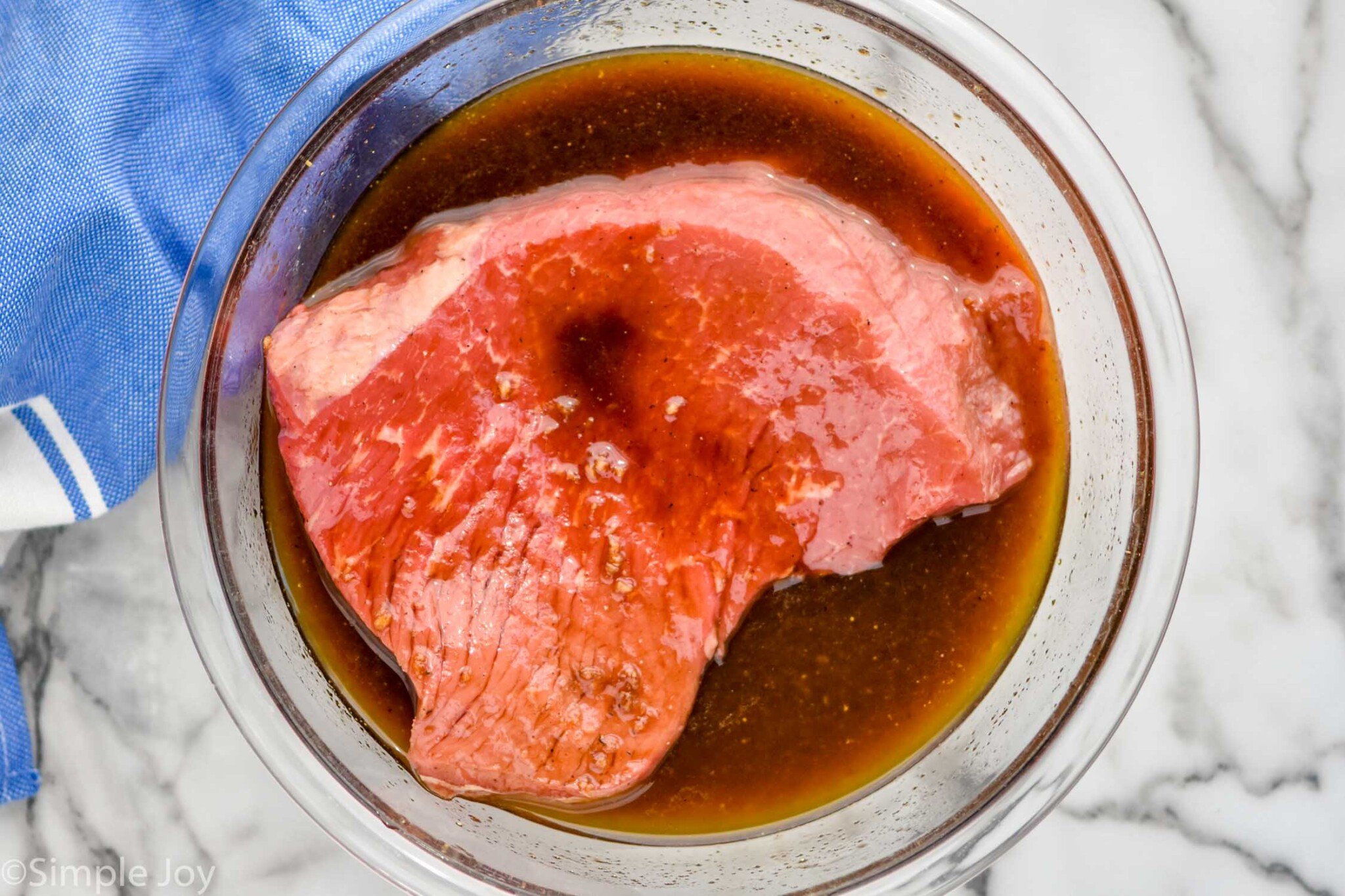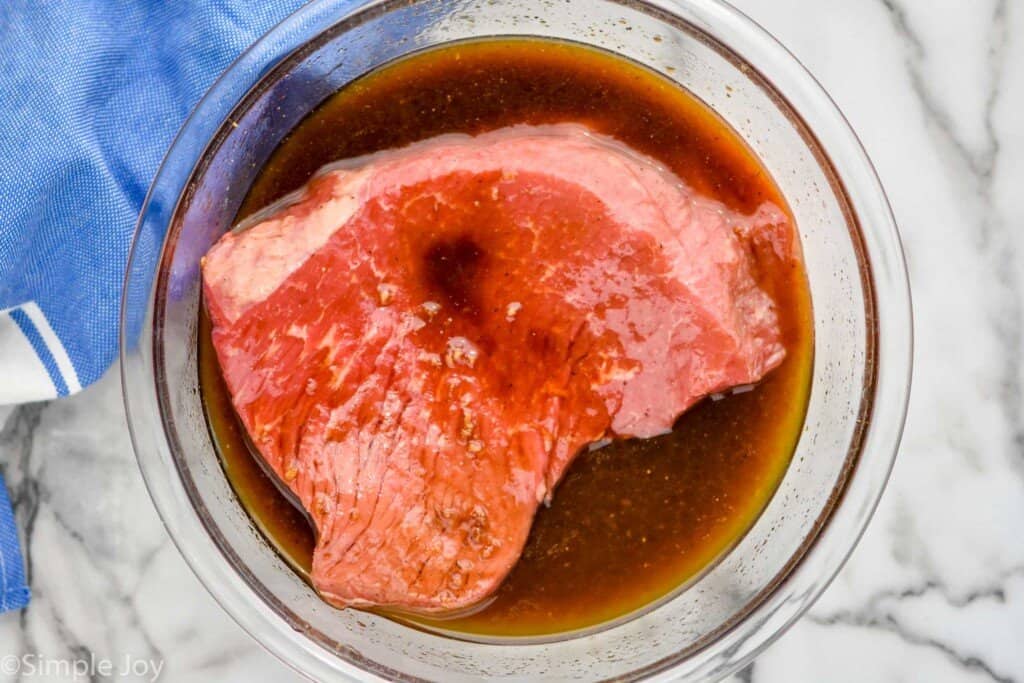 How long should you marinate beef?
The old adage that the longer you marinate meat the better it is just isn't quite true. We recommend marinating beef for 6 to 24 hours. Longer than 24 hours and the beef will start to break down too much. This is a great recipe to start the night before you want to have it. You can pop it in the oven when you get home from work.
How to Cook London Broil
We are making London Broil in the oven, and it could not be easier.
Place the marinated piece of meat on a rack in a roasting pan. Roasting pans with racks typically run anywhere from $20 to $50 and are a great addition to the kitchen.
Preheat the oven to 450 degrees. Putting the meat in the high heat oven for 15 minutes will accomplish the broiling we are looking for on the outside of the meat.
Turn the oven down to 350 degrees and finish roasting the meat. The amount of time it will take to finish the meat will greatly depend on the size of the roast. For this 2 1/2 pound piece, we only needed 30 more minutes. Larger cuts, like four pounds, will need closer to an hour to finish roasting once the temperature is turned down. We highly recommend using an instant read thermometer to determine the exact moment to take out your meat. We like taking it out at 125 as it will continue to rise a little as it rests.
Let the meat rest. Take the roast out of the oven and tent it with foil for 10 minutes. Then slice and enjoy.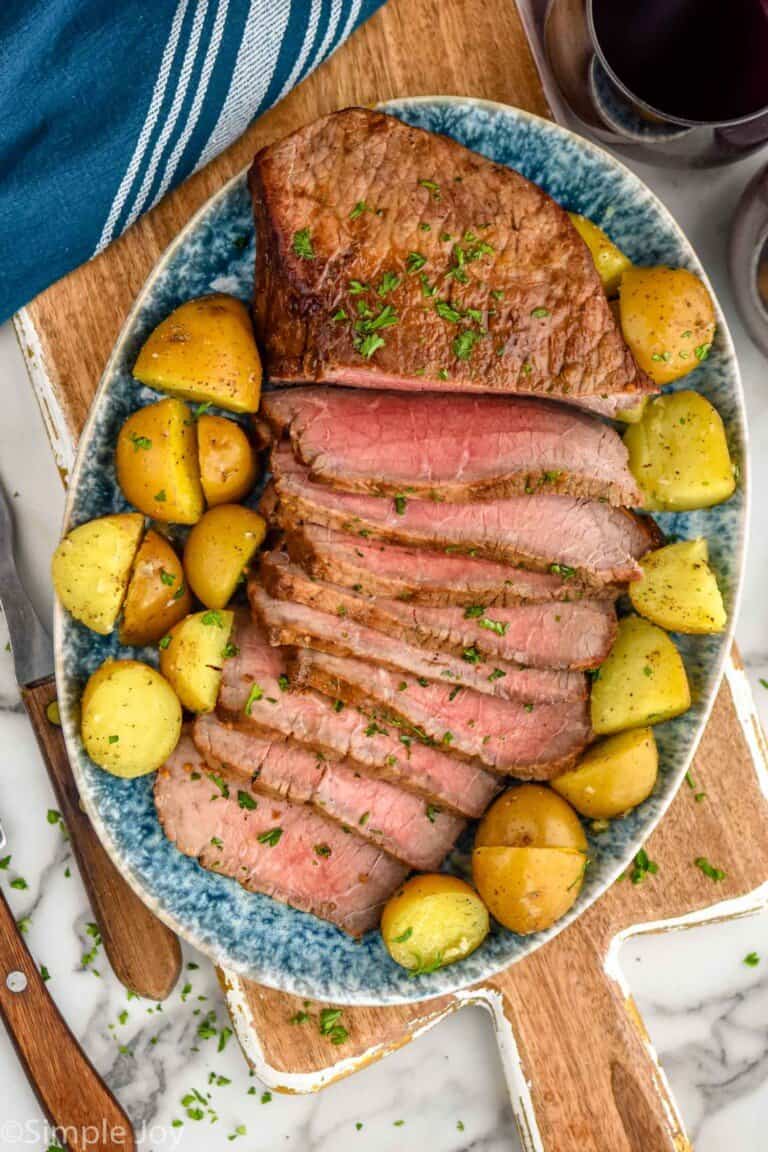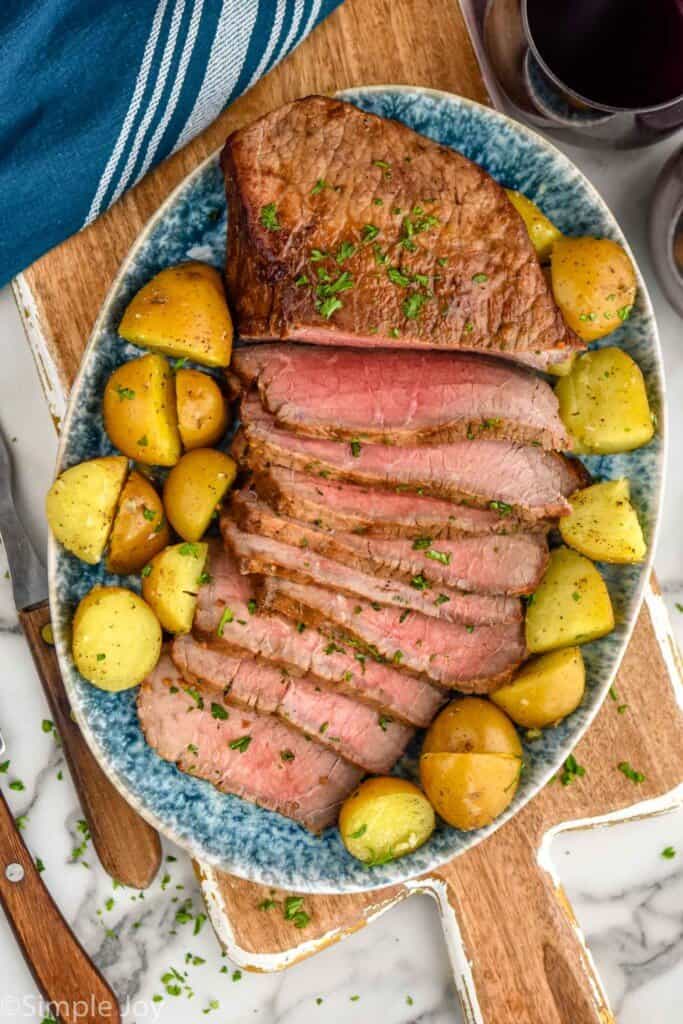 Using an Instant Read Thermometer
Whenever you are cooking a large piece of meat, an instant read thermometer is your best friend. Cuts of meat vary so much in thickness that it is really hard to give you a time that will work for the exact doneness you are looking for.
Instead, I highly recommend investing in an instant read thermometer, that way you can start checking your meat early on (poke it as many times as you want!) to get the exact temperature and doneness that your family is looking for. Taking it out at 125 is great if you like a tender and medium rare piece like you see here.
This is the instant read thermometer that I use in my kitchen.
FAQ
Are London Broil and Top Round the same?
Top round refers to the cut of beef that you are using and London Broil refers to the cooking method. Top Round is often used to make a London Broil and very often, butchers sell it under the name "London Broil."
Can London Broil be cooked in the crock pot?
Technically, it wouldn't be a London Broil anymore because you aren't broiling and roasting it, but you can absolutely make this recipe in the crockpot. I recommend removing it from the marinade, putting it in a 450 degree oven for 15 minutes and then transferring it to a slow cooker fit with a rack on low for 6 hours.
How much London Broil per person?
I would plan on between 1/2 pound and 1 pound of meat per person depending on who is eating with you. Keep in mind that adults will be closer to 1 pound, while children will be closer to 1/2 a pound. If you are adding lots of side dishes, you will need closer to 1/2 a pound per person.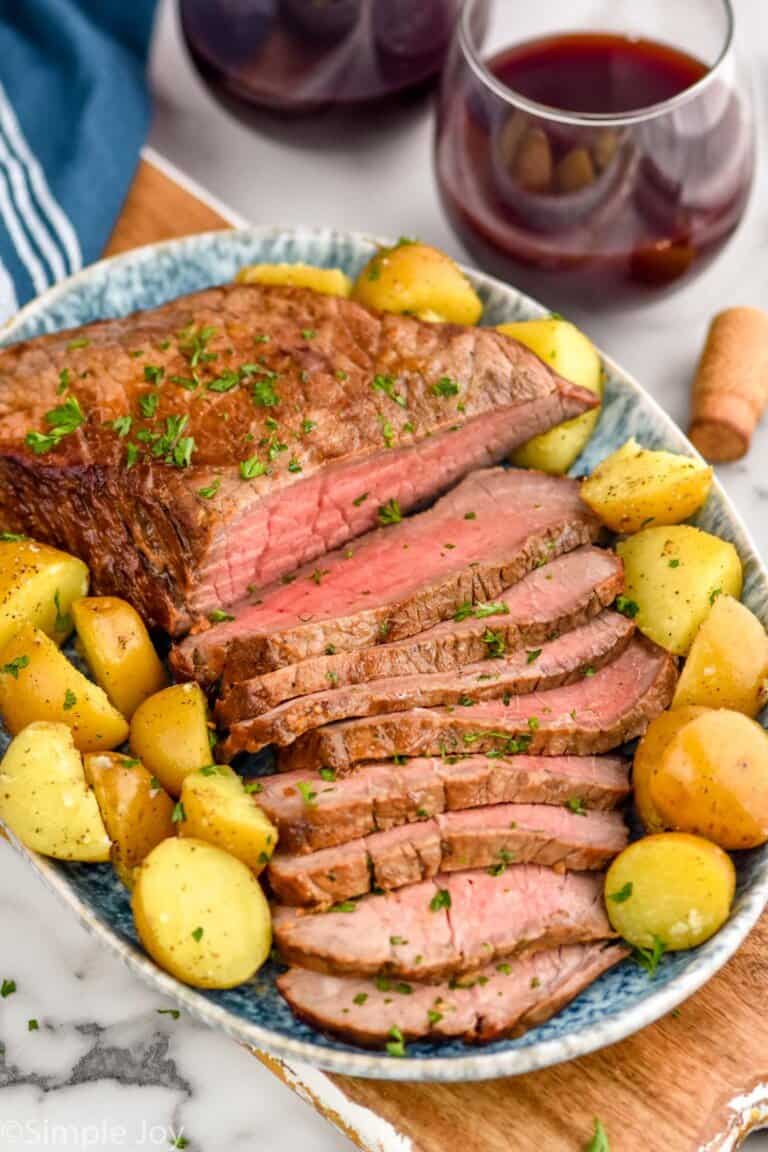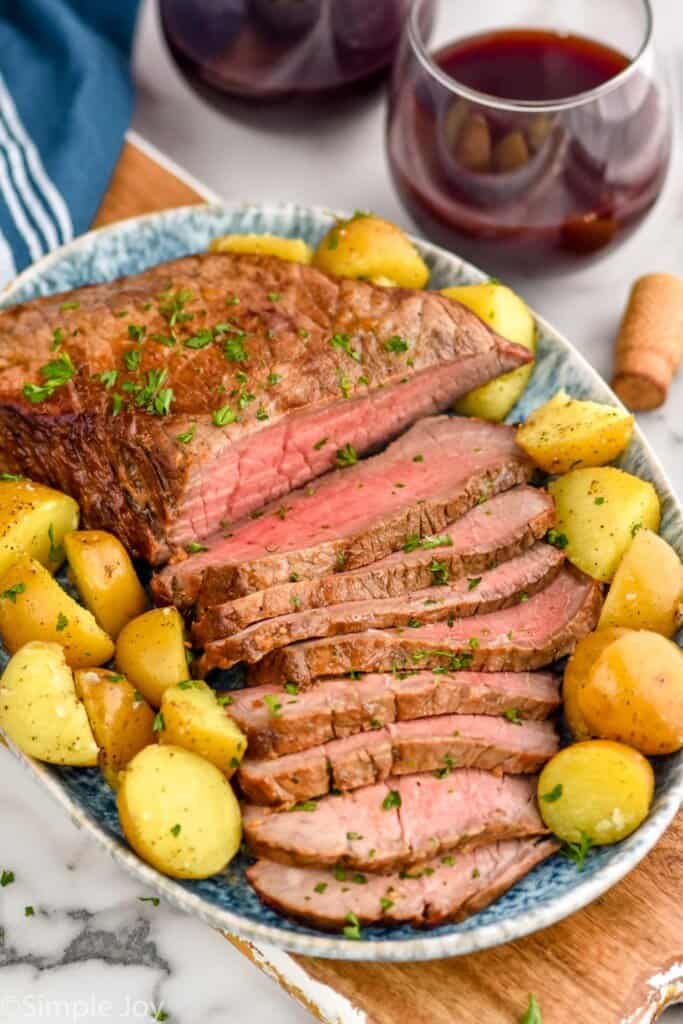 What to Serve with London Broil
If you make this London Broil Marinade or any of our recipes, leave a comment and let us know what you think!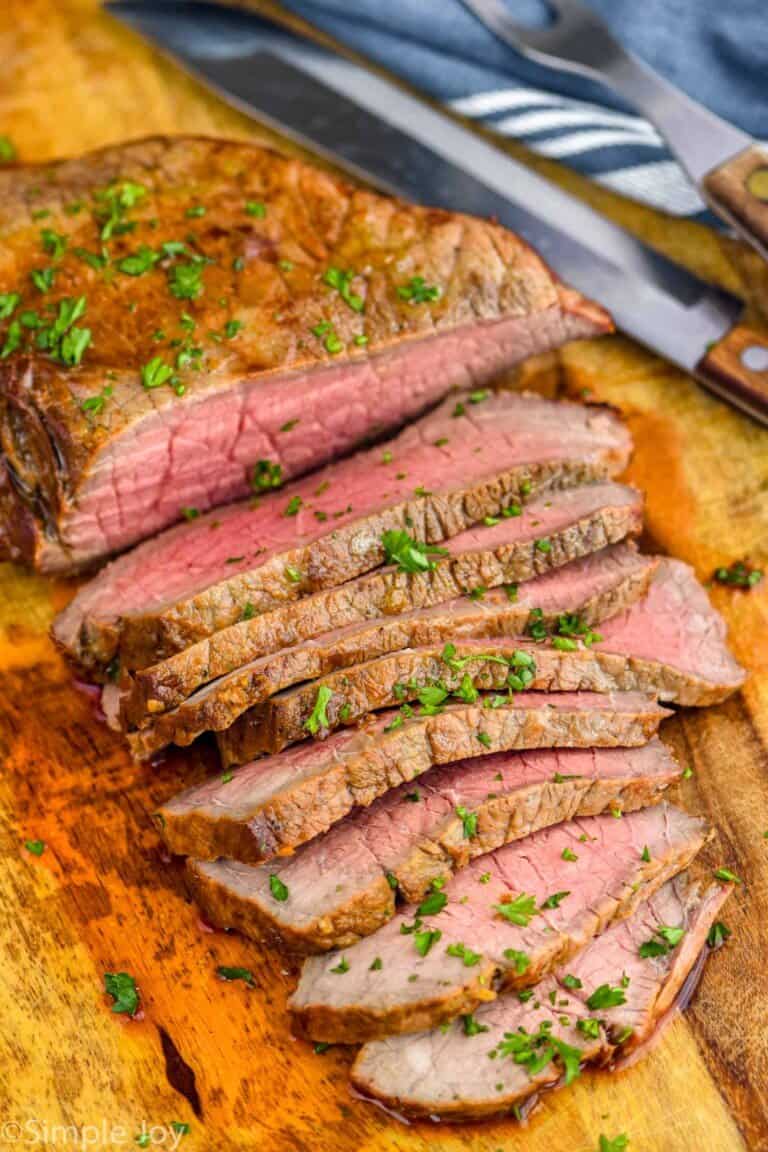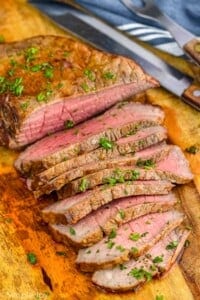 London Broil Marinade
Total:
7
hours
20
minutes
London Broil Marinade is easy to throw together and is perfect for making a tender London Broil recipe. You will want to hang on to this recipe for the perfect Sunday night dinners.
Ingredients
2 1/2

pounds

top round roast

(often also labled London Broil at the store – read more about it here)

1/2

cup

olive oil

1/3

cup

soy sauce

1

tablespoon

brown sugar

packed

1

tablespoon

lemon juice

2

tablespoons

Worcestershire sauce

2

cloves

garlic

minced

1/4

teaspoon

black pepper
Instructions
Whisk together the olive oil, soy sauce, brown sugar, lemon juice, Worcestershire sauce, garlic, and black pepper in a mixing bowl. (Read here for other marinade ideas.)

Add the roast to a large bowl and pour the marinade over the London Broil. Toss to make sure all sides are well covered. Cover the bowl and refrigerate for 6 to 24 hours.

Preheat your oven to 450 degrees. Prepare a roasting pan with a wire rack.

Place the roast on the wire rack, discarding the rest of the marinade. Roast for 15 minutes at 450 degrees. Reduce the temperature of the oven to 350 degrees and continue roasting until the meat registers 125 degrees with an instant read thermometer, about 30 to 45 minutes.

Remove from the oven and let stand for 10 minutes before slicing. Cut in thin slices to serve.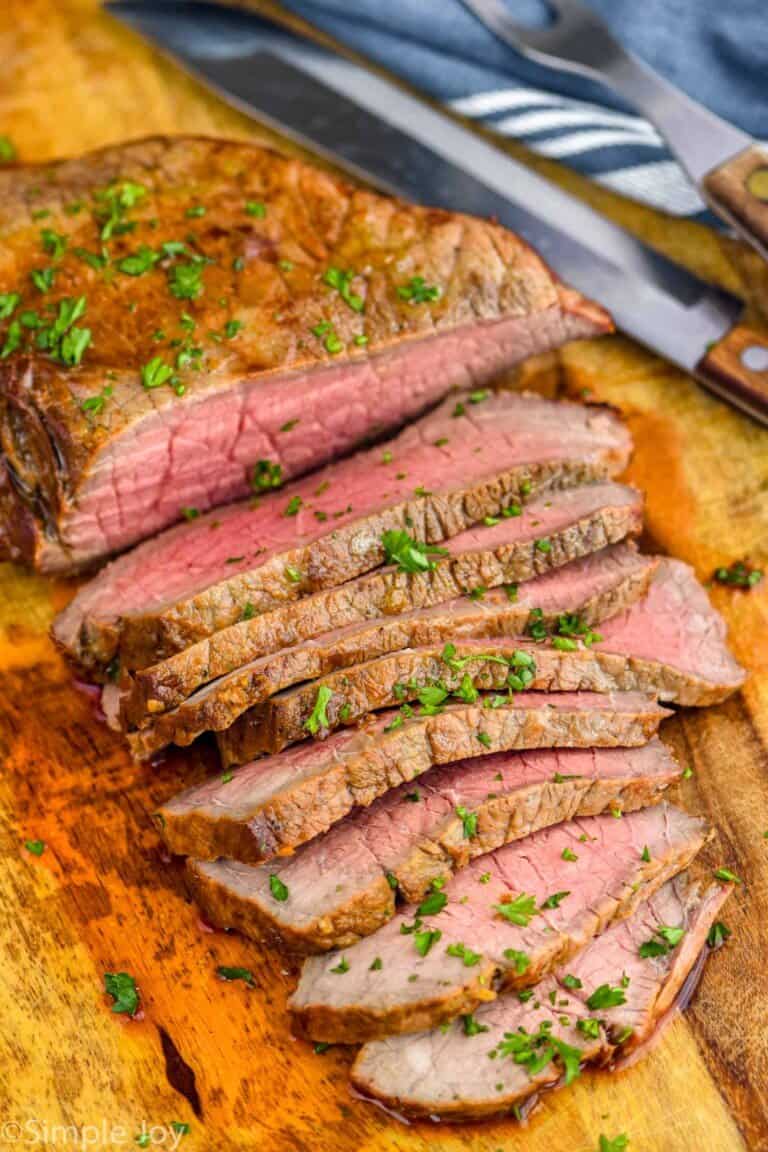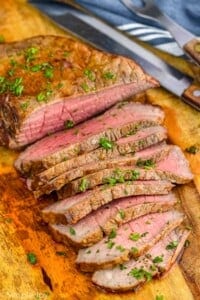 did you make this
London Broil Marinade
you might also like . . .