Caramel Brownies are so easy to make and so delicious! Everyone always wants this caramel brownie recipe. With only six ingredients, this is going to be your new go to brownie recipe!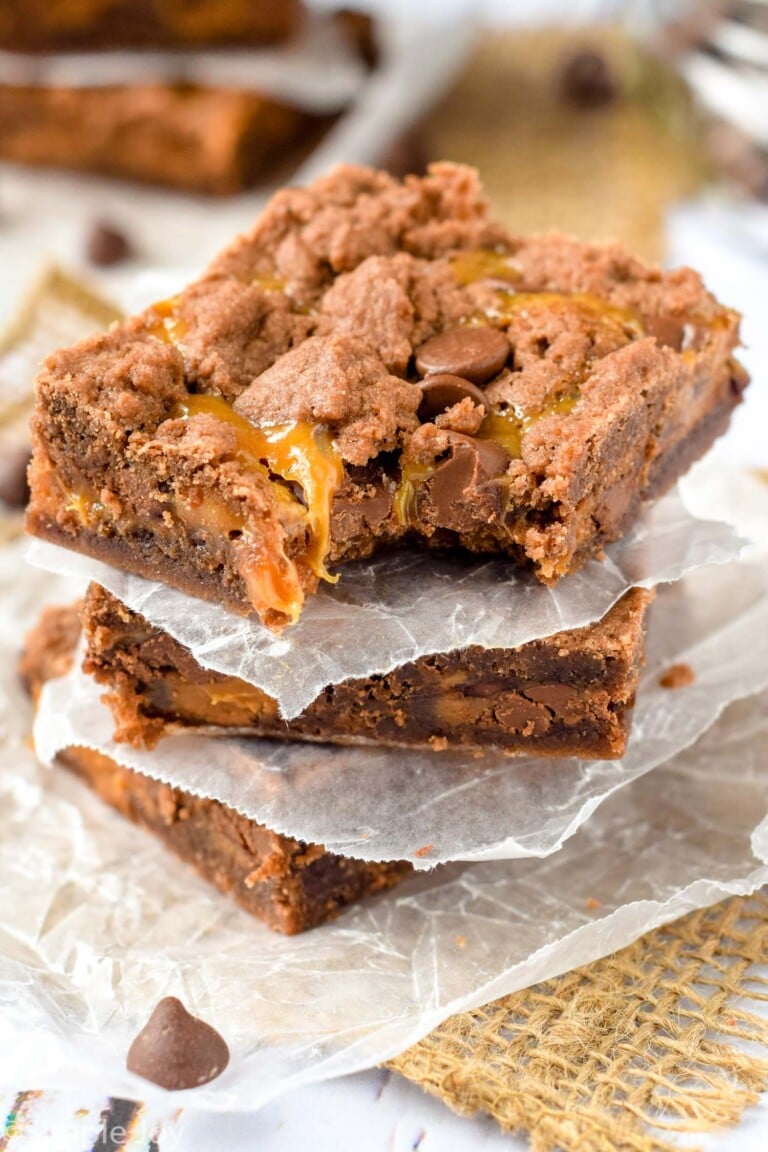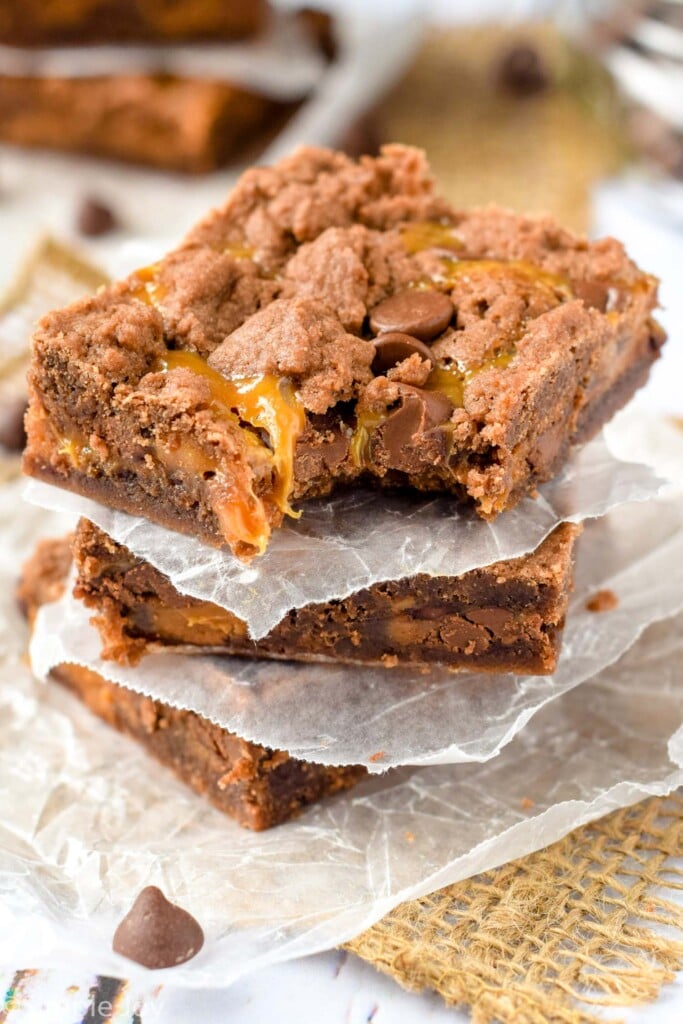 Many years ago when I went to visit a dear friend after she had just had a baby, she had a pan of these amazing brownies on her counter. She was such a kind soul, that even after just giving birth she was willing to share these with me. After just trying one little slice, I knew I had to have the recipe.
These Caramel Brownies are worth all the hype in the world. While I don't usually make recipes from box mixes, this is the perfect exception. They are easy and fantastic. You will not be able to resist going back for seconds and thirds.
Reader Review
This recipe is SO good. Followed exactly and 10/10 recommend.
How to Make Caramel Brownies
This caramel brownie recipe is truly the best, simply irresistible! Here is a brief overview of how to make caramel brownies. For the full recipe and all of the measurements, scroll to the printable recipe card at the bottom of the page.
Make the caramel sauce. You start by melting some caramel with evaporated milk. Be sure to stir often to avoid burning it.
Make the brownie batter. Combine the chocolate cake mix, melted butter, evaporated milk, and vanilla. Your batter won't have the consistency of a typical brownie batter. It's a little more like dough.
Press first layer into pan. Divide the batter in half and spread half of it into a greased 9 by 13 baking pan. It will be thin and that is ok.
Bake the first layer. Bake for about 8 minutes.
Add the caramel. Spread it evenly on the first brownie layer and sprinkle with chocolate chips.
Add the second brownie layer. Add globs of the remaining batter to the pan, don't try to spread it evenly just drop it in globs over the caramel layer.
Bake until set.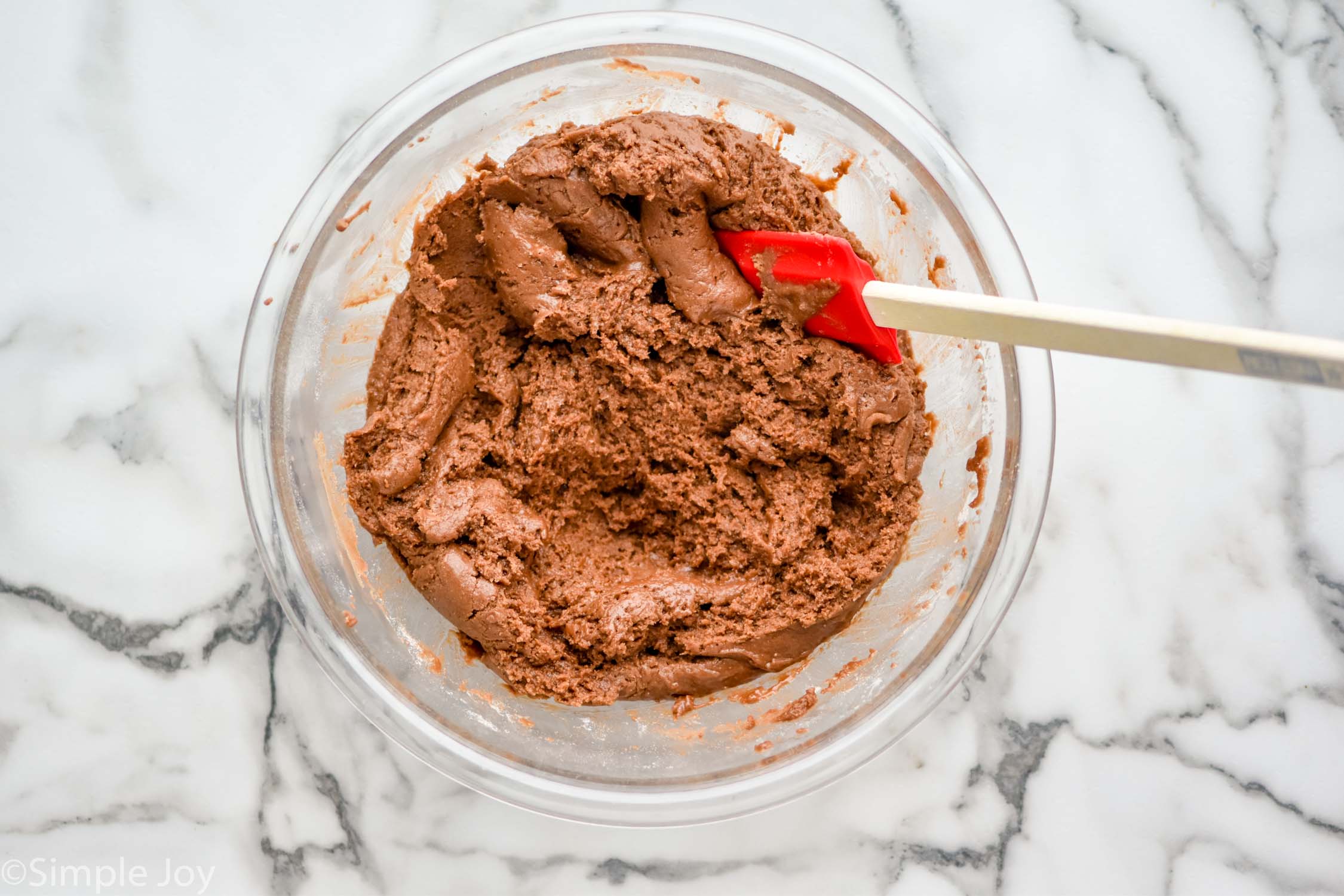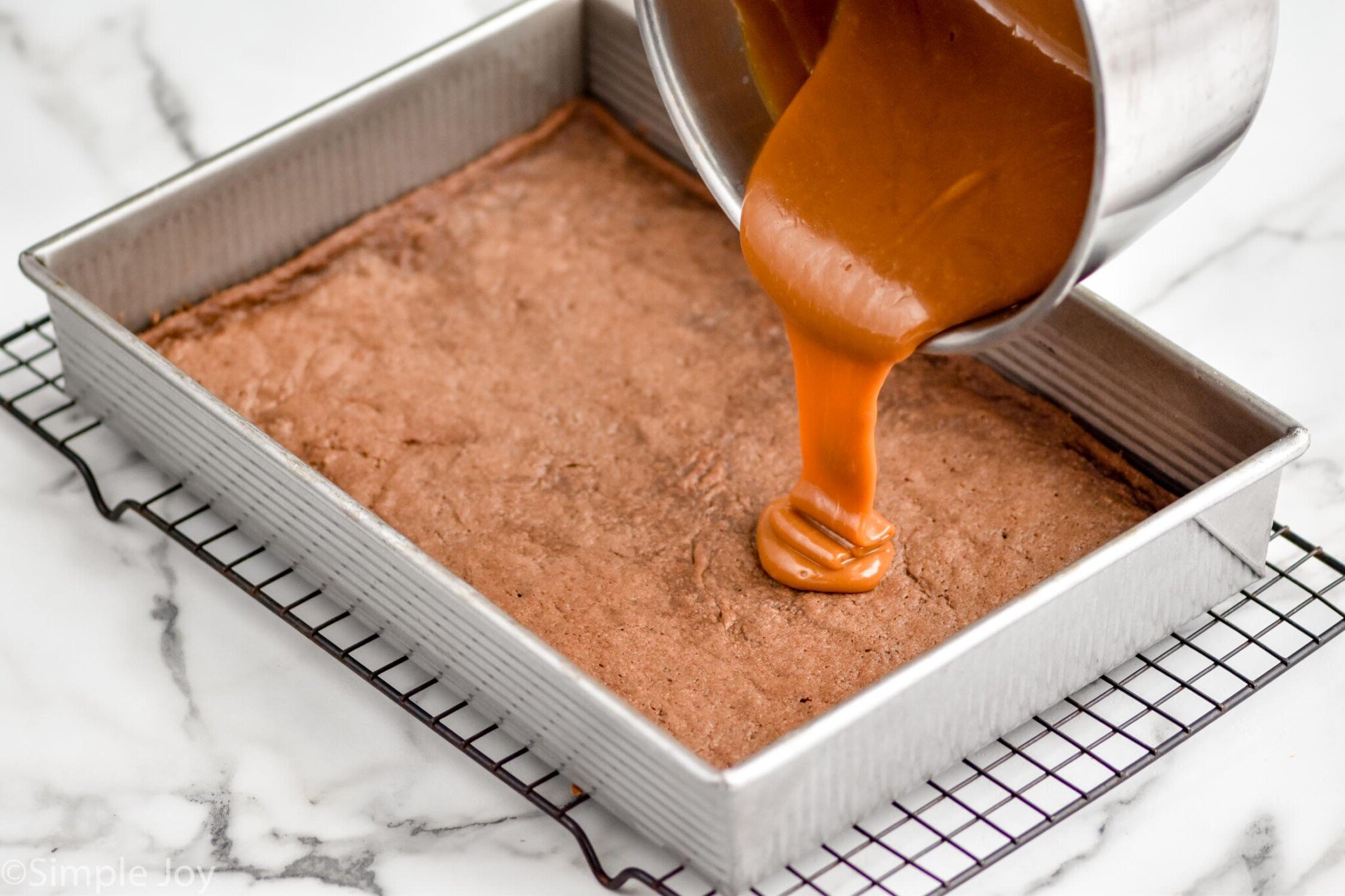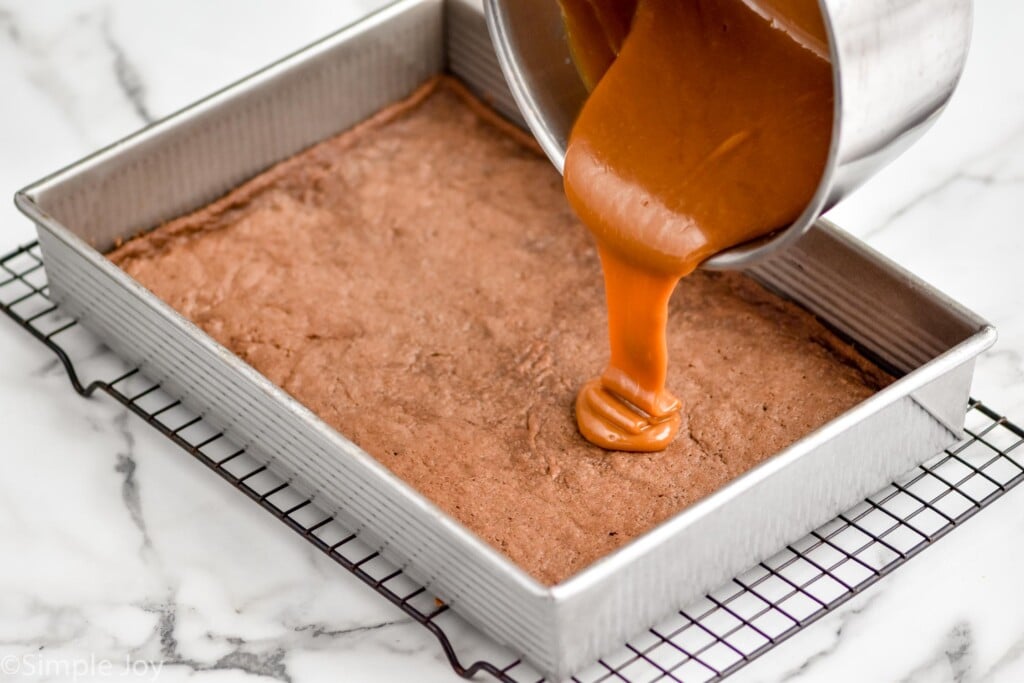 Caramel Tip!
Make sure to use chewy caramel candies to make the caramel sauce. If you can only find a one pound package, remove the extra two ounces, this isn't one of those times in life where more caramel is better. Store-bought caramel sauce is too thin and won't set up properly so will not work in this recipe.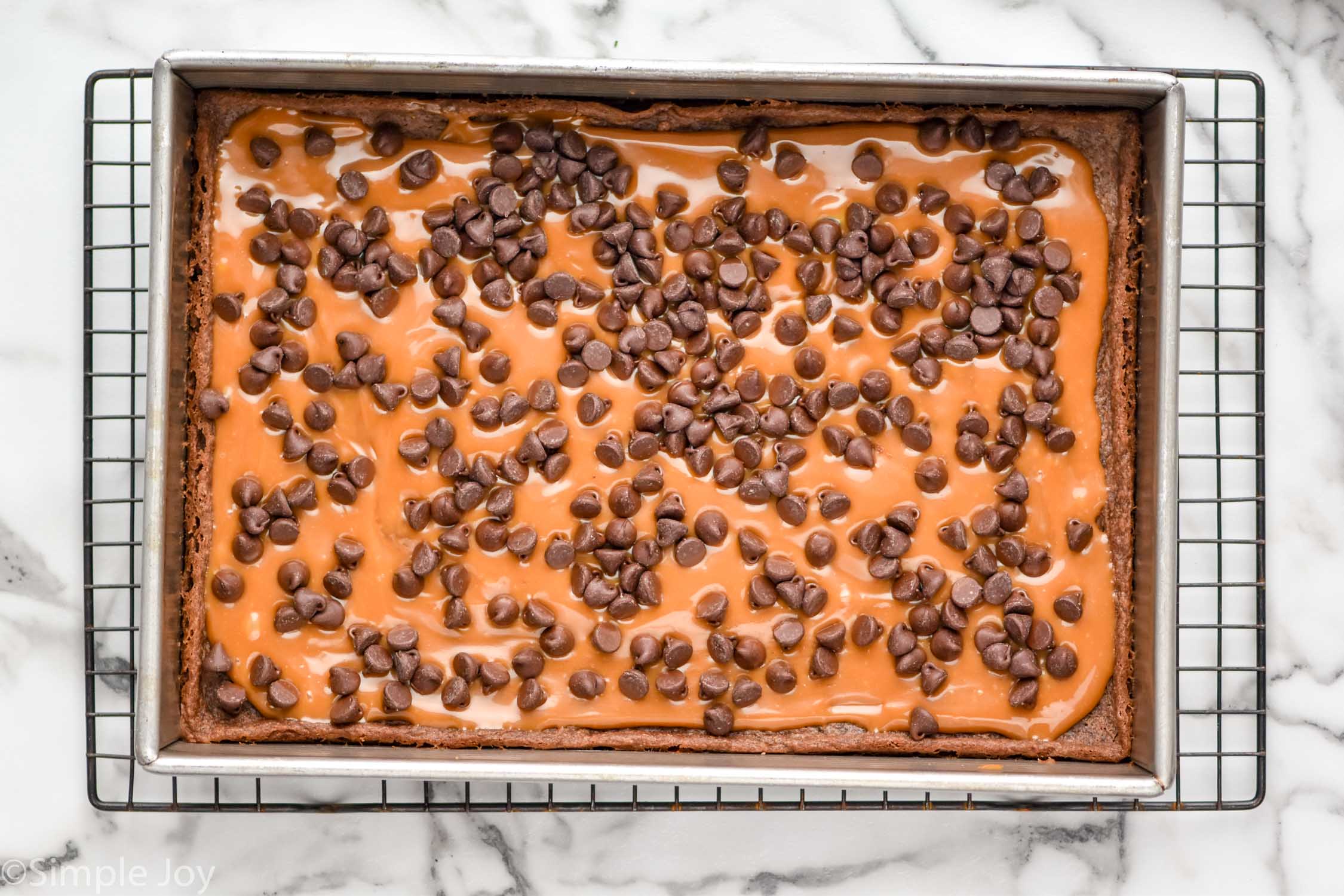 How to Tell When Brownies are Done
When the brownies start to pull away from the sides of the pan, they are almost done. You will also notice some cracking on top of the brownies. If you like your brownies more gooey and moist, remove them from the oven toward the minimal suggested baking time.
Variations
Make it salted. Add kosher salt to make salted caramel brownies. Sprinkle 2 teaspoons kosher salt on top of the caramel sauce before topping with the brownie batter. I have the best salted caramel brownie recipe that comes together in the crockpot.
Switch the chips. Use dark chocolate, semi-sweet, milk chocolate chips, or a combination. Mini m&m's are also a colorful and fun addition.
Add nuts. Layer 1/2 cup walnuts or pecans on top of the caramel sauce with the chocolate chips.
Add coconut. Toss in 1 cup of shredded coconut when you add the chocolate chips.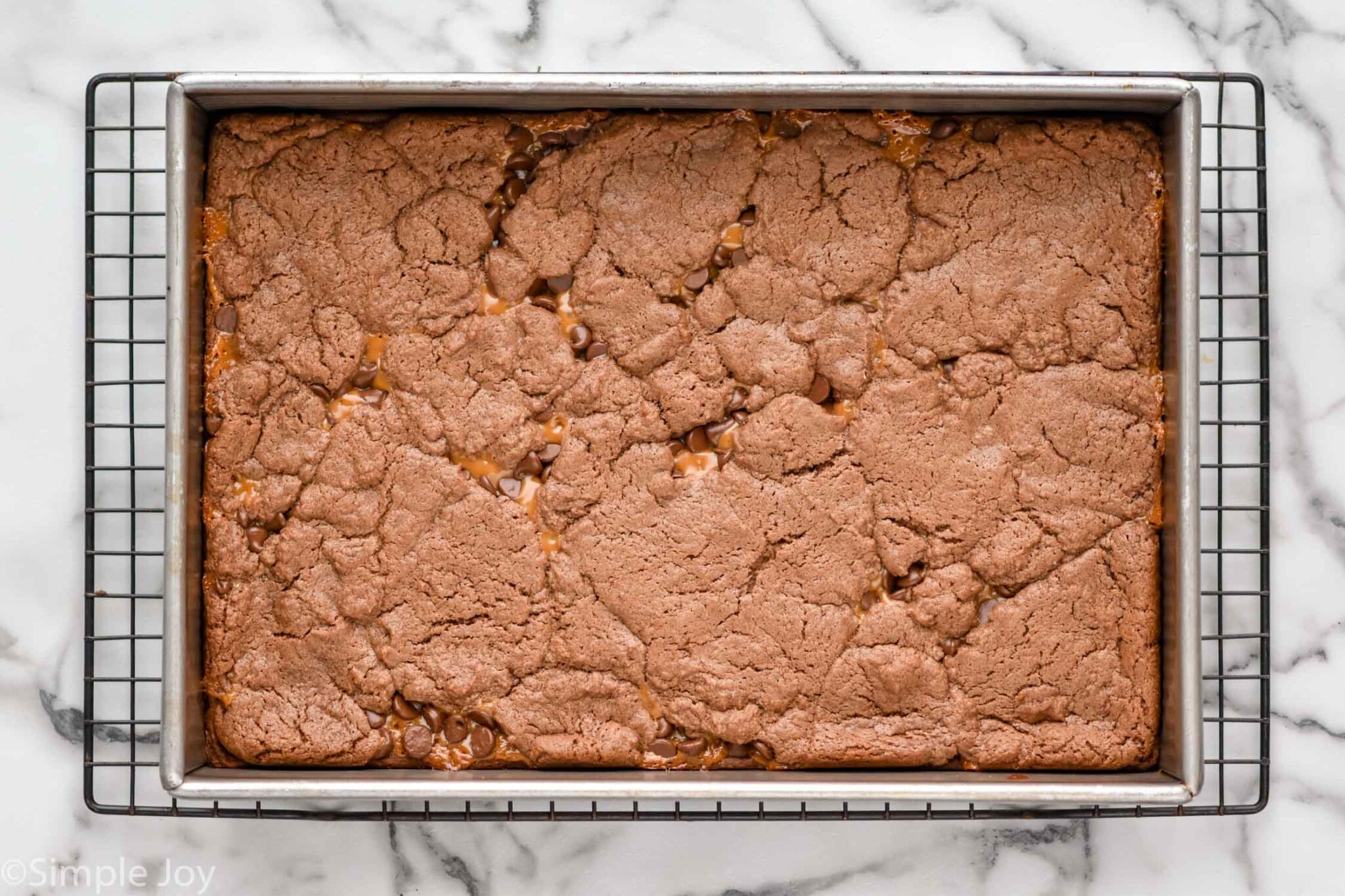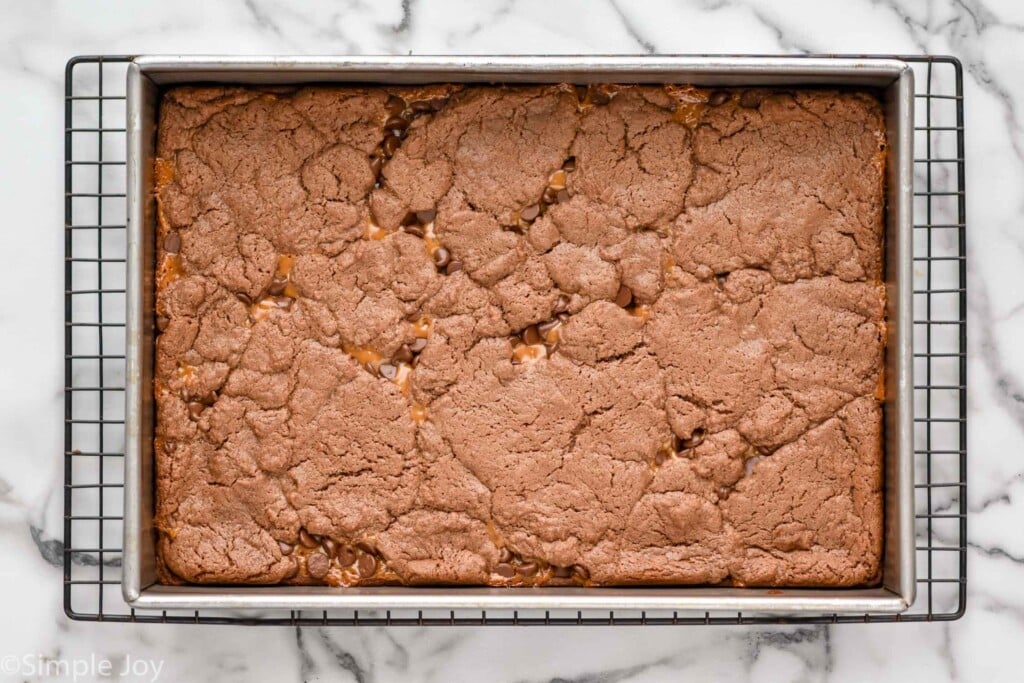 TOP PICK
The Best 9 x 13 Pan
This is my very favorite baking dish. I especially love it for brownies because you get those nice straight sides and corners.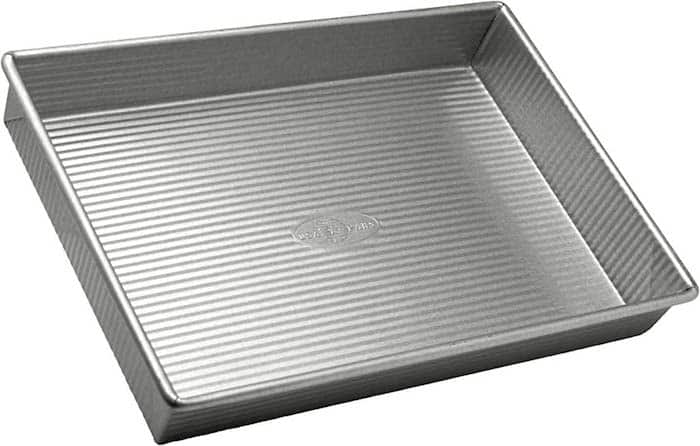 Tips and Tricks
Use a quality baking pan. I love the one from USA Baking that I have linked above, but if you are loyal to your baking dish, fantastic! Just keep in mind that the baking dish does matter, and can often impact how a recipe like this turns out.
Use Kraft Caramel Bits instead of individually wrapped caramels. That eliminates the step of unwrapping each individual caramel.
Double check your can of evaporated milk. It is the same size and labeling as sweetened condensed milk, which I do not recommend for this recipe. It is very easy to buy the wrong can.
Storing and Freezing
If by chance you have any leftover brownies, store them in an airtight container for up to four days. They can be stored on the counter.
These brownies freeze really well. Once completely cooled, I recommend cutting them into individual squares prior to freezing so you can take them out one at a time to eat. Freeze in a single layer for four hours. Then transfer them to an airtight container. Place them back in the freezer and store them for up to three months.
FAQ
Can I use store-bought caramel?
No, it won't set up properly when baking. Making the homemade caramel sauce as directed is so gooey and delicious that it is worth it.
Is it better to make brownies with butter or oil?
Depends on the brownies. This recipe uses butter which adds a richer flavor that we all know and love. Butter helps the brownie batter rise while using oil can create denser brownies.
Are chocolate brownies gluten free?
The cake mix used in this recipe does contain flour and I have not tested the recipe with a gluten-free option.
Do I have to use german chocolate cake mix?
Nope! Any chocolate cake mix will work. German chocolate is a pretty mild chocolate which makes it work well in this brownie recipe.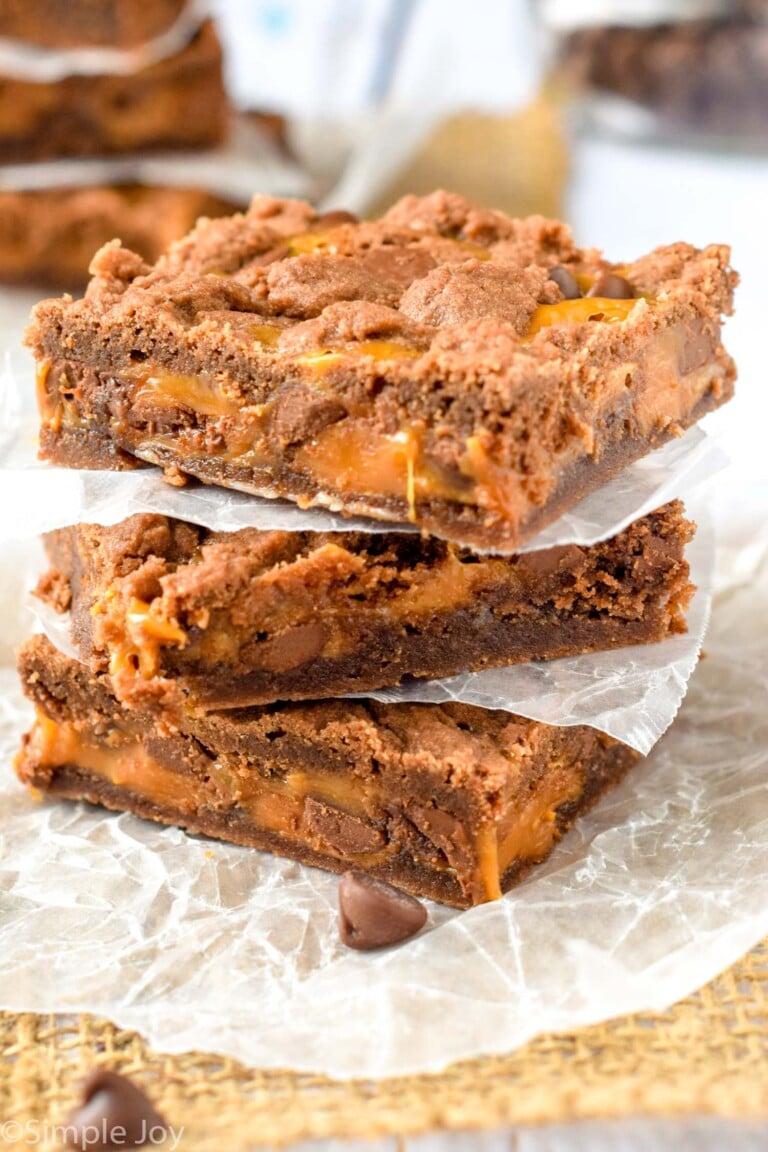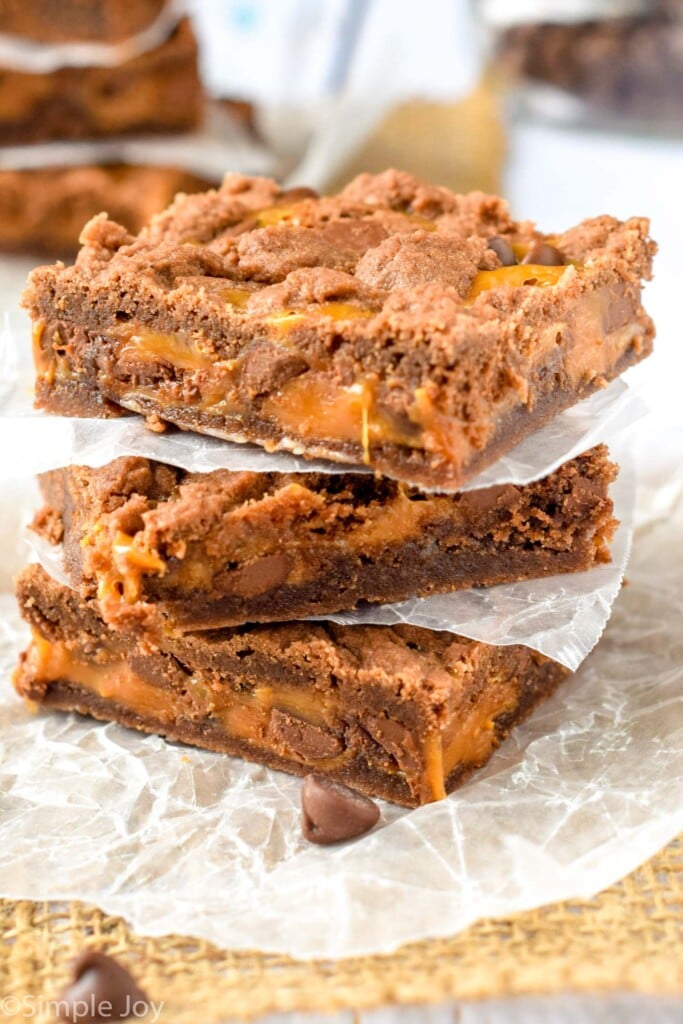 Other Bar Recipes:
If you love this caramel brownie recipe as much as I do, leave me a comment and let me know! I love hearing from you.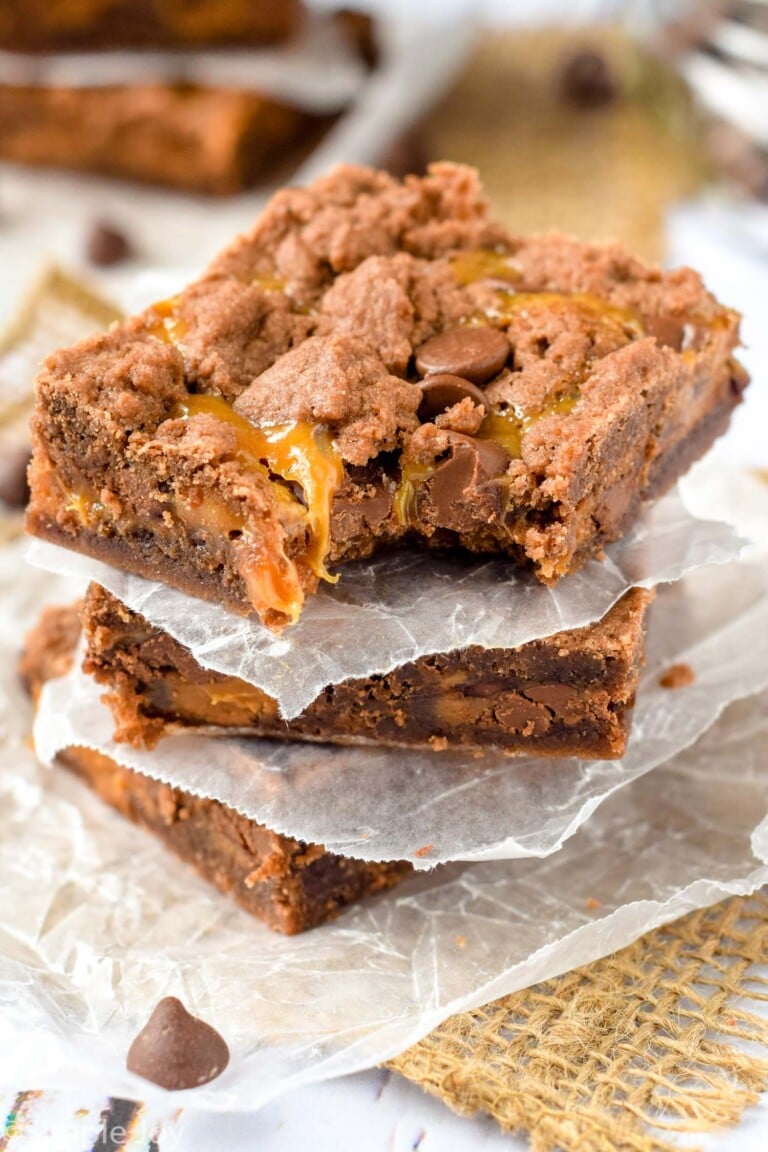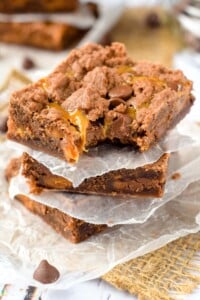 World's Best Caramel Brownies
These World's Best Caramel Brownies are so easy to make and so delicious! Everyone always wants this caramel brownie recipe. With only six ingredients, this is going to be your new go to brownie recipe!
Ingredients
Caramel Sauce
14

ounces

caramel candies

(caramel bits work really well in this recipe because you can skip the unwrapping)

1/2

cup

evaporated milk
Brownie Batter
15.25

ounces

German chocolate cake mix

(see note)

1/3

cup

evaporated milk

3/4

cup

butter

melted (12 tablespoons)

1

teaspoon

vanilla extract
Instructions
Preheat your oven to 350 degrees.

Take the plastic off all of the caramels and put them in a small saucepan with 1/2 a cup of evaporated milk over medium heat. Heat until the caramels are completely melted and the sauce is smooth, being careful to stir frequently.

While the caramels are melting, mix together the dry German chocolate cake mix, 1/3 a cup of evaporated milk, the melted butter, and the vanilla. Mix until it is a smooth consistency.

Divide the batter in half and spread half evenly into a greased 9 by 13 inch pan. Bake for 8 minutes.

After 8 minutes pull the brownies out, and top with the caramel sauce (spreading it very gently to make an even layer), sprinkle with chocolate chips, and then layer on the second half of the batter.

Put it back in the oven for 18 minutes or until the brownies begin to pull away from the side of the pan.
Notes
You are only using the dry box mix. Do not use the ingredients or instructions on the box.
Calories:
513
kcal
(26%)
Carbohydrates:
85
g
(28%)
Protein:
5
g
(10%)
Fat:
19
g
(29%)
Saturated Fat:
8
g
(50%)
Monounsaturated Fat:
2
g
Cholesterol:
18
mg
(6%)
Sodium:
709
mg
(31%)
Potassium:
147
mg
(4%)
Fiber:
2
g
(8%)
Sugar:
51
g
(57%)
Vitamin A:
200
IU
(4%)
Vitamin C:
0.8
mg
(1%)
Calcium:
160
mg
(16%)
Iron:
3.1
mg
(17%)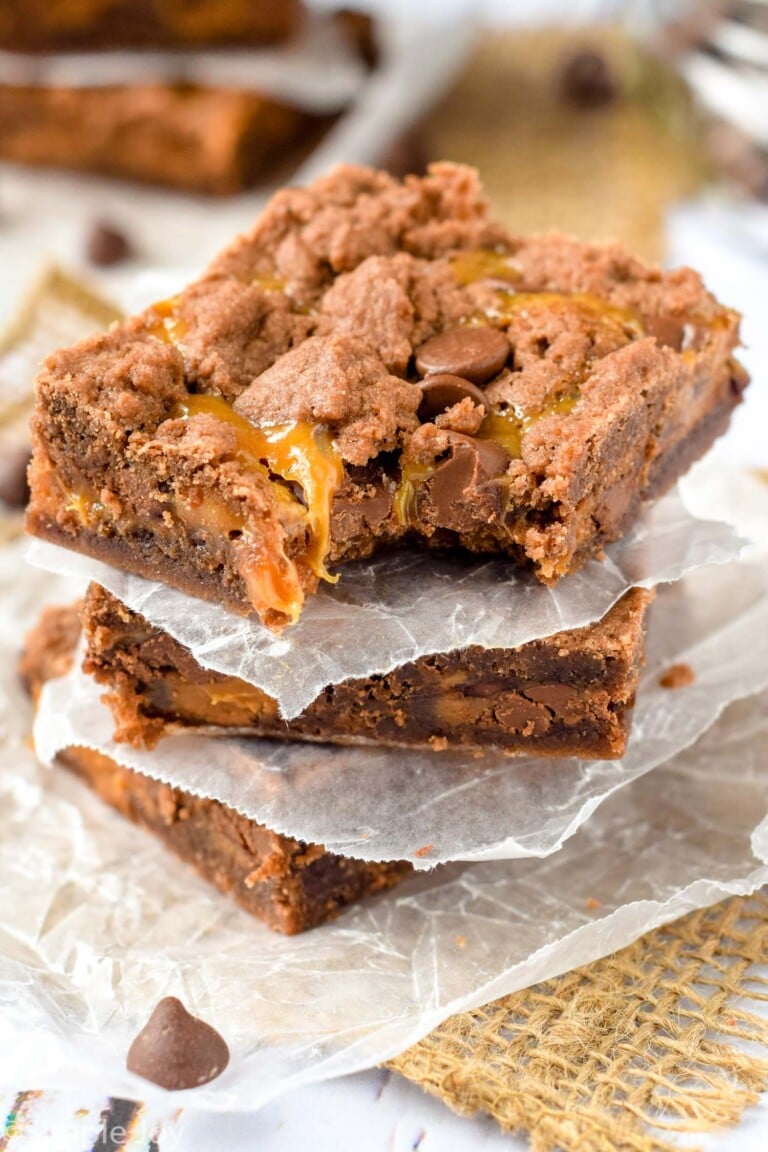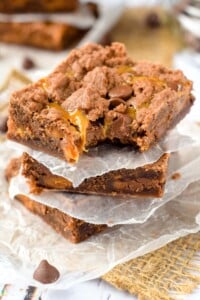 did you make this
World's Best Caramel Brownies
SaveSave