Air Fryer Grilled Cheese is a dream come true! It is such an easy way to make a perfect grilled cheese every single time. No need to babysit it to make sure it doesn't burn.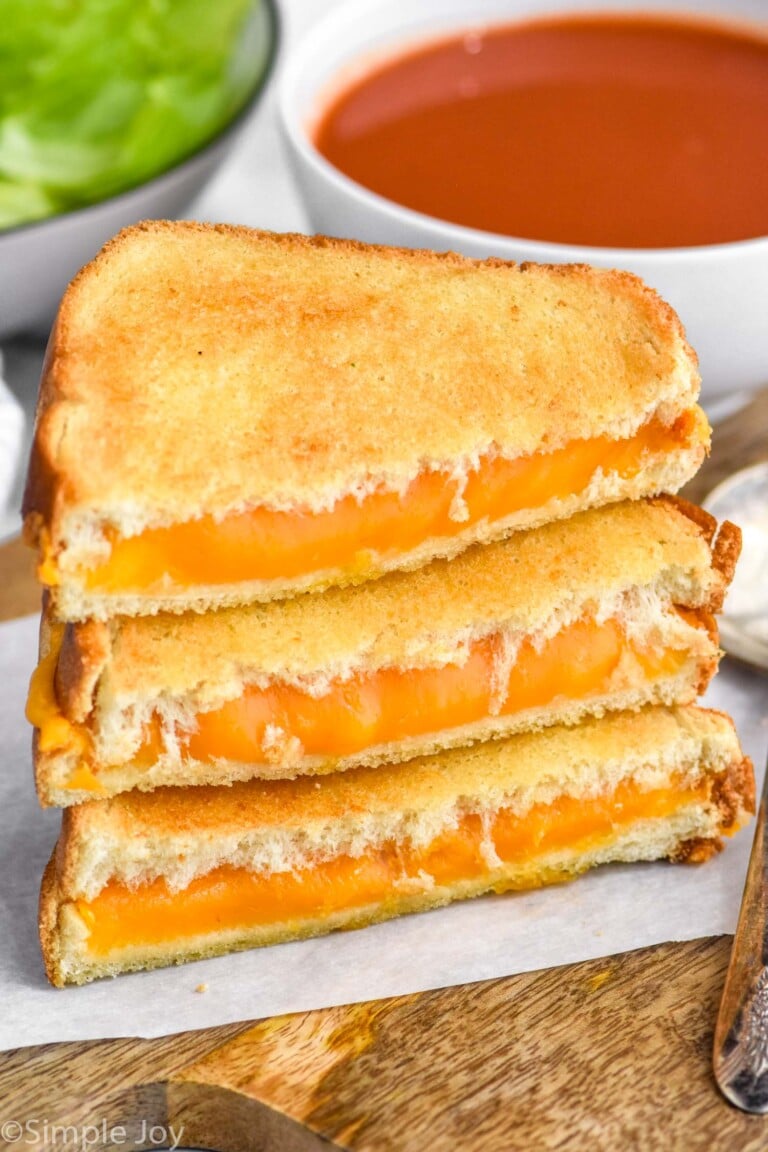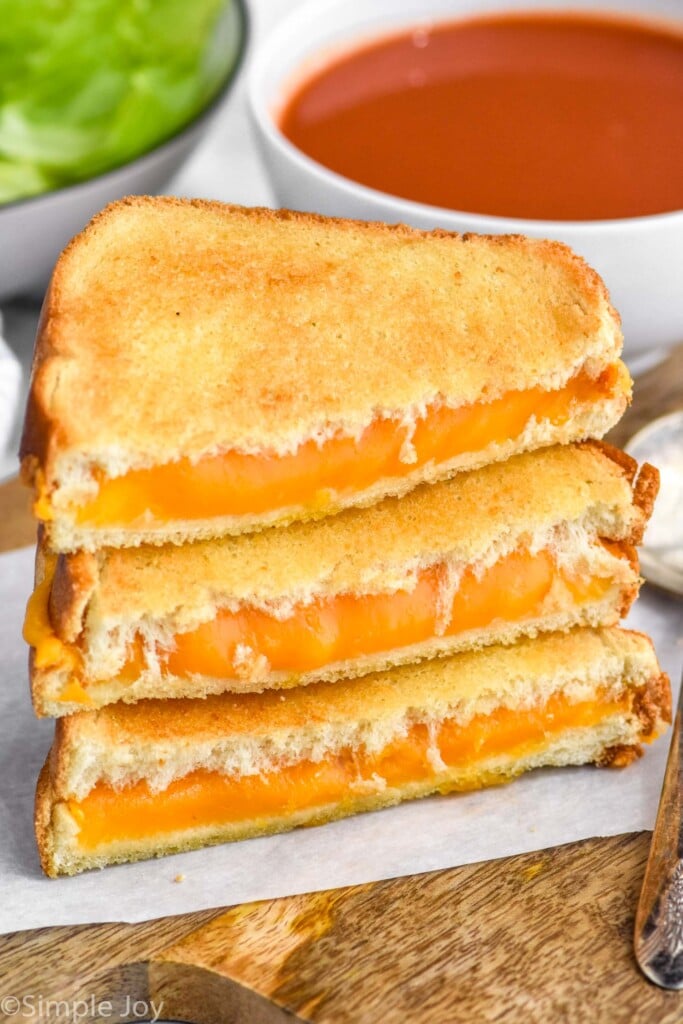 Sometimes there isn't anything better than a gooey grilled cheese sandwich. I always skip making them though because they can go from perfect to burned in the blink of an eye. This especially became the case after I became a mom and was distracted by small cute humans on the regular.
This Air Fryer Grilled Cheese recipe is the perfect solution. The air fryer does all of the babysitting, so you end up with a perfect grilled cheese sandwich every time.
Reader Review
I just tried this recipe. I now have a new favorite way to cook my comfort food this winter with tomato soup. I will be passing this recipe on to my daughter. No burnt smell and my sandwich was delicious.
Thanks Lisa!
How to Make Grilled Cheese in Air Fryer
This is a brief overview of how to make an air fryer grilled cheese. For the full recipe and instructions, see the full recipe card at the bottom of the post.
Preheat the air fryer. Set it to 400 degrees Fahrenheit and let it warm up for a few minutes while you prepare the bread.
Prepare the bread. Slather butter on one side of each slice of bread.
Build your sandwich in the air fryer. Place one slice of bread, butter side down, in the air fryer. Add the cheese. Top with the other slice of bread, with the butter side up.
Toast it. Set the air fryer to 350 degrees Fahrenheit and fry for two minutes. Open the air fryer, flip the sandwich, and fry for a few more minutes until crisp and golden brown.
Enjoy immediately.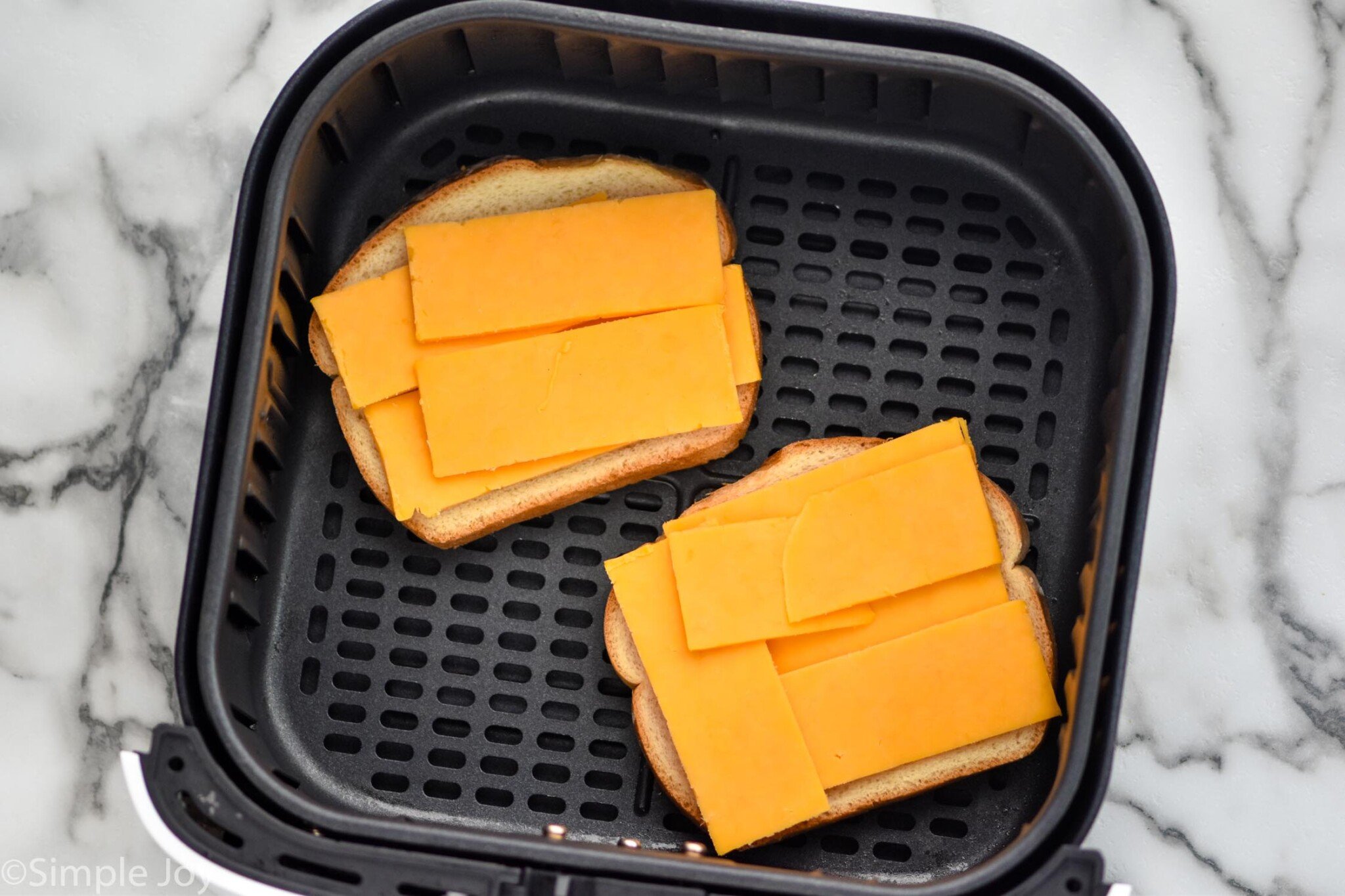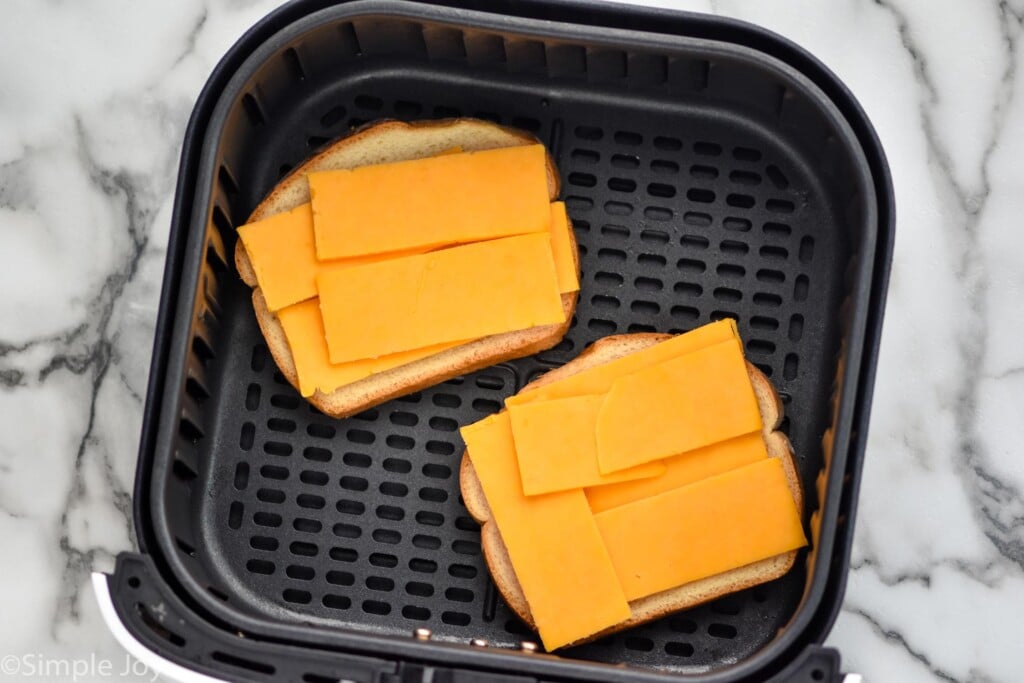 Best Cheese for Grilled Cheese
When you are looking for the perfect cheese for your grilled cheese, you want to make sure that you pick a cheese that melts really well. Not all cheeses are created equal.
Colby: This is my pick for grilled cheese. It is an American cheese with mild flavor and creamy texture. Perfect for a melty and classic grilled cheese sandwich.
American Cheese: Walk away from the slices in plastic. You can still get great American cheese that is perfect for melting.
Monterey Jack: There is a reason that this the cheese I reach for in my Sour Cream Chicken Enchiladas.
Cheddar: You can't beat this classic.
Havarti: If you are going to venture outside of the classics this is the first one I would reach for.
Gouda: This always feels like a fancier cheese to me, and it has a stronger flavor than most cheeses, but it is absolutely amazing on grilled cheese.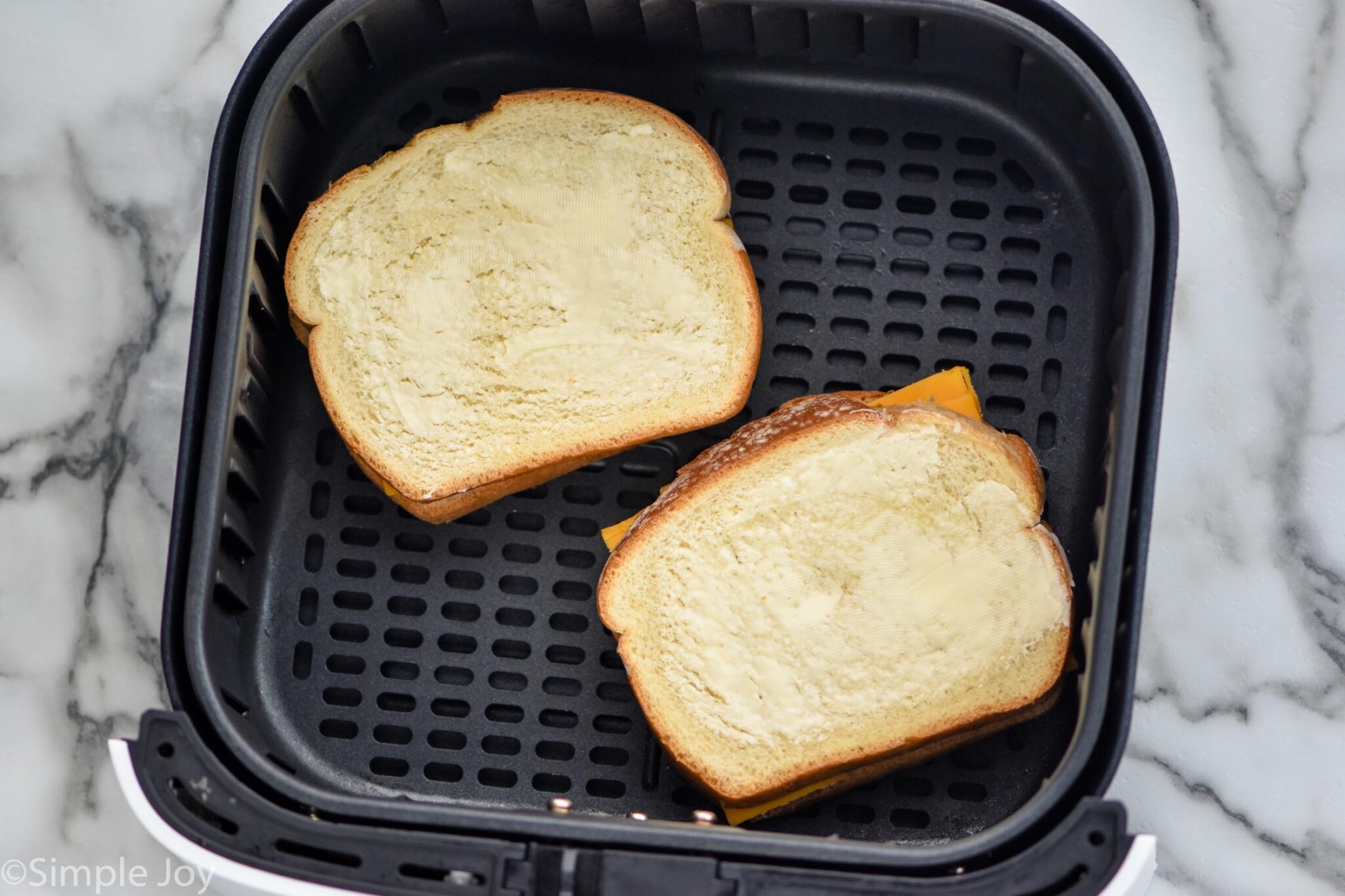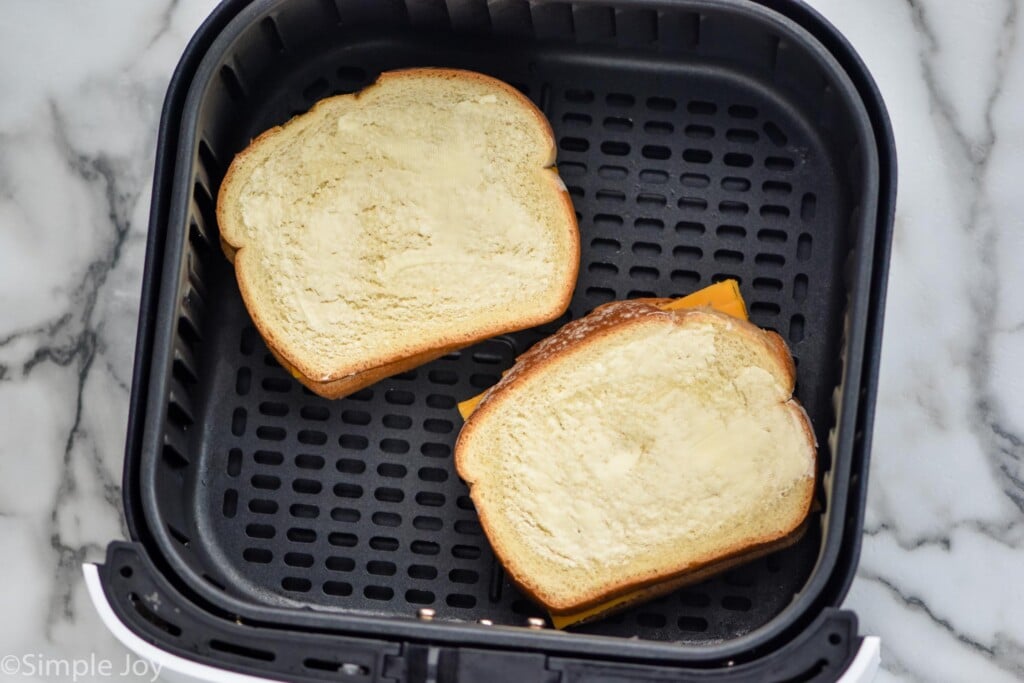 Best Bread for Grilled Cheese
I love using a thick bread that gets crispy and just crunchy enough for grilled cheese. For this recipe, I used Artesano from Sara Lee. Some other great options are:
Sourdough: You can't beat the great taste that sourdough brings to a grilled cheese.
Focaccia: This may not be an obvious choice, but we just got back from Italy, and this is a go to for them! And for good reason.
Brioche: Buttery soft and so delicious, this is a great way to make for a fancy grilled cheese.
White Bread: When all else fails, you can't go wrong with the classic white bread for a great grilled cheese.
Tips for Making Grilled Cheese
Skip holey bread. If you choose a piece of rye or sourdough bread that has a big hole in it, pass on it and grab a different piece. This will prevent the cheese from leaking out once melted.
Use room temperature butter. Softened butter will spread much easier on the bread. While it doesn't need to be super thick, make sure it covers the full surface area of the bread.
Toast to perfection. The key to cooking time is to have the cheese melted and gooey without burning the bread. The benefit of using the air fryer is the cooking time is accurate and you don't have to worry about watching it too closely once the timer is set.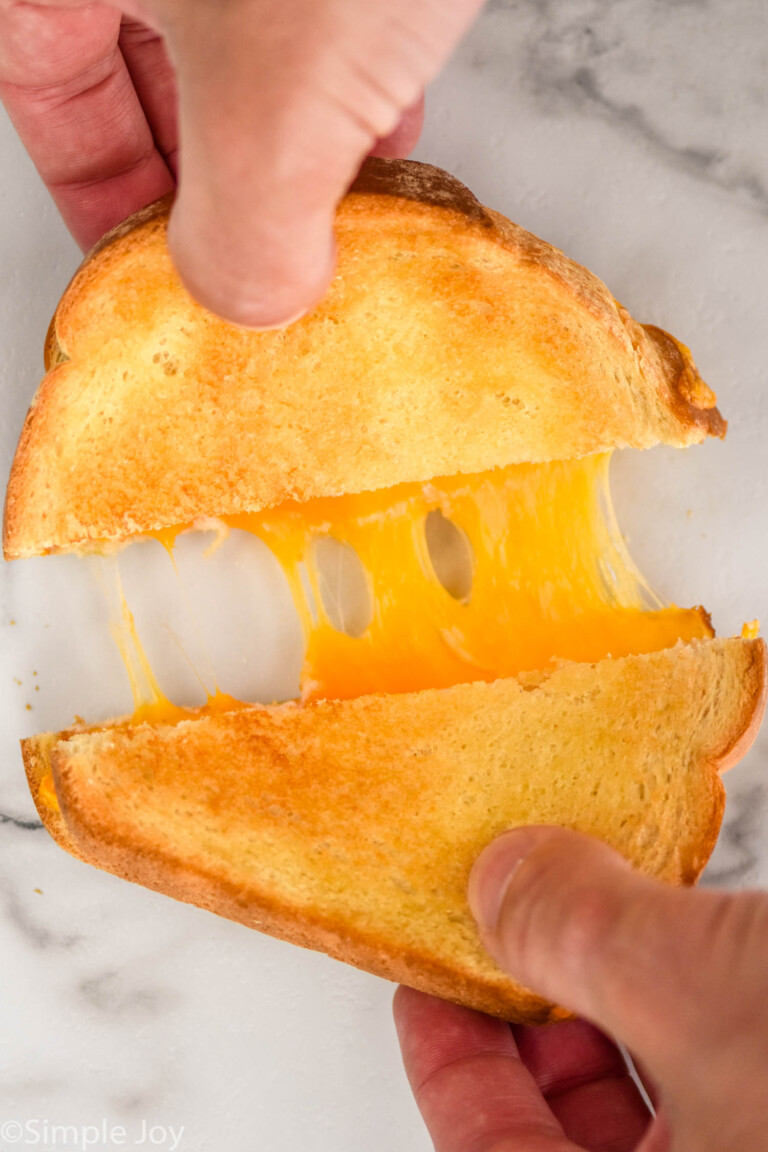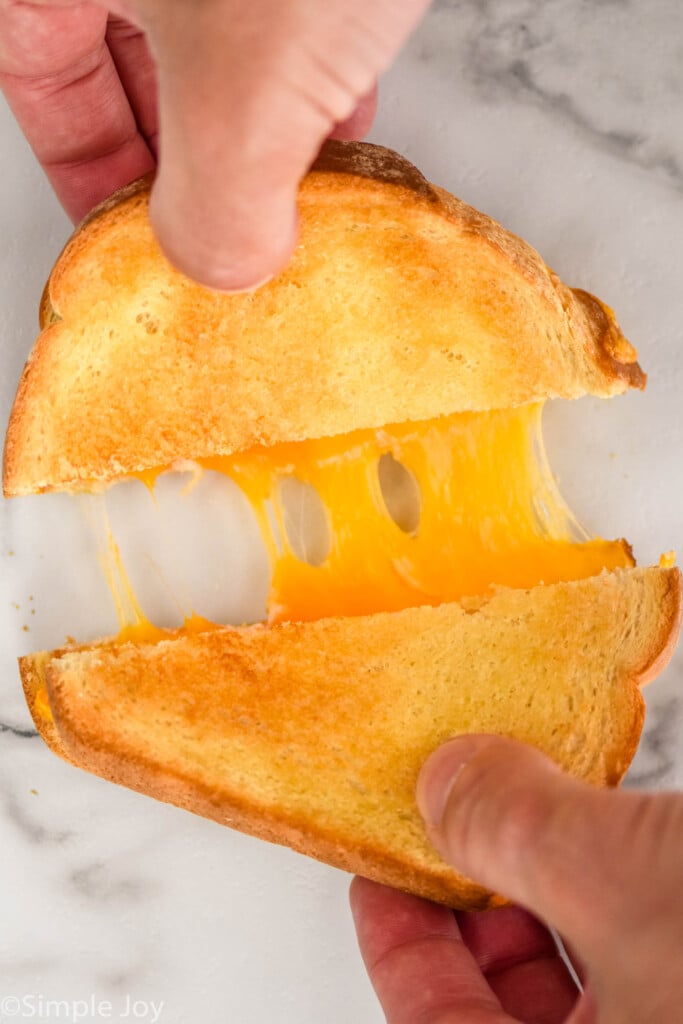 Substitutions and Variations
Looking for ways to mix up the traditional air fryer grilled cheese? Check out these ideas for substitutions and variations:
Use mayonnaise instead of butter on your bread.
Try different cheeses. As stated above, Colby has the best melting qualities, but other cheeses such as cheddar, white cheddar, American, and Havarti can all yield a delicious grilled cheese sandwich.
Experiment with different bread. You can use whatever you have on hand or try something new such as sourdough, white, wheat, or my Easy Sandwich Bread.
Take it up a notch. This Turkey Bacon Brie Grilled Cheese tastes like a gourmet sandwich you would order at a restaurant but is super easy.
What Air Fryer to Use
This is the air fryer that I have, and I love it. It's the second model I've tried, and it's a winner. I like that the basket is pretty big, which means that when it comes to recipes that you have to cook in a single layer, I can often get away with one batch of cooking.
TOP PICK
Cosori Air Fryer
I love this air fryer! It is a work horse and gets the job done week after week.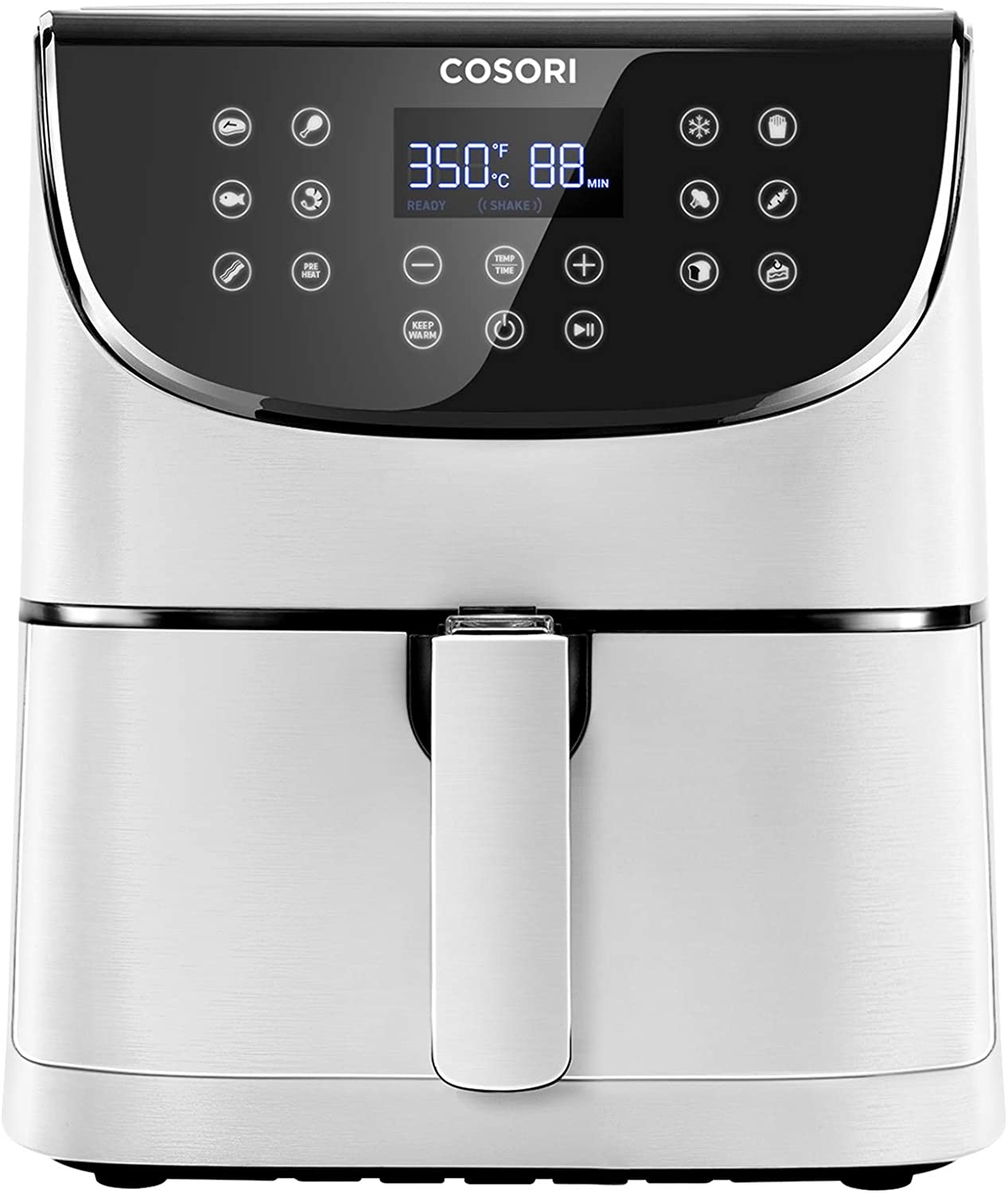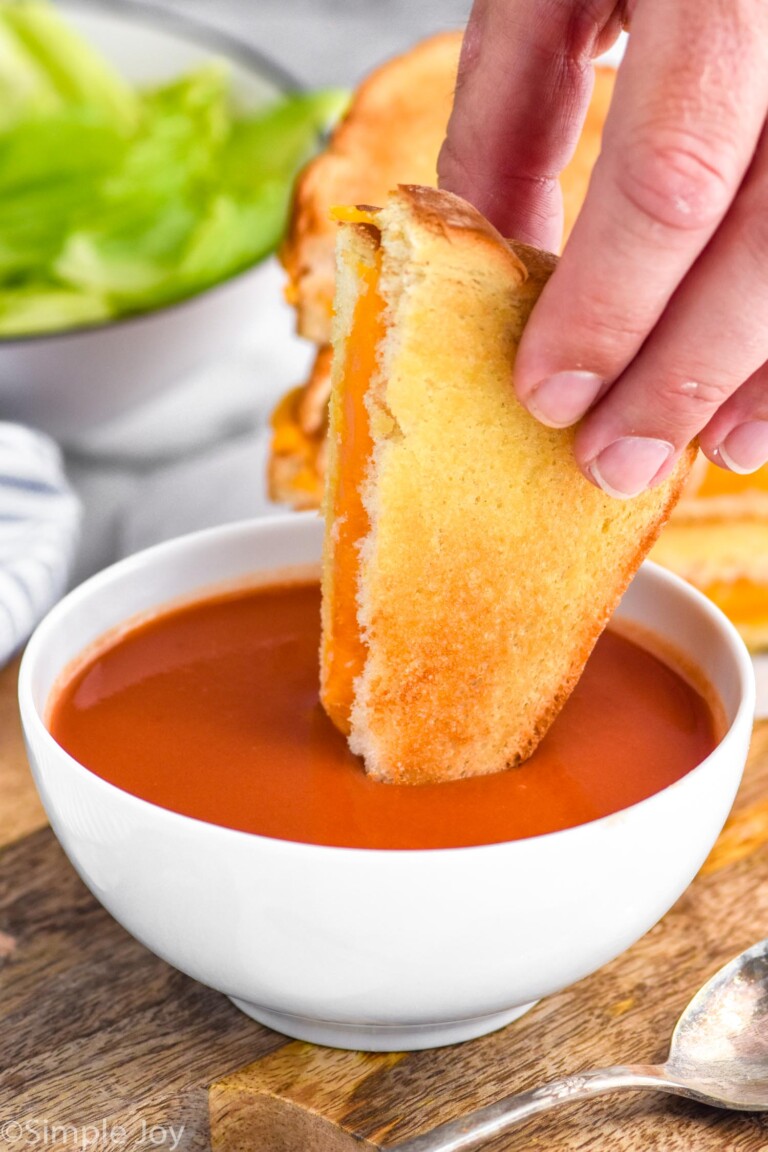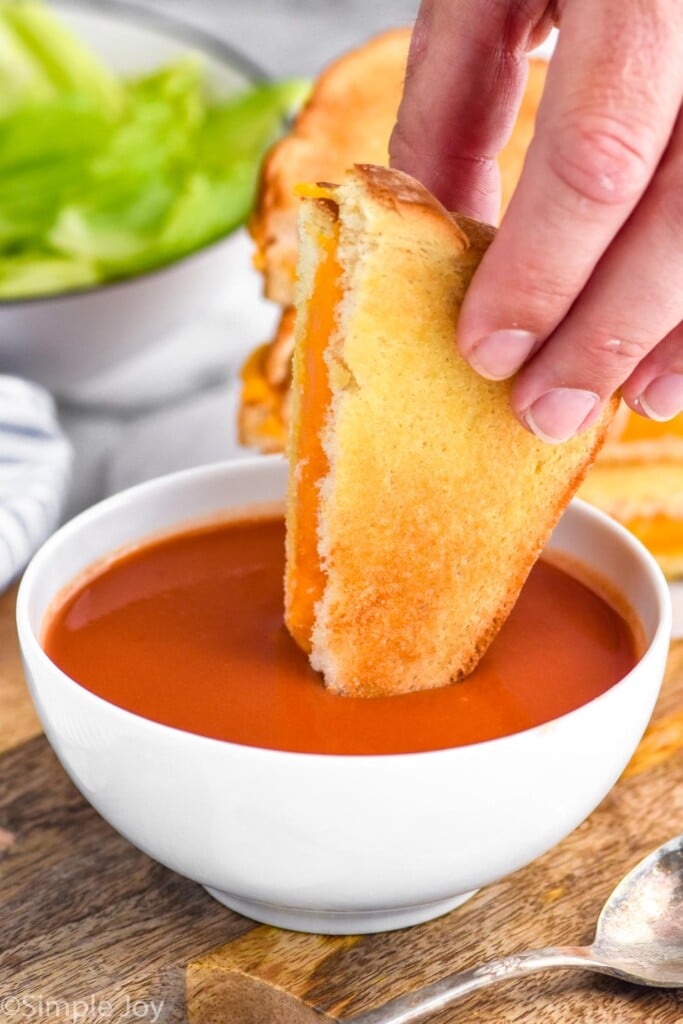 What to Serve with Grilled Cheese
I could eat a big grilled cheese sandwich and then take a nap without anything else, but if you want to round out this meal a little, here are a few options.
If you and your family love this air fryer grilled cheese recipe, please leave a comment below the recipe card to let me know. I love hearing from you!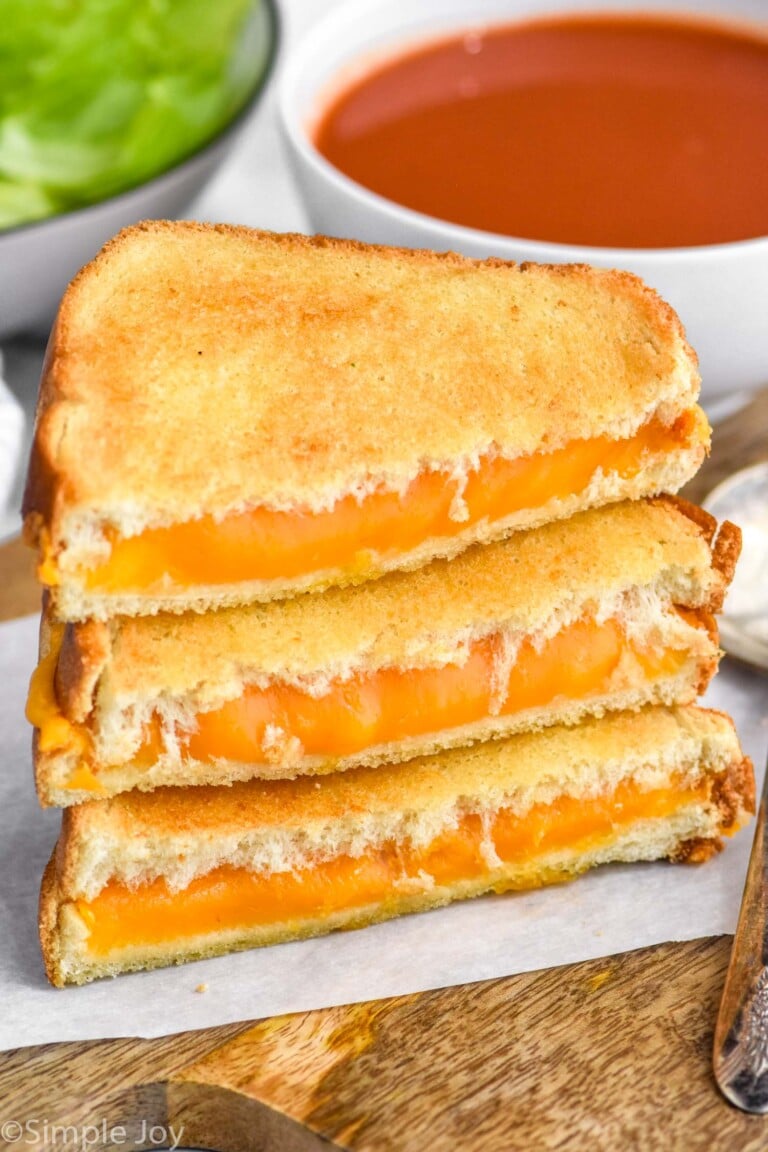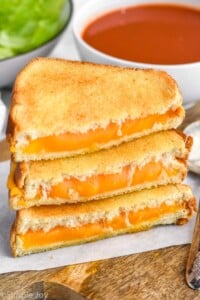 Air Fryer Grilled Cheese
Ingredients
2

slices

sandwich bread

1

tablespoon

salted butter

room temperature

2

ounces

cheese

(see post for best melting cheeses – I used Colby)
Instructions
Preheat your air fryer to 400 degrees Fahrenheit.

While the air fryer is preheating, slather one side of each slice of bread with the room temperature butter.

Set one slice of bread, butter side down, in the air fryer. Add the cheese. Top with the other slice of bread, with the butter side up.

Set the air fryer to 350 degrees. Fry for 2 minutes. Open the air fryer, flip the sandwich, and fry for an additional 2 to 4 minutes or until the sandwich is crisp and golden brown.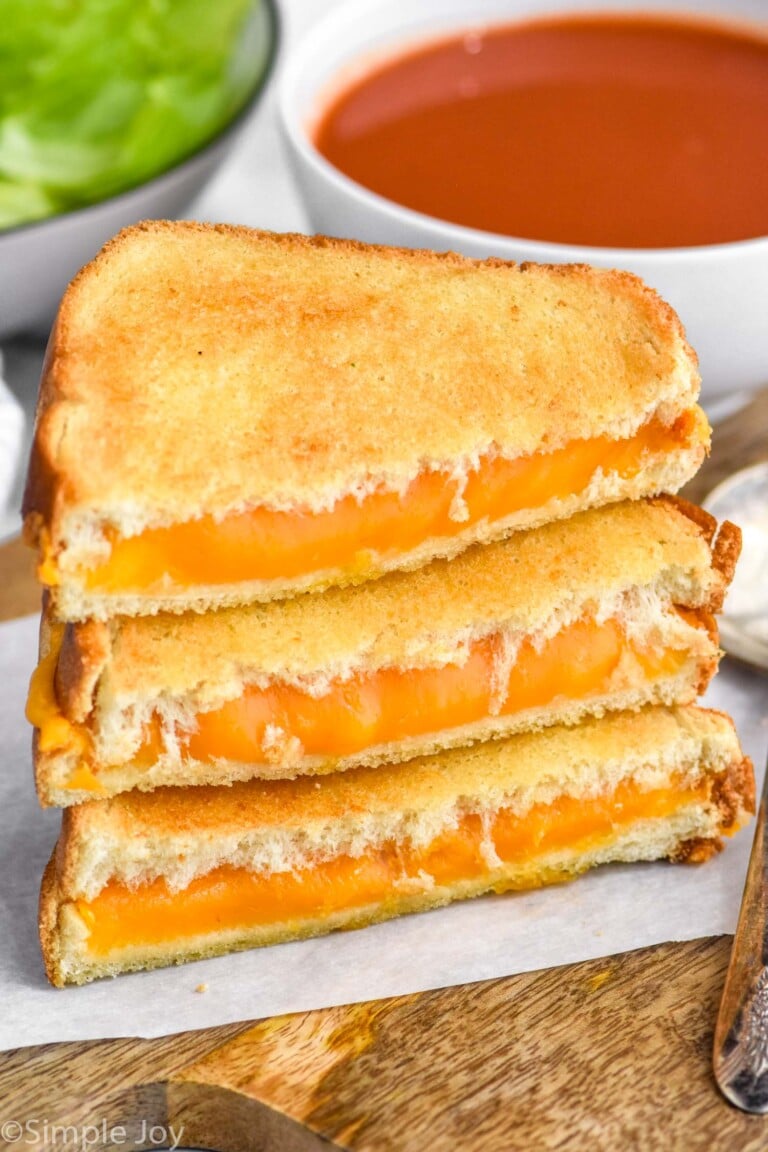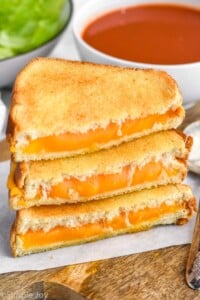 did you make this
Air Fryer Grilled Cheese