This is the best Chocolate Chip Banana Bread recipe! This easy spin on classic banana bread comes together easily and is such a popular recipe. It is moist, delicious, and only takes about 10 minutes to prepare.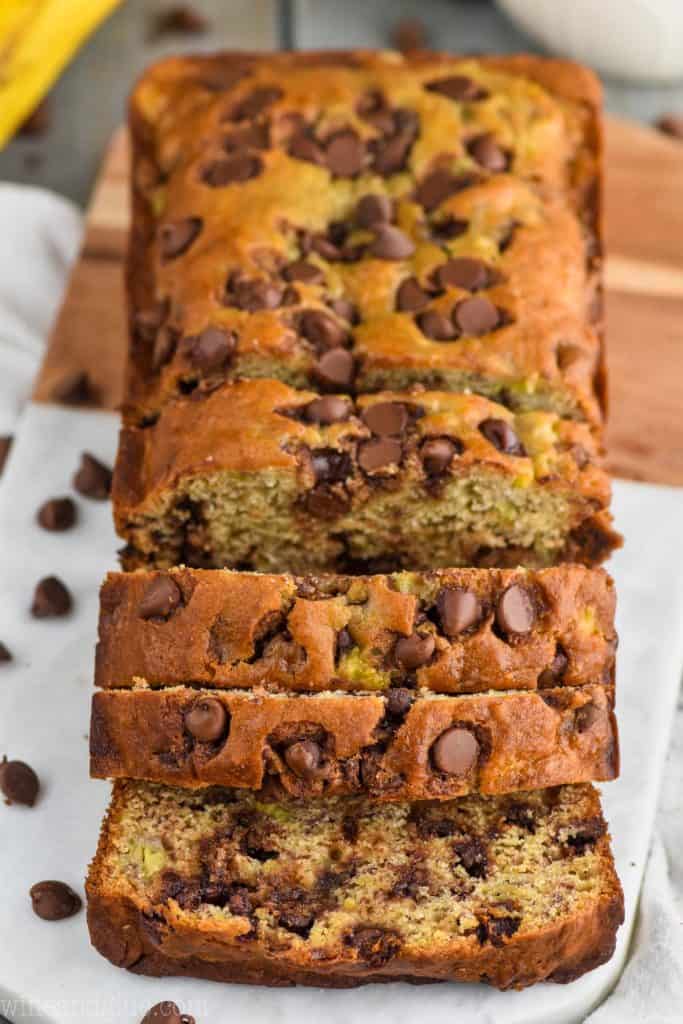 This Chocolate Chip Banana Bread is one of my most popular recipes. It comes together with a few simple ingredients and is fast to make. It is based on the very best easy banana bread recipe. The addition of the chocolate chips just takes it way over the top.
I suggest that when you make this recipe you make a double batch. Make one to eat right away and one to freeze for later. You'll thank me when the first batch is inhaled by your crew right away.
READER REVIEW
This chocolate chip banana bread was so delicious I went through all your steps and it turned out perfect. My friends all loved it will definitely make again!
Banana Bread
This simple and easy Banana Bread is going to be your go to recipe from here on out! With 10 minutes hands on time, simple tips and easy instructions, you will love this recipe.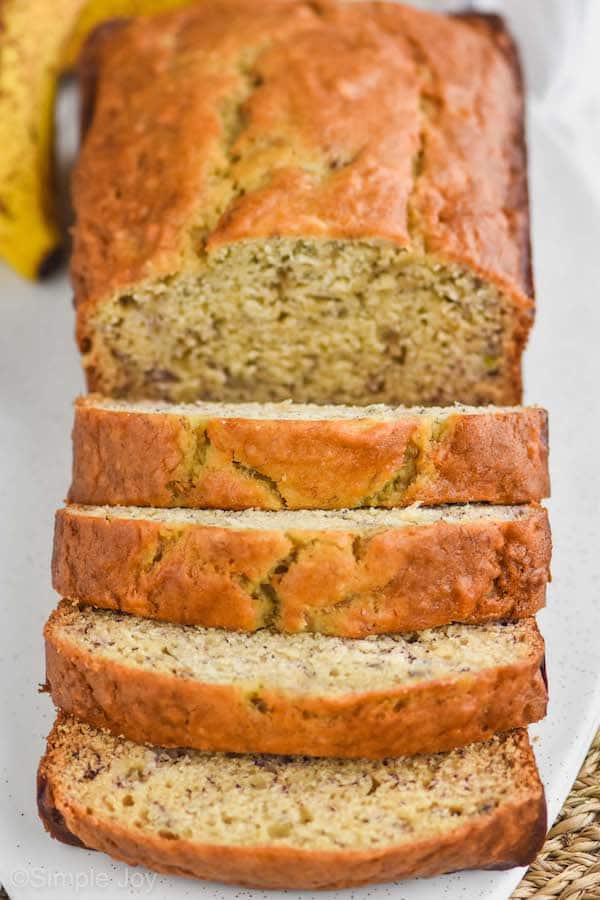 What makes this the Best Chocolate Chip Banana Bread
It comes together with just a few simple ingredients. Just like the recipe it is based off of, you probably already have most of the ingredients to make it in your kitchen.
The prep time on this recipe is only 10 minutes. Which means that you can easily make this for a perfect afternoon snack for children who love banana bread.
This banana bread recipe is so moist. It uses yogurt, which keeps it tender, soft, with the perfect exterior crumb.
It tastes like cake. Like actually like cake.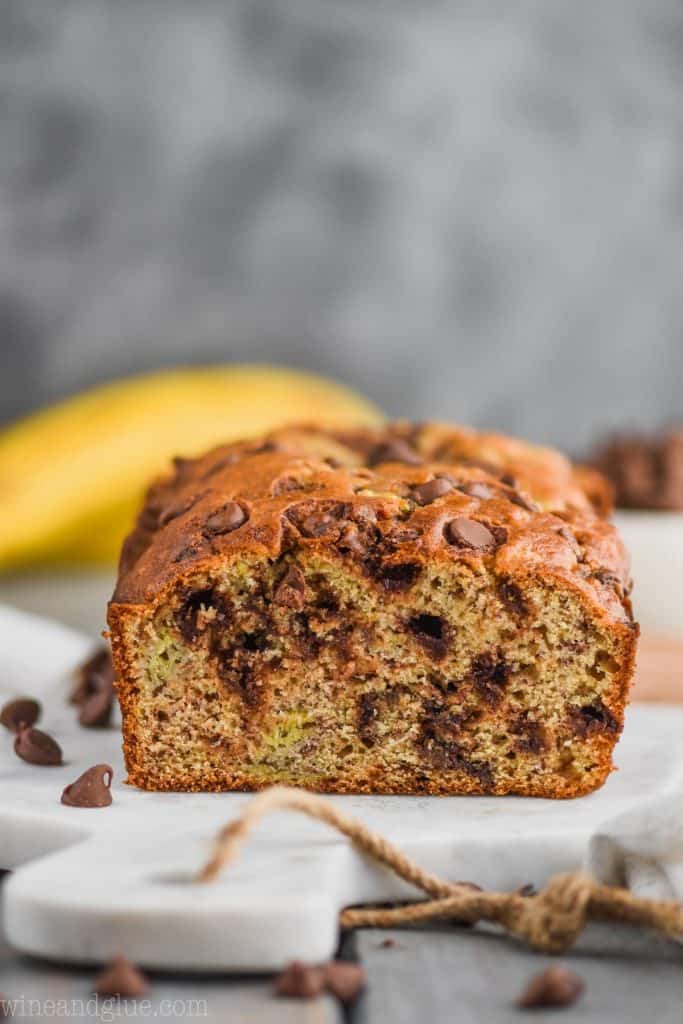 How to Make Chocolate Chip Banana Bread
This is a brief overview of how easy this recipe is to make. For the full recipe with all of the measurements please see the recipe card at the bottom of the post.
Whisk together the dry ingredients. In a large bowl, whisk together the flour, baking soda, and salt.
Combine the wet ingredients. Stir together mashed banana, melted butter, eggs, yogurt, sugar, and vanilla.
Stir the wet ingredients into the dry ingredients. Stir until just combined and then stir in the chocolate chips.
Bake the bread in a bread pan. After it comes out of the oven, allow it cool in the pan for 10 minutes before transferring it a cooling rack and letting it cool for 35 more minutes before slicing.
Tips and Tricks for this Chocolate Chip Banana Bread
Use a good bread pan. They are not all created equal, and some work better than others. Below you can find the bread pan I love. It is a workhorse and bread comes out perfectly in it.
Measure your flour properly. This is key in all baking recipes. Make sure that you scoop the flour into the measuring cup and then level it off. If you scoop right from the flour container you will get too much and you will have a chocolate chip banana bread recipe fail.
Make sure that your melted butter has cooled. If you don't do that, you run the risk of your eggs starting to cook when they get mixed with the hot butter. No one wants that.
Use baking soda that is still fresh. Baking soda needs to be switched out every six months or so. Test it by adding a little to some vinegar. It should bubble immediately, if not replace it.
If you want the top to have a really appealing look, throw a couple extra chocolate chips on before putting it in the oven.
Test the bread with a toothpick towards the end. Do not insert it directly in the middle of the bread, but slightly off to the side. You want the toothpick to come out clean. If you wait until the top comes out clean, you will risk the edges of the bread being dry. I would rather have a little bit of a gooey top (yummy) than dry sides (yucky). My oven requires 55 minutes for perfect bread.
TOP PICK
Best Bread Pan
Hands down my favorite bread pan. The results from this pan are perfect every time.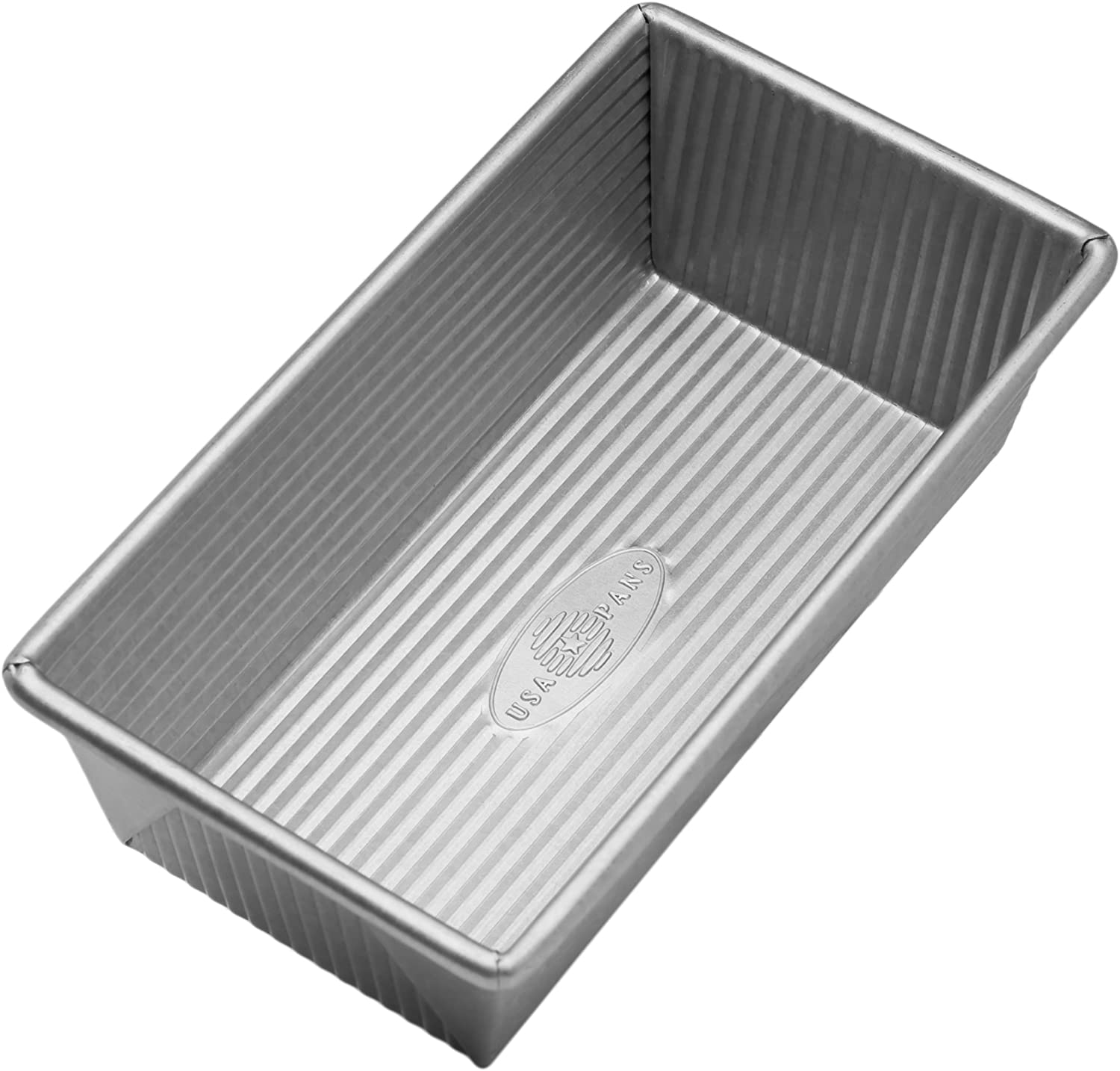 Unsalted Butter in Baking
The reason that most baking recipes call for unsalted butter is because the amount of salt in salted butter can vary a great deal from brand to brand. Using unsalted butter and then adding a specific amount of salt to the recipe, allows bakers to control the amount of salt in the final baked product.
If you are wondering if you can use salted butter in this recipe, the answer is yes. You will just want to eliminate the 1/2 teaspoon salt from the recipe.
Ripe Bananas for Banana Bread
When making this recipe, you will want to use very ripe bananas. That does not mean that the whole skin needs to be brown, but it needs to be decently speckled with brown dots.
Some recipes suggest that you ripen bananas in your oven, but let me explain why I don't recommend that. The sweetness of a banana changes as it ripens. The more ripe it is, the sweeter it is. Ripening them by popping them in the oven will get you the correct consistency of banana you are looking for, but it won't get you the sweetness you want.
A better bet is to let those bananas ripen fully. Then peel them and freeze them. When you are ready to make your banana bread, let them fully thaw, and use them (and any liquid that goes with them) in this recipe.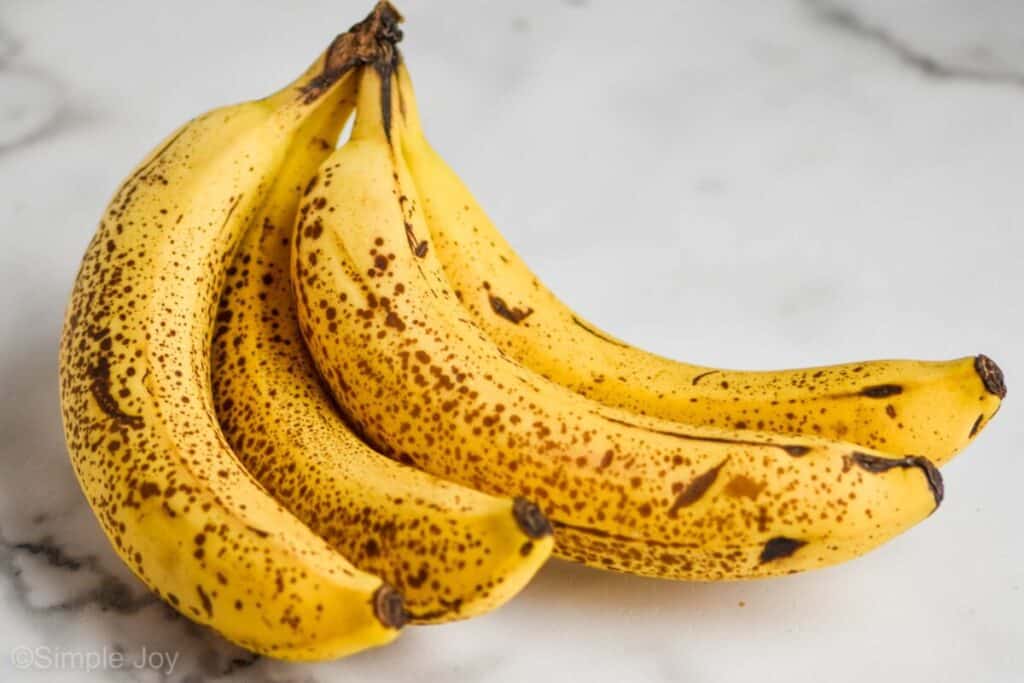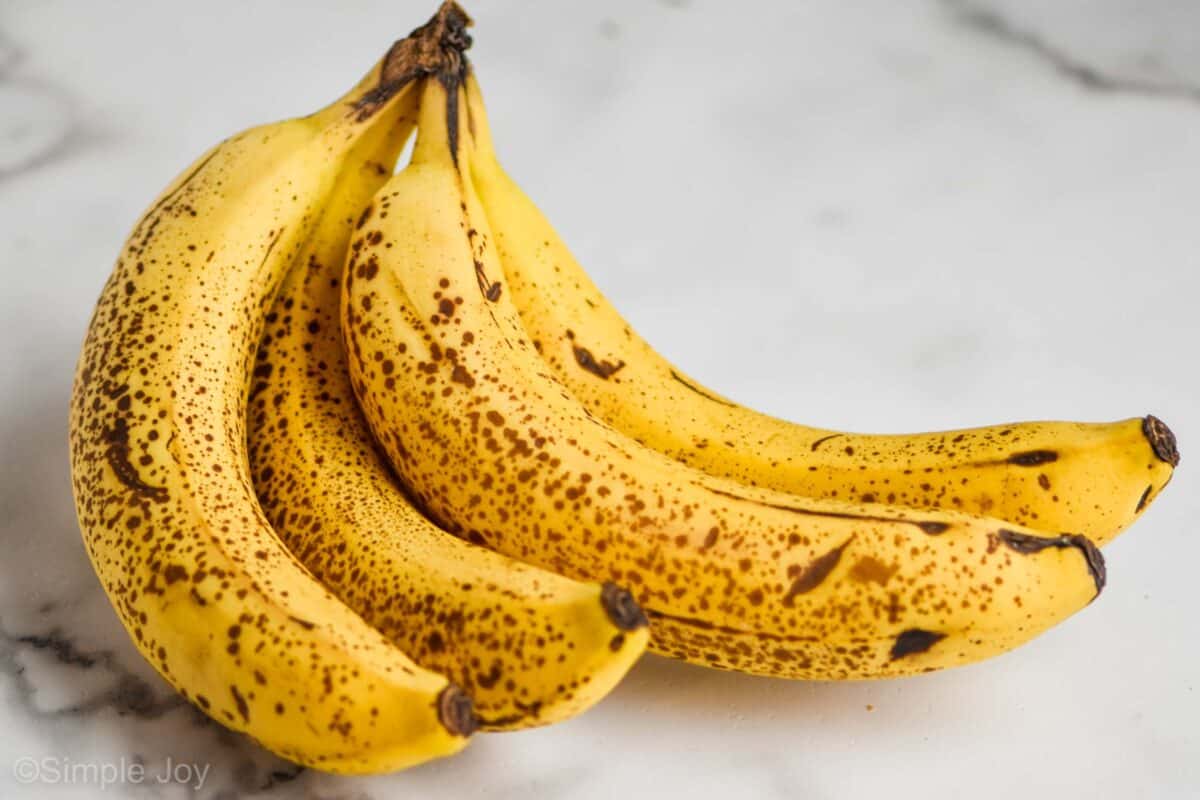 Substitutions and Variations
There are so many great variations on banana bread, the possibilities are endless.
Swap the chocolate chips for something else. You can take out the chocolate chips (or half of them) and replace them with a cup of something else. We've made this with blueberries, strawberries, Nutella and even zucchini. I know a lot of people love nuts in their banana bread, and that would work as a swap too.
Swap the yogurt for sour cream. They can be used interchangeably in this recipe, but I do not recommend eliminating the yogurt all together.
Use gluten free flour. I haven't tested this myself, but I have had readers report good results when they replace the flour in this recipe with 1 for 1 gluten free flour, such as Bob's Red Mill Gluten Free 1-to-1 Baking Flour.
Storing and Freezing
This bread recipe should be stored in an air tight container in a cool, dry place, for up to one week. I have best results when I don't store the bread in the pan it was baked in.
This bread can be frozen as a whole loaf. Wrap it three times in foil or plastic wrap and then place it in a freezer bag. Store for up to three months in the freezer.
It can also be frozen as slices. Once cooled, slice the bread into 10 equal slices. Place the bread on a wax paper lined tray and freeze it for about 4 hours. Transfer the slices to a freezer safe bag and store in the freezer for up to three months. When ready to eat, the slices will take about 30 minutes at room temperature to thaw.
FAQ
Can I leave out the yogurt?
No, you can't leave out the yogurt without throwing things off. You can, however, use sour cream instead. I've used both in this recipe and both work.
Can you freeze chocolate chip banana bread?
Yes! This bread freezes very well. See the directions in the section directly above the FAQ.
Can I use dairy free yogurt?
I haven't tested this recipe with dairy free yogurt, but I've had a few readers use it with good results.
Can I substitute stevia for the sugar?
I haven't tested this recipe with a sugar alternative, but some readers have with good results.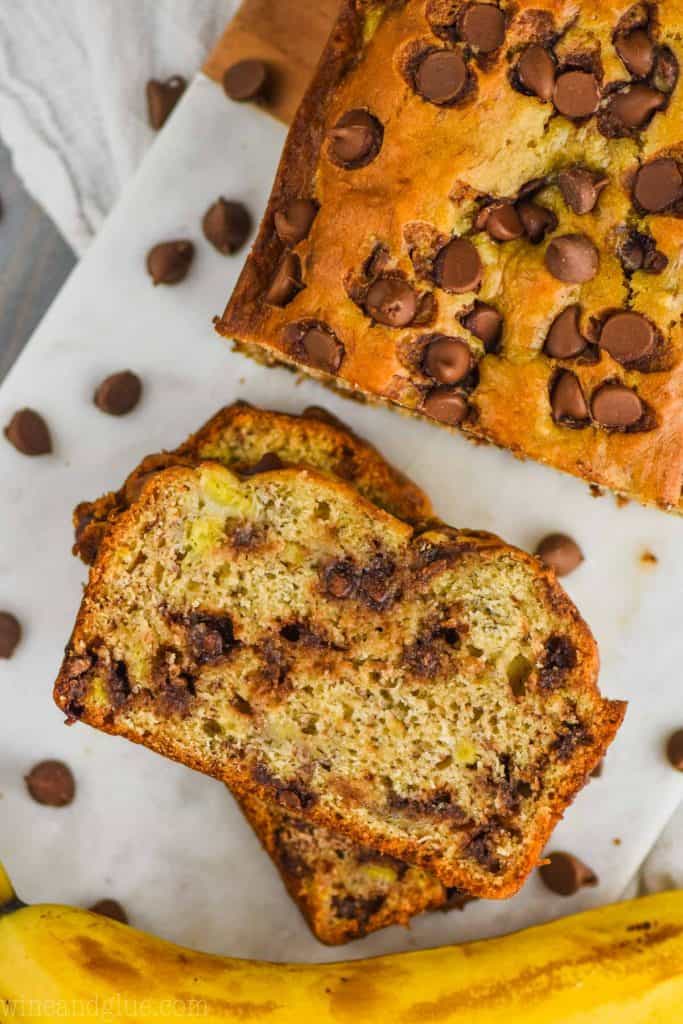 Other Spins on Banana Bread
Here are some other great banana bread recipes you will love!
If you try this recipe or any of my other recipes, leave me a comment and let me know what you think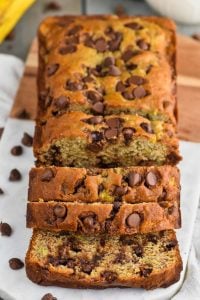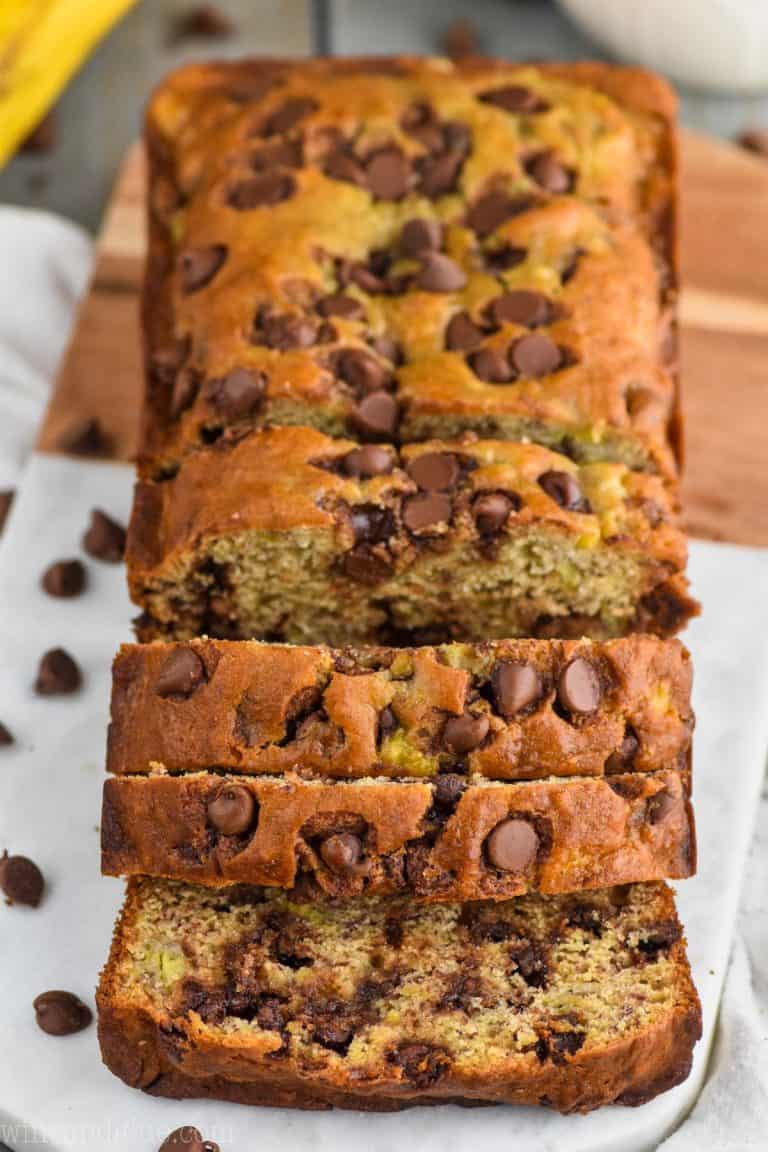 The Best Chocolate Chip Banana Bread Recipe
This is the best Chocolate Chip Banana Bread recipe! This chocolate chip banana bread comes together easily and is such a popular recipe in my house! It is moist, delicious, and only takes about 10 minutes to prepare.
Ingredients
2

cups

all purpose flour

3/4

teaspoon

baking soda

1/2

teaspoon

salt

3

very ripe bananas

mashed well (read more about ripe bananas here)

3/4

cup

sugar

6

tablespoons

unsalted butter

(melted and cooled) read about why we use unsalted butter, and how to use salted here.

2

large eggs at room temperature and lightly whisked

1/4

cup

plain yogurt

room temperature (sour cream also works)

1

teaspoon

vanilla extract

1

cup

milk chocolate chips

(semi-sweet will work as well)
Instructions
Preheat your oven to 350 degrees Fahrenheit. Spray a 9 by 5 inch loaf pan well with cooking spray.

In a large bowl, whisk together the flour, baking soda, and salt.

In a medium bowl, whisk together the bananas, cooled butter, eggs, yogurt, sugar, and vanilla.

Gently fold the wet ingredients into the dry ingredients. Be careful not to over mix

Stir in the chocolate chips until just combined.

Pour the bread batter into the prepared pan. Bake for 55 minutes or until a toothpick inserted slightly off center in the bread comes out with just a few crumbs.

Allow the bread to cool in the pan for 10 minutes. Then remove and allow to cool on a cooling rack for 35 minutes before slicing and enjoying.
Serving:
1
slice
Calories:
384
kcal
(19%)
Carbohydrates:
57
g
(19%)
Protein:
6
g
(12%)
Fat:
15
g
(23%)
Saturated Fat:
9
g
(56%)
Monounsaturated Fat:
2
g
Cholesterol:
56
mg
(19%)
Sodium:
229
mg
(10%)
Potassium:
162
mg
(5%)
Fiber:
3
g
(13%)
Sugar:
32
g
(36%)
Vitamin A:
300
IU
(6%)
Vitamin C:
5
mg
(6%)
Calcium:
20
mg
(2%)
Iron:
2
mg
(11%)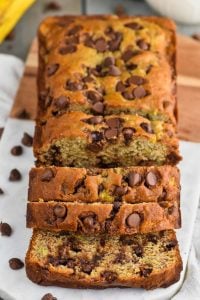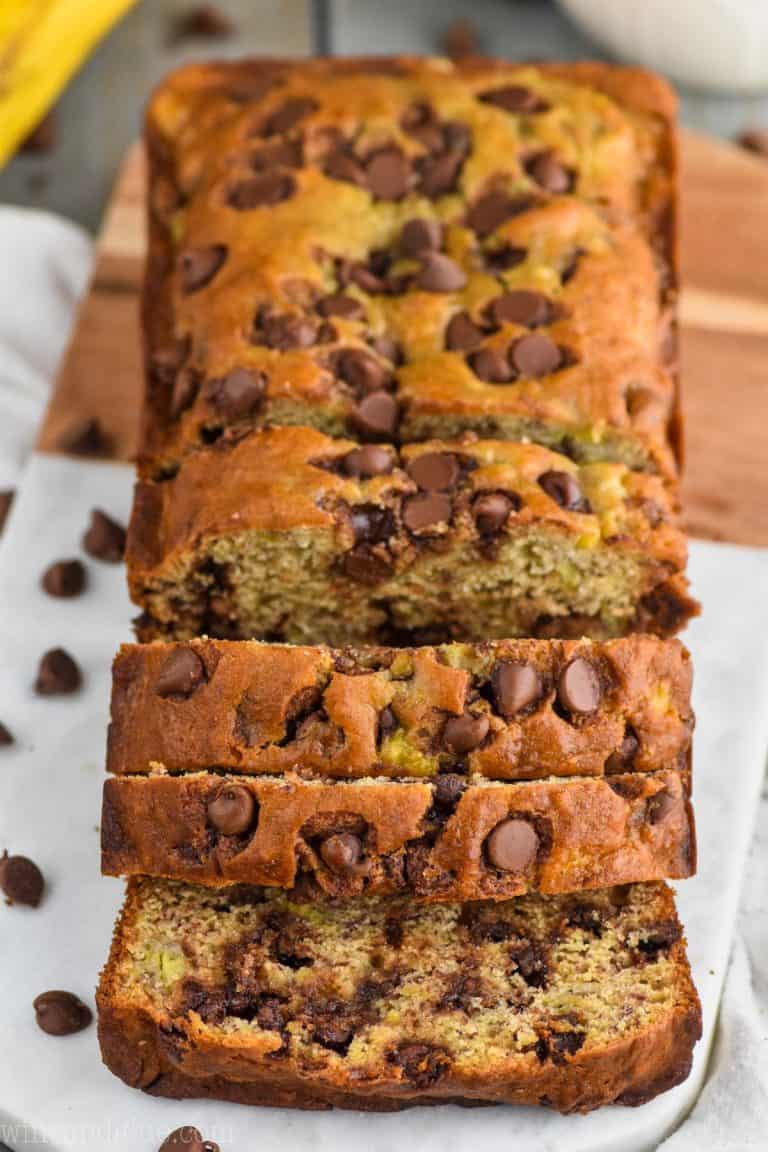 did you make this
The Best Chocolate Chip Banana Bread Recipe