This Birthday Cake White Chocolate Bark is fun to make totally scrumptious! With just FOUR ingredients, you have an easy treat for the whole family.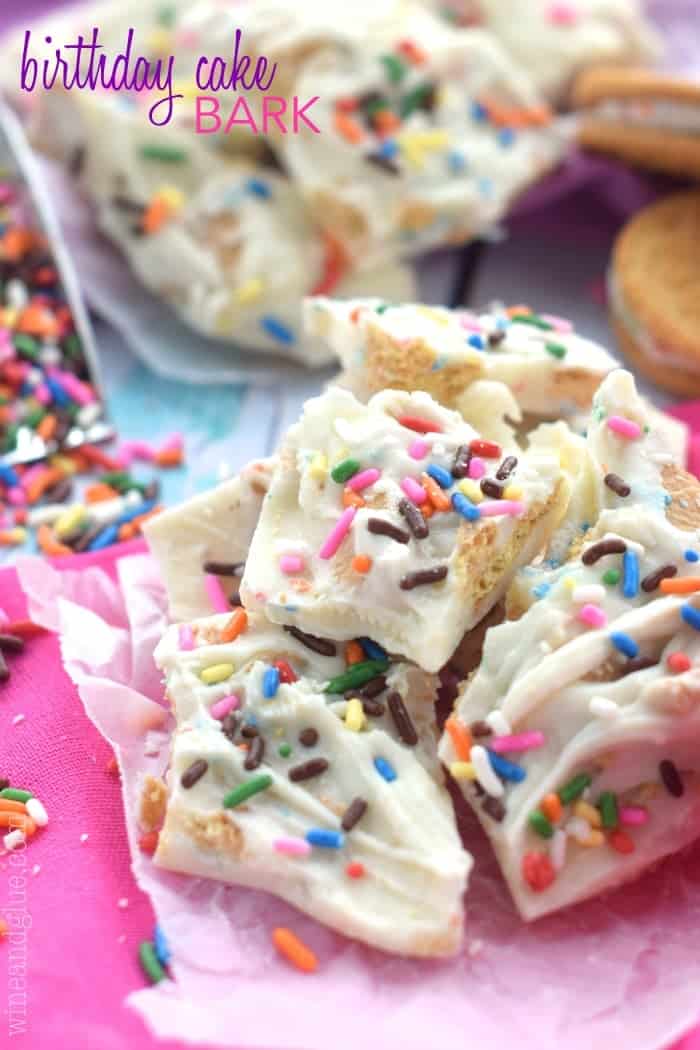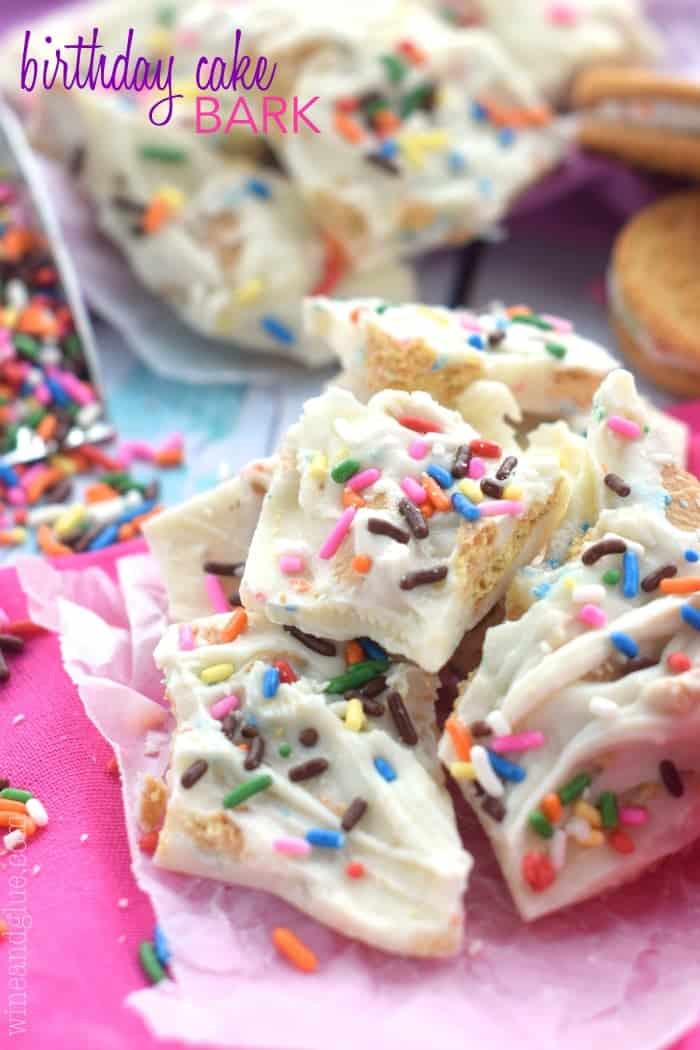 Birthday Cake White Chocolate Bark is another (and possibly my favorite) in my ever expanding bark family. Bark is one of those fun desserts that is super easy to make and always gets devoured. My husband swears by my Mint Oreo Bark and my kids are partial to Trix Cookie Dough Bark. Try this birthday cake recipe and see how much fun (and easy!) making bark can be.
Do you have a favorite bark recipe? If not, read on and I bet you'll be swayed by this one. But if you have a favorite, please oh please let me know in the comments below!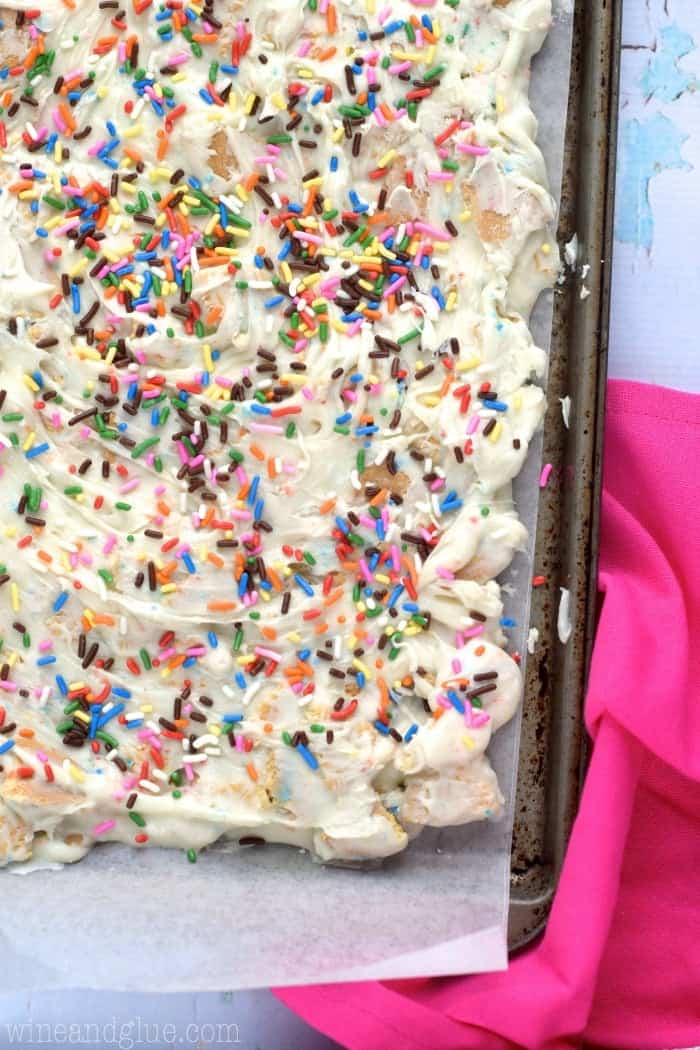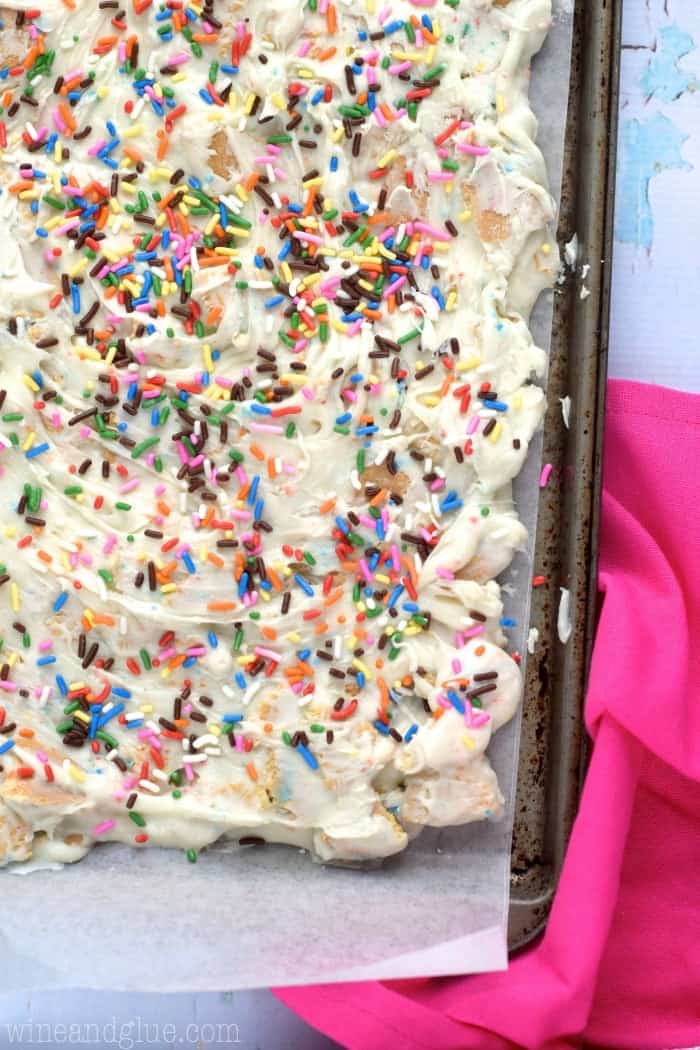 WHAT MAKES A GOOD BARK RECIPE?
Bark is one of those treats to make when you're craving something sweet but don't have a lot of time. The truth of the matter is, there's really NO recipe for bark. And there's no wrong answer to what ingredients you can toss in! Take whatever you have on hand and create a tasty treat that is sure to be gobbled up. There's no measuring, no perfect ratio, just whatever goes. My kind of dessert! Here's all you need:
Chocolate that you can melt down. Either chocolate chips, melts, bars, whatever.
Any flavor of chocolate works too! White, milk, dark, peppermint, pink, blue, green…the sky's the limit!
Choose one or two (or more!) mix-in ingredients. It can be cookies, nuts, candy, dried fruit, cereal, pretzels, crackers, anything you have on hand.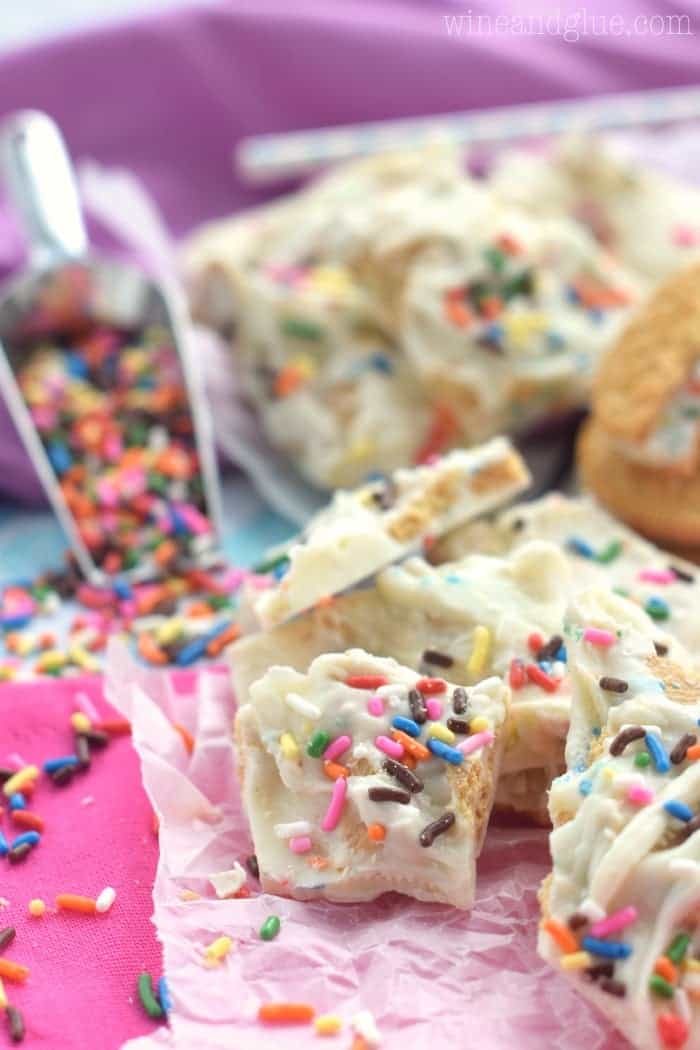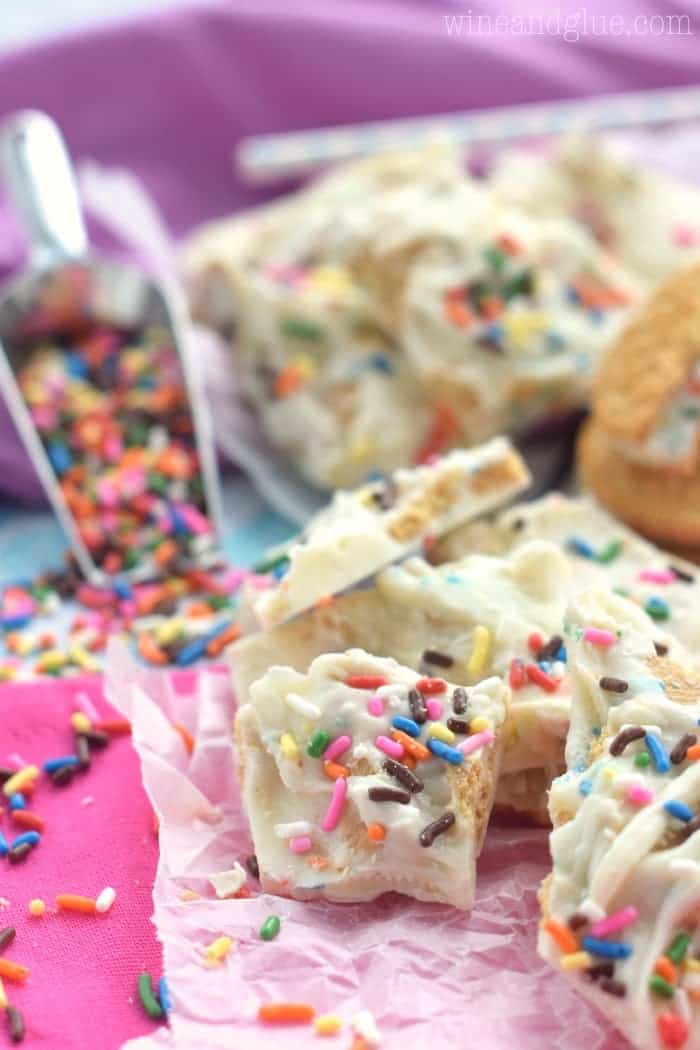 STEPS TO MAKING EASY CHOCOLATE BARK
Start by melting the chocolate. I like to melt it in the microwave, stirring every thirty seconds or so until it's completely melted. You can also melt it in a saucepan on the stove. Make sure to stir constantly!
Next, chop up all of your toppings and ingredients. You can break them in a bowl with your hands (like the Birthday Cake Oreos in this recipe) or use a food processor or knife. It all depends on how chunky you want your bark to be.
Then, mix in some or all of the stuff. I like to make sure there's a lot of mix-ins inside the chocolate but I also save some to sprinkle over the top while it's still warm. That way there's always plenty of crunch in each piece and it looks pretty too!
Spread it out on a pan that has been lined with wax paper. Don't skip the wax paper, otherwise you'll have a devil of a time getting the candy out of the pan.
Make the layer as thick or thin as you like, but a general rule of thumb is to make the bark about a quarter of an inch thick.
Throw the pan into the freezer and let it chill for at least an hour until it's nice and firm.
While the bark is still really cold, break it up into pieces. It doesn't matter that they're not all the same size; that's the beauty of a bark recipe!
Eat it straight from the pan, or wrap it up in a pretty box or paper to give out as gifts.
MORE EASY CHOCOLATE BARK RECIPES
If you're looking for a place to start on your bark journey, try some of these amazing concoctions!
This Birthday Cake White Chocolate Bark recipe is sure to be a favorite! I love the creamy cake flavor and the crunchy cookies and vibrantly colored sprinkles on top. Try it today, or branch out and make your own concoction! Then be sure to share it with me in the comments below. Enjoy!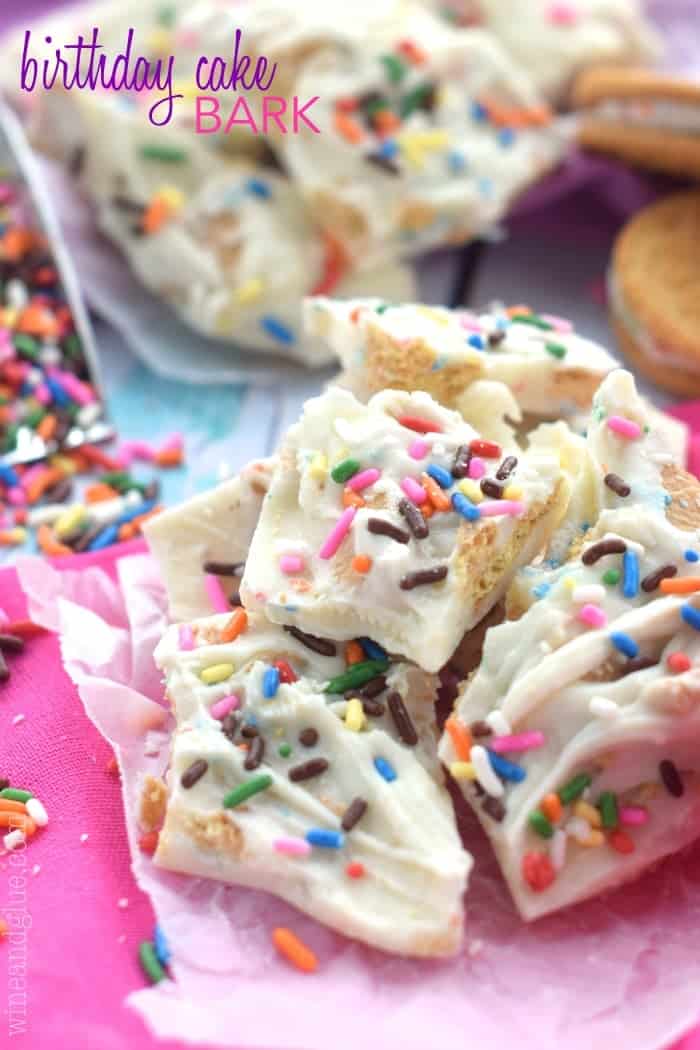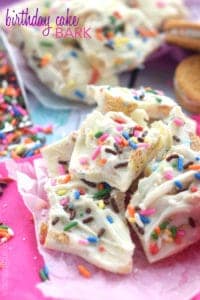 Birthday Cake White Chocolate Bark
This Birthday Cake White Chocolate Bark is fun to make totally scrumptious! With just FOUR ingredients, you have an easy treat for the whole family.


Ingredients
1/2

of a 15.5 oz package of golden Birthday Cake Oreos

about 20 cookies

24

oz

bag of white morsels

1/4

cup

cake mix

1/2

cup

sprinkles
Instructions
Break the Oreos into a bowl.

Melt the chocolate according to the directions on the bag.

Quickly whisk in the cake mix. Then stir in the Oreos.

Pour the mixture into a wax paper lined pan. Very quickly pour the sprinkles onto the wet chocolate, and gently push down.

Put the pan into the freezer for two hours.

Break it up and enjoy!
Serving:
2
pieces
Calories:
220
kcal
(11%)
Carbohydrates:
30
g
(10%)
Protein:
2
g
(4%)
Fat:
12
g
(18%)
Saturated Fat:
6
g
(38%)
Monounsaturated Fat:
1
g
Cholesterol:
10
mg
(3%)
Sodium:
49
mg
(2%)
Potassium:
6
mg
Fiber:
2
g
(8%)
Sugar:
23
g
(26%)
Calcium:
4
mg
Iron:
1
mg
(6%)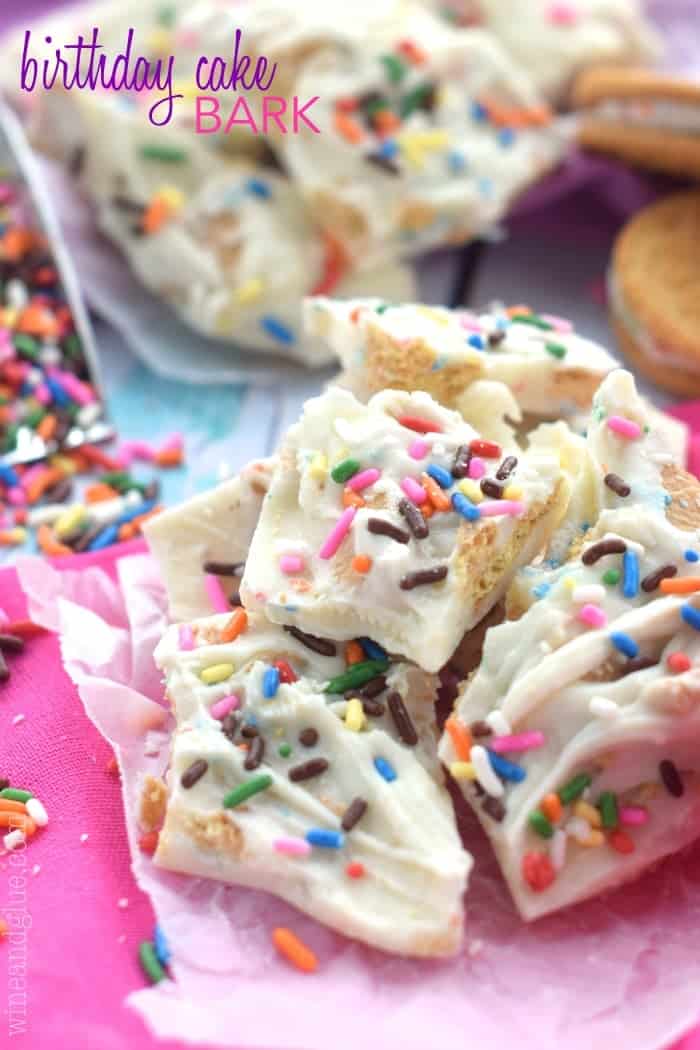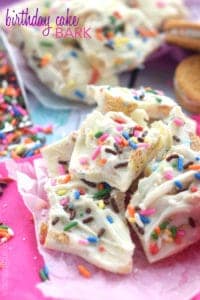 did you make this
Birthday Cake White Chocolate Bark