This Buffalo Chicken Wrap is a 20 minute dinner recipe that will have you wanting seconds. Be sure to make extra so you can take them for lunch tomorrow!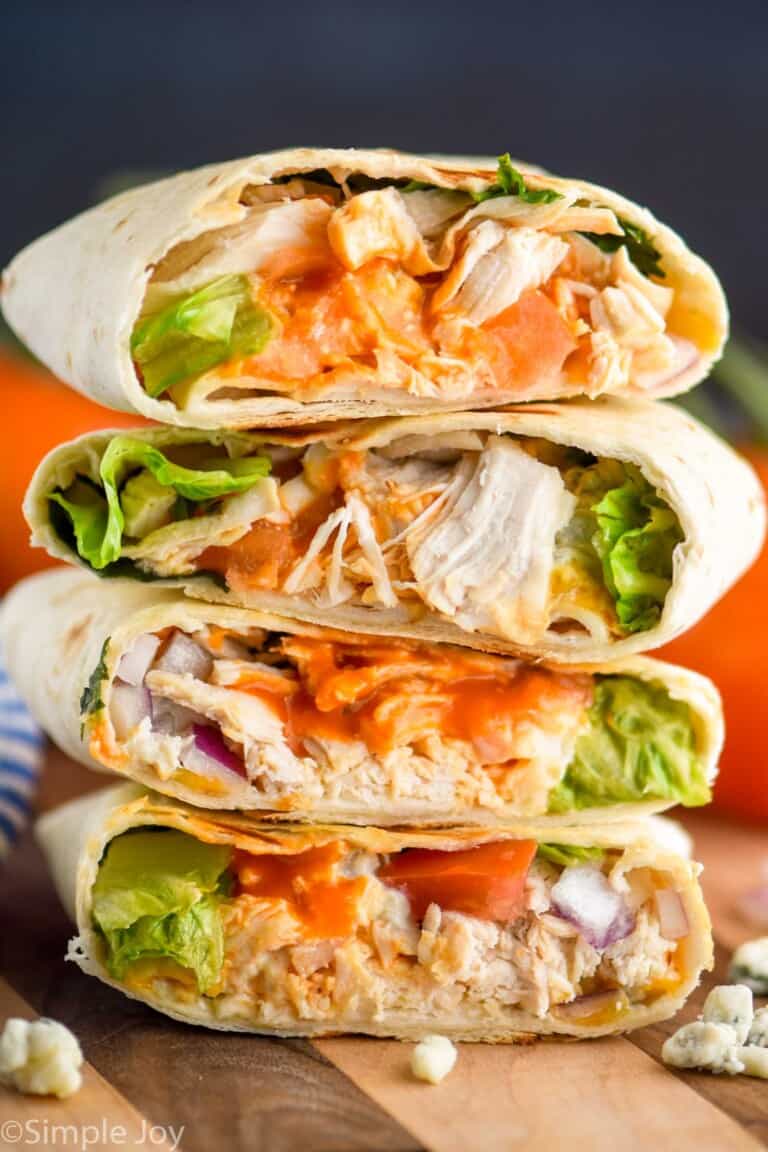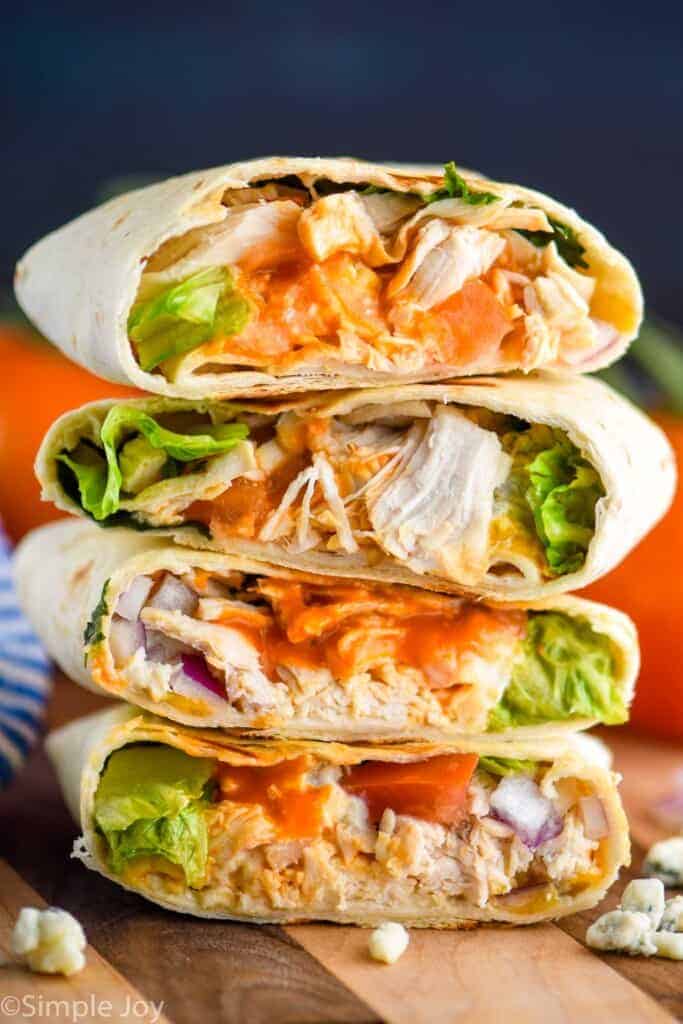 When it comes to making recipes for you, one area that I know gets neglected too much is work day lunches. I recently sent out a newsletter with some suggestions and I immediately got a lot of feedback about how helpful it was. I will get to work building up that category for you. (You can find some of the recipes from that newsletter under my recipe card in this post.)
To that end, here is a delicious recipe for you to add to your list of lunches. It also makes a fantastic and fast dinner. This Buffalo Chicken wrap is a spin off of my Chicken Wrap, a recipe that you could take in so many great directions. At this moment I'm dreaming of a BBQ Chicken Wrap.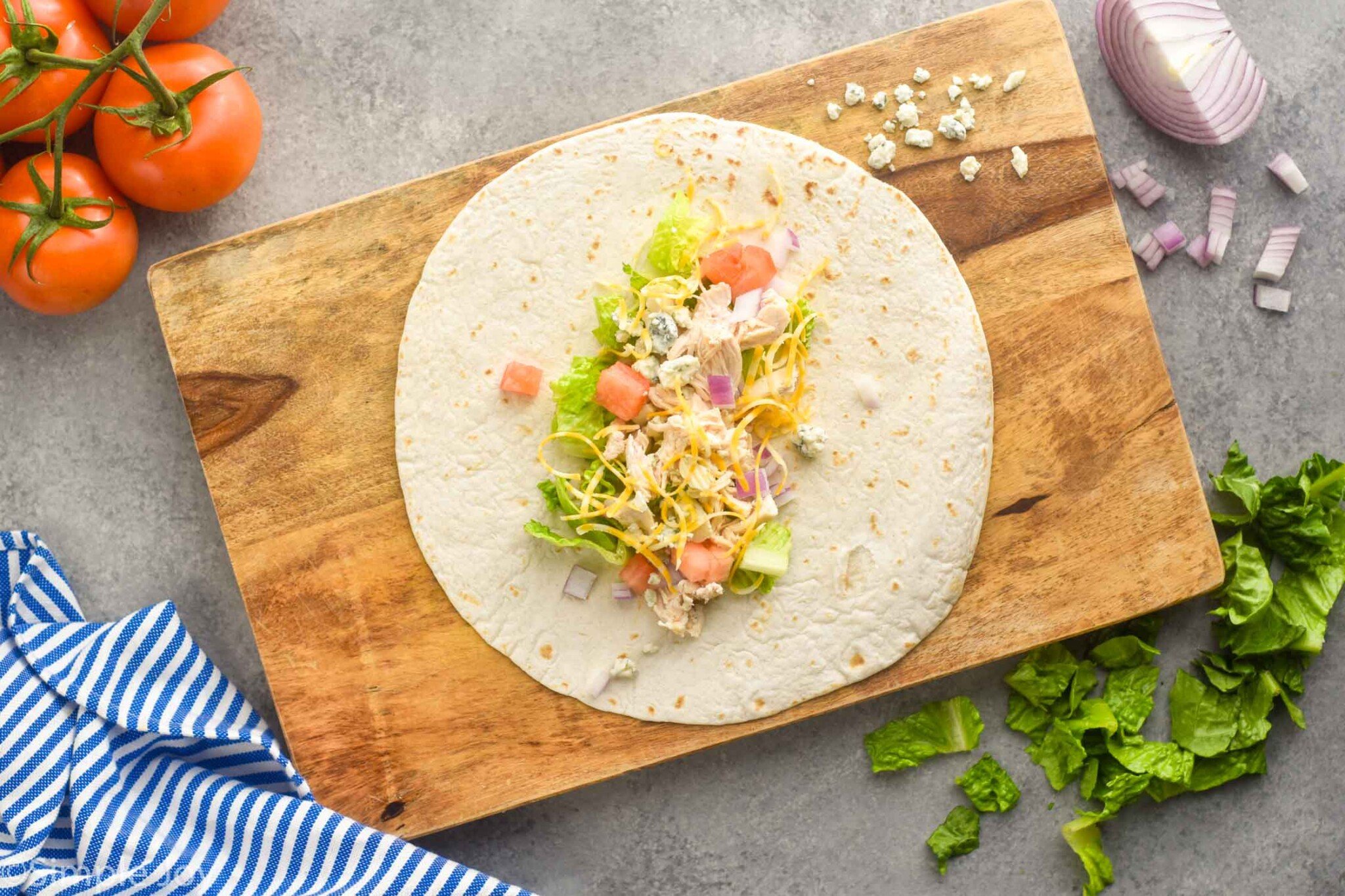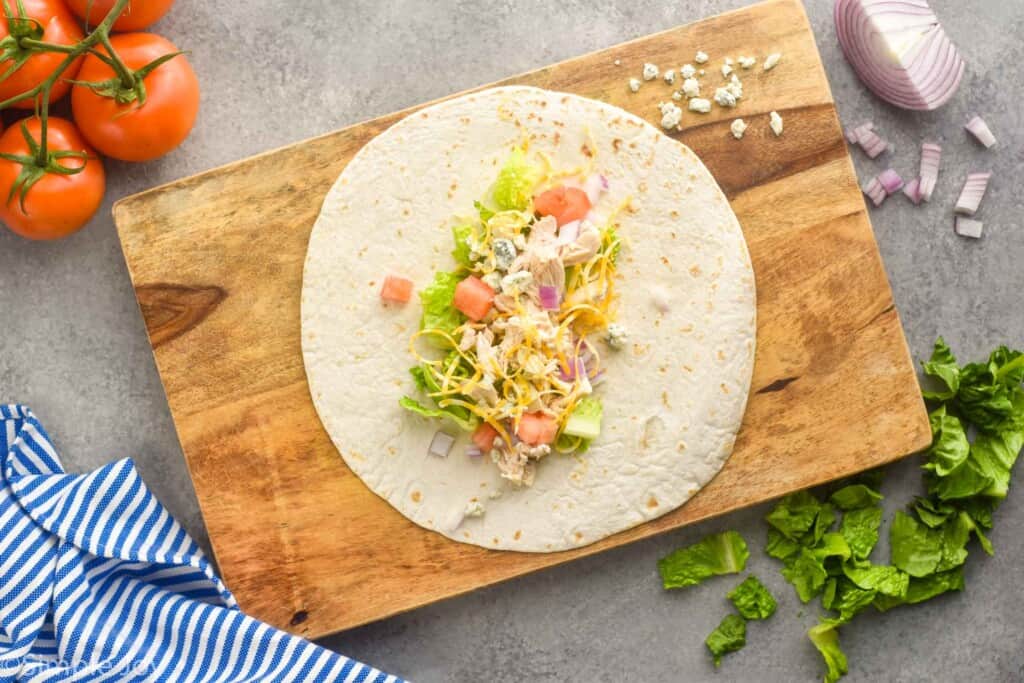 How to Make a Buffalo Chicken Wrap
These little beauties are so easy to make. Grilling them on my grill pan not only holds them together, but combines the flavor in the most perfect way. That being said, if that extra step is too much, skip it.
As always, make sure to see the recipe card for the full list of ingredients and instructions.
Assemble the wraps: Combine the ingredients in the center of a large tortilla shell. You are looking for the burrito size at the store.
Fold the wrap: Fold in the sides that have ingredients closest to the edge (the top and bottom in the picture above), and then fold in the other two sides.
Grill the wrap: Place the wrap fold side down on the grill. Grill for 2 to 4 minutes on each side or until they become lightly golden.
Homemade Buffalo Sauce
Making Buffalo Sauce for this recipe is as easy as can be. Our homemade recipe comes together with a few simple ingredients – most of them are probably already in your kitchen!
Homemade Buffalo Sauce
This Buffalo Sauce sauce is a very easy 10 minute recipe that is perfect for wings, and so many other great Buffalo flavored recipes.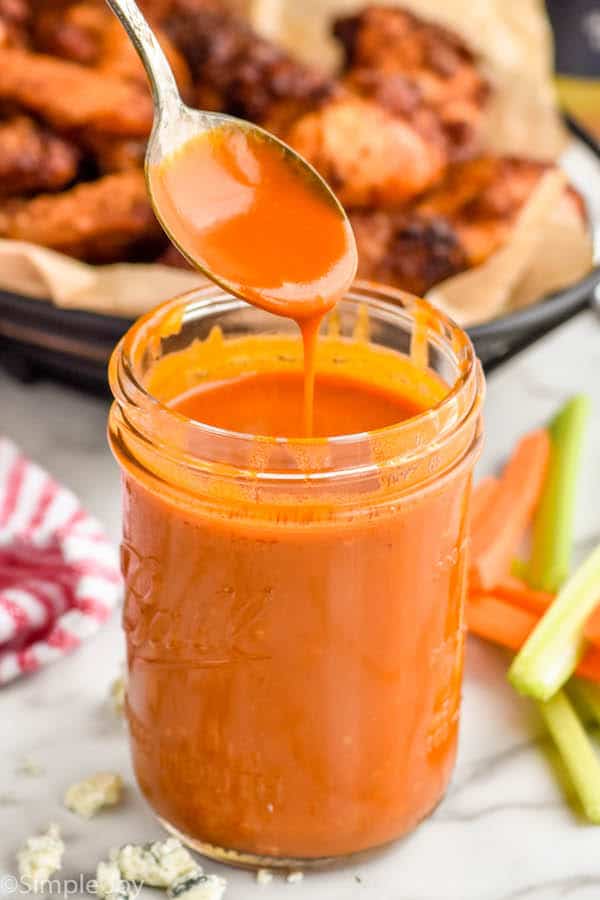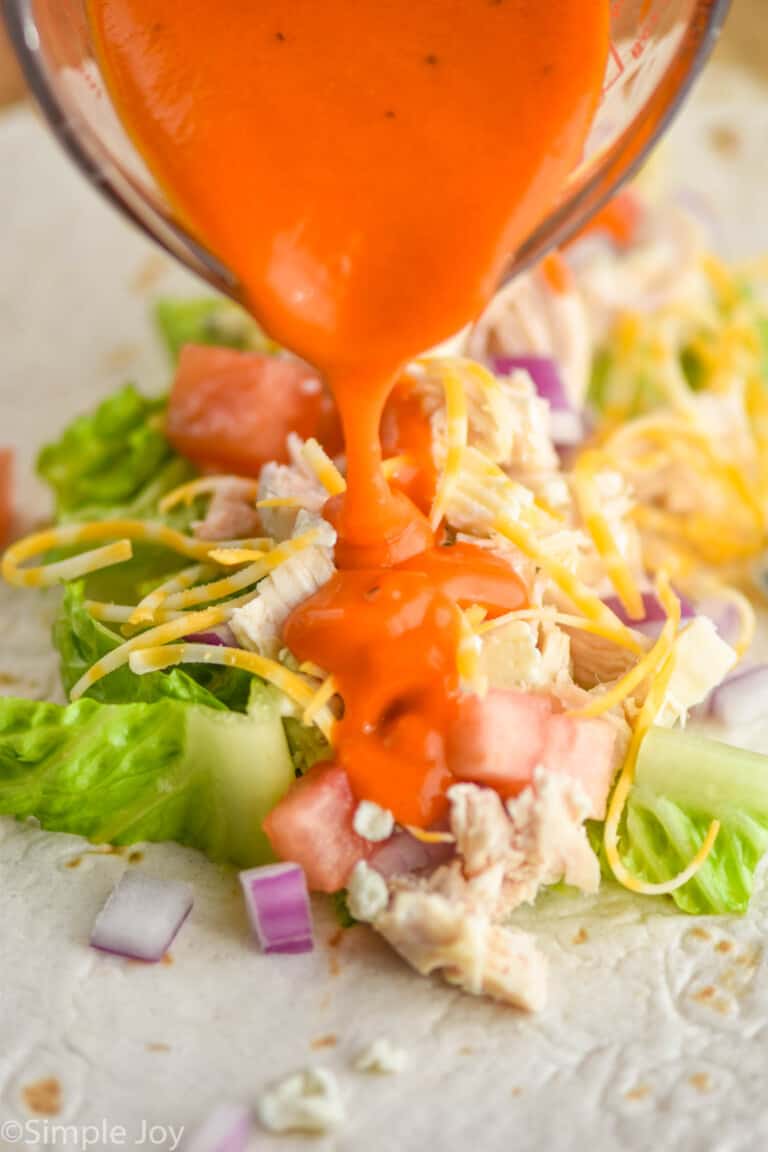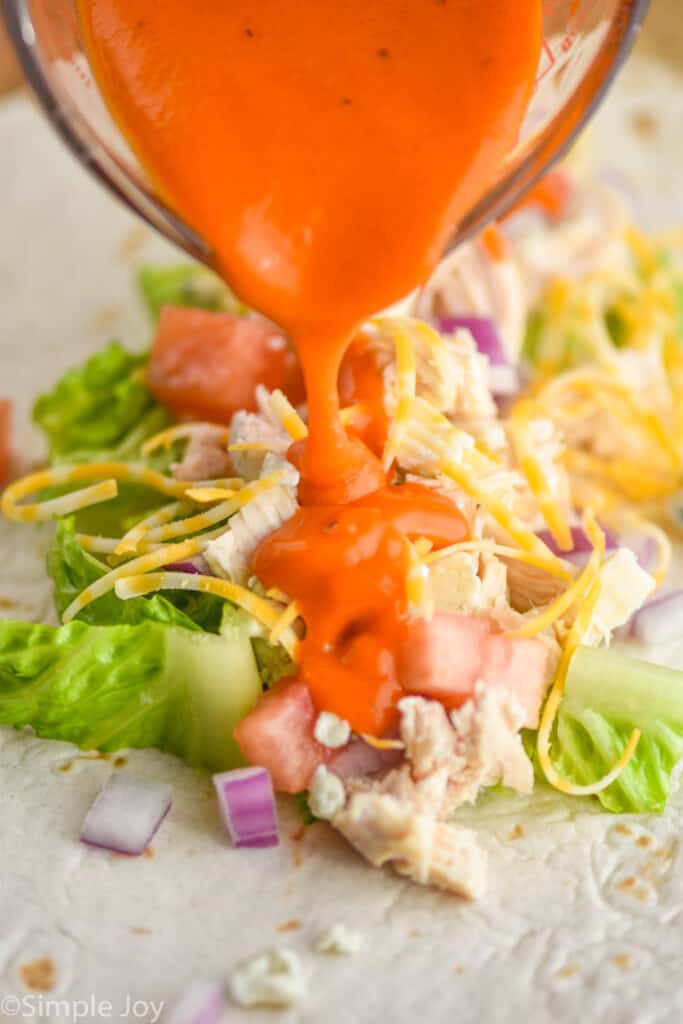 How to Cook Shredded Chicken
This recipe calls for 2 cups of cooked chicken. This is roughly 2/3 a pound of raw boneless skinless chicken breasts.
To cook a boneless skinless chicken breast for this recipe:
Add the chicken to a pan and cover with water. Place over medium high heat.
Bring to a boil.
Cook for 4 to 7 minutes or until it reaches 165 degrees.
Please note that the time it takes to cook the chicken greatly varies based on the thickness of the chicken. You are best off by using an instant read thermometer and taking the chicken out when it reaches 165 degrees.
Keeping Cooked Chicken on Hand
One of the things that makes this recipe so fast is that we are using chicken which is already cooked. I love keeping shredded chicken on hand in my freezer. You can use the method above to cook it or buy a rotisserie chicken and then use my instructions for How to Freeze Chicken.
Thaw the frozen chicken in your refrigerator overnight or by leaving it at room temperature for 30 minutes. Please note that for health safety reasons you should only thaw the amount of chicken you plan on using and eating that day.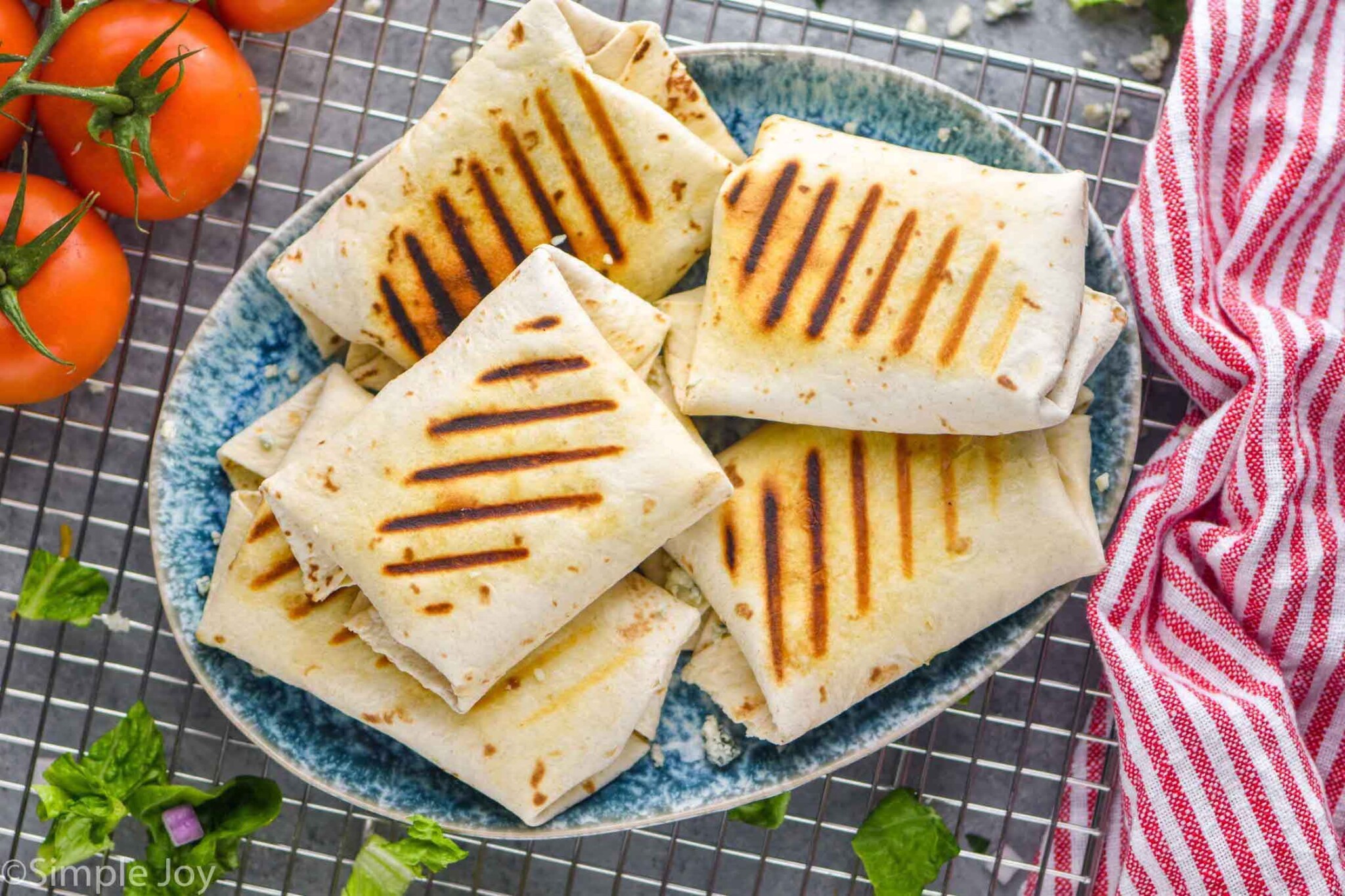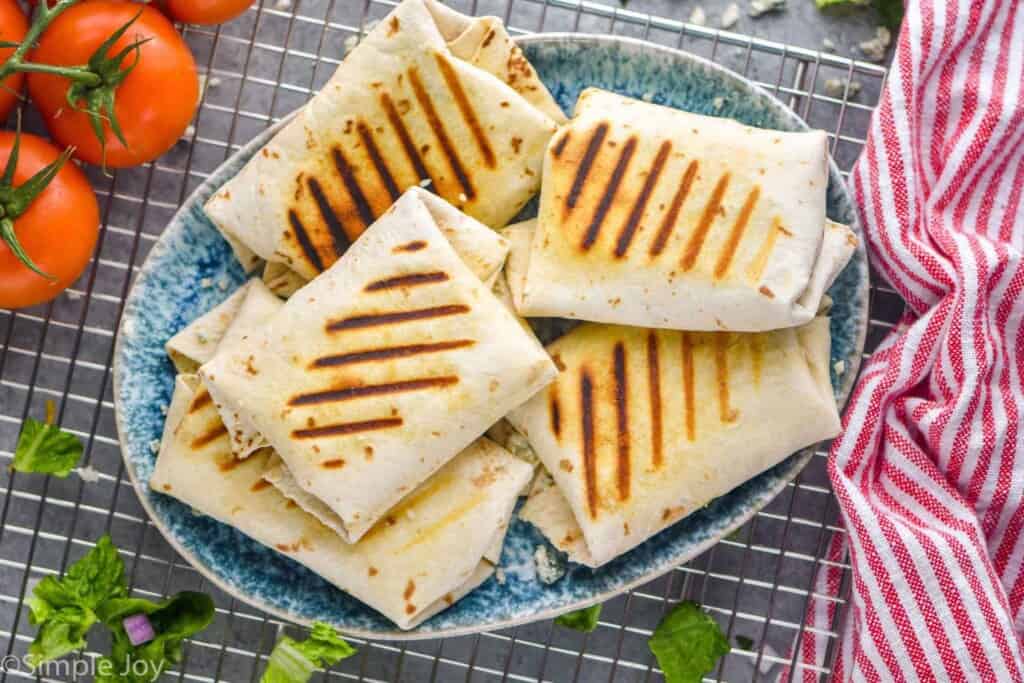 Variations and Substitutions
If you are looking to make changes here are a few suggestions.
Leave out Blue Cheese – I know Blue Cheese isn't for everyone. If you fall into that group, double up on the the Colby Jack.
Make it Less Spicy – If Buffalo isn't your thing or it is too spicy, cut the total amount to 1/4 cup and add in 1/4 cup Ranch Dressing.
Omitting Vegetables – If one of the vegetables listed here isn't for you, leave it out. Just leaving out one of these won't greatly affect the recipe.
Add more Blue Cheese – If you are someone who loves Blue Cheese, then add more to this recipe with our Homemade Blue Cheese Dressing.
Make Extra for Leftovers
As I mentioned above, this is a great workweek lunch! I suggest that you grill a few extra and stash them in the refrigerator for later in the week. Though you won't be eating them warm, the grilling will help hold them together.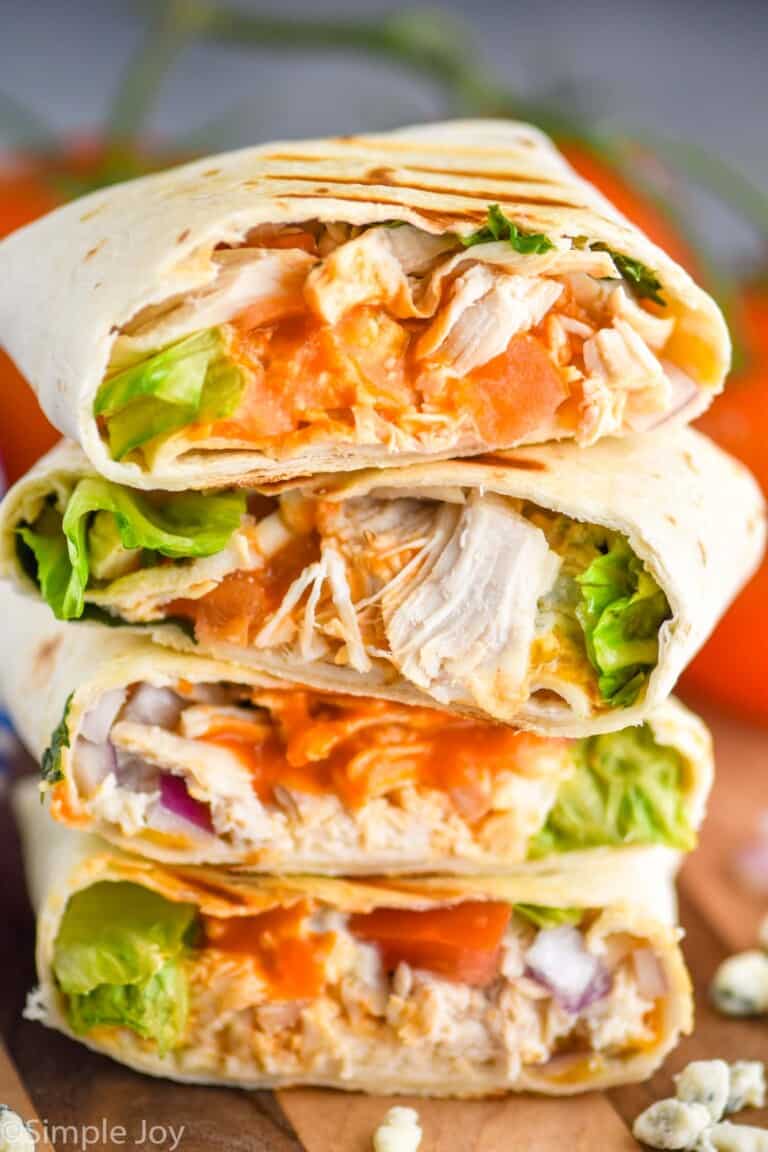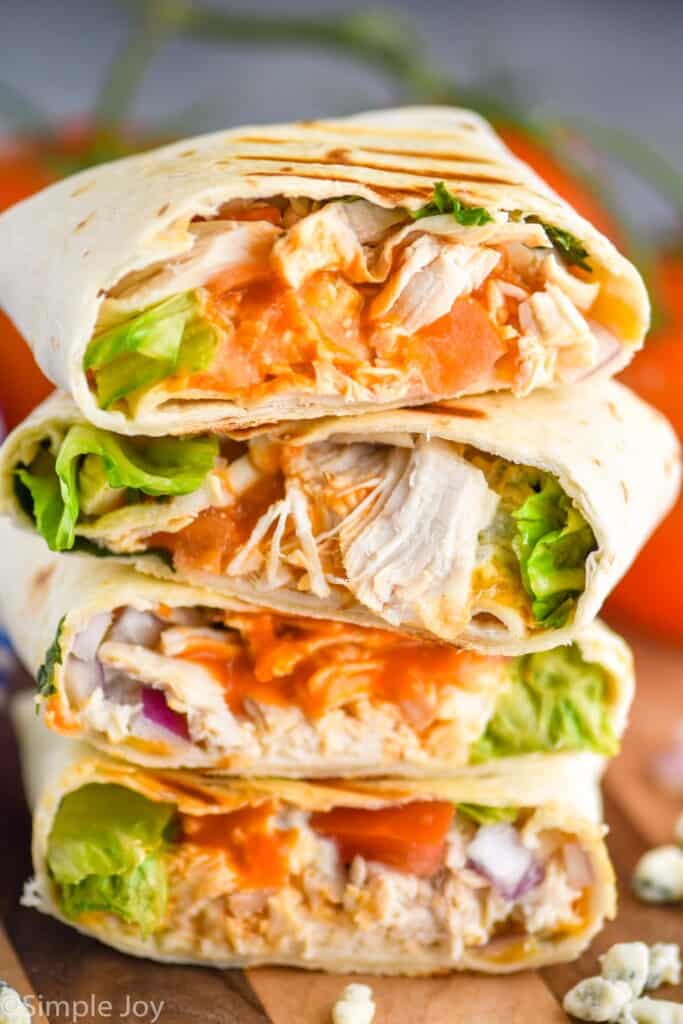 Make Low Carb Buffalo Chicken Wraps
Love the flavor combinations that are happening here, but you are trying to eat low carb? I've got you.
We are going to cut out the grilling and eat these cold. Use some bib lettuce in place of the tortillas and eat them the way you would my Chicken Lettuce Wraps.
You could also get fancy and use large pieces of iceberg lettuce to wrap them up.
Storing and Eating Leftovers
Leftovers can be stored in the refrigerator for 3 to 4 days. As always, use your best discretion and sense of smell when it comes to left over food.
I would recommend that left overs be eaten cold. Reheating tortilla shells in the microwave will often leave them with a rubbery texture. These wraps are just as delicious cold as they are warm.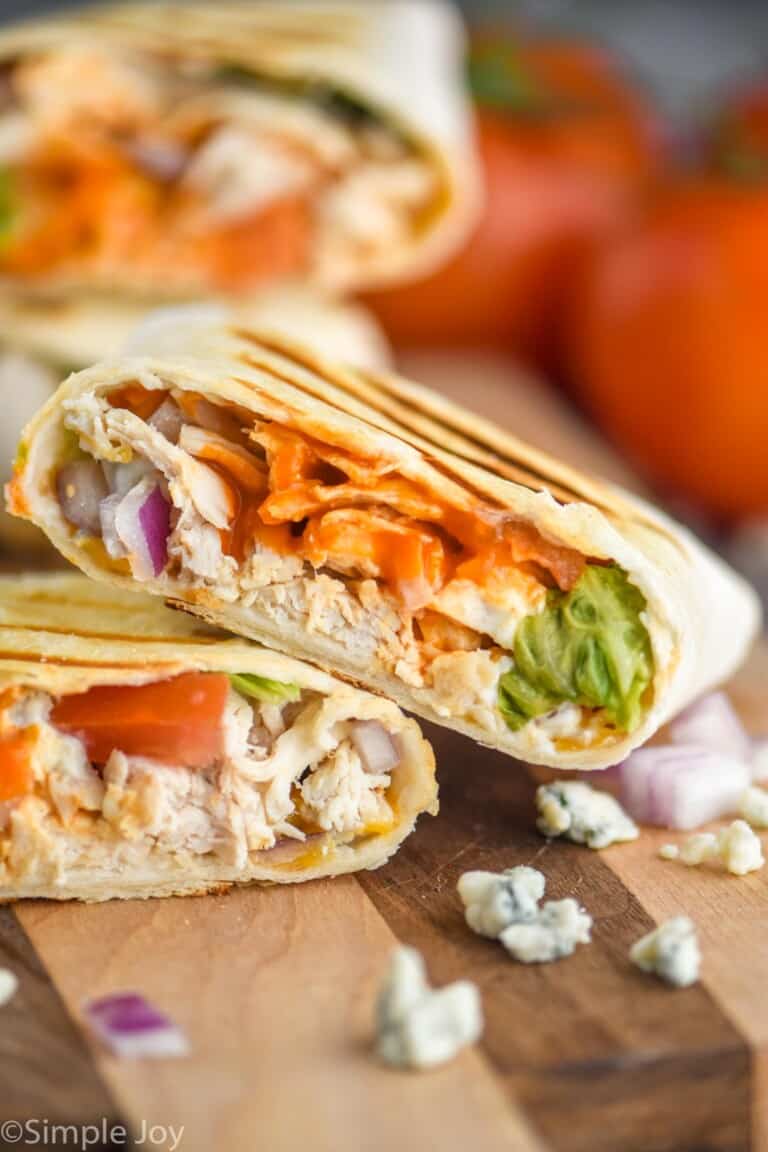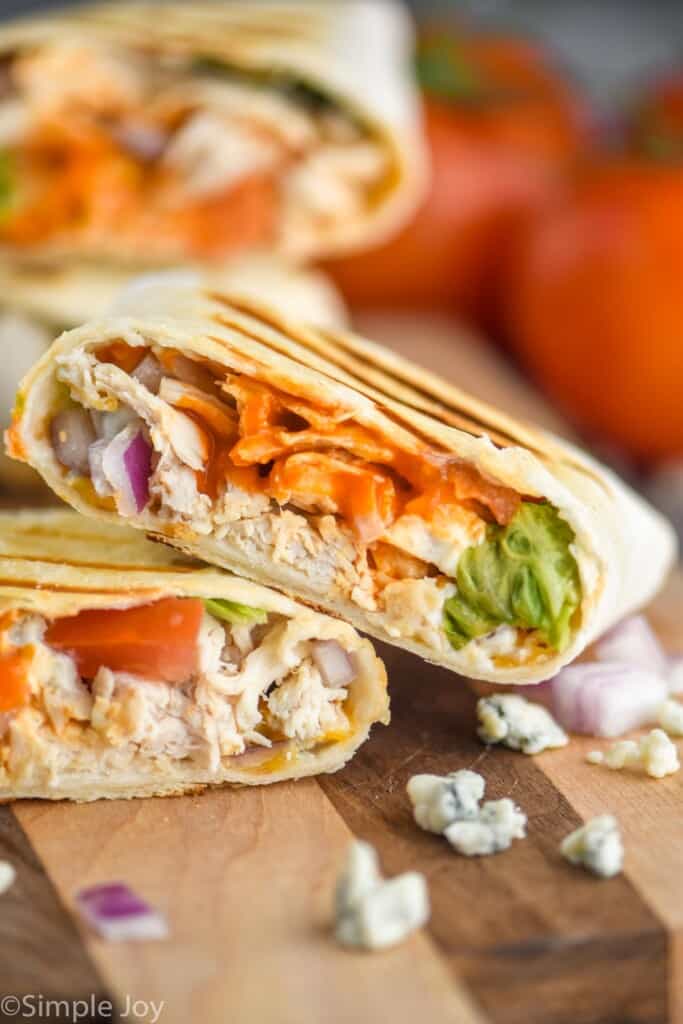 If you make this great Buffalo Chicken Wrap recipe or any of my other recipes, leave me a comment and let me know what you think!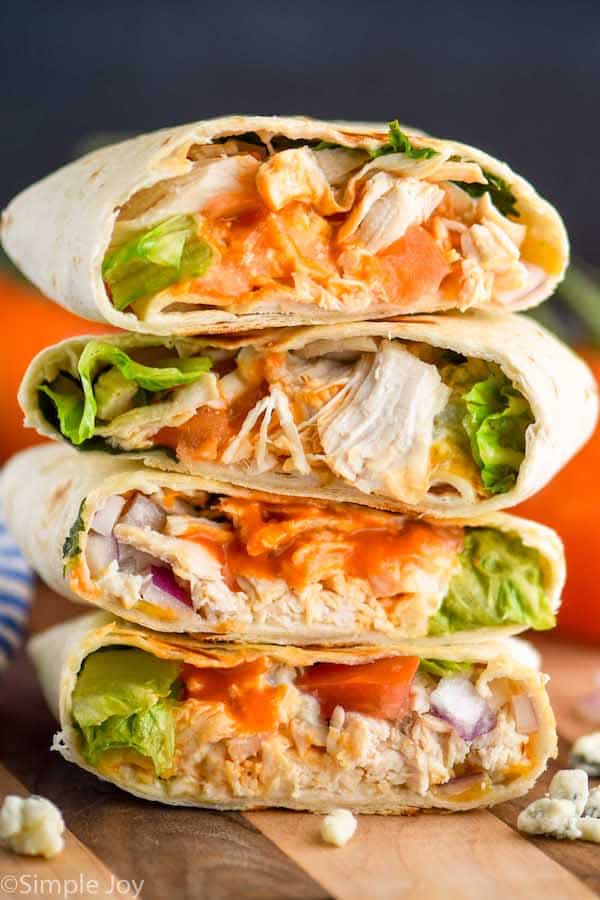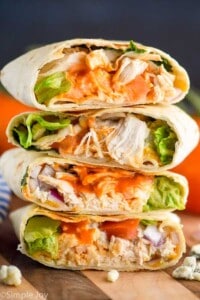 Buffalo Chicken Wrap
Ingredients
2

cups

cooked chicken

(See notes in the post about how to cook shredded chicken)

2

cups

chopped Romain lettuce

2

Roma tomatoes

diced

1/2

small red onion

diced fine

1/2

cup

finely shredded colby jack cheese

finely shredded

1/2

cup

blue cheese

1/2

cup

buffalo sauce

4

9 inch flour tortillas

(You are looking for burrito size)
Instructions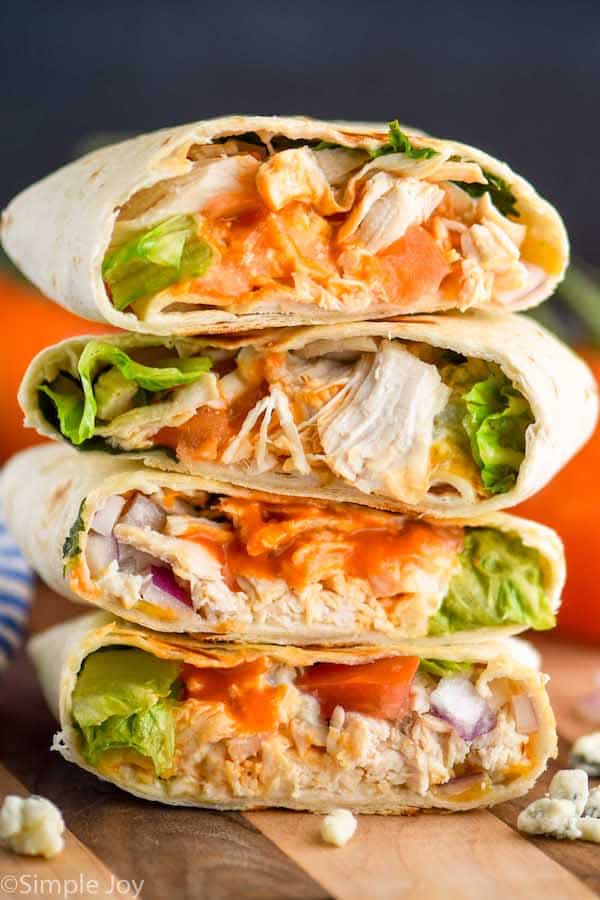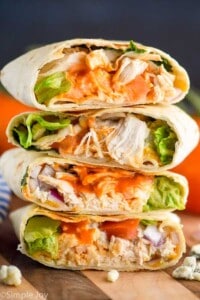 did you make this
Buffalo Chicken Wrap