This Christmas Sangria is perfect for your holiday party! Made with only three ingredients, this is the perfect Christmas cocktail.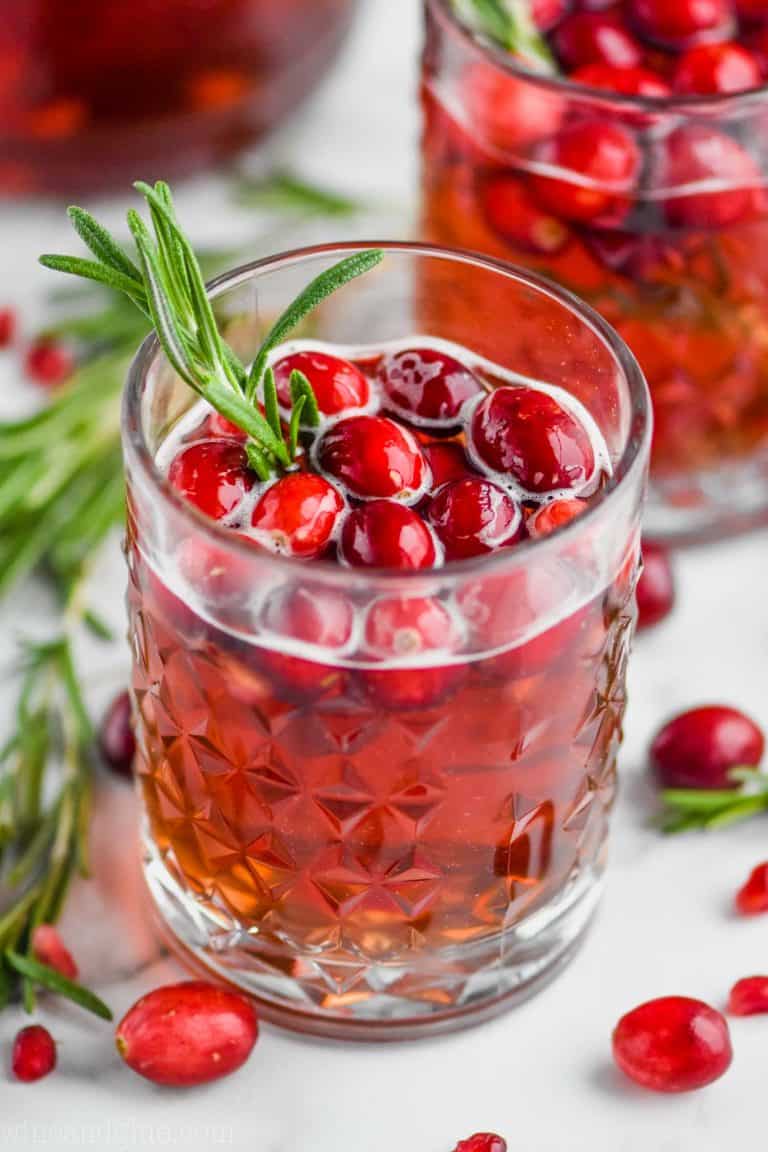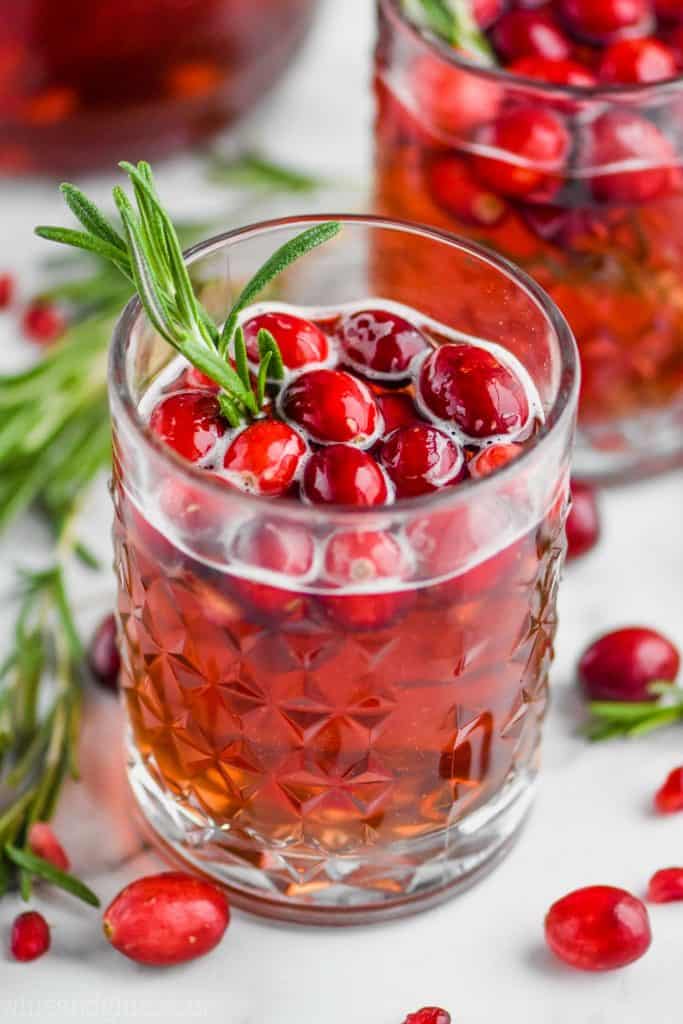 I was on my way to my dad's for Thanksgiving and texting with a good friend. She was telling me about some family holiday drama – raise your hand if you can relate- and telling me she needed a good cocktail to bring to Thanksgiving.
She asked me for a recipe, knowing that I am the friend you call for a good cocktail. And now I'm filled with regret that I didn't send her this Christmas Sangria recipe, because it is the perfect holiday cocktail.
The bad news is family drama is as common as overplayed Christmas songs. She'll probably face more at Christmas. The good news is she will be armed with this Pomegranate Cranberry Sangria.
And so will you.
Sangria is a great way to distract someone from starting up drama. #lifehack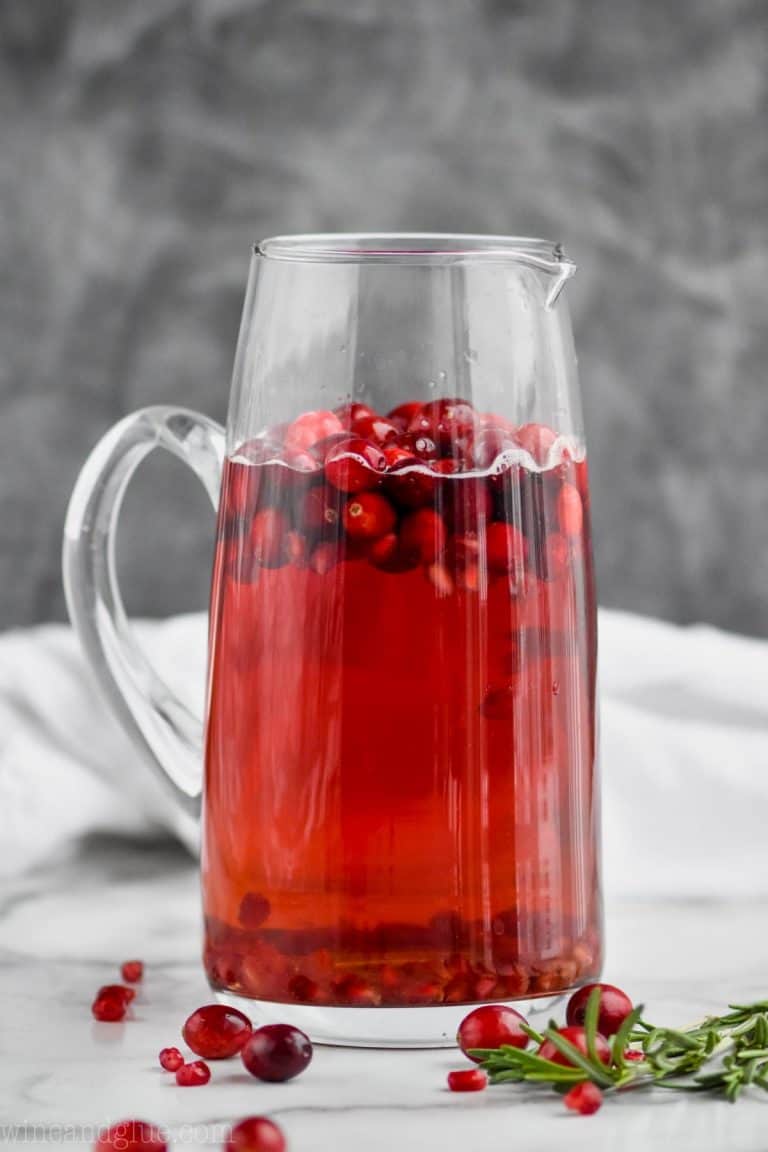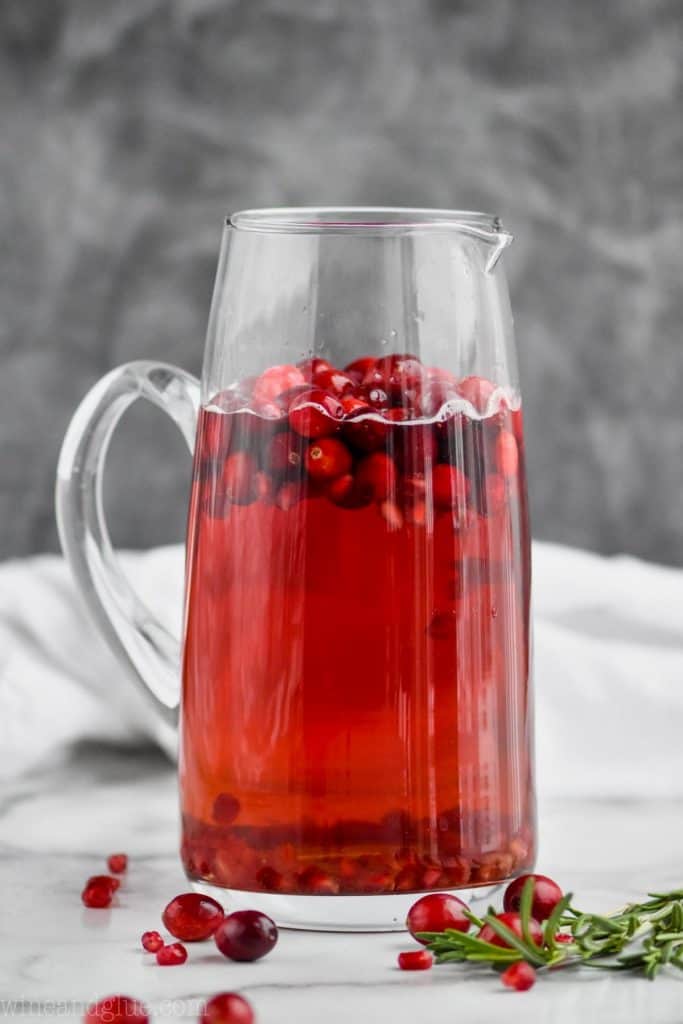 INGREDIENTS FOR THE BEST HOLIDAY SANGRIA
The main flavor of this sangria recipe is pomegranate. One of my favorites for holiday drinks. (Check out a list of more holiday cocktails below.)
This recipe starts with a white wine. I used Moscato, because my friends like their drinks sweet. If you don't, use a drier wine like Pinot Grigio.
After that we add pomegranate liqueur. I used PAMA. It is delicious, and if you want to see it in action, check out my Pomegranate Cranberry Champagne Cocktail.
If you don't want to spring for a whole bottle of that, or you want it less boozy, you can use pomegranate juice. Find it with the fresh produce in your grocery store.
Next we mix in a little pomegranate cranberry juice. If you don't think you will use the bottle for anything else, but know the kids will drink cranberry cocktail, just use that.
Finally, we add in fresh pomegranate seeds and fresh cranberries. A sprig of rosemary kicks gives it perfect holiday flare.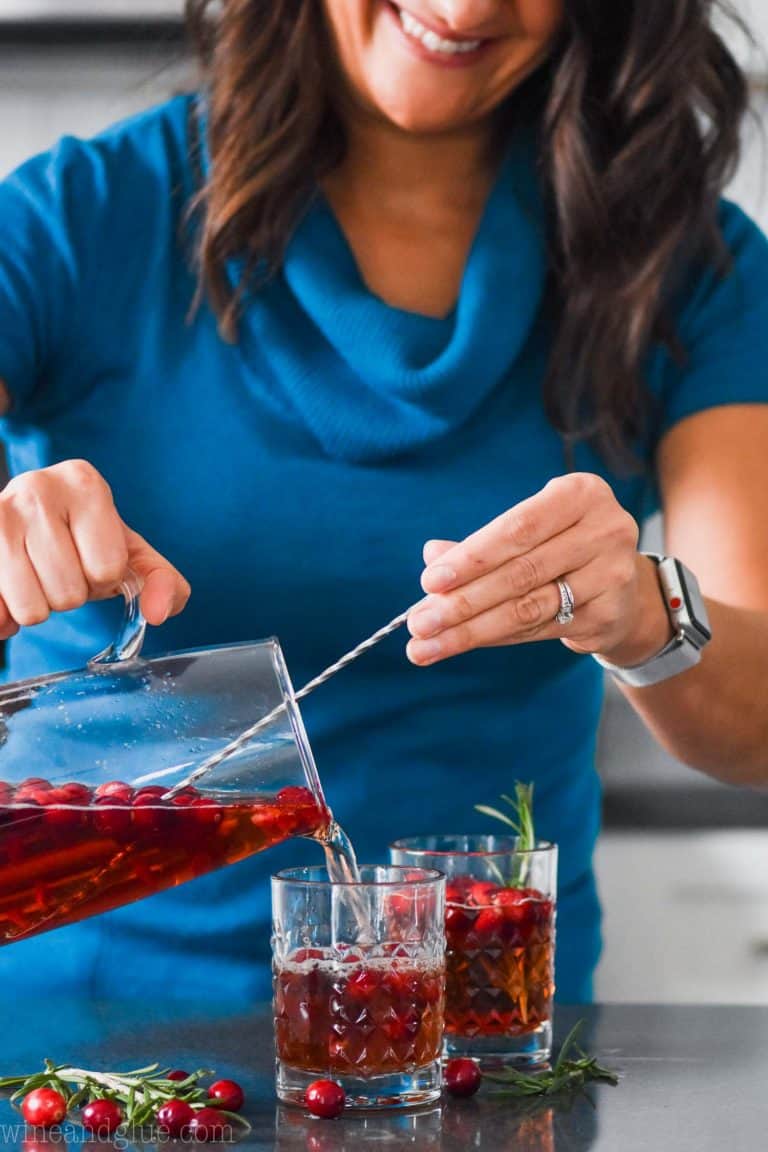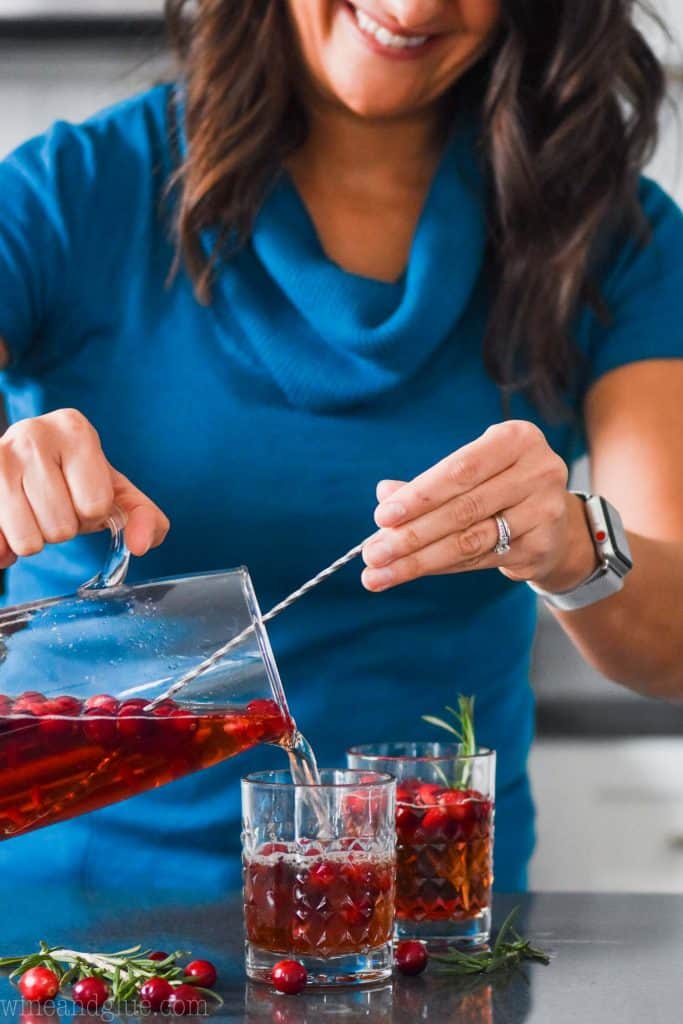 HOW TO MAKE CHRISTMAS SANGRIA
You guys, if you don't celebrate Christmas, you are still going to want to make this. Just call it Holiday Sangria.
Sangria is my favorite because it's so easy to make. (Grab more sangria recipes below!)
To make this Christmas Sangria Recipe, just mix all of the ingredients together. Make sure your wine is chilled so you can serve it cold.
I don't add the rosemary to the pitcher of sangria. I save that as a garnish for the glasses.
A NOTE ON SWEETNESS
I always struggle when I bring cocktails to gatherings because different people like their cocktails at different levels of sweet. I used to LOVE my drinks super sweet and not as much anymore, so I get it.
I love that I have created a cocktail that can be made at varying levels of sweet.
For a very sweet sangria: Use Moscoto white wine, pomegranate juice, and cranberry pomegranate juice.
For slightly less sweet version: Use Pinot Grigio, pomegranate juice, and cranberry pomegranate juice.
For the least sweet version: Use Pinot Grigio, pomegranate liqueur, and cranberry pomegranate juice.
HOW TO KICK THIS SANGRIA UP A NOTCH
Perhaps my favorite version of this cocktail involves making rosemary infused simple syrup. Simple Syrup is just sugar and water.
Boil 1/4 cup of sugar and a 1/4 cup of water, stirring until the sugar is completely dissolved. Toss in a sprig of fresh rosemary and refrigerate for half an hour.
Combine 750 ml Pinot Grigio, 1/2 cup pomegranate liqueur, 1/2 cup pomegranate cranberry juice, and the rosemary simple syrup. Serve very cold.
I'm leaving this version out of the recipe card because I know so many of you favor super simple and easy sangrias.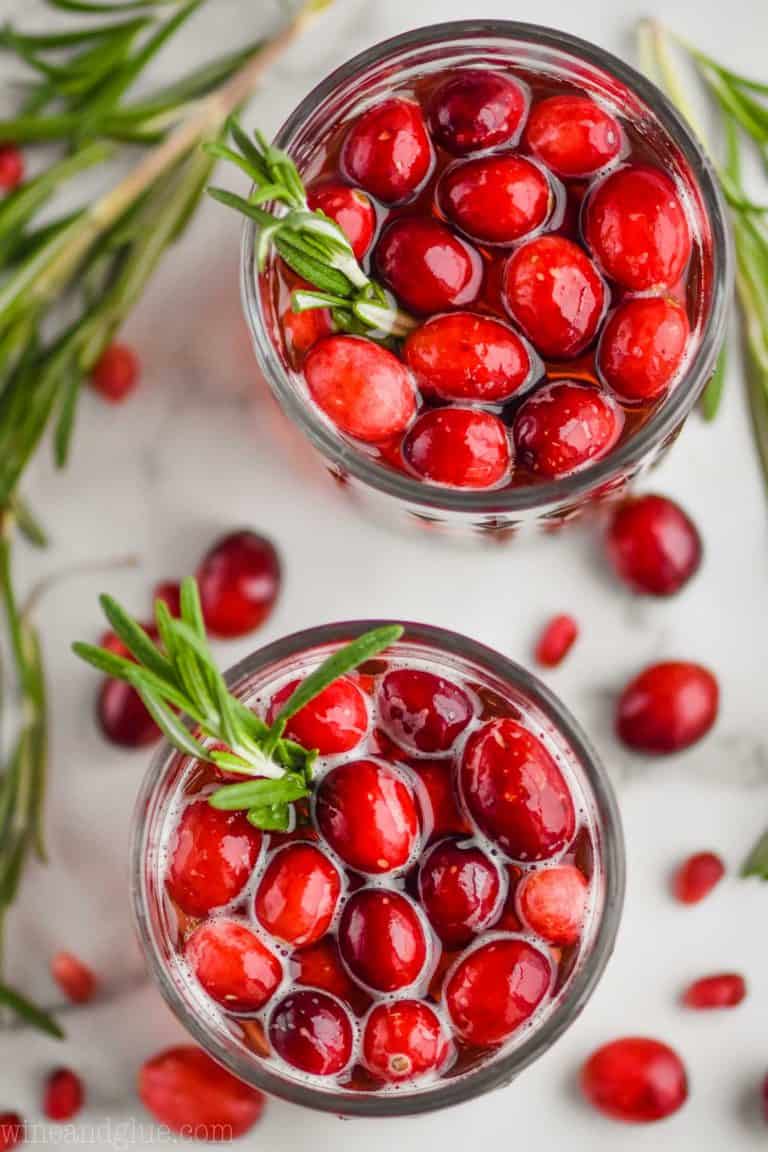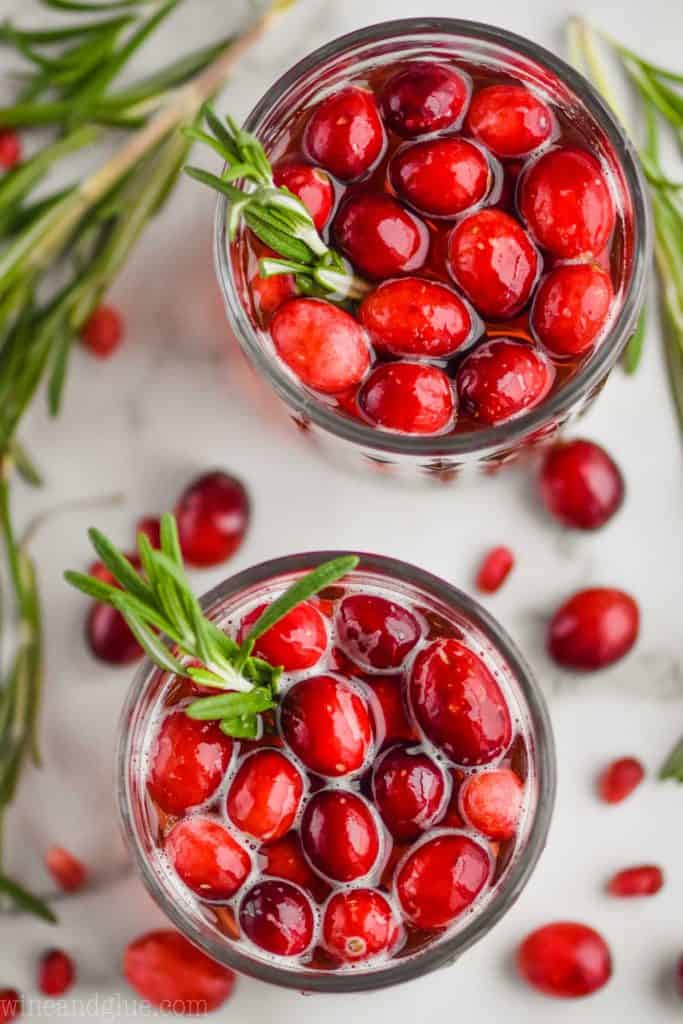 POPULAR SANGRIA RECIPES
I have so many sangria recipes because it's such an easy party cocktail.
Start with my Red Wine Sangria. It is a classic I never get tired of.
Then make my White Sangria Recipe. So pretty and so delicious.
After that you will want to try my Sunset Sangria, my personal favorite.
Finally, make my Caramel Apple Sangria. There is a reason it went viral.
MORE HOLIDAY DRINKS
If you are looking for more great Christmas cocktails, try these:
If you make any of my cocktail recipes, please let me know what you think!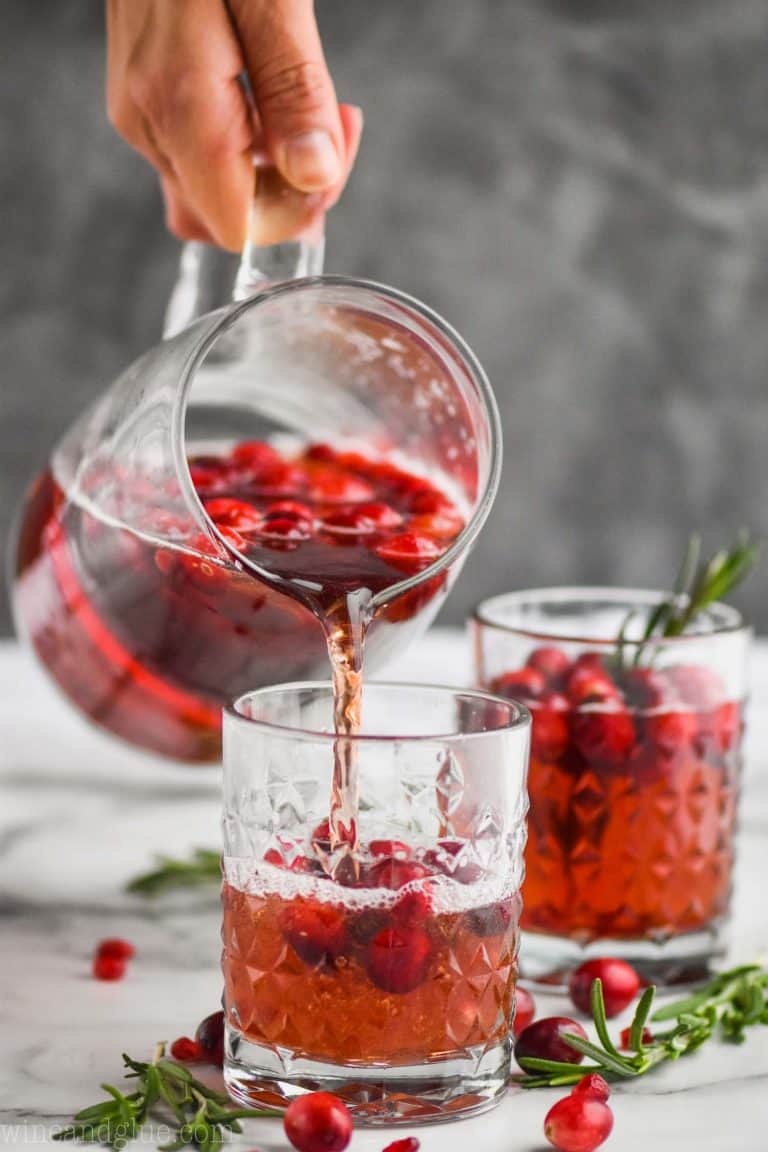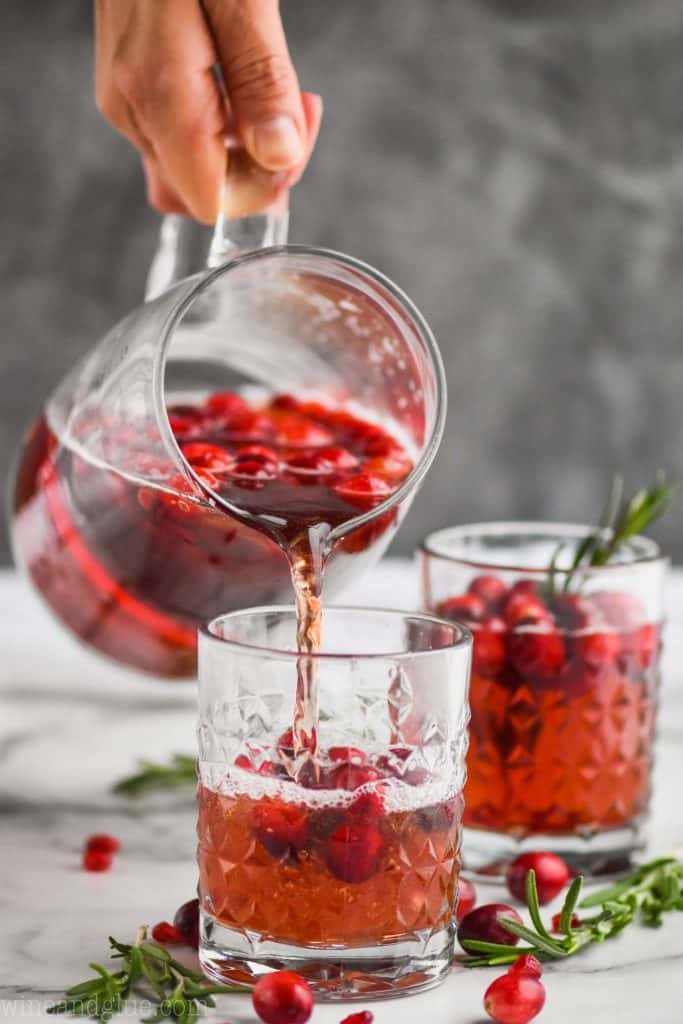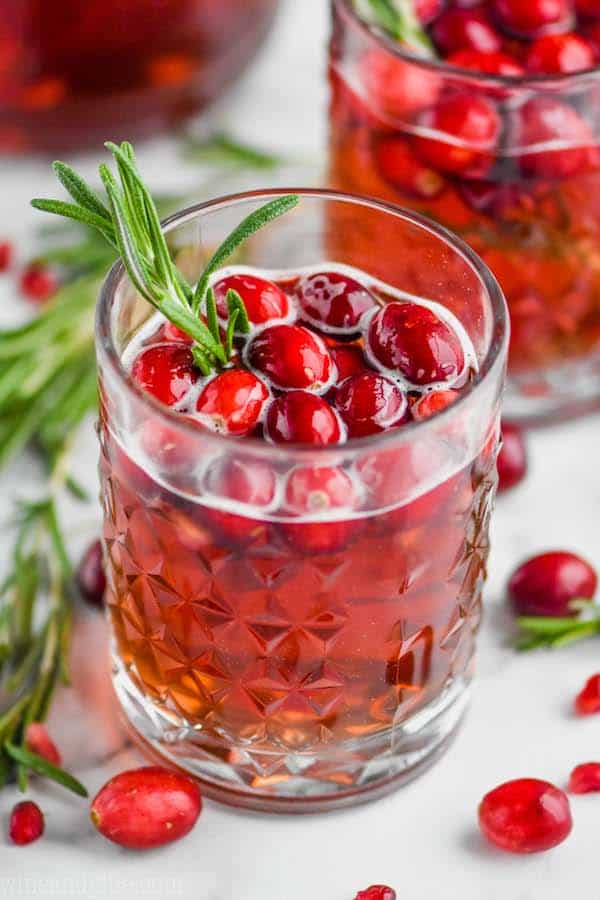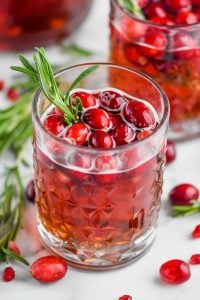 Christmas Sangria
This Christmas Sangria is perfect for your holiday party! Made with only three ingredients, this is the perfect Christmas cocktail.
Ingredients
750

ml

moscato or pinto grigio

chilled (see note)

1/2

cup

pomegranate liqueur or pomegranate juice

(see note)

1/2

cup

pomegranate and cranberry mix juice

fresh pomegranate seeds

(optional)

fresh cranberries

(optional)

fresh rosemary sprigs

(optional)
Instructions
In a large pitcher mix together the moscato, pomegranate juice, and pomegranate-cranberry juice.

Serve cold with fresh pomegranate seeds, cranberries, and rosemary sprigs.
Notes
The sweetest version of this recipe is with all juice and moscato wine. The least sweet version is with PAMA liqueur and pinot grigio. So you have a lot of room to work with based on your crowd. See details in the post for how to kick this sangria up a notch.
Serving:
4
ounces
Calories:
90
kcal
(5%)
Carbohydrates:
14
g
(5%)
Protein:
1
g
(2%)
Sodium:
6
mg
Potassium:
17
mg
Sugar:
12
g
(13%)
Vitamin C:
4
mg
(5%)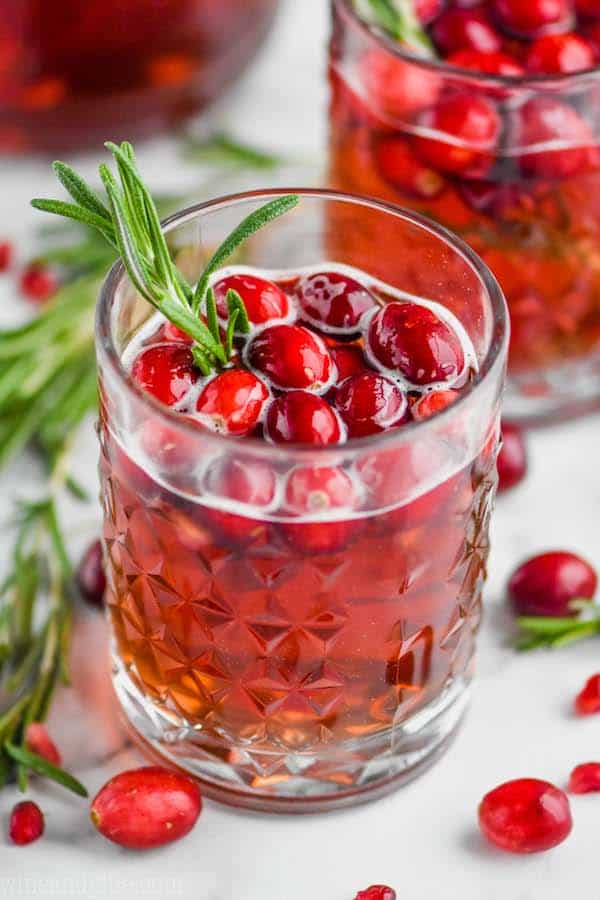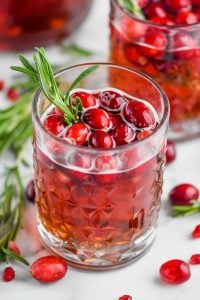 did you make this
Christmas Sangria