Mulled Wine is going to be your favorite Christmas cocktail. This great drink is easy to make, and is perfect for serving a crowd.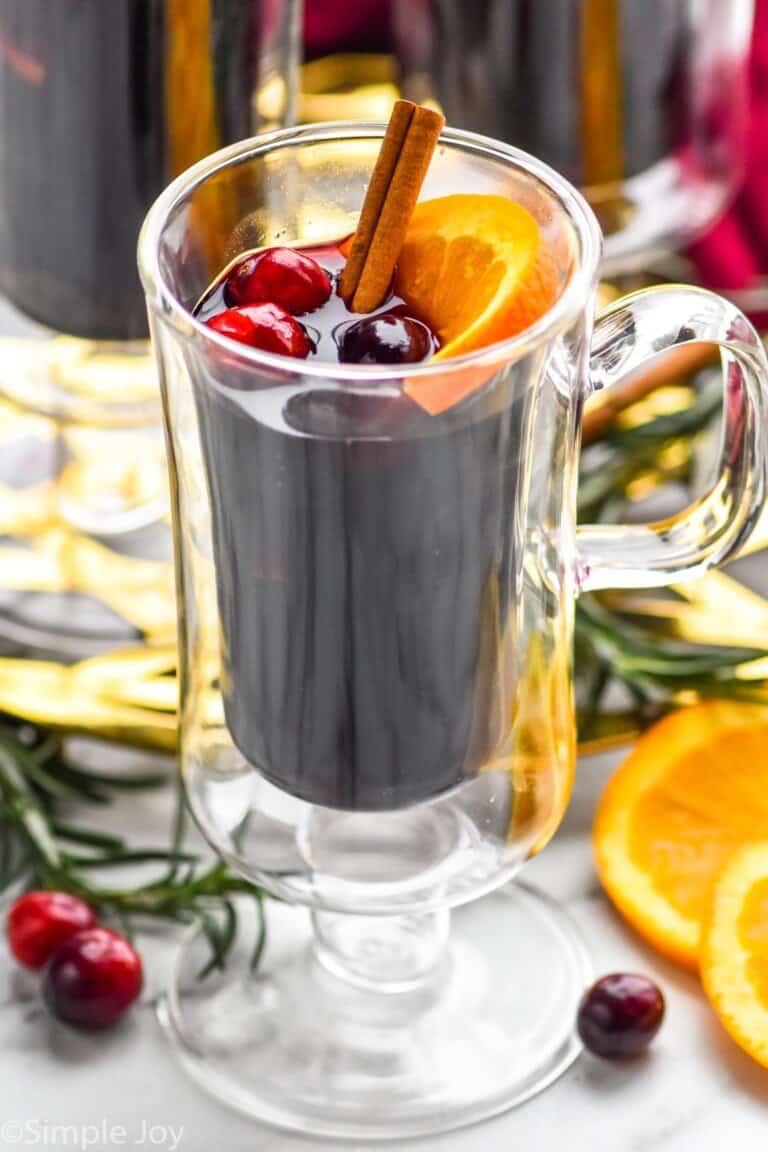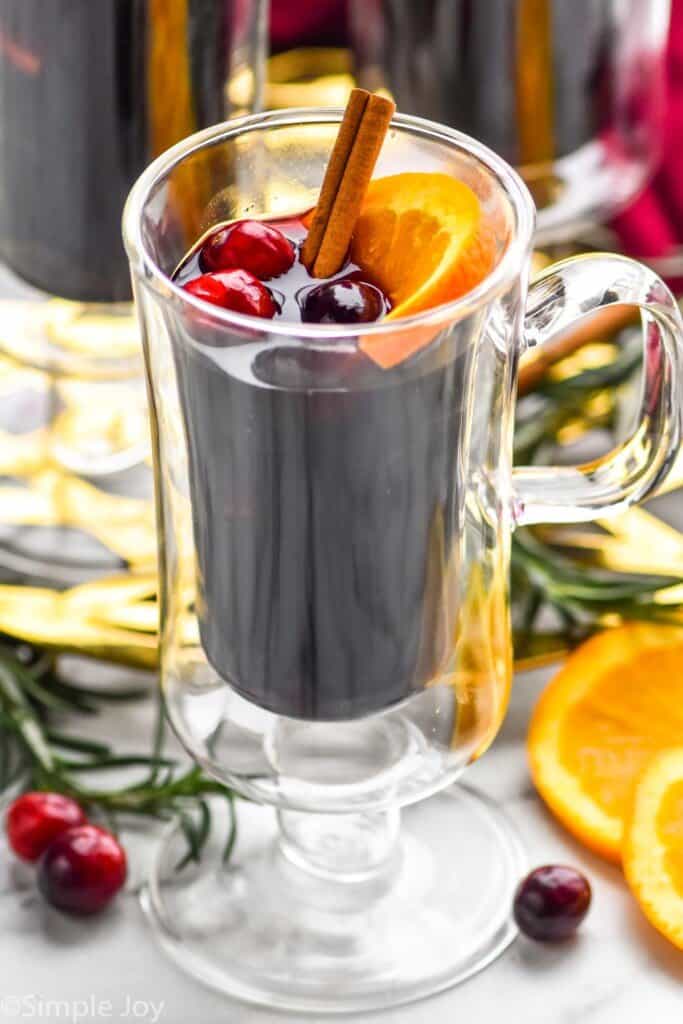 Nothing warms my heart quite like making delicious recipes for people to enjoy. (You know, hence the name of the blog, Simple Joy.) This joy gets amplified times a million when I am making recipes for those I love most around the holidays.
Over the next few months you will be getting recipes to make for your loved ones around the holidays. The first one is this deliciously simple hot mulled wine recipe.
How to Make Mulled Wine
Bring wine and mulled wine spices to a simmer. We are going to add two bottles of red wine, strips of orange and lemon peel, cinnamon, and whole cloves to a simmer with some brown sugar.
Let the mixture simmer for 10 minutes. You want to see bubbles, but you want them to be small, like the size of green peas or smaller. You don't want to see giant bubbles.
Add in Brandy and Port. When the ten minutes are up, add in 2 cups each of Brandy and Port. You can see our recommendations for Port below. Let them just heat through for about a minute before turning off the heat.
Garnish and serve. I think this looks the most beautiful when you toss in some fresh cranberries and orange slices for serving. But really it can be served as is too.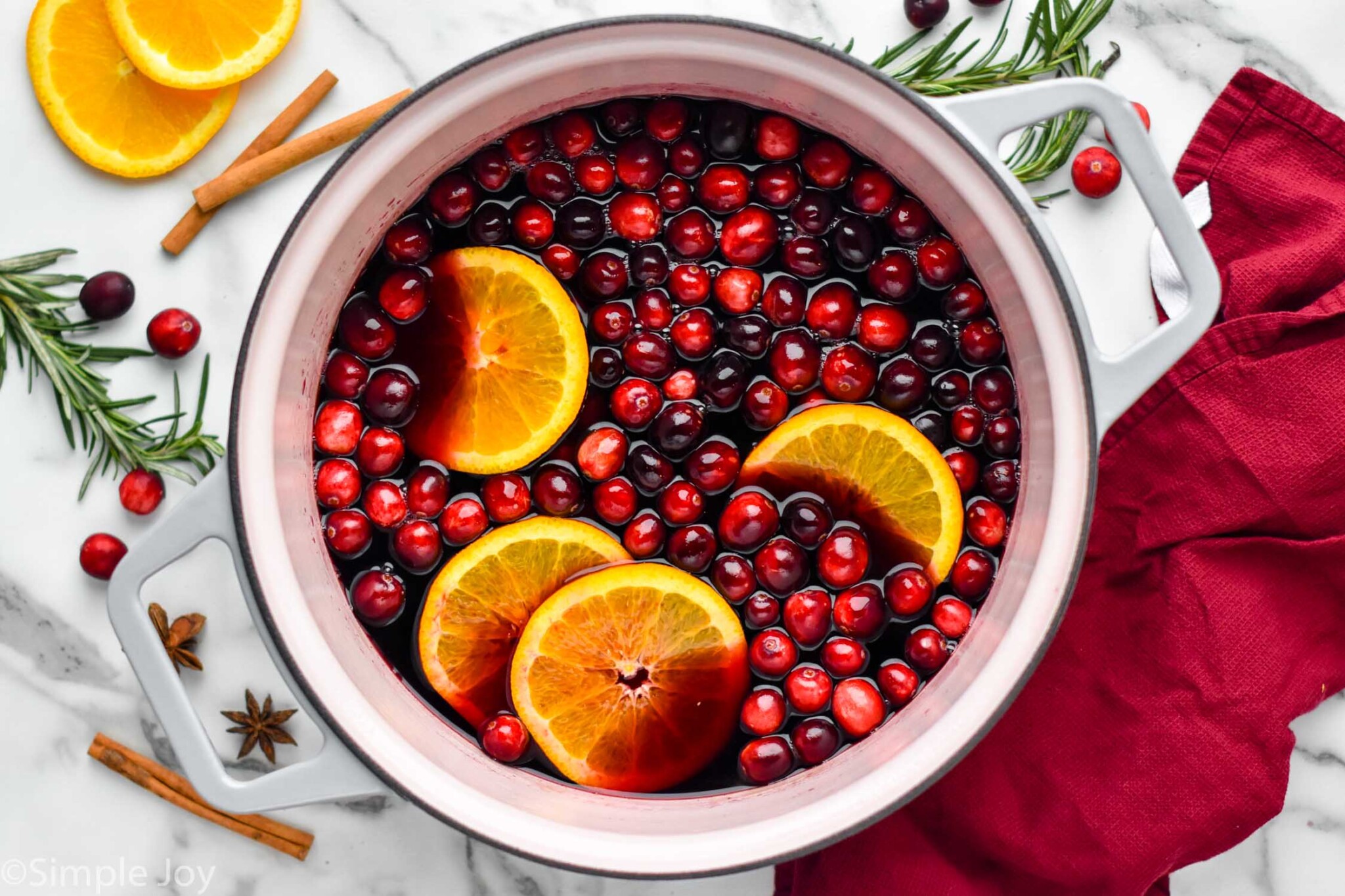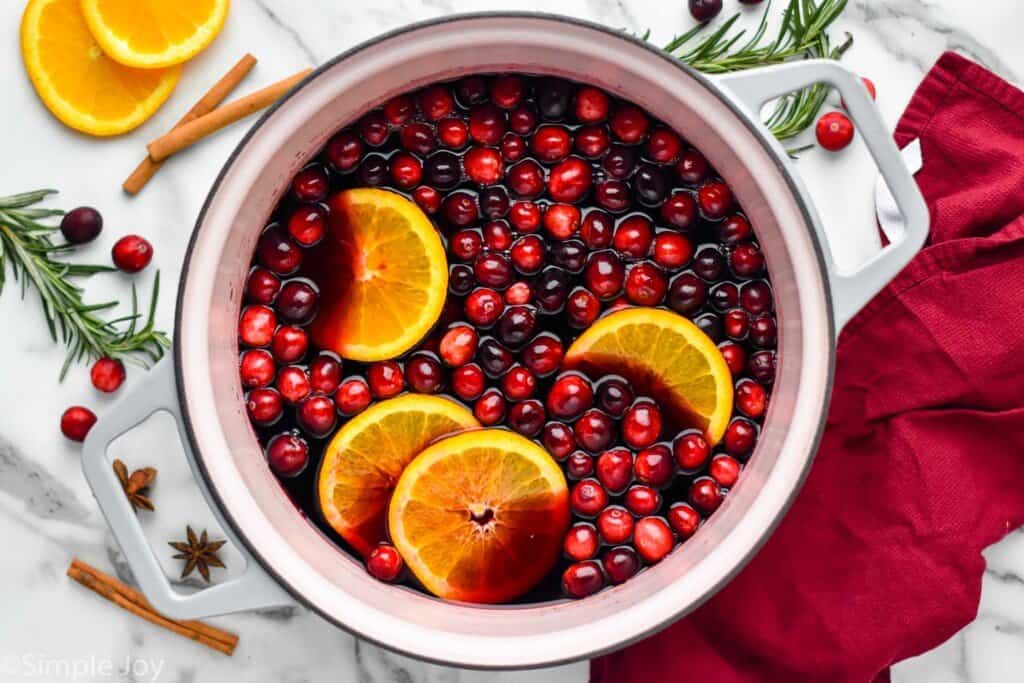 What Does Mulled Wine Taste Like
Mulled Wine has such a unique flavor that tastes just like fall. It is the perfect balance of sweet with the hint of spice in the background. If you like red wine, I think you will fall in love with this delicious cocktail recipe.
Mulled Wine Spices
We are using really simple spices for this recipe. Cinnamon sticks and whole cloves add an amazing background flavor to this great Christmas cocktail. The taste is so subtle that your guests will likely be unable to know what you added. But it adds an amazing layer.
If you love anise, you can add a pod or two. I suggest that you go easy with these as they can overpower a recipe if you add too many.
Best Wine for Mulled Wine
For mulled wine you want to pick a dry red wine. We are adding sugar and port to this, so you don't want it to be overwhelmingly sweet. Some great examples of dry red wines are:
Cabernet Sauvignon
Malbec
Pinot Noir
Syrah.
Since we are using two bottles for this recipe, you could always pick two different red wines for a nice blend.
Types of Port
Port is a sweet wine from Portugal, most often enjoyed after dinner. There are several different types of Port, but the most common are Tawny and Ruby. Tawny is a darker color, closer to brown. Ruby is more of deep red. Additionally, Tawny Port has a nutty flavor, while Ruby Port has more of a berry flavor.
In this recipe we are using Ruby Port for two reasons. The first is that it tends to be more affordable – and we are pouring in a whopping two cups to this recipe. Additionally the berry flavors pair perfectly with the other ingredients.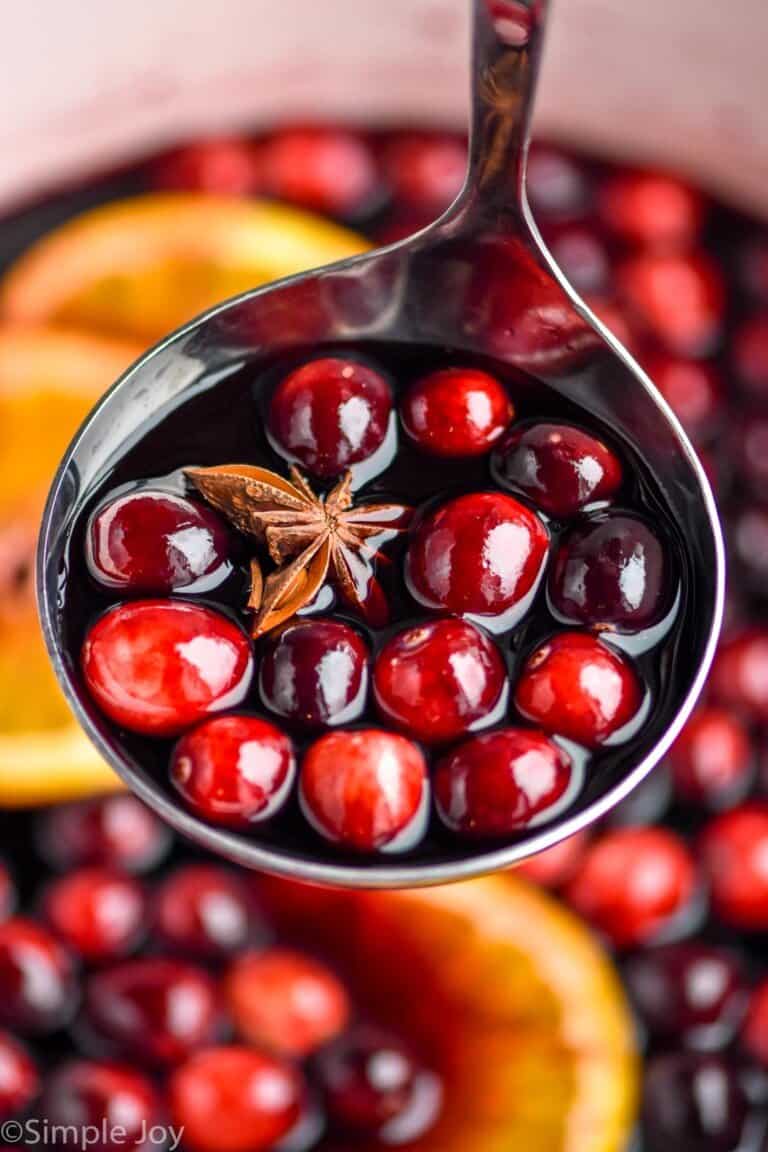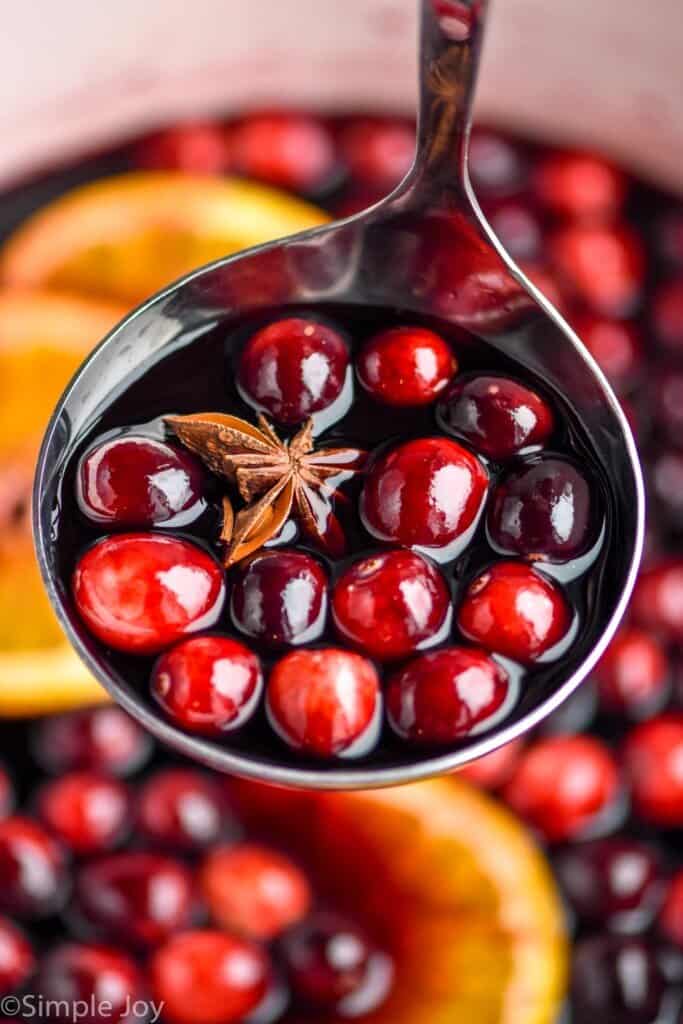 Keeping Mulled Wine Warm
While this recipe is made on the stove top, I recommend transferring it to a slow cooker set to "warm" for serving. It will keep it's nice warmth, without boiling off the alcohol.
Storing Mulled Wine
If you have leftovers after your party, they will be good for up to one week. Remove the cinnamon, cloves, cranberries, orange slices, and peels before storing. Store in an airtight container at room temperature.
FAQ
Why can't the pot be aluminum?
If you make your mulled wine in an aluminum (or copper) pot, the wine will react with the metal and produce and off putting flavor.
Can mulled wine be reheated?
Yes! You can warm yourself a glass of this delicious drink on the stovetop over very low heat. Cook until it has reached the desired temperature.
Can mulled wine be drank cold?
Yes! I actually really enjoy this recipe warm or cold.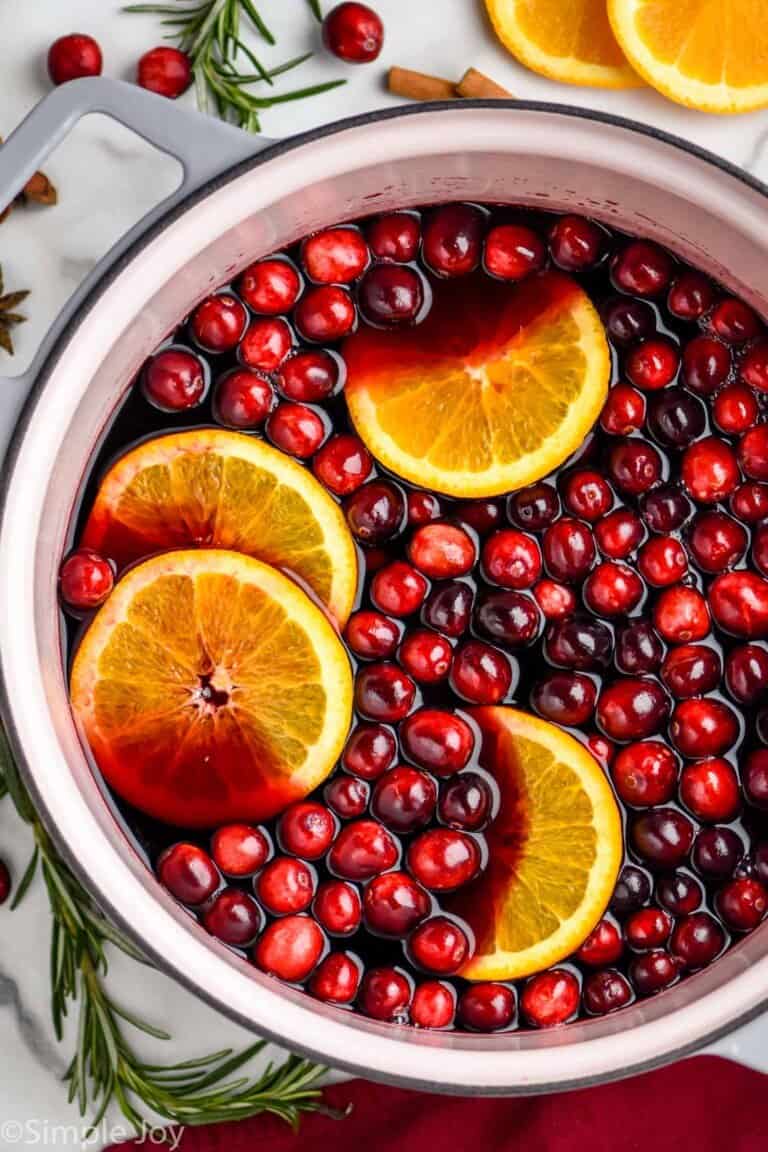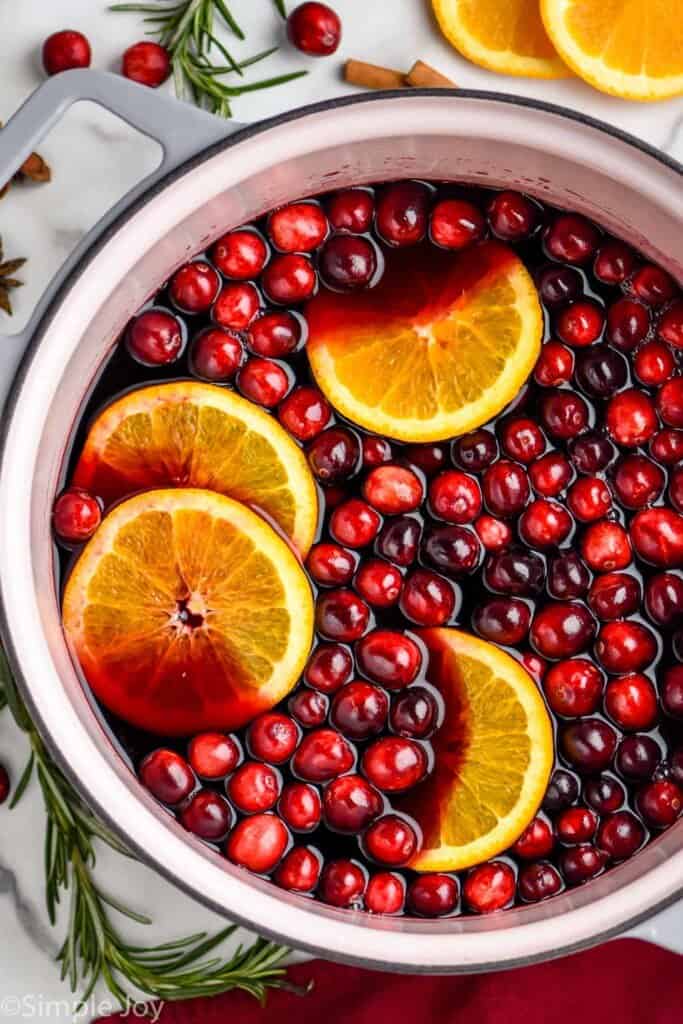 Other Christmas Cocktails
If you make this easy mulled wine recipe or any of my other recipes, please leave me a comment and let me know what you think!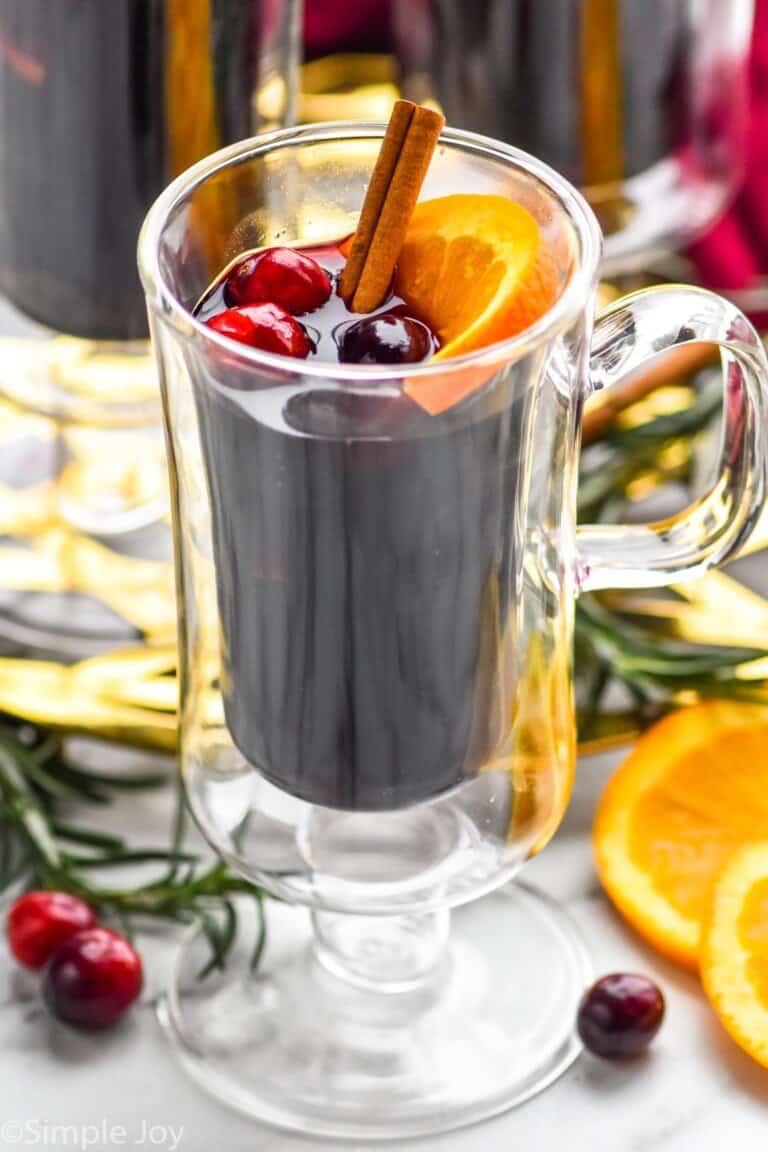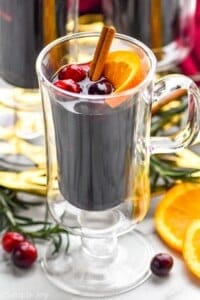 Mulled Wine
Mulled Wine is going to be your favorite Christmas cocktail. This great drink is easy to make, and is perfect for serving a crowd.
Instructions
In a saucepan (nonaluminum and large) bring the wine, sugar, spices, orange and lemon peel to a simmer, stirring frequently.

Simmer for 10 minutes. You should see very small bubbles, it should not be a roaring boil.

Stir in the brandy and the port, just long enough for them to heat through, about 1 minute.

Remove from the heat and enjoy immediately. If this is for a party, I recommend transfering it to a crockpot and keeping it on the warm setting.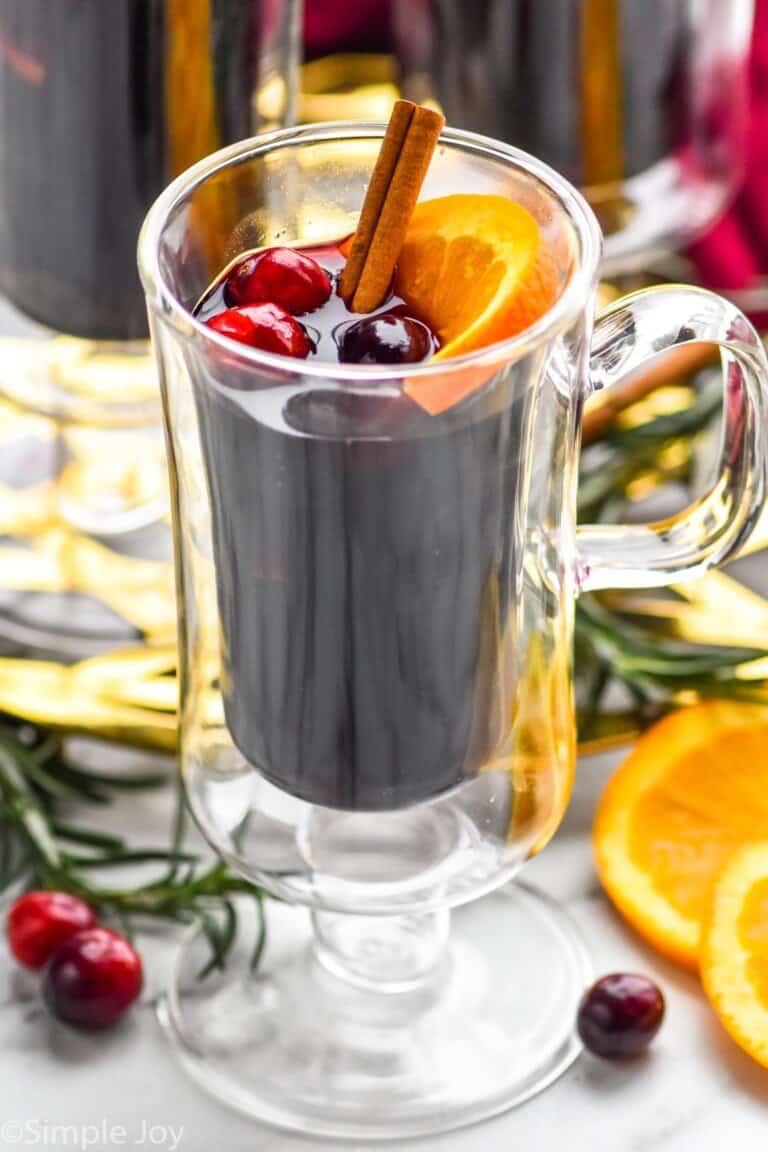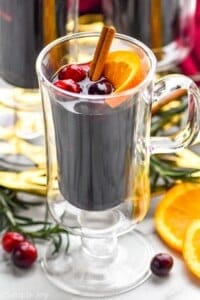 did you make this
Mulled Wine
you might also like . . .