This easy Christmas Punch is going to be the highlight of your party. Our holiday punch recipe is super simple to make and absolutely delicious.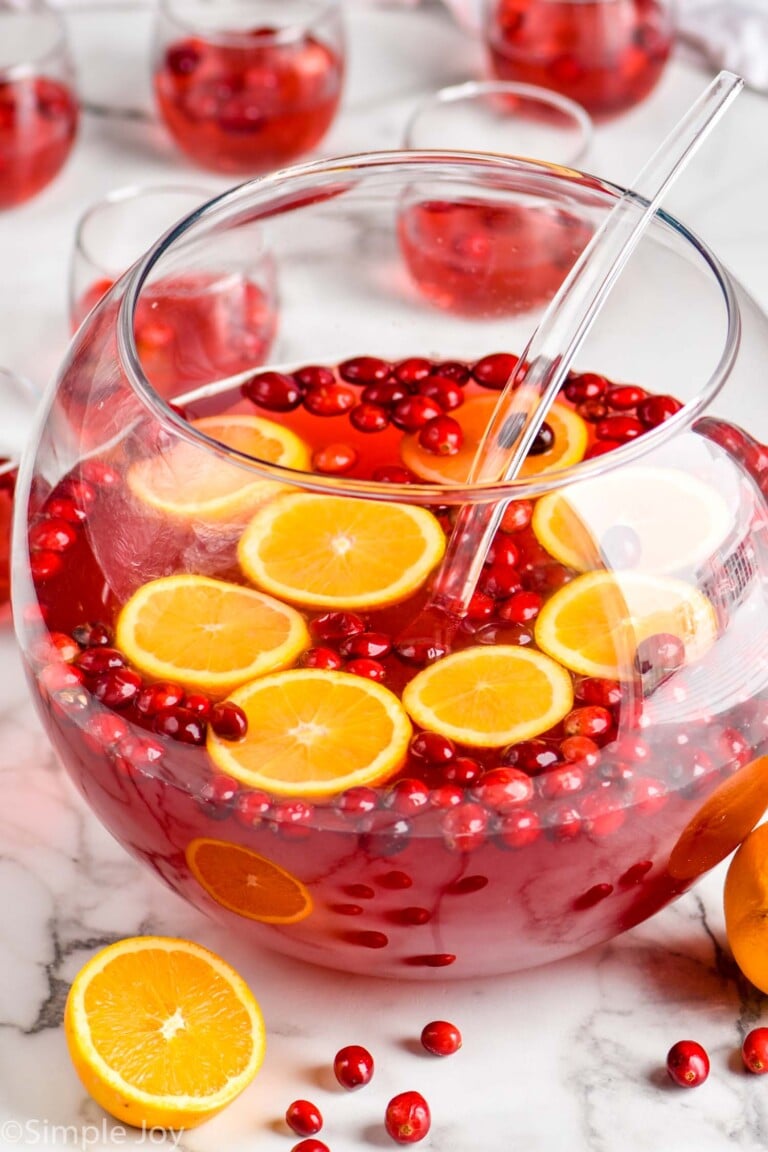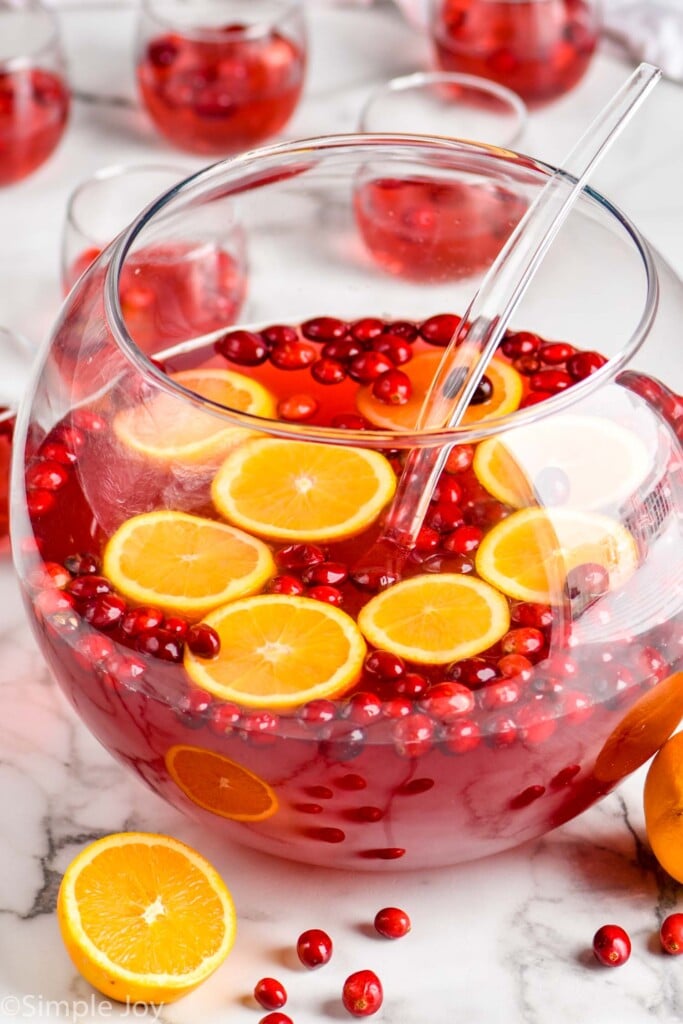 If you are hosting a holiday party this year, you definitely need to whip up a batch of this amazing Christmas Punch. It comes together with just a few ingredients and is perfect to serve a crowd of people in the holiday spirit.
Even better, we have everything you need to make the batch that is right for you and your crew. Below you'll find tons of great suggestions and variations. We also have scaled versions so you can make a single glass, a medium batch, or the big batch you see here.
How to Make Christmas Punch
This is just a brief overview of how simple this recipe is. For the full recipe with all of the measurements, see the recipe card at the bottom of the post.
Gather all of your ingredients. Ensure that all of your ingredients are very cold. Read more about each ingredient below.
Ensure that all of your ingredients are very cold. We aren't adding ice to this punch because we don't want to dilute it. Read an alternative below.
Combine everything in a punch bowl. You want to do this right before your party starts. It will take about 5 minutes to whip this up, so it is the perfect thing to do last minute.
Garnish the punch. I like to float orange slices and fresh cranberries in it. If you can find a pomegranate or pomegranate seeds, those are great too!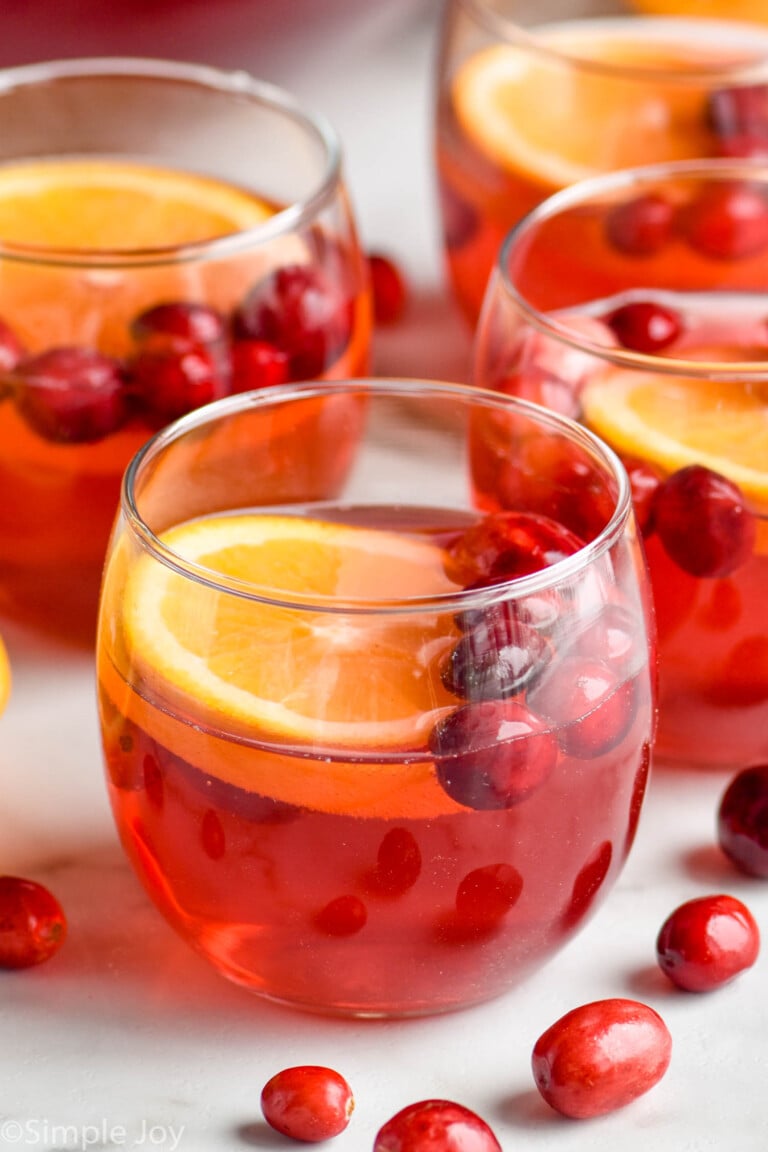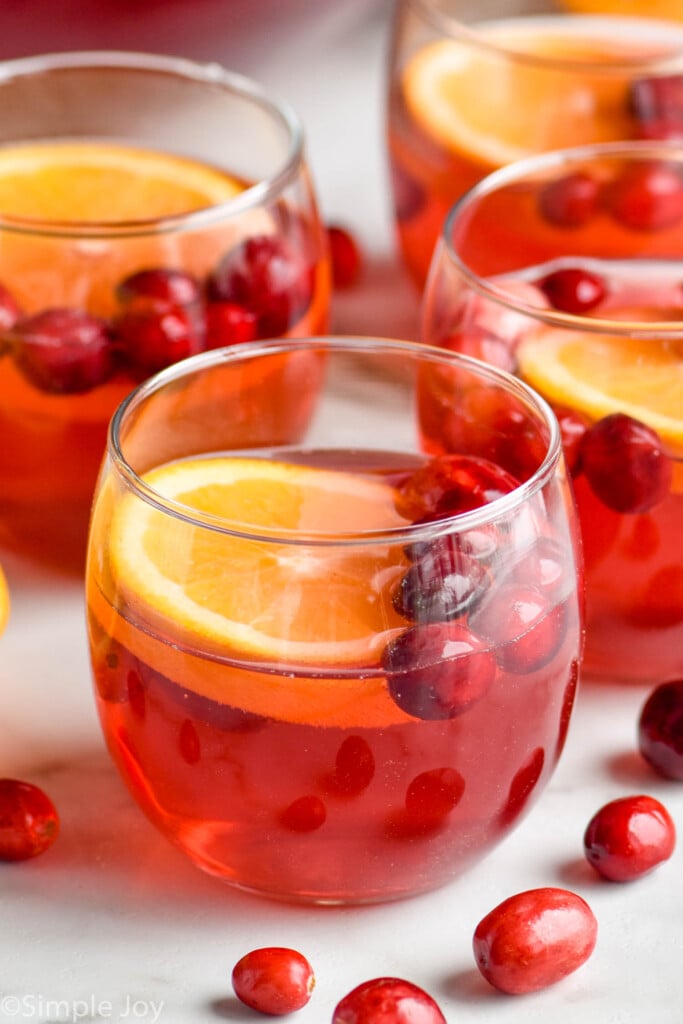 Christmas Punch Ingredients
Vodka: I recommend using a mid to high level vodka with this. My favorite mid level is Titos and my favorite high level is Gray Goose. If you are looking for something more budget friendly, get Kirkland's vodka. It wins against top shelf vodka in blind taste tests.
Pomegranate Liqueur: A lot of grocery stores carry this, but if you can't find it, head to a liquor store. The brand I always buy is Pama. We have a few recipes linked below for other ways to use this great liqueur.
Cranberry Juice Cocktail: Be sure to buy the cocktail and not plain cranberry juice. The regular juice is bitter, but the cocktail variety has a subtle sweetness that works much better in this.
Lemon Lime Soda: Sprite and 7UP both work very well in this recipe.
Pineapple Juice
Ginger Ale
Non Alcoholic Christmas Punch
Do you love this idea but have a lot of kids coming over? You can make my Non Alcoholic Holiday Punch. I love leaving some vodka, rum, and a bottle of champagne on the side, so adults can doctor up their drink however they see fit!
Holiday Punch
This easy Holiday Punch is a kid-friendly drink everyone at the party will love! This non-alcoholic Christmas punch only takes 10 minutes to make!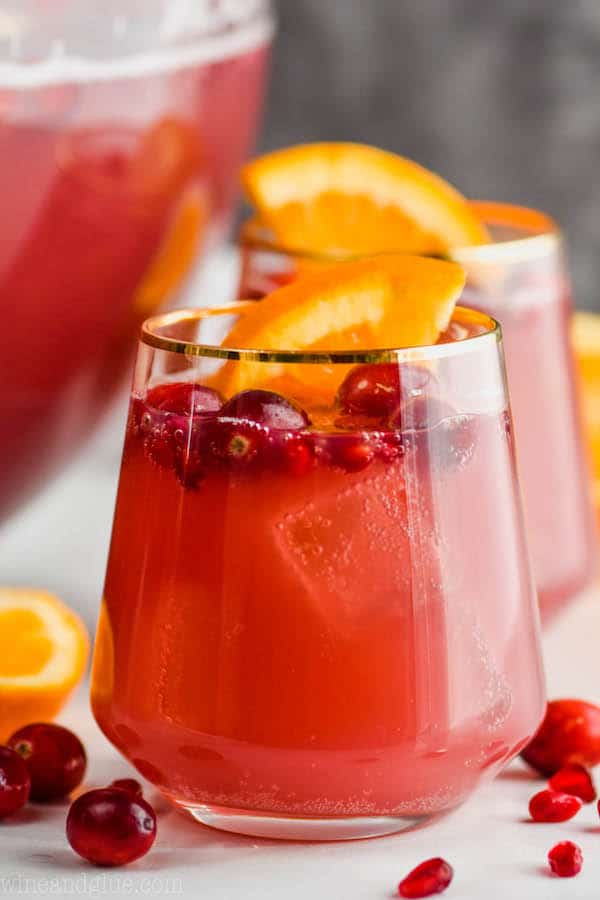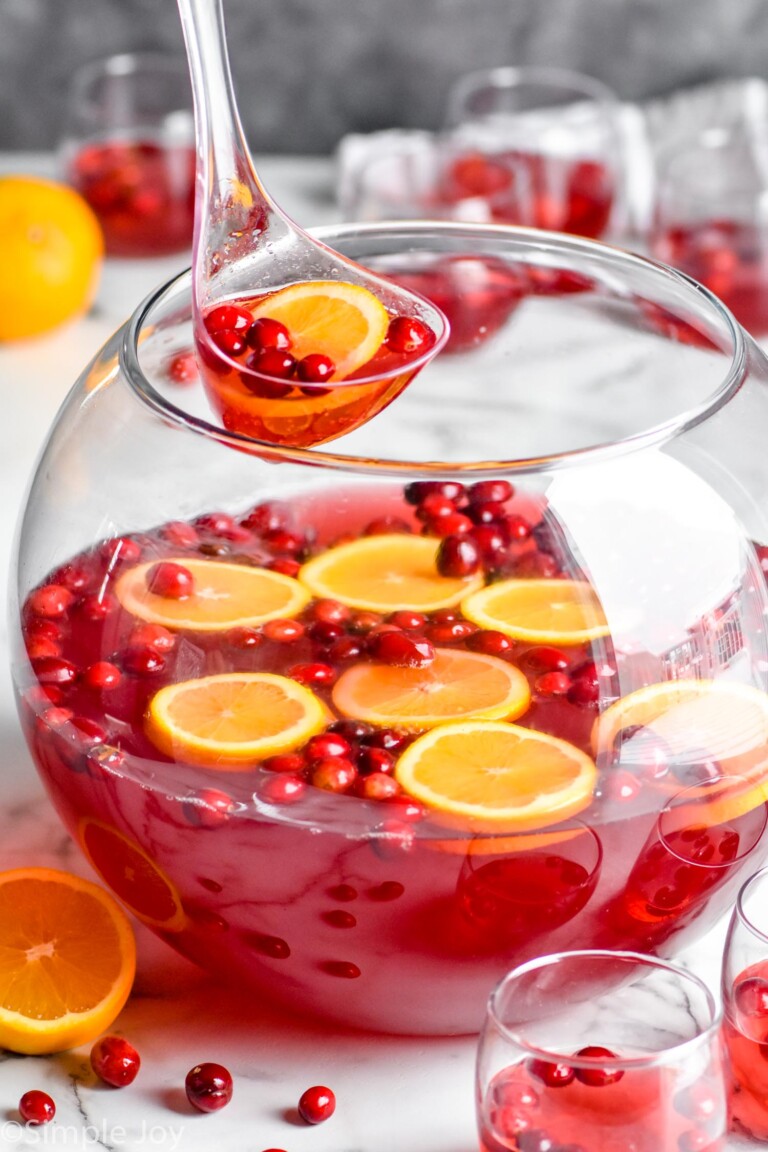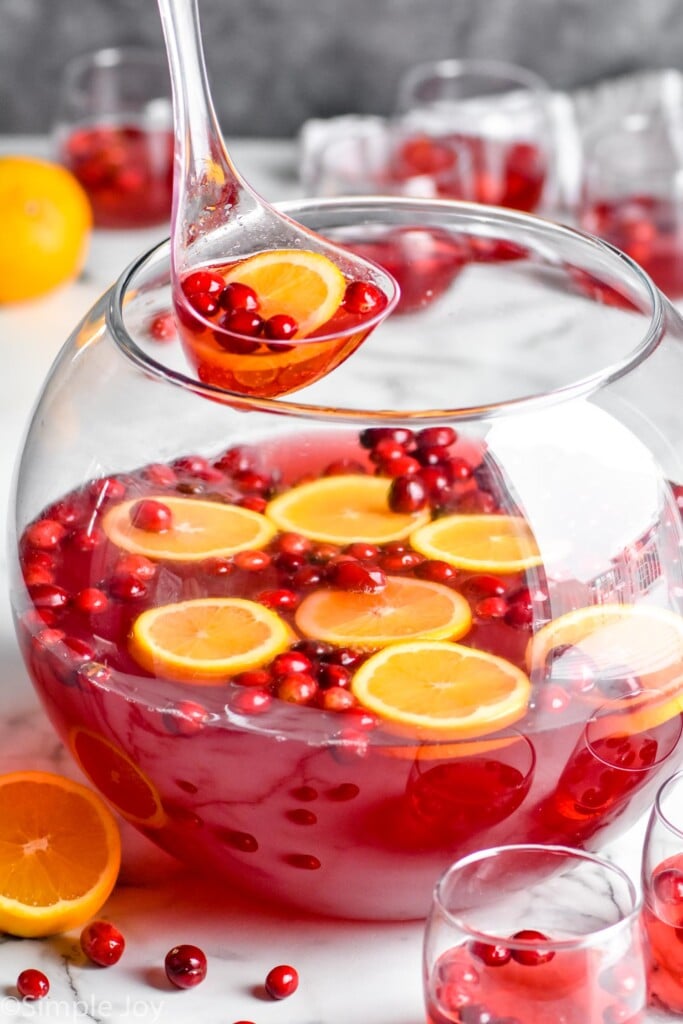 Keeping Christmas Punch Cold
A very easy way to keep this punch cold is to start with very cold ingredients. Here are two alternatives:
Use frozen cranberries. They will make the punch look pretty and they will keep it nice and cold without it diluting the punch. Frozen cranberries are easy to come by in the frozen section of most grocery stores.
Make a pretty floating ice ring. Pour some extra pineapple and cranberry juice in a bundt pan (no need to fill it more than a few inches). And add in some fruit to that. Pop it into the punch bowl at party time and it will keep the punch cold without diluting it with water.
Different Batch Sizes
This recipe is easy to make in different sizes. The batch that you see in the recipe card will easily serve 36 people.
If you would like to make smaller batches though, I've adjusted the measurements to make it really easy.
Single Batch Christmas Punch
This is for one cocktail, but it is really easy to double so you can share one by the fire with someone you love.
1 ounce vodka
1 ounce pomegranate liqueur
2 ounces cranberry juice cocktail
2 ounces Sprite or other lemon lime soda
2 ounces pineapple juice
1.5 ounces ginger ale
Medium Batch Christmas Punch
This batch will serve 15 to 20 people.
16 ounces vodka (2 cups)
16 ounces pomegranate liqueur
32 ounces cranberry juice cocktail (4 cups)
32 ounces Sprite
24 ounces pineapple juice (3 cups)
24 ounces ginger ale (3 cups)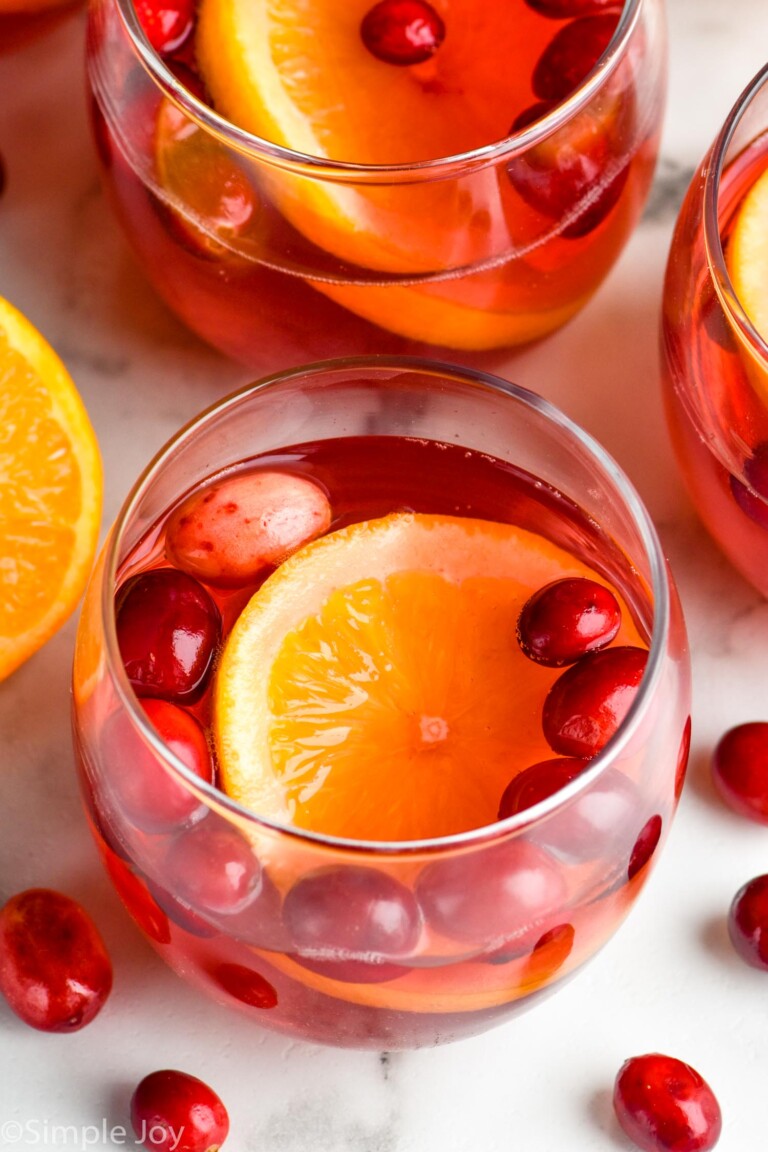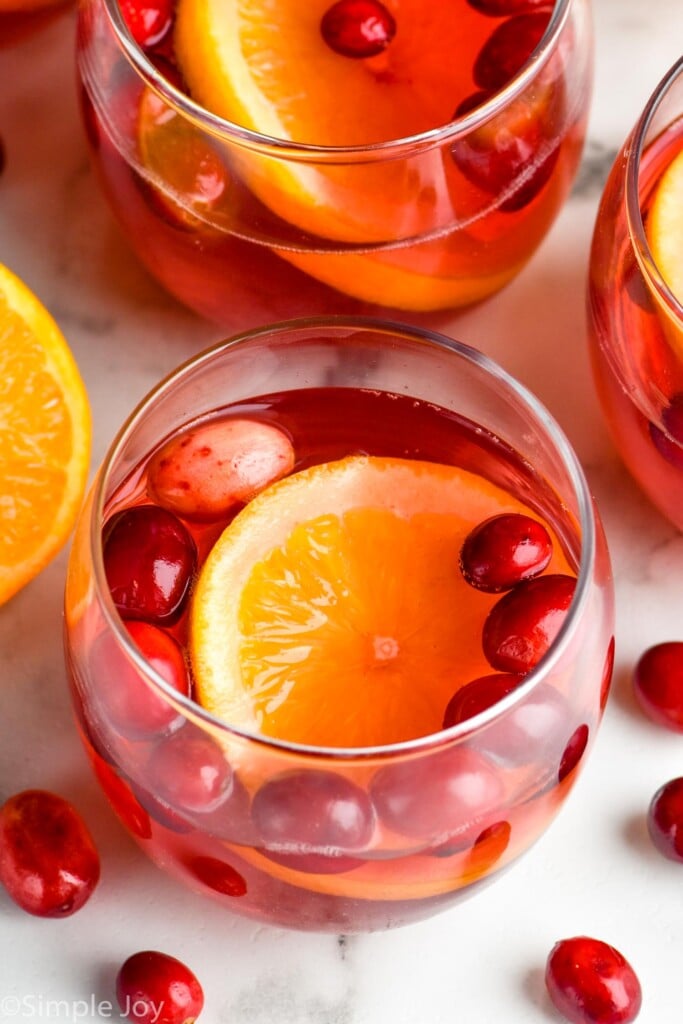 Substitutions and Variations
This Christmas Punch is pretty forgiving, so you can play with it a little and see what you like best. Here are some ideas.
If you don't want to spring for the pomegranate liqueur, buy some pomegranate juice instead. (Just swap it one for one.)
If you are not a big fan of pineapple juice, I happen to know that lemonade is also very delicious in this recipe. (Just swap it one for one.)
Like I mentioned, you could make this recipe family friendly by using pomegranate juice and leaving out the vodka or setting it out to the side and topping it with some orange sherbet.
If you don't like ginger ale, skip it! I loved the taste of the punch as is, and then added in some ginger ale at the end because I'm a fan. It is great with or without it.
Add in some champagne! I like swapping the soda for champagne completely, but it is also delicious to fill a glass half with champagne and half with punch.
How Else Can I use Pomegranate Liqueur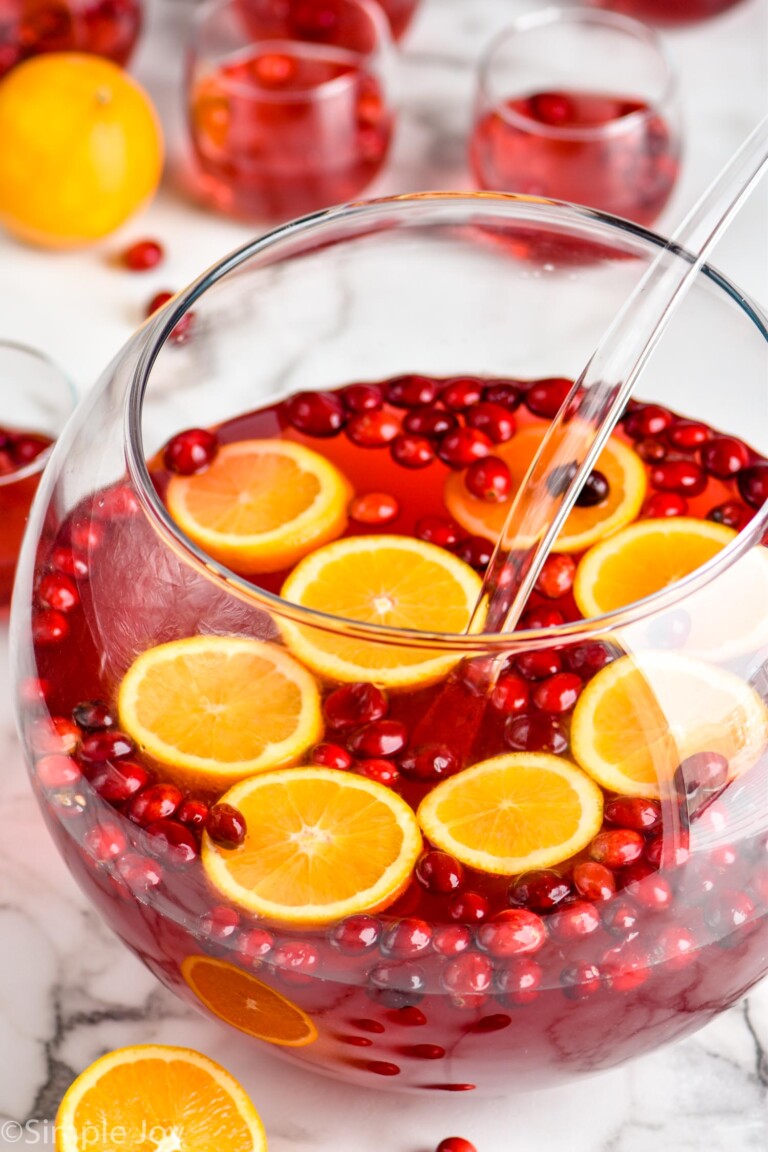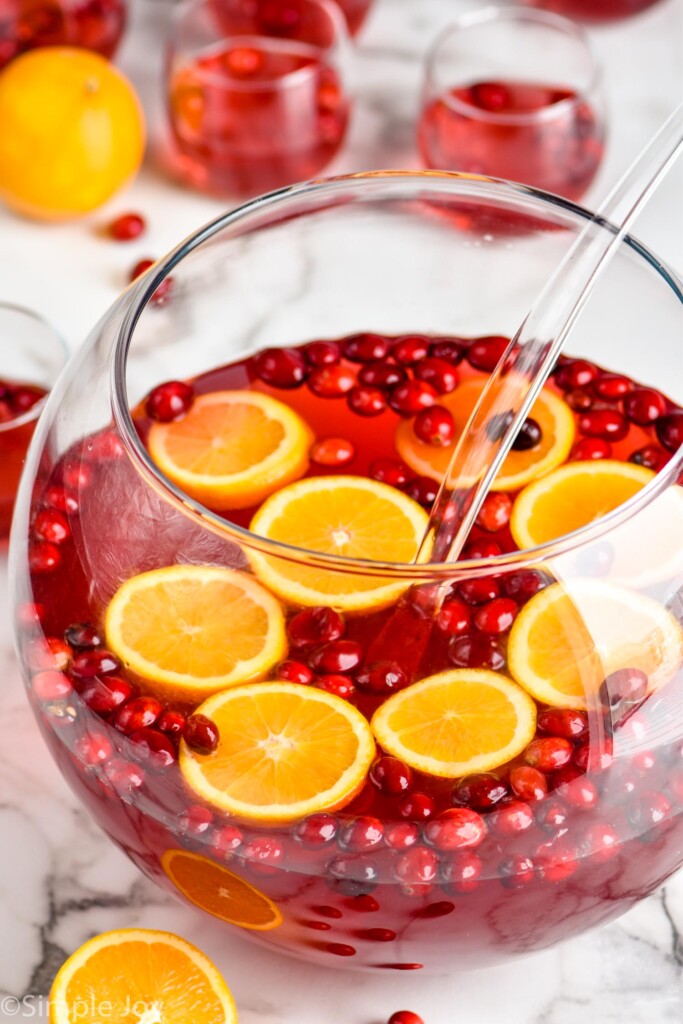 Other Big Batch Cocktails for Parties
If you make this easy Christmas Punch recipe, make sure to let me know what you think by leaving a comment below.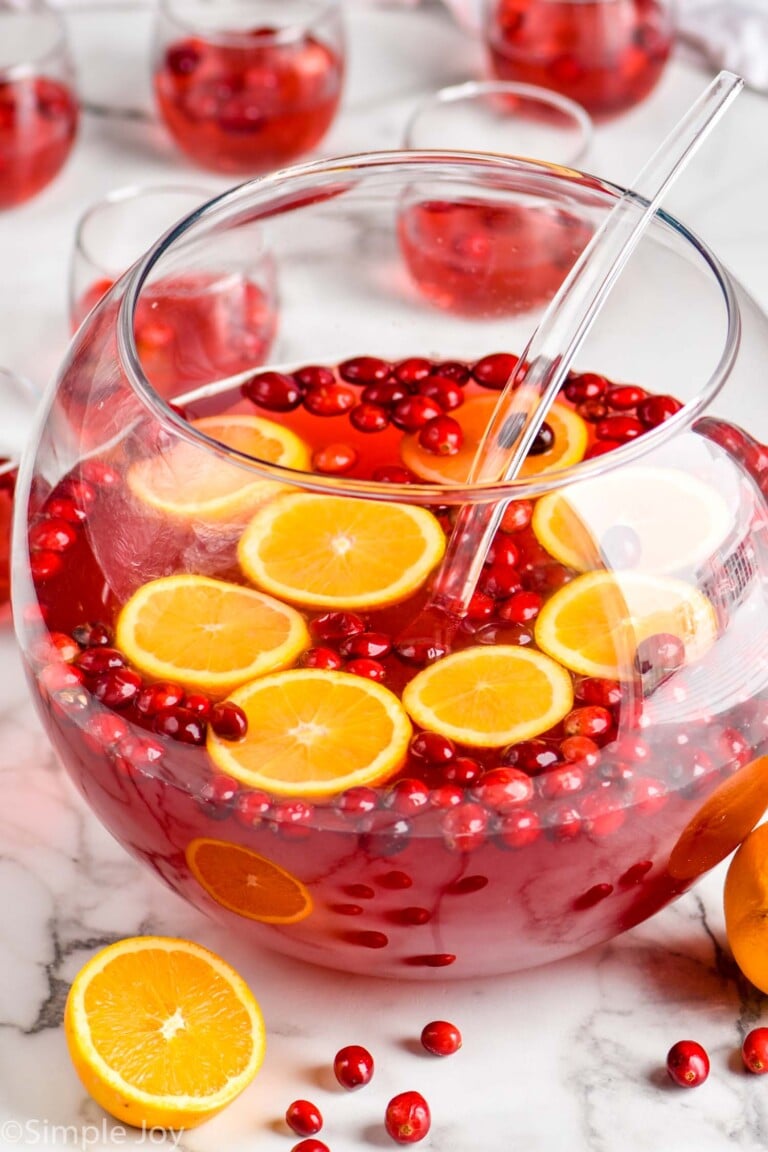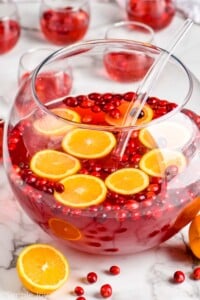 Easy Christmas Punch
This easy Christmas Punch with vodka is going to be the highlight of your party. Super simple to make and absolutely delicious. Make it a non alcoholic Christmas punch by leaving out the vodka and serving it on the side!

Ingredients
32

ounces

vodka

(4 cups)

32

ounces

pomegranate liqueur

or pomegranate juice

64

ounces

cranberry juice

2

liters

sprite

46

ounces

pineapple juice

48

ounces

ginger ale

(6 cups)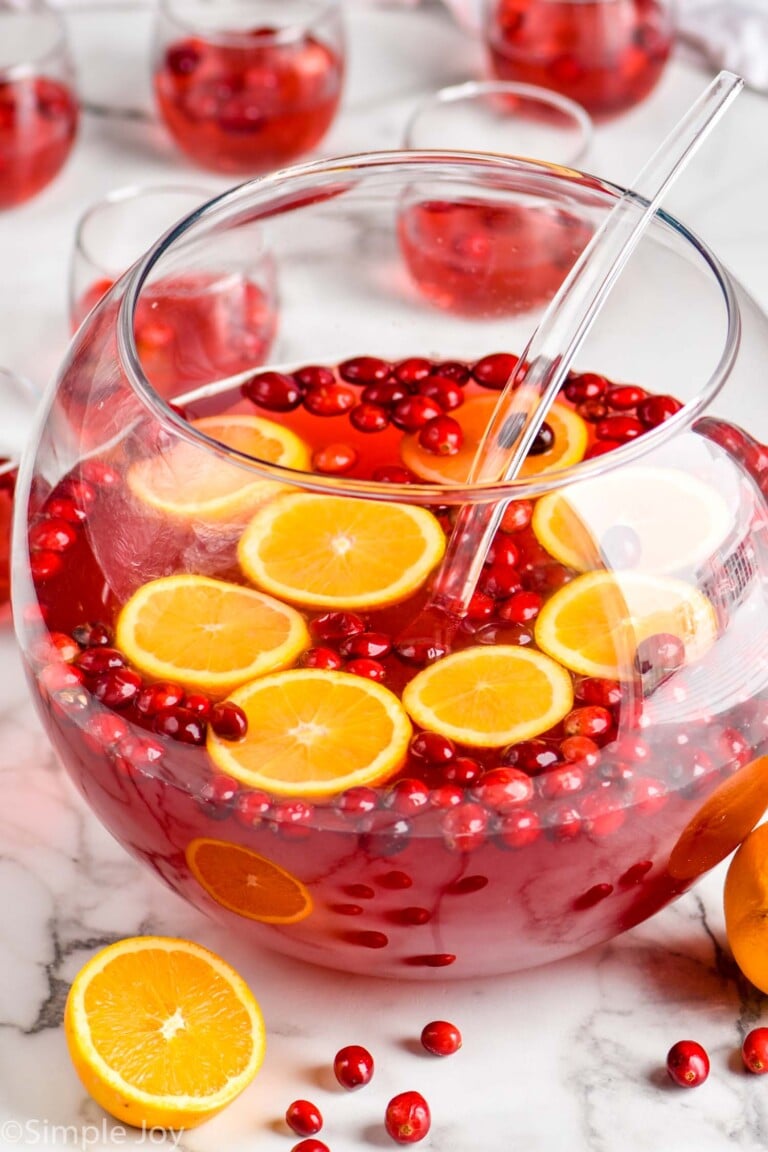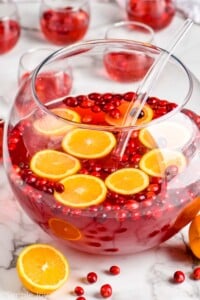 did you make this
Easy Christmas Punch
you might also like . . .