Apple Cider Sangria is the perfect fall sangria recipe. Made with just a handful of ingredients, your guests will love this delicious cocktail.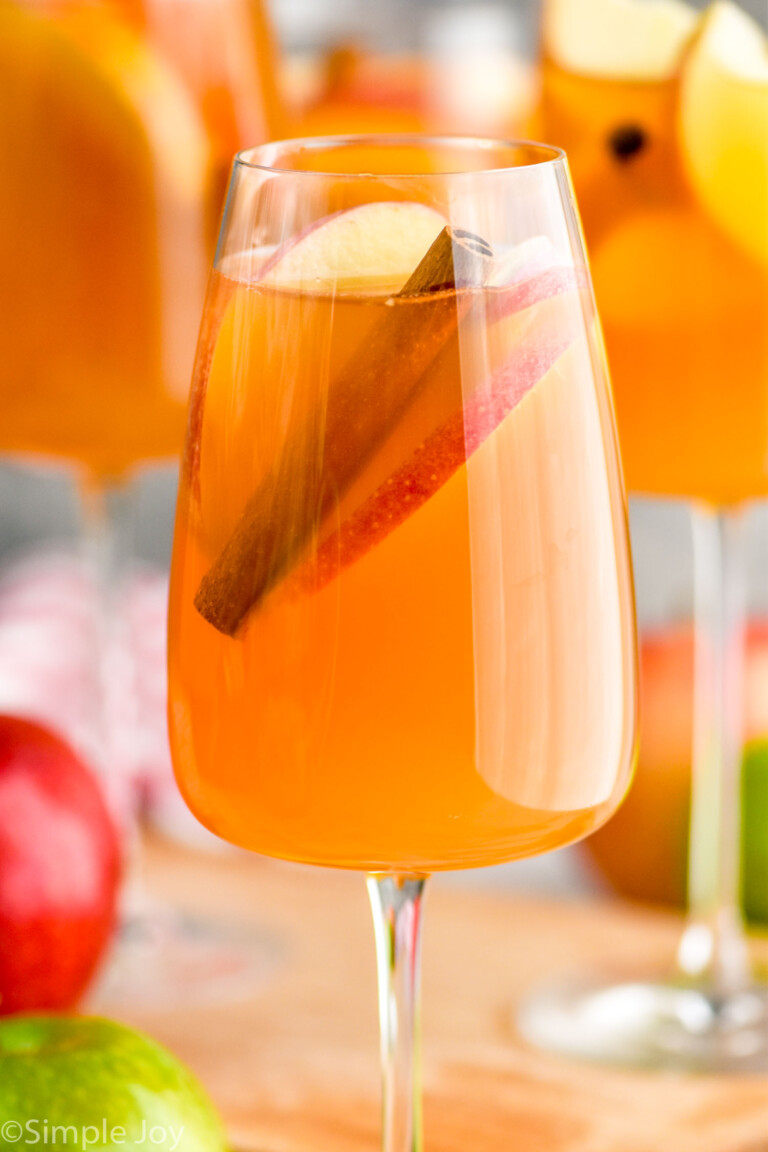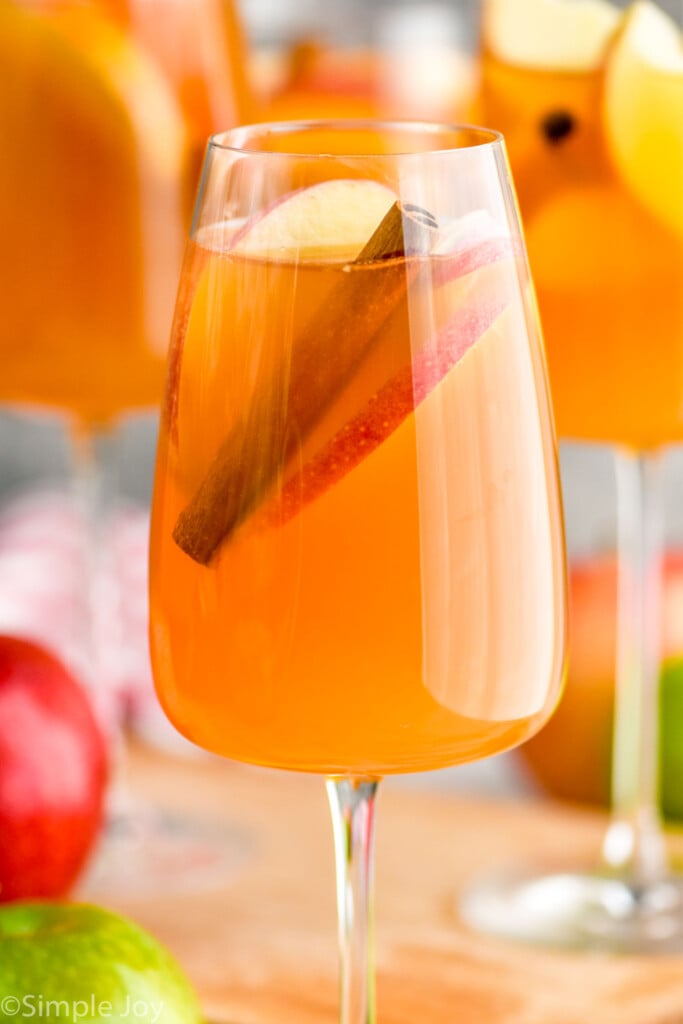 Sangria is one of my favorite things to make! I think it takes me back to being a little (who obviously didn't drink sangria). I used to love making concoctions. The best by far involved bubble gum flavored soda, and the absolute worst was a combo of milk and grape juice.
I'm very happy to report that my recipe development skills have vastly improved over the decades, and this apple cider sangria proves it. Made with just a small handful of easy-to-find ingredients, you will adore this fall treat. This is perfect for Halloween parties, Thanksgiving, and all your Autumn get-togethers.
How to Make Apple Cider Sangria
This apple cider sangria comes together with a few simple ingredients. A fall twist on my White Sangria Recipe, this combines the best sweet and spicy flavors of autumn. For the full recipe including all measurements, scroll to the recipe card at the bottom of the post.
Combine ingredients. Add the wine, apple cider, brandy, and simple syrup to a large pitcher.
Add the apples and cinnamon sticks. Not only do these add flavor, they also add to the presentation of the sangria.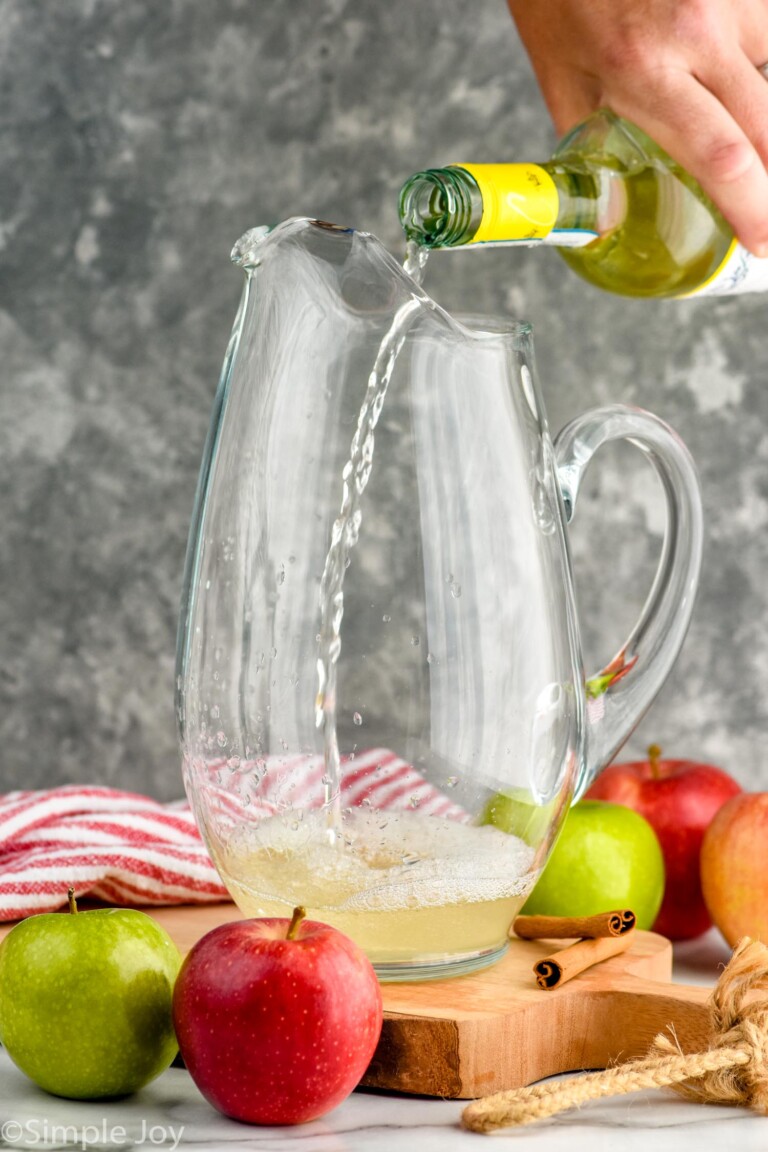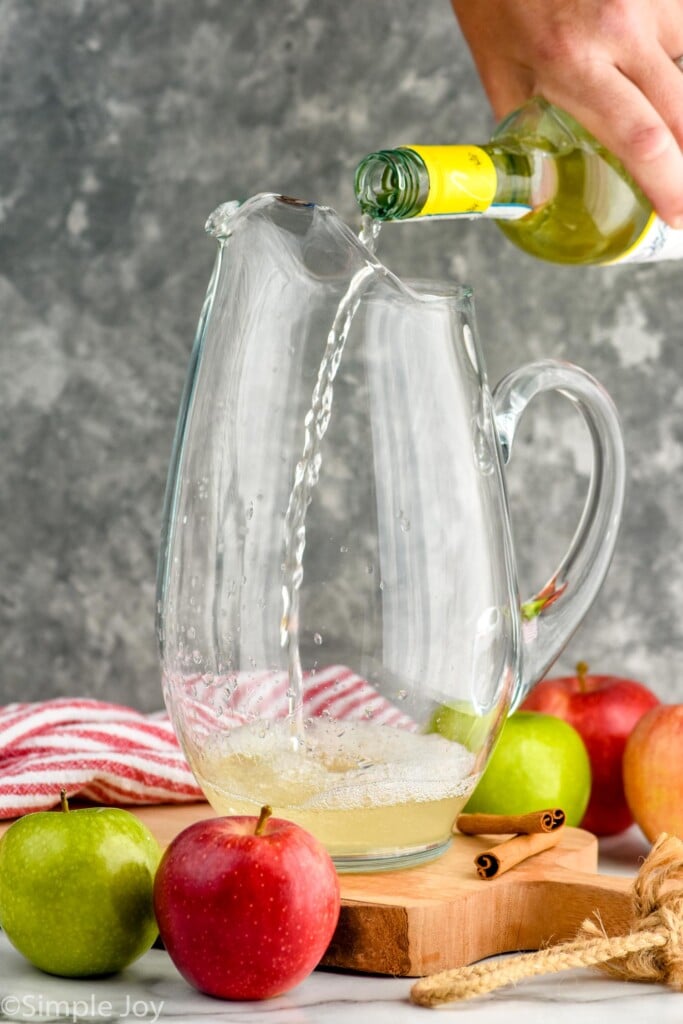 Apple Cider vs. Apple Juice
Apple cider is fresh and unfiltered juice pressed from apples that is usually unpasteurized. Since it is considered a seasonal drink, it can be hard to find outside of the autumn months.
While you can use a jug of apple cider from your local grocery store or apple orchard, making spiced apple cider in your crockpot is very simple. With flavors of cinnamon, nutmeg, and oranges that enhance the flavor, this spiced cider will add some extra spice flavor to this sangria recipe and will make your kitchen smell amazing. I recommend making this spiced apple cider ahead of time and allowing it to chill completely before using it in this sangria recipe.
Apple juice, on the other hand, is filtered and pasteurized, which gives it a longer shelf life and a sweeter taste. You can use apple juice in this recipe if you are unable to find apple cider, but I would taste it before adding any simple syrup since it will result in a sweeter sangria.
Crockpot Spiced Apple Cider
This Crockpot Spiced Apple Cider is perfect for fall parties. It is easy to make and delicious to drink.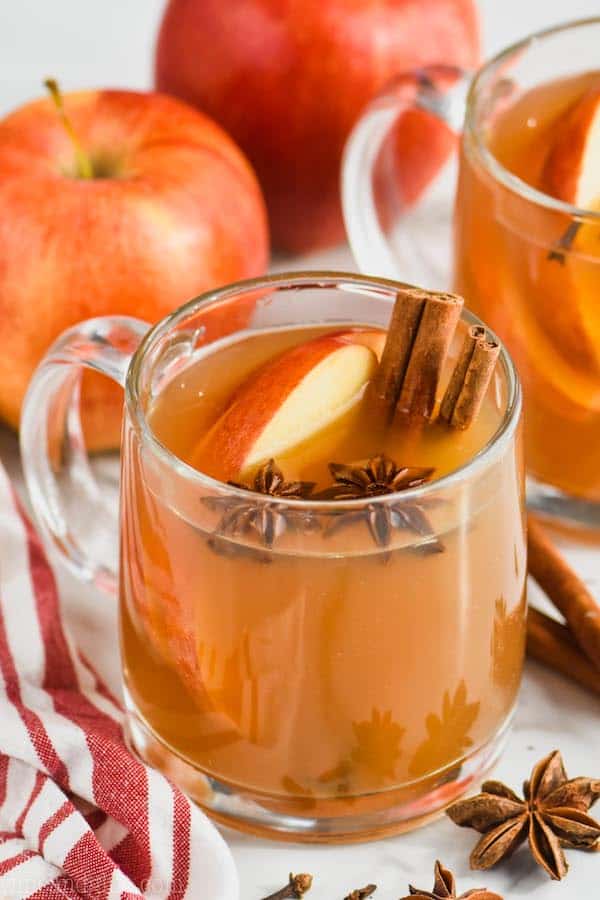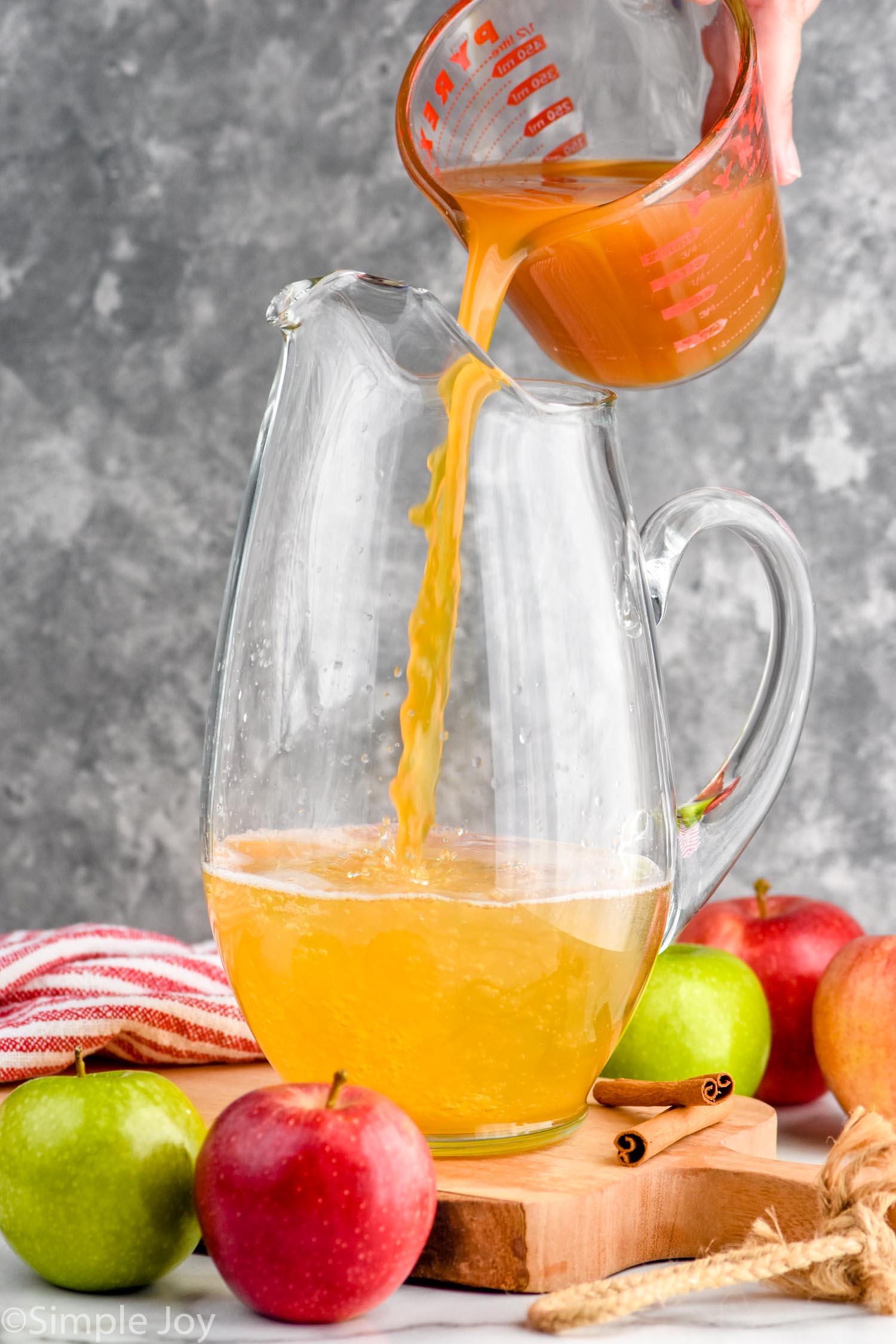 White Wine For Sangria
The wine that you pick will significantly impact the sweetness of the sangria, so the best white wine for this sangria recipe will depend on how sweet you want it to be.
We are using Pino Grigio in this sangria, which is crisp and light and not too sweet. I love the end result. If you like your drinks more sweet, use a sweeter wine or adjust the simple syrup. See more on this below.
Pino Grigio combines well with the apple cider and simple syrup. If you don't like sweet cocktails, that is a great base for sangria.
Riesling is a little sweeter than Pino Grigio but is still quite mild. It's a great option for taking the sweetness up a little.
Moscato is the final option. It is a very sweet white wine. If this is what you purchase, I would taste the sangria before adding any simple syrup.
Adjusting the Sweetness of Sangria
Tastes vary quite a bit when it comes to how sweet people prefer their sangria, and there are a few factors that affect it. This apple cider sangria recipe uses simple syrup to make it sweeter and balance the flavors of the wine and apple cider.
If you like your drinks sweeter, you can add more simple syrup to this recipe. A little goes a long way, so only add it after you've already tasted the sangria. Start with just 1/2 cup simple syrup like the recipe calls for and add 1/4 cup more only after you've tasted it.
You could even keep a small container of simple syrup next to the pitcher so that you and your guests can customize your own glasses to the sweetness you enjoy.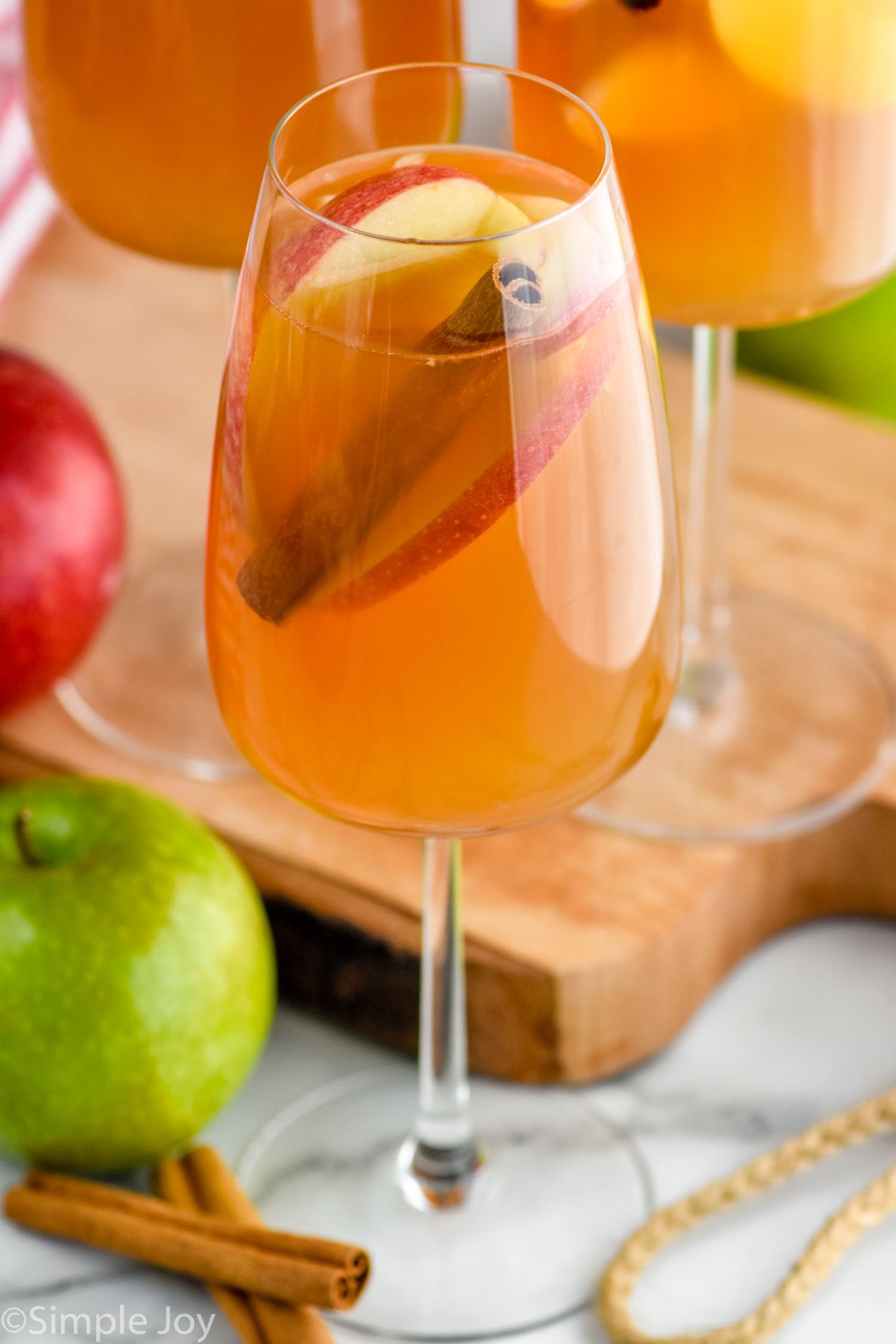 Simple Syrup
Learn all you need to know for how to make simple syrup for cocktails! An essential for any bar, it's easy to make. You can even add different flavors.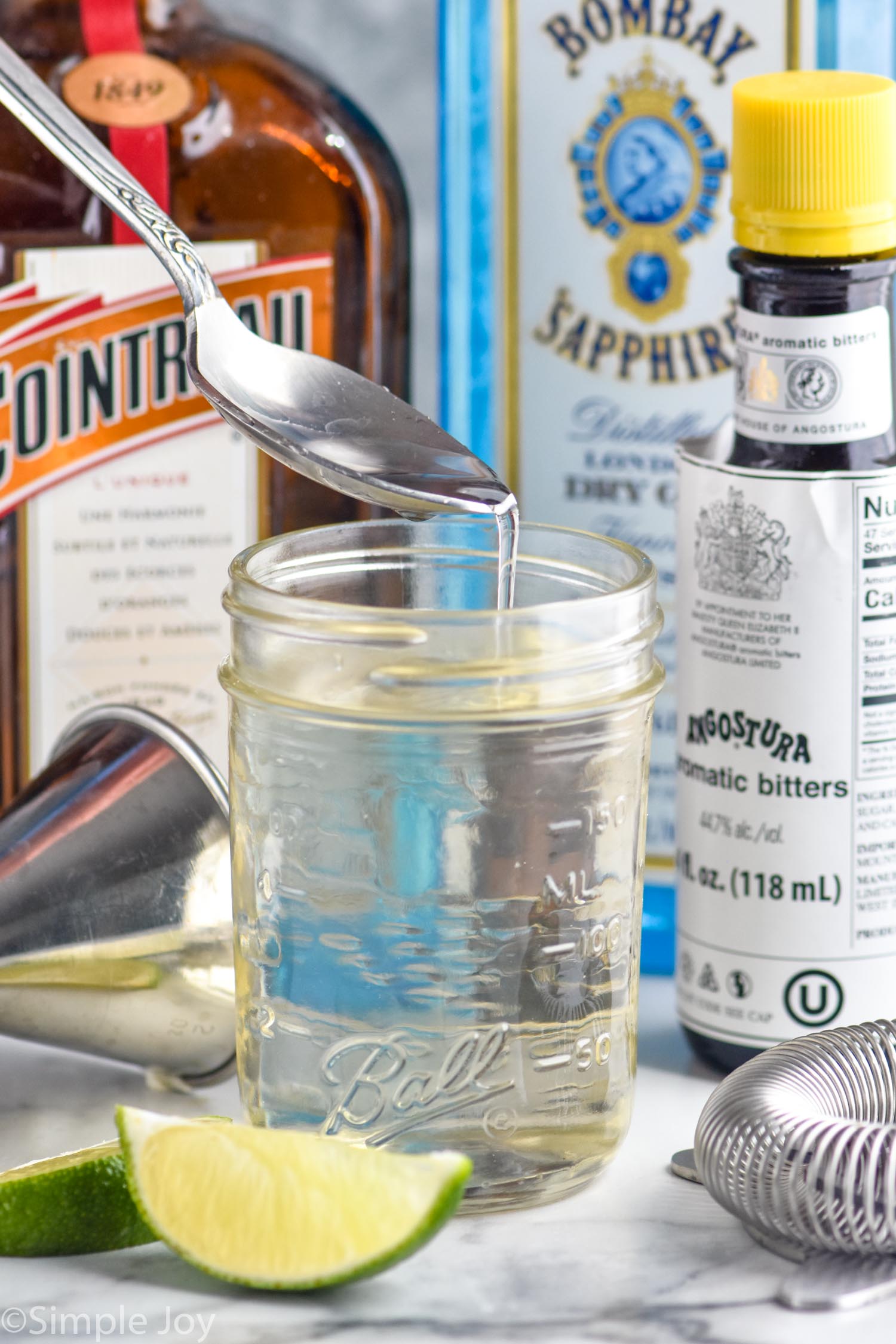 Serving
This fall sangria recipe can be served in stemmed wine glasses, like in the photos, or stemless white wine glasses for a more casual look. Thinly slice three red apples and add them to the sangria along with a few cinnamon sticks. I like to add an extra slice or two to each glass when serving. You can see two types of wine glasses in the photos, the first ones are from IKEA and the second are linked below.
TOP PICK
My Favorite Wine Glasses
The glasses you see in the front of the picture are from IKEA, and the ones in the back are these great ones fro Joy Jolt. I love them!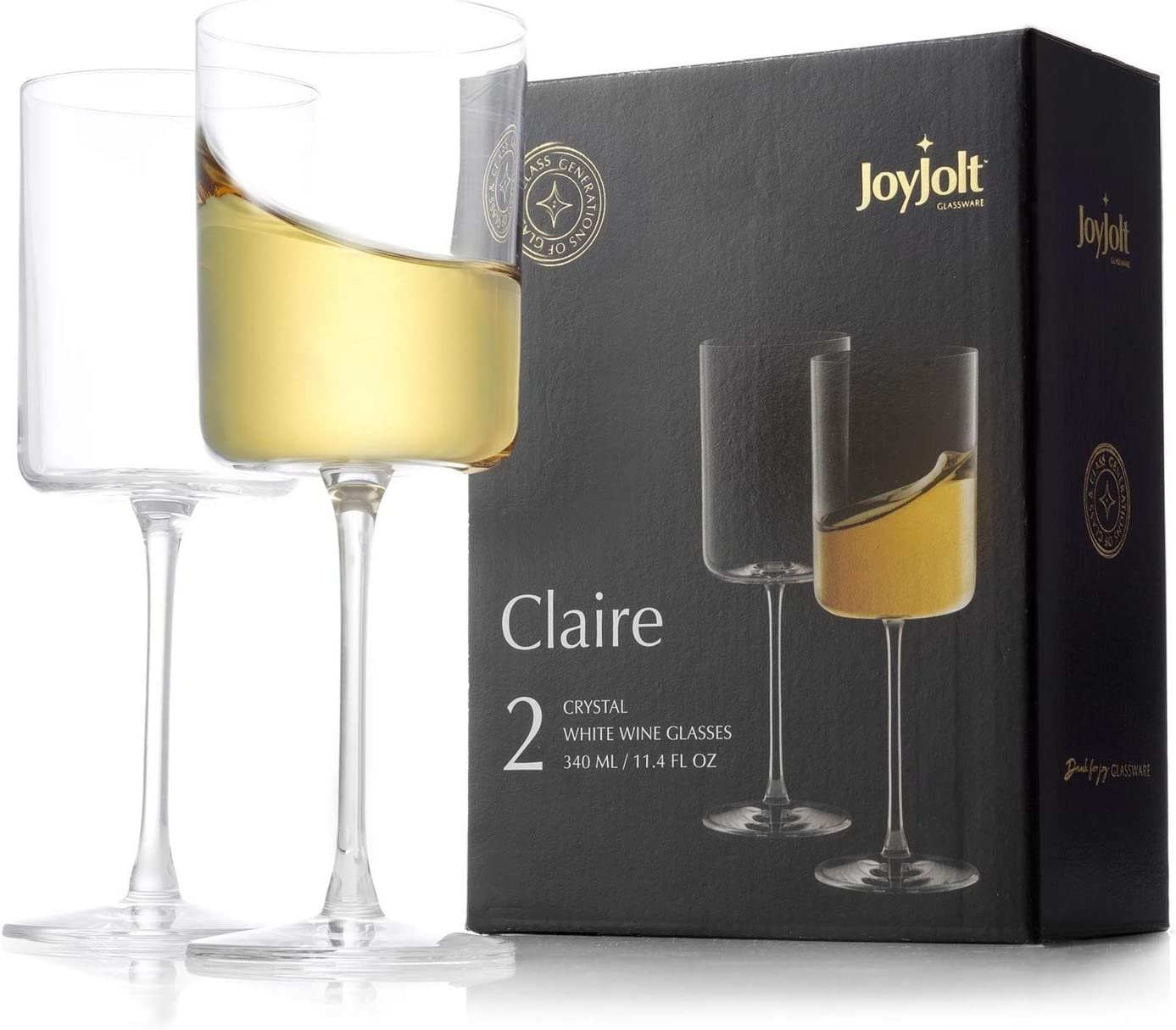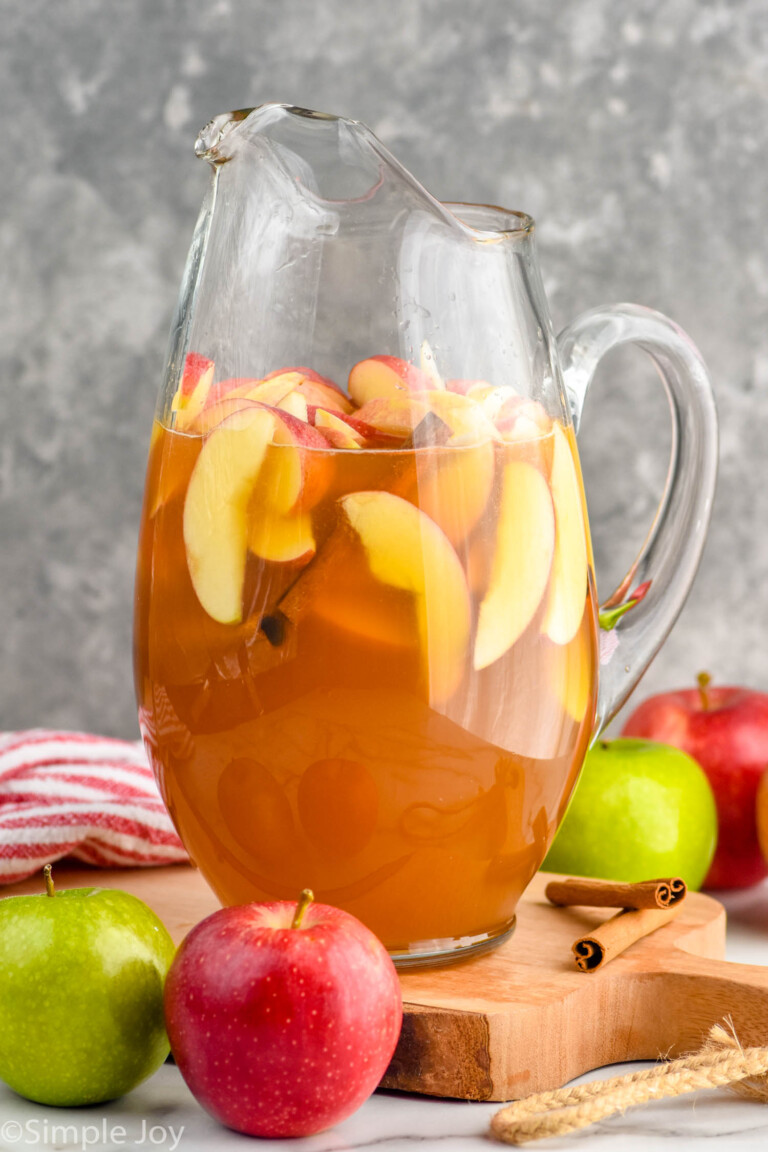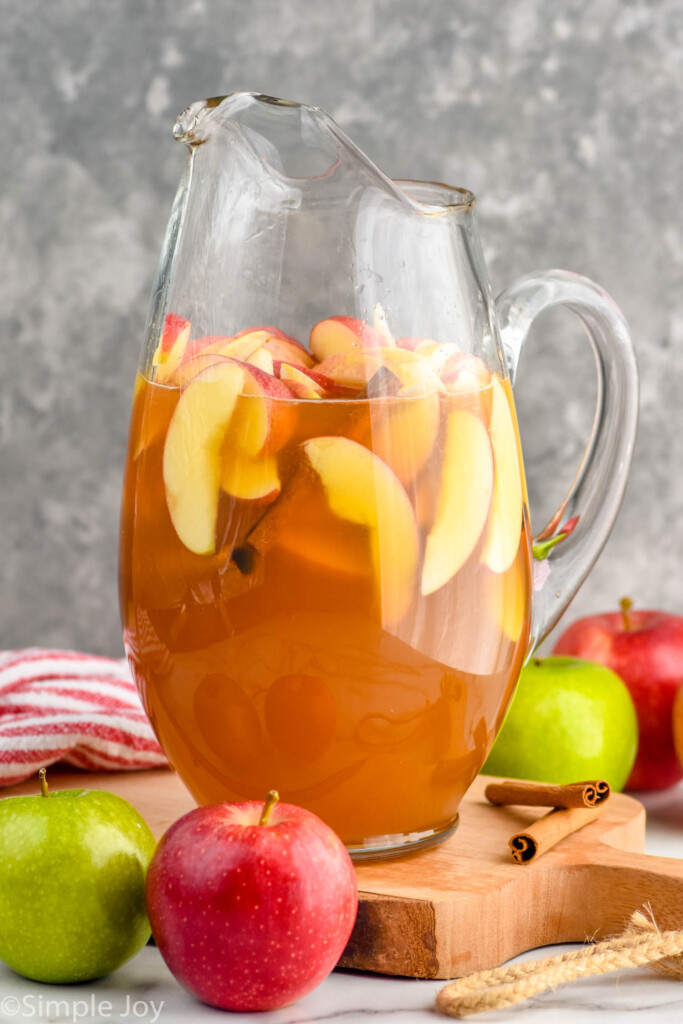 Variations
Swap the brandy for vodka. Use plain vodka or caramel vodka instead of brandy.
Rim your glasses with caramel or cinnamon sugar. For an extra sweet touch, do both! Have two shallow plates, one with caramel sauce and the other with a cinnamon sugar mixture. Roll the rim of your glasses in the caramel and then in the cinnamon sugar. Set aside until ready to serve your sangria.
Add some fizz. Top the sangria with club soda to stretch it further and add some fizz. You could also have the club soda sitting next to the pitcher for guests to add to their glass.
Letting Sangria Rest
Traditionally, you let sangria sit overnight to let the flavors combine. In some recipes, like my Red Sangria, this step is really important and brings out the best flavors. Because this is a very simple spin on sangria, that isn't necessary here.
What is more important than letting your sangria rest is starting with chilled white wine and apple cider. This sangria will be enjoyed most when it is served cold and we don't want to dilute it with a lot of ice, so it is best to start with chilled ingredients.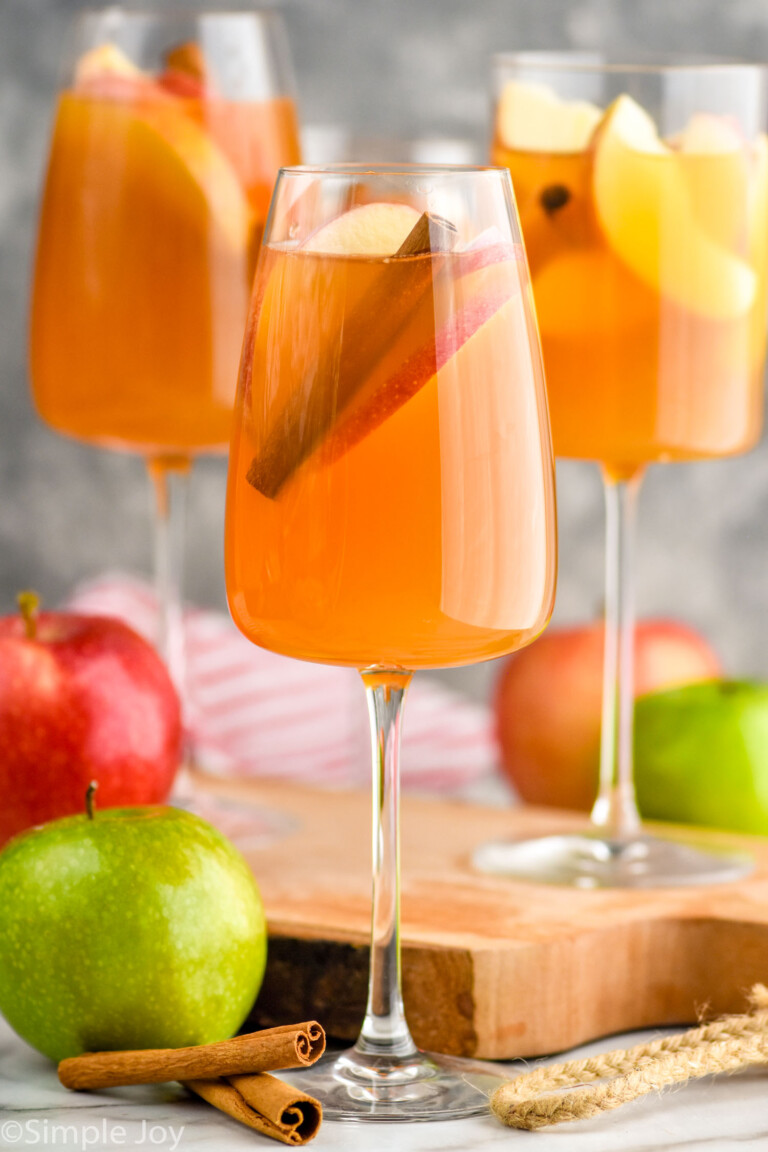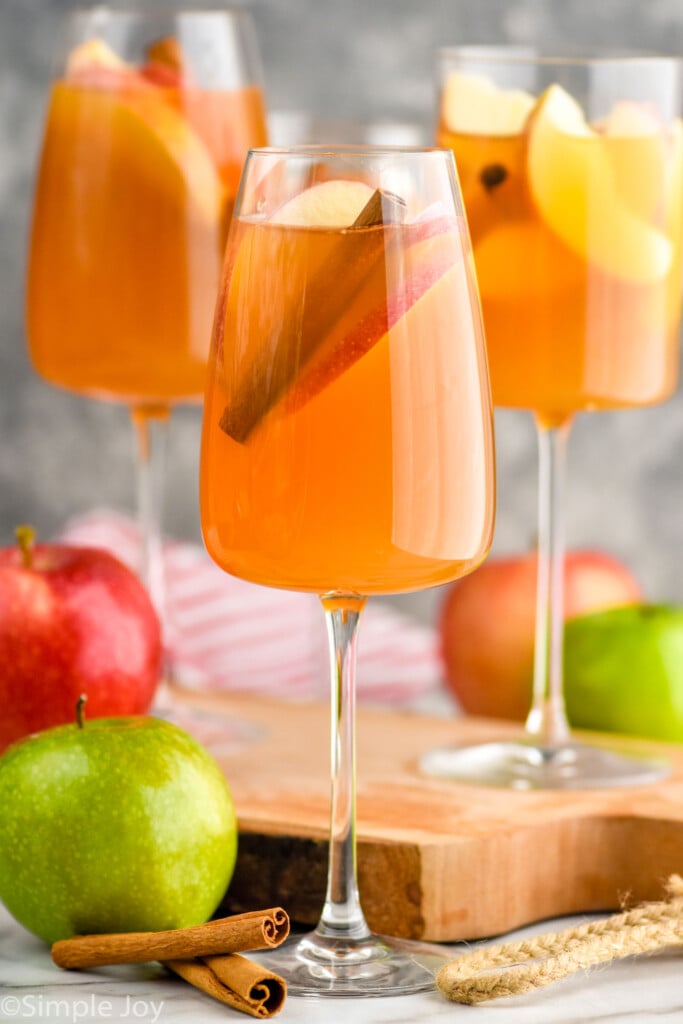 Other Sangria Recipes
I have tons of great sangria recipes perfect for every season and holiday. From a refreshing Citrus Sangria to a holiday Christmas Sangria, and white wine sangria recipes to red wine sangria, you are sure to find the perfect one for your next celebration.
If you try this apple cider sangria recipe or any of my other recipes, please leave a comment and let me know what you think.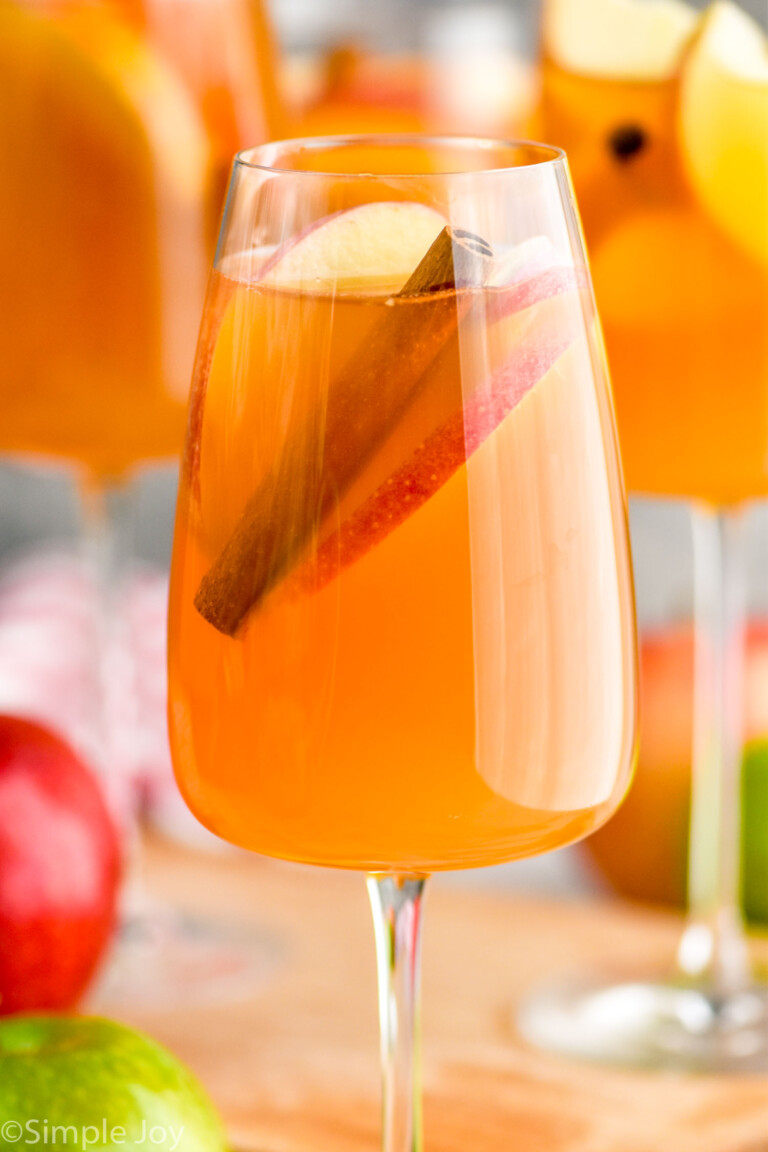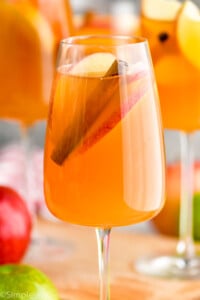 Apple Cider Sangria
Apple Cider Sangria is the perfect fall sangria recipe. Made with just a handful of ingredients, your guests will love this delicious cocktail.
Ingredients
750

milliliters

Pinto Grigio

chilled

3

cups

apple cider

chilled

1

cup

brandy

1/2

cup

simple syrup

3

red apples

sliced thin

4

cinnamon sticks
Instructions
Combine the wine, apple cider, brandy, and simple syrup.

Stir in the apples and cinnamon sticks.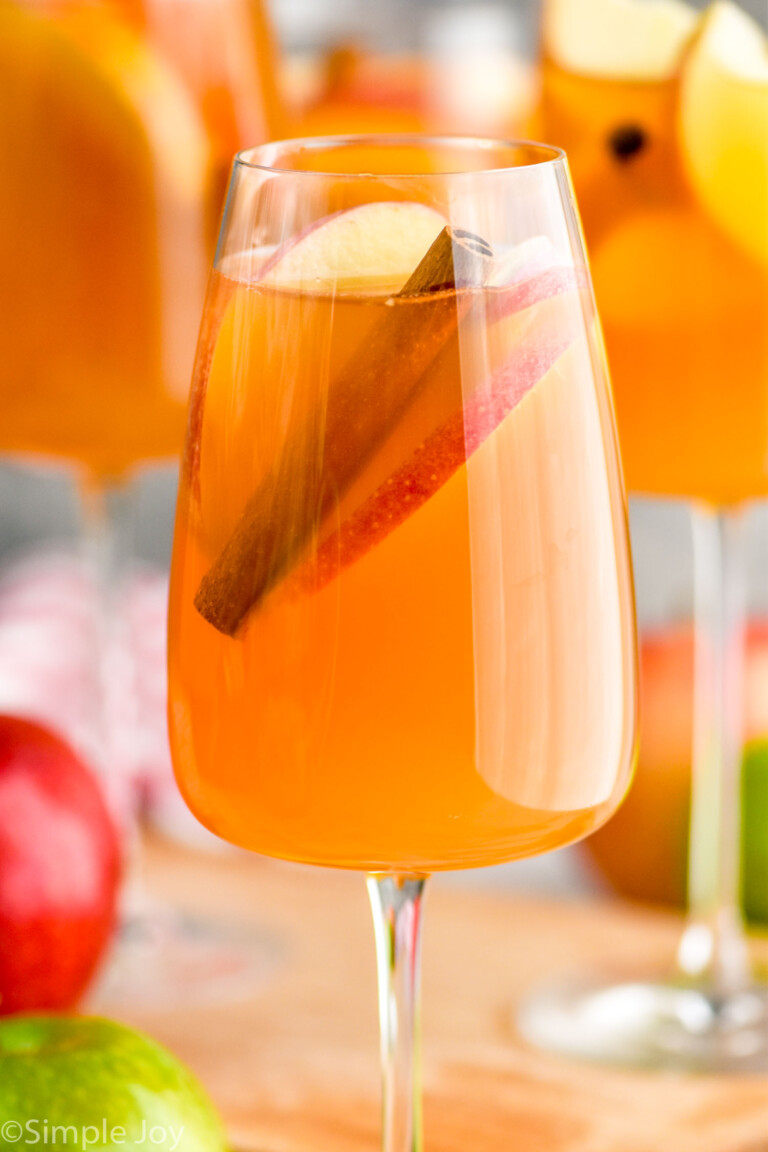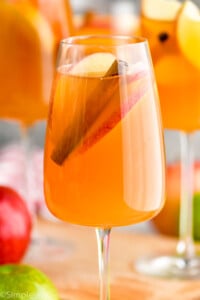 did you make this
Apple Cider Sangria