Cold Brew Coffee is the perfect easy treat to make at home. Skip the coffee shop and save some cash with this easy recipe.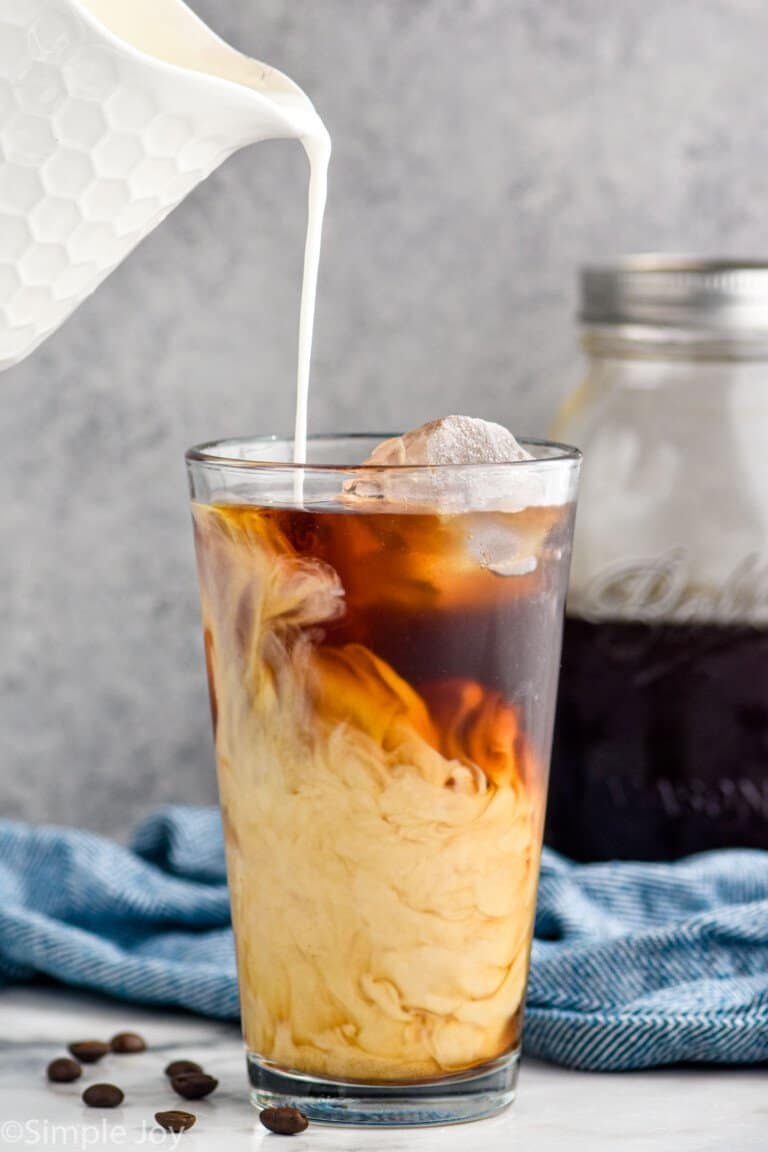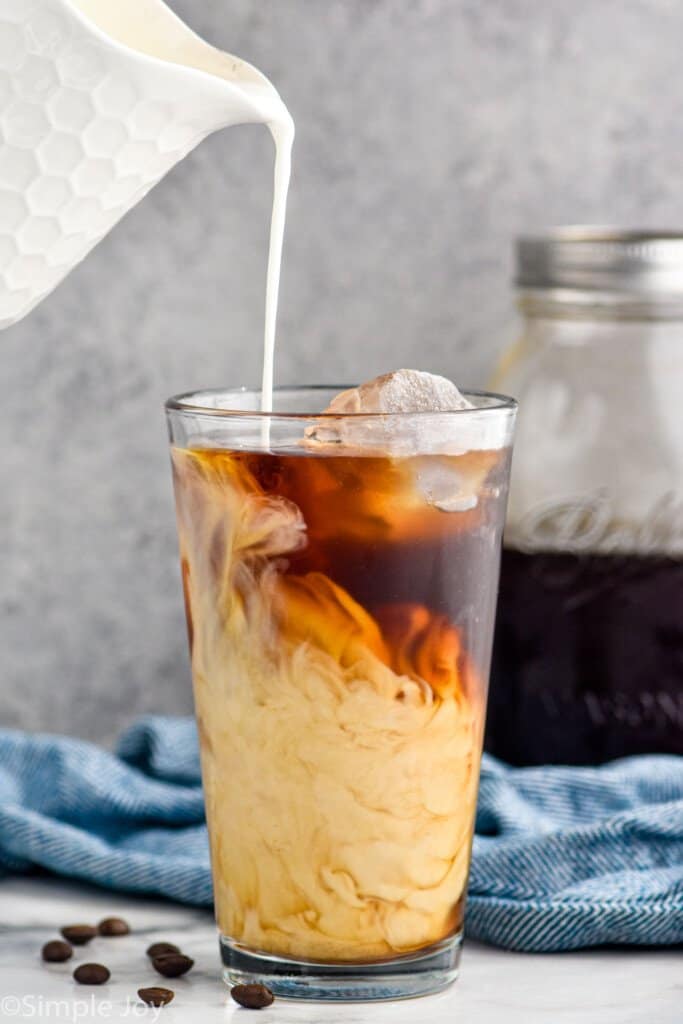 The warmer summer months on the horizon have me wanting nothing more than sipping a chilled Cold Brew Coffee on my patio while I read a good book. And I want that for you too! Carving out time for ourselves in the midst of busy life is so important.
One thing is certain, the cold brew coffee recipe shouldn't be the thing that holds you back from doing this. With this easy recipe you are going to be able to make this regularly. This recipe has just a few simple steps; you'll never go back to buying it.
What is Cold Brew Coffee
Cold Brew Coffee is a lot like it sounds. While regular coffee is made by pouring hot water over coffee grounds and allowing them to steep and then strain, cold brew uses cold water.
Because we are using cold water, the coffee needs to steep in the cold water for much longer than traditional coffee, but the results are delicious cold coffee. If you love iced coffee, chances are good you will enjoy cold brew coffee.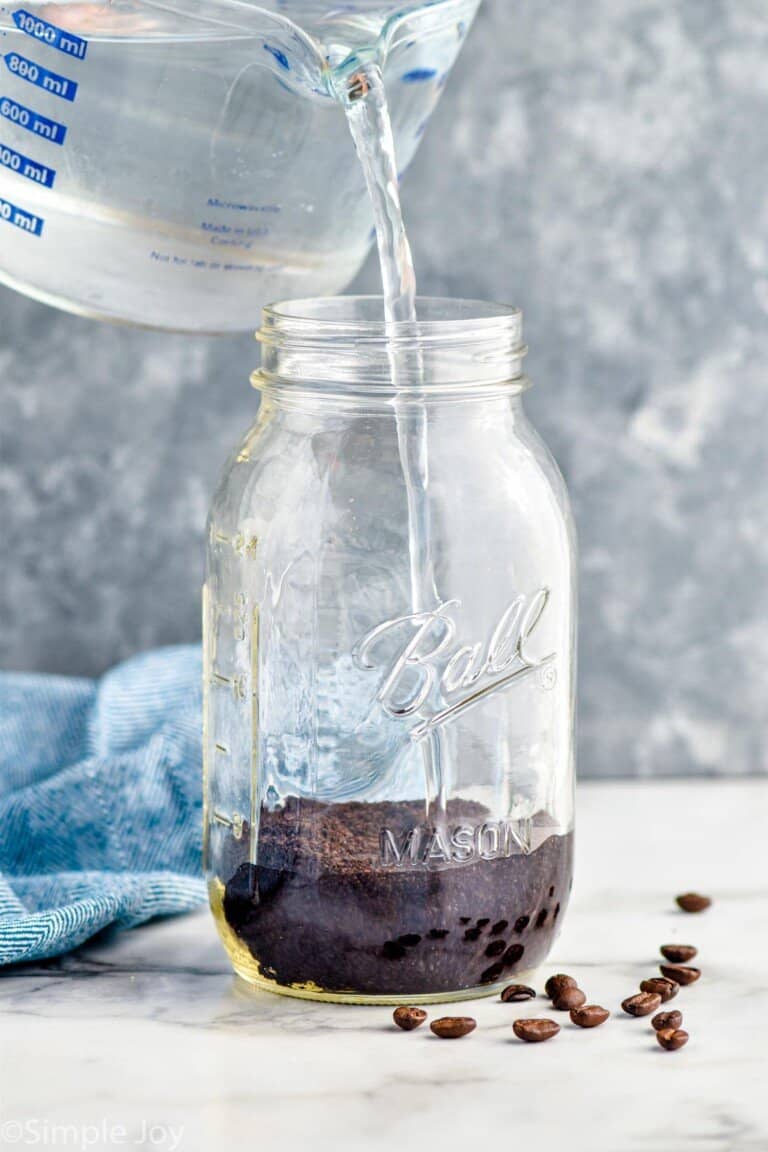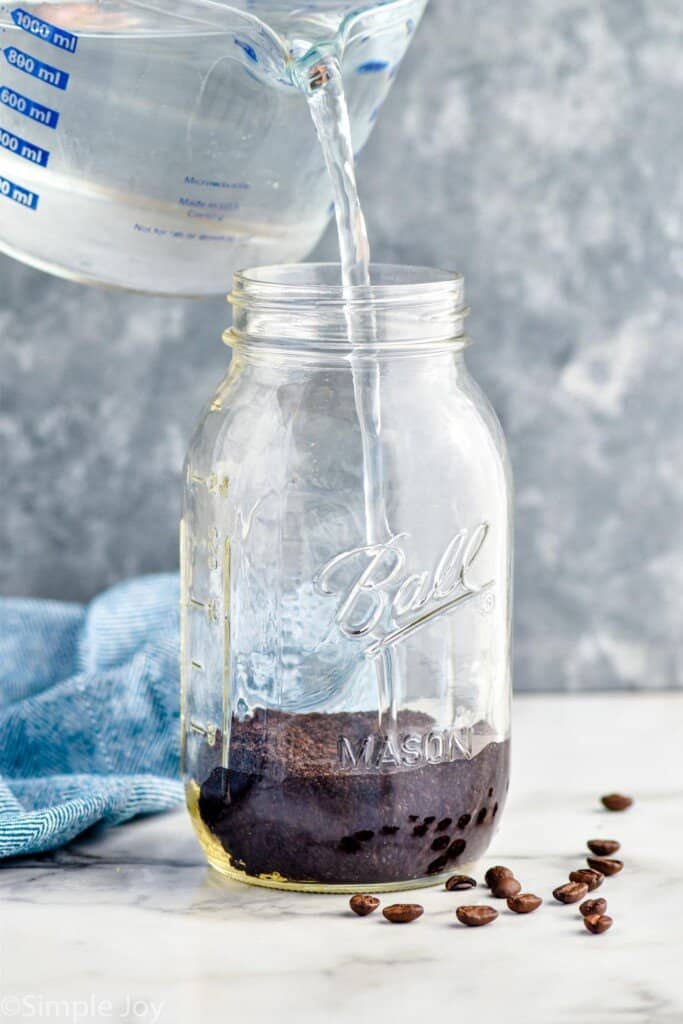 How to Make Cold Brew Coffee
Add coffee grounds to a mason jar. The amount you add is up to you. We used 1/2 a cup of grounds and found that this was perfect. Use a mason jar for steeping or other sealable container.
Cover with cold water. For 1/2 cup of coffee grounds you will want to use four cups of cold water. Though this recipe is easy to cut in half or double.
Refrigerate for 24 hours.
Strain the coffee. Using a metal strainer that is lined with a cheese cloth and strain the steeped coffee.
Pour over ice and enjoy!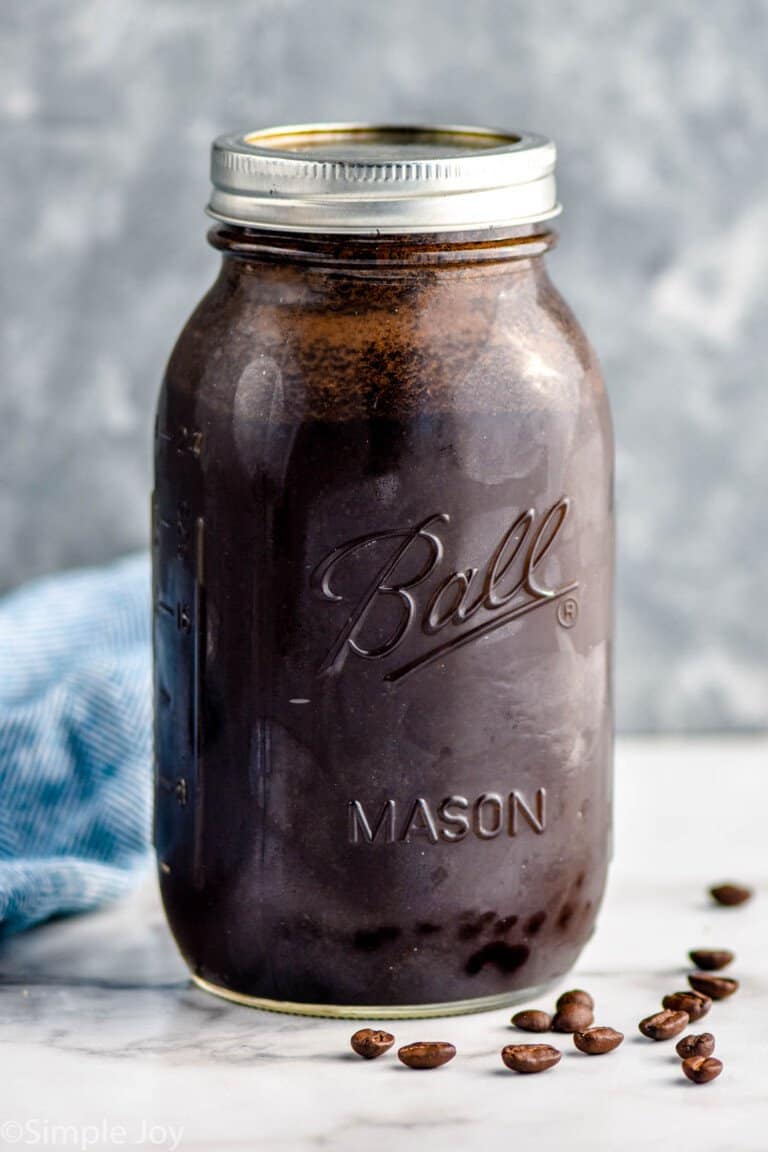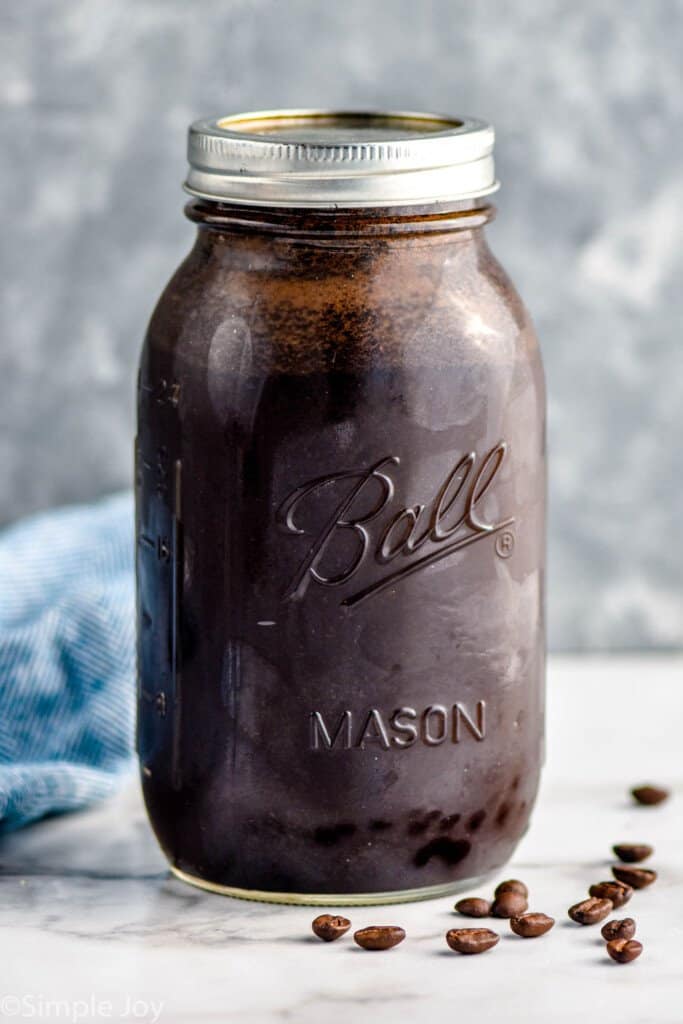 Using a Cheese Cloth
While a cheese cloth might not be something you already have on hand in your kitchen, it is a really handy item. It can be purchased online or you can easily find it in your grocery store for under $5.
It comes in a long sheet and you will want to cut a small portion to line your metal strainer with. You really do need this fine level of straining so you don't get coffee grounds in your final drink. Alternatively, you could line the mesh strainer with paper coffee liners.
Cold Brew vs Iced Coffee
Cold Brew and Iced Coffee are both cold beverages made from coffee, but that is where their similarities end. The way they are made is completely different. Iced Coffee is brewed hot like traditional coffee. It is then chilled before being served.
As mentioned above, cold brew is made from steeping ground coffee with cold water over a 24 hour period.
We like making coffee ice cubes so that when we serve iced coffee it doesn't get diluted, and that would work great here as well.
Cold Brew Ratio
Our ideal ratio is 1/2 cup coffee grounds to 4 cups of cold water. This results in the perfectly caffeinated beverage. You can definitely increase that to up to 1 cup of coffee grounds if you like a more intense cup of coffee.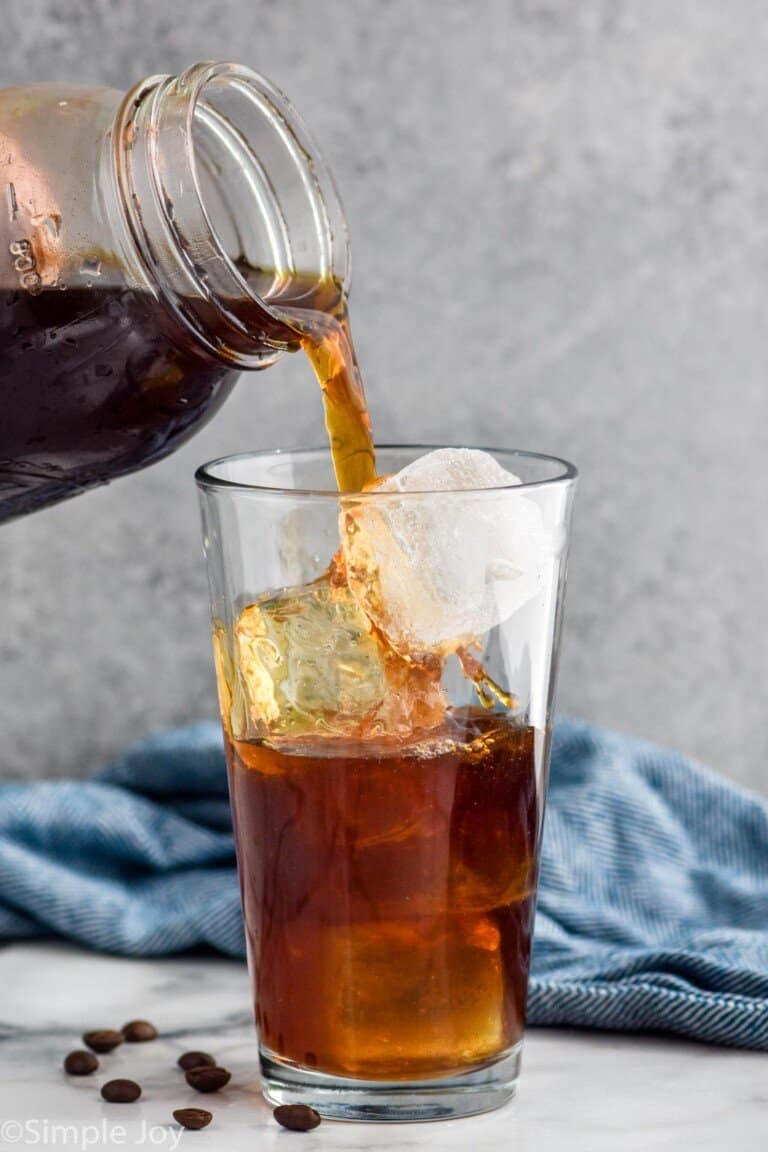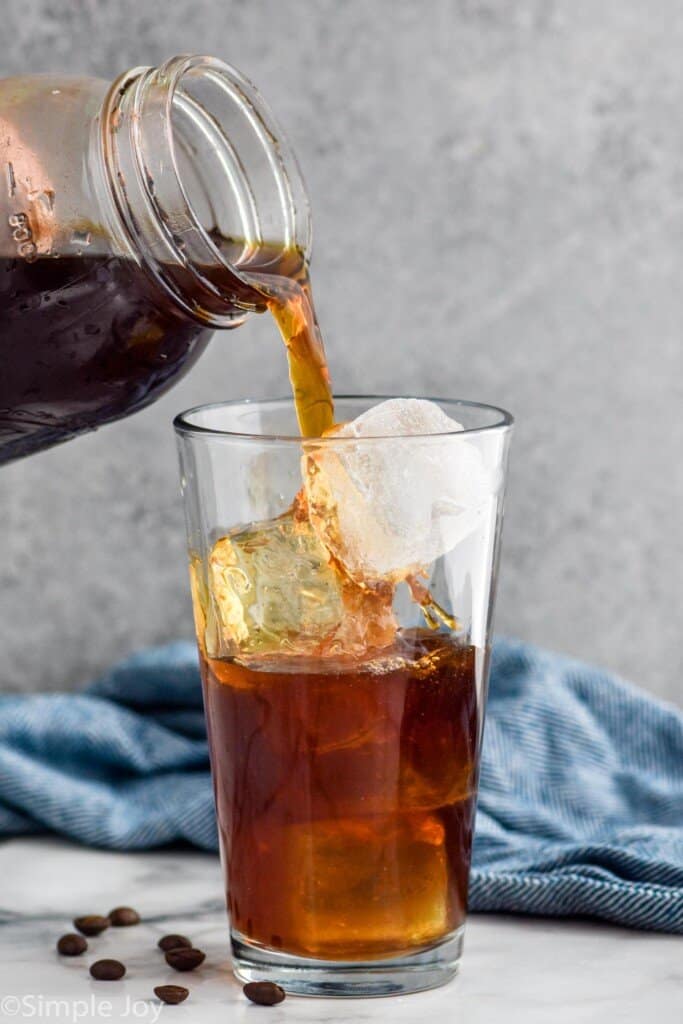 Sweetening Cold Brew
When you make hot coffee, it is really easy to sweeten. The sugar just dissolves right into the hot liquid. That doesn't happen with iced coffee or with cold brew coffee. What we recommend is that you add the amount of sugar you like at the beginning or you use simple syrup to sweeten it after it is already made.
FAQ
Does cold brew have more caffeine?
If you use the same ratio of coffee beans to water in both hot and cold brewed, hot brewed coffee will have more caffeine.
How long does the brew last?
It is best when consumed within the first 1 to 3 days it is made. It will last in the refrigerator for two weeks, but the potency will lessen as time goes on.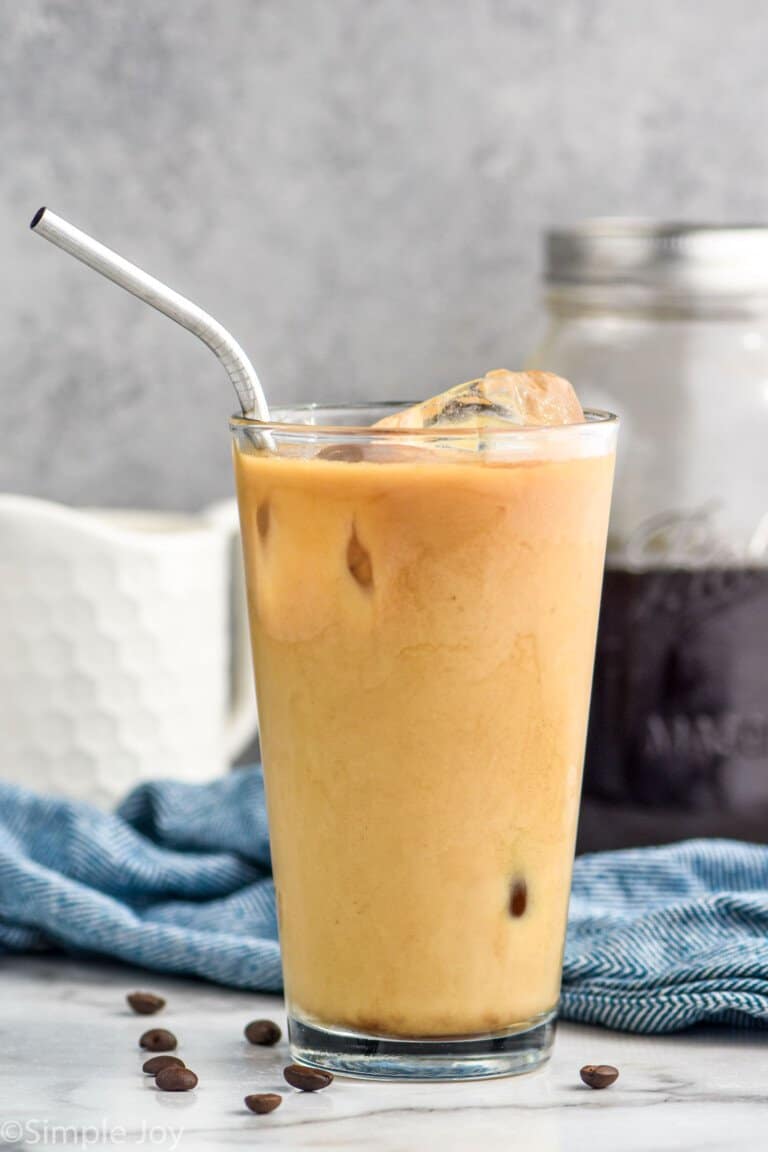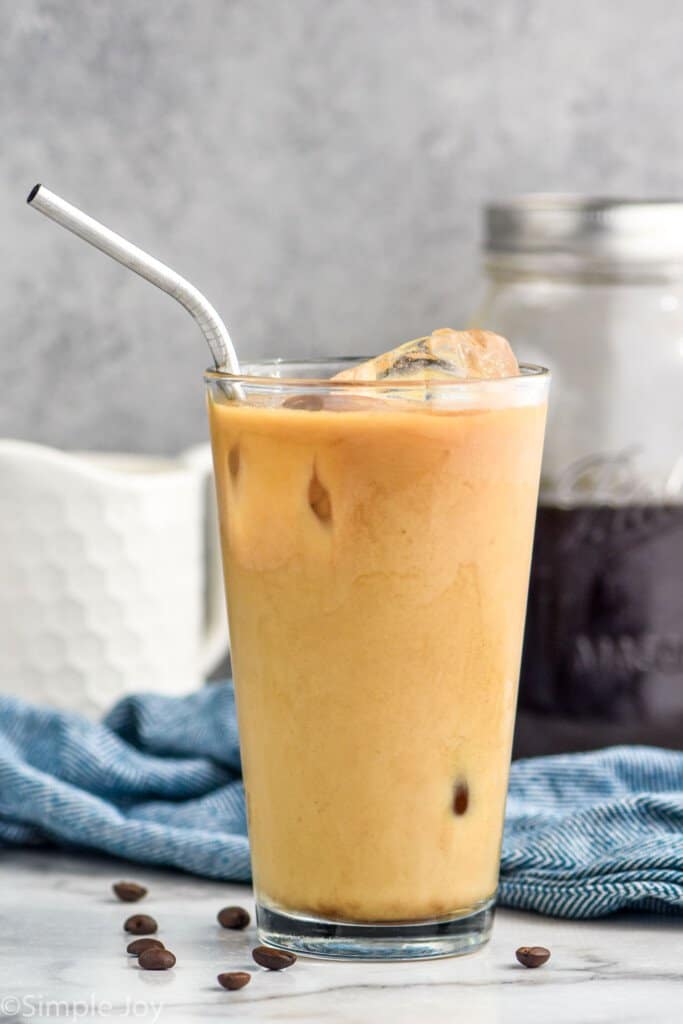 Other Coffee Drinks
If you make any of these delicious coffee drinks, leave me a comment and let me know what you think. I love hearing from you!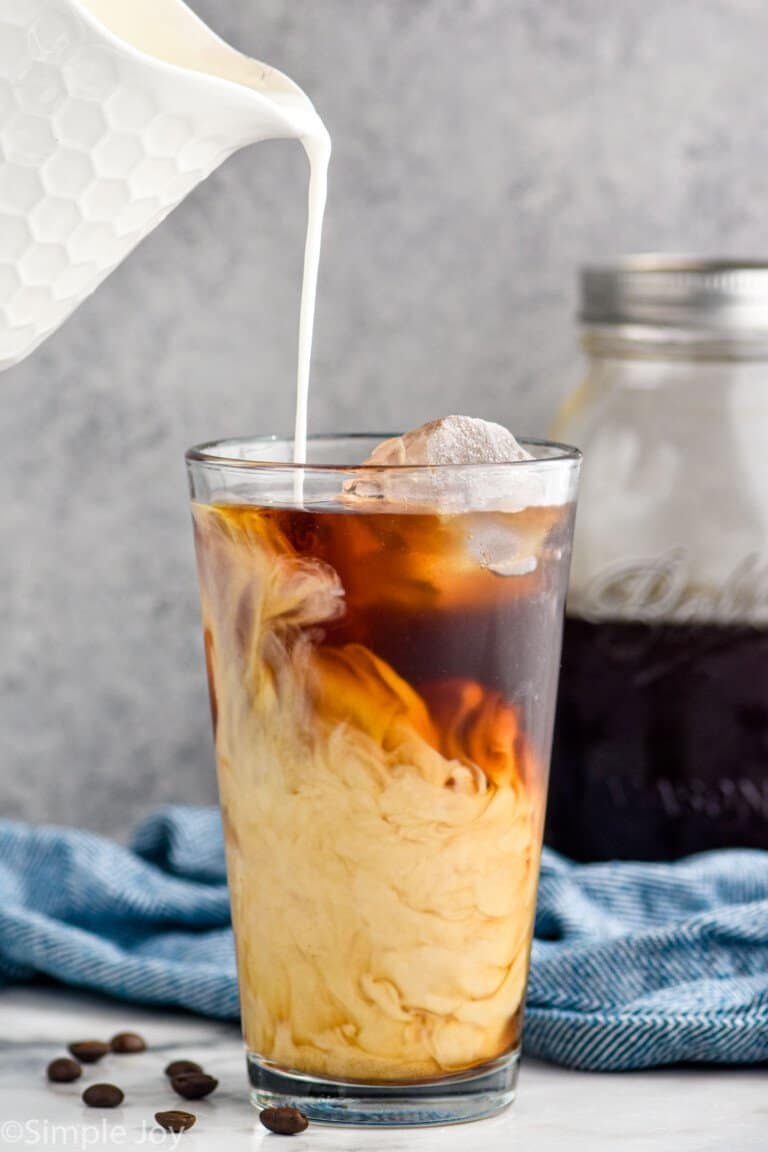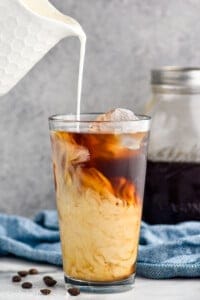 Cold Brew Coffee
Cold Brew Coffee is the perfect easy treat to make at home. Skip the coffee shop and save some cash with this easy recipe.
Ingredients
1/2

cup

ground coffee

4

cups

cold water
Instructions
Combine the ground coffee and the water in a mason jar.

Let the coffee steep in the refrigerator for 24 hours.

Strain the coffee using a cheese cloth and a wire mesh strainer.

Serve the cold brew over ice with your favorite coffee accoutrements.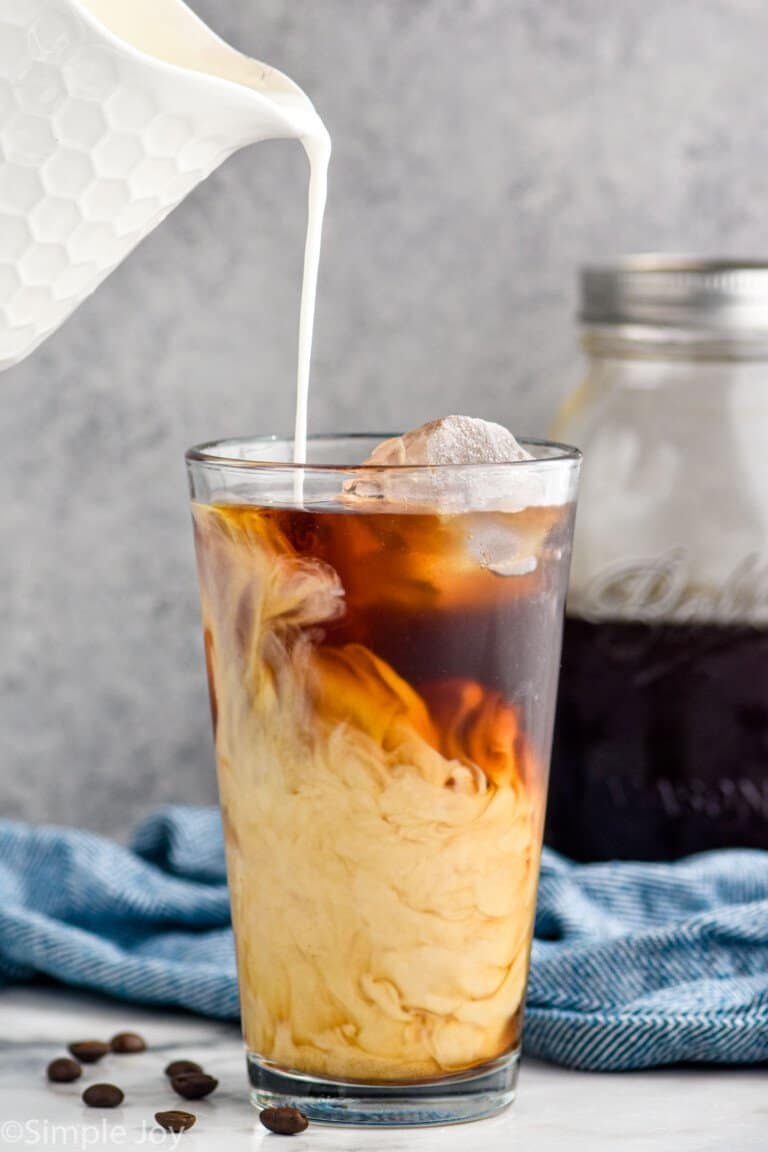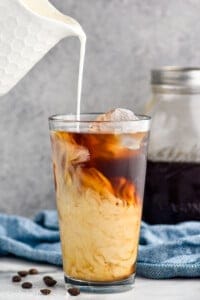 did you make this
Cold Brew Coffee