Iced Coffee is the perfect summer afternoon treat. Gather together all the things you need so that you can have this great drink any time.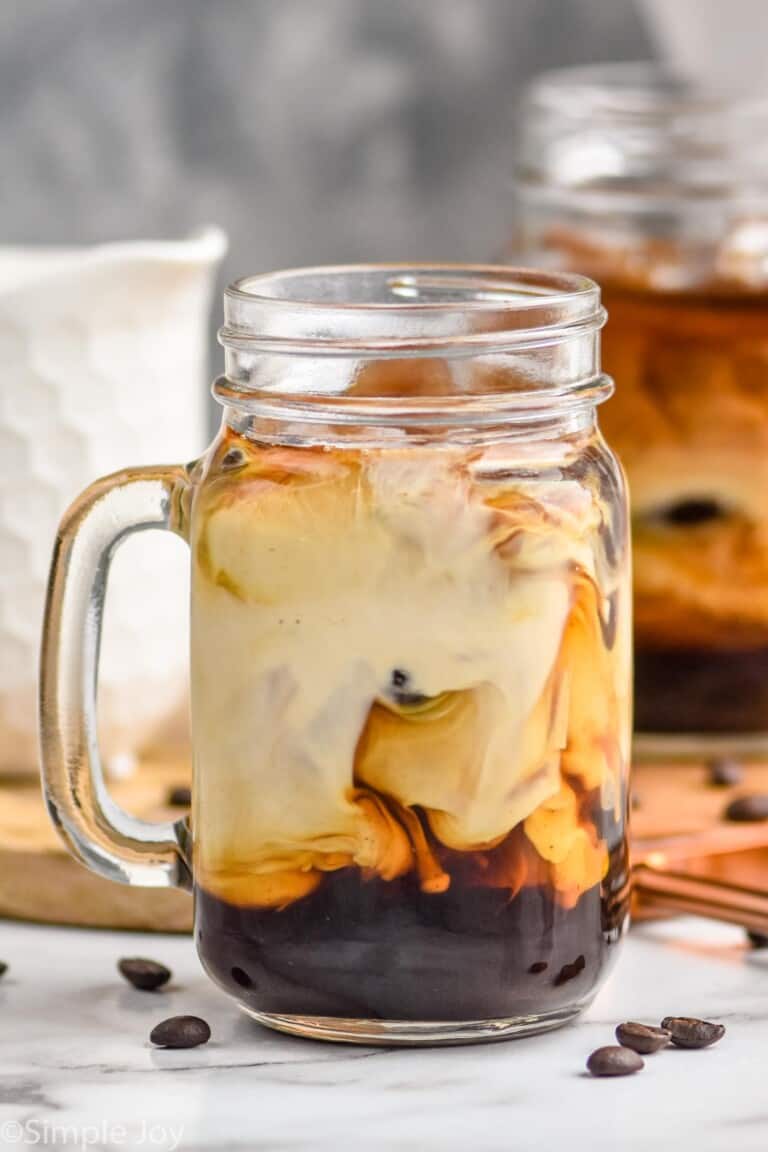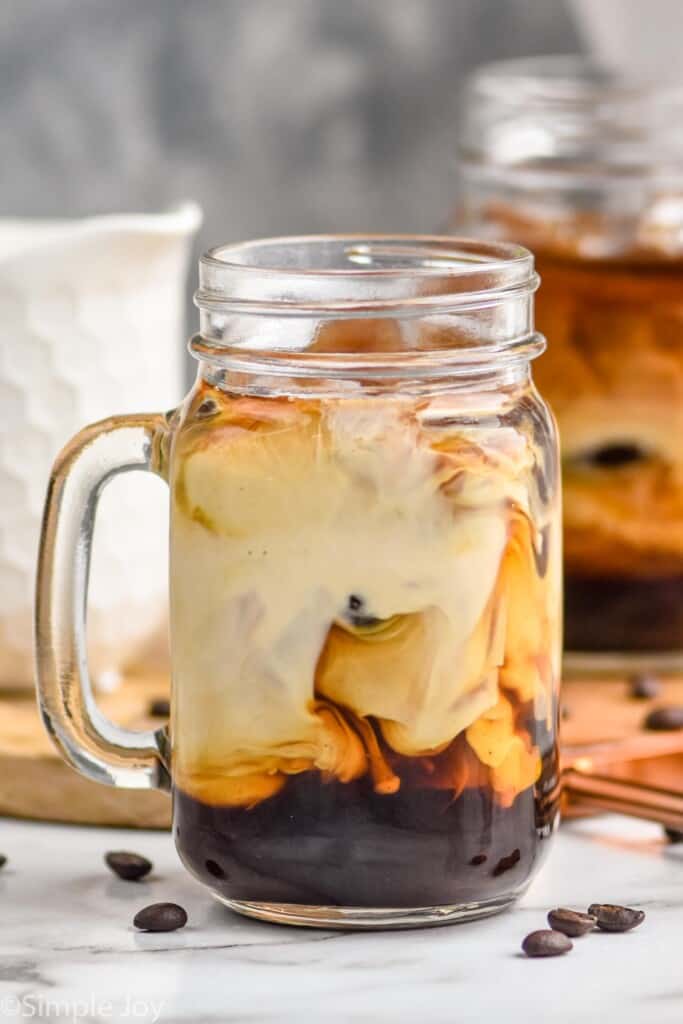 There is nothing better than an Iced Coffee on a hot summer afternoon. It is an easy treat to make at home, something that I have been doing for years. This is the non alcoholic version of my Iced Coffee Cocktail, another great treat.
Cold Brew Coffee vs. Iced Coffee
There is a major difference between these two beloved drinks, and that is in how they are steeped. Cold Brew coffee takes a day to make and starts with cold water and coffee grounds. The two sit together for 12 to 24 hours. It also has double the amount of caffeine as regular coffee.
Iced coffee is coffee that is made the traditional way. Hot water is poured over coffee grounds to make coffee and then the coffee is cooled. Or in this iced coffee recipe, hot coffee is poured over coffee ice cubes to make cold iced coffee.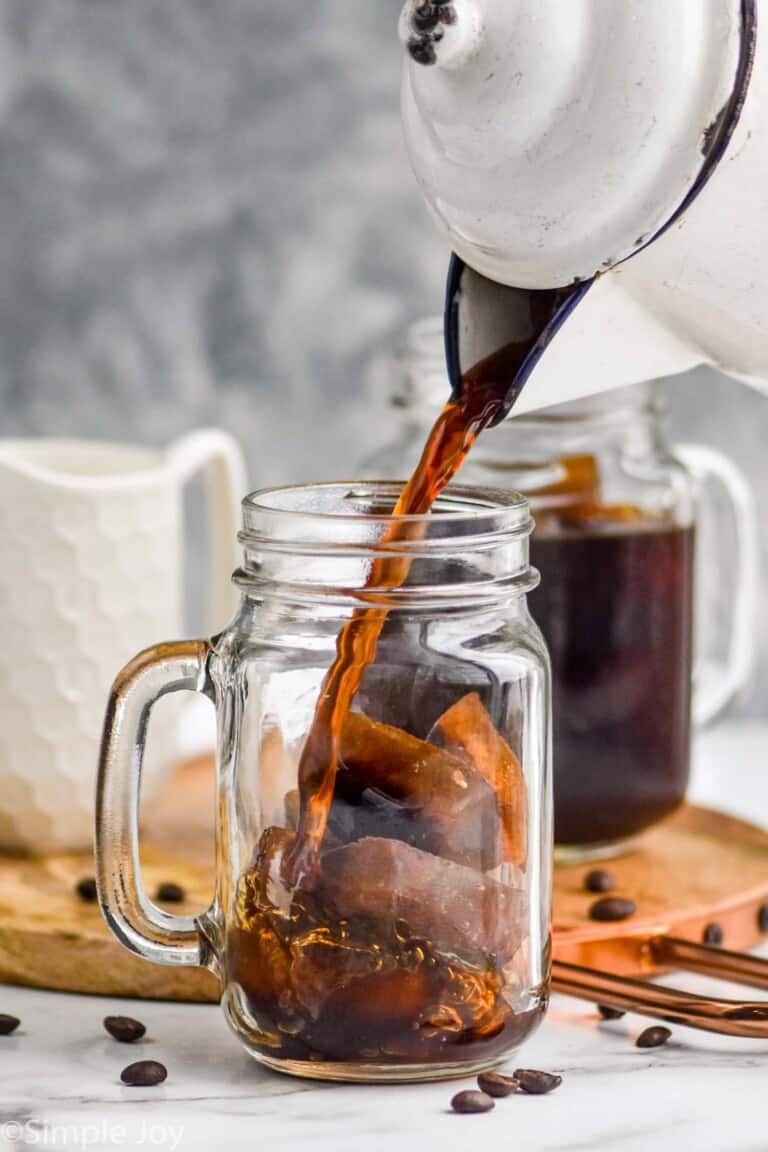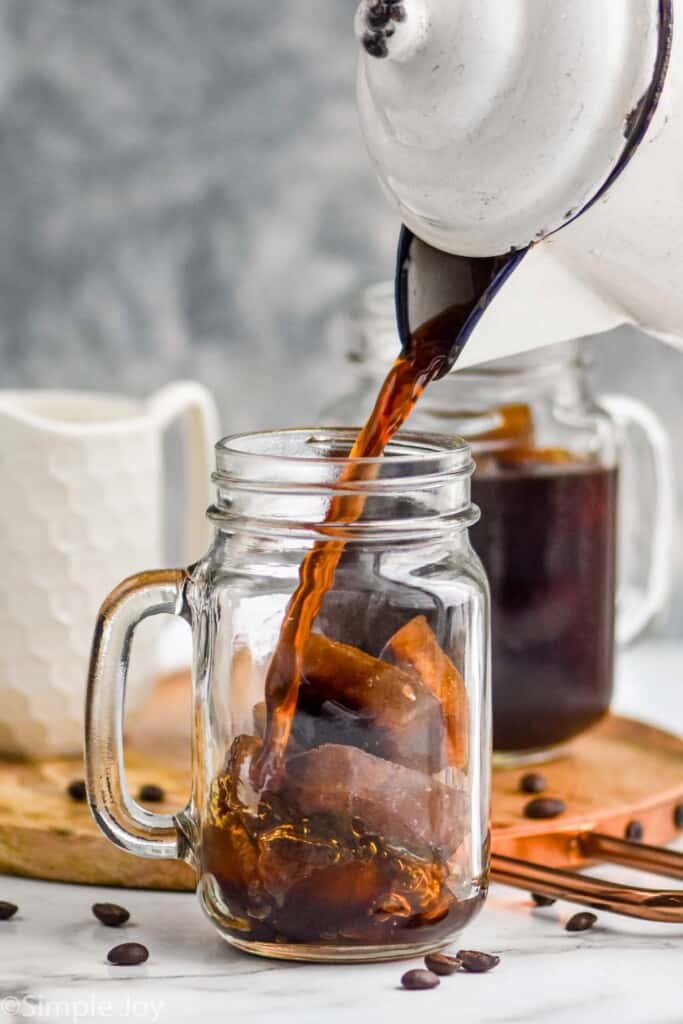 How to Make Iced Coffee
Learning how to make iced coffee at home, is a matter of just knowing a few simple steps!
Make coffee ice cubes. I have a few inexpensive ice cube trays. I brew half a pot of coffee and fill them with that. This way I have coffee ice cubes on hand all the time.
Brew a pot of coffee. After you brew it, you can let it cool in your refrigerator for a few hours, or you can pour it right over the ice cubes. Sometimes I'm good at planning ahead, but even when I'm not, this works perfectly!
Add in the sugar and cream. Because the liquid is cold, it is great to keep simple syrup on hand to add as a sweetener. Then stir in your favorite creamer or half and half.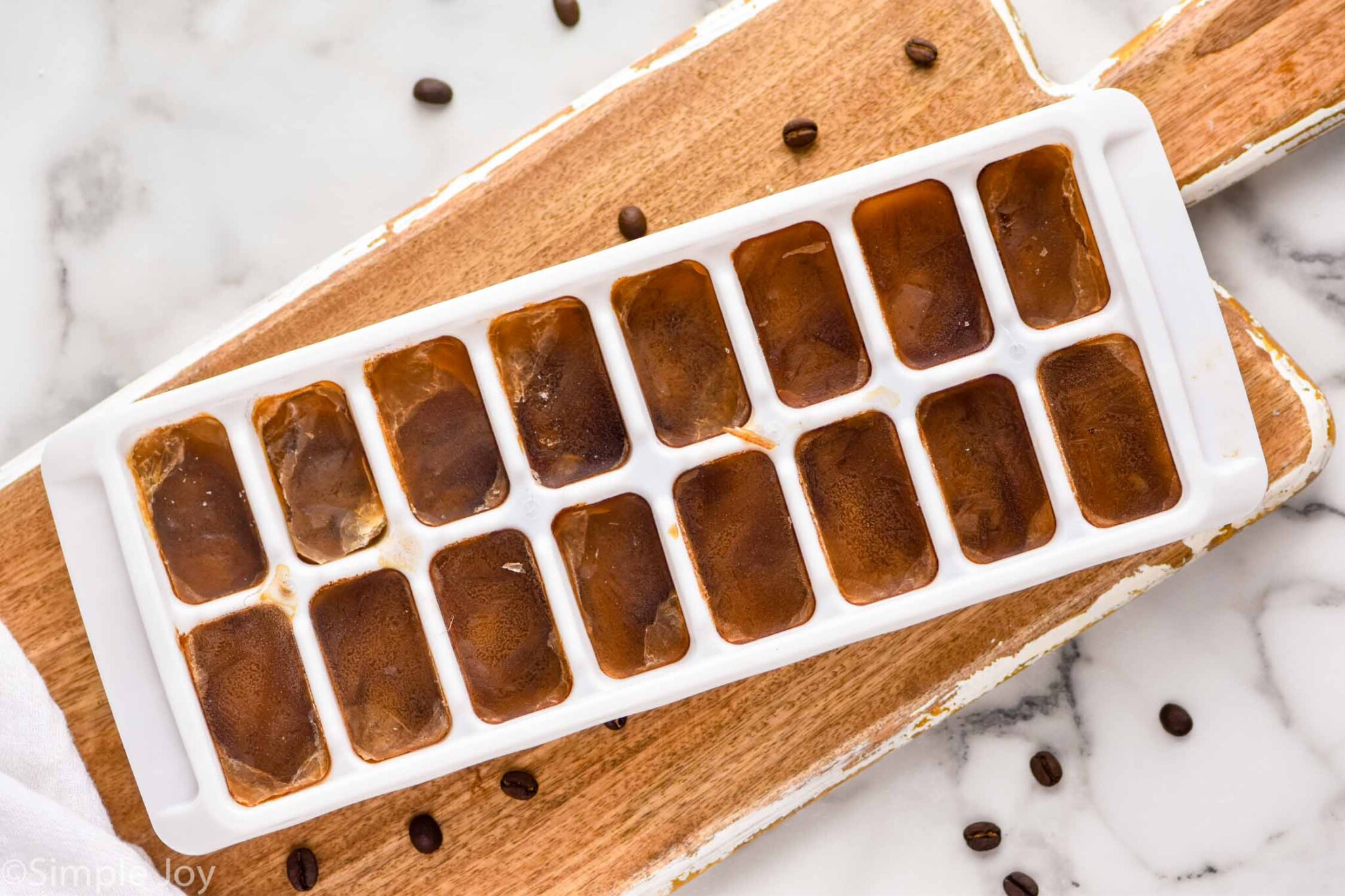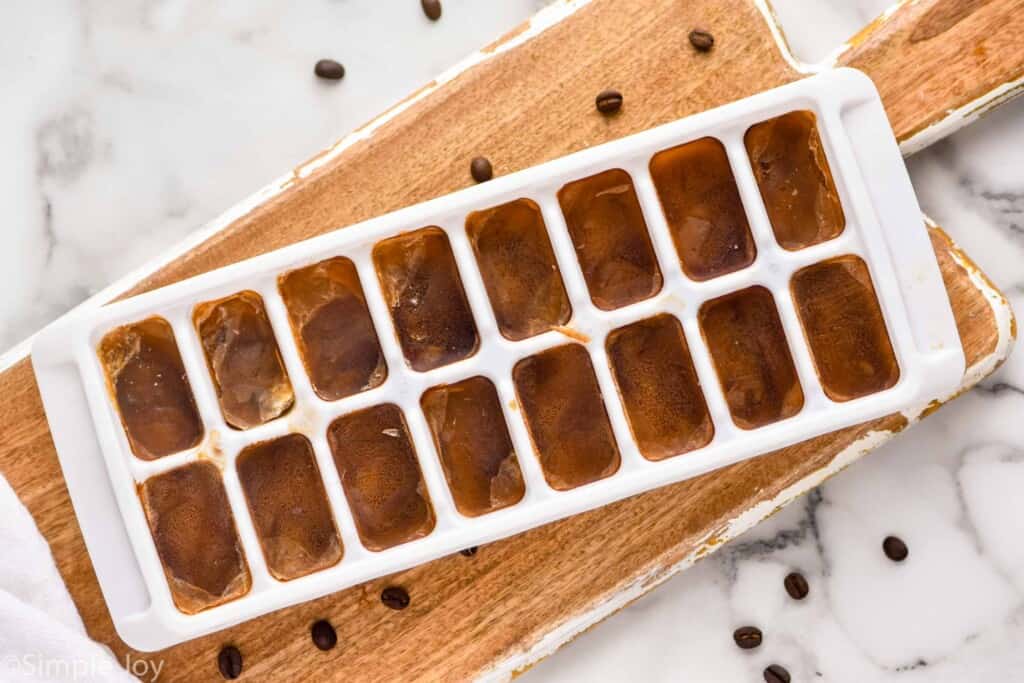 Making Coffee Ice Cubes
As mentioned above, I like to keep coffee ice cubes on hand so that I'm ready any time a craving hits. And I need to tell you that as a mom who works from home and has three kids off all summer . . . that craving is often.
The beauty of coffee ice cubes is that they will cool down hot coffee and make it iced coffee immediately. Alternatively, if you thought ahead and made coffee in the morning that cooled all day in the refrigerator, they will keep that cold without watering it down.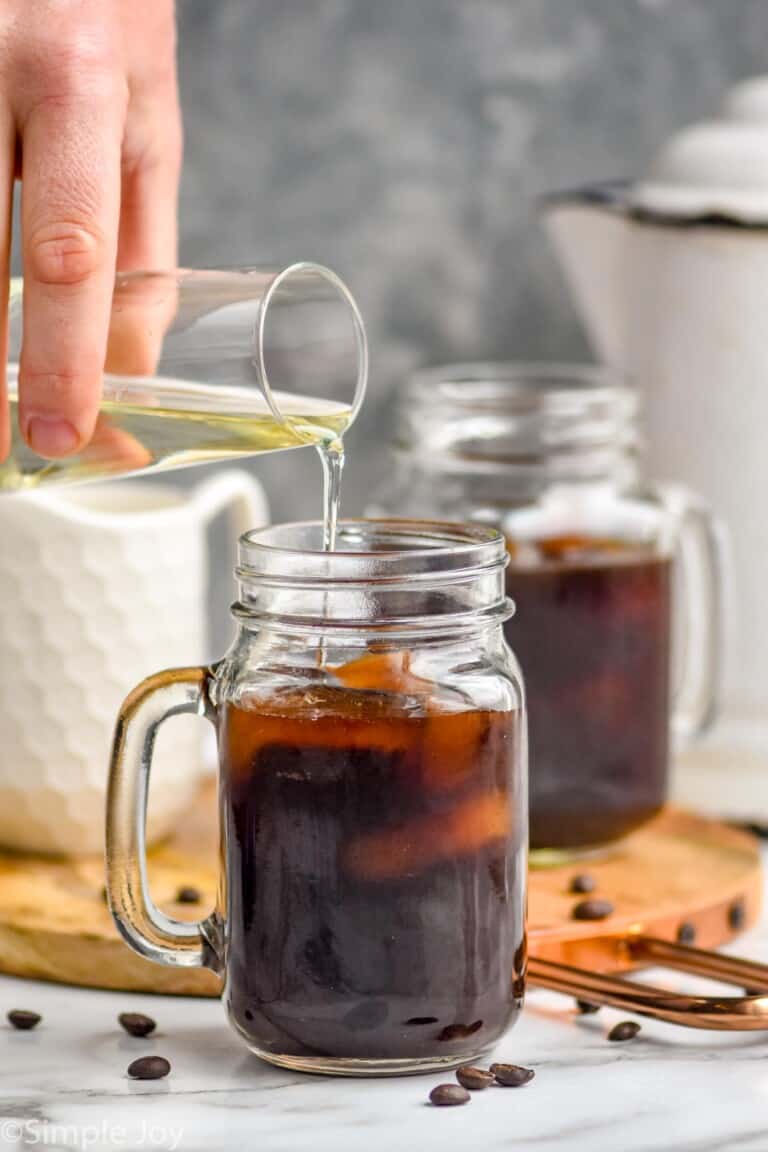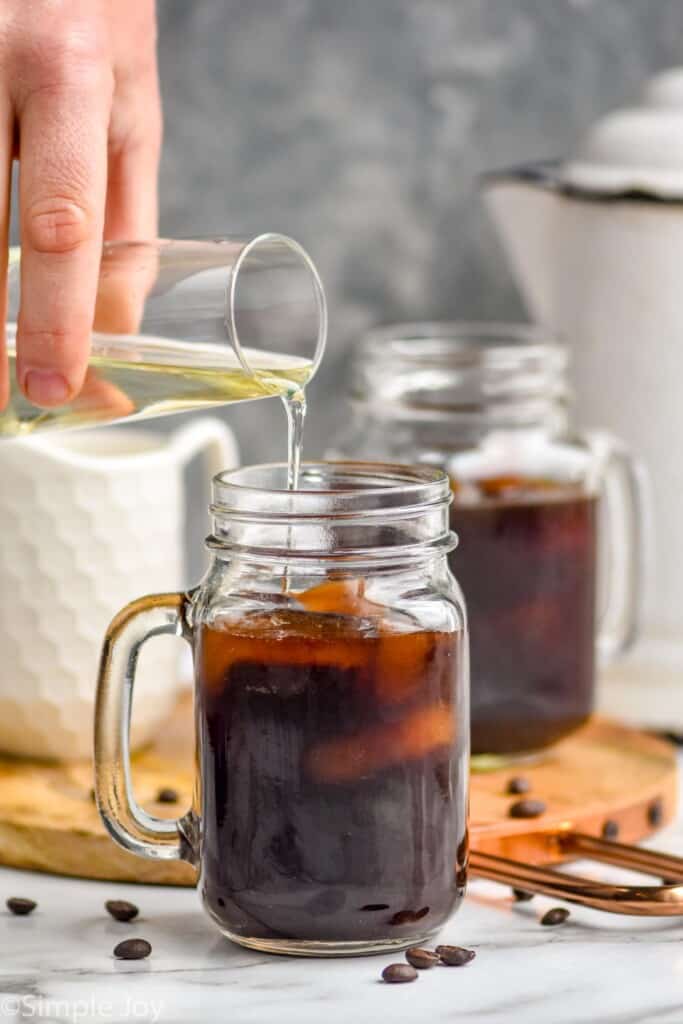 Why We Use Simple Syrup
Simple syrup is great to use in coffee that is cold. When you add granulated sugar to hot coffee, it dissolves very quickly and sweetens it. In iced coffee, the coffee is cold and so it is harder to make it sweet with granulated sugar. Simple syrup is the perfect alternative. You can purchase simple syrup, but we have a great tutorial for how to make simple syrup. It is incredibly easy.
An alternative would be to make hot coffee, add sugar and let it dissolve and then either refrigerate it or pour it over your coffee ice cubes.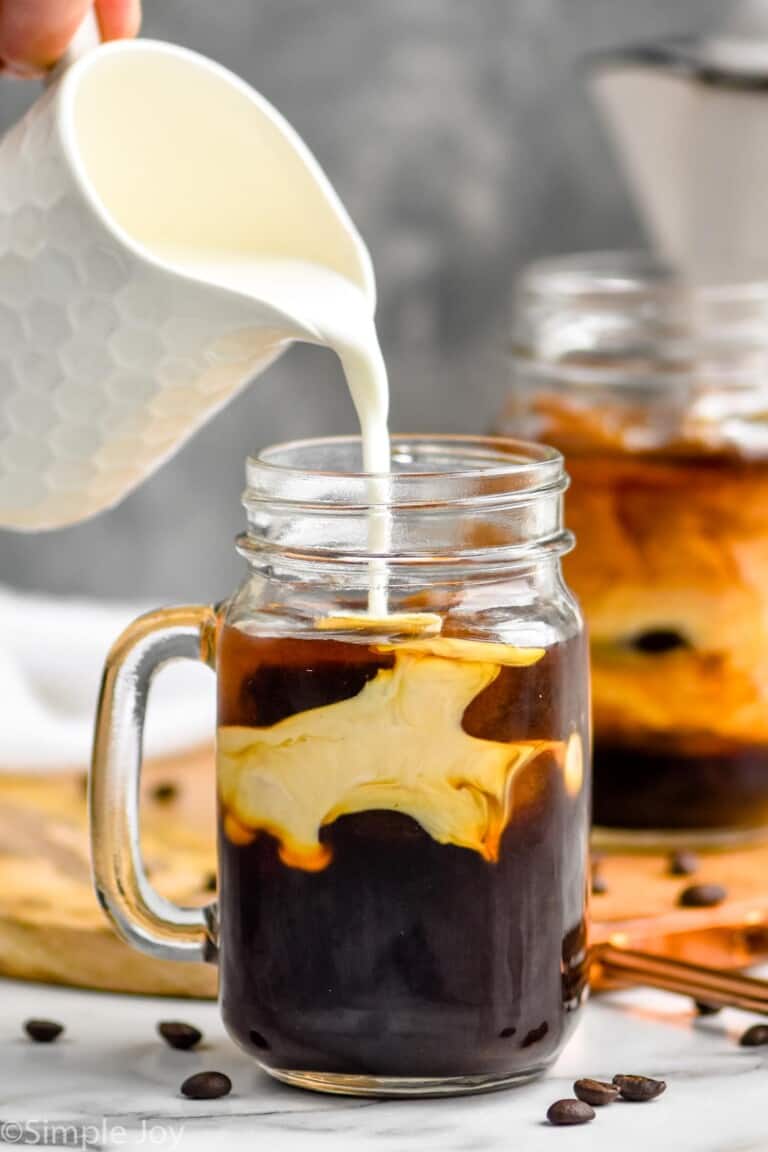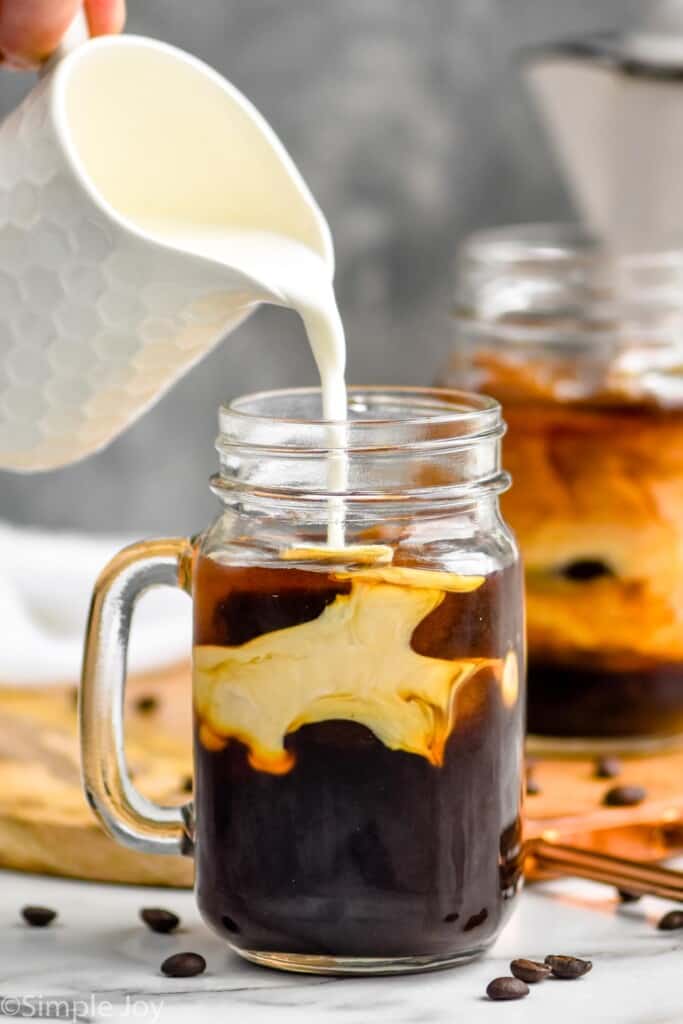 Flavored Iced Coffee
If you want to make flavored iced coffee, a really simple trick is to flavor the simple syrup! Right after you take your simple syrup off the heat, throw in additions and bring on the flavor. Some ideas of things you could add are:
Vanilla – Throw in an entire vanilla bean and let it steep for a few hours.
Blanched Almond Pieces – Add the nuts to the syrup and after the syrup has completely cooled, strain them out.
Another idea is to use maple syrup in place of the simple syrup in this recipe for a maple flavored coffee!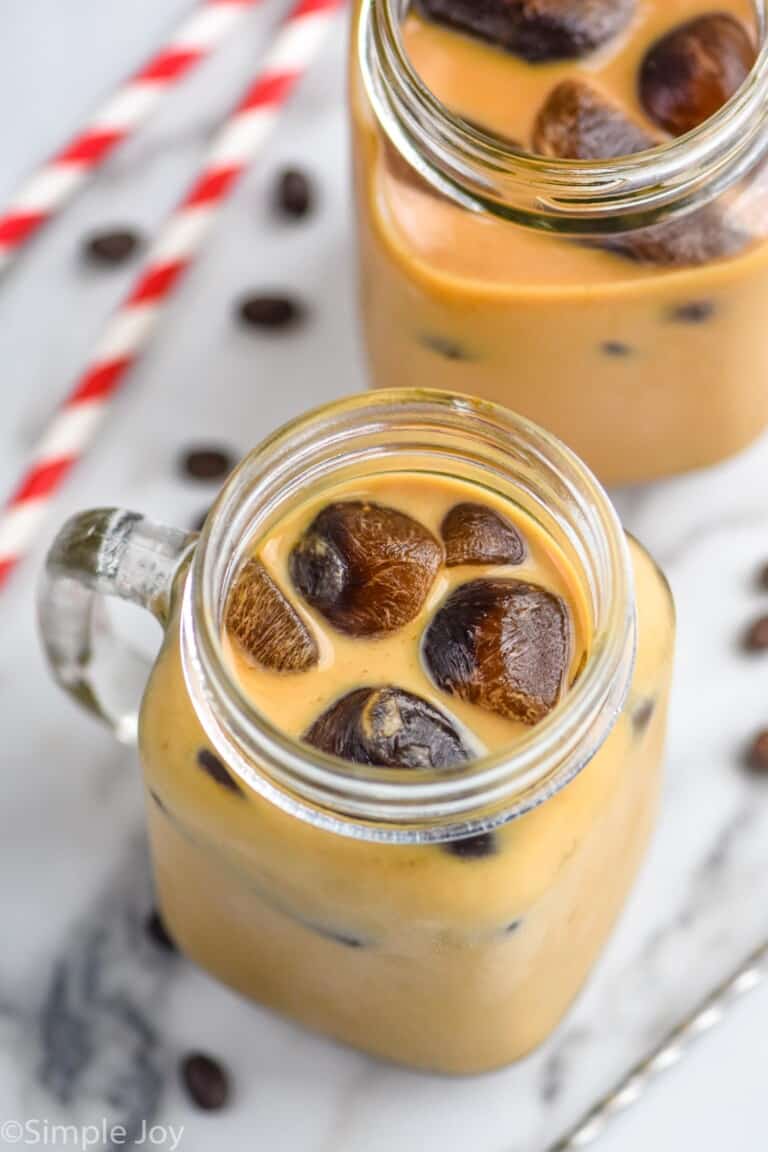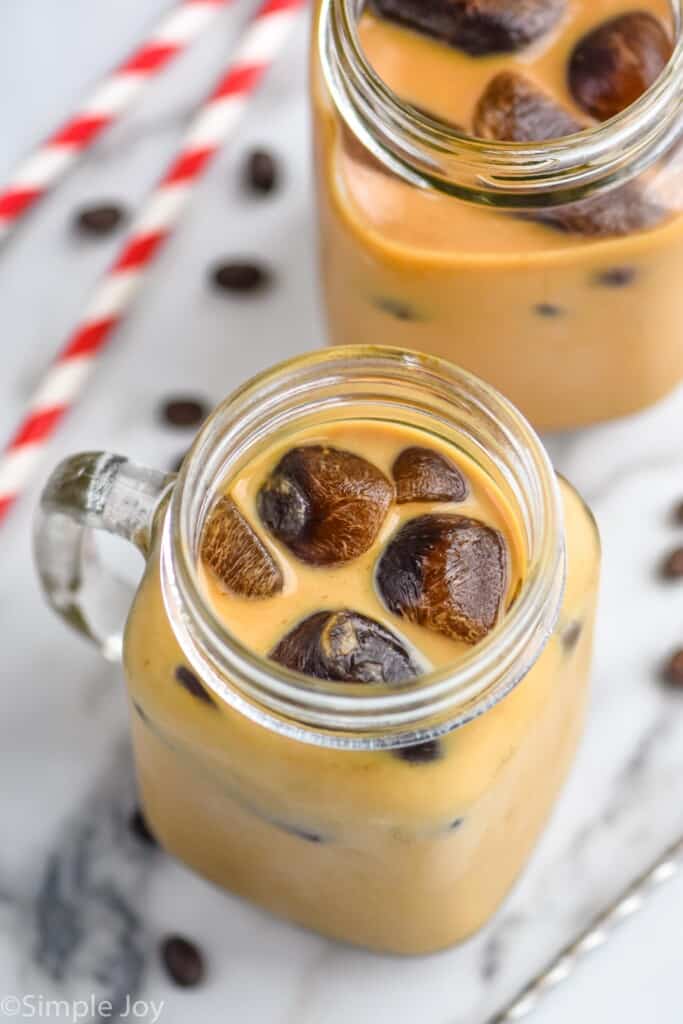 Other Great Summer Drinks
If you make this homemade iced coffee or any of my other recipes, please leave me a comment and let me know what you think.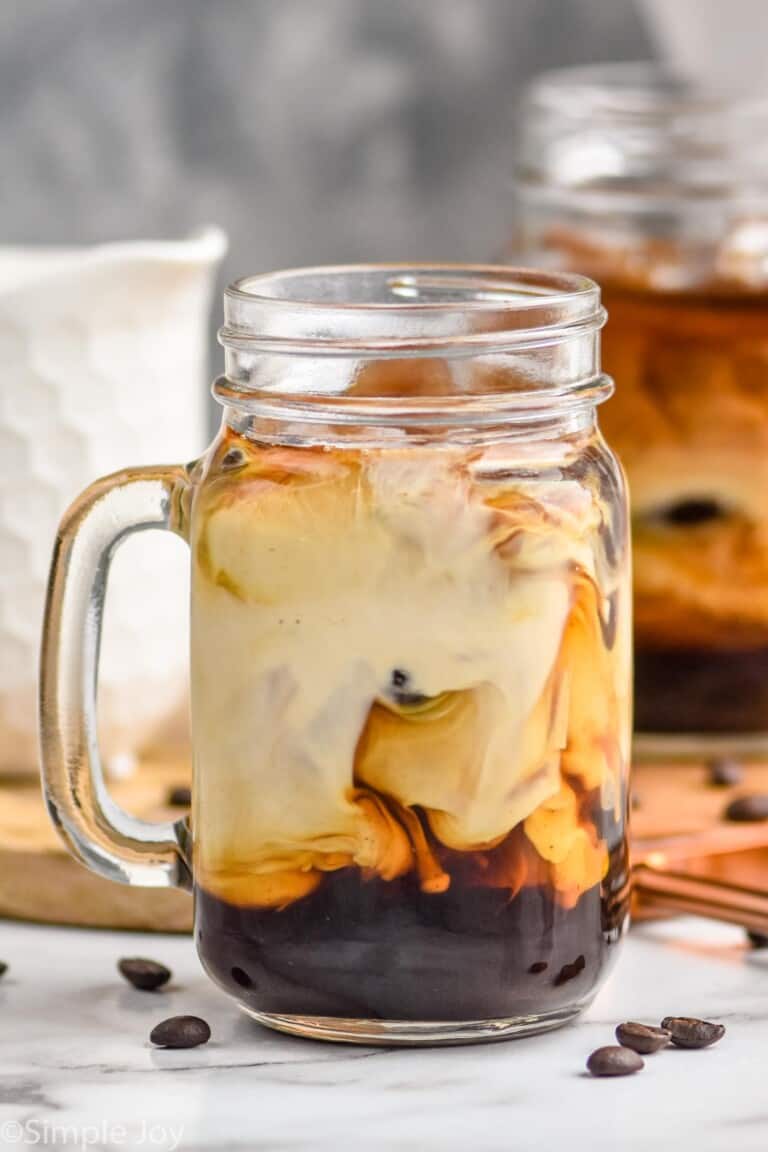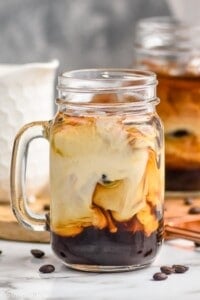 Iced Coffee
Iced Coffee is the perfect summer afternoon treat. Gather together all the things you need so that you can have this great drink any time.
Ingredients
8

ounces

coffee

hot or cold may be used – see note

8

coffee ice cubes

read here about coffee ice cubes

1

ounce

simple syrup

1

ounce

half and half

whipped cream

(optional)
Instructions
Add the coffee ice cubes to a glass. Pour over coffee, and stir to combine. Sweeten with simple syrup and stir in half and half. Top with whipped cream if desired.
Notes
If you are using hot coffee, it will cool down perfectly with the coffee ice cubes without it getting watered down. You also can use coffee that has been cooled in the refrigerator.
Fat:
3
g
(5%)
Saturated Fat:
2
g
(13%)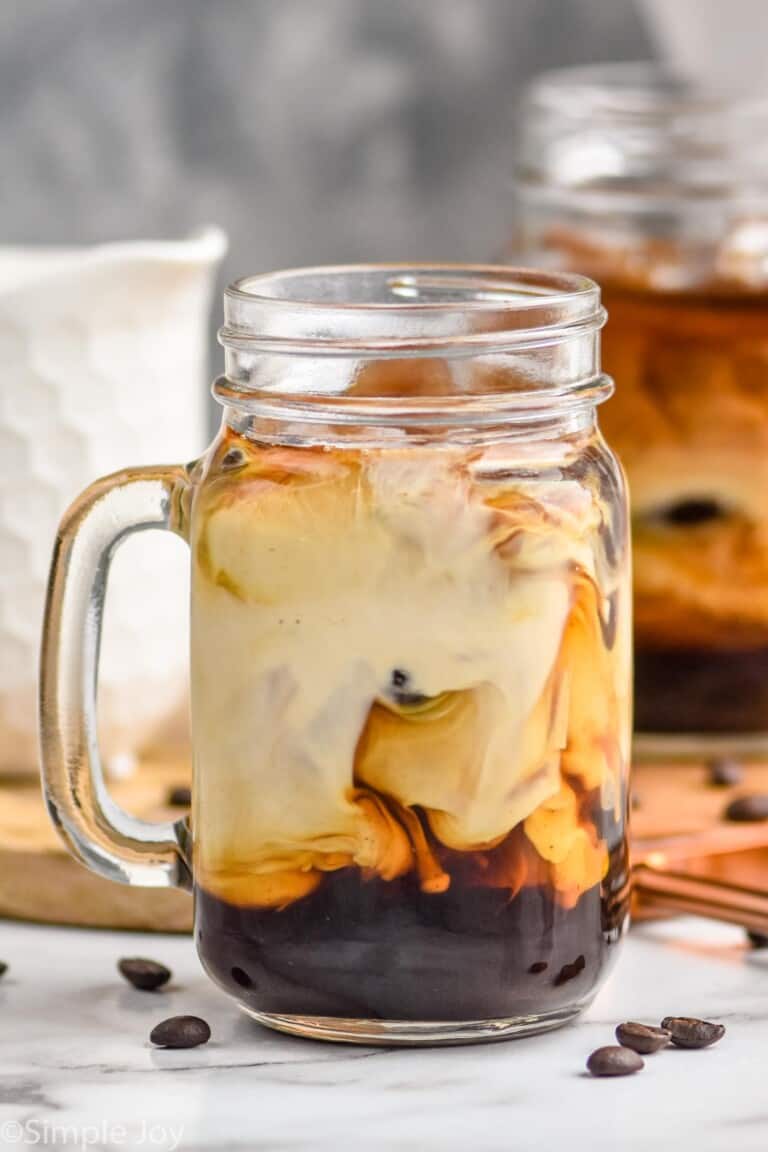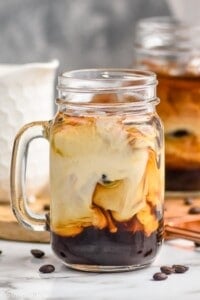 did you make this
Iced Coffee
you might also like . . .