Pumpkin Cold Brew is the perfect fall treat. Easy to make at home, you will love this simple cold brew coffee recipe.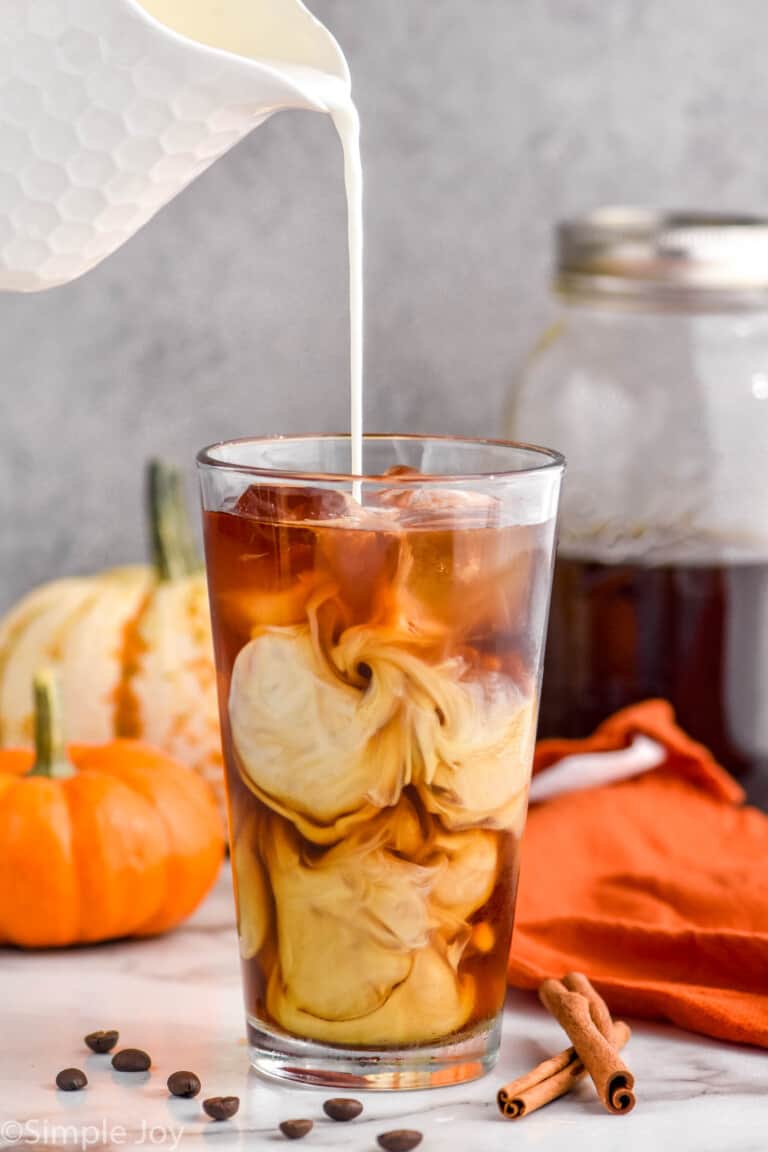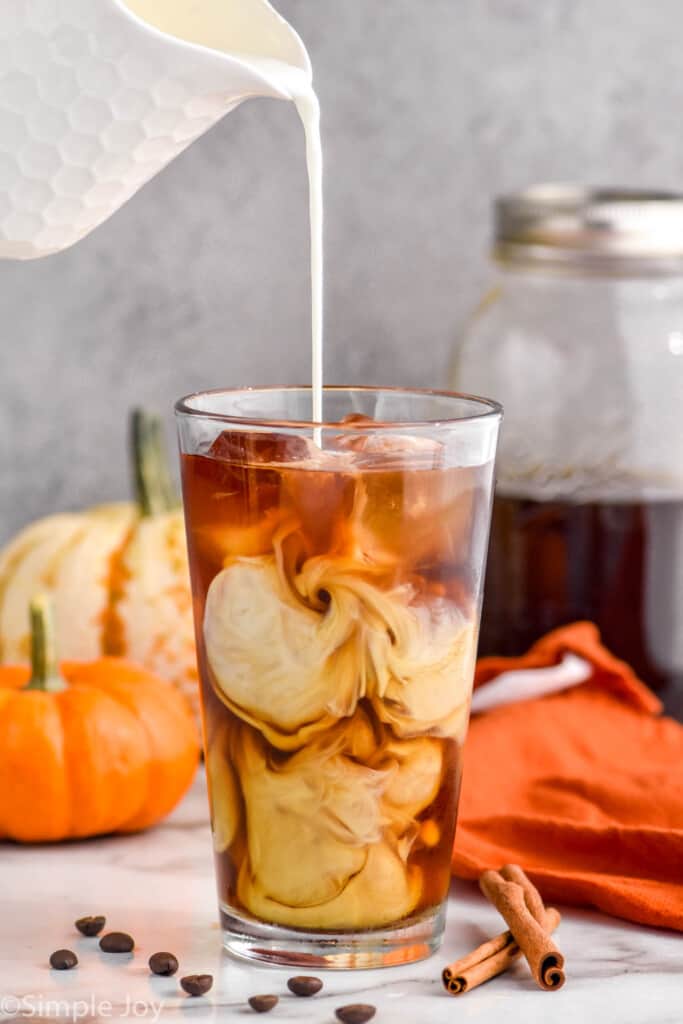 We are at that weird time in Wisconsin when we are wishing for fall, the leaves are starting to turn colors, but it is still in the 80s some days. These types of days, when you are sweating while watching soccer games, call for Pumpkin Cold Brew.
This delicious fall spin on Cold Brew Coffee definitely needs to go on your autumn bucket list. Don't wait for the last leaf to drop before you try this incredibly easy treat. You can keep your five dollars and treat yourself to this Pumpkin Spice Cold Brew at home.
What is Cold Brew Coffee
Unlike regular coffee that is made by steeping coffee grounds in hot water, cold brew uses cold water. Typically a higher ratio of coffee grounds to water is used as the coffee steeps for 24 hours to make a fantastic cold coffee.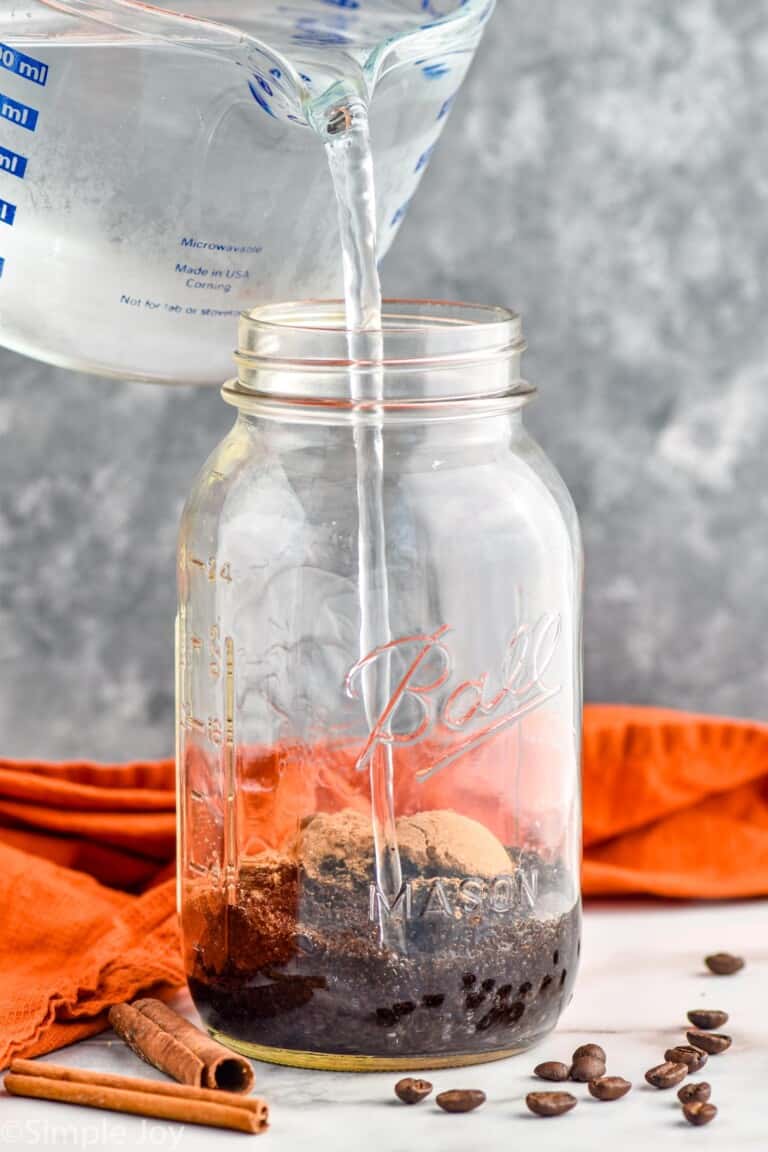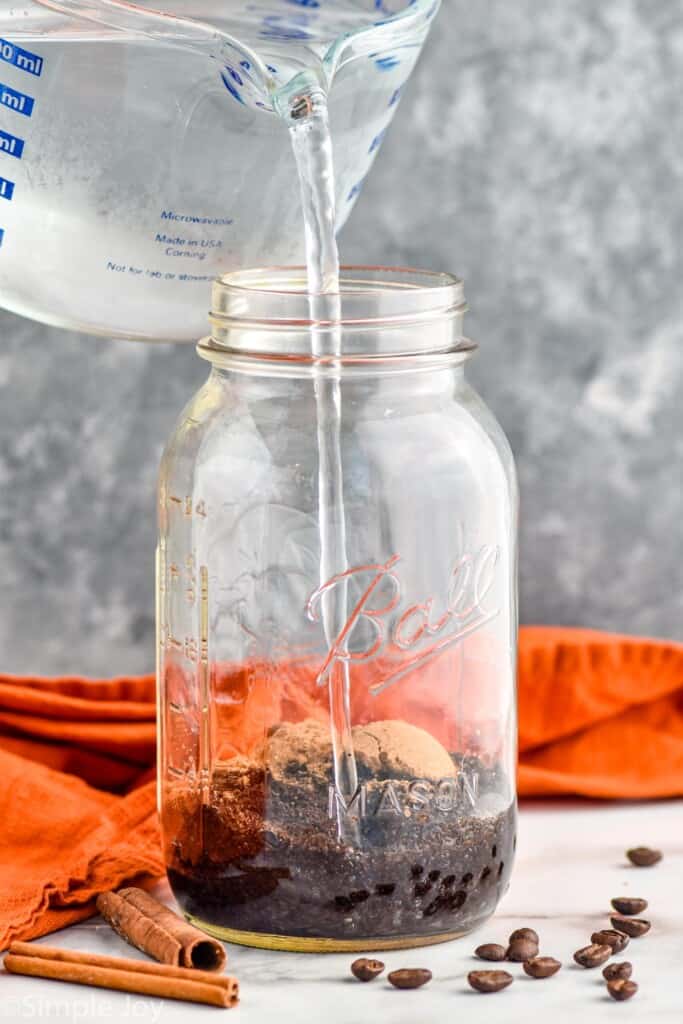 How to Make Pumpkin Cold Brew
There are two ways to make this amazing cold brew coffee, but I'm going to tell you first how to make it my preferred way. This is the same way that you will find in the recipe card below.
Add coffee grounds to a mason jar. This recipe calls for 1/2 a cup of your favorite ground coffee. If you love a very strong cup of coffee you may want to increase this up to 1 cup.
Add in pumpkin spice. The pumpkin seasoning that you use in your favorite pumpkin pie is what gets added next! We have a great homemade recipe, or you can buy it.
Pour cold water over the grounds and spices. This process works best if you add half the water, close the mason jar and shake to combine, and then add the rest of the water.
Refrigerate for 24 hours.
Strain the coffee mixture. Using a mesh strainer that is lined with a cheese cloth, strain the coffee mixture.
Pour over ice and enjoy!
Method Two to Make Pumpkin Spice Cold Brew
Another option is to make regular cold brew coffee (without any spices), and add in some of our homemade Pumpkin Spice Syrup. This allows pumpkin and non pumpkin lovers to enjoy the same recipe of cold brew.
That being said, we didn't get as strong of a taste that we were looking for as we did when we mixed in the pumpkin spice mix. If you really want to take things over the top, use both!
Using a Cheese Cloth
While you may not have a cheese cloth in your pantry, it is extremely helpful in this recipe. We are straining out both coffee grounds and spices. The cheese cloth does an amazing job at catching both. You can purchase them online, or you can find them in your grocery store for less than $5. Just cut a small amount to fit in the metal strainer.
If you don't want to purchase cheese cloth, you could always use a paper coffee filter with your mesh strainer.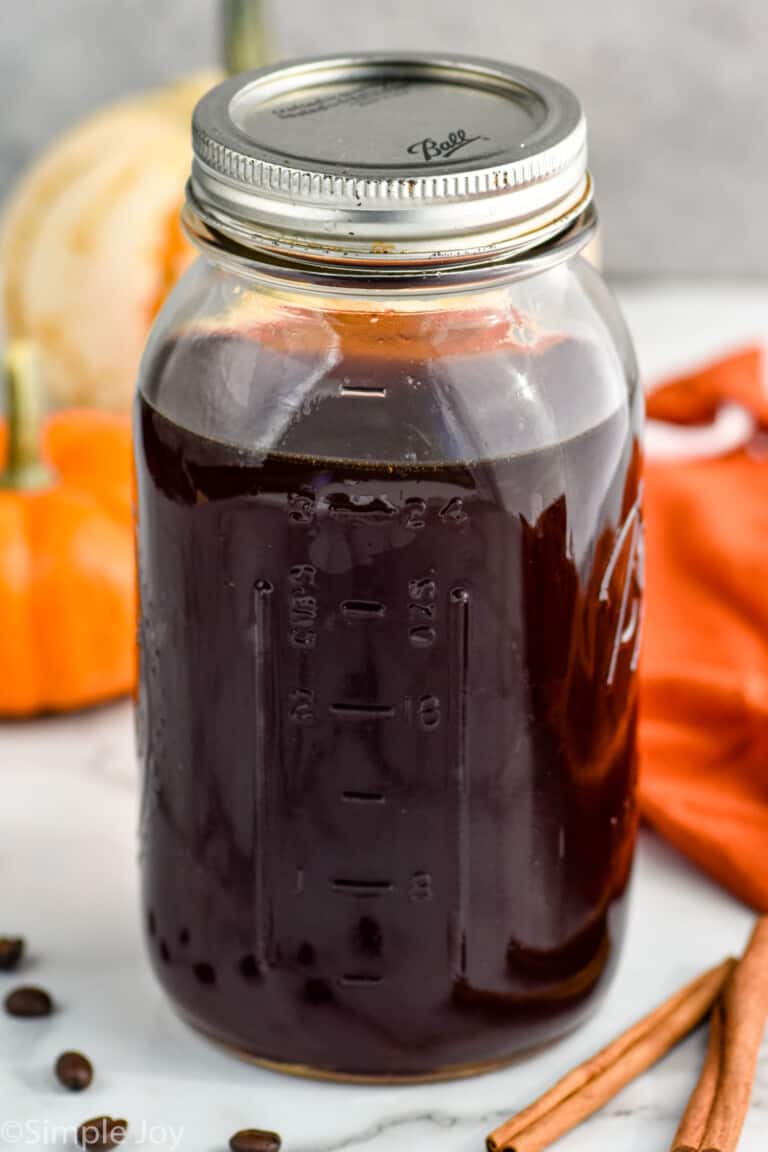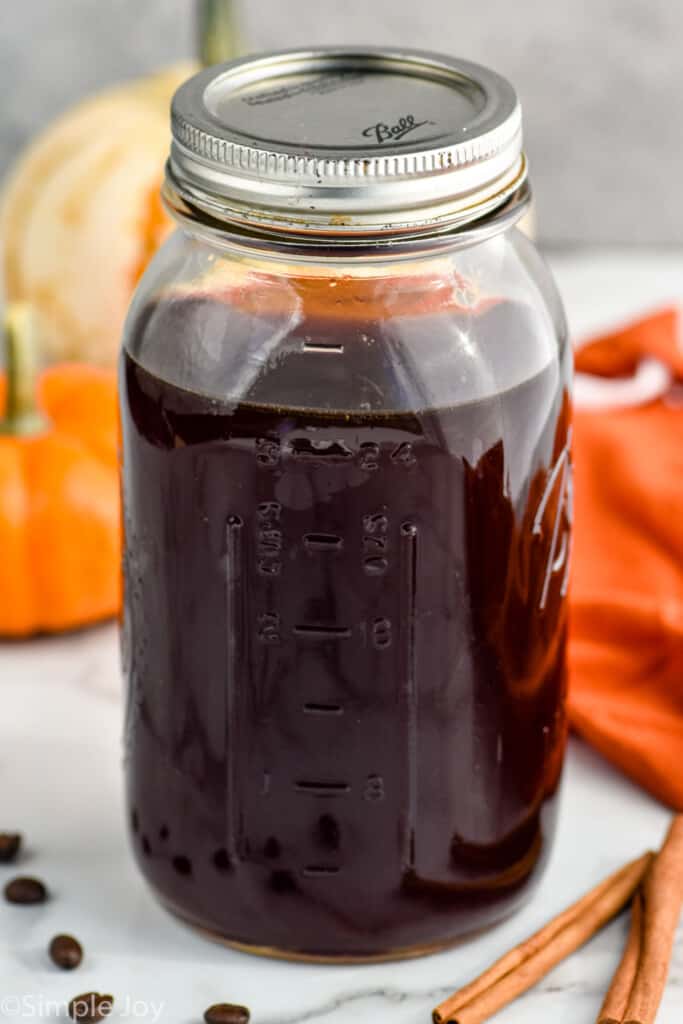 Pumpkin Cold Brew Ratio
Our ideal ratio is 1/2 cup coffee grounds to 4 cups of cold water. To that we add 2 teaspoons of homemade pumpkin spice mix. If you are looking for a stronger cup of coffee, you could add up to 1 cup of grounds. We love a pretty strong cup of coffee and found that 1/2 a cup was perfect.
Sweetening Cold Brew
When you make hot coffee, it is easy to sweeten it. You toss in a teaspoon or two of sugar and the heat dissolves it right away. That isn't the case with iced coffee or cold brew.
You can either add sugar at the beginning. It will dissolve as the coffee steeps for 24 hours. An even better idea is to add simple syrup. Better than that? Adding our Pumpkin Spice Syrup to this!
FAQ
What is the difference between cold brew and iced coffee?
Iced coffee is brewed with hot water and then cooled. Cold Brew Coffee is steeped with cold water.
How long does pumpkin spice cold brew last?
This is best enjoyed within 1 to 3 days of making. It will last up to two weeks but the potency of it will diminish.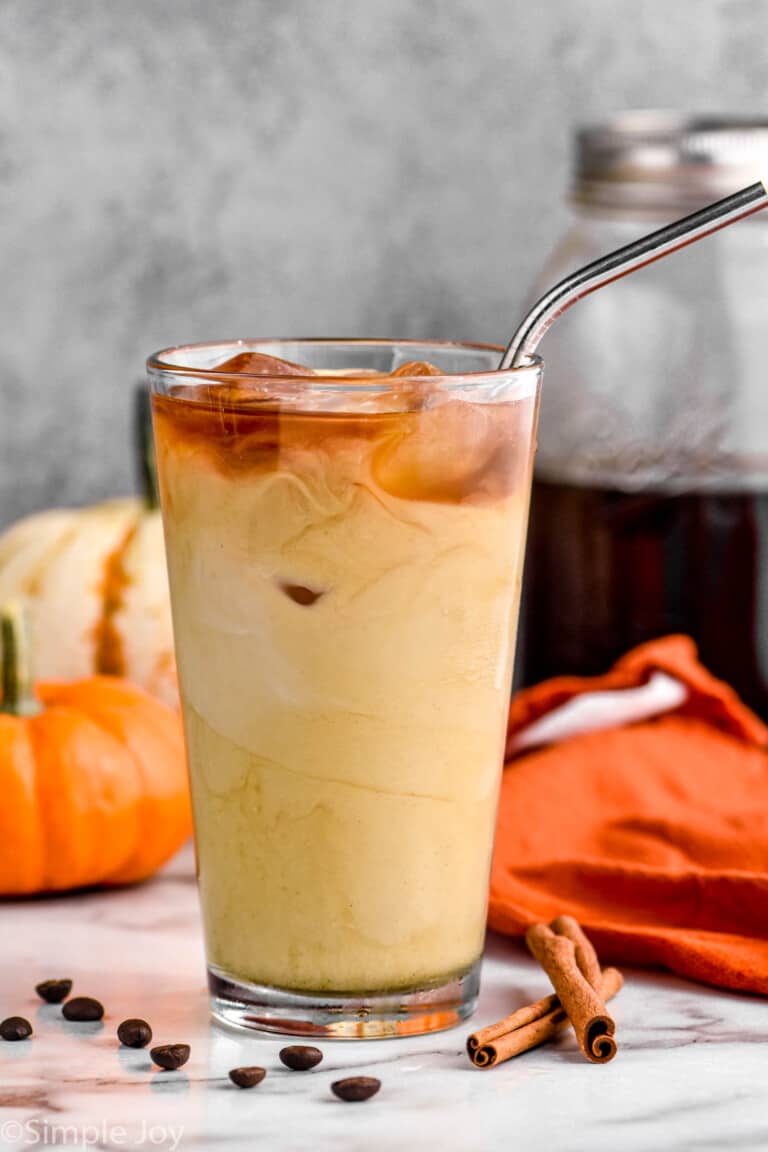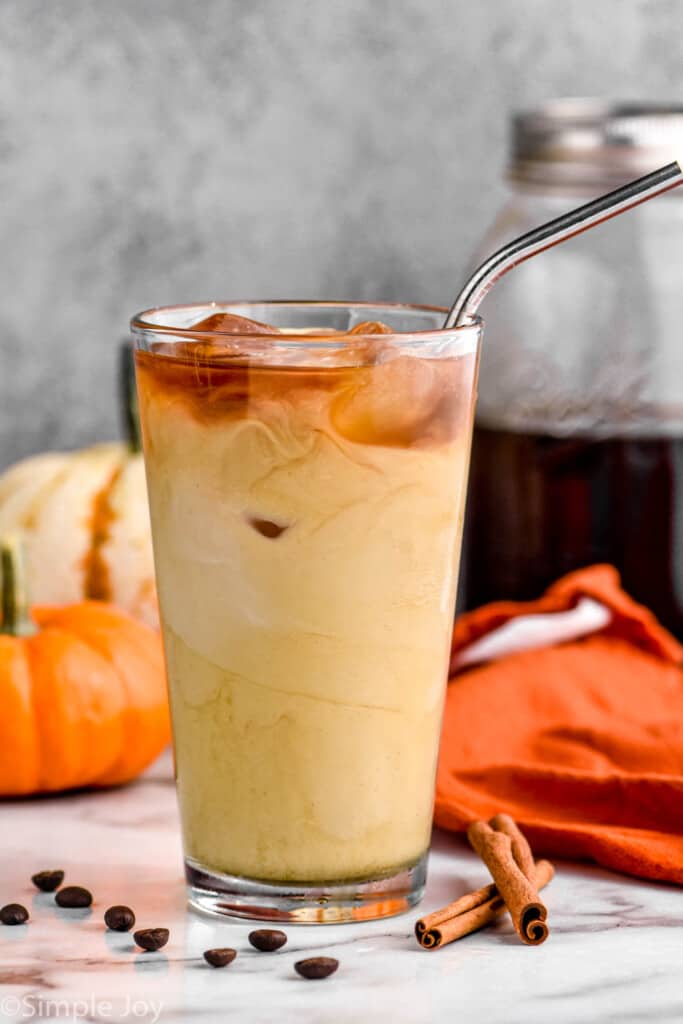 Other Great Pumpkin Treats
If you make this Pumpkin Spice Cold Brew let me know what you think by leaving me a comment below!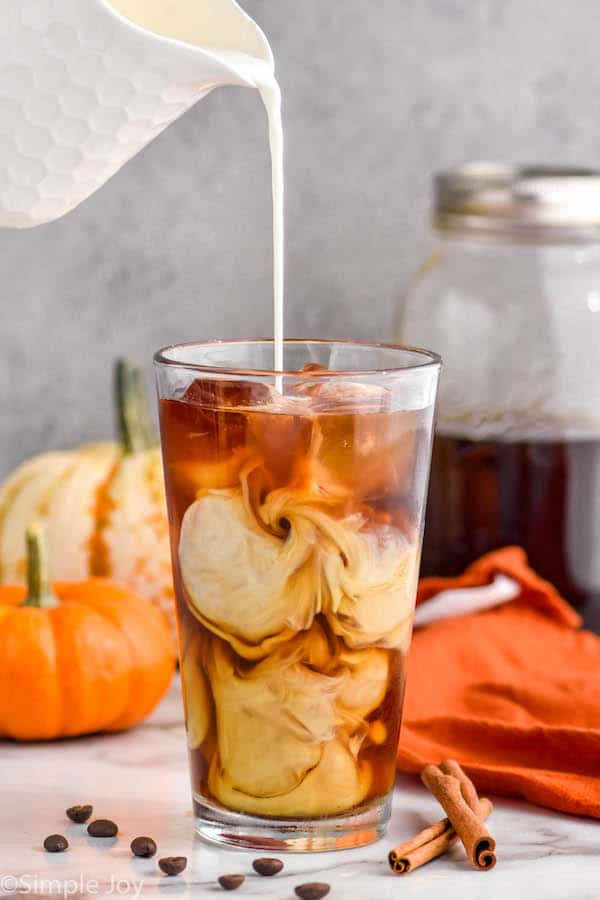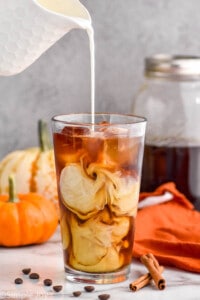 Pumpkin Spice Cold Brew Coffee
Pumpkin Cold Brew is the perfect fall treat. Easy to make at home, you will love this simple cold brew coffee recipe.
Ingredients
1/2

cup

ground coffee

4

cups

water

2

teaspoons

pumpkin spice

1/4

cup

pumpkin spice syrup

optional

1/4

cup

half and half

optional
Instructions
Combine the ground coffee, pumpkin spice, and the water in a mason jar.

Let the coffee steep in the refrigerator for 24 hours.

Strain the coffee using a cheese cloth and a wire mesh strainer.

Serve the cold brew over ice with the pumpkin spice syrup and half and half (add more or less to your personal taste).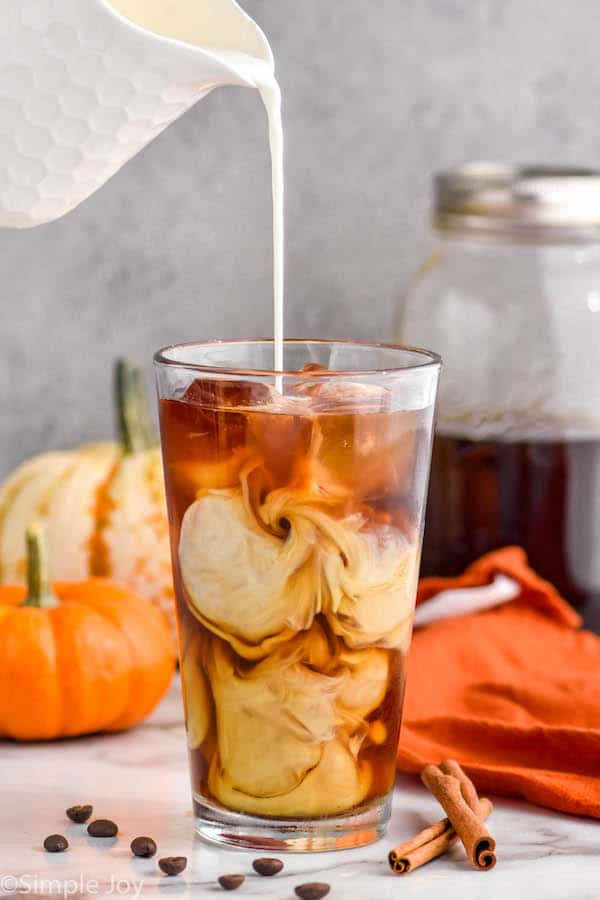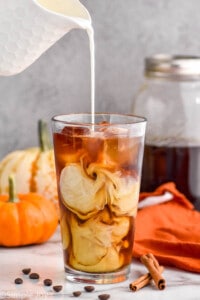 did you make this
Pumpkin Spice Cold Brew Coffee