Horseradish Sauce is the perfect condiment for Prime Rib or if you are making a sandwich from Roast Beef. Made with simple ingredients, this will quickly become a staple!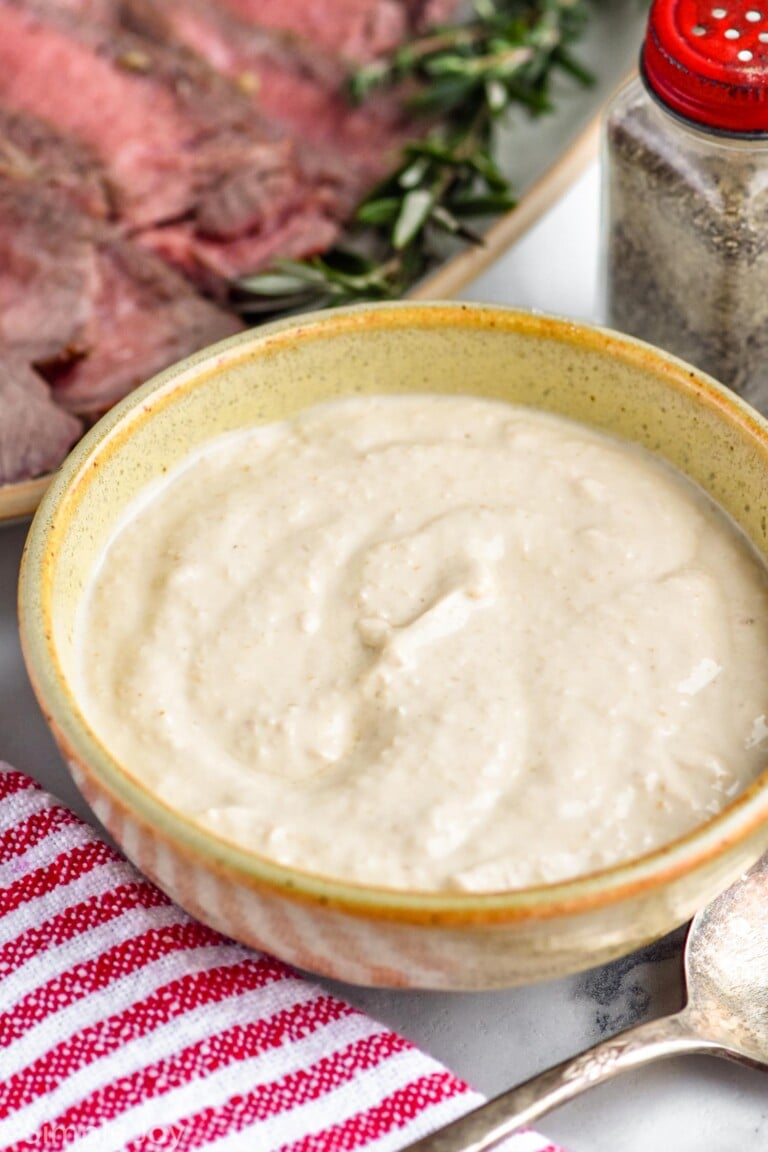 For years, whenever I post my Prime Rib on Facebook, I inevitably get the question: Do you have a good horseradish sauce to go with this. Now, I can finally answer, "Yes!"
This sauce is perfection. My husband is a huge lover of horseradish sauce paired with perfectly cooked beef. So, you can bet that this sauce went through a ton of testing until it was the perfect combination of horseradish flavor and creamy sauce. It is great with our prime rib, but you will love it as a sandwich spread when you have roast beef too!
Reader Review
Definitely an easy and delicious sauce. I put it on everything!
Buying Horseradish
At the grocery store, you will find lots of different bottles when you go to buy horseradish. Most of them say "prepared horseradish" or "horseradish sauce" and are usually kept near other sauces like BBQ sauce and ketchup. These are not what you want.
To make homemade horseradish sauce, you are looking for something that says "Fresh Ground Horseradish." It is sold in small jars and can be found in the refrigerated section of US grocery stores near the refrigerated pickles. Horseradish should be the only thing listed when you look at the ingredients. This is also a key ingredient in cocktail sauce.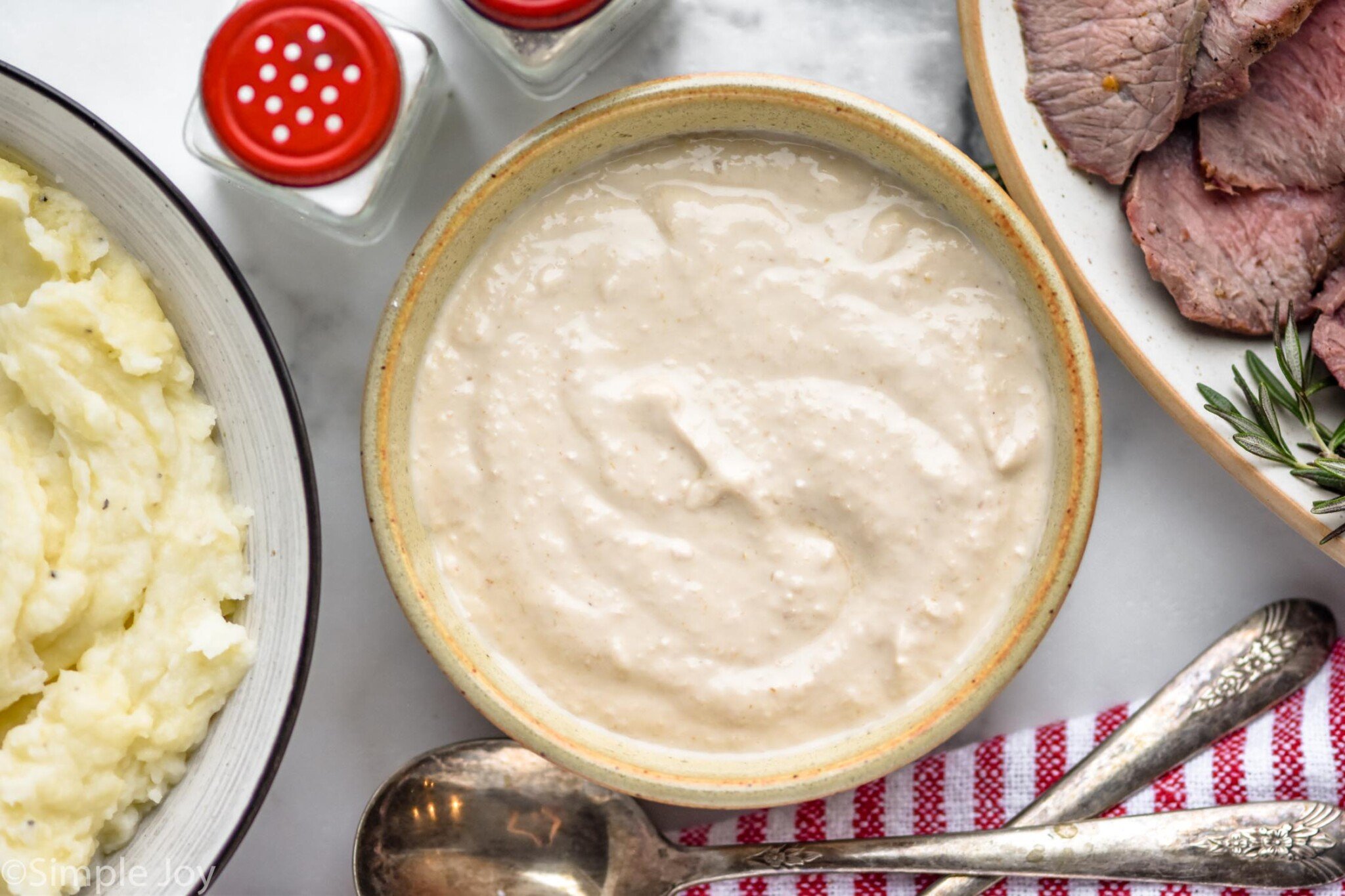 What Does Horseradish Taste Like?
I always find it tricky to describe tastes, and this one is extra difficult because it is so unique. That being said, Horseradish almost has a spicy quality to it. It has a tang and a kick that really does make your eyes water if it overpowers a sauce. Combined with mayonnaise and sour cream, it creates a sauce that compliments meats like prime rib, steak, and even fish.
How to Make Horseradish Sauce
Making homemade horseradish sauce is a breeze with these simple steps. Here is a brief overview of how this creamy horseradish comes together. For the full recipe and all of the measurements, scroll to the recipe card at the bottom of the page.
Mix ingredients together. Add your mayo, horseradish, sour cream, Worcestershire sauce, and salt to a bowl and stir to combine.
Adjust to taste. Add more salt and horseradish to taste.
Enjoy. Use your creamy horseradish sauce as a delicious spread on a Roast Beef sandwich or over Prime Rib and Steak.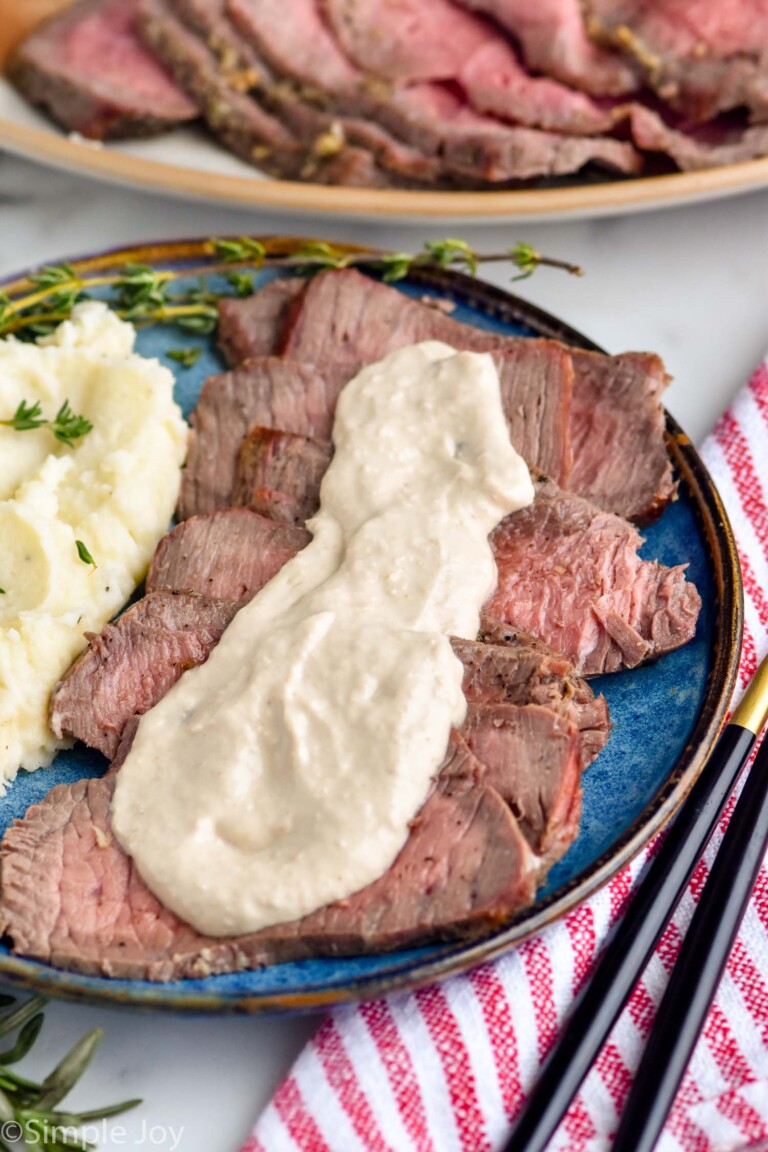 Storing Horseradish Sauce
Store your creamy horseradish in the refrigerator in an airtight container for up to two weeks. The flavor gets better with time as the flavors of the ingredients have time to meld together. So don't be surprised if you like this sauce even more after a few days!
Horseradish Sauce for Prime Rib
This sauce is perfect as a topper for our Prime Rib and our Easy Top Round Roast, that you see pictured here. It also makes a great sandwich spread if you are making a roast beef sandwich. Throw in some of my pickled red onions to really push it over the top.
Prime Rib
Prime Rib is the perfect centerpiece for a holiday table or a Sunday dinner with the family. This Prime Rib Roast recipe is flavored perfectly and roasts easily in the oven leaving you with the most tender beef recipe.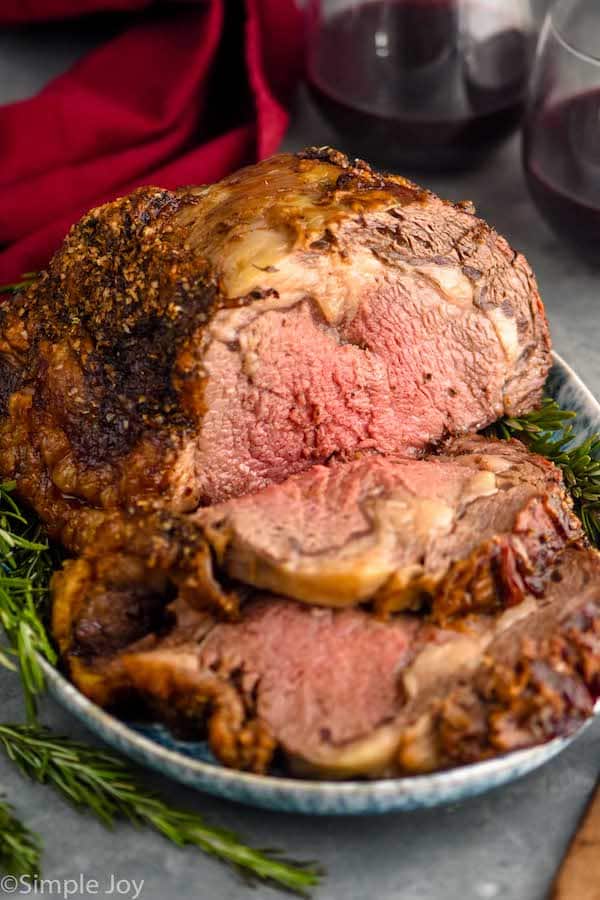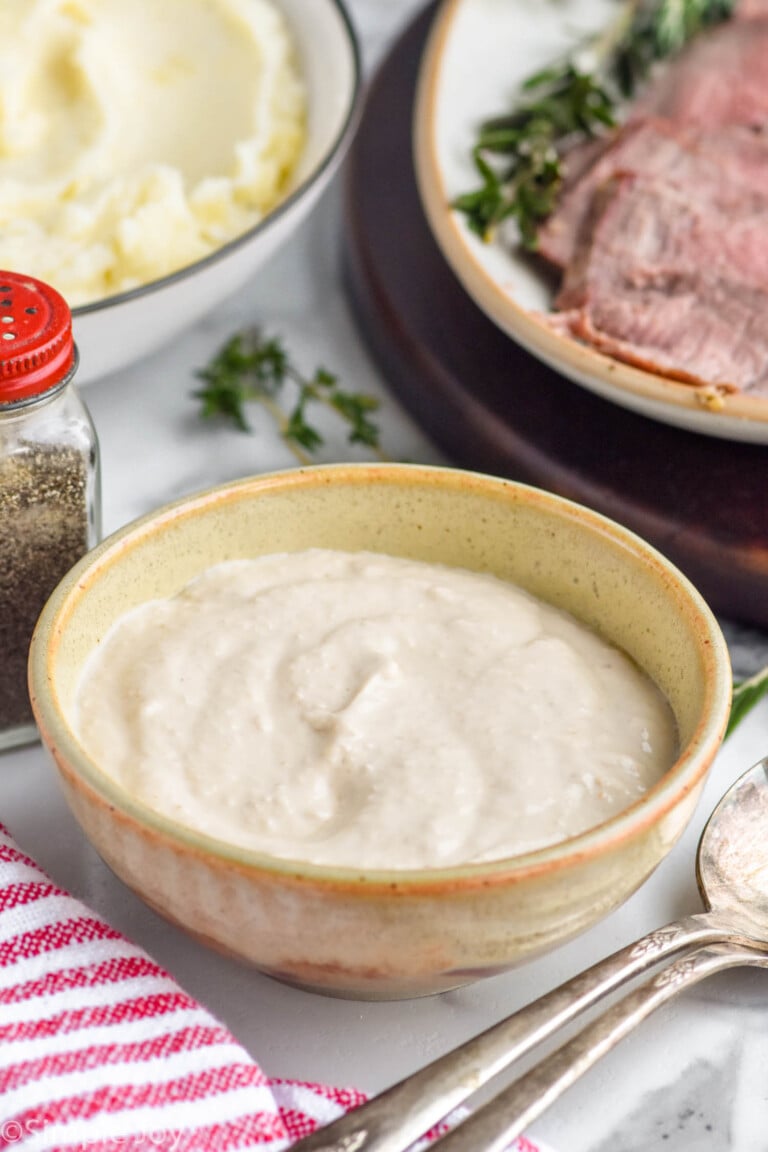 Other Homemade Sauce Recipes
Perfect to top your favorite sandwich, dip your fries, or replace the store-bought versions that may contain extra sugar and additives. These homemade sauce recipe is simple and delicious.
If you try this creamy horseradish recipe or any of my other recipes, leave a comment and let me know what you think. I love hearing from you!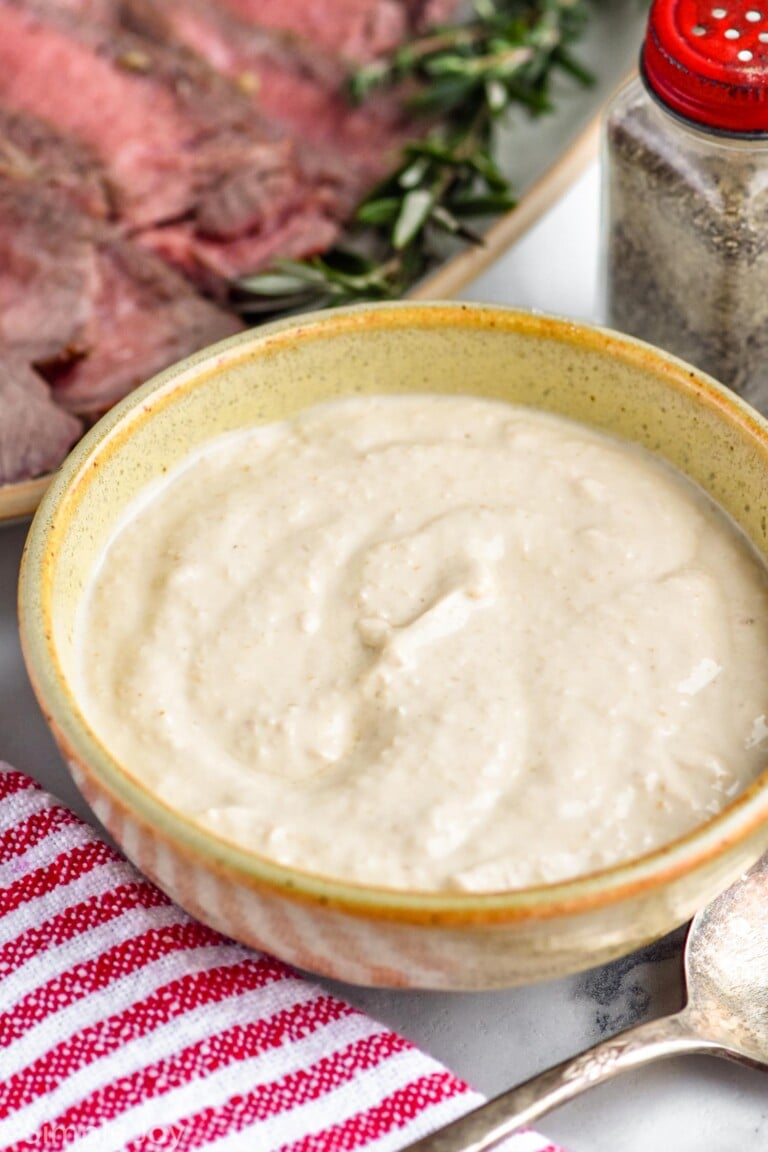 Horseradish Sauce
Horseradish Sauce is the perfect condiment for Prime Rib or if you are making a sandwich from roast beef. Made with simple ingredients, this will quickly become a staple!
Ingredients
1/4

cup

mayonnaise

(Low fat works great)

1/4

cup

horseradish

(Read my notes about what type of horseradish to buy)

2

tablespoons

sour cream

(I used low fat, read more about my recommendations here)

1

teaspoon

Worcestershire sauce

1/2

teaspoon

kosher salt

(if using table salt, use 1/4 teaspoon)
Instructions
Mix ingredients together.

Add more salt and horseradish to taste.

Serve as a sandwich spread or over Prime Rib and Top Round Roast.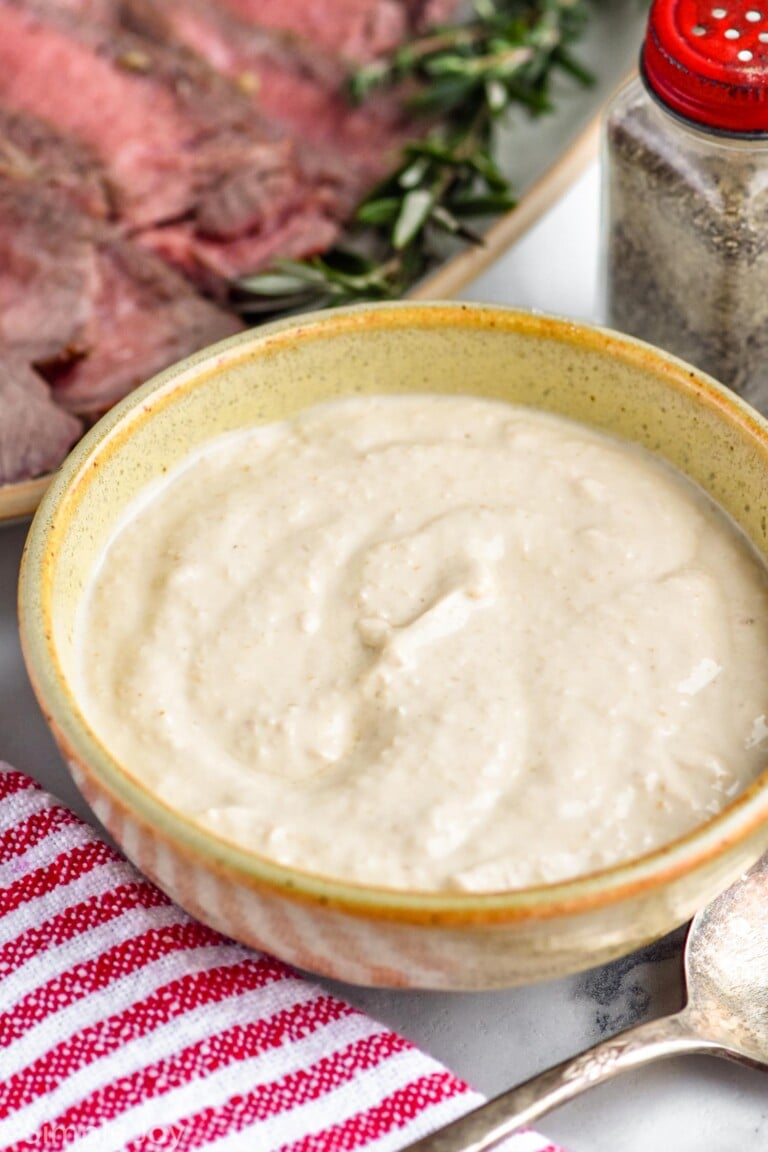 did you make this
Horseradish Sauce