This Lemon Cheesecake is the perfect lemon dessert. Made with simple ingredients, you will love this great easy cheesecake.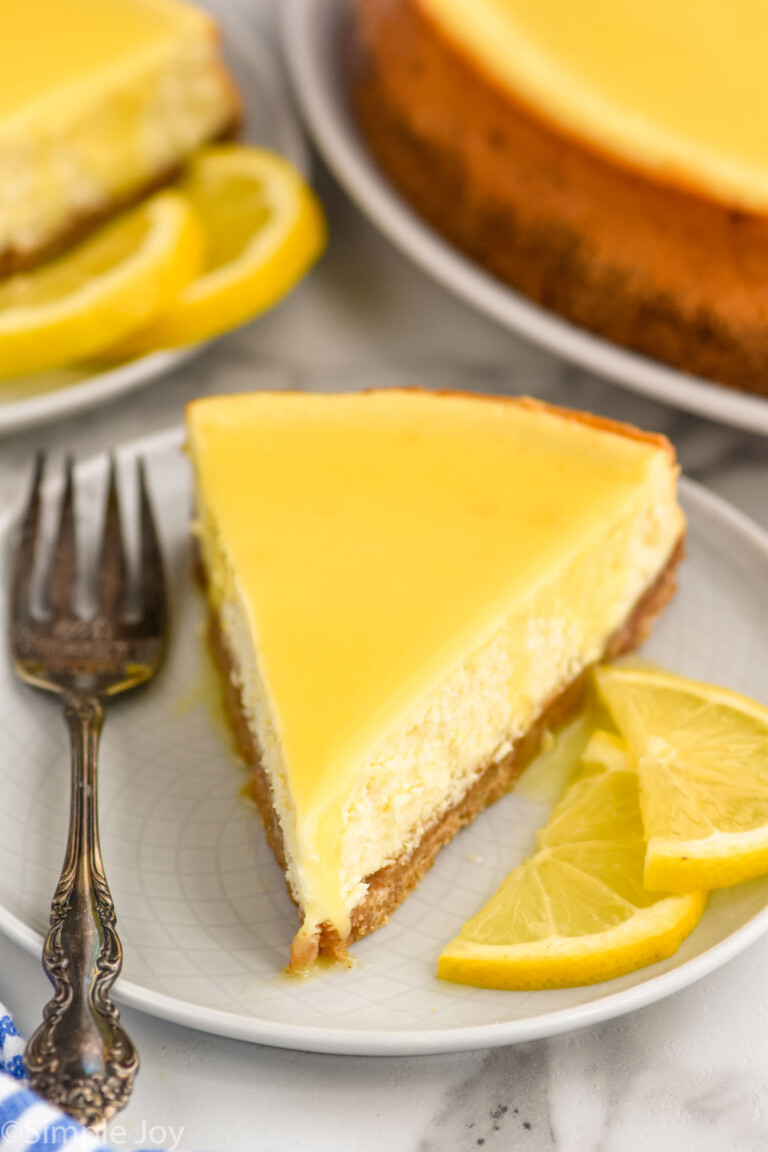 Cheesecake is my husband's favorite dessert. And if it is your loved one's favorite dessert, I'm going to show you just how easy they are to make. These come across as an intimidating dessert, but they are quite simple! While they do involve some steps, and there are things you need to keep in mind, the whole process is really easy!
How to Make Lemon Cheesecake
This is a brief overview of this delicious recipe for lemon cheesecake. For the full recipe, be sure to see the recipe card at the bottom of the post.
Make the crust. Combine graham cracker crumbs, sugar, and melted butter until it resembles wet sand. Press it into the bottom of a greased 9 inch springform pan and bake.
Make the cheesecake filling. While the crust is baking, mix together cream cheese, sugar, eggs, flour, lemon zest, and lemon juice.
Bake the cheesecake. Pour the filling over the hot crust and bake for 35 minutes.
Leave the cheesecake in the oven. Once the cooking time is over, turn off the oven, but leave the cheesecake in for an hour. This is an essential step to prevent cracking.
Add lemon curd. After the cheesecake has cooled in the oven, then on the countertop, and finally in the refrigerator, top it with some lemon curd. Serve and enjoy!
Lemon Curd
There are a lot of ways this lemon cheesecake gets its lemon flavor, but my favorite is probably the lemon curd on top. Lemon curd is made from lemons, sugar, butter, and eggs. It is a great spread for muffins or pancakes and would make a fantastic filling for crepes. It also happens to be the perfect topping for this cheesecake recipe. I have a great homemade lemon curd recipe, but you can also find it near the jellies and jams at the grocery store.
Lemon Curd Recipe
This Lemon Curd Recipe is sweet and tart and so easy to make. Spread this vibrant lemon curd on just about anything!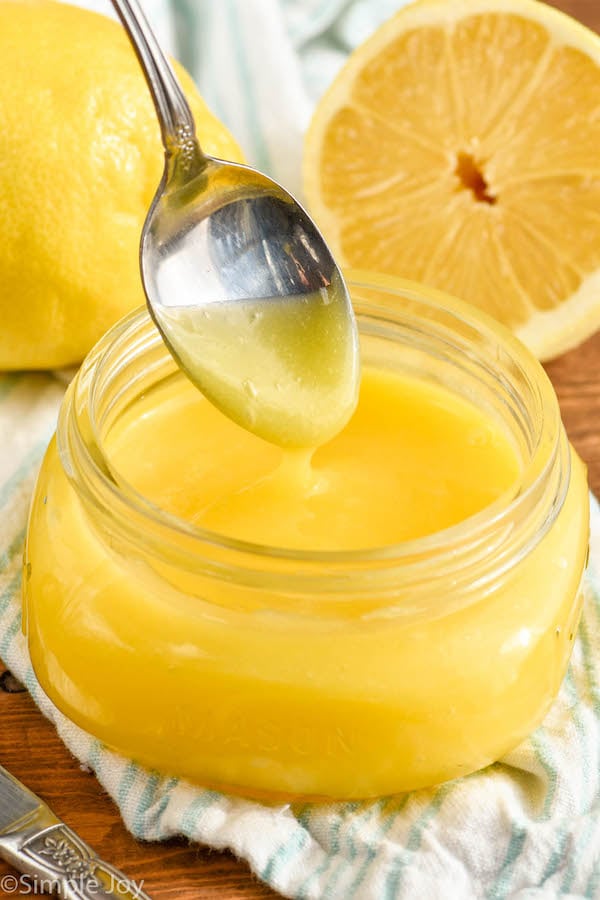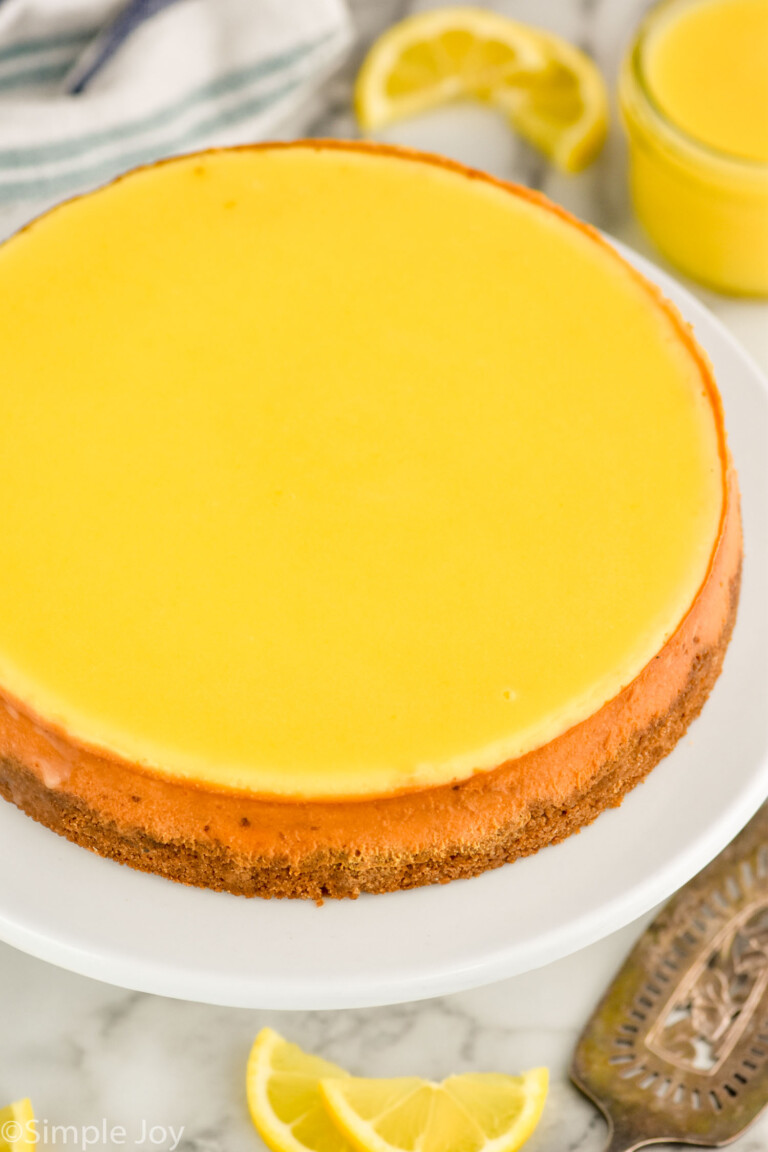 No Water Bath Cheesecake
Since the very first time I made a cheesecake, I decided that I am not committed enough to do a water bath. I decided that if cracks happened, I would just live with it. Or bury them in toppings.
Since then, I've done tons of reading and testing and I can attest that it is not only possible to make a cheesecake without cracks without using a water bath, it's really simple! Here are the steps we are taking to prevent cracks:
We are adding flour to the recipe. Just a little bit of flour tossed in will help a cheesecake from cracking. The flour works its magic by preventing eggs from over coagulating (or over solidifying), which means less shrinking and less cracking.
We are using a shorter baking time. The actual baking time in this recipe is a short 35 minutes. This also keeps the cheesecake from shrinking and drying out.
We leave the cheesecake in the oven. Finally, we leave the cheesecake in the hot oven so that it continues to cook (slowly), while also letting it cool really slowly. This slow cooling is the final step in keeping the cheesecake from cracking.
And it works! It works so well, when I use these steps in my baking, I never get cracks in my cheesecake. So, that extra lemon curd can go in my mouth instead of in a crack.
TOP PICK
Best Springform Pan
This 9 inch leakproof springform pan works so well. And it's from Nordic Ware, so you can trust that it will hold up for years.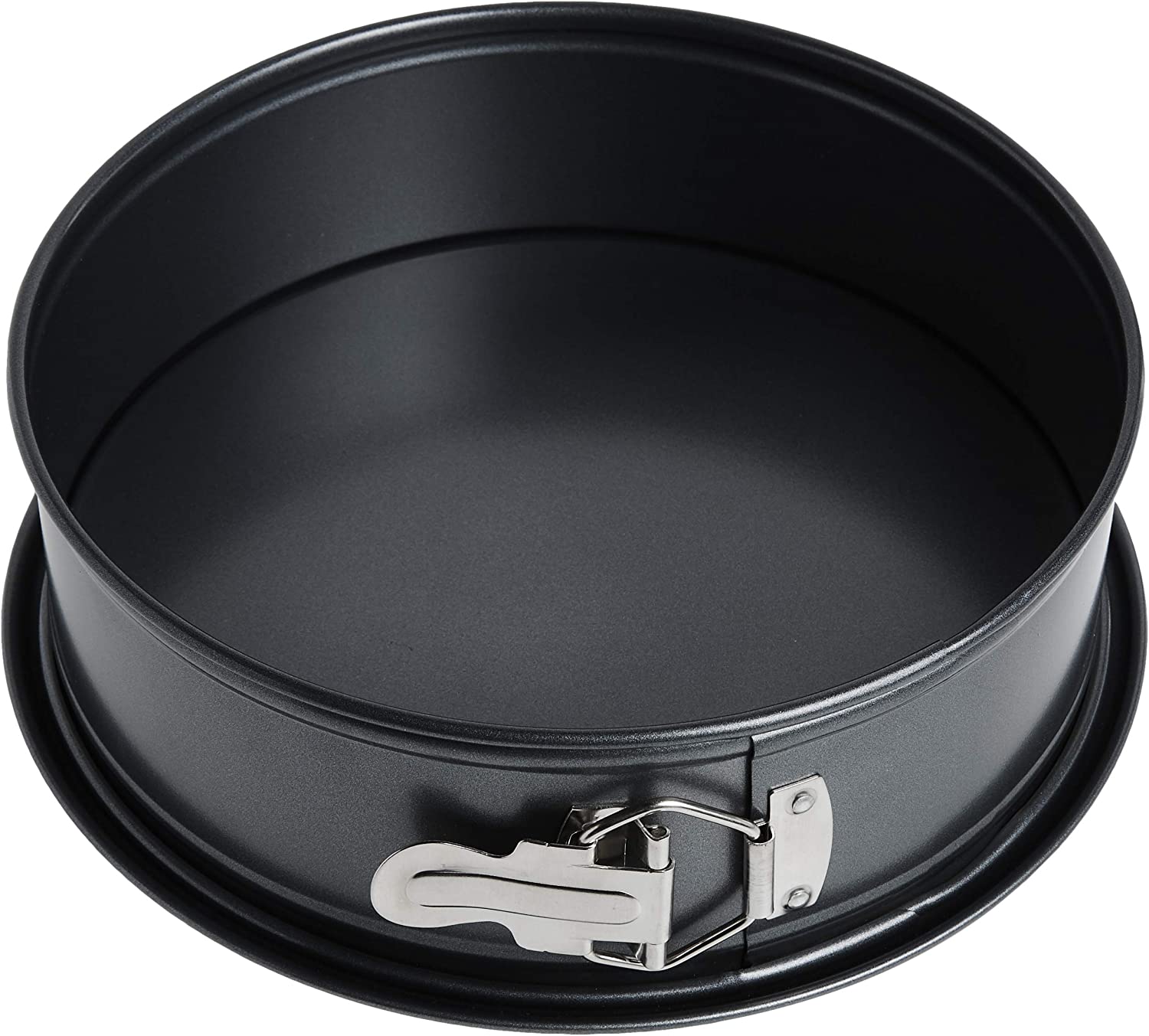 Lemon Flavor in Cheesecake
Whenever we are making a dessert with lemon, you want to keep in mind that lemon juice is great, but for a good burst of lemon flavor, you really need to use lemon zest.
Zesting a fruit is grating off just a small amount of the skin. The skin is edible and it contains a ton of the fruit's flavor. I like to use this zester, and I zest off until just before I see the white of the skin.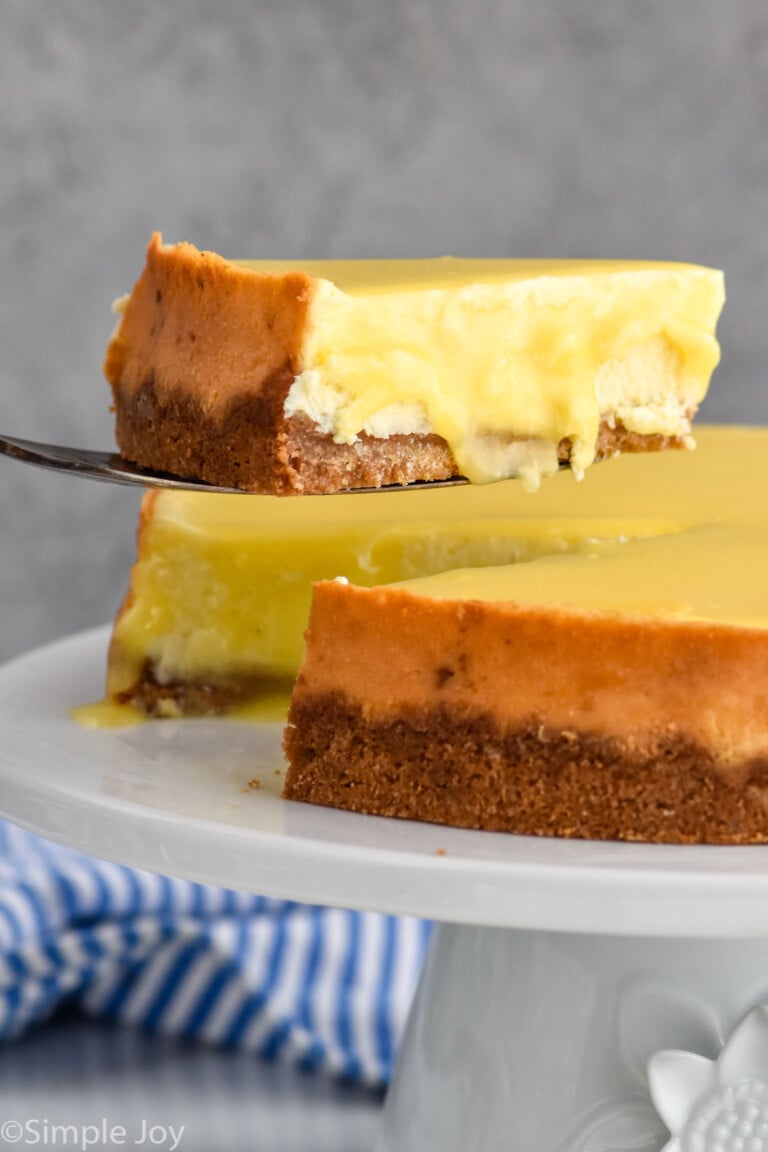 Storing Cheesecake
You should plan on making this cheesecake the night before you want to serve it. That way you ensure that you are giving it enough time to cool before you slice it. Leftover cheesecake can be stored in the refrigerator for four to five days. As with all recipes, I recommend that you use your best discretion.
If you plan on freezing your cheesecake, keep in mind that the fresher it is when you freeze it, the better it will freeze. For best results, eat the cheesecake within a month of freezing.
FAQ
Can you freeze cheesecake?
Yes! Cheesecake does best when it is frozen within 24 hours of making it and when eaten within one month of freezing.
How long does cheesecake last in the fridge?
Cheesecake is best when eaten within four to five days.
Can I make cheesecake without a water bath?
Yes! The key is the small addition of flour, a shorter baking time, and a gradual cooling process. See more details in the section above.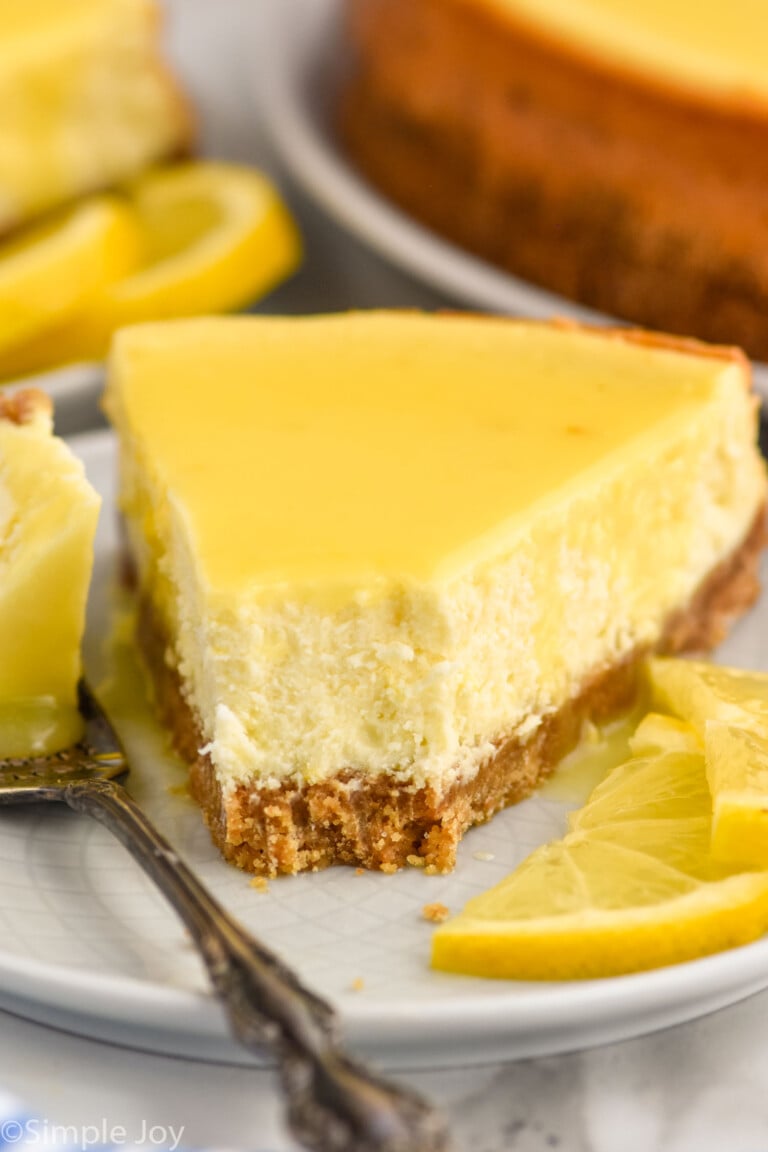 Other Cheesecake Recipes
If you love this lemon curd cheesecake, please leave me a comment and tell me about it! I love hearing about your family enjoying these delicious desserts.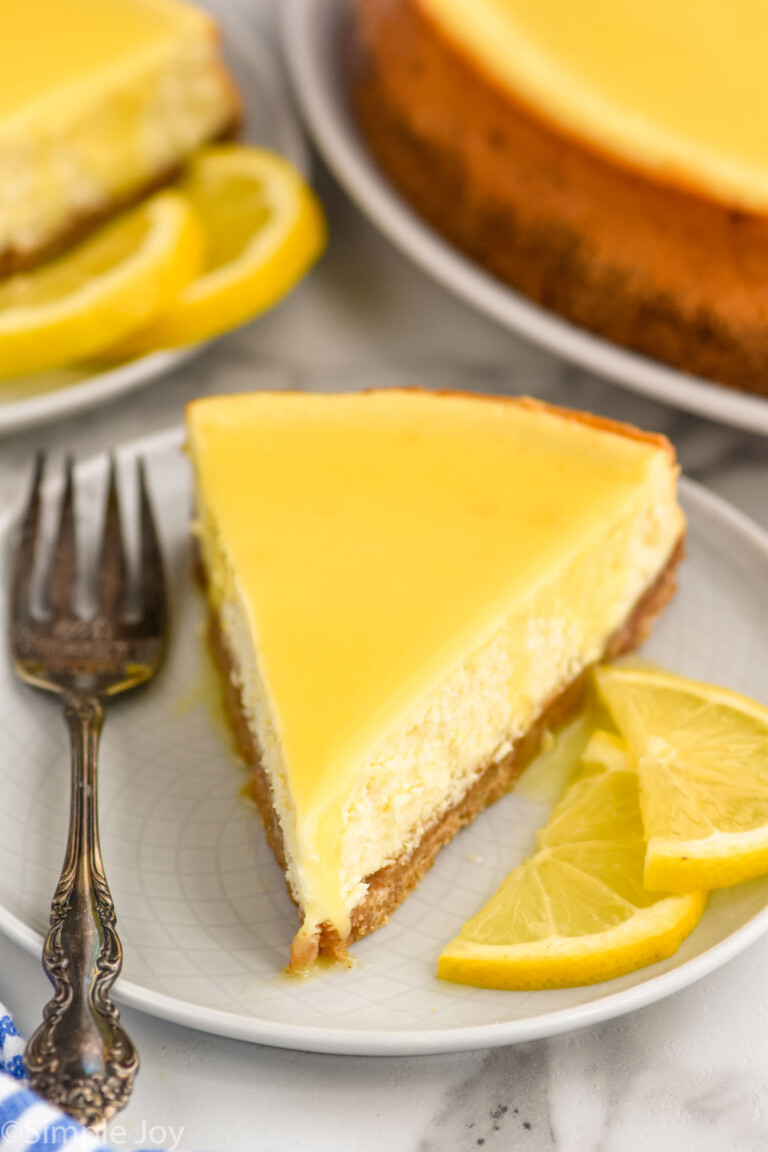 Lemon Cheesecake
Total:
2
hours
50
minutes
This Lemon Cheesecake is the perfect lemon dessert. Made with simple ingredients, you will love this great easy cheesecake.
Ingredients
For Crust
1 3/4

cup

graham cracker crumbs

1/3

cup

granulated sugar

8

tablespoons

unsalted butter
For Cheesecake
25

ounces

cream cheese

(room temperature)

3/4

cup

granulated sugar

3

large eggs

(room temperature)

2

tablespoons

all-purpose flour

1 1/2

tablespoons

lemon zest

(about two lemons)

1 1/2

tablespoons

lemon juice

(about one lemon)

1/2

cup

lemon curd

(optional)
Instructions
Preheat your oven to 375 degrees Fahrenheit. Line the bottom of a 9 inch spring form pan with parchment paper and spray the sides of the pan lightly with cooking spray. Set aside.

Combine the graham cracker crumbs, melted butter, and sugar together in a bowl until it resembles wet sand. Press the mixture into the bottom of the spring form pan. Bake for 6 to 8 minutes or until the crust is golden brown.

1 3/4 cup graham cracker crumbs,

8 tablespoons unsalted butter,

1/3 cup granulated sugar

In a large bowl with a hand mixer or in the bowl of a stand mixer with the paddle attachment, blend until the cream cheese and sugar is smooth.

25 ounces cream cheese,

1/3 cup granulated sugar

Mix in the eggs, flour, lemon zest, and lemon juice. Scrape down the sides as needed until the mixture is smooth and well combined.

3 large eggs,

2 tablespoons all-purpose flour,

1 1/2 tablespoons lemon zest,

1 1/2 tablespoons lemon juice

When the crust is done baking, turn the oven down to 325 degrees Fahrenheit. Pour the mixture over the hot crust.

Bake the cheesecake for 35 minutes. Turn the oven off, without opening it, and leave the cheesecake in the oven for 1 hour. Remove the cheesecake from the oven. Allow it to cool before moving it to the refrigerator to chill for at least 4 hours.

When ready to serve, top with the lemon curd. Carefully remove the sides of the springform pan, slice, and enjoy.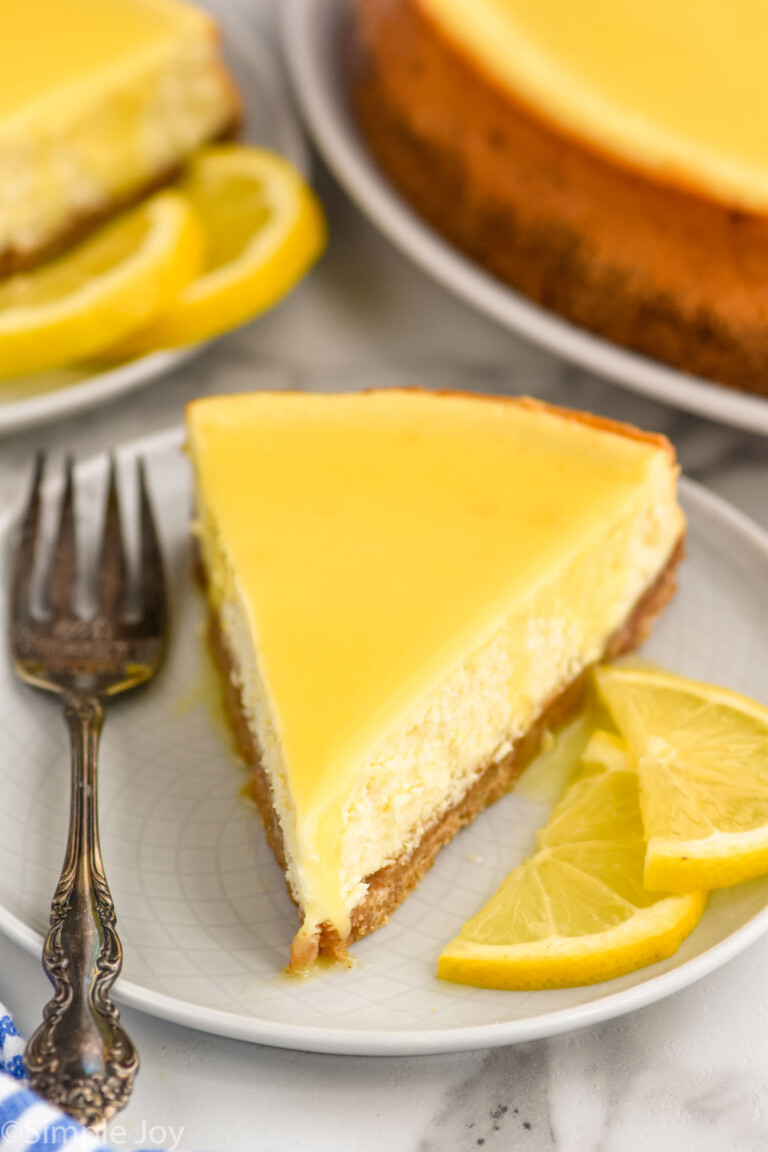 did you make this
Lemon Cheesecake
SaveSave
SaveSave