This Strawberry Mango Margarita recipe is perfect for making for a crowd. Whip up a pitcher with just five ingredients! This is going to be your favorite summer cocktail!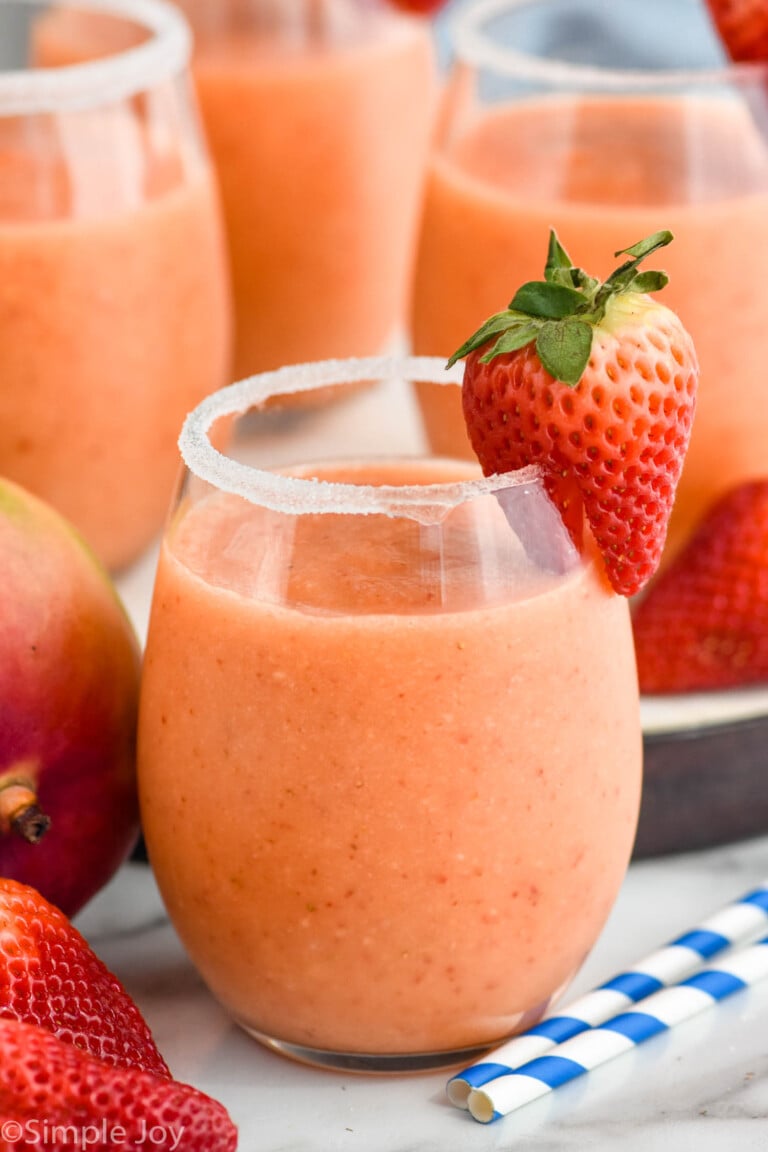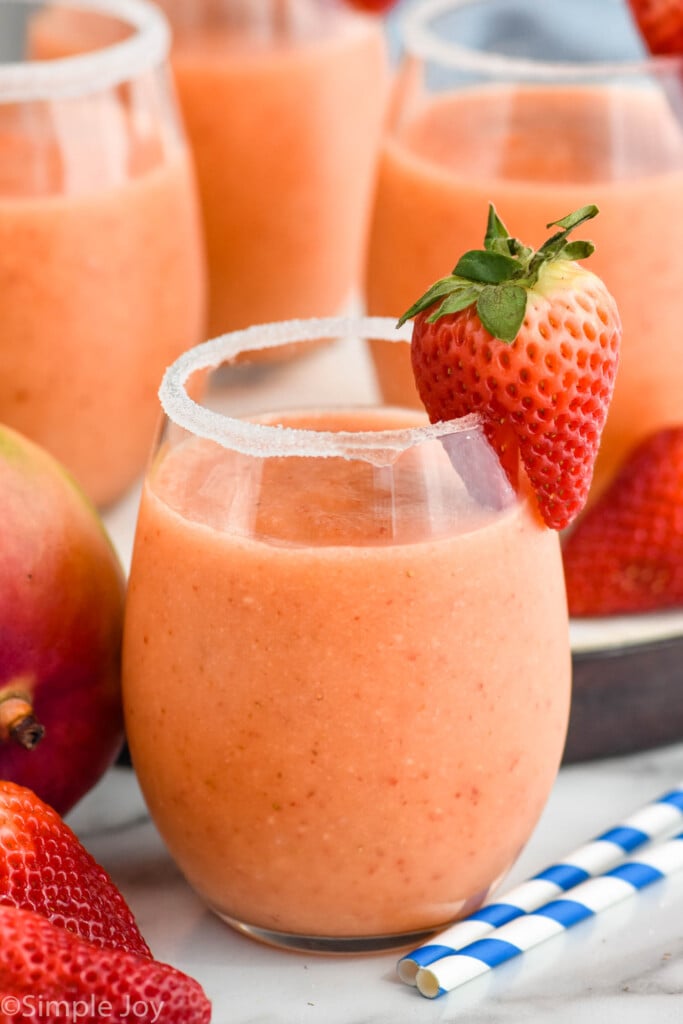 Really, I think margaritas are always a good idea. A few years ago, a friend of mine gave me her family's recipe for the best margarita. It is life changing. It has so many amazing reviews, and it never fails that when I take it somewhere everyone wants the recipe.
That simple recipe has become the foundation for all of my other margaritas, including this great Strawberry Mango Margaritas. Made with simple ingredients, and so easy to throw together, this is a must for your next party.
Strawberry Mango Margarita Ingredients
Just five ingredients and a blender are all that is needed to make a batch of strawberry mango margaritas. Kick your feet up and enjoy these delicious cocktails!
Frozen strawberries and mango: Frozen fruit is key to any frozen margarita recipe because it is easy to keep on hand and keeps the margarita icy cold without ice melting and diluting the drink.
Sweet and sour mix: Make your own for a refreshing margarita mix without the extra sugars and additives of the store-bought stuff.
Triple Sec: Any orange flavored liqueur will work for this. Cointreau is what I recommend for a more elevated cocktail, but rail triple sec will work too.
Tequila: See my recommendations below.
Sweet and Sour Mix
With only three ingredients, this homemade sweet and sour mix is key for making perfect margaritas!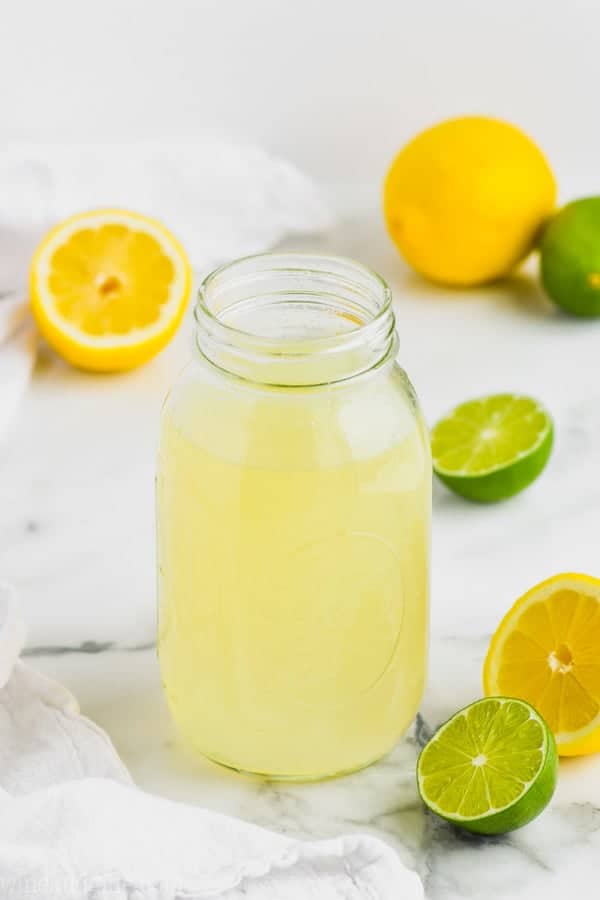 How to Make a Strawberry Mango Margarita
This frozen strawberry margarita features tropical mango and comes together with a few simple steps in your blender. For all measurements, scroll to the recipe card at the bottom of the page.
Add all ingredients to your blender.
Blend until smooth. Serve in a sugar-rimmed glass immediately, see more on this below.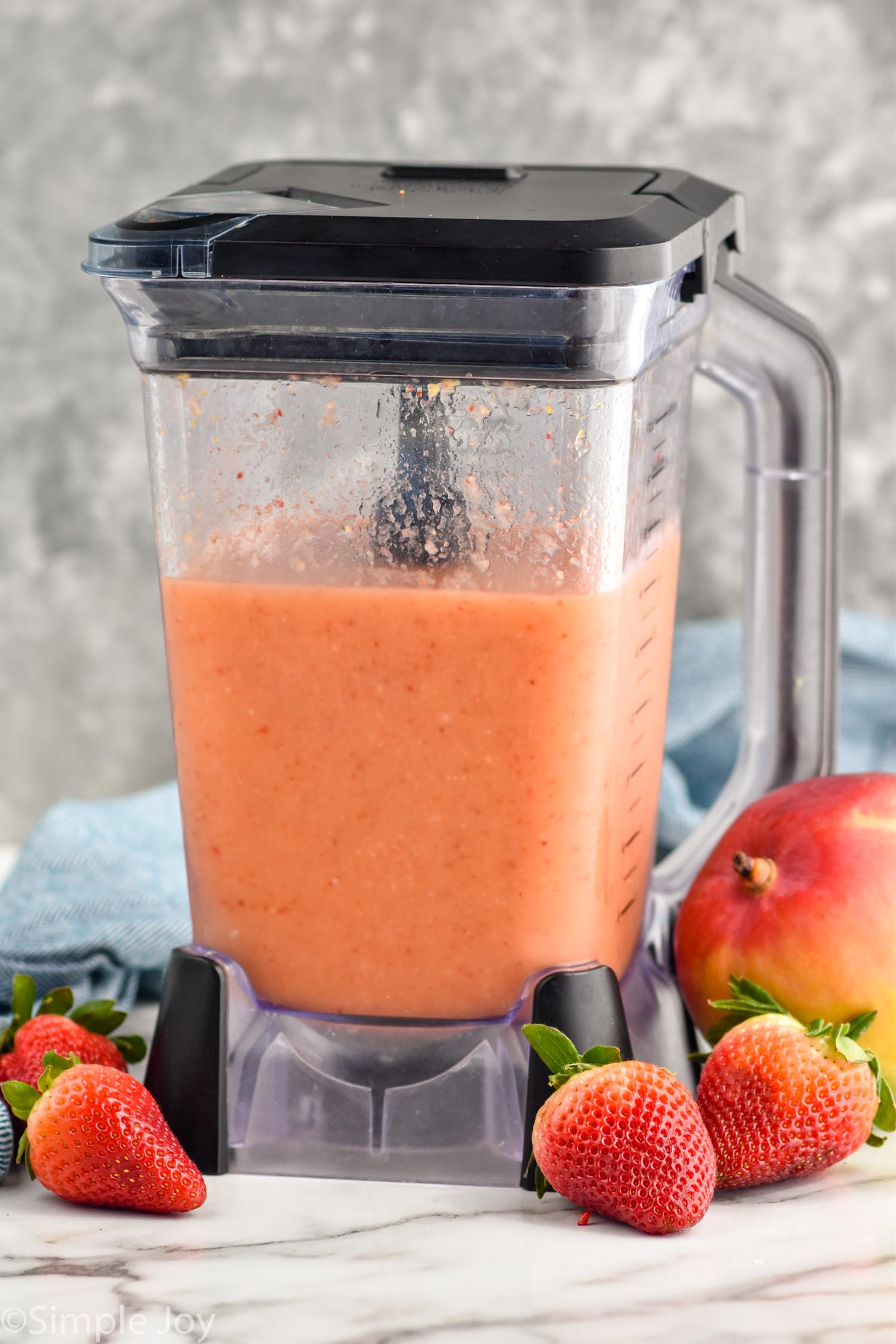 How to Rim Your Glass
Traditional margaritas are usually served in glasses rimmed with salt. I like to serve this strawberry mango margarita in a glass rimmed with sugar for a sweeter touch.
To rim your margarita glass with sugar, gather two small plates. Put a thin layer of corn syrup on one and a layer of sugar on the other. Roll the rim of the glass in corn syrup then roll it in sugar. Prepare your glasses prior to making the drinks. In addition to rimming the glass with sugar, you can garnish with a fresh strawberry that has been cut 3/4 of the way to the top.
Best Tequila for Margaritas
Fortunately, there are great tequilas at every price point. The main thing to keep in mind is that you want to look for something that is 100% agave. Since agave is the plant that tequila is made from, you want it to be the main ingredient. This ensures that the tequila is not supplemented with a lower quality alcohol.
Milagro Silver is my recommendation for a good mid-level tequila that is 100% agave and absolutely delicious. I would grab Patron if you are looking to splurge, and if you need a more budget friendly option, Sauza is great. Since we are blending this with other ingredients and it isn't solely tequila focused, Sauza is a great choice.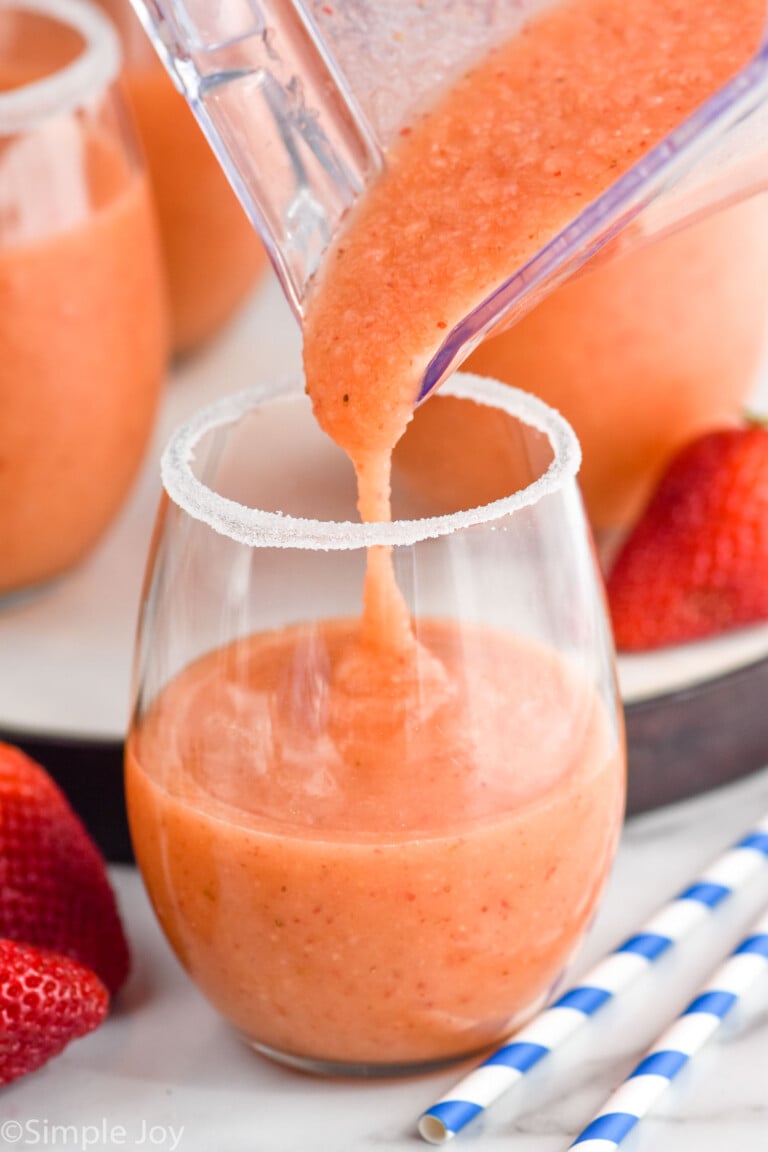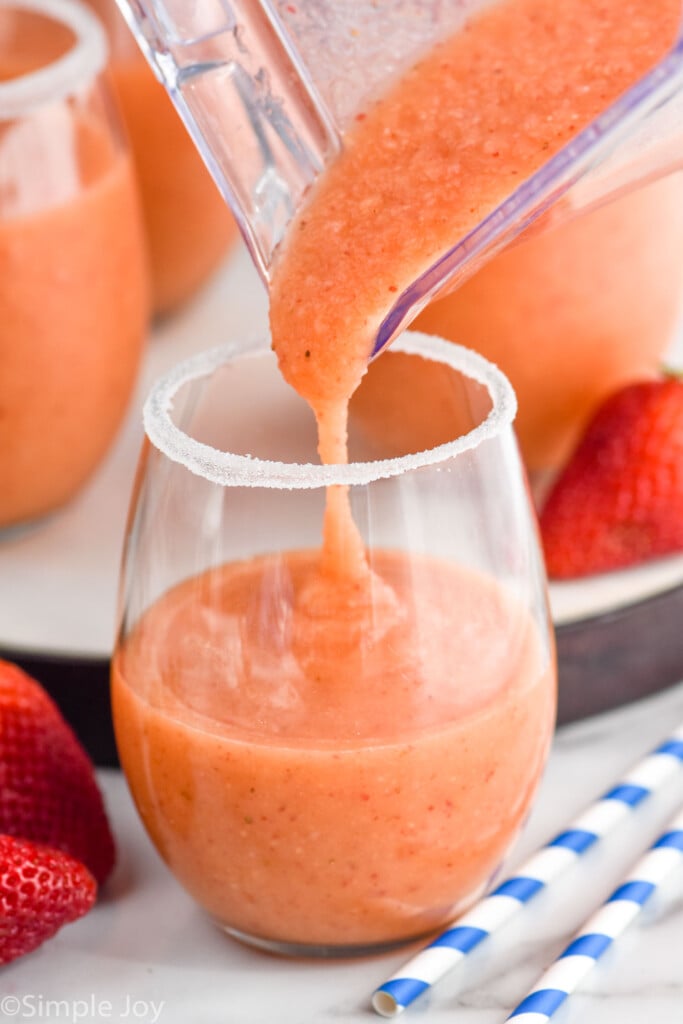 Make Strawbery Mango Margaritas on the Rocks
To make a strawberry mango margarita on the rocks, use fresh mango and strawberries instead of frozen. Blend the ingredients together and serve over ice. For a smoother cocktail, blend the sweet and sour mix and the fruit and then strain it. Add the mix to the other ingredients in a shaker with ice, shake well, and serve over ice.
Make Ahead Margaritas
If you're entertaining a crowd and want to serve these delicious frozen margaritas, they're really easy to make ahead of time. Pour the blended mixture into individual servings (mason jars work great). Be sure to leave at least an inch at the top to account for expansion when freezing. Cover them with a lid or tightly with plastic wrap. Place them in the freezer until you're ready to serve. Let them thaw for a few minutes on the counter before serving.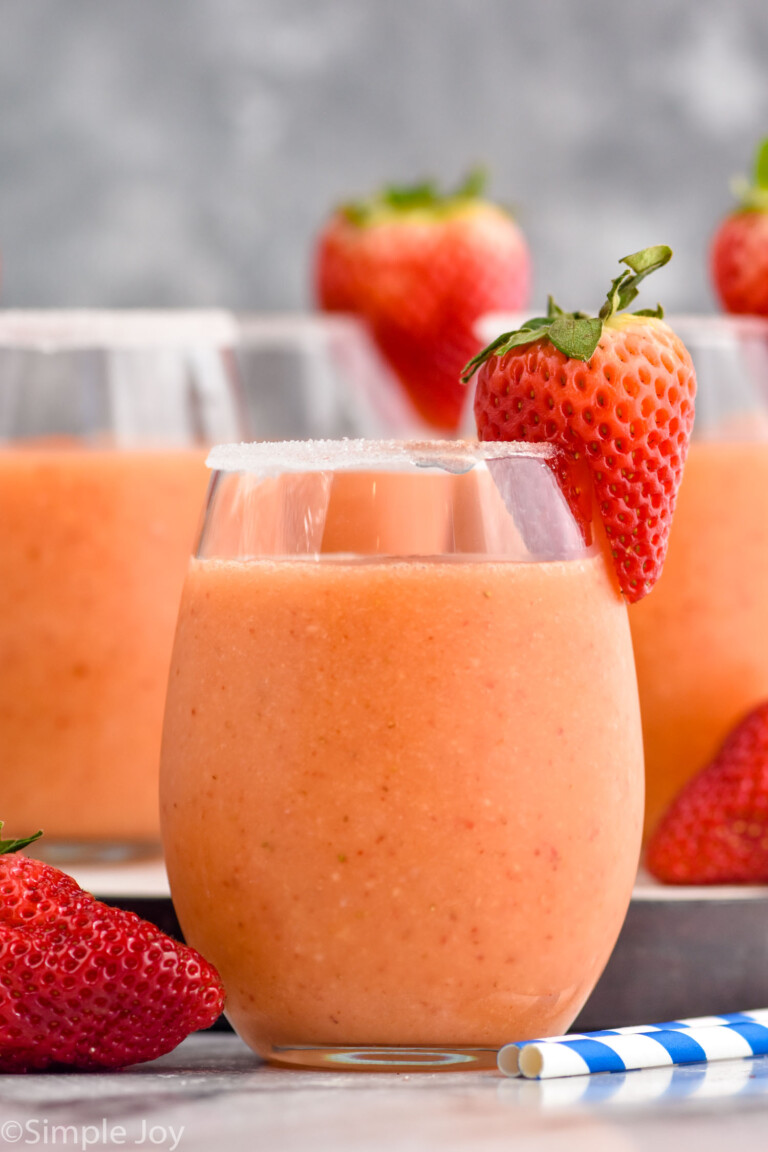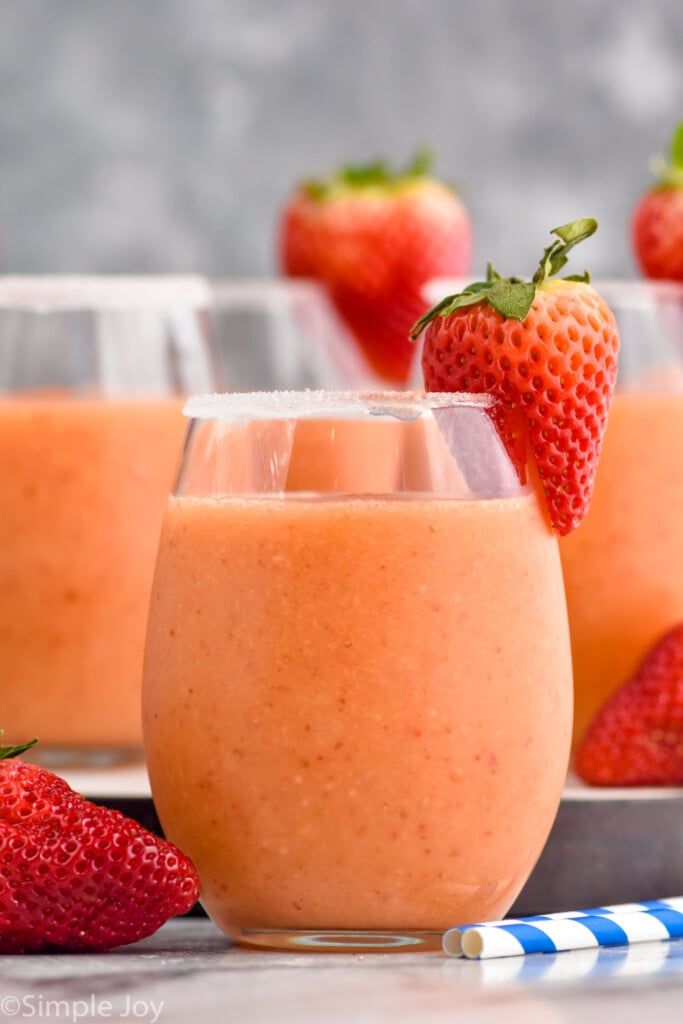 Other Margarita Recipes
There's a margarita for any occasion! Try some of these totally delicious and easy-to-make margarita recipes and find your favorite.
If you try this frozen strawberry margarita recipe with mango or any of my others, please let me know what you think. I love hearing from you!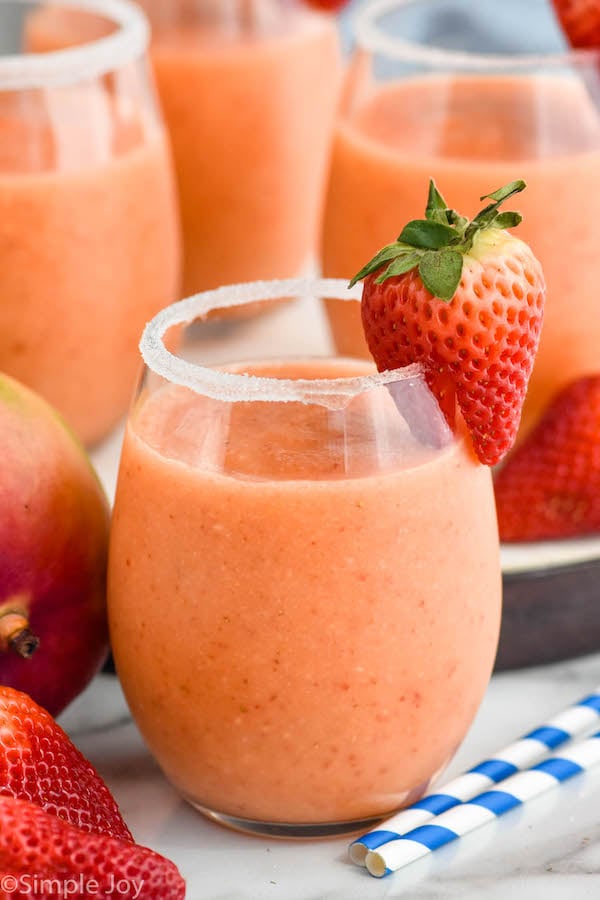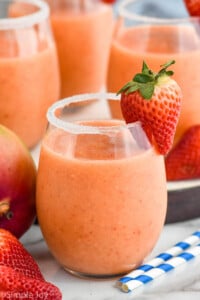 Strawberry Mango Margarita
Strawberry Mango Margaritas are perfect for making for a crowd. Whip up a pitcher with just five ingredients! This is going to be your favorite summer cocktail!
Ingredients
1 1/4

cup

silver tequila

1 1/4

cup

sweet and sour mix

1/2

cup

triple sec

3

cups

frozen mango

3

cups

frozen strawberries
Instructions
Combine all ingredients in a blender and blend to combine.

For serving, dip the glasses in corn syrup and then in sugar to make a sugar rim. Cut a fresh strawberry in half 3/4 of the way up to the top of the strawberry and add to the rim of the glass.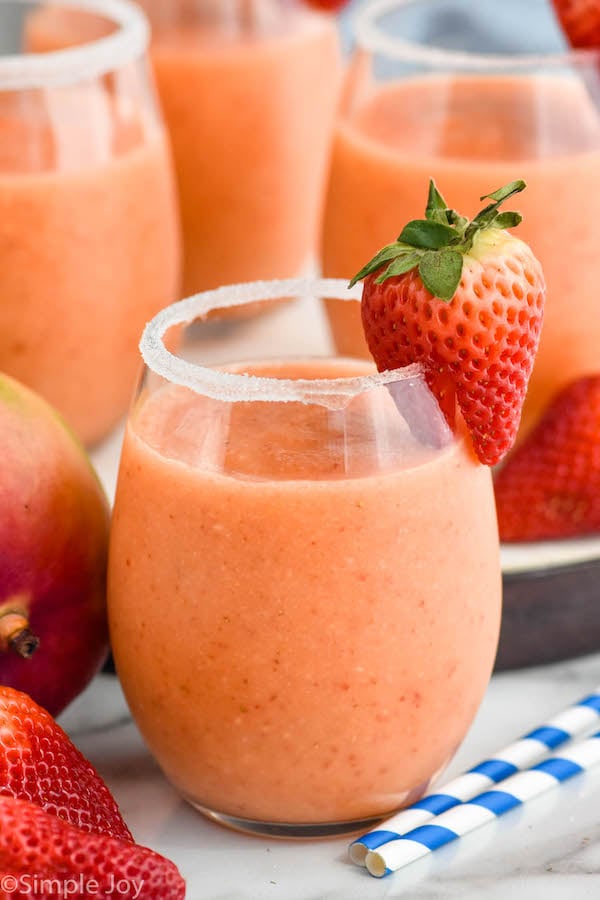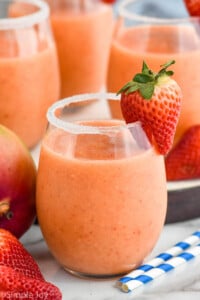 did you make this
Strawberry Mango Margarita