This Slow Cooker Mulled Wine comes together in your crock pot with a little white wine and some easy to find ingredients! So delicious and perfect for the holidays and cool weather!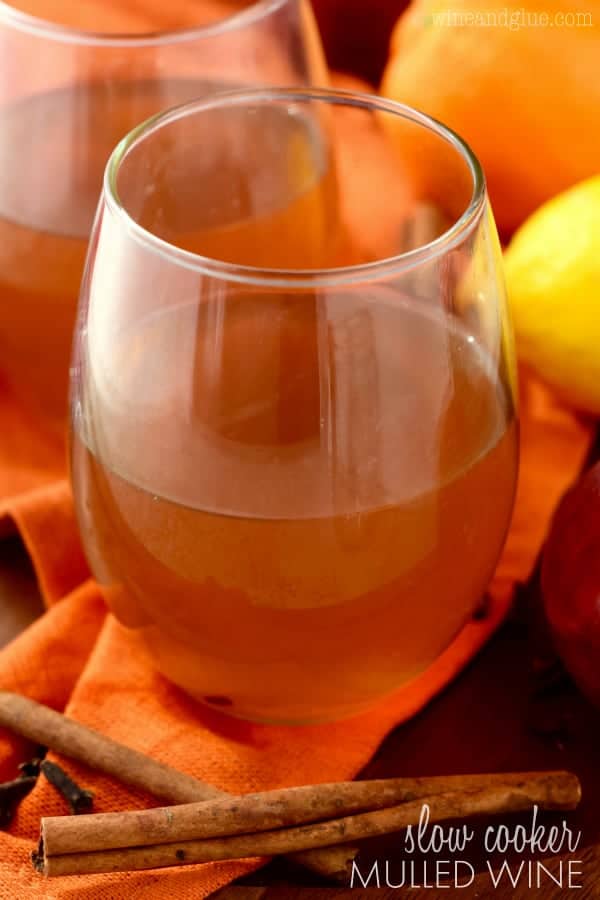 You guys. They turned off my water during the witching hour. (Witching Hour = The hours of 4 to 5:30 when I make every effort not to kill my children while they work tirelessly to push the limits of my sanity.)
So. Let me set the stage.
We are just pulling in from picking up Gavin/ballet class/running errands/trying not to lose my mind. I see a bright blue piece of paper sticking out of the door as we pull in and figure that it's just someone who is advertising babysitting services after seeing me yell at my kids in the Target parking lot.
But then!
But then I went to wash my hands and  . . . . NOTHING!! I briefly searched my memory to see if we had done something to piss off city officials and nothing! I ran and grabbed the note out of the front door to read that the city was noticing us that the they would be turning off the water at 3 pm for maintenance and we should prepare for it to be off for 2 to 6 hours. (TWO TO SIX HOURS!!)
You guys. No joke. They left the note at 2:45.
WHATTHEHELLYOUHAVEGOTTOBEKIDDINGMEHAVETHEYNEVERHADAWITCHINGHOUR?!?!?!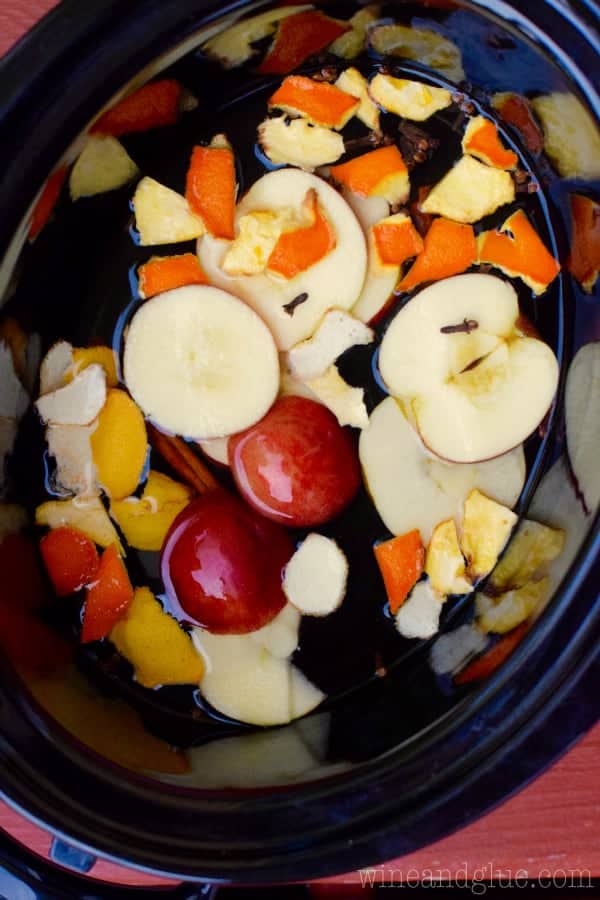 It was suddenly like we were thrown back into the Middle Ages . . . . except for the electricity, and the fresh food, and the internet . . . but otherwise, straight up Middle Ages!
And what did they drink in the Middle Ages to ward off diseases because there was no fresh running water, Mulled Wine peeps! And because you can't make pasta and meatballs for your kids when there is no running water, I made sandwiches for the kids and Mulled Wine for me. You guys. You can make Mulled Wine when there is no running water!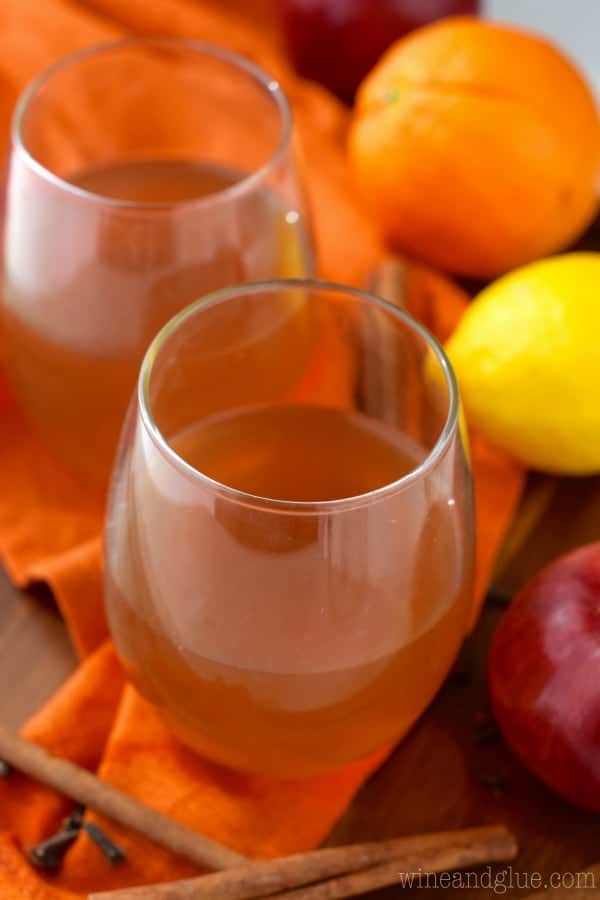 So there is this wine that I love that is made by a Wisconsin winery. It is amazing! But it is only available in October. Which just isn't right. It's like a spiced white wine that you are suppose to serve warm. So I decided (while I was able to buy some bottles) that I needed to  make a copycat version. And I did! I literally poured a glass of mine and a glass of the bottled and they were really really close.
Make this for parties and double it or just make a single batch when the city cuts off your water at the absolute worst time.
Cheers!
UPDATE: The original recipe calls for you to dry out the orange & lemon peel in the oven before making the wine. I decided that was too time consuming for those who *need* mulled wine. So the updated recipe reflects a much simpler plan, that yields fantastic mulled wine. If you want to do the original here is the instructions:
Roast the peel of the lemon and the peel of the orange at 300 degrees until they are dried. About 20 minutes for the lemon and about 25 minutes for the orange.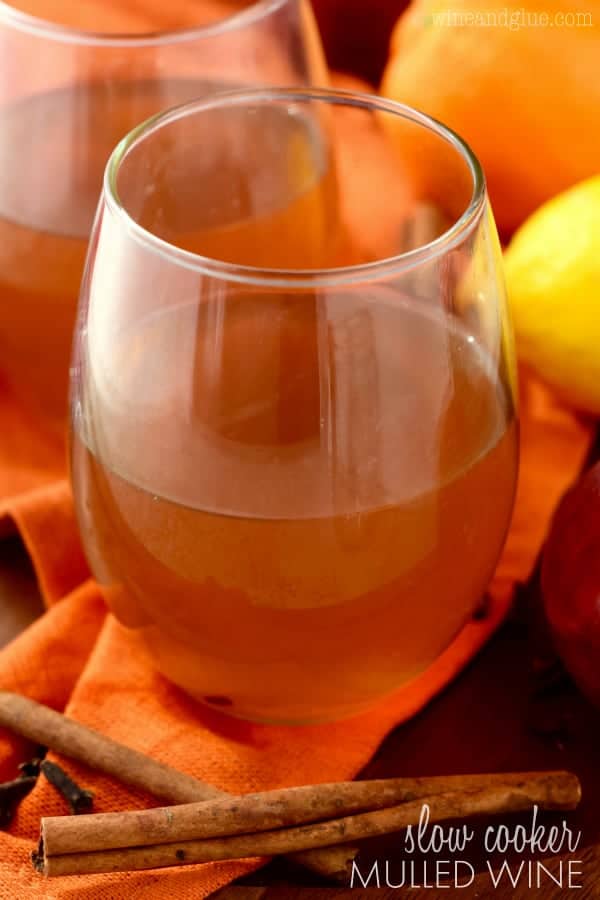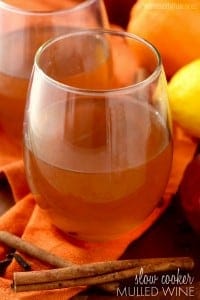 Slow Cooker Mulled Wine
Ingredients
750

ml

riesling

peel of one orange

peel of one lemon

2

cinnamon sticks

1/2

TBSP

cloves

1

apple sliced

1/4

cup

brown sugar
Instructions
Combine the ingredients (making sure to stir until the sugar dissolves) in a slow cooker on low for one hour. Strain the wine and serve warm.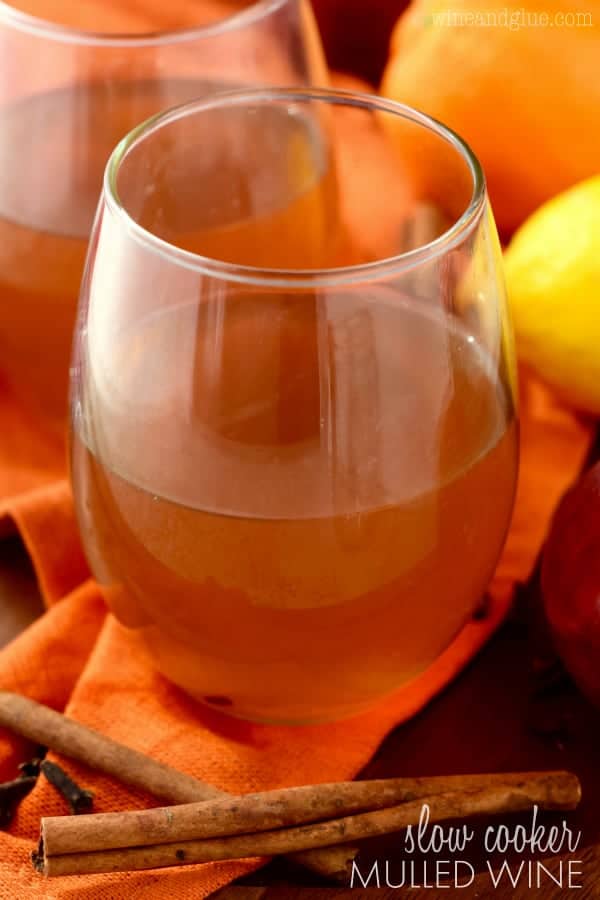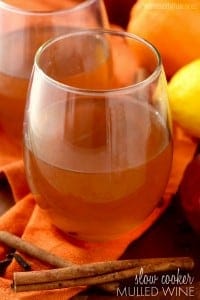 did you make this
Slow Cooker Mulled Wine
You might also like
Crock Pot Spiced Cranberry Apple Cider
Hot Mulled Ginger-Spiced Cider