These Peanut Butter and Jelly Cookie Bars are a snap to make, but are SO GOOD the pan will disappear before you know it!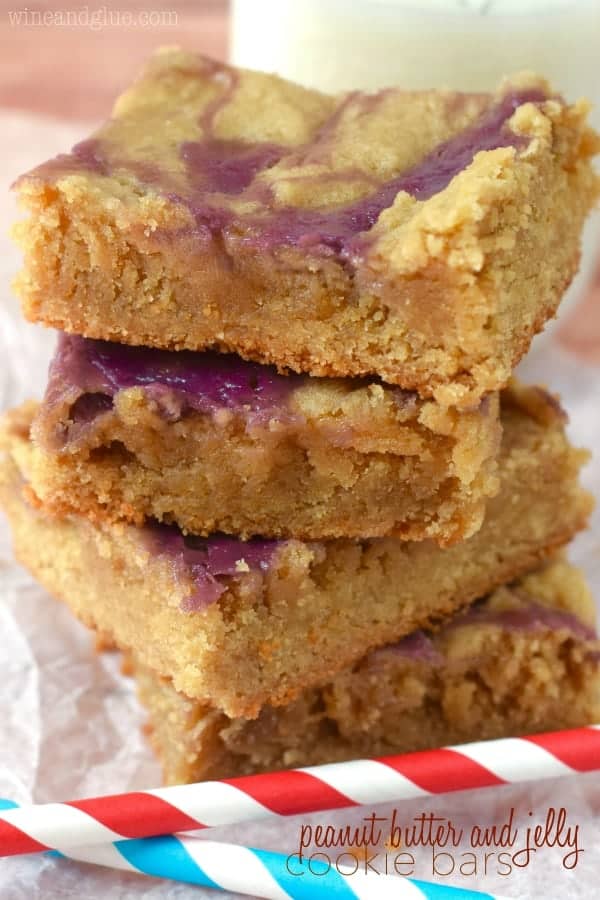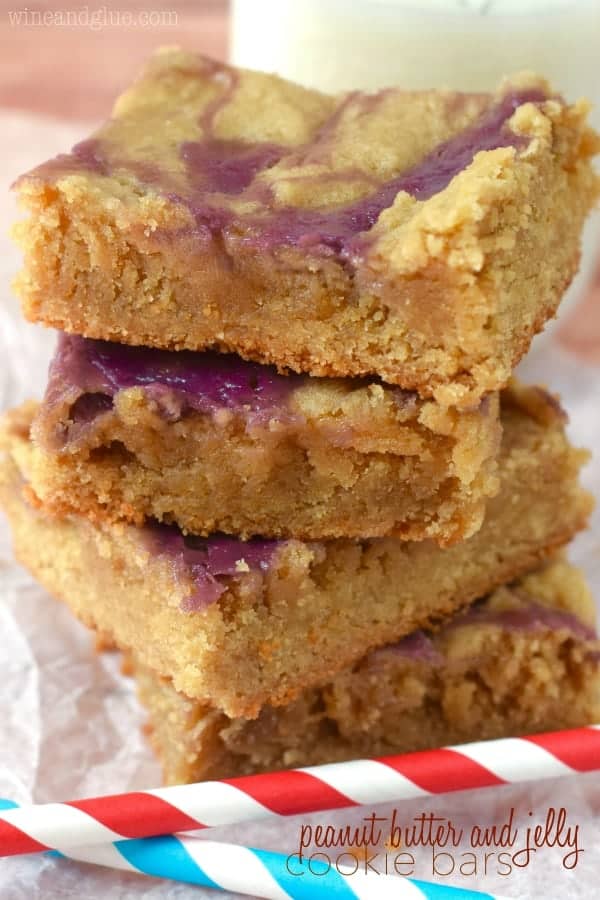 Quinn has been doing this thing lately where she asks us if she can tell us a story. Sweet, right? They all start out, "Once upon a time . . . " and go from there.
Here's the thing, girlfriend is DARK.
I swear every story involves a monster eating our entire family.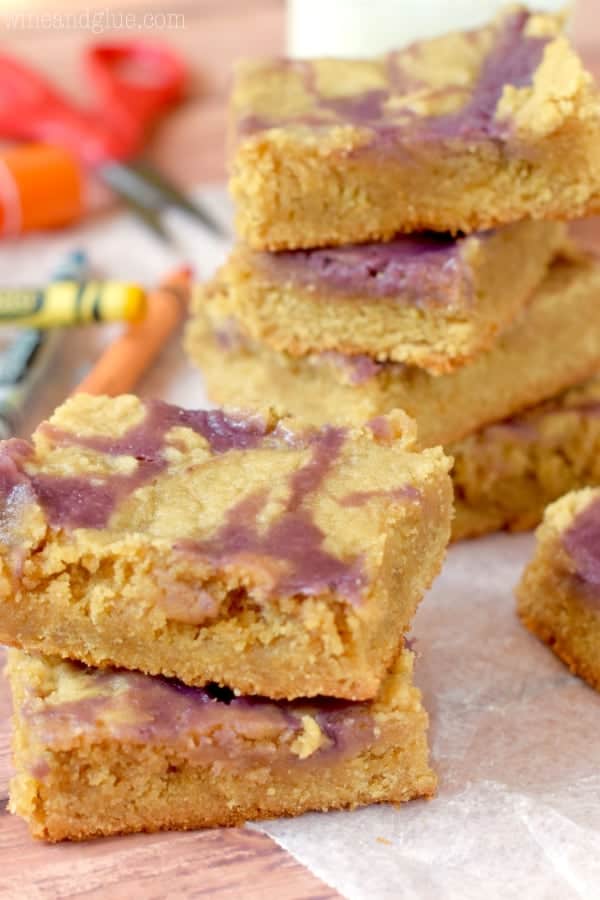 So I was pleasantly surprised when yesterday morning she crawled into my bed and asked if she could tell me a story about our family picking flowers.
"Once upon a time we went to a field and Quinn picked purple flowers, Gavin picked red flowers, Mom picked yellow flowers, and Dad picked orange flowers. Piper just watched. And then we came home with our flowers . . . .
. . . . and then a monster came in our house and ate us."
I laughed so hard, I thought I was going to wake up the rest of the house.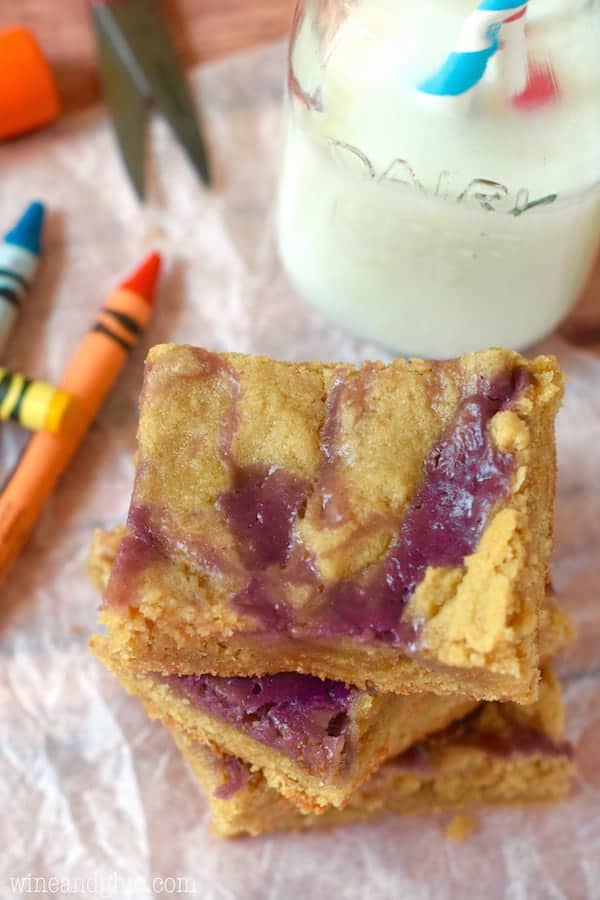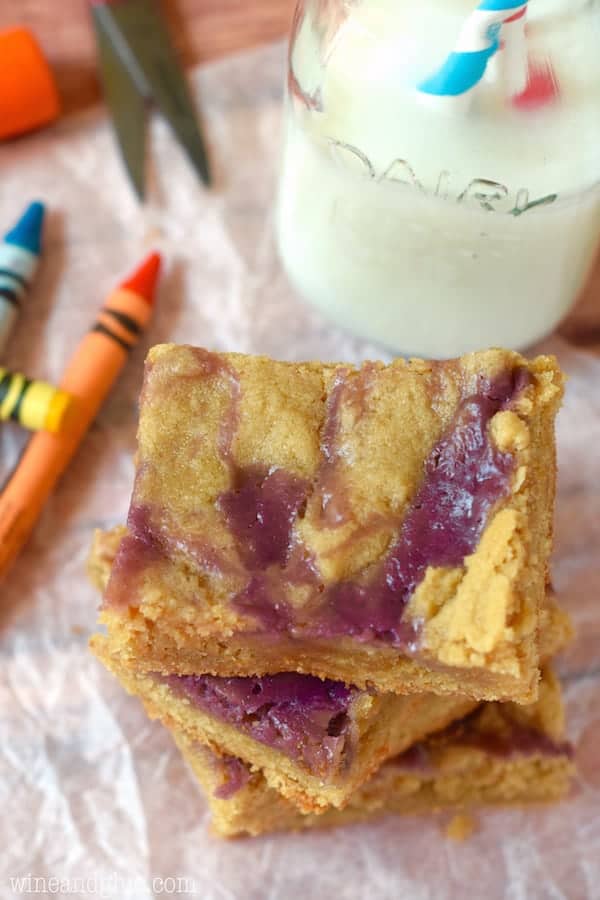 Almost as sweet as a little girl who is surely the descendant of the Grimm Brothers, are these Peanut Butter and Jelly Cookie Bars!
You guys, I love a good bar recipe. They are SO easy. No scooping, just dumping the dough in the pan, bake and slice. Or in my case, slice a sliver, pretend you didn't already have sixteen slivers, and then slice another. These guys are SO delicious. They are moist and totally have the delicious taste of a PB&J plus a cookie!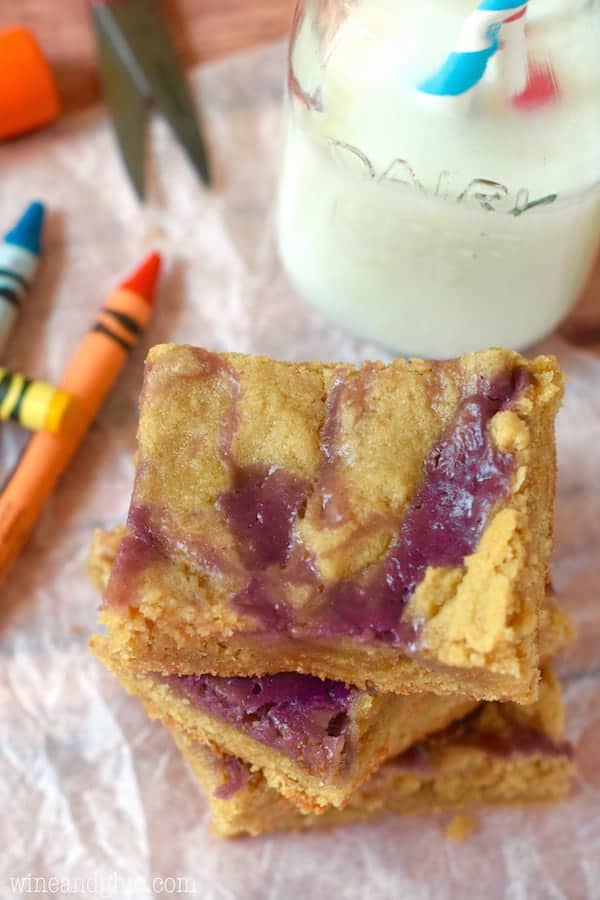 Peanut Butter and Jelly Cookie Bars
Ingredients
2 1/2

cups

all purpose flour

1

tsp

salt

1/2

tsp

baking soda

1/2

tsp

baking powder

16

TBSPs

2 sticks unsalted butter, room temperature (see note)

1

cup

packed brown sugar

1

cup

granulated sugar

1

cup

creamy peanut butter

2

tsps

vanilla extract

2

eggs

1/4

cup

sour cream

1/4

cup

grape jelly

1

TBSP

powdered sugar
Instructions
Preheat your oven to 350 degrees. Spray a 13 by 9 inch baking dish with cooking spray.

In a large bowl whisk together the flour, salt, baking soda and baking powder.

Beat together the butter, brown sugar, and granulated sugar until fluffy, about three to six minutes.

Beat in the peanut butter until it is incorporated. Then beat in the vanilla, and the eggs, one at a time.

Slowly add the flour mixture until it is fully incorporated, being careful to not over mix.

Spread the cookie dough into the 13 by 9 inch pan and press down gently.

In a small bowl whisk together the jelly, sour cream, and powdered sugar until smooth. Place small spoonfuls on top of the cookie dough, and gently swirl in. Be careful not to over swirl.

Bake for 30 minutes or until the edges are golden brown. Let cool completely before cutting into them.
Notes
Room temperature butter means that you can easily dent it with your finger but not push all the way through. You can accomplish this quickly by cutting up the butter into one inch pieces and leave it sitting on the counter for a half hour.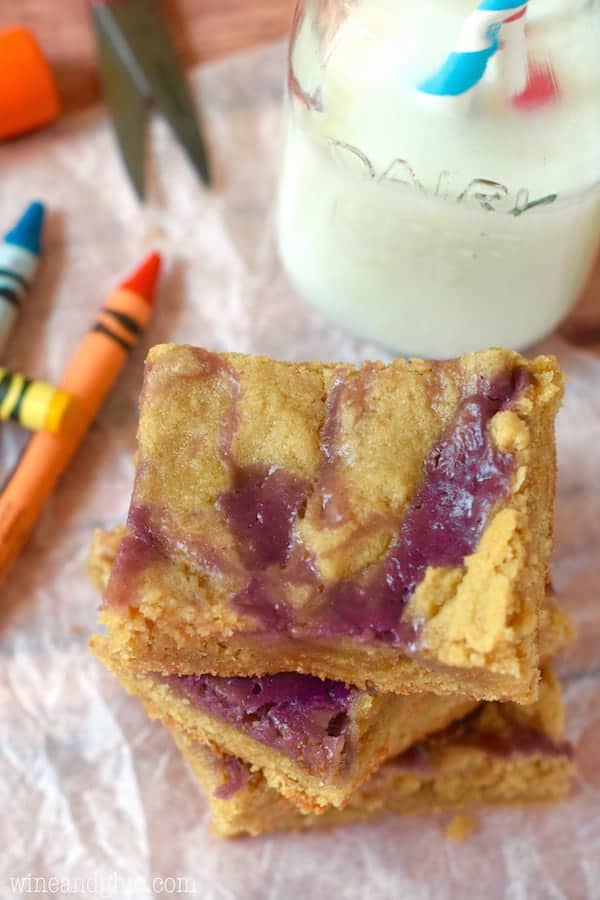 did you make this
Peanut Butter and Jelly Cookie Bars