Pickled Beets are easy to make and delicious straight or on sandwiches and in salads. You won't believe how fast these are to make. Start with my tutorial for how to roast beets and you are half way there.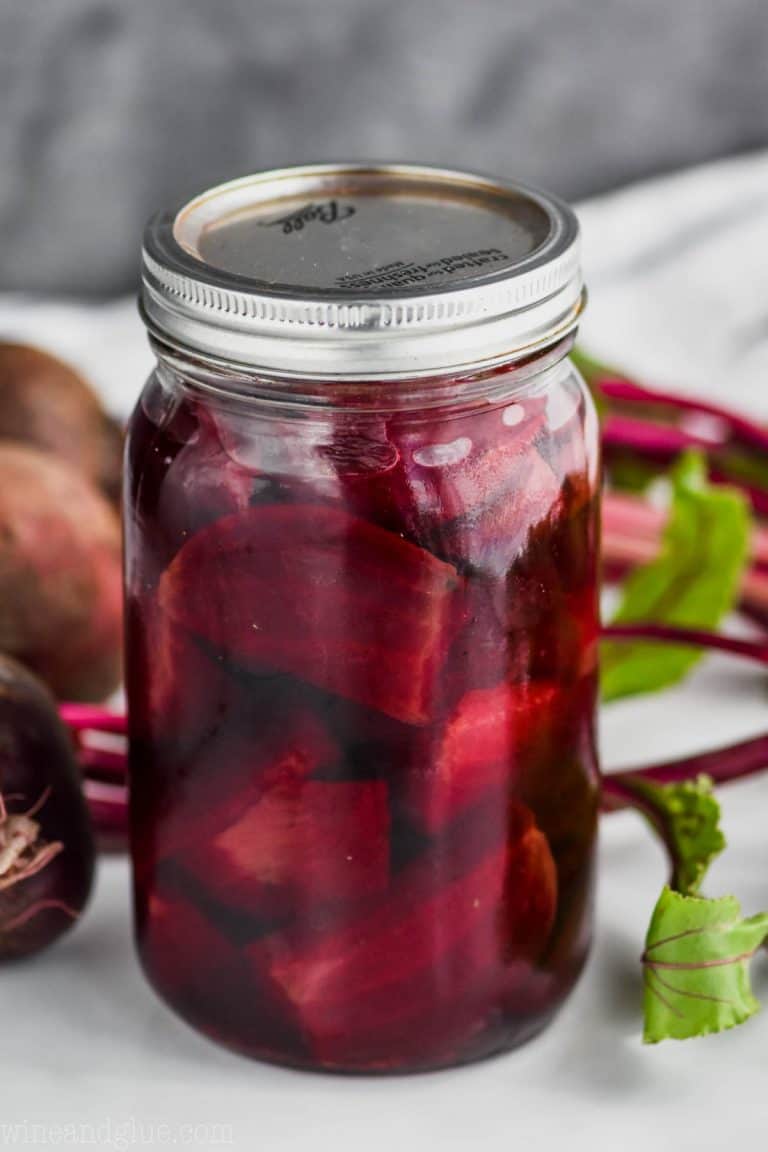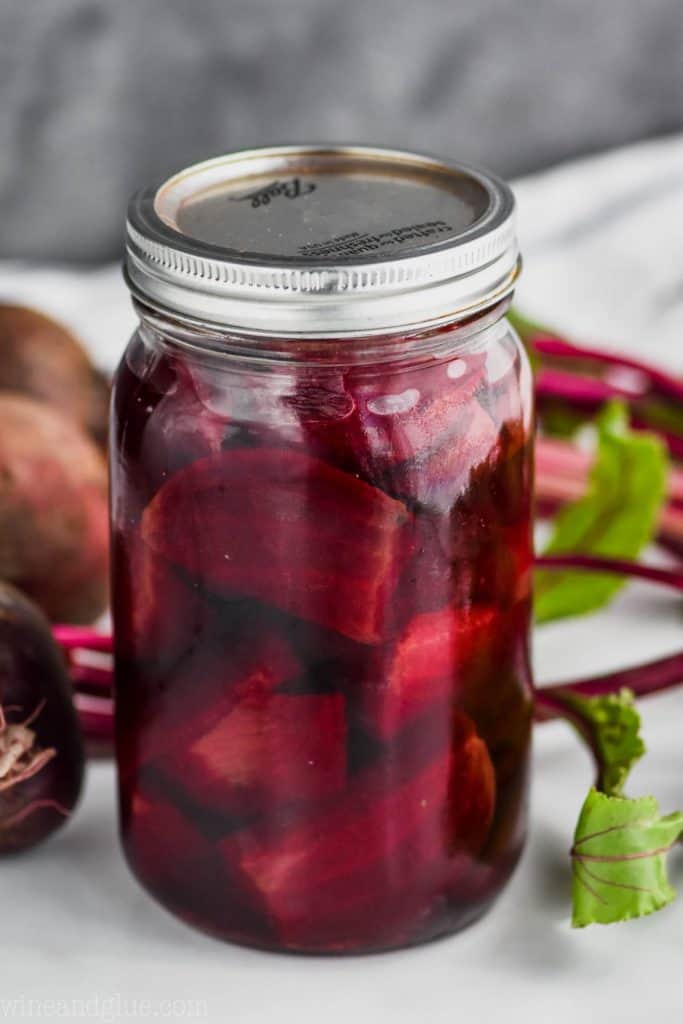 A few months ago I updated my post on my Easy Beet Salad. You guys, people have feelings about beets. I mean, like intense, kind of feelings.
Whenever I share that salad or my tutorial for how to roast beets, two things happen. First, everyone loses their minds sharing their opinions on beets. Second, half the people (the half that like beets, and a few who don't actually) tell me that they love pickled beets.
I decided that since Quick Pickled Red Onions are my favorite thing in the world, I should make you some quick pickled beets. This is a simple spin on that red onion recipe and one that you will make over and over.
Reader Review
LOVE……..LOVE……..LOVE this recipe! I've made it numerous times all winter. Thank you for sharing 🥰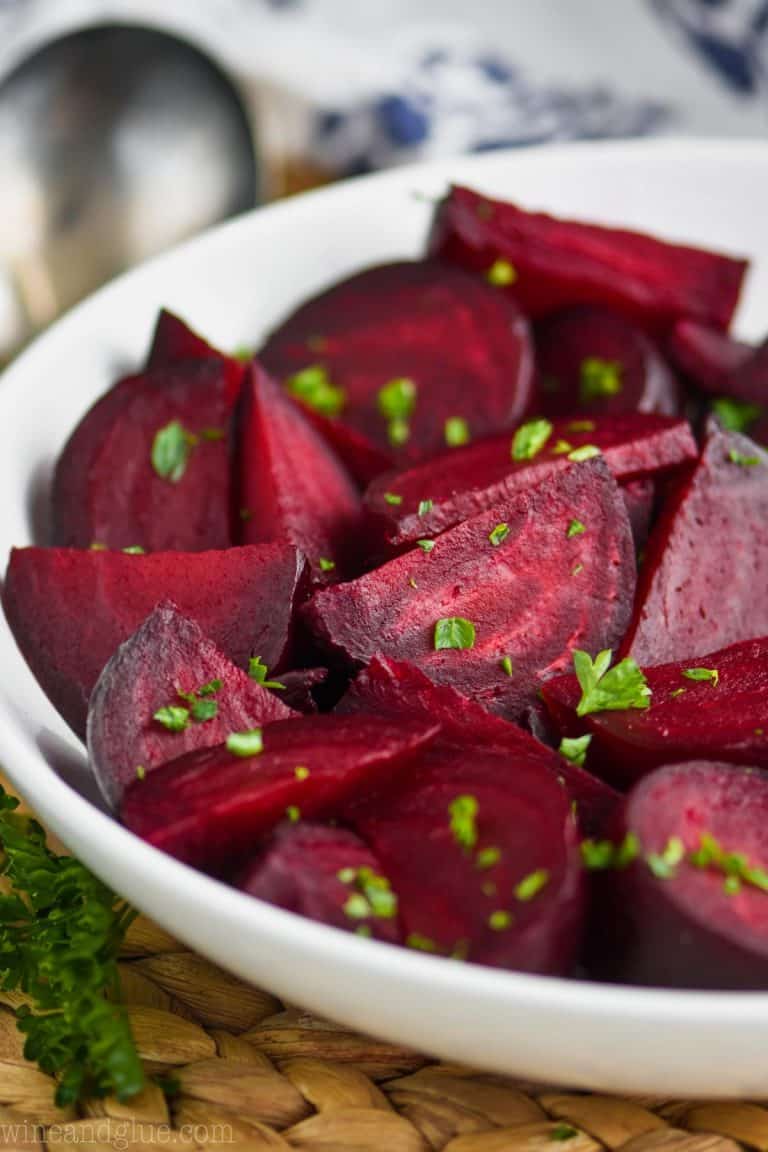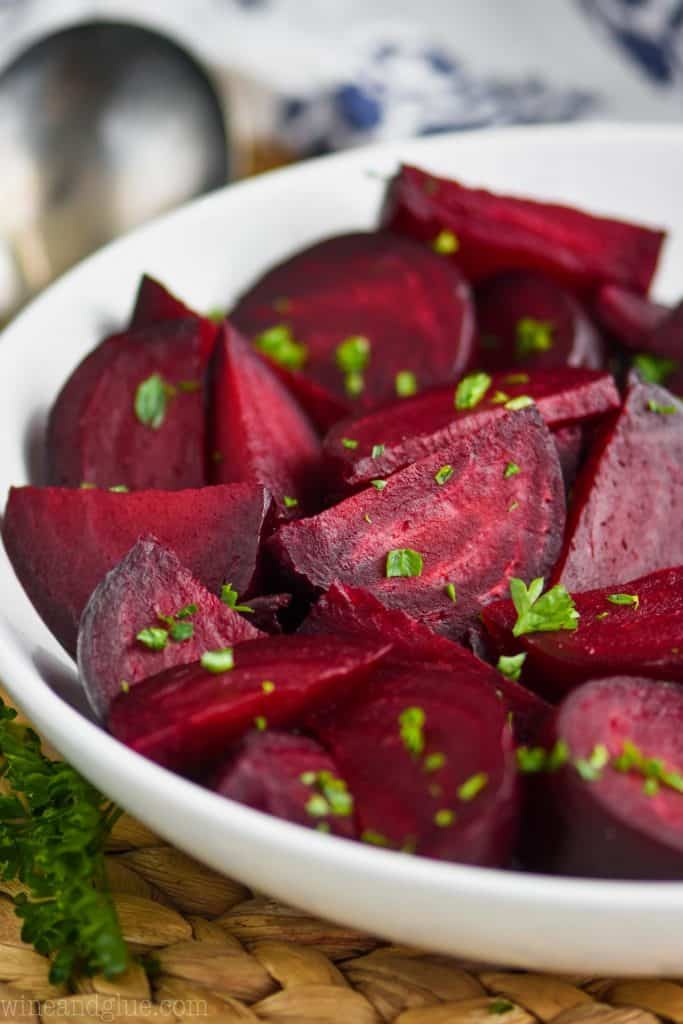 How to Pickle Beets
This is just a brief overview to show you how easy it is to make pickled beets. For the full recipe with all the measurements, scroll to the bottom of the post. There you will find a printable recipe card.
Start by roasting a bunch of beets. I have a great tutorial for that here: How to Roast Beets. I love that post because it has photos and guides you through the process step by step.
Make the pickling brine. Mix the vinegar, hot water, salt, and sugar. It works best to dissolve the sugar and salt in the hot water and then add in the vinegar. The addition of the sugar helps balance the acidity of the vinegar.
Cut up the roasted beets into quarters or eighths (depending on how big they are). After that, you add them to a mason jar.
Top with the brine. You may have more than you need.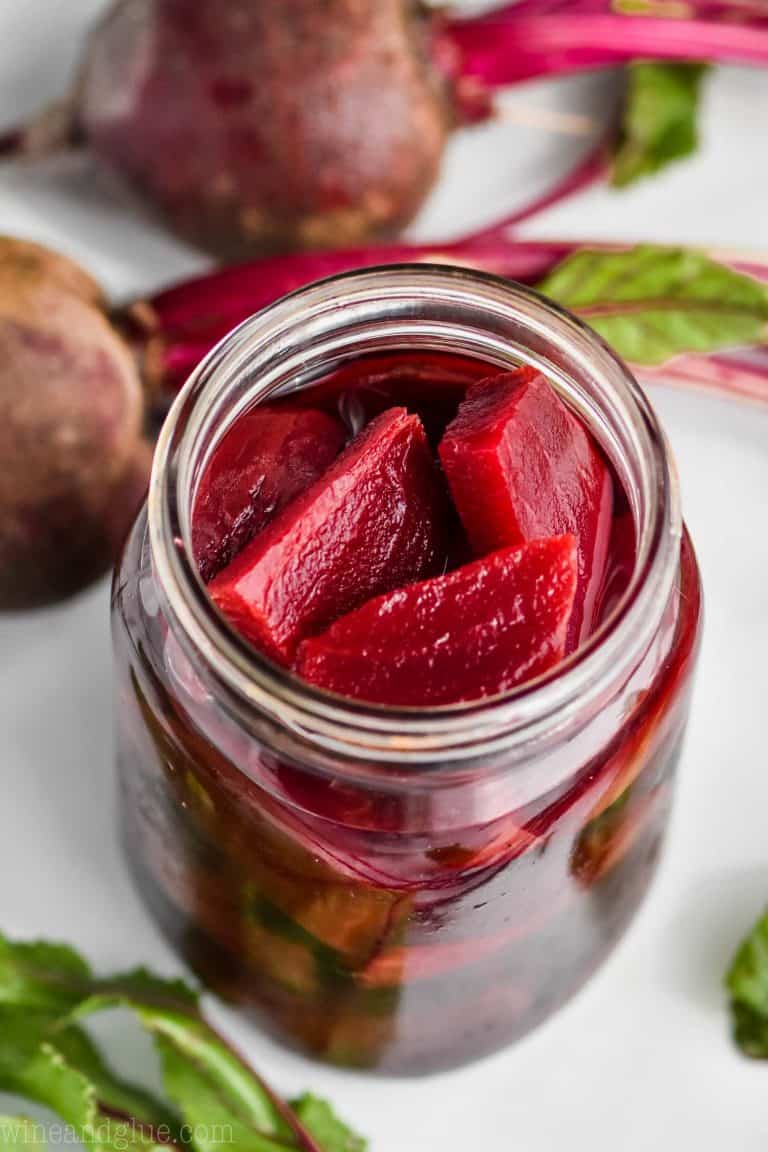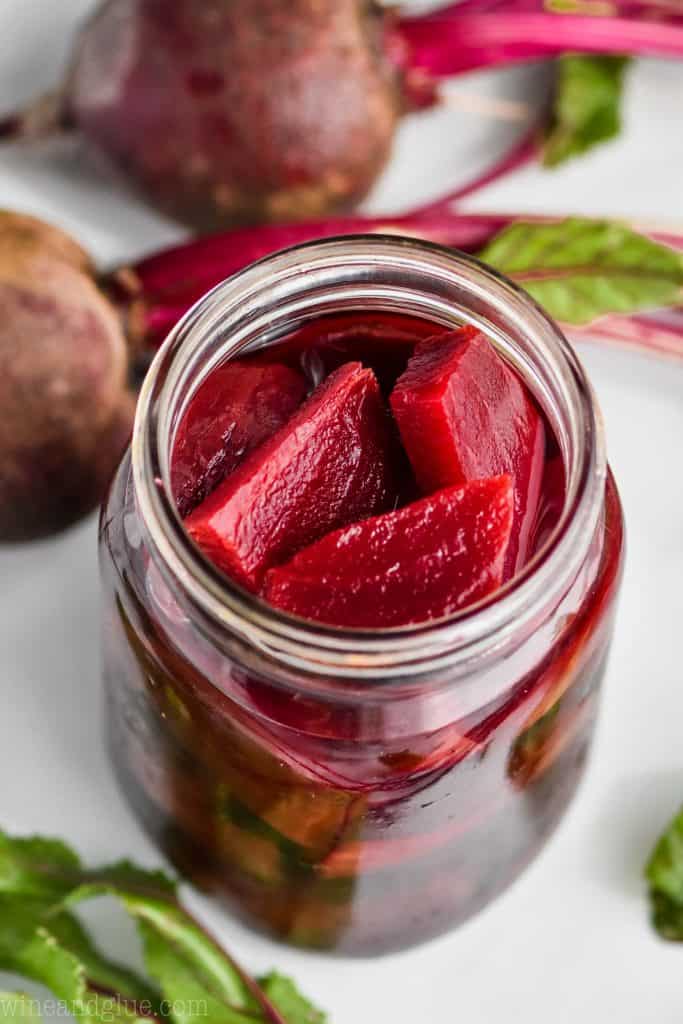 Other Additions
Since first posting this recipe, lots of readers have given me additions that they throw in their brine. I love this simple recipe as is, but it is fun to play around with other flavors.
Cinnamon Sticks
Whole Cloves
Garlic
All Spice
Type of Vinegar
A lot of pickling recipes call for white wine vinegar. I have always used regular white vinegar as that is what I have on hand. I love the final taste. That said, if you would like to change this up with a white wine vinegar, I'm sure that would be delicious as well.
Canning Pickled Beets
I don't know enough about canning to give you instructions on how to make these shelf stable. But my friend Rebecca is basically an expert. She even wrote a book on it! So I invite you to check out her post on Canning Basics.
Storing Refrigerator Pickled Beets
Given that we aren't sealing this quick pickled beets recipe, it should be stored in the refrigerator in an airtight container (like the mason jar pictured here). Store in the refrigerator for about 1 to 3 months. As with any recipe, use your best discretion when it comes to if the food is still good. If the recipe is discolored or starts to smell off, or different than the first week it was made, it should be discarded.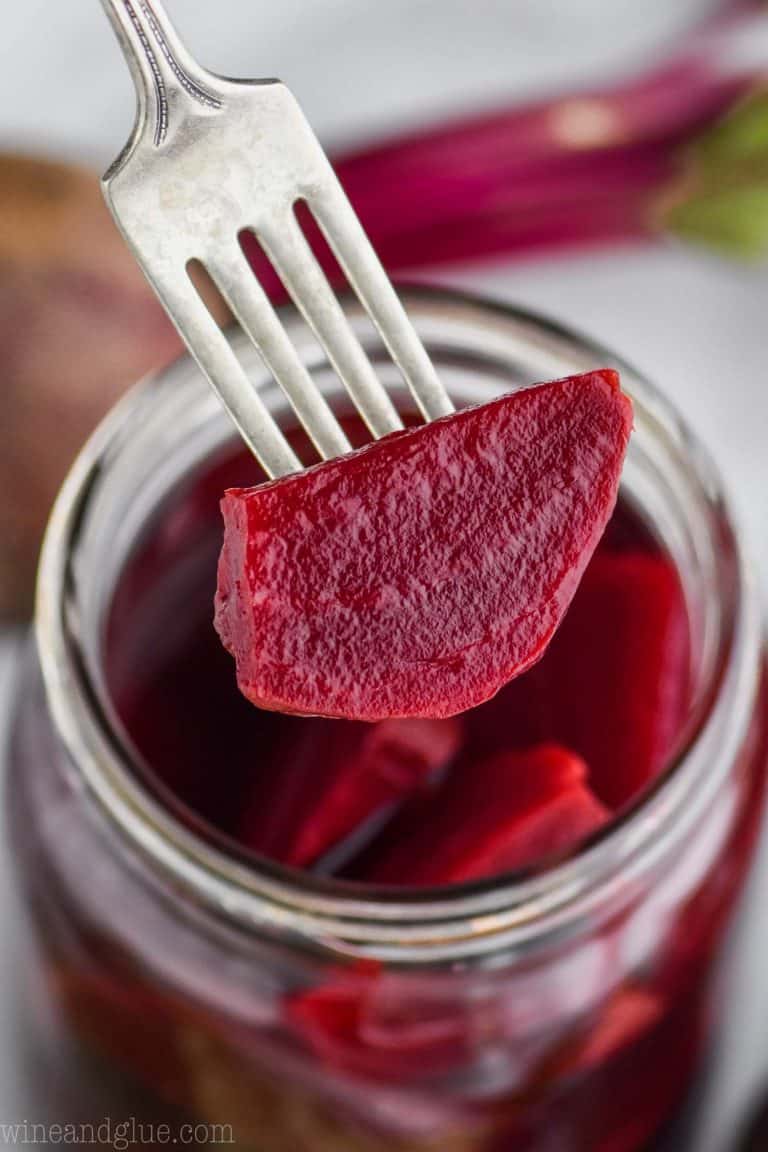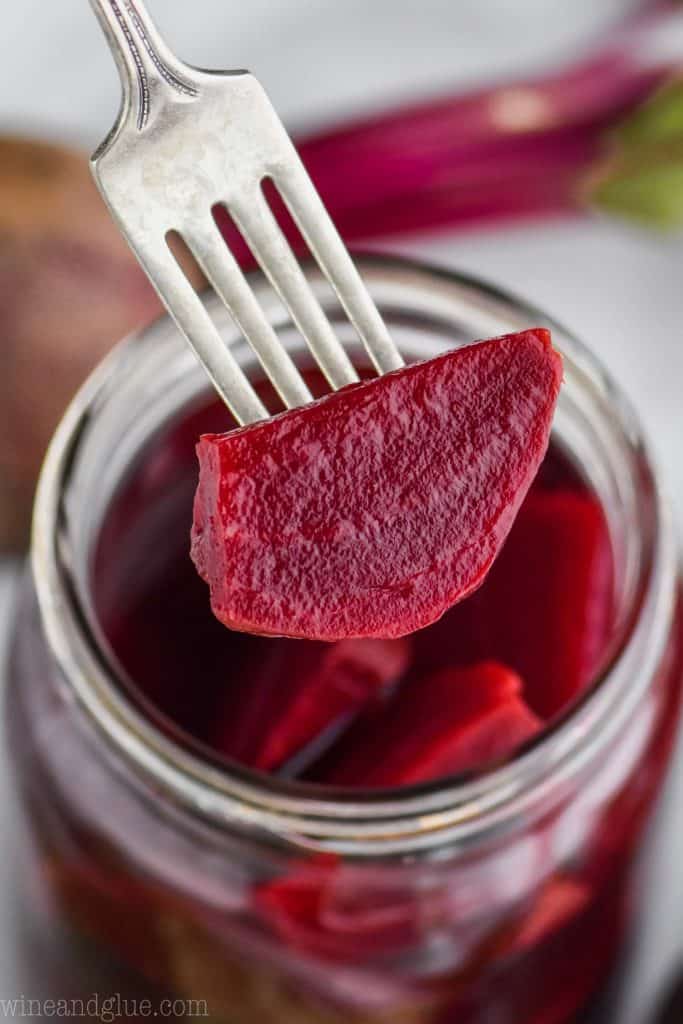 How to Serve Pickled Beets
There are a number of great ways to use pickled beets, but I like to think of them as a condiment and then get imaginative.
My favorite way to use them is in salads. They would be an amazing addition to this easy arugula salad.
Another great idea is for a charcuterie board. They would be great in a little bowl with some tooth picks next to it, much in the same way that you would put pickles or olives in a bowl on a charcuterie board.
Throw them on your sandwich. These would be fantastic on a hummus sandwich (or an edamame hummus sandwich) with some sprouts, cucumbers and tomatoes.
Really get out there. In my research I heard about one person eating Pickled Beets and Peanut Butter Sandwich. I'm not going to lie, I kind of want to try that now!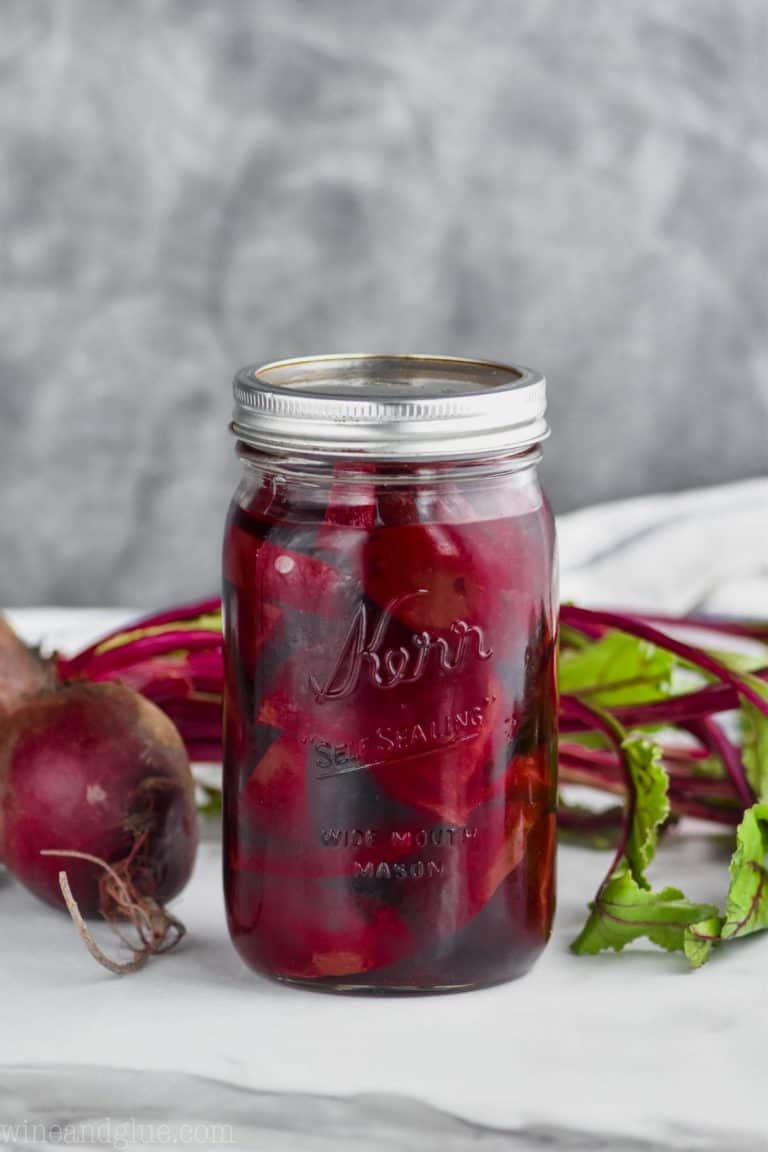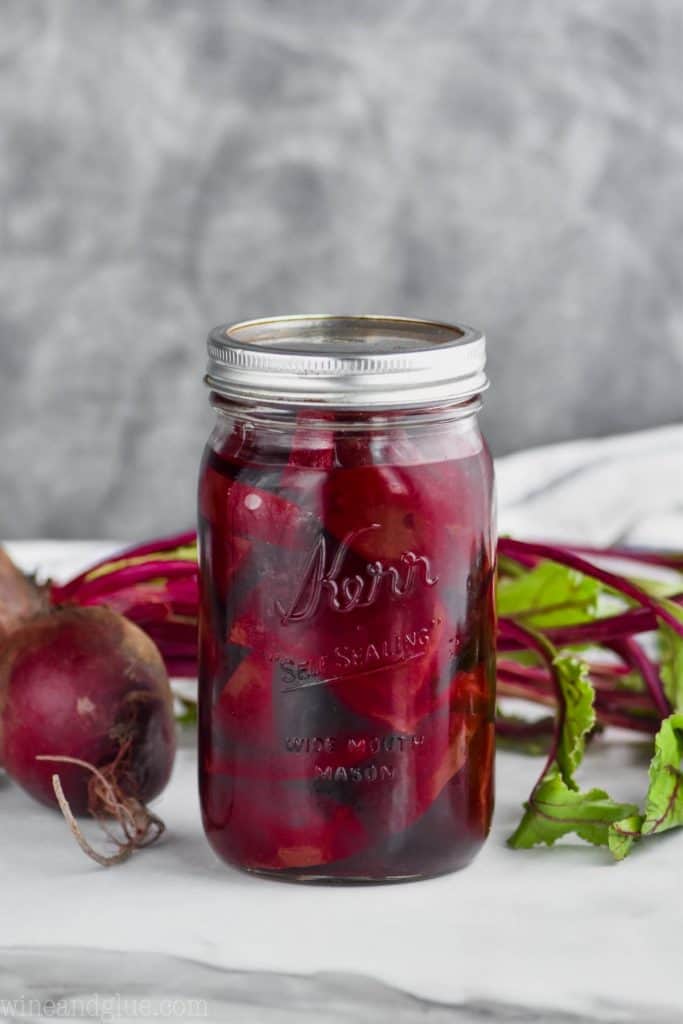 Are Pickled Beets Good for You?
Because I'm not a nutritionist, I really struggle with the notion that I can tell you what is good for you and what isn't. That said, there are a few things about beets I've learned:
Beets are low in calories.
They are high in vitamins and minerals.
Beets are a great source of fiber.
Given that all we are doing when we pickle them is adding a tiny bit of salt, sugar, and then some vinegar, I feel great about adding refrigerator pickled beets to everything.
FAQ
How do you roast beets?
You can find my instructions for roasting beets here: How to Roast Beets.
Can this recipe be canned?
As mentioned above, I don't have enough canning experience to tell you how to make these shelf stable. They will, however, be good in your refrigerator for 1 to 3 months. If you would like to can them, this is the resource I always share with people: USDA guide to canning.
Can I use stevia instead of sugar?
I'm sorry, I've only tested this recipe with sugar. That being said, I'm sure you can, you might just want to use less. The point of the sugar is to cut the acid of the vinegar, so play with it until that has happened.
Can I use canned beets?
You can! They are roasted before they are canned, so it is the same as roasting your own. Though I suggest you attempt to roast your own sometime, it really is easy. Make sure that you bought canned beets that only have beets as the ingredient.
Can I boil the beets?
Yes. This recipe will work just as well with boiled beets as it does with roasted beets. I do encourage you to roast instead of boil because it helps the beets retain more of their nutrients.
How long do homemade pickled beets keep?
This recipe will last in the refrigerator for 1 to 3 months.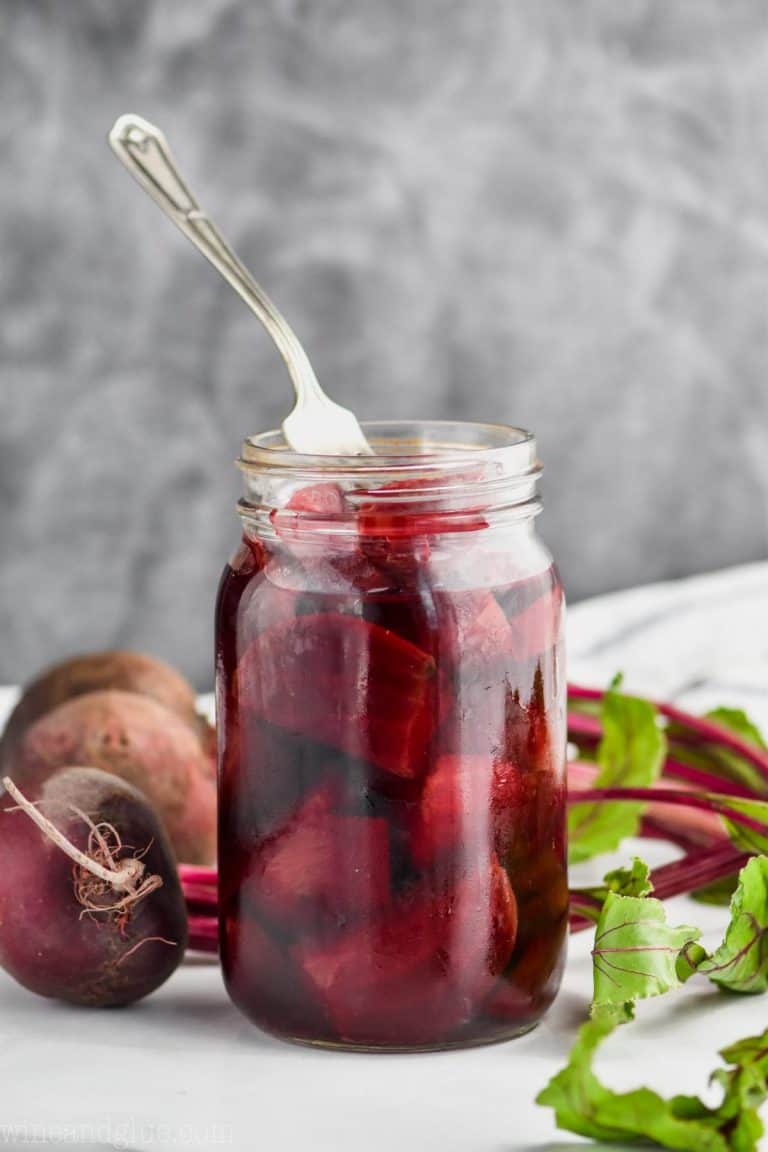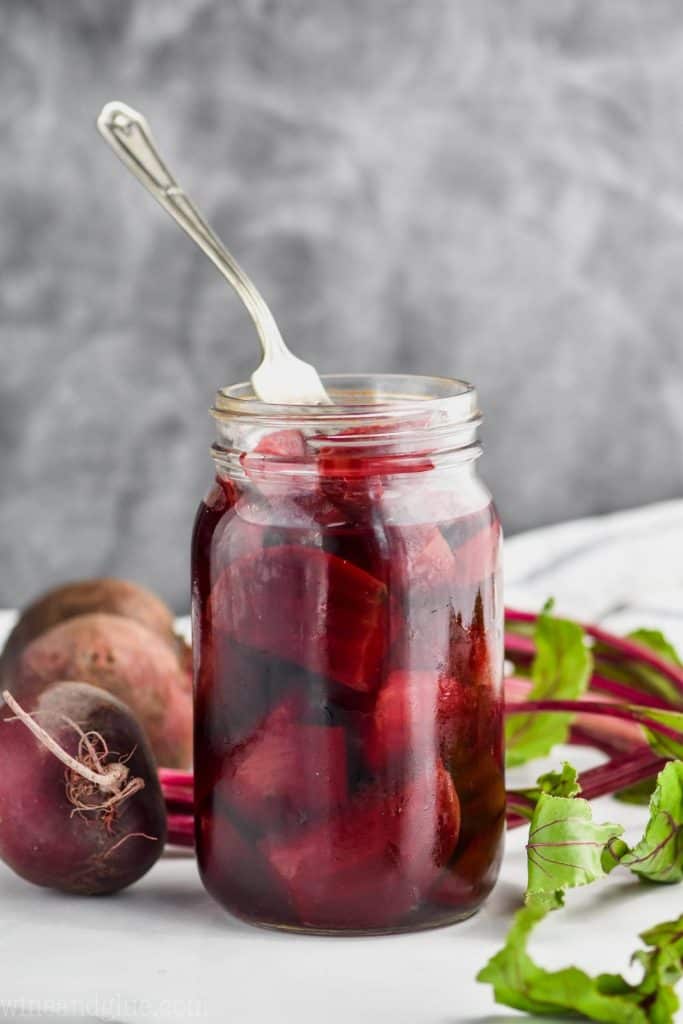 Other Pickled Recipes
If you make these refrigerator pickled beets or any of my other recipes please leave me a comment and let me know what you think!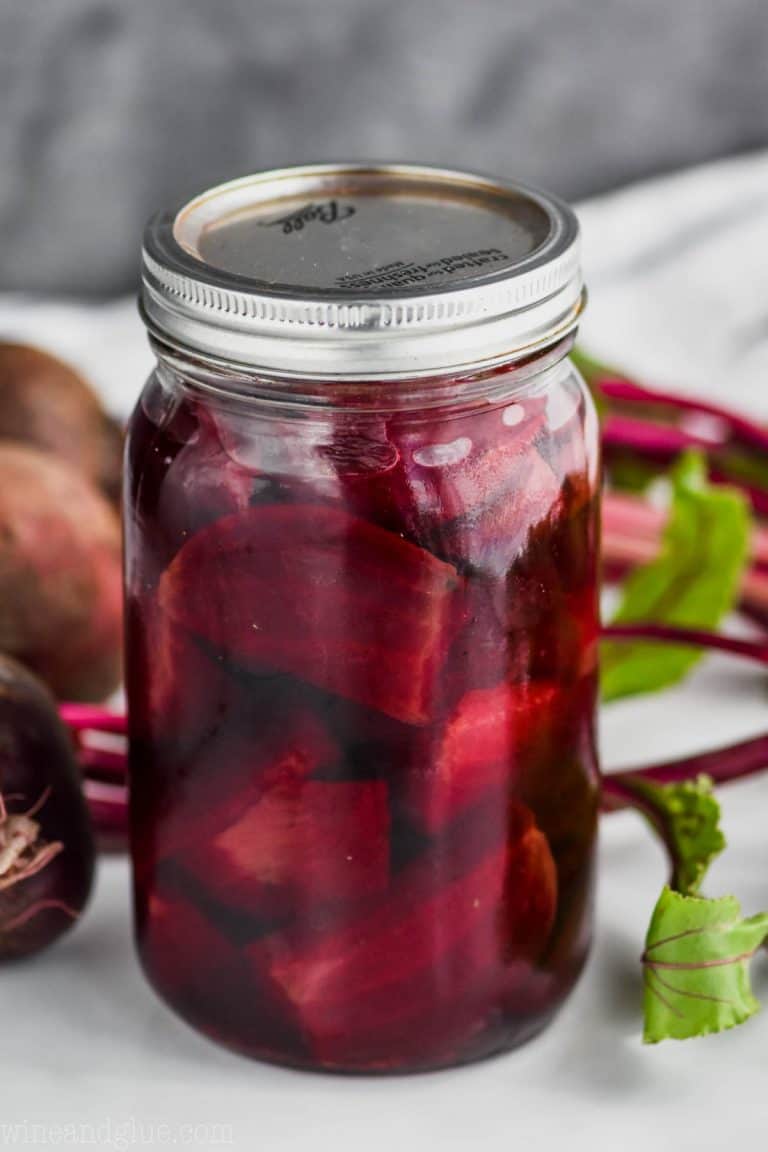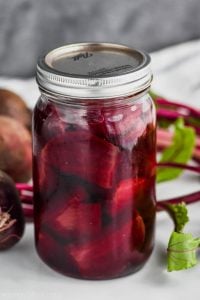 Pickled Beets
Pickled Beets are easy to make and delicious straight or on sandwiches and in salads. You won't believe how fast these are to make. 
Ingredients
1

pound

beets

oven roasted (see note)

3/4

cup

hot water

2

teaspoons

sugar

1

teaspoon

salt

1/2

cup

white vinegar
Instructions
Slice the roasted beets into bite sized pieces. Add to a mason jar.

Dissolve the salt and sugar in the hot water. Add the vinegar and stir to combine. Pour the liquid over the beets in the mason jar and seal.

Refrigerate for at least a half hour and enjoy!
Calories:
16
kcal
(1%)
Carbohydrates:
3
g
(1%)
Sodium:
307
mg
(13%)
Potassium:
76
mg
(2%)
Fiber:
1
g
(4%)
Sugar:
2
g
(2%)
Vitamin C:
1.7
mg
(2%)
Calcium:
10
mg
(1%)
Iron:
0.2
mg
(1%)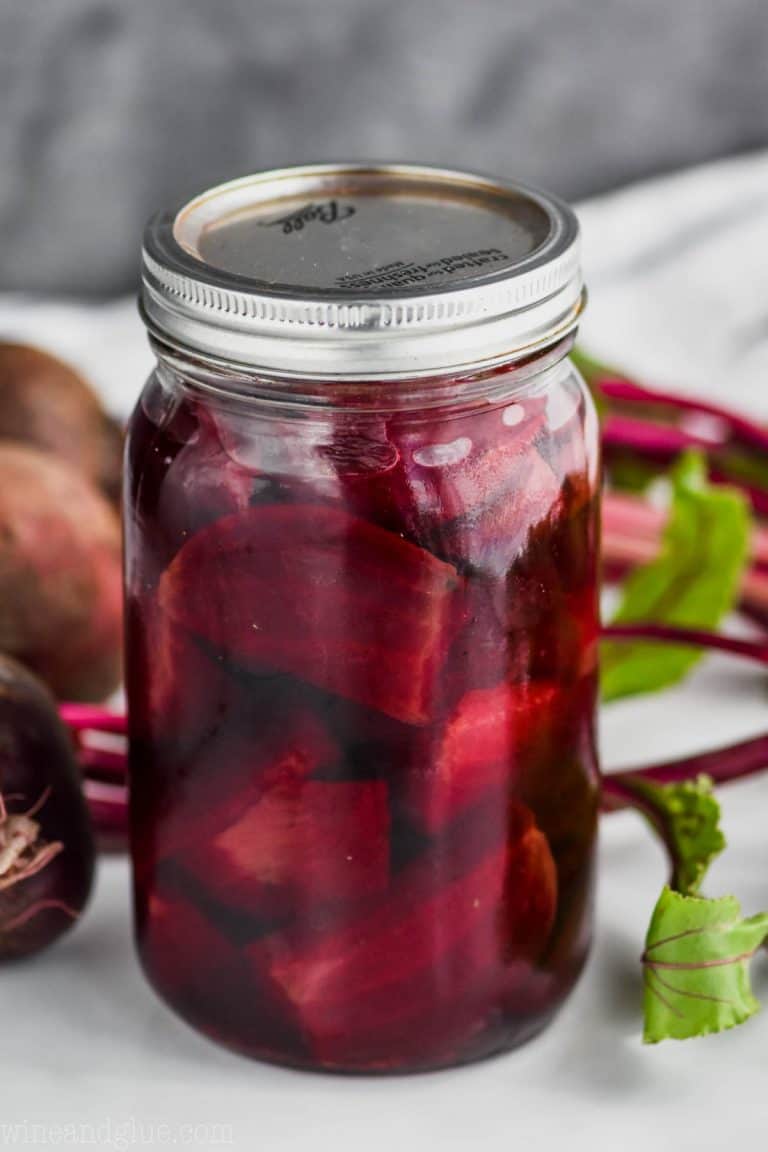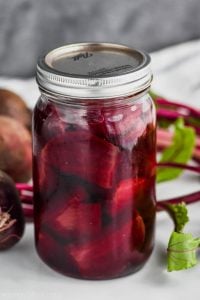 did you make this
Pickled Beets