The classic Shirley Temple drink from your childhood is so easy to make. This great non alcoholic drink is perfect for special occasions.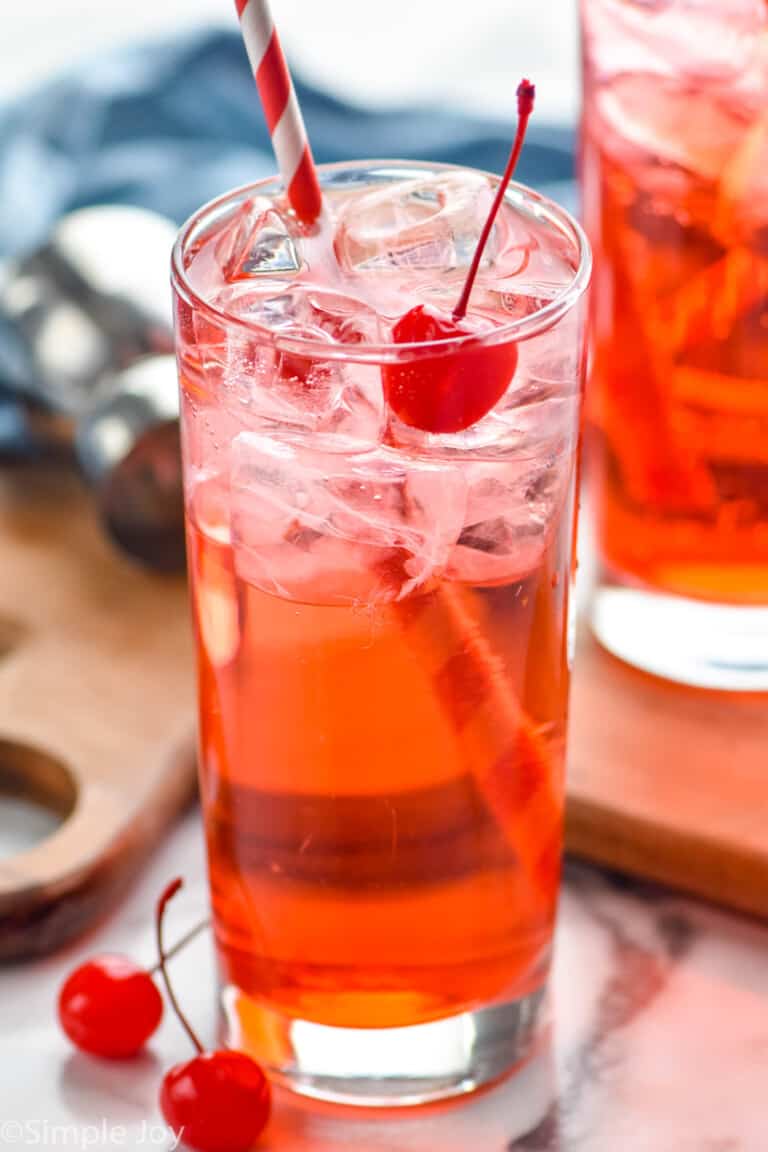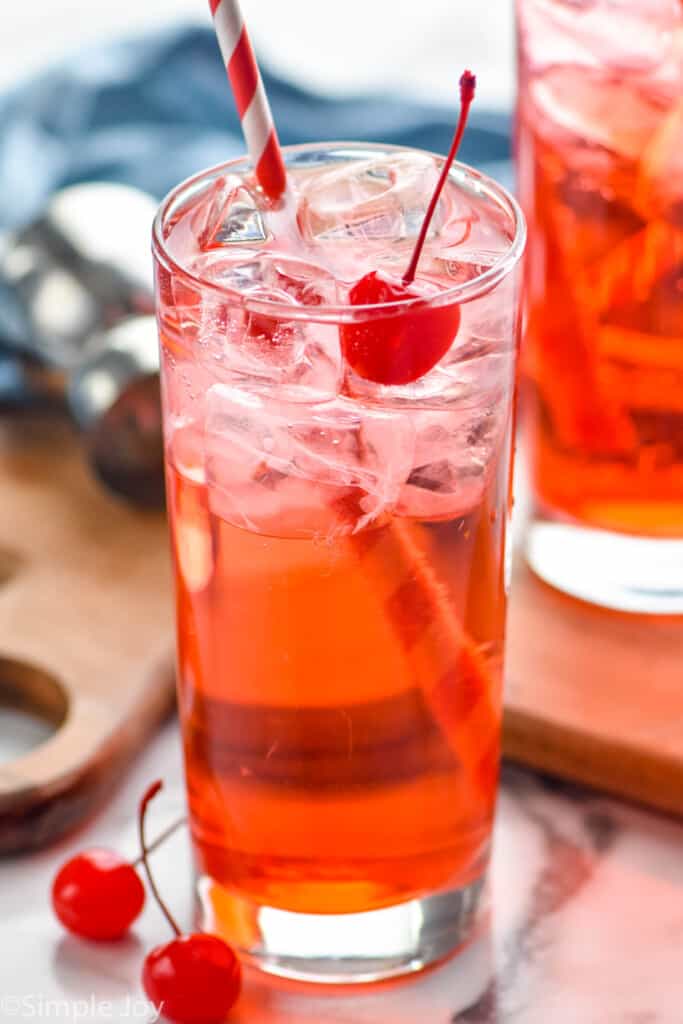 Beginning years ago, whenever our family goes on vacation, I bring a bottle of grenadine, some lemon lime soda, and a bottle of maraschino cherries. Getting to have Shirley Temples on vacation is one of my kids' favorite traditions. Isn't it great when something so simple can bring so much joy and great memories?
This would be a great drink to make for the kids for New Year's Eve. But it would also be perfect any time you are having a fancy dinner in or celebrating a special occasion. I even have some fun party snacks listed at the bottom of the post to go with this.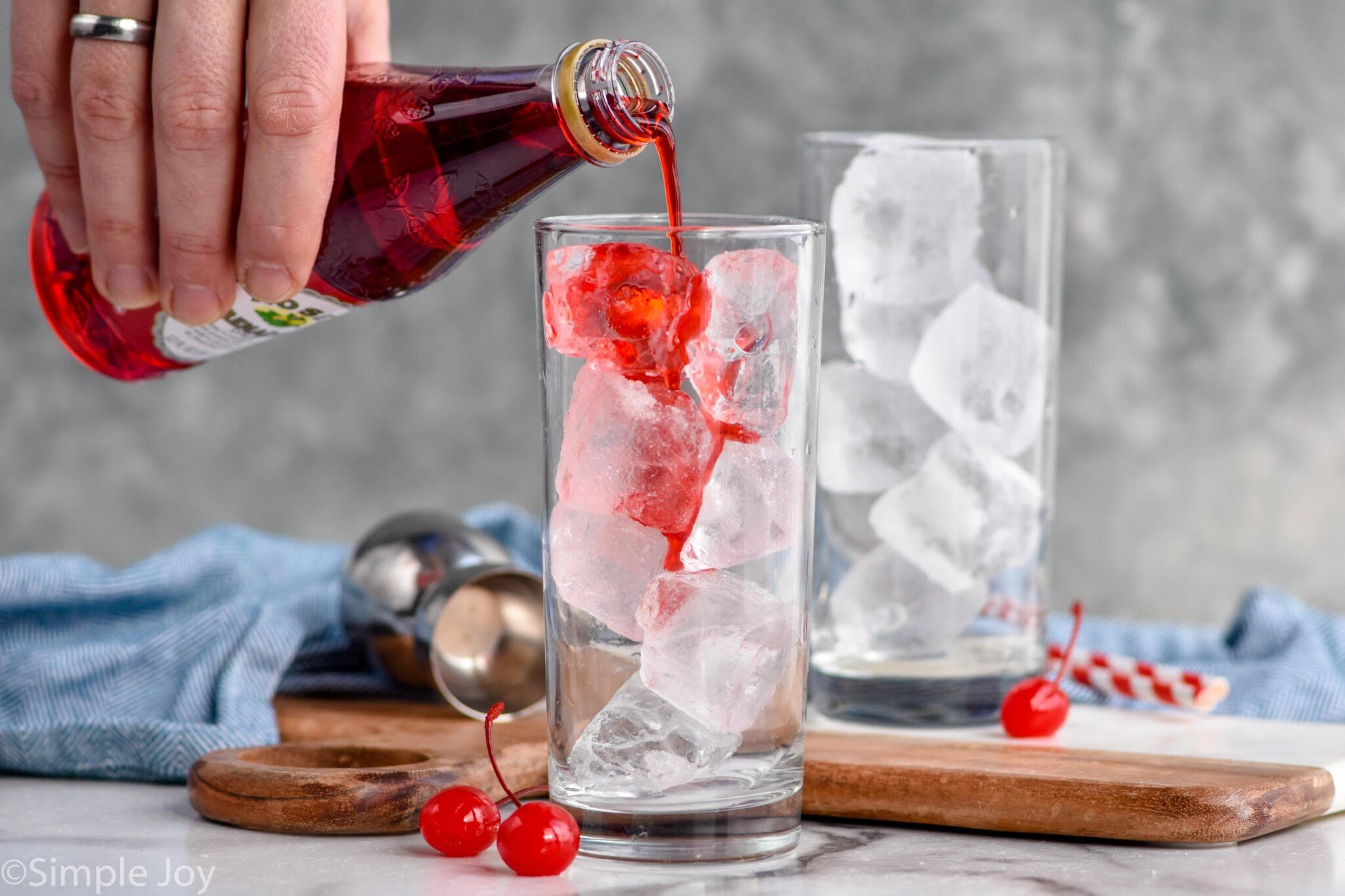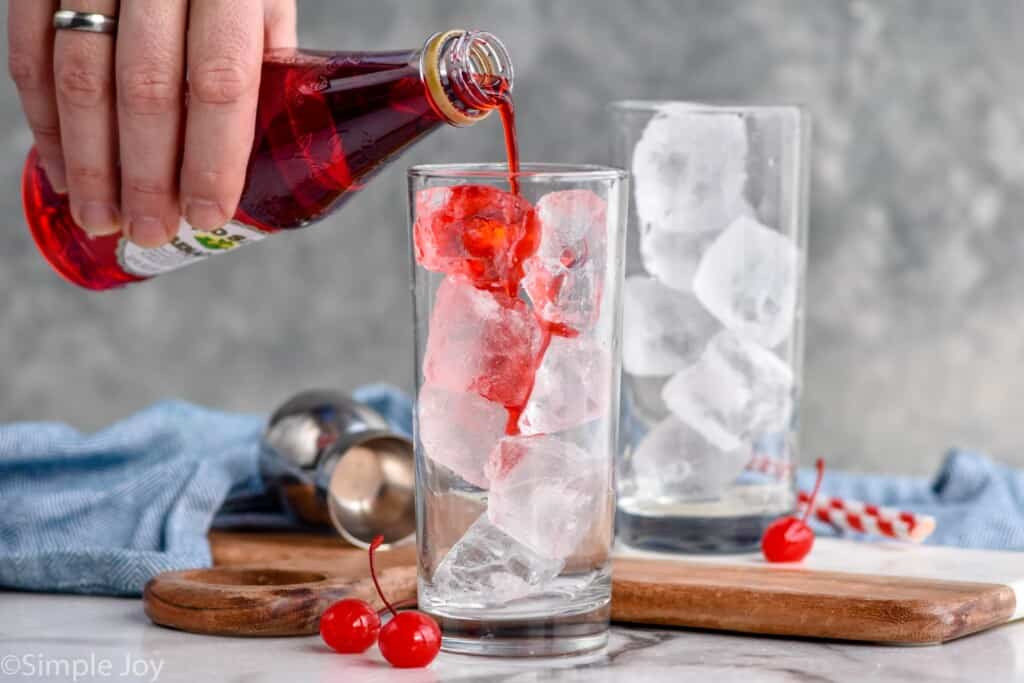 How to Make a Shirley Temple
This is just a brief overview of this recipe. For the full recipe with all of the measurements, please find the recipe card at the bottom of the post.
Fill a glass with ice. What you see here is a double. When I make the for the kids, we usually use small glasses.
Add in the grenadine. The perfect ratio of a Shirley Temple is 1 ounce of grenadine to four ounces of lemon lime soda or ginger ale.
Top with soda. As mentioned in the last step, you can use lemon lime soda (like sprite or 7UP) for this or you can use ginger ale.
Add in maraschino cherries. If you are like my kids you will require at least five.
Throw in a fun straw. My kids are crazy for these paper straws. In their minds, they are the ultimate way to make a drink fancy.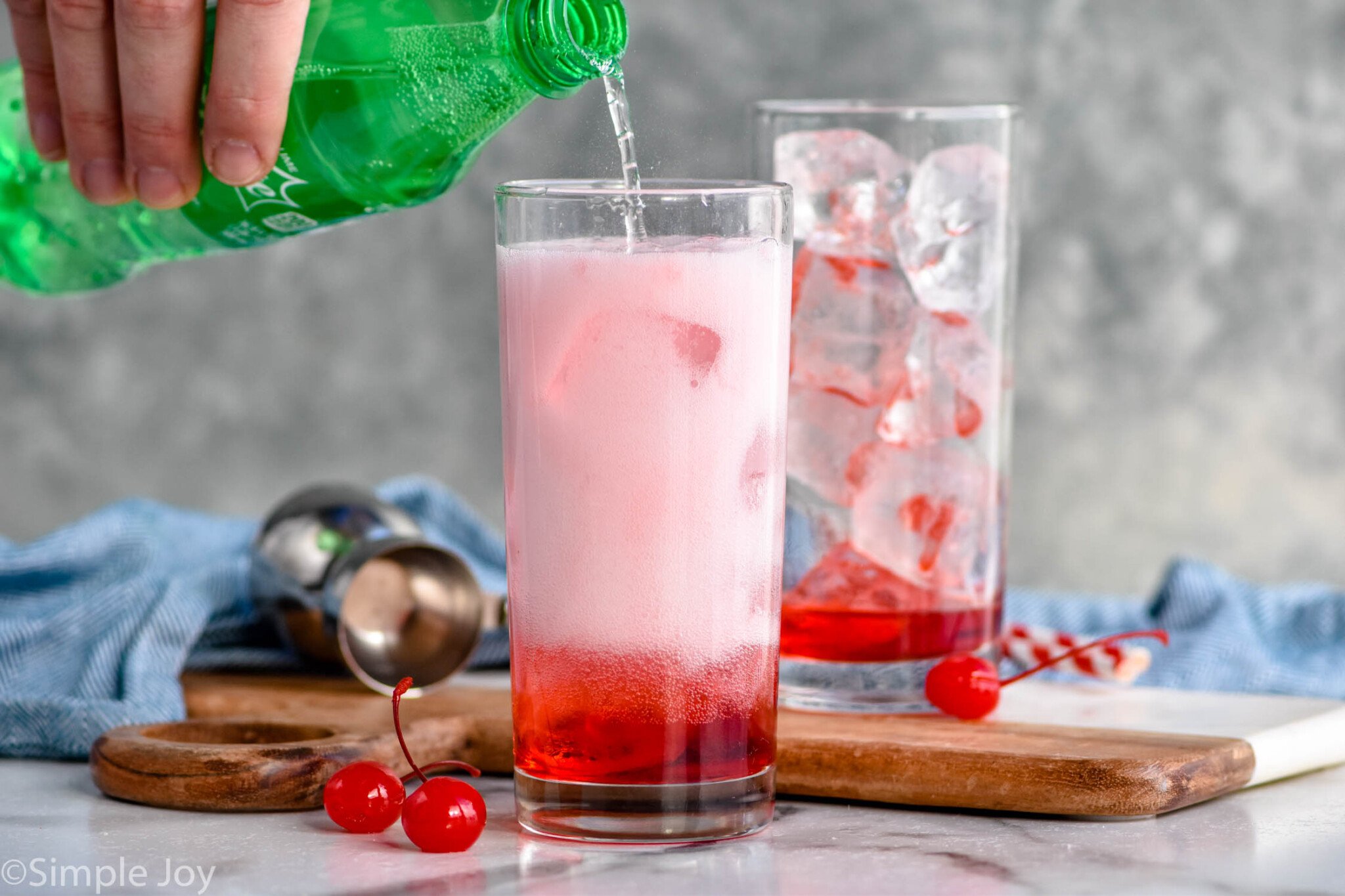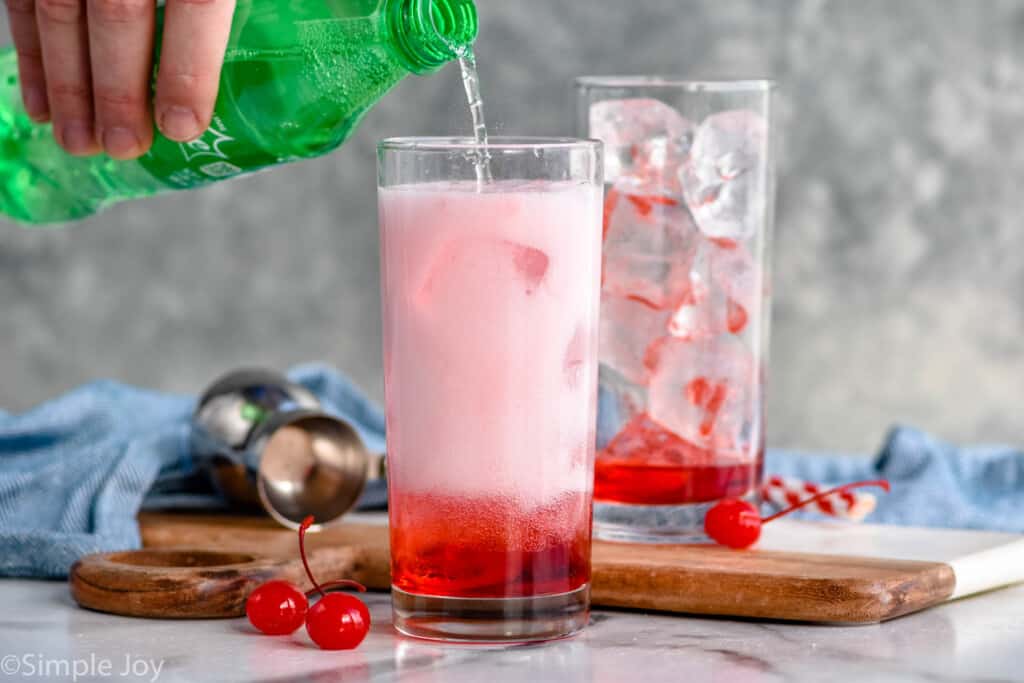 What is Grenadine?
Grenadine is a non alcoholic flavored simple syrup that you can purchase in the liquor department of any grocery store. Originally it was made with pomegranate juice. More modern iterations of grenadine do not have a pomegranate flavor and are often used in cherry drinks.
Making a Shirley Temple Drink without Grenadine
We have family members who are sensitive to Red 40, which is abundant in grenadine. We often try to avoid it or make a replacement. If you are in the same predicament, you might enjoy making a cherry simple syrup.
In a food processor or blender, puree 12 ounces frozen cherries (that have been thawed) and 1 cup water together so that the cherries are very fine.
In a saucepan over low heat, bring the mixture, an additional 1 cup of water, and 1 cup of sugar to a low boil, stirring consistently. Simmer until the sugar is completely dissolved.
Strain the mixture and allow to cool.
This homemade syrup can be stored in the refrigerator for up to 1 week. Or you can freeze it in 1 ounce servings so that you can make this Shirley Temple recipe whenever the mood strikes.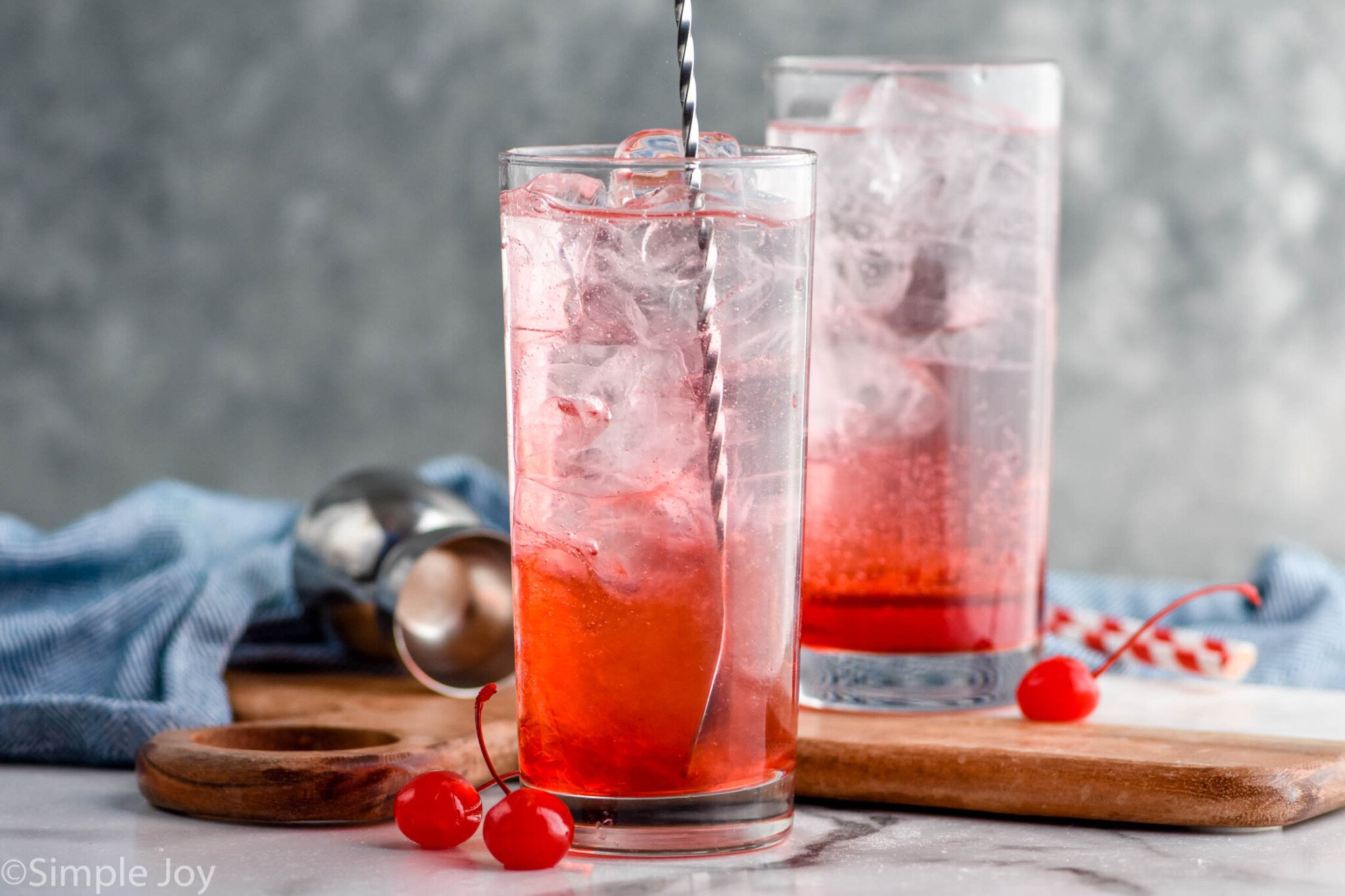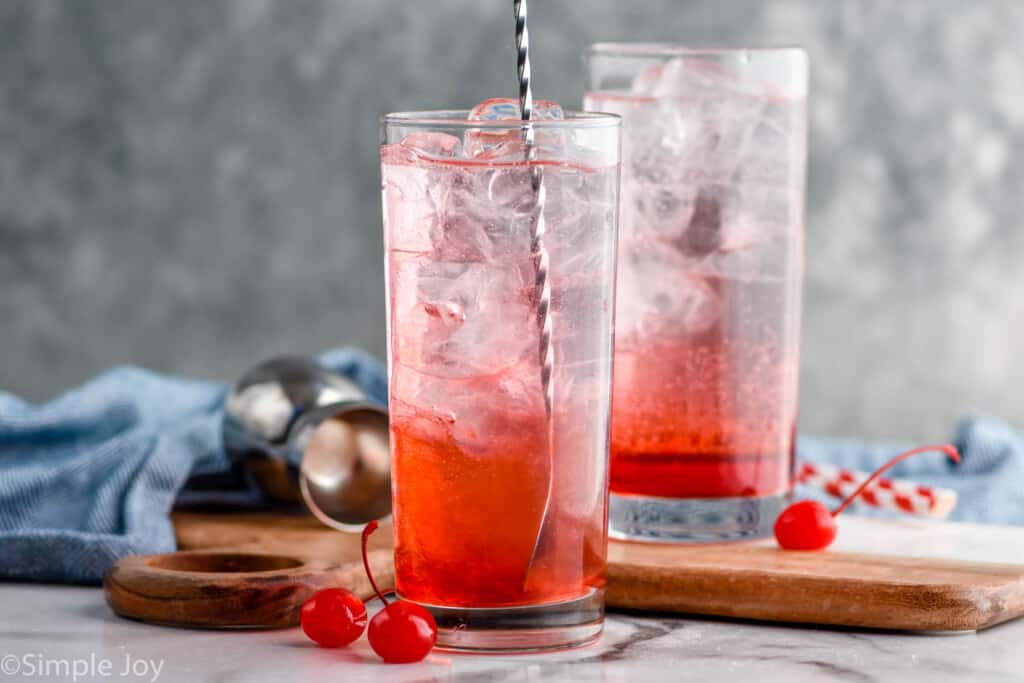 Dirty Shirley Temple
If you want to make this an adult drink, or a Dirty Shirley Temple, you need to just add a little vodka. Two ounces is the perfect amount for us, but you may want to start with one ounce, taste it and adjust.
Shirley Temple Black
Did you know that when Shirley Temple got married her new name became Shirley Temple Black? When that happened, there was a new drink named after her. The Shirley Temple Black is the regular Shirley Temple with 2 ounces of black rum added to it. Of all the Temples, this one is my favorite.
FAQ
What is a Shirley Temple?
The Shirley Temple drink is a fun non alcoholic beverage. Claims have been made that it was created to serve to Shirley Temple herself when she was a child. Shirley Temple is quoted as having said that not only did she not like the drink, she had nothing to do with it's creation.
What's in a Shirley Temple?
Traditionally it is made with ginger ale and grenadine. In more recent times the ginger ale has been replaced with lemon lime soda.
Does Shirley Temple have alcohol?
No, it does not. That being said, there are two variations on this drink that do contain alcohol, and they are listed above with instructions on how to make them.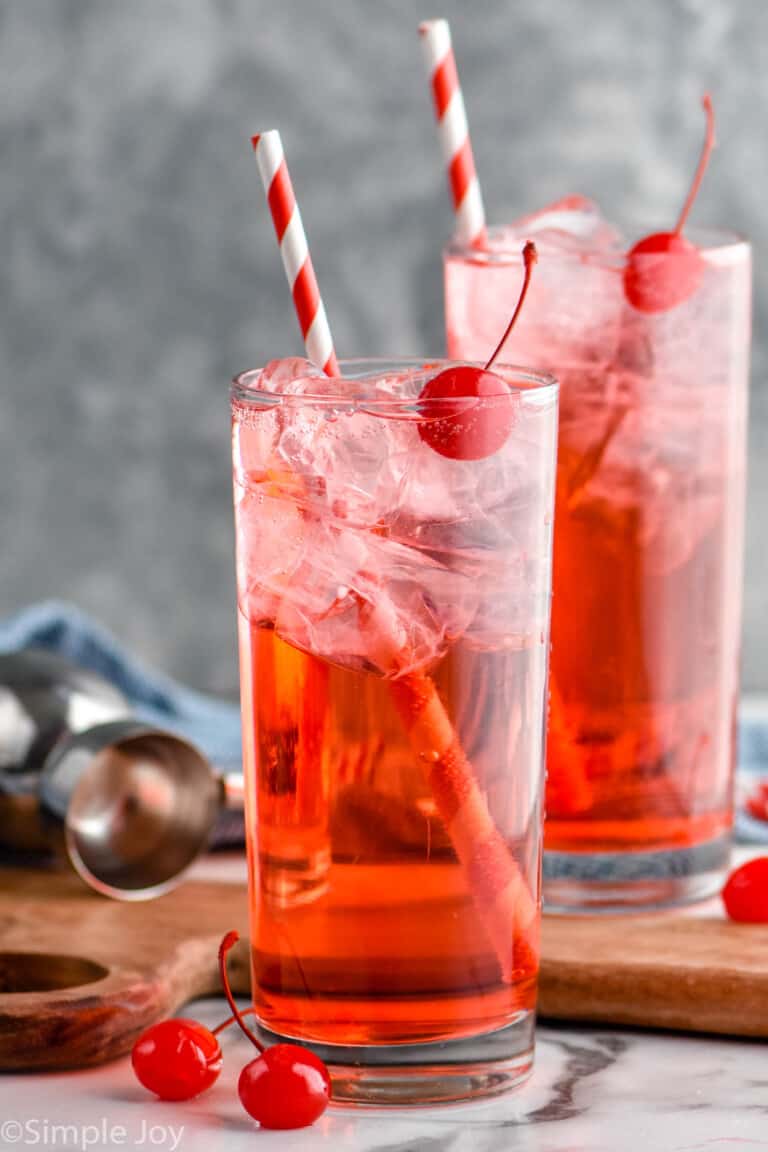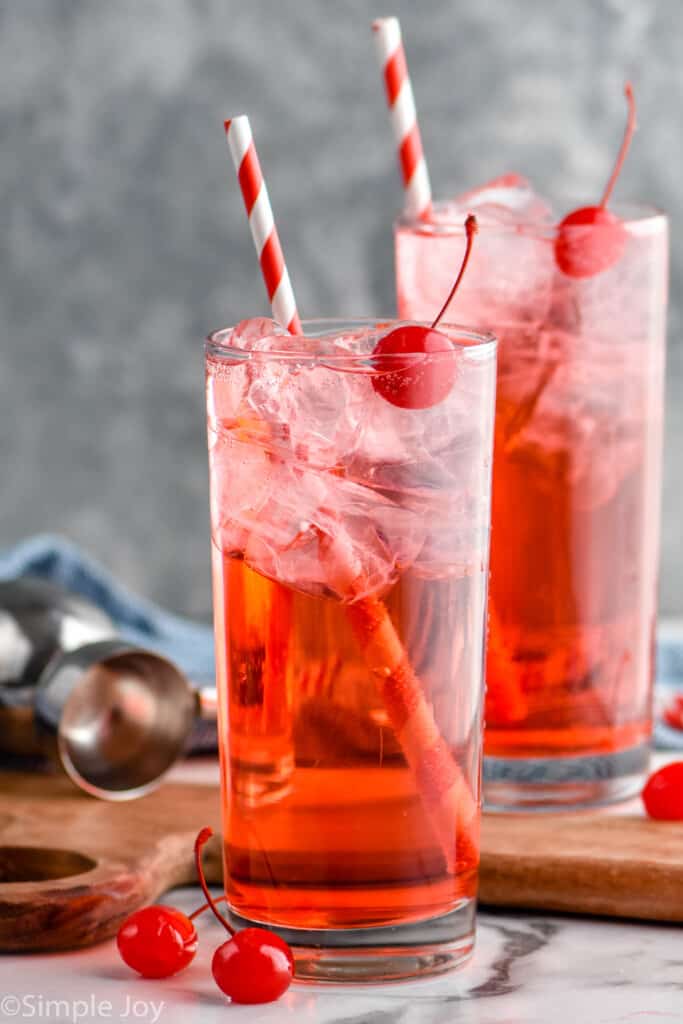 Fun Snacks to Serve Alongside
If you make this Shirley Temple recipe, or any of my other recipes, leave me a comment letting me know what you think!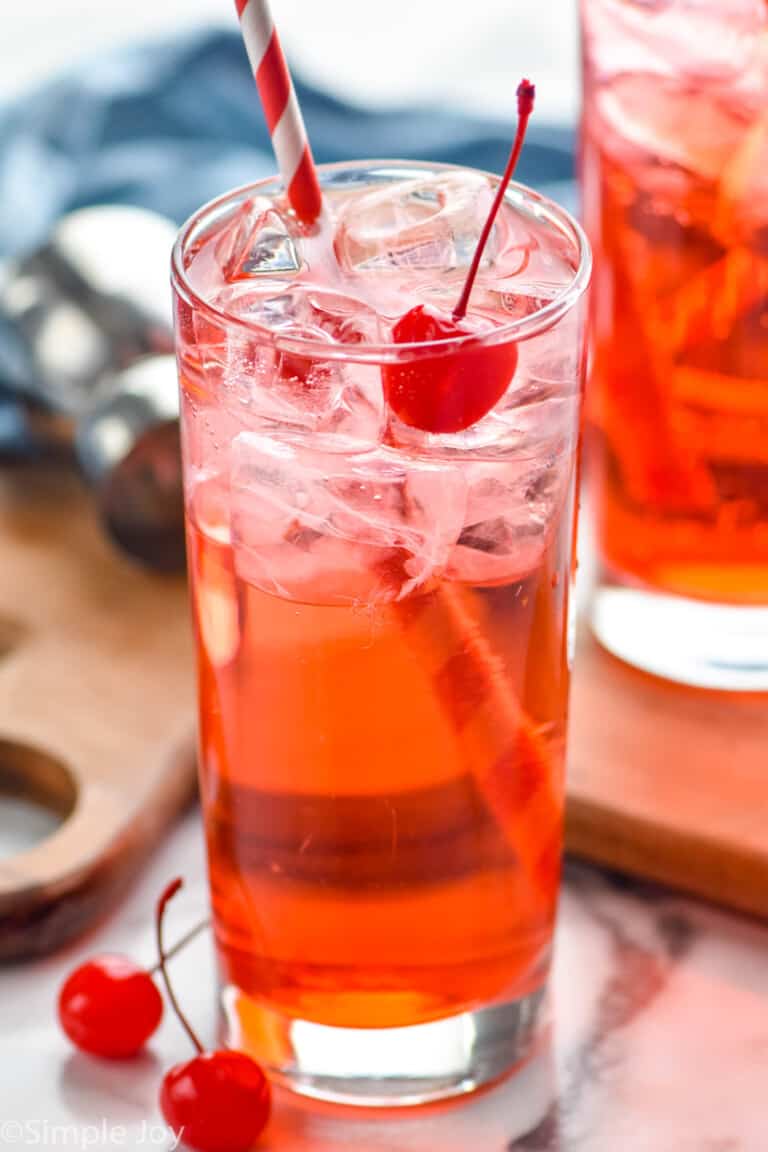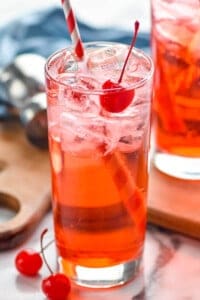 Shirley Temple
The classic Shirley Temple drink from your childhood is so easy to make. This great non alcoholic drink is perfect for special occasions.
Ingredients
1

ounce

grenadine

(read my notes in the post about replacing this with homemade cherry simple syrup)

4

ounces

ginger ale or lemon lime soda

(such as Sprite or 7UP)

maraschino cherries

for garnish
Instructions
Fill a tumbler with ice (what you see pictured is a double). Add in the grenadine and then the soda.

Stir gently to combine. Top with maraschino cherries and serve.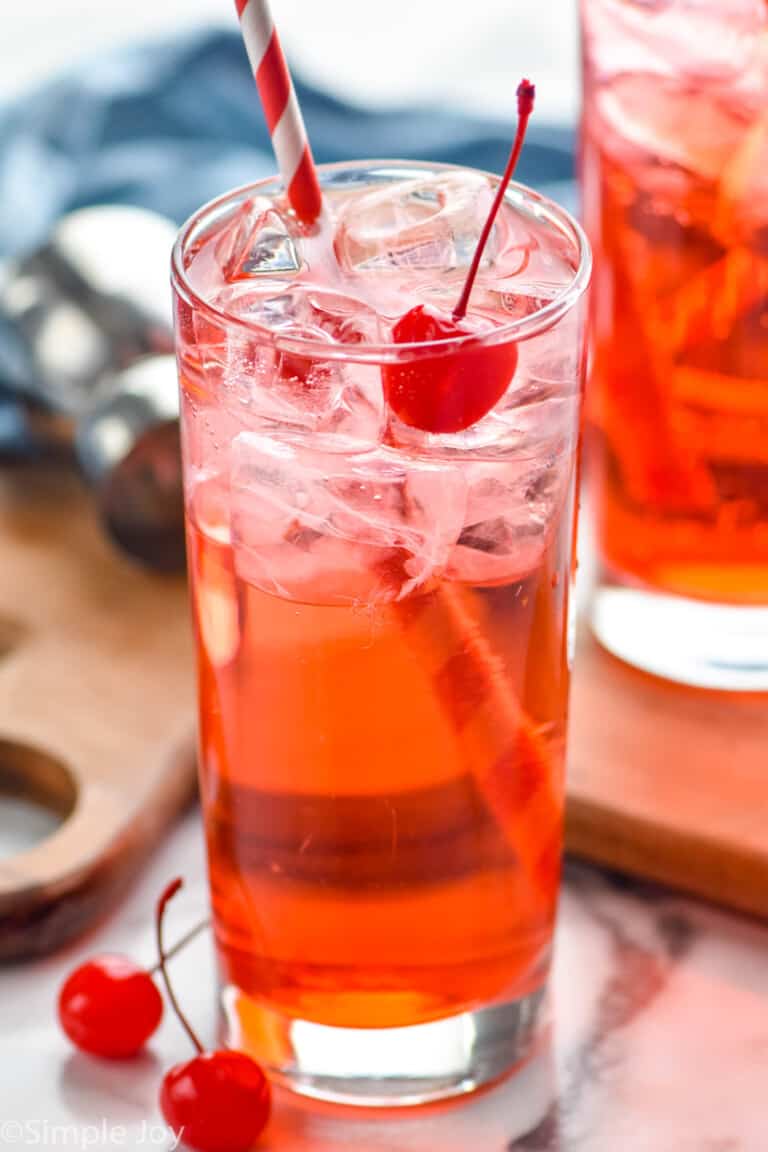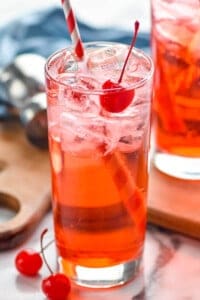 did you make this
Shirley Temple