This Shrimp Pasta Salad is the perfect easy weeknight dinner or fast side to bring to a barbecue or picnic! It comes together with easy to find ingredients and the most delicious sauce!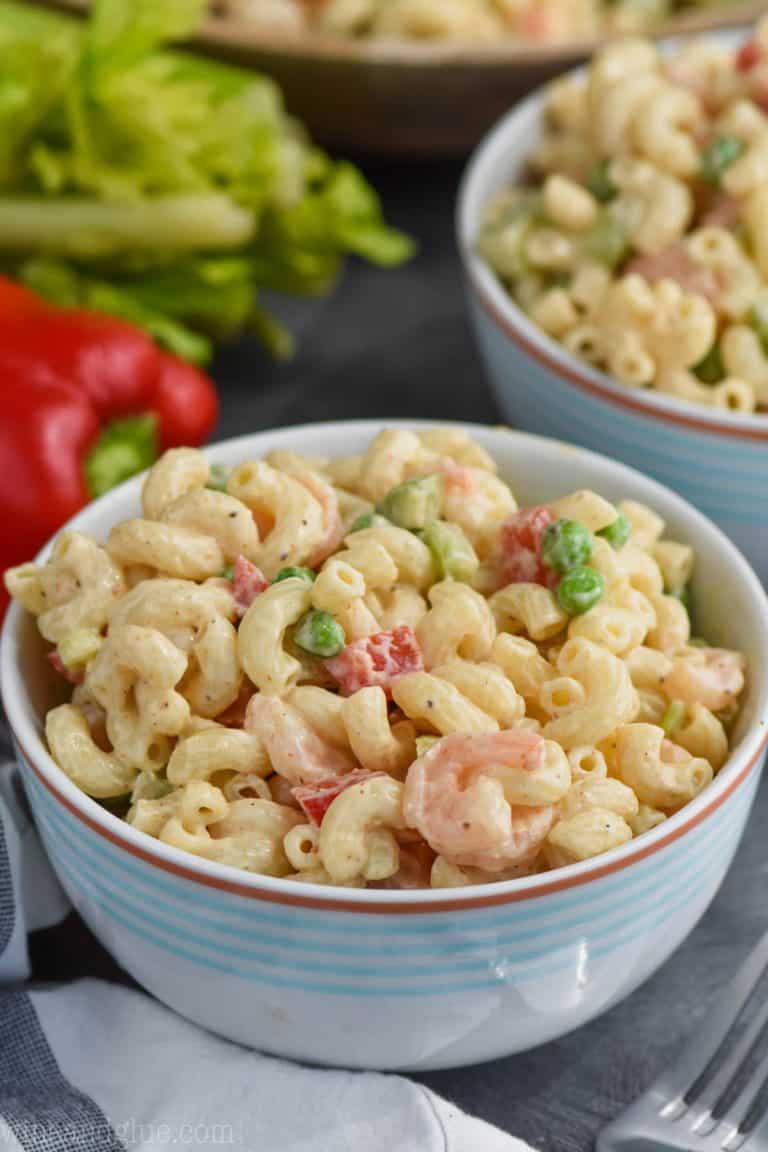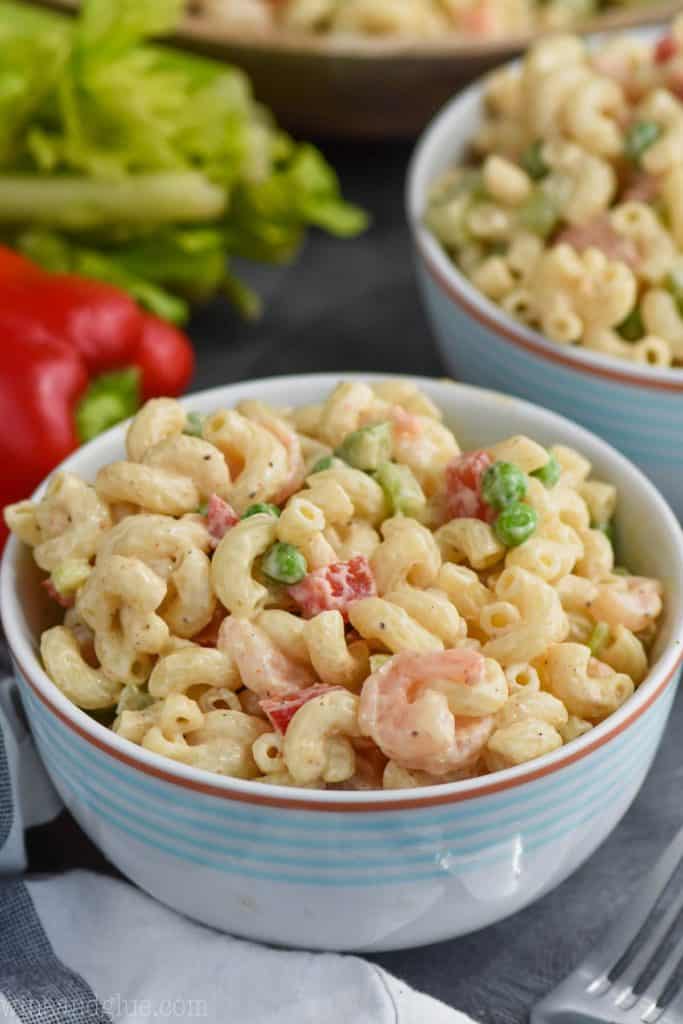 Ever since I first published my mom's Crab Pasta Salad, I have been inundated with two questions:
Imitation Crab is horrible. I would never use that. Can I use shrimp?? (<—– It does typically come loaded with the judgement.)
I can't find Spike seasoning ANYWHERE! What can I use in it's place??
Well my good friends, I am here to tell you that I have answered these two questions with this cold Shrimp Pasta Salad!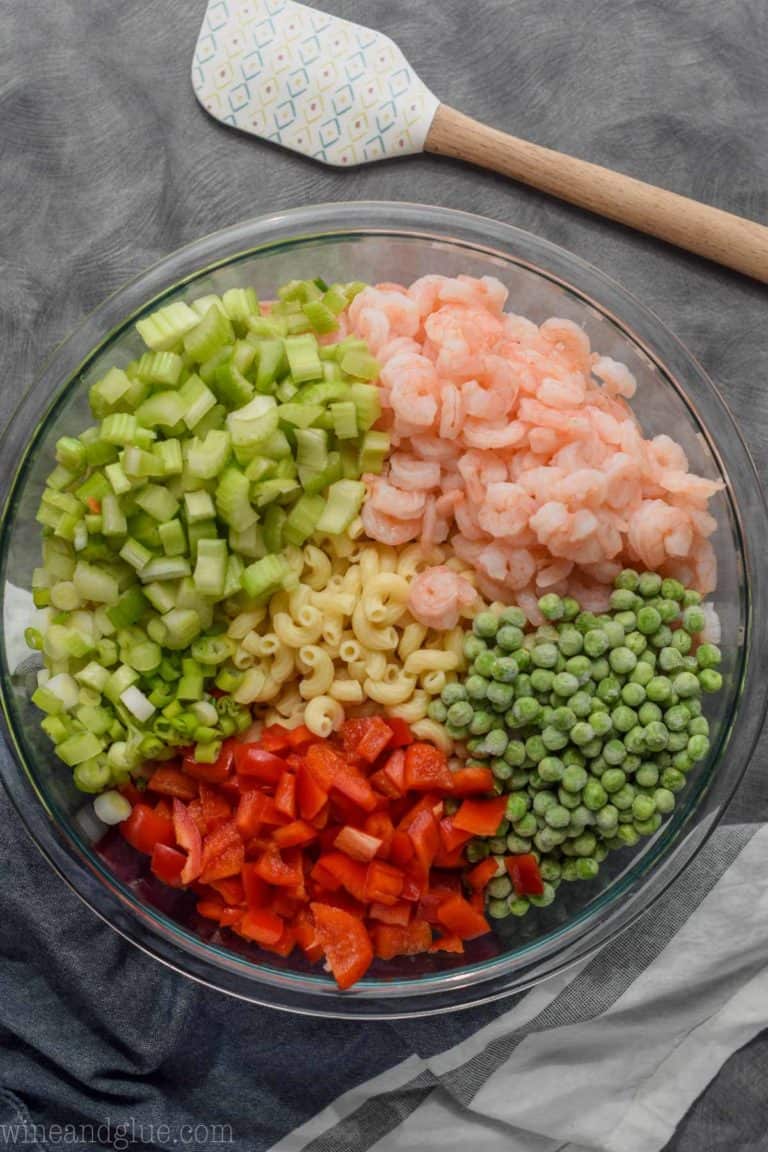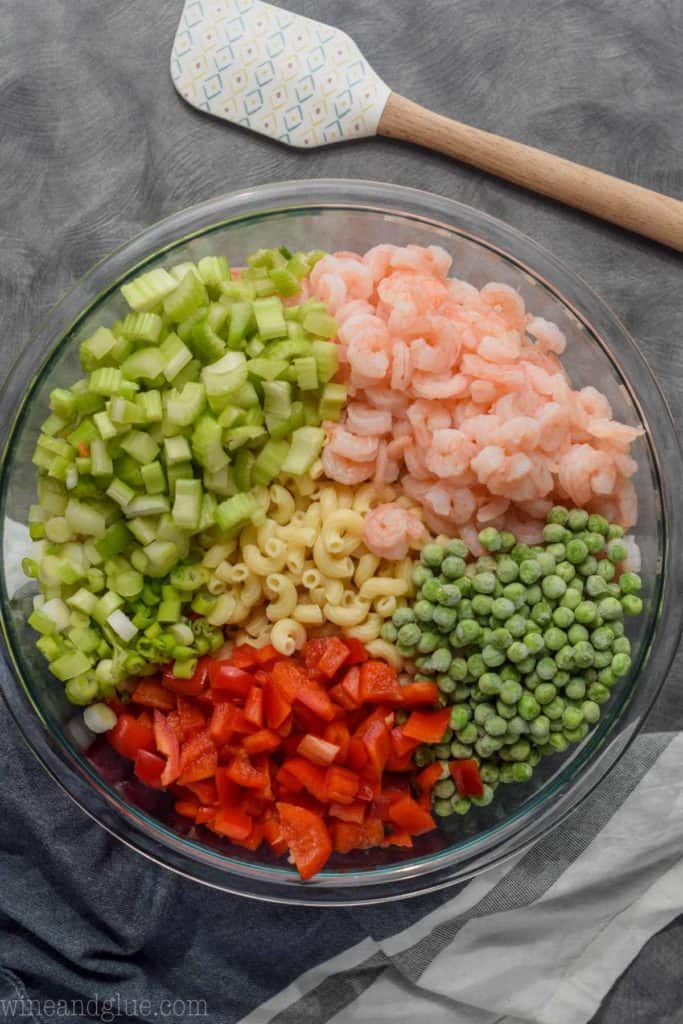 What is in the Best Shrimp Pasta Salad
So, I stand by using imitation crab in the other pasta salad (It's delicious, yo!). But for those of you who just can't, pass on the lump crab meat. It won't hold up great in a pasta salad. Instead make this! It's made with little baby shrimp that are just perfect for a pasta salad
The other pasta salad got a lot of complainers when it came to the olives. So if olives aren't your jam, make this! It takes out the olives and subs in green peas. They are a great substitute. They add color and flavor and hold up great in this salad.
The rest of the veggies are rounded out with red peppers, celery, and green onions. But if any of those things don't jive in your house, feel free to swap them out for more of the veggies that work for your crew. We are all about flexibility here at Simple Joy. ????
Finally, we have a great dressing made with Old Bay Seasoning which replaces the ever hard to find Spike.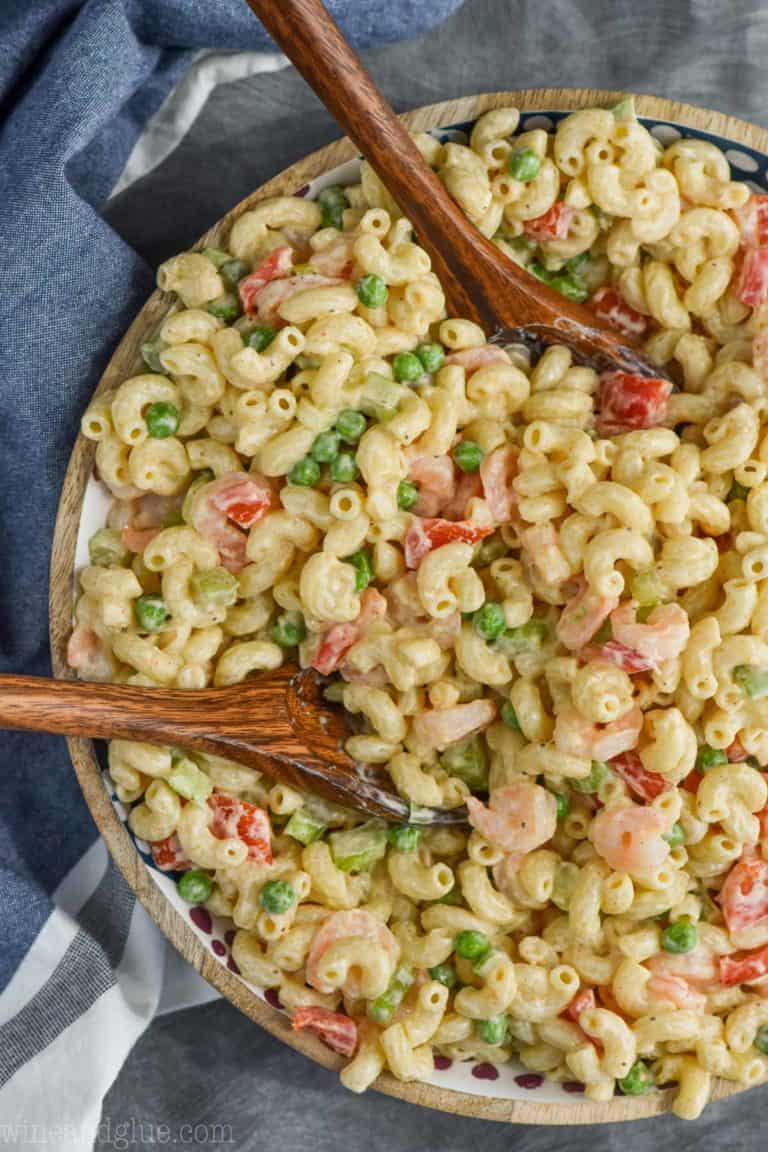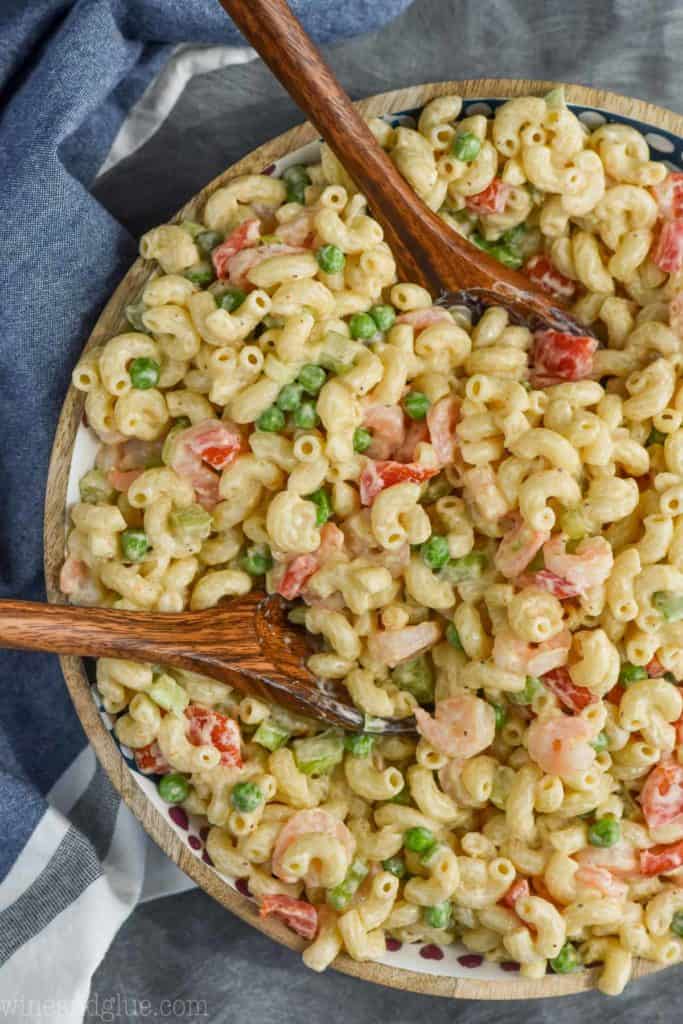 Look, I'm not going to say that this delicious pasta salad was made for all the people who took major issue with my favorite family recipe . . . . but I'm also not going to say that isn't what happened.
On a different note, when I decided to be a food blogger, I seriously had no idea how heated people could get about food. I should have realized though! Food is the source of so much emotion. It's one of the reasons I love that Crab Pasta Salad recipe so much! Just the taste of it brings me back to my mom's kitchen and that is priceless. That said, I could do without some of the arguing on my Facebook page when I name a recipe something that doesn't work for people. We are currently embroiled in a Philly Cheesesteak Slider debate that I don't even want to go into.
Anyway!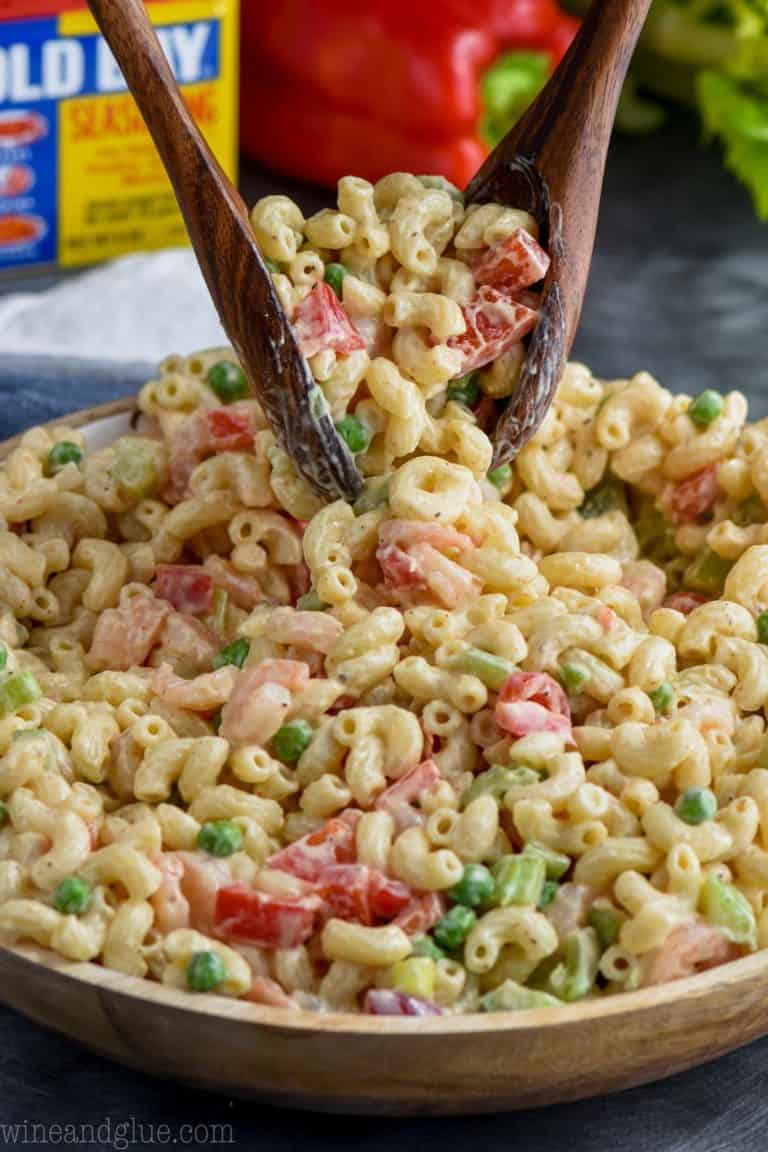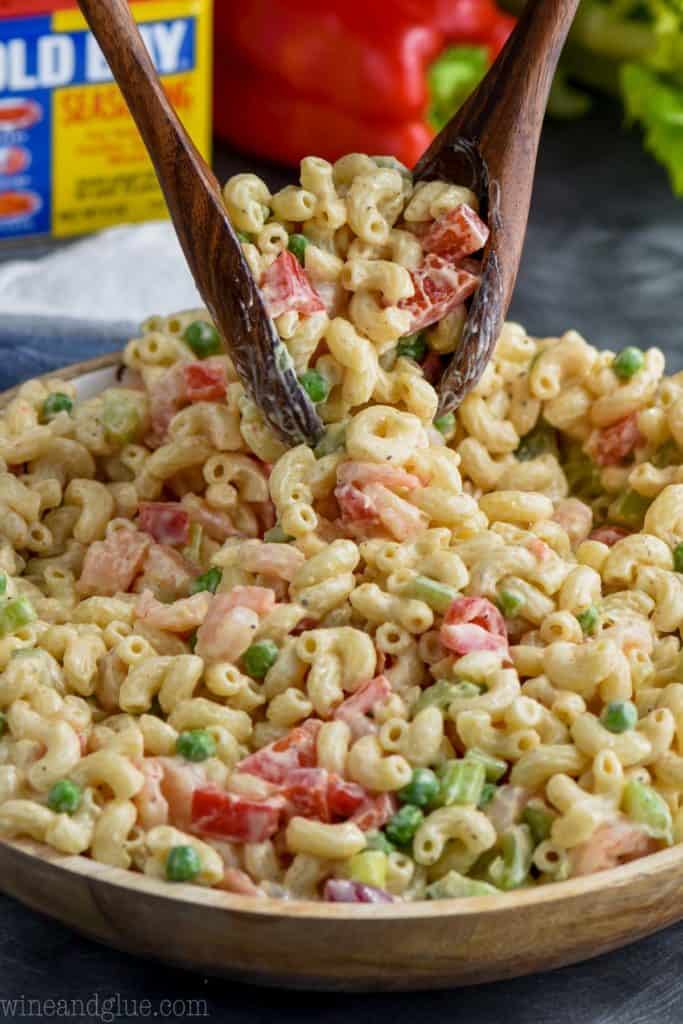 This pasta salad with shrimp definitely gets the job done. I think your family will love the flavors going on and you will love how easy it is!
How to Make This Cold Shrimp Pasta Salad Recipe
Bring a big pot of water to a boil, once at a roaring boil, toss in some elbow macaroni and some salt and cook according to package instructions. When finished, drain immediately, and rinse under cold water to stop the cooking process.
While the noodles are boiling, chop up your veggies.
Mix together your dressing. NOTE: Do not use Greek yogurt as it will really dry out the pasta.
Finally, mix everything together. Serve immediately, cold; or let it sit in the refrigerator for up to 48 hours before serving.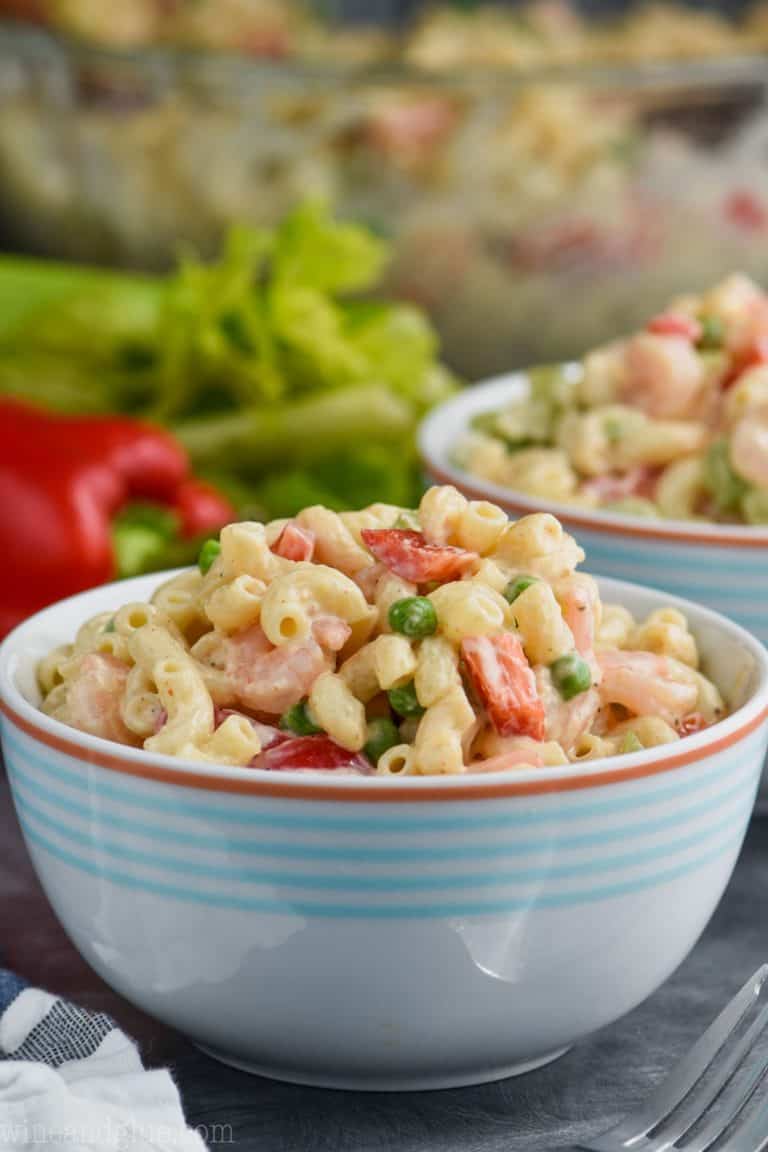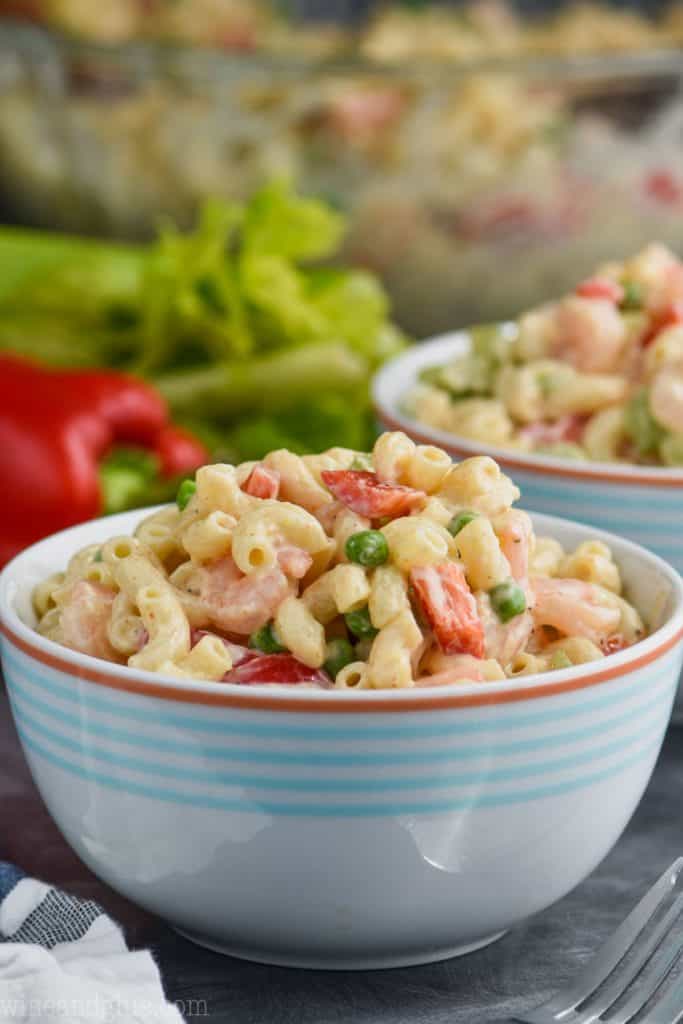 Other Great Recipes to Bring to a Picnic
If you are looking for other great sides and appetizers to bring with you to a picnic, may I suggest: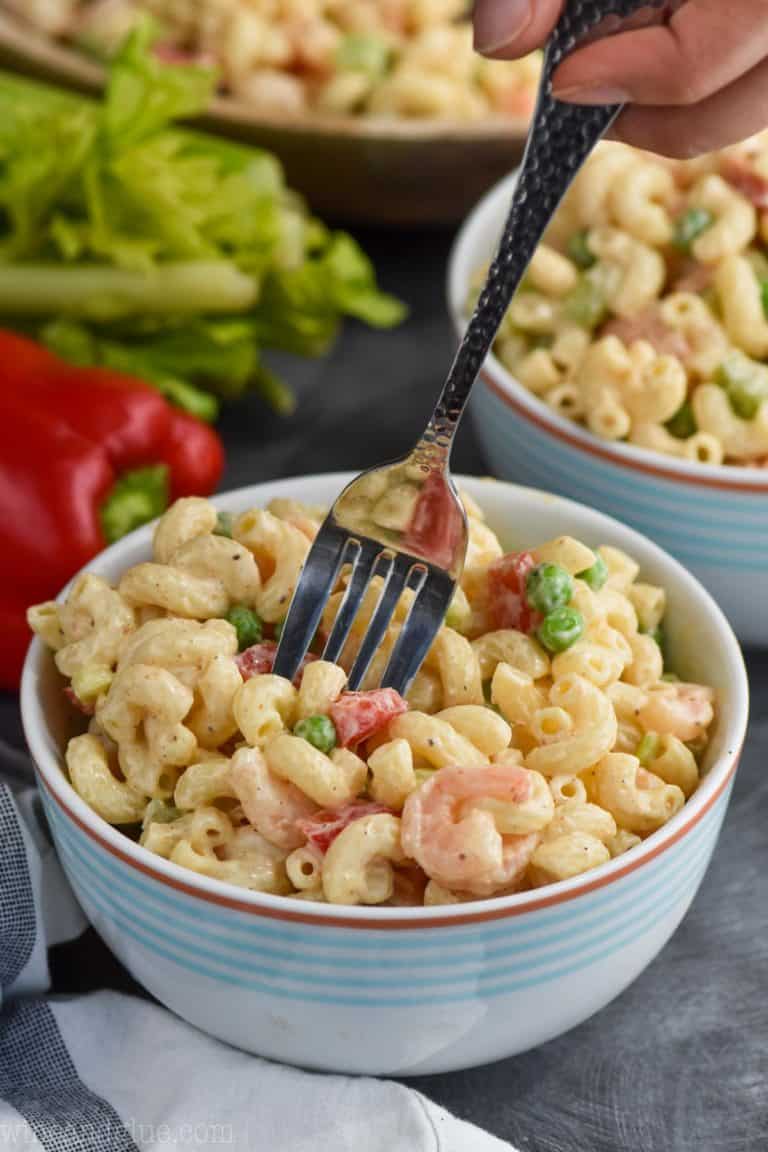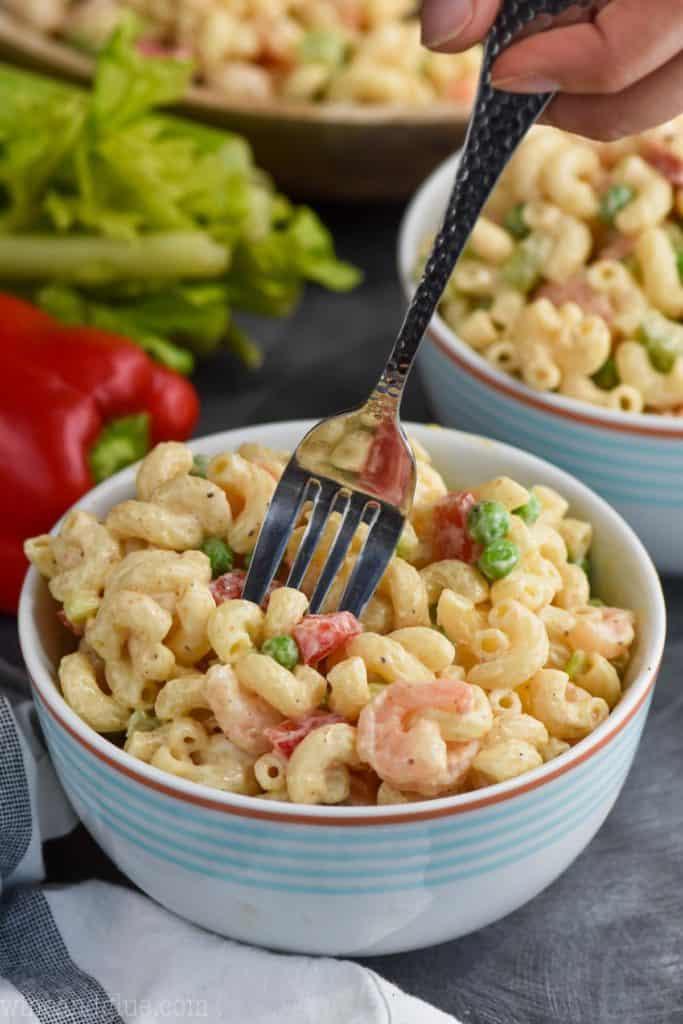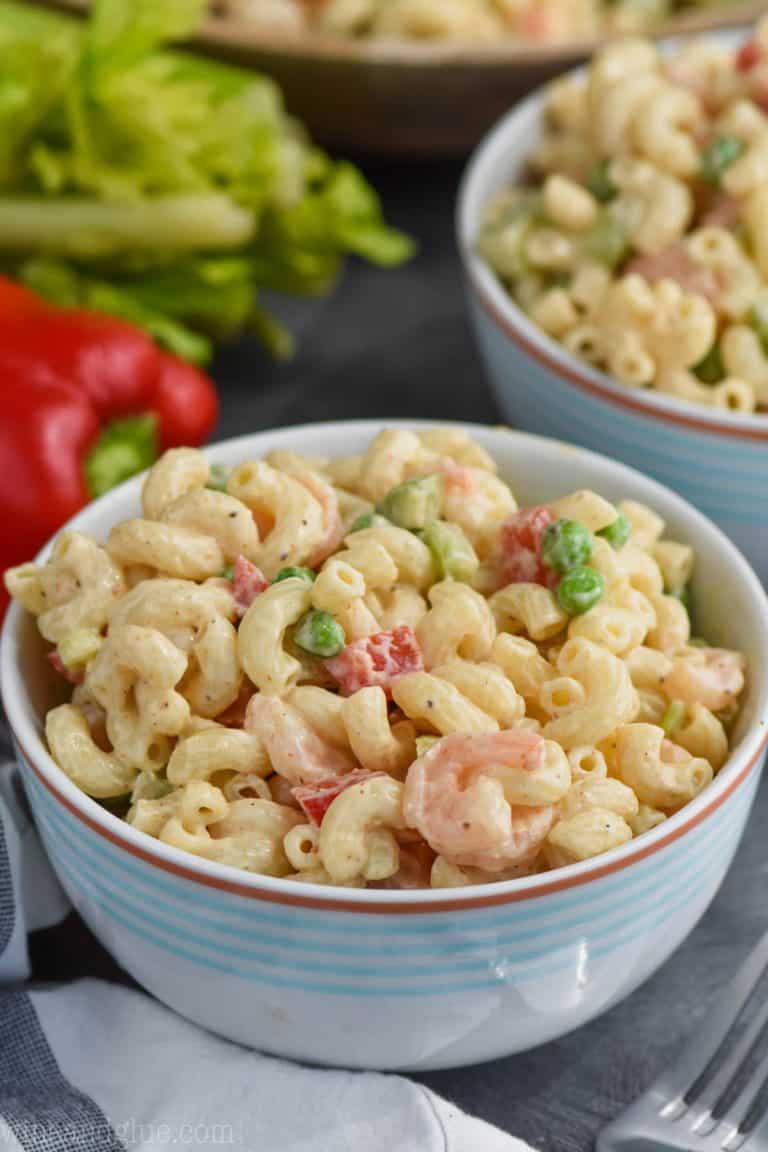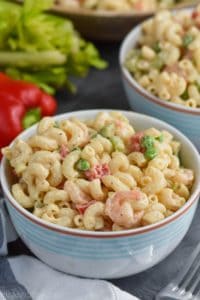 Shrimp Pasta Salad
This Shrimp Pasta Salad is the perfect easy weeknight dinner or fast side to bring to a barbecue or picnic! It comes together with easy to find ingredients and the most delicious sauce!
Ingredients
1

lb

elbow macaroni

cooked, drained, and rinsed with cold water

1

lb

small shrimp

peeled, deveined, and thawed

1

cup

frozen peas

1

red belle pepper

diced

3 or 4

green onions

sliced thin, about two inches into the green

3

stalks

celery

diced
For Dressing
1 1/2

cups

plain non fat yogurt

(see note)

1/4

cup

fat free mayonnaise

1

tablespoon

Old Bay Seasoning

1

tablespoon

yellow mustard

1/2

tablespoon

soy sauce

1/4

cup

Italian vinaigrette salad dressing
Instructions
Cook pasta according to package instructions. Drain and rinse with cold water.

In a very large bowl, mix the pasta, shrimp, peas, red peppers, green onions, and celery.

In a small bowl, whisk together the yogurt, mayo, Old Bay, yellow mustard, soy sauce, and salad dressing.

Pour the dressing over the pasta and veggies and stir to combine. Serve right away, or refrigerate and serve within 48 hours.

Notes
Note on the yogurt: Do not replace with Greek yogurt. While delicious, it is too thick to work in this recipe.
Calories:
130
kcal
(7%)
Carbohydrates:
13
g
(4%)
Protein:
17
g
(34%)
Fat:
3
g
(5%)
Cholesterol:
73
mg
(24%)
Sodium:
589
mg
(26%)
Potassium:
93
mg
(3%)
Fiber:
1
g
(4%)
Sugar:
3
g
(3%)
Vitamin A:
400
IU
(8%)
Vitamin C:
5
mg
(6%)
Calcium:
140
mg
(14%)
Iron:
1.4
mg
(8%)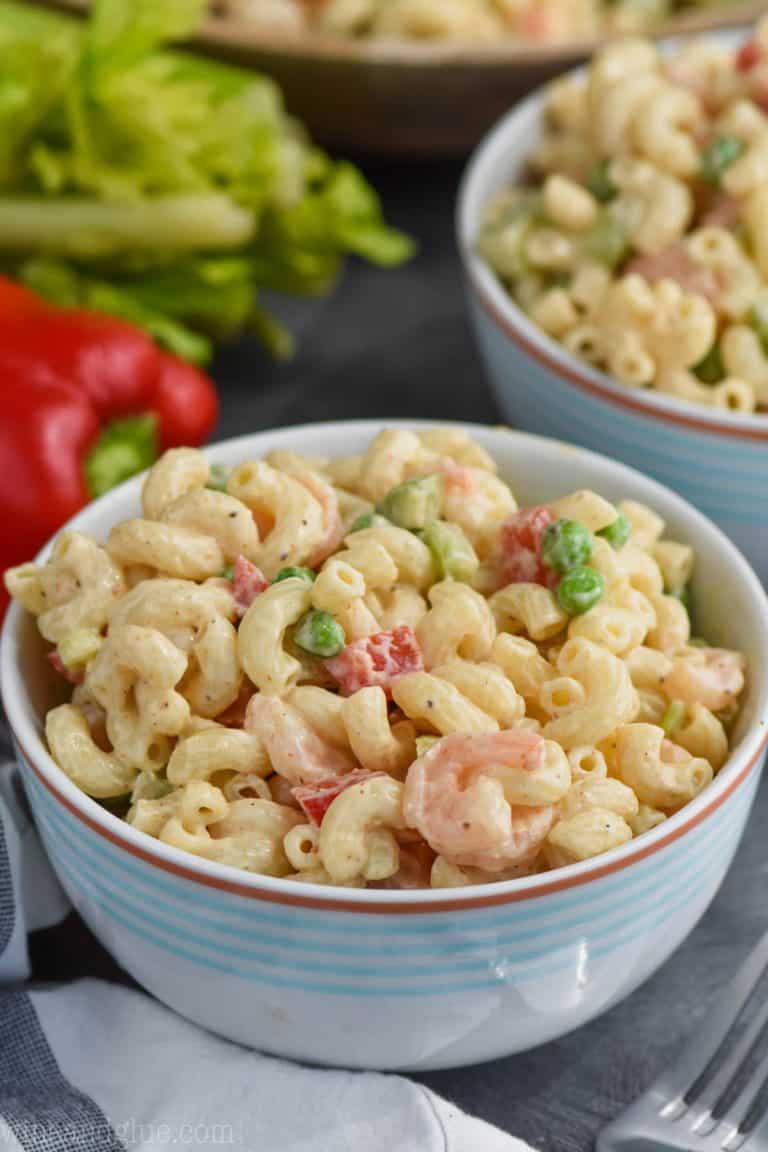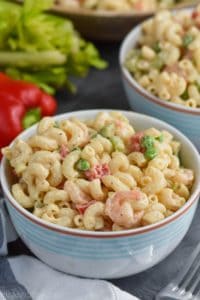 did you make this
Shrimp Pasta Salad
you might also like . . .