This Shrimp Pasta Salad is the perfect easy weeknight dinner or fast side to bring to a barbecue, picnic, or party. It comes together with easy to find ingredients and the most delicious sauce!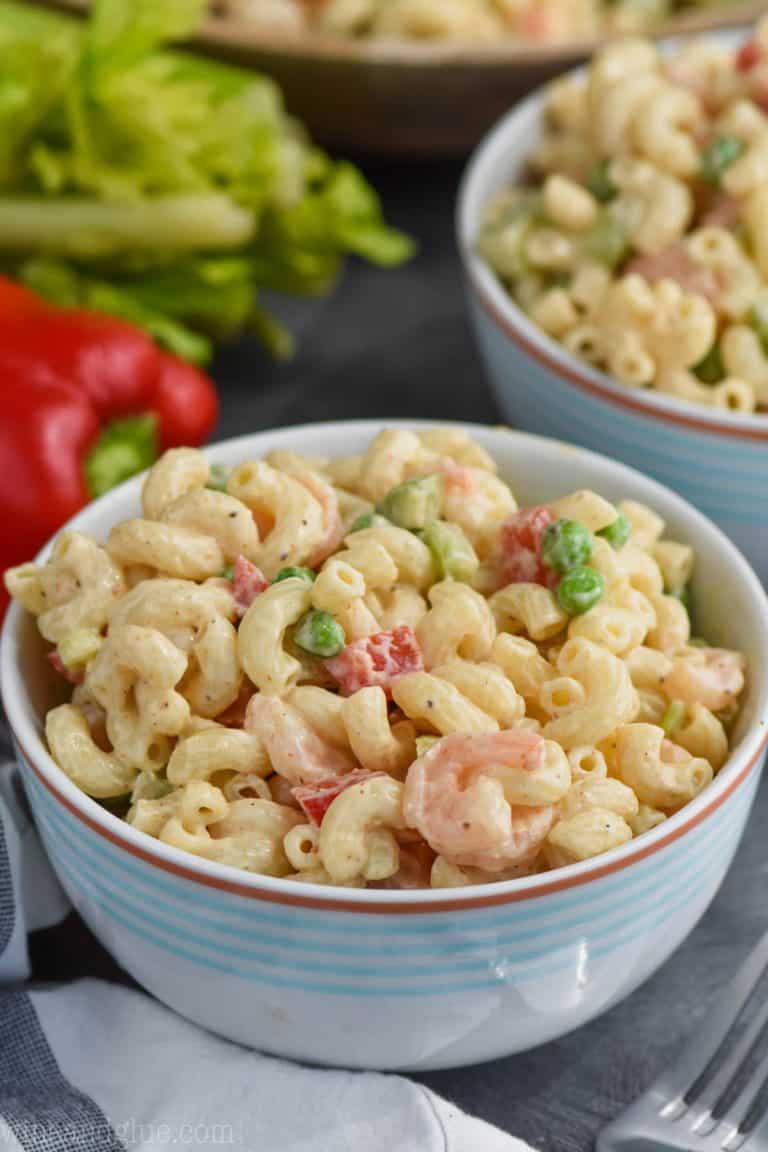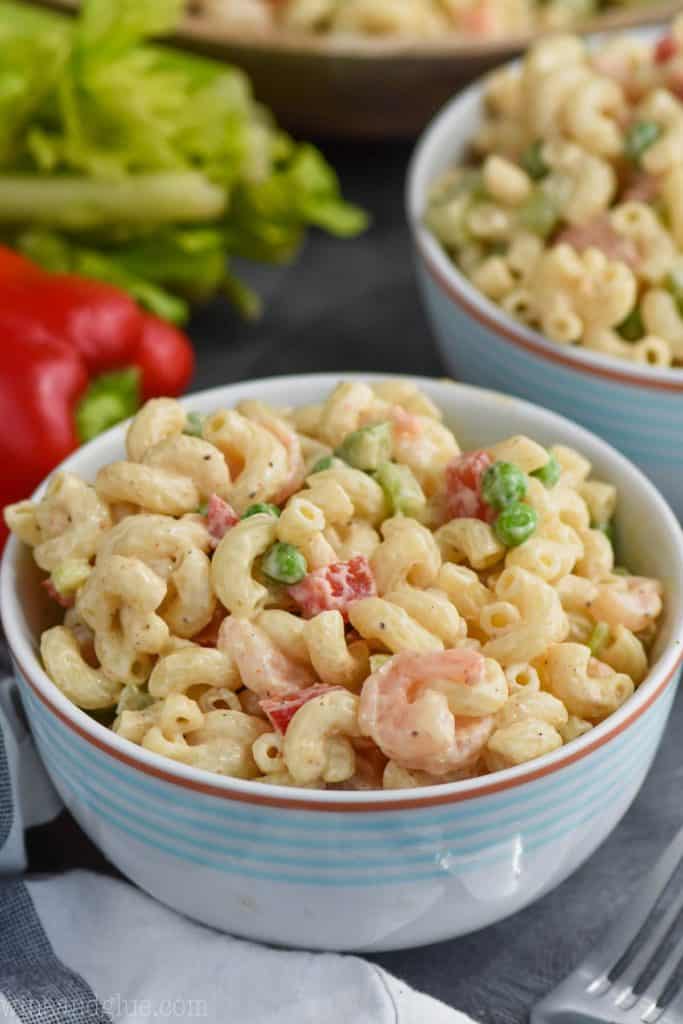 I really can't get enough of easy pasta salad recipes. They come together so fast, there are a million great different ways that you can make them, and they are always a hit with parties and crowds.
This Shrimp Pasta Salad recipe is no exception. It is a riff on my mom's amazing Crab Pasta Salad with two simple tweaks that address common questions I get about that recipe. It is made with shrimp instead of imitation crab for those who are imitation crab averse. Second, it uses Old Bay Seasoning instead of Spike. While I love Spike, Old Bay Seasoning is also delicious and tends to be easier to find.
All of this brings you a cold Shrimp Pasta Salad that is easy to make with easy to find ingredients. The ingredients come together perfectly to make an irresistible pasta salad.
How to Make Cold Shrimp Pasta Salad
Cook the pasta. See below for all my tips and tricks on cooking pasta.
Prepare the vegetables. Read below for all the reasons I picked what I did for this recipe.
Mix together the dressing. Below you can read everything about what makes this dressing special.
Finally, mix everything together. Serve immediately, cold. Or let it sit in the refrigerator for up to 48 hours before serving.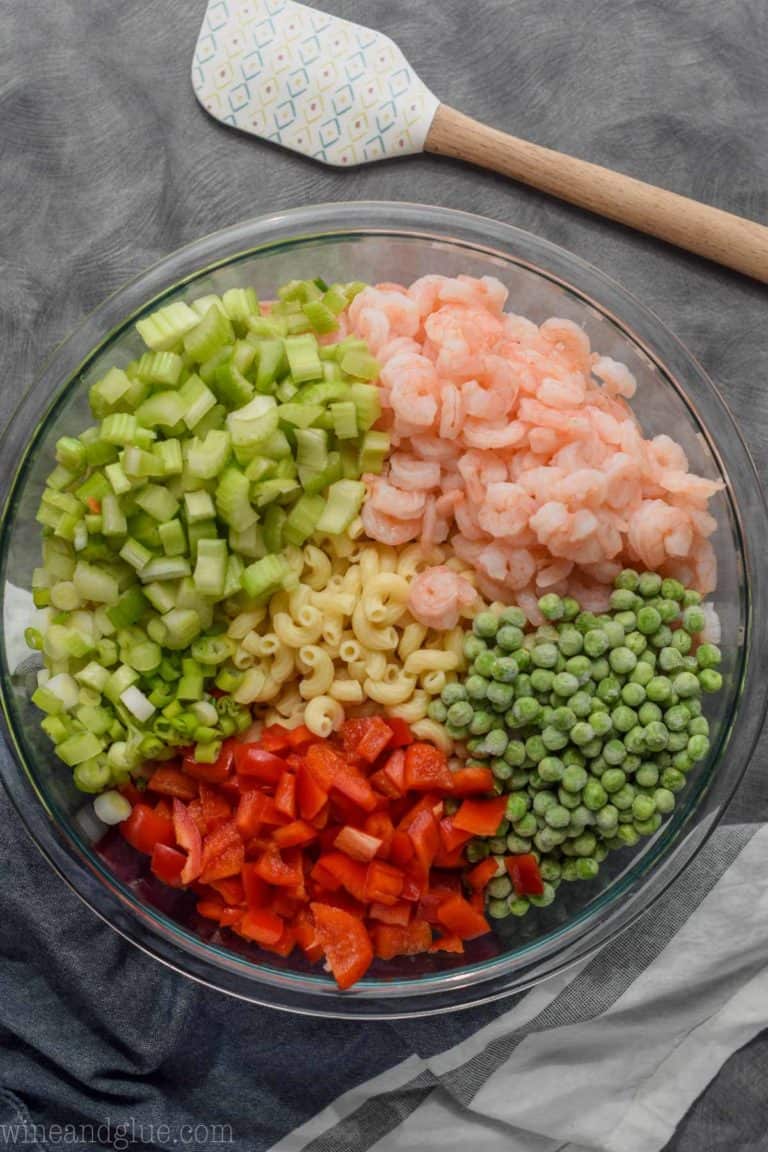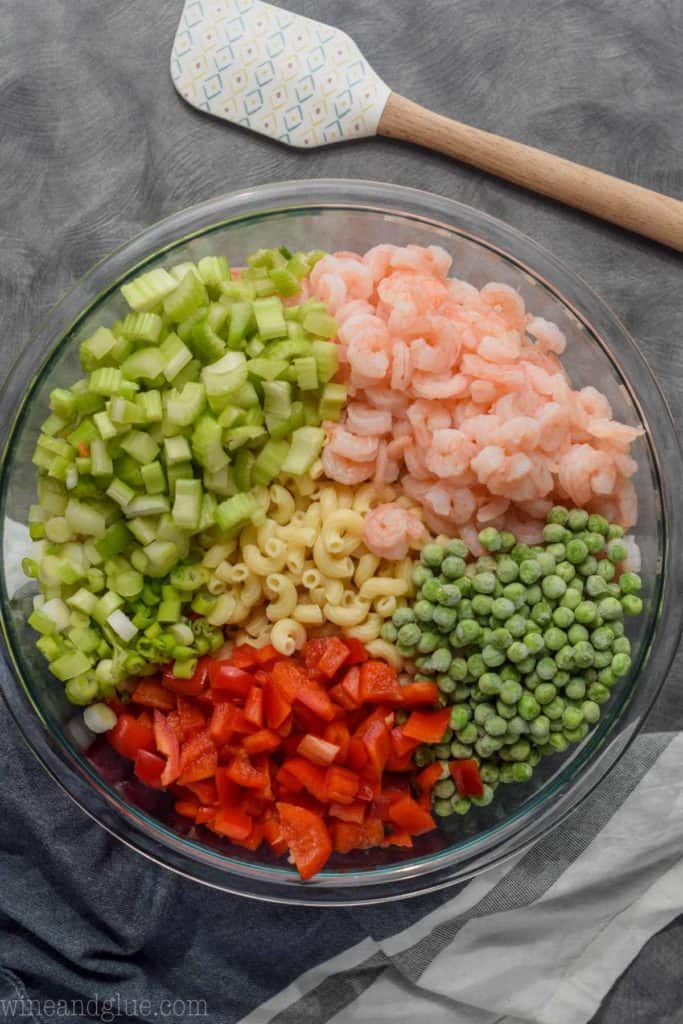 Shrimp Pasta Salad Ingredients
Salad Ingredients
Salad Shrimp: These are also sometimes labeled "baby shrimp." They are small, sold in the frozen seafood section, and generally speaking just need to be thawed and not cooked before use.
Cooked Pasta: You can really use any type of pasta that you like. I used elbow macaroni, but any small pasta would be perfect here.
Frozen Peas: When I was tweaking my crab pasta salad to make this, I replaced the olives with frozen peas for everyone who doesn't like olives. You could swap them back, but I love the texture of the peas in this salad.
Red Bell Peppers: These fresh peppers are in the salad raw and add color and taste.
Celery: I love the crunch and taste that celery adds to this recipe.
Green Onions: These add a zip to this recipe that can't be beat. You will want to use all of the white and about an inch into the green.
Dressing Ingredients
Plain Yogurt: This is the foundation of the dressing. I use non fat to cut in some calories, and it works great. I do not recommend replacing it with Greek yogurt, it will result in an enjoyable texture.
Mayonnaise: I used fat free for this as well. If you don't like mayonnaise, I would suggest going with it. It adds a great layer of flavor without an overwhelming taste of mayo.
Old Bay Seasoning: This is a seasoning mix sold in the United States that is often used with seafood. I have a homemade Old Bay Seasoning if you live overseas or if you need to tweak the recipe to accommodate for allergies.
Yellow Mustard: This is another ingredient that I recommend you use even if you loathe mustard. It brings in more zip and you really can't taste a mustard flavor in the final recipe.
Soy Sauce: I truly love using soy sauce as a way to bring in salt to a recipe, because it adds such great other flavor too.
Italian Salad Dressing: As mentioned, this recipe is based on my mom's Crab Pasta Salad, and it was her work of genius to add salad dressing. It's amazing.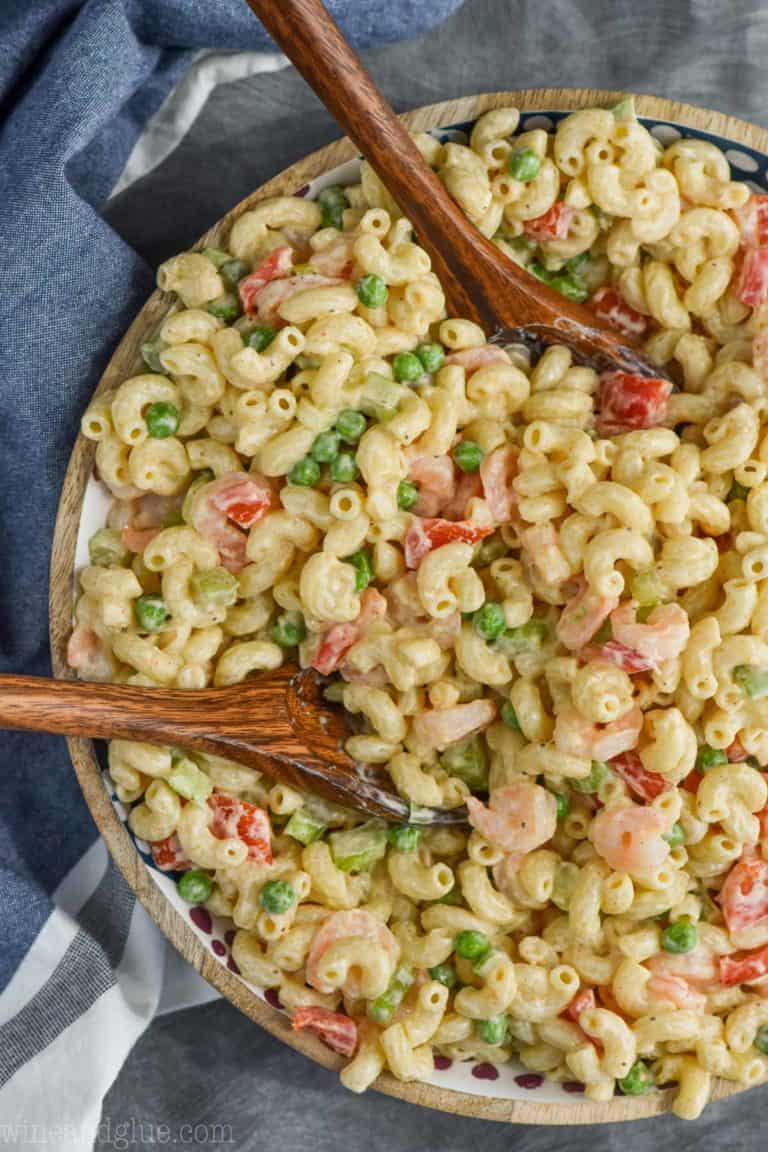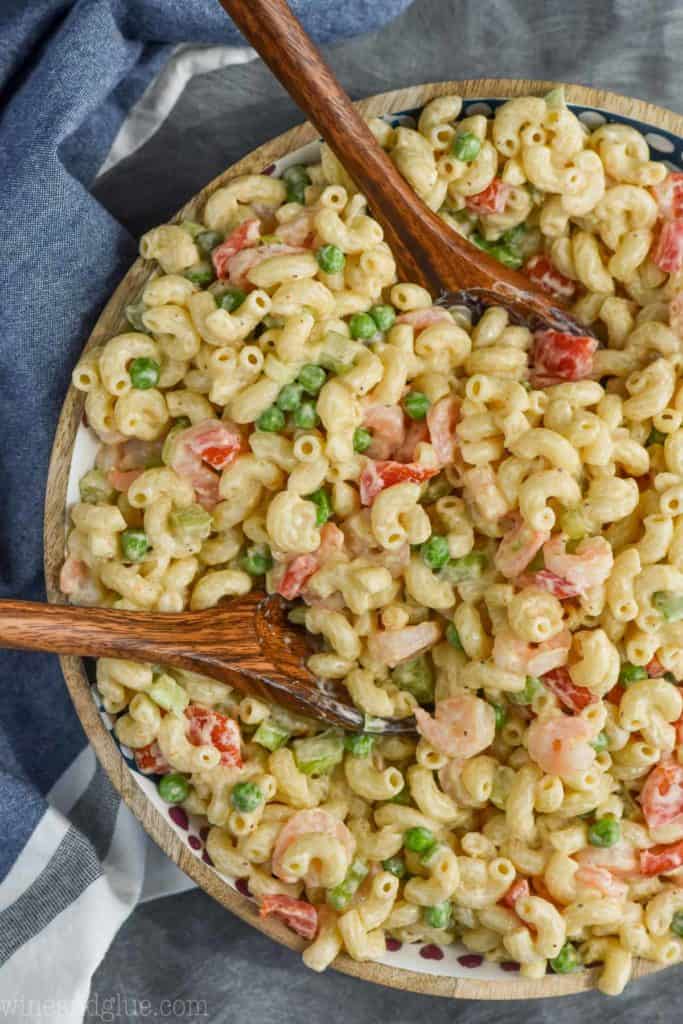 How to Make Pasta for Pasta Salad
There are a few things to keep in mind when cooking pasta in general, and especially for pasta salad. Good pasta is the backbone of a good pasta salad.
Use enough water. We are using a full pound of pasta for this recipe. So you want to be sure to use four to six quarts of water.
Bring the water to a full boil. For the pasta to cook properly, you need the water at a full boil – I mean big giant bubbles – when you add in the dry pasta.
Salt the water. You will get the most flavor out of your pasta if you add 1 to 2 teaspoons of kosher salt to the pasta water before you add in the dry pasta.
Cook the pasta for the correct amount of time. Look at the time on the box, and set a timer. This will ensure that your pasta is al dente.
Drain the pasta and rinse it with cold water. This will stop the pasta from cooking and it will keep it from sticking to itself until it can be used.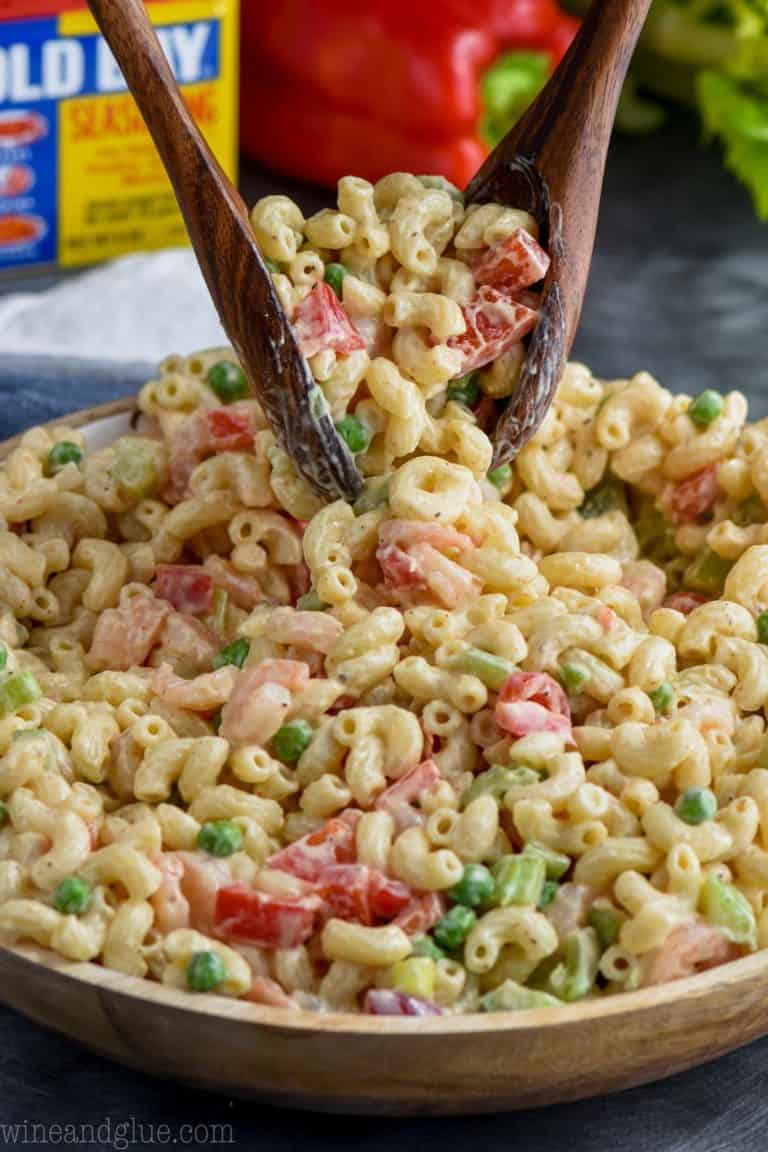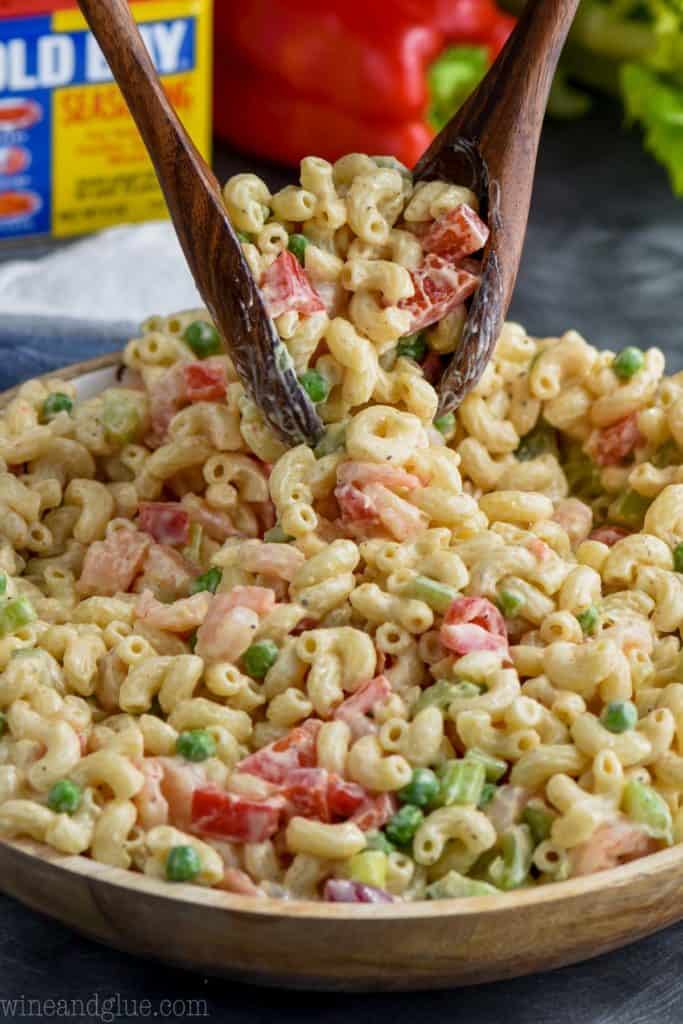 Make Ahead
This shrimp pasta salad can be made up to 24 hours ahead of time and kept in the refrigerator. In fact, I actually think this recipe is better when you make it in advance and the flavors have time to combine.
Storing Leftovers
Please keep in mind that this pasta salad should only be kept out for two hours at the most before it is put back in the refrigerator. Left overs can be stored, covered, in the refrigerator for up to four days.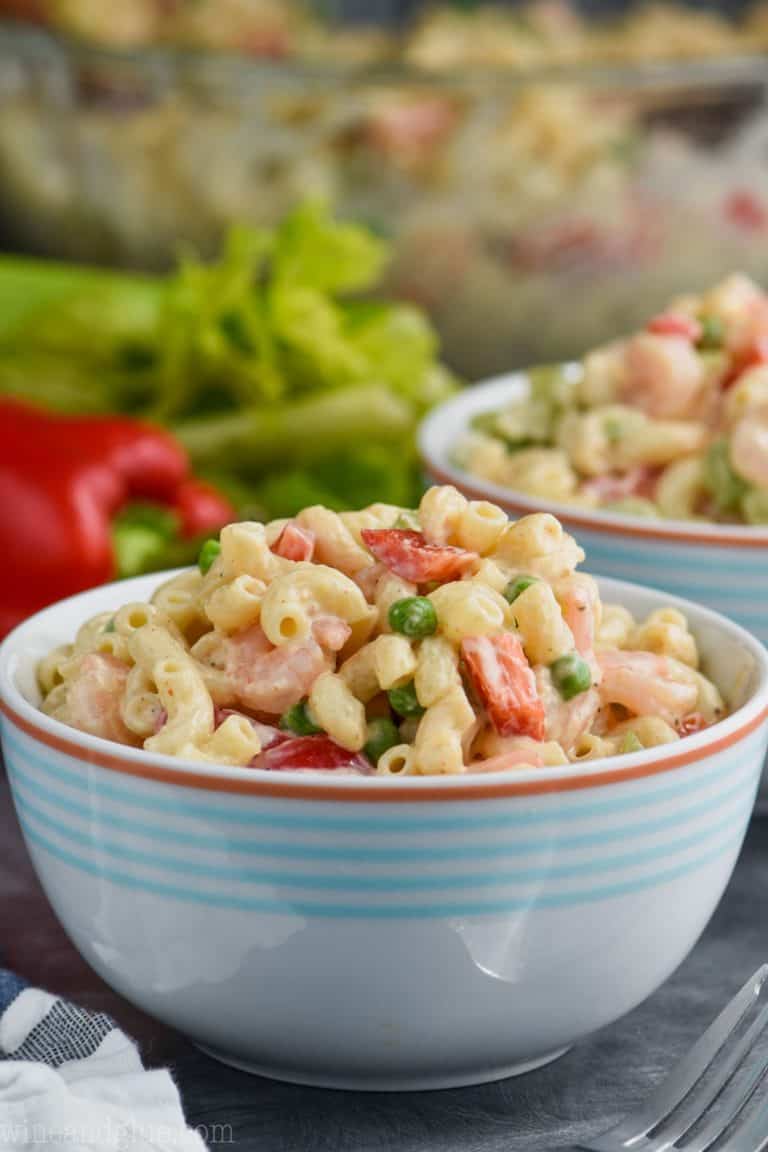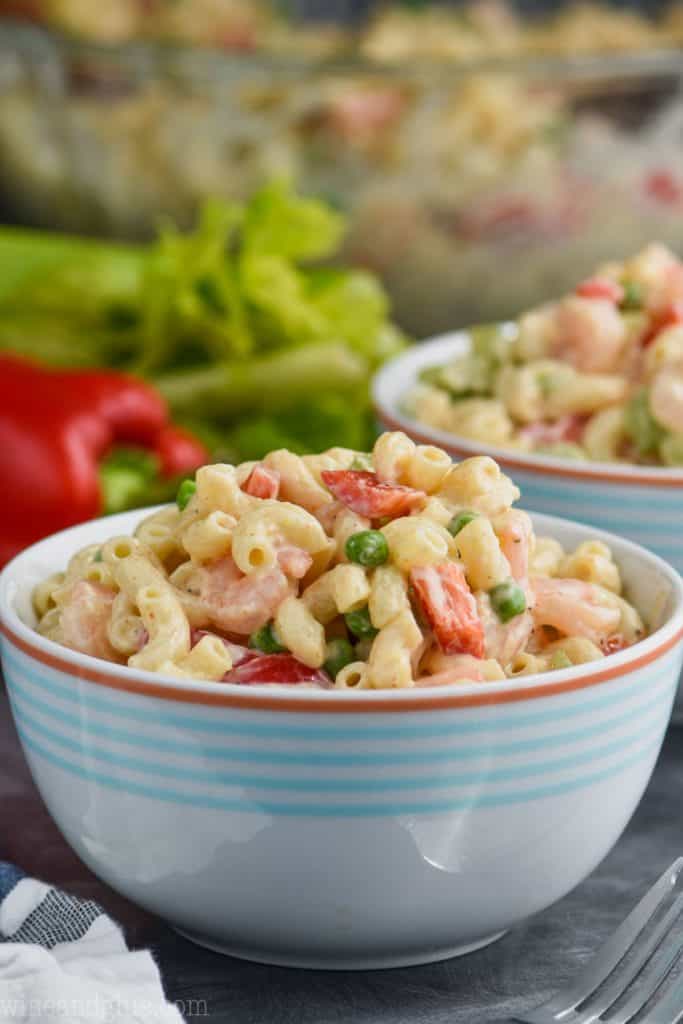 FAQ
How do you make shrimp pasta salad gluten free?
To make this gluten free, you will need to use gluten free noodles. But you will also need to swap the soy sauce for liquid brags. Soy sauce, does in fact, contain gluten.
Can you freeze shrimp pasta salad?
I do not recommend freezing this (or really any) pasta salad recipe. The consistency of the pasta, vegetables, and sauce will change while freezing and I don't think you will enjoy it as much.
How long does shrimp pasta salad last?
Shrimp pasta salad will last in the refrigerator for between four and five days when stored in an air tight container. As with all food, use your best judgment when it comes to left overs.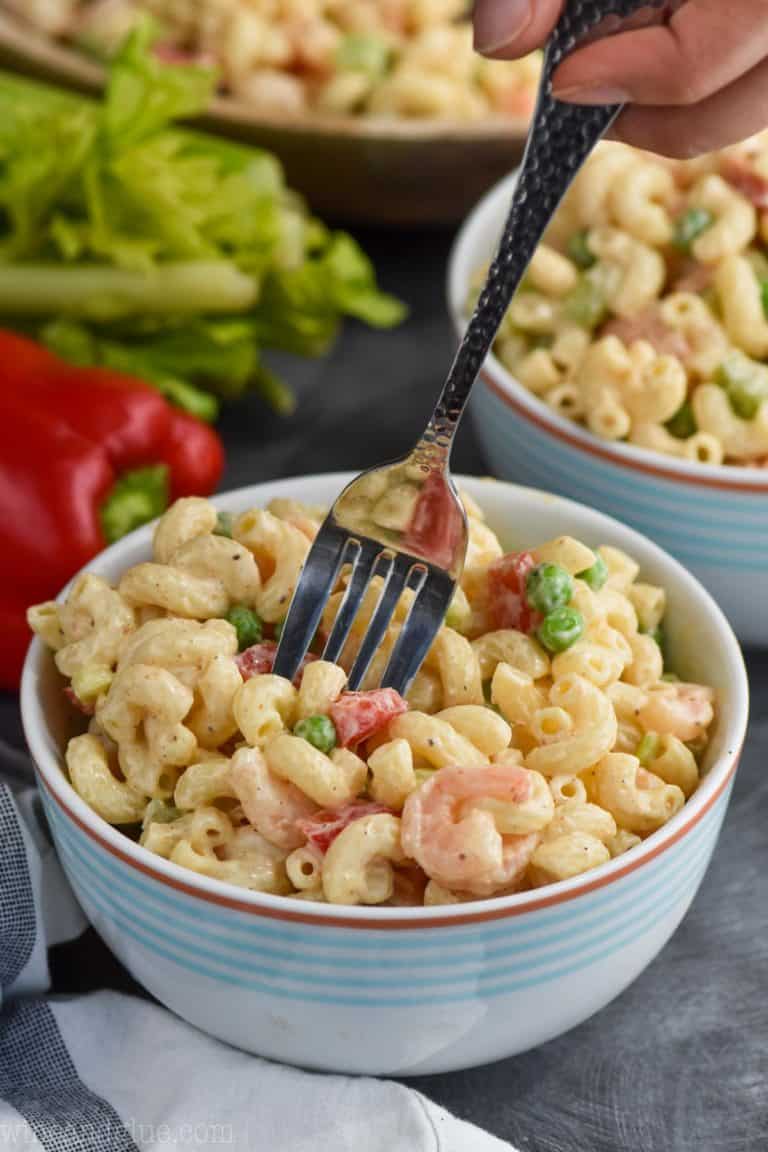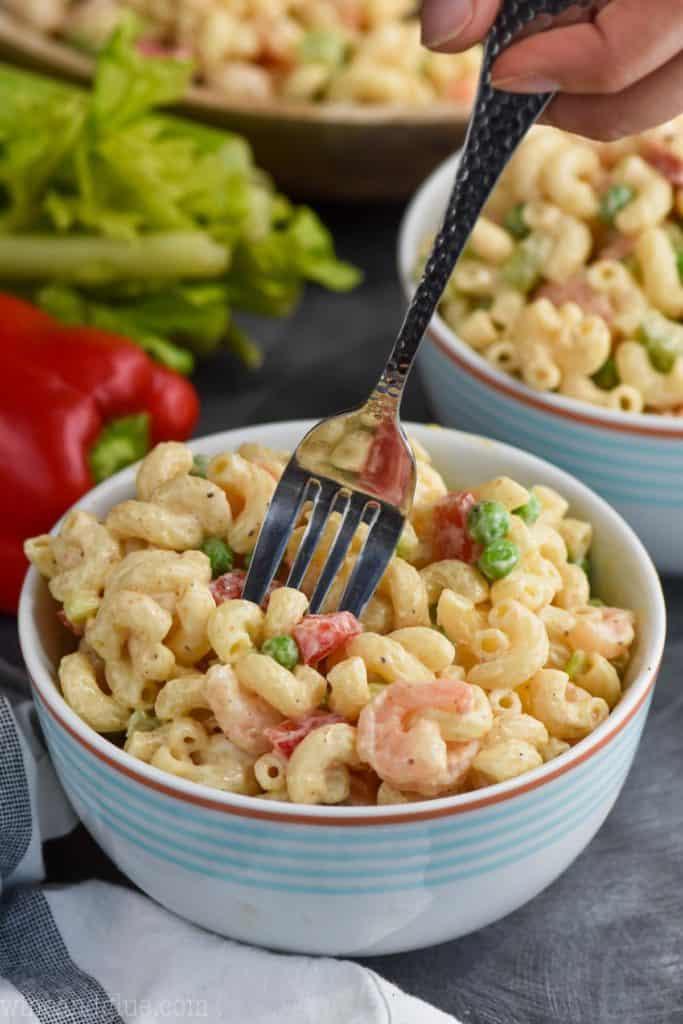 What to Serve with Shrimp Pasta Salad
If you are looking for other great sides and appetizers to bring with you to a party, may I suggest:
If you make my Shrimp Pasta Salad recipe or any of my other recipes, leave me a comment below the recipe card and let me know what you think!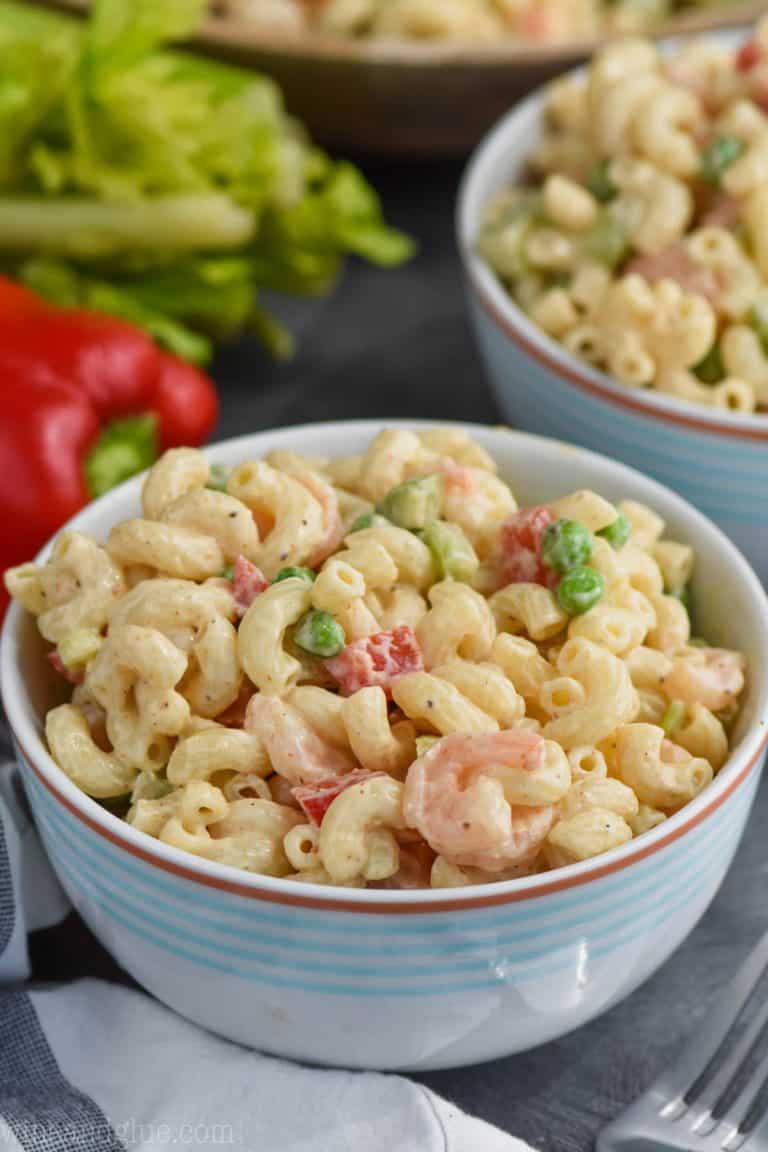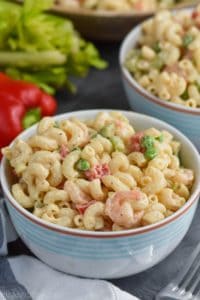 Shrimp Pasta Salad
This Shrimp Pasta Salad is the perfect easy weeknight dinner or fast side to bring to a barbecue or picnic! It comes together with easy to find ingredients and the most delicious sauce!
Ingredients
1

lb

elbow macaroni

cooked, drained, and rinsed with cold water

1

lb

cooked salad shrimp

(these are often found in the freezer section of the grocery store, follow the directions on the bag for thawing before using)

1

cup

frozen peas

1

red belle pepper

diced

3 or 4

green onions

sliced thin, about two inches into the green

3

stalks

celery

diced
For Dressing
1 1/2

cups

plain non fat yogurt

(see note)

1/4

cup

fat free mayonnaise

1

tablespoon

Old Bay Seasoning

1

tablespoon

yellow mustard

1/2

tablespoon

soy sauce

1/4

cup

Italian vinaigrette salad dressing
Instructions
Cook pasta according to package instructions. Drain and rinse with cold water.

In a very large bowl, mix the pasta, shrimp, peas, red peppers, green onions, and celery.

In a small bowl, whisk together the yogurt, mayo, Old Bay, yellow mustard, soy sauce, and salad dressing.

Pour the dressing over the pasta and veggies and stir to combine. Serve right away, or refrigerate and serve within 48 hours.

Notes
Note on the yogurt: Do not replace with Greek yogurt. While delicious, it is too thick to work in this recipe.
Calories:
130
kcal
(7%)
Carbohydrates:
13
g
(4%)
Protein:
17
g
(34%)
Fat:
3
g
(5%)
Cholesterol:
73
mg
(24%)
Sodium:
589
mg
(26%)
Potassium:
93
mg
(3%)
Fiber:
1
g
(4%)
Sugar:
3
g
(3%)
Vitamin A:
400
IU
(8%)
Vitamin C:
5
mg
(6%)
Calcium:
140
mg
(14%)
Iron:
1.4
mg
(8%)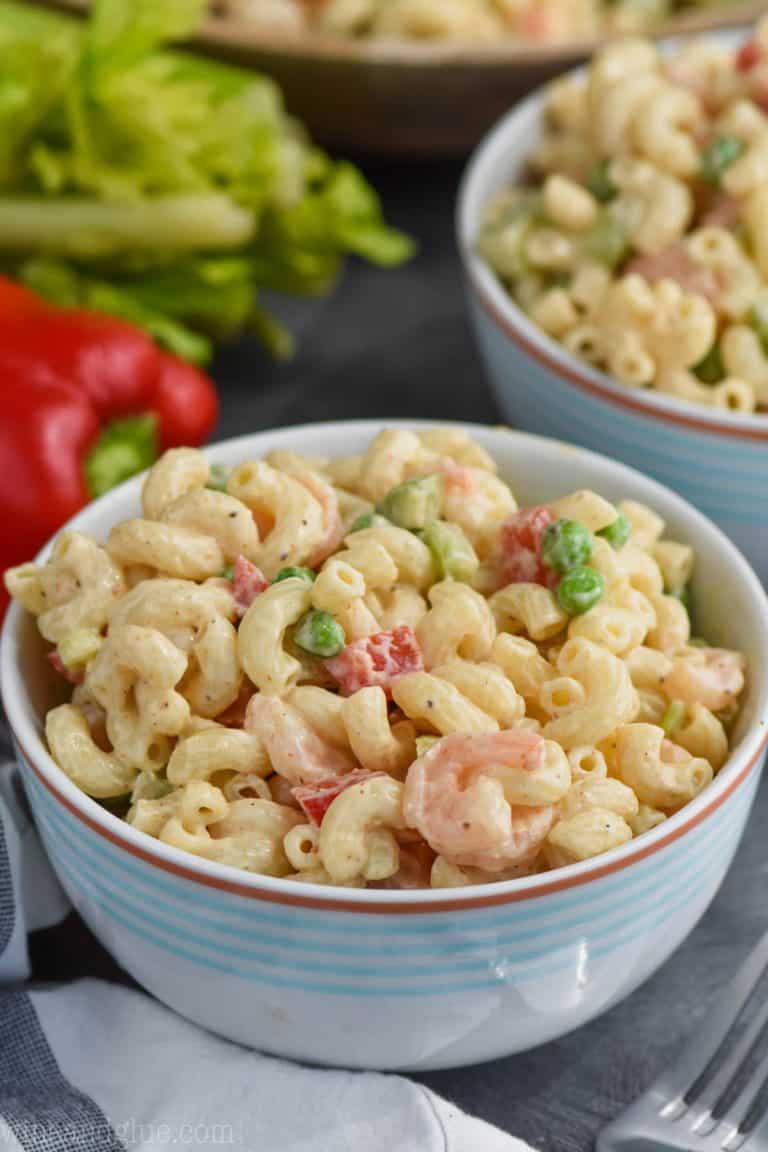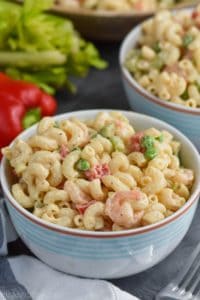 did you make this
Shrimp Pasta Salad
you might also like . . .