These Crock Pot Chicken Drumsticks are so easy to make! With only three main ingredients, these are a great last minute dinner or game day appetizer.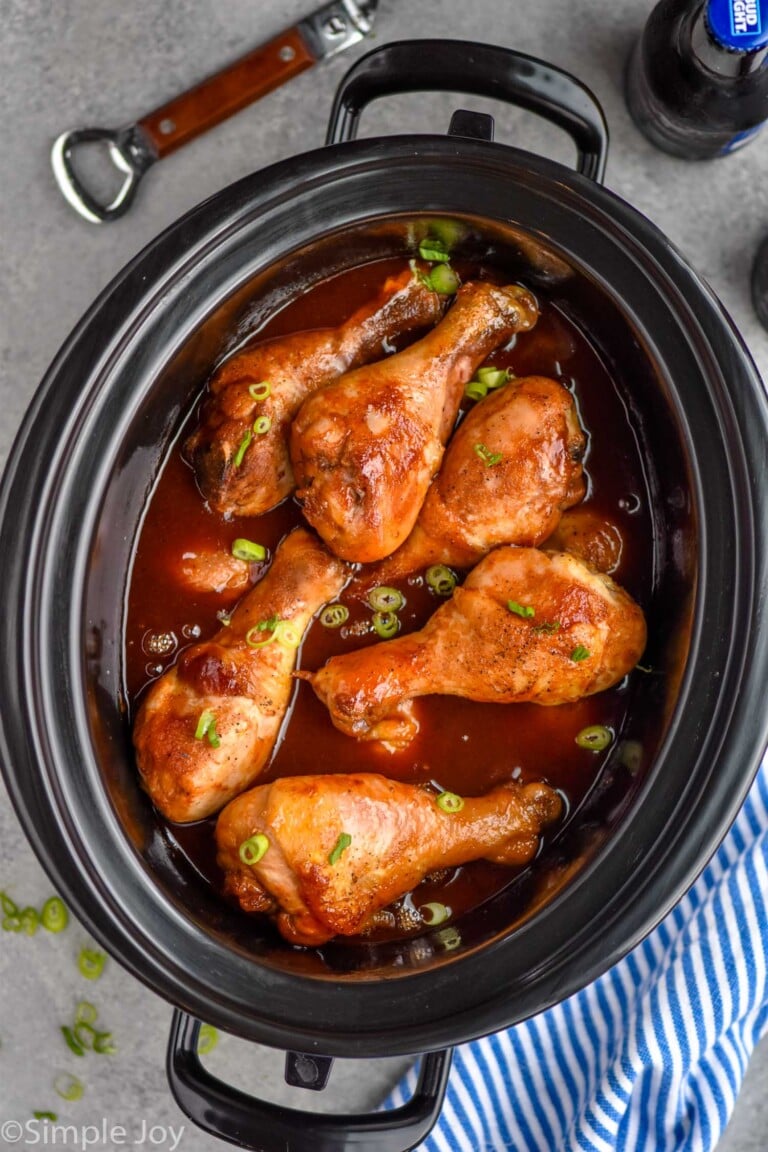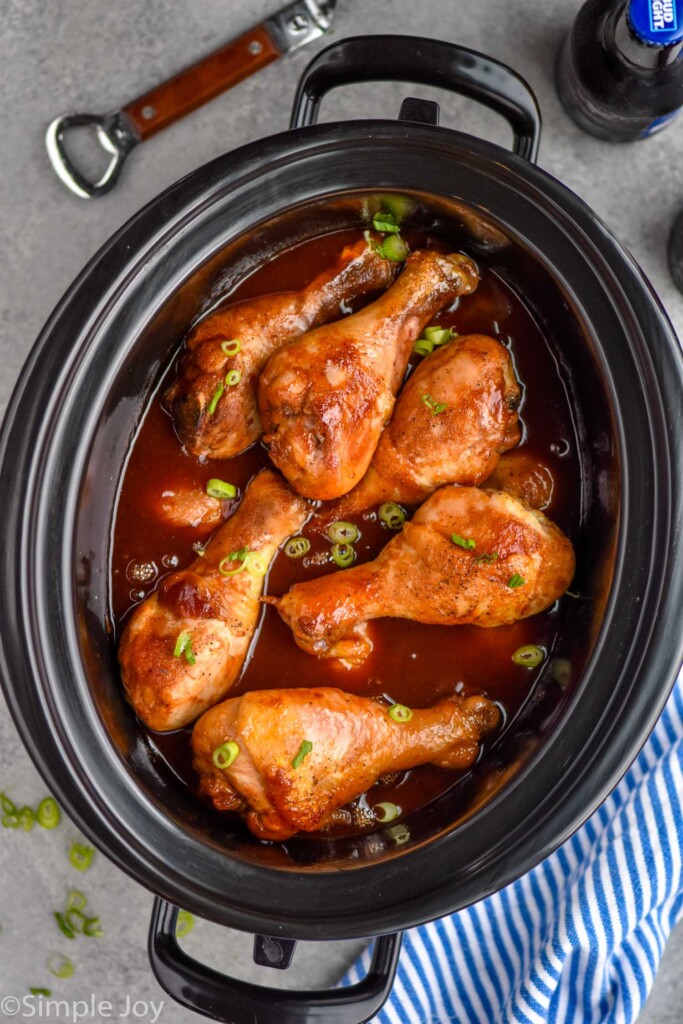 This recipe for chicken drumsticks has been popular on Simple Joy for years! One of the reasons that it is so loved, is that it can be made with just three ingredients: chicken, BBQ sauce, and honey. It has the ability to be a simple dump-and-go slow cooker dinner.
It is absolutely true that this recipe calls for additional ingredients. We are calling for salt and pepper to season the chicken, oil to brown the chicken, and corn starch to thicken the sauce. All of these can be skipped and you can still really enjoy this dinner. These instructions, as written, are just for the best version of this recipe.
My golden rule for cooking though is to do what works best for you and your family in your kitchen.
How to Make Crock Pot Chicken Drumsticks
This is a brief overview of how to make these crock pot chicken drumsticks. For the full list of measurements and more detailed instructions, see the recipe card at the bottom of the post.
Brown the chicken in oil. This step isn't absolutely necessary, but it does help crisp up the chicken before putting it in the slow cooker.
Make the sauce. Whisk together the BBQ Sauce and honey.
Put it all together. Put a little of the sauce in the base of the greased slow cooker and cook on low for four hours.
Thicken the sauce. Combine hot water and cornstarch to make a slurry. Add it to the slow cooker and allow it to cook for a few minutes to thicken the sauce. Then serve and enjoy.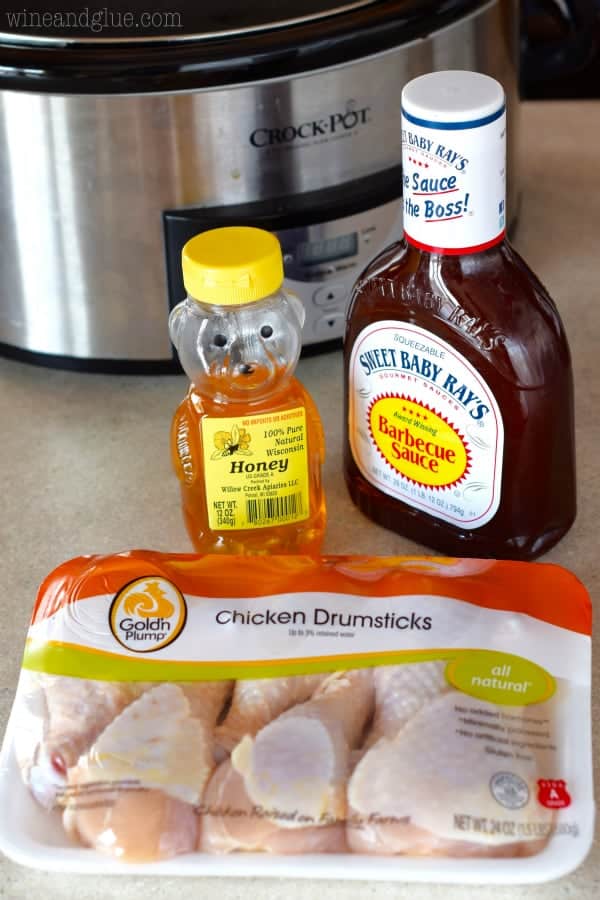 Browning Meat Before Slow Cooking
There are a few reasons to brown meat before you slow cook it. The primary reason to brown meat first is because it adds a significant amount of flavor to caramelize the meat.
In this particular case, the reason to brown the chicken before slow cooking is to crisp up the skin that is still on the chicken. Alternatively, or in addition to browning it, you can put it under a broiler for a few minutes at the end of the cook time, much in the same way we do with my Slow Cooker Chicken Wings.
Homemade BBQ Sauce
While this can be a super easy three-ingredient meal with chicken, honey, and store-bought BBQ sauce, I am a huge advocate of making your own BBQ sauce. It takes about 20 minutes to make and is well worth the time and effort. I've had readers tell me that my homemade recipe for BBQ sauce has ruined them for store-bought.
BBQ Sauce Recipe
This BBQ Sauce Recipe is easy to throw together and absolutely delicious! Fast to make and with ingredients you already have on hand, you are going to make this homemade bbq sauce all the time.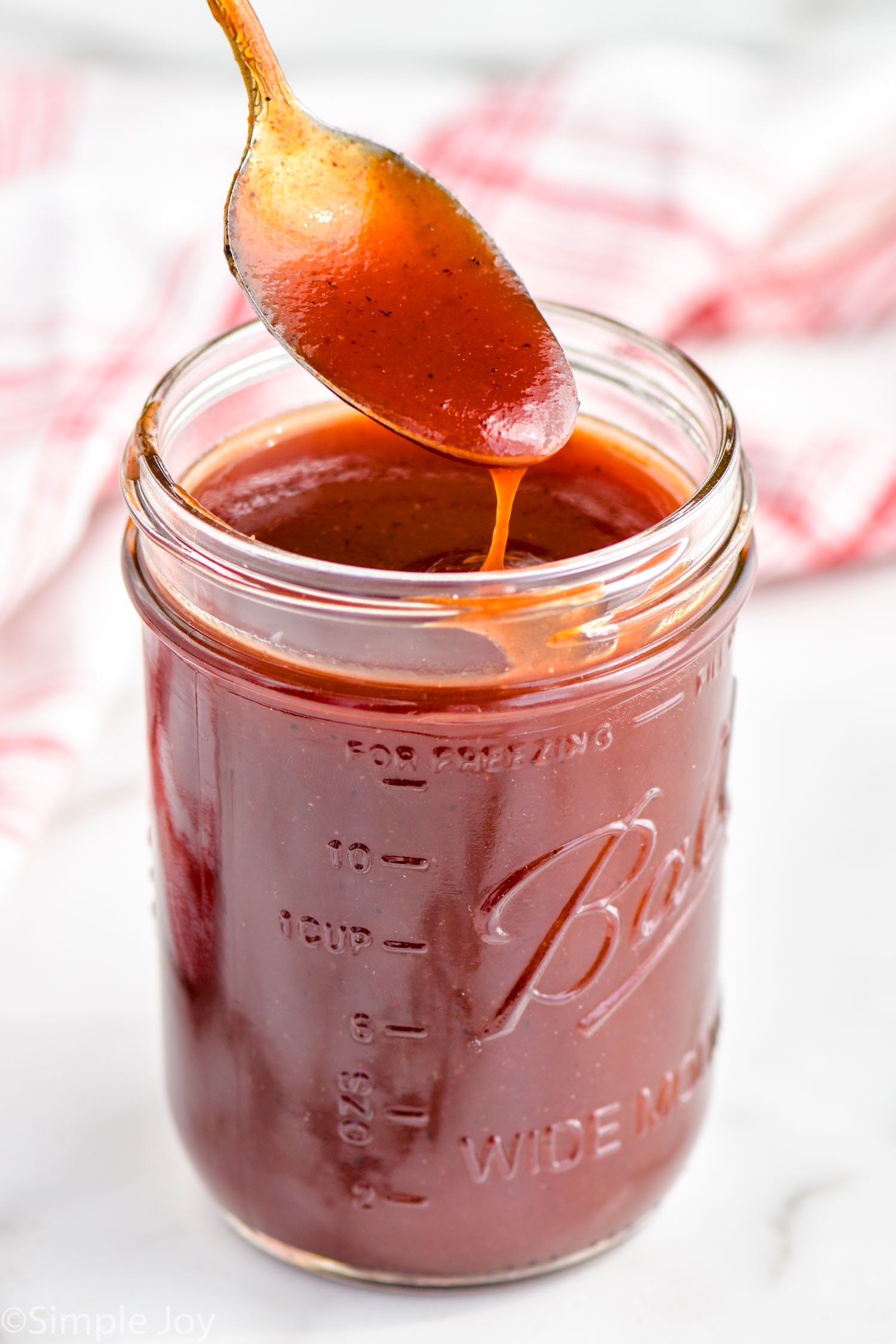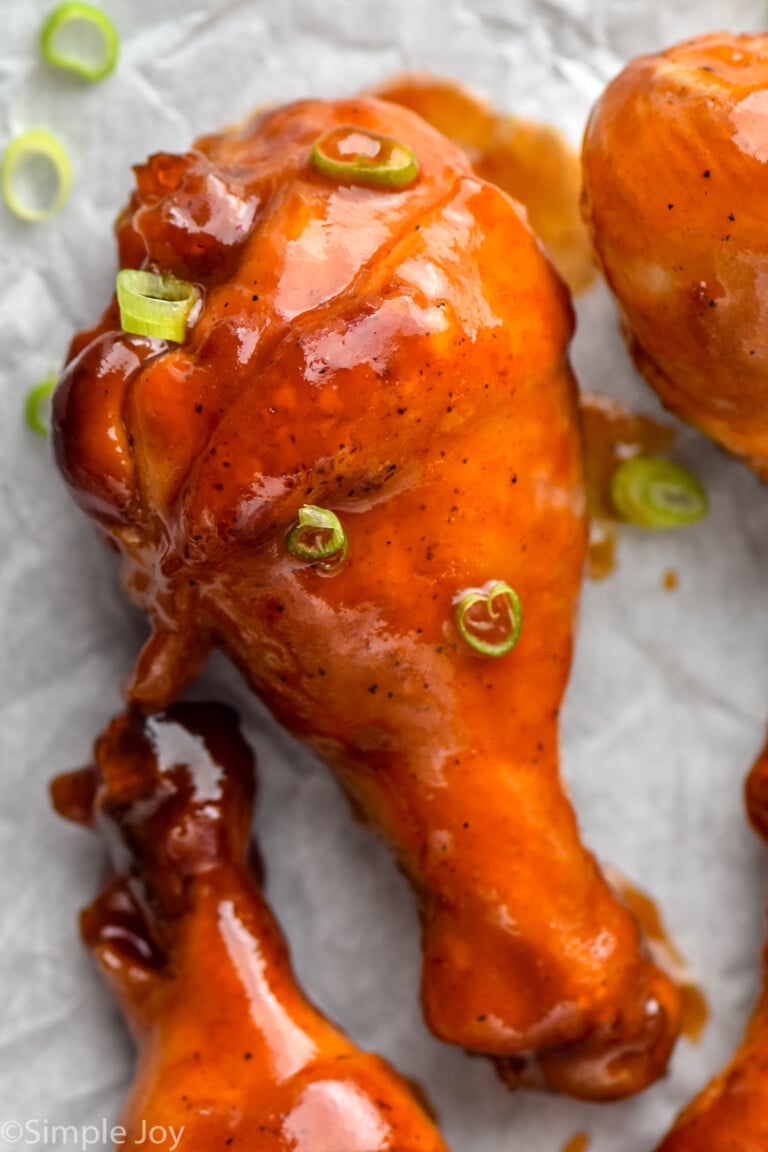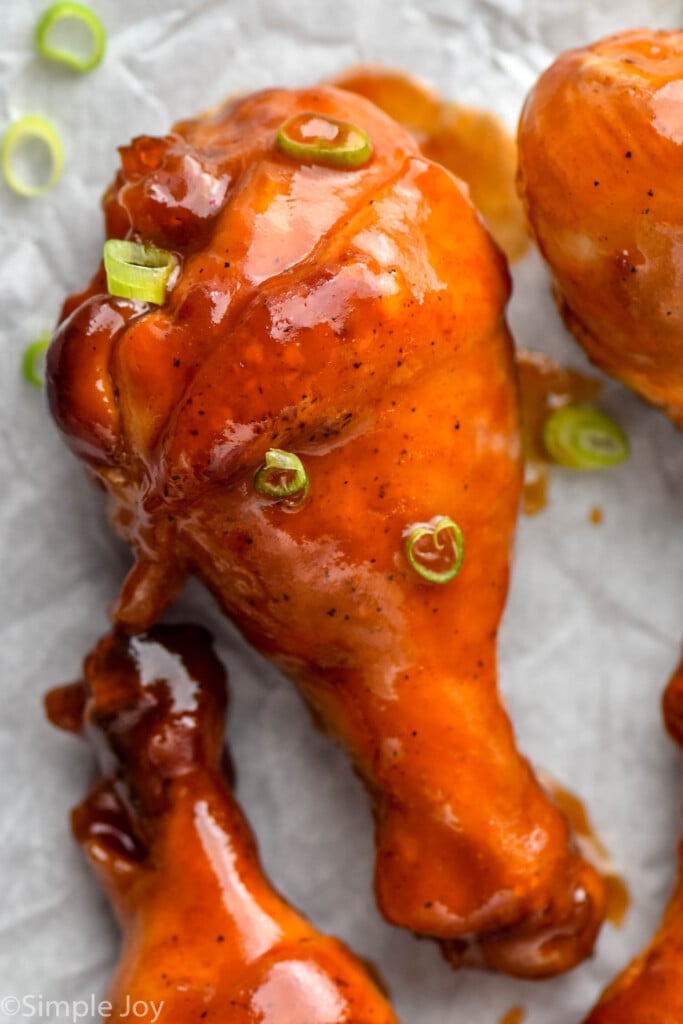 Cooking Meat on Low
I am a firm believer that if you are cooking meat in the slow cooker and you are given a choice between cooking times, you should always pick the low time. It just cooks the meat better.
That being said, of all the meat dishes you could cook on high, these crock pot chicken drumsticks are the best choice. Unlike a dish like my Italian Beef, the difference between cooking on high and cooking on low is minimal.
Cooking Temperature for Chicken
Chicken is done when it reaches 165 degrees Fahrenheit. The best way to ensure that you take your chicken out at the correct temperature is to use an oven-safe thermometer. It can stay in the chicken inside the slow cooker the whole time it cooks, allowing you to see the temperature of the chicken.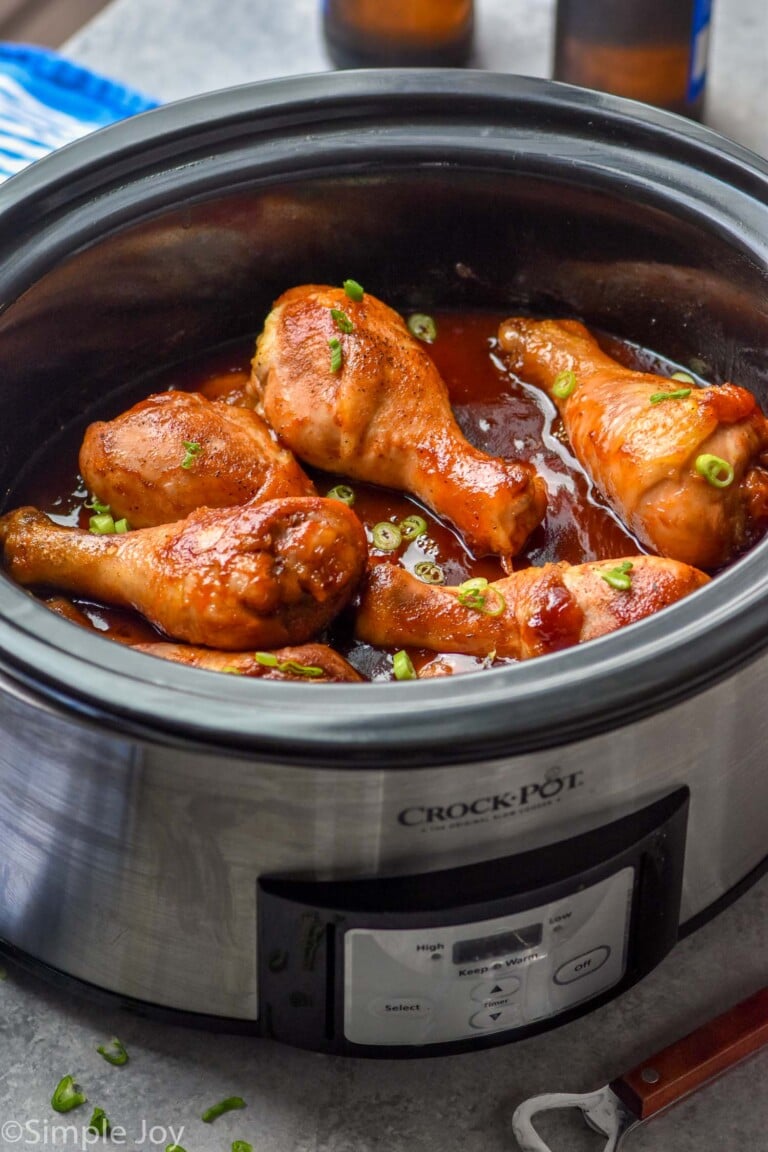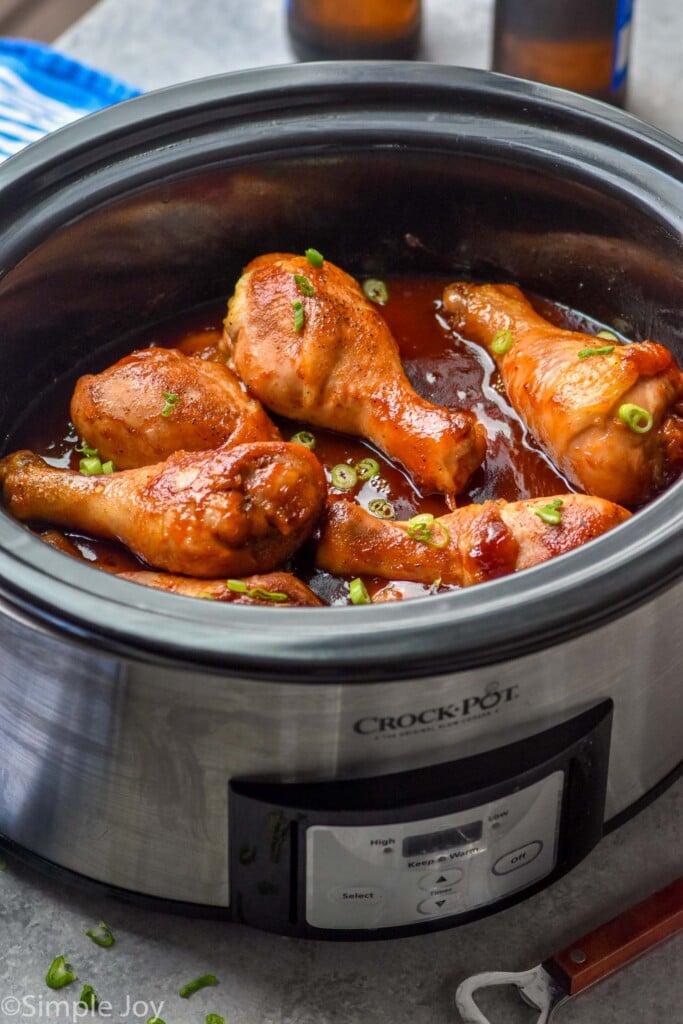 Making a Slurry for Slow Cooker Sauces
It is very easy for sauces to be too thin in the slow cooker. The reason for this, as I'm sure you can imagine, is that very little liquid can escape and evaporate during the cooking process.
There are two methods I like to fall back on for thickening crockpot sauces. The first method is to add a roux to the sauce. This is the method I use in my Creamy Crock Pot Chicken Noodle Soup. It's foolproof and works amazing, but does add hands-on time to a crockpot meal. The second method, which adds far less time, is to make a slurry.
A slurry is the combination of warm water and either cornstarch or flour. I love using cornstarch because it keeps meals like this gluten-free and I think it works a tiny bit better than flour.
Storing and Reheating Left Over Crock Pot Chicken Drumsticks
Leftovers should be stored in the sauce in an air-tight container in the refrigerator. They will keep in the refrigerator for four to five days. As with all leftovers, use your best discretion.
To reheat these chicken legs, add them and their sauce to an oven-safe baking dish. Cover and bake for thirty to forty minutes.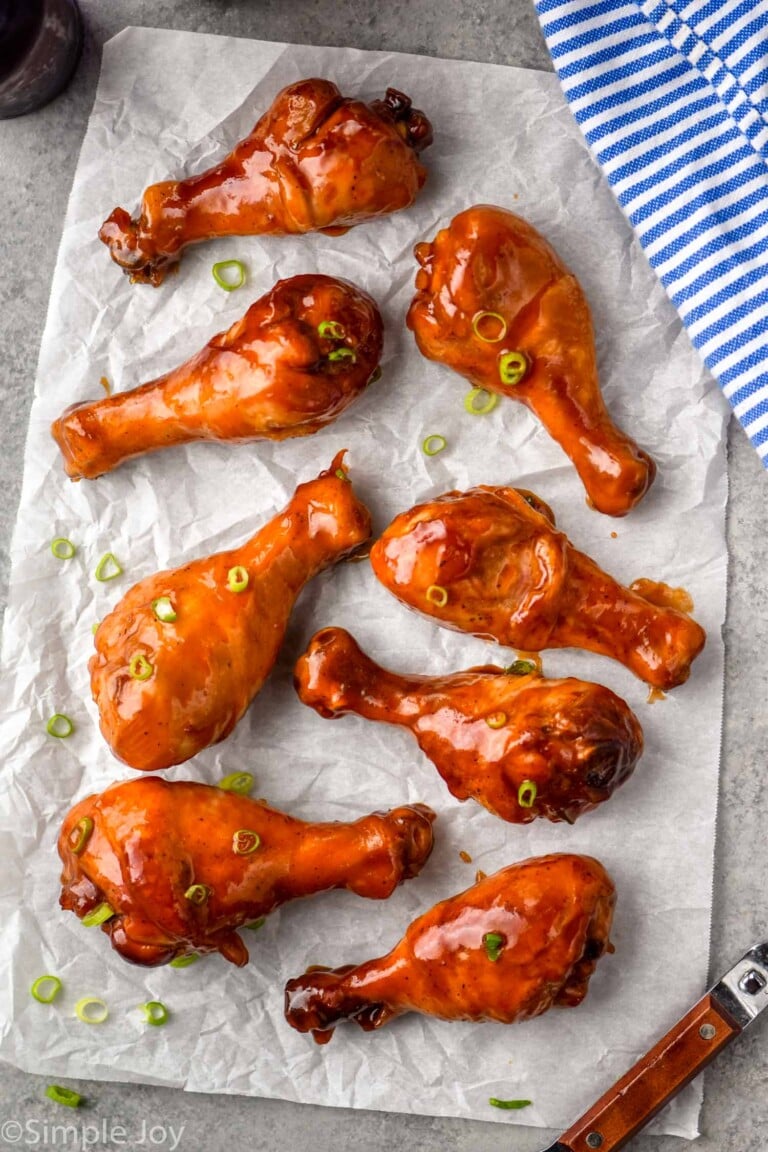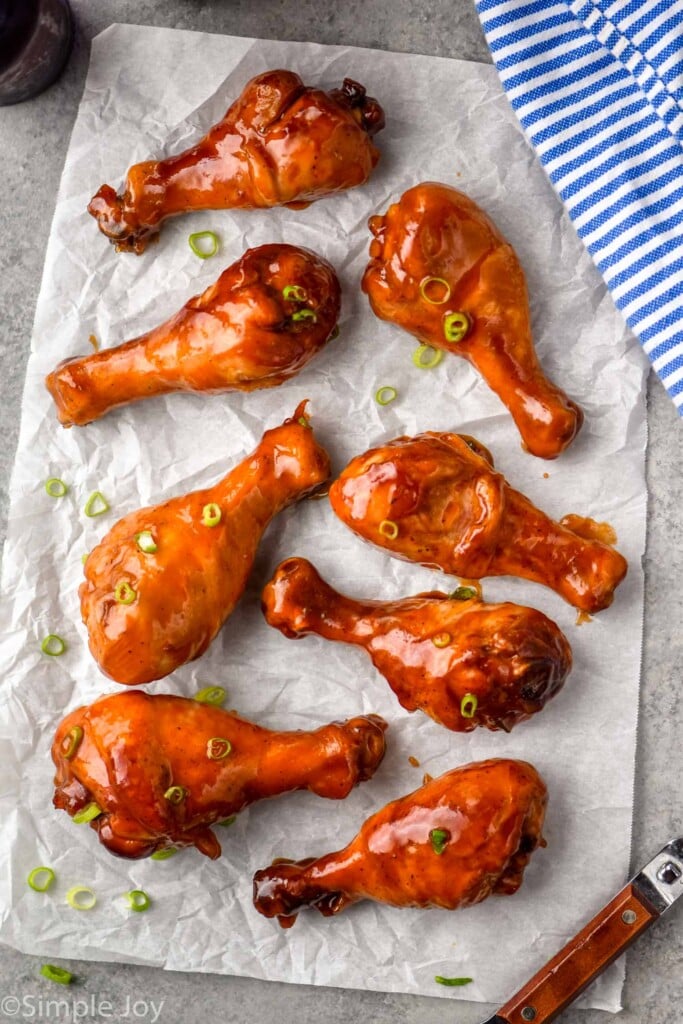 What to Serve with Crock Pot Chicken Drumsticks
If you are looking to make this into a full meal, there are a couple of things that would pair perfectly with this recipe.
Homemade Mac and Cheese is a 25 minute recipe and would go so well with these.
My Coleslaw recipe rests in the refrigerator overnight, so it is perfect to pair with these.
Finally, these Baked Potato Wedges are only three ingredients (a six ingredient meal!) and come together fast in the oven.
If you make these amazing slow cooker drumsticks or any of my other recipes, leave me a comment and let me know what you think. I love hearing from you.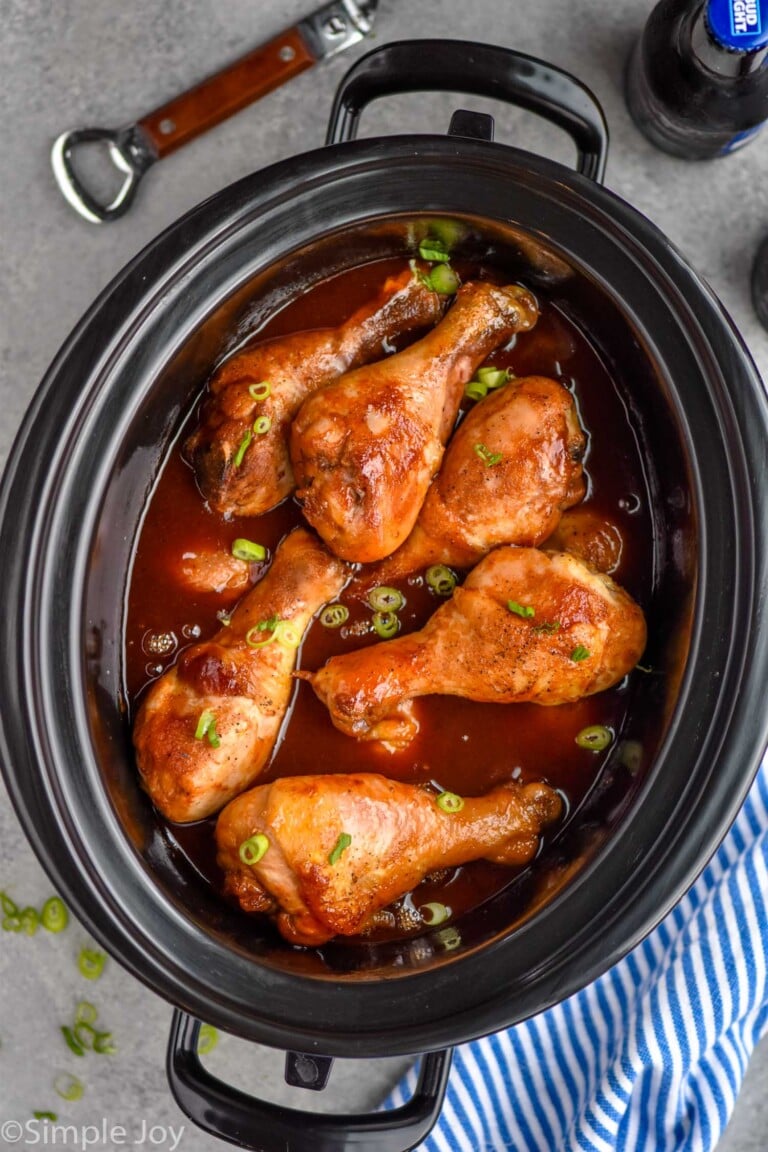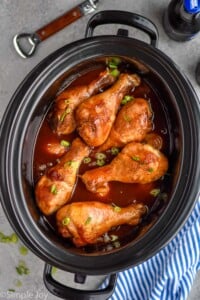 Crock Pot Chicken Drumsticks
Total:
4
hours
10
minutes
These Crock Pot Chicken Drumsticks are so easy to make! With only three main ingredients, these are a great last minute dinner or game day appetizer.
Ingredients
2

pounds

chicken drumsticks

salt and pepper

2

tablespoons

vegetable oil

2 1/2

cups

BBQ sauce

1

cup

honey

2

tablespoons

corn starch
Instructions
Pat the chicken dry and season lightly with salt and pepper.

Heat the oil in a cast iron skillet or a heavy bottomed dutch oven over medium heat. Working in batches brown the chicken, just about a minute on each side.

In a large bowl whisk together the BBQ sauce and honey.

Spray the slow cooker with cooking spray. Pour some of the sauce in the bottom of the crock pot. Put the chicken in the crock pot and cover them with the remaining sauce. It's okay if some of the chicken is layered.

Cook on low for four hours or until a meat thermometer registers 165 degrees. Remove the chicken from the crock pot and plate on the serving platter.

Whisk the corn starch with 2 tablespoons hot water. Add to the sauce, whisking it to combine. With the crock pot still on low, cook for five minutes. Return the chicken to the slow cooker and serve with sauce.

Optional: If you would like to crisp up the skin on the chicken a little more you can put it on a wire cooling rack. Set the cooling rack with the chicken on it in a rimmed baking sheet. Put the chicken under the broiler for 5 minutes watching it closely to ensure it doesn't burn.
Serving:
3
drumsticks
Calories:
689
kcal
(34%)
Carbohydrates:
75
g
(25%)
Protein:
30
g
(60%)
Fat:
31
g
(48%)
Saturated Fat:
8
g
(50%)
Polyunsaturated Fat:
9
g
Monounsaturated Fat:
11
g
Trans Fat:
0.2
g
Cholesterol:
116
mg
(39%)
Sodium:
1031
mg
(45%)
Potassium:
521
mg
(15%)
Fiber:
1
g
(4%)
Sugar:
64
g
(71%)
Vitamin A:
416
IU
(8%)
Vitamin C:
3
mg
(4%)
Calcium:
49
mg
(5%)
Iron:
2
mg
(11%)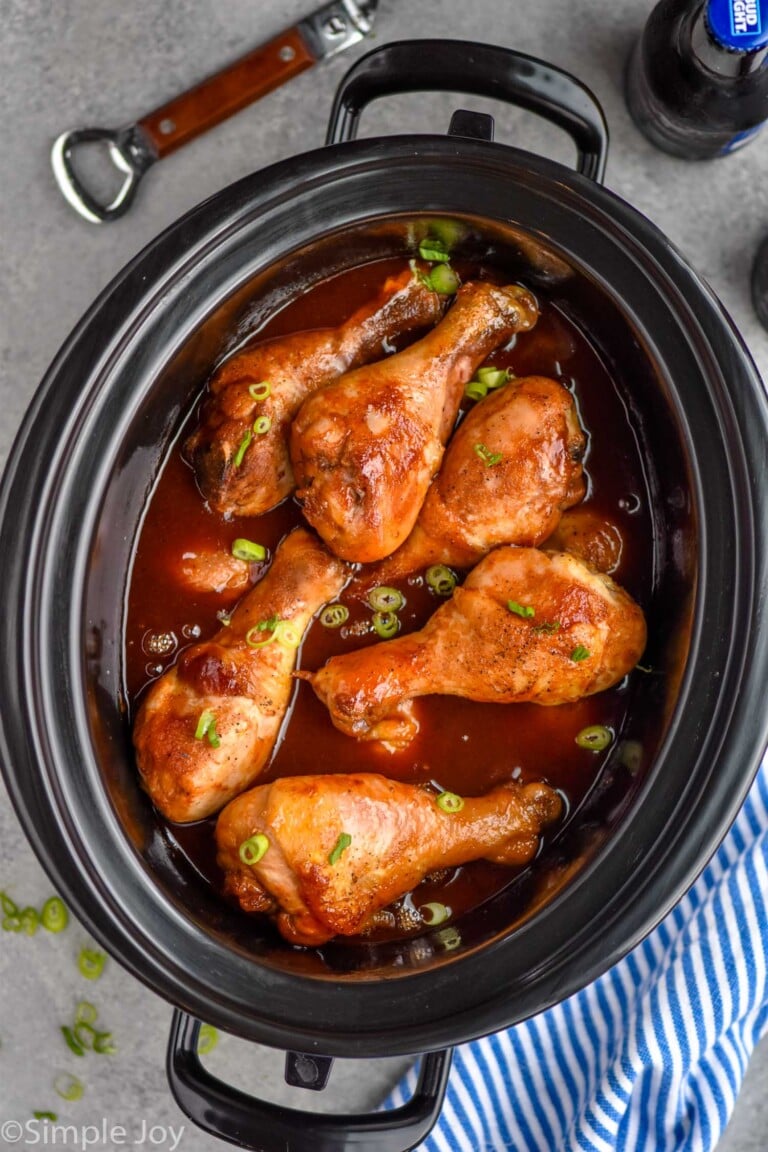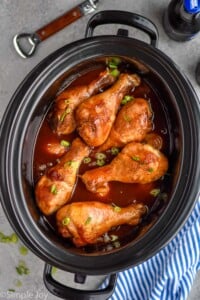 did you make this
Crock Pot Chicken Drumsticks