These Slow Cooker Honey BBQ Chicken Drumsticks are WAY EASY, but so delicious! Serve them on gameday or for an easy family dinner!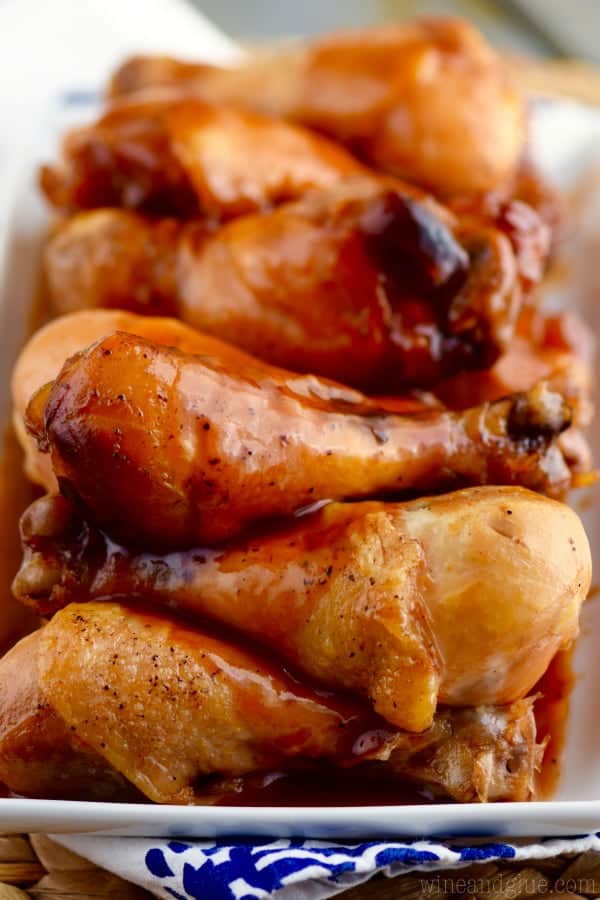 You guys, I've been watching The Bachelor *hangs head in shame*
I totally blame my friends. I have some amazingly sweet friends. The kinds of friends who will flat out tell you when you are being an idiot. But you know they love you so much that it's totally fine. Anyway! They are suuuuuuper into The Bachelor. Which is hilarious because they are straight up some of the smartest women I know.
I had to watch it. Like if I want to be part of 50% of the conversations that happen with them during a season of The Bachelor, I had to start watching it.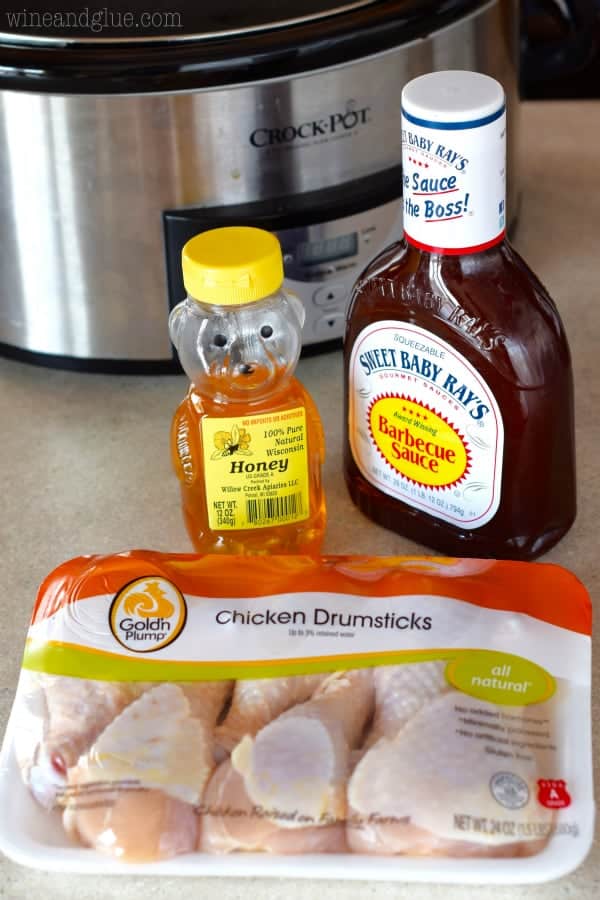 They are seriously reading this right now yelling at their computers, "You jerk, Lisa! You know that you like it!!"
Anyway. You guys, it makes me feel soooooooooooooo old. When they flash the women's names, ages, occupations, and where they live at the bottom of the screen? I mean. They are in their way early 20s. It makes me want to cry a little.
And then they say things like, "I just know that he's going to be my husband," after spending a total of 15 minutes alone with this guy. And then I am crying. But it's because I'm laughing so hard.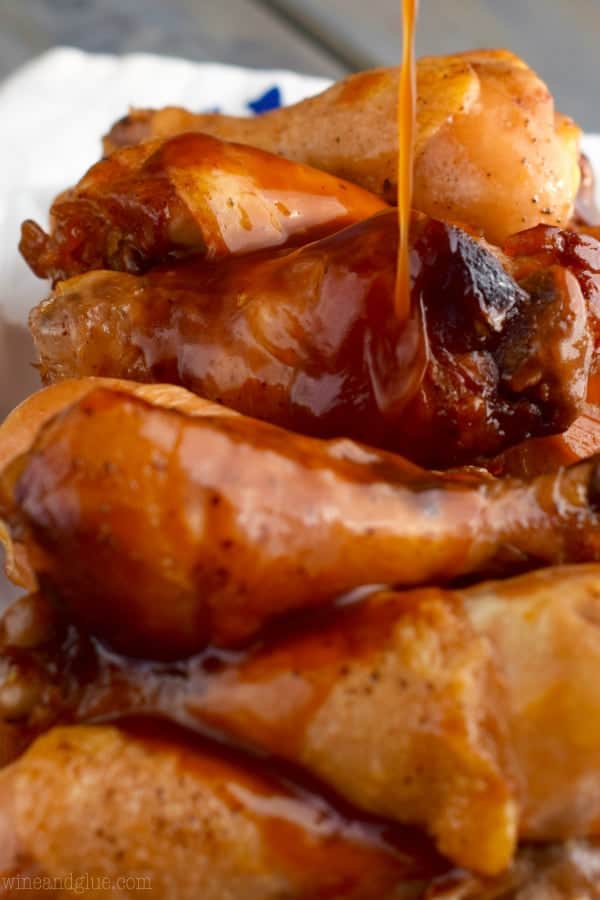 You guys. It's so awesome. I get that they are real people. Like I shouldn't laugh. But the mid-30's mother in me who has cleaned up the same 18 toys 7,432 times this week just can't help it. I mean, I'm 99% sure that the person who came up with this concept was a woman in her mid-30s with three tiny destructive children who needed a good laugh at the expense of some skinny pretty 20 year olds. AmIRIGHT??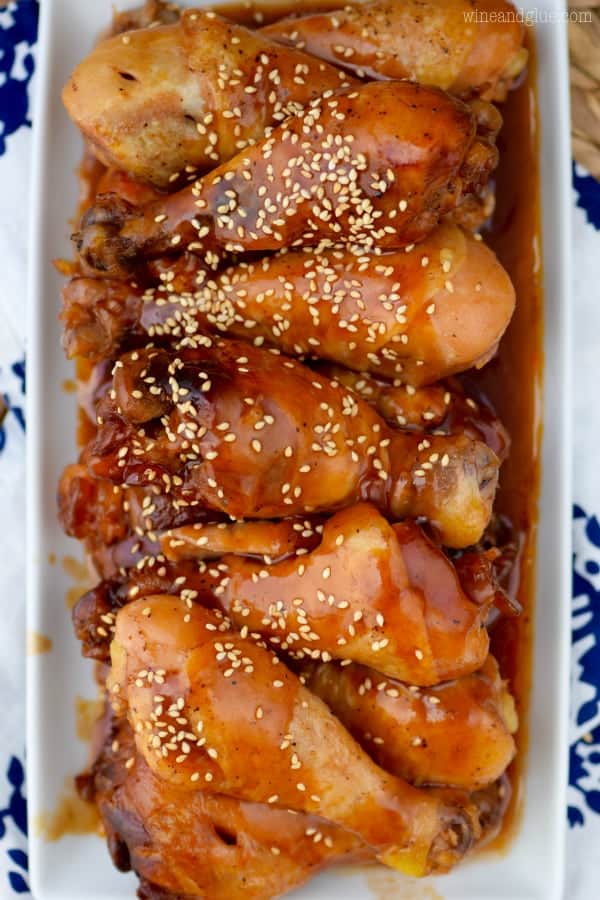 Okay. Now that I got that out of my system.
You guys! These DRUMSTICKS! I don't feel comfortable using the phrase "bombdiggity," but if I did, I would for sure use it on these bad boys. They are so delicious, packed with flavor, moist and tender and best of all EASY. I browned them a little before throwing them in my crock pot, but it's not mandatory.
Here's what you need to know: All slow cookers are different. The year they were made greatly impacts how they will handle a recipe. My slow cooker is new, so it runs hot. It cooks things quickly. If yours is old, this recipe may take longer. I would keep an eye on it so that the chicken doesn't dry out.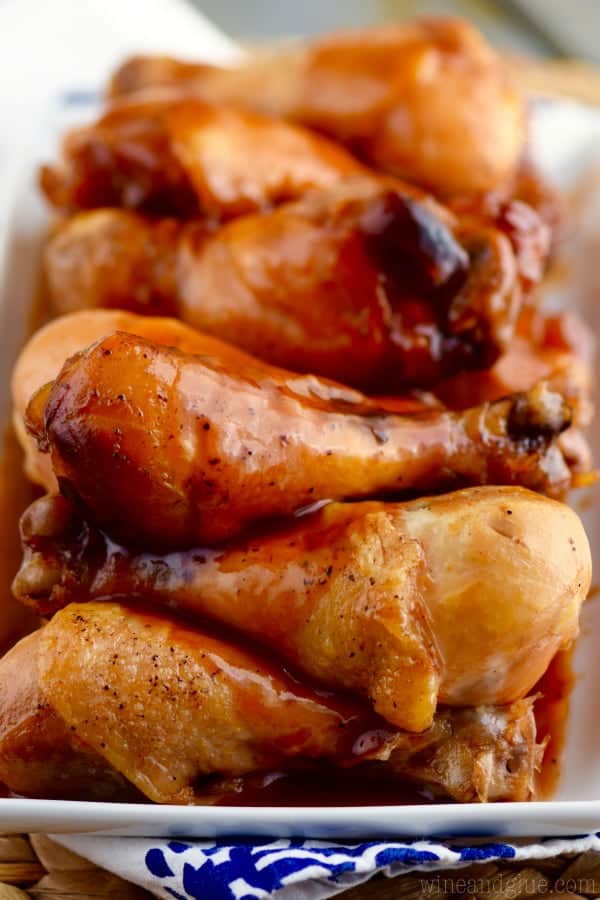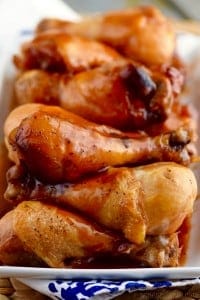 Slow Cooker Honey BBQ Chicken Drumsticks
Ingredients
2 1/2

cups

BBQ sauce

1

cup

honey

2

pounds

drumsticks

2

TBSPs

butter

salt and pepper

3

T

corn starch
Instructions
In a large bowl whisk together the BBQ sauce and honey.

Melt your butter in a cast iron skillet or a heavy bottomed dutch oven over medium heat. Working in batches brown the chicken, just about a minute on each side.

Spray the slow cooker with cooking spray. Pour some of the sauce in the bottom of the crock pot. Put the chicken in the crock pot and cover them with the remaining sauce. It's okay if some of the chicken is layered.

Cook on low for four hours or until a meat thermometer registers 165 degrees.

Remove the chicken from the crock pot and plate on the serving platter. Add the cornstarch to the sauce, whisking it to combine. With the crock pot still on low, cook for five minutes. Pour some of the sauce over the chicken.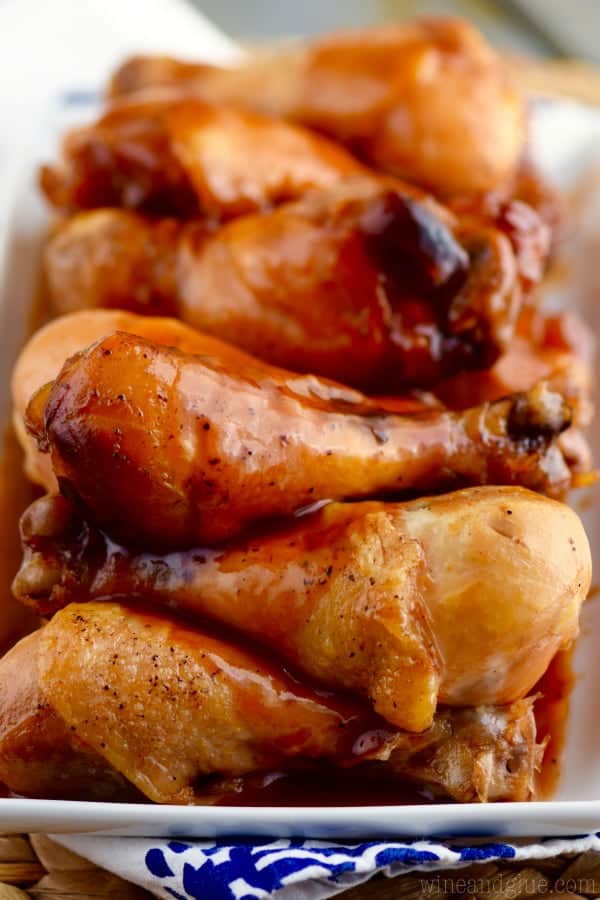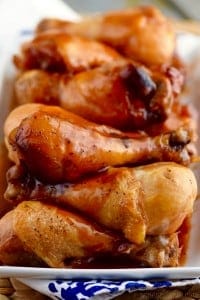 did you make this
Slow Cooker Honey BBQ Chicken Drumsticks
Other recipes perfect for game day!