This simple Taco Pinwheel Recipe is going to be your new go-to appetizer. An easy game day snack with tons of great flavor and you make them ahead of time!
Not sure about jumping in on this taco pinwheel recipe or Game Day snacks because of heartburn?! I have a great solution!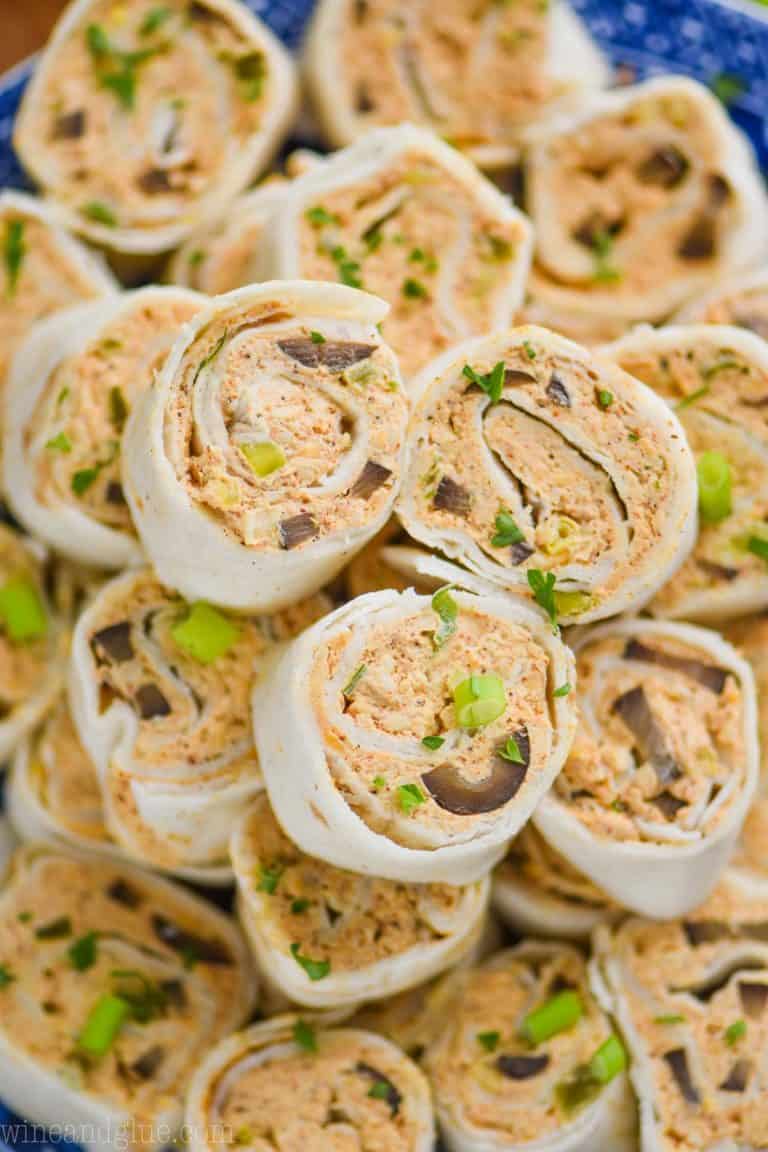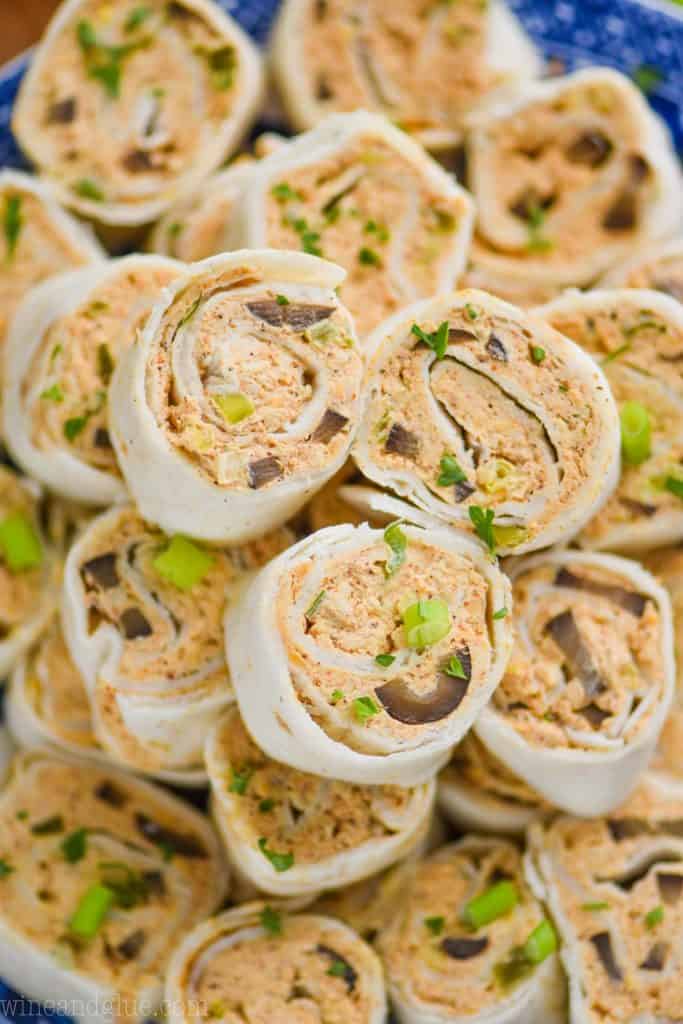 This post is sponsored by Mirum, but opinions expressed are my own.
One of my very favorite food groups is game day food. Now before you go talking about that not being a food group, I'm going to stop you right there. Because it totally is. I mean, I could make a meal out of this Taco Pinwheel recipe, especially when you pile it on a plate with some Cajun Shrimp Skewers and Honey BBQ Instant Pot Cocktail Meatballs.
I tend not to keep it a secret that the only score I keep when it comes to game day is how much delicious food I can put in my face.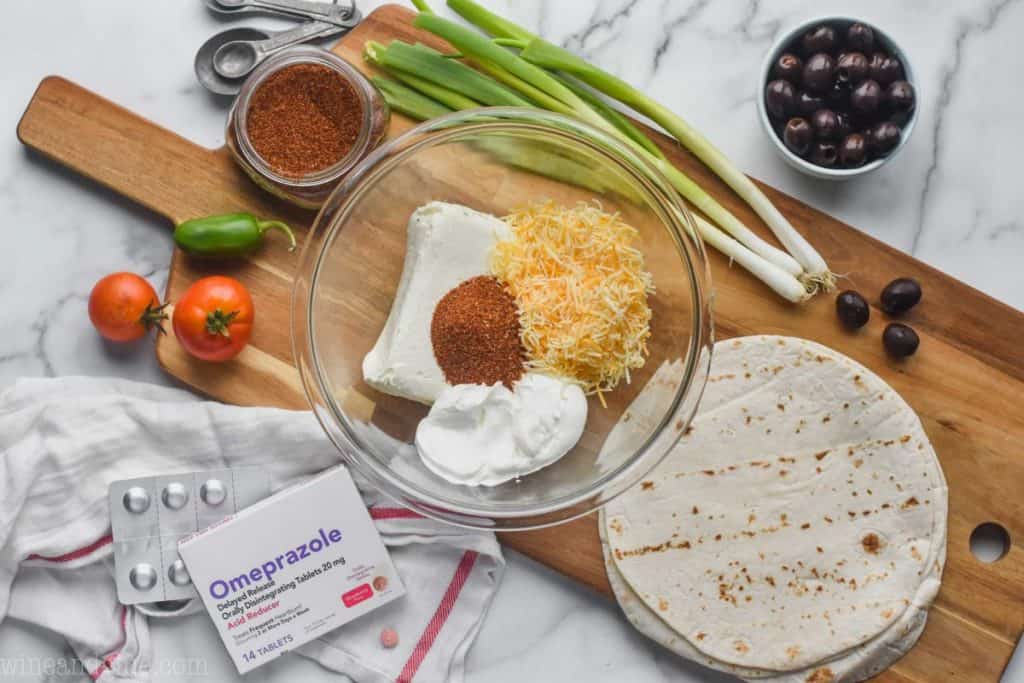 But the only problem with game day food (besides me eating too much of it), is the kick and spiciness that a lot of game day recipes – like these taco tortilla roll-ups – can have. A perfect solution to keep heartburn at bay is Omeprazole Orally Disintegrating Tablet (ODT)! It helps treat frequent heartburn and you can find it at your local Meijer store or use the store locator to find a retailer near you.
Sharing delicious food is one of my favorite parts of getting together with people. Even if I'm not in it for the game, I'm in it for the fun get-together! But as someone who has dealt with heartburn before, I can say that there is nothing good about letting that discomfort stand in the way of having fun with your friends. According to a study done by Kelton/Perrigo Company plc cased "Prevent the Summer Burn" stated that 74% of people are willing to make significant sacrifices to avoid heart burn, like passing up on enjoying the game with friends.
But there's no reason you should have to miss out on your favorite game day snacks! Taking ODT is a great way to still be able to enjoy these taco pinwheel appetizers and all the goodies of tailgating.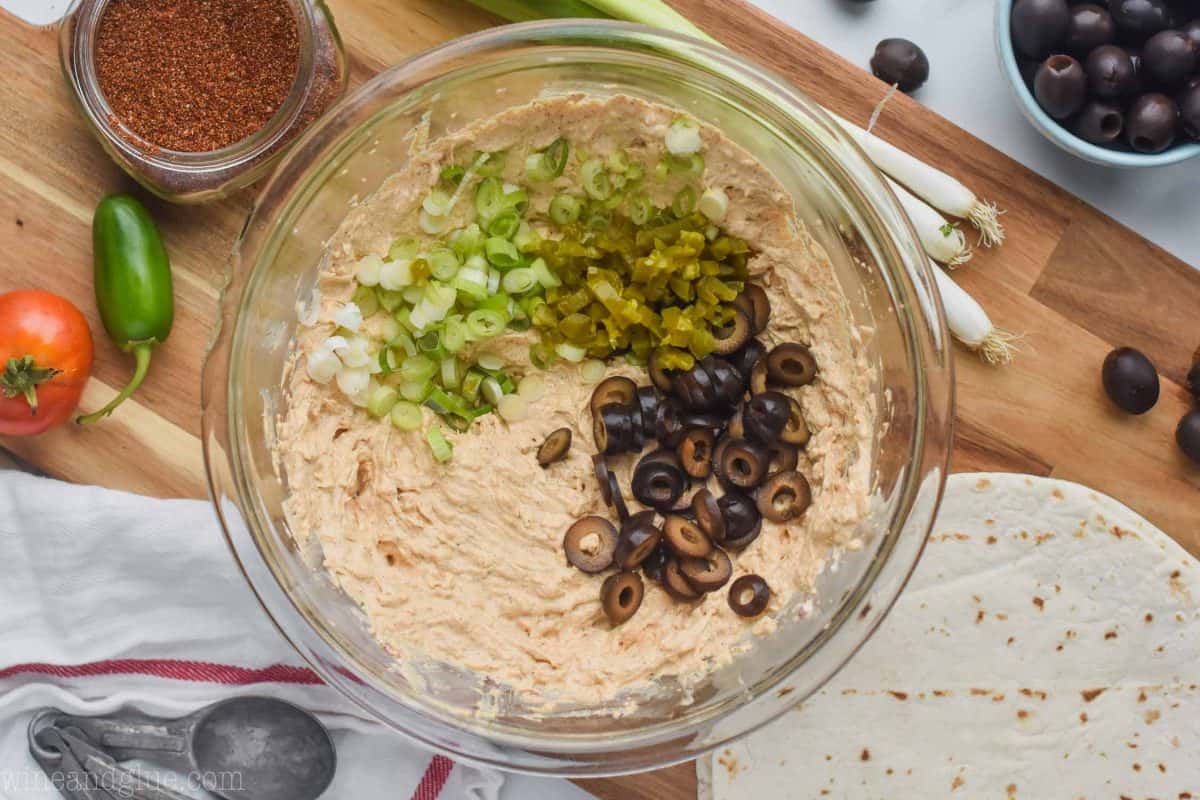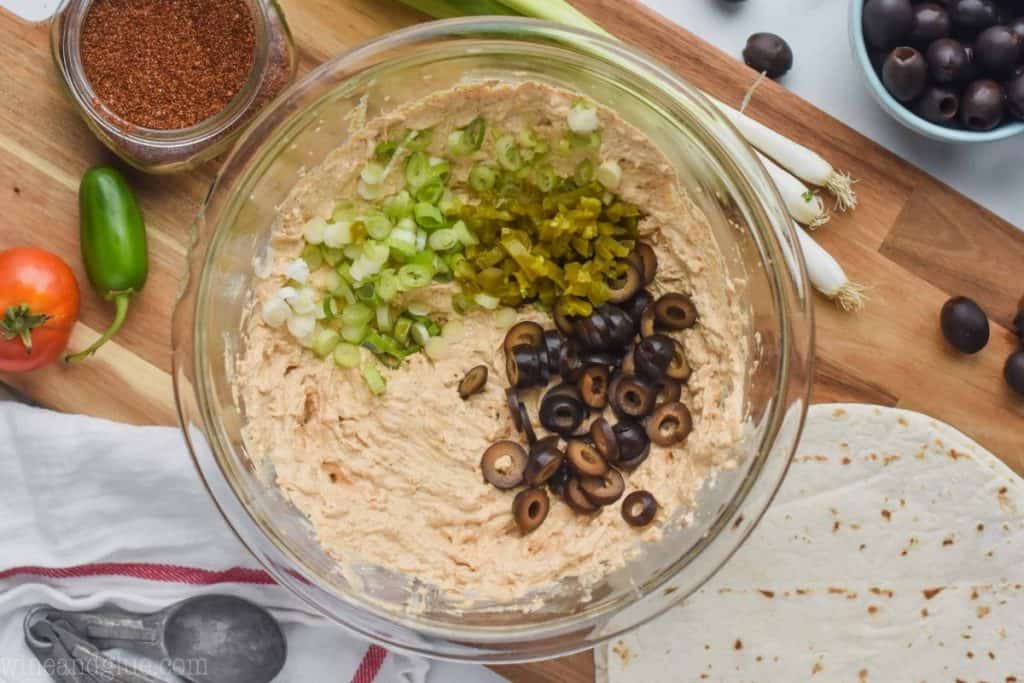 Use ODT as directed for 14 days to treat frequent heartburn (occurring 2 or more days a week). May take 1-4 days for full effect. Not intended for immediate relief. Do not take Omeprazole ODT for more than 14 days unless under doctor supervision.
Omeprazole ODT are strawberry-flavored tablets that dissolve on your tongue without needing water. This makes it so easy to keep heartburn in check while you are watching all your favorite games and eating all your favorite snacks. No matter how busy life gets, I can keep Omeprazole ODT in my bag and remember to take it. Though Omeprazole ODT isn't meant for immediate relief, taking it consistently for 14 days can provide relief within one to four days and staying on top of taking it will keep you enjoying all your favorite tailgating snacks. If you normally skip out on game day parties to avoid heartburn, I encourage you to give Omeprazole ODT a try.
Now that we have your heartburn figured out, let's jump into these pinwheels!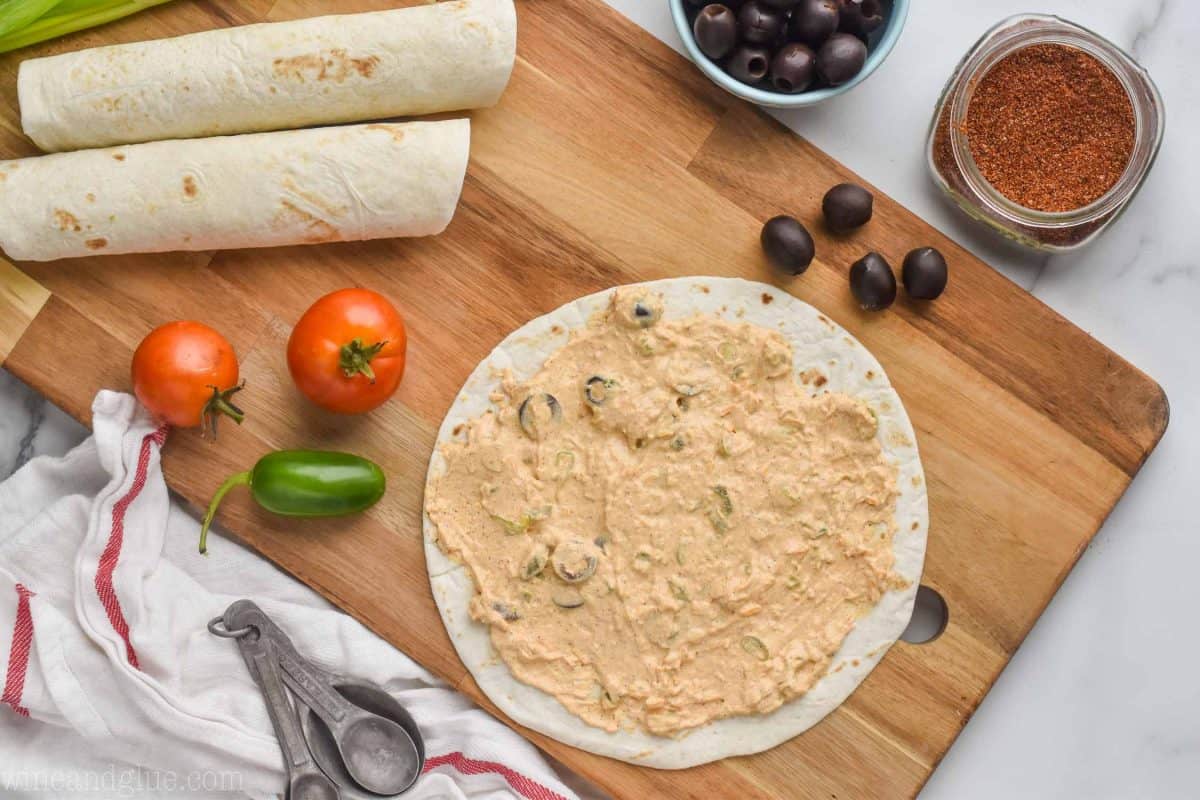 Taco Pinwheel Recipe Ingredients
To make this taco pinwheel recipe, you only need a few simple ingredients.
Flour tortilla shells make the rolling easy.
Homemade taco seasoning or you can definitely buy a store packet
We love shredded Colby Jack Cheese, but you can use a Mexican blend or cheddar cheese.
Sour cream in these cream cheese tortilla roll ups adds a nice flavor and creaminess.
Can you make pinwheel recipes without cream cheese?
I added green onions because I love the added crunch and flavor.
Black olives went in mine because I can't have tacos without them.
Finally, I added some chopped pickled jalapeños, but you can leave those out if the spice is too much for the littles.

How to Make Pinwheels
As you can see, putting together these tortilla roll ups is really easy. You need to:
Mix together cheese, taco seasoning, room temperature cream cheese, and sour cream.
Add in olives, chopped jalapeños, and diced green onions.
Spread the mixture on tortillas.
Roll up tightly in plastic wrap.
Refrigerate for at least four hours, slice and serve.
These are so simple to make!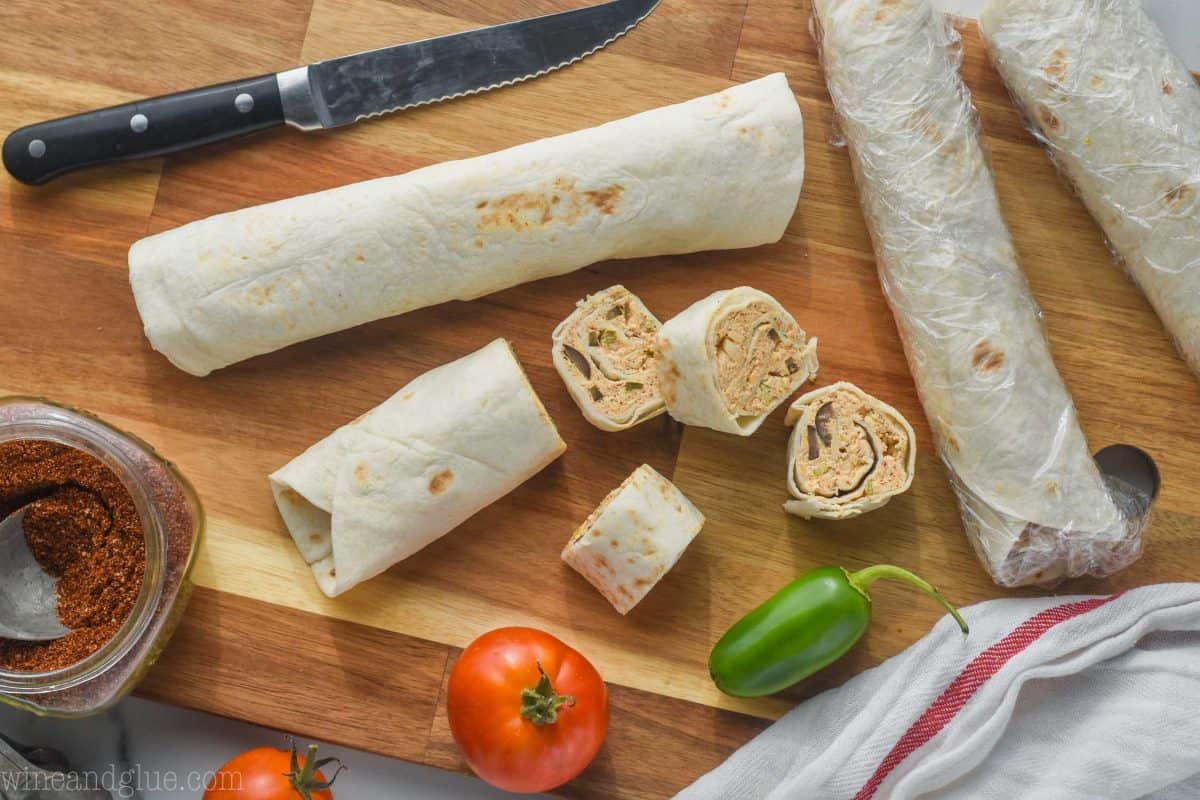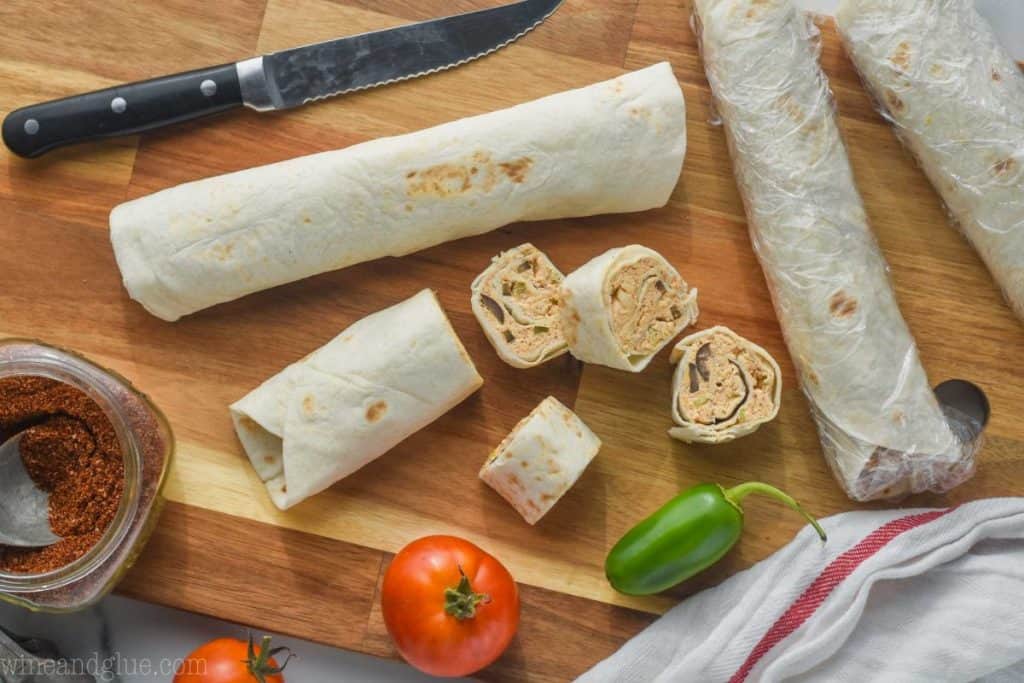 Make Them the Day Before!
One of the things I love most about this recipe is that you make these the day before.
While the cream cheese needs to be soft to mix up well with the other ingredients, it needs to chill again to make those nice pretty slices that you see.
These need at least four hours in the refrigerator, but can be kept wrapped up in their plastic wrap for as long as 24 hours. Take them out and slice them right before serving.
While you can make them in advance, I wouldn't recommend freezing this recipe.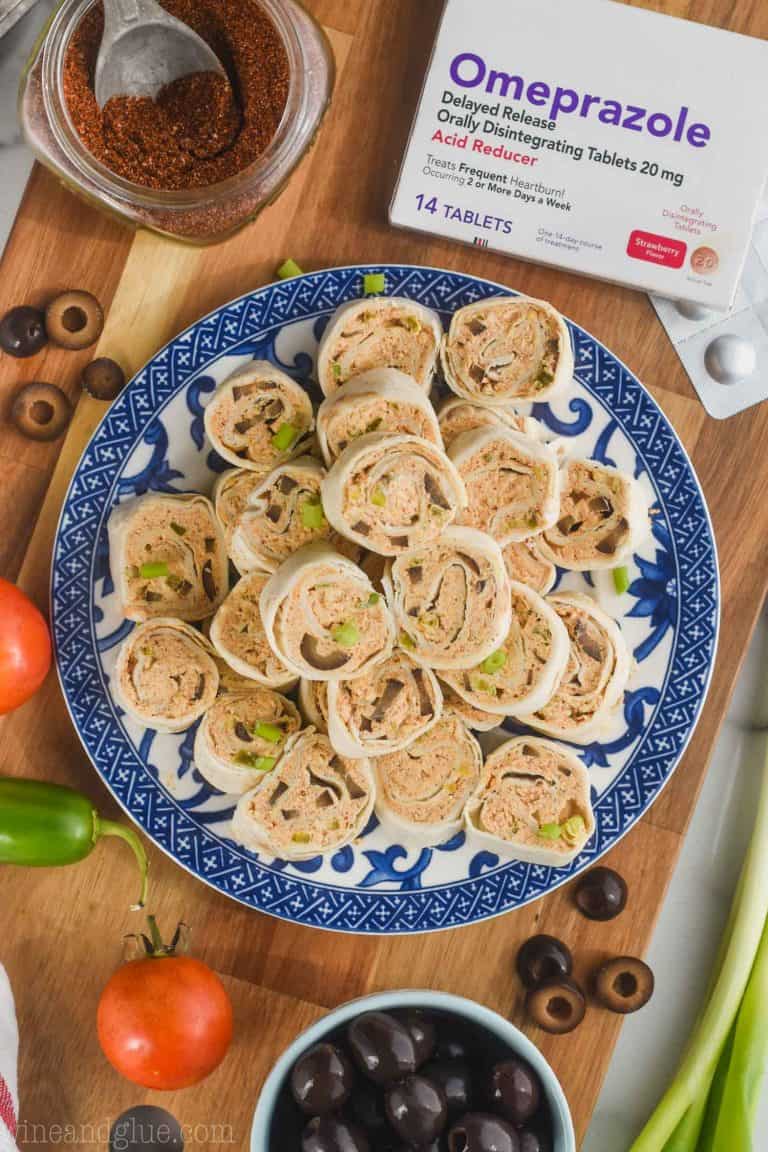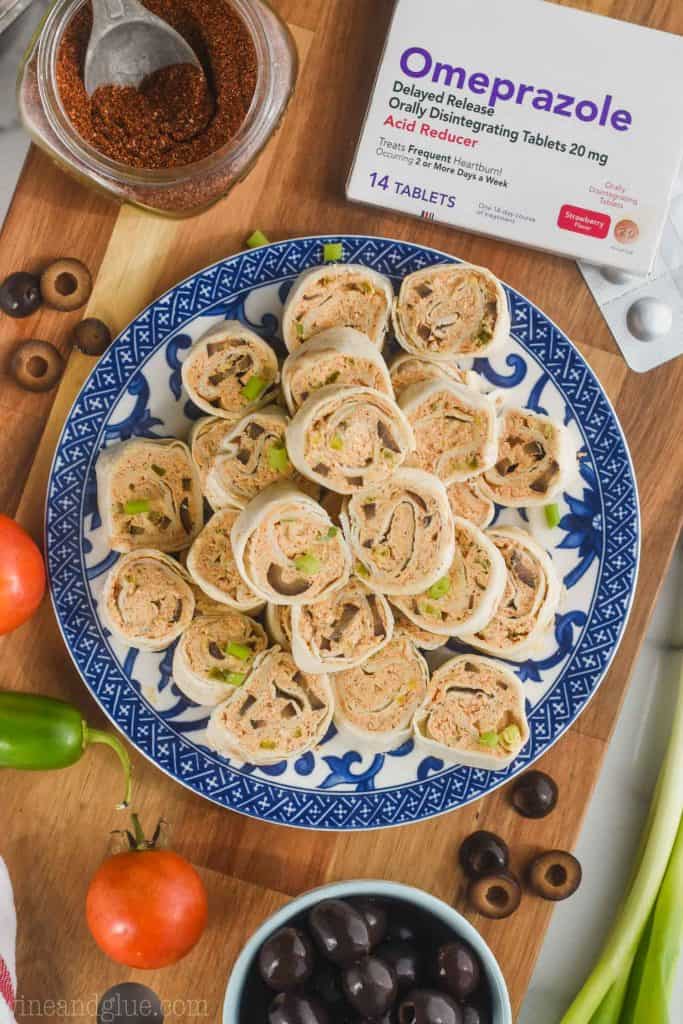 Other Great Appetizers for Game Day
With all this spicy food on the table it will be great you have taken your Omeprazole ODT to keep your heartburn away.
If you make this taco pinwheel recipe or any of the other appetizer recipes I listed, be sure to leave me a comment and let me know! I love hearing from you!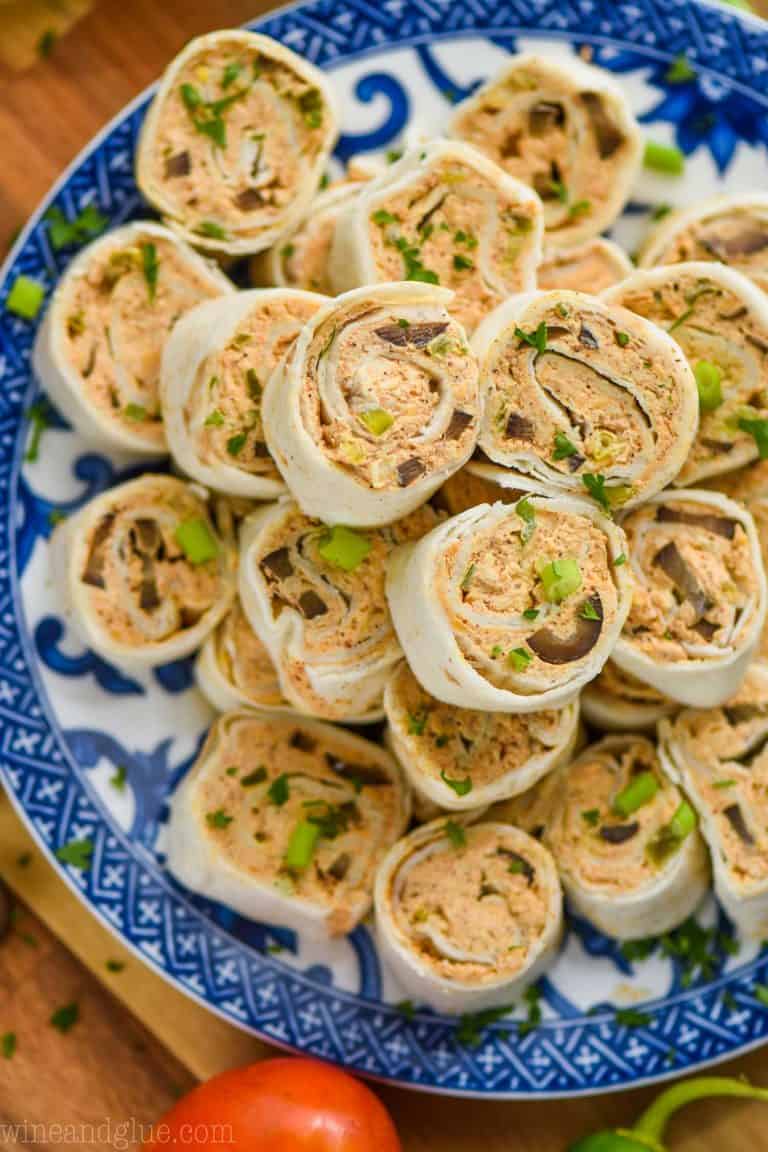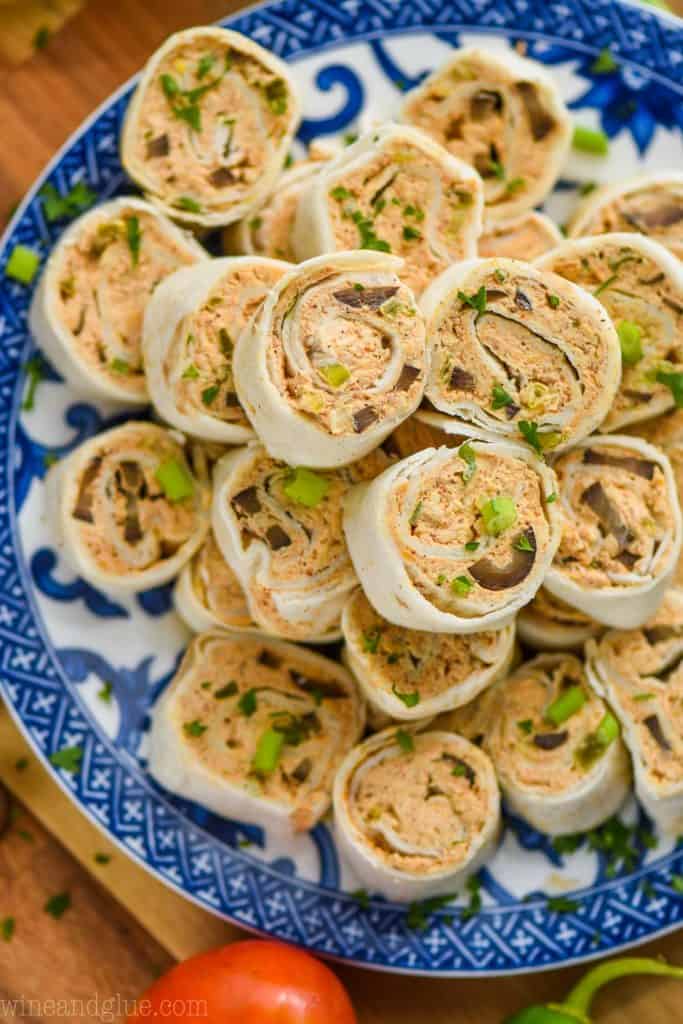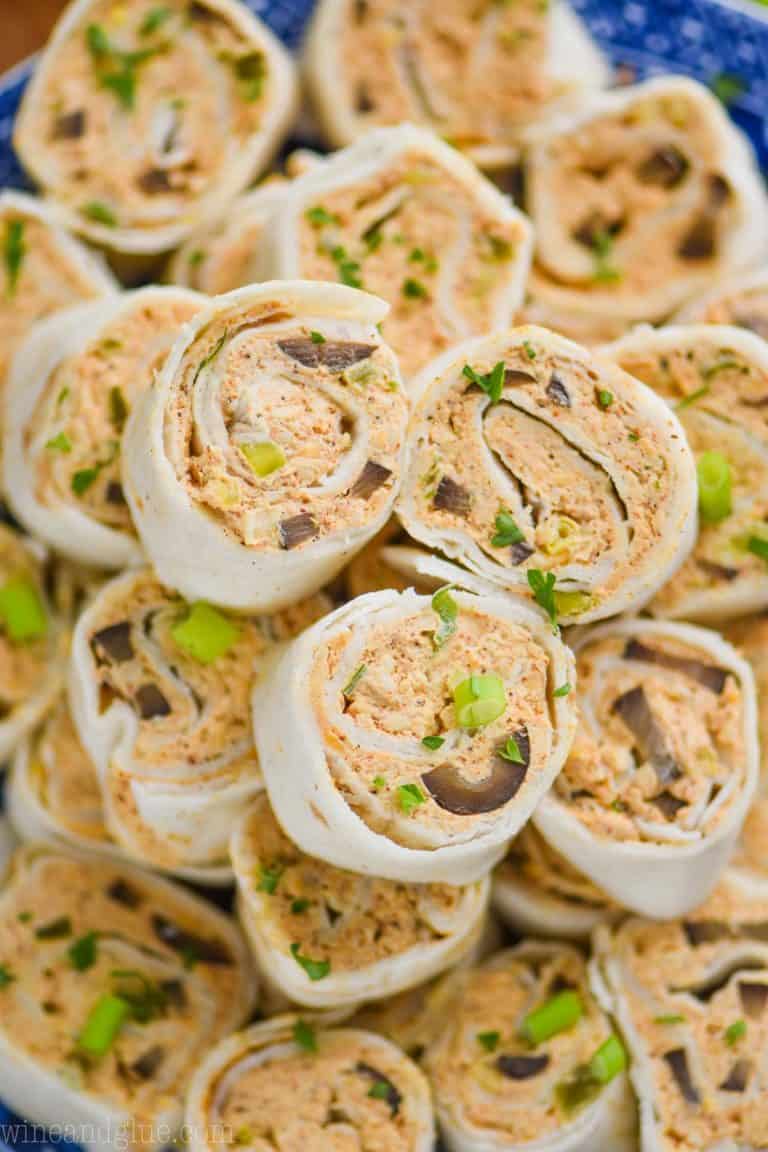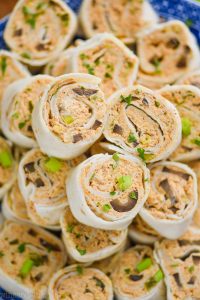 Taco Pinwheel Recipe
Total:
4
hours
10
minutes
This simple Taco Pinwheel Recipe is going to be your new go to appetizer. An easy game day snack with tons of great flavor and you make them ahead of time!
Ingredients
8

ounces

cream cheese

room temperature

1

cup

Colby Jack cheese

shredded

1/2

cup

sour cream

2

tablespoons

taco seasoning

2

green onions

diced 1 inch into the green

1/2

cup

black olives

sliced

2

tablespoons

pickled jalapeños

diced

5

flour tortillas

(10 inch tortillas)
Instructions
In a medium bowl, with a hand held mixer, beat the cream cheese, shredded cheese, sour cream, and taco seasoning until well combined and smooth.

Stir in the green onions, black olives, and jalapeños.

Spread the mixture evenly over 5 flour tortillas. Roll up the tortillas tightly and wrap tightly in plastic wrap. Place in the refrigerator for at least four hours or up to 24 hours.

Before serving, take off the plastic wrap. Slice each roll up in half, and then cut three one inch pinwheels, working from the cut end out. Discard the roll that is made out of the end of the tortilla. You should have 6 one inch thick pinwheels from each tortilla roll up.
Serving:
1
pinwheel
Calories:
75
kcal
(4%)
Carbohydrates:
5
g
(2%)
Protein:
2
g
(4%)
Fat:
5
g
(8%)
Saturated Fat:
3
g
(19%)
Monounsaturated Fat:
1
g
Cholesterol:
12
mg
(4%)
Sodium:
152
mg
(7%)
Potassium:
17
mg
Sugar:
1
g
(1%)
Vitamin A:
25
IU
(1%)
Calcium:
11
mg
(1%)
Iron:
1
mg
(6%)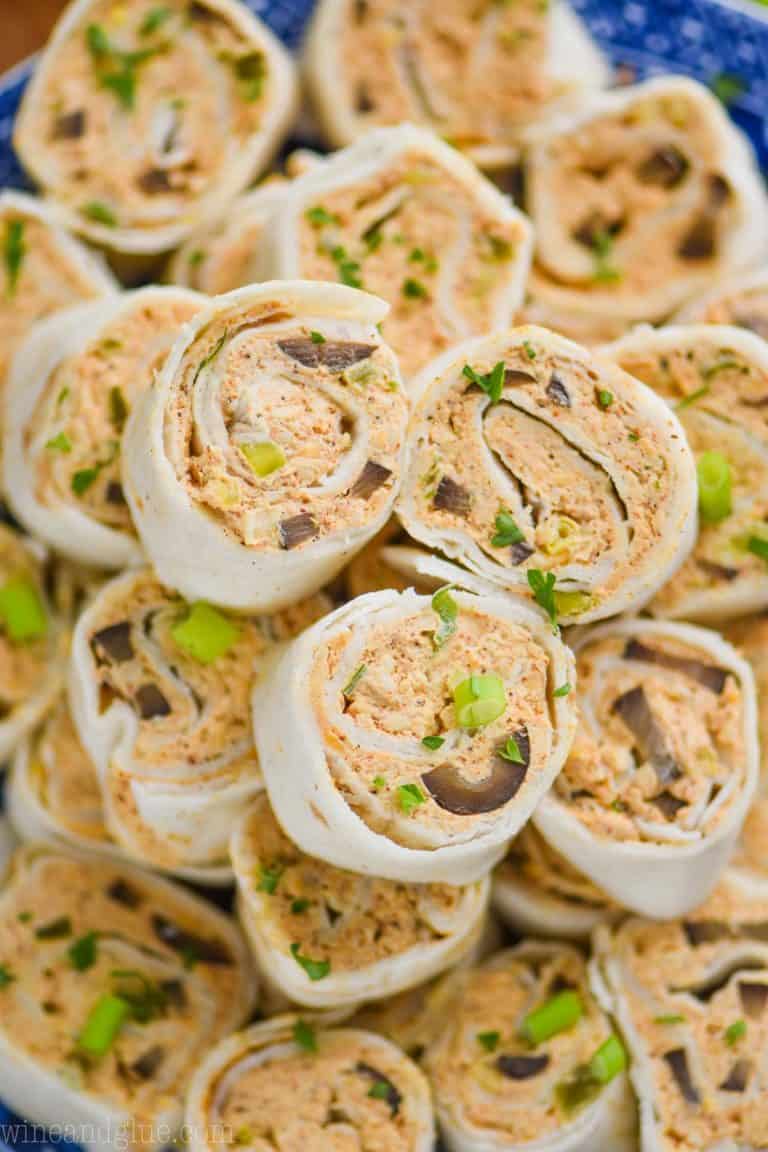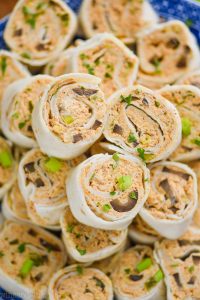 did you make this
Taco Pinwheel Recipe