My Tequila Sunrise is the perfect ratio of orange juice, grenadine, and tequila. You will love this simple and delicious classic cocktail.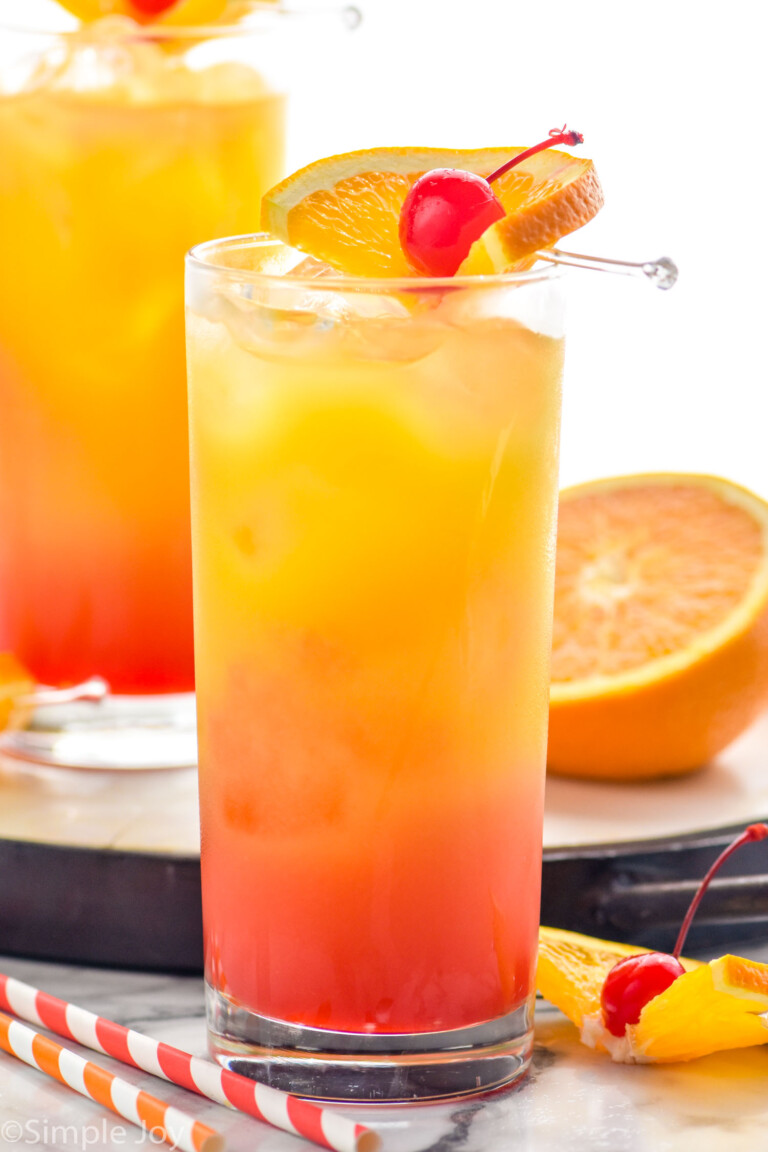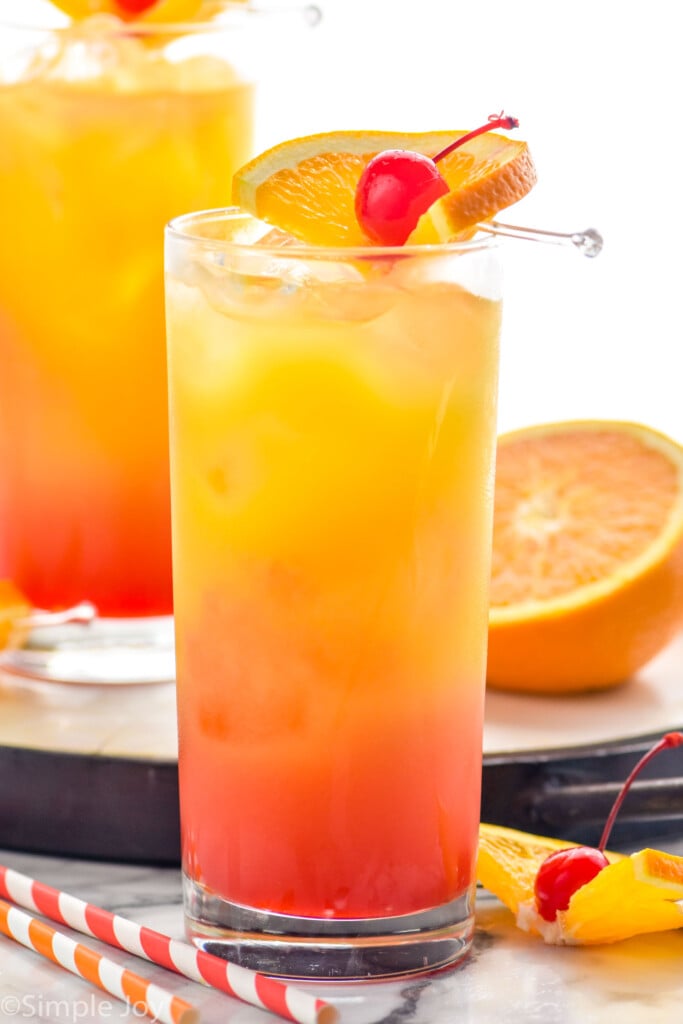 If it's been a bit since you were able to escape to a tropical destination, let's do something small that can bring the tropical destination to you. I think we should pass on dragging sand and a kitty pool in your living room, but instead make this delicious Tequila Sunrise. Made with only three ingredients, this is the perfect little treat to pretend you are somewhere far off.
Tequila Sunrise Ingredients
A tequila sunrise drink comes together with three simple ingredients. The "sunrise" appearance appears naturally due to the difference in density of the three ingredients, so the key is having the right ratio.
Tequila: No need to go top-shelf but you do want to use a tequila that you enjoy the flavor of. I share my recommendations below.
Orange juice: While store-bought orange juice will work, freshly squeezed always tastes better and is ideal for cocktails. Want to make sure you always have orange juice on hand? Buy small bottles that will store well in your pantry.
Grenadine: This sweet non-alcoholic syrup balances out the tequila and orange juice and creates the red layer of the sunrise by sinking to the bottom of the glass.
How to Make a Tequila Sunrise
This tequila cocktail comes together right in the glass you drink it out of. The layered effect and refreshing flavor make it a classic! For the full tequila sunrise recipe including all measurements, scroll to the recipe card at the bottom of the post.
Fill your glass with ice. A highball glass works well.
Combine the tequila and orange juice. Gently stir to combine.
Add the grenadine. Slowly pour it down the side of the glass so that it settles on the bottom of the glass. Be sure not to stir in order to keep the vibrant color layers.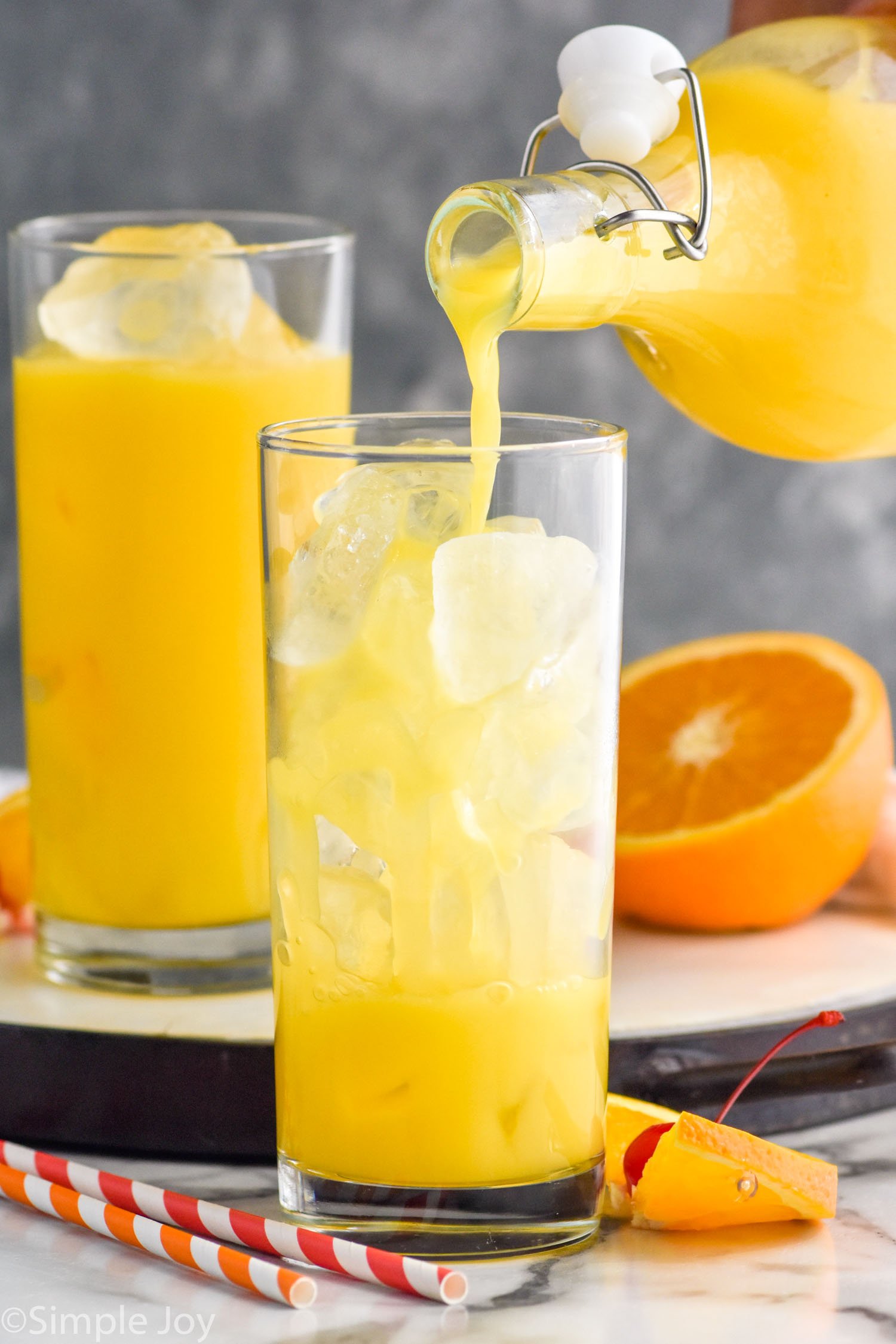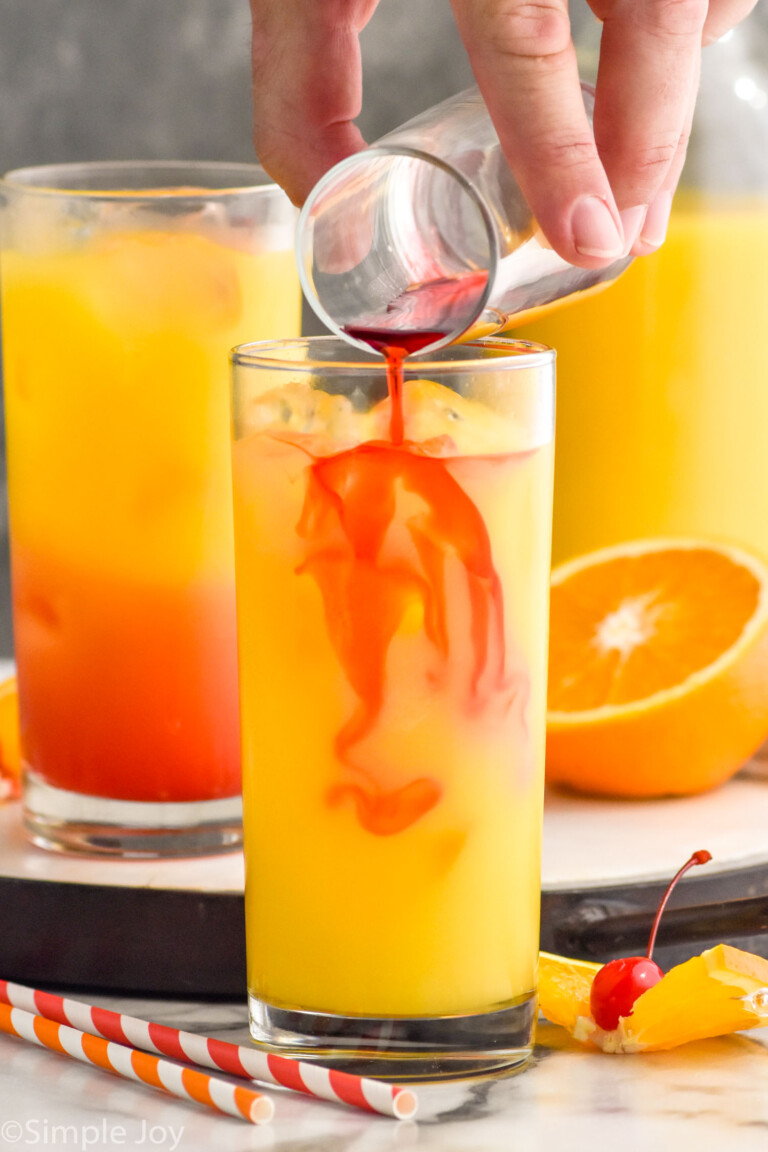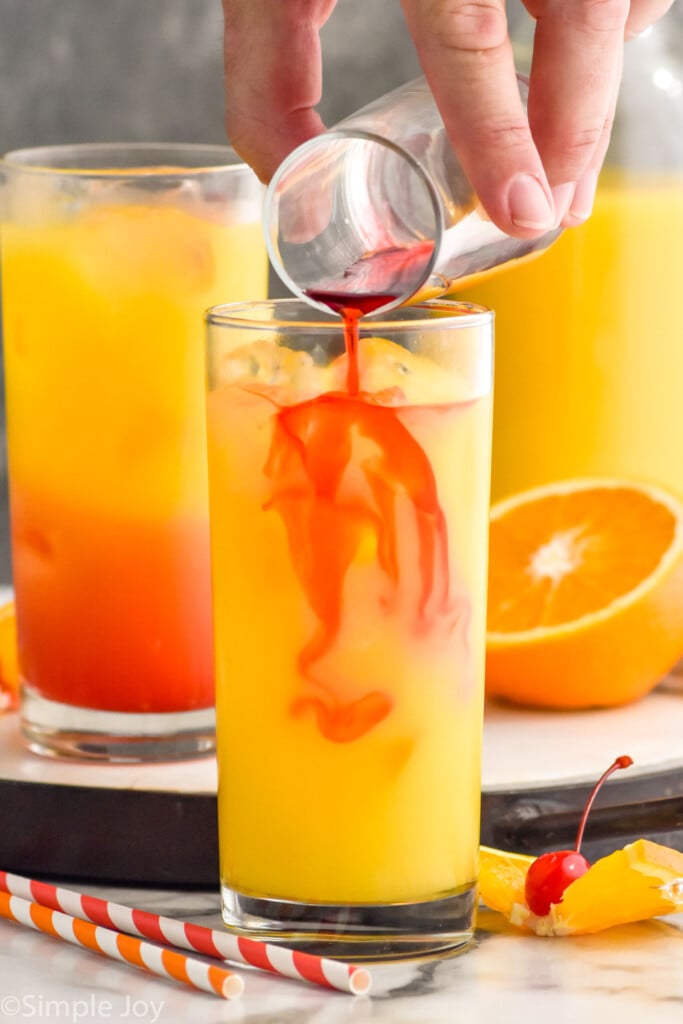 The Best Tequila
For any tequila cocktail, it is important to choose a tequila that is 100% agave. Agave is what tequila is made of so this ensures that your bottle doesn't contain any cheap filler. Fortunately, there are great tequila options at every price point.
Buy a mid-level bottle, like Milagro Silver. Because we are making a cocktail and not drinking it straight, we can go with a less expensive bottle. I think that Milagro Silver is the perfect mid-level bottle.
If you are splurging, grab a bottle of Patron. If you want to go high-end, that would be my pick.
For a budget-friendly tequila, buy Sauza. This is a great lower-level option.
TOP PICK
High Ball Glasses
Highball glasses are perfect for so many classic cocktails!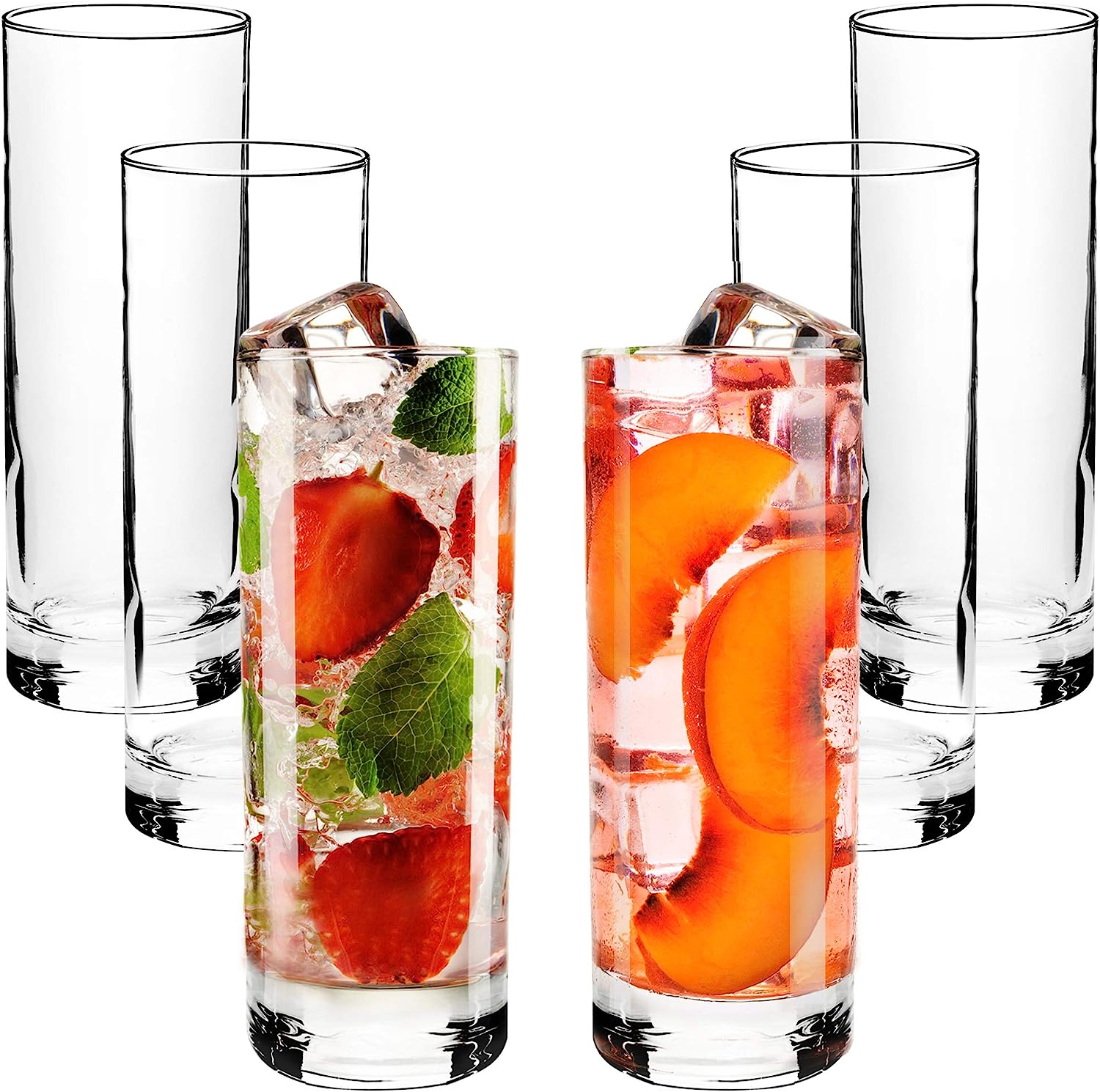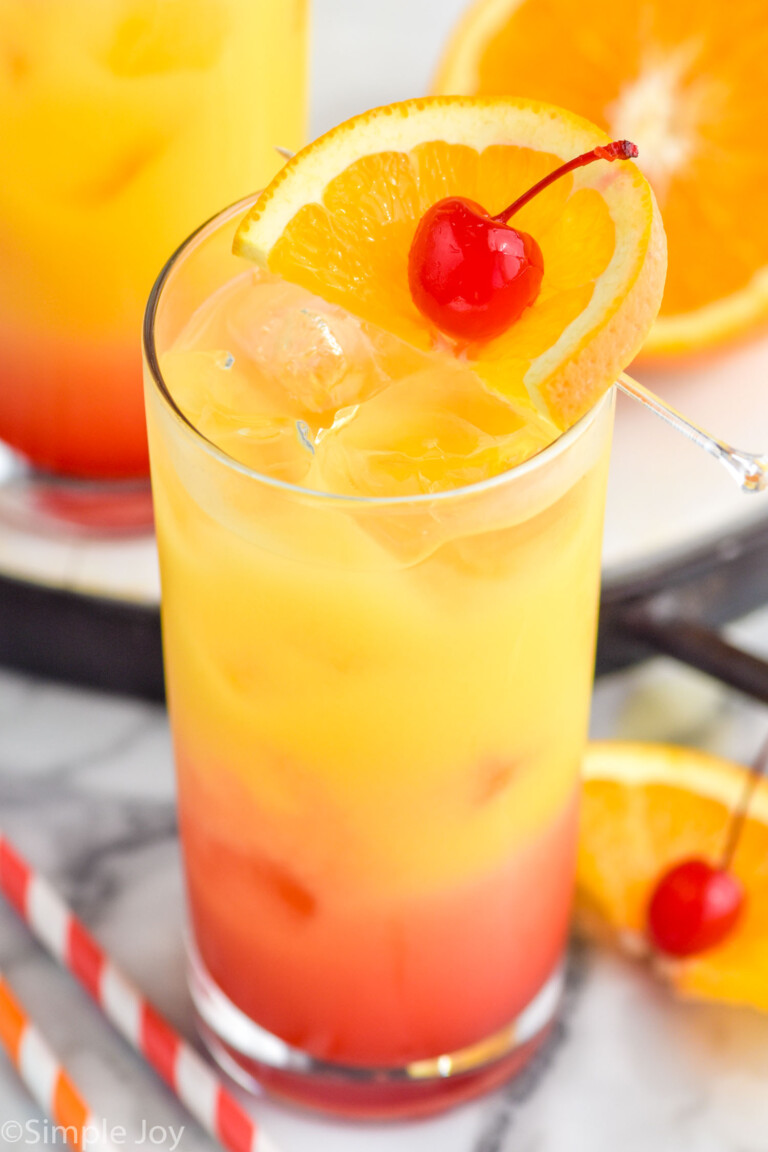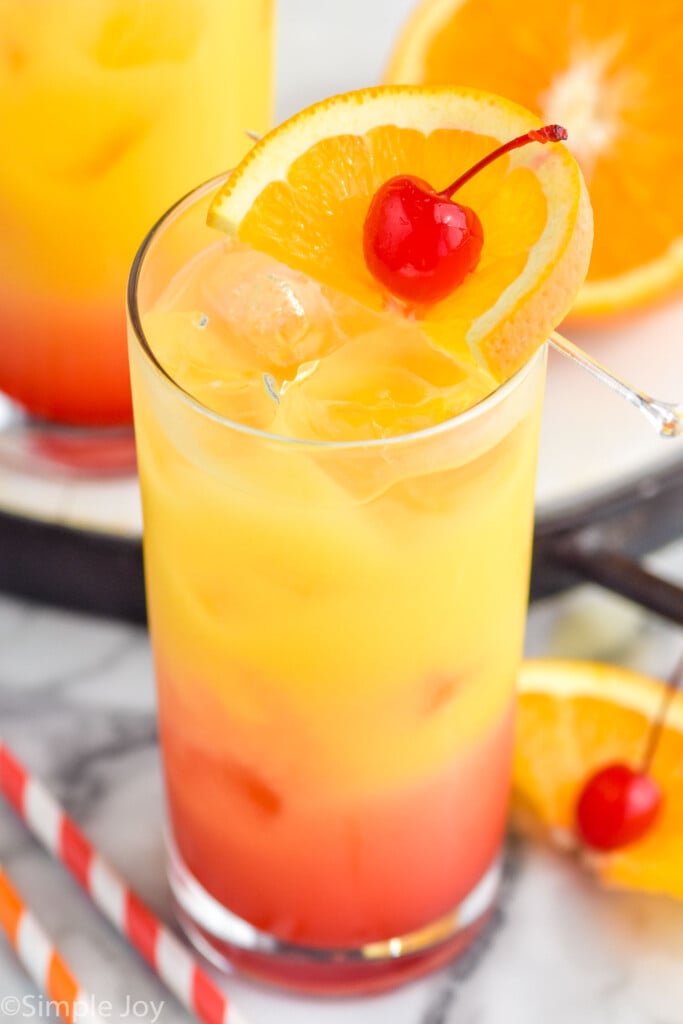 Tequila Sunrise vs. Sunset
Both containing orange juice and tequila, the classic tequila sunrise recipe uses grenadine to create the red hue while the tequila sunset uses blackberry brandy. The two ingredients slightly change the flavor of the cocktails and are different colors, giving the cocktails different appearances.
How to Serve
Serve your tequila sunrise in a high-ball glass or glass tumbler with lots of ice. Avoid stirring to keep the color striations. Garnish with an orange slice and maraschino cherries. I like to weave a cocktail toothpick through the orange wedge, the cherry, and then back through the orange wedge.
Pro Tip!
Replace some of the orange juice with a splash of club soda to make the cocktail a little less sweet and add some fizz. A little on top at the end will help maintain that beautiful sunrise look.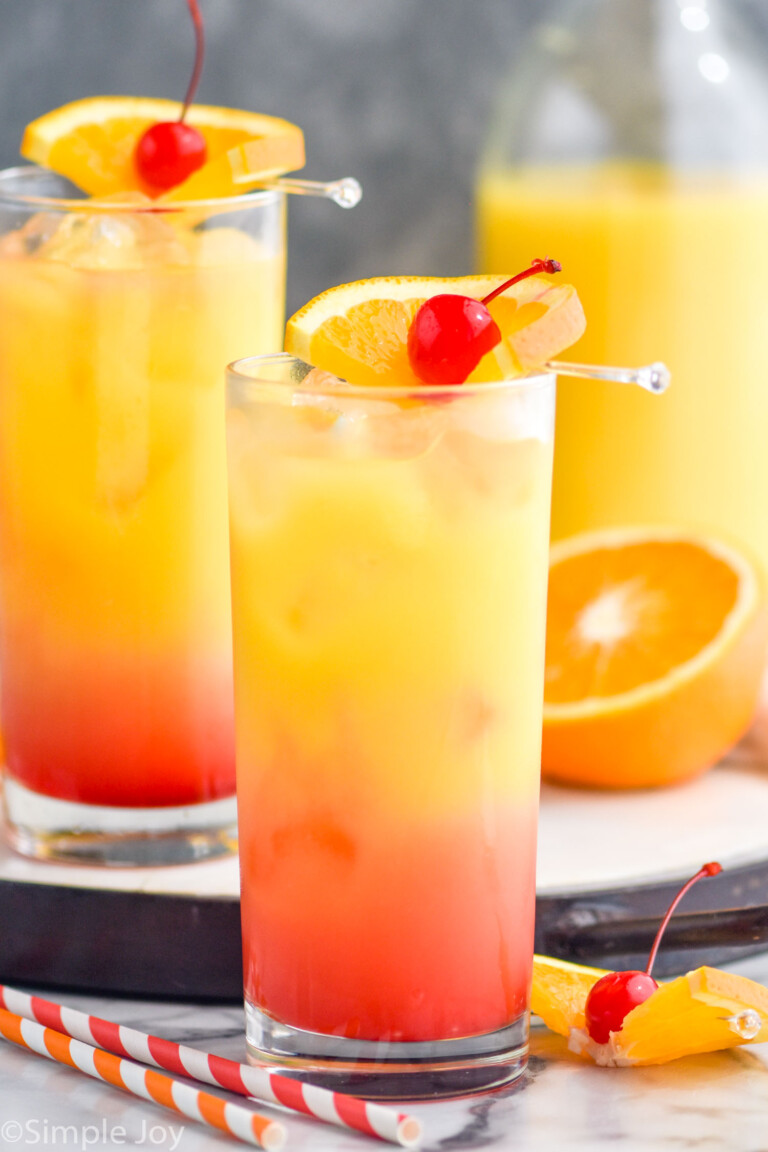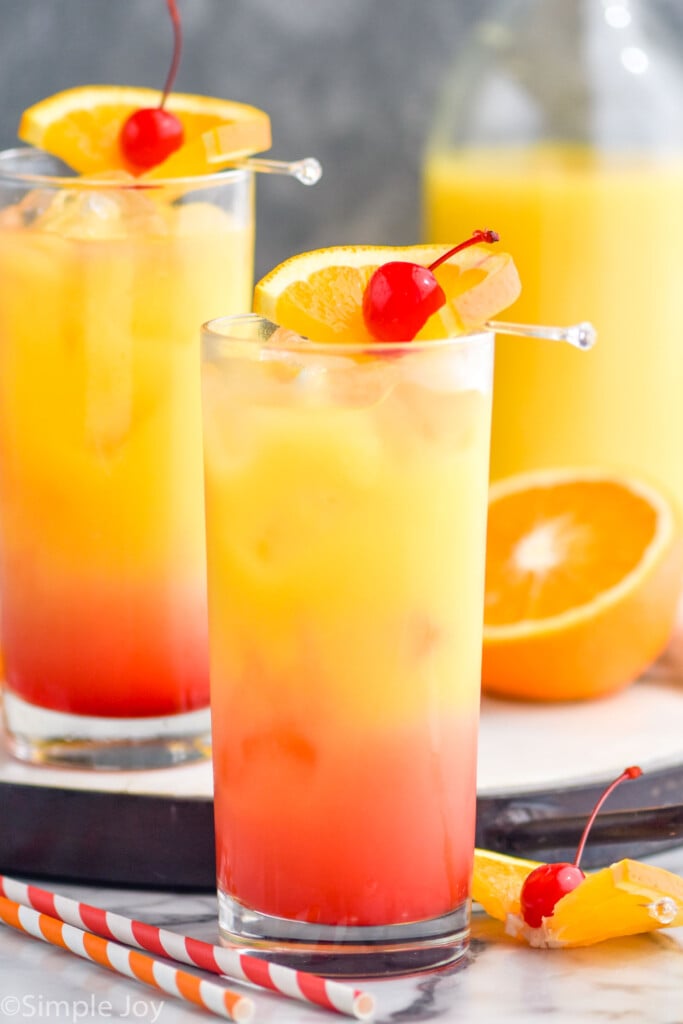 Other Tequila Cocktails
If you try this recipe for a tequila sunrise or any of my other cocktail recipes, please leave a comment and let me know what you think.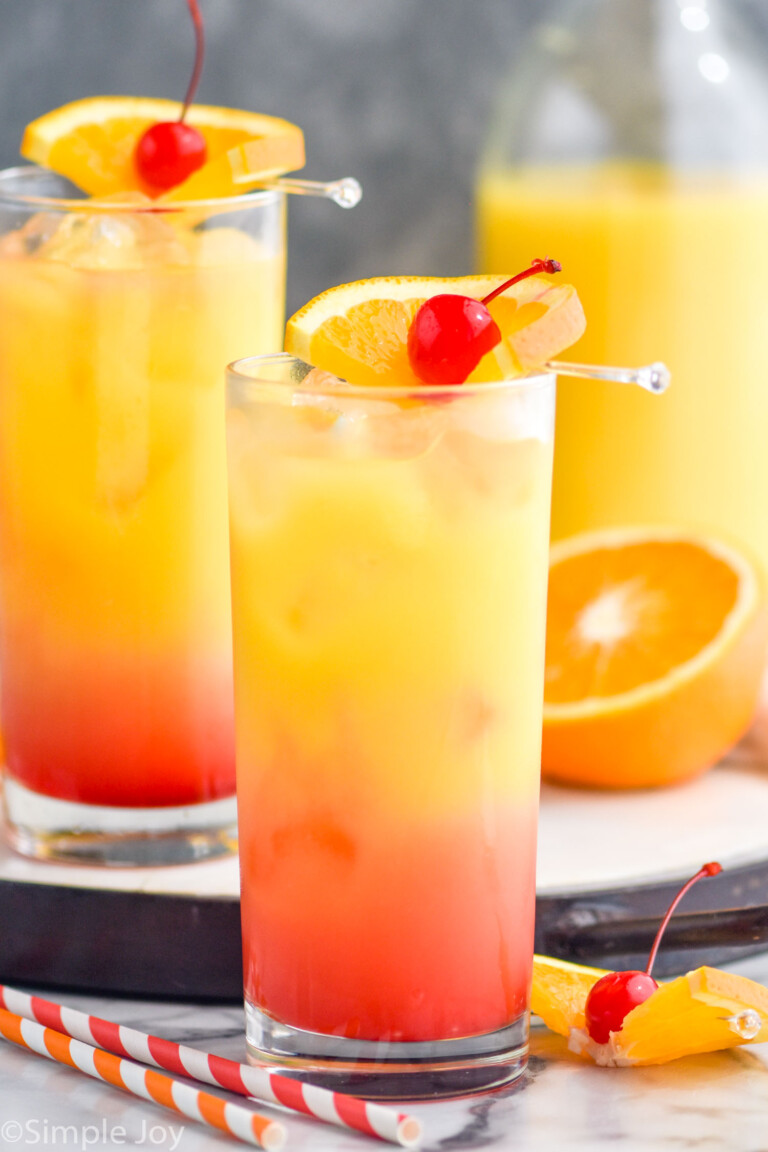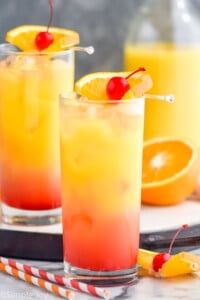 Tequila Sunrise
Ingredients
1 1/2

ounces

tequila

3

ounces

orange juice

1/2

ounce

grenadine

orange wedge

for garnish

maraschino cherry

for garnish
Instructions
Fill a highball glass with ice.

Add in the tequila and the orange juice. Stir.

Very carefully pour the grenadine down the inside of the glass so it settles on the bottom. Garnish with an orange wedge and maraschino cherry and enjoy!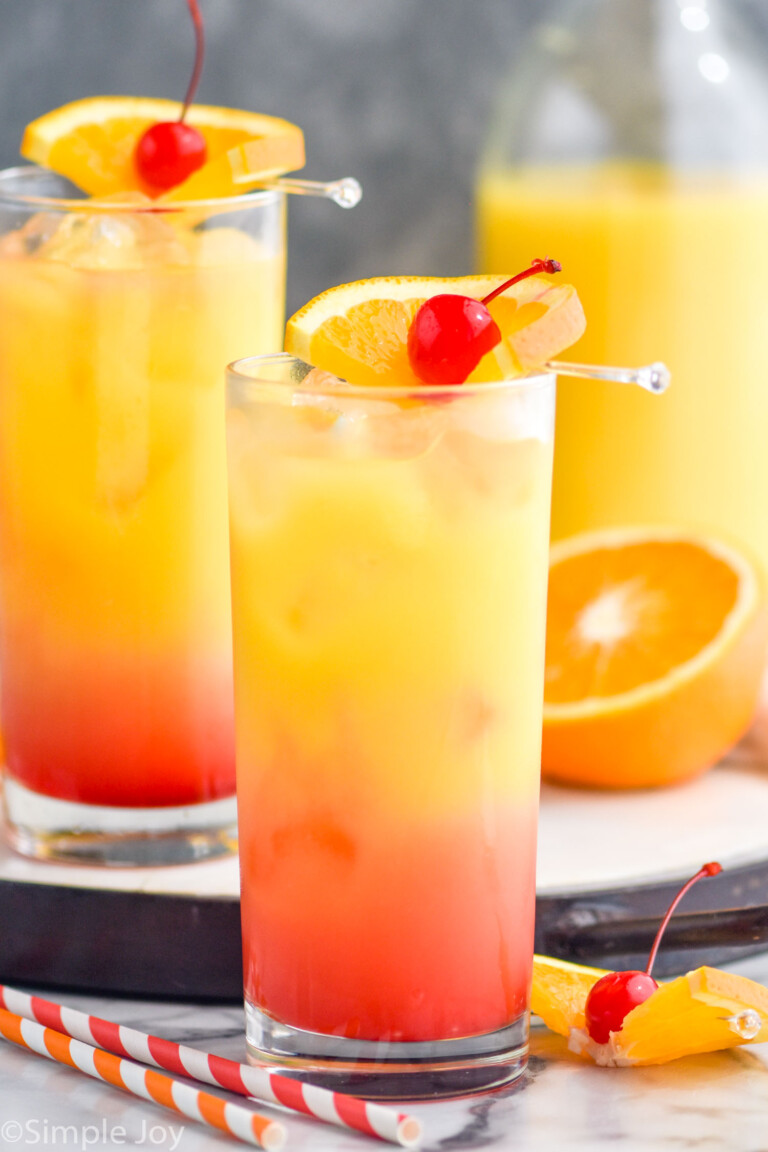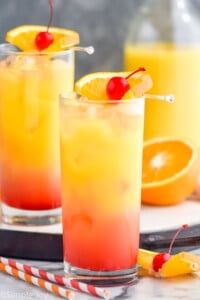 did you make this
Tequila Sunrise