This Watermelon Margarita recipe is refreshing, colorful and so delicious! Cut up a watermelon for the kiddos, and then snag two cups of it for your new favorite cocktail.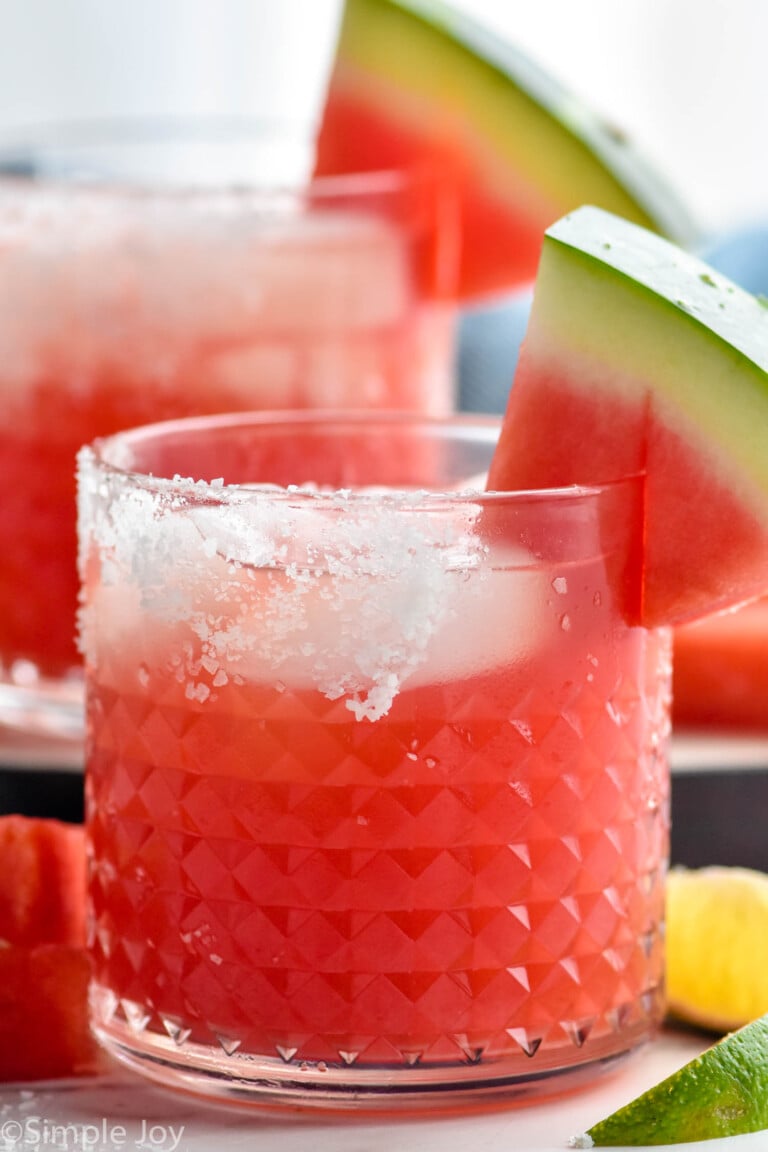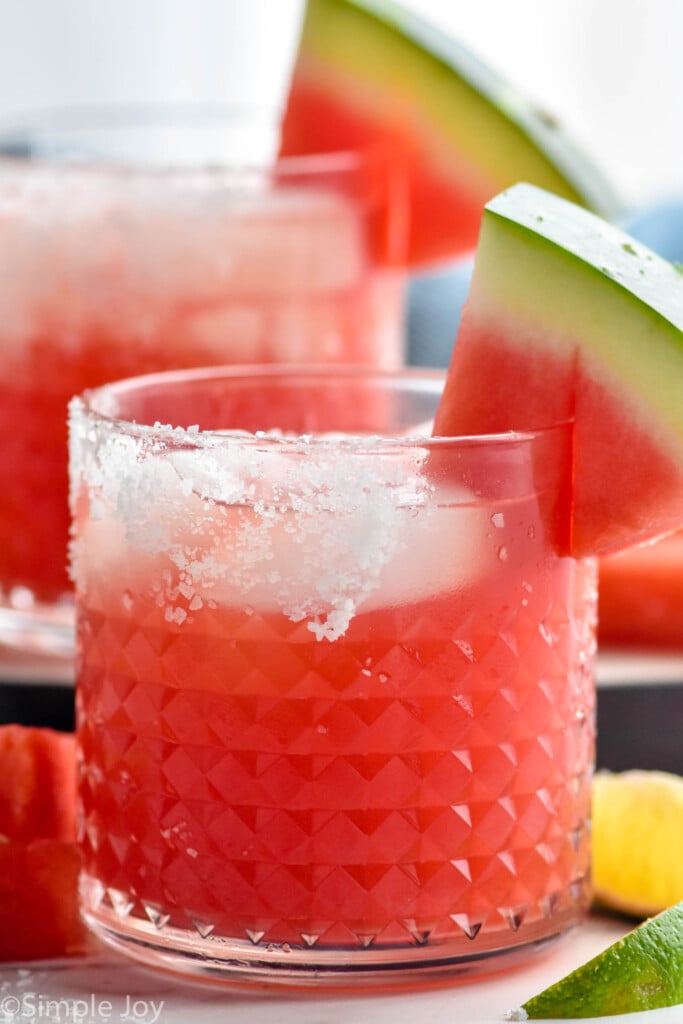 I'm so excited to share this cocktail with you guys. I'm obsessed with it! There is something about the combination of tequila and watermelon that is just perfection. In fact, you don't even need to make it a margarita. Just the watermelon juice and tequila over ice is the perfect refreshing summer cocktail.
How to Make Watermelon Margaritas
This is a brief overview of how t make this delicious cocktail. For the full recipe with all of the measurements, see the recipe card at the bottom of the post.
Blend the watermelon. I love my Ninja blender because it comes with a small bullet blender.
Strain the watermelon. This step is optional, but it allows you to get out the pulp, which makes for a smoother and prettier cocktail.
Prepare your glasses. Rub a bit of fresh lime around the rim of the glass. Then dip it in kosher salt.
Combine the ingredients. In a shaker filled with ice, combine the watermelon juice, tequila, triple sec, and lime juice. Shake to combine.
Strain the drink. Strain the cocktail into the prepared glasses over ice and enjoy!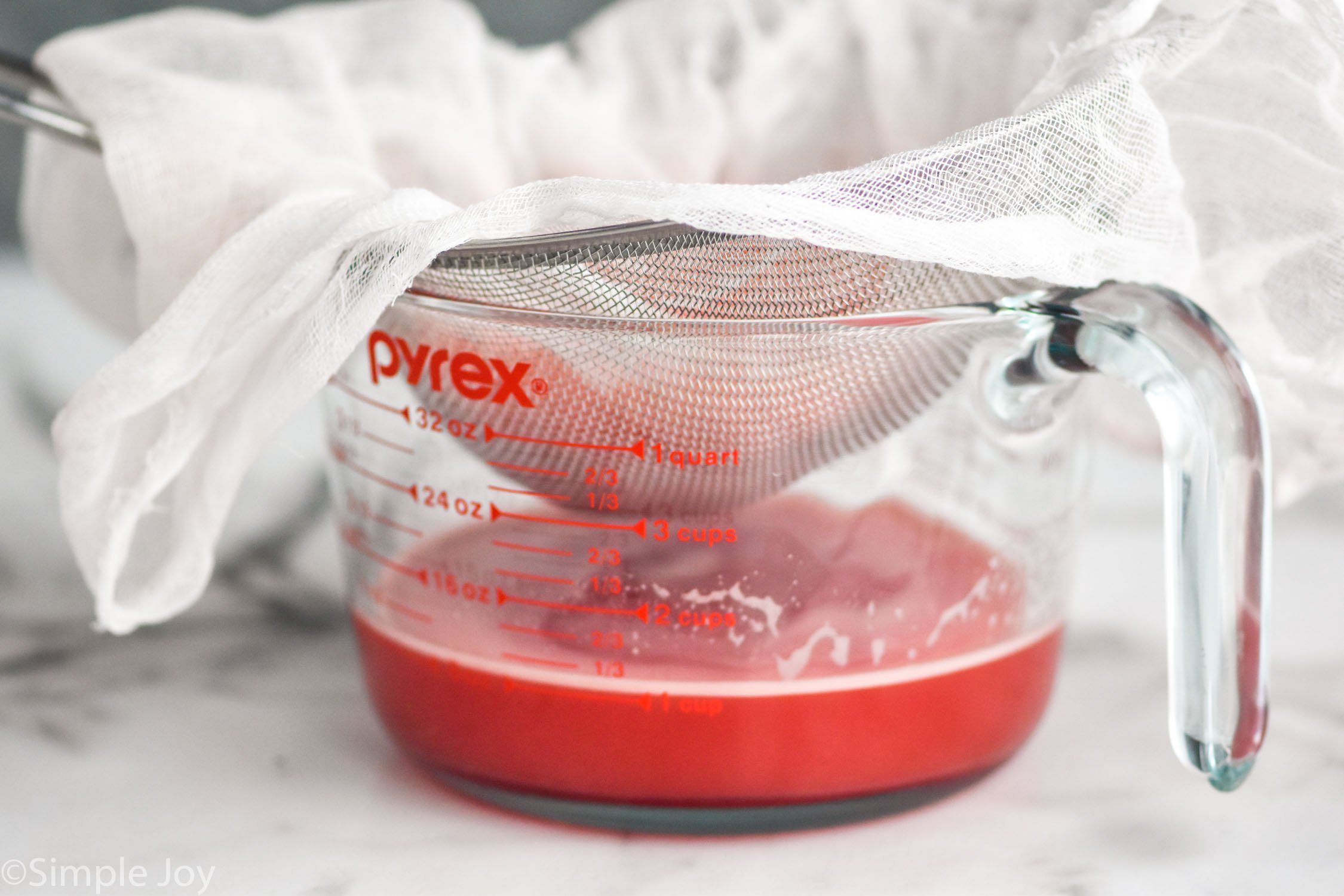 Straining Watermelon Juice
This step is totally optional. It won't impact the taste of the margarita, it just makes for a much prettier drink. Straining is really easy, and you can definitely do it with just the mesh strainer. The addition of the cheesecloth is what will really keep your final cocktail from separating. I am a pretty lazy cocktail maker, and I do this every time because I love the final result.
Cheesecloths are pretty cheap. You can usually buy multiple yards for under $5. They are easy to find in the grocery store sold near other cooking products, or online.
TOP PICK
Cheesecloth
Cheesecloths are pretty cheap and a great way to really strain things like this margarita or my Cold Brew Coffee.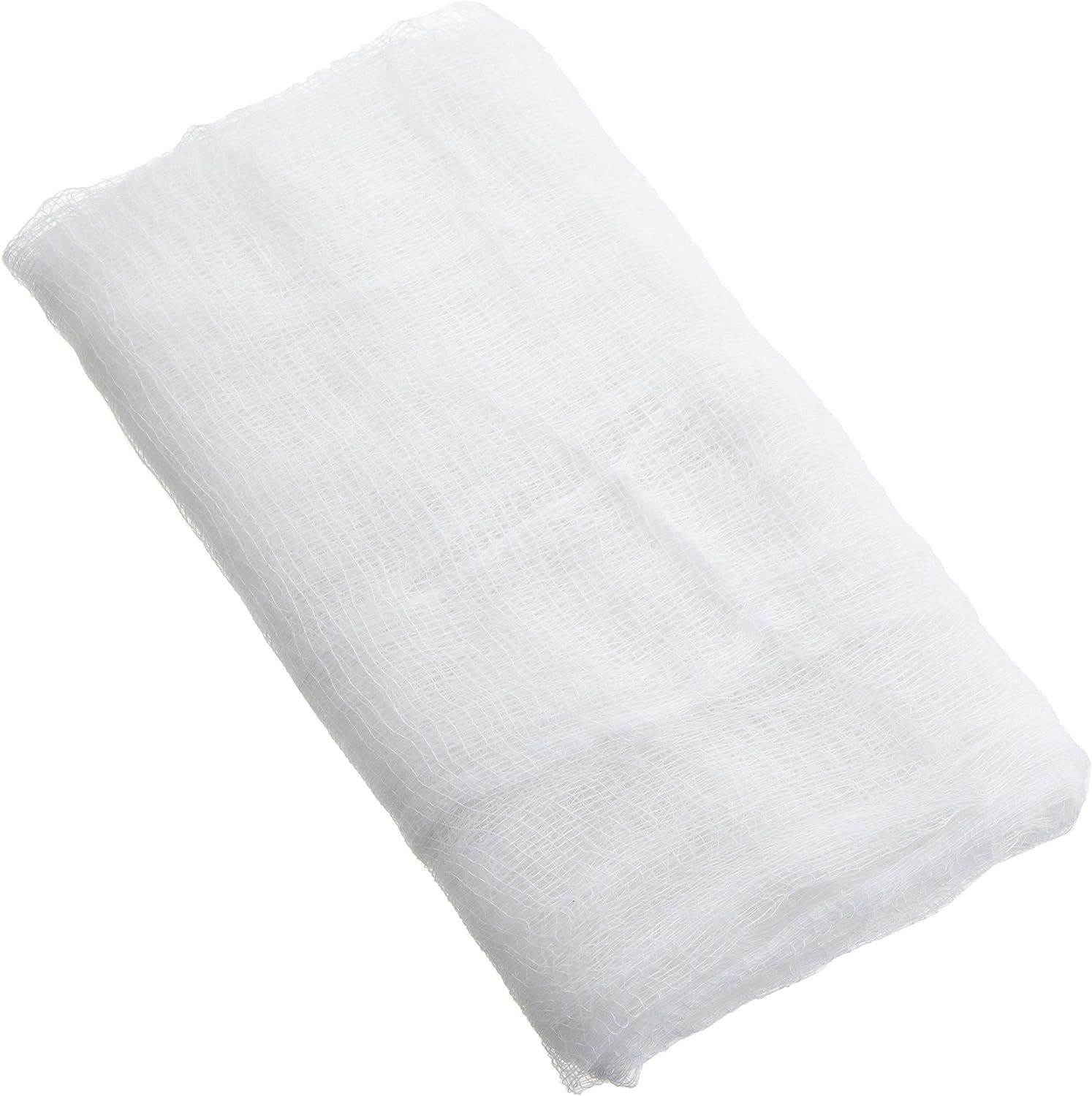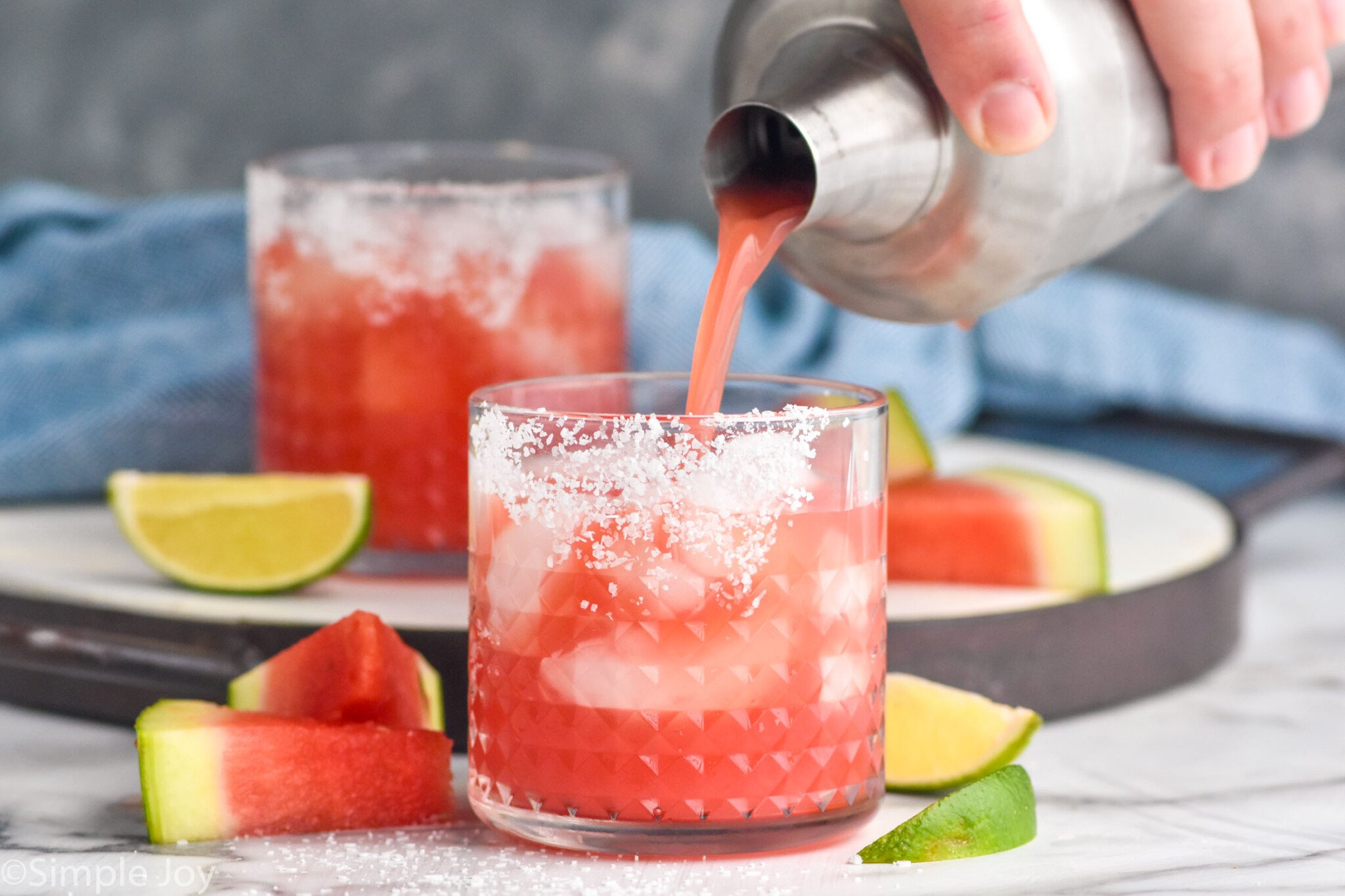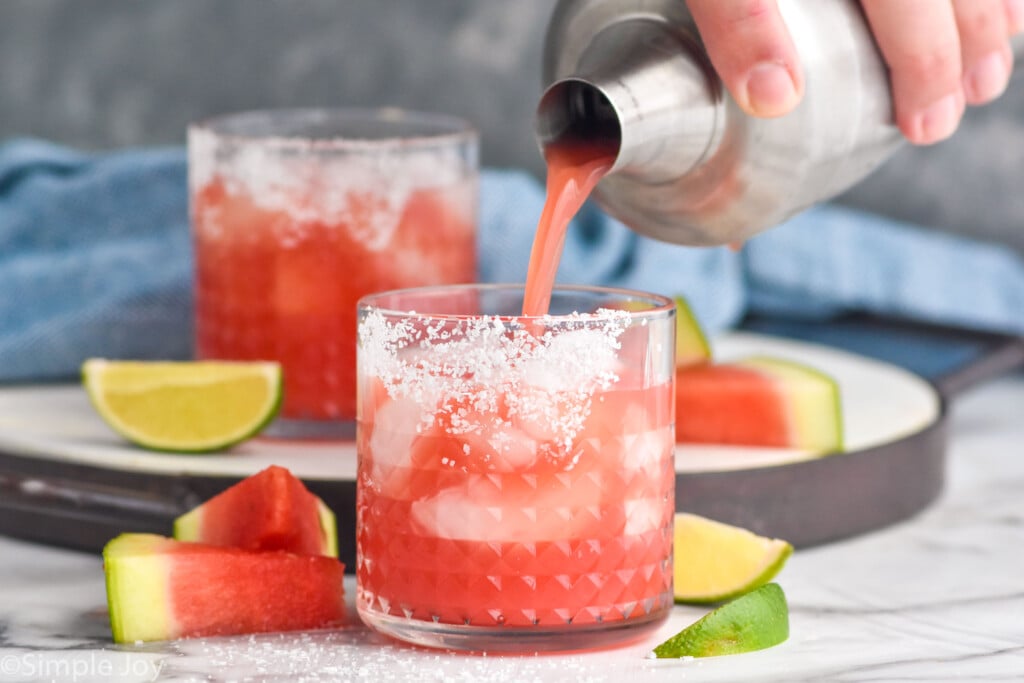 Frozen Watermelon Margarita
This recipe is so easy to make into a frozen watermelon margarita.
Freeze the watermelon. Instead of tossing the two cups of watermelon into the blender, place in a single layer on parchment lined baking sheet. Freeze for a few hours.
Blend the margarita ingredients. In a blender combine the frozen watermelon, tequila, triple sec, and lime juice. Blend until smooth.
Serve in glasses that are rimmed with salt.
Please note that we are skipping the step of straining the watermelon juice here, so as the drink thaws, it will separate a bit. It will be absolutely delicious, but not quite as pretty.
TOP PICK
Ninja Blender
This is my favorite blender. It comes with so many great attachments which also turns it into a food processor or a smoothie maker. The bullet pieces are perfect for making this recipe.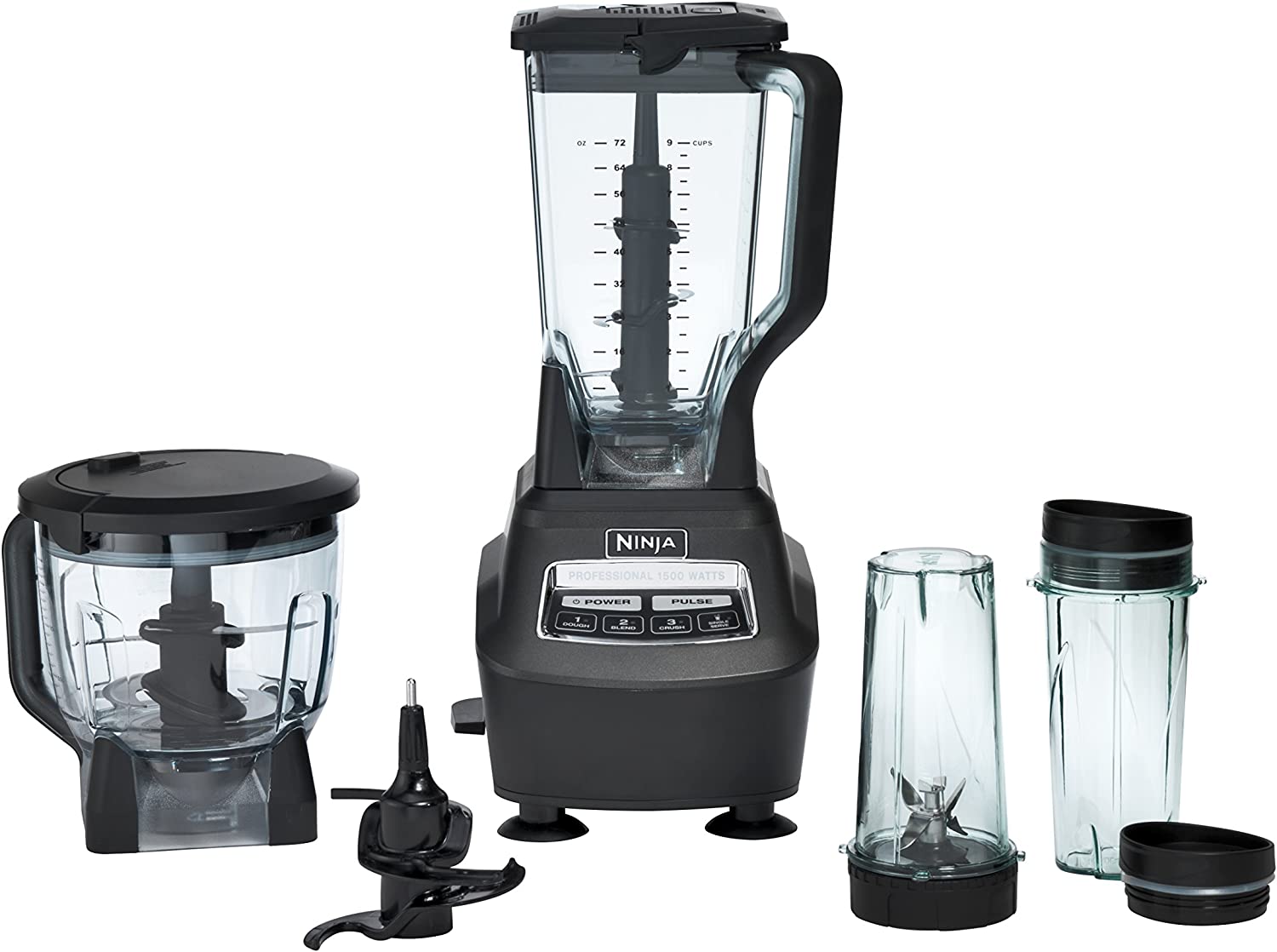 Watermelon Jalapeño Margarita
If you are looking to make this a spicy watermelon margarita, I have the perfect trick for you! A few jalapeños make for a great spicy margarita. There are two ways to do it.
Infuse tequila with jalapeños. The day before you make the margarita, slice up a fresh jalapeño and add it to a cup of tequila. Let it sit for 24 hours and then strain it and use it to make this great recipe. This is the spicier option.
Add fresh jalapeños to your margarita. After you have poured your cocktails, add a few slices of fresh jalapeño to your watermelon margarita. This adds just a subtle kick to the drink and is perfection.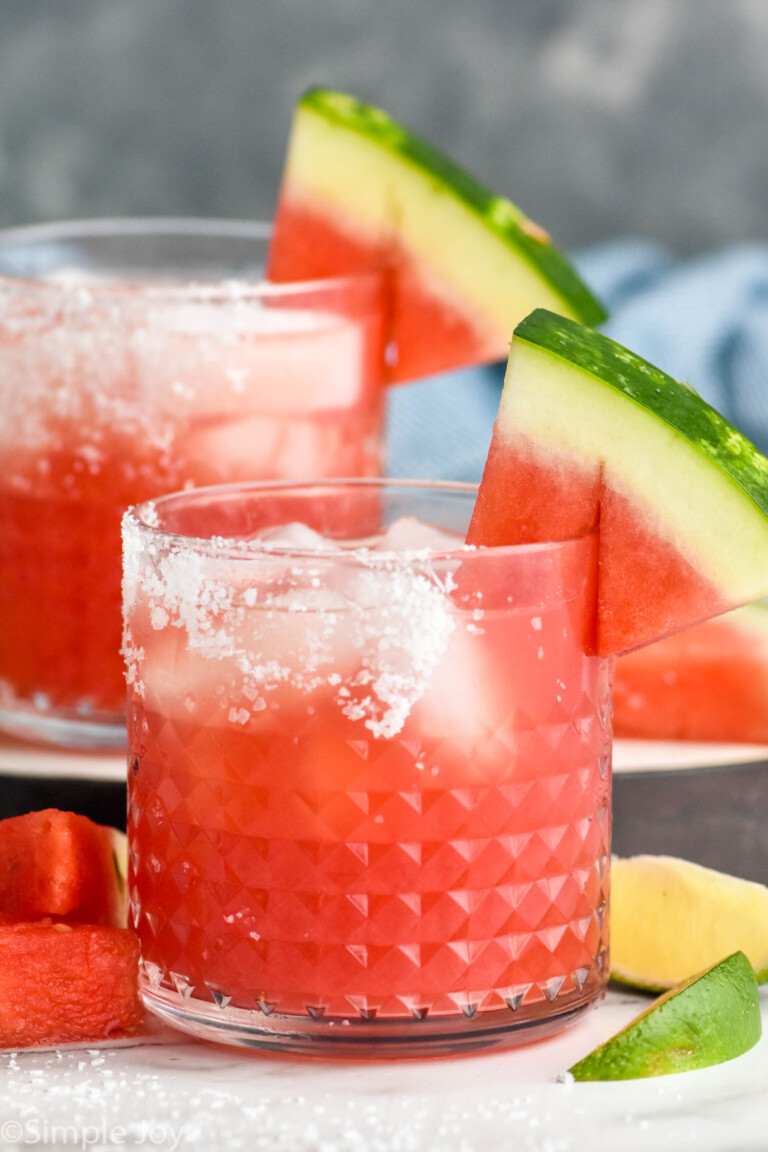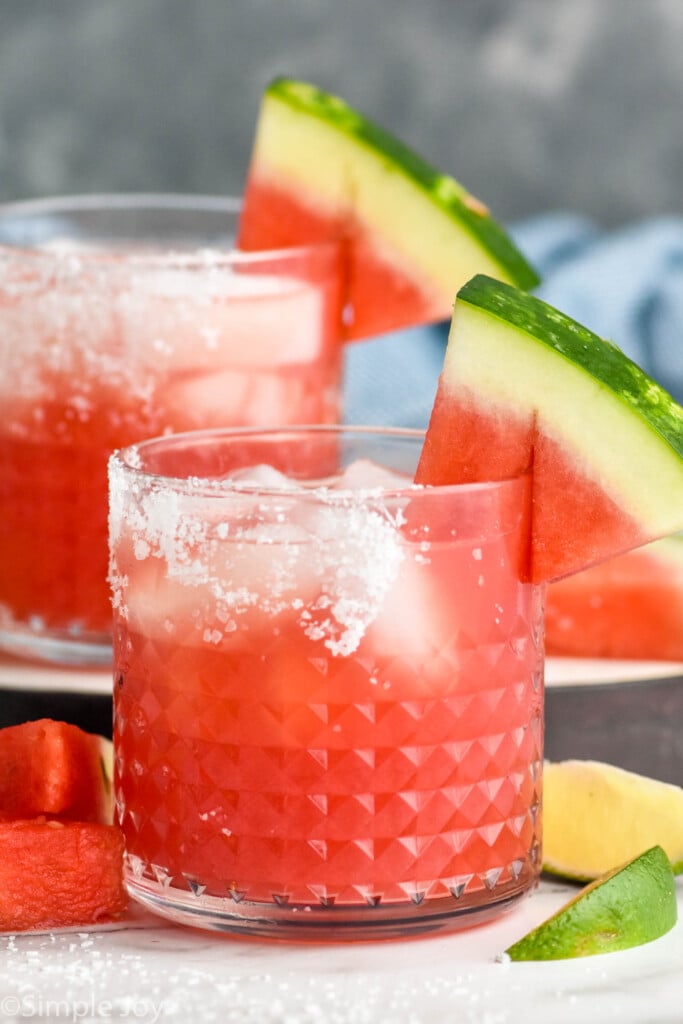 Tequila for Cocktails
When looking for a bottle of tequila for this recipe, they're a few things to keep in mind.
Look for a bottle that says "100% agave." This is what tequila is made from, and if you buy a bottle that isn't 100%, you are getting cheap filler.
Buy a mid level bottle, like Milagro Silver. Because we are making a cocktail and not drinking it straight, we can go with a less expensive bottle. I think that Milagro Silver is the perfect mid level bottle.
If you are splurging grab a bottle of Patron. If you want to go high end that would be my pick.
If you are watching your budget buy Sauza. This is a great lower level option.
The Best Margarita Recipe
This is hands down the BEST Margarita Recipe. With it's easy to find ingredients and perfect flavor, you will leave all the other recipes behind. We have instructions to make one cocktail or a whole pitcher!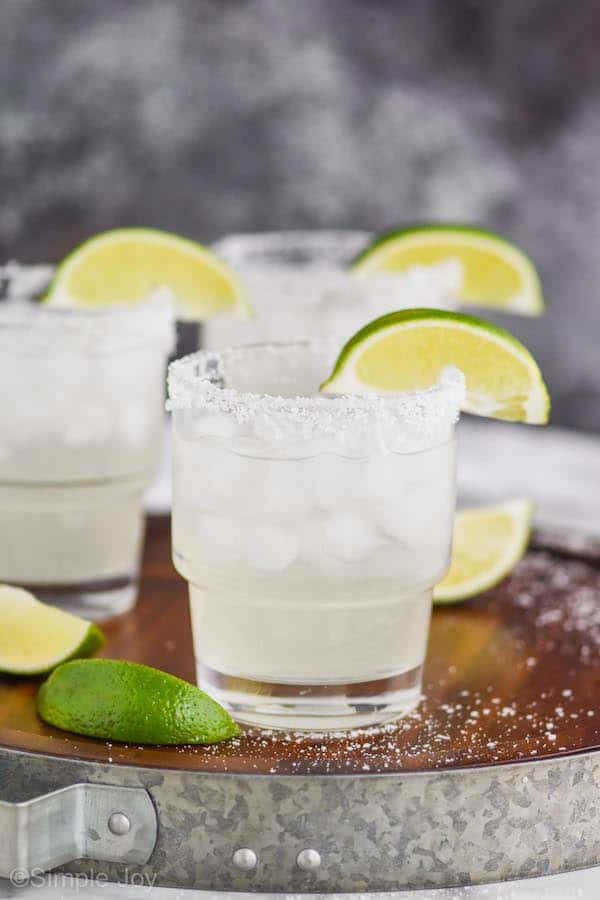 Triple Sec or Cointreau
When you are buying your ingredients for this cocktail, you want to consider whether you want triple sec or cointreau. The two provide the same thing for the recipe: sweetness and a hint of orange. But Cointreau is a name brand and is a little on the higher end with a higher alcohol content. Triple Sec is sold under many brands and has a lower alcohol content and more sweetness. It isn't usually a bartenders pick, but it is great if you are on a budget.
Fresh or Bottled Lime Juice
Generally speaking, I say that you want to use fresh lime juice for recipes. It provides a better taste. That being said, if you are in a pinch, this recipe will be absolutely delicious with bottled lime juice. Don't skip making this cocktail if you all you have is bottled lime juice.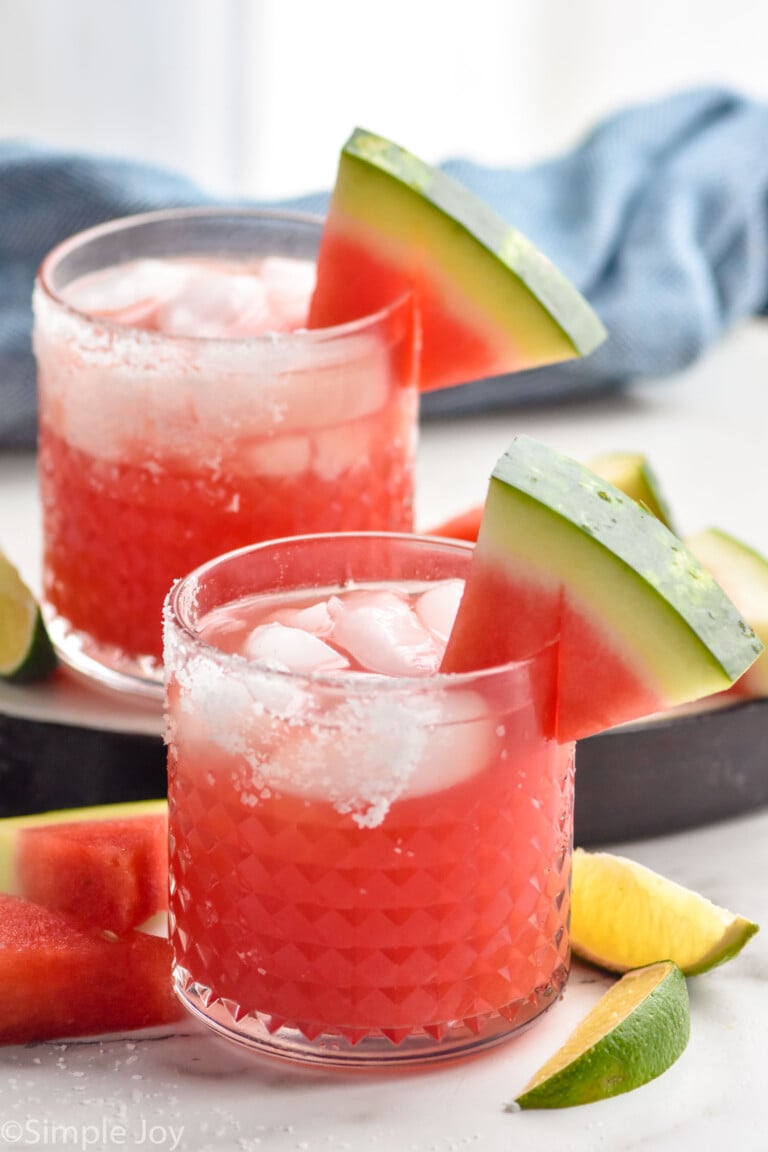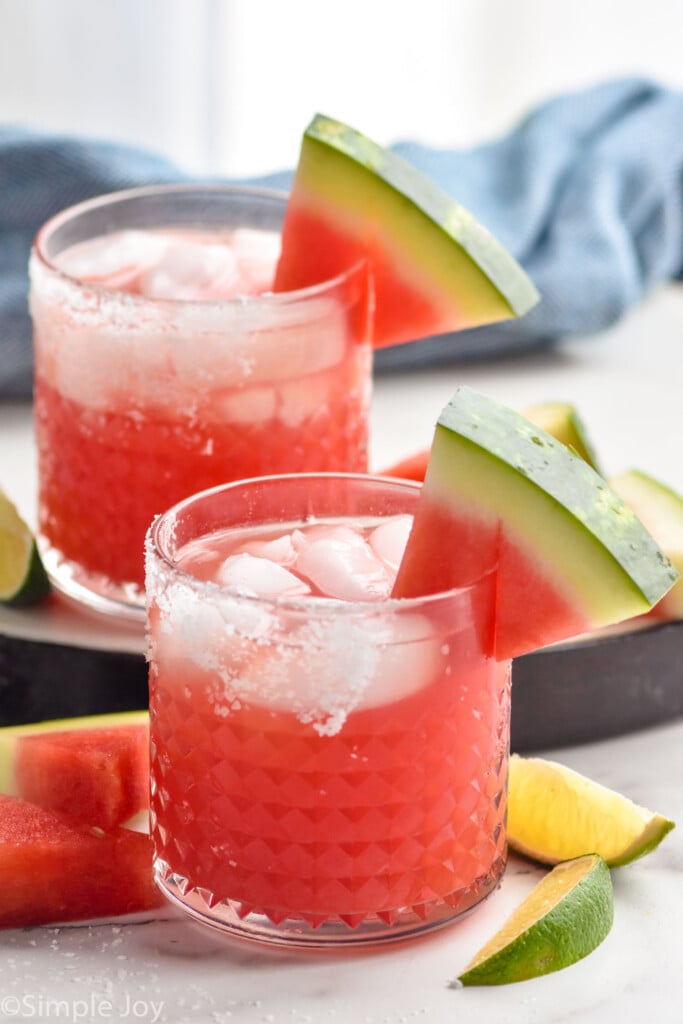 More Margarita Recipes
I can't get enough of margaritas, so you know I have more for you!
If you make this delicious margarita recipe, please let me know! I love hearing from you in the comments.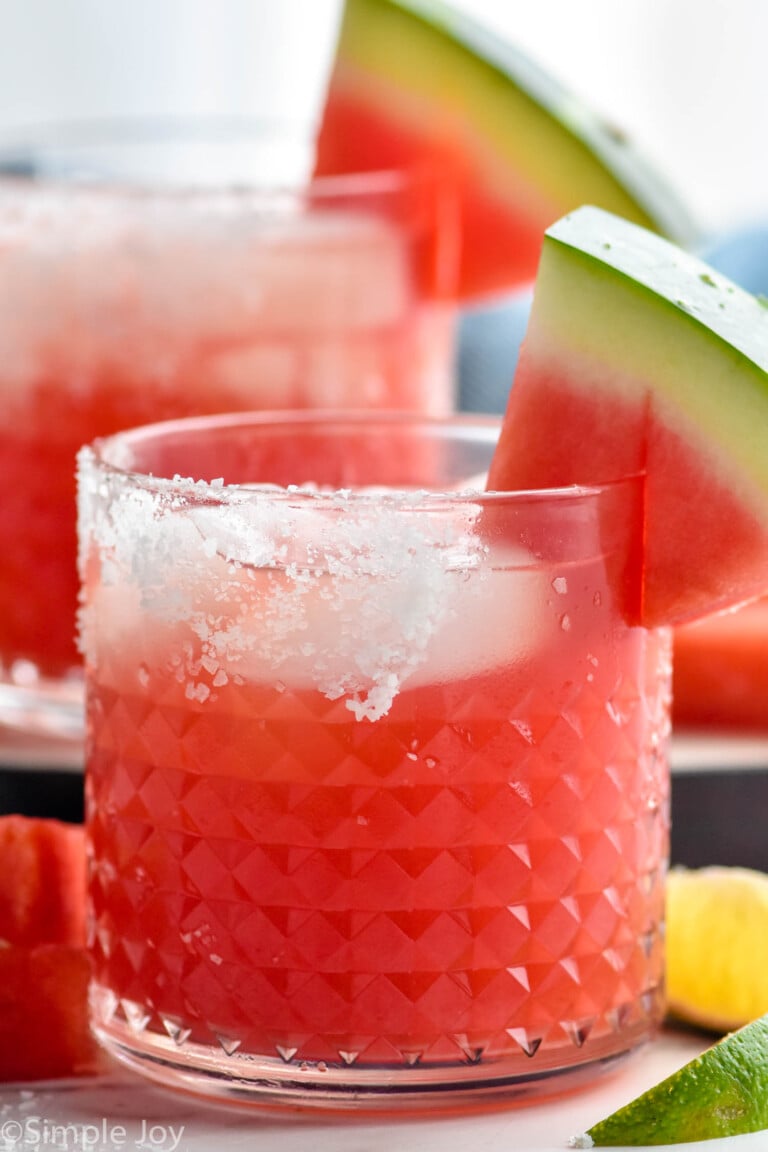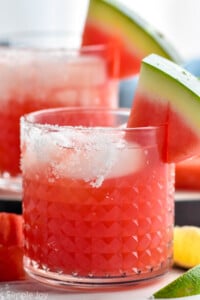 Watermelon Margarita
This Watermelon Margarita recipe is refreshing, colorful and so delicious! Cut up a watermelon for the kiddos, and then snag two cups of it for your new favorite cocktail.
Ingredients
2

cups

watermelon

blended and strained to make 1 cup of juice (read more about this here)

3

ounces

tequila

1.5

ounces

triple sec or Cointreau

1

ounce

lime juice

fresh lime wedge

kosher salt
Instructions
Using a fresh lime, coat the rim of two glasses with lime juice. Then dip in kosher salt. Fill with ice cubes. Set aside.
Serving:
1
cocktail
Calories:
213
kcal
(11%)
Carbohydrates:
20
g
(7%)
Protein:
1
g
(2%)
Fat:
0.3
g
Saturated Fat:
0.1
g
(1%)
Polyunsaturated Fat:
0.1
g
Monounsaturated Fat:
0.1
g
Sodium:
4
mg
Potassium:
194
mg
(6%)
Fiber:
1
g
(4%)
Sugar:
17
g
(19%)
Vitamin A:
872
IU
(17%)
Vitamin C:
17
mg
(21%)
Calcium:
13
mg
(1%)
Iron:
0.4
mg
(2%)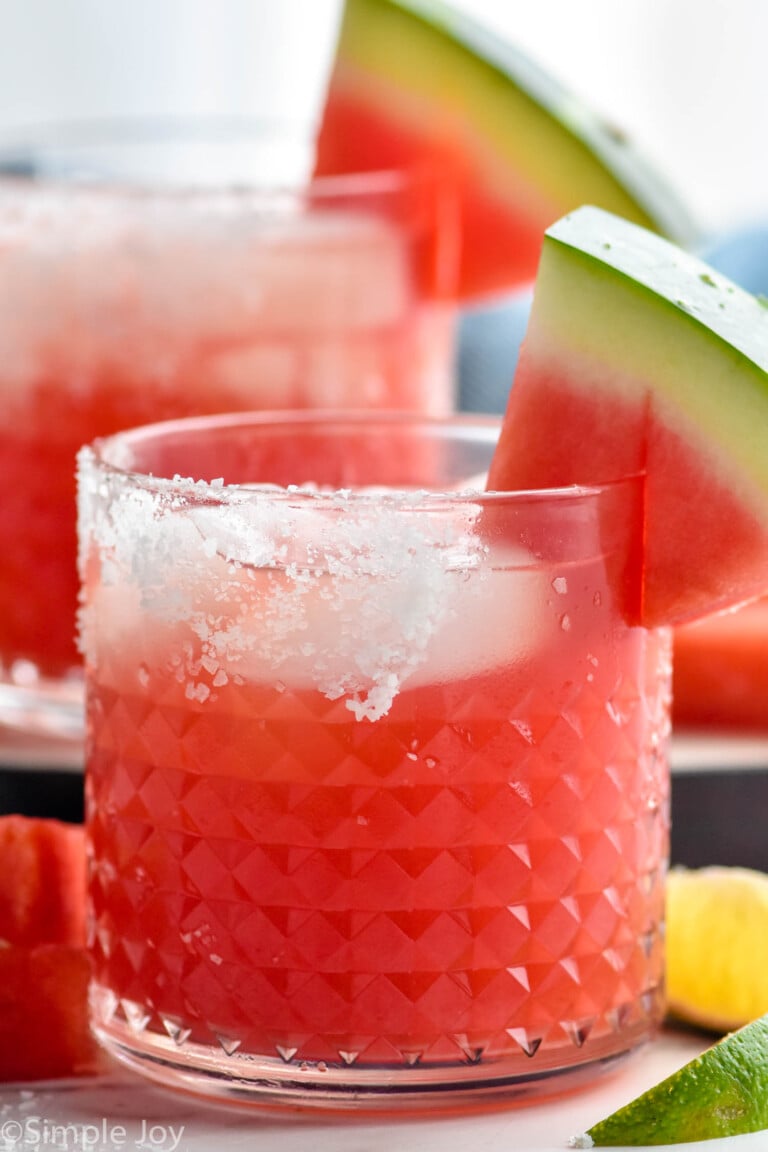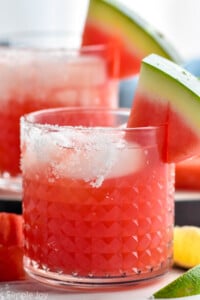 did you make this
Watermelon Margarita