This Tuna Pasta Salad is the perfect picnic food. It is easy to throw together with light delicious flavors everyone will love.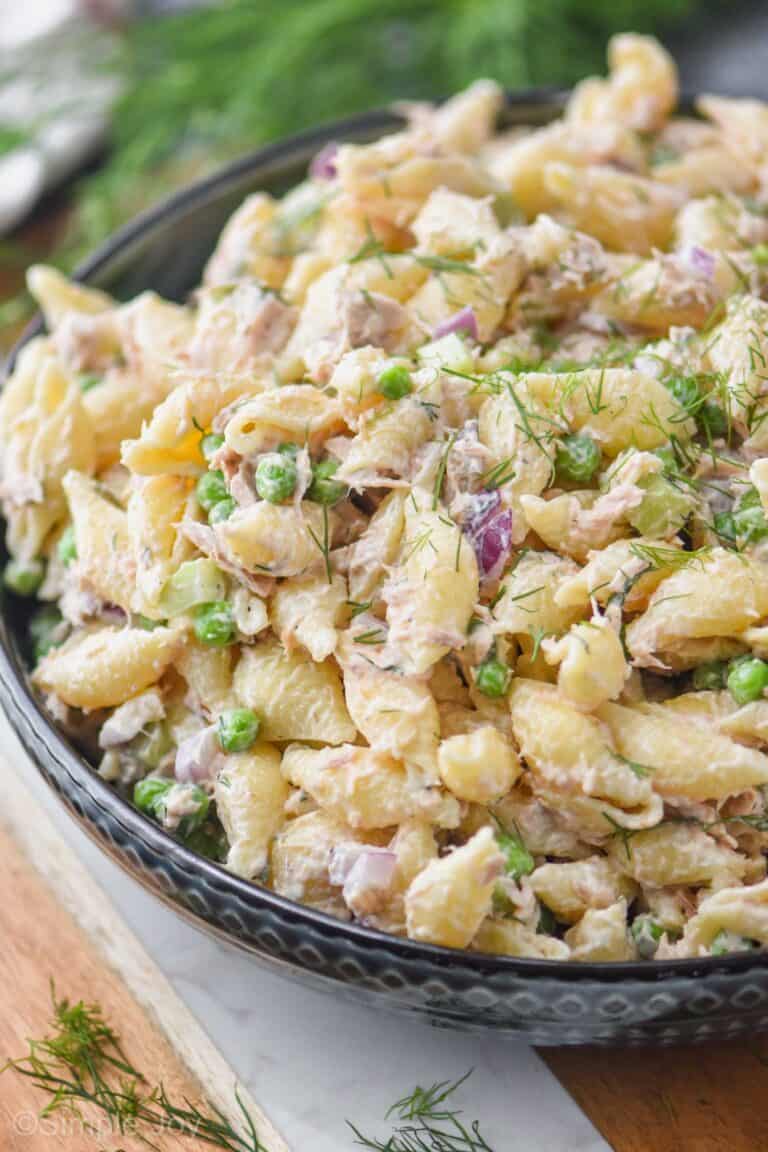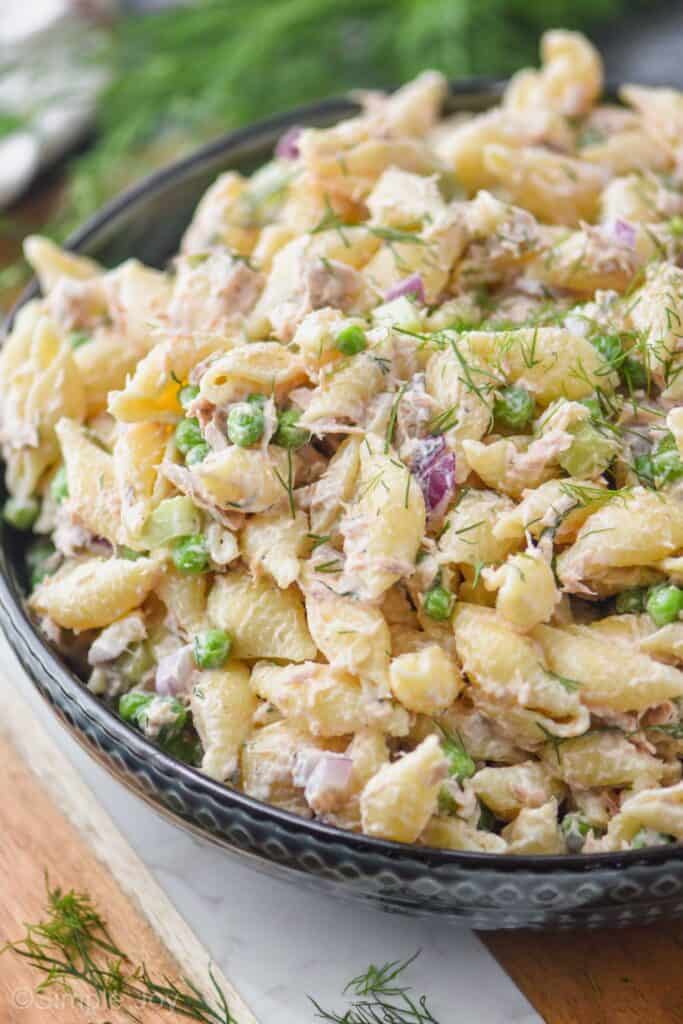 Sometimes at the beginning of summer, I feel like a little kid on Christmas morning. There is so much to look forward to, so much to get excited about. I have swimming pools, BBQs, and long lazy days dancing like sugar plum fairies in my head.
If you are like me, you are probably also looking forward to all the great summer food. Everything from summer salads, to great grilled recipes, to amazing simple pasta salads just scream summer to me.
This cold Tuna Pasta Salad is easy to throw together, and is always a hit with everyone. The dressing couldn't be more simple, but it is the perfect balance of flavors. You will even love taking the leftovers to work the day after that summer picnic.
Reader Review
Just finished making this pasta salad – OMG! It's delicious- thank you for sharing your recipe – to the folks who haven't made this – you really should give it a try.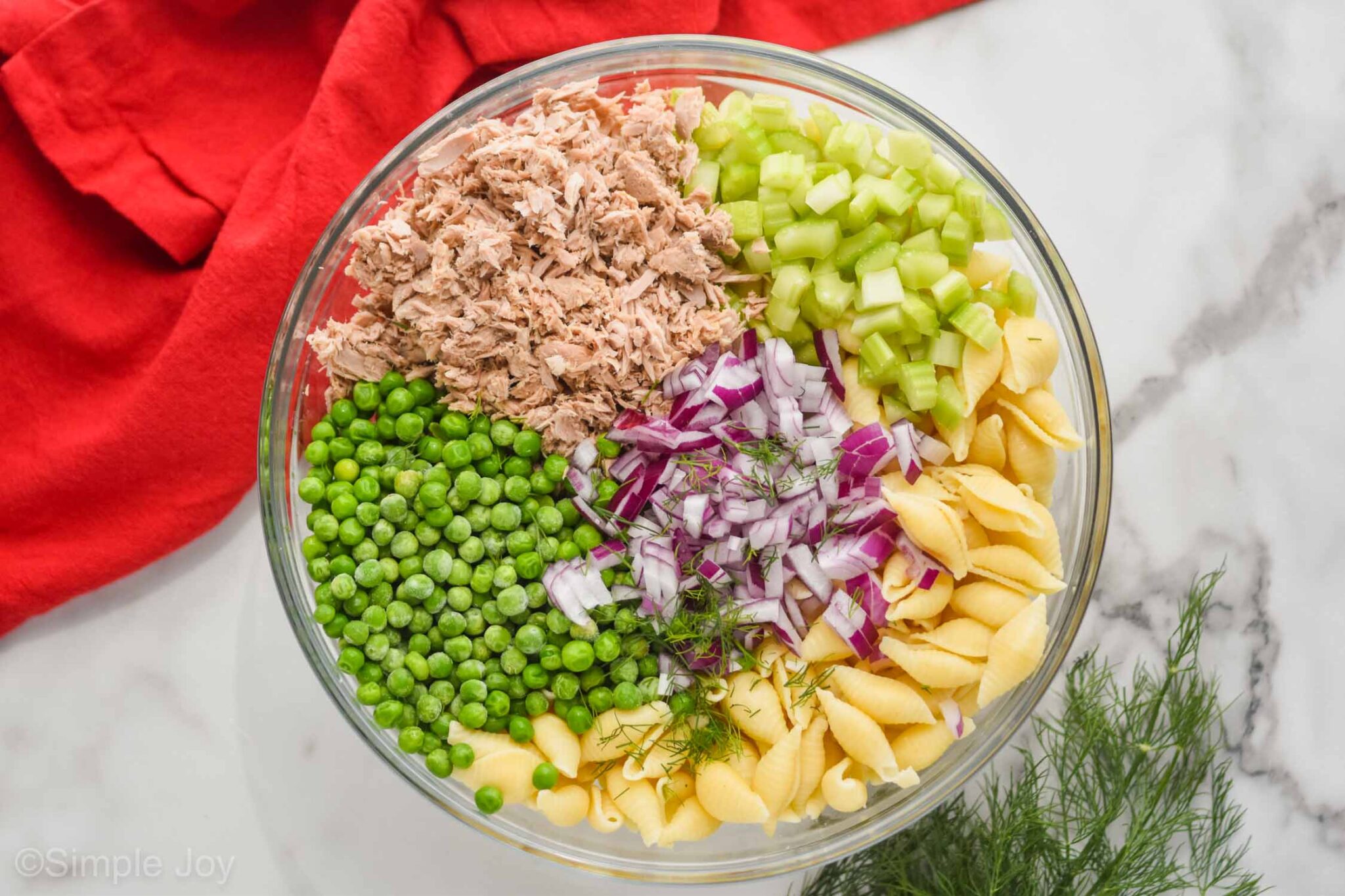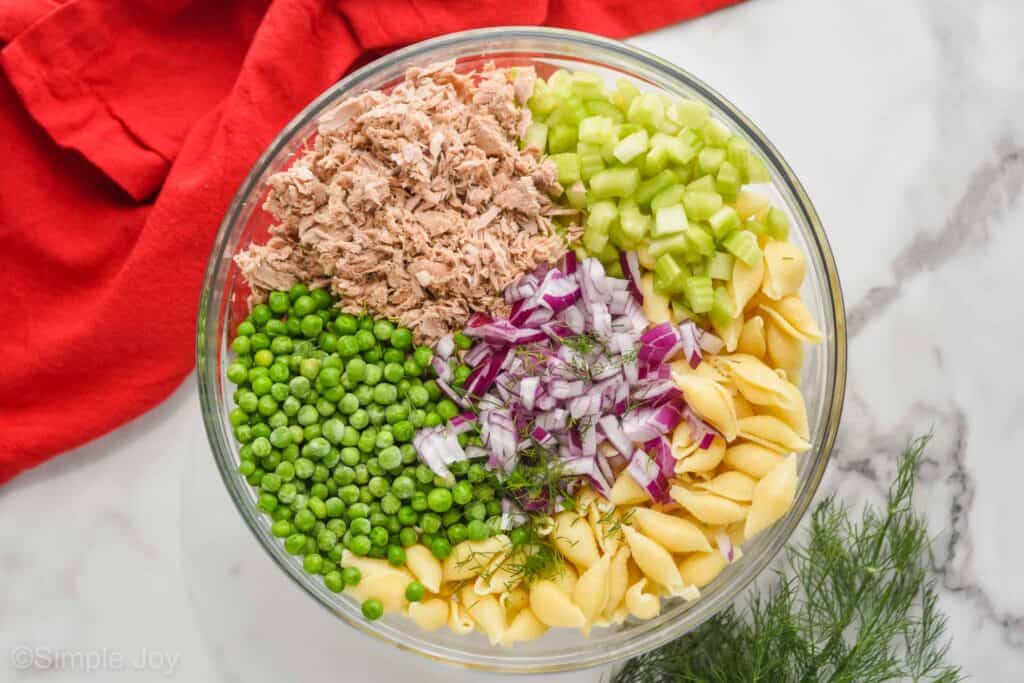 Tuna Pasta Salad Ingredients
Pasta Salads are so great and so often require just a few ingredients. I often have most the ingredients in my pantry, freezer, and refrigerator. With this recipe, I had everything on hand.
To get the full list of measurements and all of the instructions, be sure to scroll to the bottom of the post for the recipe card.
Salad Ingredients:
Medium Pasta Shells: You absolutely can use a different kind of small pasta for this salad if you like. I just find that shells works so well for this type of pasta salad.
Canned Tuna: Be sure to grab the tuna packed in water for this salad, and skip over the tuna packed in oil.
Frozen Peas: Your peas can be tossed right in frozen. They take very little time to thaw, and sometimes thawing them beforehand can add more moisture to the recipe than you want.
Celery: If you aren't a fan of celery, you could replace it with some shredded carrots.
Red Onion: The onion can certainly be left out (or replaced with green onion) if you don't like onions, but I do love the sweet tang they add to this salad.
Dressing Ingredients:
Light Mayonnaise: I love using light mayo in recipes. Usually it behaves the same, brings the same flavor, and cuts out a little bit of calories and fat.
Yogurt: Adding yogurt to a pasta salad dressing is a great way to add both zip and creaminess. It brings a different flavor than the mayo, so I love using them together.
Lemon Juice: The little bit of lemon juice in this recipe really adds some freshness to it.
Dill: I think that dill and seafood pair so beautifully together. If you don't have fresh dill, we have a note about how much dry dill to use. If you choose to skip dill all together, I recommend using 1/2 a teaspoon of dry tarragon and 1/2 a teaspoon of dry parsley.
Salt and Pepper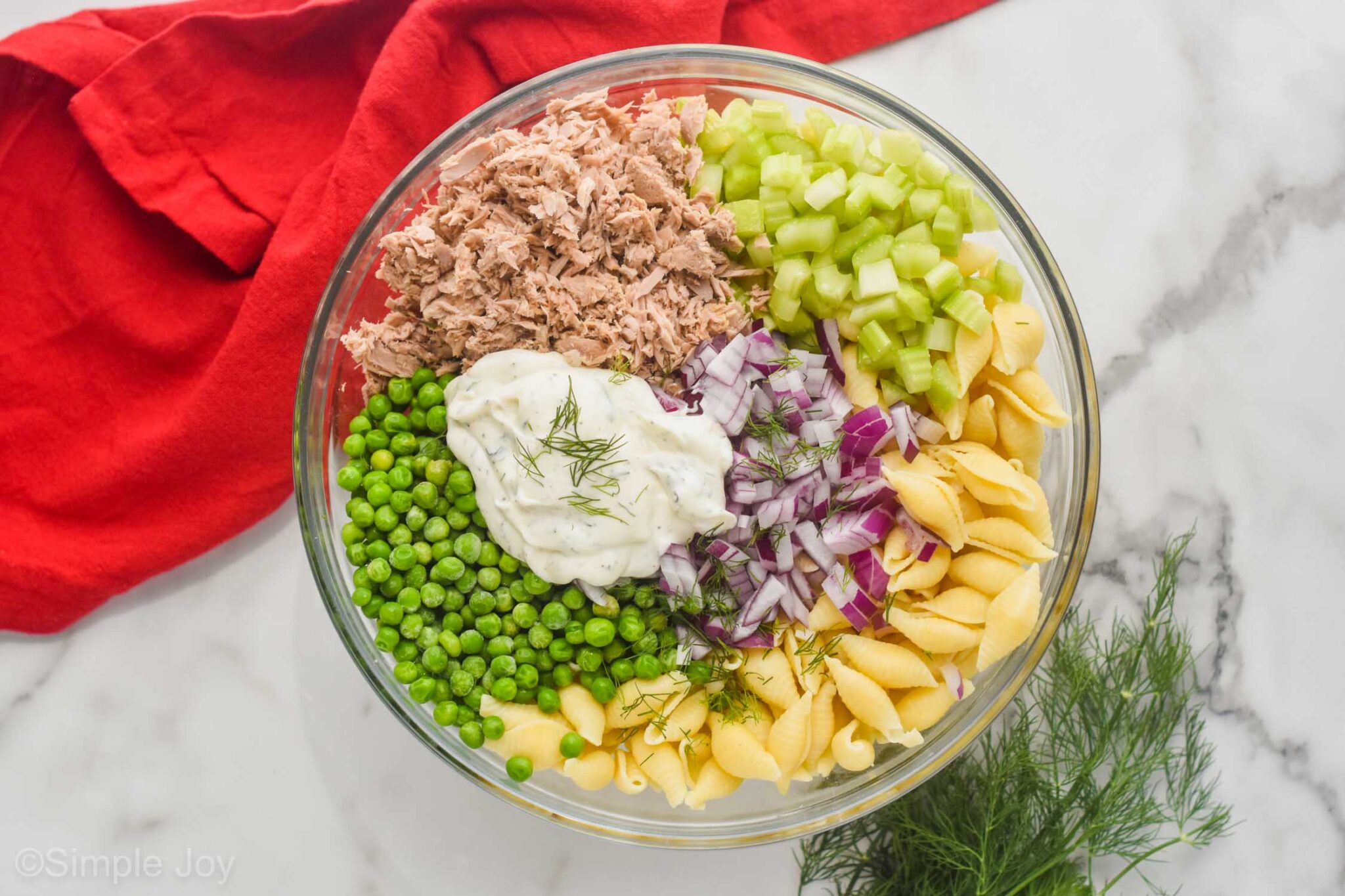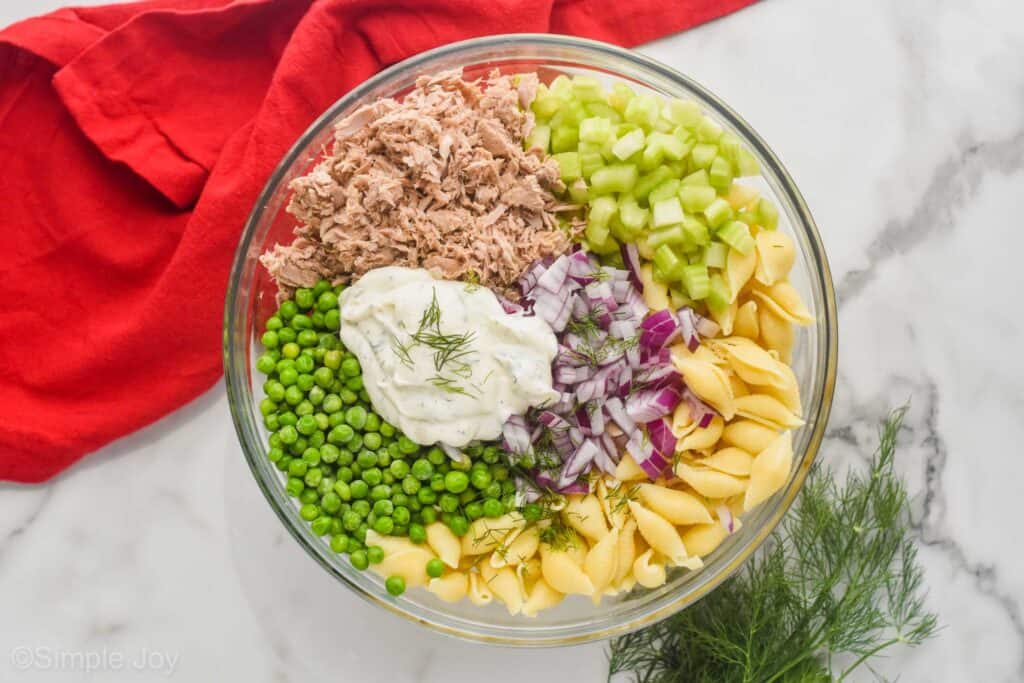 Cooking Noodles for Pasta Salads
There are a few important tips to follow when cooking pasta, especially for pasta salads. It is the star of the show and you want it to shine.
Bring the water to a roaring boil. You need more than a few bubbles before you throw in the dry noodles.
Note the cook time on the package. Before you put the noodles in the water, note the cook time and set a timer.
Aim for al dente. When the time frame for cooking ends, taste a noodle and make sure it has bite to it. Then drain the noodles.
Rinse the noodles with cold water. This will stop the noodles from cooking. It will also prevent the noodles from sticking to each other.
This is a cold tuna pasta salad, so no worries about rinsing the noodles. It works out perfectly.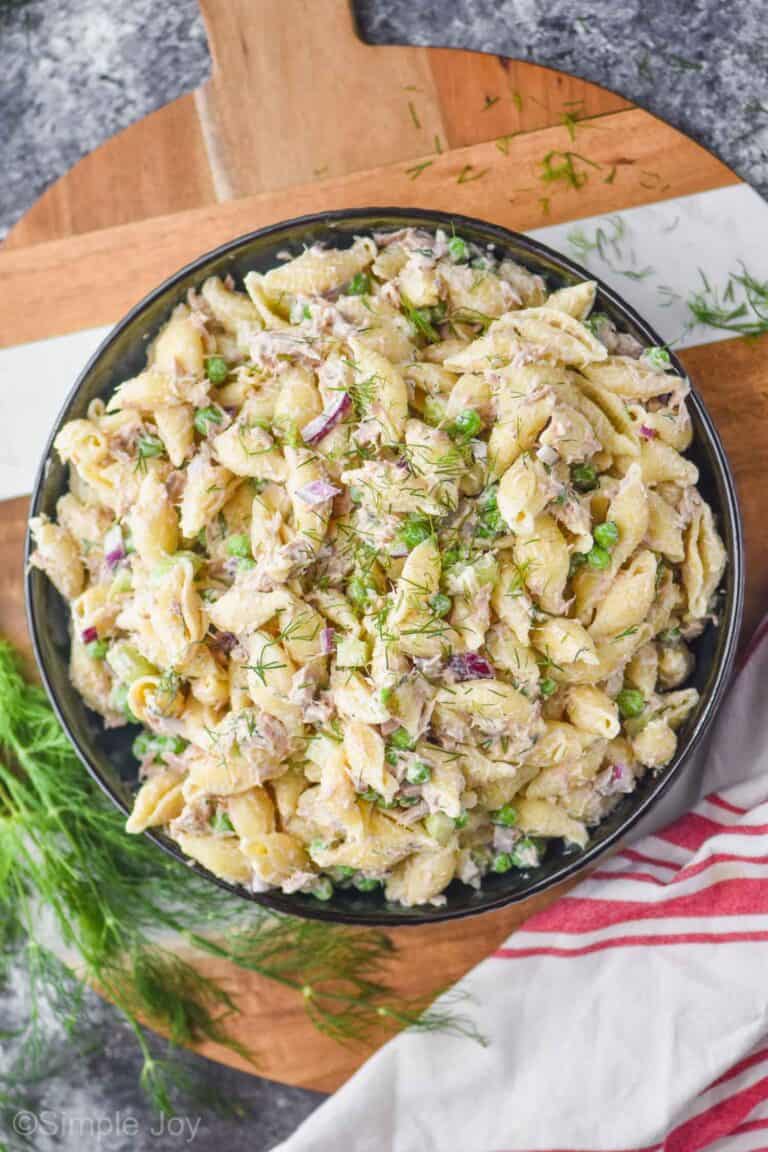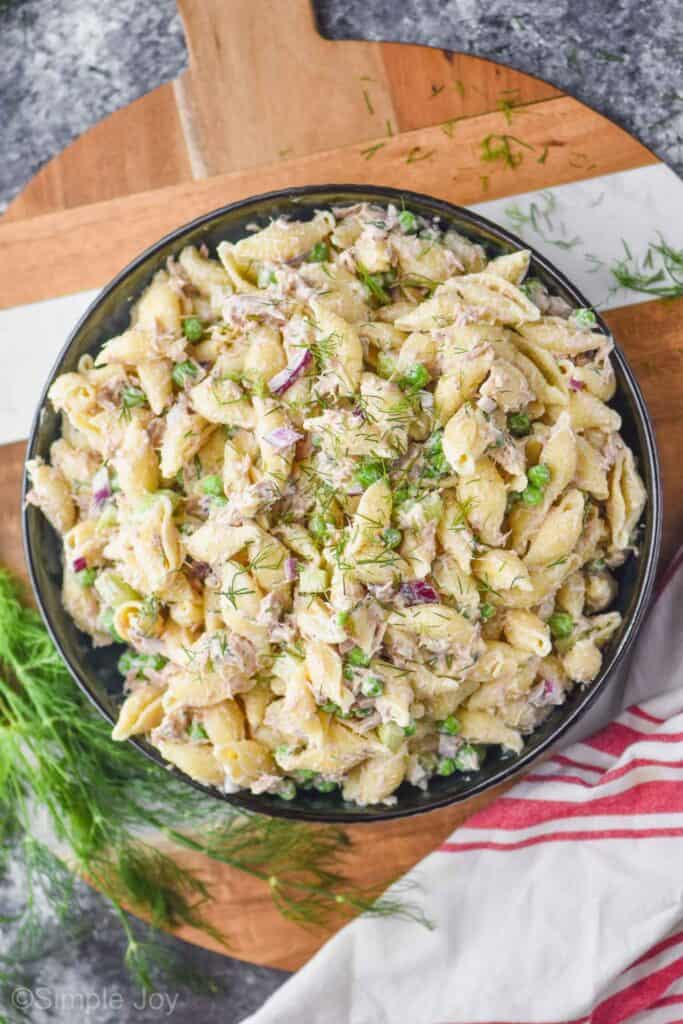 What Type of Tuna to Buy
Please note that this recipe calls for tuna packed in water. If you buy tuna packed in oil, that will really change the flavor and consistency of this recipe.
Dry vs. Fresh Dill
This recipe calls for fresh dill. I love the flavor of dill in my recipes, it really pulls recipes together. That said, if you can't find fresh, use dry dill. It will still bring that delicious flavor, you will just need al little less.
Note about Salt & Pepper
This recipe calls for 1 teaspoon of kosher salt and 1/4 teaspoon of black pepper. I would recommend that you make the dressing using half that amount. Taste it, before adding it to the rest of the ingredients, and add more to taste.
Additionally, after you add the dressing, I recommend tasting the salad to see if you would like to add more salt and pepper.
Please note that we are using kosher salt in this recipe, not table salt. If you use table salt, you will want to start with about 1/4 teaspoon and work your way up from there.
Making Ahead
This tuna salad with pasta can be made up to 24 hours in advance of a get together. That being said, the pasta does absorb some of the dressing. You may want to consider making the salad the day before and not adding the dressing until right before serving.
Leftover Tuna Pasta Salad
Leftovers of this pasta salad tuna salad should be stored in the refrigerator. Leftovers should be eaten within four days of making the salad. As with any recipe, use your best discretion when it comes to leftovers.
FAQ
What happens if I use tuna packed in oil?
The salad will still work, it will just be more oily. Sometimes tuna packed in oil is great to use in a salad with an oil based dressing or in a salad that needs that extra punch of flavor. That isn't the case here, which is why I recommend the tuna packed in water.
Do you cook the peas?
No. The peas go into the recipe frozen. They will thaw very quickly. Putting them in frozen helps them hold their texture and consistency.
What can I use instead of dill?
If you really don't like dill, I recommend using 1/2 a teaspoon of dry tarragon and 1/2 a teaspoon of dry parsley.
Can I use miracle whip instead of mayonnaise?
Using Miracle Whip will create the same texture and consistency you are looking for, but will change the taste of the dressing quite a bit. I just recommend tasting the dressing to make sure you like it before adding it to the rest of the ingredients.
What can I substitute for yogurt?
If you don't have yogurt, or you simply don't like it, sour cream can be used as a substitute.
Can I substitute chicken for tuna?
While I haven't tried this swap, I know several of my readers have and really enjoyed it.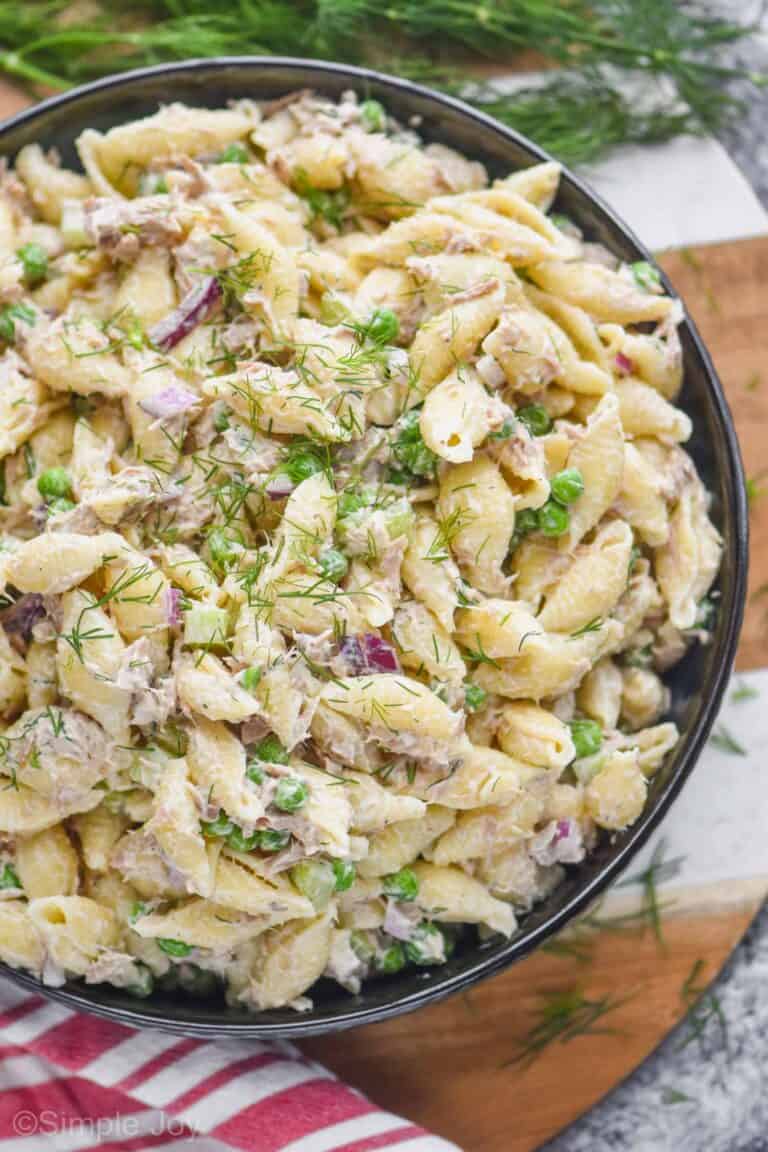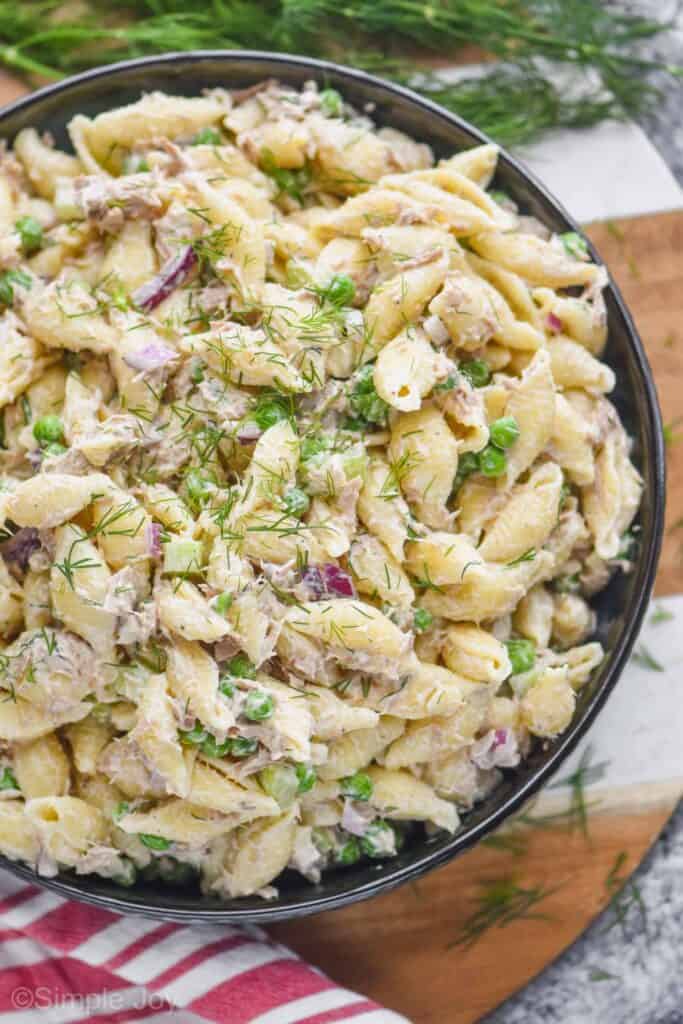 Other Great Pasta Salads
I'm obsessed with pasta salad recipes. If you are too, you might like some of these:
If you make this tuna pasta salad recipe or any of my other recipes, please leave me a comment and let me know what you think!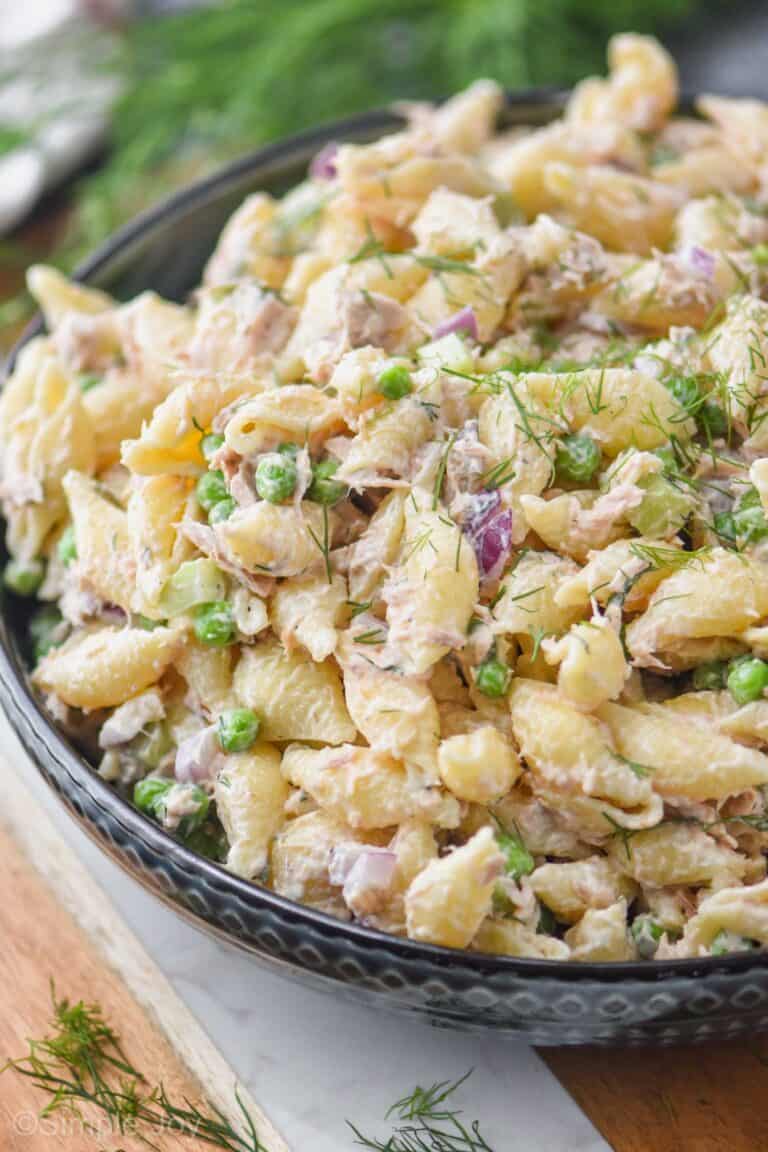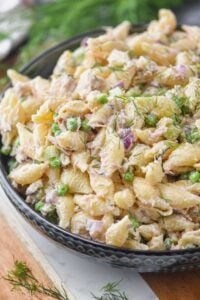 Tuna Pasta Salad
This Tuna Pasta Salad is the perfect picnic food. It is easy to throw together with light delicious flavors everyone will love.
Ingredients
1

lb

medium shells

cooked, drained, and rinsed with cold water

12

ounces

tuna

drained (2 cans) (please note this is the dry weight listed on the can)

1

cup

frozen peas

see note

2

stalks

celery

diced

1/2

small

red onion

diced
Instructions
Cook the shells according to package instructions, being sure not to over cook. Drain and rinse with cold water.

In a small bowl, whisk together the mayonnaise, yogurt, lemon juice, dill, salt and pepper.

Add the noodles, tuna, peas, celery, and onion to a large bowl. Pour dressing over it, and toss to combine.
Notes
There is no need to thaw the peas for this recipe. Frozen peas thaw very quickly and can just be tossed with the other ingredients.
Serving:
1
cup
Calories:
130
kcal
(7%)
Carbohydrates:
13
g
(4%)
Protein:
8
g
(16%)
Fat:
6
g
(9%)
Saturated Fat:
1
g
(6%)
Polyunsaturated Fat:
3
g
Monounsaturated Fat:
1
g
Cholesterol:
7
mg
(2%)
Sodium:
326
mg
(14%)
Potassium:
19
mg
(1%)
Fiber:
1
g
(4%)
Sugar:
1
g
(1%)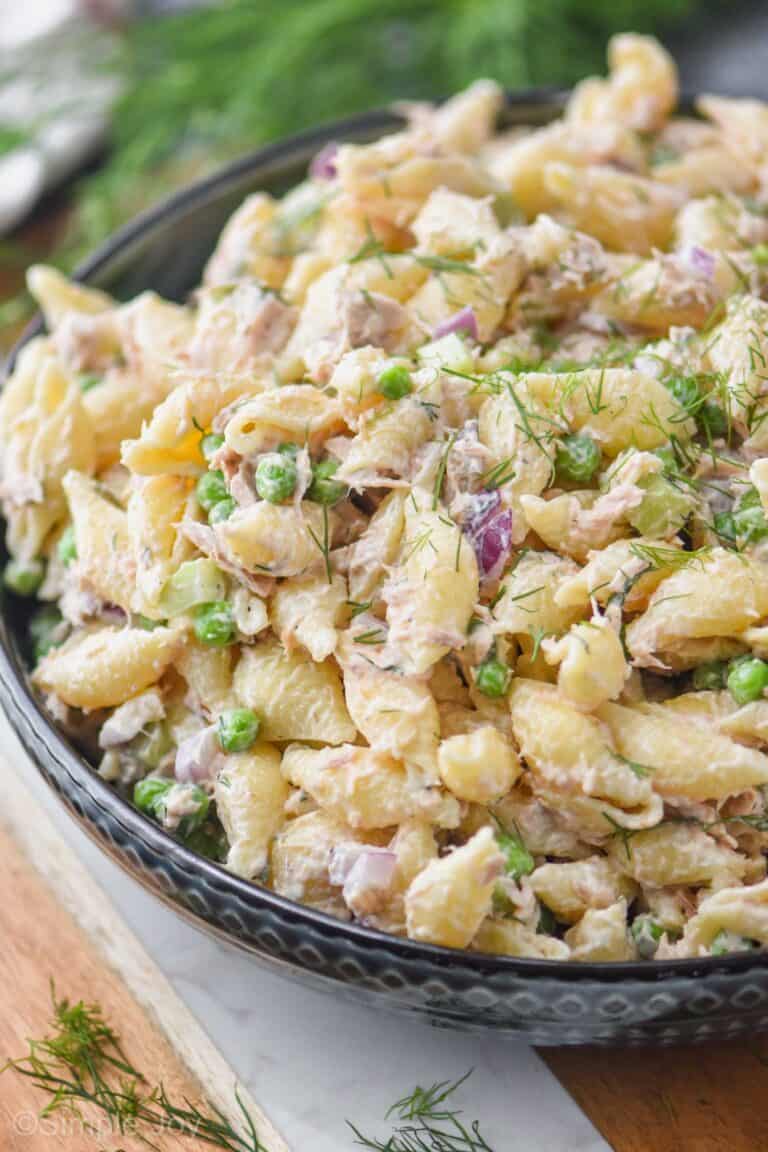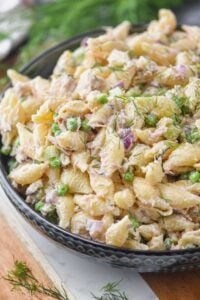 did you make this
Tuna Pasta Salad