Vanilla Bean Cheesecake combines all the sweet, creamy, deliciousness of cheesecake with the perfect vanilla kick.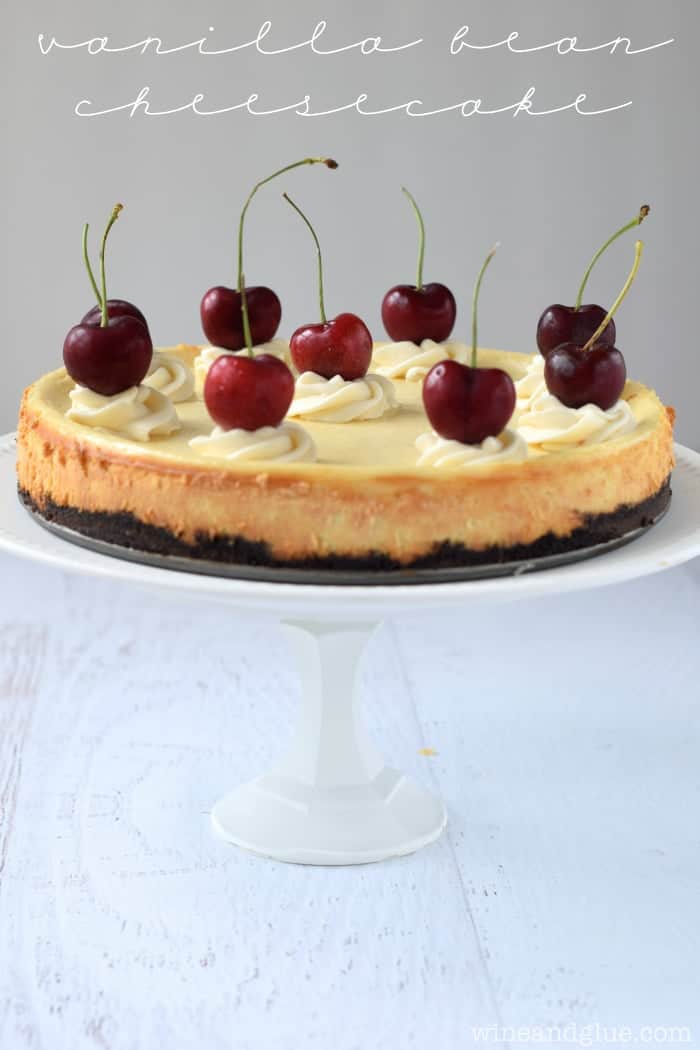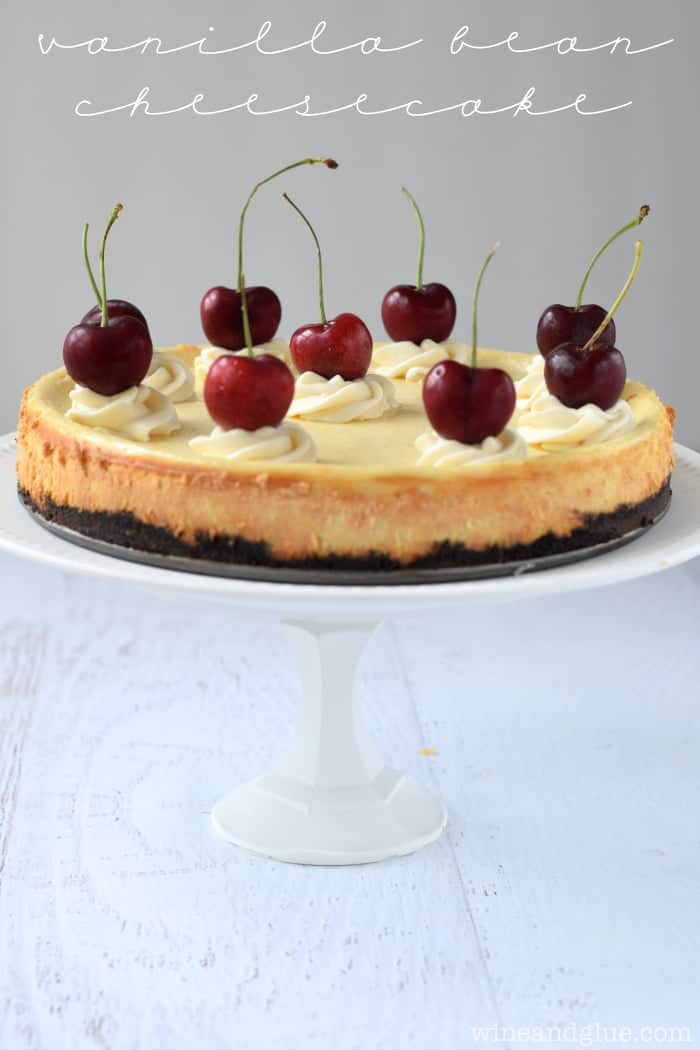 Vanilla Bean Cheesecake
It's National Cheesecake day! When I first learned that such a holiday existed I thought, National Cheesecake Day? Isn't every day a great day for cheesecake? Especially if it includes this delicious Vanilla Bean Cheesecake?
Even if you're not celebrating this… possibly made up holiday… you will want to sink your teeth into the result of this decadent recipe. From the chocolate cookie crust to the rich creamy filling and the splash of vanilla, there's always room for Vanilla Bean Cheesecake in your day.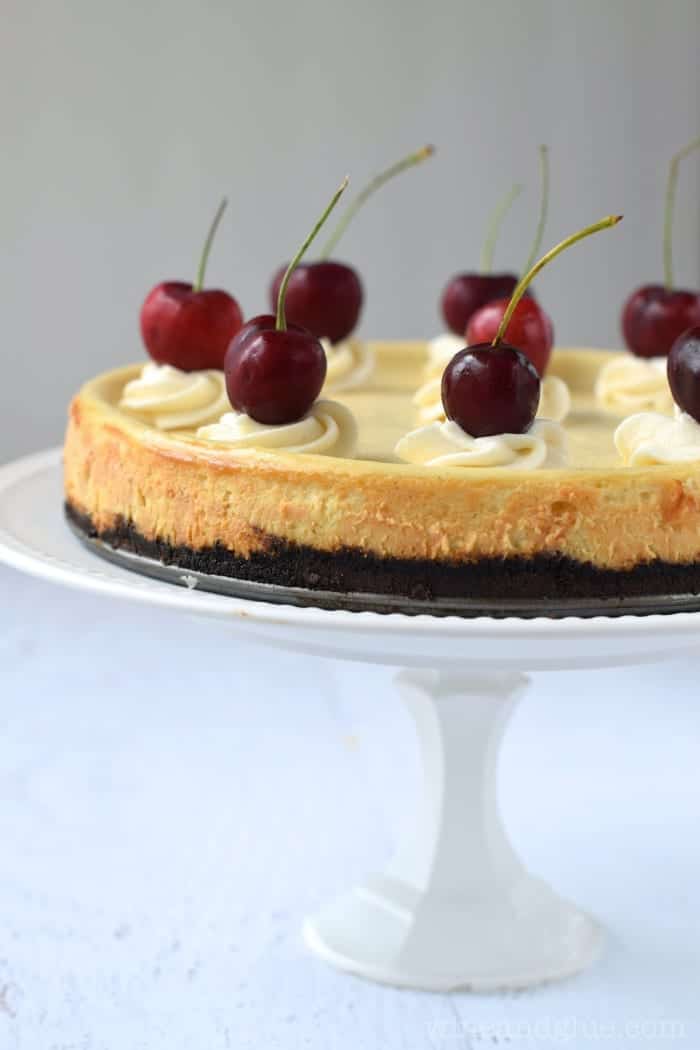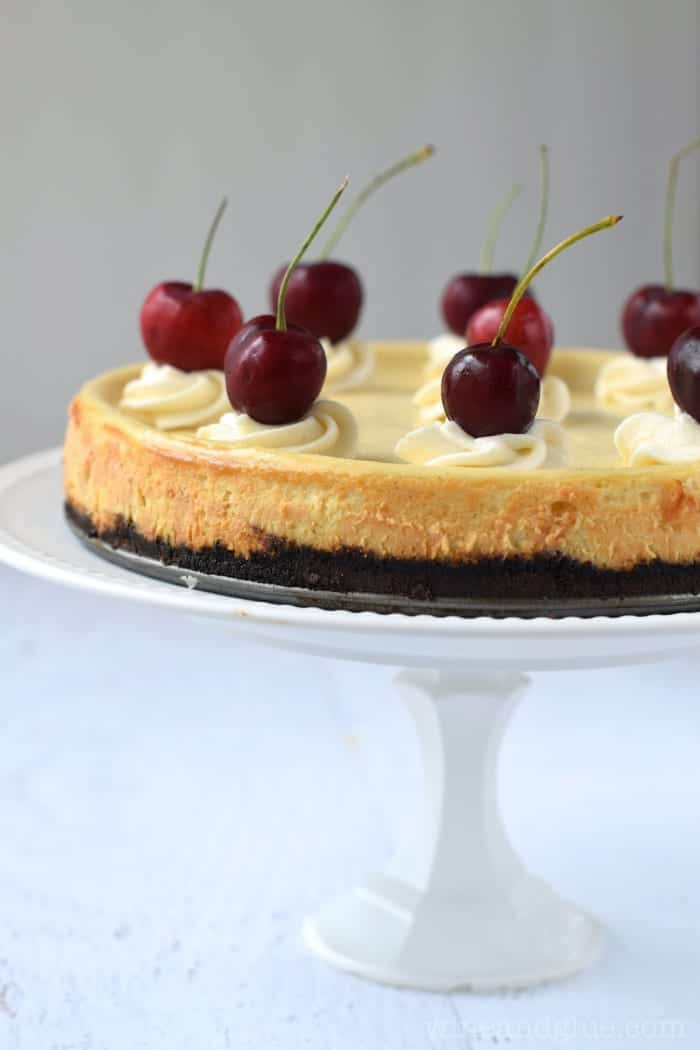 Wonderful world of cheesecakes
Can we talk about cheesecakes for a minute? There are a TON of different ways to make them. There are recipes that call for sour cream, and those that don't. Some recipes add flour, others don't. Those that pop on a crust, those that don't. There are differences in how long you cook them, what you do once you are done cooking, and what temperature to cook them at — it can all be a little overwhelming.
And then there is the issue of the water bath. Guys, I'm a super lazy baker. I'm just not going to do a water bath. And if that makes my cheesecake crack . . . . so be it. I will still eat a big 'ole slice, crack and all.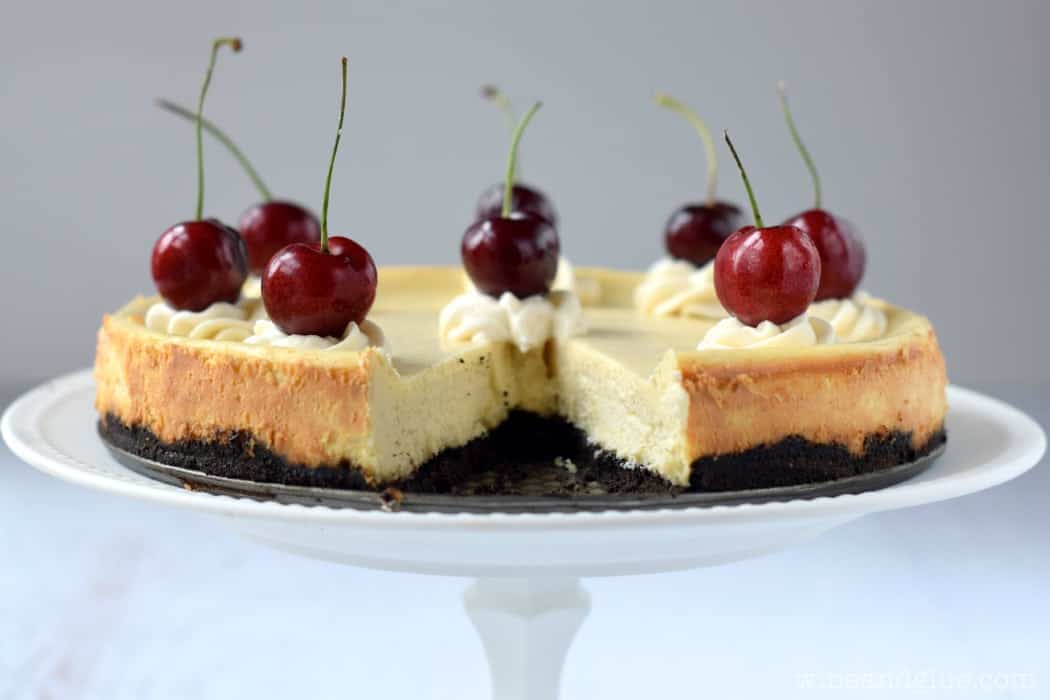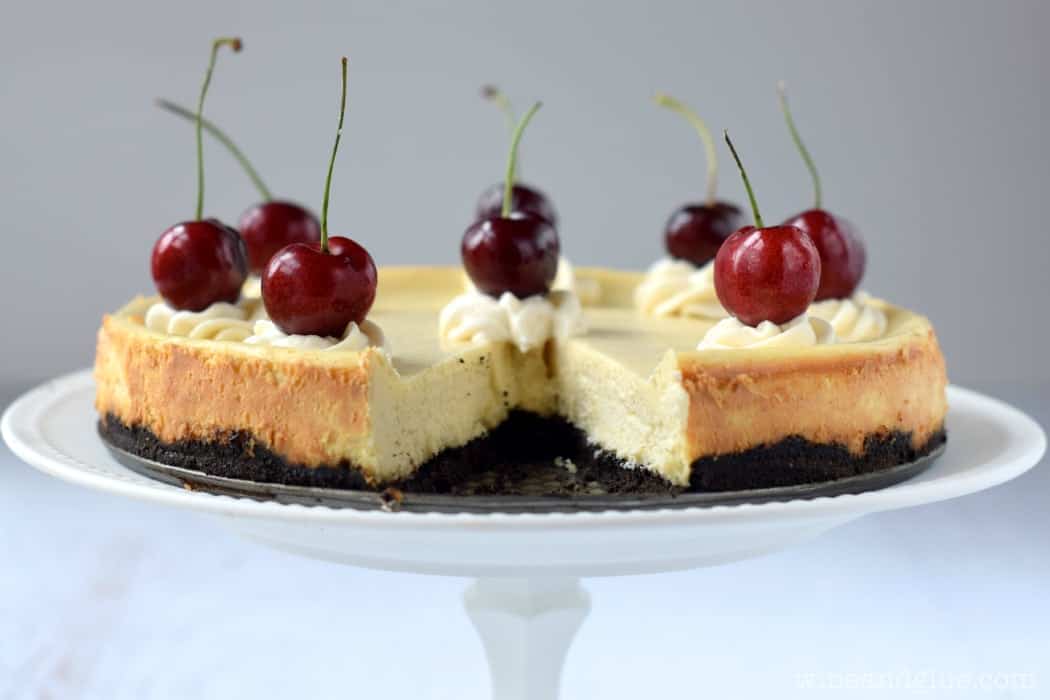 What makes a cheesecake?
At its base level, a cheesecake is simply a sweet dessert that features more than one layer and the main layer includes some kind of soft cheese mixture, such as cream cheese or ricotta, along with eggs and sugar. With such a broad definition you can see why there is room for so many variations as we discussed before.
There is some debate as to whether cheesecake actually qualifies as a cake, or if it is really a pie. Have strong feelings on the topic? Share your thoughts in the comments below!
Some pro tips for Vanilla Bean Cheesecake
I had two cheesecake fails before this one came out just perfectly, and I learned a few things.
The cream cheese has to be at room temperature. And for me that meant a good solid 12 hours out of the fridge.
Speaking of cream cheese . . . don't skimp and don't go slim. I have had the best results with Philadelphia Cream Cheese (and they aren't paying me to say that) and you really can't use a reduced fat version.
Don't overcook it. If the top is starting to brown, turn your oven off!
Once your cheesecake is done (the middle will still be shaky), turn the oven off, open it a crack, and leave it to sit for an hour.
Adding your eggs last and mixing them in one at a time until they are just mixed in gives the best results.
But! You can skip doing all of those things, and still have a delicious cheesecake. I know, because I've totally done it. :)
More yummy cheesecakes to try
Once you've tasted the Vanilla Bean Cheesecake, you're going to want to try some of our other amazing cheesecake recipes. When you do, leave a comment below. We'd love to hear which one you liked most!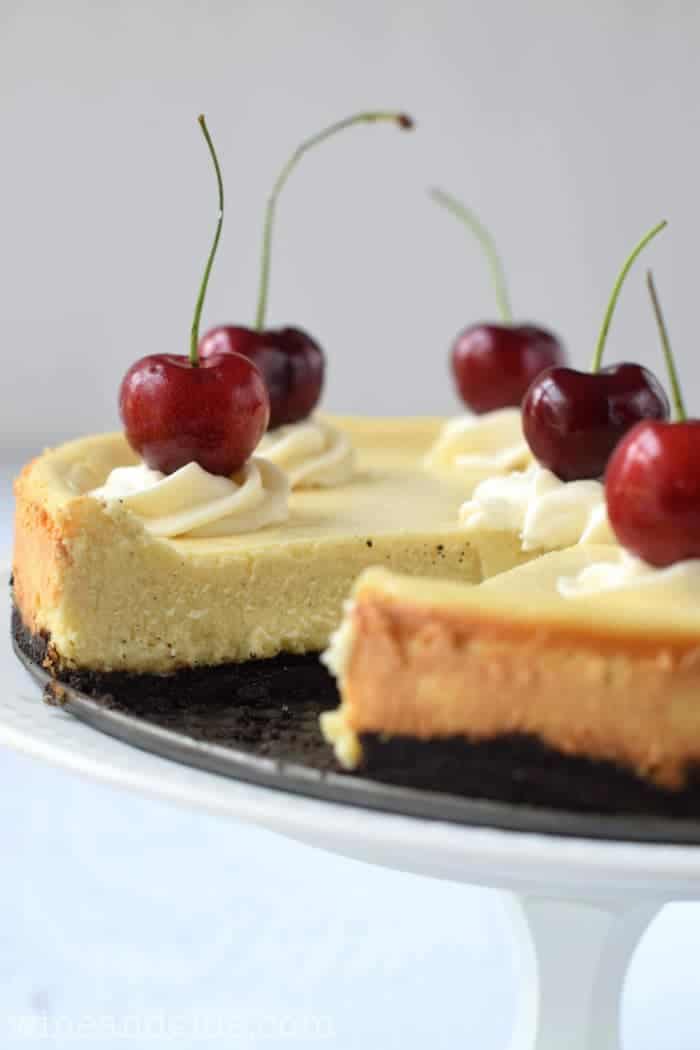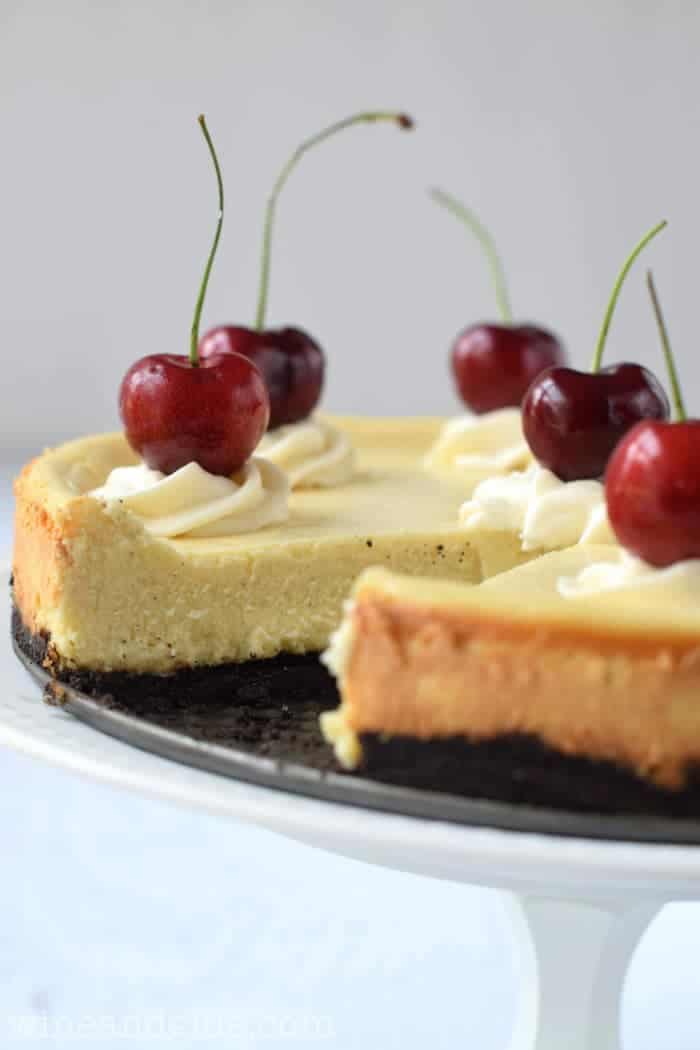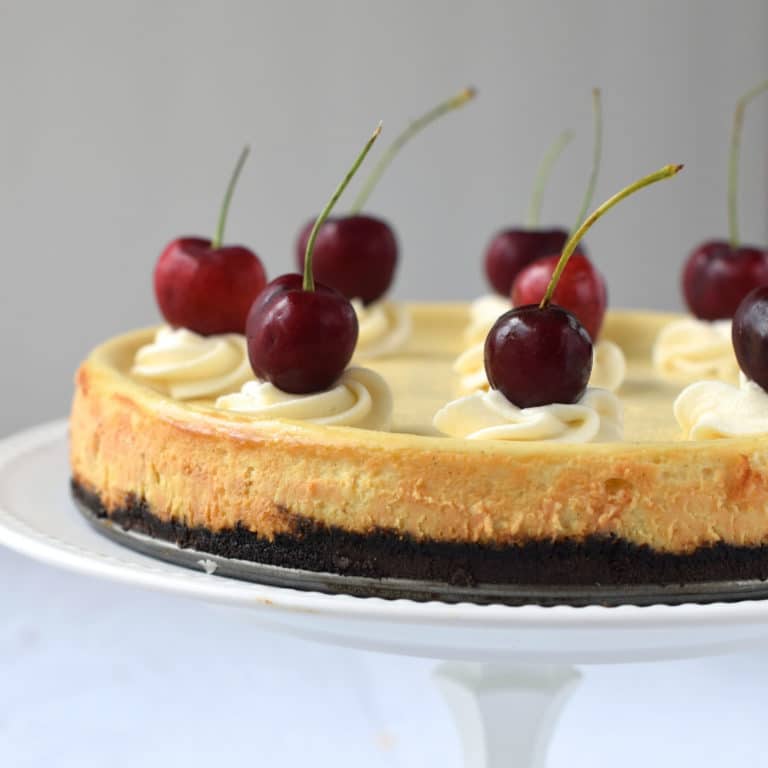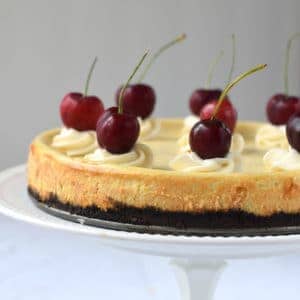 Vanilla Bean Cheesecake
Ingredients
Oreo Crust

1/2

a package of oreos

1

TBSP

melted butter

Cheesecake Filling

3 8

oz

packages of cream cheese at room temperature

1

cup

of sugar

2

TBSP

vanilla

1

vanilla bean

insides scraped out

3

eggs

Frosting

1/2

cup

of butter at room temperature

2

TBSP

cream

I actually just used half and half

1/2

tsp

vanilla extract

1

oz

cream cheese at room temperature

1 3/4

cup

powdered sugar
Instructions
Preheat your oven to 350 degrees.

In a food processor crumble the Oreos and then mix in the melted butter. Press into the bottom of a

9 inch springform pan

Beat the cream cheese and sugar together in a stand mixer with a paddle attachment for 3 minutes.

On low beat in the vanilla extract and then the vanilla bean scrapings.

Then add the eggs one at a time, beating just until they are combined. Scrape the bowl one final time, and beat again for another 30 seconds.

Pour over the Oreo cookie crust and bake for 35 minutes. Then turn the oven off and crack the door open and let the cheesecake sit in there for an hour.

Cover and refrigerate for at least four hours.

While waiting for the cheesecake to cool, mix together the butter, cream, vanilla, cream cheese, and powdered sugar. Refrigerate and pipe onto the cheesecake just before serving.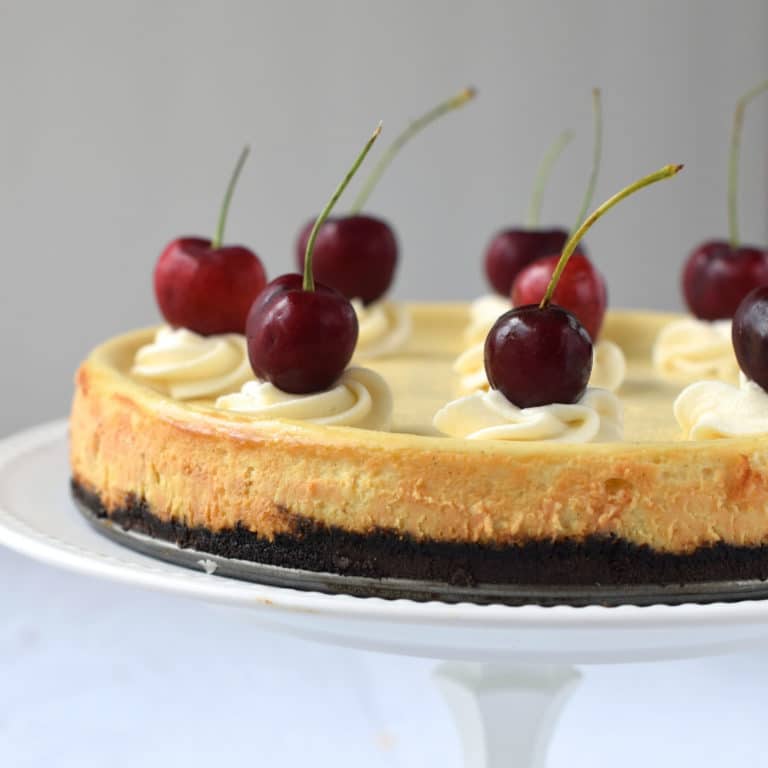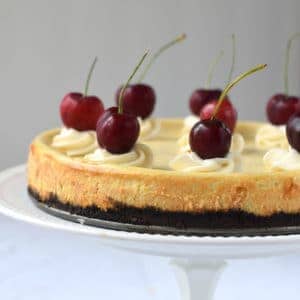 did you make this
Vanilla Bean Cheesecake