Vanilla Bean Cheesecake that is sweet, creamy, and delicious with the perfect vanilla kick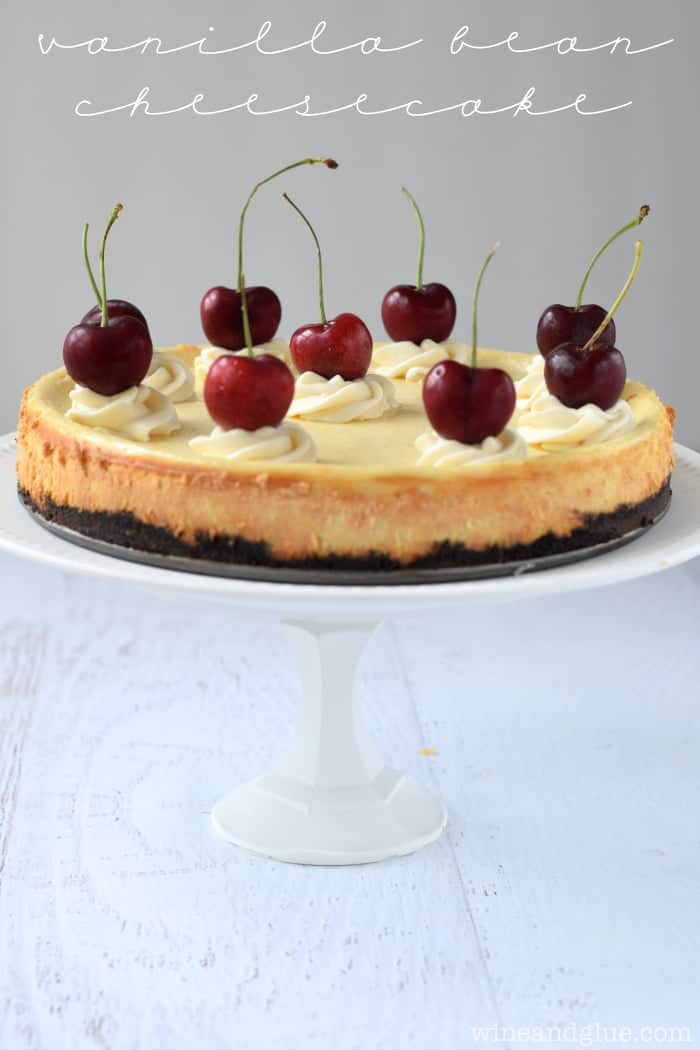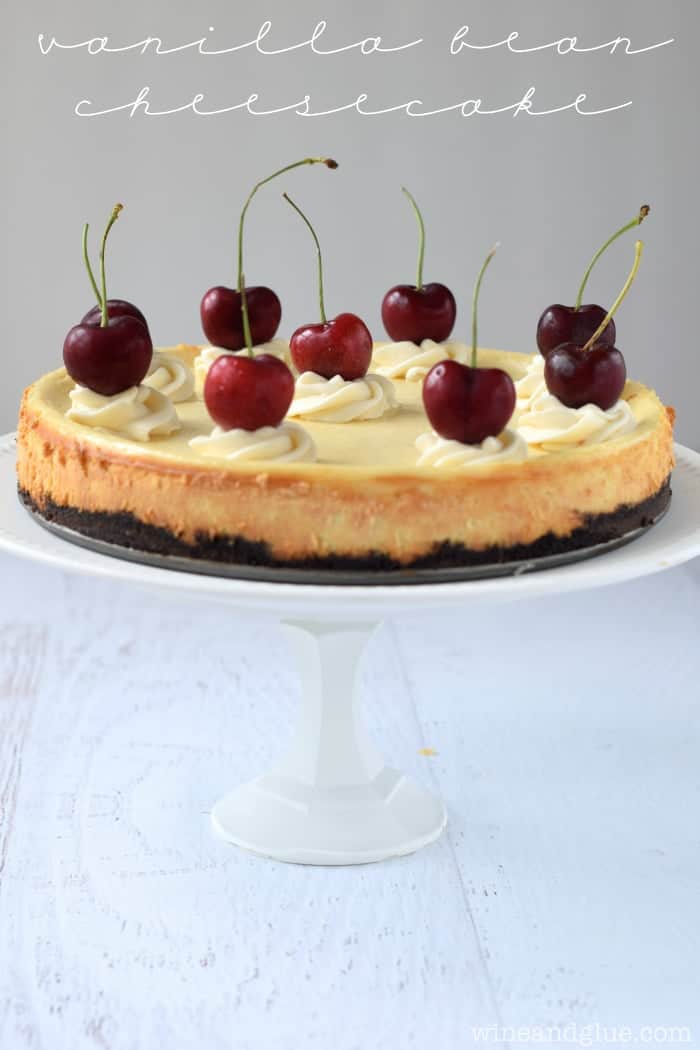 It's National Cheesecake day!!
Before I was a blogger I had no idea that there were such things as National Cheesecake Day or National Margarita Day or National Nutella Day . . . how I functioned without celebrating these monumental days before . . . I'm not really sure.
And I'm not the only one! About 80 other bloggers have joined forces to celebrate cheesecake day in epic proportions. 80 cheesecake options? That's a party I want to be a part of! Make sure you scroll to the bottom of this post for links to all the delicious cheesecakiness!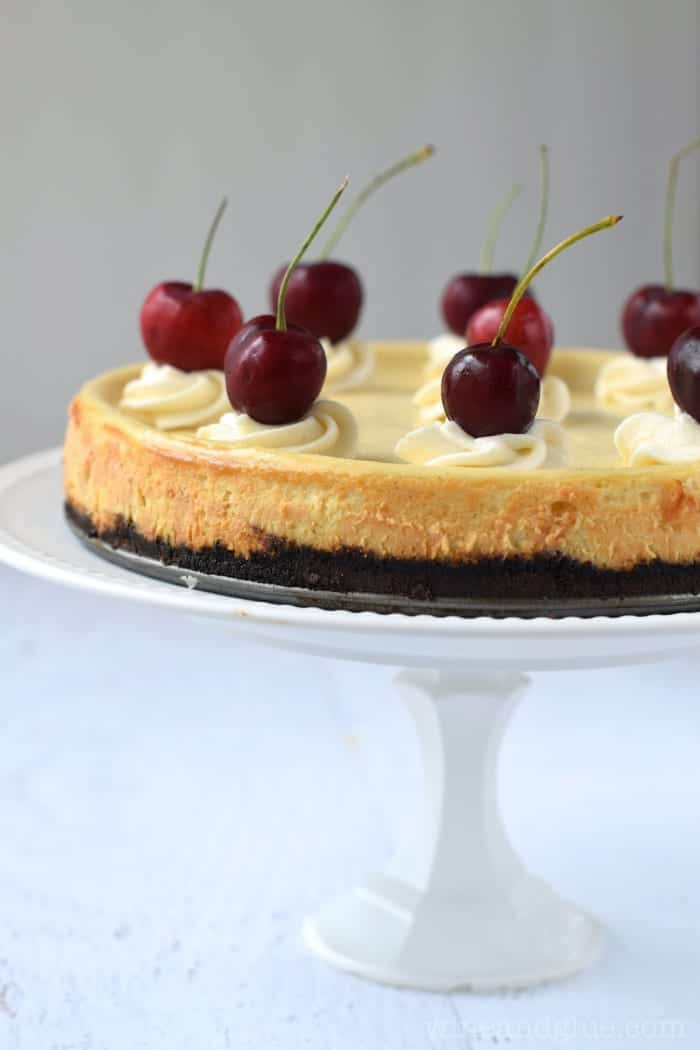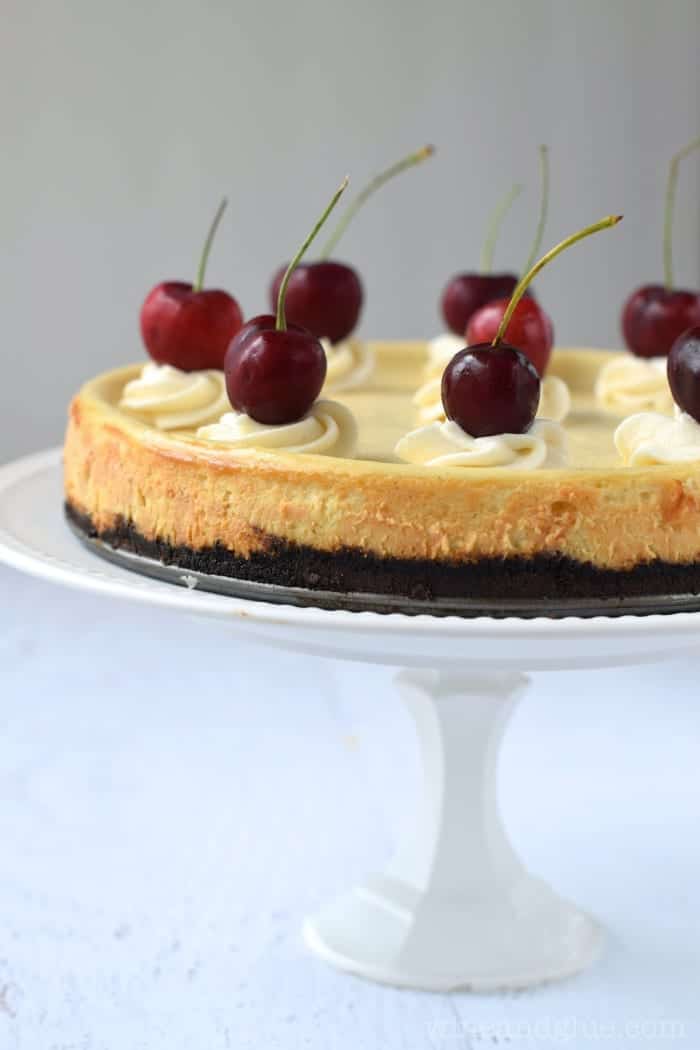 Can we talk about cheesecakes for a minute? There are a TON of different ways to make them. There are those who use sour cream, those who don't. Those who add flour, those who don't. Those who pop on a crust, those who don't. There are differences in how long you cook them, what you do once you are done cooking, and what temperature to cook them at.
And then there is the issue of the water bath. Guys, I'm a super lazy baker. I'm just not going to do a water bath. And if that makes my cheesecake crack . . . . so be it. I will still eat a big 'ole slice, crack and all.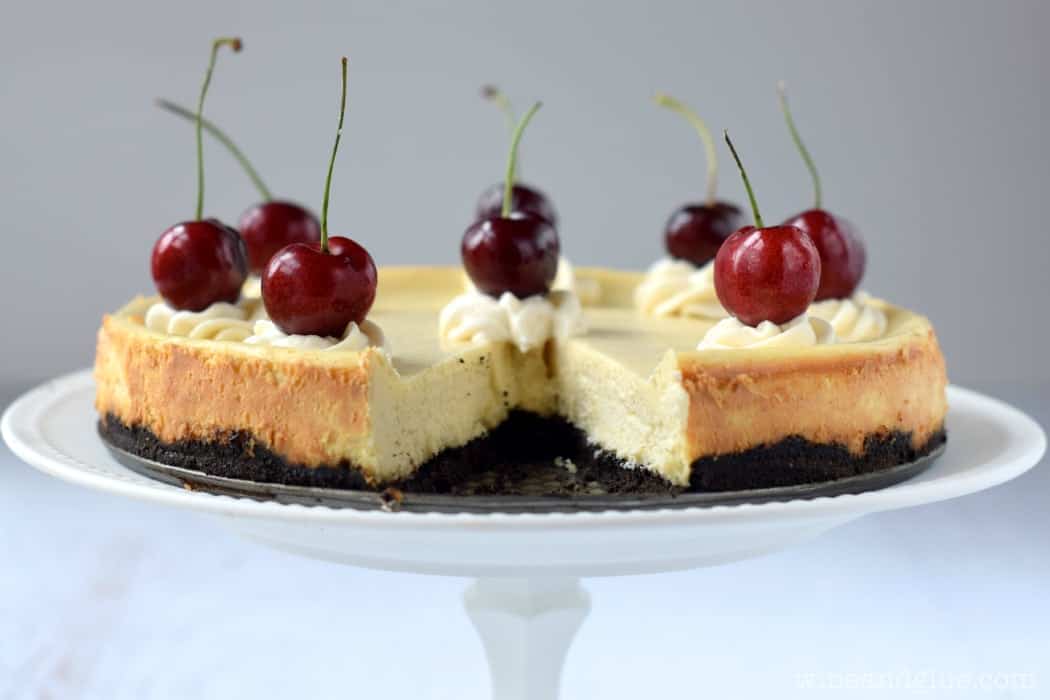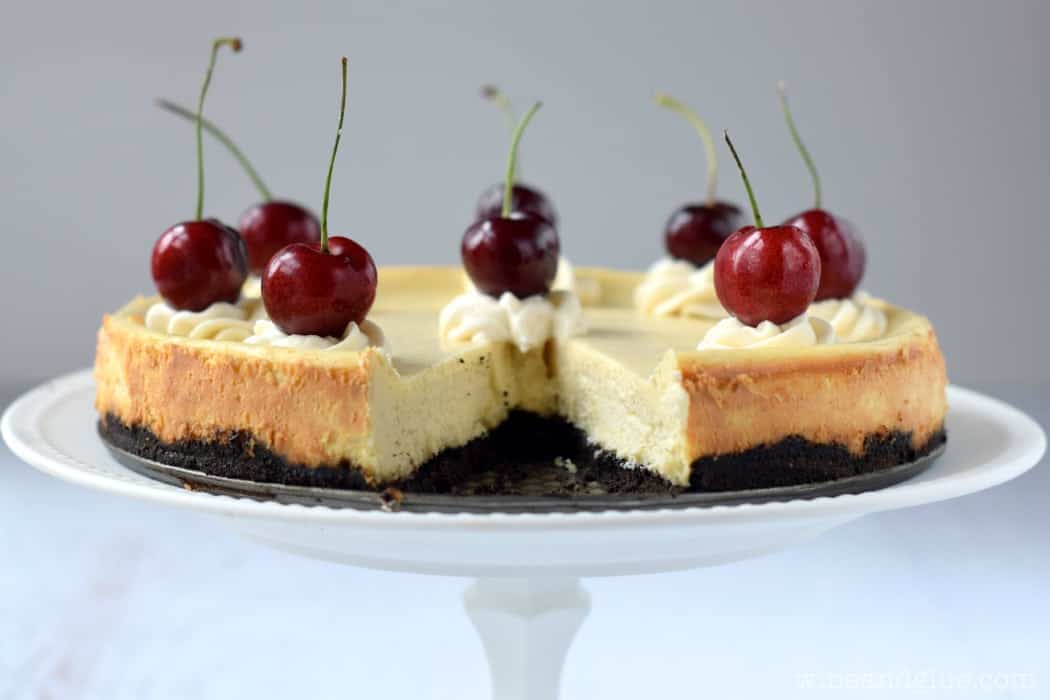 I had two cheesecake fails before this one came out just perfectly, and I learned a few things.
The cream cheese has to be at room temperature. And for me that meant a good solid 12 hours out of the fridge.
Speaking of cream cheese . . . don't skimp and don't go slim. I have had the best results with Philadelphia Cream Cheese (and they aren't paying me to say that) and you really can't use a reduced fat version.
Don't overcook it. If the top is starting to brown, turn your oven off!
Once your cheesecake is done (the middle will still be shaky), turn the oven off, open it a crack, and leave it sit for an hour.
Adding your eggs last and mixing them in one at a time until they are just mixed in gives the best results.
But! You can skip doing all of those things, and still have a delicious cheesecake. I know, because I've totally done it. 🙂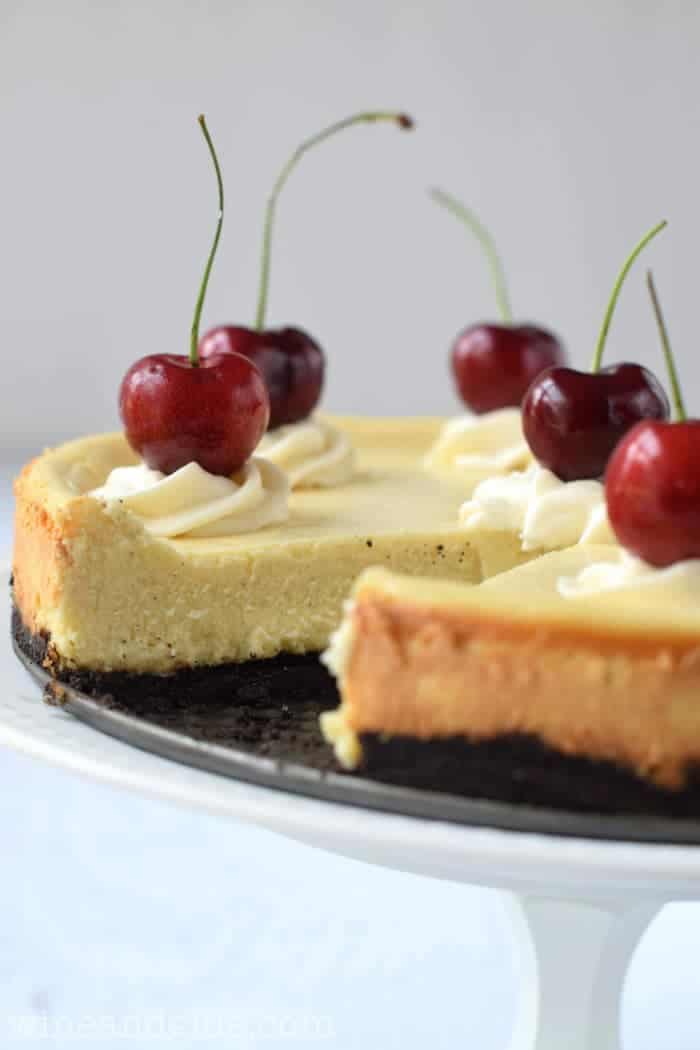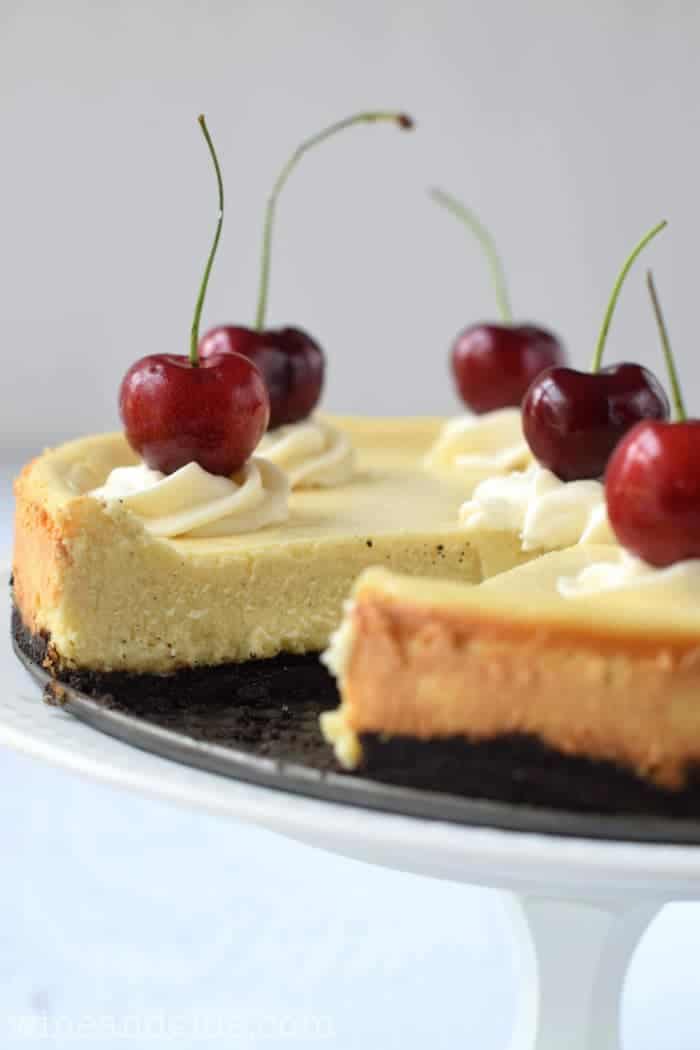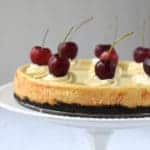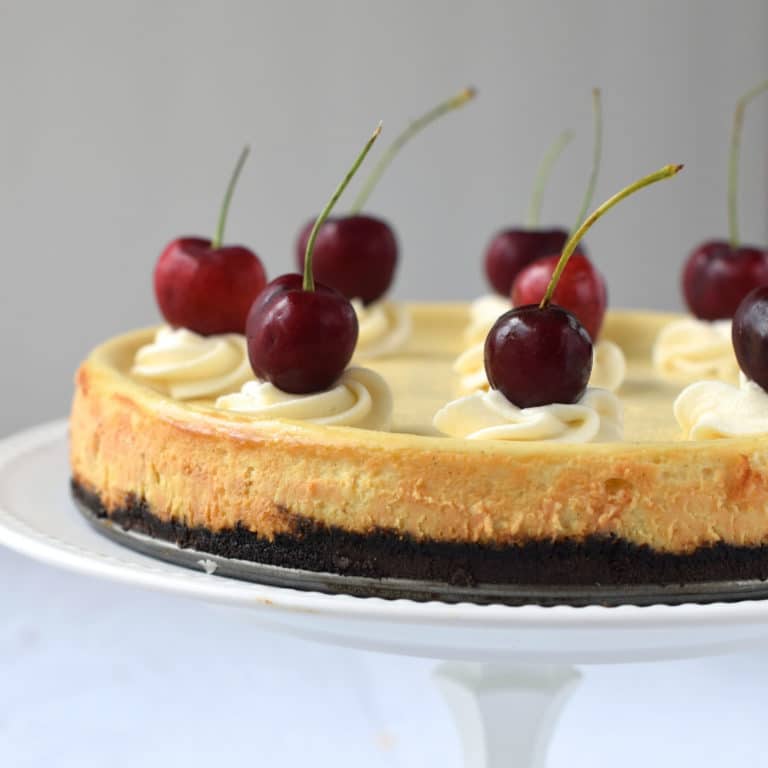 Print Recipe
Vanilla Bean Cheesecake
Ingredients
Oreo Crust

1/2

a package of oreos

1

TBSP

melted butter

Cheesecake Filling

3 8

oz

packages of cream cheese at room temperature

1

cup

of sugar

2

TBSP

vanilla

1

vanilla bean

insides scraped out

3

eggs

Frosting

1/2

cup

of butter at room temperature

2

TBSP

cream

I actually just used half and half

1/2

tsp

vanilla extract

1

oz

cream cheese at room temperature

1 3/4

cup

powdered sugar
Instructions
Preheat your oven to 350 degrees.

In a food processor crumble the Oreos and then mix in the melted butter. Press into the bottom of a

9 inch springform pan

Beat the cream cheese and sugar together in a stand mixer with a paddle attachment for 3 minutes.

On low beat in the vanilla extract and then the vanilla bean scrapings.

Then add the eggs one at a time, beating just until they are combined. Scrape the bowl one final time, and beat again for another 30 seconds.

Pour over the Oreo cookie crust and bake for 35 minutes. Then turn the oven off and crack the door open and let the cheesecake sit in there for an hour.

Cover and refrigerate for at least four hours.

While waiting for the cheesecake to cool, mix together the butter, cream, vanilla, cream cheese, and powdered sugar. Refrigerate and pipe onto the cheesecake just before serving.
Check out the other great Cheesecake Recipes!
Pear cheesecake with gingersnap crust from Roxana's Home Baking
Strawberry Chocolate Ganache Cheesecake Bars from A Kitchen Addiction
No-Bake Peanut Butter Cheesecake from Crunchy Creamy Sweet
Frozen Peanut Butter Cheesecake with Nutter Butter Crust from Crazy for Crust
Caramel Overload Cheesecake Bars from Crumbs and Chaos
Blackberry Goat Cheese Cheesecake from Baking a Moment
Healthier Peanut Butter Cheesecake Brownie Bars from Texanerin Baking
White Chocolate Raspberry Swirl Cheesecake from Will Cook For Smiles
Coconut Cheesecake with Macadamia Crust from All Day I Dream About Food
Lemon Cheesecake from Shugary Sweets
No Bake Peanut Butter Cheesecake from Dinners, Dishes, and Desserts
Oreo Cheesecake (vegan) from Namely Marly
Blueberry Ricotta Cream Cheesecake from Hungry Couple
Lemon Ginger Panna Cotta Cheesecake with Blueberry Sauce from Girl Versus Dough
Mini Mascarpone Cheesecakes with Strawberry Balsamic Topping from Boulder Locavore
S'mores Cheesecake from The Gunny Sack
Raspberry Cheesecake with Oreo Crust from Hip Foodie Mom
Black Raspberry Cheesecake Milkshake from Blahnik Baker
No Bake Oatmeal Chocolate Chip Cookie Dough Cheesecake from White Lights on Wednesday
Blackberry Cheesecake Popsicles from The Girl In The Little Red Kitchen
Chocolate Nutella Cheesecake Cake from gotta get baked
White Chocolate Frangelico Cheesecake from That Skinny Chick Can Bake
Cherry and Pistachio No Bake Cheesecake with Animal Cracker Crust from Cravings of a Lunatic
Triple Brigadeiro Cheesecake Tart from From Brazil To You
White Chocolate Cheesecake with Macadamia Nuts and Caramel from Taste and Tell
Snickers Cheesecake from Life, Love and Sugar
Cherry Cheesecake Brownies from Inside BruCrew Life
Lilikoi Cheesecake with Macadamia Nut Shortbread Crust from Dieter's Downfall
Strawberry Cheesecake Pots from Barbara Bakes
Mom's Cheesecake from Magnolia Days
Very Berry Cheesecake with Chocolate Oreo Crust from JavaCupcake
Vanilla Bean Cheesecake from Wine & Glue
New York Style Cheesecake from URBAN BAKES
Rainbow Cheesecake from In Katrina's Kitchen
Chocolate Cheesecake w/ Whisky Toffee Shards from girlichef
No Bake Coconut Lime Cheesecake Bars from Beyond Frosting
Lemon Blueberry Cheesecake Bars from Cooking In Stilettos
Ricotta Cheesecake from French Press
Peanut Butter Cheesecake with Nutella Ganache Topping from The Redhead Baker
Chocolate-Covered Strawberry Cheesecake from Savvy Eats
Caramel Macchiato Cheesecake from Wishes and Dishes
Key Lime Pie Cheesecake from Love and Confections
Apricot-Swirl Cheesecake from Take A Bite Out of Boca
Hawaiian Mini Cheesecakes from Pint Sized Baker
Butter Pecan Caramel No-Bake Mini Cheesecakes from Simply Southern Baking
Pumpkin Cheesecake from Lady Behind The Curtain
Mini cheesecakes with a toasted coconut crust (gluten free) from Quarter Life (Crisis) Cuisine
No Bake Blackberry Cheesecake from You Made That?
Mini No Bake Lime Cheesecakes from Miss in the Kitchen
No-Bake Limoncello Cheesecake from Cake Duchess
No-Bake Berry Cheesecake from Food Lust People Love
Key Lime Trifles from Hoosier Homemade
Hawaiian Chantilly Layer Cheesecake from Wallflour Girl
No Bake Cookies and Cream Cheesecake Bars from Garnish with Lemon
Mango Cheesecake (vegan) from Jessiker Bakes
Salted Caramel Apple Cheesecake from Jane's Adventures in Dinner
Chocolate Peanut Butter Cheesecake Bars from Chez CateyLou
Oreo Ripple Cheesecake from Overtime Cook
No Bake Dulce de Leche Cheesecake with Caramelized Peaches from The Food Charlatan
Chocolate Caramel Cheesecake Ice Cream from Chocolate Moosey
Sugar Cookie Cheesecake from Munchkin Munchies
Caramel cheesecake martini from Happy Food, Healthy Life
Frozen PB&C Cheesecake from Noshing With The Nolands
Chocolate Brownie Cheesecake Cookies from Lemons for Lulu
This post contains affiliate links, if you click on them and then make a purchase, I make a small amount of money at no additional cost to you. Thank you in advance for supporting Wine & Glue.