These Zucchini Cupcakes are amazingly delicious and moist! A whole batch will get devoured before you know it. Pair them with my Cream Cheese Frosting for the perfect dessert.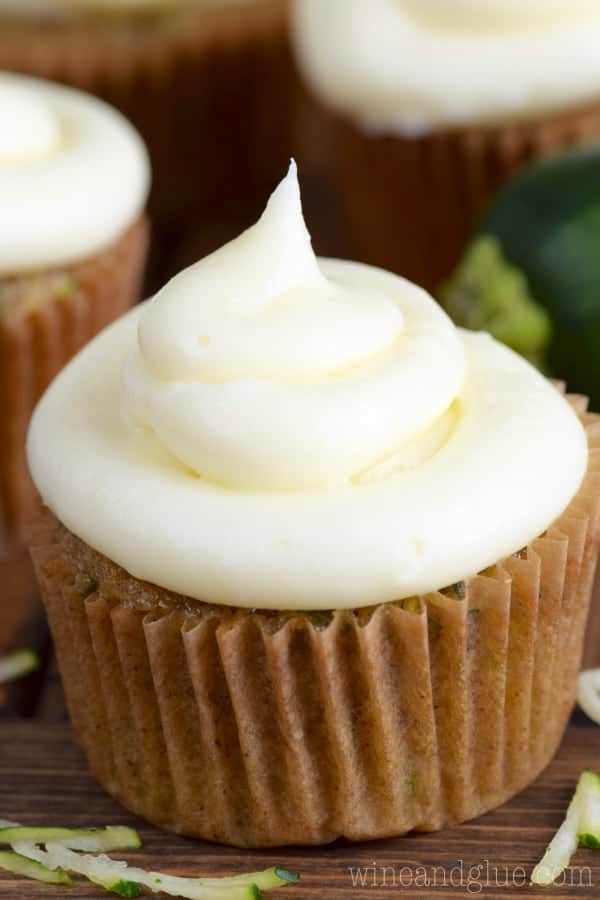 The other day I shared with you this amazing Cream Cheese Frosting recipe and when I did I promised you I would be brining you some Zucchini Cupcakes! And today is the day my friends!
These cupcakes are based off of this Caramel Zucchini Spice Poke Cake which is OVER THE TOP amazing! But I decided that I needed it in smaller form. Actually, I decided that my Cream Cheese Frosting needed a more civilized delivery system than a spoon.
Reader Review
I tried them out yesterday and they were AMAZING!!! So much so that I brought them to my book club that same night and they were a hit! Even my picky 3 year old ate enough to give him a tummy ache! LOL! Thanks for the recipe, I loved it.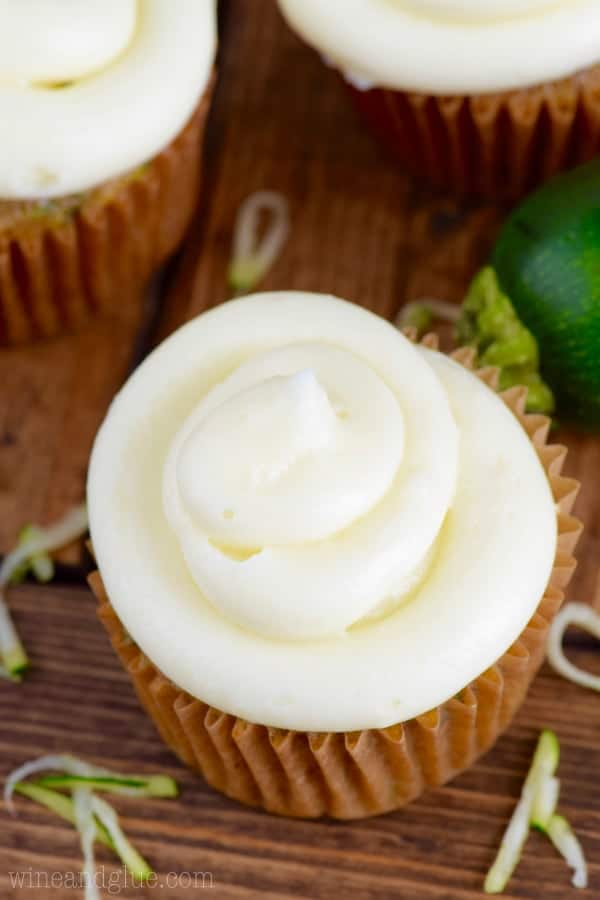 How to Make Zucchini Cupcakes
This is just a brief overview of this amazing recipe. For the full recipe with all of the measurements, see the recipe card in the bottom of the post.
Whisk together the dry ingredients. In a large bowl, whisk together the flour, baking powder, baking soda, and spices.
Combine the wet ingredients. In a medium sized bowl, combine the eggs, sugar, and oil.
Fold the wet ingredients into the dry ingredients. Stir until they are just combined. Then stir in the zucchini.
Bake the cupcakes. After they cool, top them with cream cheese frosting.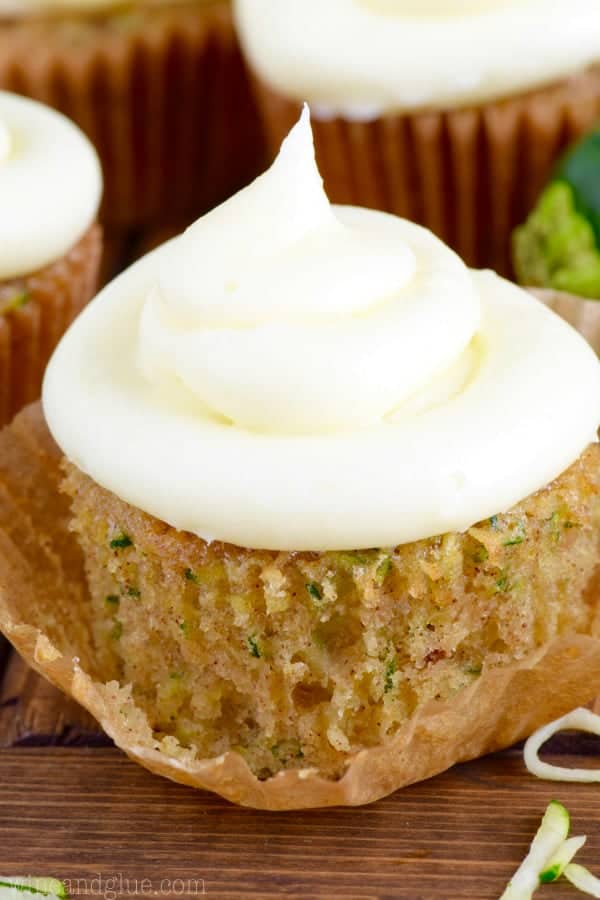 Frosting Zucchini Cupcakes
Cream cheese frosting is the perfect addition to these wonderful cupcakes. The tang of the frosting goes perfectly with the sweetness and spice of the cupcakes. Our Cream Cheese Frosting is easy to make, and you will love it on these.
The BEST Cream Cheese Frosting
The BEST Cream cheese frosting that is smooth, creamy, and not overly sweet. This simple cream cheese frosting is so quick to make!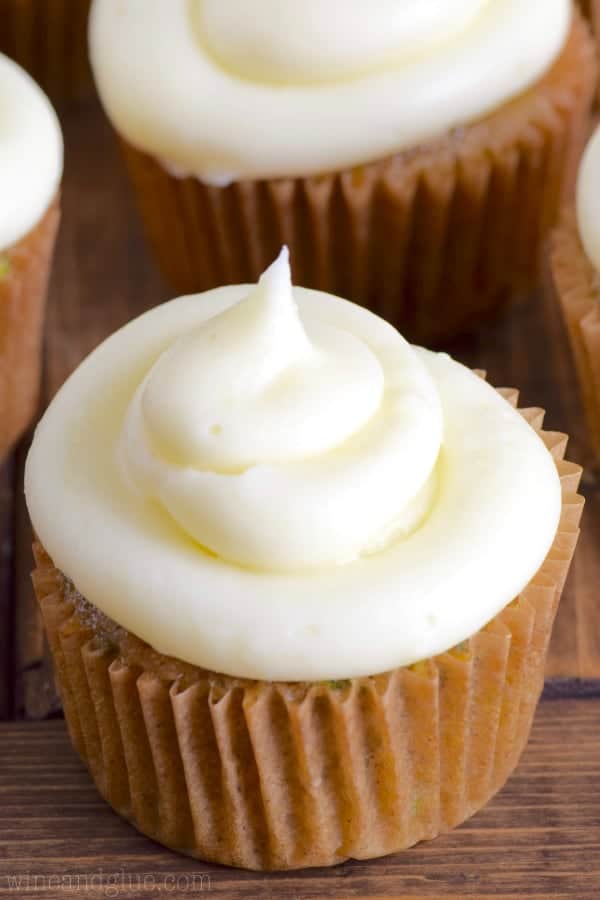 Grating Zucchini
One of the things that makes recipes with vegetables in them is the moisture they bring to the recipe. Just like in my Carrot Cake, the key is the grate the veggie, and then add it to the recipe. You don't want to ring any of the moisture out.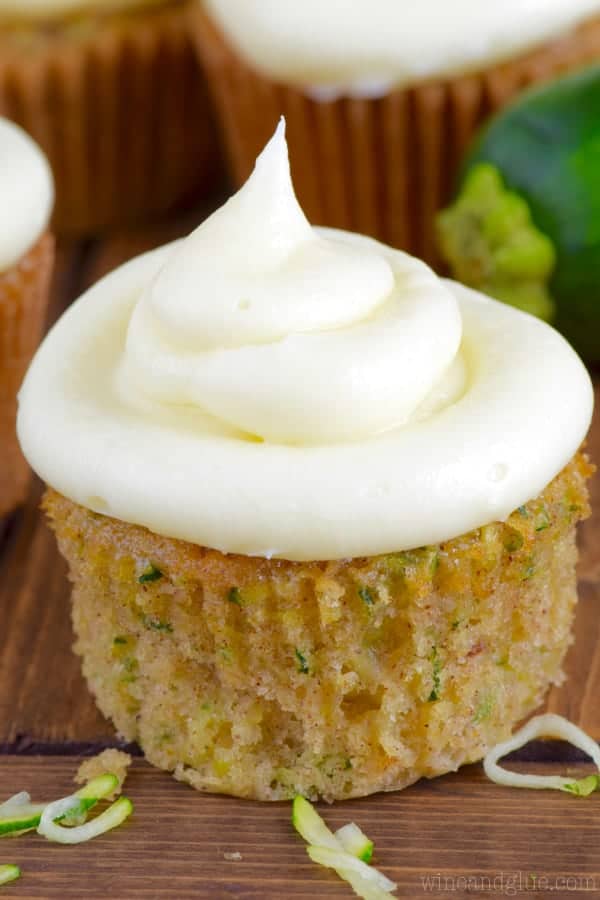 Storing and Freezing
These cupcakes can be stored in an air tight container in a dry place for one week. If frosted, the cupcakes should be stored in the refrigerator. Unfrosted cupcakes can be stored on the counter.
These cupcakes can be frozen, assuming they are not frosted. Cream cheese doesn't not have a good consistency once frozen and thawed. To freeze, place on a tray in a single layer. Freeze for one to two hours and then transfer to an air tight container. Store in the freezer for up to three months.
FAQ
How many cupcakes does this recipe make?
This recipe makes 30 cupcakes.
How much frosting do I need to make these?
One batch of our Cream Cheese Frosting will frost these cupcakes. If you want to pipe the frosting as you see in the photos you will need 2 1/2 times the recipe.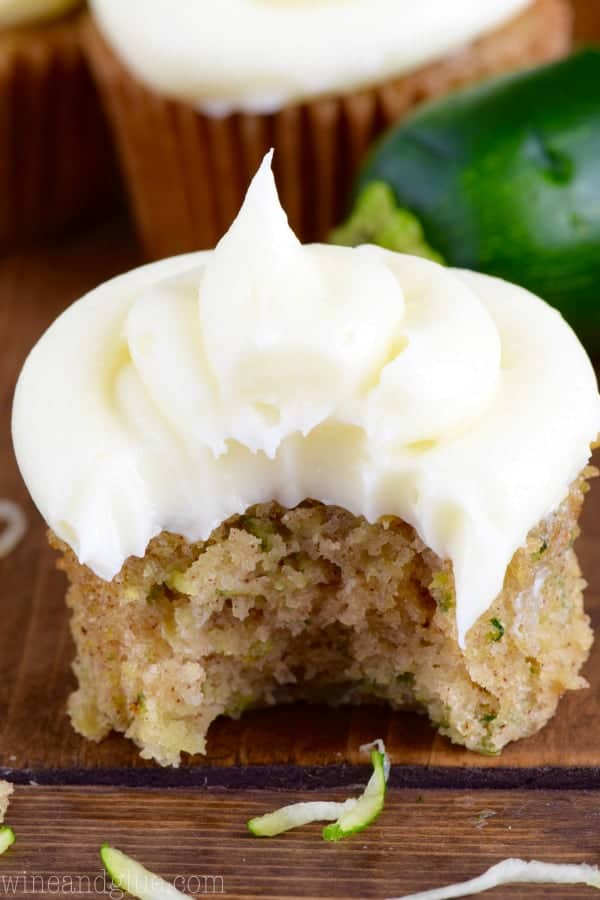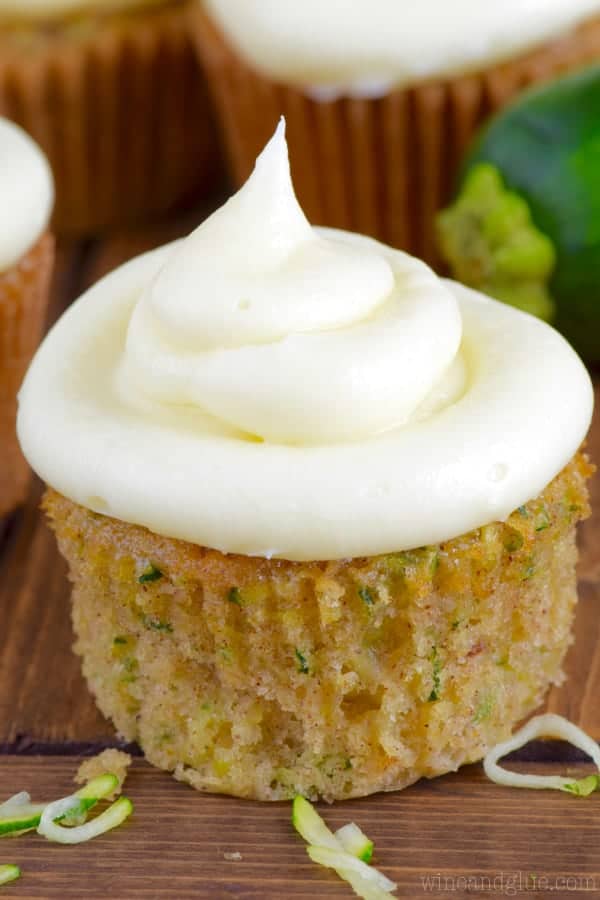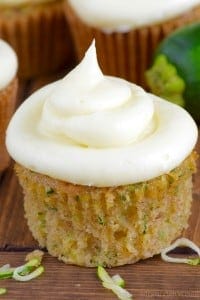 Zucchini Cupcakes
These Zucchini Cupcakes are amazingly delicious and moist! A whole batch will get devoured before you know it. 
Ingredients
Zucchini Cupcakes
2 1/2

cups

all-purpose flour

1 1/4

teaspoons

baking powder

1

teaspoon

baking soda

1 1/4

teaspoons

cinnamon

1/2

teaspoon

nutmeg

1/8

teaspoon

cloves

1/8

teaspoon

ginger

1/2

teaspoon

salt

4

large eggs at room temperature

1 1/2

cups

granulated sugar

1/2

cups

packed light brown sugar

1 1/2

cups

vegetable oil

1

pound

zucchini

about 2 medium zucchini, or 3 cups grated, grated finely
Cream Cheese Frosting
8

ounces

cream cheese

4

tablespoons

unsalted butter

2

cups

powdered sugar

not packed

1 to 2

teaspoons

vanilla extract
Instructions
Zucchini Cupcakes
Preheat your oven to 350 degrees Fahrenheit. Prepare three cupcake pans with cupcake liners.

Whisk together in a large bowl the flour, baking powder, baking soda, and spices.

Whisk the eggs and sugars together in a large bowl until the sugars are just about dissolved. Now add the oil about a half a cup at a time and whisk in until it's combined.

Slowly add the flour mixture. Stir in the zucchini.

Fill the cupcake liners 3/4 full.

Turn your oven down to 325 right before putting the cupcakes in. Bake for 23 to 26 minutes or until the edges just begin to turn golden brown and a toothpick inserted in the center comes out with just a few crumbs.

Allow cupcakes to cool completely before frosting.
Cream Cheese Frosting
Cream together the cream cheese and the butter in the bowl of a stand mixer. Add the powdered sugar one cup at a time. Then add in the vanilla extract.
Notes
For just a small layer of frosting on each cupcake, one recipe of the frosting should be enough. If you would like to pile it high as in the pictures, you will need two to two and half recipes.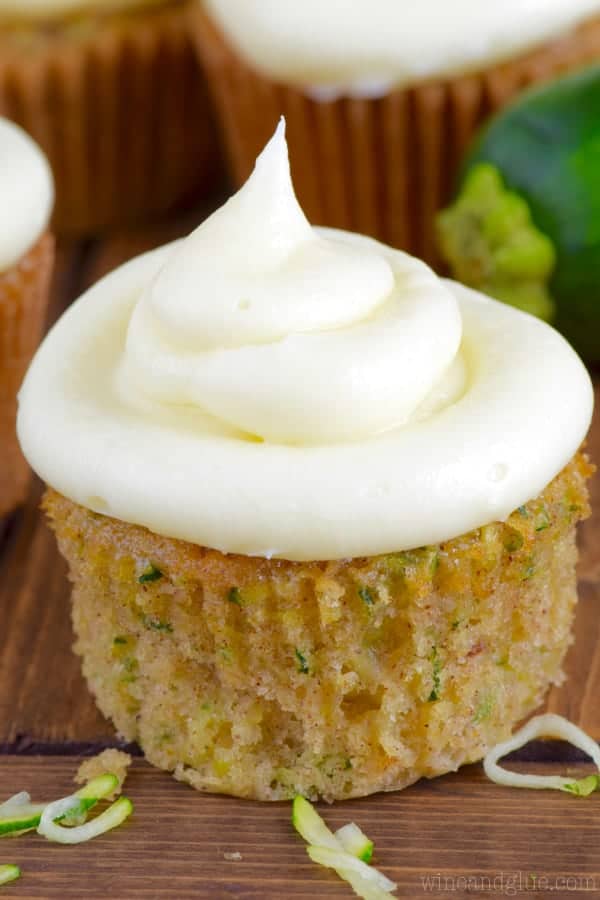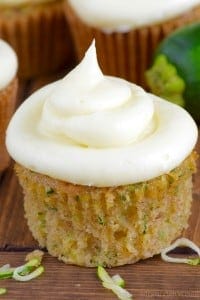 did you make this
Zucchini Cupcakes