BBQ Chicken Nachos are going to be your new favorite dinner. This great recipe comes together quickly and is perfect for an appetizer or fun weeknight meal.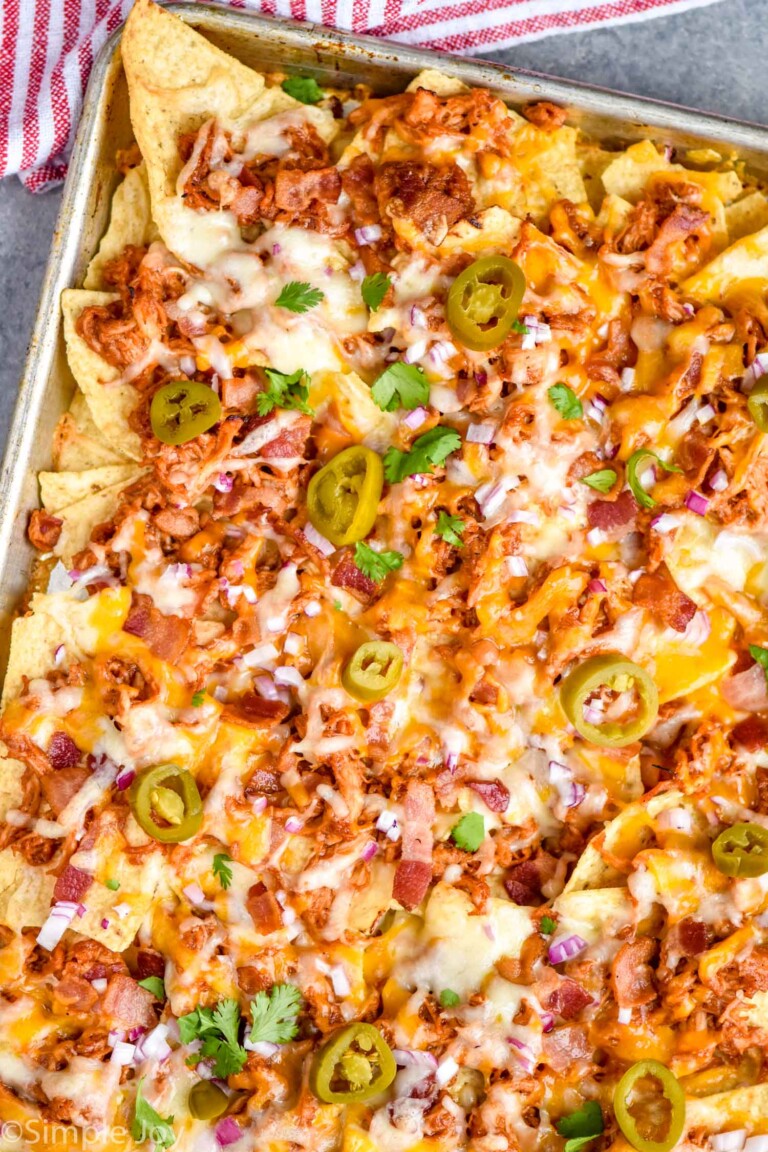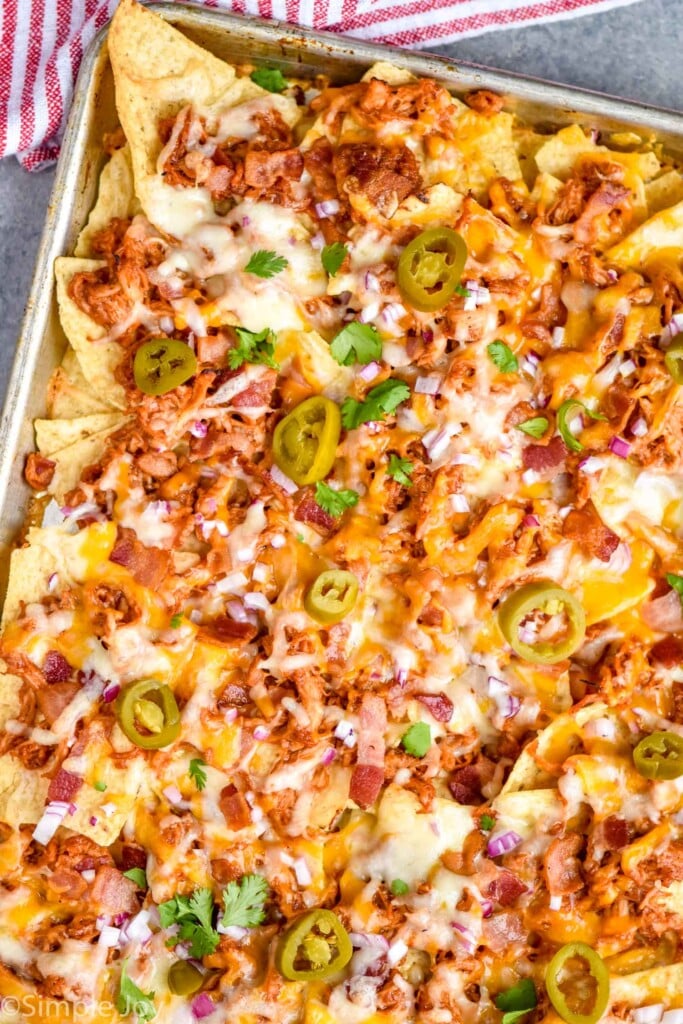 Nachos are my absolute weakness. Whenever I see them on a menu, it's all I want. They are so very easy to make at home, and while it's easy to fall back on chicken nachos or beef nachos, it's time you branch out to this amazing BBQ Chicken Nachos recipe.
We start by smothering shredded chicken in my amazing homemade BBQ sauce. To that we add bacon, red onions, and two different types of cheese. And it all comes together in just under 30 minutes.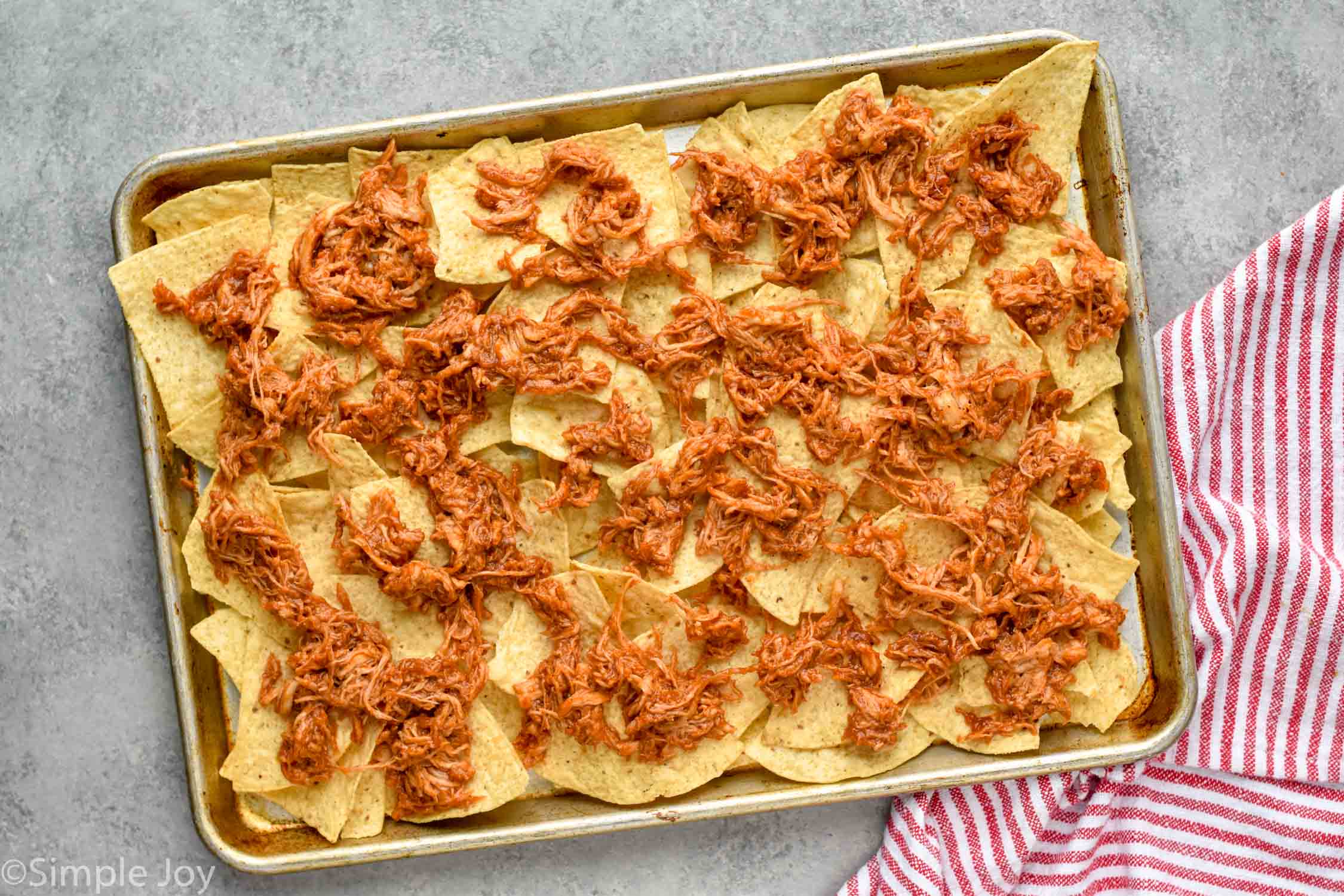 How to Make BBQ Chicken Nachos
Cook the chicken in BBQ sauce. Though we are starting with pre cooked chicken, this step of cooking the chicken in BBQ sauce ensures that it completely absorbs that amazing BBQ flavor.
Cook the bacon. Read more on this below.
Put your nachos together. We are going to layer tortilla chips on a large rimmed baking sheet. Then top them with the BBQ chicken, the bacon, the cheeses, and finally the red onions.
Bake the nachos for 15 to 20 minutes. Or bake until the cheese is fully melted.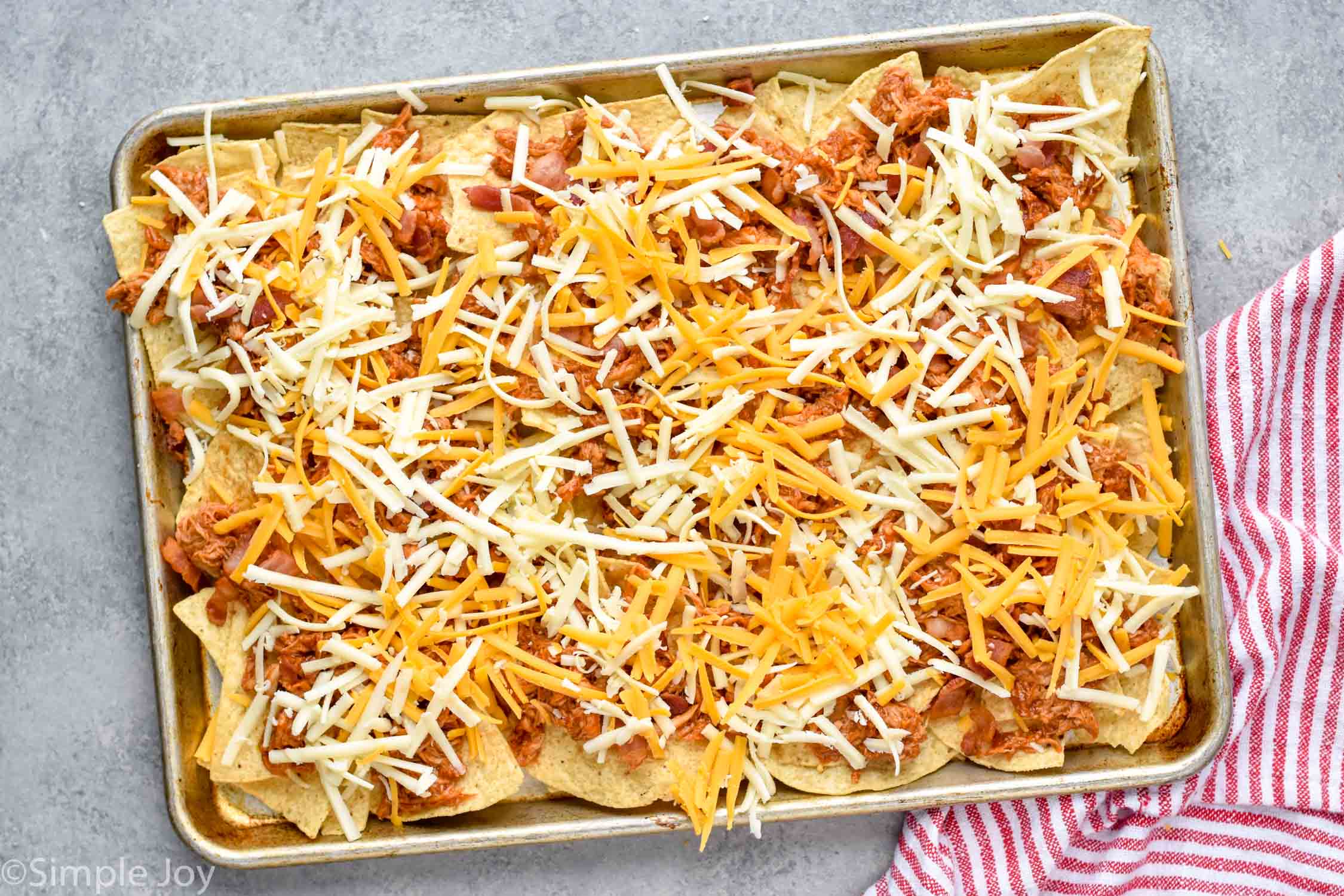 Cooking Bacon for Nachos
Whenever I cook bacon for a recipe like this, I like to dice it first. It just cuts a lot better when it is raw. Cut the slices into small pieces, and then cook them in a cast iron pan until they just begin to crisp up. Remove them from the heat, and take them out of the pan with a slotted spoon, transferring them to a paper towel lined plate.
It is important to take them out as they just begin to crisp up, because as you take the time to get them out of the pan, they will continue to cook in the hot oil. If you wait to take them out until they are fully crisp, they will over done by the time they are on that paper towel.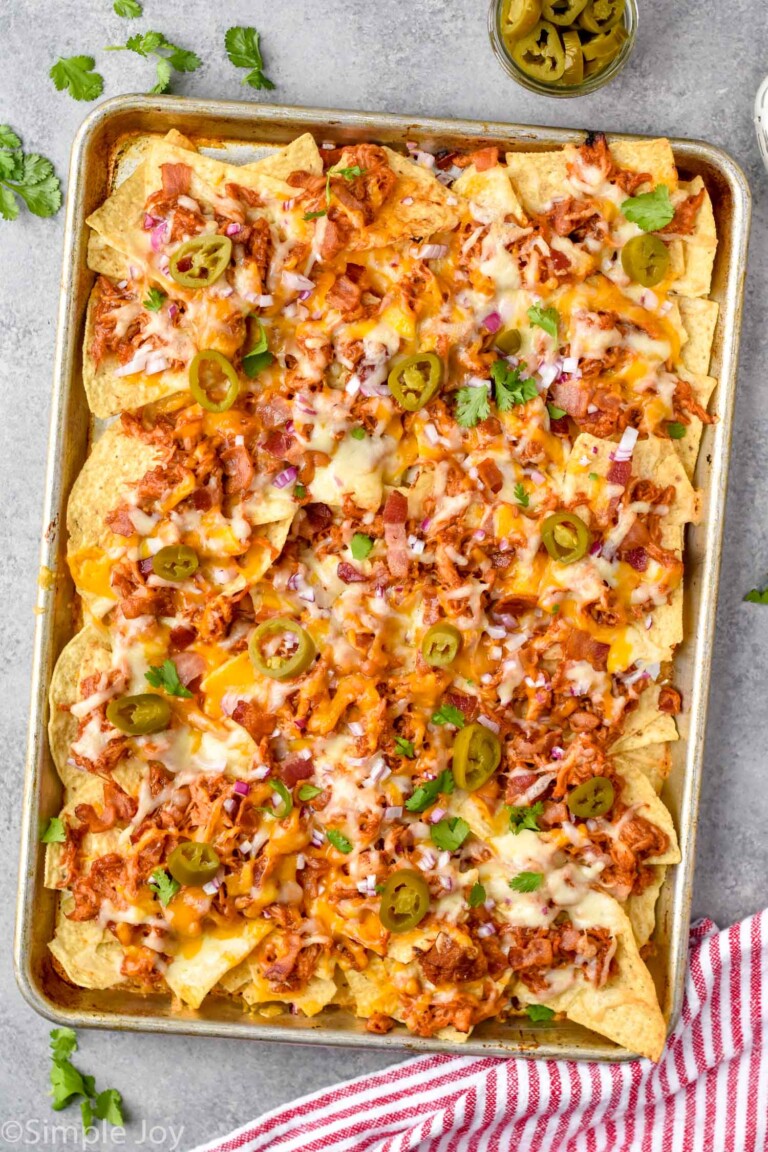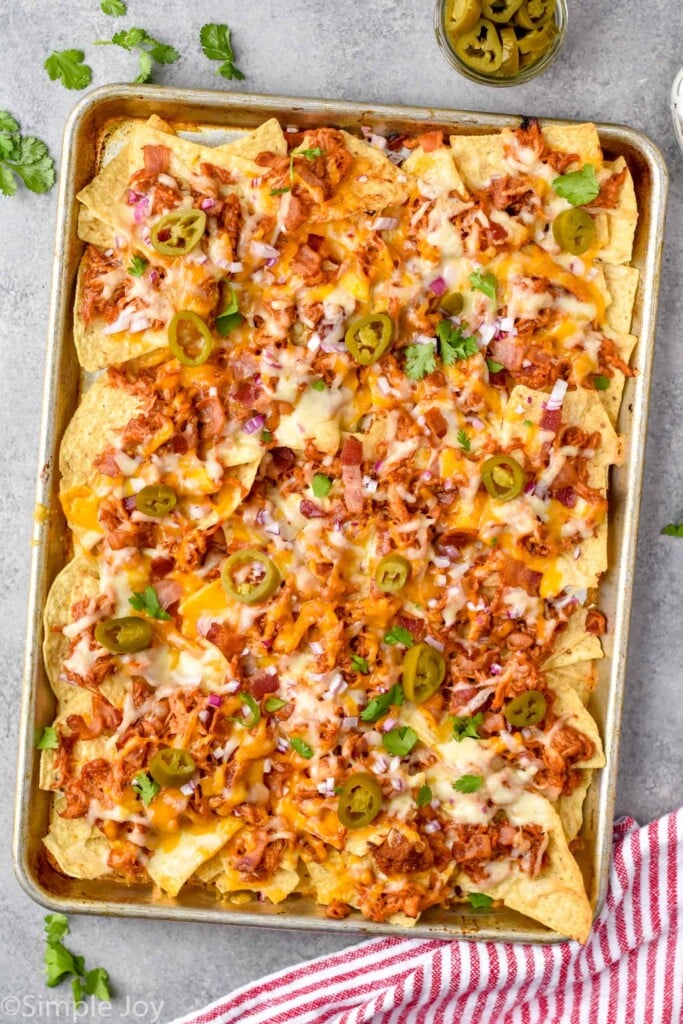 Shredding Cheese for BBQ Chicken Nachos
In this recipe for barbecue chicken nachos, we are going with two different types of cheese – Monterey Jack and Cheddar Cheese. These are both great melting cheeses and perfect for nachos. The combination of the two lends the perfect flavor to the BBQ sauce.
When you are using shredded cheese for any recipe, but especially for a recipe where the cheese is the star of the show, shred your cheese from a block of cheese. Resist the urge to save time by buying pre-shredded cheese. It is coated in a preservative that keeps it from melting well. The difference in a recipe like this is pretty remarkable. It isn't worth the five minutes or so (it's really less) that it will save you.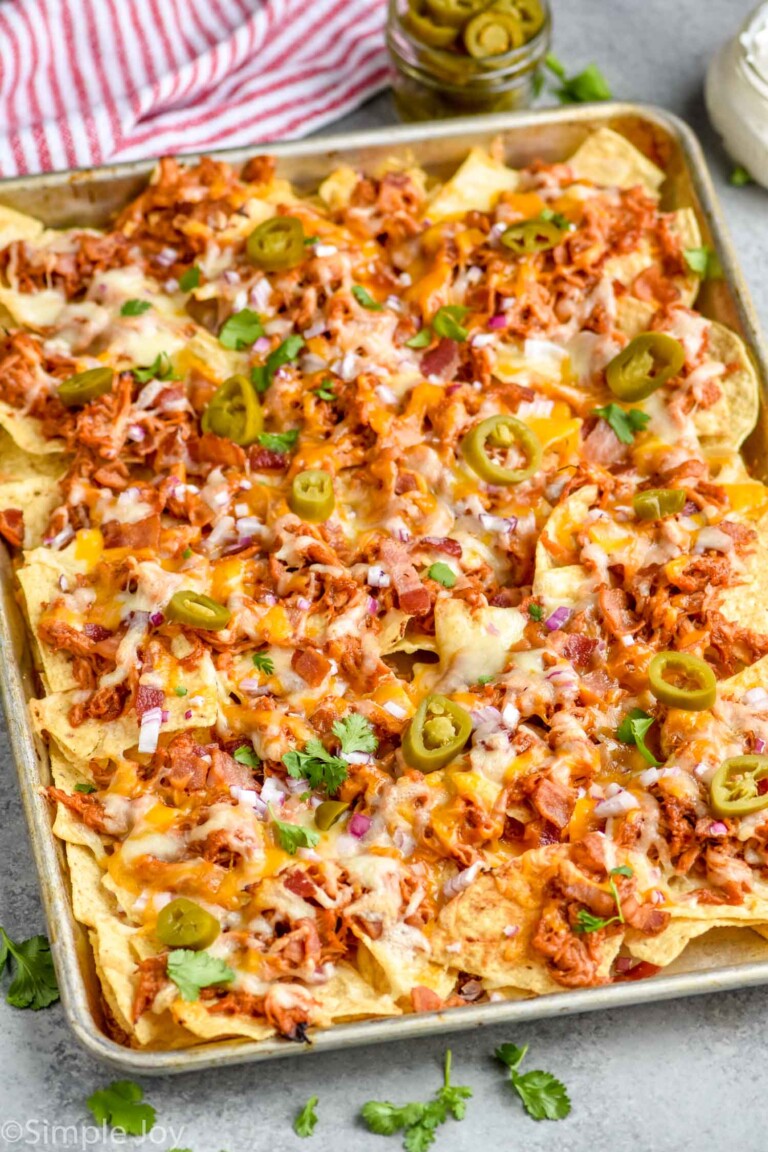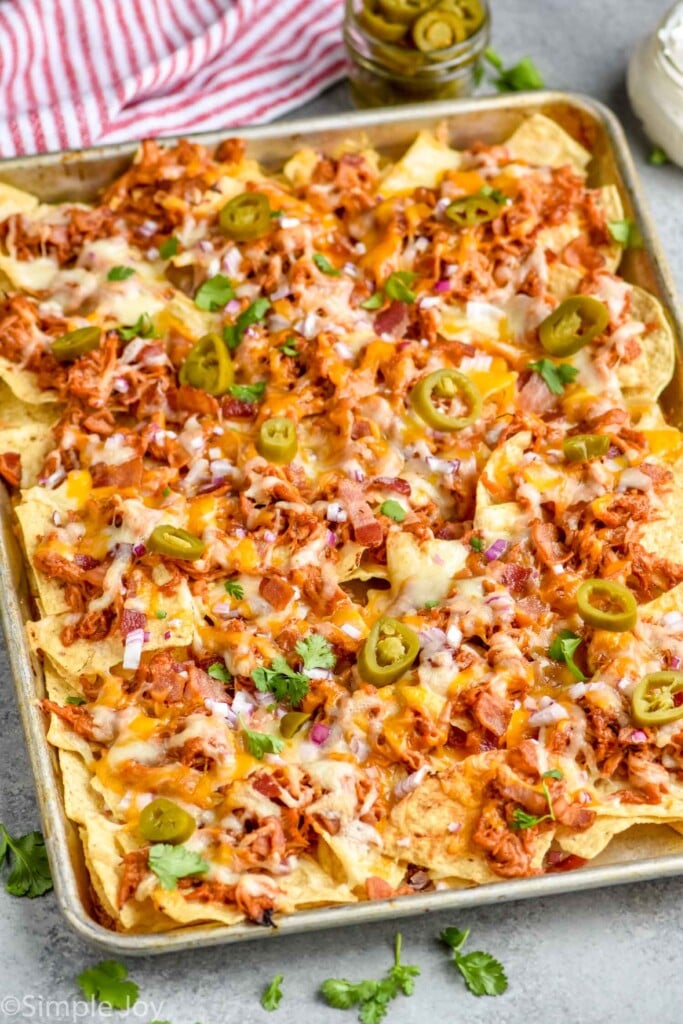 BBQ Sauce
For this recipe, I'm recommending that you use my homemade barbecue sauce. It is made with simple ingredients that you will find in your pantry. It does take about 20 minutes to make because it needs to simmer and thicken. But, I suggest making it the night (or a few days) before you make this recipe. It is so perfect on these chicken nachos.
BBQ Sauce Recipe
This BBQ Sauce Recipe is easy to throw together and absolutely delicious! Fast to make and with ingredients you already have on hand, you are going to make this homemade bbq sauce all the time.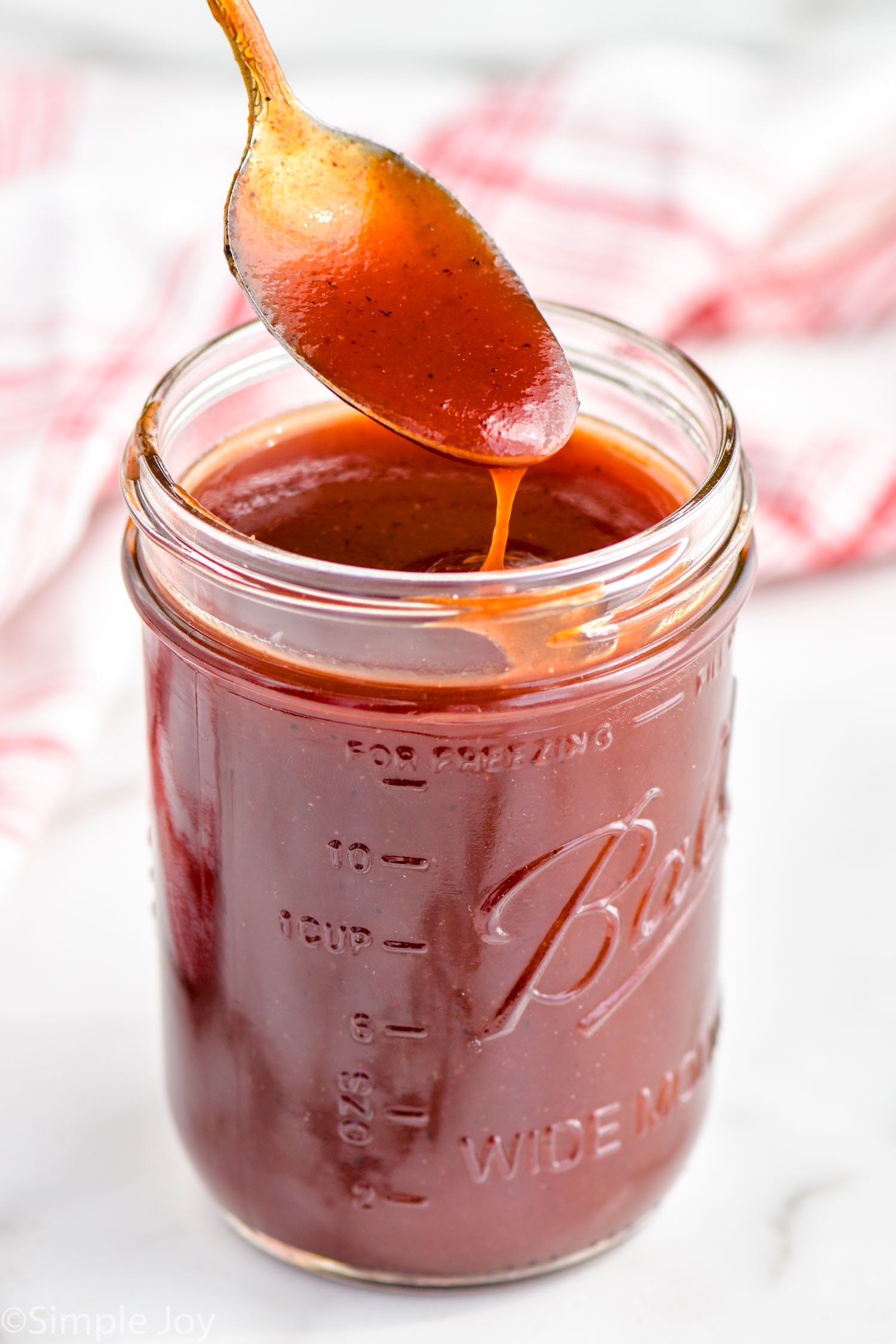 Shredded Chicken for Nachos
There are a few different options for shredded chicken for these nachos.
Use frozen shredded chicken. It is great (and easy!) to keep shredded chicken on hand in your freezer. It thaws very quickly, and makes so many recipes faster.
Buy a rotisserie chicken. The quickest hack in the book, just pick up a rotisserie chicken at the grocery store on the way home from work.
Boil chicken breasts. Add chicken breasts to a sauce pan, cover with water and simmer for 4 to 10 minutes depending on the thickness of the breast. Use an instant read thermometer to make sure that it reaches 165 degrees.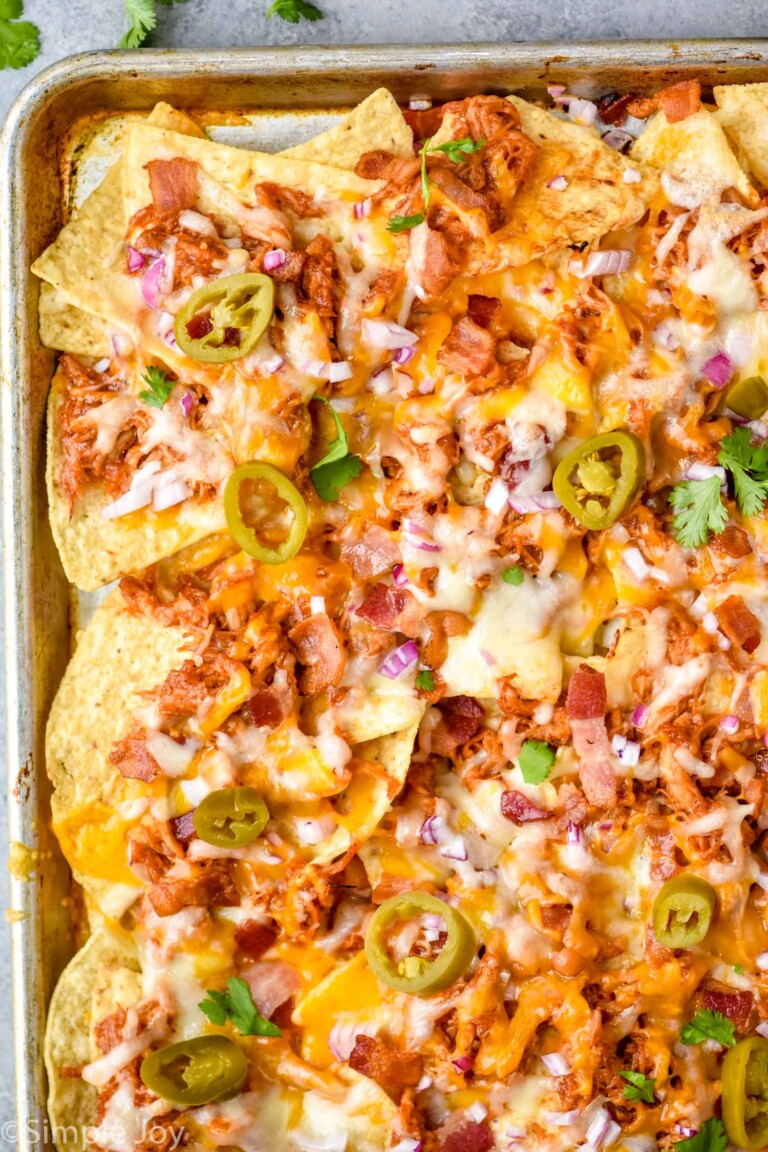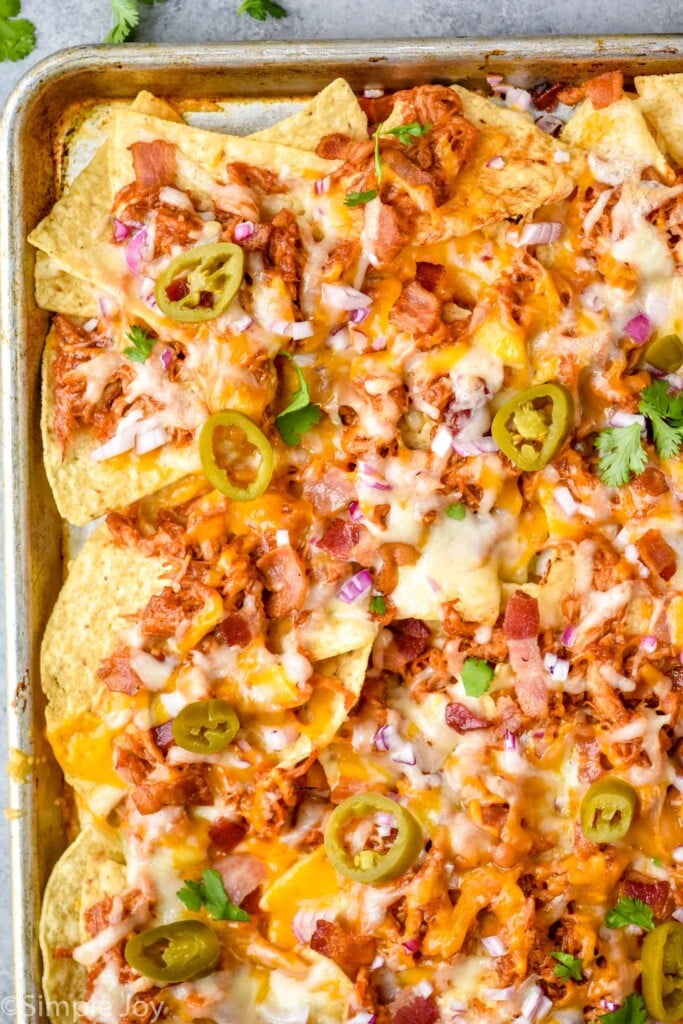 Other BBQ Recipes
Not sure what to make with that leftover BBQ sauce? I've never been more happy to answer a question. I have so many recipes I love with my homemade barbecue sauce.
Crock Pot Ribs: This is by far my favorite way to use it. We combine the barbecue sauce and my pork rub for the most perfect ribs ever.
Meatloaf: My homemade sauce puts my meatloaf recipe over the top.
Crockpot Little Smokies: It really is the sauce that takes this simple recipe and makes it an appetizer everyone wants the recipe for.
If you make these BBQ Chicken Nachos or any of my other recipes, please leave me a comment and let me know what you think! I love hearing from you.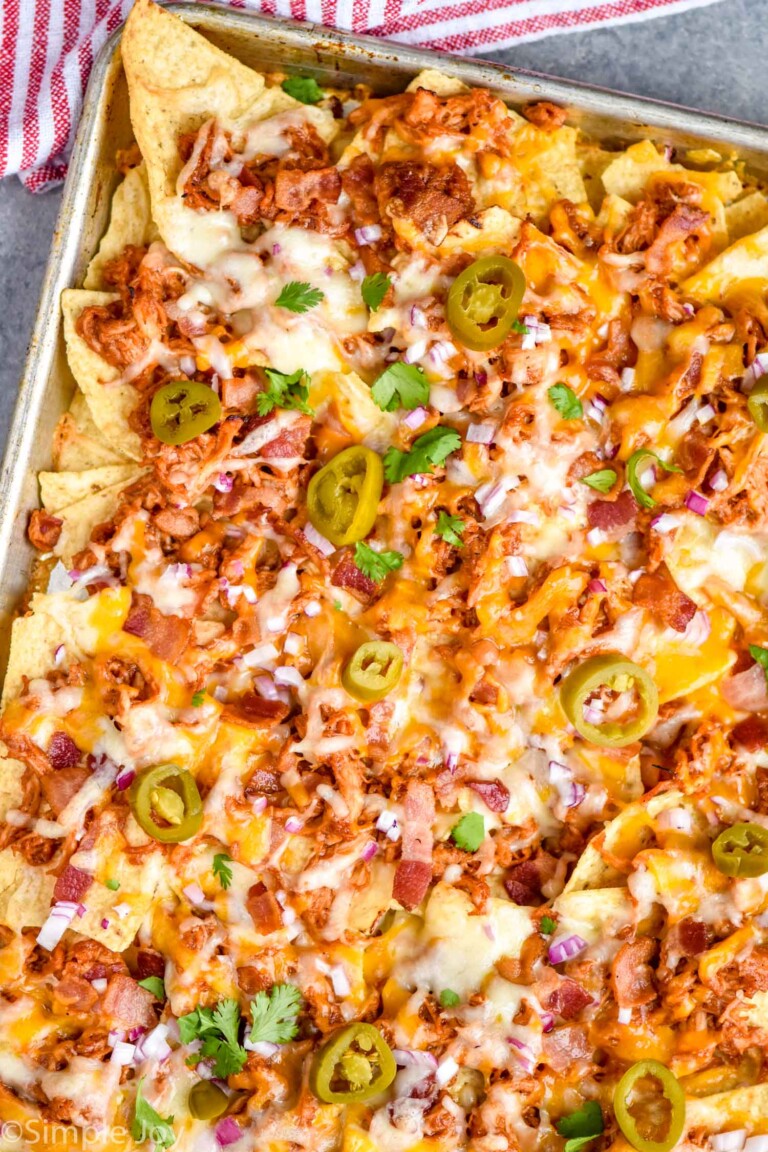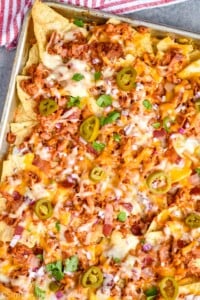 BBQ Chicken Nachos
Ingredients
2

cups

shredded chicken

1

cup

BBQ Sauce

6

slices

thick cut bacon

diced and cooked until crisp

14

ounces

tortilla chips

1 1/2

cups

cheddar cheese

shredded

1 1/2

cups

monterey jack cheese

shredded

1/4

small red onion

diced

cilantro

for topping

pickled jalapeños

for topping
Instructions
Preheat the oven to 400 degrees Fahrenheit. Spray a rimmed baking sheet with cooking spray and set aside.

In a non stick skillet, combine BBQ sauce and chicken over medium heat. Bring to a simmer and cook for five minutes, allowing the BBQ sauce to thicken.

While the chicken and BBQ Sauce simmer, spread the chips over a rimmed baking sheet. When the chicken is done, scoop all of the chicken and BBQ sauce over the chips. Top with bacon, then cheese, and then red onions.

Bake for 15 to 20 minutes or until the cheese is fully melted.

Top with cilantro and pickled jalapeños and enjoy!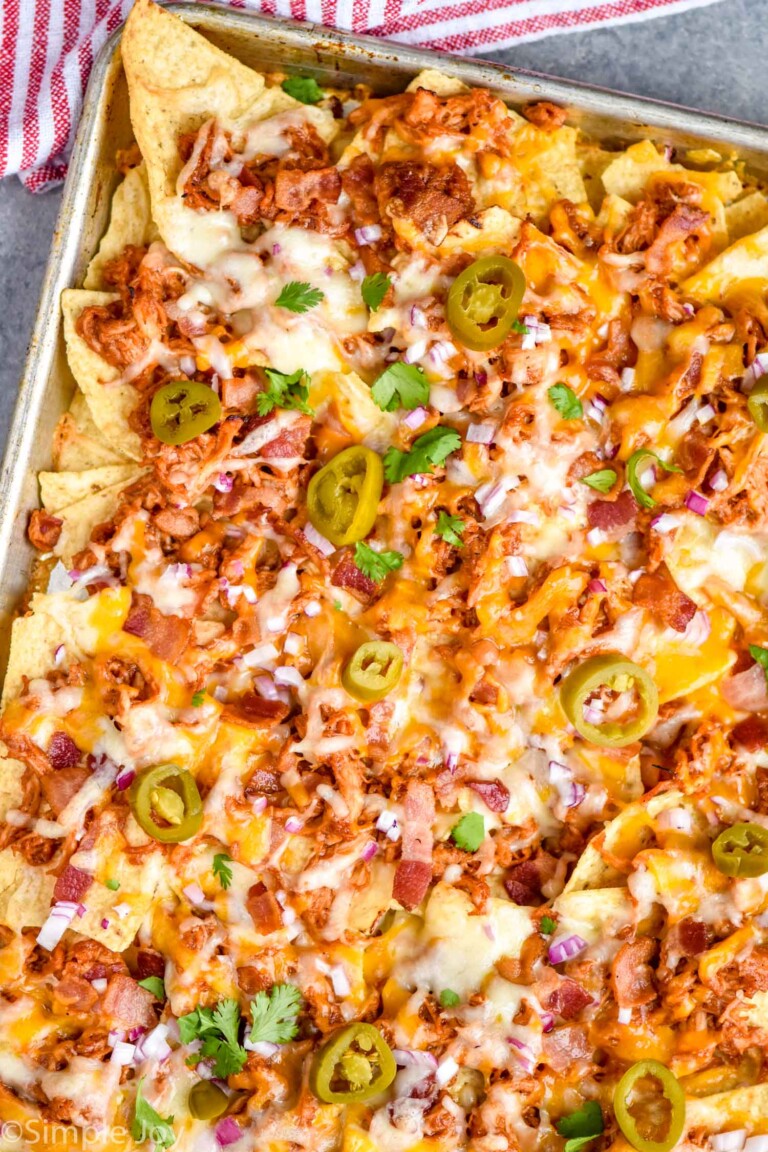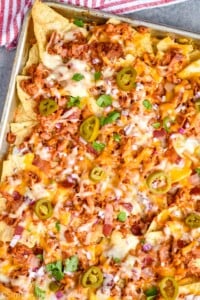 did you make this
BBQ Chicken Nachos