Chicken Nachos are the perfect easy dinner recipe or game day appetizer. Your whole crew is going to fall in love with these easy shredded chicken nachos.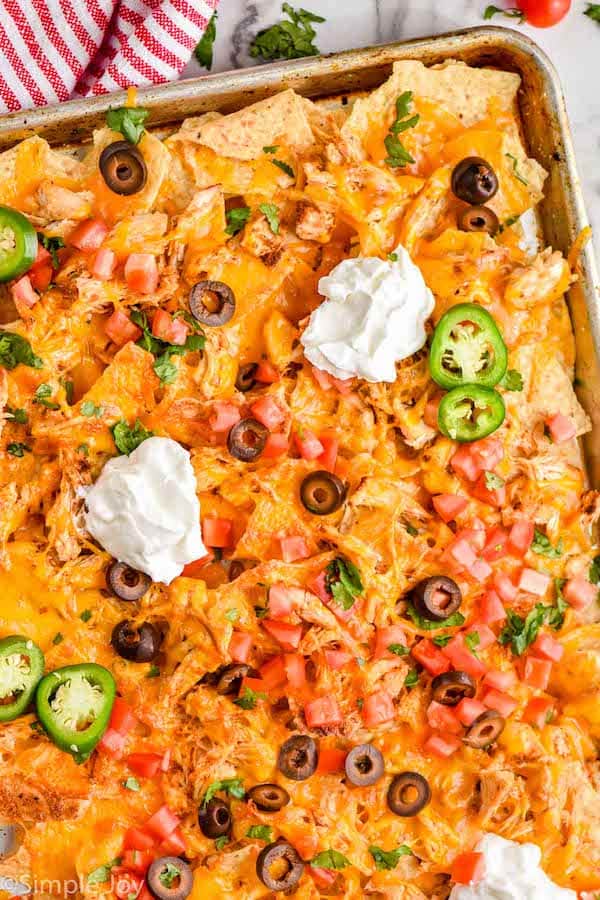 Nachos are one of my favorite things to get when I go out, but honestly, they are so crazy easy to make at home. Especially when you start with my Crockpot Chicken Taco Meat.
This recipe is so fast to throw together. It is perfect for a fast dinner or to make for a party. Top it with your favorite taco toppings, or let everyone pull it apart and top it themselves. Make up a pitcher of our famous margaritas and you really have a party.
How to Make Chicken Nachos
This is a brief overview of how to make this amazing nachos recipe. For the full recipe with all of the measurements, find the recipe card at the bottom of the post.
Add tortilla chips to a rimmed baking sheet. I like to try using the biggest tortilla chips from the bag, the ones that aren't broken. But you can really just dump the bag on the tray if you want.
Top with chicken. You can use my taco chicken (which I will talk about more in a moment) or you can use shredded rotisserie chicken. Do whatever is easiest for you, but I will tell you I like this better with the taco chicken.
Add cheese. I like to use mild cheddar, but Colby Jack would be great on these too.
Put under the broiler. Watch this recipe very closely. You might be able to tell that with the batch photographed here I let it go a little too long. It can go from just perfect to overdone in a matter of 30 seconds. Keep a close eye.
Add all of your favorite taco toppings. We love adding diced tomatoes, sliced olives, and sour cream. But really, the sky is the limit.
Crockpot Chicken Nachos
I think that the best way to make this recipe is to enlist the help of your crockpot. Someone called it her sous chef on my FB page the other day, and I thought that was the perfect description.
To make my Crockpot Taco Chicken, you just need to add some chicken broth (from 1 cup to 3 cups) to the slow cooker, add 1 pound of chicken, and three tablespoons of my Homemade Taco Seasoning or 1 packet of store bought seasoning. Cook on low for four hours.
Then pull out the chicken, shred it and use it here for nachos. You can definitely use that chicken for other recipes too, like burritos or a burrito casserole.
Crockpot Taco Chicken
While we typically use this recipe to make tacos, it is also the best start to these amazing chicken nachos.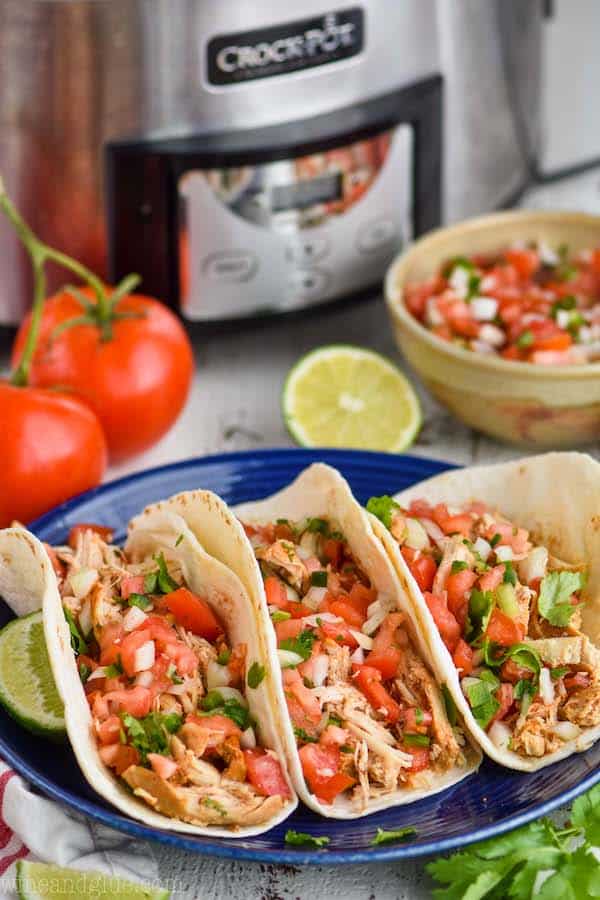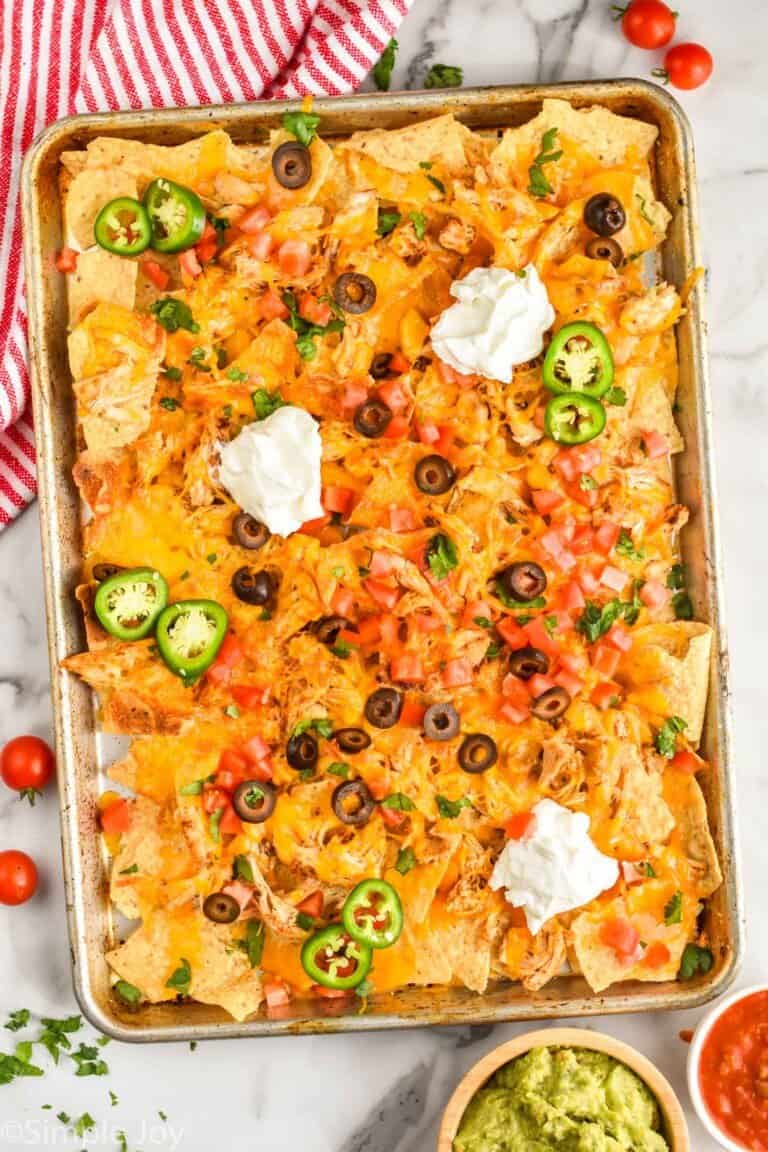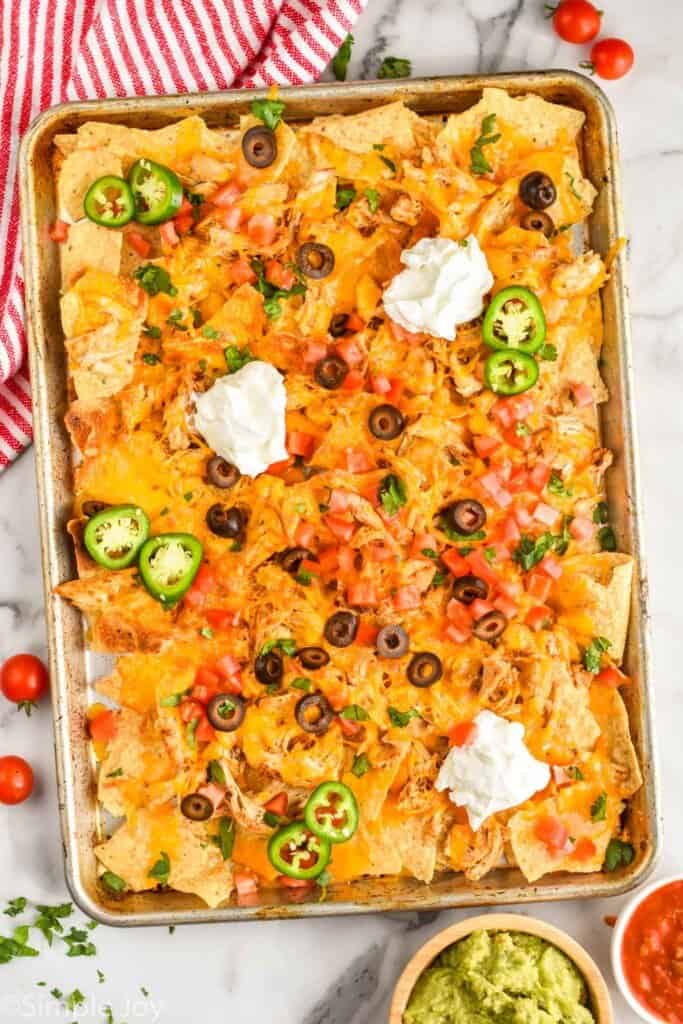 The Best Pan for Chicken Nachos
Using a good pan is essential in baking, and that is true for these chicken nachos as well. I love my Nordic Ware baking sheets. They are what you see pictured here and they hold up so well.
TOP PICK
Nordic Ware Baking Sheets
These baking sheets are my absolutely favorite. They hold up for years, and they bake everything perfectly. They are always my top pick.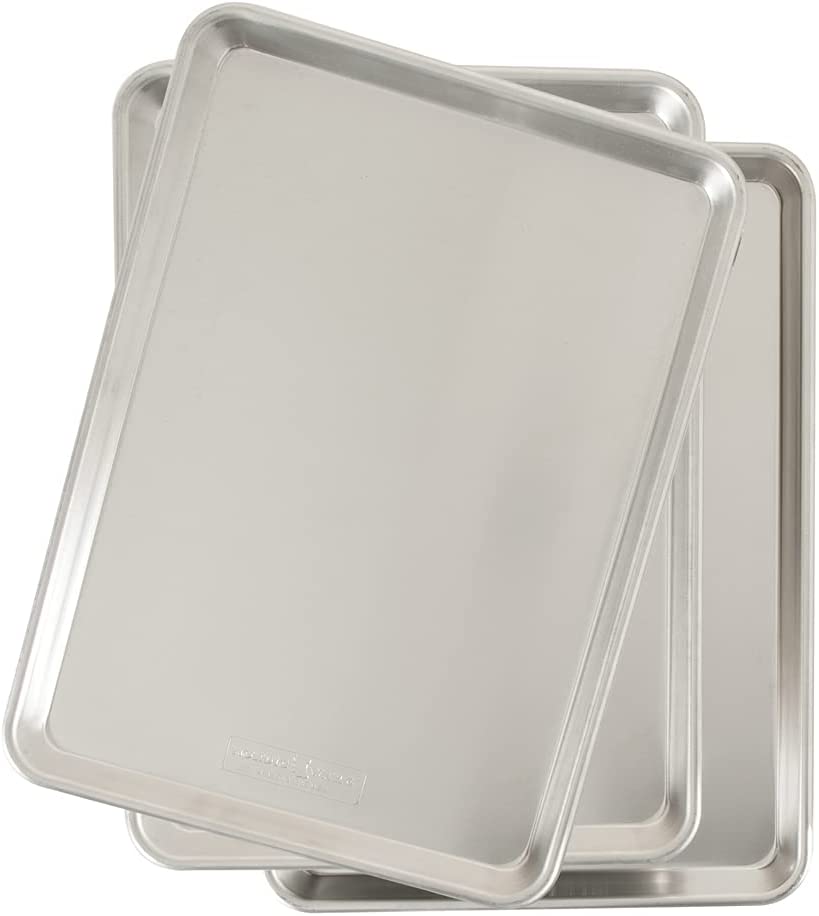 Broiled Shredded Chicken Nachos
We are making these nachos by putting them under the broiler. It is the perfect way to melt the cheese. Here is the important thing though: Watch the nachos closely. It only takes a few seconds for them to go from perfection to burned.
What to Put on Chicken Nachos
Once you pull the chicken nachos out from under the broiler, you will want to have lots of toppings ready. Here are some of our favorites:
Sour Cream
Olives
Diced Tomatoes
Cilantro
FAQ
Are chicken nachos gluten free?
Chicken Nachos are naturally gluten free. That being said, double check your ingredients if you are serving this to someone with a gluten allergy or intolerance.
Can you reheat chicken nachos?
I do not recommend reheating these. They just aren't as good the second time around.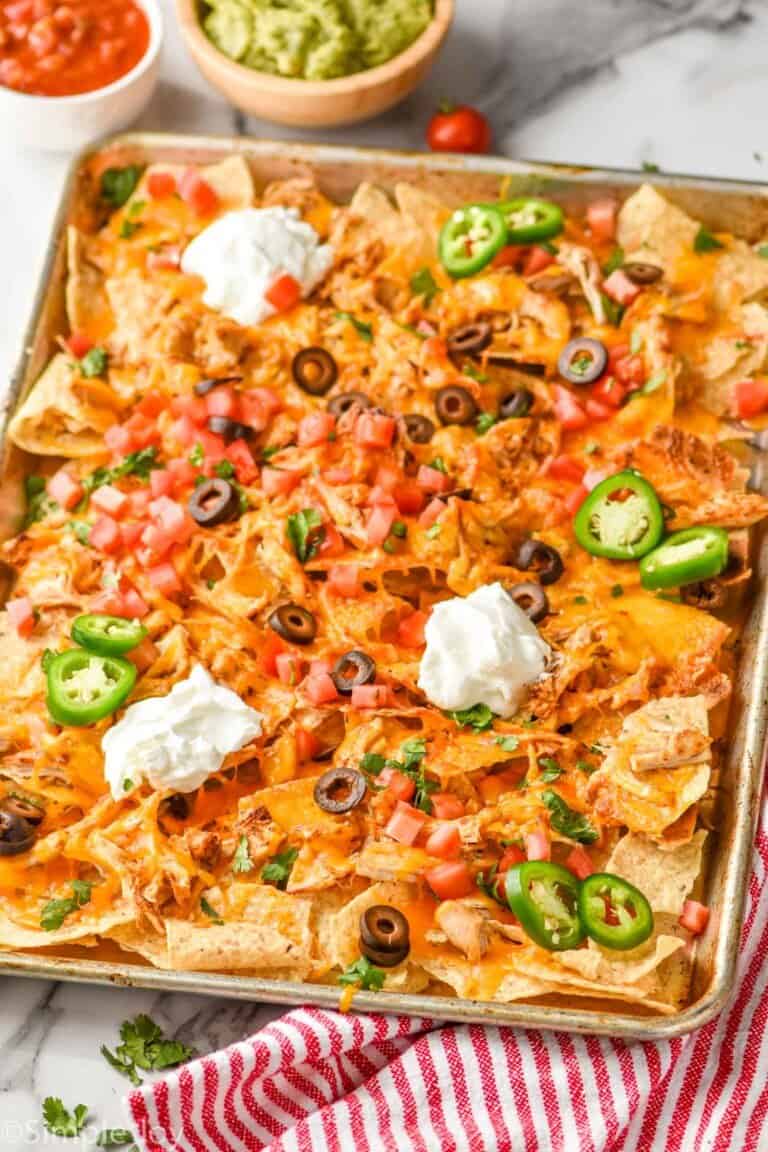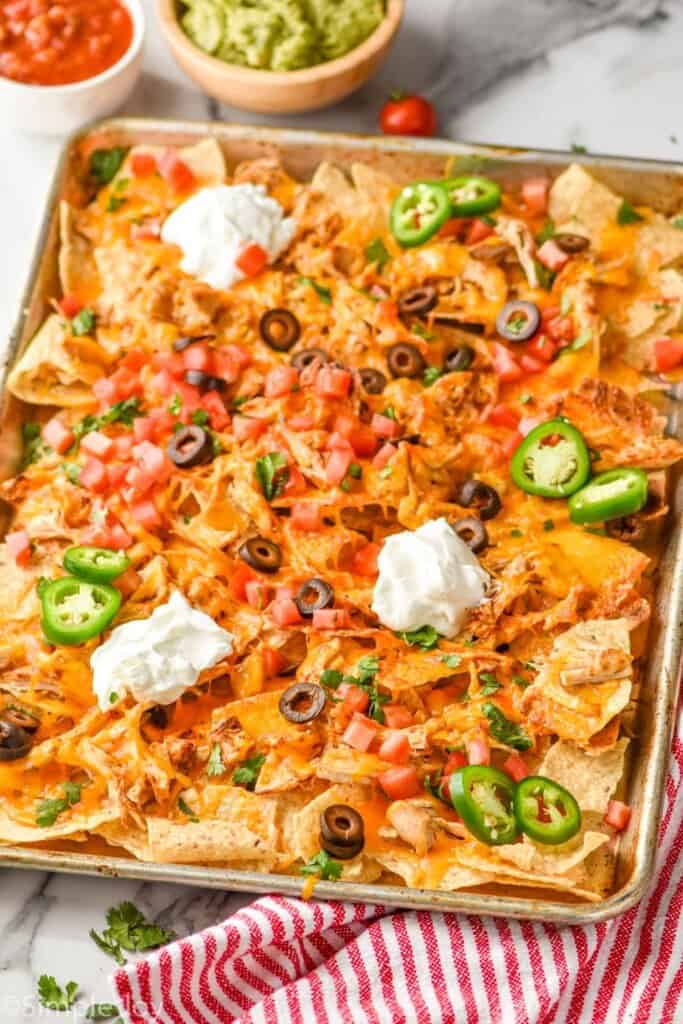 What to Serve with Chicken Nachos
Nachos as a Meal
If this recipe is serving as a family dinner, here are some great sides for it:
Nachos as an Appetizer
If these are one of many appetizers, I would suggest some of these others to go with them:
If you make this amazing chicken nacho recipe or any of my other recipes, leave me a comment and let me know what you think.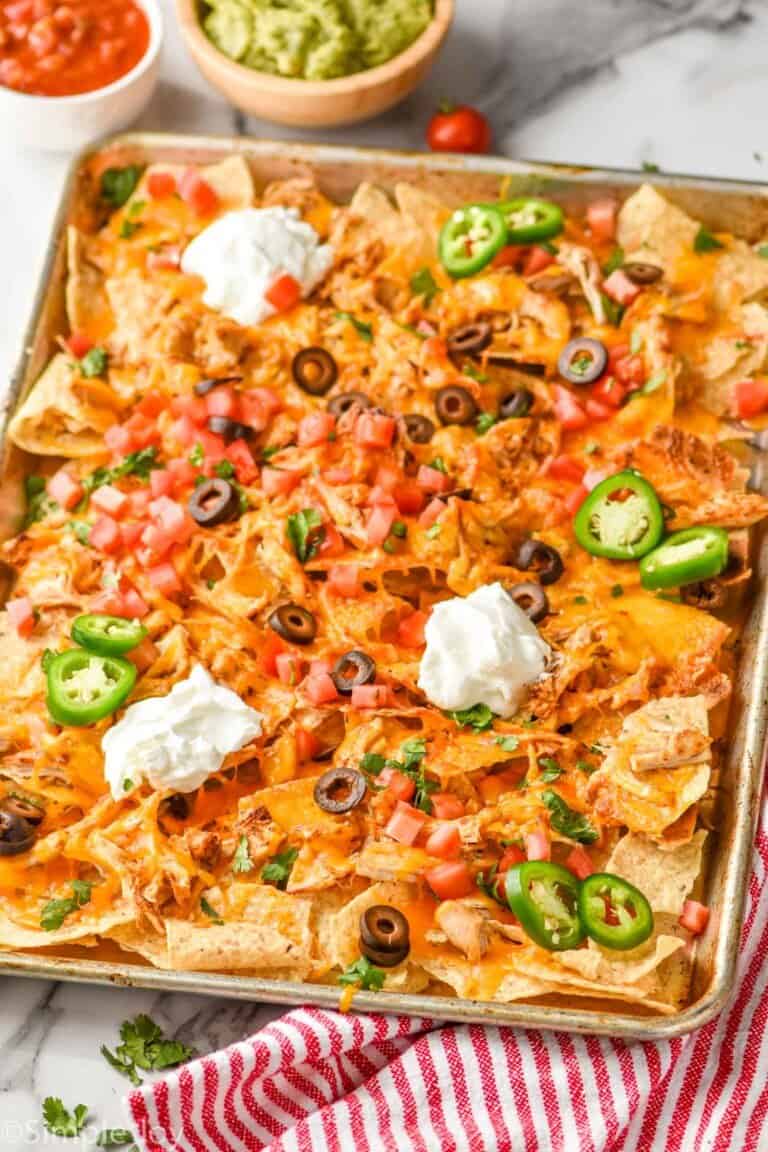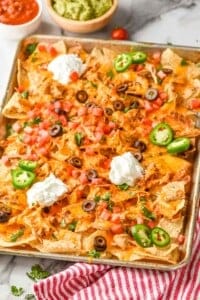 Chicken Nachos
Chicken Nachos are the perfect easy dinner recipe or game day appetizer. Your whole crew is going to fall in love with these easy shredded chicken nachos.
Instructions
Spray a rimmed baking sheet with cooking spray. Spread the tortilla chips on the baking sheet. Top with the chicken and the shredded cheese. Place under the broiler for 2 to 3 minutes.

Top with remaining nacho toppings and enjoy!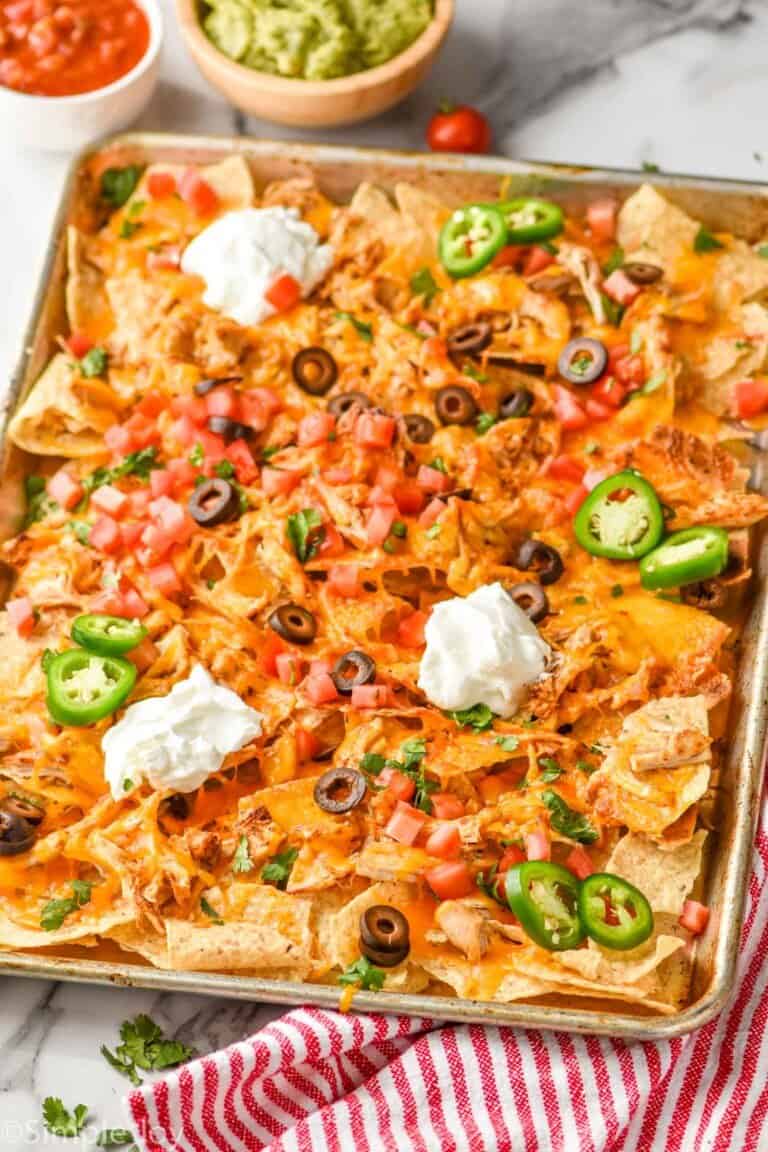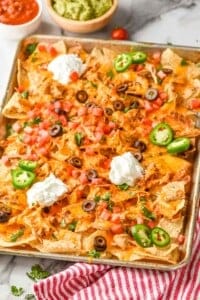 did you make this
Chicken Nachos
you might also like . . .