Meatloaf makes for such a great easy dinner! This recipe is flavorful, moist, and can freeze perfectly!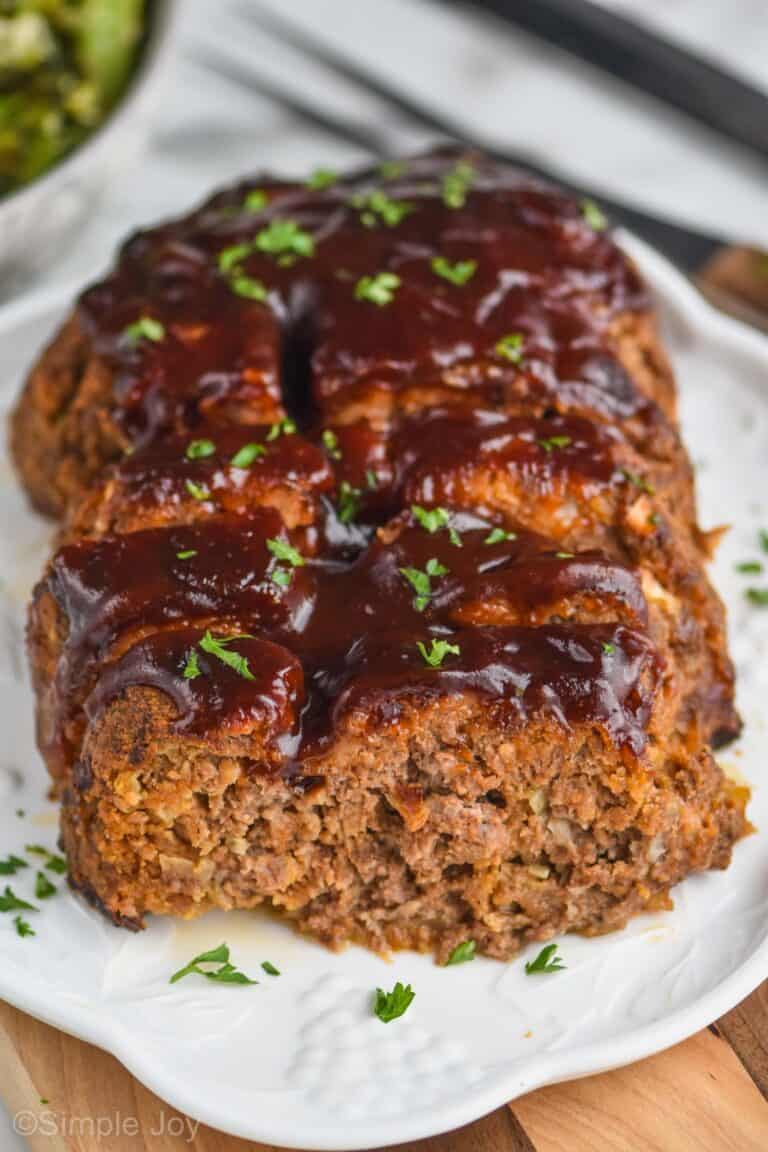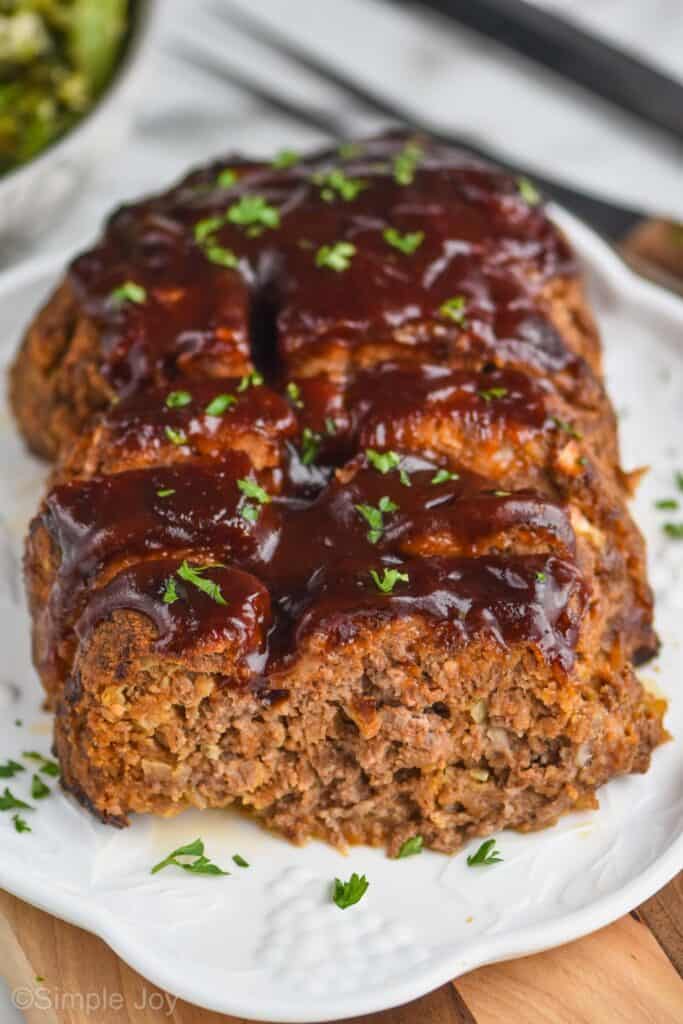 Even as someone who loves cooking for my family and coming up with new recipes, I am dreading dinner time right now. It feels like my life is one long stretch of making meals and cleaning dishes.
And I know a lot of you are feeling the same.
I will continue to come up with dinners that are easy to make and that your whole family will love, and this meatloaf is the latest addition.
My easy meatloaf recipe comes together in just under 15 minutes, is full of the best delicious flavors, and is topped with my perfect BBQ sauce that is getting rave reviews.
Reader Review
Tried this and one of the best meatloaves I've ever tried. Specially liked the topping with the bbq sauce. Will become one of my favorites, and will diffidently be making again. Thanks for posting.
MEATLOAF INGREDIENTS
While I know meatloaf is a classic, the combination of flavors in this recipe is what makes it a winner.
I love how simple the ingredients are. Except the beef, I always have everything on hand; but even that we can keep in the freezer.
ground beef
onion
garlic
1 egg
breadcrumbs
Worcestershire sauce
ketchup
salt & pepper
liquid smoke (optional, but adds a little something nice)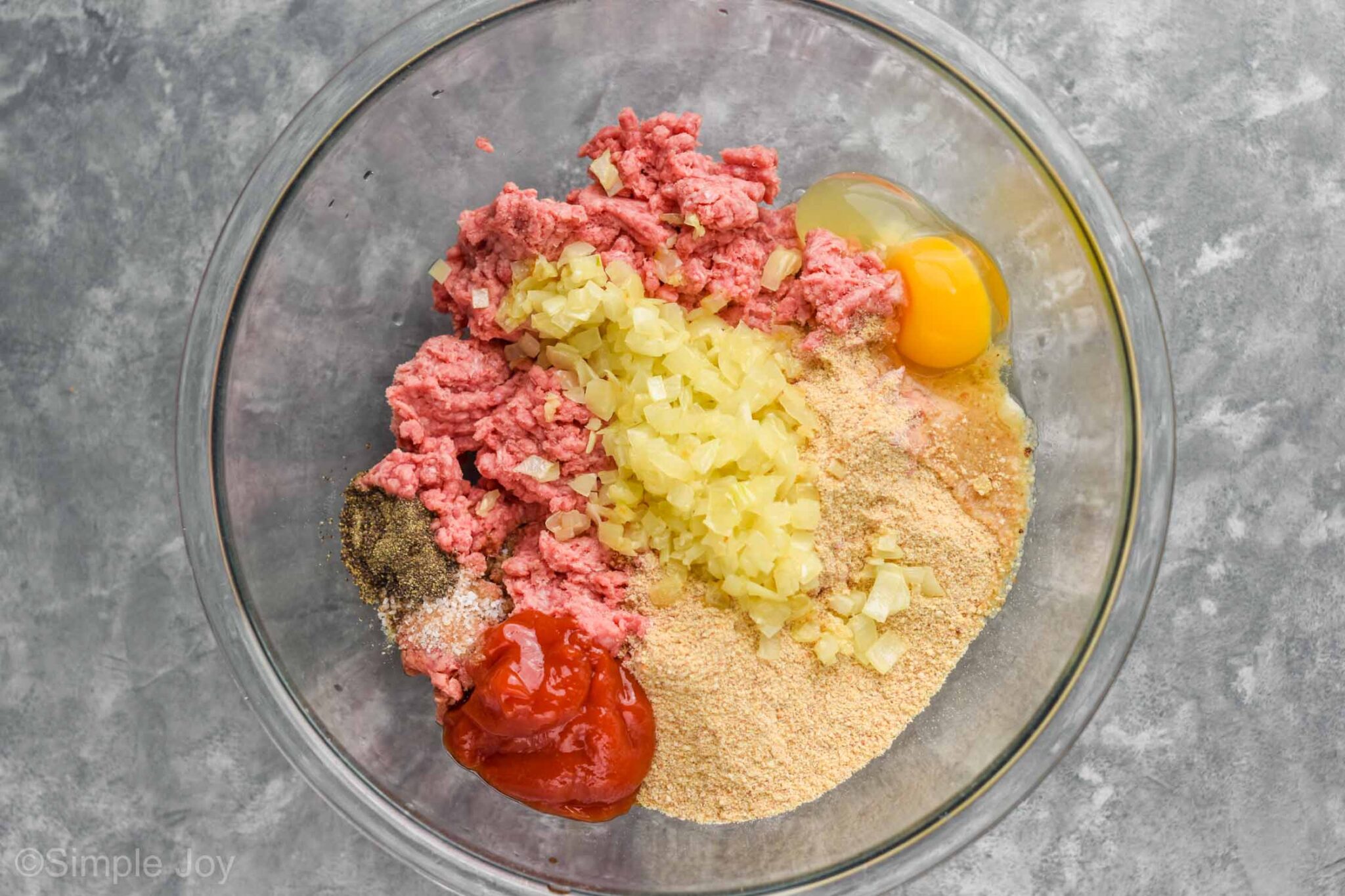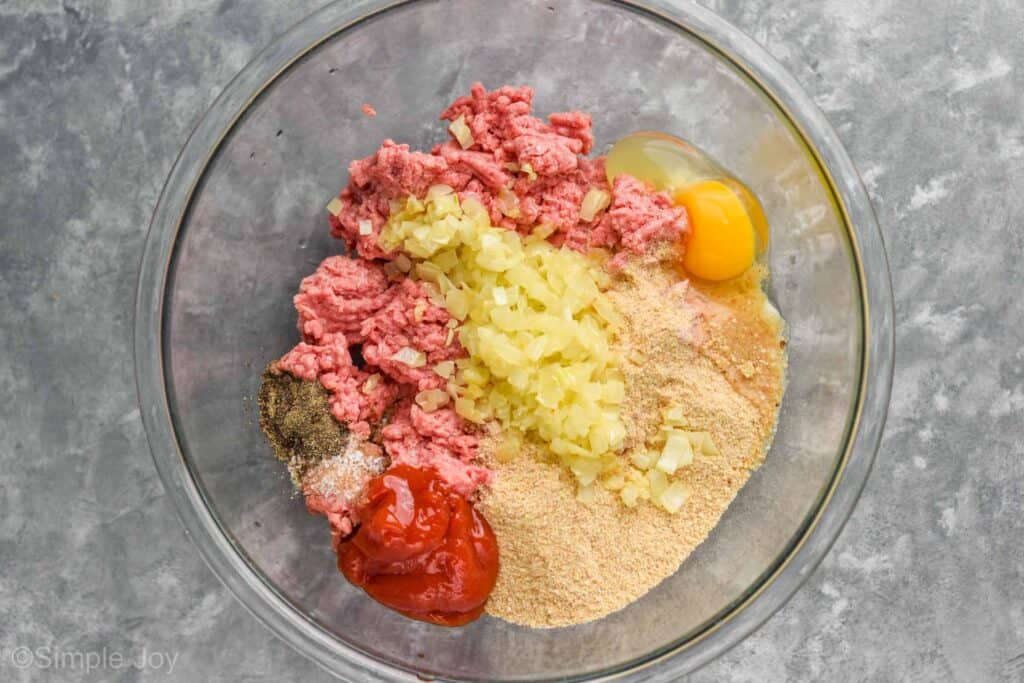 HOW TO MAKE MEATLOAF
Meatloaf is seriously one of the easiest comfort foods to make. A little bit of hands on time and then it bakes away to perfect.
In a small skillet cook the onion and garlic. We are looking to make them soft and tender and bring out the sweetness in the onion.
Once cooked, mix together the remainder of the ingredients (except the BBQ sauce) in a large bowl.
Form the mixture into a loaf shape in a baking dish.
Top with some BBQ sauce and bake.
So easy to make and absolutely delicious.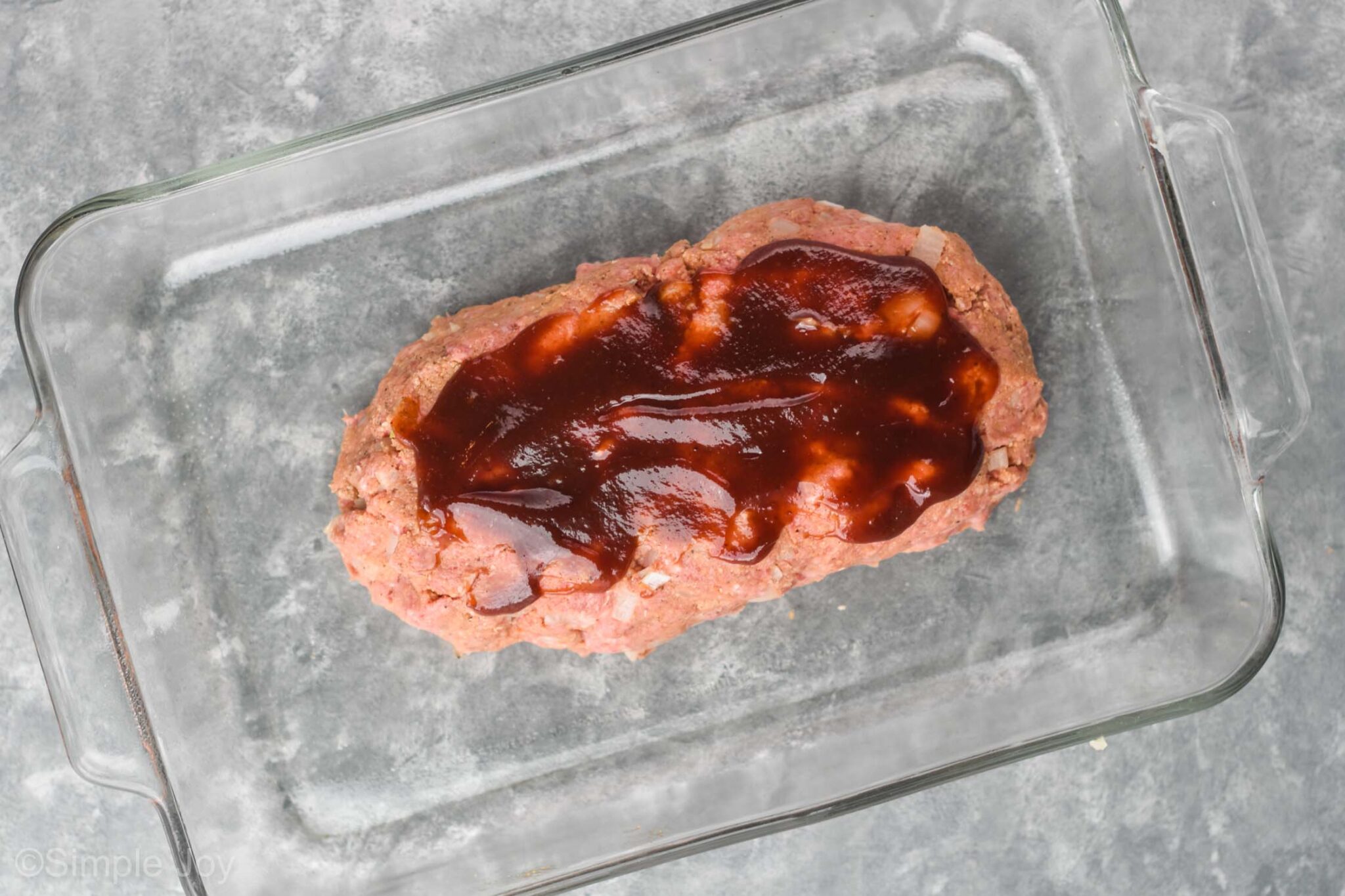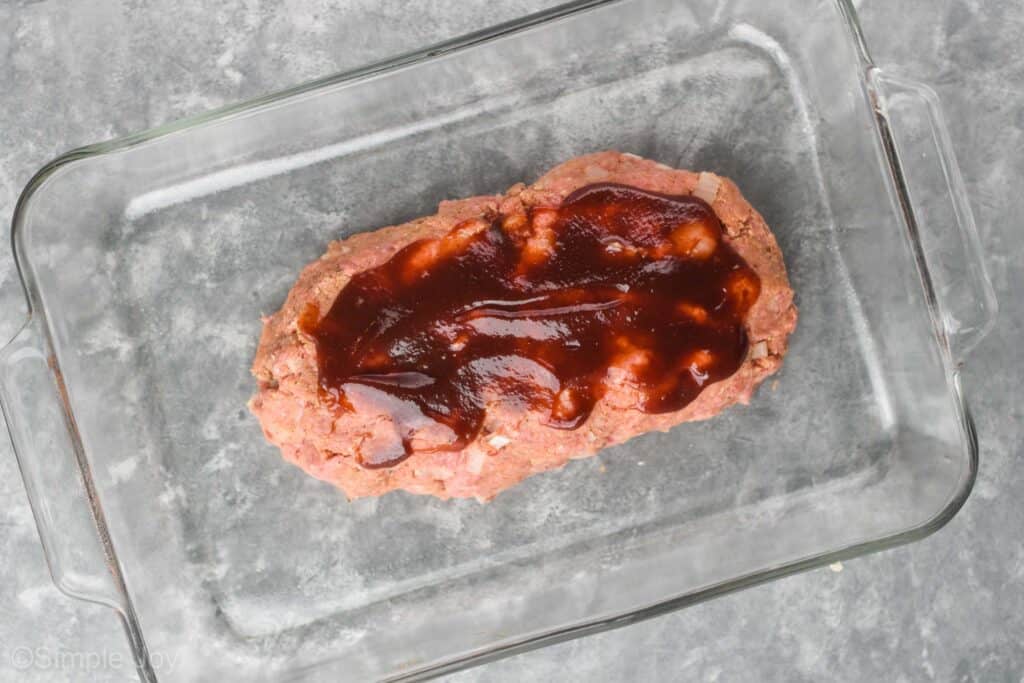 MAKING AHEAD
This recipe takes just a few minutes to put together, but if you want to make it ahead you totally can.
Follow the instructions up until adding the BBQ sauce. Put your meatloaf in the refrigerator for up to 24 hours. Top with BBQ sauce and throw in the preheated oven when you are ready to make it.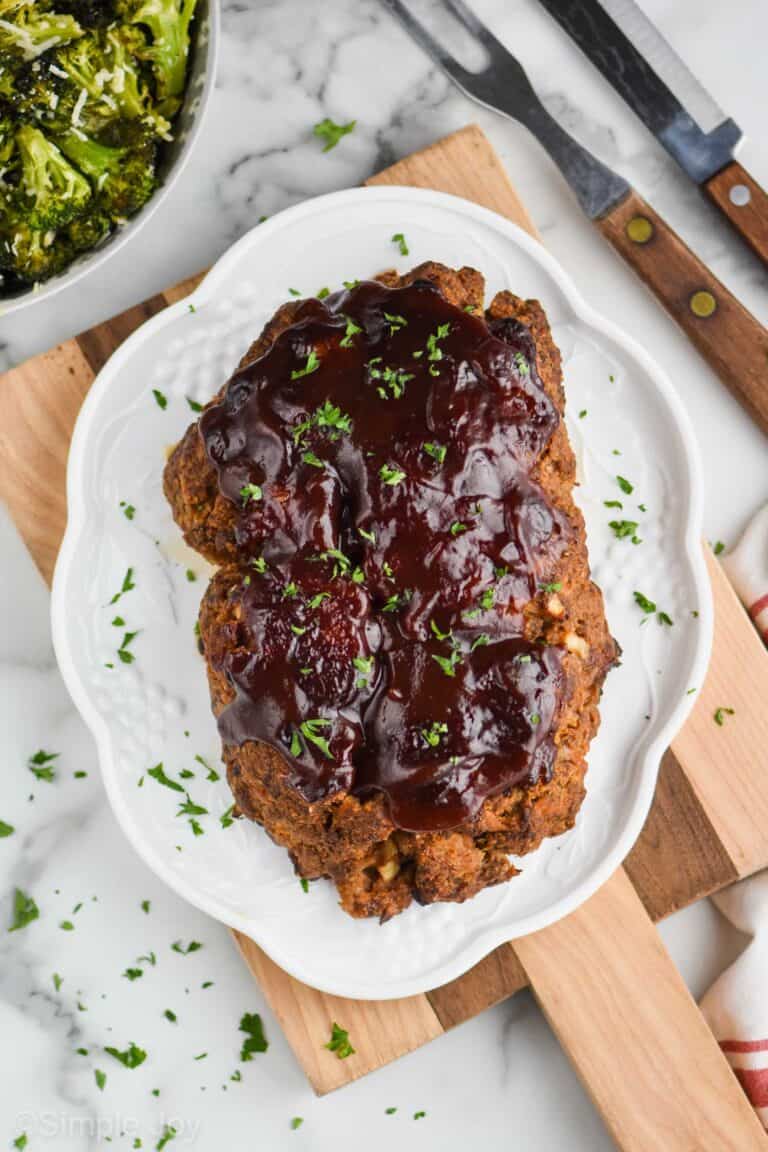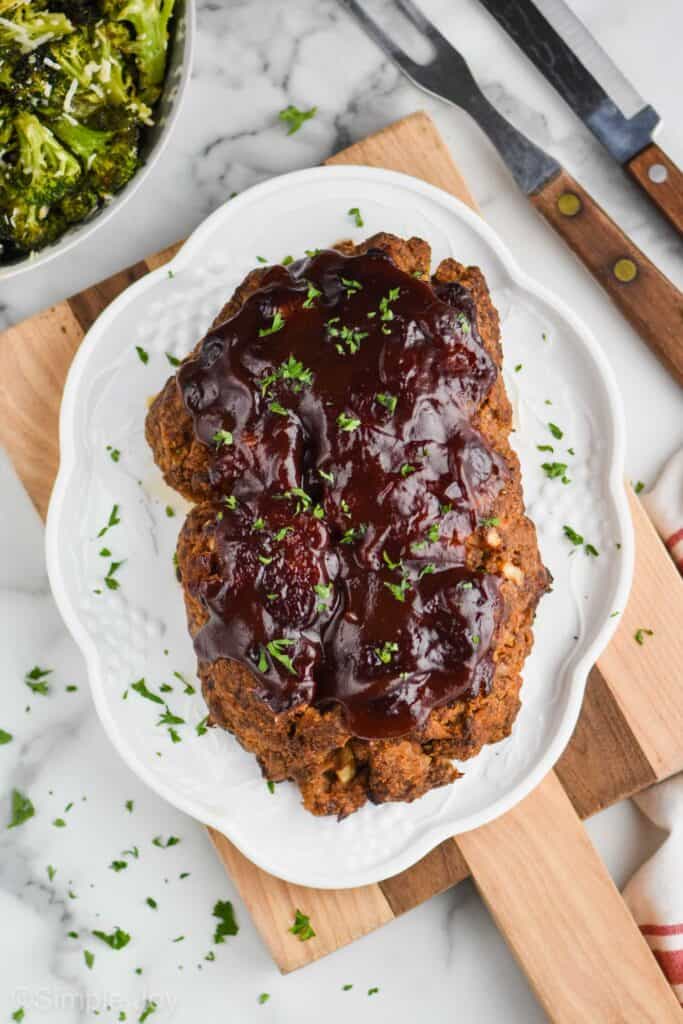 FREEZING INSTRUCTIONS
You can also freeze this meatloaf before baking. Just as mentioned above make up until the point where you are topping it with BBQ sauce.
Place the meatloaf on wax paper and allow it to freeze for 1 hour. Then wrap tightly and store in an airtight container for up to three months.
When ready to bake, remove all the wrappings from the meatloaf and place in the prepared pan. Bake at 350 degrees for 15 minutes. Top with BBQ sauce and bake for an additional 50 minutes.
USING GROUND TURKEY
You can definitely make this with ground turkey. I have a great recipe for Turkey Meatloaf that is pretty much the same as this one. Your family will love it.
SERVING SIZE
This recipe will easily serve a family of four. If you add in some delicious side dishes, you can stretch this out to serve a family of 6.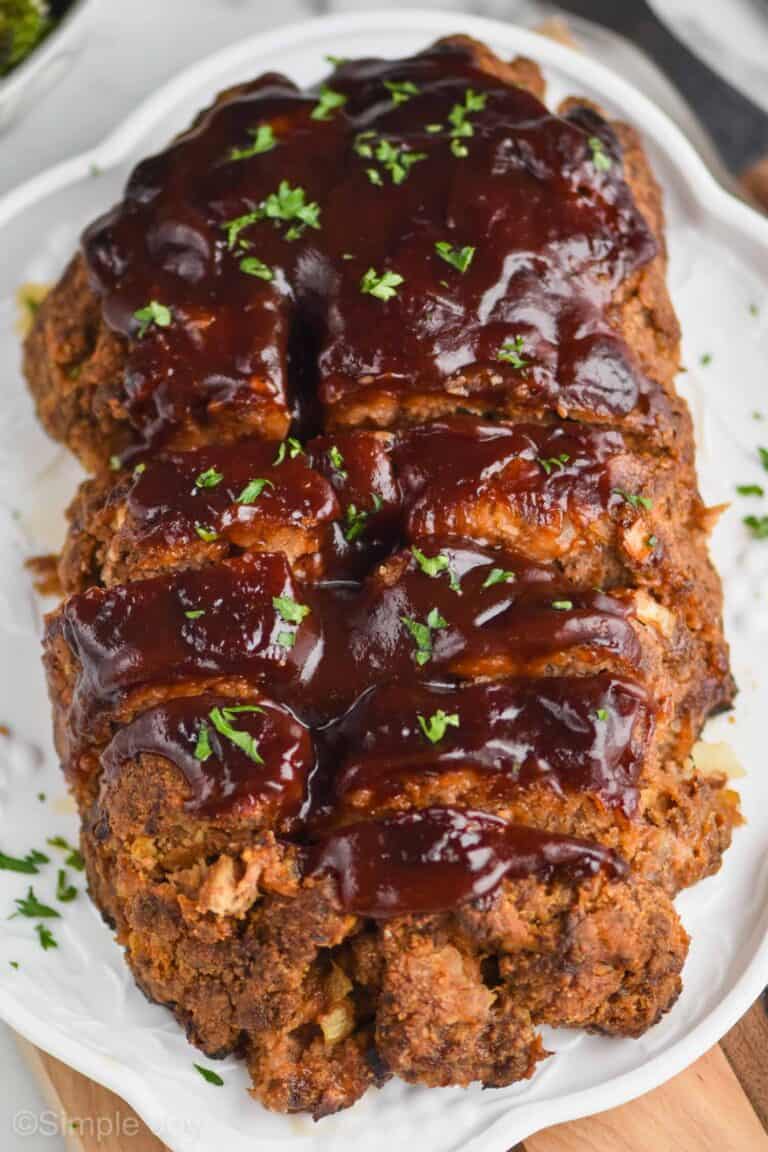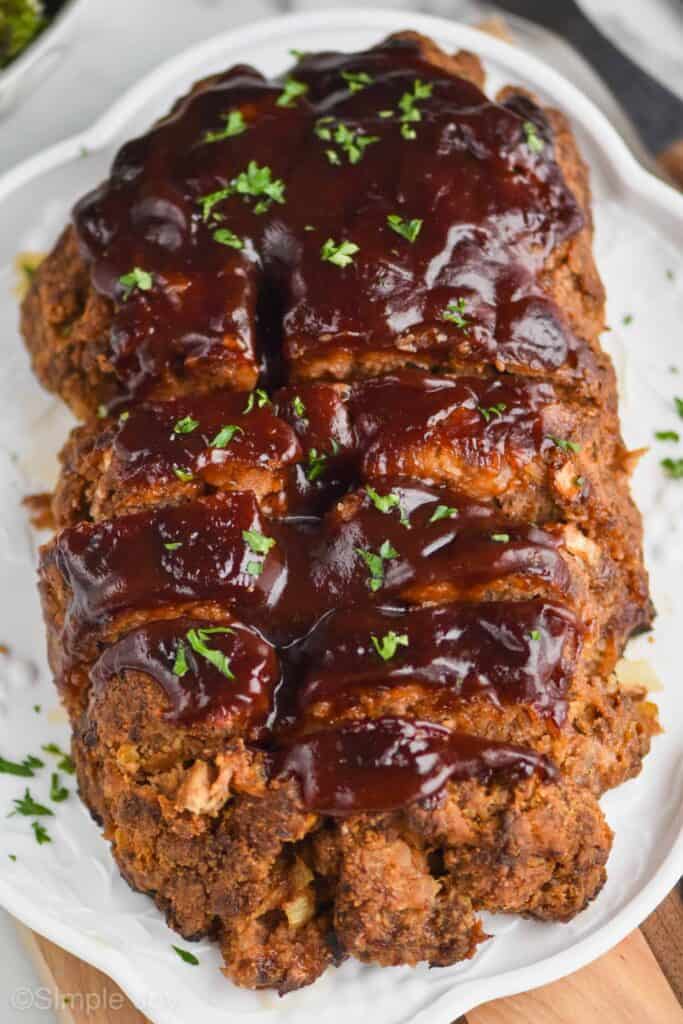 SIDE DISHES
If you are looking for what to serve with this recipe, I have a few great suggestions.
If you make this delicious meatloaf recipe or any of my other recipes, leave me a comment and let me know what you think!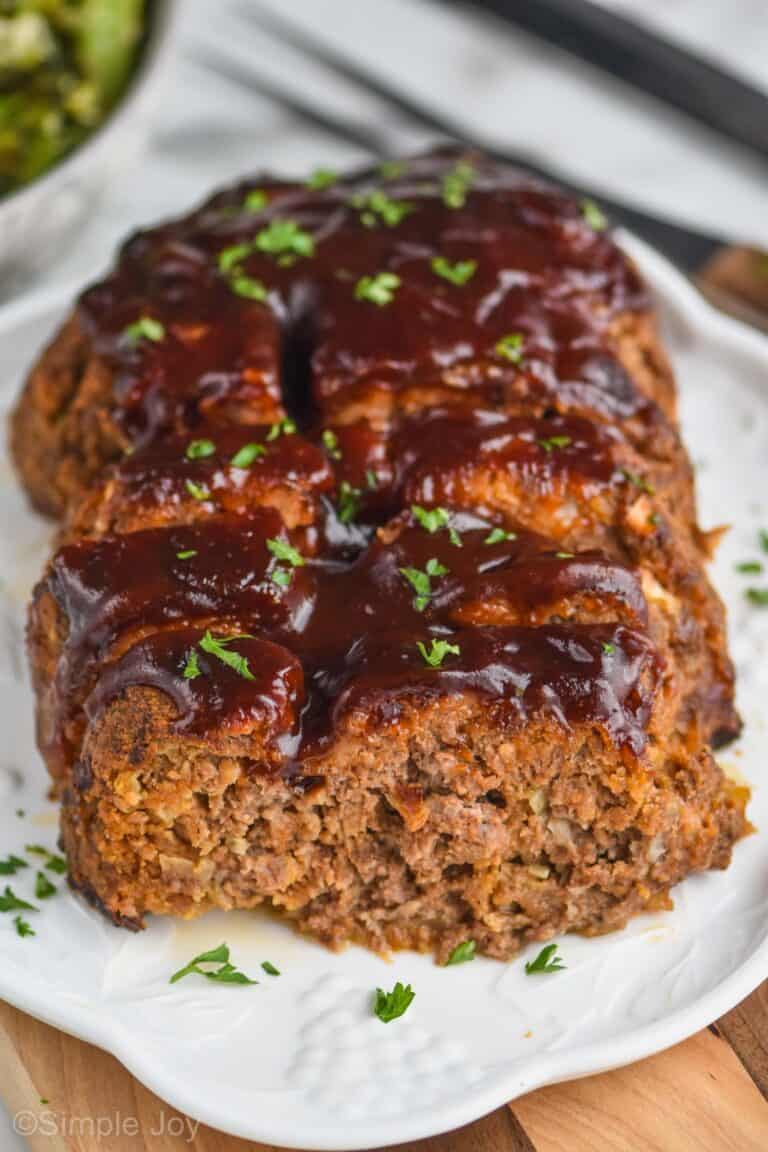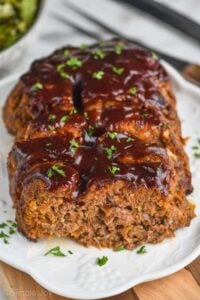 Meatloaf
Meatloaf makes for such a great easy dinner! This recipe is flavorful, moist, and can freeze perfectly!
Ingredients
1

teaspoon

olive oil

1

small yellow onion

diced fine

2

cloves of garlic

1 1/2

pounds

ground beef

85% lean

3/4

cup

breadcrumbs

1

egg

1/4

cup

ketchup

2

teaspoons

Worcestershire sauce

1

teaspoon

salt

1/2

teaspoon

black pepper

1/2

teaspoon

liquid smoke

optional

1/4

cup

BBQ Sauce
Instructions
Preheat your oven to 350 degrees. Spray a baking dish or baking sheet with cooking spray and set aside.

In a small skillet heat the olive oil over medium heat. Add onions and garlic and cook until onions are translucent. About 3 minutes.

In a large bowl mix together the beef, breadcrumbs, egg, ketchup, Worcestershire sauce, liquid smoke (if using) salt, black pepper, and onion-garlic mixture. Form into a loaf and set on the baking sheet.

Top with the BBQ sauce and bake for 1 hour or until an instant read thermometer registers 165 degrees. Let stand for 5 minutes before slicing.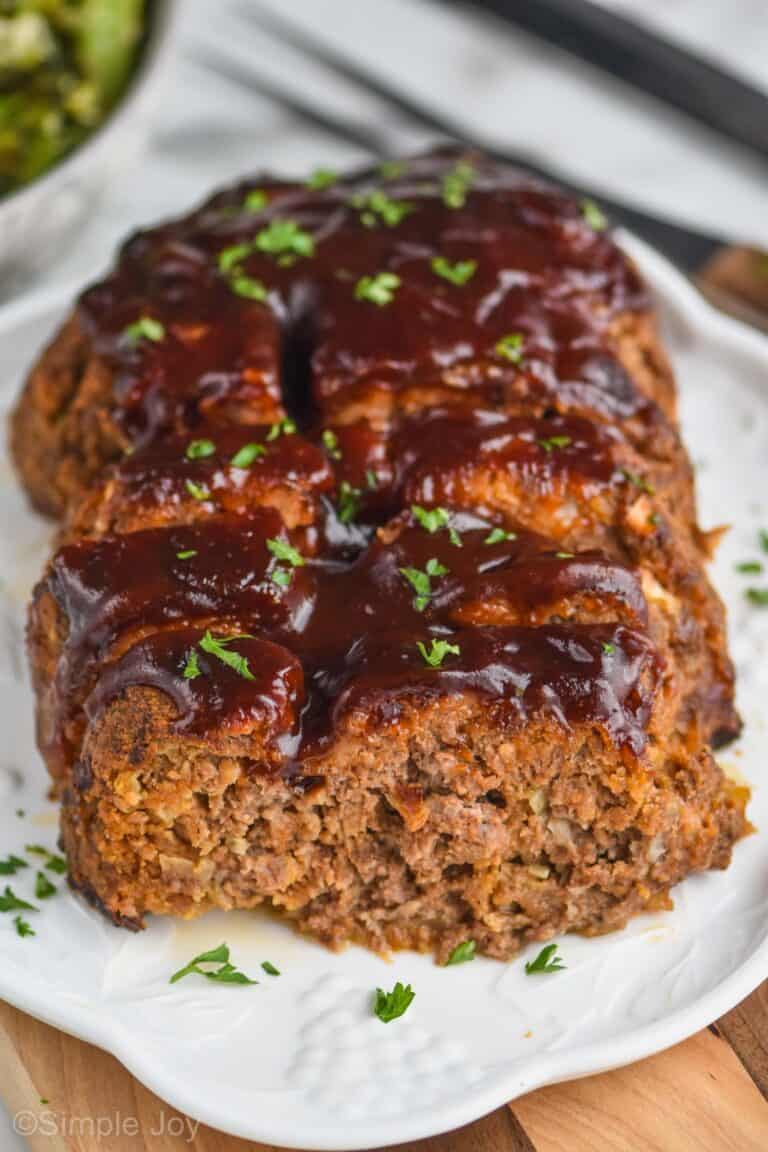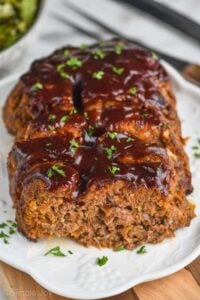 did you make this
Meatloaf