Crockpot Stuffing frees up your oven while still giving you the best Thanksgiving stuffing recipe you could ask for. This is going to become a family favorite!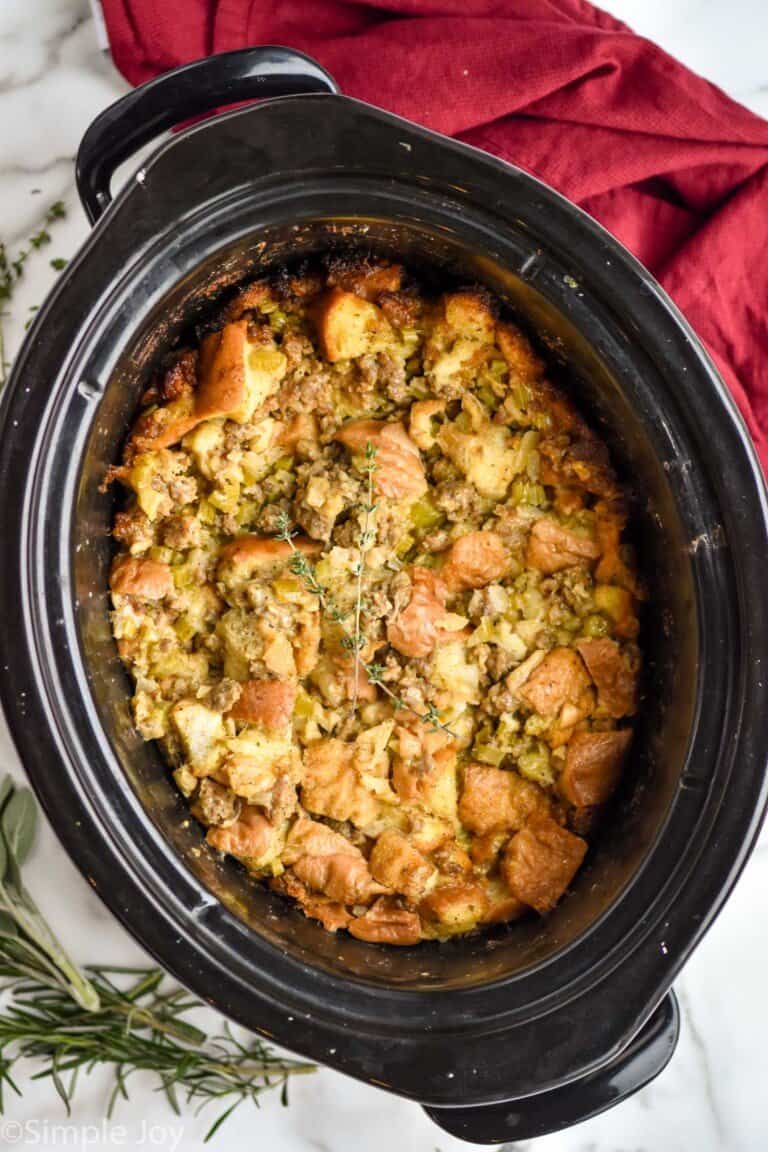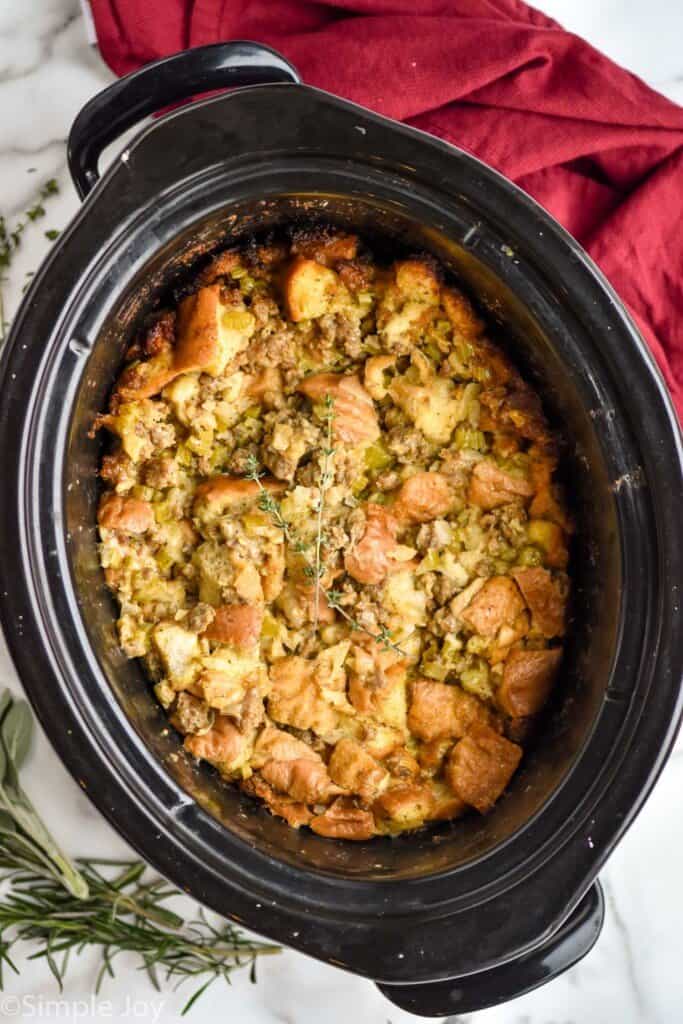 If I'm being honest, the only real Thanksgiving recipe that I ever need is stuffing. I typically, shamelessly, go back for thirds because I can't resist. And I'm not alone in this. This stuffing recipe is requested by my family members and there is never any left.
This year, I decided to take my amazing Homemade Stuffing recipe and make it for you in the slow cooker for some Crockpot Stuffing. The beauty of this is that you can make it the night before and pop the base of the slow cooker right in the refrigerator. Additionally, it will free up oven space for all the other great sides you have going on once that bird is done.
Reader Review
This recipes is so delicious. I will be making this all during the year. Thanks for sharing your recipes.
How to Make Crockpot Stuffing
Sauté vegetables in a large frying pan. We are going to throw an entire stick of butter (8 tablespoons) in a frying pan before adding in onions, celery, apples, and seasoning. (No wonder I like this so much.)
Cook the sausage. In a separate skillet we are going to brown up a pound of Italian sausage. Cook until broken up and browned and then drain the grease.
Coat the dry bread. Right in the base of your greased slow cooker, combine the bread with the eggs so that the bread is coated.
Bring it all together. Now mix in the sautéed vegetables and meat. Make sure it is well combined. Finally pour chicken stock over all of the ingredients.
Cook the stuffing on low for 4 to 5 hours.
Using Dry Bread for Stuffing
The key to any recipe that involves bread, eggs, and baking them together is to use dry bread. This allows the bread to fully soak up the egg and the other liquid in the dish making for a much better result.
There are a few ways you can make this happen:
Cut up your bread the night before you are making stuffing and leave it sit out on the counter.
After cutting the bread, place it on a baking sheet and bake it at 250 degrees for 45 to 60 minutes or until it has dried out, flipping it at least once during baking.
Do not worry about over drying your bread. I've made this with completely dry bread and it still turned out perfect.
Alternatively, you can make this dish the night before with fresh bread. The bread will have lots of time to soak up the flavors even if it isn't dried out.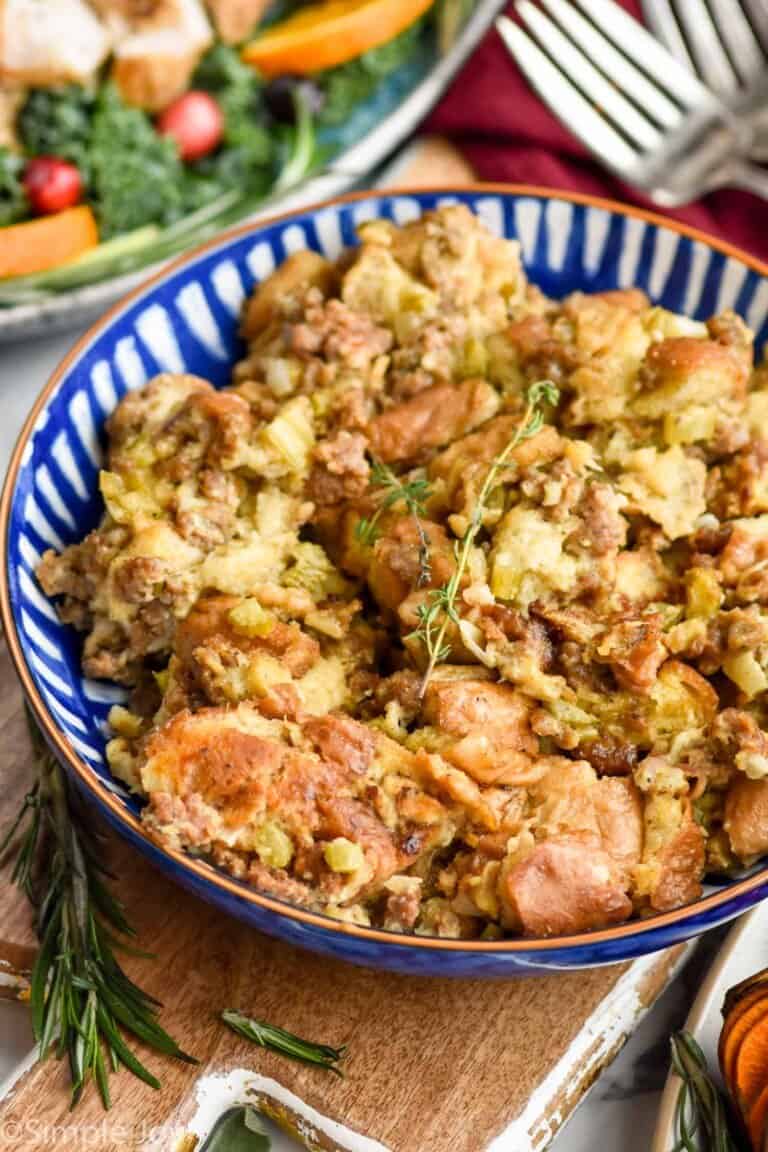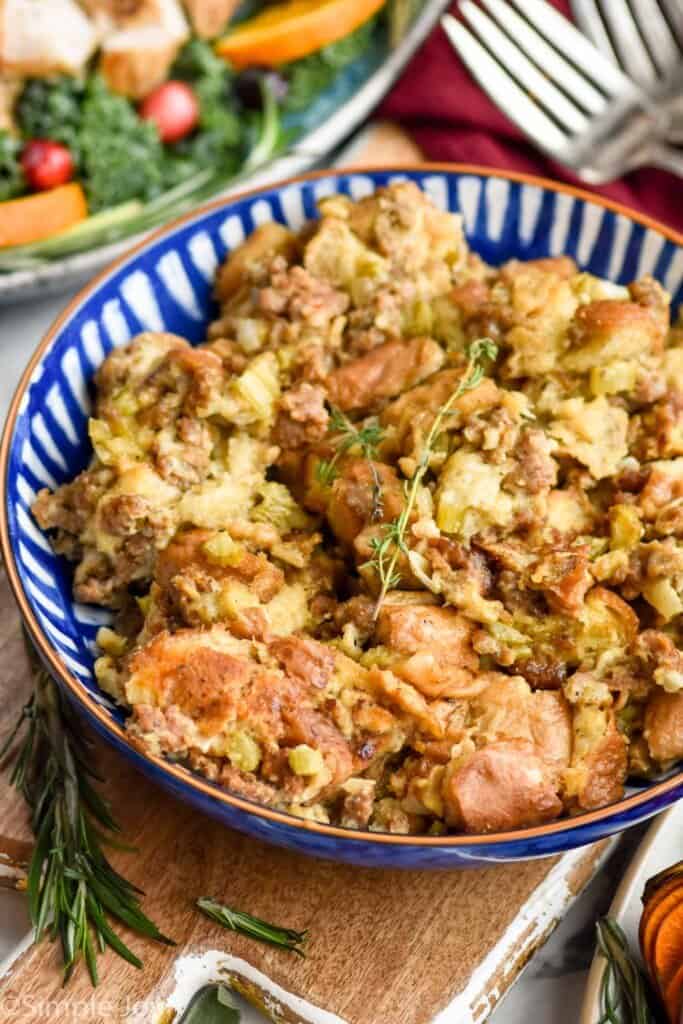 Stuffing vs. Dressing
In my house growing up, we always called this recipe stuffing, and thus I have named it so. That being said, you wouldn't be the first person to tell me this is actually dressing, as stuffing is something you stuff in a turkey. More on that below.
Making Stuffing in the Crockpot vs. The Turkey
While it is possible to cook your stuffing inside of the turkey safely, for optimal safety, I recommend cooking your stuffing separate from the turkey in a casserole dish or a slow cooker. There are just so many steps in stuffing a turkey where things can go wrong. I always opt for erring on the side of food safety.
In addition to food safety issues, adding stuffing to a turkey can really impact cooking time. A turkey that is stuffed full will take a lot longer to cook and the center of it might be rare when the outside is over done. You can see my perfect roast turkey recipe here and it comes with a detailed video explaining how to make it.
The bottom line is that no matter how you decide to cook your stuffing, it should reach a temperature of 165 degrees before you serve it. I highly recommend investing in an instant read thermometer for this recipe and so many others on Simple Joy.
TOP PICK
Instant Read Thermometer
This instant read thermometer is perfect for checking on your dishes on the stovetop and in the slow cooker.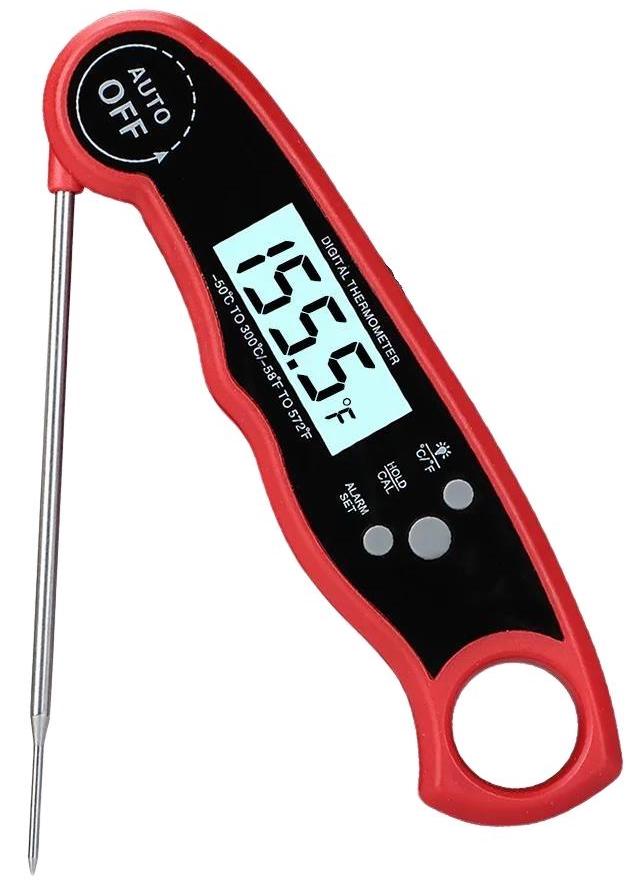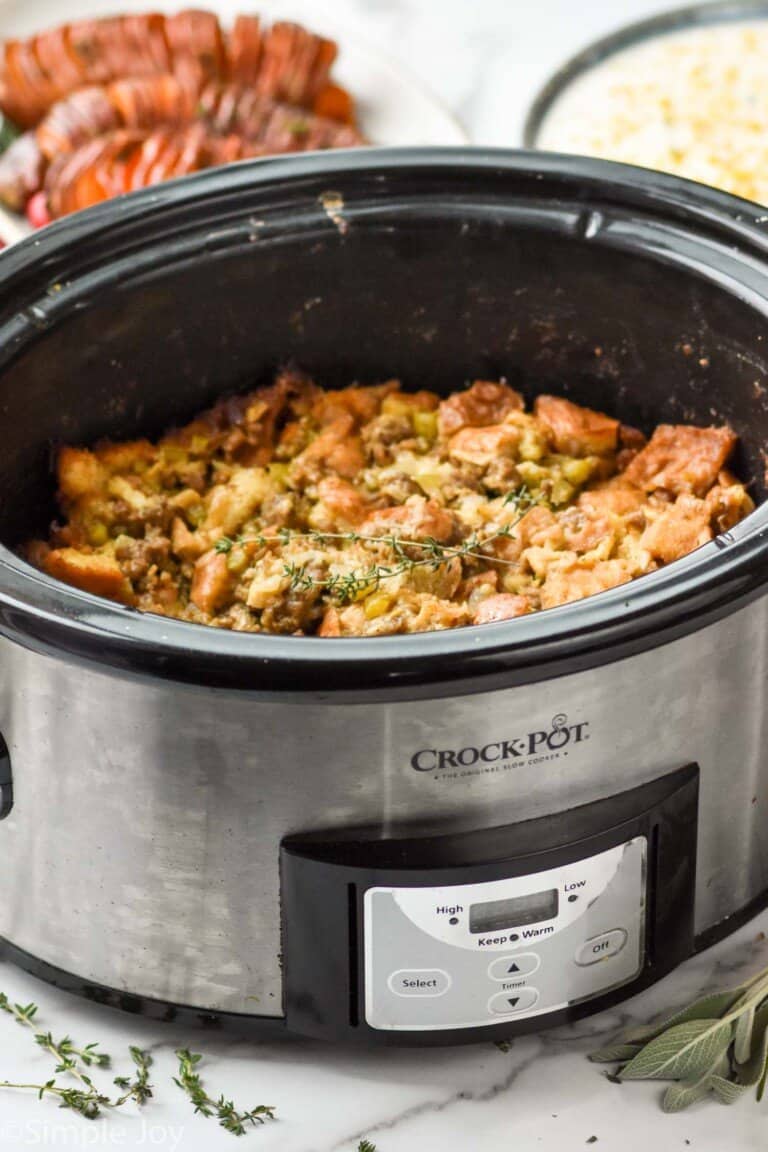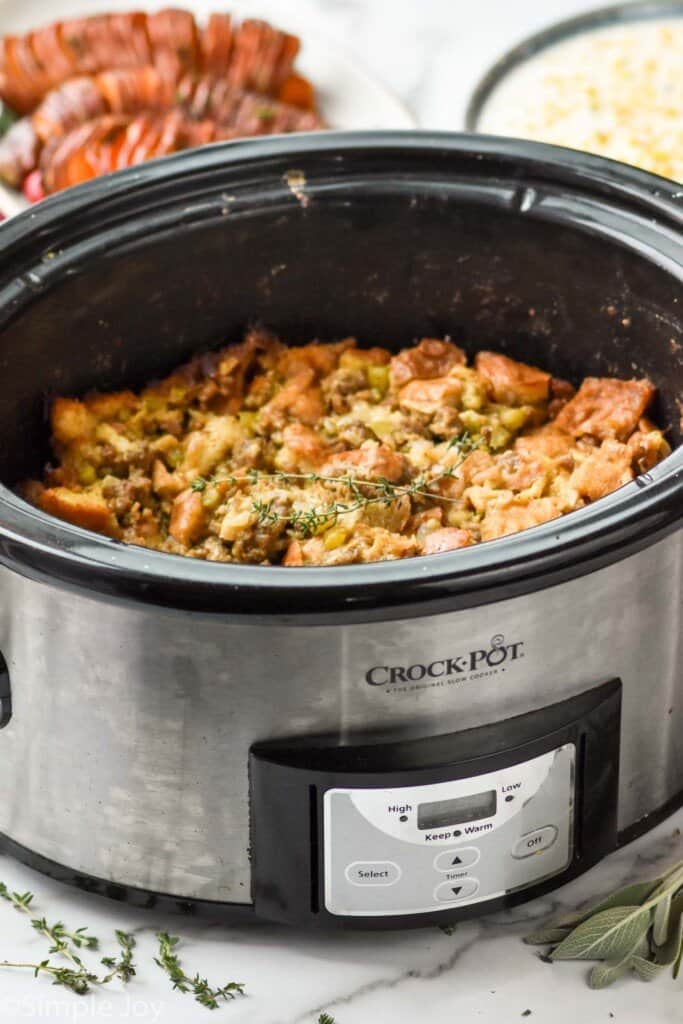 Cooking Time
You will notice that this recipe calls for four to five hours on low. Please keep in mind that all slow cookers vary. Four to five hours on low should work with your slow cooker. If you double the recipe or cut it in half, the cooking time will change and you should test the recipe before the big day. Additionally, some slow cookers run very hot, and your stuffing might be done before four to five hours is up.
What Slow Cooker to Use
I made this stuffing in a 6 quart slow cooker. You can see the exact model below. I love it so much that I actually own three. As you can see from the photos, it fills this slow cooker up about half way. In theory you can double this recipe, but I definitely suggest you test it before hand so you know exactly how long it will take to cook in your slow cooker.
TOP PICK
The Best Crock Pot
This is hands down my favorite slow cooker. It is a work horse that holds up and lasts for years.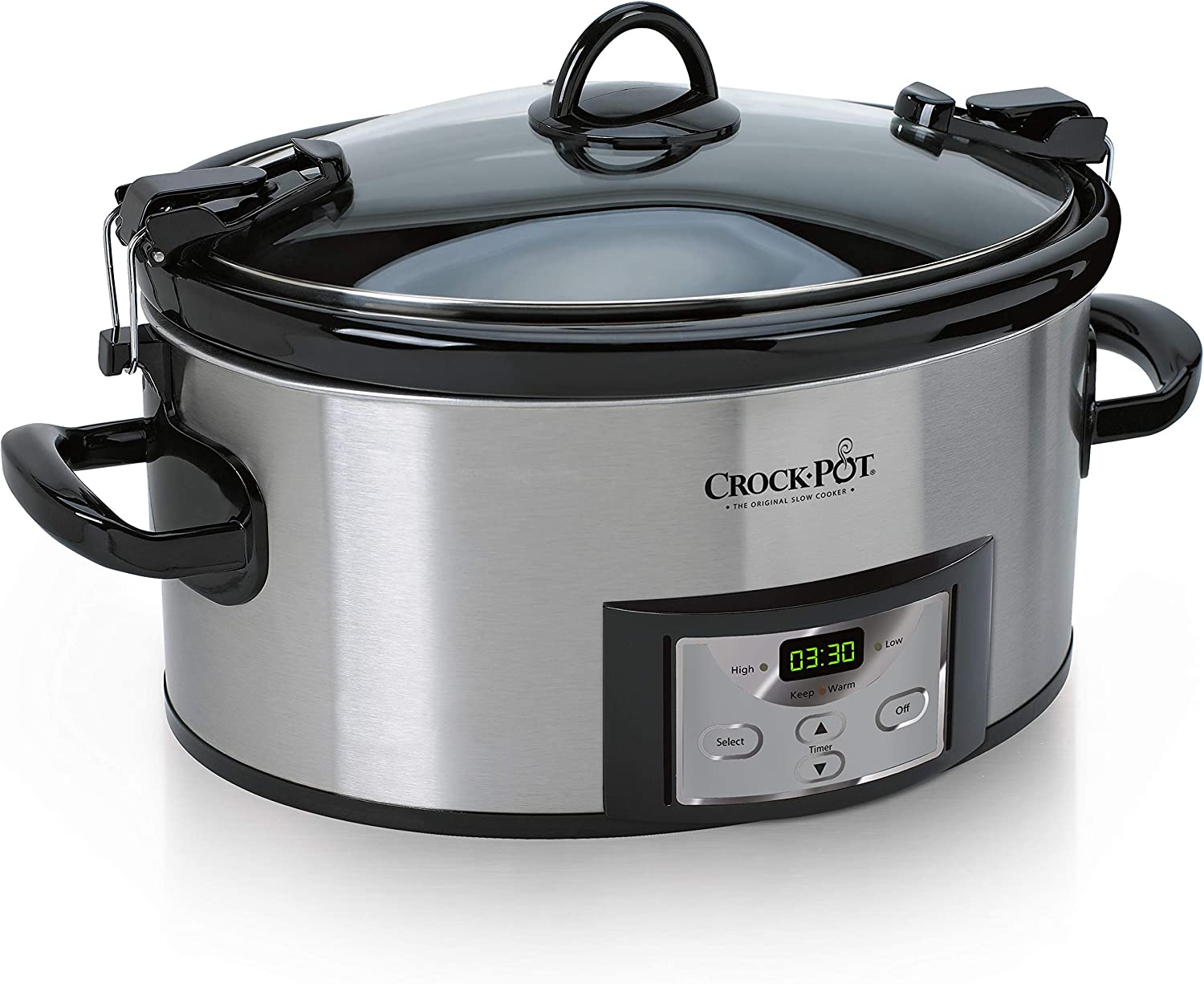 FAQ
Can stuffing be made the night before?
Absolutely! I love making this recipe the night before. Follow the recipe through step 5, and then put it in your refrigerator. It is very important that the recipe be kept at 40 degrees or below until you are ready to cook it.
When is stuffing done?
Stuffing is done when it reaches an internal temperature of 165 degrees.
Why do you add cheese to your stuffing?
Because cheese makes everything better. Truthfully, this recipe was inspired by an article I read a million years ago in a magazine that gave dozens of different ideas for stuffing. This is what sprang from that, and I fell in love, vowing never to change it.
How can I make gluten free stuffing?
This recipe can easily be made gluten free by swapping the bread out for gluten free bread. I suspect that if you are already eating gluten free, you have a favorite brand. If you are making this for a gluten free guest, ask them!

As with every other recipe, make sure that all of your other ingredients (look especially at prepackaged sausage) doesn't sneak in any gluten.
Can I make this diabetic friendly?
Unfortunately, no. While there are many recipes that have great ideas for swapping to low carb, stuffing really isn't stuffing without the bread (in my extremely humble opinion).
Can I make this stuffing recipe vegan?
You bet! Swap the butter for vegan butter, leave out the cheese (consider adding a dash more salt), swap the chicken stock for vegetable broth, and swap the sausage for vegan Italian sausage crumbles. (Morning Star sells it in the freezer section by the bag.)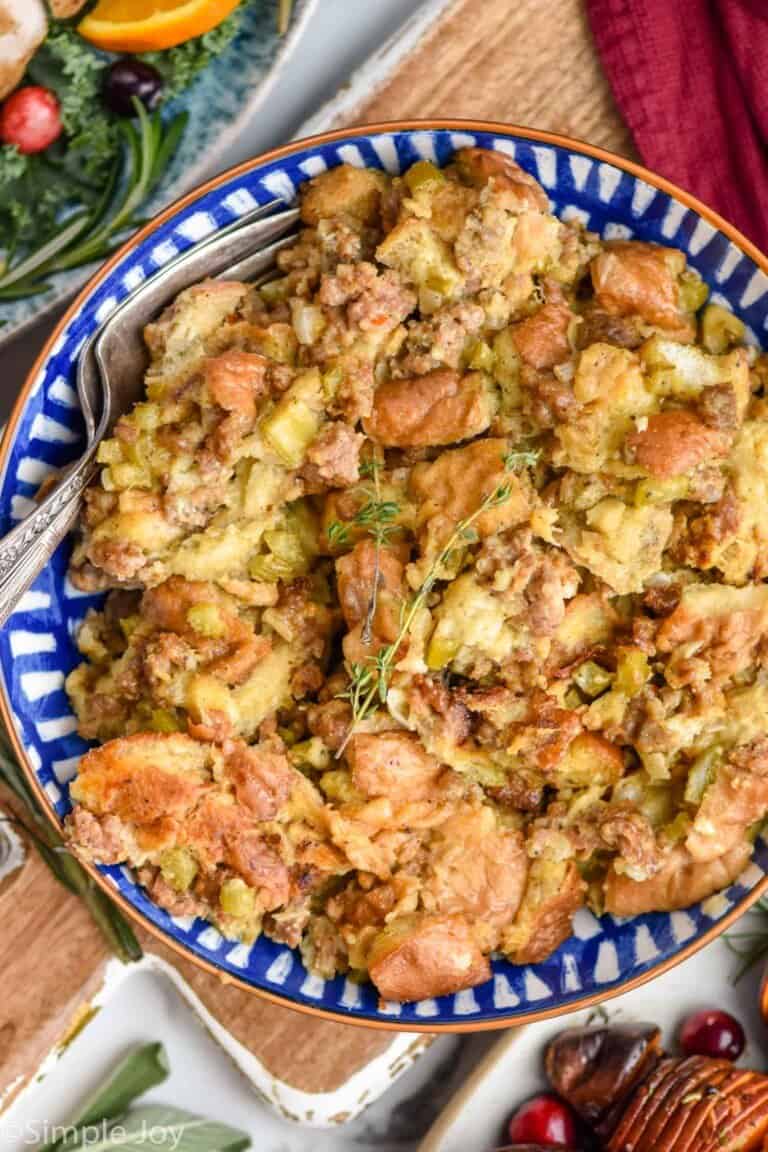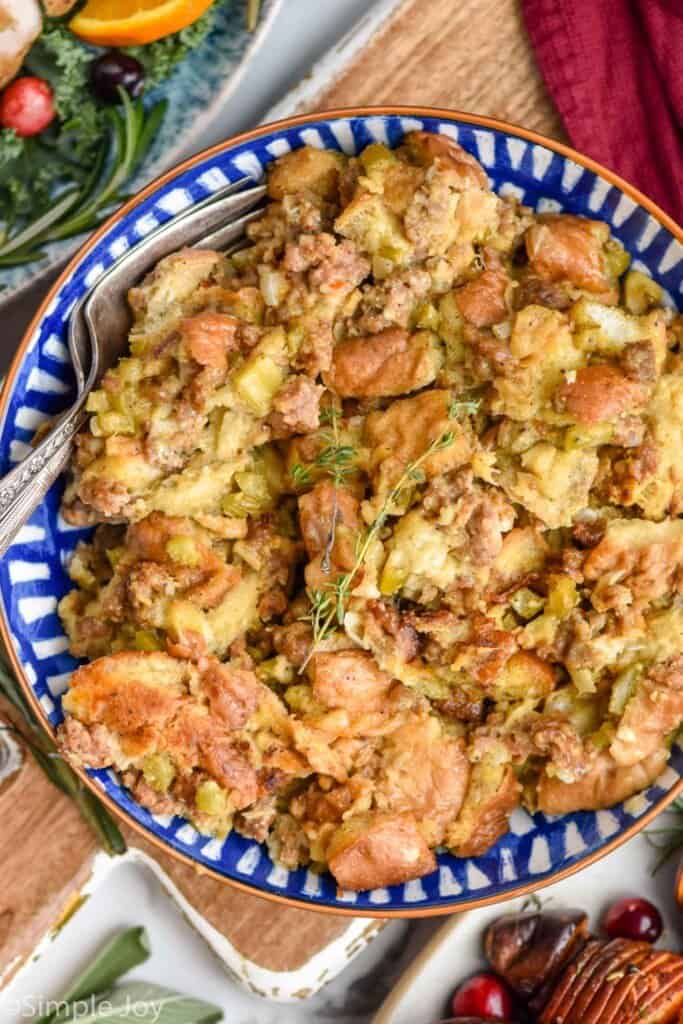 Other Amazing Thanksgiving Side Dishes
If you make this sausage stuffing or any of my other recipes, please leave me a comment and let me know what you think!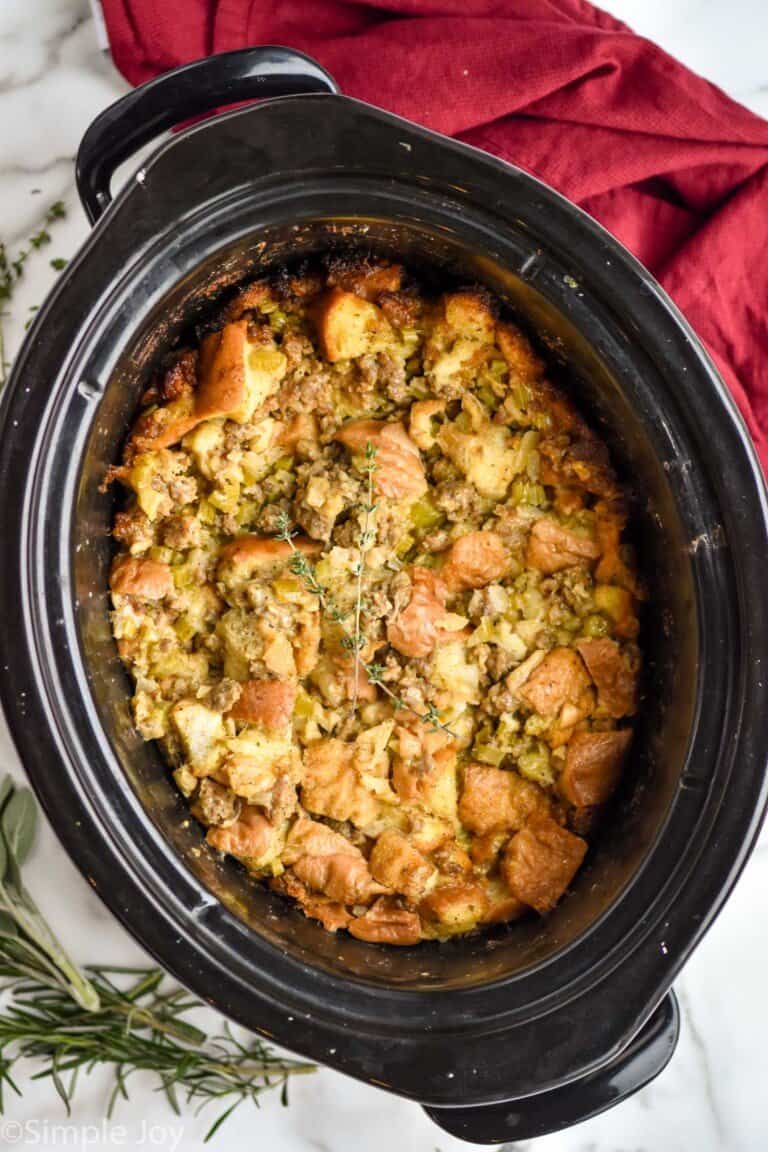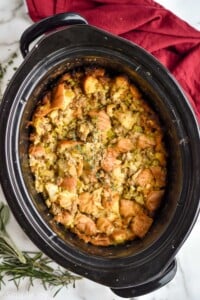 Crockpot Stuffing
Total:
4
hours
30
minutes
Crockpot Stuffing frees up your oven while still giving you the best Thanksgiving stuffing recipe you could ask for. This is going to become a family favorite!
Ingredients
8

tablespoons

unsalted butter

1

medium yellow onion

diced

4

celery stalks

diced

2

small apples

peeled and diced

1/2

teaspoon

kosher salt

1/4

teaspoon

black pepper

1

teaspoon

dried sage

1

teaspoon

dried thyme

2 1/2

cups

chicken stock

1

pound

sweet Italian sausage

2

eggs

beaten

1

cup

grated parmesan cheese

8

cups

dried French bread cubes

(read about drying bread for stuffing here)
Instructions
Spray a 6 quart slow cooker with cooking spray.

Melt the butter in a large frying pan. Add the onions, celery, and apples to the butter and season with salt and pepper. Sauté until the celery and onion are translucent, about five minutes. Mix in sage and thyme. Remove from the heat.

8 tablespoons unsalted butter,

1 medium yellow onion,

4 celery stalks,

2 small apples,

1/2 teaspoon kosher salt,

1/4 teaspoon black pepper,

1 teaspoon dried sage,

1 teaspoon dried thyme

In a separate pan, cook the sausage, breaking it up until no longer pink. Remove from the heat and drain the excess grease.

1 pound sweet Italian sausage

In the base of the slow cooker, coat the bread with the eggs. Mix in both the meat and the veggie butter mixture. Then mix in the cheese. Pour the chicken stock over it.

2 eggs,

8 cups dried French bread cubes,

1 cup grated parmesan cheese

Cook on low for 4 to 5 hours. (Read about how slow cookers vary here.)
Calories:
468
kcal
(23%)
Carbohydrates:
36
g
(12%)
Protein:
30
g
(60%)
Fat:
22
g
(34%)
Saturated Fat:
12
g
(75%)
Polyunsaturated Fat:
1
g
Monounsaturated Fat:
7
g
Cholesterol:
94
mg
(31%)
Sodium:
1418
mg
(62%)
Potassium:
276
mg
(8%)
Fiber:
2
g
(8%)
Sugar:
5
g
(6%)
Vitamin A:
550
IU
(11%)
Vitamin C:
2.5
mg
(3%)
Calcium:
590
mg
(59%)
Iron:
3.1
mg
(17%)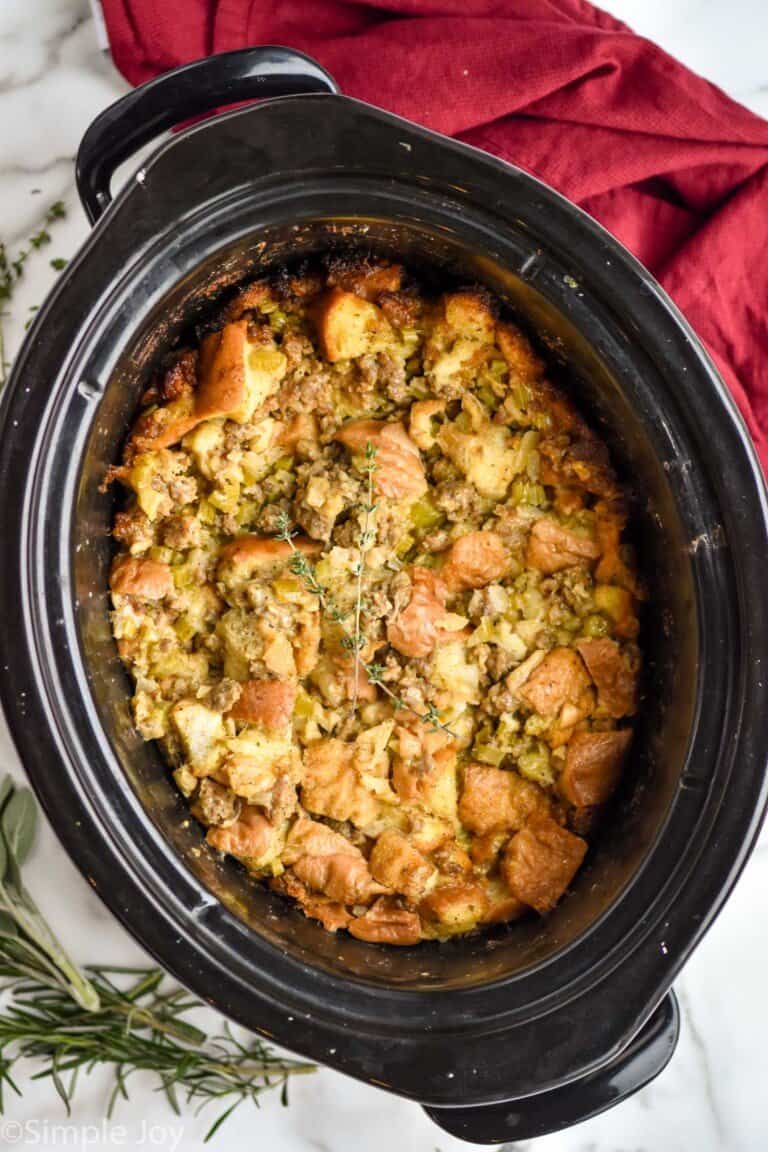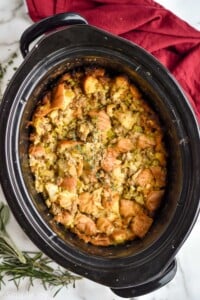 did you make this
Crockpot Stuffing
you might also like . . .