This Corn Casserole is made completely from scratch and is epically delicious. This cornbread casserole is made from my popular, moist cornbread recipe and is a side dish you don't want to pass up.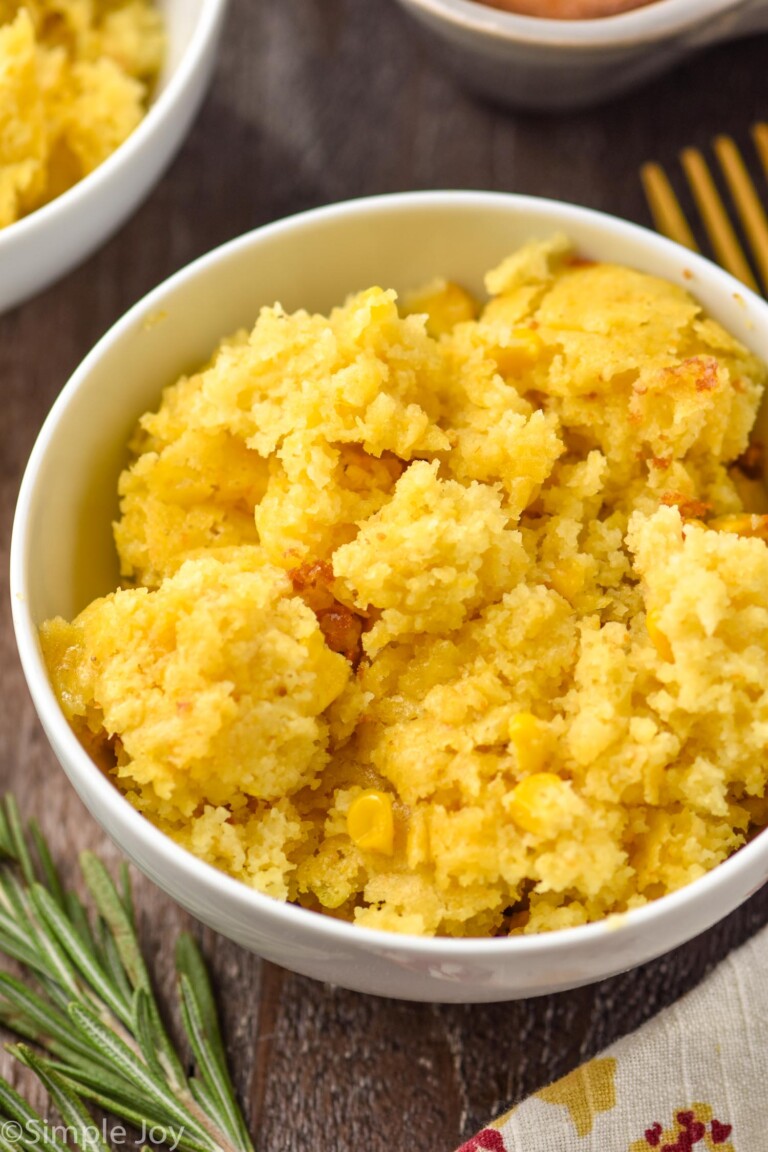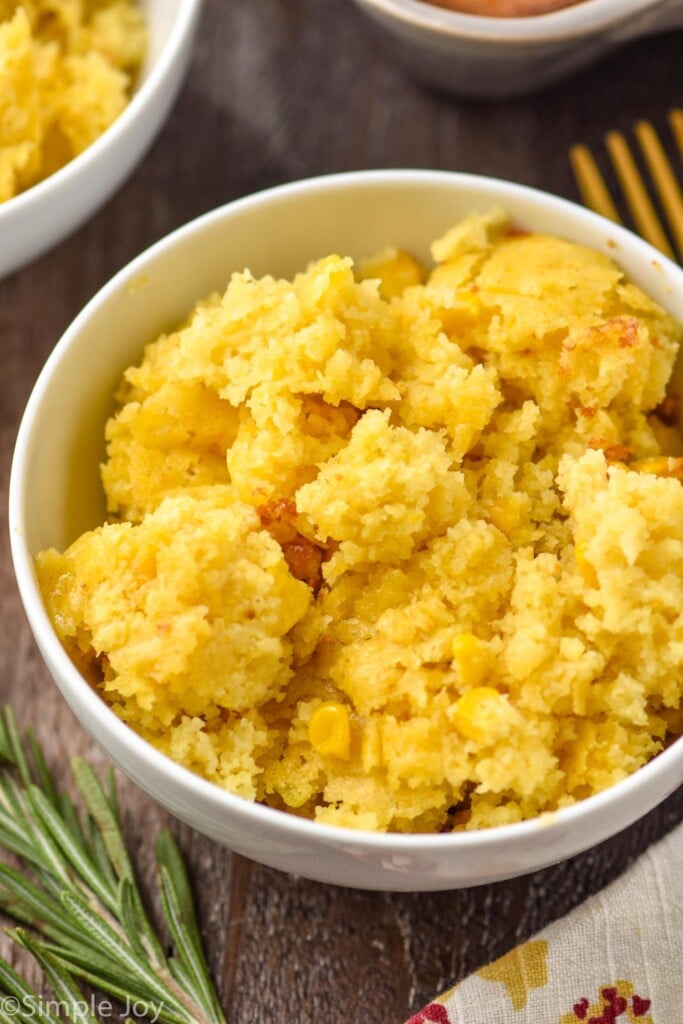 If you love the taste of cornbread, you are going to absolutely love this comforting corn casserole. Its base is half the recipe for my homemade cornbread and then we add in a few other comforting ingredients. The result is a moist spoonable casserole that will have everyone coming back for seconds.
Ingredients for Corn Casserole
Making corn casserole recipes from scratch requires just a few extra ingredients compared to recipes with cornbread mix, keeping things simple and delicious.
You are also in control of the sweetness of the dish, and avoid extra additives and preservatives that may be found in using a pre-packaged mix. Gather the following ingredients:
Flour: See below for how to measure your flour properly.
Cornmeal: This is made from ground dry corn and is the back bone of any cornbread recipe.
Baking powder and baking soda: These two ingredients are not interchangeable and you will need both in this recipe. Be sure to replace these ingredients in your pantry every six months or so.
Table salt
Unsalted butter: This will need to be melted and cooled. It is important that the butter is cooled so that it doesn't start cooking the other ingredients when added.
Sugar: Add just enough sweetness to this comforting casserole.
Eggs: These help bind the casserole together.
Sour cream: Low fat sour cream will work in this recipe, but do not use fat free sour cream.
Whole kernel corn drained
Cream style corn
Buttermilk: Don't have buttermilk? See below for a substitute.
Buttermilk Substitution
If you don't keep buttermilk on hand, making a buttermilk substitute is really simple.
Add 1/2 tablespoon of white vinegar (or fresh lemon juice) to a glass measuring cup. Then fill the measuring cup the rest of the way to the 1/2 cup mark with milk. (Whole milk works best for this, but I have had great results with skim as well.)
Give it a stir and then let the mixture sit for five minutes before using it in place of the buttermilk in this recipe.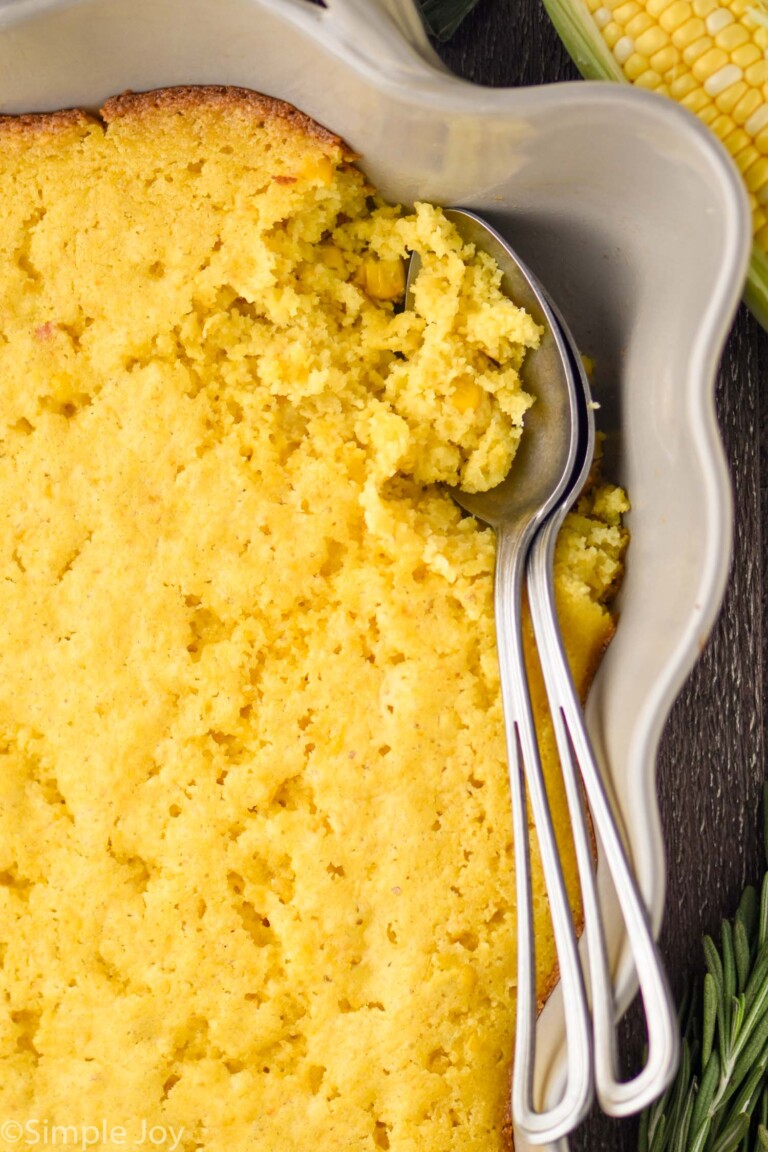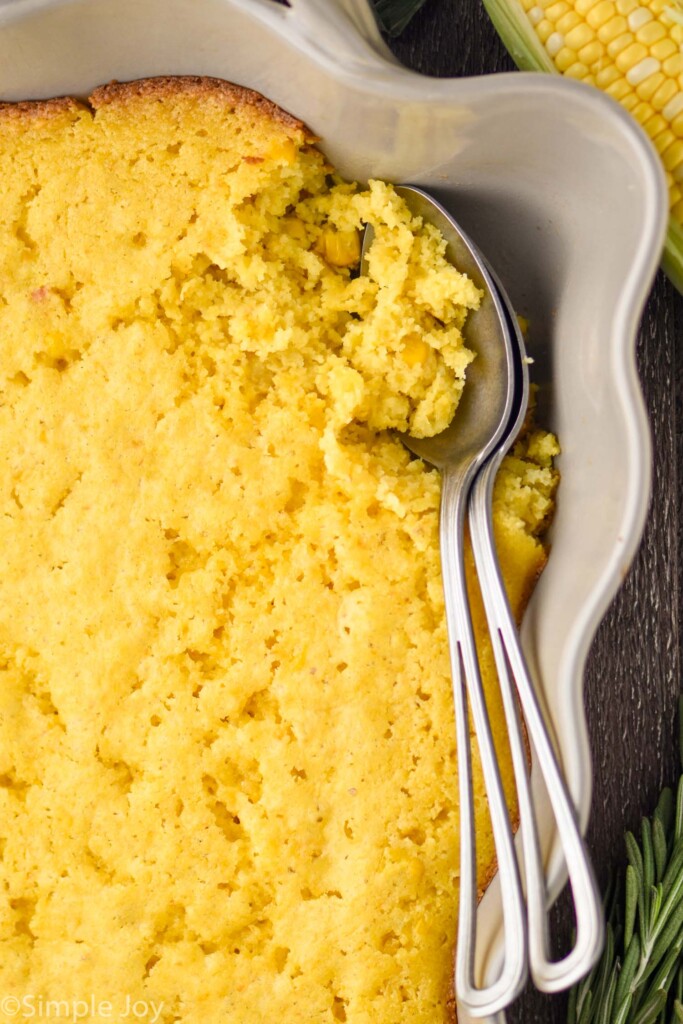 How to Make Corn Casserole From Scratch
Here is a brief overview of how to make a cornbread casserole, also known as cream corn casserole, from scratch. This cream corn casserole is easy to make and so delicious. Make sure to scroll to the bottom of the post for a full list of measurements and instructions.
Mix dry ingredients. Whisk together the dry ingredients in a large bowl and set aside.
Combine wet ingredients. In another large bowl, beat the cooled butter, sugar, and eggs. Make sure the butter is cool so it doesn't start cooking the eggs. Then beat in the sour cream, both cans of corn, and buttermilk.
Fold the wet ingredients into the dry ingredients. Stir until just combined, be careful not to over-mix.
Bake. Pour mixture into a baking dish and bake until set.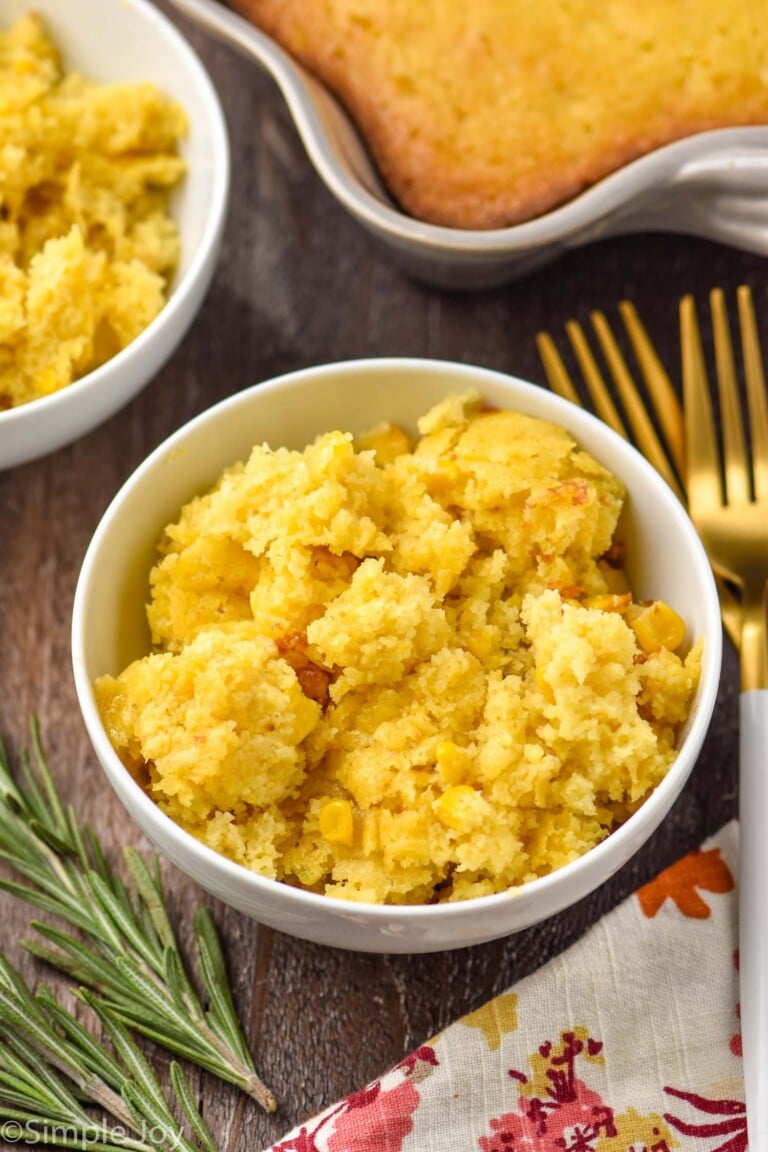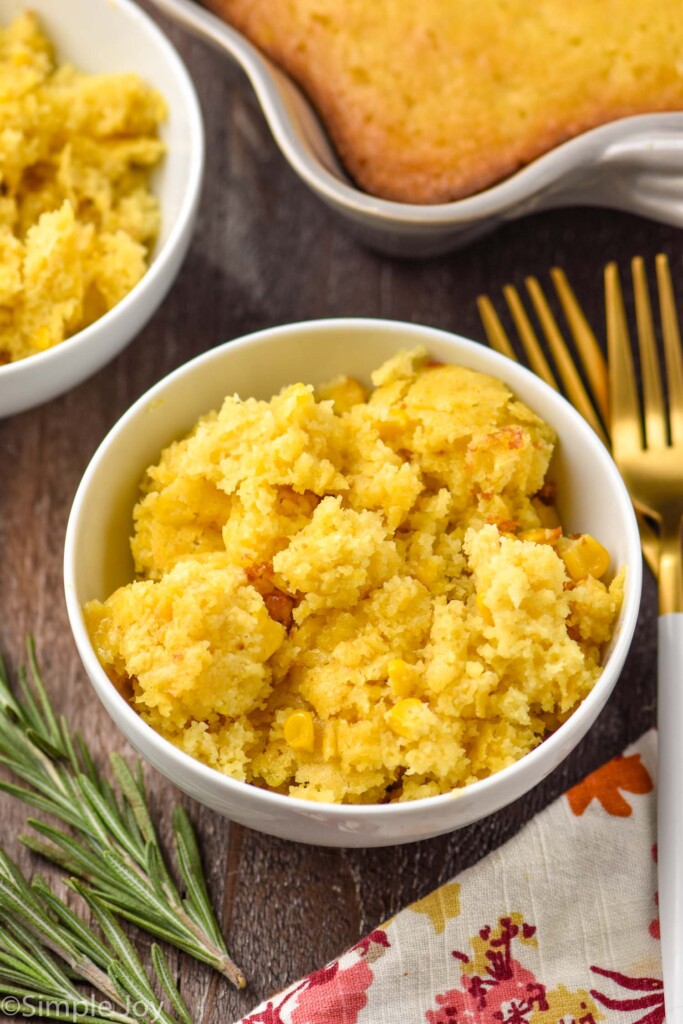 How to Measure Flour
Measuring flour correctly is a crucial part of successful baking, whether for this recipe or a dessert like Banana Cake. By using the wrong type of measuring cup or by scooping it right from the container with the measuring cup, your flour can pack and you can end up with up to 25% more flour. This will make for a really dry casserole. Follow the steps below and you are good to go.
Whisk the flour in the container it is stored in (glass jar, flour bag, etc.).
Spoon the flour from the container it is stored in into a dry measuring cup using a spoon.
Level off the measuring cup using the flat edge of a spatula.
Storing and Reheating
Store your corn casserole in an airtight container for up to three days. To reheat, place in the oven or microwave individual portions until heated through.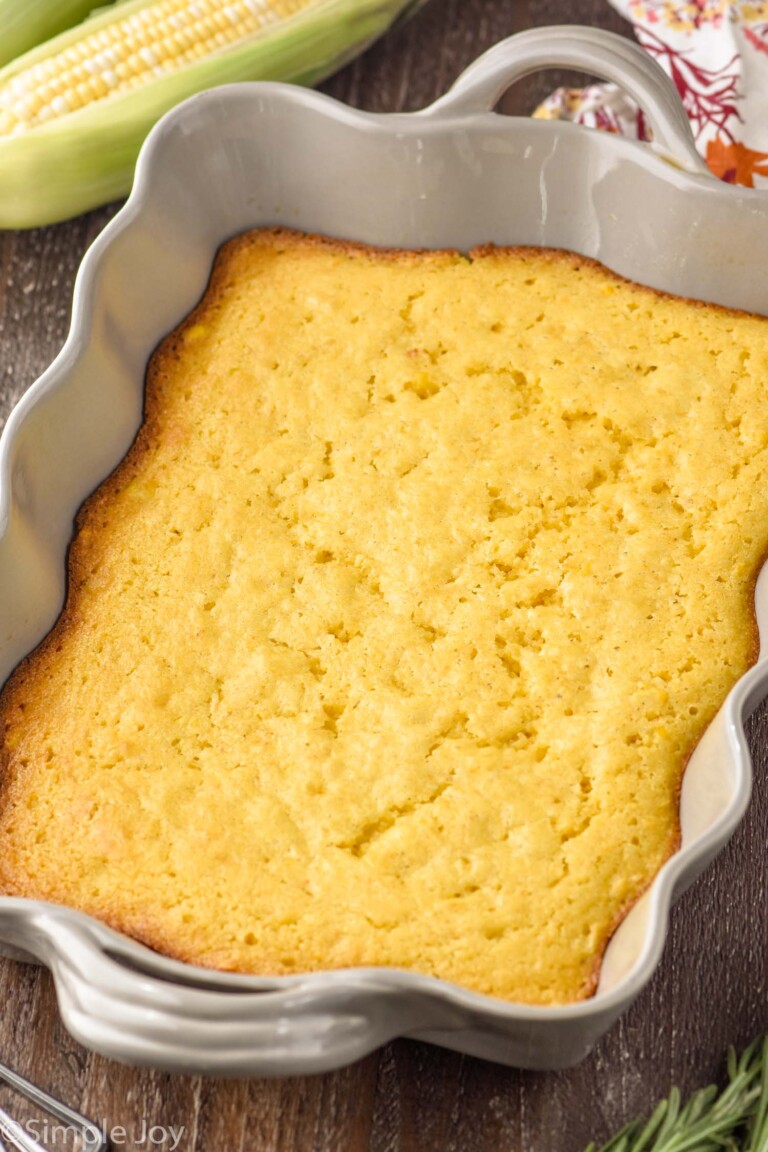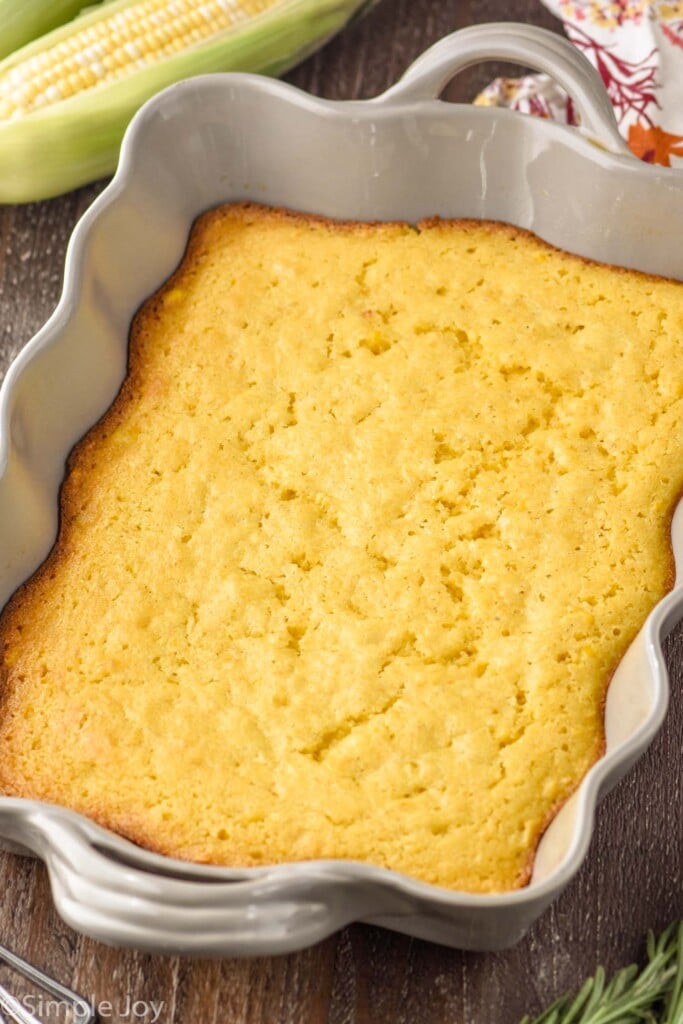 Tips and Variations
Add in jalapenos, crumbled bacon, or a cup of shredded cheddar or pepper jack cheese.
Use thawed frozen corn in place of canned corn.
Use fresh baking powder and baking soda. They need to be replaced every 6 months. To test their freshness, drop a little baking soda in vinegar or baking powder in water. They should bubble right away.
Let your butter cool. We are using melted butter here in place of oil because it provides a much better taste. But, it is important the butter cools a little before adding it to the recipe or it will start cooking the eggs.
Use a cornbread mix rather than making your own. Follow the steps in this jiffy corn casserole to take a shortcut by using a cornbread mix.
FAQ
What can I substitute for creamed corn in corn casserole?
If you can't get creamed corn, you can substitute one can of whole kernel corn. Put all the corn plus 1/3 of the liquid in the can and 1 tbsp flour into a bowl. Blend until the mixture is combined but NOT pureed. Use the entire mixture in place of creamed corn for this recipe.
Can you freeze corn casserole?
Yes! If you are planning to freeze your corn casserole I recommend baking it in a disposable dish that is also freezer safe. Cool the casserole completely after baking, cover, and freeze for up to three months. When ready to eat, bake until heated through.
Can you make corn casserole ahead of time?
Yes! Prepare and fully cook the casserole according to the recipe. Let completely cool then place in the refrigerator for up to two days and reheat it in the oven before serving,
Can this dish be made gluten free?
This recipe has not been tested with gluten-free flour, however, you can replace the flour with a 1:1 ratio with a gluten-free alternative.
How to Serve
This dish is delicious, goes with so many entrees, and is loved by even the picky eaters at your table. We love to make it with Roast Turkey or Honey Baked Ham around the holidays, or Marinated Pork Tenderloin.
Pair a green vegetable like Roasted Green Beans or Apple Pecan Fall Salad and you have a delicious comfort meal trifecta.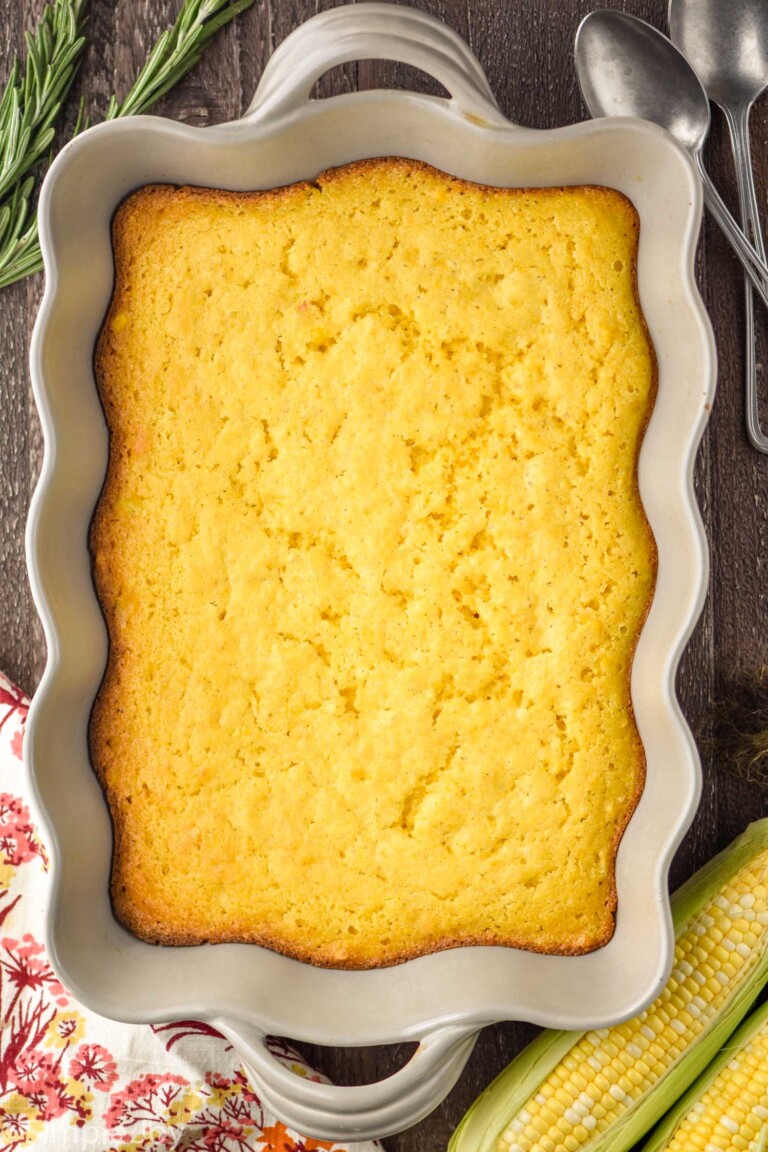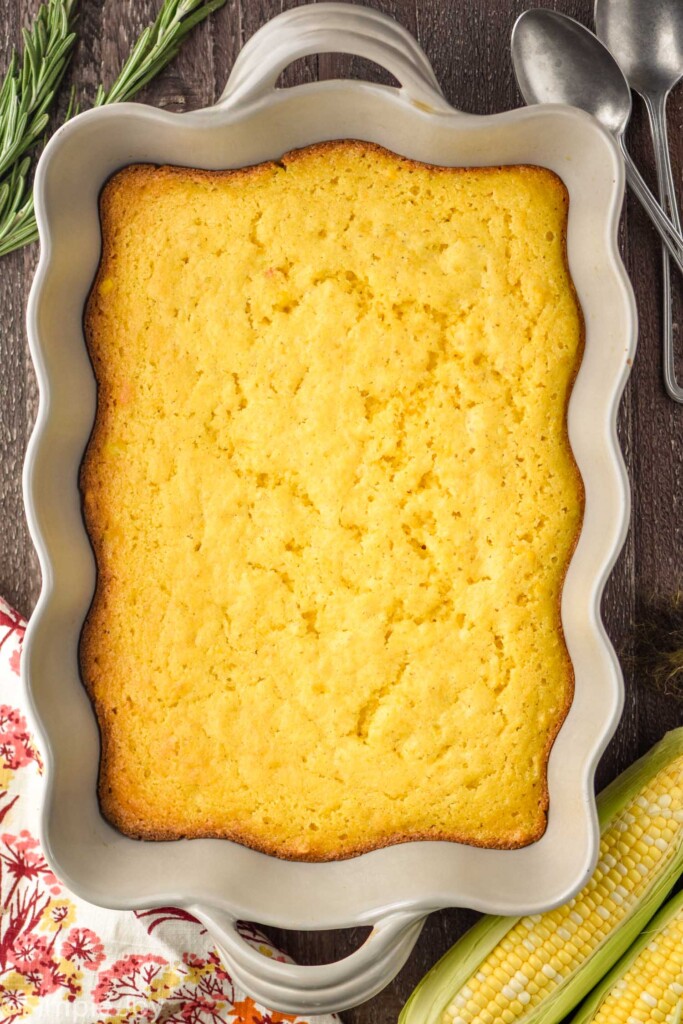 Other Classic Side Dish Recipes
If you try this corn casserole recipe or any of my others, leave a comment and tell me how it was. I love hearing from you!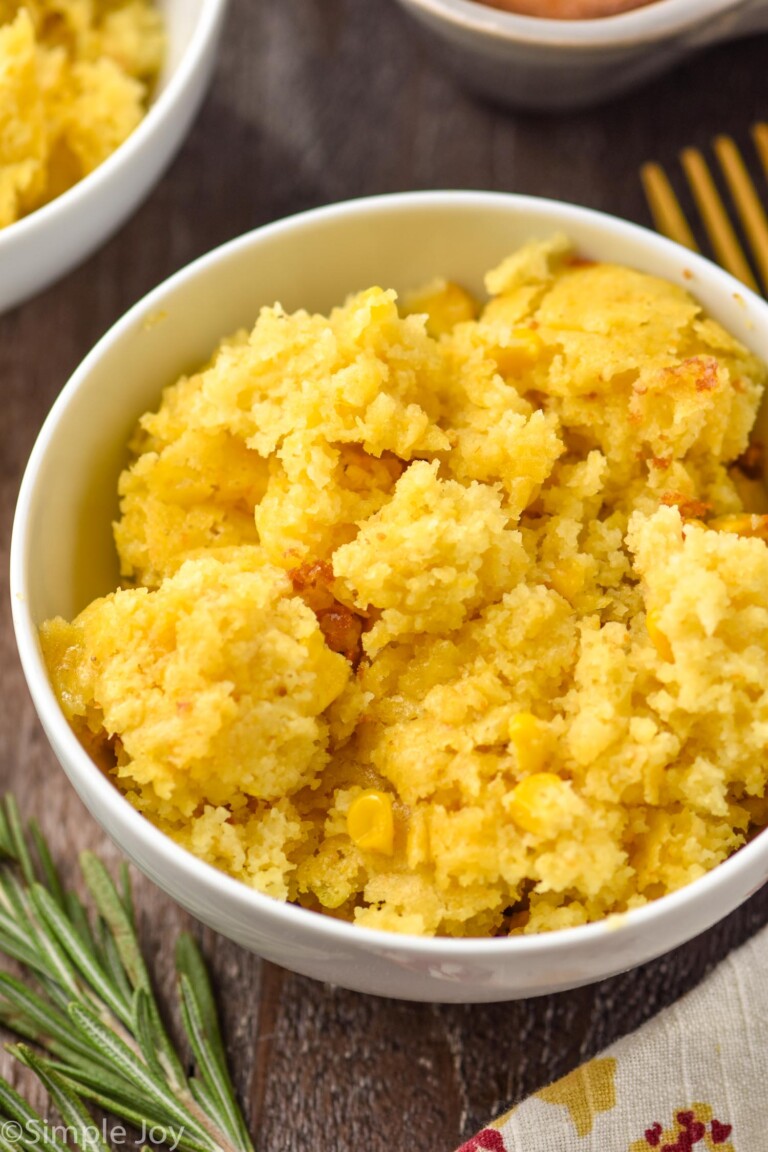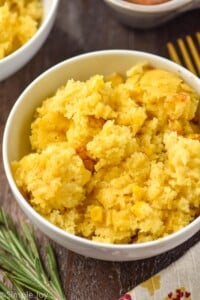 Corn Casserole
Ingredients
1

cup

all purpose flour

3/4

cup

cornmeal

1 1/2

teaspoons

baking powder

1 1/2

teaspoons

baking soda

1/2

teaspoon

table salt

8

tablespoons

unsalted butter

melted and cooled

1/2

cup

sugar

2

eggs

1

cup

sour cream

8.5

ounces

whole kernel corn

drained

8.5

ounces

cream style corn

1/2

cup

buttermilk
Instructions
Preheat your oven to 350 degrees.  Spray a 9 by 13 inch baking dish with cooking spray and set aside.

In a large bowl, whisk together the all purpose flour, cornmeal, baking powder, baking soda, and table salt. Set aside.

1 cup all purpose flour,

3/4 cup cornmeal,

1 1/2 teaspoons baking powder,

1 1/2 teaspoons baking soda,

1/2 teaspoon table salt

In a large bowl beat together the cooled butter, sugar, and eggs. Beat in the sour cream, both cans of corn (making sure the whole kernels are drained), and buttermilk.

8 tablespoons unsalted butter,

2 eggs,

1 cup sour cream,

8.5 ounces whole kernel corn,

8.5 ounces cream style corn,

1/2 cup buttermilk,

1/2 cup sugar

Whisk in the dry ingredients, mixing until just combined.

Pour the mixture into the prepared baking dish and bake uncovered for one hour or until the sides turn golden brown and the middle has set.  Serve warm.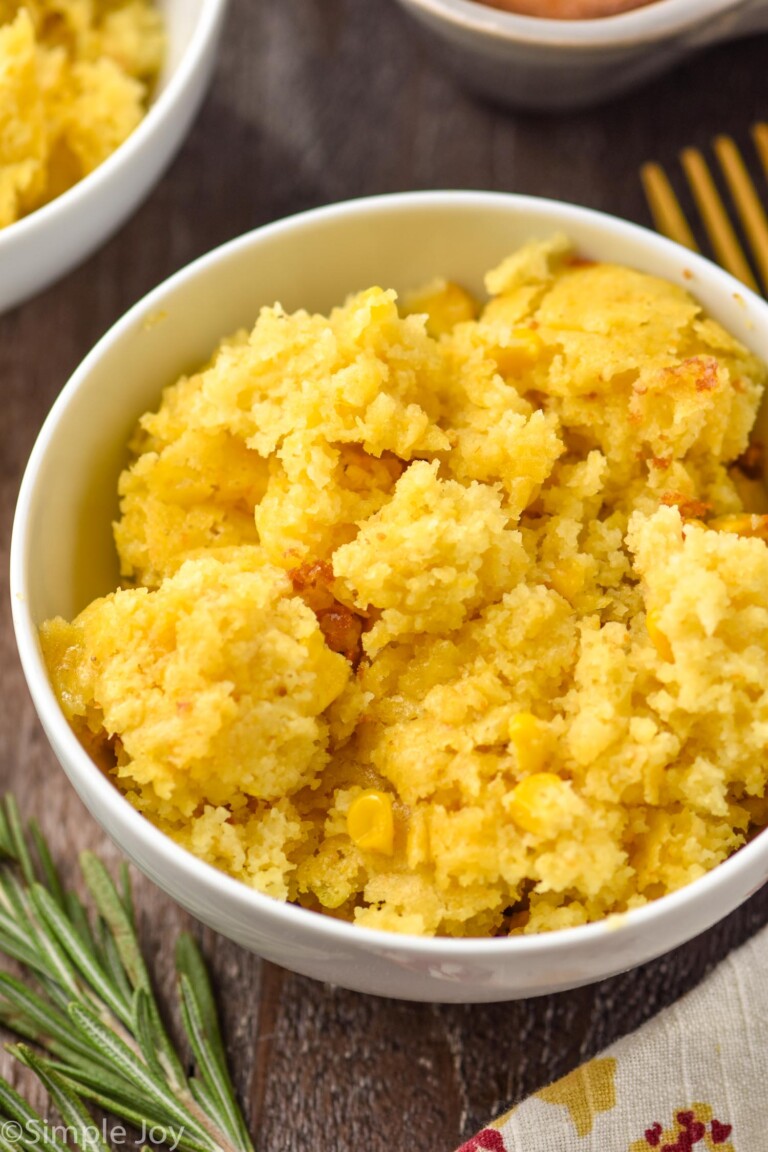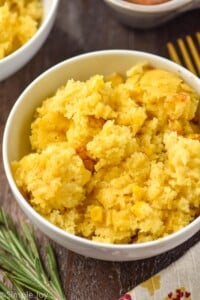 did you make this
Corn Casserole